There is a lot to love about dining on Norwegian Cruise Line. With its signature Freestyle approach to cruising, there are a number of different dining spots on ships across the fleet. There are a variety of casual venues included in the cruise fare. There are also several signature specialty restaurants that serve up some mouthwatering meals, not to mention the three course feasts in the main dining room. In this post, we share our picks for the Top Norwegian Cruise Line Restaurants. Do you agree with our choices?
Top Norwegian Cruise Line Restaurants
Specialty Restaurants
While there are several complimentary options, many of the dining venues on NCL ships do charge an additional fee beyond your standard cruise fare. Further, the cruise line's pricing has also transitioned to a la carte at many of these venues.
Luckily, there is the Norwegian Cruise Line Specialty Dining Package (SDP) to help you save some money. Even better, this package is often free as a promotional perk. (Though, it is important to note that guests will still be responsible to pay the additional 20% service charge for the "free" package.)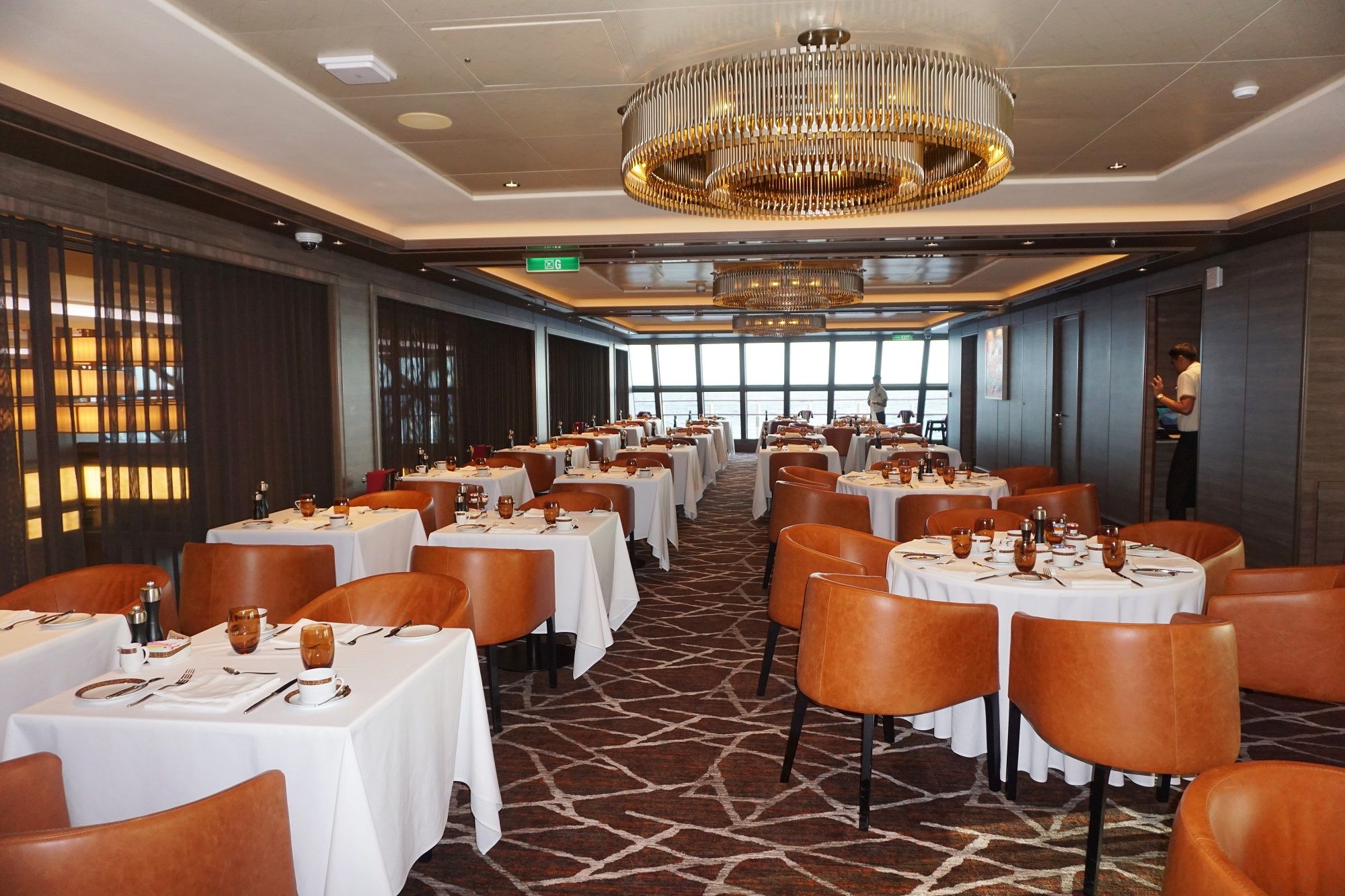 Cagney's Steakhouse
Cagney's is Norwegian Cruise Line's signature steakhouse. This specialty restaurant is on all ships in the fleet. If you are looking for a perfectly seared cut of beef, then this is your spot. Even though the location of this restaurant may differ by the class of ship, the menu consistently offers top-notch selections of meat and seafood.
Menu items like the perfectly seared filet, veal chop, or jumbo shrimp cocktail are exquisitely paired with a wide selection of sides and desserts. We have never left this venue hungry, and we doubt you will either.
Cagney's Steakhouse is the perfect venue to celebrate a special occasion. Advanced reservations are a good idea as this restaurant is popular.
Le Bistro
French cuisine with some of the best views of the ocean are available at Le Bistro. This upscale and intimate venue is also a great location to celebrate a special evening. Luckily, you can find this specialty restaurant on most ships in the Norwegian Cruise Line fleet.
The menu includes favorites like escargot and mussels for appetizers, as well as coq au vin, rack of lamb, and duck. Of course, a dinner at Le Bistro would not be complete without profiteroles for dessert. There's also a delicious fondue for two.
If you received a Specialty Dining Package as part of NCL's Free at Sea promotion, this is a great restaurant to utilize one of your meal credits. Again, advanced reservations are highly recommended.
Related Post: Top Foods on Norwegian Cruise Line
Food Republic
One of our favorite restaurants on Norwegian Cruise Line is Food Republic. This fusion restaurant combines different culinary traditions and cooking styles. The bright, funky design offers patrons ocean views while dining at the restaurant.
Menu items range from sushi to handheld bites like the firecracker shrimp. In addition, there are shareable plates, a grill, noodles, and rice. Oh, you will need to save room for the green tea jar too.
Food Republic is on Norwegian Bliss, Norwegian Escape, Norwegian Joy, and Norwegian Encore. Of note, if you are using the specialty dining package here, you can order up to four items each. Additional items are a la carte.
Onda by Scarpetta
Norwegian Cruise Line's newest Italian restaurant, Onda by Scarpetta debuted on Norwegian Encore. The venue offers several modern Italian dishes like fresh pasta, mouthwatering seafood, and timeless desserts. Some of our favorite dishes included the burrata and the braised octopus appetizers, as well as the tagliatelle with lobster and the mezzelune pasta dishes.
If you are looking for a romantic evening, you should consider dining on the Waterfront.
Onda by Scarpetta is also found on the newly refurbished Norwegian Spirit. If you are sailing on another ship in the NCL fleet, you can still enjoy rustic Italian classics at La Cucina. La Cucina is also located on the Waterfront on Breakaway and Breakaway Plus Class ships.
Related Post: Top Things to Do on Norwegian Encore
Teppanyaki
Teppanyaki is another Norwegian Cruise Line favorite. This restaurant offers a traditional Japanese-style hibachi experience with a multi-course menu. For a flat-fee, you can enjoy entree selections like chicken, steak, and shrimp. In addition, all meals include soup, salad, fried rice, grilled vegetables, and dessert.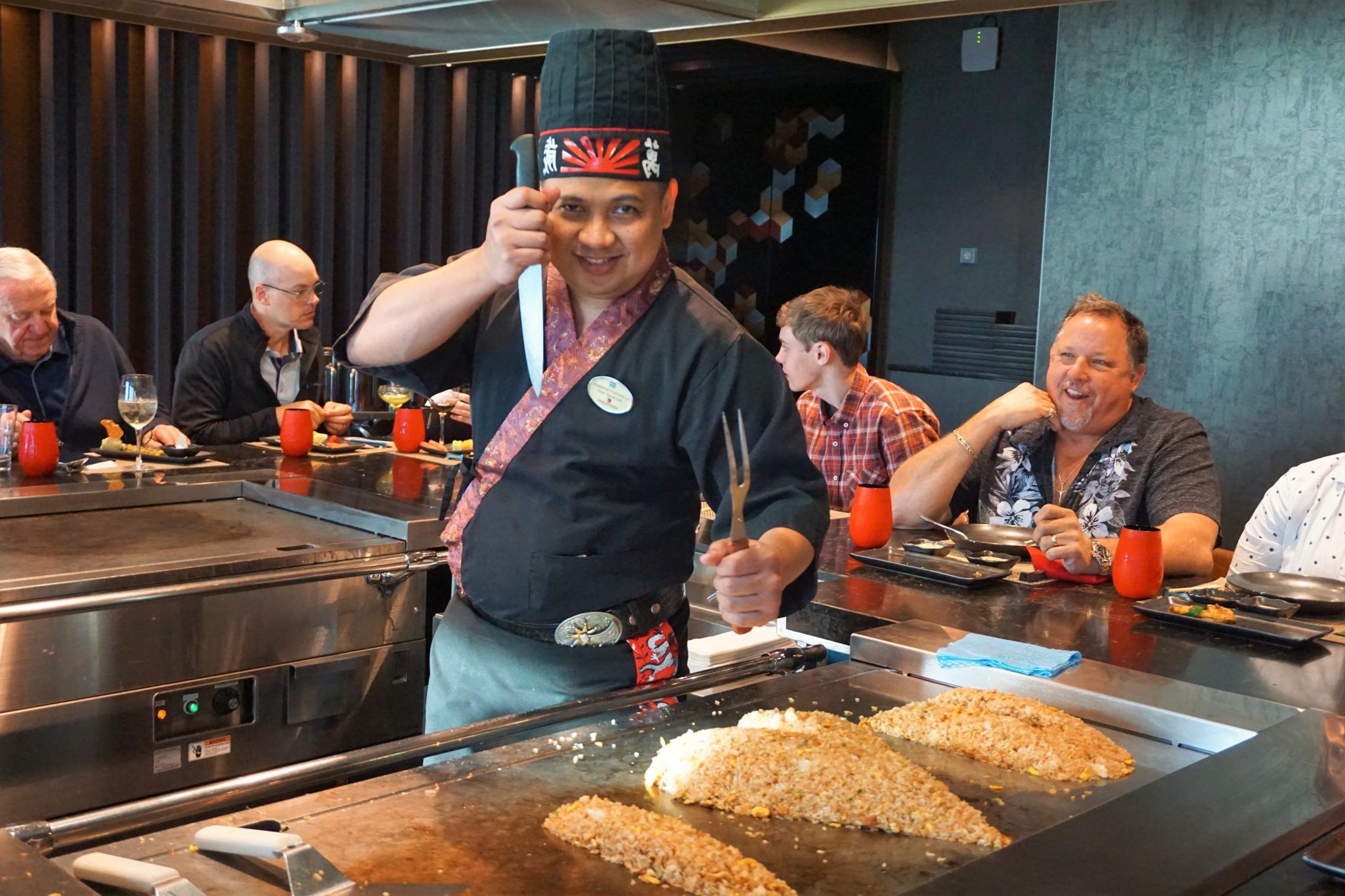 The whole interactive experience and watching the chef prepare your meal tableside is not to be missed. Whenever we have dined at Teppanyaki, the food was as good as the culinary show! The good news is that this venue is found across the NCL fleet of ships.
Q Texas Smokehouse
What goes well with some baby-back ribs? How about some live country music. At Q Texas Smokehouse, you can enjoy some southern comfort food, then join the hoedown afterwards with some country tunes and dancing.
With savory selections like smoked beef brisket, pork spareribs, mac and cheese, and banana pudding, this venue makes our list of top Norwegian Cruise Line restaurants. Not to mention, the smoked peach margarita is quite yummy as well.
While this restaurant does get mixed reviews from guests, we highly recommend you give it a try if you are cruising on Norwegian Bliss, Encore, or Joy.
If you are sailing on another ship in the fleet, the carnivores among us can enjoy Moderno Churrascaria instead. This Brazilian-style steakhouse offers a salad bar along with a wide selection of meats carved tableside.
Related Post: Complete Guide to NCL's Drink Packages
Ocean Blue
Fresh seafood and ocean views come together for one epic evening at Ocean Blue. With indoor and Waterfront seating, you can choose how you want to enjoy your dining experience. Ocean Blue is on Norwegian Encore, Bliss, Joy, Breakaway, and Getaway.
Additionally, Bayamo on Norwegian Escape offers seafood lovers a similar menu.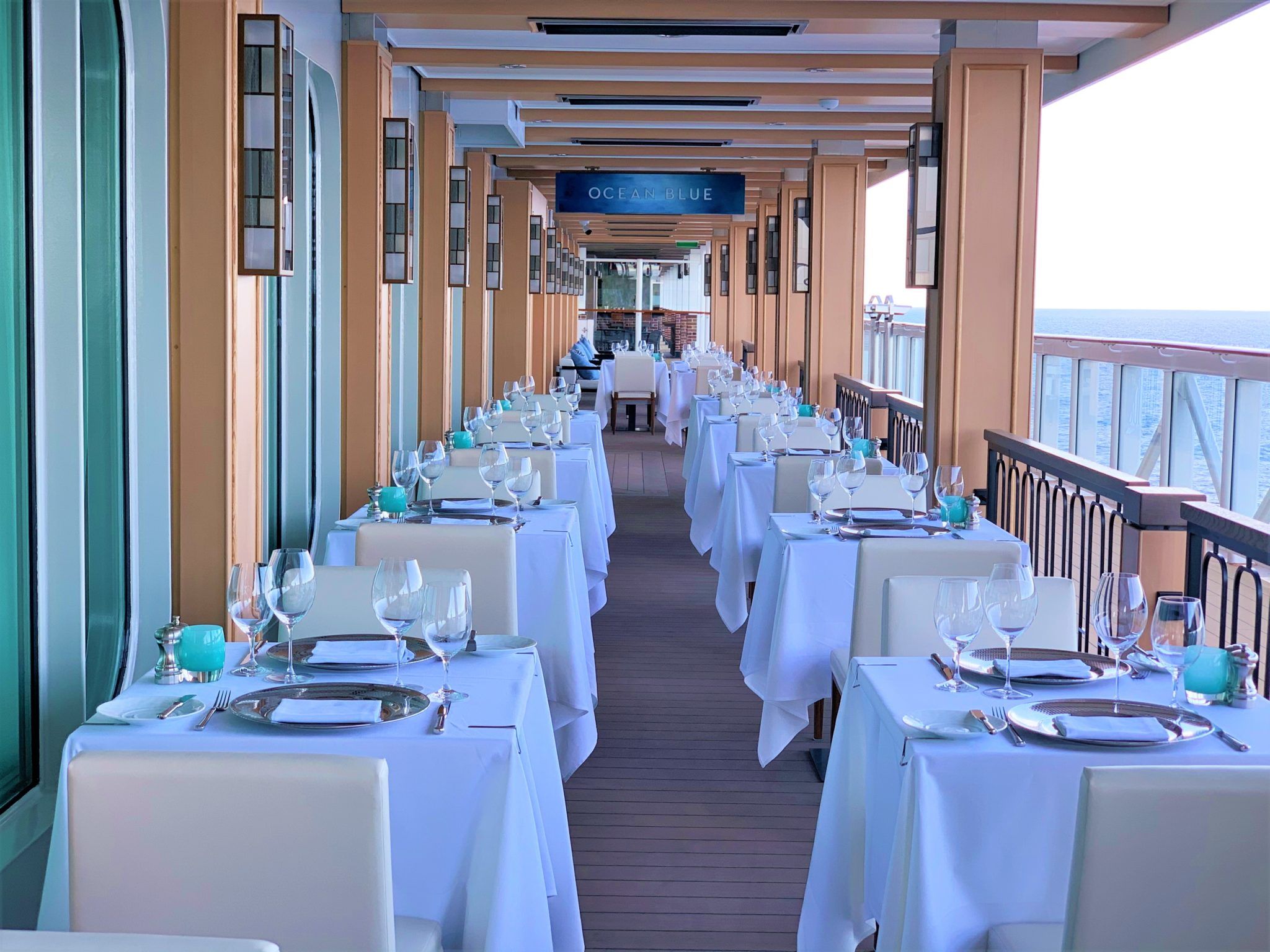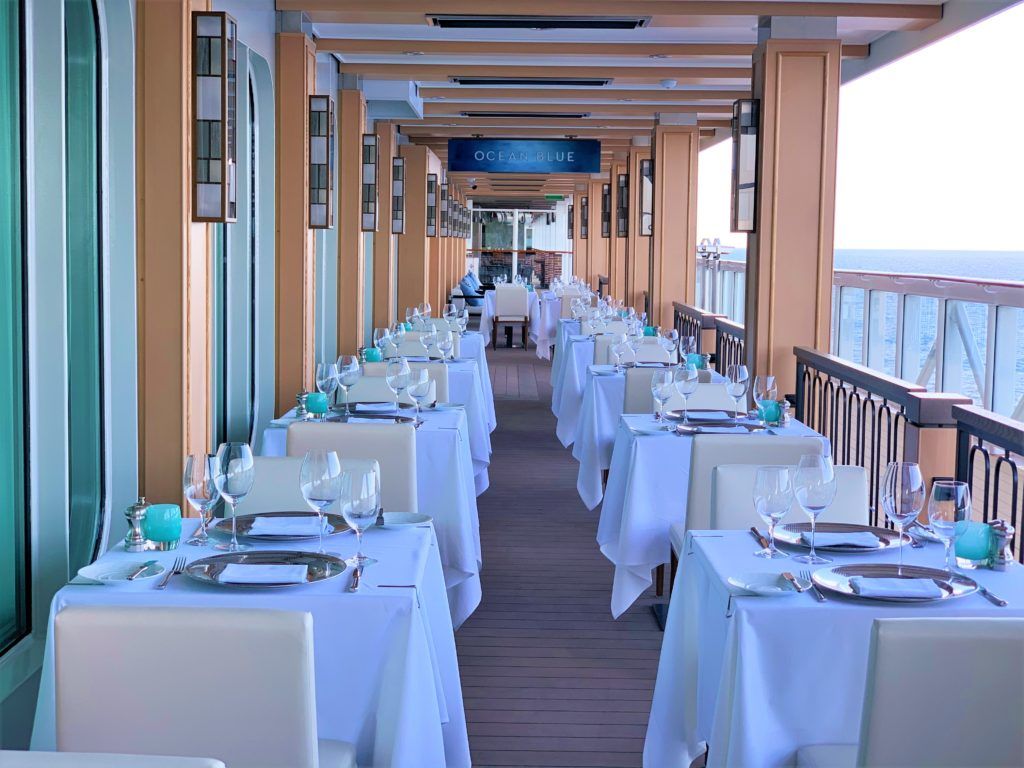 Some of our favorite menu selections are the sauteed calamari and clam chowder, as well the surf and turf and fisherman's platter. However, do note that some menu items require a supplemental fee if you are using the specialty dining package.
Complimentary Restaurants
Main Dining Room
Norwegian Cruise Line offers the brand's traditional Freestyle approach to dining. This means that there could be up to three main dining rooms on your ship. Each of these venues offers a complimentary multi-course dinner that changes every night of your cruise.
With so many options, there really isn't any reason that you need to pay extra for food on your cruise.
Cruisers can enjoy unlimited appetizers, entrees, and desserts for dinner in the main dining room. At least one of the main dining rooms is also open for breakfast and lunch on select days of the cruise.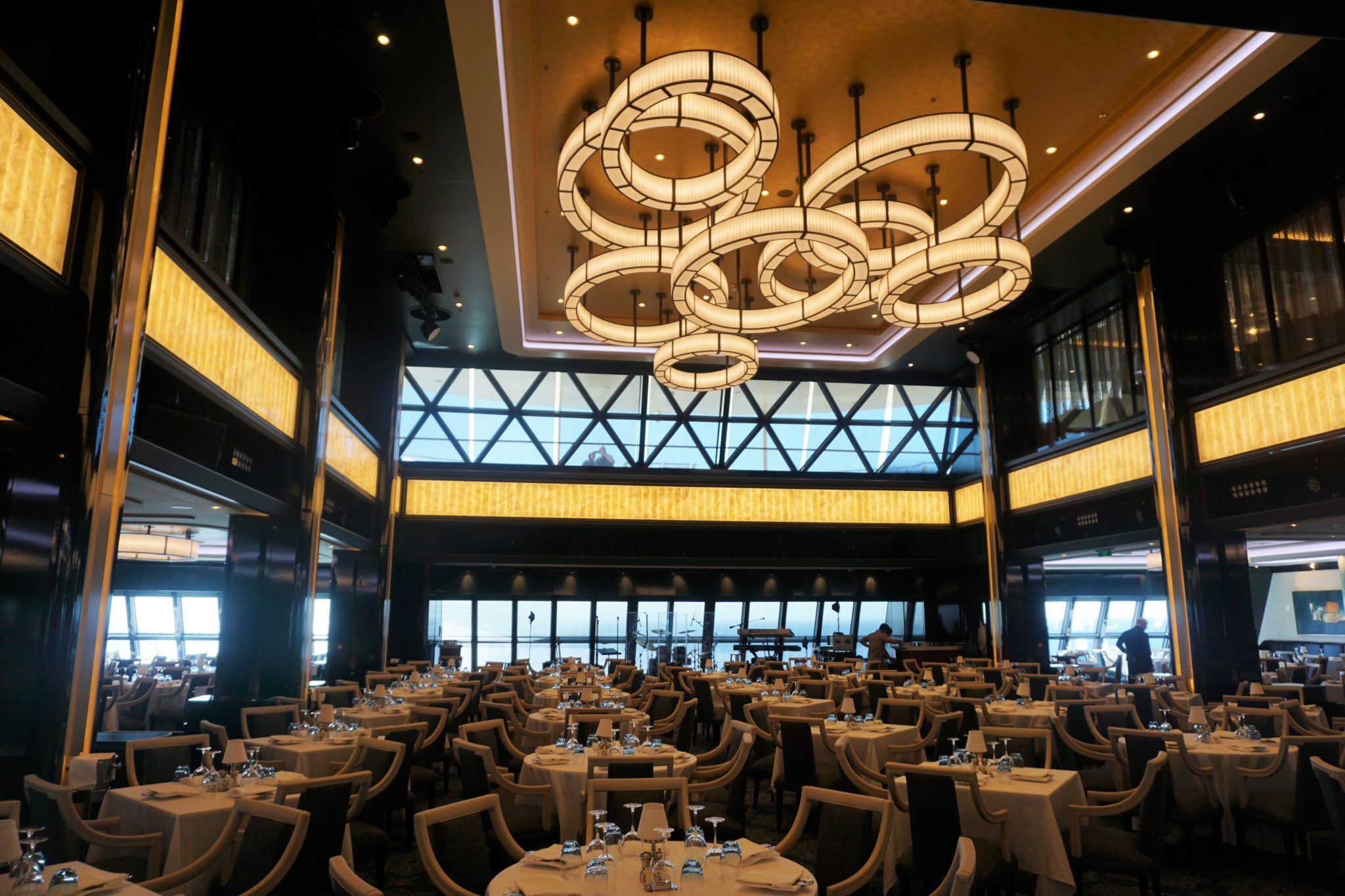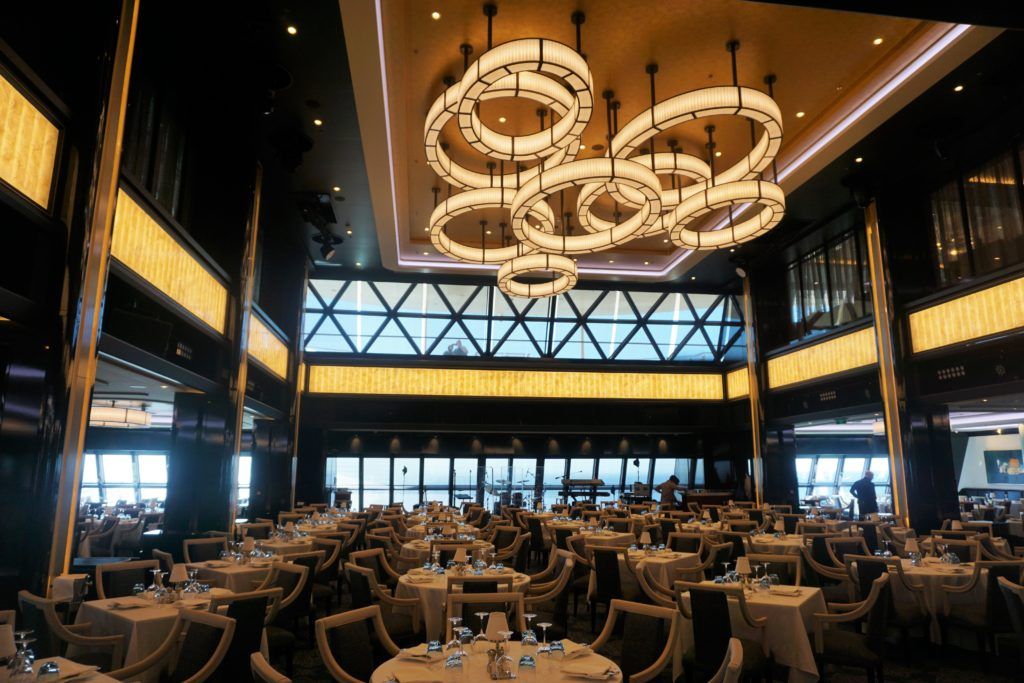 We recommend checking out the Manhattan Room on newer ships in the fleet as this is the most upscale of the dining rooms. Reservations can be made in advance (for dinner) or you can just walk up to a venue whenever you want to dine. Keep in mind, there might be a wait like any restaurant on land.
Related Post: Everything Included on a Cruise with NCL
The Local Bar and Grill or O'Sheehan's Pub
If you are looking for a casual spot for breakfast, lunch, or dinner, the Local Bar and Grill is your table service destination. This complimentary venue is an updated take on the brand's popular O'Sheehan's Pub.
With a menu that showcases chicken wings, fish and chips, and a Chicago style hot dog, how can you go wrong. The venue is open 24 hours a day serving up slightly different menus depending on what time of day you choose to dine.
While the Local Bar and Grill can only be found on newer ships, most other ships in the NCL fleet feature the cruiser favorite O'Sheehan's Pub. So, you can enjoy Irish pub classics while sipping your favorite beer on just about any sailing with Norwegian Cruise Line.
Garden Cafe
If you have sailed with Norwegian Cruise Line before, then you are very familiar with the Garden Cafe. This casual, complimentary buffet is open most of the day. On both sea and port days, the Garden Cafe serves up a variety of food options for breakfast, lunch, and dinner.
International selections include American, Indian, Asian, and Central American cuisines. The menu options rotate regularly with some standard offerings.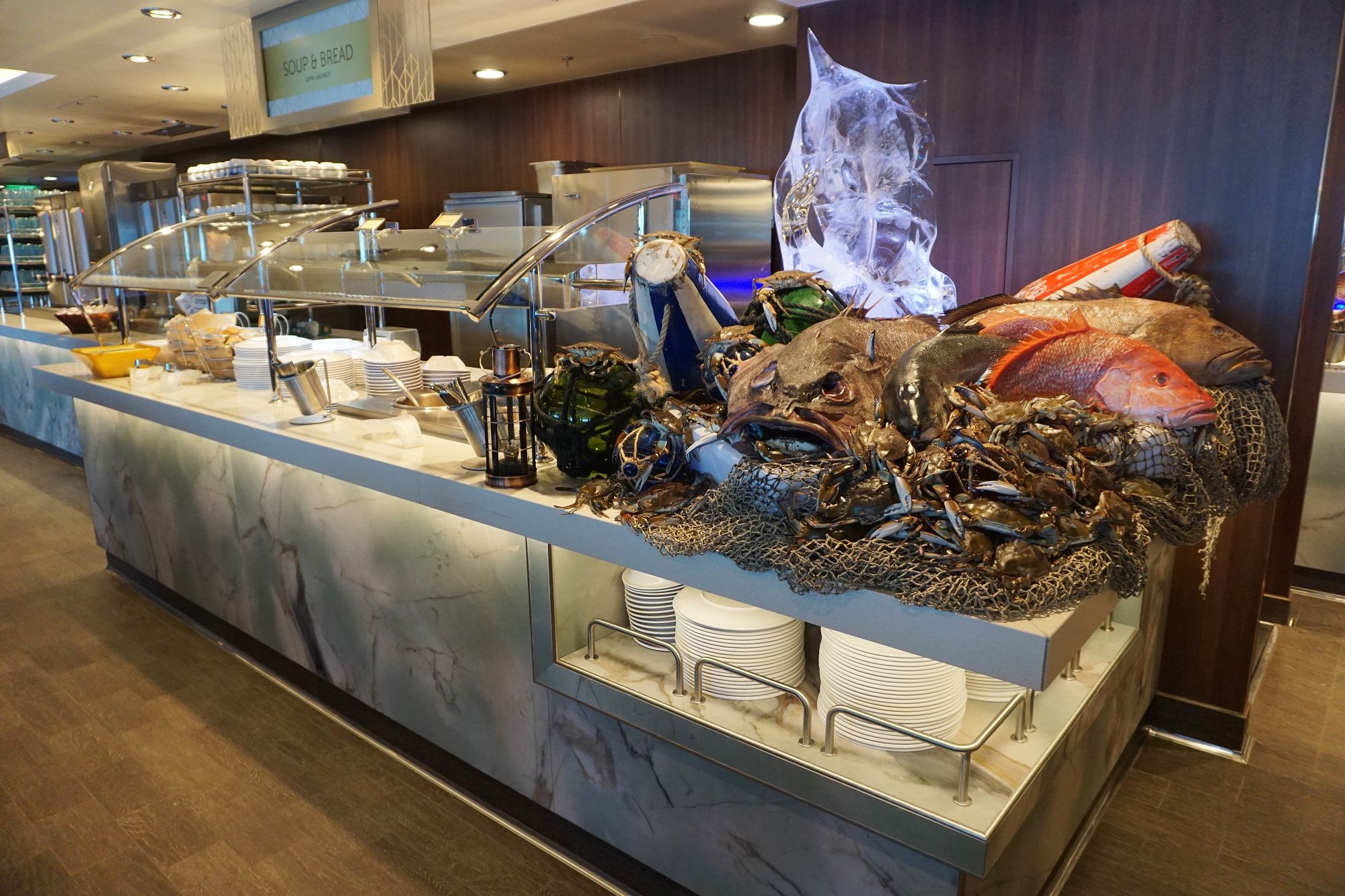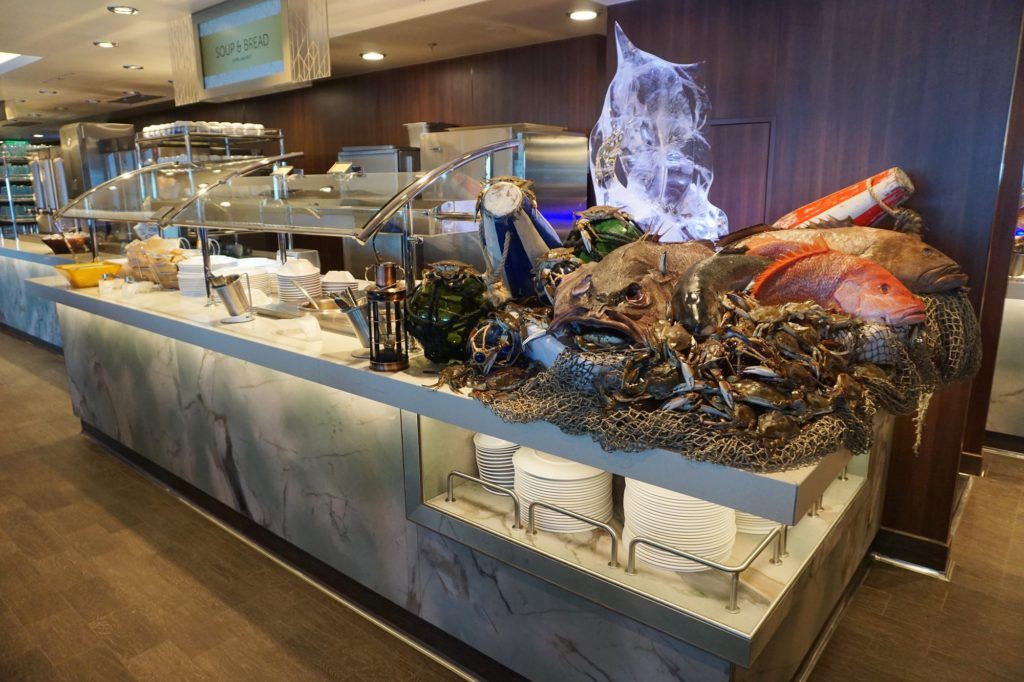 The Garden Cafe is a short stroll away from the pool deck to satisfy your sea day munchies. This buffet is also known for its Seafood Extravaganza on select ships/itineraries.
Comments
Do you agree with our Top Norwegian Cruise Line Restaurants? Do you have another venue that you think should have also made our list? Drop us an anchor below to share your favorite spots to eat on Norwegian Cruise Line ships.