Princess Cruises Reveals Dining & Entertainment Onboard Majestic Princess for 2021 Alaska Summer Cruise Sailings
SANTA CLARITA, Calif., (July 8, 2021) – For the upcoming summer 2021 Alaska sailings, Princess Cruises is announcing onboard entertainment and dining offerings in addition to the award-winning "North to Alaska" local culinary, entertainment and shore excursions series previously announced. Guests can enjoy signature specialty dining, Movies Under the Stars, production shows, Discovery@SEA programs and more.
Princess Cruises, the No. 1 cruise line in Alaska, returns to service in the United States with a partial season of Alaska sailings roundtrip from Seattle. Seven-day cruises are scheduled to depart July 25 through September 26, 2021, onboard Majestic Princess – a MedallionClass® ship.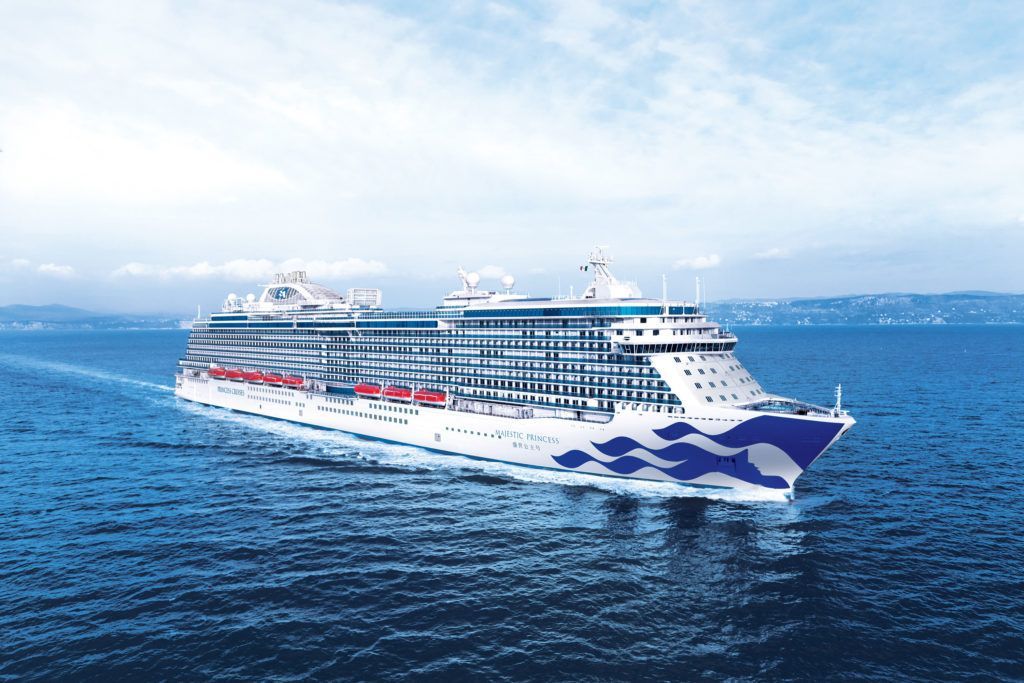 World-Class Dining
All dining venues will be open for guests to indulge in quick bites, traditional meals, and specialty restaurants. And with OceanNow®, guests have full control and flexibility when it comes to eating on board, including making Dine My Way℠ reservations for onboard dining rooms and restaurants, as well as ordering food, drinks, amenities, service on demand, including menu items from dining rooms and popular restaurants to be delivered to guests' exact location on board. Eateries on Majestic Princess include:
Allegro, Concerto and Symphony Main Dining Rooms – serving nightly multi-course meals freshly prepared by the Princess culinary team from Alaskan seafood to exclusive family favorites and decadent desserts shared by world-renowned chefs.
Specialty Dining:

Harmony – created in partnership with the former chef of Wing Lei – the first Chinese restaurant in North America awarded a Michelin star – Harmony features Chef Richard Chen's interpretation of classic Chinese dishes.
Bistro Sur La Mer – guests savor casual French bistro-style dining with a modern twist created with Chef Emmanuel Renaut, who holds the prestigious title of "Meilleur Ouvrier de France (Best Craftsmen of France) and Chef of the Year by Le Chef, and whose Flocons de Sel restaurant has received three Michelin stars.
Crown Grill – featuring premium aged beef and seafood items unique to Alaskan voyages, this specialty restaurant offers an intimate dining experience in a classically elegant setting and an open kitchen where chefs prepare and cook to order top-quality cuts of beef, chops, and seafood.
World Fresh Marketplace – with plenty of well-balanced options to choose from, guests can visit the gourmet pancake station for breakfast, or enjoy one of the unique hot cereal offerings. At lunch, handcrafted sandwiches, regionally inspired dishes and soups, and carvery selections are available. For dinner, there's everything from international favorites, comfort foods, customized stir-fry or pasta, plus a multitude of fresh fruit and salad choices.
International Café – open 24-hours a day, this is the place for an ever-changing array of small bite meals, treats and gourmet coffee and tea beverages.
Alfredo's Pizzeria – voted "Best Pizza at Sea" by USA TODAY, this charming sit-down venue offers an enticing menu of freshly prepared individual-size pizzas along with beer and wines by the glass.
Chopsticks Noodle Bar – offers freshly prepared noodle soups and classic wok-fried noodle dishes made for the perfect light repast, with an Asian twist.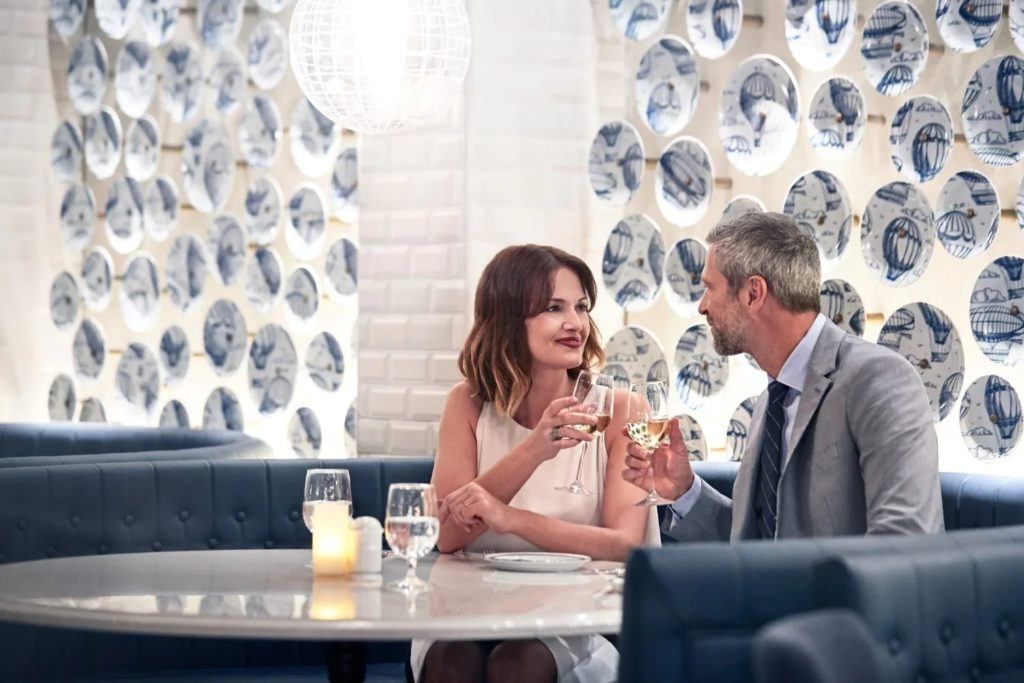 Dazzling Entertainment
From original musicals, magic shows, feature films, top comedians and original game shows, guests are sure to be entertained while onboard Majestic Princess. Options include:
During the Day – Sailaway Celebration (on embarkation day), SeaCRAFTS, Bingo, Trivia, Tai Chi, Movies Under the Stars, Games Under the Stars, Ocean Treks Adventure™ Culinary Demonstration, Zumba on deck and Princess Book Club.
Good Spirits at Sea – Good Spirits takes viewers around the globe in search of extraordinary everyday people, sharing stories of spirits and collecting farm-fresh, local ingredients to inspire one-of-a-kind cocktail creations. Immerse yourself in the region as skilled bartenders lead you through an immersive cocktail experience.
Anytime & Anywhere – With OceanView® enjoy the enhanced video-on-demand system in your stateroom or on your mobile device that lets you watch live TV, movies and Ocean Originals anytime, anywhere!
Lotus Spa & Fitness Center
Full Lotus Spa menu services including facials, massages, salon services, MediSpa and acupuncture are available for guests to book. The Fitness Center is offering fitness classes, body composition consultations and personal training sessions. (Thermal Suites and Enclave amenities, including sauna, steam rooms, warm stone beds and hydro-therapy pool will not be open at this time.)
Casino and other wage-based gaming
Gambling enthusiasts can gather in the casino for Vegas-caliber gaming at sea, with slots, table games and Bingo. With Ocean® Casino enjoy endless options for wager-based gaming at your fingertips from sports betting to casino favorites to blackjack on your stateroom TV.
CRUISE WITH CONFIDENCE
The 2021 Princess Alaska cruises are available for guests who have received their final dose of an approved COVID-19 vaccine at least 14 days prior to the beginning of the cruise and have proof of vaccination. Crew vaccinations will be in accordance with CDC guidelines.
As of now and subject to change as CDC guidance, medical, and public health guidance evolves, the line's Cruise Health program provides steps to enhance public health. Please check regularly, as there will be updates as new procedures are finalized and existing protocols may evolve.
Updates to the cruise line's Cruise with Confidence program are also being implemented, providing peace of mind for booked guests who may encounter an unexpected trip cancellation or interruption due to COVID-19. Guests can cancel for any reason up to 30 days before departure and receive a Future Cruise Credit for any cancellation fees and a refund of additional funds received to the original payment method. As an enhanced benefit, guests may cancel and receive the same Future Cruise Credit and refund within 30 days all the way to sailing day if they test positive for COVID-19. Full details can be found here. 
Alaska 2021 cruises start at $689 per person for Princess Savers and $1,079 for Princess Plus fare that includes drinks, Wi-Fi, and crew incentive.
Cruises can be booked through a professional travel advisor, by calling 1-800-PRINCESS (1-800-774-6237), or by visiting the company's website at www.princess.com.
SOURCE Princess Cruises
Comments
What do you think of the Princess Cruises dining and entertainment for Summer Alaska cruises? Do you have plans to cruise to Alaska this season? Drop us an anchor below to share what you love about Princess Cruises.
Stay up to date with the latest cruise news and travel updates!