Majestic Princess Crew Members Receive COVID-19 Vaccines At The Port Of Los Angeles World Cruise Center
Vaccines Administered to Over 200 Crew Members in Partnership with The Los Angeles County Department of Public Health
SANTA CLARITA, Calif., May 21, 2021 /PRNewswire/ — Majestic Princess crew members received COVID-19 vaccinations today at the Port of Los Angeles. In partnership with The Los Angeles County Department of Public Health, Ports America, and Metro Cruise Services, Ambulnz administered 221 COVID-19 vaccines.
Dr. Brenda Barnetson, Senior Director of Clinical Services for Princess Cruises, visited the crew members who volunteered to take part in an encouraging step in preparation for Princess Cruise to begin offering cruise vacations.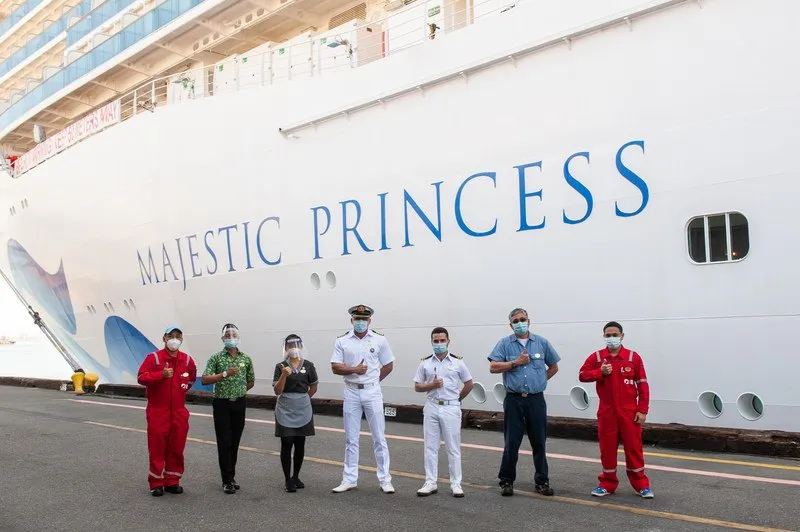 "We're glad to be providing the World Cruise Center as a location where our partners can vaccinate staff in preparation for the return of cruising to Southern California," said Port of Los Angeles Executive Director Gene Seroka. "This is important to the hundreds of thousands of people who enjoy cruises embarking from Los Angeles annually as well as to our local economy and job market. Each time a cruise ship calls in Los Angeles, it generates more than $1 million to local restaurants, hotels and shops."
Princess Cruises has been working closely with the U.S. Centers for Disease Control and Prevention (CDC) to define and manage best practices to promote the health of guests and crew as it finalizes its additional plans for return to cruising. 
SOURCE Princess Cruises
Comments
What do you think of the news that Princess Cruises crew get vaccinated? Will you be booking one of the Majestic Princess cruises to Alaska this summer? Drop us an anchor below to share your summer travel plans.
Stay up to date with the latest cruise news and travel updates!