What are you doing this Valentine's Day? If you are lucky enough to be on a cruise ship today, there are plenty of ways to enjoy the day with your significant other. If you need a little help planning this special day for next year, we give you our picks for the most romantic things to do on a cruise.
Most Romantic Things to Do on a Cruise
Choose a Romantic Cruise Destination
If you want romance to exude throughout your cruise vacation, you should choose a cruise to a romantic destination. Think popular honeymoon ideas, like Maui sunsets or over-water bungalows in Bora Bora.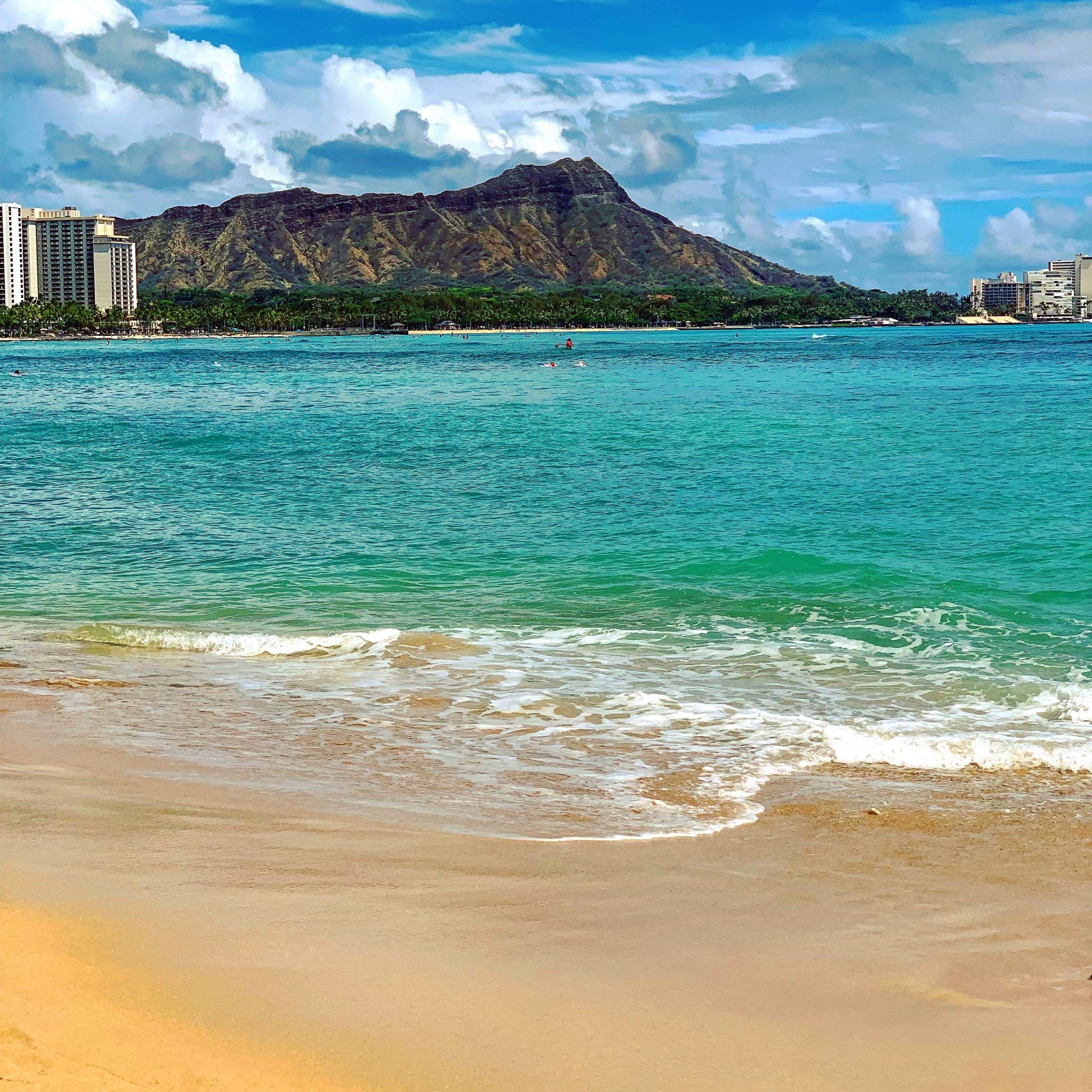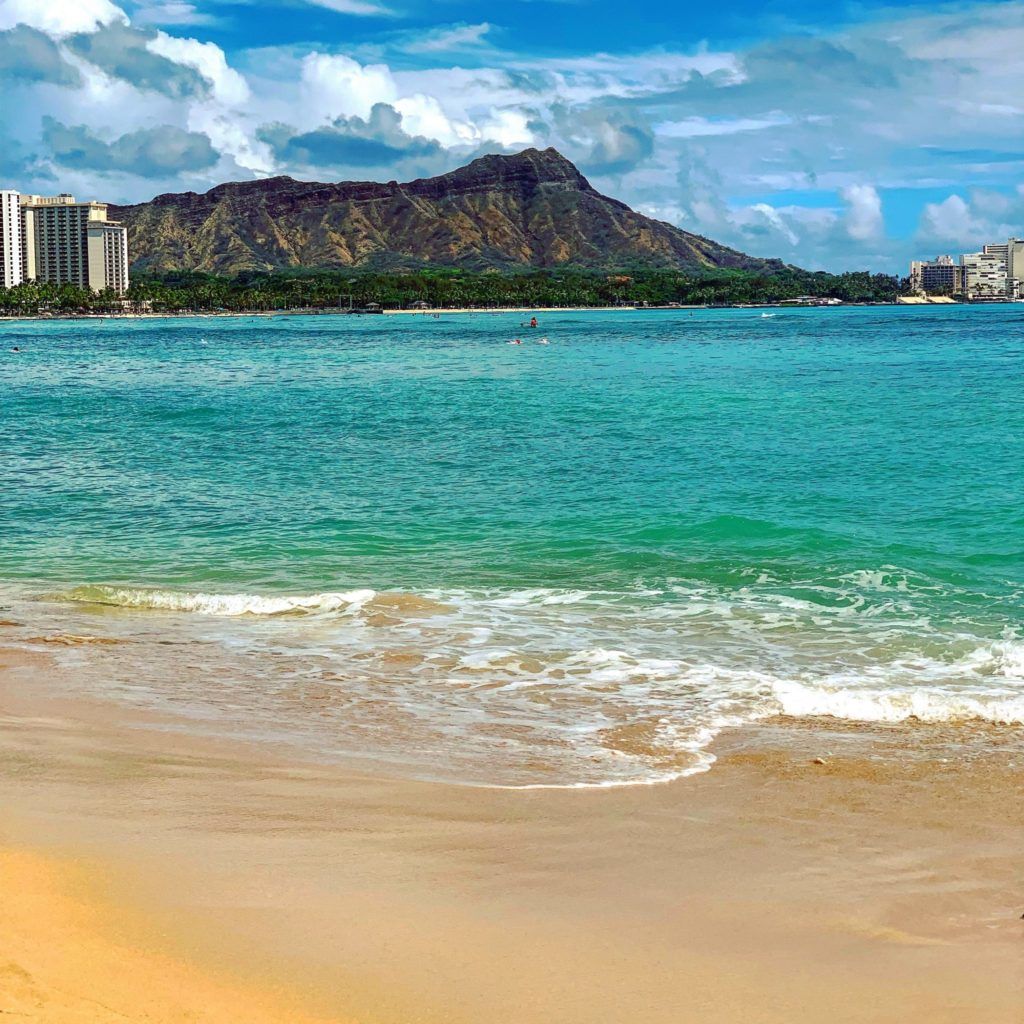 Cruises to Hawaii or French Polynesia are popular choices. Norwegian Cruise Line has a ship that sails year-round in Hawaii, while other cruise lines make seasonal stops. Windstar Cruises sails year-round from Tahiti, while other cruise lines make seasonal stops as well.
If you are looking for an alternative to these tropical paradises, plenty of European destinations are also steeped in history and romance.
Balcony Sunrise and Breakfast
Once you have chosen your ideal vacation, there are plenty of ways to add romance during the trip.
First, start the day off right. Wake up early and grab two front row balcony seats for the sunrise. While you sit hand in hand, you can take in the soothing sounds of the ocean and the colorful hues on the horizon while sailing to your next destination.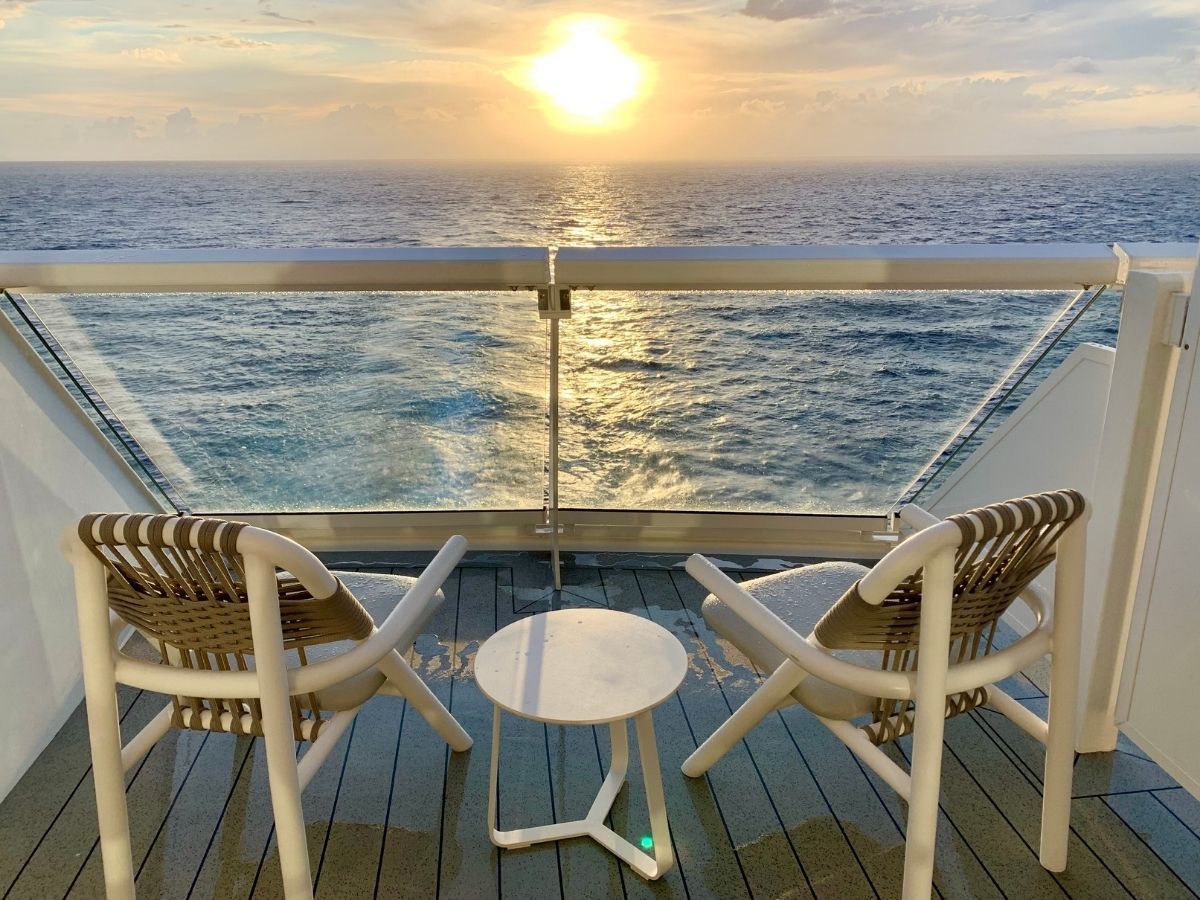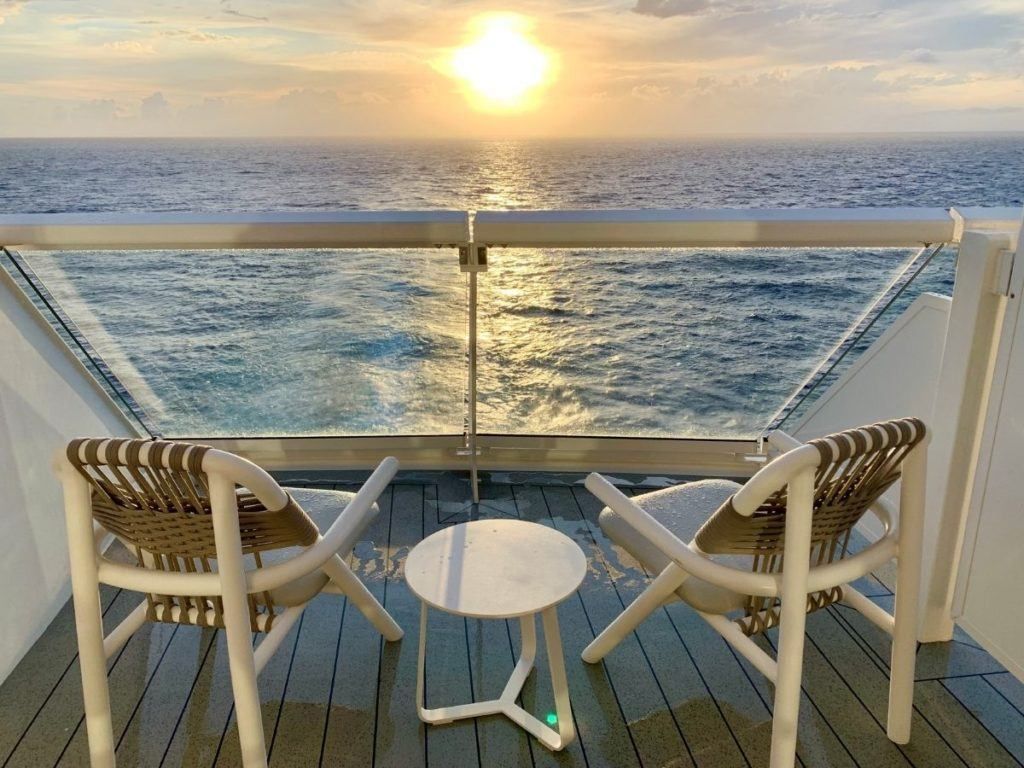 If you want to enjoy the tranquility a bit longer, plan to have room service breakfast delivered and spend the morning sipping coffee together.
Visit the Spa or Thermal Suite
Next, you can continue the relaxation a bit longer by taking advantage of your cruise ship's spa services. What better way to celebrate Valentine's Day than with a couple's massage.
As the two of you lay side by side in a couple's suite enjoying this pampering, you will soon agree that this is one of the most romantic things to do on a cruise.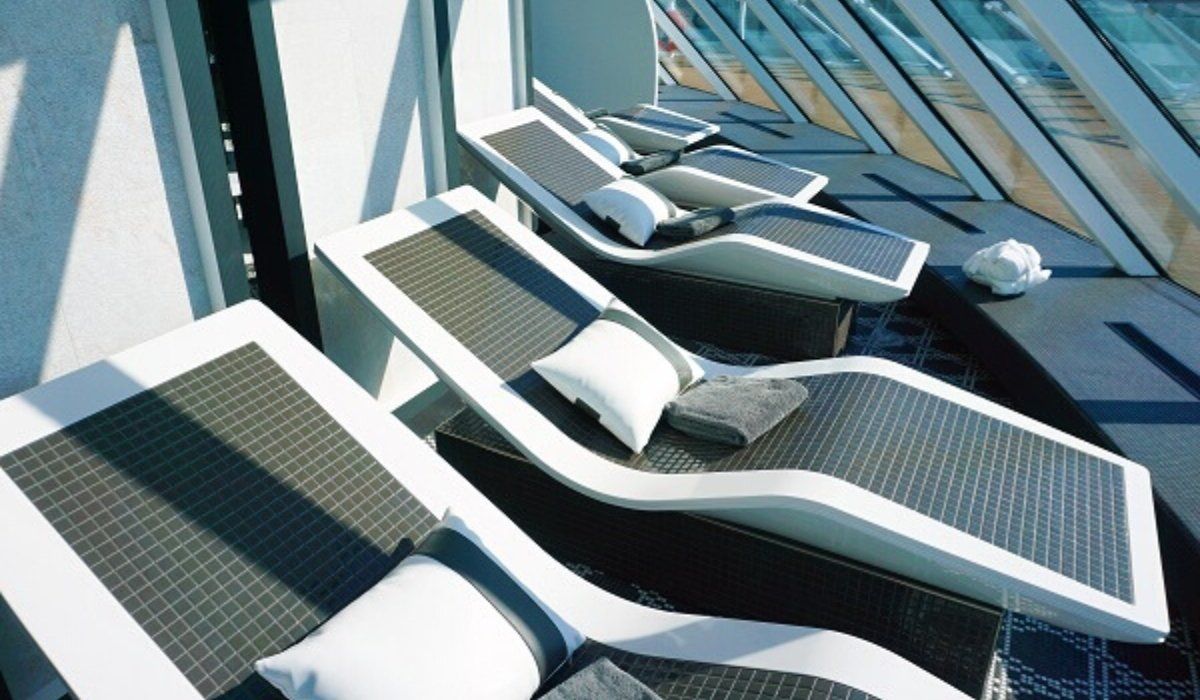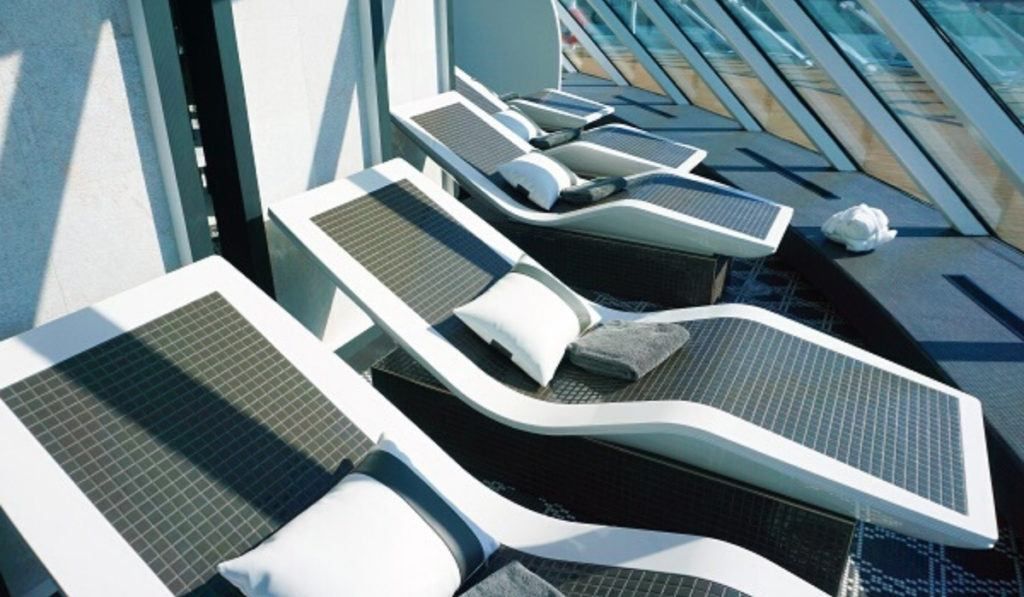 Or, you could opt for passes to the Thermal Suite for a day (or a full week) of rejuvenation. Many cruise lines offer thermal suites that include heated loungers, saunas, steam rooms, and sometimes even snow rooms.
Have Some Adult Time
Spend the afternoon enjoying some of the ship's activities and unique venues. Maybe you just want to relax near the adults only pool while sipping a few drinks. Perhaps your ship even has an infinity aft-pool to admire the wake views.
Or, you could sip some champagne in a hot tub.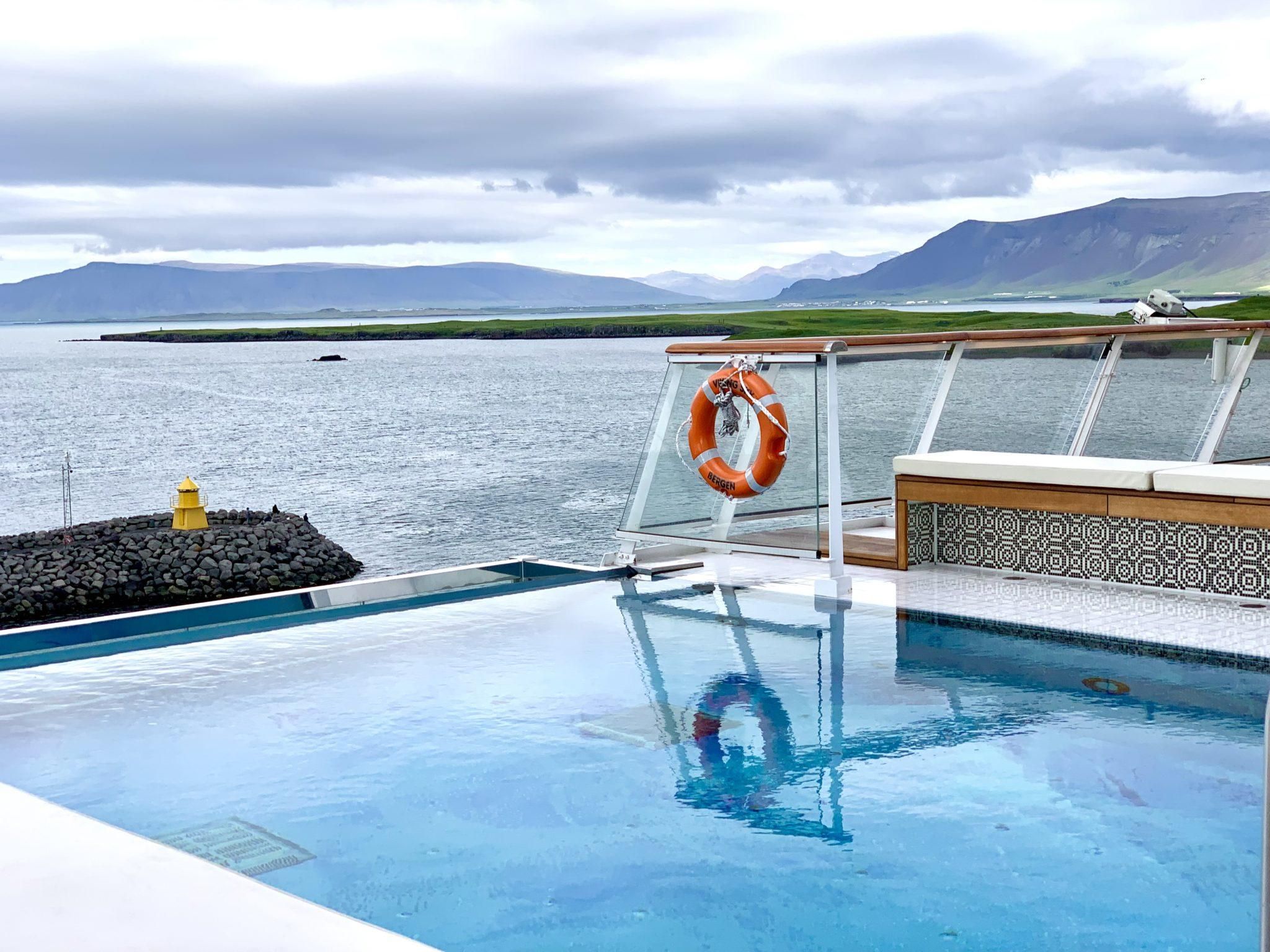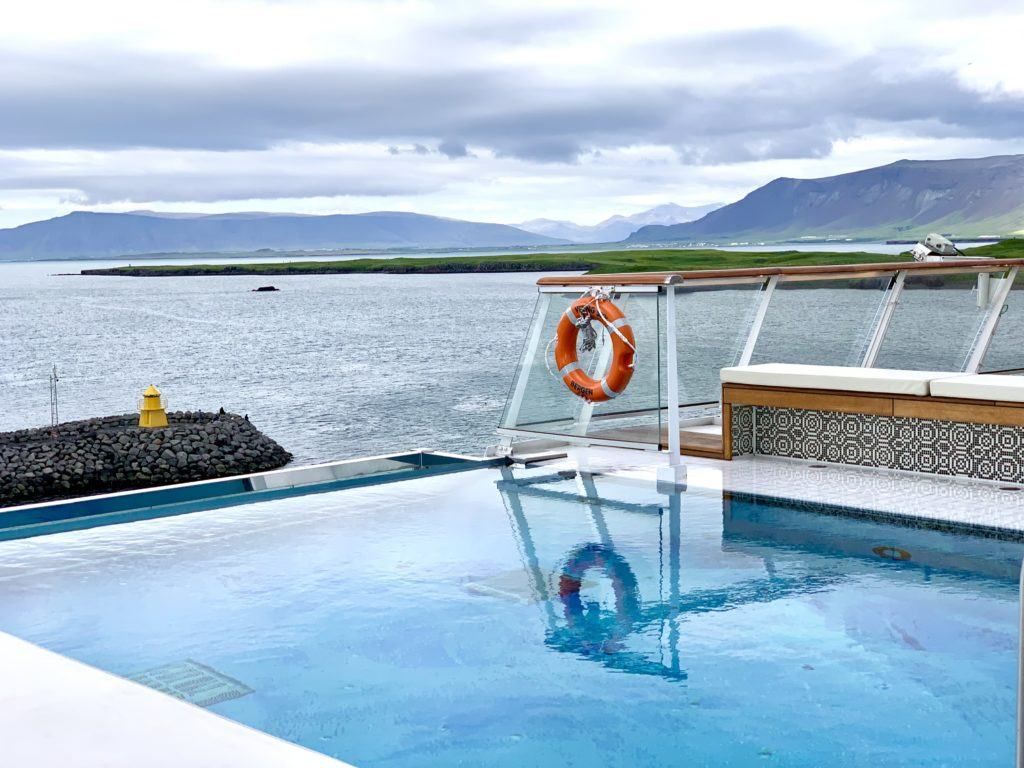 You could even grab some lunch to-go and have a picnic in a remote area of the ship.
Whatever activity you choose, it will be an opportunity to enjoy each other's company.
Book a Romantic Shore Excursion
During your days in ports of call, there are numerous shore excursions awaiting you. Sure, you can take a typical beach break or city tour. However, you can also step it up a notch by booking a romantic activity ashore.
Depending on your interests, you could go horseback riding along the beach or parasailing. You could also book a culinary tour or cooking class.
If your cruise ship is in port later in the evening, a sunset sail is definitely one of the most romantic things to do on a cruise. Cuddling up on one of these intimate vessels as you gaze at the sun slowly fading into the horizon is the perfect way to rekindle that spark during your vacation. 
Get Dressed Up
As evening rolls around, get dressed up and feel fancy even if it's not your ship's designated "formal night". Once you've donned your suit and tie and cocktail dress and heels, you will want to head to one of the ship's portrait studios to take some photos as a keepsake of this special night.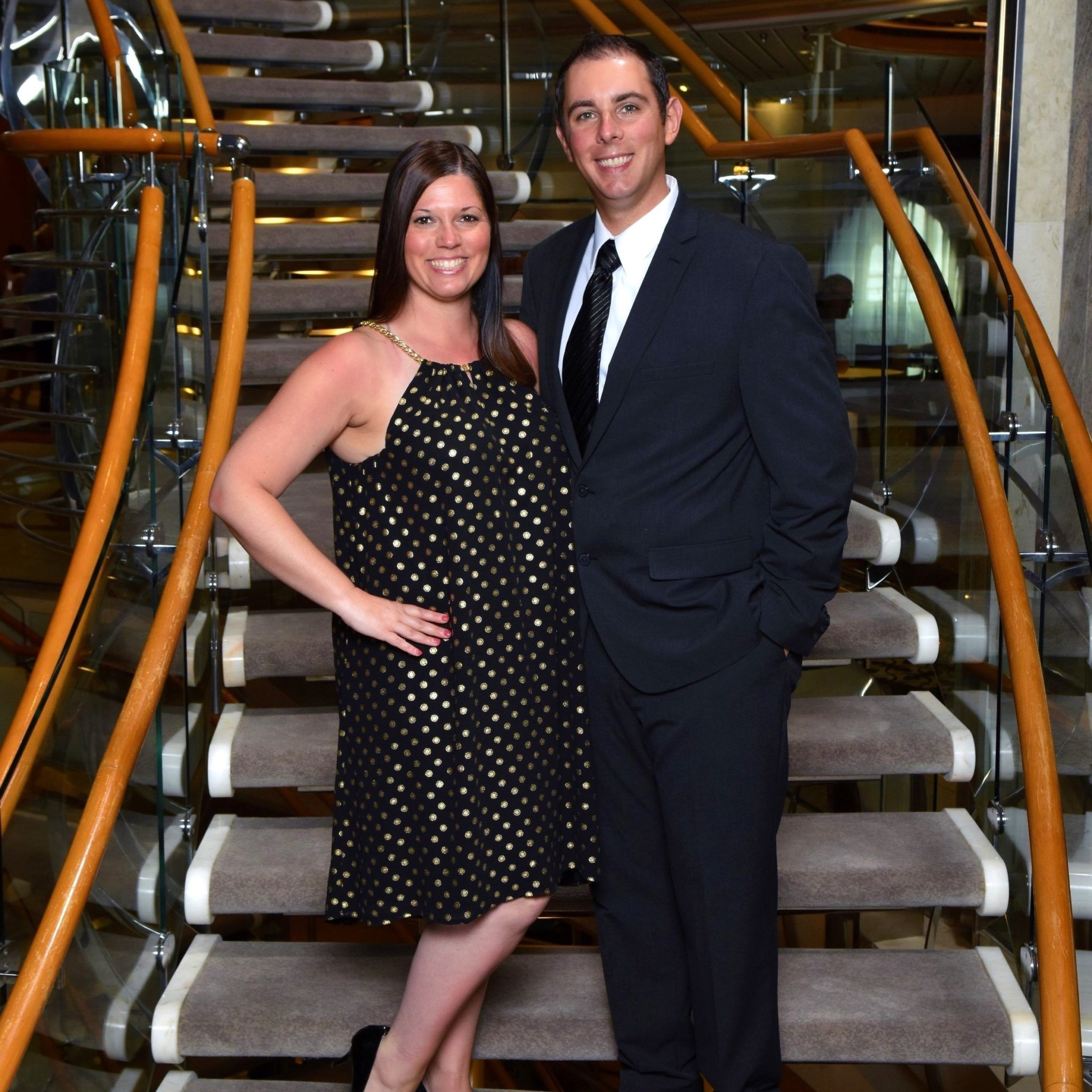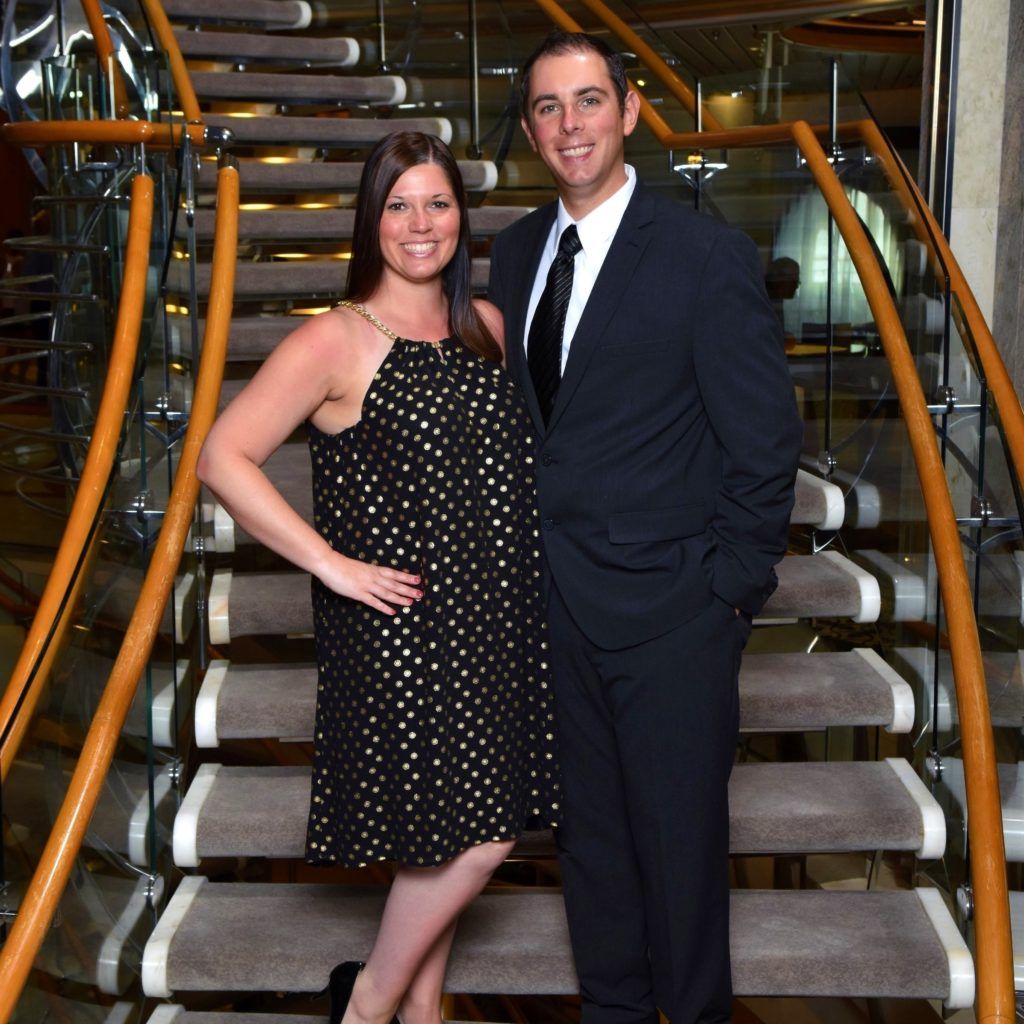 There are usually a few portrait studios around the ship on any given night with various backdrops, so have a little fun with your poses.
Wine and Dine
After taking a memorable photo, head to a specialty restaurant for dinner. Whether you want to go all out to impress your date with a Chef's Table experience or keep the costs a bit lower by dining at your cruise line's signature steakhouse or French bistro, it is sure to be a memorable evening.
It will be an opportunity for the two of you to enjoy an intimate dining experience, a few glasses of wine, and some great food!
EXCLUSIVE DEALS: Save Money on Your Next Cruise!
Go Dancing
After dinner, keep the mood going with an evening of music and dancing. Find a spot on your cruise ship that has some live music and kick your heels off before you head out on to the dance floor.
With so many venues, you are certain to find a genre of music that suits your taste. After a few cocktails, you'll be singing your own rendition of Elvis Presley's "Can't Help Falling in Love with You" to your sweetheart.
Movies Under the Stars
If dancing is not your thing, you can enjoy a quiet evening together by watching a movie under the stars. Several cruise lines feature movies on the big screen near the pool in the evenings.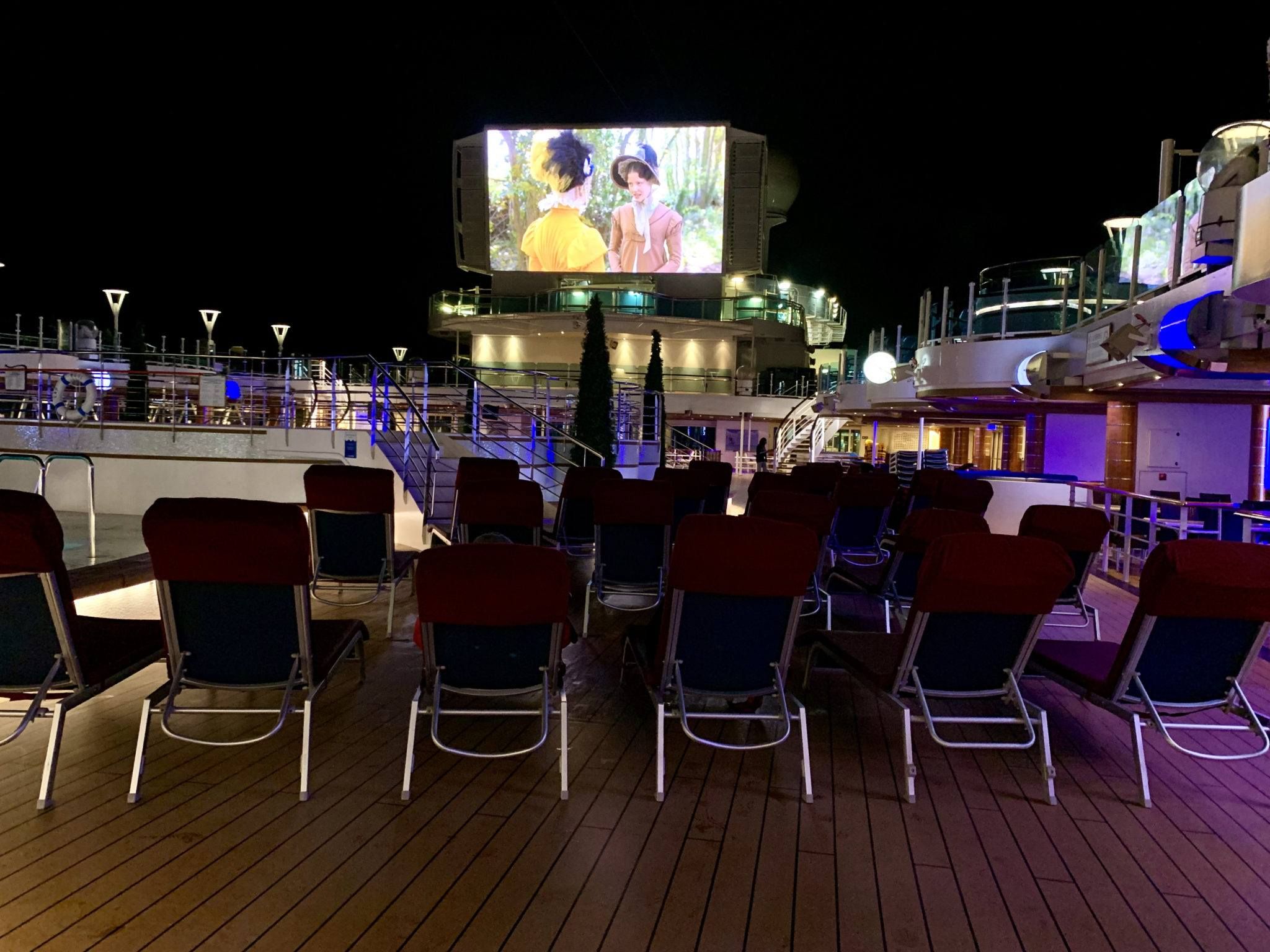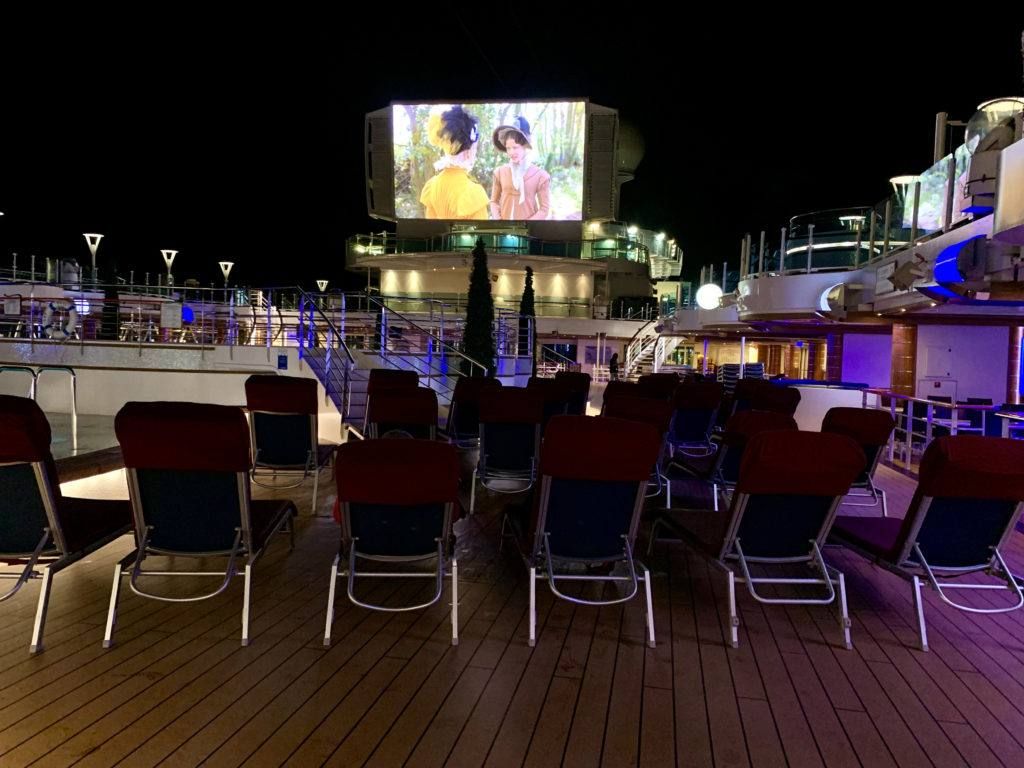 With comfy lounge chairs and blankets, maybe even some popcorn, this is the perfect low-key night for just the two of you.
Participate in the Love and Marriage Show
If you are into a bit more risqué fun, volunteer to participate in your cruise ship's version of the Love and Marriage show.
Most cruise lines offer some version of this popular game show where you can compete with other couples in the ultimate test of your relationship.
Do you remember your wife's bra size or the place you went for your first date? If not, you better start studying if you want to win some bragging rights.
Romance Package
As the night starts to fade, from fatigue or the drinks, you will make your way back to your room to retire for the evening. But, the romance doesn't have to end quite yet.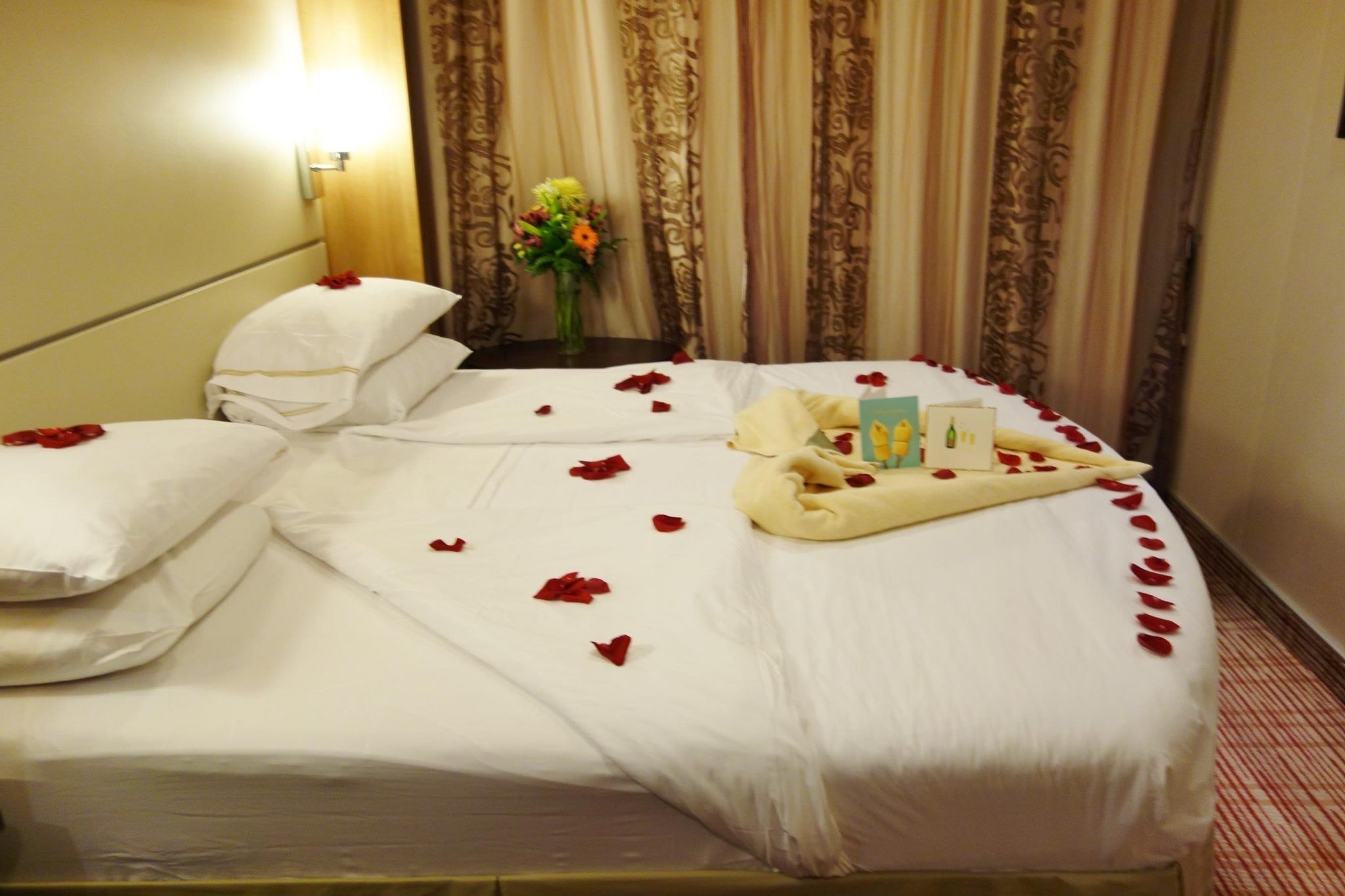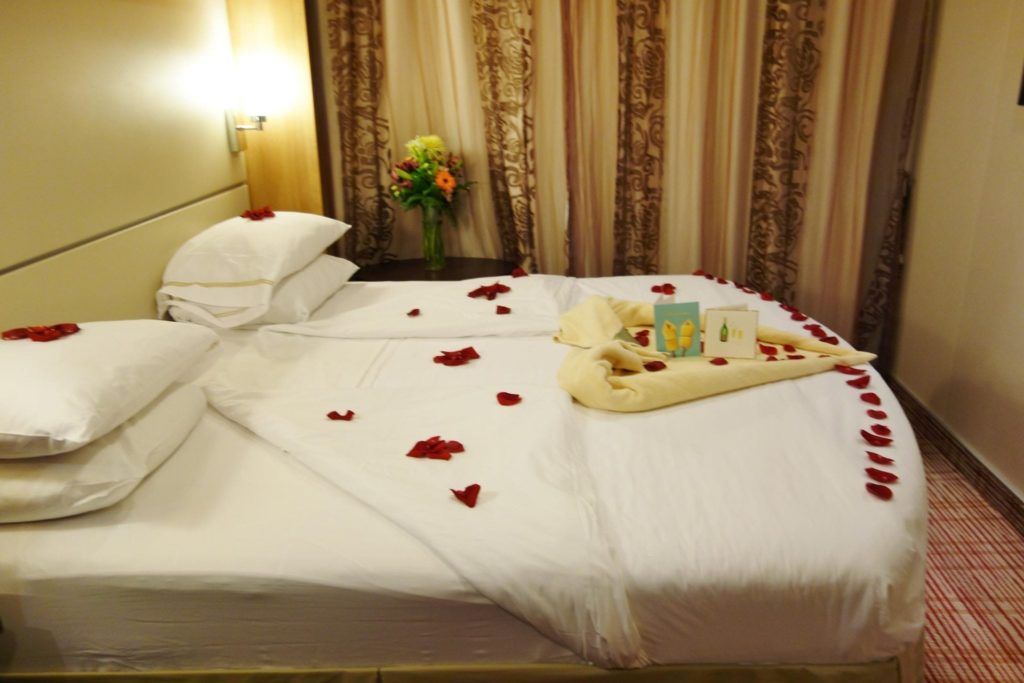 As your sweetheart opens your stateroom door, she/he will be pleasantly surprised by the romance package that you purchased. Perhaps a bouquet of flowers, chocolate covered strawberries, or some rose petals on the bed. A little thought can go a long way!
Renew Your Vows
If you are looking for the MOST romantic thing to do on a cruise, you can renew your vows. If you and your sweetie love cruising, why not partake in some nautical nuptials to commemorate your love for each other.
Many cruise lines offer some type of vow renewal packages. These can include champagne, cake, photography, flowers, and more. The ship's Captain or Cruise Director often even officiates these ceremonies.
Comments
Do you agree with our list of the most romantic things to do on a cruise? What would you add to this list? Drop us an anchor below to share how you and your special someone spend quality time together on a cruise.