Princess Cruises is often regarded as the top cruise line in Alaska. With several ships sailing in the region year after year, we finally decided to hop onboard a Princess Cruises ship. We just returned from a cruise on Majestic Princess and want to share our picks for the Top Things to Do on Princess Cruises in Alaska.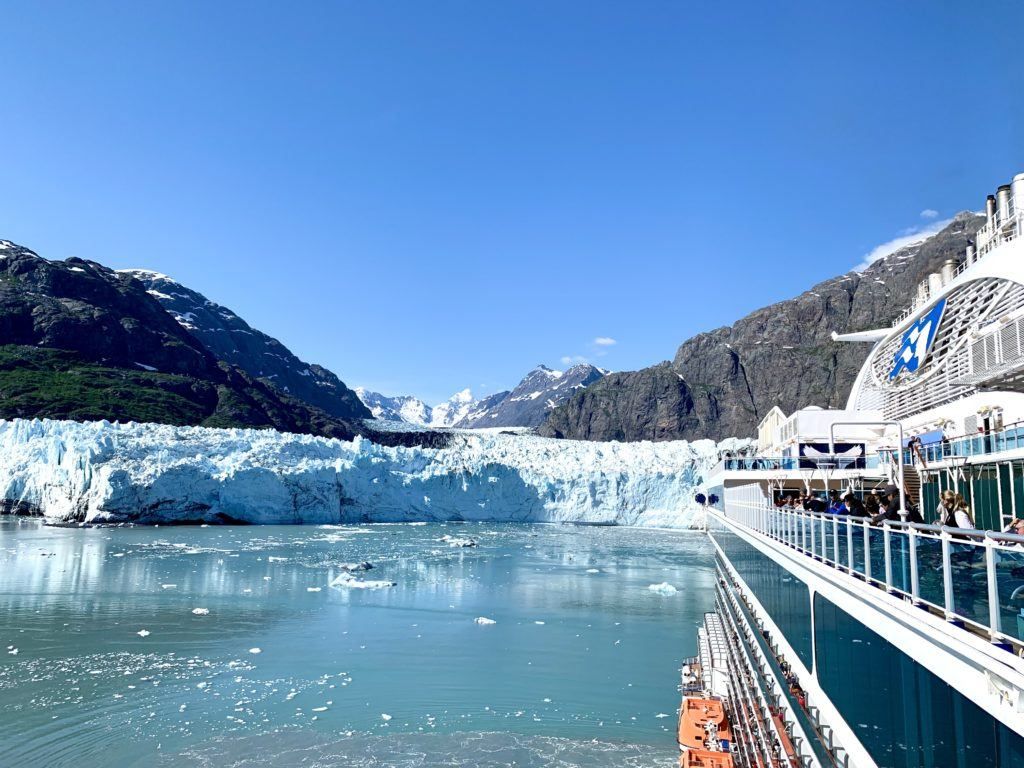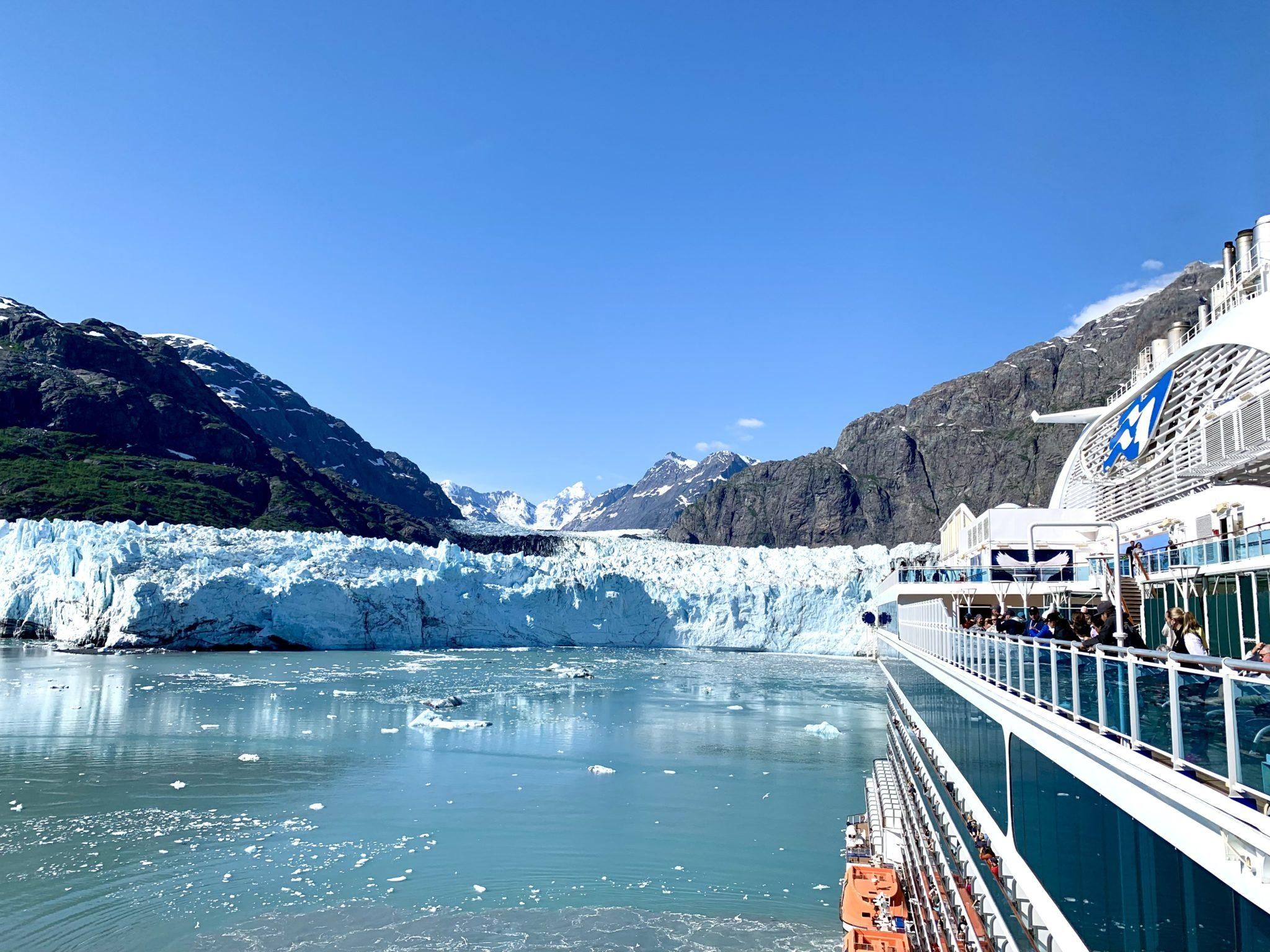 Top Things to Do on Princess Cruises in Alaska
Attend a North to Alaska Presentation
Princess Cruises offers many Alaska-themed activities as part of its award-winning "North to Alaska" programming. With enrichment opportunities on Alaskan culture, food, history, landscape, and wildlife, you must attend these North to Alaska presentations.
Led by local naturalists and other experts, these talks are informative and engaging providing guests with greater insight into the Alaskan Frontier and the ship's ports of call. We even had Glacier Bay National Park rangers board our ship during our day of scenic cruising. The narrative from the rangers made this day even more memorable.
Watch Our Exclusive Princess Cruises Alaska Cruise Review Video!
EXCLUSIVE SAVINGS: Book Now and Save on Your Next Alaska Cruise!
Admire the Glaciers
Speaking of scenic cruising, our sailing with Princess Cruises in Alaska was graced with beautiful weather and amazing glacier views. Our Alaskan cruise itinerary on Majestic Princess included Glacier Bay National Park along with port stops in Juneau, Ketchikan, and Skagway.
During our coast through Glacier Bay National Park, the Captain was able to maneuver our ship to get up close and personal with some of the glaciers in the area. We spent a prolonged period of time admiring the Marjorie Glacier from all angles.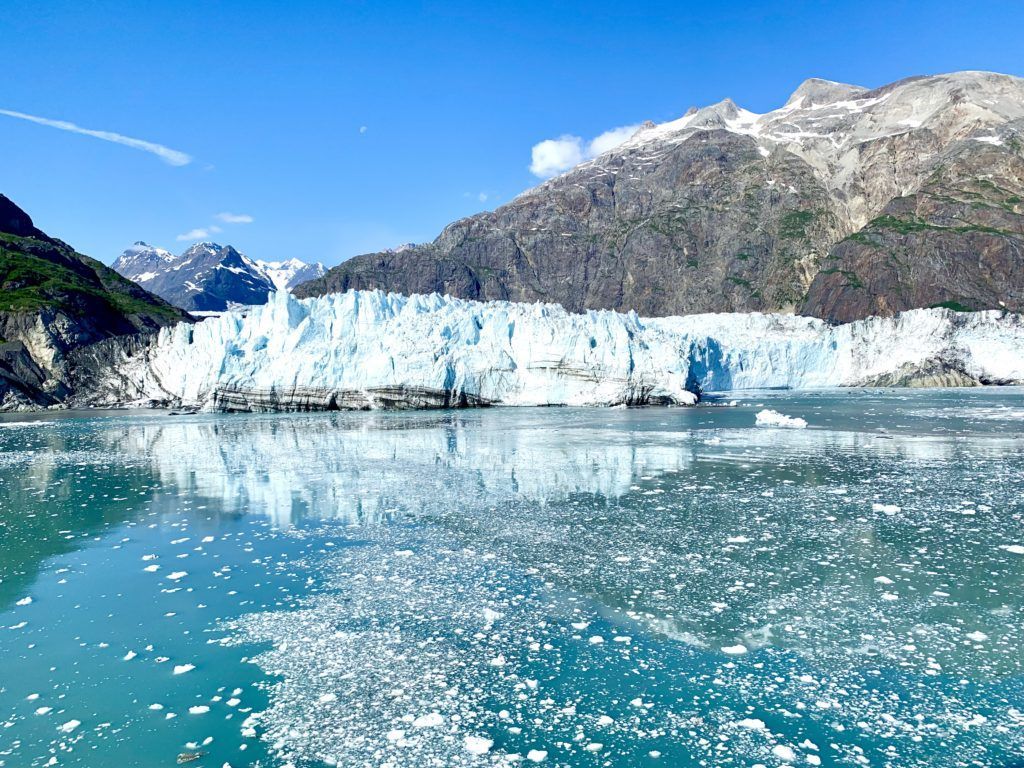 Of course, these massive ice forms are best viewed from the top decks of the ship. However, there are plenty of indoor spots for viewing as well. Not to mention, you don't necessarily ever have to leave the confines of your stateroom's balcony as the ship will complete a full turn for perfect viewing on both sides of the ship.
Dine at a Specialty Restaurant
While the main dining rooms offer plenty of delicious and complimentary menu options, we suggest sampling some of the specialty dining during your sailing with Princess Cruises in Alaska.
On Majestic Princess, we dined at Crown Grill and Bistro Sur La Mer. Crown Grill is Princess Cruises signature steakhouse. This venue serves up cooked-to-order premium cuts of beef in an upscale setting complete with an open kitchen concept. Crown Grill can be found on several ships in the fleet.
Bistro Sur La Mer is a French-style bistro located in the Atrium on newer ships in the Princess fleet. If you are cruising to Alaska on a ship other than Majestic Princess, you may also want to try Sabatini's Italian Trattoria or SHARE by Curtis Stone.
Related Post: What It Was Like on the First Princess Cruise in Alaska
Don't Look Down on the Seawalk
Well, actually, half the fun of the Seawalk is to look down, as long as you aren't afraid of heights. The Seawalk on Princess Cruises is a first of its kind glass walkway suspended over the ocean. This 60 foot long walkway extends 28 feet off the edge of the ship offering unparalleled views of the ocean below.
The Seawalk provides ever-changing vistas to admire. You can stroll across this glass walkway once for the obligatory video or perhaps everyday for a whole new perspective as you sail between your exciting Alaskan ports of call.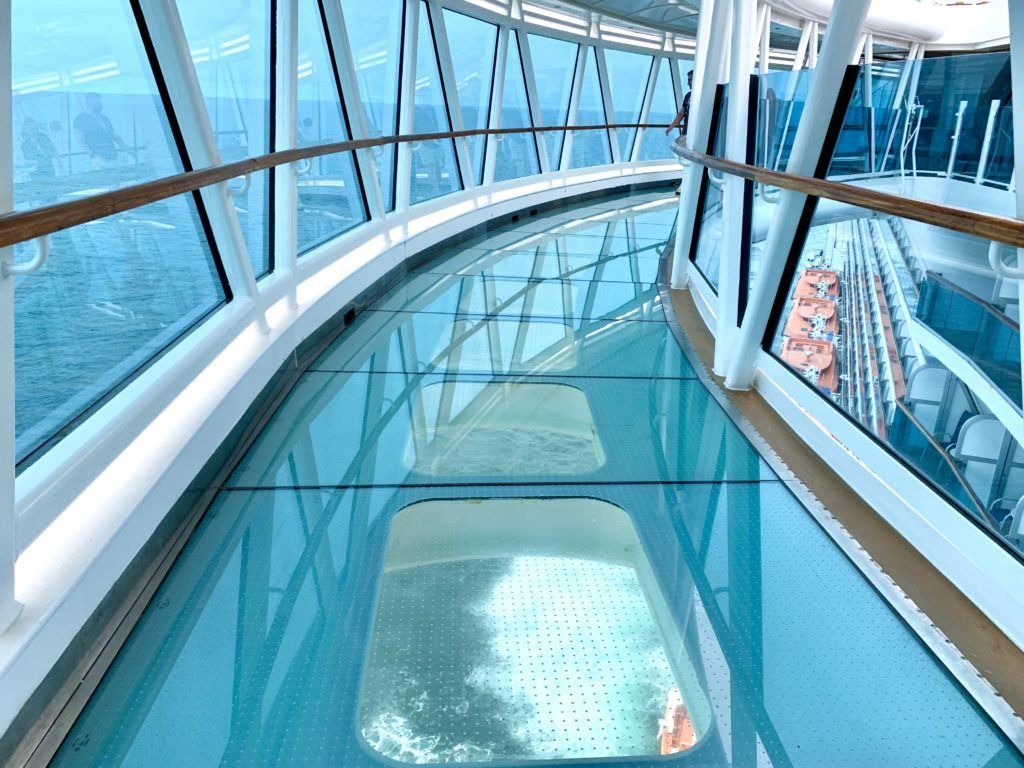 Take a Dip in the Pool
Even though you are traveling with Princess Cruises in Alaska, it doesn't mean that you can't take a dip in the pool. Yes, the weather in the region can be a bit unpredictable, but we recommend that you still pack a bathing suit.
We definitely had a few afternoons that were warm enough to make use of the outdoor pool. However, there is also an indoor pool that is covered from the elements and both indoor and outdoor hot tubs. Imagine sitting in a hot tub while admiring the Alaskan scenery. Sounds great, doesn't it?
If you want to splurge on your vacation, you can also purchase a pass to Princess Cruises' version of a thermal suite, the Enclave in the Lotus Spa.
Related Post: Alaska Cruise Packing Guide
Attend a Show in Princess Live
While Alaska cruises may focus more on the ports of call, there are still plenty of entertainment options on the ship. After a long day ashore, guests can enjoy nightly main theater shows, live music is several venues around the ship, and game shows in Princess Live.
This intimate venue is modeled after a live production studio and hosts several shows during the cruise that shouldn't be missed. Some of our favorites include the Yes or No game show, the Liar's Club, and the Marriage Match game show. The combination of audience participation and the cruise director's staff humor make these shows hilarious to attend.
Indulge in the Casual Dining Options
If you don't feel like getting dressed up for the main dining room after a long day of exploring your Alaskan ports of call, don't worry. Princess Cruises offers some great casual dining options.
Of course, there is always the World Fresh Marketplace, the cruise line's buffet, where the staff are ready to serve up your selections. However, if you are like us and tend to avoid buffets, there are still plenty of other options. Personally, we loved Alfredo's Pizzeria and the International Cafe.
Alfredo's Pizzeria is a sit-down restaurant that is open well into the evening with delicious personal-sized pizzas on the menu. The International Café is a quick-service spot offering small sandwiches and snacks 24 hours a day.
Majestic Princess also features the Chopsticks Noodle Bar and Burger & Lobster Grill on the pool deck that were open until 10 pm weather dependent. If you are sailing on another Princess ship in Alaska, there will be similar casual venues on the pool deck to enjoy.
Watch a Movie Under the Stars
Princess Cruises is known for its Movies Under the Stars. What could be better than cuddling up with your loved ones in the crisp Alaska air to enjoy a movie on the big screen? With comfy lounge chairs and provided blankets, this is a perfect low-key evening activity.
This "movie theater" features not only movies but also concerts from the likes of Michael Bublé, Lady Gaga, and more. So, no matter your style, you are sure to find something you will enjoy at the Movies Under the Stars.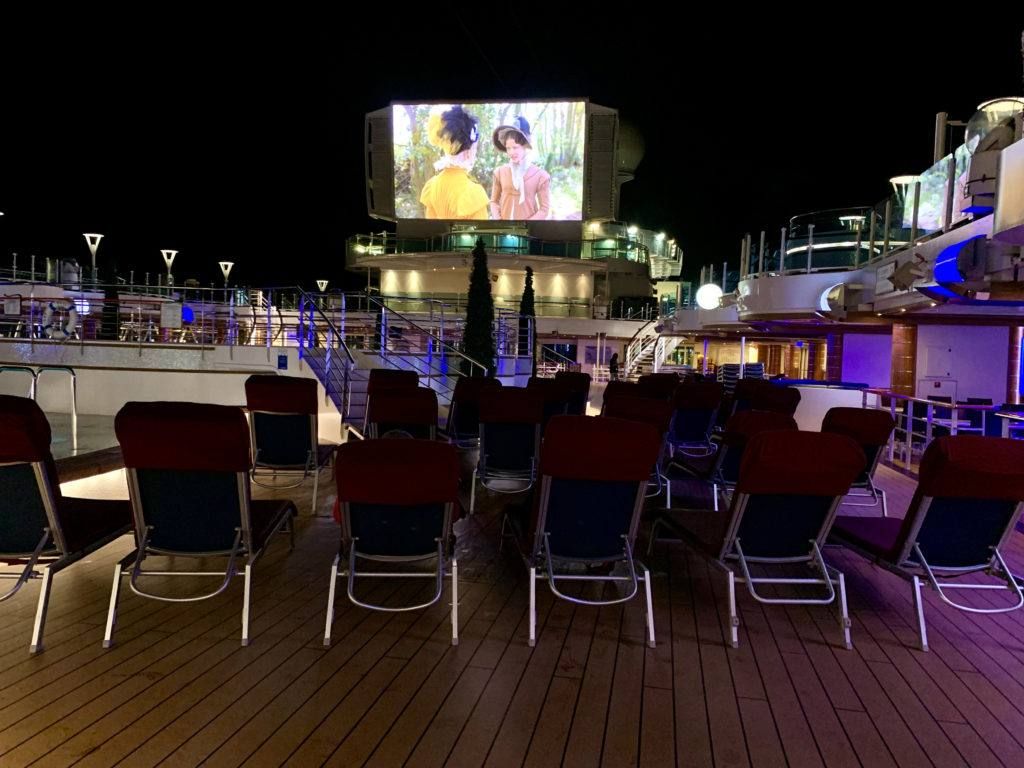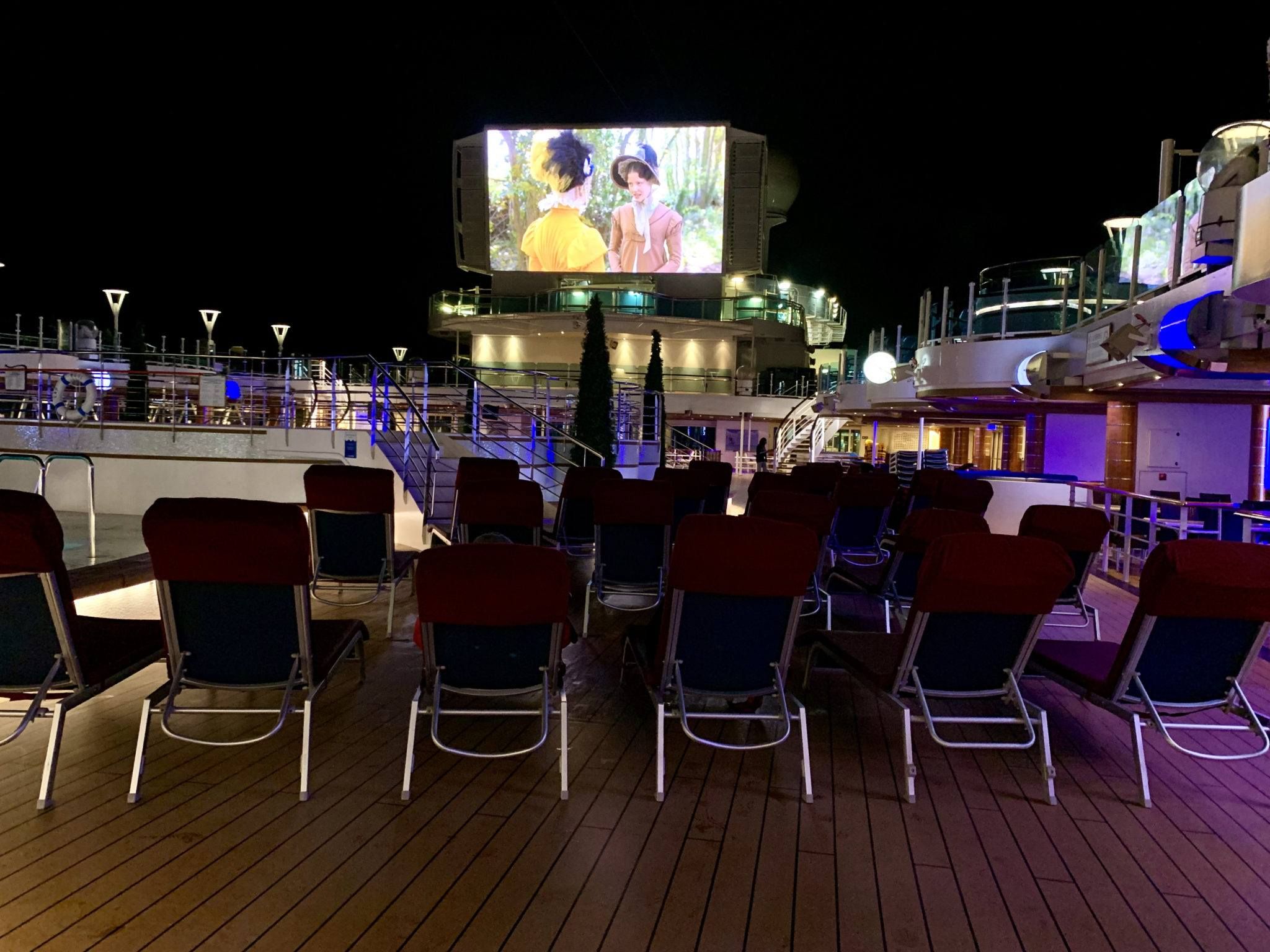 Take Advantage of Ocean Now
One of the newest innovations from Princess Cruises is Ocean Now. With Ocean Now, guests can order their favorite food and drinks to be delivered to them just about anywhere on the ship.
Using the wearable Ocean Medallion technology, staff can pinpoint your location on the ship to provide the most personalized cruise experience. Guests can simply use the Medallion Class app to order beverages, food, or even stateroom amenities. Then, just sit back and wait for it to be delivered.
The Ocean Now technology also allows for Crew Call assistance. In essence, you can chat with staff via the app instead of visiting Guest Services.
Now, everything you need on your sailing with Princess Cruises in Alaska is at the touch of your finger tips.
Go Wild
It wouldn't be an Alaskan cruise without some wildlife sightings. While cruising between your ports of call, be on the lookout for whales, porpoises, and dolphins swimming near the ship.
Princess Cruises also offers a vast array of shore excursions to fulfill your desire to "go wild". From dog sledding and whale watching to bald eagles and bears, there is the perfect tour for everyone. These animal sightings can also be coupled with other highlights in your port of call. For instance, we took a whale watching tour in Juneau that was coupled with a visit to the famous Mendenhall Glacier.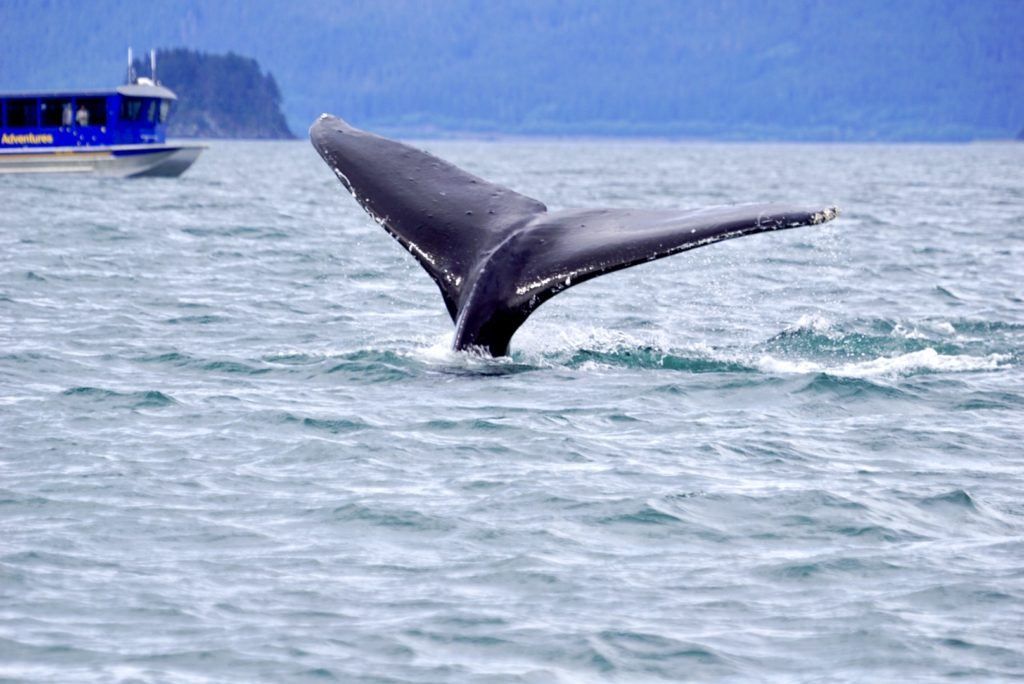 Now, as much as these animals are prevalent in the area, sightings cannot be guaranteed. While certain times of year are better than others, it's really the luck of the draw.
Related Post: Top Alaska Cruise Excursions
Sip a Drink with a View
If you want to enjoy a little time outside on your Princess cruise in Alaska, you have plenty of options. We suggest grabbing a drink and a front row seat at either the Sea View Bar or the Wake View Bar on Majestic Princess.
Aptly named, the Wake View Bar is located all the way aft on Deck 16. This bar offers a large seating area to admire the wake views and surrounding vistas. You can also grab some food from the World Fresh Marketplace and head outside here.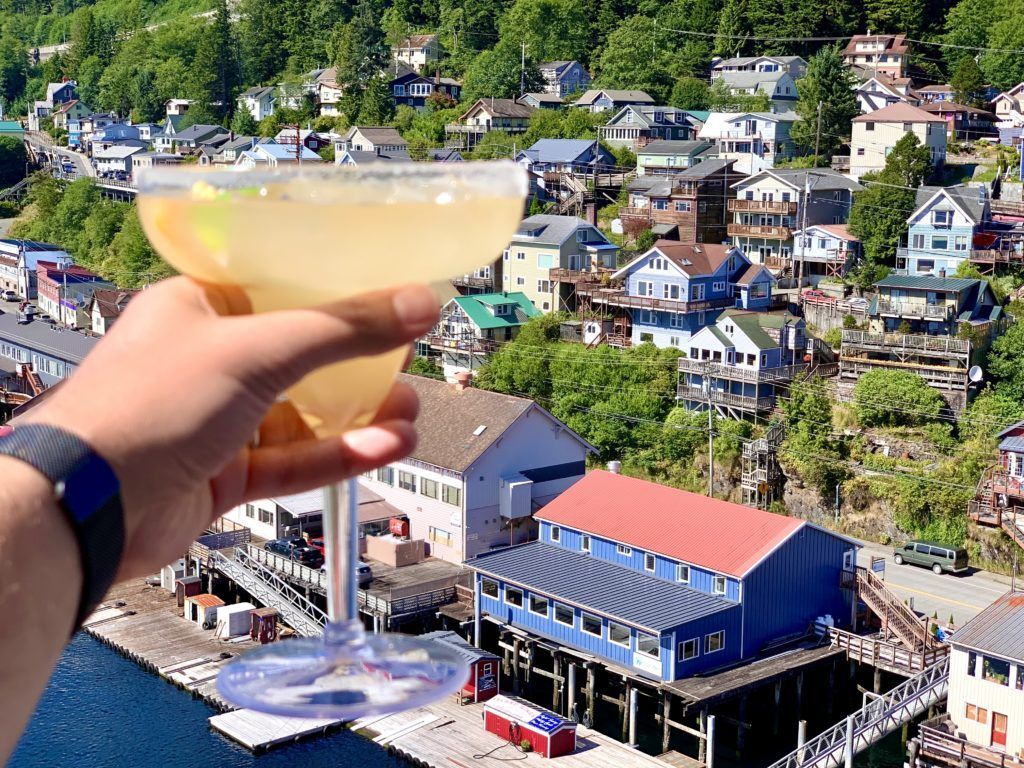 The Sea View Bar is located off the pool deck on the opposite side of the ship from the Seawalk. Also on Deck 16, the Sea View Bar offers a glass floor and windows for scenic gazing in all directions. Just don't drink too much or it could be a bit dizzying.
Enjoy a Fountain Show
A signature attraction on Princess' Royal-Class ships is the Watercolor Fountain Fantasy show. Watch as the Alaskan sky lights up with an illuminating water show set to music. Be awed by the choreographed and brightly colored water fountains dancing up to 33 feet in the air.
During our sailing on Majestic Princess, there were various themed shows set to music of Michael Jackson, James Bond, Frank Sinatra, and more. These shows typically occurred at 9:45 pm each evening, with a second show at 6:45 pm on some evenings.
Related Post: Plan Your Alaska Cruise Now
Comments
Do you have anything to add to our list of the top things to do on Princess Cruises in Alaska? What are some of your favorite features about Princess Cruises? Drop us an anchor below to share why you love cruising with this brand.