Celebrity Edge offers plenty of relaxing spots onboard the ship; although, there is one location that truly delivers Modern Luxury- The Celebrity Edge SEA Thermal Suite.
Located in the Spa on Deck 14, the Thermal Suite is a hidden oasis. During one of our port days, we were invited to spend the day in the SEA Thermal Suite for some rest and rejuvenation.
See why you need to spend a day at the Sea Thermal Suite on Celebrity Edge as well.
Why You Should Spend a Day at the SEA Thermal Suite on Celebrity Edge
A (Nearly) Private Retreat
Enjoying the Thermal Suite on a port day means you could have the entire thermal suite almost to yourself. During our time in the Suite, there were probably only 10 other guests that we saw all morning.
This means that you don't have to worry about the different therapy rooms being crowded. There was always plenty of space for us to move from one room to the next. Often times, we were the only two people using a particular experience.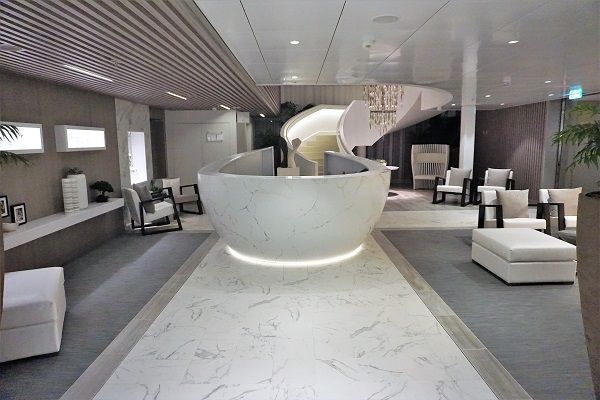 Several Delightfully Different Rooms
The SEA Thermal Suite on Celebrity Edge offers 8 different experiences for detoxing and replenishing your body. With some typical offerings like a dry heat infrared sauna and the steamy Turkish Baths, experienced spa-goers will feel right at home.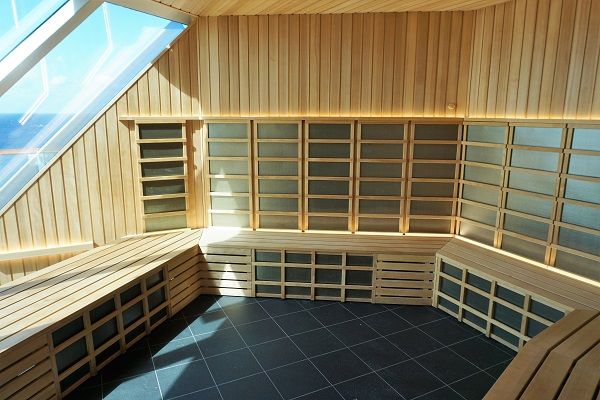 There are also some unique rooms in the SEA Thermal Suite that provide additional health benefits.
For instance, the Thermal Suite includes the Rainfall Water Therapy Room. With alternating temperatures and pressures, this room will invigorate you.
Several rooms also utilize natural elements known to provide healing properties, like the Crystalarium and Salt Room. Ten minutes in these soothing alcoves will leave you feeling relaxed. These treatments are even believed to help a variety of respiratory and skin conditions.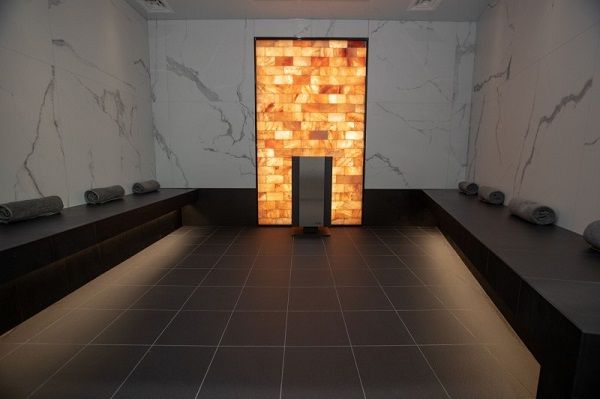 Related Post: Celebrity Edge Cruise Review
You Can Just Hang Around
Speaking of just hanging around, the SEA Thermal Suite is also home to the Float Room. These hanging wicker chairs allow you to take a load off while enjoying the views from the forward facing floor to ceiling windows lining the spa. Indulge your inner child as you hang around the SPA Thermal Suite on Celebrity Edge in these comfy "swings".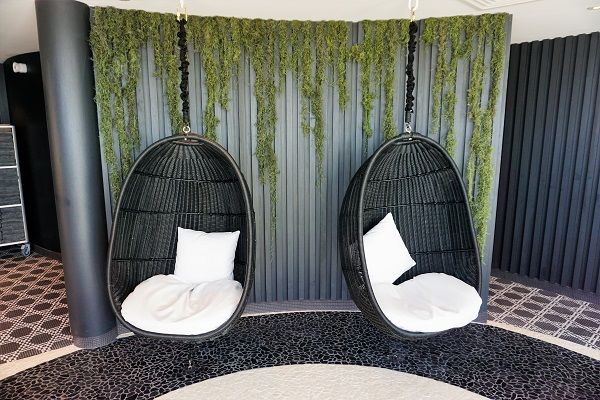 If you'd prefer more solid ground, there are heated tile loungers that offer similar panoramic views. These loungers are the ideal place to take a nap. No matter what time of day you decide to recline in one of these loungers, you are bound to get some shut-eye.

It's a Steal
There are a limited number of day passes available for just $69 a person (2019 pricing). When you compare the costs of some shore excursions, it is a bargain to stay onboard and indulge in some personal time in the SEA Thermal Suite.
In our experience, the Suite remained relatively empty during port days up until about an hour before the all aboard time. You can easily score 4-6 hours of time in the Suite without the crowds if you choose to visit on a port day. Cruisers staying in the Aqua Class suites have unlimited access as part of their cruise fare.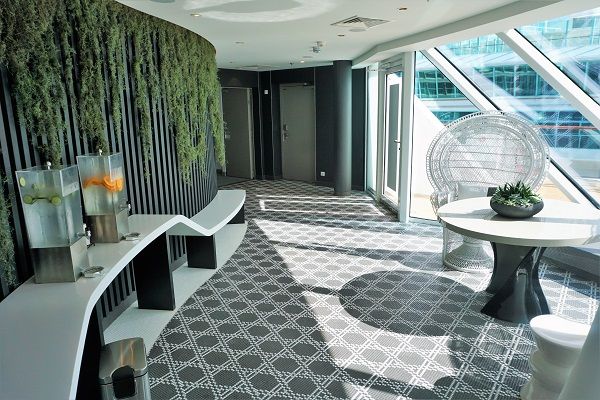 According to the Spa Manager, there are a select number of week passes available as well for those looking to spend more than just one day in the Thermal Suite. As of our sailing, we were quoted a price for a week pass at $229 a person.
These passes are available on a first come, first serve basis and tend to sell out quickly. We were also told that booking a spa treatment does not entitle you to use of the Thermal Suite on Celebrity Edge.
Related Post: Everything Included in Celebrity Cruises
Recap of the SEA Thermal Suite on Celebrity Edge
For cruisers looking to pamper themselves, the SEA Thermal Suite on Celebrity Edge offers the perfect escape with several different experiences aimed to calm, soothe, and rejuvenate your mind and body.
With unlimited access to all these experiences, cruisers with a day pass can use the venue multiple times over the course of the day.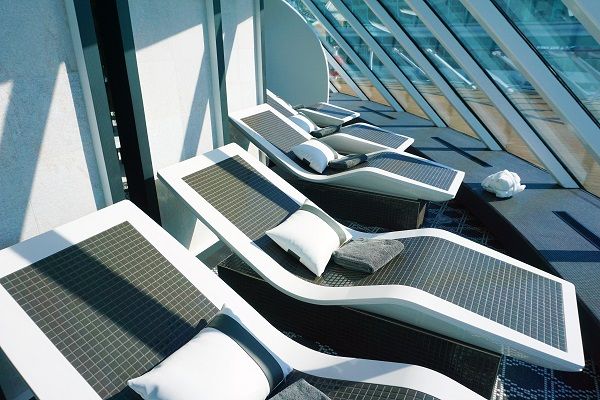 We both truly enjoyed our visit to the SEA Thermal Suite on Celebrity Edge. The heated loungers were perfectly positioned with some direct sunlight. The other experiences offered us a chance to recalibrate our systems after already spending 5 days onboard this amazing cruise ship.
If we were to cruise on the Edge-Class again, we would certainly consider another day in the SEA Thermal Suite. Why not do the same on your next cruise?
Related Post: Guide to Celebrity Cruises Ship Classes
Comments
Have you sailed on Celebrity Edge yet? Have you visited the SEA Thermal Suite on the ship? Drop us an anchor below to share your review.
Disclaimer: The Spa Manager on Celebrity Edge was gracious enough to provide us with two day passes to the SEA Thermal Suite during our cruise; however, all opinions in this review are 100% are own.