Celebrity Solstice typically offers cruises to Australia and Alaska. Occasionally, the ship sails interim cruises between these two regions. So, when the Princess and I were looking to do something special for our 10 year anniversary, we came across a 10-night Hawaiian cruise onboard this ship. The itinerary included most of the same ports of call you find on other cruises in the region in addition to some extra sea days.
Having sailed on Celebrity Solstice and Celebrity Eclipse in the past, we were very familiar with the class of ship. We also scored an amazing deal for a guaranteed balcony room with drinks, gratuities, and WiFi that was too good to pass up. We are now back from the trip and have plenty to share in our complete Celebrity Solstice Hawaii Cruise Review.
Related Post: Celebrity Eclipse Ireland and Iceland Cruise Review


Celebrity Solstice Hawaii Cruise Review
Celebrity Solstice Ship Overview
Celebrity Solstice is the first of five ships in the Solstice-class. This 16 deck ship hosts a number of features that were distinct when the ship launched in 2008. Among the firsts at sea was the Lawn Club. Located on Deck 15, this open air deck with real grass features lawn games, the Sunset Bar, and even a Hot Glass Studio.
This ship doesn't have distracting amenities like waters slides or other flashy public venues. Instead, Celebrity Solstice is a refined and elegant ship.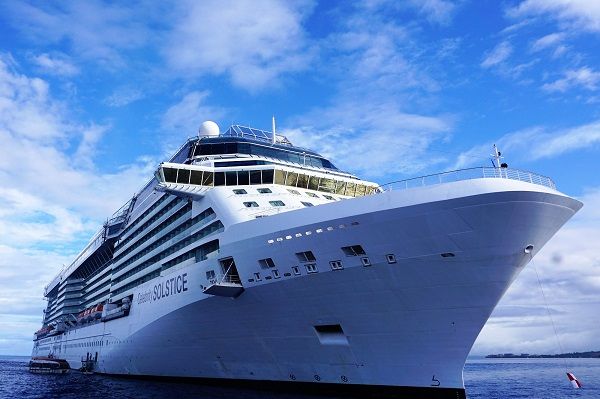 Still, she has plenty of enticing offerings to enjoy during your days at sea.
These include the adults-only Solarium where you can relax during the day and the Persian Garden Thermal Suite for some added relaxation and rejuvenation. The Sky Observation Lounge on Deck 15 forward offers great views during the day, along with activities like trivia. At night, the signature drink menu was a perfect compliment to the different night life occurring in the venue.
Celebrity Cruises is known for its dining. Celebrity Solstice boasts several casual dining spots including our favorite Cafe al Bacio, a main dining room with daily 3 course meals, and 4 specialty restaurants. So, there are plenty of options for everyone. Not to mention, there are also a plethora of bars including the popular and lively Martini Bar.
Entertainment on the ship included two nightly shows, one early and one late, with a combination of theater production shows and headliner acts. Our favorite production show was Broken Strings. Other nighttime activities included live music throughout the ship. Our personal favorites were Lighthouse String Duo and a husband and wife acoustic duo Gilly and the Girl.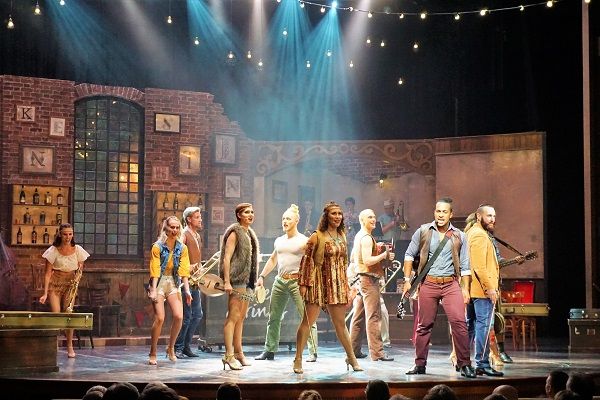 Celebrity Solstice Hawaii Cruise Review
Day 1 – Honolulu, Oahu
We flew in to Hawaii several days before our embarkation day in Honolulu. This gave us time to adjust to the six hour time difference, as well as explore the port of call. We highly recommend you take a few days ahead of your Hawaiian cruise to explore this island as well.
Among the highlights during our time in Oahu was our Grand Circle Tour with Roberts Hawaii. This tour featured several photo stops and visits at major island attractions like the Dole Pineapple Plantation, the North Shore, Hanauma Bay, the Byodo-in Temple, and the Kualoa Ranch. Having experienced this tour, we now have a better sense of the island for our return. We also spent a day visiting Pearl Harbor, enjoyed some relaxation on Waikiki Beach along with the famous hula pie at Duke's, and spent an evening at the Paradise Cove luau.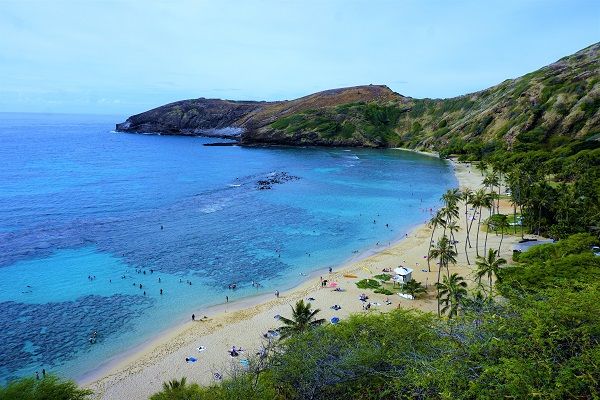 On the morning of our fourth day in Honolulu, it was time to board Celebrity Solstice. We arrived at the cruise port around 11:40 am. With minimal lines, we were onboard slightly after noon. Our afternoon consisted of taking some photos and exploring the ship. It was like getting reacquainted with an old friend.
After a quick lunch, we were able to head to our room around 1 pm to unpack and settle in for this 10-day journey. With muster being scheduled for 5 pm, we had some time to grab drinks at the Martini Bar to begin our drink around the ship. We then headed up to the Lawn Club for one last look at Oahu.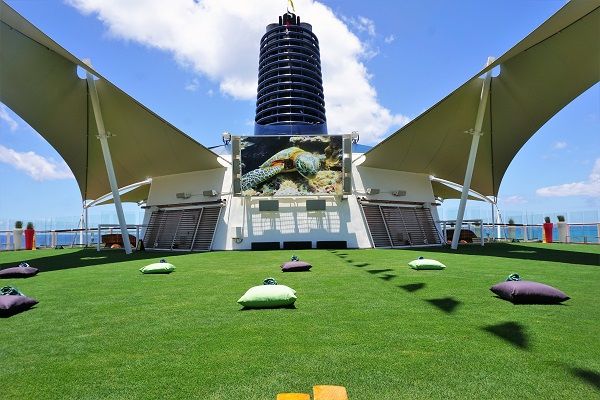 Following the mandatory safety drill, it was off to dinner in the Main Dining Room. Here, we located our table for two at the back of the restaurant and met our waitstaff. Our waiter Evan and assistant waiter Grace were nice but not the most attentive servers that we have had on a cruise. Dinner tonight was rather basic, and we were able to get out in time to catch the second half of the game show True or False, held in the Entertainment Courtyard on Deck 4.
Given it was embarkation day, there was only one show this evening, a comedian named Steve Brenner. Prior to the show, we met our cruise director Lewis. He ended up being one of the best CDs we have had on a cruise. He was funny, charming, and very present throughout the ship.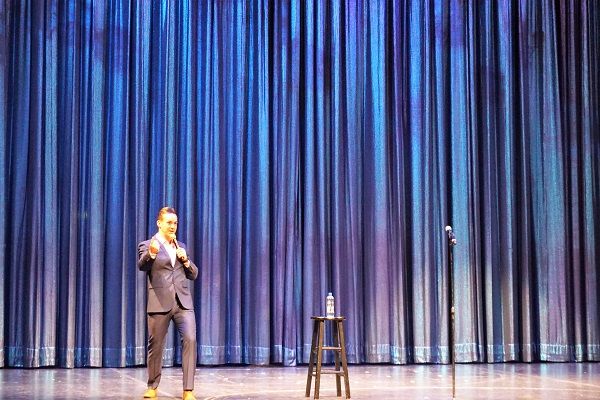 As for the headliner, neither of us were a fan.
Even though we had a long day ahead of us tomorrow, we popped into Celebrity Central to see the Improv Comedy show. This was something different, and the duo of Marshall and Nancy from the Chicago Improv Association put on a great performance with plenty of help from the crowd.
Finishing up around 10:45 pm, we headed off to get some sleep for our first stop on the big island, Hilo.


Day 2 – Hilo, Hawaii
Our first stop of the cruise was at the eastern side of the Big Island. Here, we booked a tour through Shore Excursions Group. Our tour operator was C Big Island Tours which escorted us around the island for close to 7 hours.
Our tour guide Steve was a wealth of information and was very passionate about sharing the island with us. He was fast paced though, so if you did not keep up with him, you could miss some valuable information.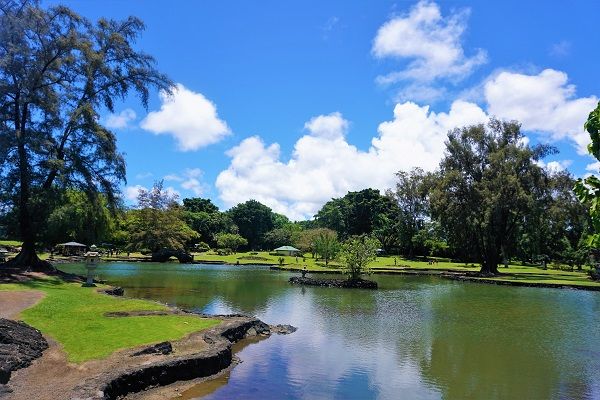 Stops on this tour included Queen Liliuokalani Gardens, where Steve pointed out some of the unique trees of this Japanese-inspired park. We then stopped at the Mauna Loa Macadamia Nut Farm for an hour long lunch break, followed by the Akatsuka Orchid Gardens to see award winning plants.
Most of our time today though was spent at Volcanoes National Park. Here, we made several stops to admire and learn about the crater and last year's eruptions.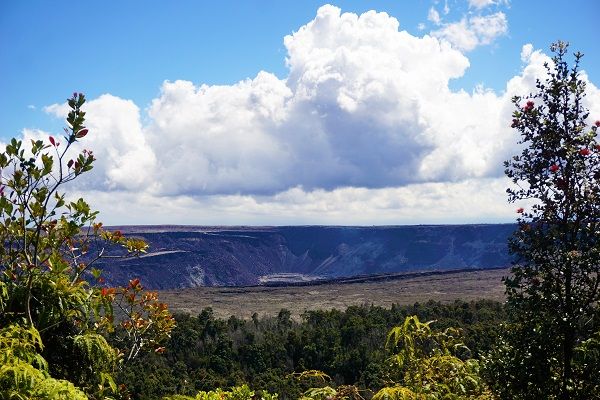 The tour concluded with a few additional stops at Rainbow Falls and Richardson's Beach to gaze at the black sands and admire the massive turtles calling this shoreline home.
Back onboard the ship by 5:30 pm, we both needed some coffee stat! A stop at Café al Bacio was certainly in order.
Prior to the cruise, we had made dinner reservations for 7:30 pm in the Tuscan Grille specialty restaurant. Changing up for dinner, we were down to the restaurant about 15 minutes early.
To our surprise, the restaurant was relatively quiet, with perhaps only 8 occupied tables. Dinner was delicious! We sampled a variety of items including the antipasti platter, calamari, chicken parmesan, the gnocchi, and of course limoncello cheesecake.
This feast lasted about 90 minutes, so we made it to the show by 8:45 pm. While busier than the first night, we still found some decent seats on the portside of the theater.
Tonight was the first production show entitled Rock City. It was certainly a more modern show with music from Aerosmith, Green Day, Lady Gaga, AC/DC, and other bands. This performance ended right around 9:45 pm.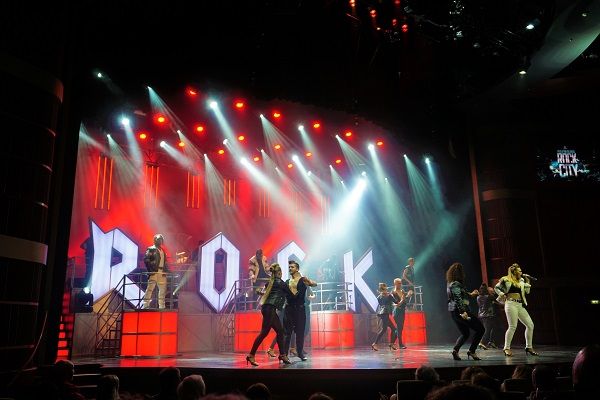 Luckily, we were able to snag seats at the Passport Bar on Deck 3 following the show. This allowed us to grab our second round of drinks for our drink around the ship. It also provided ample viewing for the Silent Disco party occurring in the Grand Foyer.
Don't think for a minute that the Princess actually danced! Instead, we just drank and people watched. That is an equally entertaining pastime. We decided to call it a night around 10:45 pm, so we could get some shut eye before our highly anticipated shore excursion tomorrow.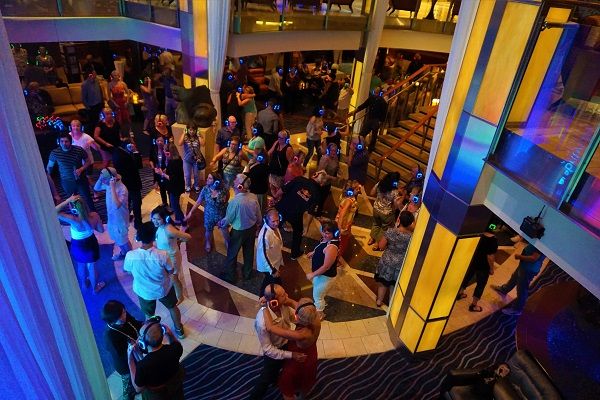 Day 3 – Kailua-Kona, Hawaii
On Day 3 of the cruise, we stopped on the western side of the Big Island. Here, we ventured off on our most anticipated tour of the trip. A Big Island Spectacular Helicopter tour with Blue Hawaiian Helicopters.
While we had many memorable moments this cruise, our helicopter tour over the volcanoes was truly unforgettable.
The tour was scheduled to meet for 9:30 am at the pier. Up at 7 am, we grabbed some lattes and small bites at Café al Bacio prior to our departure.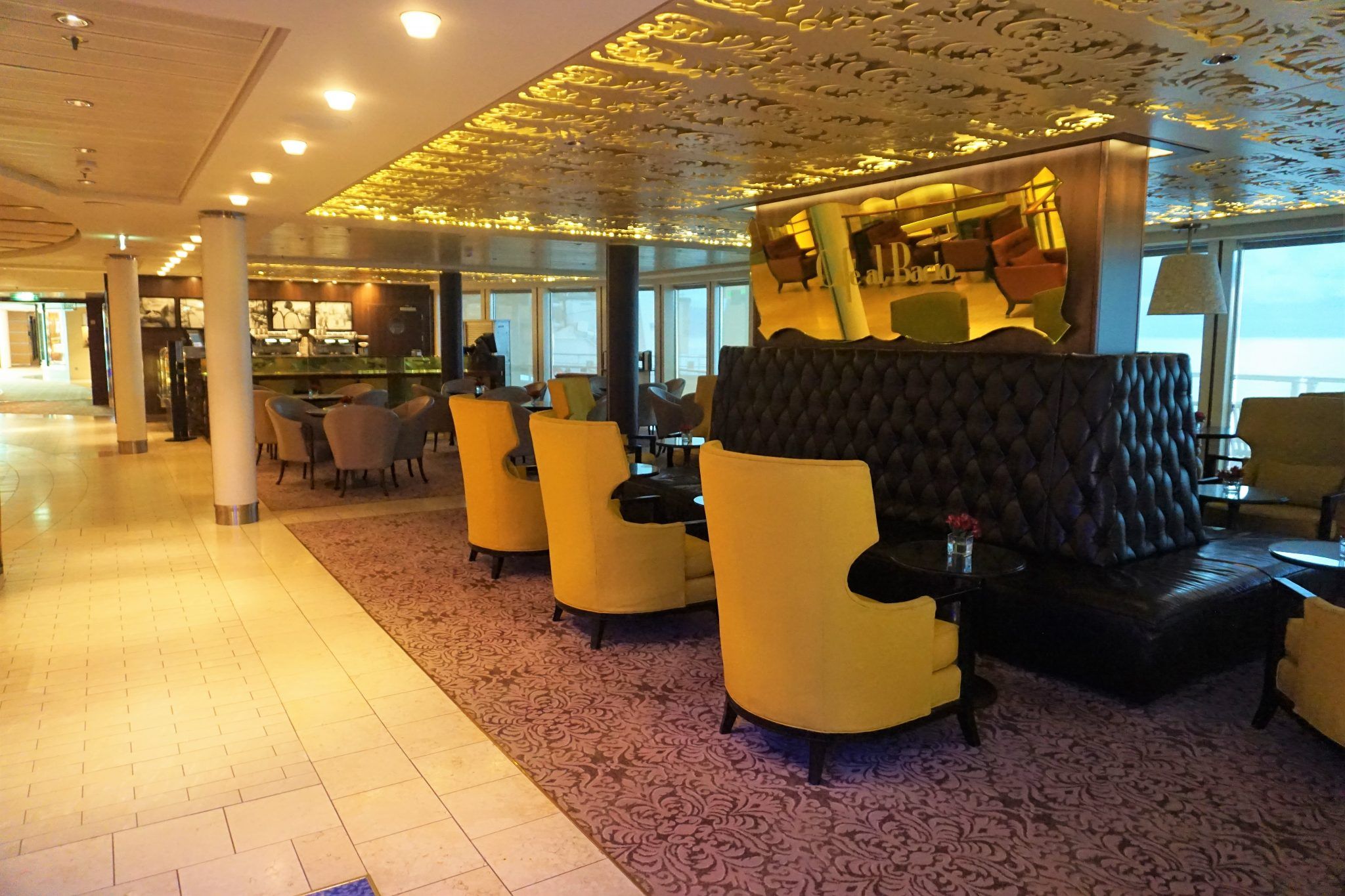 Our tender arrived quickly giving us about 20 minutes to take a quick stroll around the port area, which consisted of a small hotel and beach, as well as some shops.
When we originally booked the cruise, this tour was not available through the cruise line due to the volcanic activity last year. Luckily, the tour did become available a few months out from our sailing. Booking directly with the cruise line was comparable in price. Given transportation from the harbor to the airfield was needed, we decided to go with the Celebrity Cruises' shore excursion.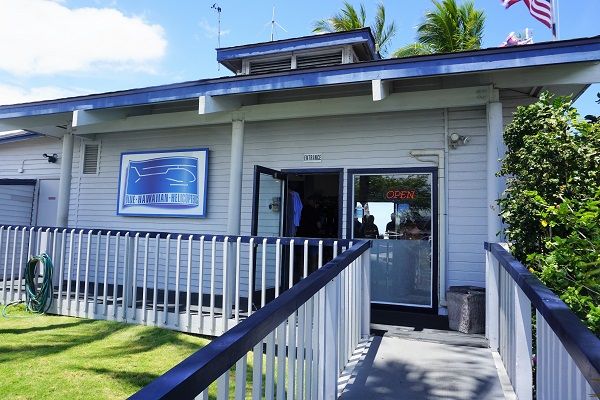 Our pilot Matthew gave us a nearly two-hour tour of the island, where we could see the results of the lava activity including the 5 miles of new coastline added from the recent eruptions. It is amazing to think that over 800 acres of new island has been formed since 2018.
The tour started over the Volcanoes National Park, where we got a bird's eye view of the Kilauea volcano. We were able to completely circle the Puʻu ʻŌʻō vent, which up until last year had been erupting continuously for 35 years.
Following all the volcano excitement, we continued our tour to explore the rest of the island's beauty. We witnessed cascading waterfalls, lush forests, and other dramatic coastline vistas. The tour was well executed, and we would certainly consider another trip with the company in the future.
With our tour completed, we were escorted back to the pier and grabbed a tender back to the ship around 3 pm.
Back onboard, you guessed it, we headed to Café al Bacio for some caffeine. We relaxed a bit before changing up for dinner and were down to the MDR for a bit after 6 pm.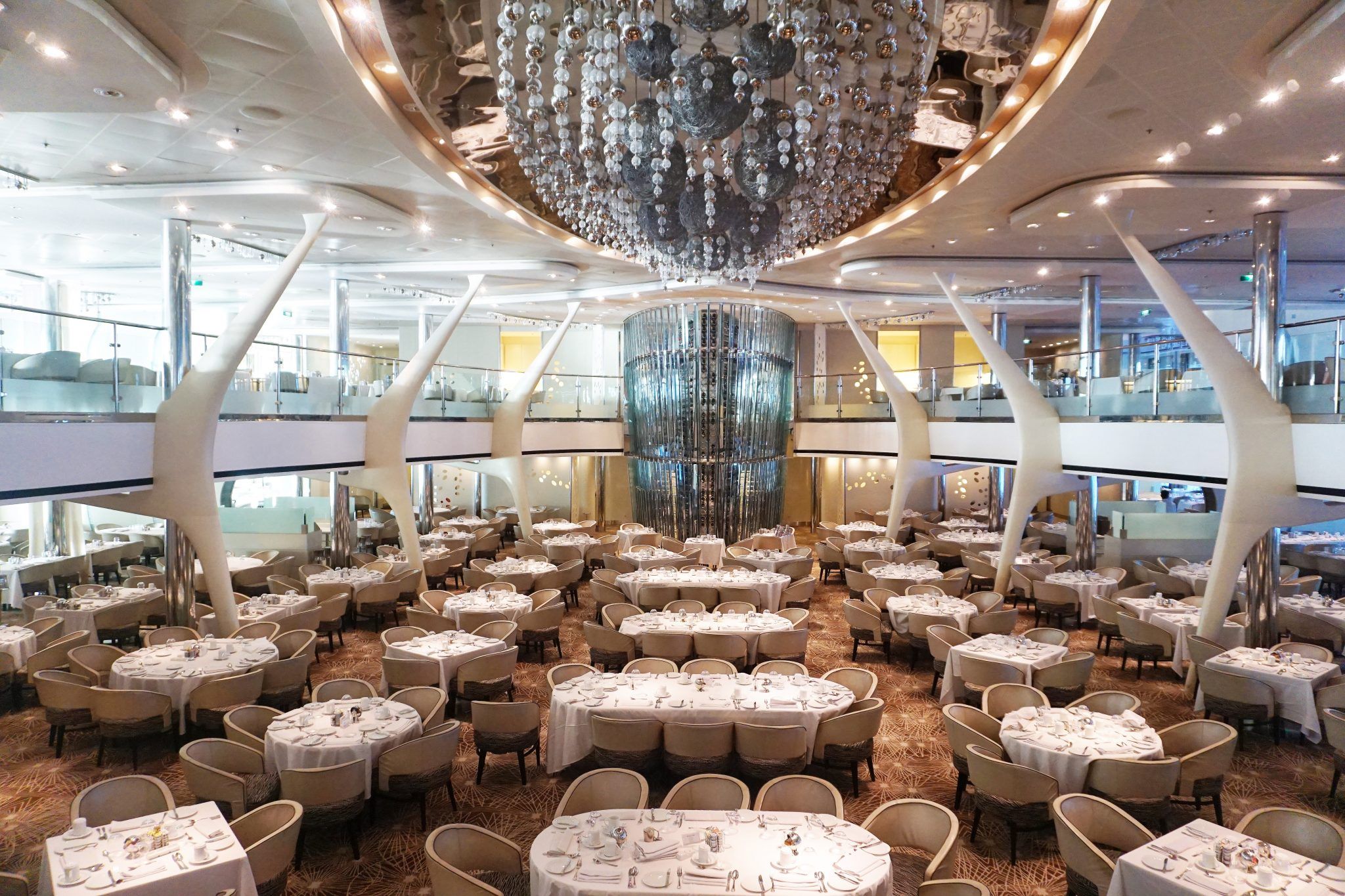 Dinner again was not spectacular. The slow braised lamb had a stew meat consistency. The theme of this cruise was that nothing in the MDR really wowed us, which is very atypical for a Celebrity cruise.
Before the show, the Princess was able to twist my arm to get another drink at the Martini Bar. Like I was going to oppose.
Tonight's performer was Kristen Hertzenberg. She was the lead performer in the Las Vegas run of Phantom of the Opera. While she did have a great voice, her stage presence was lacking, and the show was a rather typical headliner cruise show.
Done by 9:45 pm, we made a b-line to the elevators to get up to Deck 14 to the Sky Observation Lounge for the Live at Sky show.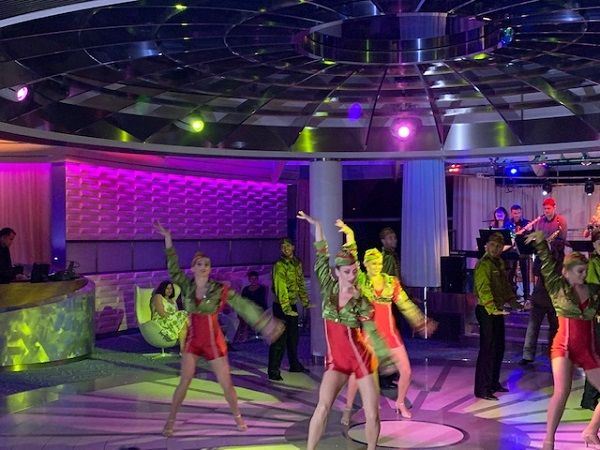 This themed party is essentially the same show that we saw on Solstice 5 years ago. Still, the show gave us an excuse to get two signature drinks from the bar to cross another venue off our drink around the ship.
Another long day of touring was scheduled for Day 4, so we called it a night when the show wrapped up around 11 pm.


Day 4 – Lahaina, Maui
We had an overnight stay in Maui. Of course, this meant two full days of sightseeing! Due to timing constraints, we booked both of these tours through Celebrity Cruises.
For our first day in Lahaina, we booked the Adventure to Hana tour. With our scheduled meeting for 7:30 am in the theater, we decided to order room service, and I took some photos and videos around the ship in the meantime.
Ashore by 8:15 am, we were loaded on a mini-bus and headed off. Thus, our 10 hour journey began.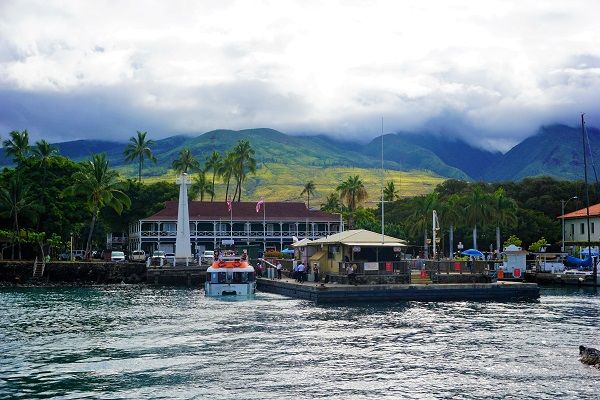 The official stats for this coastal drive along routes 36 and 360 records a total length of 64 miles from the town of Kahului to Hana. Given where we were docked in Lahaina, this added an additional 20+ miles to our journey.
While many had recommended the Road to Hana as a must do attraction in Maui, our Adventure to Hana excursion was perhaps our least favorite tour. Yes, the drive was scenic and the imagery was beautiful, but the tour itself was poorly executed.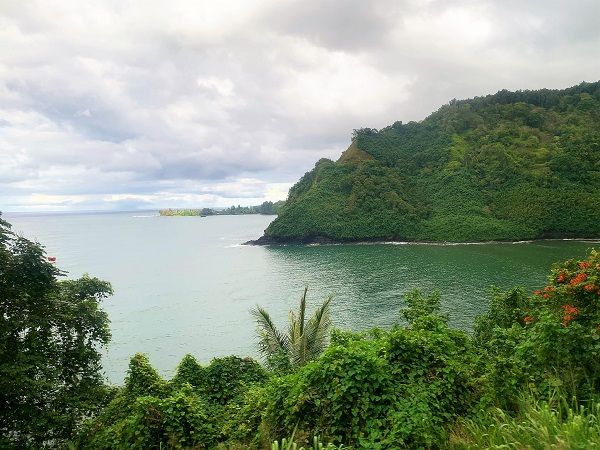 Several of the stated tour stops were not completed, and the description was misleading. We had virtually no time to enjoy the black sand beach or to explore the lava tubes at Wai'anapanapa State Park.
The tour also included a lunch, which was an inedible boxed lunch consisting of a turkey wrap. If we had known this ahead of time, we would have grabbed food during one of the other stops along the way.
Our driver and tour guide Kami was nice and did her best to provide narration as she navigated the mini-bus around the twists and turns. However, there should have been more information and backdrop provided, like explaining the day's events, the timing of stops, and the overall trip before heading off.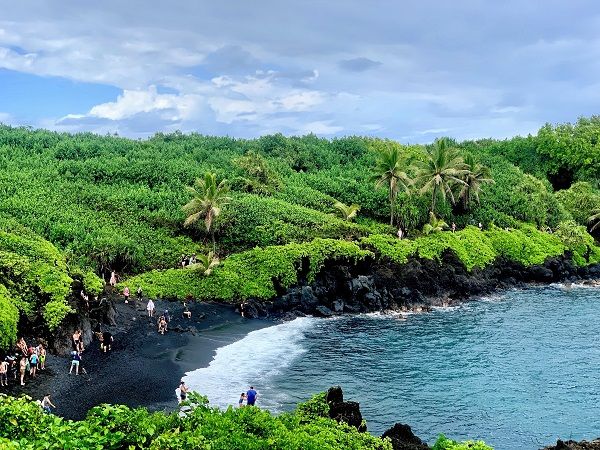 Returning to the port at 7 pm, we were exhausted from the long day of travel and were definitely glad that we did not decide to make the drive ourselves.
Originally, our plans were to eat dinner in Maui this evening, but given that we were both tired, we decided to head back to the ship. Our tender ride back included an amazing view of the sunset! With dinner up in the air now, we considered switching our second specialty restaurant reservation to this evening.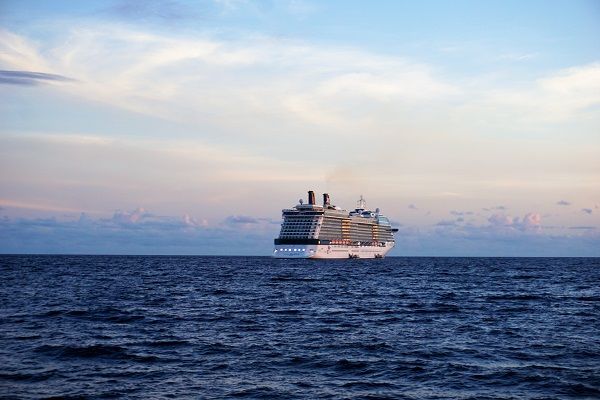 Luckily, Silk Harvest was empty, so the restaurant manager was happy to swap our reservation to this evening. We are not sure why the restaurant was so empty, as the food was delicious.
During our 90 minute meal, we sampled a variety of small and large plates. Among our favorites were the tempura shrimp, orange chicken, chicken satays, and the pad thai noodles.
Finishing a bit past 9 pm, we headed straight to the theater for tonight's performance by a local cultural group. Arriving to the show late, we were still able to get seats, though closer to the stage than normal. We really enjoyed the Children of Hawaii's performance of Pacific Island dance and music. In fact, we both thought it was better than the luau performance we saw one evening in Honolulu.
Finishing up right around 10 pm, we both knew it was bedtime without any discussion.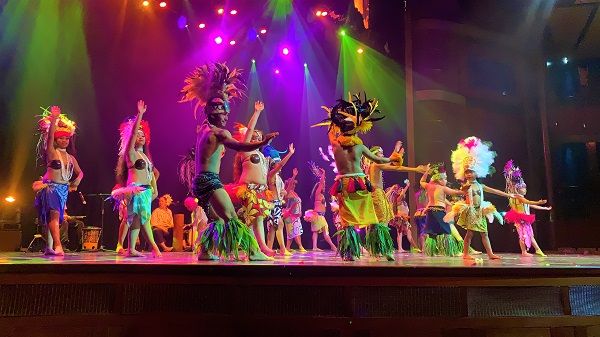 Of course, our last day ashore was jam-packed with another tour. This meant another early alarm.
Day 5 – Lahaina, Maui
If you know us, you know we make the most of every moment of our trip. For our last day in Maui, we booked a tour to the Haleakala crater. Though, the Princess could not convince me to get up for the early sunrise trip.
Having a poorly prepared room service breakfast the day before, the Princess was adamant about getting something to eat at the Oceanview Café this morning.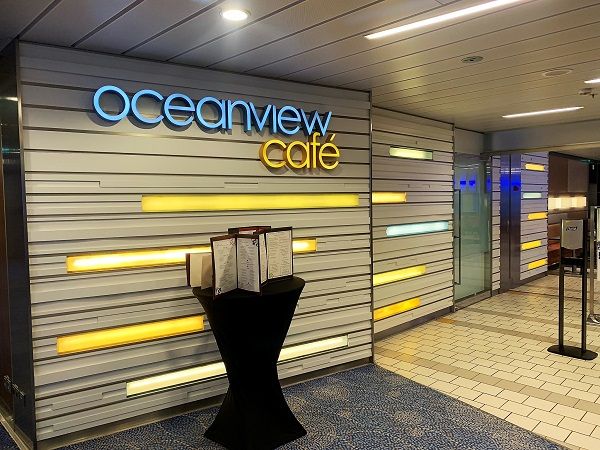 Luckily, the restaurant was not busy, so we were in and out of the venue in about 15 minutes. Back to our room to grab our gear and bags, we were down to the theater for our 7:30 am meeting time. We only waited for a few minutes before our group's number was called. Escorted to the tenders, which turned out to be another rough ride to shore, we were back on land a mere twelve hours from our last tour!
Luckily, this tour was more organized and occurred as advertised.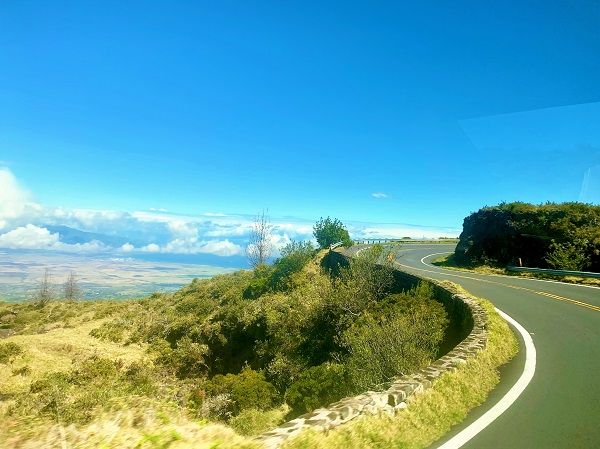 The 8,000 foot climb to the Haleakala Crater was exhilarating. This massive volcano accounts for close to 75% of the total land area of Maui. It is the oldest dormant volcano, which last erupted in 1790.
Unlike the other volcanoes on the big island, travelers are able to climb to the summit. Our tour bus took us to the lookout point where we stood right at the edge of the massive 2 mile wide by seven mile long crater.
During our trip, it was extremely windy, with gusts up to 40 MPH, and much colder than we expected. Let's just say neither of us ended up with a good hair day.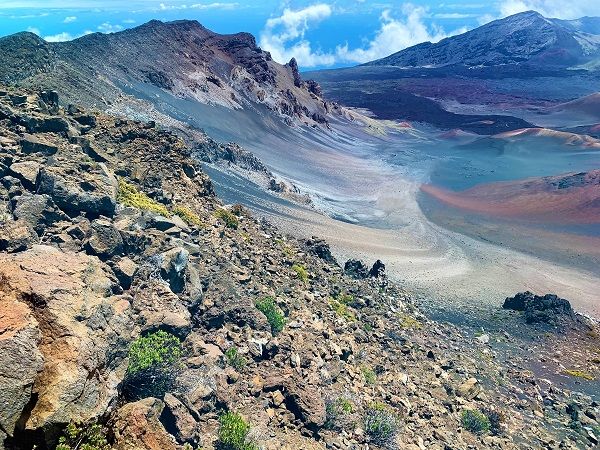 The two stops in the national park provided just enough time. We totally forgot the tour also included a lunch stop in the town of Makawao. The restaurant was an Italian eatery, which just felt wrong for a tour in Hawaii.
After this 90 minute stop, we made the return trek to the harbor. With only an hour until our all aboard time, and a tender line with guests snaking out into the street, we were not able to do any souvenir shopping. Oh well, I guess we need to return to Maui again soon.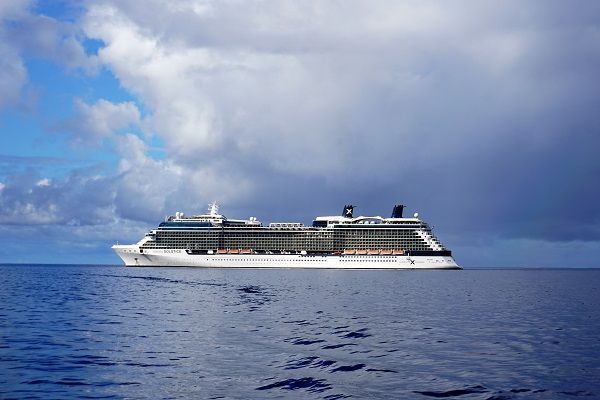 The rather long line did move quickly, and we were back onboard the ship by 4 pm. Good thing we had two full hours before dinner, as tonight was the first Evening Chic night. This is Celebrity Cruises equivalent of Formal Night.
Grabbing coffees and a few snacks, we both changed up for dinner and were in our finest attire by 5:45 pm. This gave us a little time to take photos at three of the portrait stations.
Dinner was an odd combination of the regular formal night entrees tonight. This time around, I went with the lamb chops and duck. Both were fine but not fabulous. By now, our sommelier and bar server had our usual drink orders down.
As with the previous evenings in the dining room, dinner did not end until close to 8 pm. Tonight's performance was the second production show, Intimate Broadway Cabaret. It was not a show either of us remembered from our previous Celebrity Cruises.
This show was much shorter than the typical theater entertainment and only included some of the singers. Finishing up before 9:30 pm, we stayed in our seats for the next performance, the Marriage Games.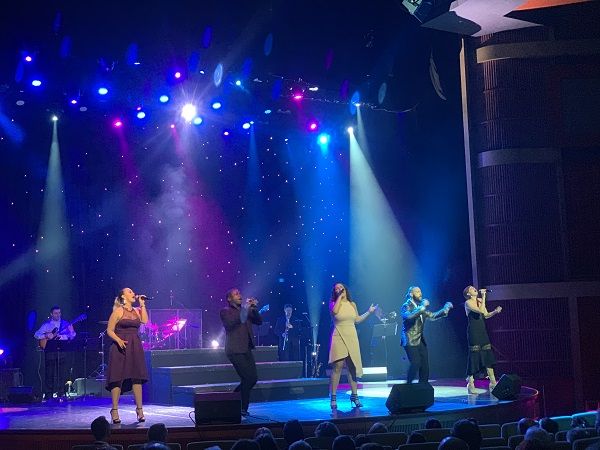 This was the ship's take on the popular Love and Marriage game show. While Lewis was an overall great cruise director, his rendition of this show seemed non-personal and rushed. Still, it was entertaining to watch.
Finishing up around 11 pm and no need to wake up early tomorrow, we found seats at the Martini Bar for a round of Xpress Martinis. This has to be the best drink on the entire ship!
Day 6 – At Sea
We were hoping for at least one good sea day filled with sun and warmth leaving Hawaii. Unfortunately, we were disappointed when we woke up to overcast skies and 60 degree temperatures. The Captain's announcement at 10 am solidified that we would not be getting sun or warmth for the next few days.
Getting ready for the day, we took our devices and lattes to Deck 12 and found some outdoor chairs to at least enjoy the fresh air.
The internet was starting to fade on us, so getting work done was more difficult than expected. Even though it wasn't a typical pool day, we still grabbed a drink at the Pool Bar while outside.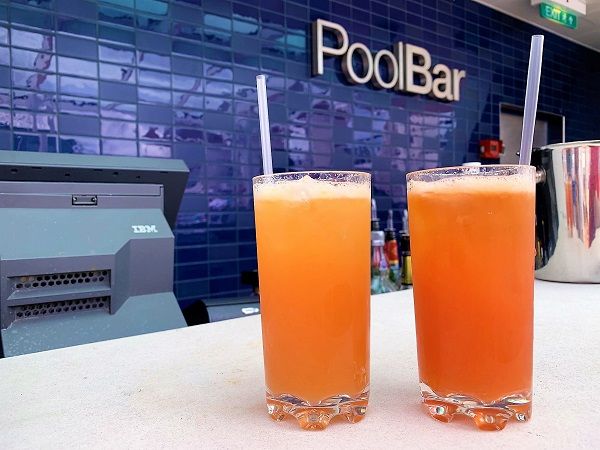 Following the passenger vs. crew bean bag toss, we headed to the Oceanview Café to get some food around 12:30 pm. Given the weather outside, the venue was much busier than it had been during our other visits. Unfortunately, the food quality this cruise did not impress us.
Given that we now had 5 sea days in a row, the activities staff had a number of additional talks and matinee shows scheduled to keep us busy. Today's 2 pm show featured the acoustic husband and wife duo, Gilly and the Girl.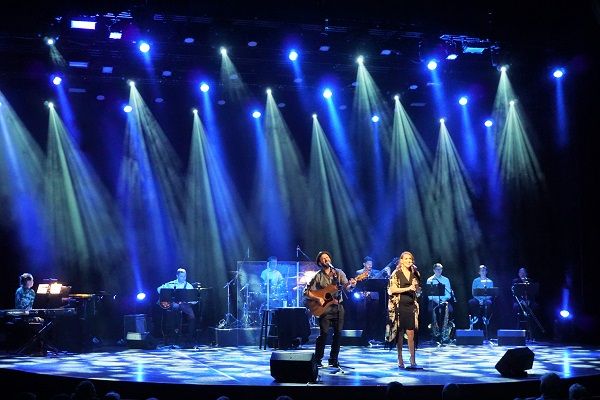 The 45 minute performance was really good. We were starting to think the ship's performers were just as talented as the production cast and headliner acts.
With the weather not cooperating, it was only a matter of time until the Princess lost some money at the casino. Over the next couple of days, she would battle up and down but ended the cruise at a loss.
We downed the casino losses with a few rounds of martinis on deck 4. Making some friends at the bar, we got back to our room a bit past 5 to change up for dinner.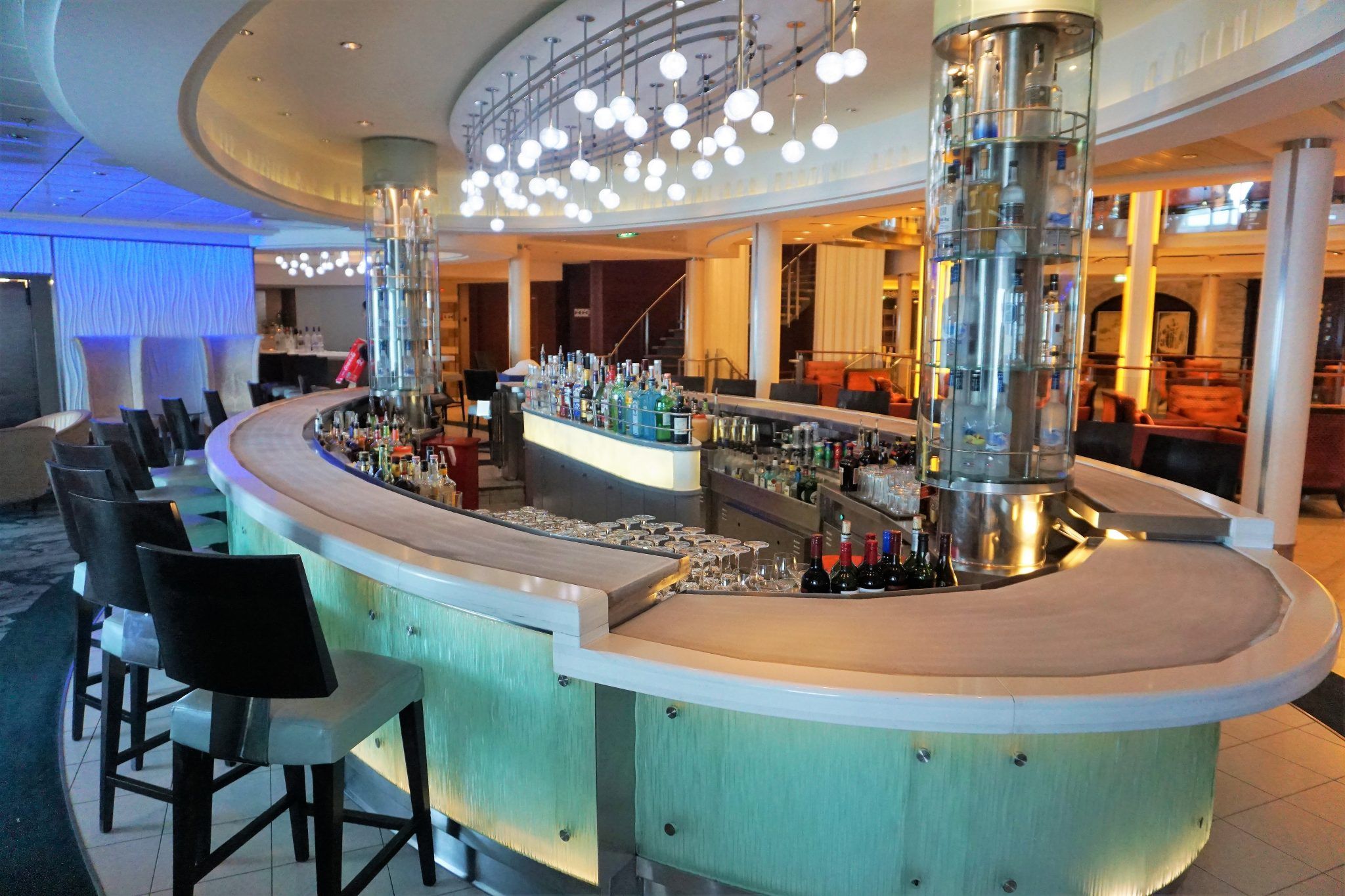 For once, we arrived at the main dining room on time! Tonight's meal fared a bit better. It featured the wife's favorite, the turkey dinner. I ordered the beef stroganoff, which was not too creamy or heavy.
Our routine over this cruise became a stop to watch the game show in the Entertainment Courtyard before heading to the main theater for the 9 pm show.
The performer tonight was Sean O'Shea. Let's just say, it was a combination of your stereotypical bad cruise ship entertainment.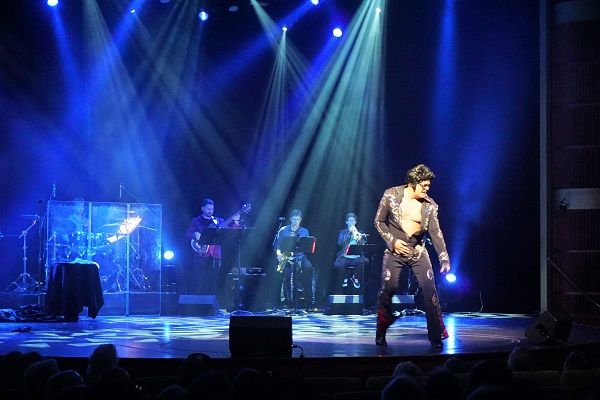 Following the show, we headed to the Grand Foyer for the Hawaiian party. Did I forget to mention we were decked out in some fabulous Hawaiian garb? We were not alone either. Essentially, the only thing Hawaiian about the party were the clothes, as the live band played mostly pop music. Getting some martinis (Do you notice a trend here?), we stayed until 11 pm and then called it a night.
Day 7 – At Sea
The next several days would wind up occurring in a relatively predictable pattern. We were up around 7 am, and I worked on my computer while the Princess got ready.
We ventured to the Oceanview Café for breakfast, then found covered chairs on Deck 12 to do work until about noon.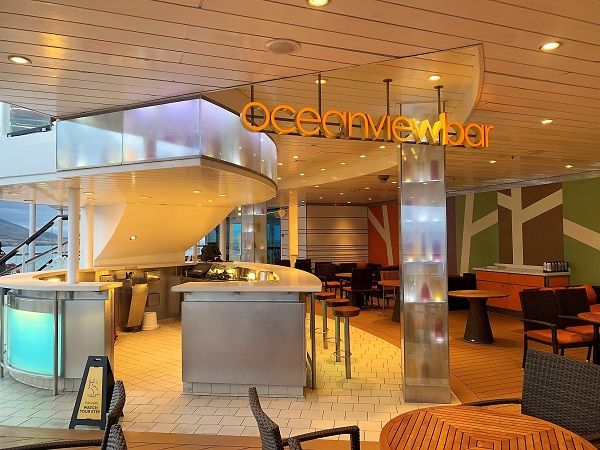 Having enough of the chilly conditions outside, the Princess convinced me to get lunch in the main dining room today. After all, we really didn't eat much at breakfast.
With a decent line forming at the main dining room on Deck 4, it took about 15 minutes to get a table for two.
Lunch was an improvement over the buffet. The skewers and barbecue chicken were much better options than what I sampled on previous afternoons.
Finishing lunch, we grabbed some coffees and headed to the theater for the 2 pm matinee. This was an original show directed and choreographed by the ship's performers.
Aptly named the Variety Spectacular, it was a great show. It featured the aerial performers. With a mix of singing and acrobatics, it was perhaps one of the best performances of the trip.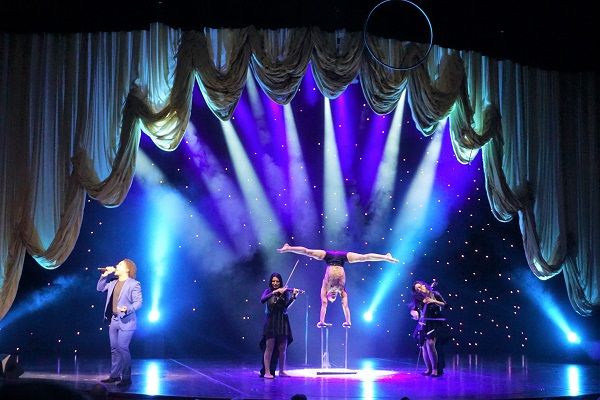 Finishing the show after 3 pm, we braved the elements to head to the Sunset Bar for our drink around the ship. The sun was out, but the windy and cool temperatures meant it was a ghost town. The bar was still open, so we managed to get two glasses of sangria.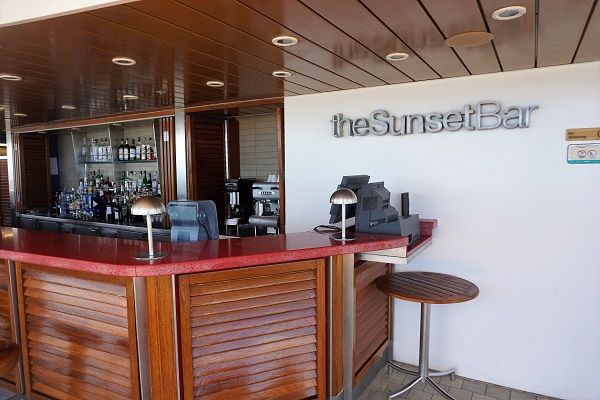 Dinner was uneventful, and tonight's menu included a lamb kebab and the chicken roulade. Again, the close to two hour dinner experience had us out in time to catch most of this evening's game show. This time around, it was passengers vs. senior officers in Family Feud. Thankfully, the passengers prevailed.
In the main theater, tonight's headliner was Linda Gentille, a piano prodigy.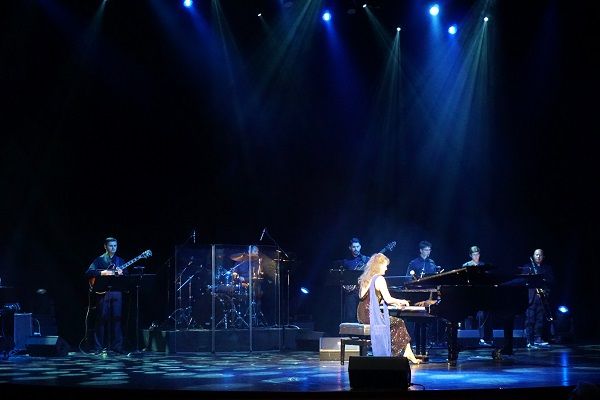 She was quirky, fast-paced, and very talented, though not exactly what we were anticipating of a headliner. Her big number was performing 10 "randomly" selected songs provided by the audience.
Her show ended at 9:45 pm. Unlike the other nights, it didn't feel like much was going on this evening. So, we grabbed one last round at the Martini Bar and were back in the room by 10:30 pm.
Day 8 – At Sea
Day 8 was pretty much a repeat of the two previous days.
Up at 6:30 am, I had some conference calls and work to complete. In between working, we grabbed breakfast at the buffet, and found seats at the iLounge. As the need would arise, I would head to the open air decks to use my devices as this was probably the worst internet connectivity that we have experienced on a cruise ship in a while.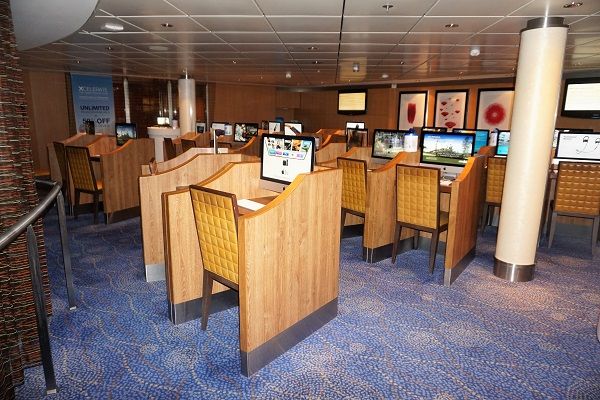 With no matinee show this afternoon, there was not too much on the agenda. Grabbing some coffee, this time with a little extra kick, we did some further working and relaxing.
The Princess did convince me to go to the casino for a little bit. This time around, she had an upswing and won back some of her losses.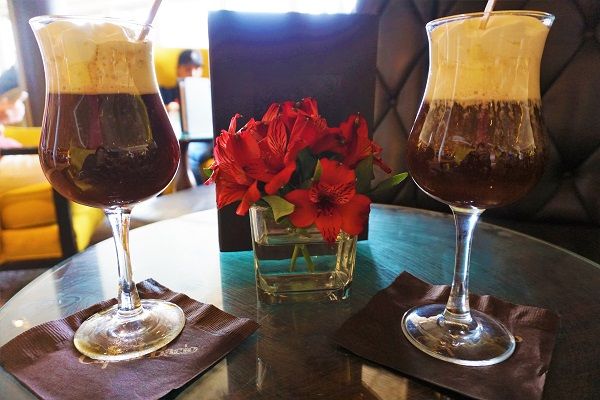 Without much else to do, we grabbed a drink from the Passport Bar around 3 pm. Really, the Princess was waiting for the Martini Bar to open at 4 pm.
Grabbing one round, and conversing with some other patrons, we headed back to the room around 5 pm. Changing up for dinner, we were on time yet again.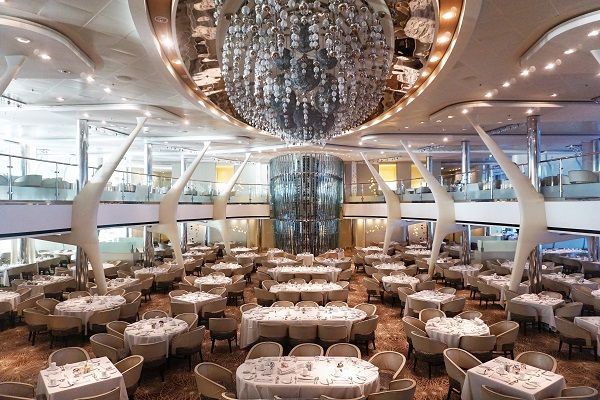 By now, we had become very talkative with most of the couples near us. The pair to one side of us were avid Celebrity cruisers, having been on 30 cruises. The couple to our other side had cruised several times before as well, but mostly with Carnival. So, dinner became a conversation about the day and our likes (and dislikes) of the trip.
For me, the meals tonight were an improvement over some of the previous evenings. Still, it was a little too late to completely win us over.
With not much time before the show, we checked another venue off our drink around the ship. This time, we stopped at the World Class Bar.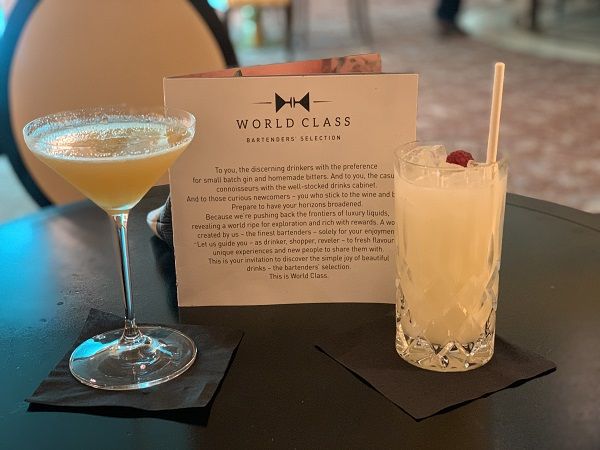 This venue offers some of the most unique drinks on the ship. Sipping our rather strong drinks slowly, we moseyed over to the show around 8:30 pm.
Tonight was another production show called Broken Strings. While it had a relatively loose plot, we enjoyed the music, choreography, and set design. Of all the night time production shows, this one ended up being our favorite.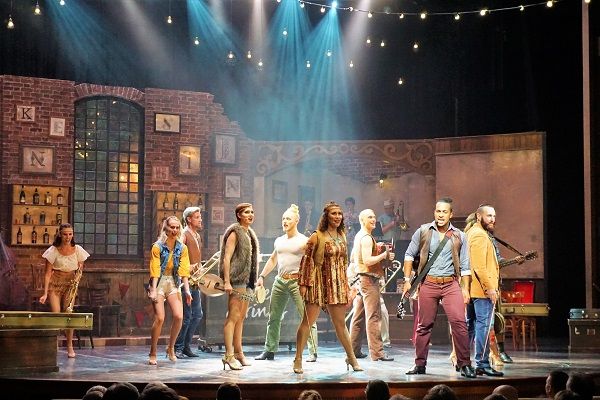 Following the show, we didn't have to move as this double feature included the Liar's Club. Good thing we had become friendly with one of the bar servers, as she was happy to get us a second round of drinks. The force was strong with this one!
The Liar's Club is a game show where you have a term for which all three contestants give a definition, then it's up to the audience to decide who is telling the truth.
This version did not disappoint as it included Captain Tasos, Lewis the Cruise Director, and the Staff Captain. It was hysterical and made for a great way to end the evening.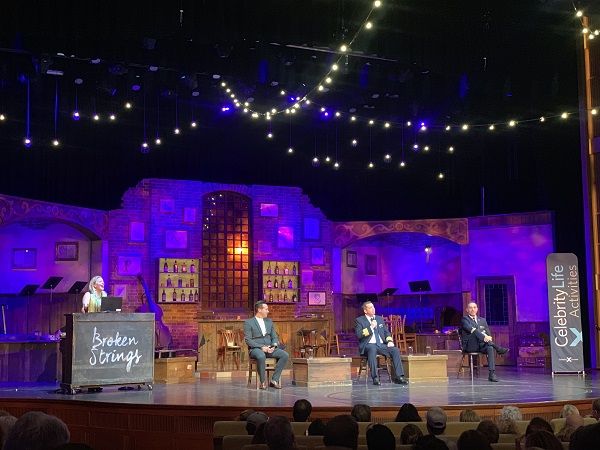 The show was a solid hour, with the tall tales told by the staff, so we didn't leave the theater until close to 11:30 pm.
We decided to call it a night, as I had an even earlier conference call in the morning.
Day 9 – At Sea
Due to the time zone changes, I had to be up at 5:30 am to be part of some meetings for my full time job. This was fine, except for the poor reception and internet connectivity. Working on a cruise ship only works when the technology is functioning during the trip.
Getting my meetings and work completed before 7 am, I returned to the room and fell back asleep until 8:30 am.
We were lucky to score a table at Café al Bacio around 10 am. We would sit here and enjoy some pastries and coffee as I worked with the on again, off again internet.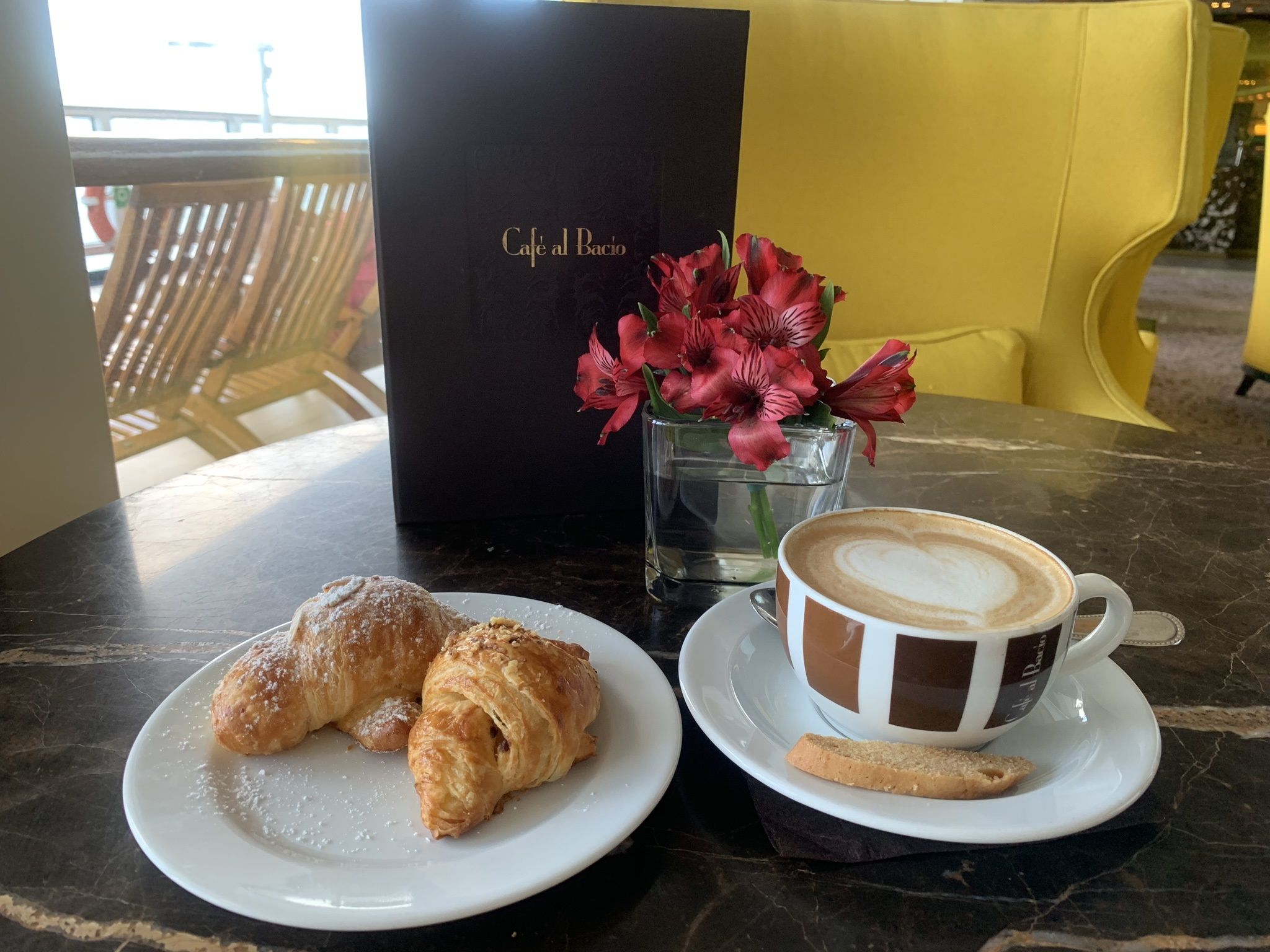 Around 12:30 pm, we headed to the main dining room for lunch. The menu was quite interesting today with a veal chop and fried chicken. Why not sample both?
The 2 pm matinee today was another one of the ship's performers, Lighthouse String Duo. They were very talented, and we could certainly see them headlining cruises in the future.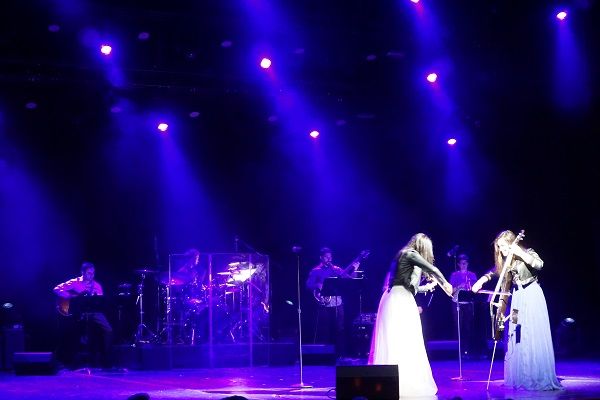 Finishing up right before 3 pm, we walked around the ship a bit getting some menu photos and videos.
Tonight was the second Evening Chic, so the Princess wanted adequate time to get ready. Granted, we didn't really do much during the day that warranted an extensive amount of preparation.
Down to Deck 5 around 5:45 pm, we did 3 different photo stations before dinner. The amount of people dressed up was slightly more than the first Evening Chic night.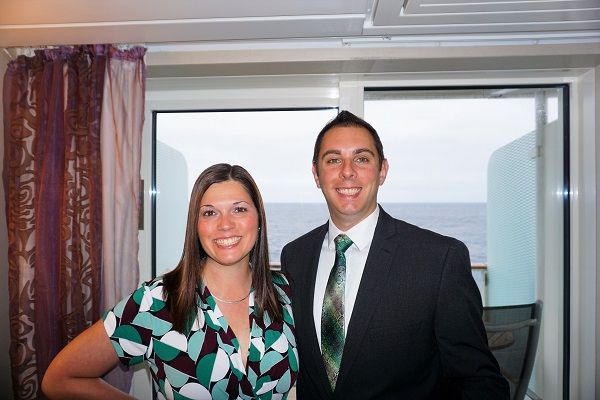 Of course, as tonight was Lobster night!
Getting to the main dining room around 6:15 pm, we were the last couple among our row of tables for two. I did an odd "surf and turf" combo with two lobster tails and the beef Wellington. The entrees were satisfying, but the true winner was the Baked Alaska dessert.
We were out of dinner close to 8 pm again, but this still gave us time to get to the Entertainment Court for a photo with the Captain at the Officer's Reception. One thing we really enjoyed on this trip was the visibility of the senior officers, including the Captain. He was funny, personable, and a great spokesperson for Celebrity Cruises.
Getting to the theater for 8:30 pm, we grabbed a round of drinks to await showtime.
Tonight was the final headliner, Andrew Diessner. This academically trained tenor came out rocking to a Black Crowes song. This had me intrigued and hopeful for the performance. Quickly though, the show devolved into a mix of opera and stale cruise songs.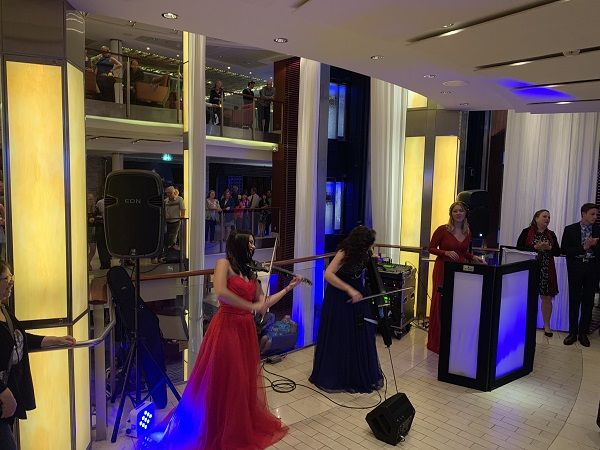 Following the show, we, along with what felt like the entire theater, headed to the Martini Bar for the Fire and Ice Party.
This raucous crowd was greeted with DJ music, augmented by live performances by the Lighthouse String Duo. The talented bartenders were also mixing it up with some unique cocktails. This was probably the liveliest scene we had experienced all cruise.
With no specific reason to wake up early, it was an easy decision to close out the bar on this second to last night of our cruise.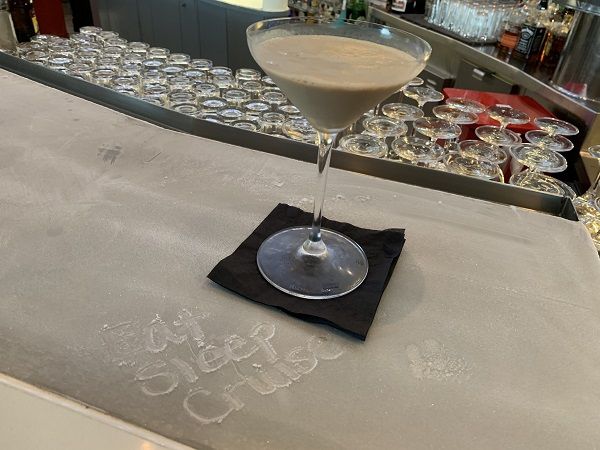 The party ended around midnight, so we slowly retreated to our room after that.
Day 10 – At Sea
The last day of the cruise is always an opportunity to tie up loose ends. It also helped that the sun was shining for a change! The temperature was still not very warm, but the sunny skies meant that we would get some decent outdoor time today.
Up at 9:30 am, I made the rounds grabbing some last minute photos and video for the blog. The past couple of days had not been favorable for getting these images.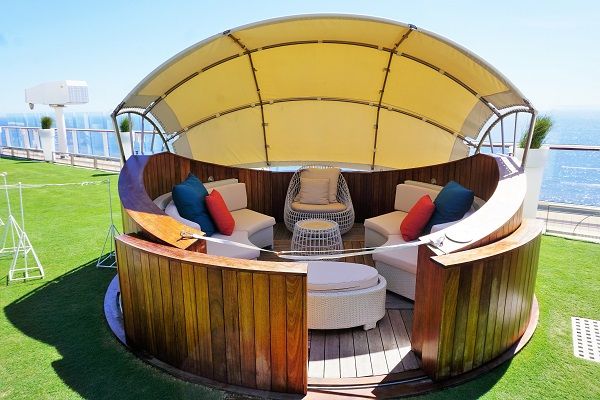 Essentially, we roamed the ship for about two hours until it was lunch time. Debating whether to do the buffet or sit down lunch, we opted for the former.
Good thing we did, as the buffet was stocked with so much food. The carving station had pork, duck, lamb, turkey, and beef. It felt like they were just cooking everything they had left for the cruise. There was even a massive chocolate fountain!
Where was all this stuff the previous 9 days?
Leaving lunch, we found some lounge chairs in the sun on Deck 12. While it was not warm enough for us to "tan" or go in the pools, just sitting outside was a nice departure. There were some brave souls in bathing suits though.
Staying outside for close to two hours, we headed back to our room. Yes, we had to spend some time packing before dinner. We know, the worst part of a cruise.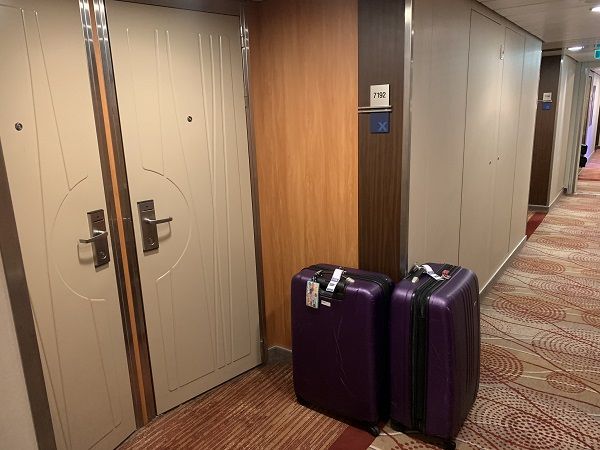 Dinner tonight was full of good-byes. Surprisingly, one couple did not show up. I guess they had enough of us.
Heading to the Entertainment Court, we caught the last few rounds of the Yes or No Game show. It is one of our favorites. It's always fun to see if fellow cruisers can resist the urge to say the taboo words for three minutes.
Only one passenger was able to walk away victoriously.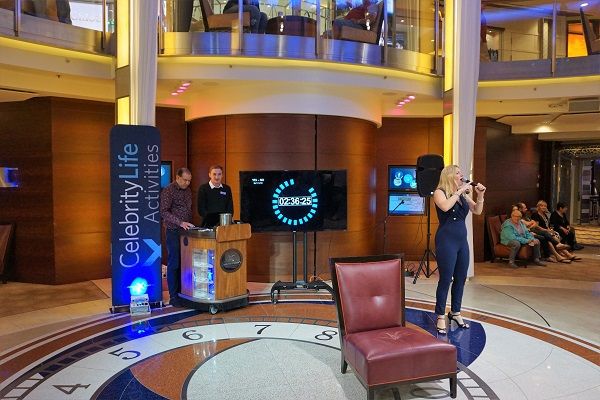 Tonight's show in the theater was Euhporia. It was an odd mix of performance art and singing that we had actually already seen on Celebrity Eclipse last year.
When compared to our trip on Solstice in 2014, the entertainment certainly has improved. The caliber of the performers was stronger, and the shows themselves were more modern.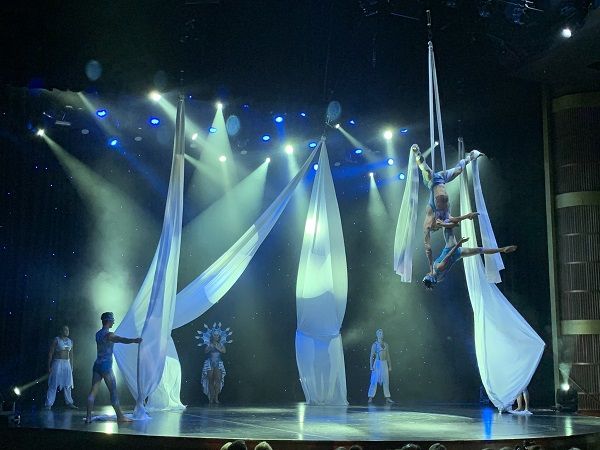 As you would suspect, we ended our cruise in the Martini Bar. We grabbed a few rounds of drinks while watching the silent disco.
We also met up with some other travel bloggers who were on the ship. It was great talking shop, and travel, with other like minded people.
Getting close to midnight, it was officially time to call it a night. Our cruise was over!
The disembarkation process the next morning was a bit delayed and chaotic. One of the first busy days in the Port of Vancouver meant thousands of cruisers were being dumped onto the city. We managed to get off the ship and walk to our hotel with more work than we would have liked.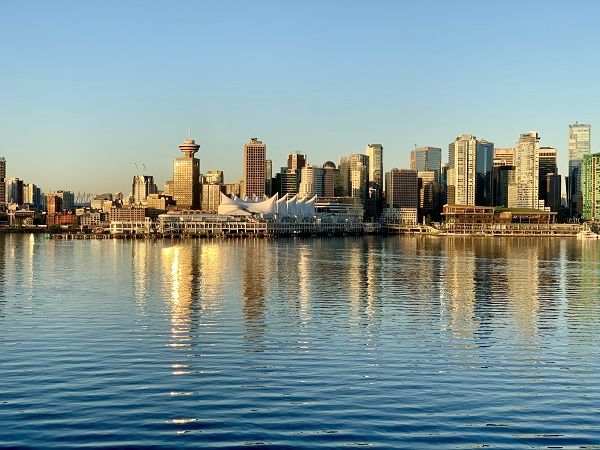 The rest of the day was spent touring the city as this was our first visit to Vancouver.
A long 10 days had come and gone, but both of us are eager to return to Hawaii and the charming Vancouver, British Columbia. So, a trip back out to the West is certainly on the list.

Comments
Have you sailed on Celebrity Solstice? What are your favorite aspects of the ship? Drop us an anchor below with your review of this elegant vessel in the Celebrity Cruises' fleet.