The new year always brings the debut of several new cruise ships from a variety of cruise lines, and 2024 is no exception. While the list might not be as extensive as the past few years, there are many noteworthy contenders for your 2024 cruise vacation. Many of these vessels are either game-changing additions, first-in-class ships, or the first new cruise ship to the fleet in several years.
While we already have plans to sail on some of these new cruise ships in 2024, we've still got a lot of planning to do–never mind the list of cruise ships that debuted (are debuting) in late 2023 that we still need to hop onboard. With so many great choices, these are the best new cruise ships in 2024 that we can't wait to sail and think you should too!
Call to Book Your Next Cruise Now: 1-855-228-5584!
Best New Cruise Ships Debuting in 2024
Icon of the Seas
Royal Caribbean is known for upping the ante when it comes to cruise vacations. The cruise line is once again debuting a game-changing new cruise ship in 2024. This time, Icon of the Seas looks to redefine the ultimate family vacation. Launching in January 2024, Icon of the Seas will sail year-round from Miami on Eastern and Western Caribbean itineraries. All cruises will include a stop at the cruise line's private island in the Bahamas, Perfect Day at Cococay.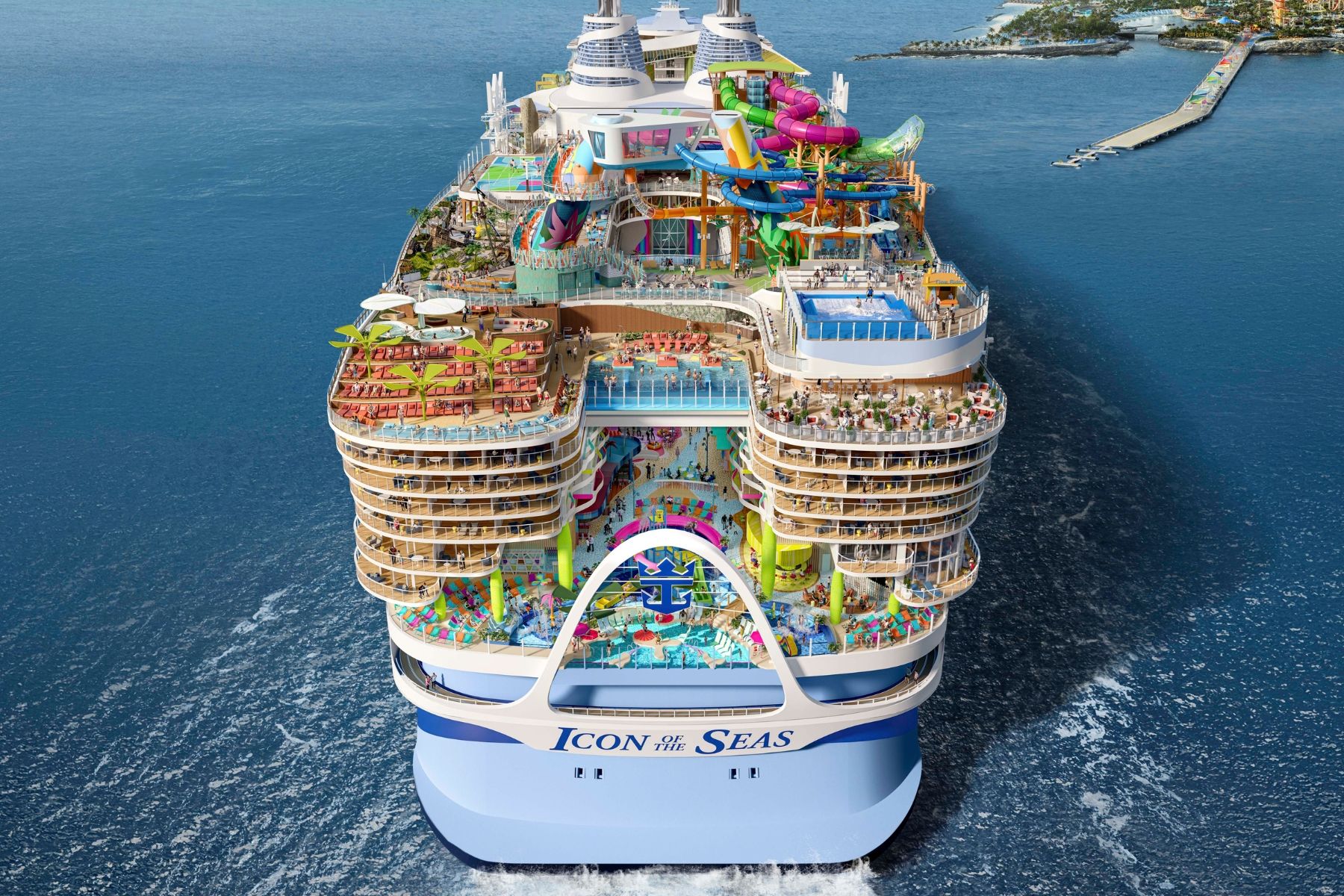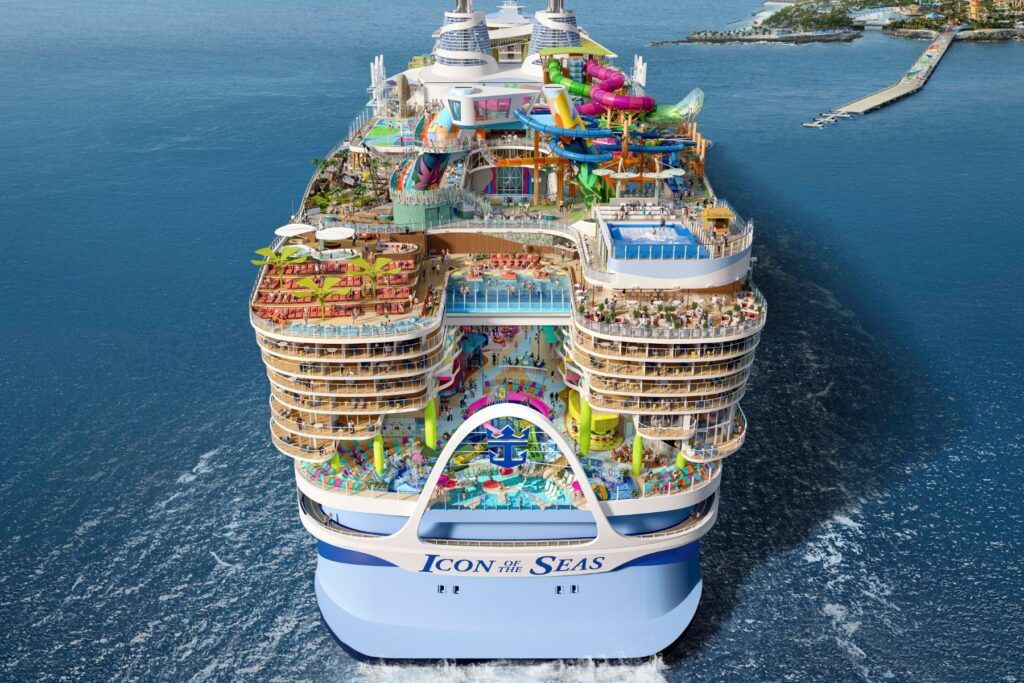 This new cruise ship will rightfully earn the title of world's largest cruise ship, measuring in at 250,800 gross tons with a guest capacity of 5,610 at double occupancy. Icon will feature 20 decks, over 28 different stateroom categories, 7 pools, 6 waterslides, and 8 neighborhoods.
Icon of the Seas Neighborhoods
Yes, Icon of the Seas is so big that it has its own neighborhoods, much like previous Oasis Class ships. Though, this first Icon Class vessel will introduce some completely new neighborhoods for the brand.
Thrill Island will be home to Category 6, the largest waterpark at sea, with six record-breaking slides! They include some of the longest, tallest, and fastest slides in the world. This neighborhood also features Crown's Edge (part skywalk, part ropes course, and part thrill ride), along with the Lost Dunes mini golf, Adventure Peak rock climbing wall, and the Flowrider.
The new Chill Island is a 3-deck slice of paradise featuring four pools, each with prime ocean views. Swim & Tonic is the line's first swim-up bar at sea with a large pool and resting spots within the pool, while the Royal Bay Pool is the largest pool at sea with over 40,000 gallons of water, in-water loungers, and raised whirlpools.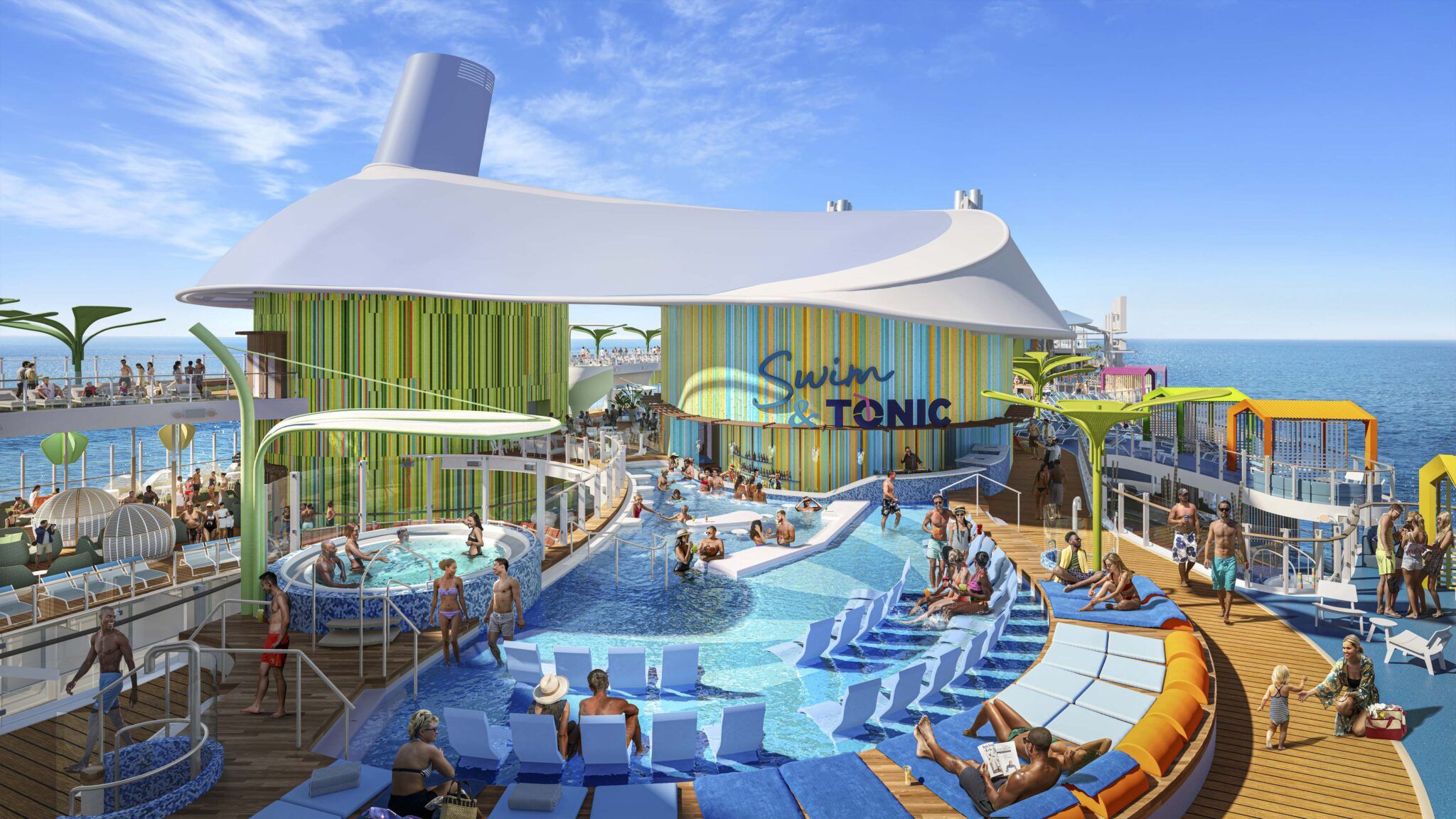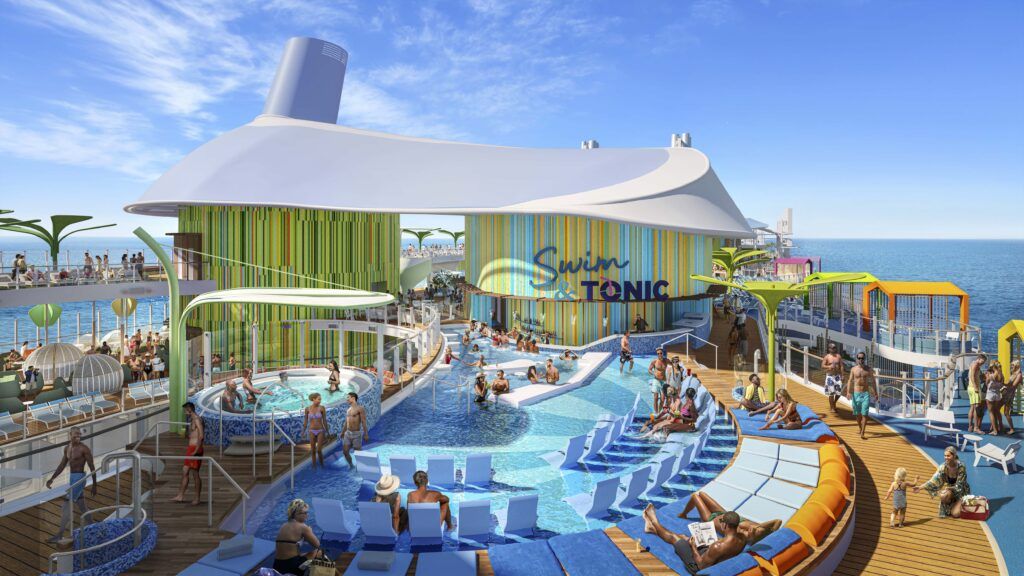 The new Surfside neighborhood is specifically designed for families. In this neighborhood, grownups can soak up the endless views at Water's Edge pool while the little ones enjoy Splashaway Bay and Baby Bay. Further, there are nearby dining options, a bar, a reimagined carousel, and an arcade.
There's also the Hideaway with beach club vibes and the first suspended infinity pool at sea, the multi-use AquaDome which will feature next-generation aqua shows, and an even grander Royal Promenade. Further, guests can still enjoy Central Park and the largest Suite Neighborhood in the fleet.
Icon of the Seas Dining
Icon of the Seas will feature more than 20 different dining options including many new venues and returning favorites. Chops Grille returns to Central Park, while Giovanni's Italian Kitchen relocates to the Royal Promenade and Hooked finds a home in AquaDome. Izumi relocates to Central Park and is reimagined with the addition of Izumi in the Park– an all-day takeout window with fresh sushi and street food.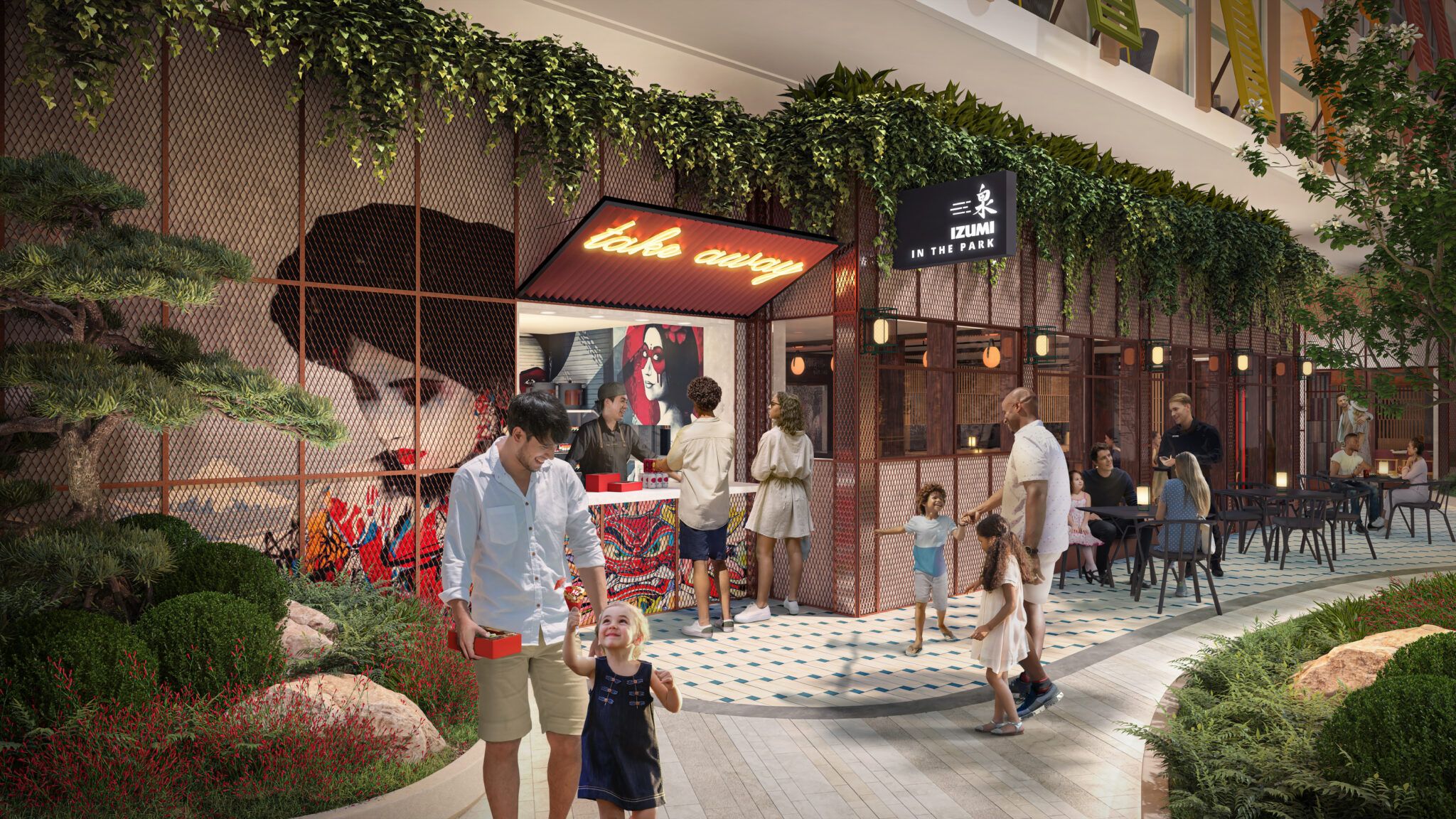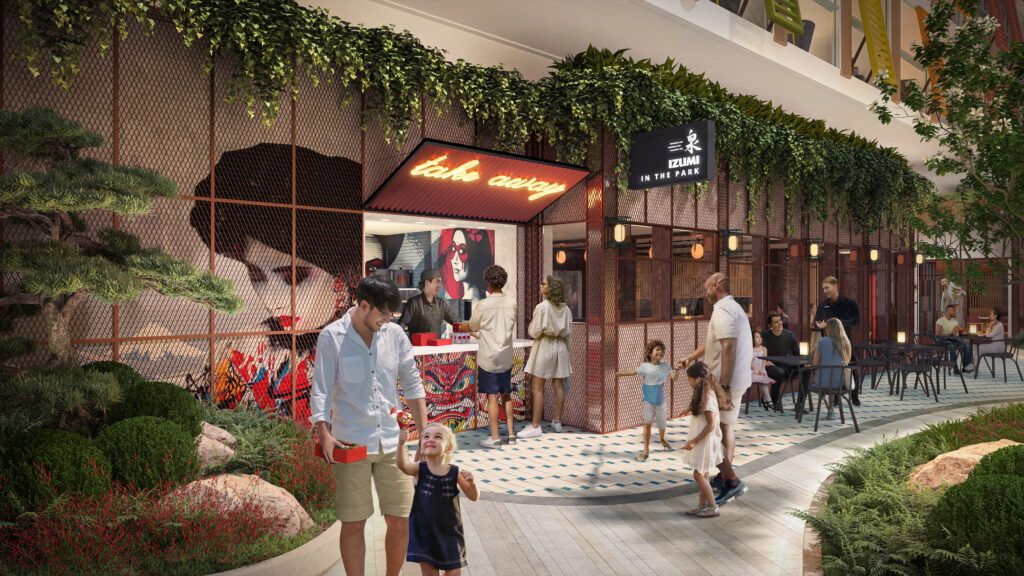 The Empire Supper Club is a new elevated dining experience featuring an 8-course meal, drink pairings, and live music. While the AquaDome Market is Royal Caribbean's first food hall with five different stalls.
Other new casual dining spots include the Pearl Cafe in the Royal Promenade, Basecamp located near Thrill and Chill Islands, Surfside Eatery the new family buffet, Pier 7 also in the Surfside neighborhood, and Surfside bites featuring a walk-up window and quick service snacks. Additionally, guests will find familiar favorites like Park Cafe now serving tapas in the evenings, El Loco Fresh, Sorrento's, Playmakers, and the Windjammer buffet.
For a little indulgence, there's Desserted, a new milkshake bar as well.
Icon of the Seas Bars and Entertainment
When it comes to bars and entertainment, Icon of the Seas continues to deliver with more than 15 bars and nightlife experiences. New to the brand are Lou's Jazz n' Blues in Central Park and Dueling Pianos in the Royal Promenade. Further, Rye & Bean is a coffee bar in AquaDome and Bubbles is a champagne bar in Central Park. 1400 Lobby Bar is a new bar on the Royal Promenade which includes an outdoor terrace, and the Lemon Post can be found in the Surfside neighborhood.
Returning favorites include the Trellis bar which will also feature light bites, Playmakers Sports Bar and Arcade, the Attic comedy club, the Music Hall featuring tribute bands, Boleros, the Schooner Bar, Spotlight Karaoke, and a newly designed English Pub–Point & Feather.
Royal Caribbean is known for its spectacular entertainment and Icon of the Seas will not disappoint. The AquaDome will be home to two aqua shows, Aqua Nation and Pirates vs. Mermaids. The ship will also feature ice skating shows in Absolute Zero, Starburst and Once Upon a Time: The Kings Royal Ball. Meanwhile, the Royal Theater will feature the Wizard of Oz and Showband.
Get Deals on Icon of the Seas Cruises!
Sun Princess
Princess Cruises is also debuting a game-changing new cruise ship in 2024, the first in the new Sphere Class. Sun Princess will elevate the Princess Cruises experience with several new design elements, restaurants and bars, and entertainment options while staying true to the brand's heritage. When she sets sail in February 2024, Sun Princess will first cruise the Mediterranean before making her way to Fort Lauderdale in October for the winter season.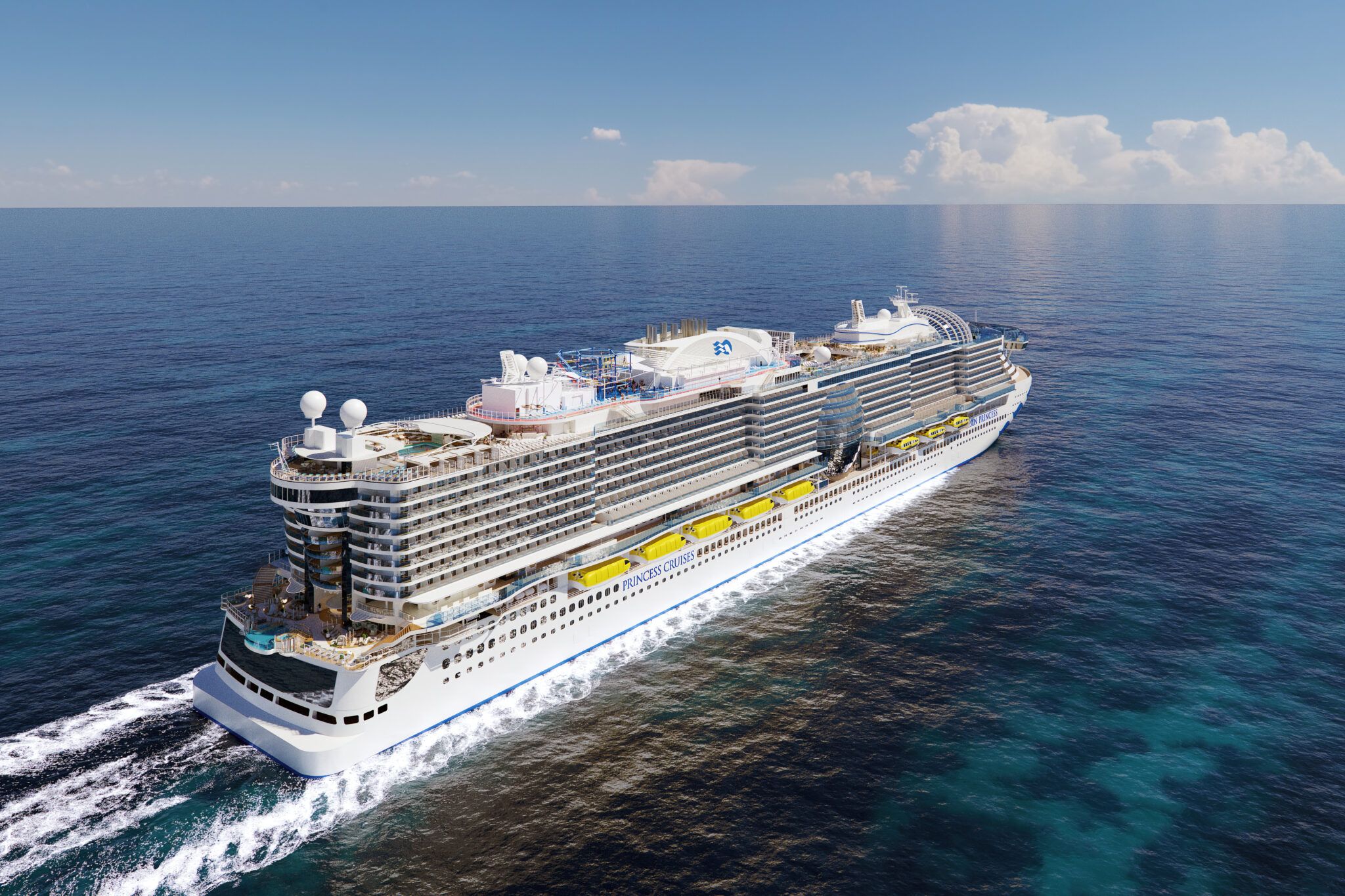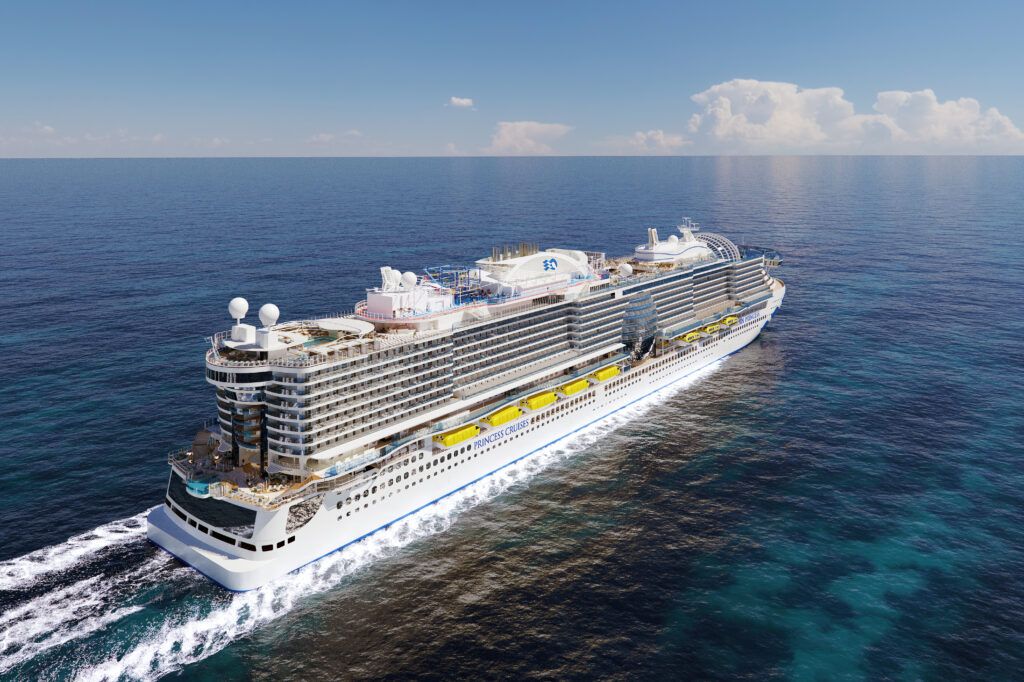 This new Princess ship comes in at 175.5K gross tons with a guest capacity of 4,300. It will be the largest and most innovative Princess ship ever constructed. The ship's design will feature brighter and lighter décor and finishes inspired by rays of sunlight. This latest addition to the fleet will be the third ship to boast the name. It will add to the legacy of the first Sun Princess sailing from 1974 to 1988 and the second sailing from 1995 to 2020.
Sun Princess Design
Loyal Princess cruisers will notice some changes when it comes to the layout of venues on Sun Princess. First, the cruise line has shifted the Piazza, with the main interior public spaces now residing on decks 7-9 and the outdoor promenade on deck 9. Although, the ship's iconic sphere, the curved wall of glass conveniently located in the middle of the ship, actually extends from Decks 7 to 16.
The 3-level Piazza will feature ocean views in every direction, a central LED screen for live entertainment, and plenty of comfortable seating for relaxing and socializing.
Cruisers will also notice a few popular venues in new locations. Most notably, say goodbye to the pool deck buffet. The cruise line's signature World Fresh Marketplace is now on Deck 9 on Sun Princess. But, not to worry, there will still be plenty of bites to grab near the pool deck.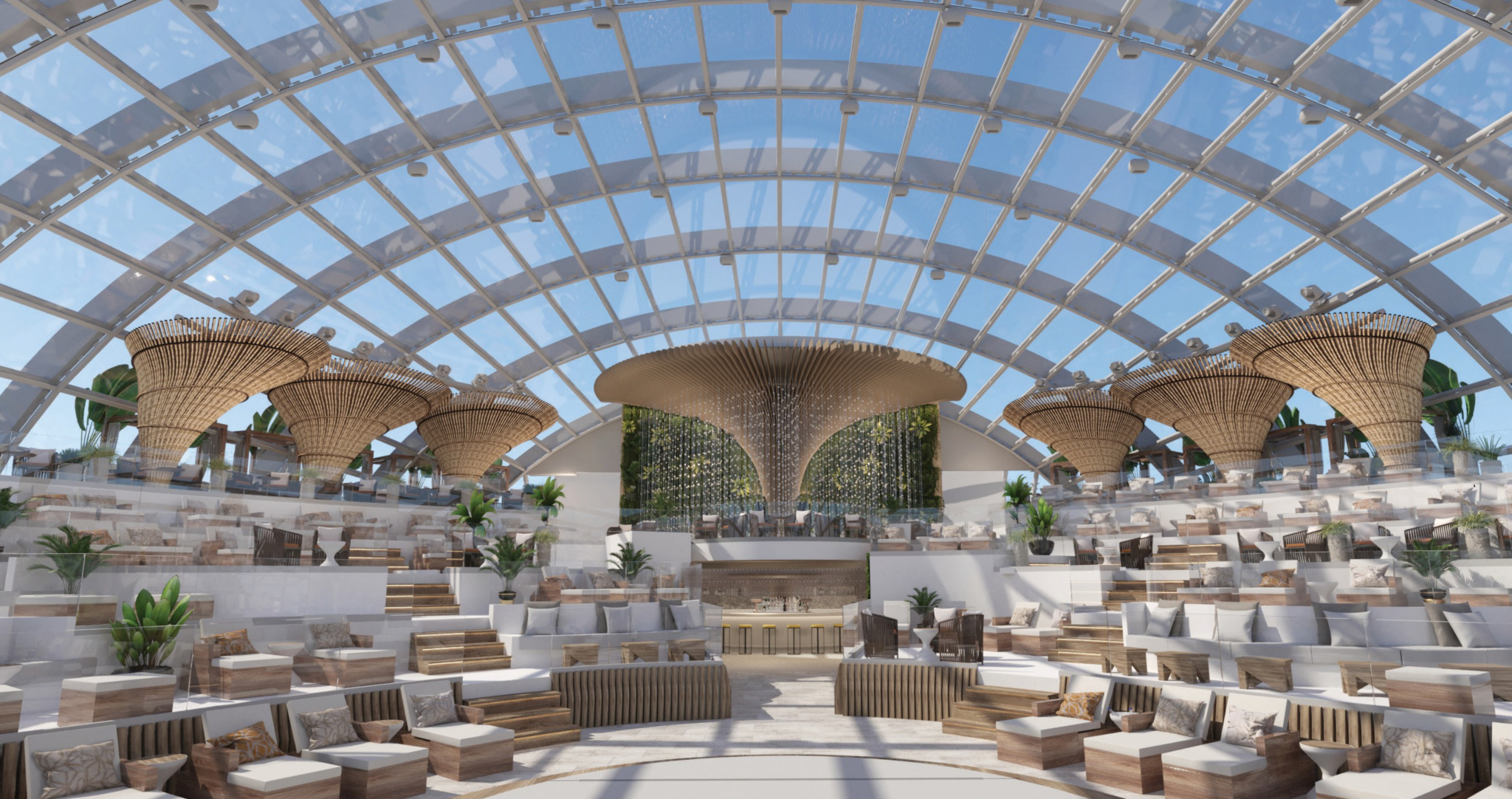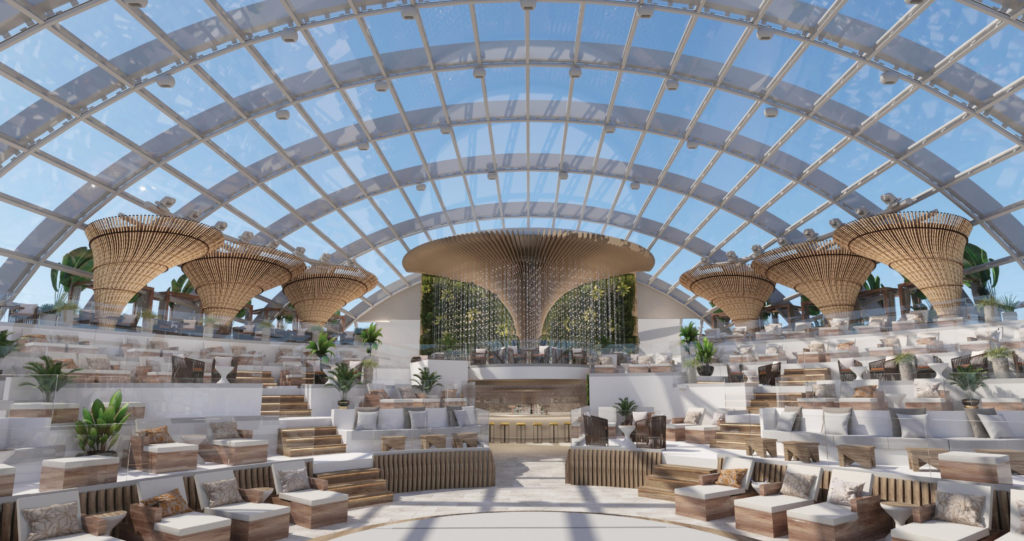 New to Princess Cruises is an entertainment space called the Dome. During the day, the Dome features an indoor/outdoor pool, so guests can enjoy this area no matter the weather outside. At night, the Dome completely morphs into an entertainment venue with a South Beach vibe. The pool transforms into the stage with lighting effects and aerial performances.
The newly envisioned Horizons Dining Room is the first 3-story dining space in the Princess fleet. The three decks of this dining space will each have their own personalities. They will offer different dining experiences with the most casual deck 8 space leading out to the Wake View Terrace. The Wake View Terrace is an upgraded pool deck with a cantilevered pool, tiered seating areas, and a bar.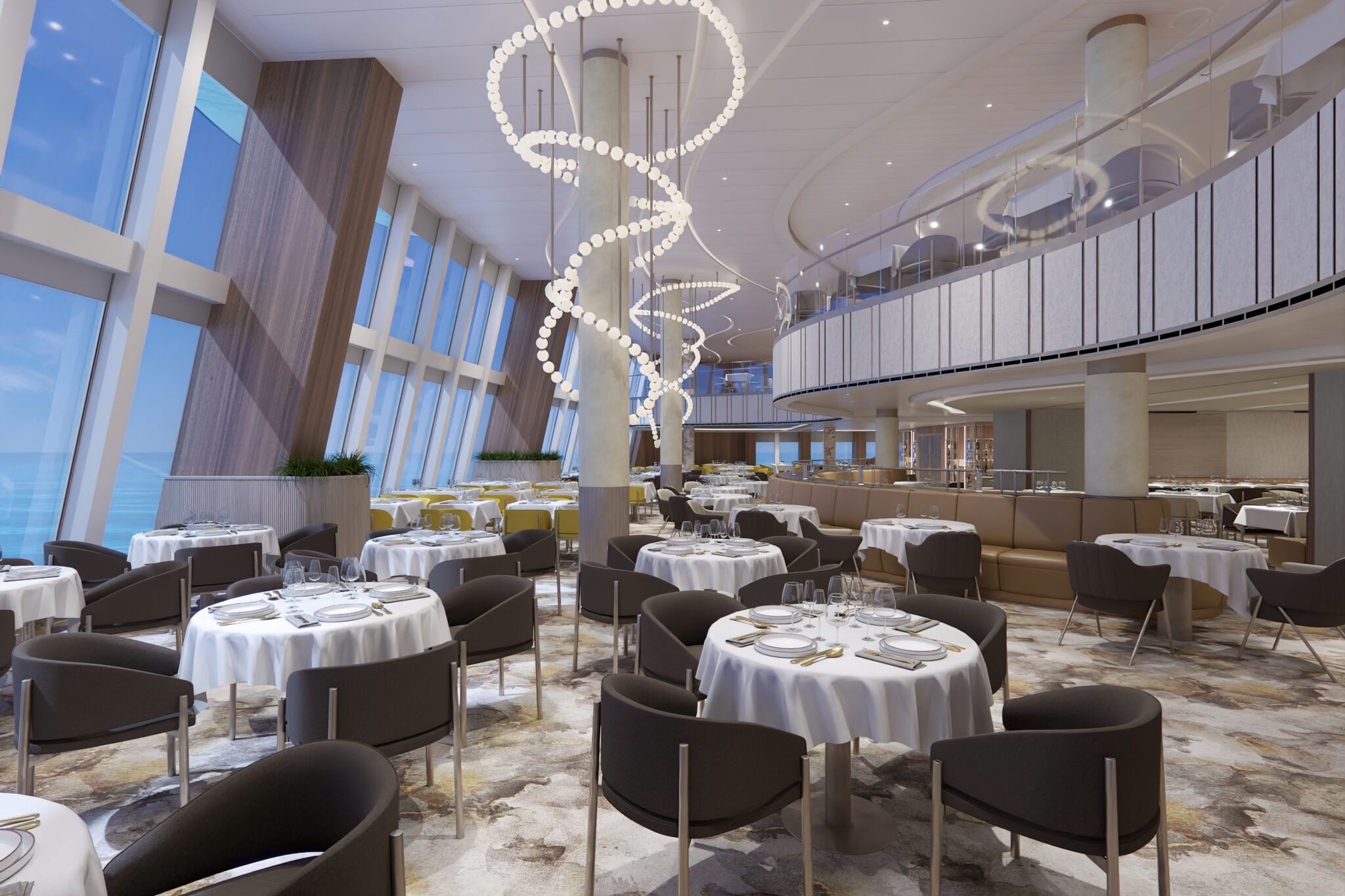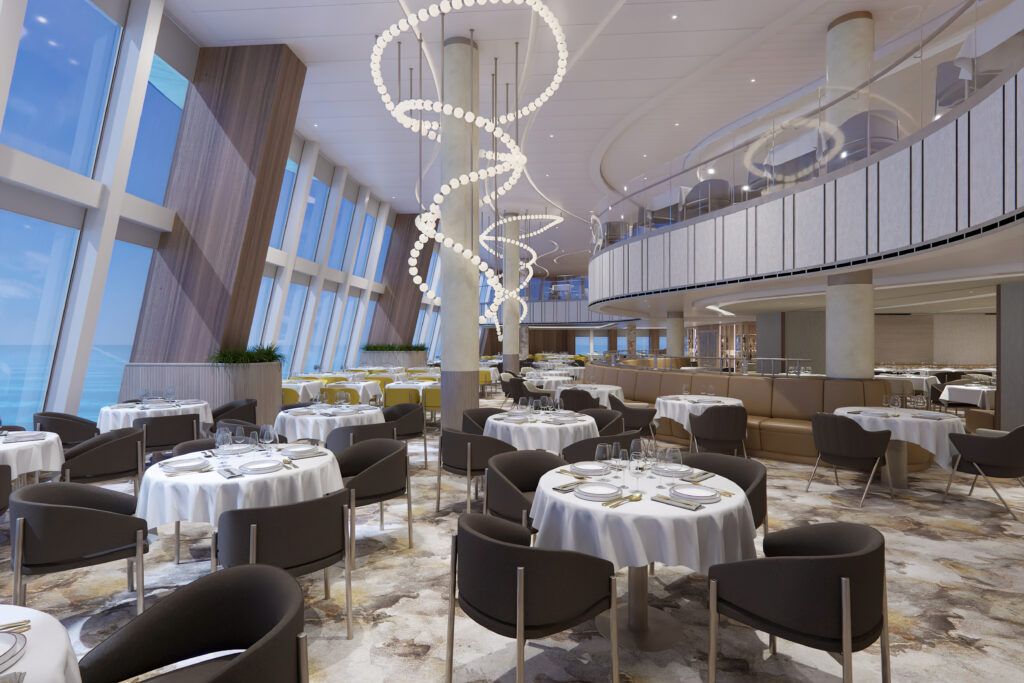 Further, the Arena Theater on Sun Princess will be the most technologically advanced in the fleet. The new design somewhat resembles that of Celebrity's Edge Class with a circular, central stage. However, this in-the-round configuration takes the design one step further with a semi-moveable seat design.
Another design upgrade is evident in the staterooms on Sun Princess. The staterooms boast more balcony space, and all balcony staterooms will now feature an in-room sofa. This ship will be the first in the fleet to offer no obstructed view cabins. Cruisers can also rejoice that the cabin bathrooms on Sun Princess will no longer feature shower curtains!
Princess Cruises has also reimagined the guest embarkation experience with The Landing on Deck 4. This embarkation point will be utilized for both tendering and docking pier side. It much resembles the Destination Gateway on Celebrity's Edge Class.
Sun Princess Dining
While Sun Princess will feature a number of firsts for the brand, the ship will also include many familiar favorites. Some of these include Alfredo's Pizzeria with a new open-mouth oven and outdoor seating on the promenade deck, International Cafe, and the relocated World Fresh Marketplace. Modernized specialty restaurants return as well, including Crown Grill featuring a refined menu, Sabatini's Italian Trattoria, and The Catch by Rudi.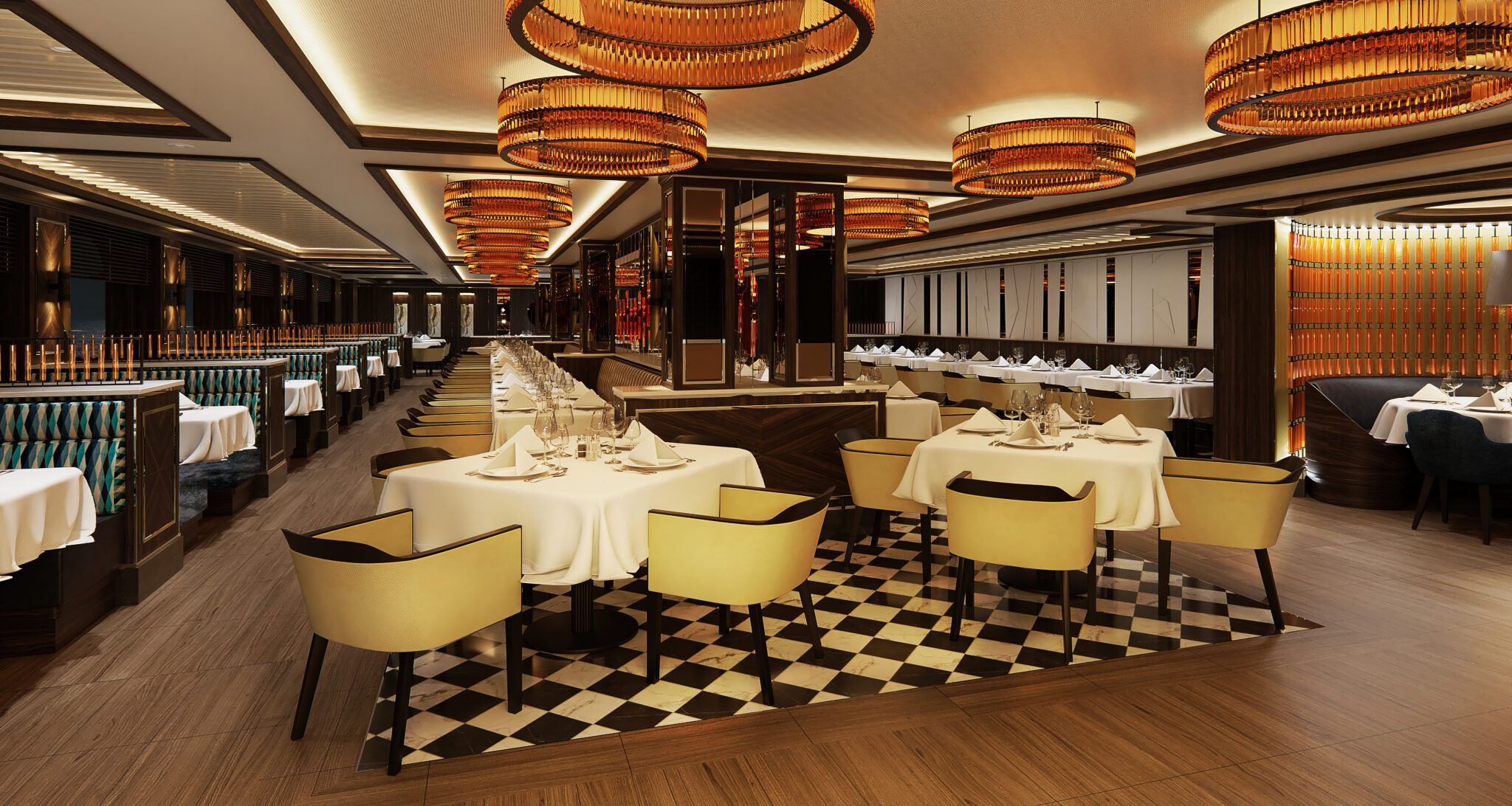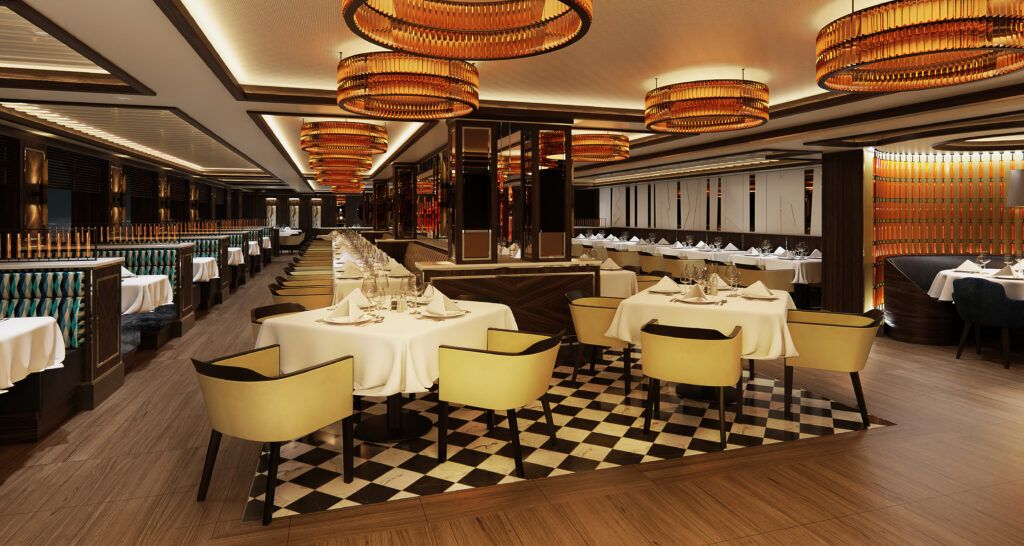 New additions to the specialty dining lineup include The Butcher's Block by Dario, Kai Sushi, Umai Teppanyaki, and a yet-to-be-revealed high-end specialty restaurant on deck 17.
Additionally, the Promenade is a new casual dining option outside the buffet on deck 9 serving burgers, pizza slices, and more. The quick service spots on the Lido have also been reimagined also serving up burgers, salads, tacos, and more. O'Malley's Irish Pub which debuted on Enchanted Princess will also find a home on Sun Princess featuring live music and traditional pub food.
Sun Princess Entertainment
When it comes to bars, guests can expect favorites like Crooner's, Wheelhouse Bar, Good Spirits, Bellini's, and more. Sun Princess will also feature the largest casino in the fleet and a newly designed Princess Live! entertainment space.
Headlining the new entertainment options are three Cirque Éloize immersive performances in The Dome: Blue, Come Fly Away, Artbeart. These performances will be complimentary. As of this writing, main theater shows in the the Princess Arena have not been announced.
Additionally, there is the immersive experience located behind the mysterious black door. Spellbound by Magic Castle combines incredible feats of magic from talented magicians, surprises in themed rooms, and cocktails delivered by sleight-of-hand servers. This show will be an up-charge however.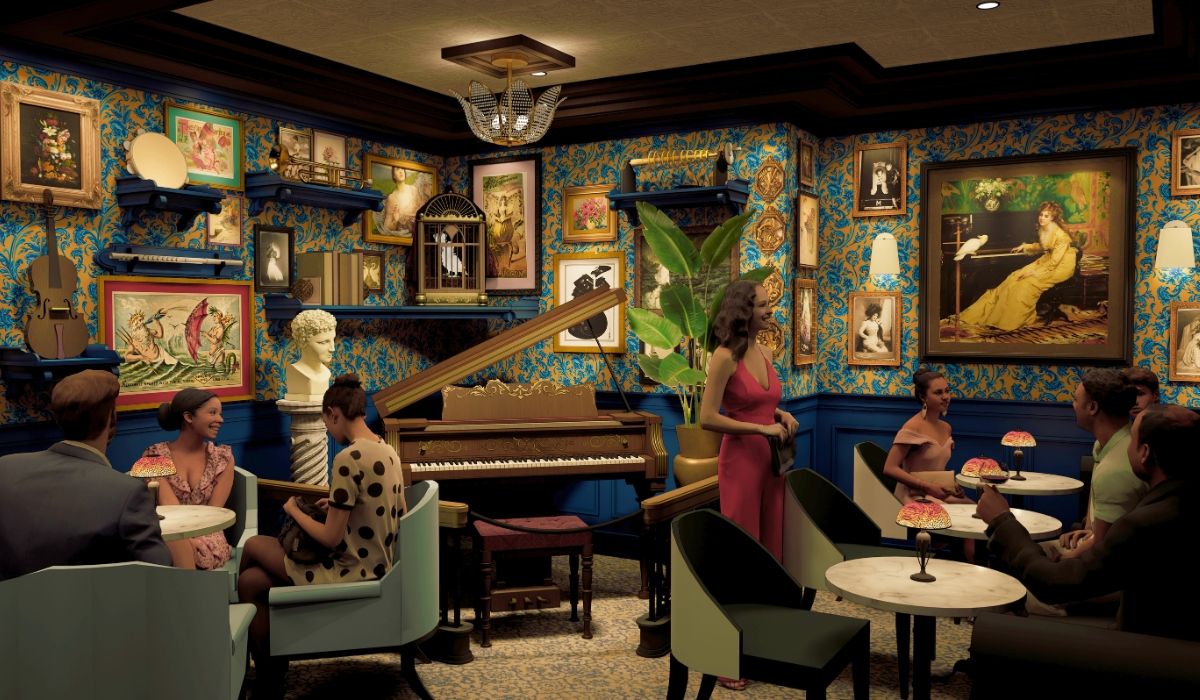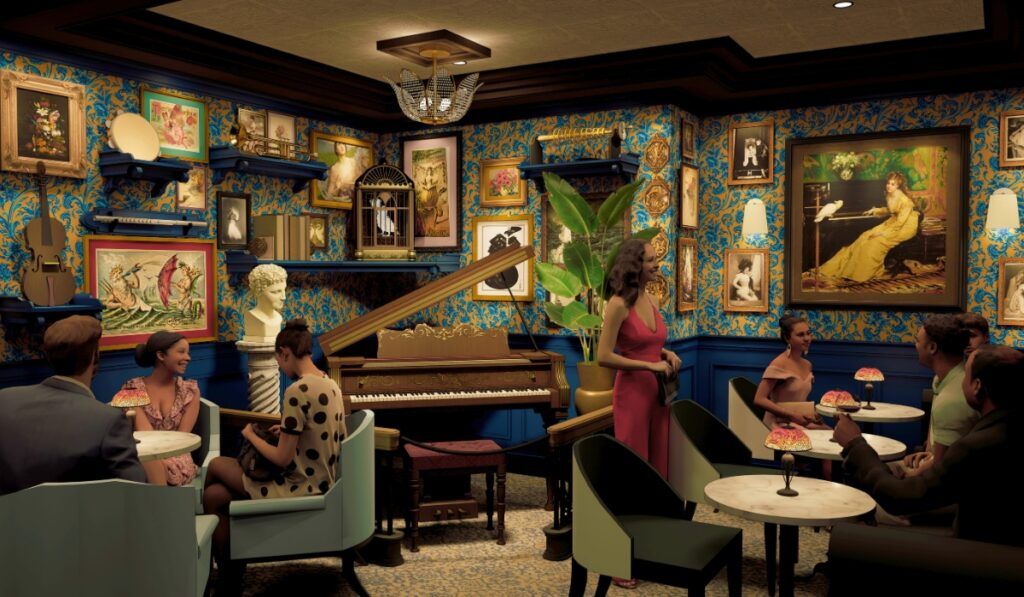 Finally, we would be remiss if we didn't talk about the family experiences coming to Sun Princess. Park19 is a new top-deck family zone with the signature attraction Sea Breeze. Sea Breeze is the first Rollglider on a cruise ship. Using an overhead track, guests are seated and harnessed to this electric ride which reaches speeds of up to 11 mph during the 60- to 90-second experience.
Additional experiences include Coastal Climb, The Lookout open-air observation deck, The Net, and Infinite Horizon with leaning tilt walls cantilevered over the side of the ship. There's also a brand-new hammock area for relaxing, a kids splash zone, a jogging track, and a sports court featuring everything from morning meditation to ping pong.
Get Deals on Sun Princess Cruises!
Utopia of the Seas
What's better than one new Royal Caribbean ship? How about two! If Icon of the Seas isn't making a big enough splash in 2024, there's Utopia of the Seas. Yet again, this ship is a game-changer, designed to take "weekend like you mean it" to a whole new level. Utopia of the Seas will set sail in July 2024 from Port Canaveral. The ship will sail 3- and 4-day cruises to The Bahamas.
Utopia of the Seas is the sixth Oasis Class ship following Wonder of the Seas which launched in 2022. She tips the scales at 236.8K gross tons with a guest capacity of 5,668 at double occupancy. While the ship will have many familiar Oasis Class features, Utopia will feature some unique venues too.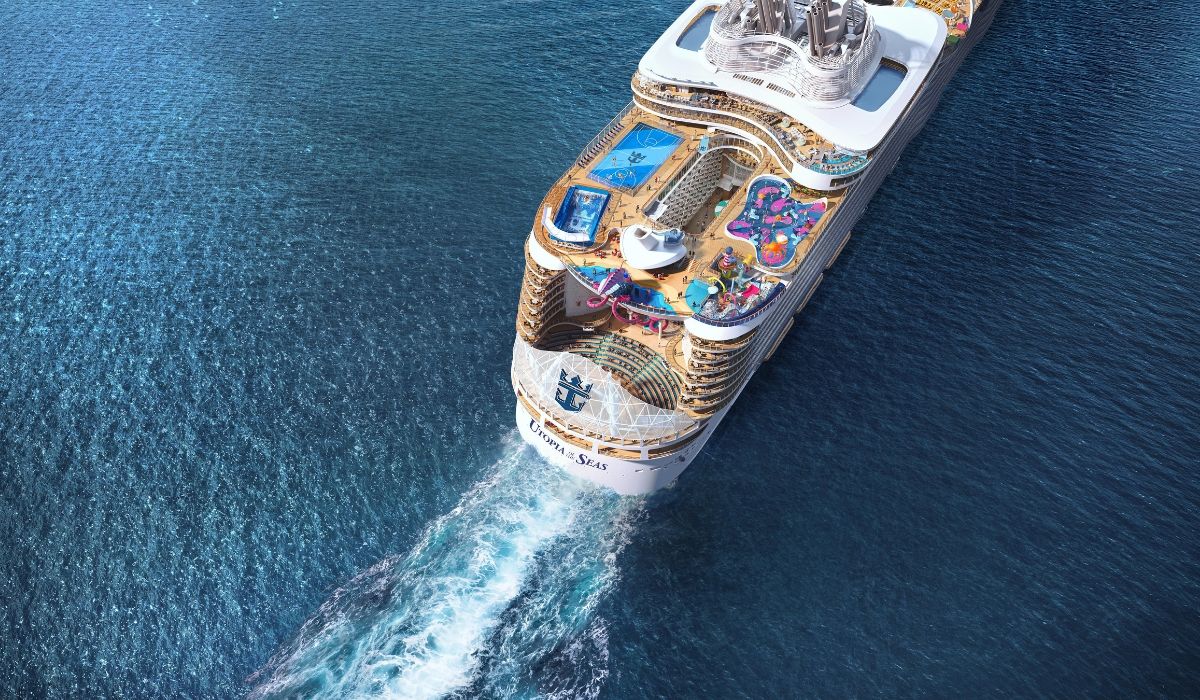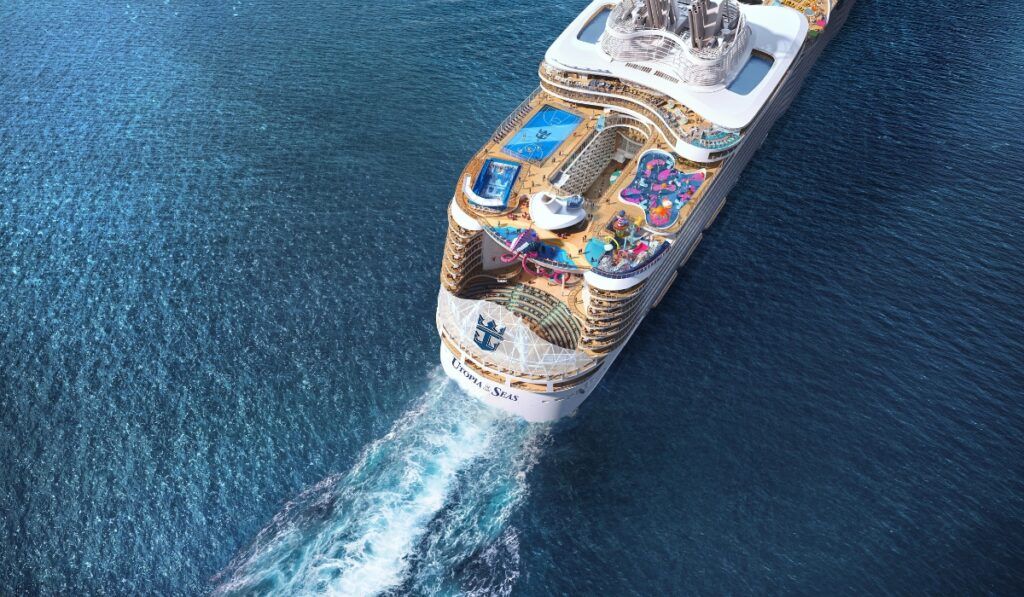 Utopia of the Seas Features
Guests can enjoy five newly redesigned pools in addition to the the Perfect Storm waterslides, Splashaway Bay for the kids, and the adults-only Solarium. Taking back its rightful title as the longest dry slide at sea, the Ultimate Abyss is now 43 feet longer and features new zoom booster rollers. The zipline, Flowrider, mini-golf at Aqua Dunes, and the Utopia Playscape for the littles all make an appearance on this new ship as well.
When it comes to dining, Utopia will feature more than 20 different options. Returning favorites include The Mason Jar, Hooked Seafood, Chops Grille now connected to the Trellis Bar, the Windjammer buffet, the Solarium Bistro, El Loco Fresh, Playmakers, and more.
Giovanni's Italian Kitchen and Wine Bar will now span two levels (taking the place of Wonderland) and feature an outdoor terrace that overlooks the Boardwalk. Similar to Icon, Izumi will relocate to Central Park and will also include the Izumi in the Park takeout window.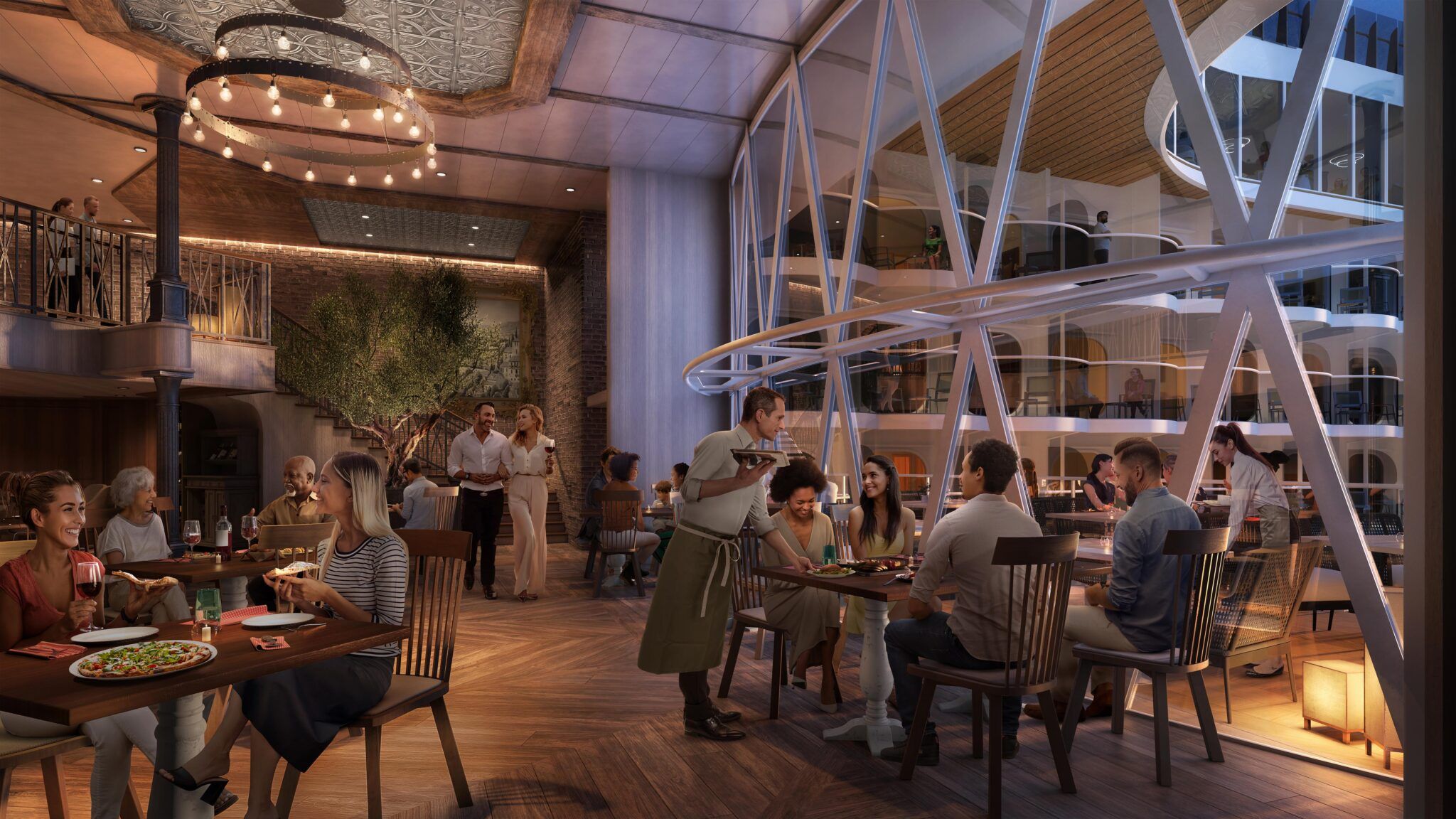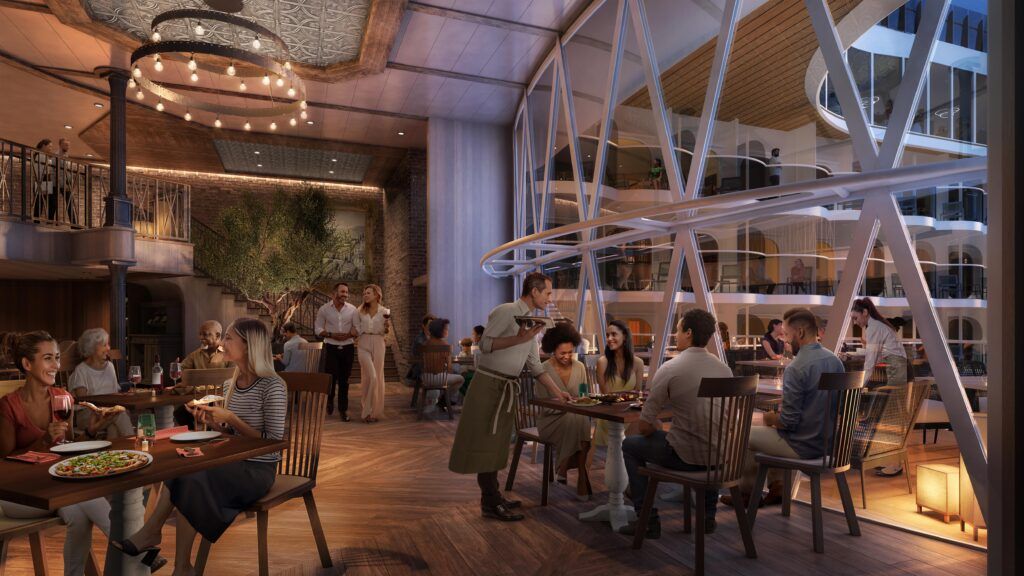 New dining experiences include a poolside food truck and an immersive train car dining experience (taking the place of Izumi on other Oasis Class ships on deck 4).
Along with all the dining options, Utopia will be home to more than 20 bars and entertainment spots, in addition to two casinos and signature Royal Caribbean entertainment. The bar lineup includes 3 Lime and Coconut bars, Cantina Fresca, Spotlight Karaoke, Boleros, Schooner Bar, Music Hall, the English Pub Bell & Barley, and more.
One notable new addition is the Pesky Parrot. This Caribbean-themed tiki bar is on the Royal Promenade and definitely has Bamboo Room vibes.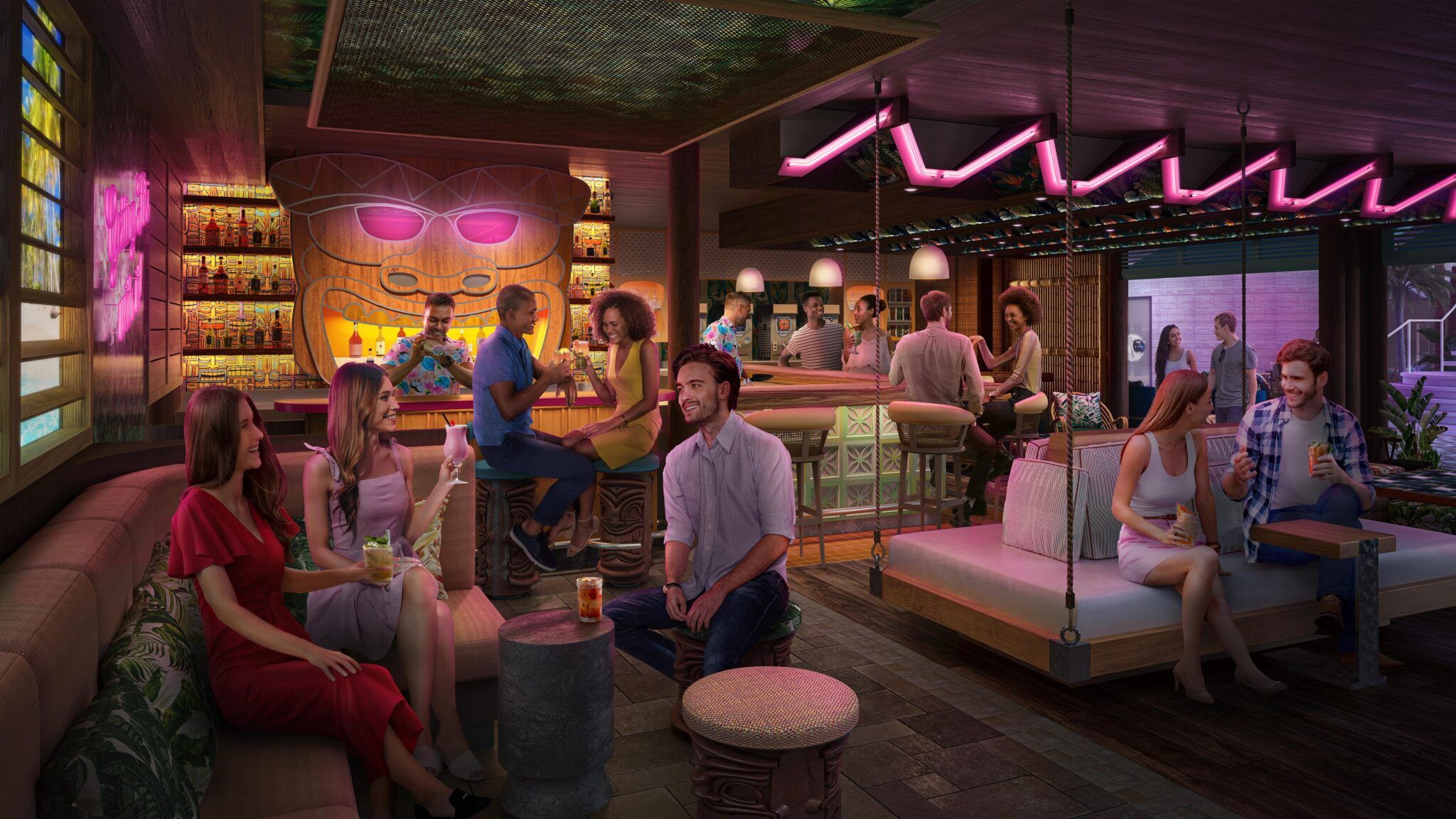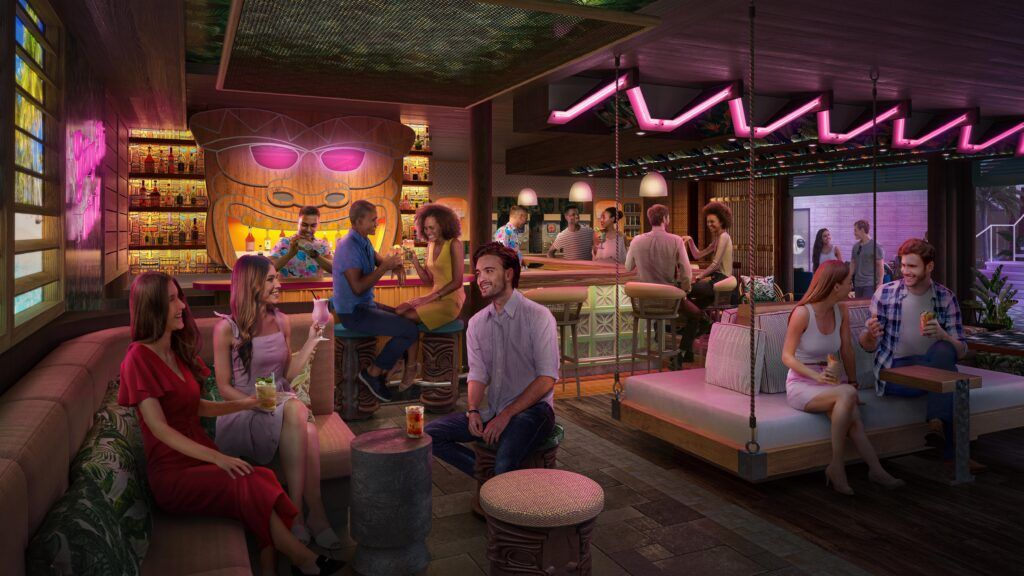 Utopia of the Seas will also feature entertainment in the Royal Theater, Studio B ice rink, the Attic comedy club, and the Aqua Theater. The shows for this new cruise ship have not been announced as of this writing.
Get Deals on Utopia of the Seas!
Disney Treasure
DCL is also launching a new cruise ship in 2024. Disney Treasure will be the 6th ship in the Disney Cruise Line fleet and the second Triton Class ship. Upon debut in December 2024, the ship will sail from Port Canaveral offering 7-day Caribbean voyages all visiting Castaway Cay.
As the sister ship to Disney Wish, Disney Treasure measures in at 144K gross tons with a guest capacity of 4,000. While there will be many similarities in design and layout, Disney Treasure will have some unique elements of her own.
As the name implies, this ship is centered around adventure. This is evident immediately upon entering the Grand Hall with the Aladdin-themed decor and grand statue.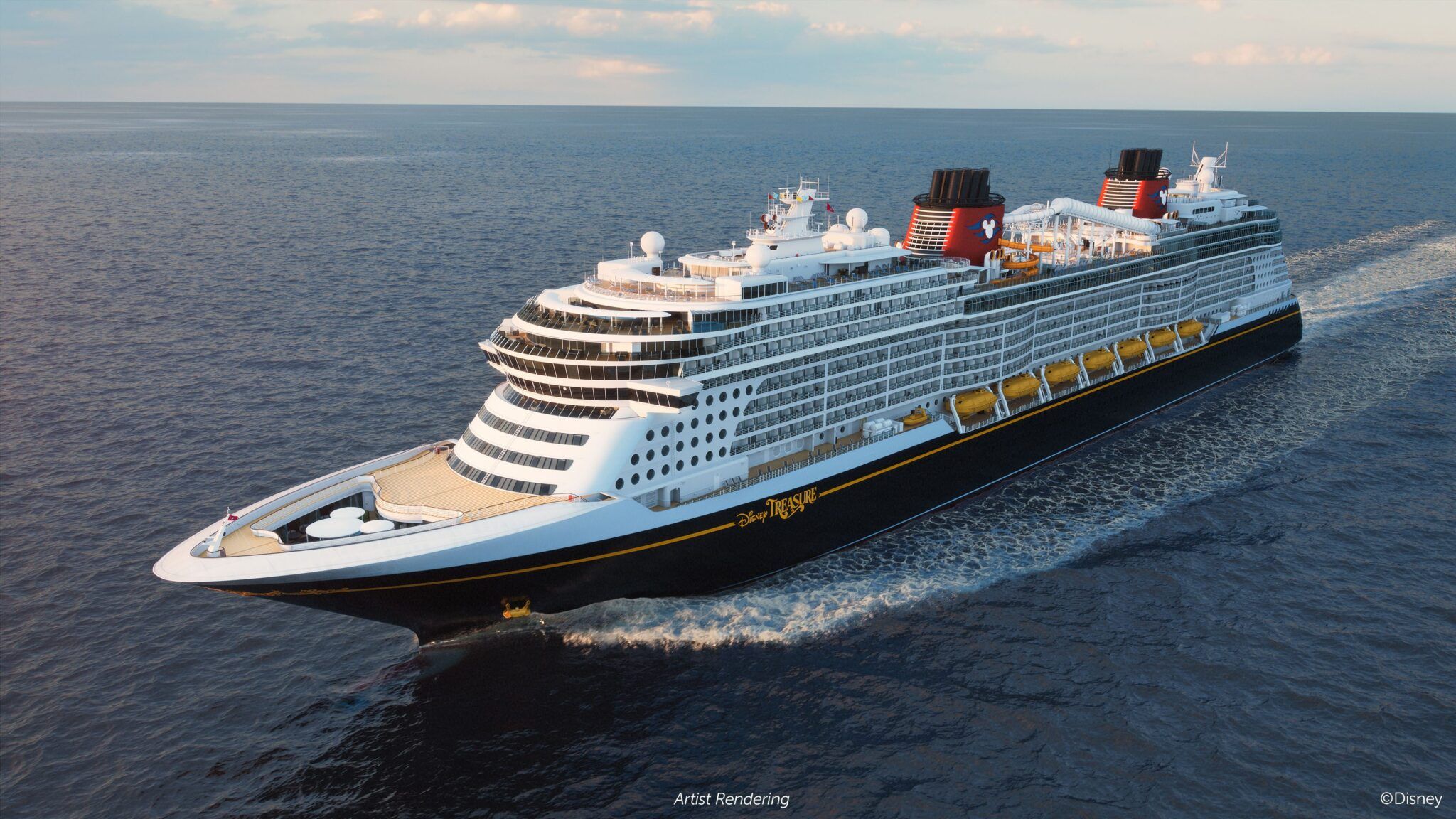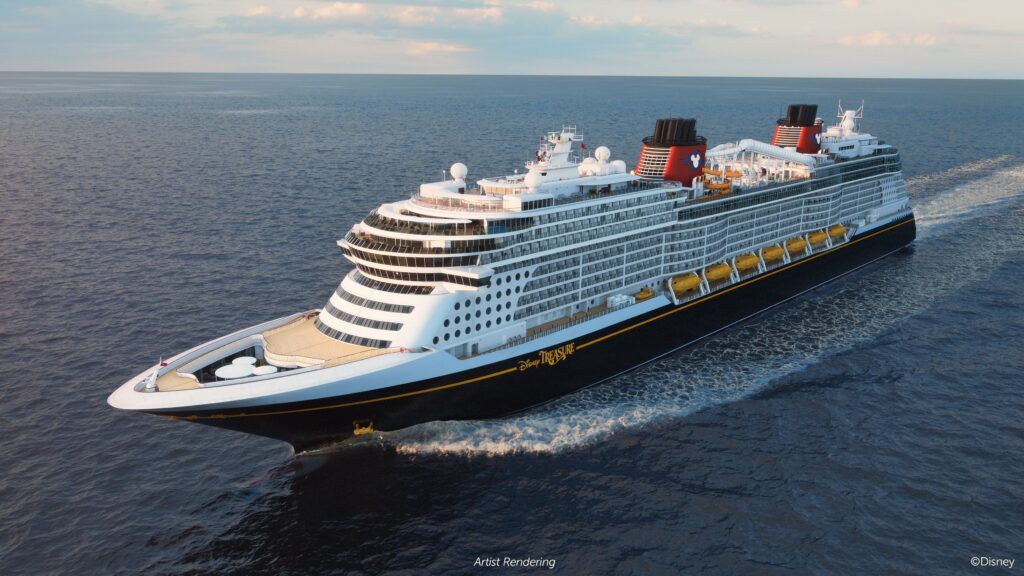 Disney Treasure Features
When it comes to entertainment, the main theater will feature DCL favorites Beauty and the Beast along with Disney Seas the Adventure. Plus, there will be a new Broadway show themed after Moana, aptly named Disney The Tale of Moana. Further, Luna's, the lounge used for many cruise activities, will be replaced by Sarabi giving nods to the Lion King.
The new features don't stop there. Disney Treasure will have newly themed restaurants and bars as well. Perhaps the one we are most excited about is the Haunted Mansion Parlor replacing the Star Wars Hyperspace Lounge. This venue will come complete with the iconic purple wallpaper and even hitchhiking ghosts.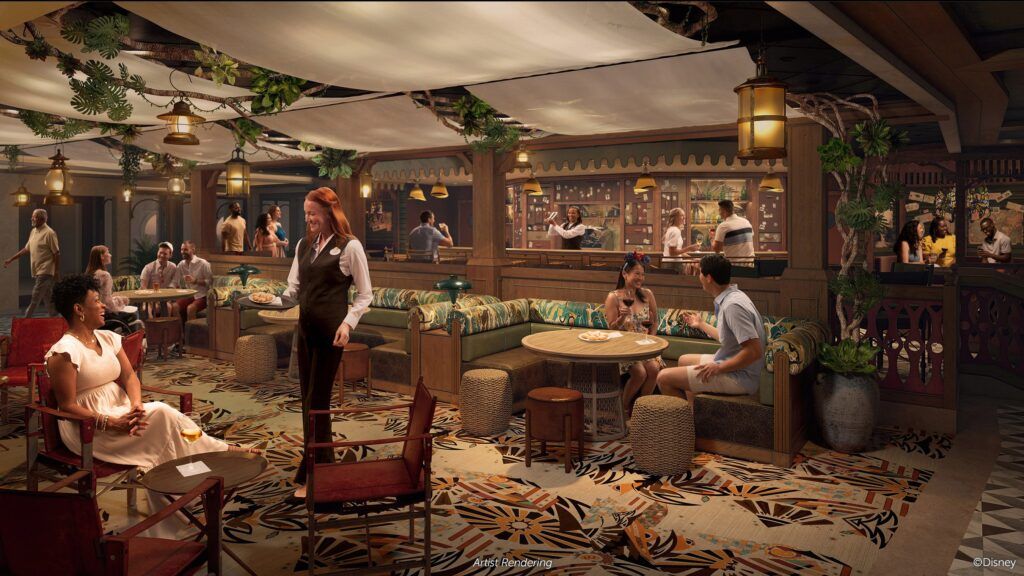 Additionally, The Bayou gets swapped out for another Disney Parks inspired venue, Skipper Society. This Jungle Cruise-themed lounge will feature cocktails, light bites, and plenty of references to this attraction. Meanwhile, the Periscope Pub will pay tribute to 20,000 Leagues Under the Sea.
When it comes to restaurants on Disney Treasure, Worlds of Marvel and 1923 make a return as part of the rotational dining experience. The third dining room is new and will be themed after Coco. Plaza de Coco will feature Mexican fare, live musical performances, and appearances by Miguel and his family. The adult-only specialty restaurants Palo Steakhouse and Enchante also return. So do the Marceline Market and Mickey & Friends Festival of Foods.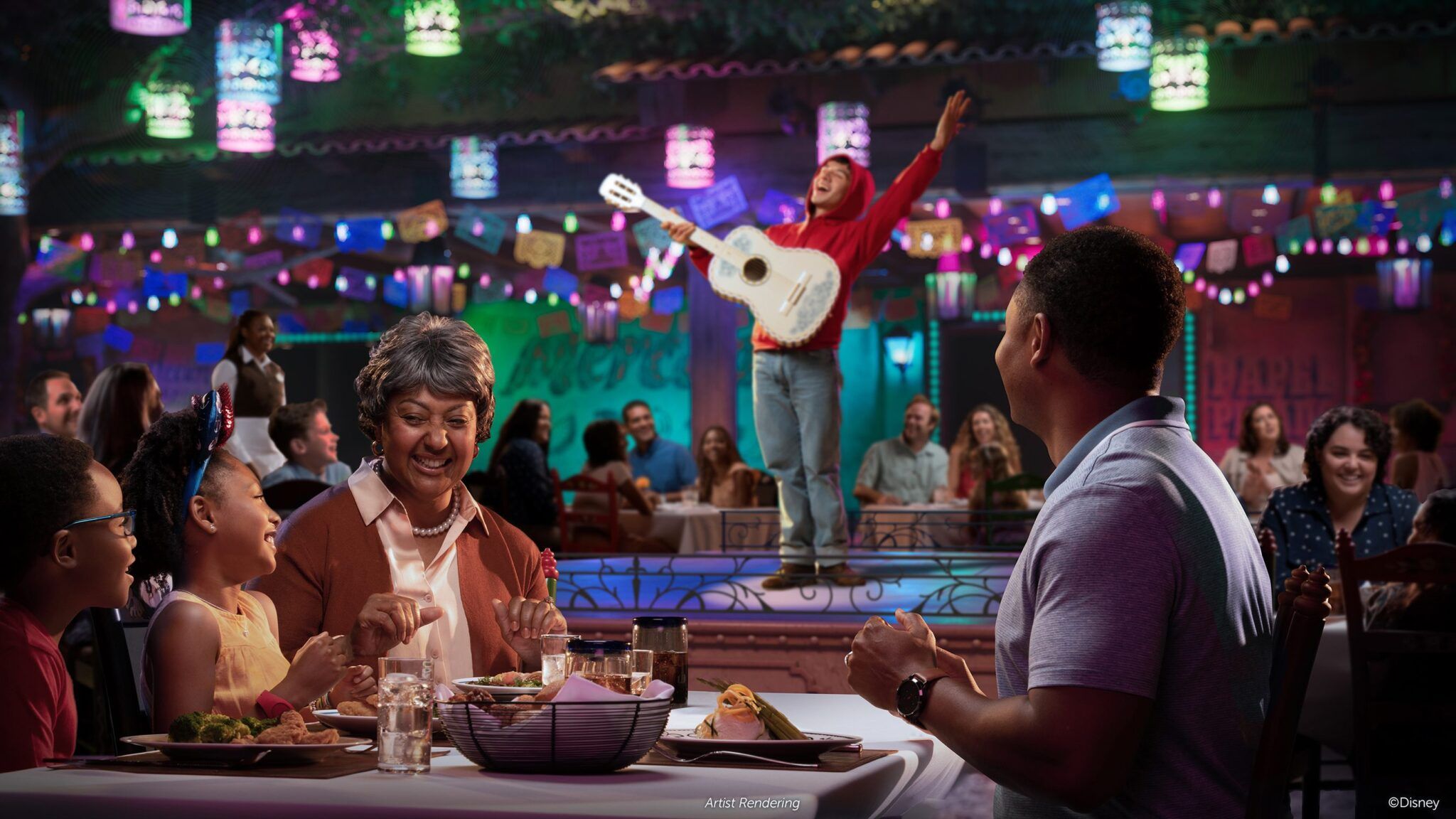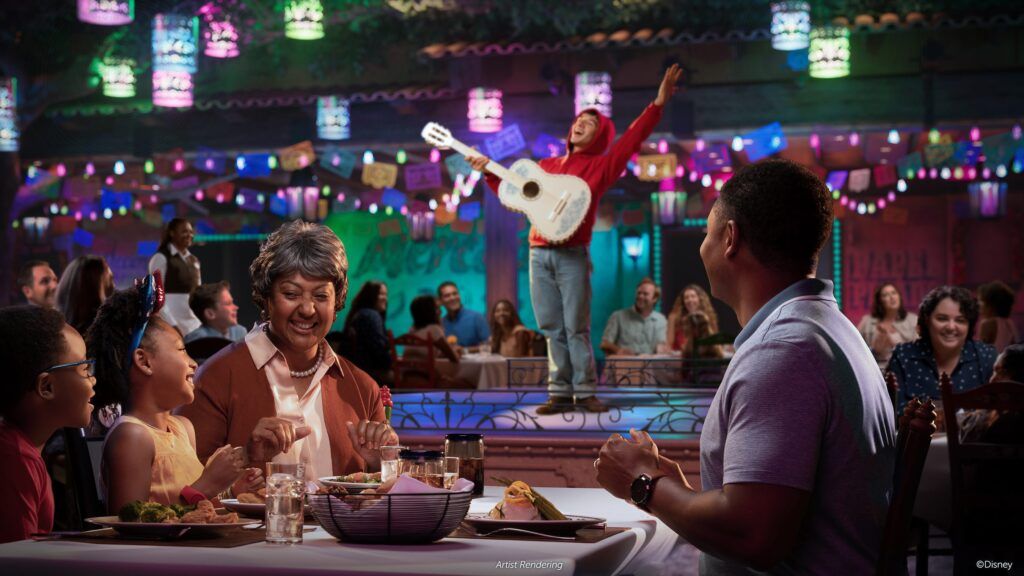 Loyal DCL cruisers will be happy to hear that the AquaMouse water coaster also returns on this new cruise ship. This time with a new theme, "Curse of the Golden Egg". Additional returning features include the multiple cascading pools on the pool deck, the Toy Story Splash Zone for the little ones, Hero Zone, Quiet Cove for adults, Senses Spa, and more.
Not to mention, guests will enjoy the Pirates Rockin' Parlay Party complete with the only fireworks at sea. And, kids will LOVE the intricately themed rooms of the Oceaneer Club sporting the same theming as Disney Wish.
Of course, the Disney Treasure cabins will sport some new themes too. There will be custom artwork and design elements from Aladdin, Pocahontas, Up, Encanto, The Lion King, and The Jungle Book.
Explora Journey's Explora II
For a luxury cruise option in 2024, the new luxury cruise line from MSC Group is debuting its second ship. Explora II is essentially identical to Explora I which launched this past August. Explora II is scheduled to debut in August 2024 sailing to iconic locations in the Med from Rome and Barcelona. The ship will then reposition to the U.S for the winter season where she will sail Caribbean itineraries.
This 64K gross ton all-suite ship accommodates 922 passengers. Much like her sister, Explora II will emulate boutique hotel vibes. The ship will feature a variety of stateroom options ranging from the Ocean Terrace category at 377 square feet all the way to the Owners Residence measuring in at 3014 square feet. Each comes with its own private terrace.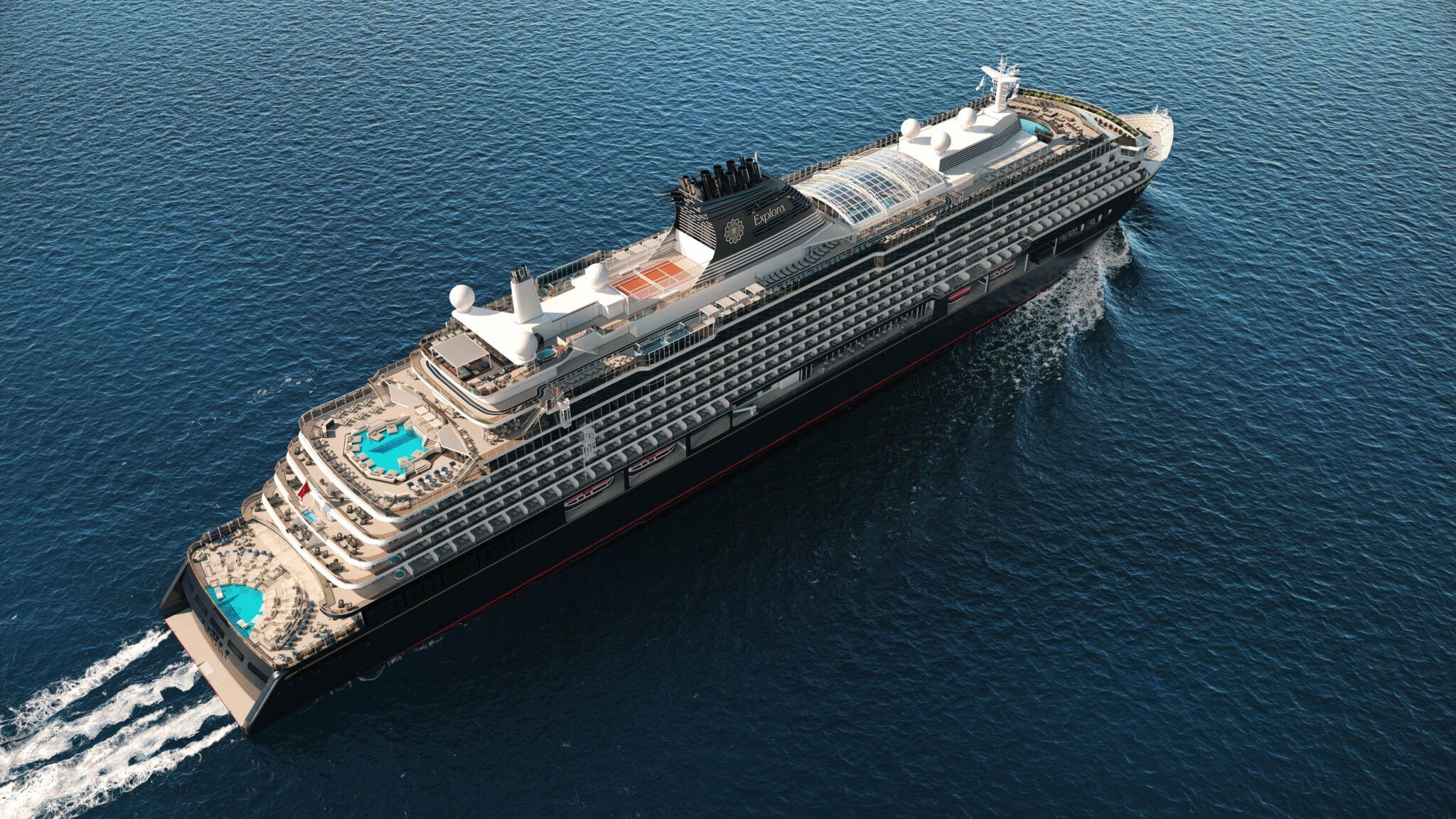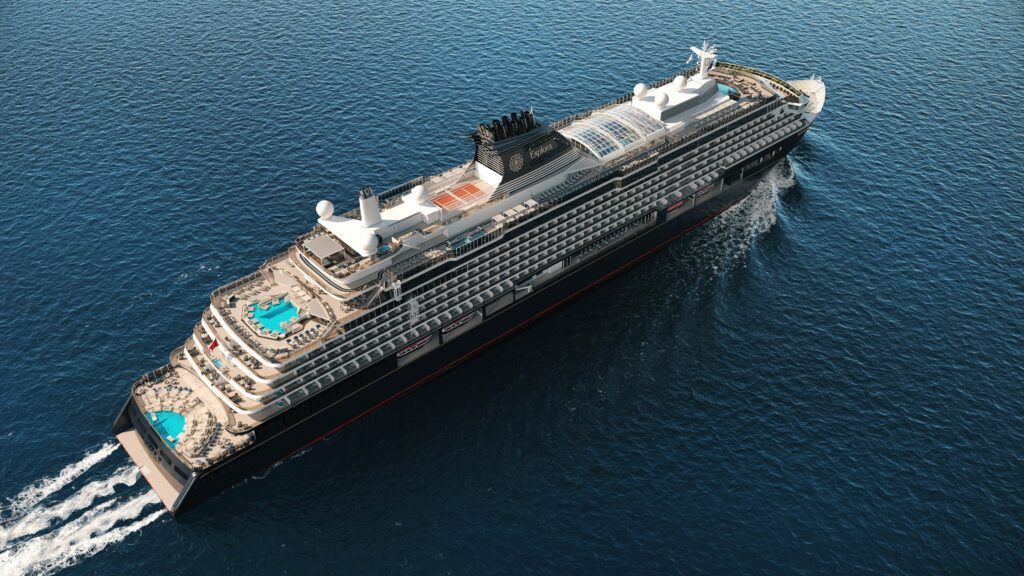 Explora II Features
Explora Journeys' vessels boast 4 heated pools, a variety of restaurants and bars, and a plethora of wellness offerings. In terms of dining, there are 6 distinct restaurants, as well as in-suite dining and 12 bars and lounges.
Anthology offers global cuisine with specialties from guest chefs, unique wine pairings, and more (fee applies). Sakura features Pan Asian cuisine, while Marble & Co. Grill is your European steakhouse at sea and Fil Rouge is an intimate French restaurant. Further, the Med Yacht Club is reminiscent of a beachside Mediterranean restaurant, while the Emporium Marketplace is your go-to for all day dining.
Bars range from social lounges, to the Malt Whiskey Bar, to a European café, to pool bars. Explora Journeys offers unlimited beverages, fine wines, and premium spirits, including in-suite minibar, specialty coffees, teas, and soft drinks available any time.
Other inclusions on all cruises are access to the spa thermal suite, gratuities, and WiFi.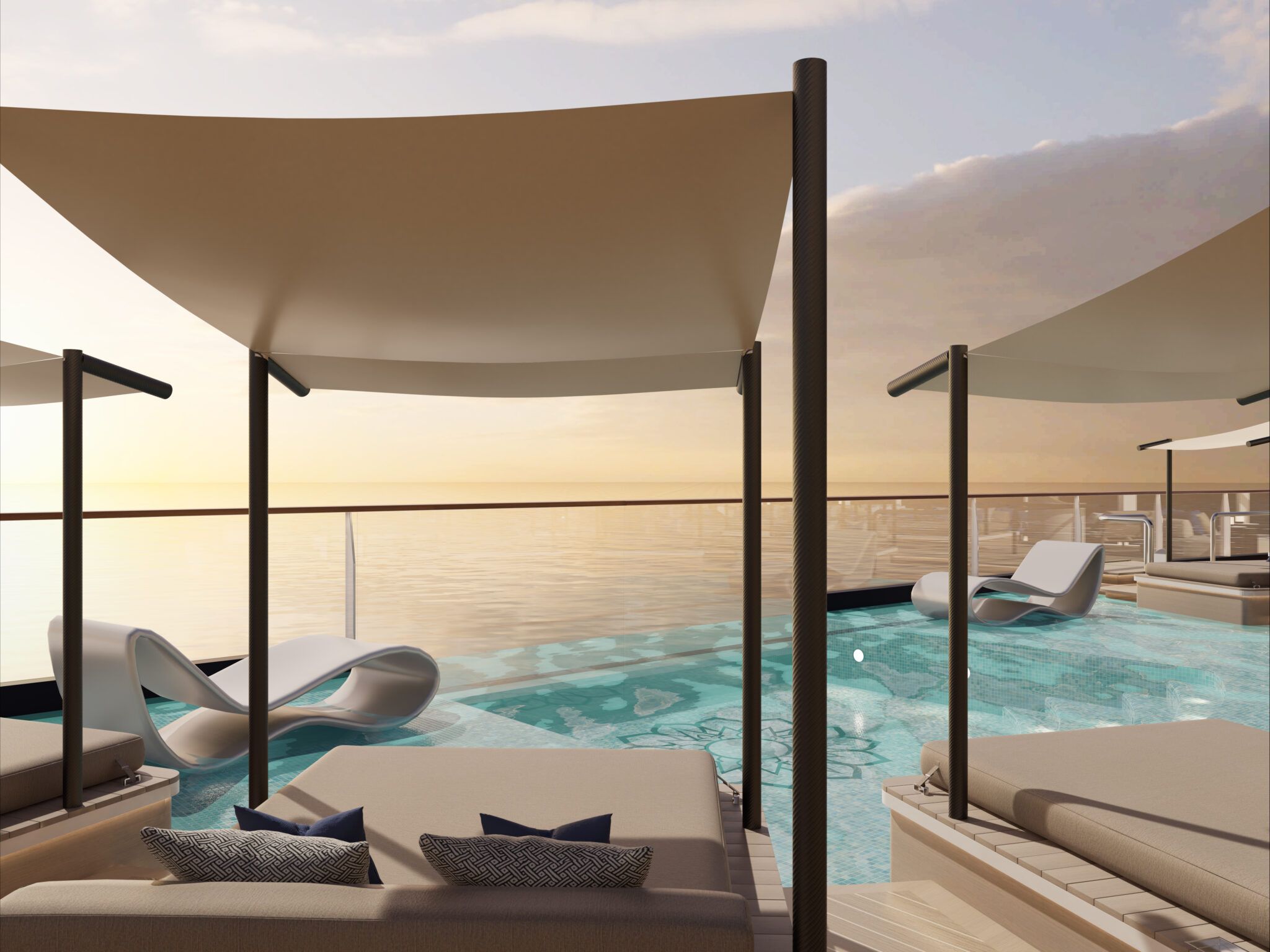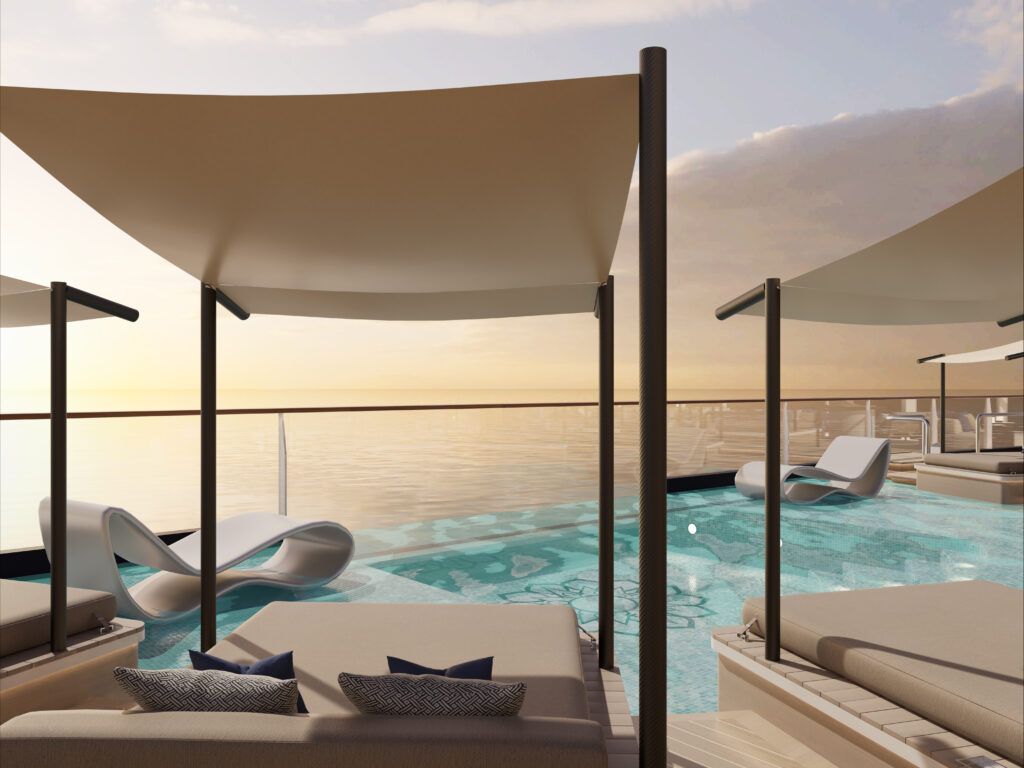 Explora Journeys' ships have over 10,000 square feet of space devoted to health and wellness. This includes a luxurious spa, thermal suite, fitness facilities, an outdoor sports court, and a running track.
When it comes to enrichment and entertainment, music is at the forefront. There's also cultural and destination-focused talks, tastings and classes, and a whole lot more. The ships feature a casino and a variety of upscale shopping as well.
Cunard's Queen Anne
While we have never sailed this British cruise line, Cunard's new Queen Anne launching in 2024 has us intrigued as we love that new ship smell. Under the Carnival Corp. umbrella, Queen Anne will be the first new ship for the brand in 12 years.
Queen Anne is scheduled to set sail in May 2024 from Southampton, UK. These itineraries will visit the Canary Islands, British Isles, the Norwegian fjords, Iceland, Northern Europe, and the Mediterranean.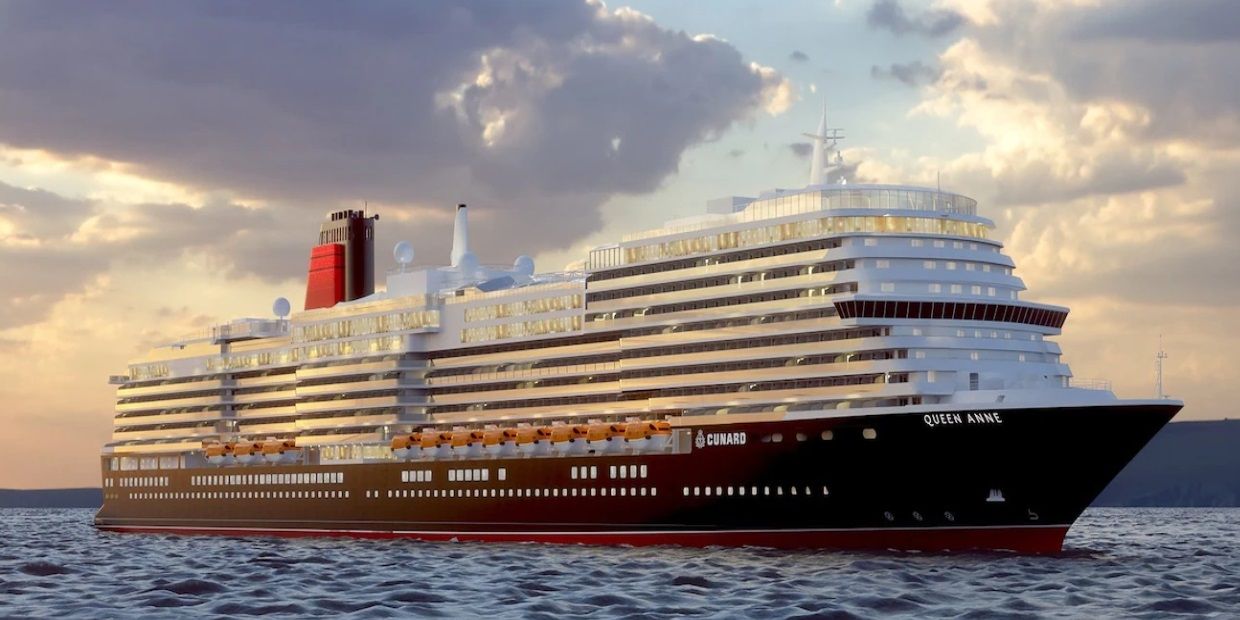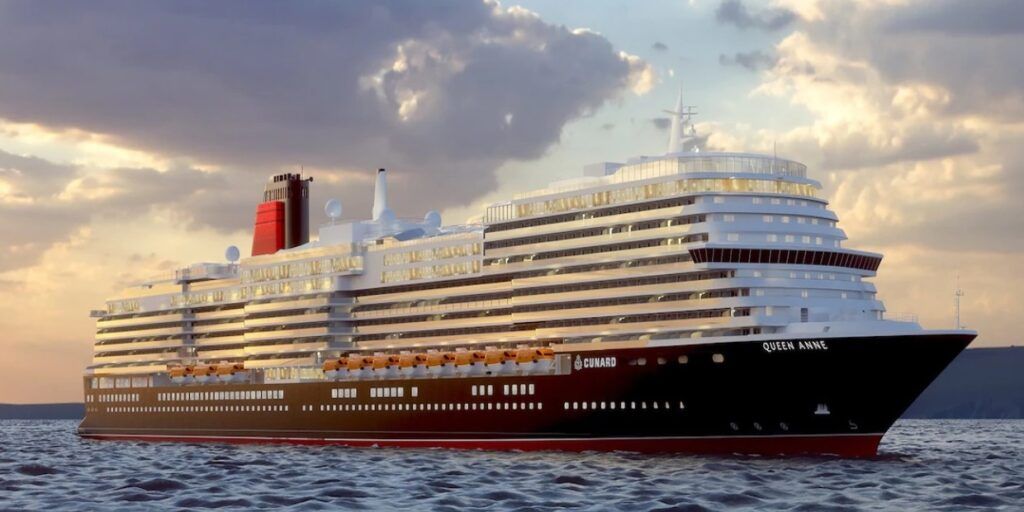 This 113K gross ton ship will carry 3,000 passengers and have a completely new feel. It will marry modern design with the brand's 180+ year history. Previous cruisers will feel right at home with traditional offerings like Afternoon Tea served by white-gloved waiters, gala evenings with some of the most formal attire found on cruise ships of today, and fine dining experiences.
Queen Anne Features
Like most contemporary cruise lines, Cunard's cruise fares include all meals in your designated main dining room, a buffet, and even complimentary room service. Guests can also enjoy various onboard activities like live music, enrichment talks, theater performances, dance classes, and more. There's also pools, a gym, a library, and a variety of bars and lounges. Upcharges are available as well, like drink packages, spa treatments, and specialty dining.
Queen Anne will boast the widest selection of fitness, beauty, thermal, and spa facilities on a Cunard ship, with the Pavilion and its retractable domed-roof being a highlight of the wellbeing offerings. New to the line is also the Bright Lights Society, an intimate entertainment venue, and a partnership with the British Film Institute.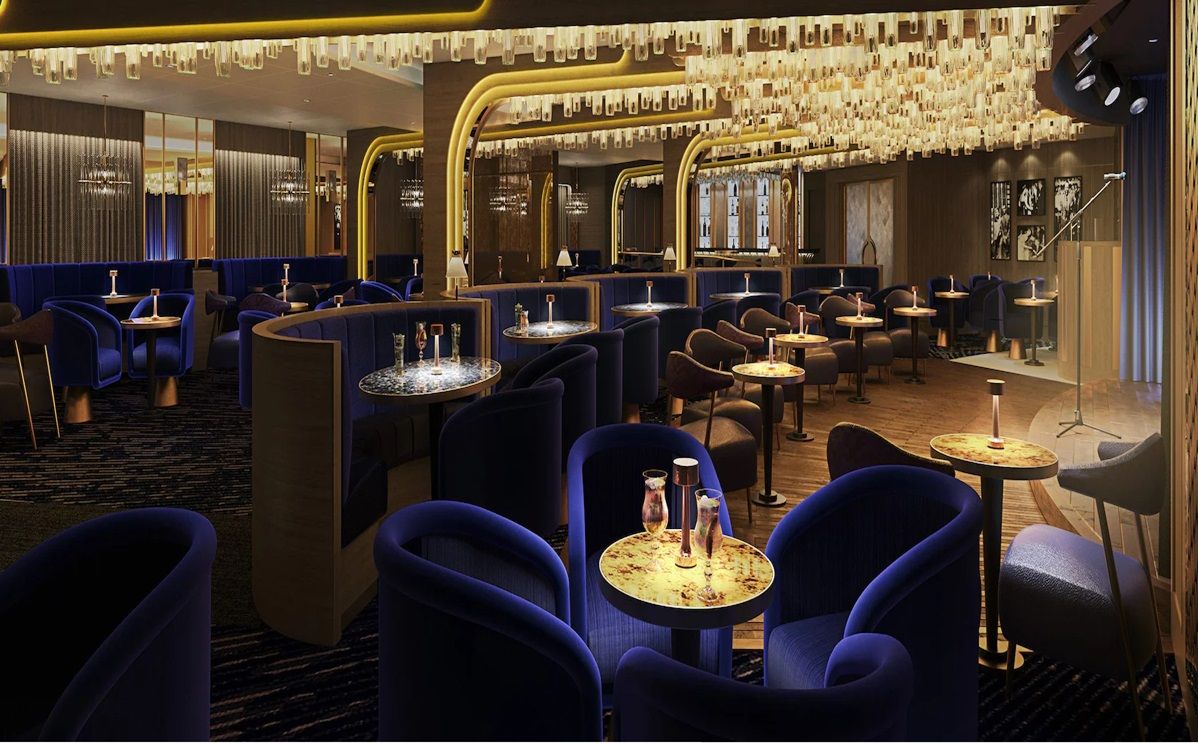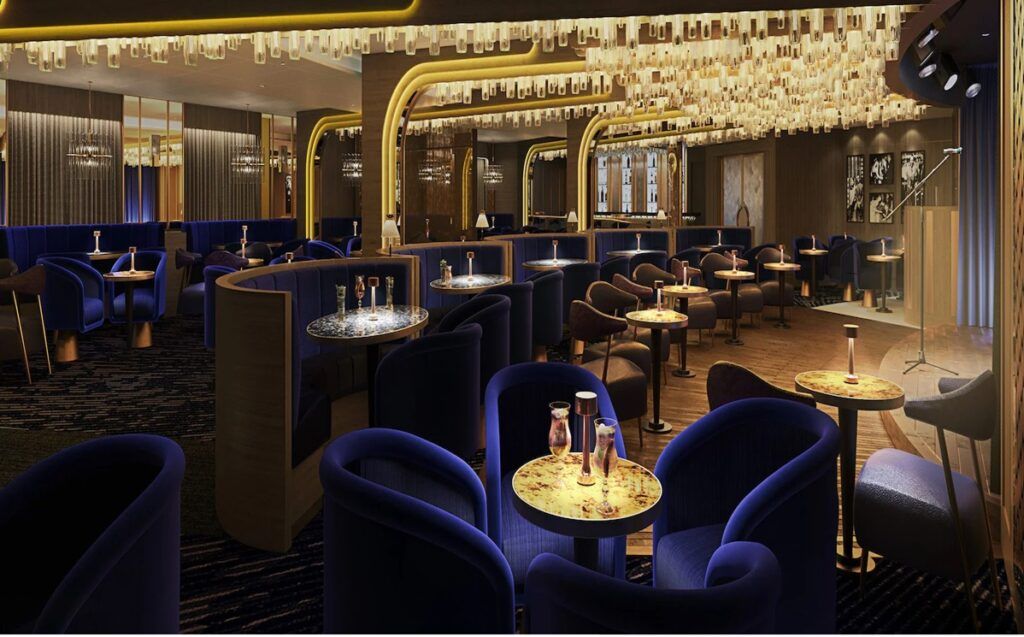 Additional dining experiences include the Golden Lion Pub with a new menu and four new-to-brand restaurants. These include Aji Wa, Aranya, Sir Samuels, and Tramonto. Aji Wa will feature Japanese cuisine and sushi, while Aranya features flavors of India. Sir Samuels is a new high-end steakhouse, and Tramonto is a new alfresco space with Mediterranean fare.
If you're looking to try something new and different in 2024, perhaps a sailing on Queen Anne might be a good fit.
Brilliant Lady
Virgin Voyages has introduced three new ships to date–Scarlet Lady, Valiant Lady, and Resilient Lady. These adult-only lady ships offer a unique take on cruising with some of the best dining at sea. Each ship is essentially identical weighing 110K gross tons and carrying 2,770 passengers.
Revealed in 2022, Brilliant Lady is scheduled to be the fourth ship in the fleet. Though, it's launch has been delayed. Originally planned to debut in December of 2023, sailings through April 2024 have been cancelled with the cruise line citing "unexpected construction, supply chain, and staffing challenges".
A new MerMaiden voyage date has not yet been announced, and sailings are currently unavailable for booking on the website. However, we anticipate it will sail sometime in late 2024, likely to the Caribbean from San Juan, Puerto Rico.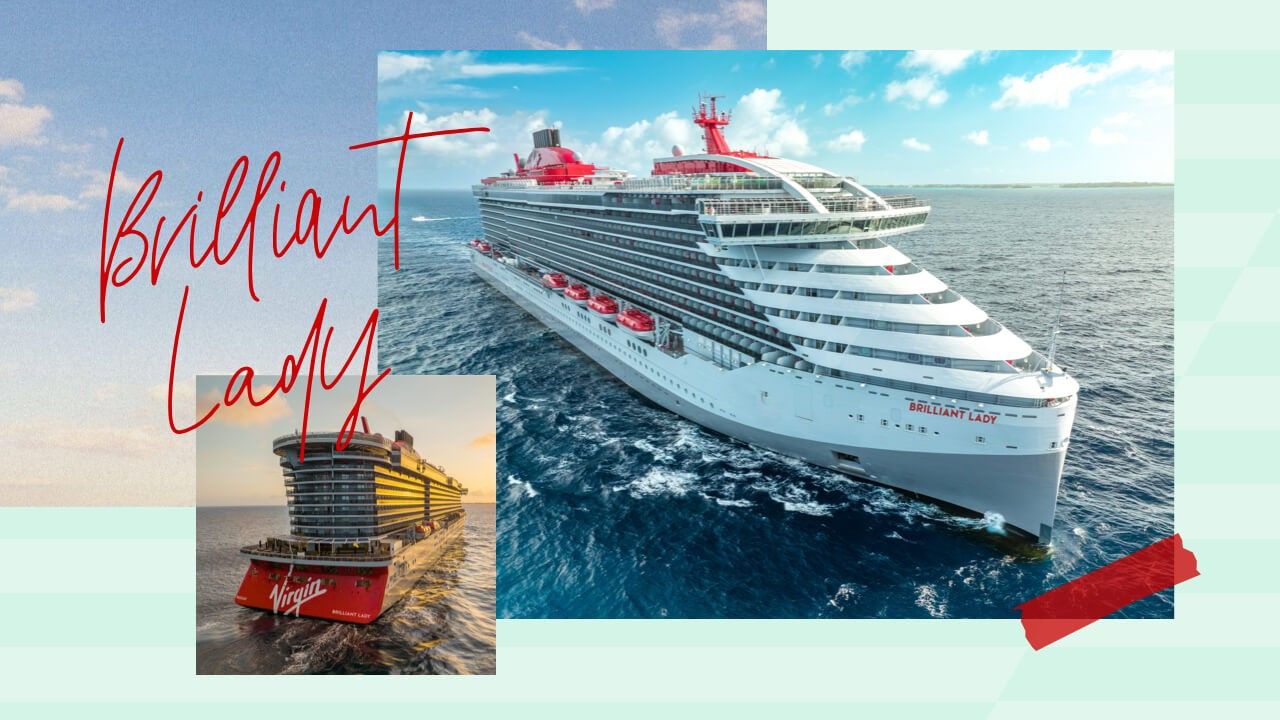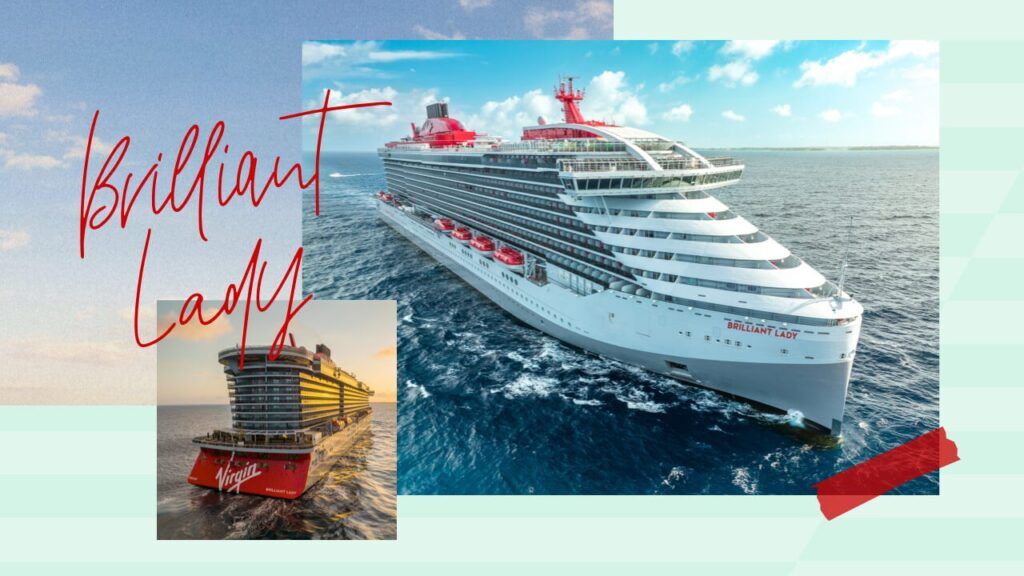 Brilliant Lady Features
Perhaps one of the most appealing aspects of Virgin Voyages is the all-inclusive nature. Cruise fares include all dining, all gratuities, basic WiFi, and group fitness classes.
We've sailed on both Scarlet Lady and Valiant Lady twice now. And, we really enjoy certain aspects of the Virgin cruise experience. We love the laid back vibe, including the aft-located Dock which features great cocktails and small bites. We also really enjoy the variety of dining options. From Mexican to Italian to an upscale steakhouse and a Korean BBQ, there is so much diversity.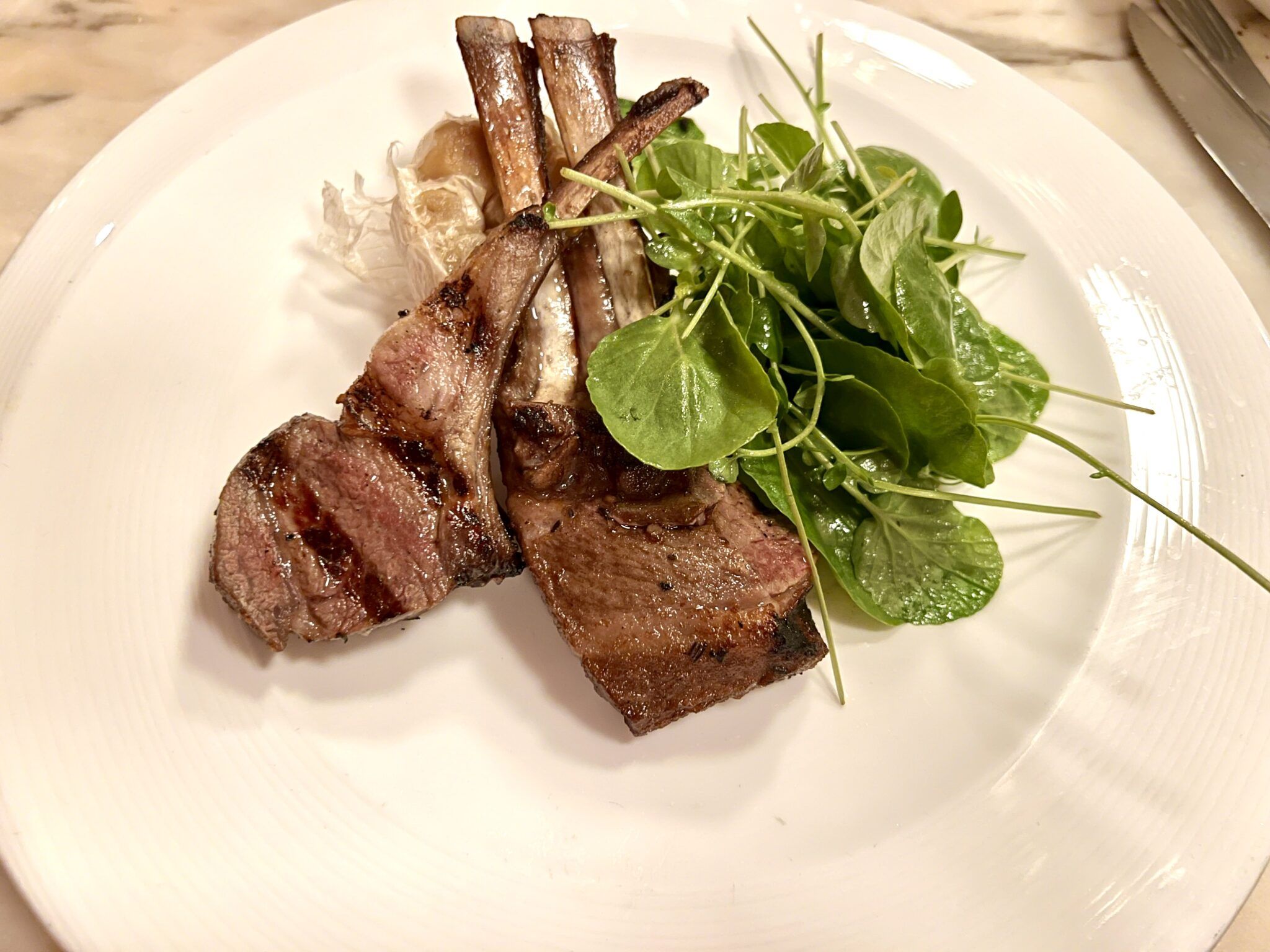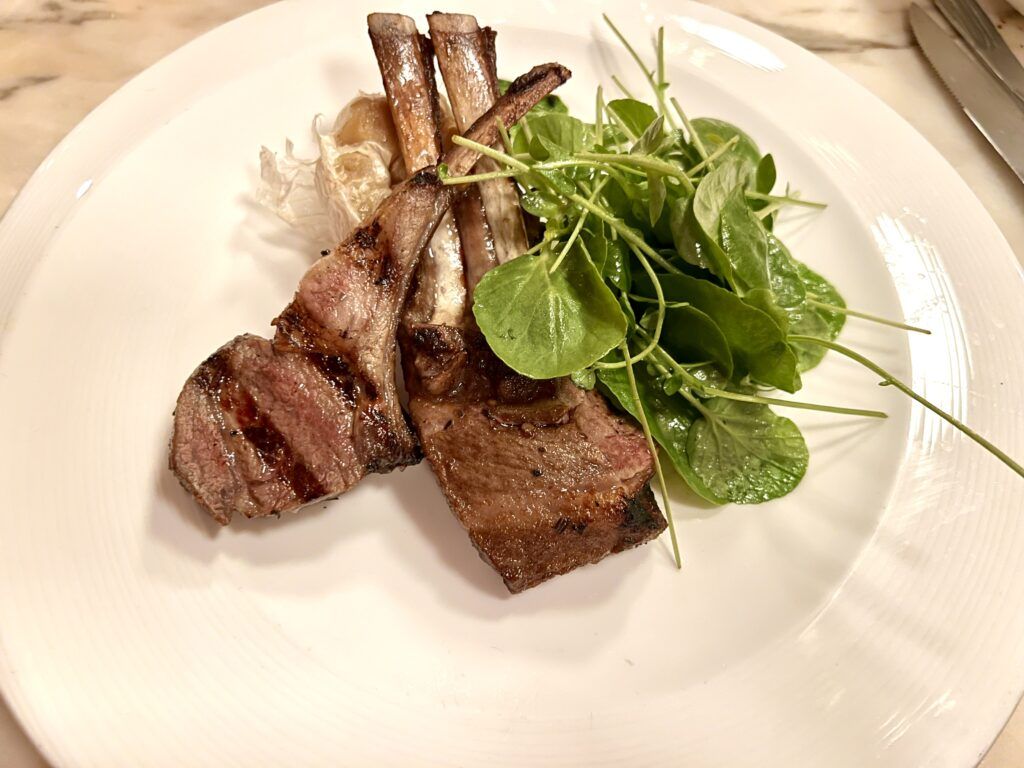 Virgin Voyages also features some of the most unique cabins at sea, complete with a terrace hammock. That's right, you can actually relax on your balcony in a hammock. Why hasn't the cruise industry thought of this sooner?
Further, if you are looking for something a bit different when it comes to entertainment, Virgin Voyages delivers. The entertainment lineup does vary slightly by ship. But shows like Duel Reality and Untitled DanceShowPartyThing are unlike anything you will see on a mainstream cruise line.
With that said, we can't wait to check out Brilliant Lady whenever that might be.
Additional Ships Setting Sail in 2024
If you want even more options, small ship cruise lines like American Cruise Line, the Ritz Carlton Yacht Collection, Viking, and Silversea are also launching new vessels in 2024.
While all Viking ocean ships to date have been identical, Viking Vela will be slightly larger. With the increased space comes increased guest capacity, carrying 998 instead of 930 passengers. This ship is scheduled to spend its inaugural season in Northern Europe.
Silver Ray is Silversea's second Nova Class ship. It's scheduled to arrive in summer 2024, offering guests yet another luxury cruise experience. This ship will be identical to her sister ship, Silver Nova, measuring 54.7K gross tons and carrying 728 guests.
Best New Cruise Ships That Debuted in Late 2023
While there are many exciting new cruise ships debuting in 2024, the vessels debuting late this year should not be overlooked either. Many of the popular mainstream cruise lines had cruise ships launch in 2023.
If you haven't had time to hop onboard yet, 2024 might be the perfect time for a cruise on one of these new ships.
Celebrity Ascent
As the fourth ship in Celebrity Cruises' Edge Class, Celebrity Ascent debuts in December 2023. As the newest sister to the beautiful Celebrity Beyond, this vessel will feature most of the same amenities, venues, and experiences.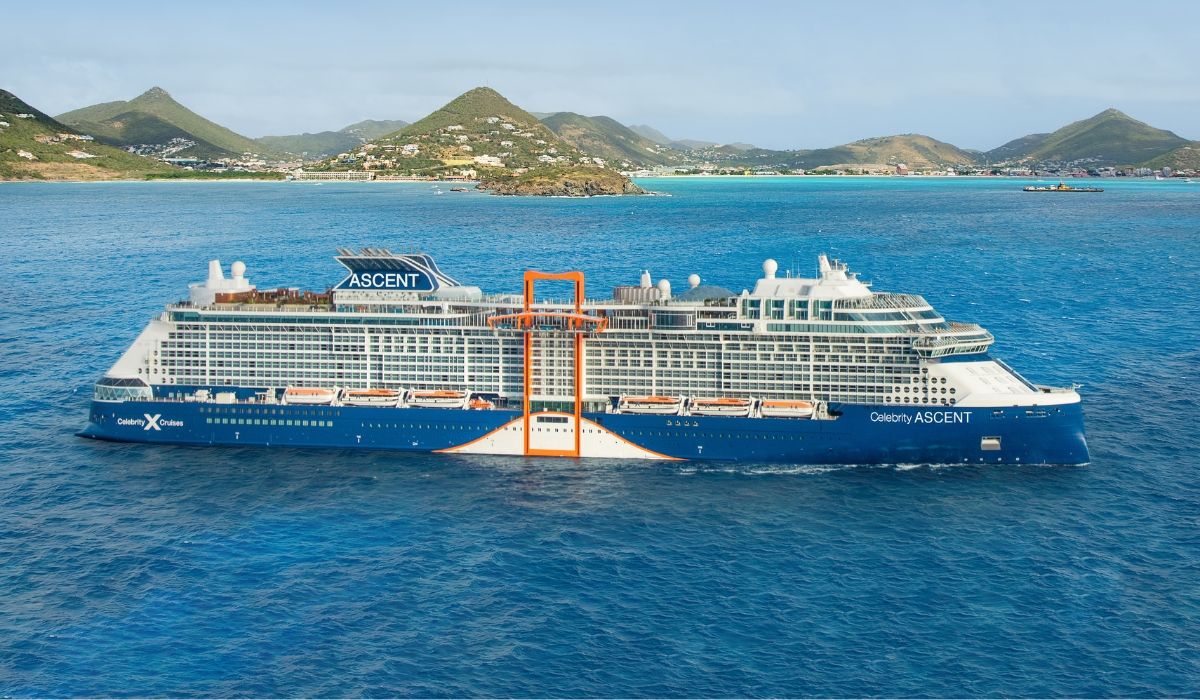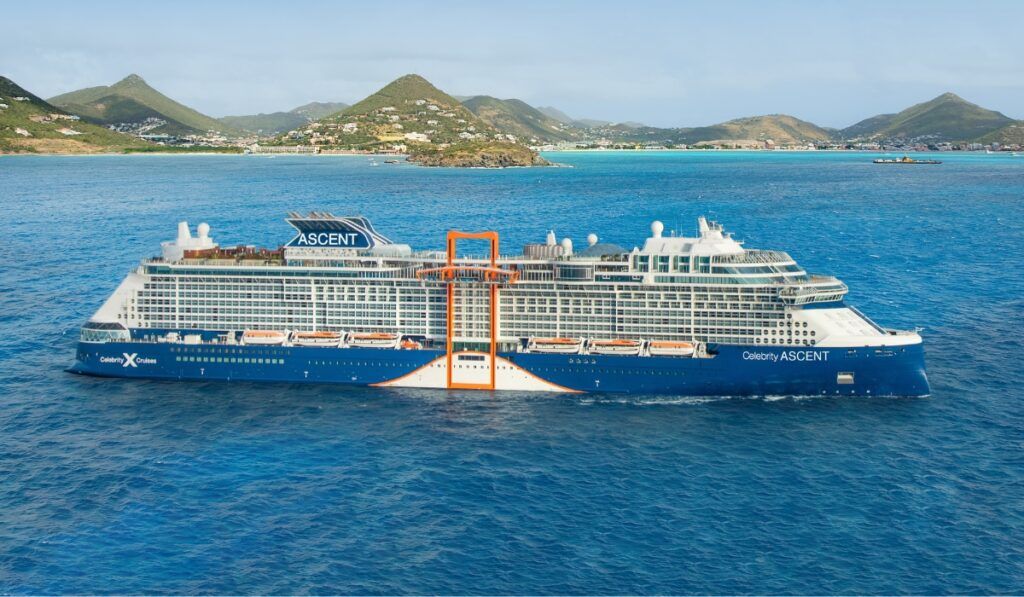 When Celebrity Ascent debuts, she will sail the Caribbean from Fort Lauderdale for the winter season. She will then head to Europe in Summer 2024. We will be onboard for a short cruise in December!
Celebrity Ascent, measuring in at 141.5K gross tons with a double occupancy of 3260, is all about family. It is the first ship to have two brothers as co-captains and two sisters as co-godmothers.
Celebrity Ascent Features
While still part of the Edge Class, Celebrity Ascent (and Celebrity Beyond) does have a few unique features of her own as well as elevated design and décor. Perhaps the most stunning transformation is the Sunset Bar. Also new to Celebrity Ascent (and Beyond) is the specialty restaurant Le Voyage. This restaurant created by chef Daniel Boulud is inspired by travel and showcases exquisite global cuisine in an intimate setting.
In terms of other bars and restaurants, frequent Celebrity cruisers will be happy to know that they can still find the Martini Bar in the Grand Plaza, Cafe al Bacio, Fine Cut Steakhouse, Le Petit Chef, and more. The World Class Bar, Craft Social, and Eden also make a return on this vessel.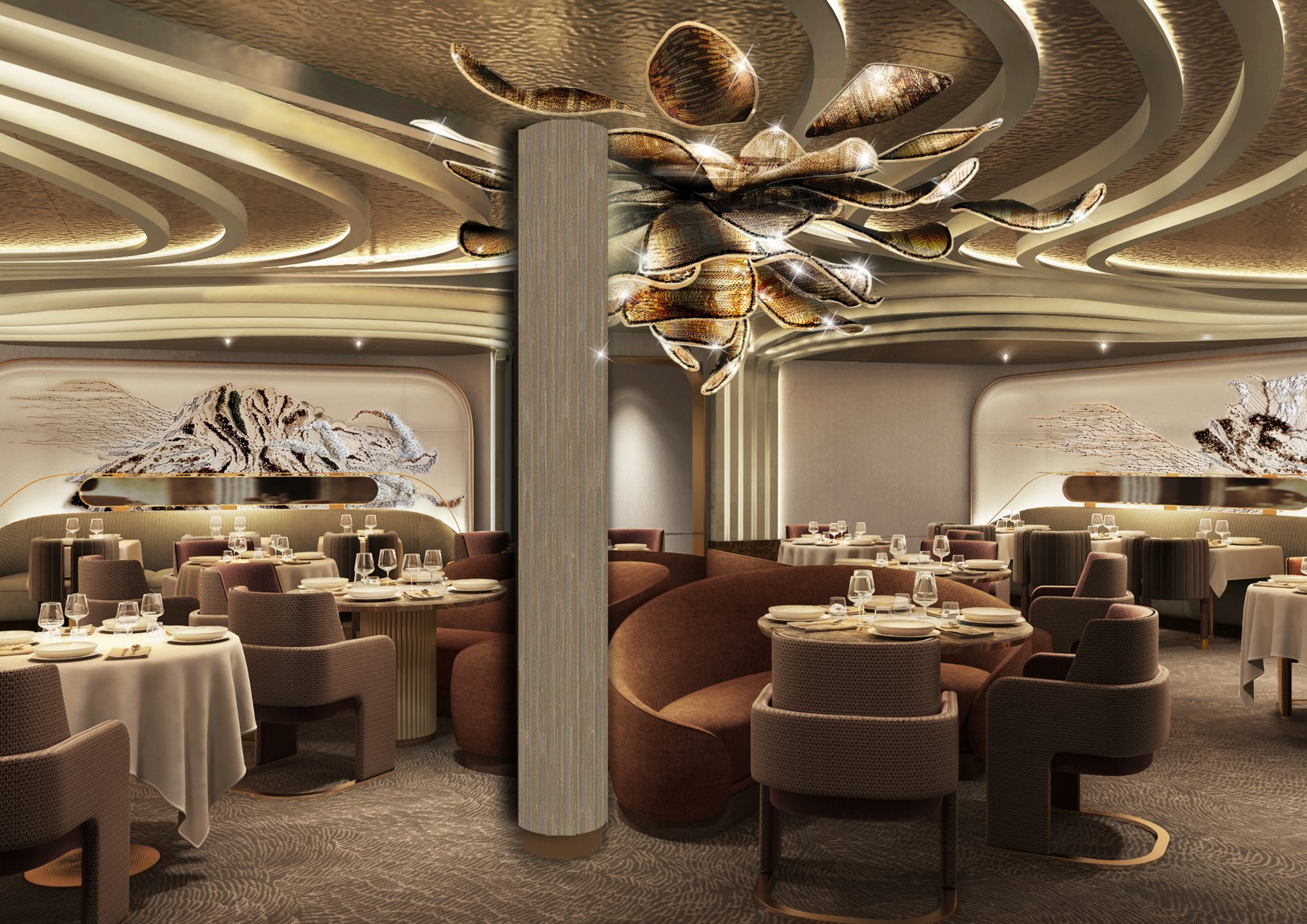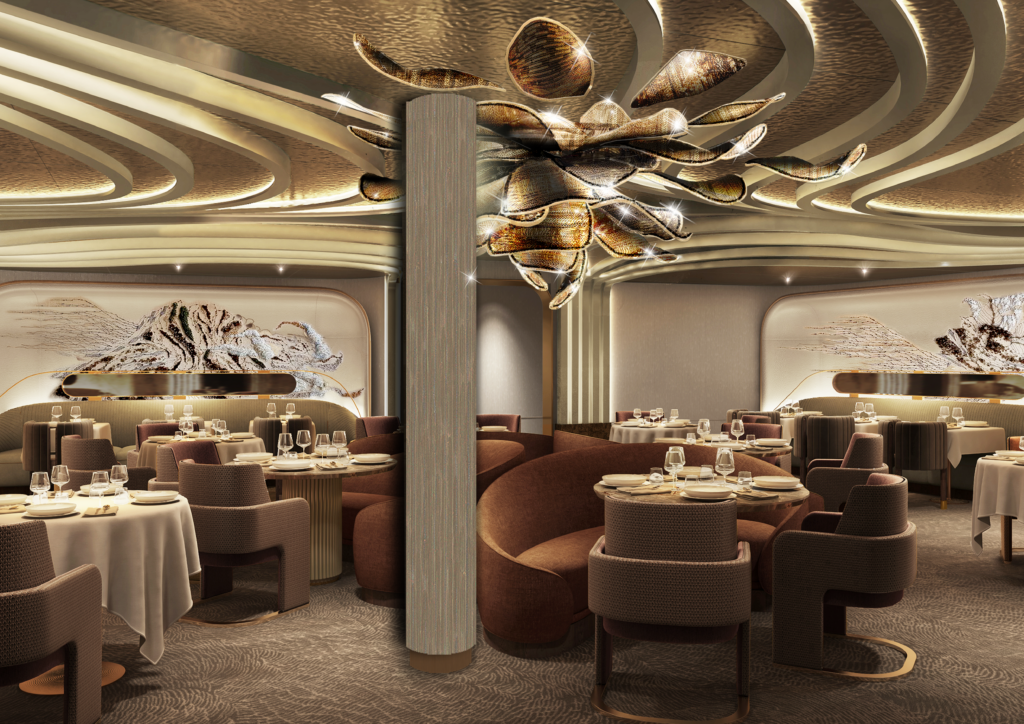 Like all Edge Class vessels, Celebrity Ascent will feature four complimentary main dining rooms. These dining rooms offer a rotational menu as well as a few exclusive dishes at each venue, giving cruisers plenty of options.
When it comes to entertainment, Celebrity Cruises just announced several new productions and immersive experiences in the main theater, Eden, and The Club. The ship will also feature a brand-new signature Resort Deck party, Ascent After Dark: Shine the Night.
Add all the dining, bars, and entertainment options on the ship, to some of the most luxurious staterooms at sea, and Celebrity Ascent is certainly one of the best new cruise ships in 2024!
Get Deals on Celebrity Ascent!
Carnival Jubilee
America's favorite cruise line is also launching a new ship in December 2023. Carnival Jubilee will set sail from Galveston, Texas for the first time at the end of this year. The itineraries will visit the Western Caribbean including the popular ports of Mahogany Bay, Costa Maya, and Cozumel.
Carnival Jubilee is Carnival Cruise Line's third Excel Class ship, with sisters Mardi Gras and Carnival Celebration. This ship measures in at 183.5K gross tons with a guest capacity of 5,374 based on double occupancy.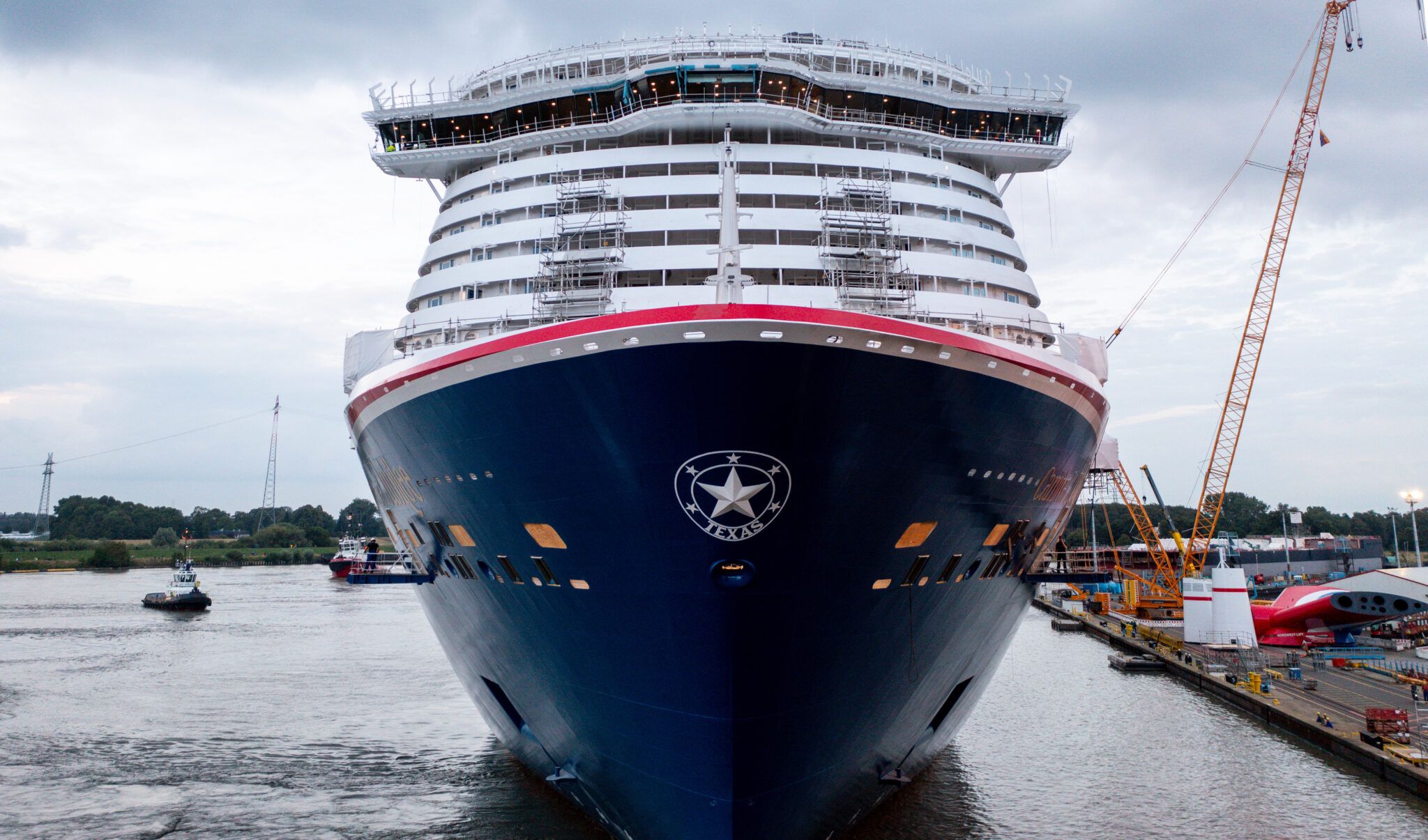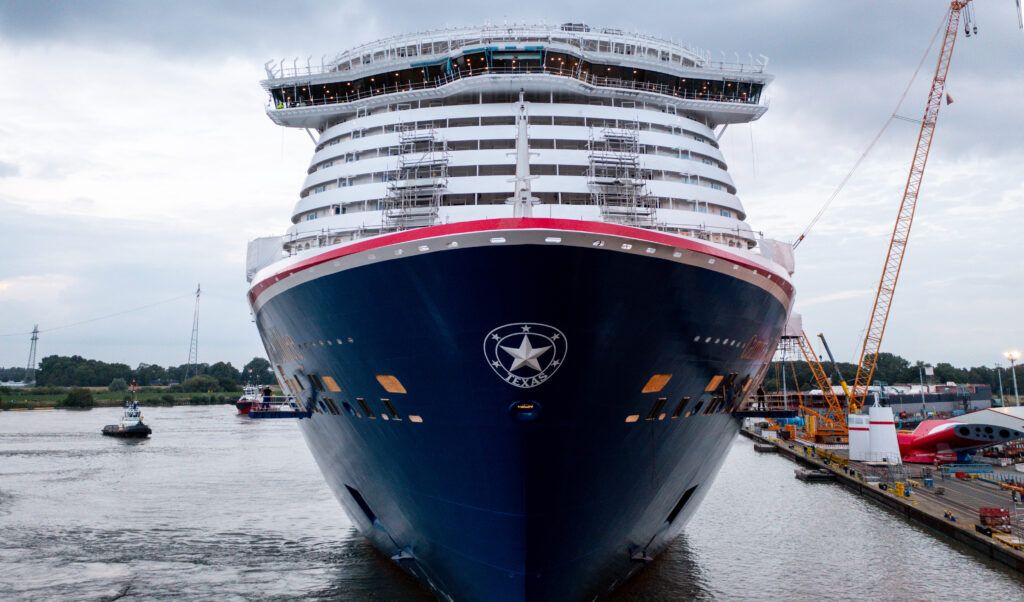 Carnival Jubilee Features
Carnival Jubilee will feature many of the same amenities as previous Excel Class vessels along with a few new features. The ship will feature two completely new ocean-themed zones, Currents and The Shores. Currents will be home to innovative technology, bars, dining, and live music. Think replacement for the Gateway zone from Carnival Celebration.
Inks, PhD is the focal point in this zone with a menu of ocean-themed drinks and even color-changing cocktails. The Golden Mermaid is another bar which is home to the mysterious golden mermaid herself, exquisitely garnished cocktails, and live music. Not to mention, Emeril's Bistro 717 is back with a new seafood menu and expanded raw bar.
The Shores, think replacement for 820 Biscayne, is inspired by seaside piers, boardwalks, and beaches. This zone will serve up pizza, sandwiches, and plenty of nautical designs.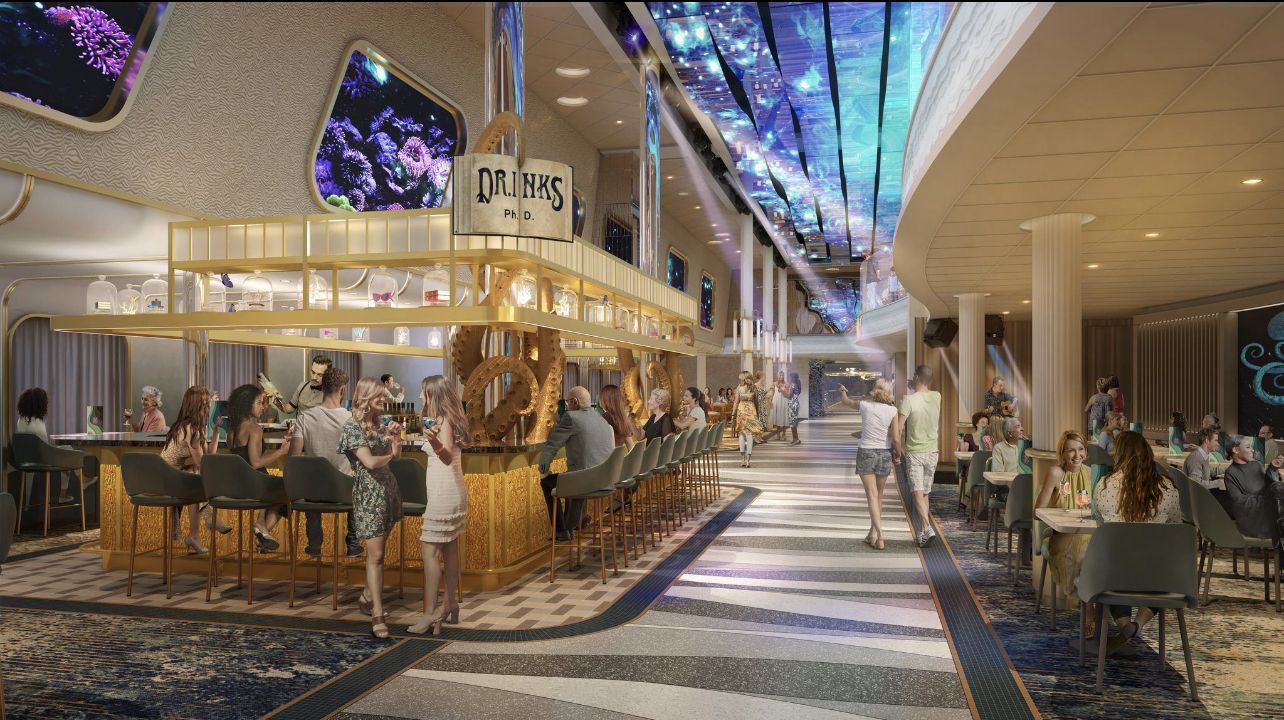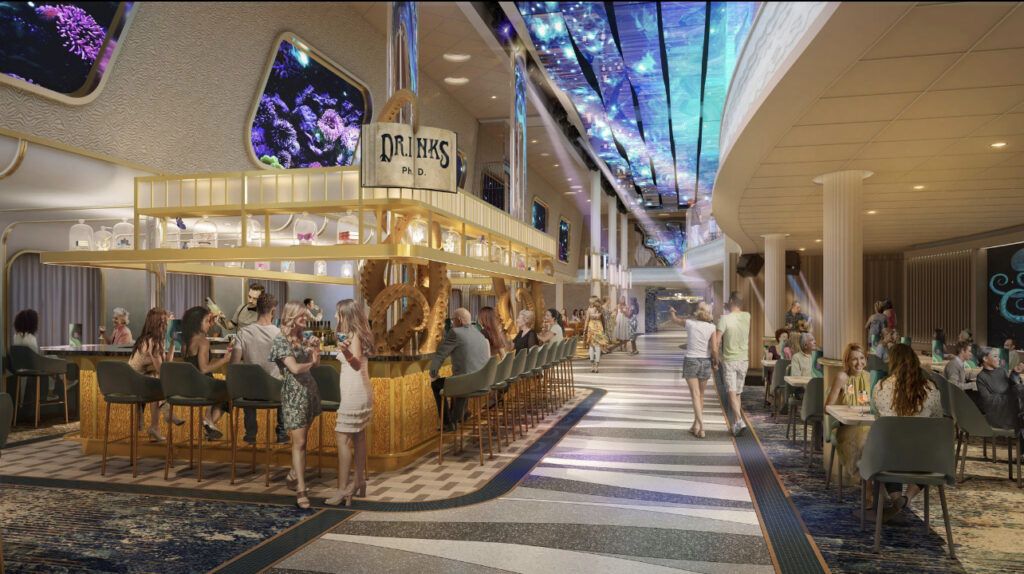 When it comes to dining, Carnival always delivers with its quick services venues. So, you will find Carnival staples like Guy's Burger Joint, the BlueIguana Cantina, and Shaq's Big Chicken. Chibang, Cucina del Capitano, Guy's Pig & Anchor, Fahrenheit 555, Bosnai Sushi and Teppanyaki, and Rudi's Seagrill also return on Carnival Jubilee.
Where there's food, there's also drinks. You won't have to go far to find your favorite poolside cocktail at the 2-story RedFrog Tiki Bar. There's also favorites like Guy's Pig & Anchor Brewhouse, Piano Bar 88, Havana Bar, and Heroes Tribute Lounge.
Additionally, adults will love the Serenity retreat forward on deck 18. While kids will love the the Ultimate Playground complete with mini-golf, waterslides, a ropes course, and the signature attraction BOLT.
For entertainment, guests can enjoy Playlist Productions in both the main theater and on Center Stage in the 3-story atrium as well as the Family Feud Live gameshow. Not to mention, the FUN Squad hosts some of the liveliest pool parties and activities at sea.
Get Deals on Carnival Jubilee!
World Voyager
Atlas Ocean Voyages, which specializes in Polar and Epicurean Expeditions, also has a new ship debuting in November 2023. World Voyager is this luxe-adventure cruise line's third ship, with World Navigator launched in 2021 and World Traveller launched in 2022.
World Voyager's first expedition sailing is in Antarctica, and we will be onboard! For cruisers looking to cross this 7th continent off their bucket list, World Voyager might be the perfect fit.
This adventure yacht measures in at 10,000 gross tons with just 100 staterooms. While the price of a sailing on World Voyager is higher than mainstream cruise lines, it is a more all-inclusive fare.
On all expedition voyages, your journey starts with a cultural immersion tour, like the Tierra del Fuego National Park for instance.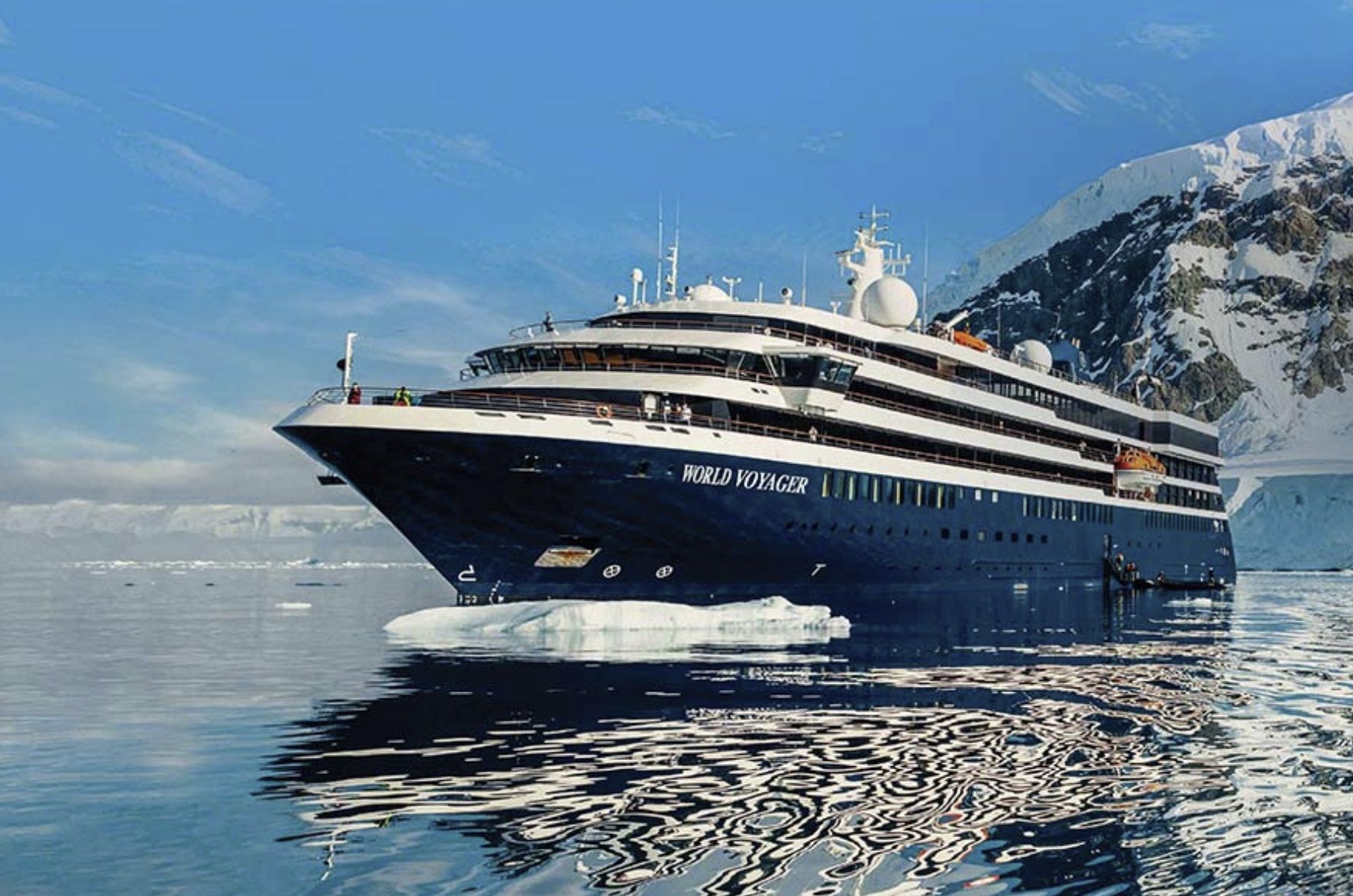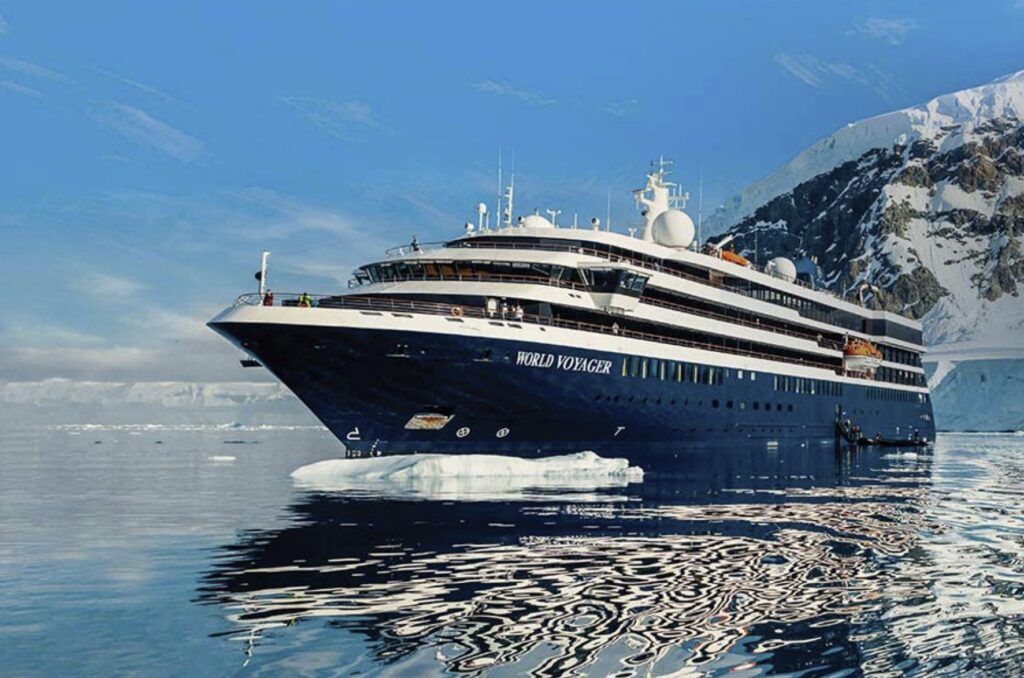 World Voyager Features
Once onboard, guests can enjoy all dining venues and unlimited beverages including beer, wine, cocktails, specialty coffee, and fresh pressed juices. An in-room stocked mini bar and 24-hour room service are also part of the fare.
Additionally, the cruise fare includes L'OCCITANE bath amenities, pre-paid gratuities, use of walking sticks and binoculars, and a reusable water bottle. A parka and FREE private charter jet service (ie. from Buenos Aires to Ushuaia to board the ship) are included on most polar voyages as well. Butler service and expanded room service menus also come standard with suites. Not to mention, trip delay and medical coverage are included at no additional cost.
When it comes to dining, the open-seating Madeira main dining room features rotating nightly menus, in addition to a breakfast and lunch buffet. There's also high tea in the Dome Observation Lounge and grab-and-go options at Paula's Pantry. When not sailing a polar region, the 7AFT Grill transforms into an open-air steakhouse by night.
World Voyager also features many other cruise staples like a spa, fitness center, running track, a pool, whirlpools, bars and lounges, and daily enrichment and entertainment. Travelers can expect guest lecturers, an expert expedition team, naturalists, and more to guide and educate during the trip.
On polar voyages, guests can participate in shore landings, sightseeing safaris by zodiac, and a polar plunge. Stay tuned for all the details from our upcoming sailing!
Norwegian Viva
In 2022, Norwegian Cruise Line debuted its first new class of ships in nearly 10 years with Norwegian Prima. In our opinion, this ship succeeded in delivering a completely fresh take on cruising with NCL. So, what's better than one ship? Two ships!
This past summer, NCL launched the second ship in this class, Norwegian Viva. Norwegian Viva comes in at 142,500 gross tons and carries 3,099 guests at double occupancy.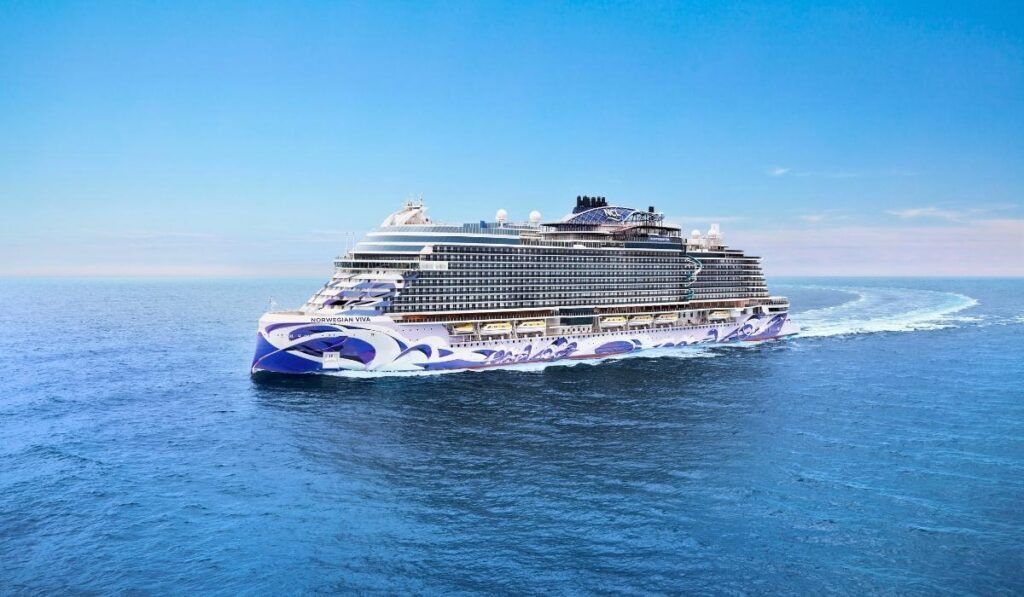 Making her way to the United States, Norwegian Viva's christening will take place in Miami on November 28th. The ship will then make her way to Puerto Rico, where she will sail a variety of 7-day Caribbean voyages. For the summer 2024, Viva will return to Europe sailing from Greece, Italy, and Portugal.
Norwegian Viva Features
Norwegian Viva features many of the same amenities and design elements as Norwegian Prima. Boasting upscale staterooms and public venues, the Prima Class ships are certainly more elegant than any others in the NCL fleet.
With NCL's signature Freestyle approach to dining, cruisers have the option to dine in the newly transformed main dining rooms, one of many specialty restaurants, and the new Indulge Food Hall. We personally love the Indulge Food Hall which serves up a variety of quick service options. You'll also find new bars with signature cocktails like the Belvedere Bar and the sustainable Metropolitan Bar.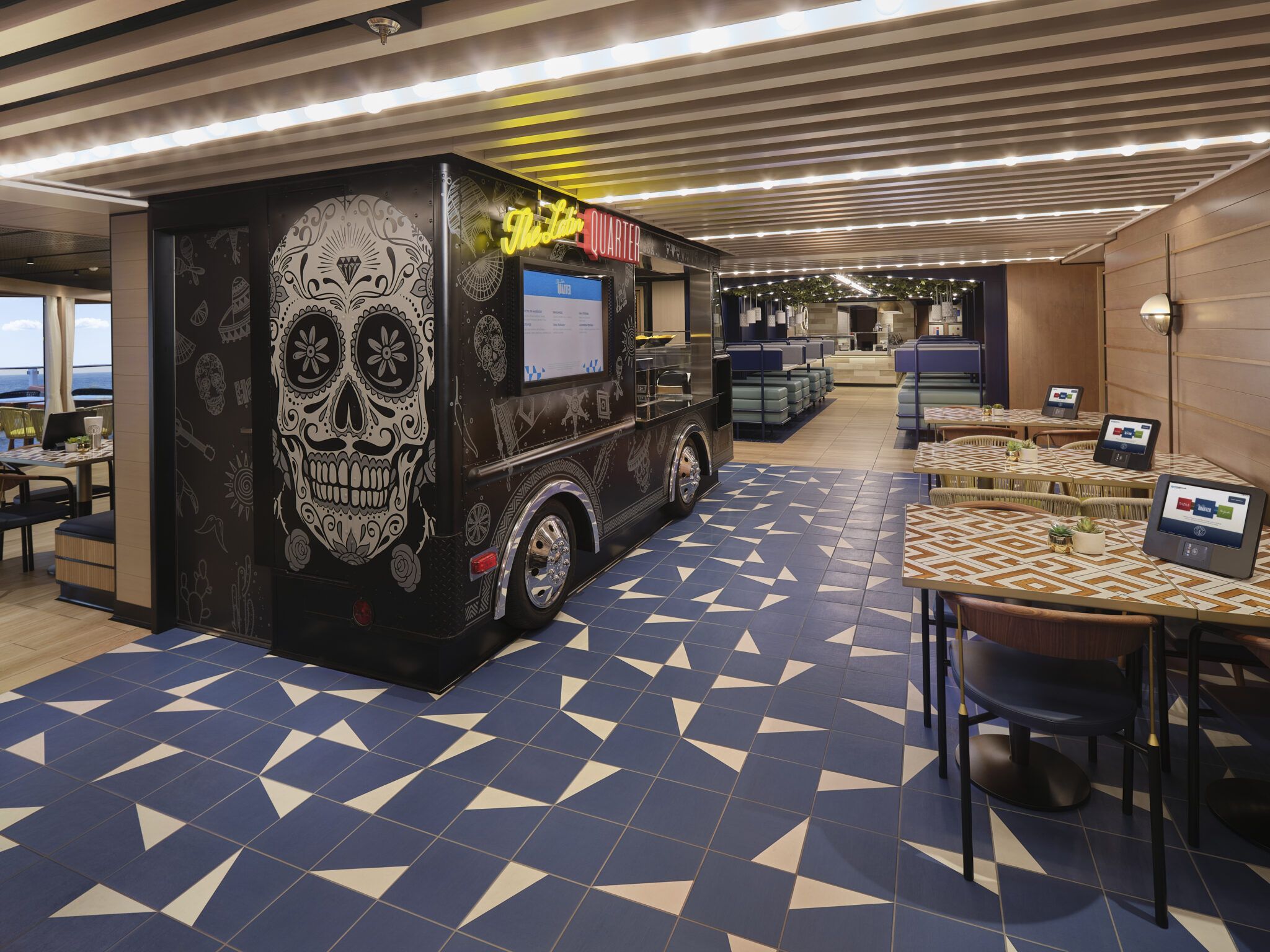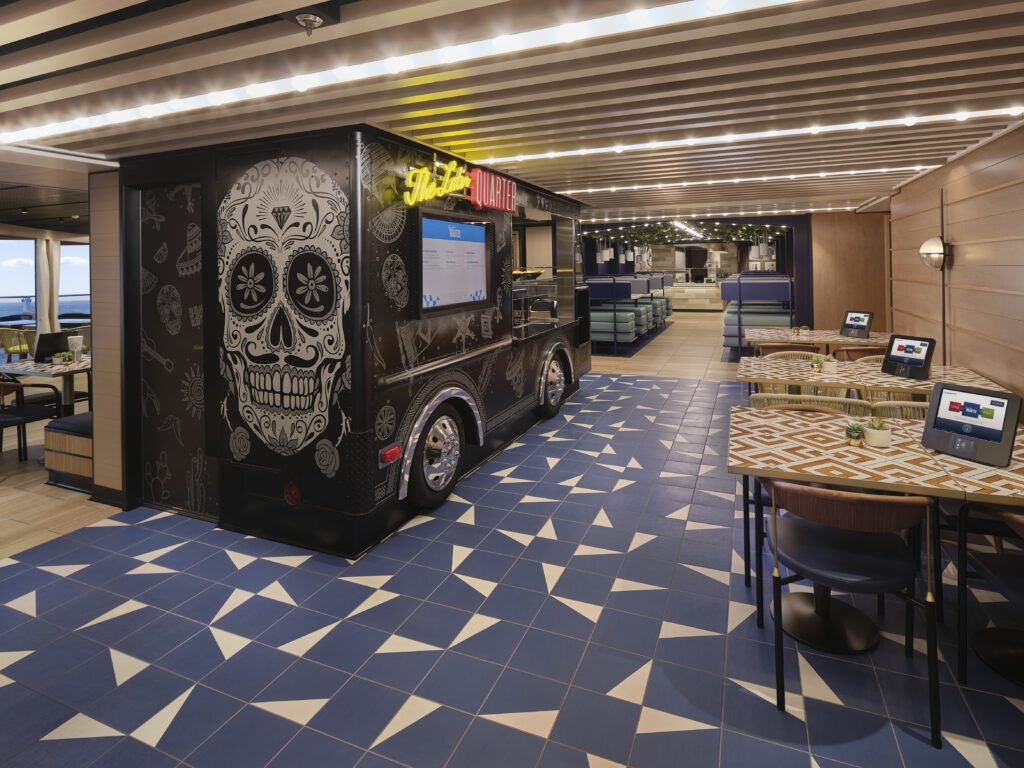 When it comes to onboard experiences, there is no shortage of things to do on Norwegian Viva. From the Viva Speedway and the Drop slide for thrill-seekers to the elevated Mandara Spa and thermal suite for those looking to relax, there's something for everyone.
Perhaps the most stunning addition to the Prima Class ships though is Ocean Boulevard. This Deck 8 Waterfront now offers double the space and a greater variety of experiences and dining options, including an impressive art display on The Concourse.
When it comes to entertainment, Norwegian Viva doesn't disappoint either. The ship's transformational main theater is home to the Broadway production Beetlejuice: The Musical and the Press Your Luck Live game show, among other offerings.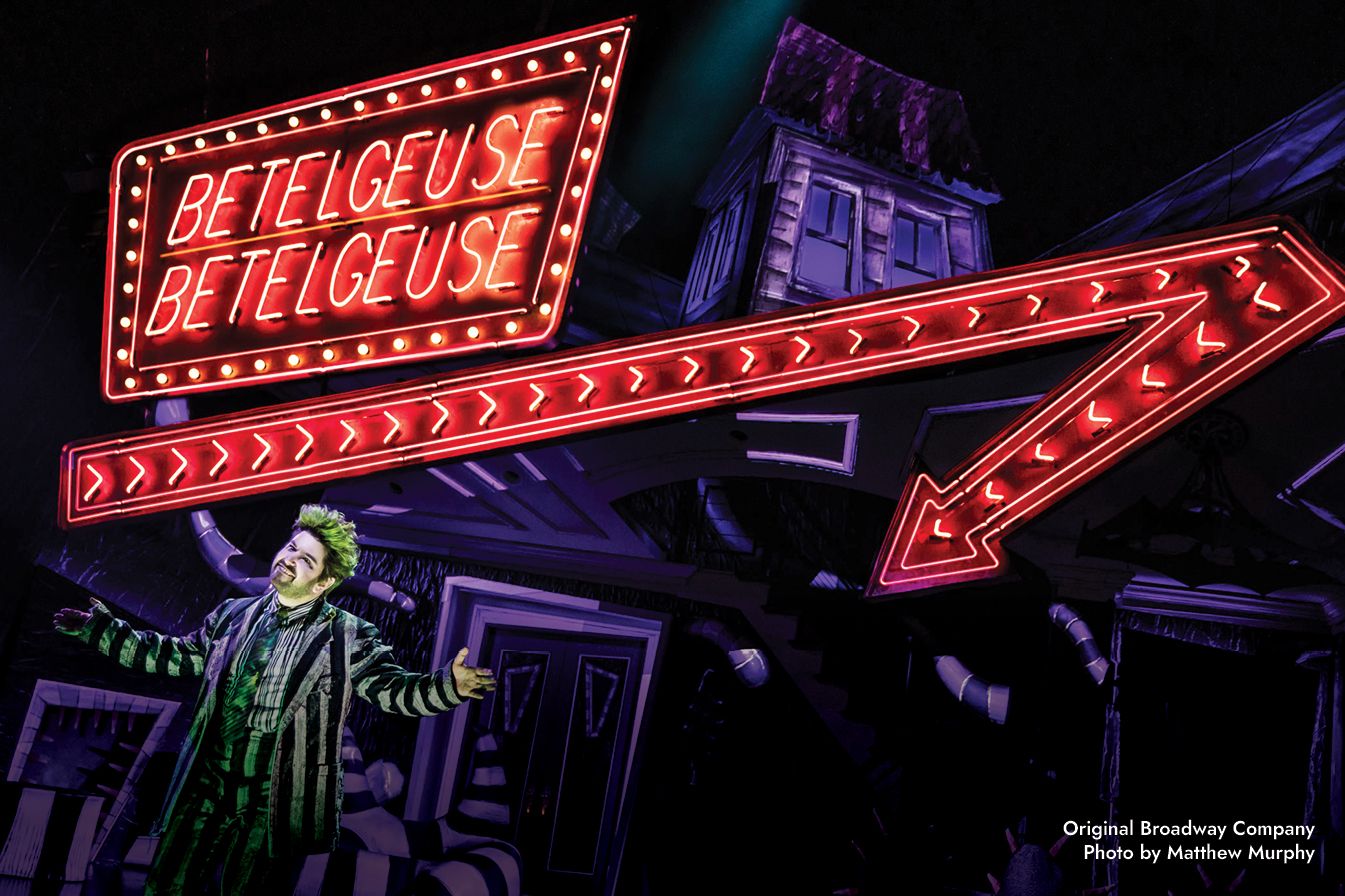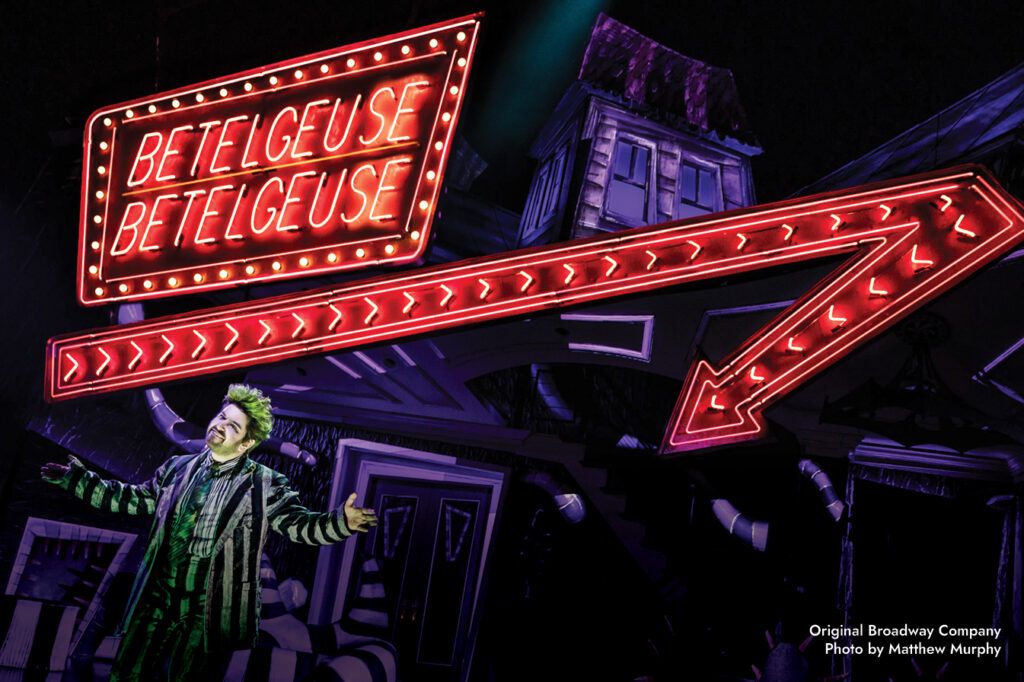 Hopefully, we'll get a chance to hop onboard this new cruise ship in 2024!
Oceania Vista
As the first ship in Oceania Cruises' new Allura Class, Oceania Vista debuted in spring 2023. Beginning in November, the ship will sail from Miami for the winter 2023-24 season, visiting tropical locales in the Caribbean. This makes it the perfect time to test out this destination and culinary-rich cruise line. At the end of March 2024, Vista will reposition to Europe for the summer season.
Oceania Vista is a 67K gross ton ship that carries 1,200 guests. Meticulously designed to create a small-ship luxury cruise experience, Oceania Vista features a number of inviting spaces, upscale restaurants, immersive mixology experiences, and spacious all-veranda staterooms.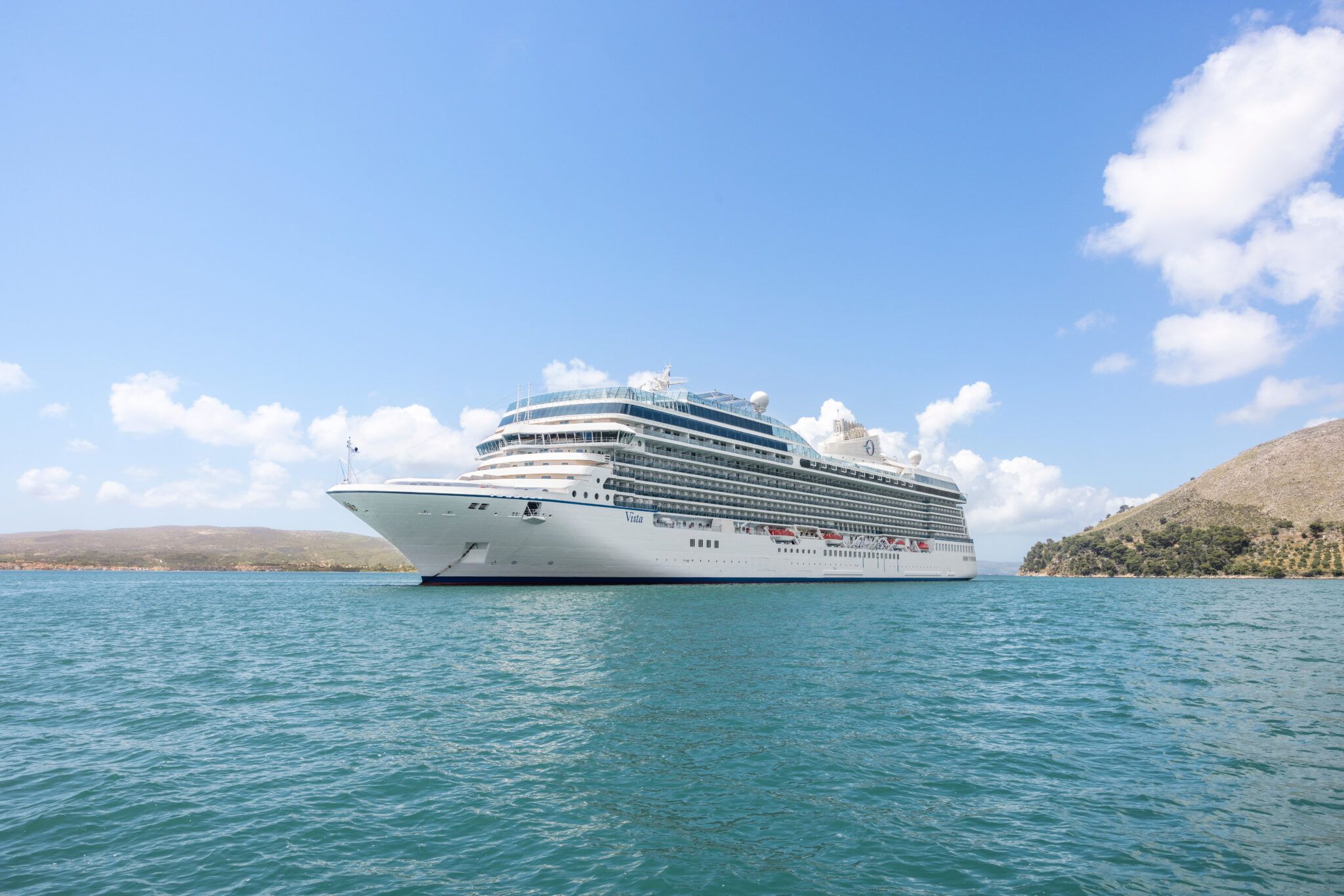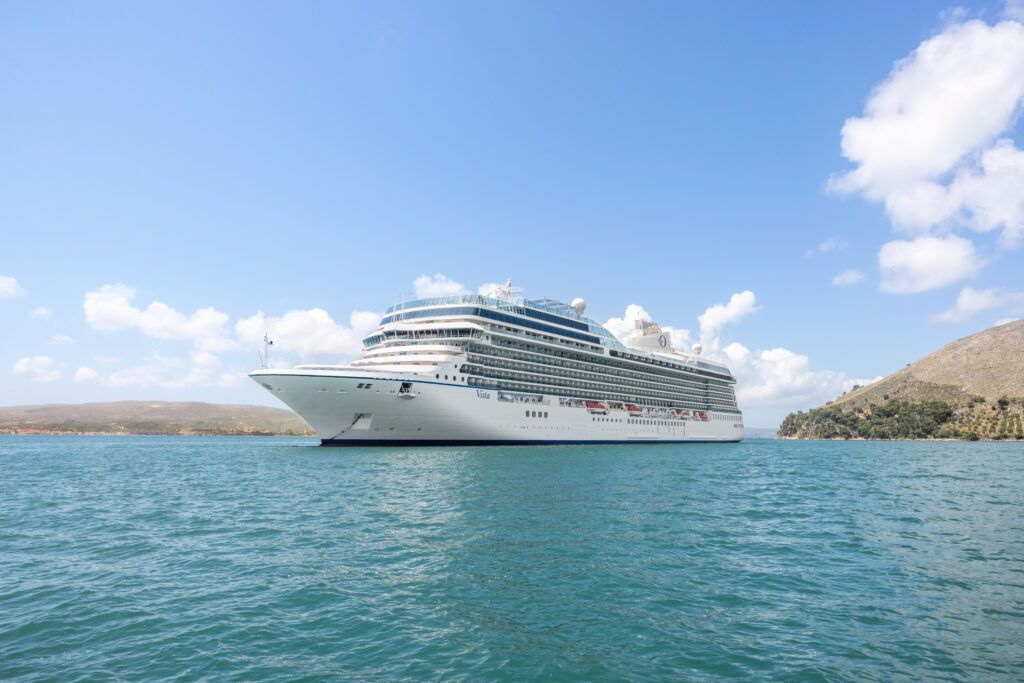 Oceania Vista Features
A reimagined Martinis Bar, a tranquil pool deck, a state-of-the-art Aquamar Spa + Vitality Center, and 11 dining options can all be found onboard this new ship. It starts with the Grand Dining Room featuring a globally inspired menu along with Jacques Pépin classics.
Vista features three new dining options as well: Aquamar Kitchen, offering an array of healthier dishes; The Bakery at Baristas, serving freshly baked pastries; and the new signature restaurant, Ember. This restaurant features an American menu with dishes like short ribs, crab cakes, swordfish, and more.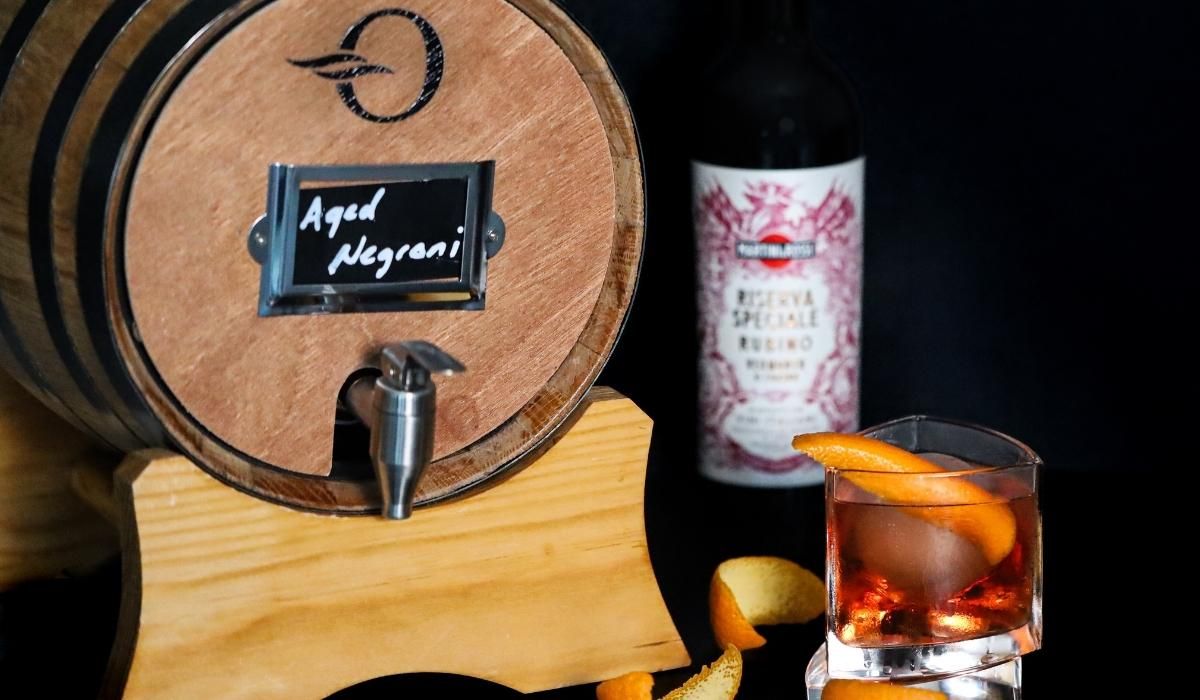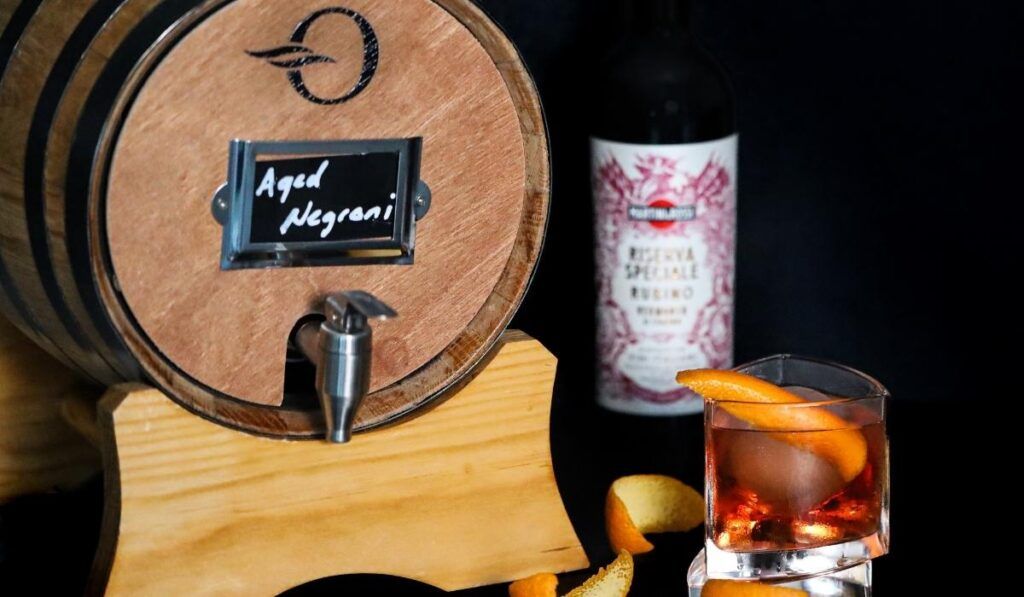 Previous Oceania cruisers will be happy to hear that Polo Grill, Toscana, and Red Ginger can also be found on this new ship. Not to mention, there's craft cocktails, zero-proof cocktails, negronis aged in wooden barrels, and an ultimate Bloody Mary Bar.
When it comes to entertainment, Vista raises the bar with new Broadway-caliber productions led by "Dancing with the Stars" choreographer Britt Stewart.
So, if you are turned off by all the bells and whistles of the newly debuting megaships, then Oceania Vista might just be the perfect new cruise ship to sail on in 2024.
Comments
Do you have plans to sail on any of these new cruise ships in 2024? Which of these vessels are you most excited to check out? Drop us an anchor below to share your upcoming cruise plans.