Royal Caribbean's private island in the Bahamas, CocoCay, has undergone a $200 million recent renovation. This newly transformed island, now referred to as Perfect Day CocoCay, is officially set to open this month. Offering several new island experiences and adventures, CocoCay will be the ultimate island experience. If you are considering a trip to this private oasis, here is Everything You Need to Know About Perfect Day CocoCay.


Everything You Need to Know About Perfect Day CocoCay
The Basics
Getting to Perfect Day CocoCay
-Located about 240 miles from Port Canaveral, this small island is reserved only for the company's cruise ships. It is also in close proximity to Nassau, Bahamas, which is only about 65 miles away. However, the only way to get to the island is on a cruise.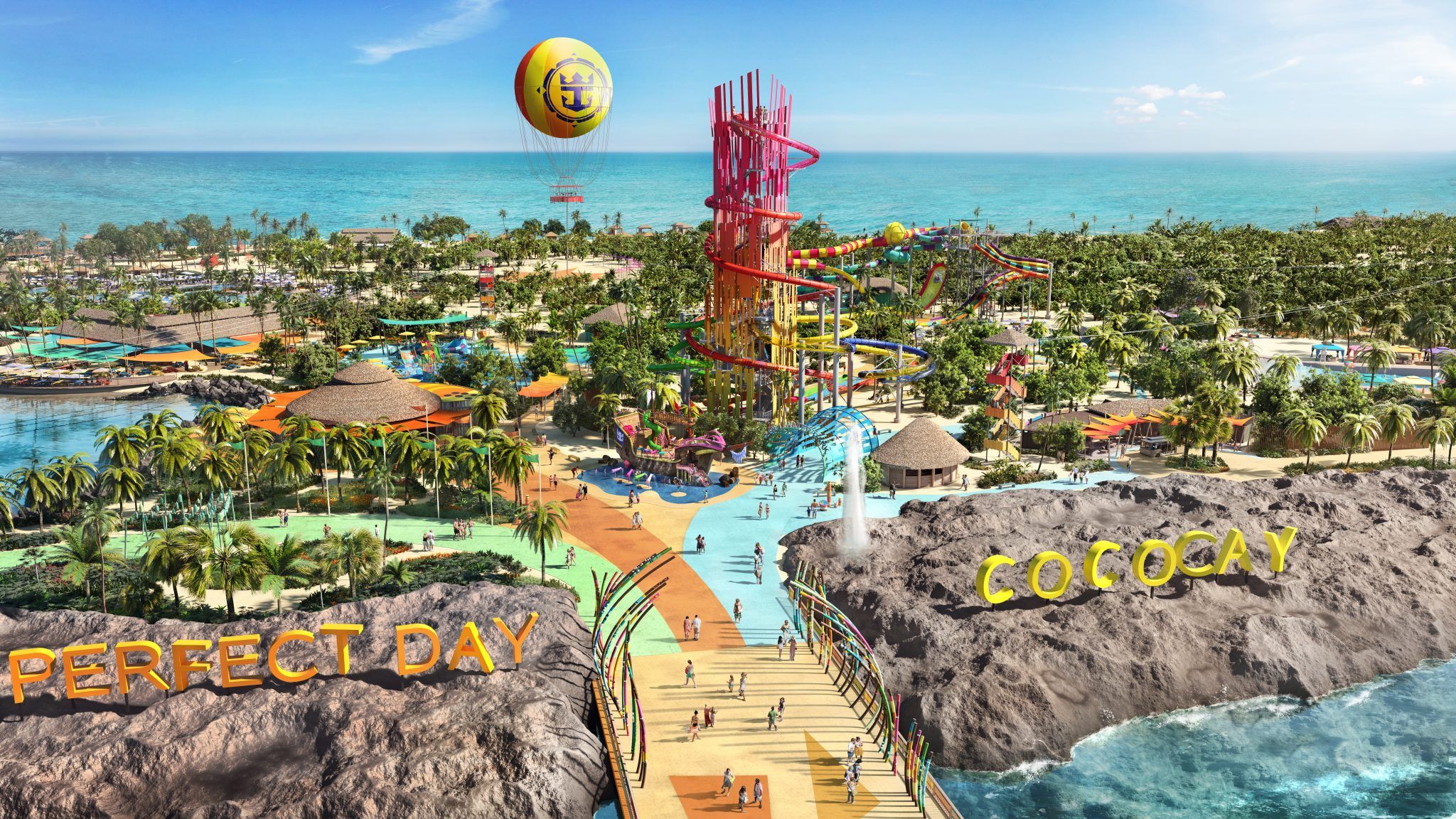 -The list of ships visiting CocoCay continues to grow. Currently, you can plan the perfect weekend getaway to CocoCay on Mariner of the Seas or Navigator of the Seas. Also, Grandeur of the Seas and Oasis of the Seas will be stopping at this private island. For a full list of ships visiting CocoCay, head over to Royal Caribbean's website.
-You will need your SeaPass card to exit and re-board the ship. It's also how you will pay for things like food, drinks, or experiences on the island. If you want to purchase local goods at the Straw Market however, you will need to bring some cash.
-Tendering is now a thing of the past! Royal Caribbean has recently invested in building a pier at CocoCay. Now, you will be able to walk directly onto the island through the upbeat and colorful arrivals plaza.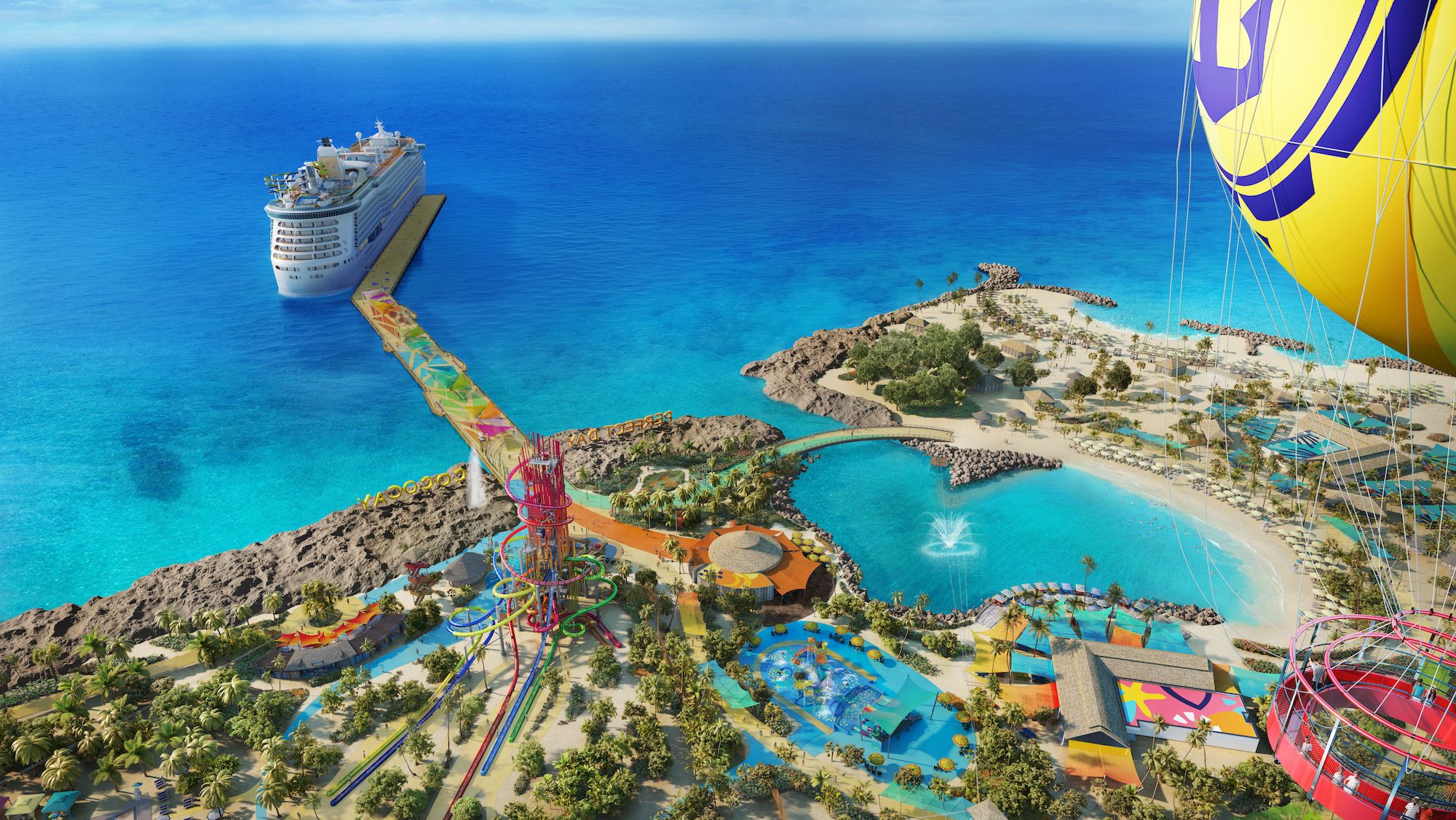 Once Ashore on Perfect Day CocoCay
-As a major technological upgrade, Perfect Day CocoCay will now have WiFi. That's right, you will be able to use your internet package to post all your island adventures to social media.
-In addition, your beverage package will work on CocoCay. You can grab a coco loco or your favorite vacation drink at a number of bars on the island for no additional cost if you have the deluxe drink package.
-The island will be equipped with complimentary freshwater showers, restrooms, and changing rooms. Further, the beaches will have towels, beach chairs, and umbrellas for your use. Lockers will also be located throughout the island and available to rent for a small fee.
-There are no age restrictions for the experiences at Perfect Day at CocoCay. Of course, some activities do have height and weight restrictions.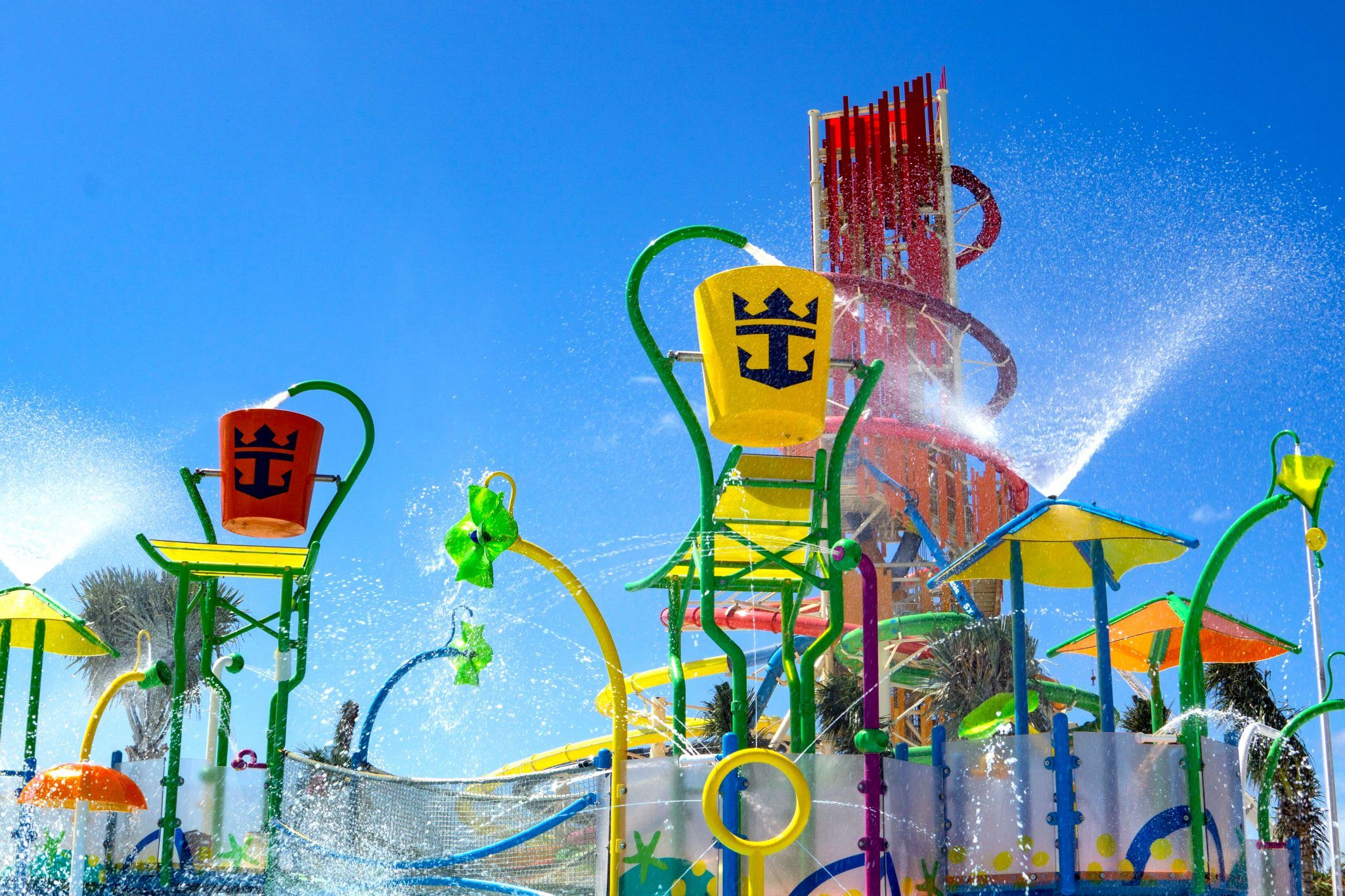 -There will not be a dedicated daycare on the island. Still, Adventure Ocean staff will be hosting a variety of activities onshore for children and families.
-There is a tram service around the island with 5 stops including: Thrill Waterpark, South Beach, Coco Beach Club, Chill Island, and Oasis Lagoon. The trams are scheduled to run every 15 minutes and are handicap accessible.
What's Included on the Island
Many of the new attractions on Perfect Day CocoCay are complimentary. Among the new included options are the Oasis Lagoon- the largest freshwater pool in the Caribbean, and the shipwrecked Captain Jill's Galleon loaded with slides and water cannons.
The Splashaway Bay aqua park for kids including fountains, pools, sprinklers, water cannons, kid-size waterslides, and two massive drench buckets is also complimentary. A sports court on South Beach and enhanced beaches like Chill Island and South Beach, both offering plenty of free beach chairs and beachside activities, are available to all guests free of charge.
However, there are also many upgraded experiences that will cost extra money (see below).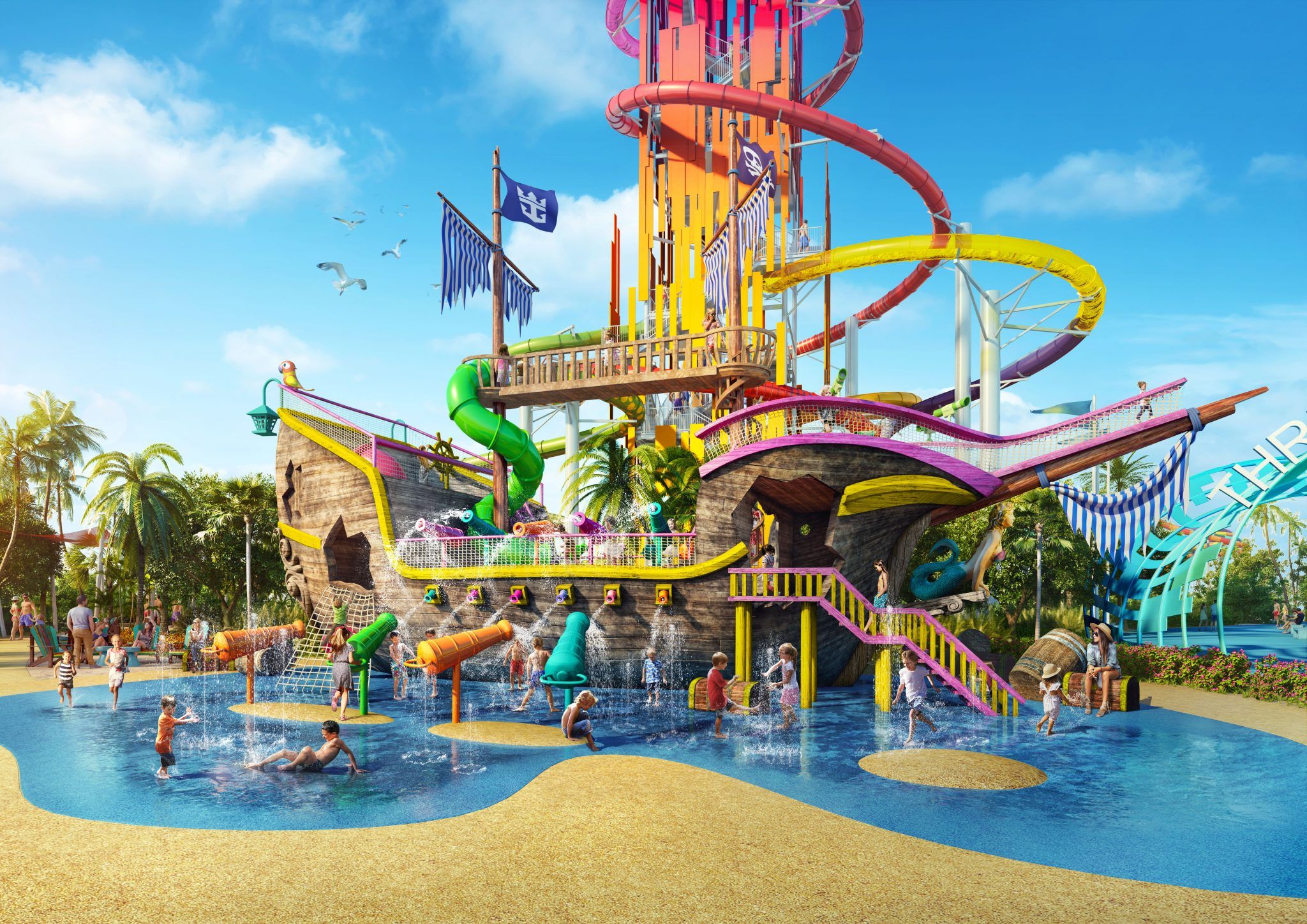 The best way to reserve all of these great experiences on Perfect Day CocoCay is by using the online Cruise Planner on Royal Caribbbean's website. Once you have booked your cruise, you can start planning your ultimate vacation. Be sure to check your Cruise Planner frequently, as Royal Caribbean often runs promotions offering discounts on popular experiences if booked pre-cruise.


Thrills at Perfect Day CocoCay
Thrill Waterpark
The Thrill Waterpark will be the go-to attraction for all the adrenaline-seekers among us. This complex will feature 13 waterslides, the most slides found in any waterpark in the Caribbean. It will also feature the Caribbean's largest wave pool and a kid-friendly obstacle course pool.
The Daredevil's Tower will feature 7 exhilarating slides including twin Dueling Demon drop slides, Manta Raycers duo, the fully vertical Screeching Serpent, and the coiling Green Mamba. Of course, the highlight of this tower will be the Daredevil's Peak, the tallest waterslide in North America measuring in at 135 feet.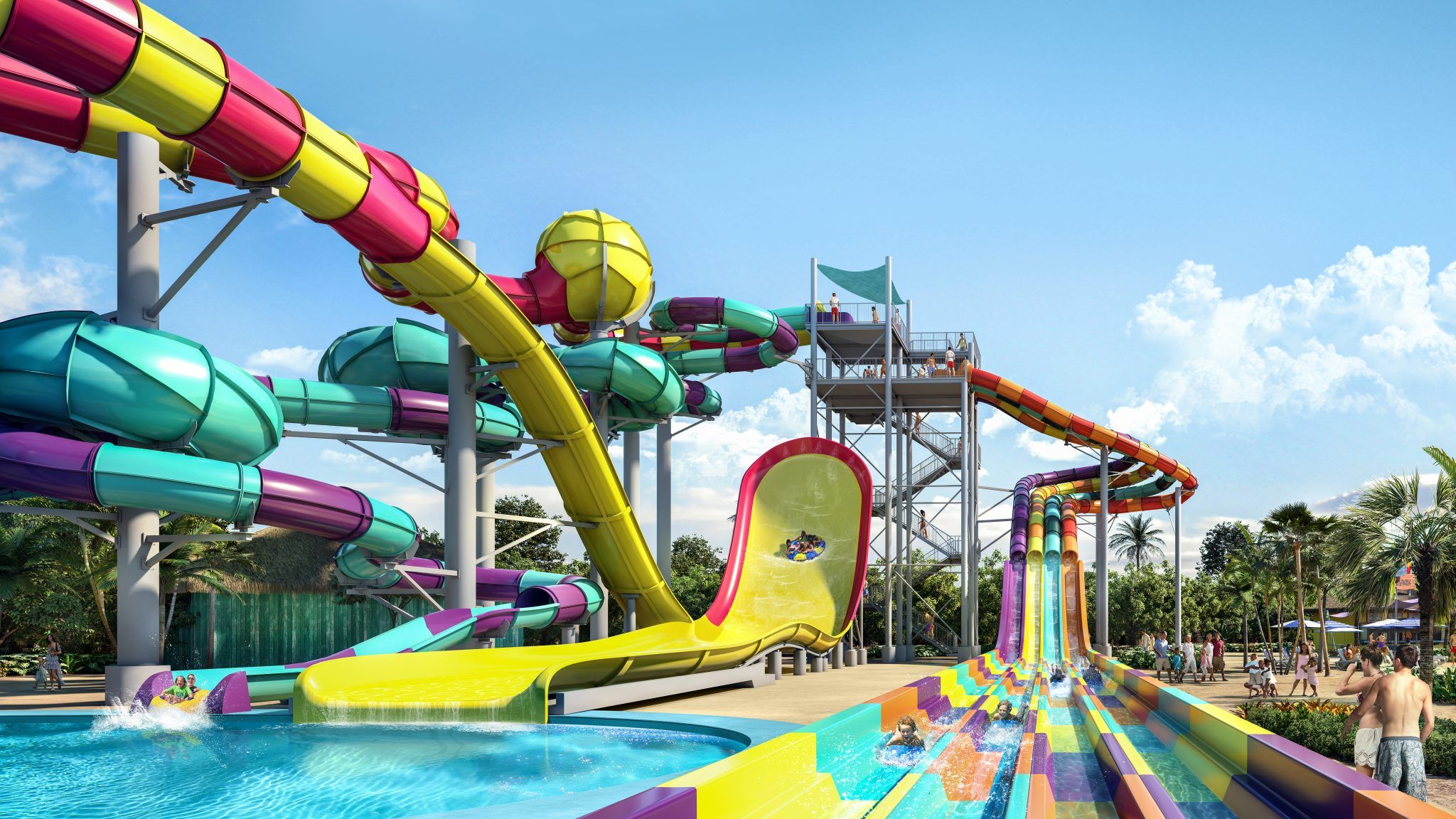 In addition, the Family Tower will include 6 multi-rider slides. Among these slides are The Twister two-person raft, The Slingshot, a zero-gravity slide for four, and the four-lane Splash Speedway racing slides.
Prices are stated to vary by season, ranging from $44-99 per person for a full day pass or $39-74 for a half day (afternoon) pass.
Zipline
Adventure seekers can also soar above Perfect Day at CocoCay on a 1,600-foot-long zip line. If you brave the zipline, you can choose between a dry landing onshore or a water landing in the harbor.
Pricing ranges from $79-139. Combination tickets can also be purchased for a full day waterpark and zipline ($99-$179 per person) or a half day waterpark and zipline ($89-$149).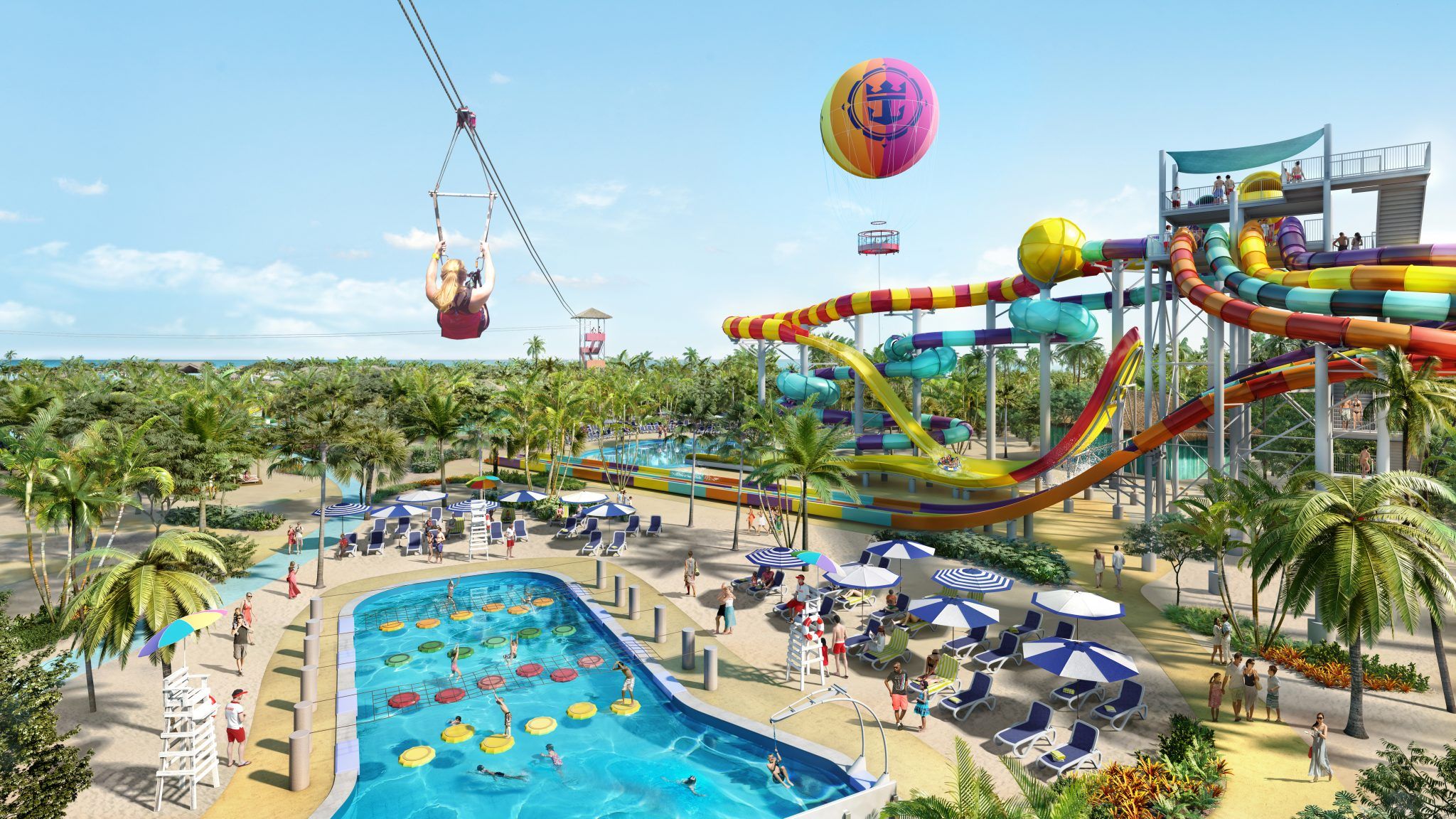 Up, Up and Away
For a whole new perspective, cruisers can rise to new heights in a helium balloon 450 feet above the island. From this highest vantage point in the Bahamas, you will score amazing views of Perfect Day CocoCay. Pricing ranges $39-$99 per person for adults and $24-$64 for children 4-12 years old.
There will be other beach rentals available on the island as well such as kayaks, snorkel equipment, and spa services.
Dining on Perfect Day CocoCay
Perfect Day CocoCay has 5 complimentary dining locations on the island.
The Chill Grill is the largest dining venue on CocoCay and is located on Chill Island. Offering everything from tacos to BBQ and Caribbean favorites, the Chill Grill is a great casual spot to relax, enjoy some lunch, and serve up your own beverage at the beer station.
With more nautically inspired decor, Skipper's Grill is another casual spot to refuel on all your lunchtime favorites. There are also 3 Snack Shacks located throughout the island including at South Beach and the Thrill Waterpark.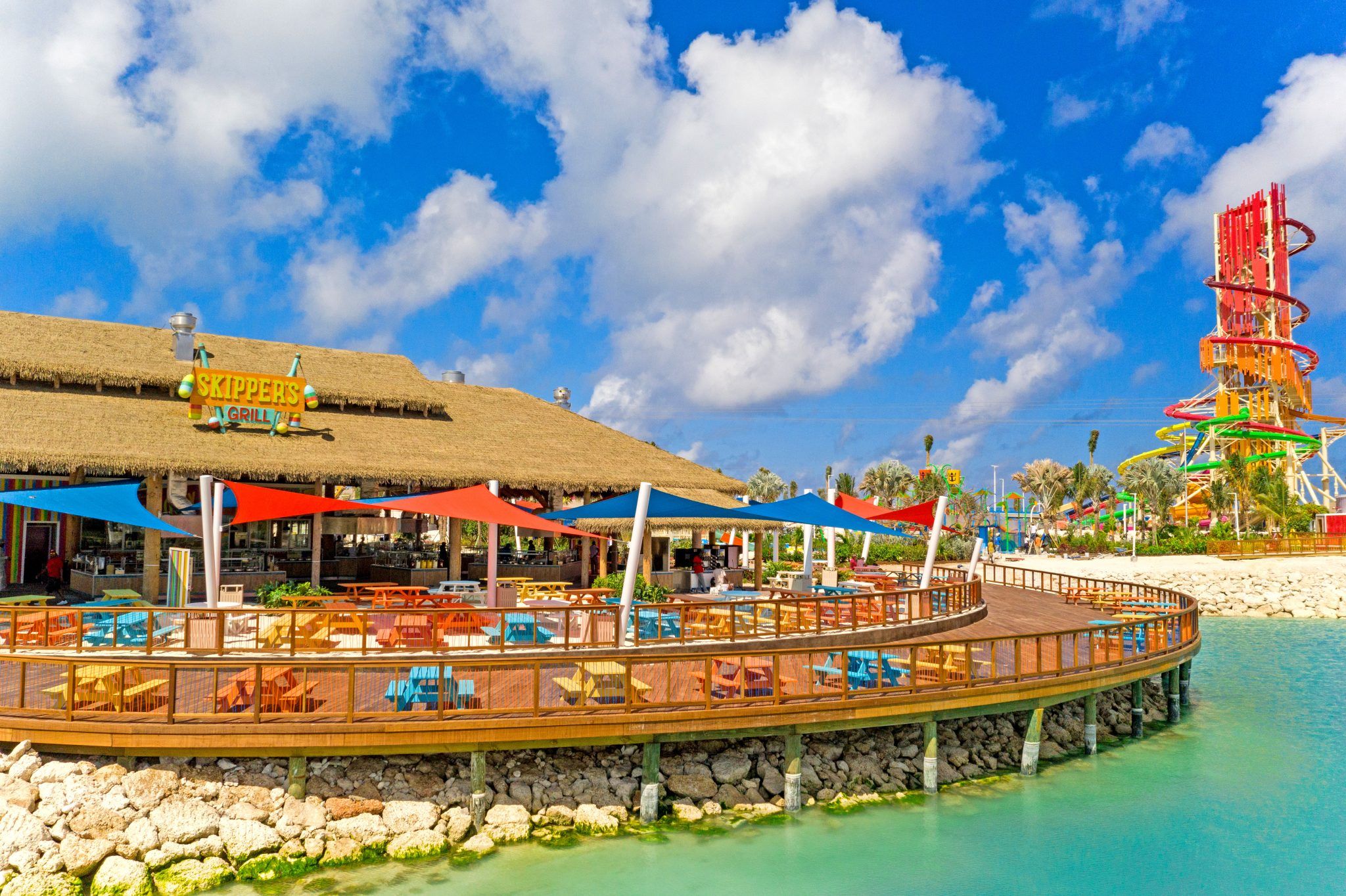 The Grille at Coco Beach Club is exclusive to those paying for access to the Coco Beach Club. This venue will serve freshly made Mediterranean fare with a side of ocean views.
There is also Captain Jack's, the island hangout. Here, you can grab a drink at the rowboat bar while chilling on a rope swing seat. Or, you can enjoy a la carte food items like chicken wings with signature sauces or crispy steak fries.


Beaches on Perfect Day CocoCay
There will also be plenty of soft, sandy beaches at Perfect Day CocoCay!
Chill Island will provide cruisers with their own slice of paradise. Create your own perfect day on the island by lounging on the complimentary beach chairs and swimming in the crystal clear waters. Be sure to order up your favorite summer vacation drinks from one of the bars or bar servers roaming this beach. You can even partake in wave runner, snorkeling, or boat tour excursions for an additional fee.
If you are looking for a little adrenaline rush on the beach, then you will want to head over to South Beach. This beach offers a complimentary sports court for partaking in a friendly game of beach volleyball, basketball, and more. After working up a thirst, you can enjoy a drink at the famous floating bar located on South Beach. Additional activities are available here as well like paddle boarding and glass bottom kayaking. South Beach is scheduled to fully open by December 2019.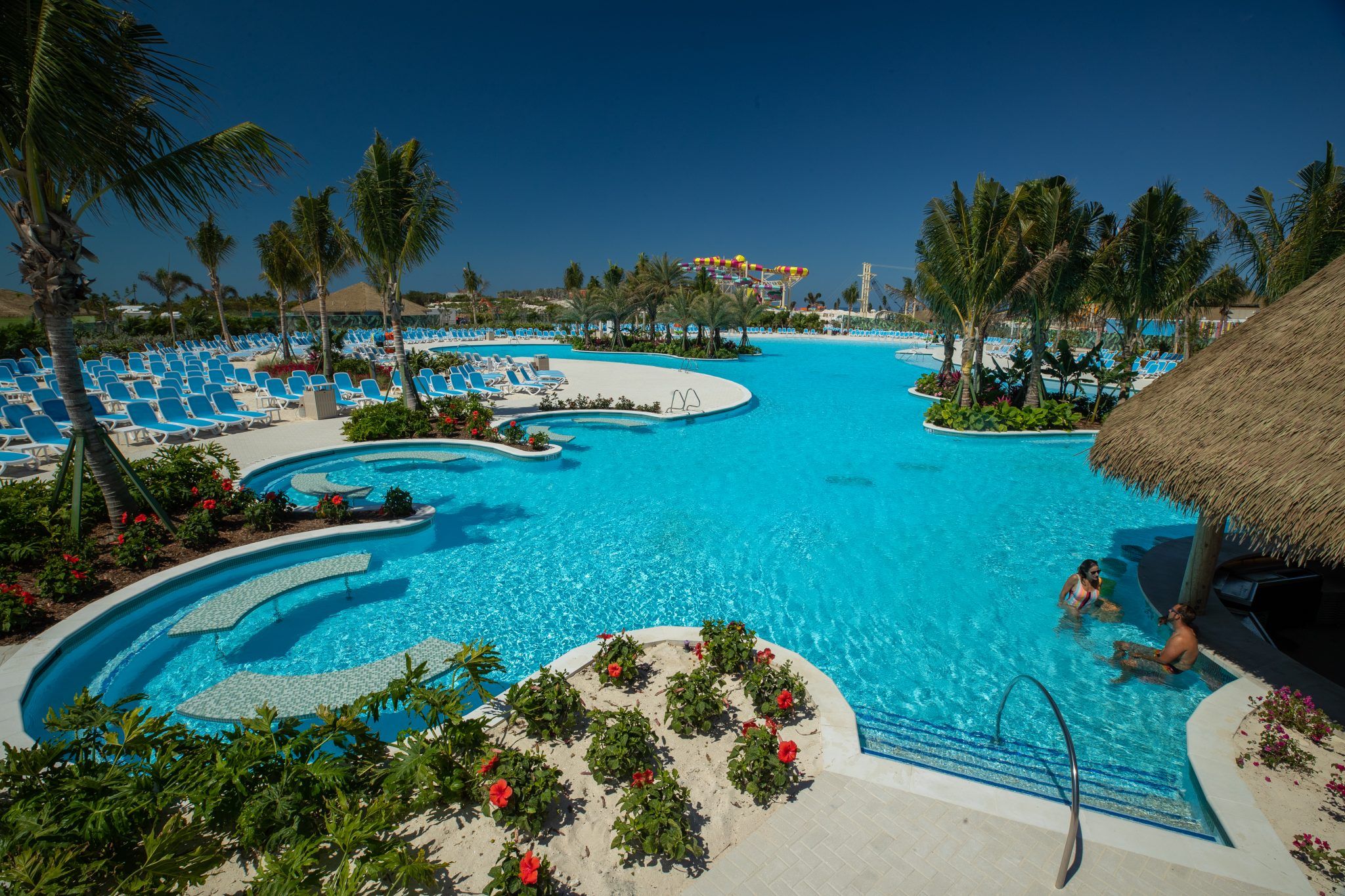 If you'd prefer to spend your day at CocoCay sand-free, then you will want to head straight for the Oasis Lagoon. This expansive, and complimentary, lagoon is the Caribbean's largest freshwater pool. Cruisers can spend hours here lounging by the pool, enjoying a drink at the swim up bar, or floating out to one of the 3 mini swim-up islands.
If you want to upgrade your beach experience, you can reserve a day at the Coco Beach Club. Admission grants you access to an exclusive beach, a private bar, an infinity pool, and dining at The Grille. Pricing for this exclusive area ranges from $54-99 per person and $34-69 for children ages 4-12. Your day of luxury at the Coco Beach Club will certainly be a highlight of your vacation.
Cabanas on Perfect Day CocoCay
In addition to the clamshells and daybeds available to rent, there will be several locations to rent cabanas on Perfect Day CocoCay as well.
The Chill Island cabanas located on the beach can accommodate up to 8 guests. The pricing ranges $299-569. If you prefer a poolside cabana, they are also available to rent at the Oasis Lagoon for the same price.
If your family wants the best of both worlds- luxury and thrills, then you can rent a cabana at the Thrill Waterpark. These cabanas are priced $499-869. This price includes admission to the waterslides for up to 6 guests.

Coco Beach Club offers beach cabanas as well as over-water cabanas. Purchase of either cabana is valid for up to 8 guests and includes admission to the club. The beach cabanas are priced at $949-1549, and the over-water cabanas at $999-1599. If you are willing to splurge for your very own taste of Bora Bora in the Bahamas, you will truly be pampered with attendant service, a private hammock, a minibar, and your own personal slide!

Comments
Do you have a cruise booked to the new Perfect Day CocoCay? What are your thoughts on all the upgrades to the island? Drop us an anchor below to share your experiences visiting Royal Caribbean's private island in the Bahamas.