Food is a big part of cruising, and we know our fellow cruisers are always eager to see what is available at the different restaurants onboard. So, we are back from the first cruise on Adventure of the Seas since the cruise suspension and have put together this Adventure of the Seas Restaurant Guide. We have pictures, menus, and all the details for each venue.
Adventure of the Seas Restaurant Guide With Menus
Complimentary Restaurants
Windjammer Cafe Deck 11
If you have cruised on Royal Caribbean before, then you are very familiar with the Windjammer. This casual, complimentary buffet was open only for breakfast and lunch on the cruise. Dinner was not available due to reduced staffing on the ship.
For breakfast (approximately 6:30 am-10:30 am), you can find your typical selections. The food items included fruits, breakfast pastries, cereals, hot menu items such as scrambled eggs, bacon, and sausage, as well as a custom omelet station.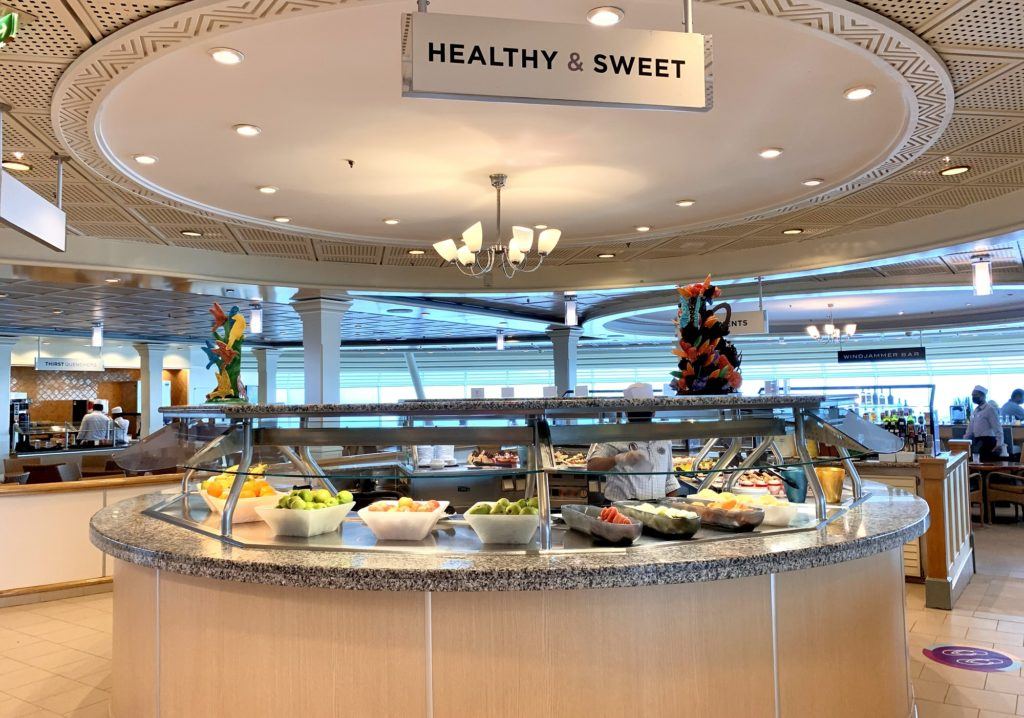 For lunch (approximately 11:30 am-3 pm), you will find a selection of salads, cold cuts and sandwiches, a grill with hamburgers and hot dogs, and other hot dishes which vary slightly each day of the cruise.
Given updates to health and safety protocols, all aspects of the Windjammer are no longer self-service. Instead, staff will be happy to serve your selections to you.
EXCLUSIVE SAVINGS: Get the Best Deals on Adventure of the Seas Cruises!
Cafe Promenade – Deck 5
The Cafe Promenade is your go-to spot for snacks any time of day. Serving up coffee, breakfast pastries, sandwiches, and small desserts, you will never go hungry on Adventure of the Seas.
Since the ship does not have a dedicated Sorrento's, this venue will be your pizza stop as well.
From 6:00 am to 10:30 am, you can find breakfast sandwiches, pastries, and light fare to help you get your day started. From 11:30 am to 3:00 am, the items include pizza, pre-made sandwiches, cookies, and some vegetarian snacks.
Cafe Promenade is a great place to grab a table and people watch as there is always something happening in the Royal Promenade. While all of the food items here are complimentary, specialty coffee is an up-charge (included in the Deluxe Beverage Package).
There is also a Ben & Jerry's which is open from 9 am to 9 pm. Additional fees apply here as well.
Café Promenade | Ben & Jerry's
Main Dining Room – Decks 3, 4, & 5
If you are looking for a complete dining experience, then you will want to visit the main dining room.
The MDR serves breakfast every morning of your cruise on deck 3 from around 7-8 am to 8:30-9:30 am. Here, you can have a made-to-order breakfast. Options are very similar to a breakfast menu on land.
The main dining room is open for lunch on the two sea days on Adventure of the Seas from 11:30 am to 1 pm. Cruisers can enjoy an updated menu with a selection of freshly prepared items. Unfortunately, the cruise favorite tutti salad bar is not available currently.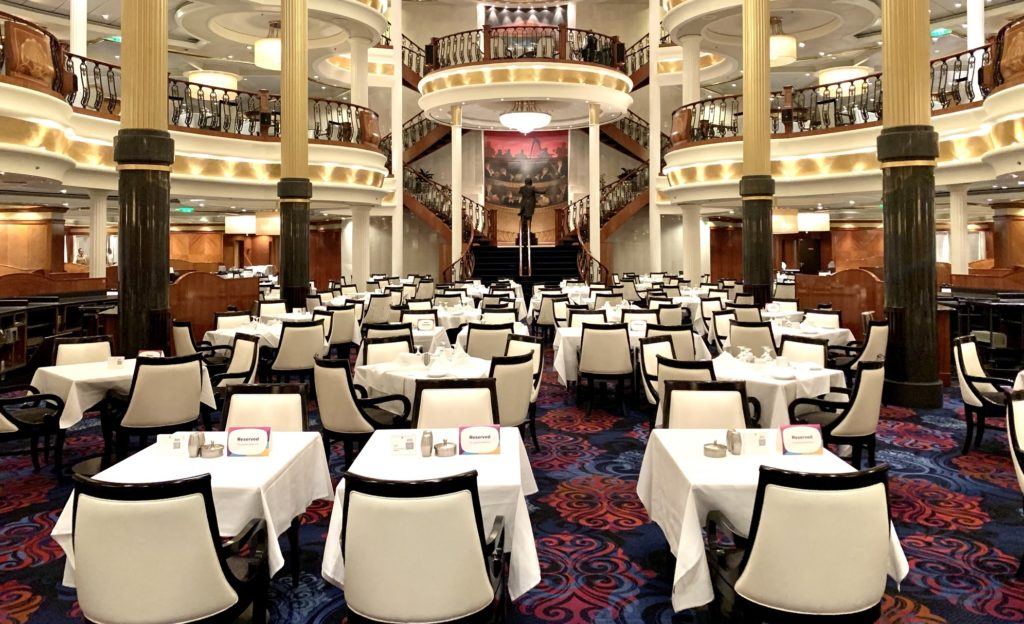 For dinner, the main dining rooms offer a different menu each night. Cruisers with traditional dining (deck 3 and 4) can choose either a 5:30 pm or 8 pm seating. My Time Dining on this ship is between 6:45 pm-9 pm on deck 3. Cruisers can make My Time Dining reservations pre-cruise or join the walk-up line for standby guests. 
The main dining room on deck 5 was not utilized this cruise due to reduced guest capacity.
Related Post: Top Restaurants on Royal Caribbean Cruise Ships
Either way, the menu options are the same for traditional dining and my time dining. These options do rotate each evening, with a set list of Classics dishes available every night.
Menus: Breakfast | Lunch Sea Day 1 | Lunch Sea Day 2 | Day 1 | Day 2 | Day 3 | Day 4 | Day 5 | Day 6 | Day 7
Specialty Restaurants
Johnny Rockets – Deck 12
A staple found on many Royal Caribbean ships is the casual, specialty restaurant Johnny Rockets. Those back on land will recognize this 1950's inspired hamburger shop.
This restaurant on Adventure of the Seas is exactly the same, serving up delicious burgers, fries, and shakes. This venue is an up-charge. The venue is open most days from 4 pm to 10 pm and pricing is a la carte.
Giovanni's Table – Deck 11
Cruisers can enjoy rustic Italian flavors at Giovanni's Table. On Adventure of the Seas, Giovanni's Table is located on Deck 11 outside the Windjammer and is open nightly for dinner from 5:30 pm to 9/9:30 pm.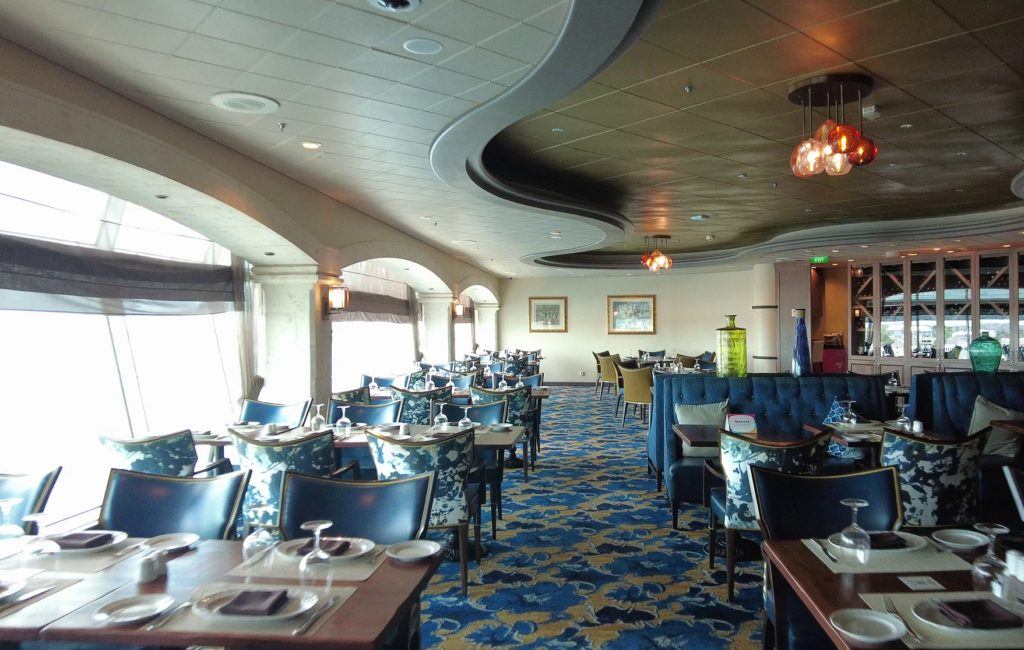 This specialty restaurant serves up antipasti, classic pasta dishes, delicious entrees, and complimentary limoncello for an up-charge of $39.99 per person. A reduced menu was offered for lunch on select days.
Related Post: Adventure of the Seas Cruise Review
Izumi Sushi – Deck 5
Izumi is another Royal Caribbean fan-favorite offering an authentic Asian experience. However, Izumi can be found in a new location on Adventure of the Seas. This venue is ideally situated on the Royal Promenade taking the place of the former Gravity Sports Bar on the ship.
Izumi is open nightly from 5:30 pm to 9/9:30 pm. Izumi is also open for lunch on the two sea days about 12 pm to 1:30 pm. Cruisers can enjoy starters, signature rolls, and entree-sized bowls that can be purchased at a la carte pricing. Or, there is a prix-fixe dinner option for $34.99. (One small plate, two large plates, and one dessert.)
There is no hibachi option on this ship.
Chops Grille – Deck 4
Chops Grille is the Royal Caribbean signature steakhouse and is located on Deck 4 near the Schooner Bar on Adventure of the Seas. This restaurant was added to the ship during one of the past refurbishments which occurred in 2016 and 2018.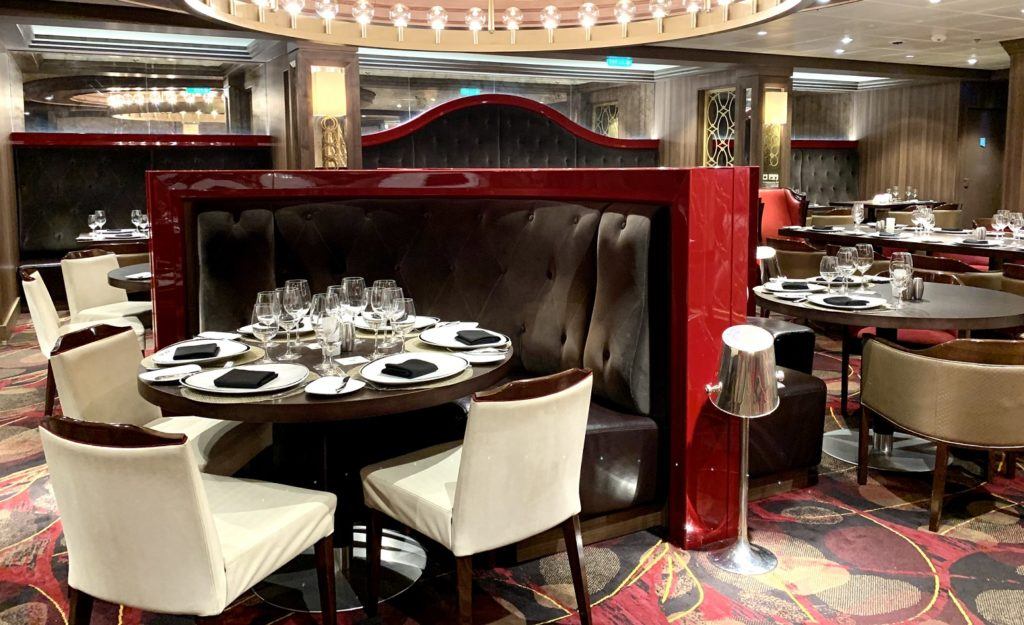 Chops Grille currently has an up-charge of $49.99 per person. You can make reservations at this restaurant prior to your cruise using the Cruise Planner on Royal Caribbean's website or immediately upon boarding the ship. Chops Grille is open every night of the cruise from 5:30 pm to 9/9:30 pm.
Chops Grille also offers lunch on embarkation day and the two sea day for $22.99 from 12-1:30 pm. There is also a new Chops +1 option for $70. This option entitles you to dinner at Chops plus one other specialty restaurant of your choice. (Prices quoted were for our sailing if booked pre-cruise.)
BOOKING BONUS: Score Additional Perks When You Book Your Next Royal Caribbean Cruise
Chef's Table
If you are celebrating a special occasion, you might want to consider a Chef's Table experience. For $89.99, you can indulge in a five-course pairing menu and wine tasting.
Each course is carefully chosen and presented by the chef and sommelier. The set dinner time on Adventure of the Seas is 6:30 pm. Below is the five-course options available during our sailing.
Royal Caribbean also offers dining packages. On Adventure of the Seas, the 3-night dining package is priced at $89 and the unlimited dining package is $189 if purchased pre-cruise using the online cruise planner.
A courtesy reservation will be made for the first night of your cruise based on your preferred dining time. All additional reservations or changes to your courtesy reservation must be made once onboard at any specialty restaurant.
Room Service
Room service is available to guests 24 hours a day. Continental breakfast and American Breakfast are complimentary. However, all other orders have a $7.95 service charge plus 18% gratuity.
Related Post: Adventure of the Seas New Bar Menus
Comments
Do you have plans to cruise on Adventure of the Seas? What is your favorite Adventure of the Seas restaurant? Drop us an anchor below to share your dining preferences on Royal Caribbean ships.