With the extension of the CDC's No Sail Order and the further voluntary suspension of CLIA cruise lines through the end of October, we are longing for the day that we can get back out to sea. On the top of our cruise list is Virgin Voyages' Scarlet Lady. In fact, our November cruise on this brand new ship is currently our only remaining 2020 cruise. Find out why we are excited to cruise on Virgin Voyages' Scarlet Lady!
5 Reasons We Are Excited to Cruise on Virgin Voyages After the Pandemic
All Inclusive Nature
Virgin Voyages has taken a cue from the luxury cruise brands. This new cruise line's fare is one of the most inclusive options in the premium category. The base fares have even dropped considerably in pricing since bookings opened last year. Thus, a cruise on Scarlet Lady is now even a better value.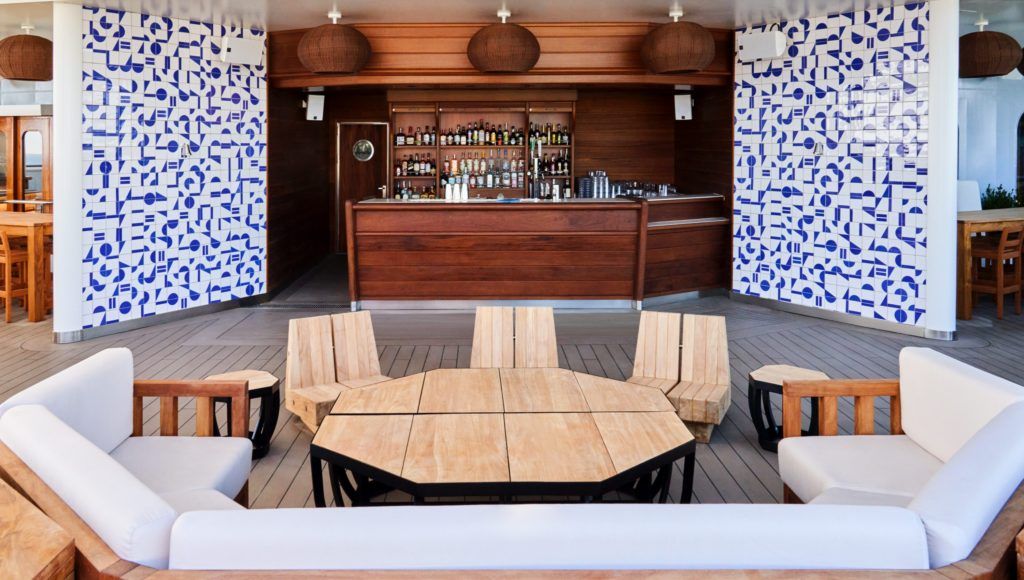 All cruise fares on Virgin Voyages will include basic beverages like soda, bottled water, non-pressed juices, coffee, and tea. Cruise fares will also include all gratuities, even on services such as spa treatments. Other inclusions that are normally an up-charge on competitor brands are basic WiFi for all passengers, as well as group fitness classes. Dining in all venues is also part of the cruise fare. That's right, there will be no additional costs to dine at the line's signature steakhouse.
Cruisers staying in suites will even have access to a private outdoor deck, Richard's Rooftop. This exclusive area boasts its own bar and plenty of loungers. At night, cocktail hours and parties on the Rooftop are reserved only for those with Rockstar access.
Variety of Dining Options on Scarlet Lady
Scarlet Lady is looking to re-imagine the dining experience on a cruise ship. All eateries will be complimentary, with no specialty dining up-charges.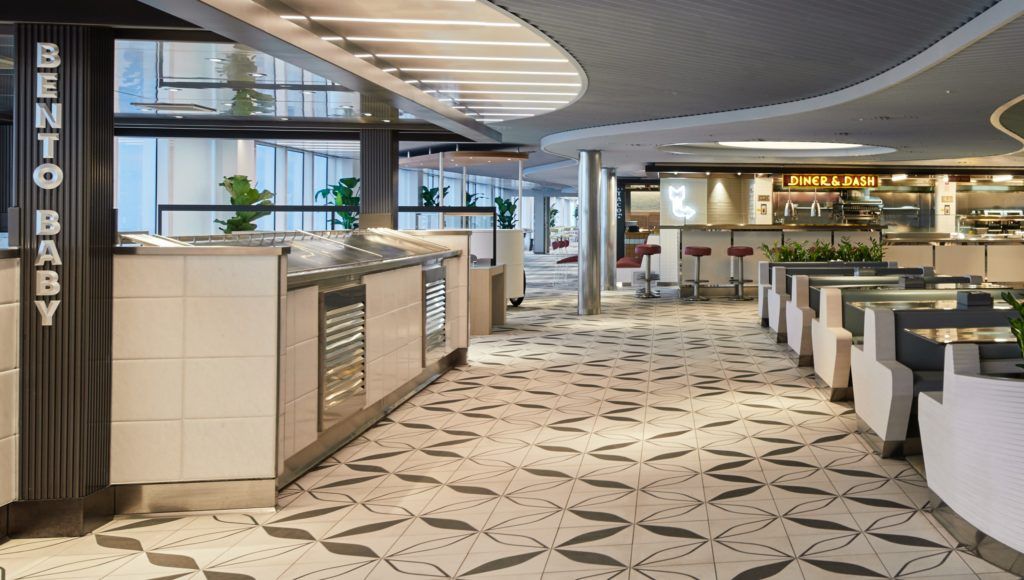 Being ahead of the curve when it comes to casual dining, the ship will not feature a buffet. In addition, Scarlet Lady will not have a traditional main dining room. Instead, there will be 20+ dining options that will all be included in your cruise fare. Fitting them all into one cruise might be a challenge, but it is one we are ready to accept.
Among the dining venues, one that tops our "must dine" list is the Wake. Located at the aft of the ship, this glamorous restaurant features high-end steak and seafood options for a delicious dinner with a view. Other restaurants on our list include Extra Virgin, an Italian trattoria serving handmade pasta and Pink Agave, an upscale Mexican restaurant. There is also the lively Korean BBQ restaurant, Gunbae.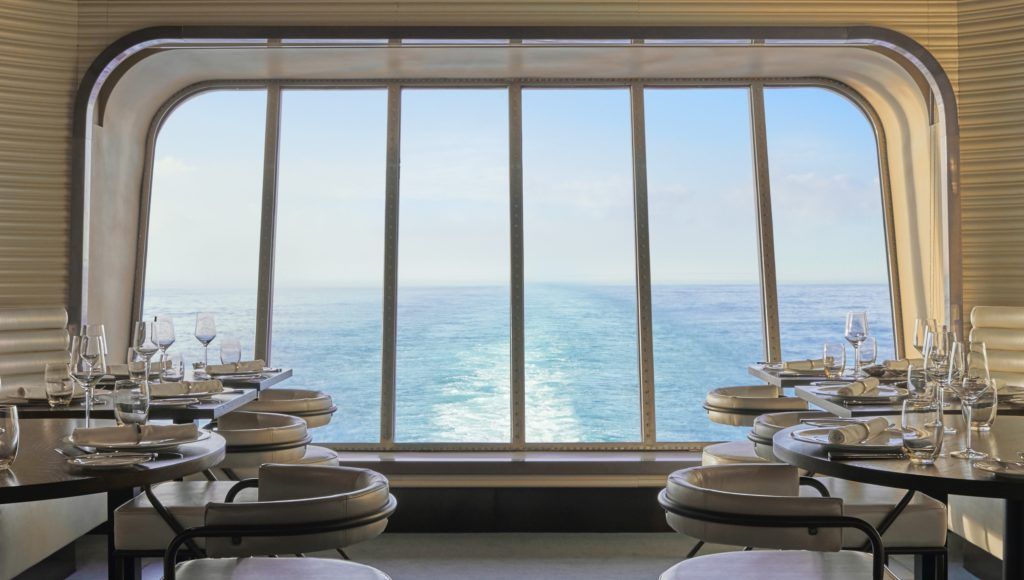 Even the casual options, including the Pizza Parlor and The Galley offer tempting menus that we can't wait to sample.
The bars and lounges also offer a more sophisticated and upscale feel than your typical cruise ship watering holes. We are eager to check out the nautically inspired Loose Cannon. I can't wait to sample the brews from the Draught House, while the On the Rocks martini and cocktail bar is sure to be the Princess' favorite.
Voyage Well Health and Safety Measures
Last month, Virgin Voyages announced its new health measures to create an even safer sailing experience following the pandemic. We are confident that returning to the seas on Scarlet Lady will be a safe cruising experience. The cruise line will have an in-depth pre-boarding health screen for both crew and sailors including the use of thermal camera technology to monitor temperatures.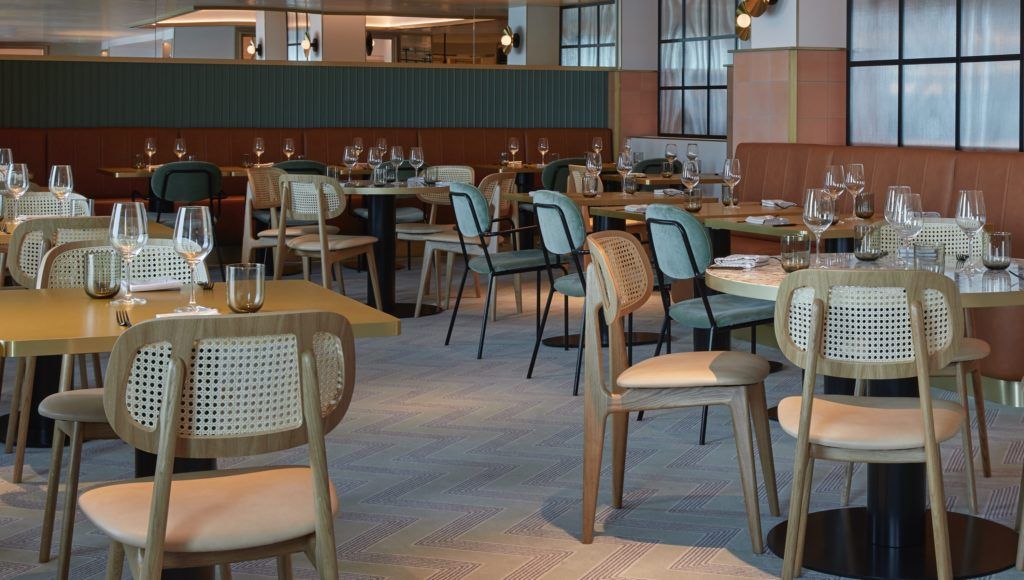 Virgin Voyages will also have increased sanitation measures in place onboard Scarlet Lady once she sets sail. This will include implementation of fogging and UV technology. Perhaps one of the most innovative features on Scarlet Lady will be its HVAC system that provides 100% fresh air in all cabins and public venues. There will also be an air purification system in place that has been shown to kill 99.9% of viruses.
To help manage proper social distancing on the ship, Scarlet Lady will even implement a virtual queue system for some entertainment, similar to what theme parks like Universal Studios have implemented. Virgin Voyages' wearable technology, the Band, will also allow for a variety of contactless options.
While not many brands have formally addressed facial coverings at sea, Virgin Voyages has taken a stance on wearing PPE. Virgin Voyages states, "we follow the same guidance as is recommended on land — so if people are advised to wear masks there, we will do so at sea, as well". We know this is a hotly debated topic, but if wearing a mask will allow us to cruise safely, then we will do so in style!
Even before the pandemic, Virgin Voyages had a strong focus on well-being with its B-Complex and Redemption Spa. Scarlet Lady goes beyond a typical cruise ship gym. With offerings like sunrise yoga, outdoor boxing, several fitness classes, and a halo jogging track, there are plenty of workout options. Of course, the only time we will probably see these areas is to take our photos and videos!
Unique Itineraries
The Caribbean itineraries on Virgin Voyages provide a few different 4 and 5 day options. These shorter itineraries are ideal for a return to cruising after the pandemic. Besides being close to home, these itineraries feature destinations that not many cruise ships visit. Among them are Key West, FL, Puerto Plata, Dominican Republic, Playa Del Carmen, and the private Beach Club at Bimini.
For our November 13th cruise, the ship will be sailing the Dominican Daze route. It has been 15 years since we last visit the Dominican Republic, and we look forward to exploring on one of the distinct Virgin Voyages' Shore Excursions.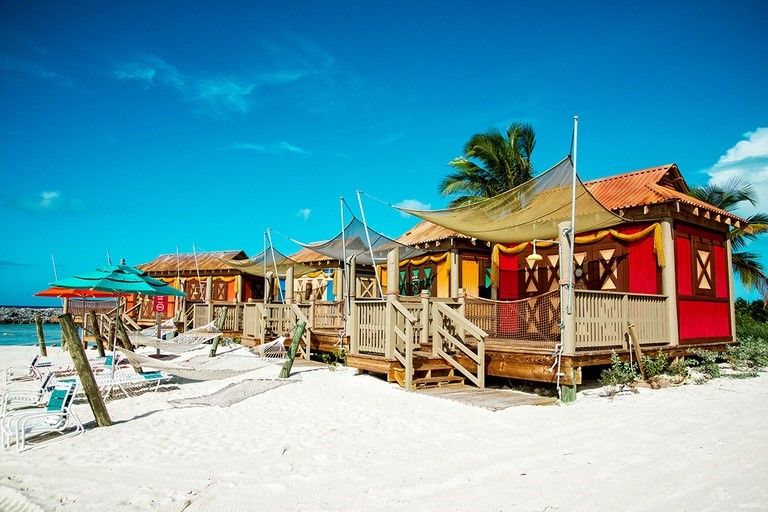 Of course, we are also excited to sail on Virgin Voyages to visit the cruise line's private destination, the Beach Club at Bimini. This exclusive 4.5 acre resort will overlook the ocean and offer an expansive lagoon-style pool. The Beach Club will offer plenty of hammocks and beach loungers to relax. For an up-charge, there will be private poolside and beach-side cabanas to rent. Like many cruise ship private islands, the Beach Club will offer a variety of complimentary food options. There will be active areas for watersports and an exclusive area for those staying in RockStar Suites as well.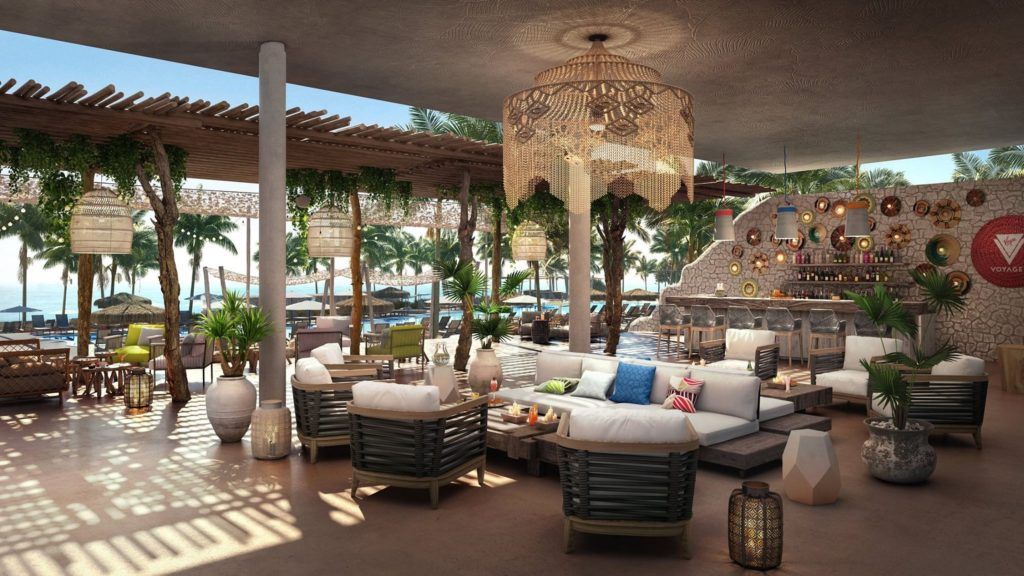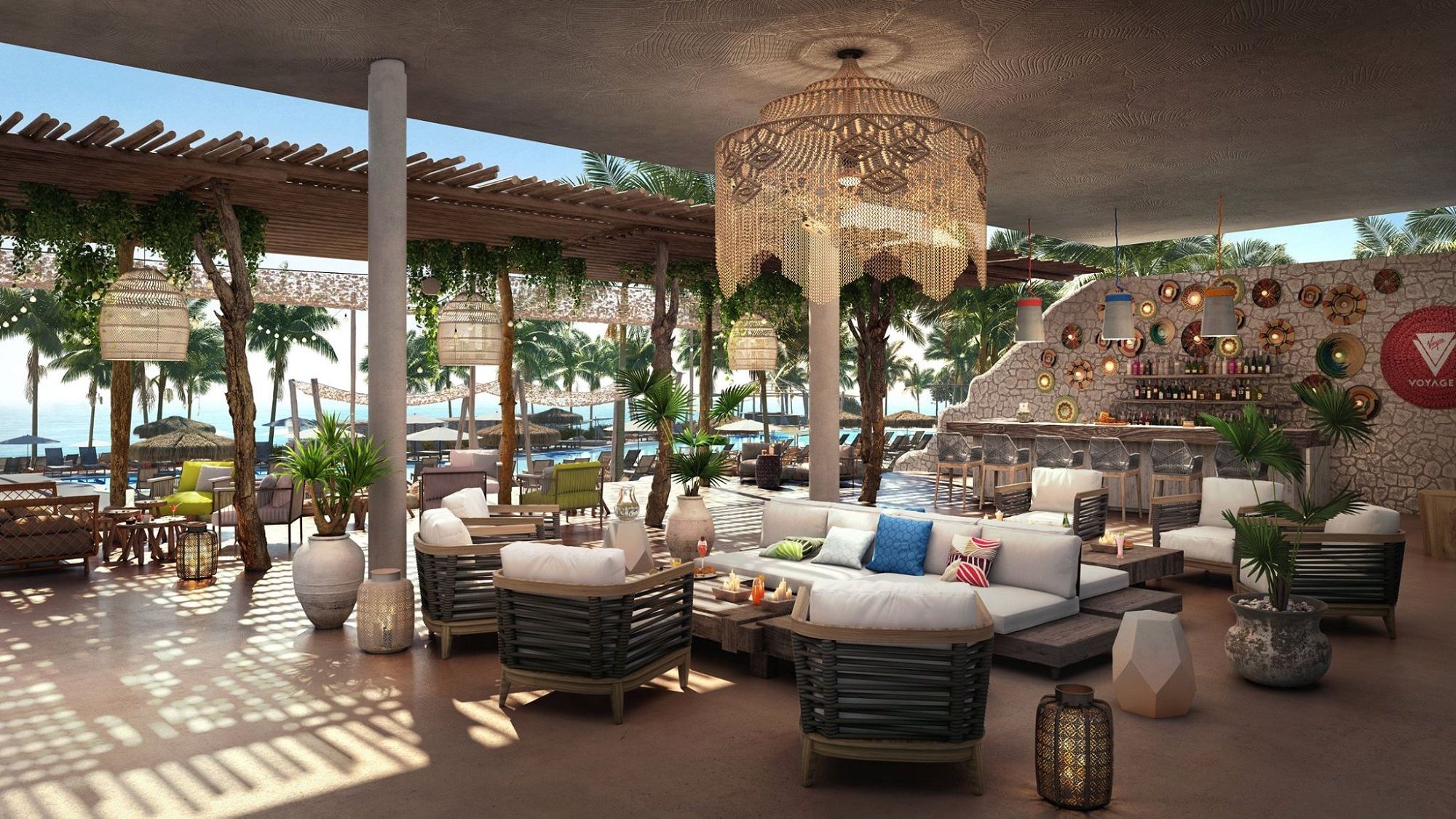 The club's vibe will transform throughout the day. With a more relaxing and rejuvenating daytime experience, to a higher energy DJ-led pool party during the day, and a beach bonfire to end the evening.
Scarlet Lady's Innovative Accommodations
Scarlet Lady's cabins will definitely get you closer to the sea. Ninety-three percent of all cabins on the ship have an ocean view. While, 86% of the cabins will have a balcony, complete with hammocks of course.
We were fortunate enough to get a sneak-peek of the brand new cabins on Virgin Voyages last year. We were certainly impressed with the unique design, including the technological enhancements and the trendy look. Even the typically small cruise ship bathroom has received an upgrade with a rainfall shower.
One of the more unique elements of the Sea Terrace (i.e., balcony) cabin is the transformational Seabed. This piece of furniture serves as a sofa for lounging during the day and a bed for rest and relaxation at night. So, we are interested to see just how functional and comfortable it is over the duration of a cruise.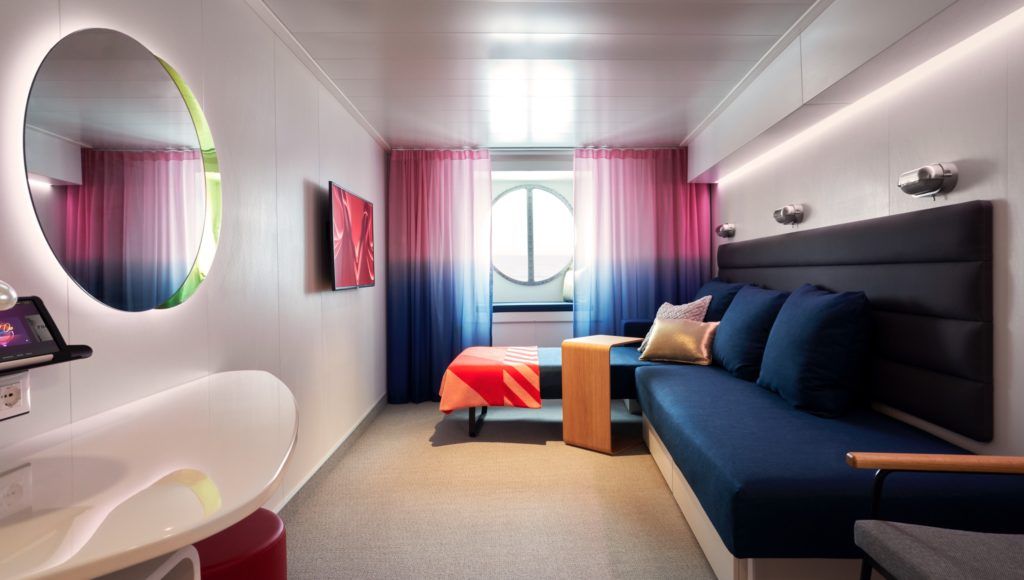 We loved all of the cabin's technology and can't wait to cruise in a cabin designed for the 21st century. All rooms include amenities such as mood-matching lights, energy conserving features, several USB outlets, and a safe that will fit your laptop.
For those looking to upgrade to a suite, all come with marble bathrooms with premium amenities and a peek-a-boo shower, a European king bed, and a fully stocked minibar.
Comments
Are you excited to cruise on Virgin Voyages' Scarlet Lady? Do you think this ship will be a game-changer in the cruise industry? Drop us an anchor below to share your impressions of this brand new cruise line.
Disclaimer: This post is written in partnership with Virgin Voyages, but as always, all opinions are our own.