Scroll Down to Watch our Exclusive Sneak Peek of the Cabins on Virgin Voyages Scarlet Lady!
This past week, we were thrilled to be special guests of Virgin Voyages to get a sneak peek at the company's innovative cabin designs that are set to debut on Scarlet Lady in April 2020. In this behind the scenes tour, we were able to tour an XL Sea Terrace Cabin and a Brilliant Suite. Now, we are back to give you an Exclusive First Look at Virgin Voyages Cabins.


GET FREE ONBOARD CREDIT NOW!
When you book a Virgin Voyages Cruise before March 31st and use Access Key: EatSleepCruiseLoot score up to $400 of Onboard credit!
Exclusive First Look at Virgin Voyages Cabins
The Basics on Virgin Voyages Cabins
Virgin Voyages is breaking the mold when it comes to traditional cruise ship staterooms with designs that optimize space and ocean views. Scarlet Lady will have 1,330 cabins, 93% of which will feature an ocean view and 86% which will feature a balcony. Many of these rooms will offer a transformational Seabed, which can serve as a sofa for lounging during the day and a bed for rest and relaxation at night. Of course, your stateroom attendant will make all these changes for you throughout the day.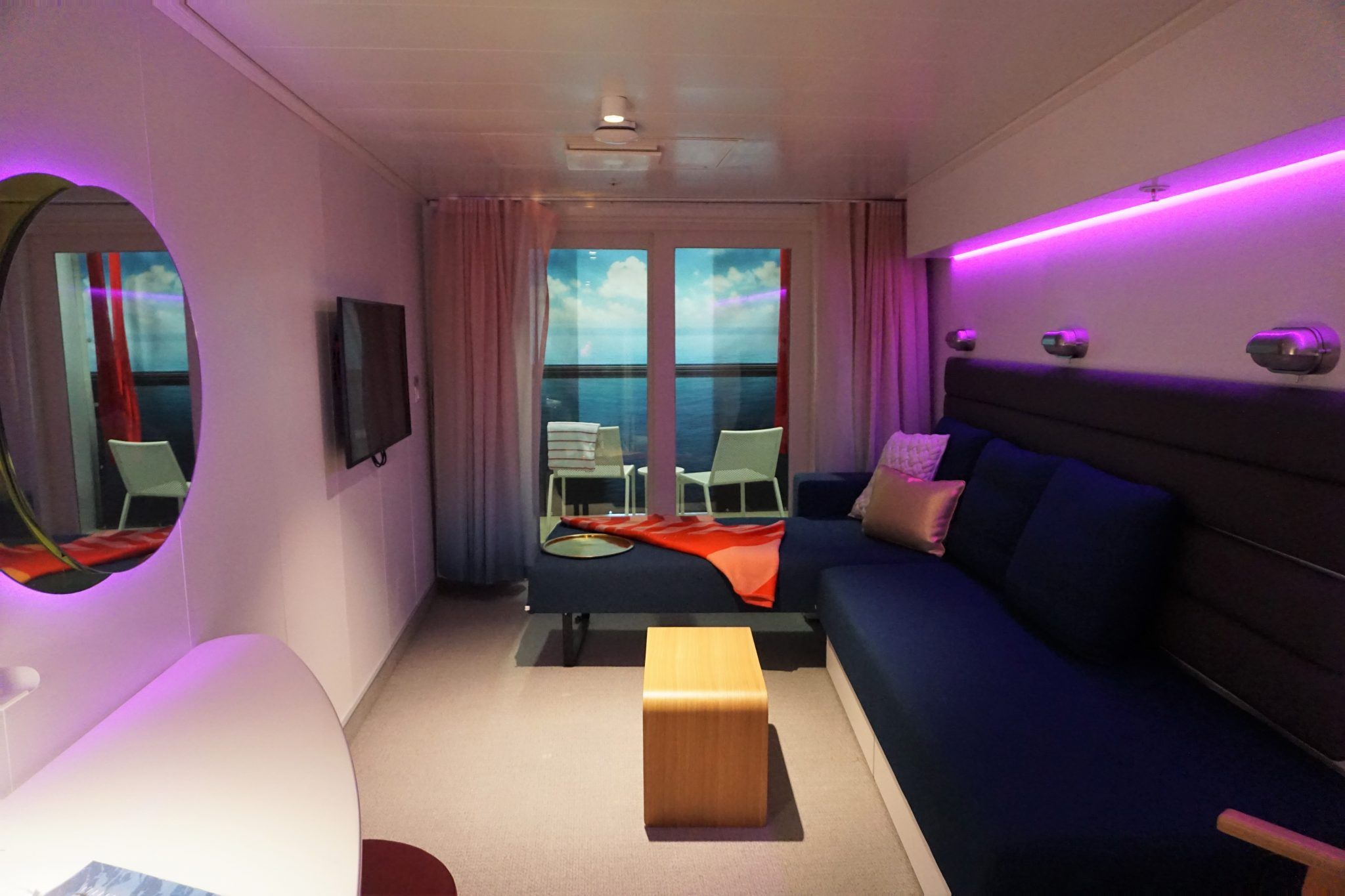 The rooms will also include plenty of in-cabin technology like mood-matching lights, energy conserving features, several USB outlets, and a safe that will fit your laptop. There will be a variety of cabin categories available to suit all types of sailors.
Further, cruise fare prices include basic WiFi, dining at all restaurants with no up-charges, gratuities, and some basic beverages. Those who book April and May 2020 sailings will also receive a complimentary, limited addition bottle of champagne.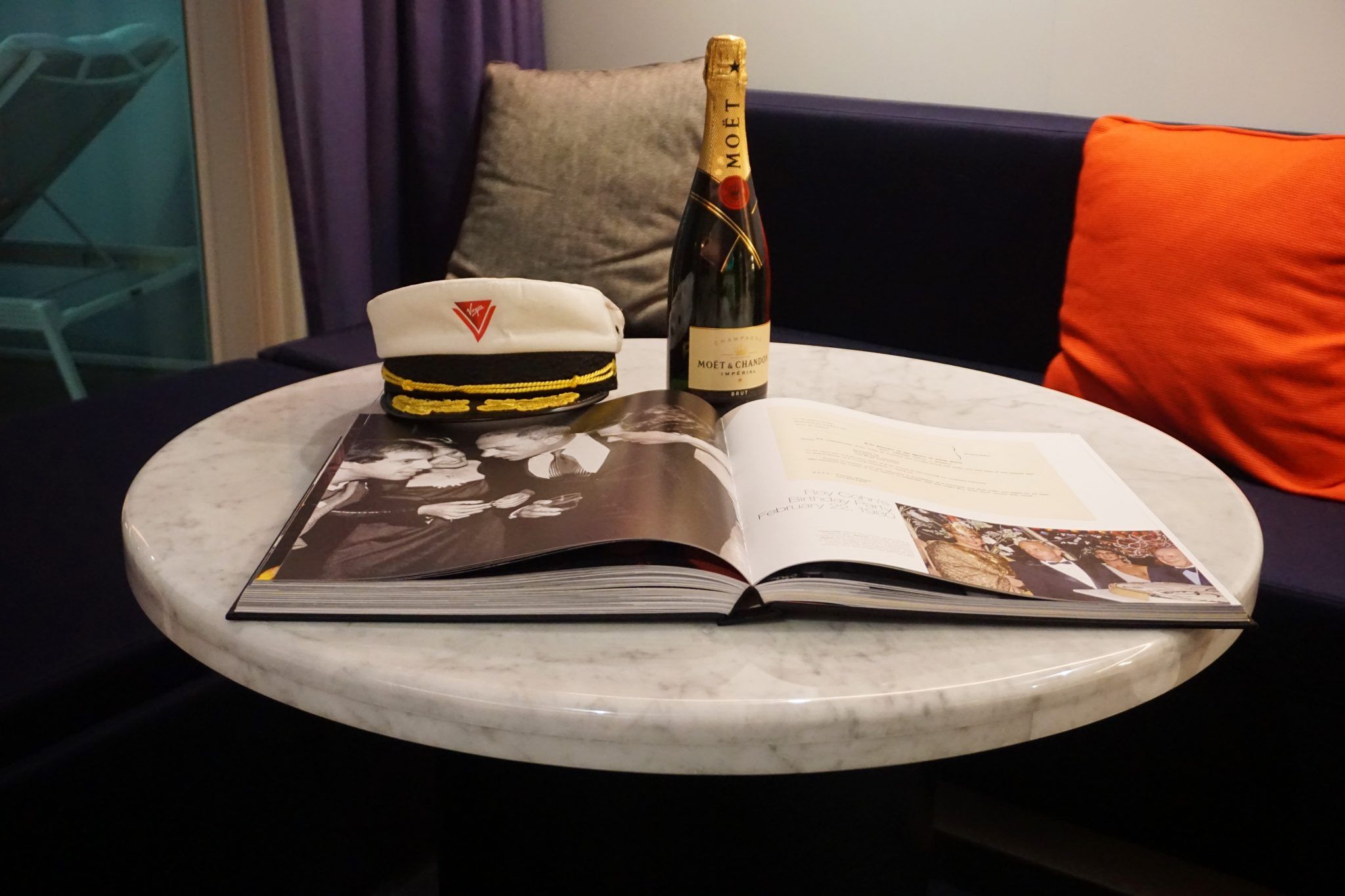 Insider Cabin
The Insider Cabin is 177 square feet and ideal for a budget-conscious couple. These cabins are equipped with all the standard features including a rainshower, a vanity area, a large HDTV, and mood lighting. If you are sailing with a group of friends, the Social Insider can sleep up to four guests.This room provides a sofa that doubles as two twin beds and two pull down beds. In contrast, the Solo Insider cabin is designed specifically for solo guests and provides 105 square feet of space.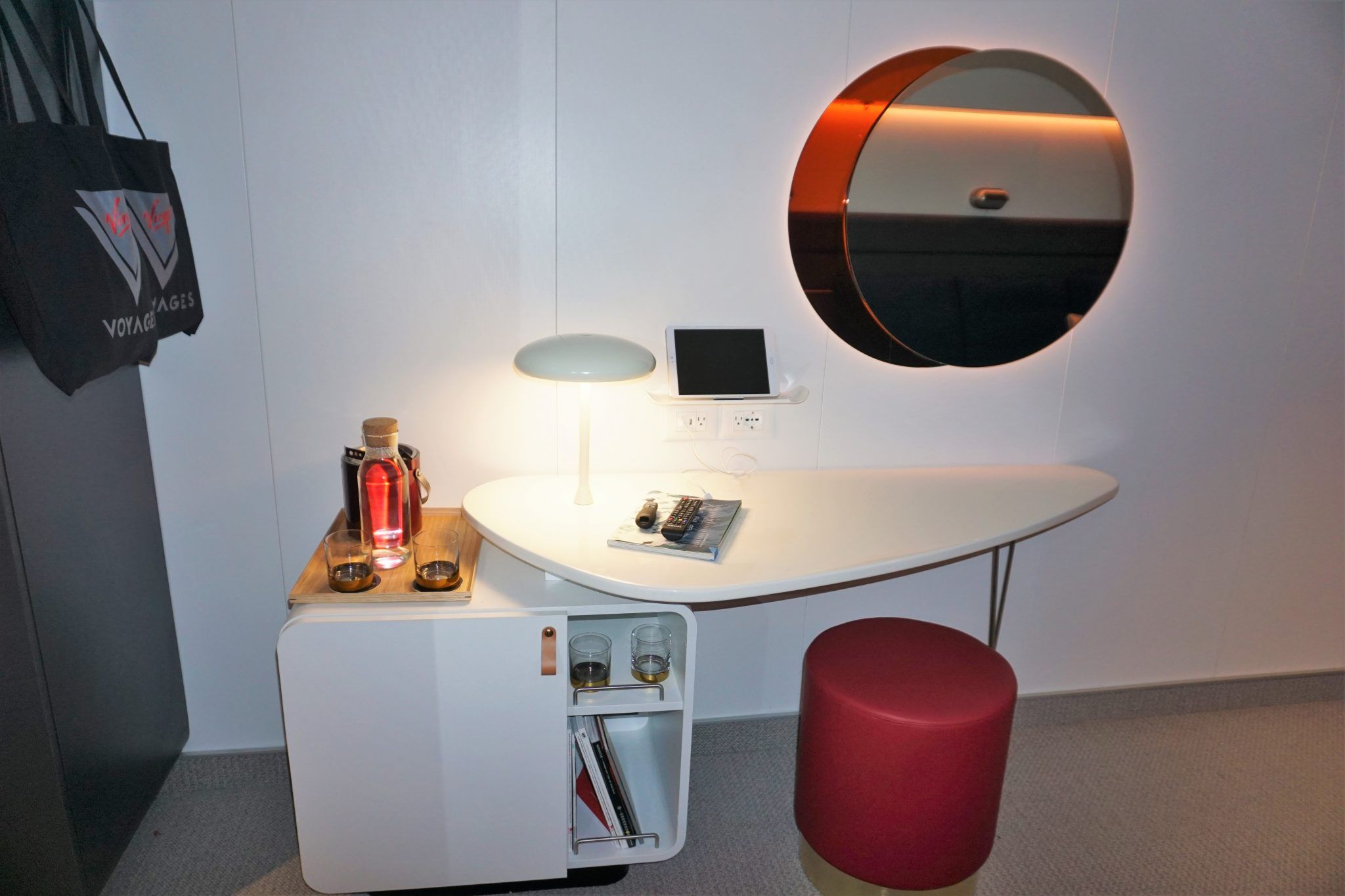 Sea View Cabin
The Sea View cabin category on Virgin Voyages provides all the same amenities as the Insider cabins with a bit more space to spread out, as well as a porthole view to the ocean. The Solo Sea View sleeps one guest and has 130 square feet of space. While the standard Sea View cabin sleeps up to 3 guests with 190 square feet of space.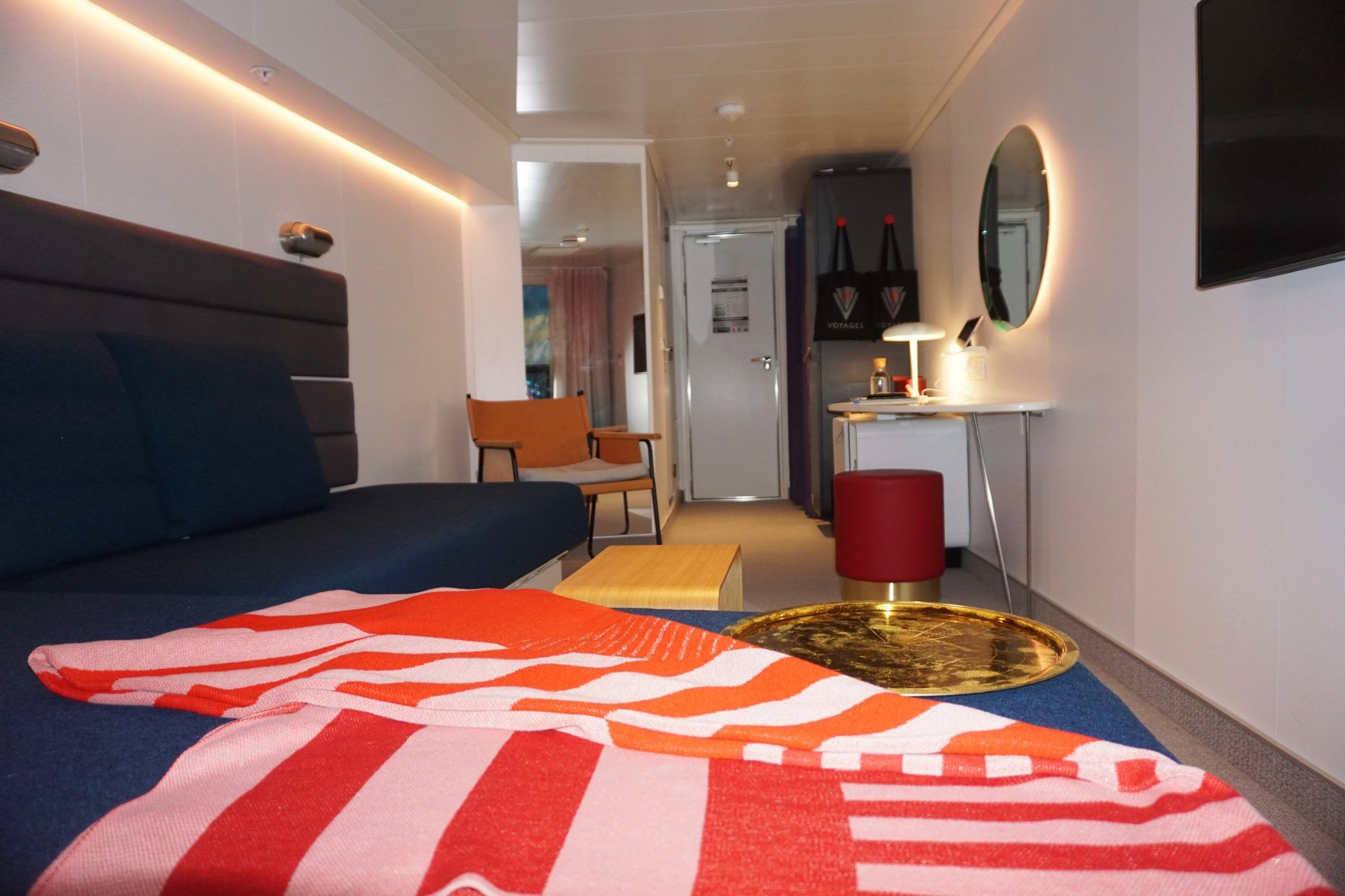 Sea Terrace Cabin
If you are looking for a balcony then the Sea Terrace Cabin will be the most affordable accommodation that provides some outdoor space. There are four different types of Sea Terrace Cabins available to book on the new Scarlet Lady. These staterooms can sleep 2-4 guests and range from 225 to 265 square feet of living space.
Aptly named, the Limited View Sea Terrace provides an obstructed view from the balcony. The standard Sea Terrace cabins are balcony rooms located forward or aft on the ship, while the Central Sea Terrace cabins are located mid-ship. The XL Sea Terrace rooms (decks 8-14) provide all the same comforts with a larger living area and a roomier rainshower and bathroom. All Sea Terrace cabins have a small table and 2 chairs on the balcony as well as a terrace hammock for ultimate lounging.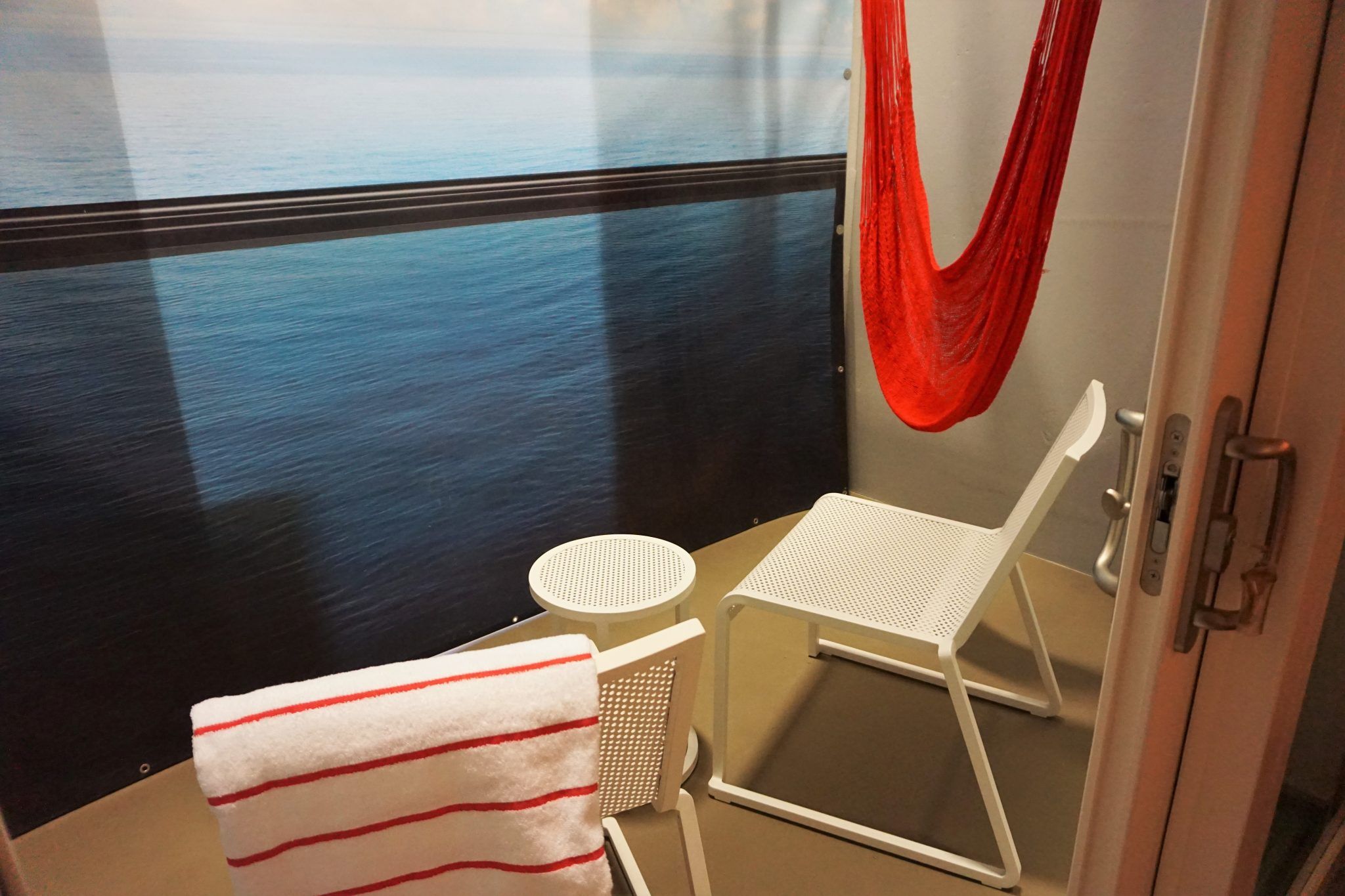 RockStar Suites
Scarlet Lady will feature 78 RockStar suites. These suites can sleep 2-4 guests and range in size from 352 to 2147 square feet. All suites come with upgraded marble bathrooms with premium amenities and a peek-a-boo shower, a European king bed, and a fully stocked in room bar. Additionally, sailors can enjoy access to Richard's Rooftop (a private members only club), VIP embarkation with private transportation, premium WiFi for streaming, an exclusive area on the Beach Club at Bimini, as well as other exclusive access around the ship.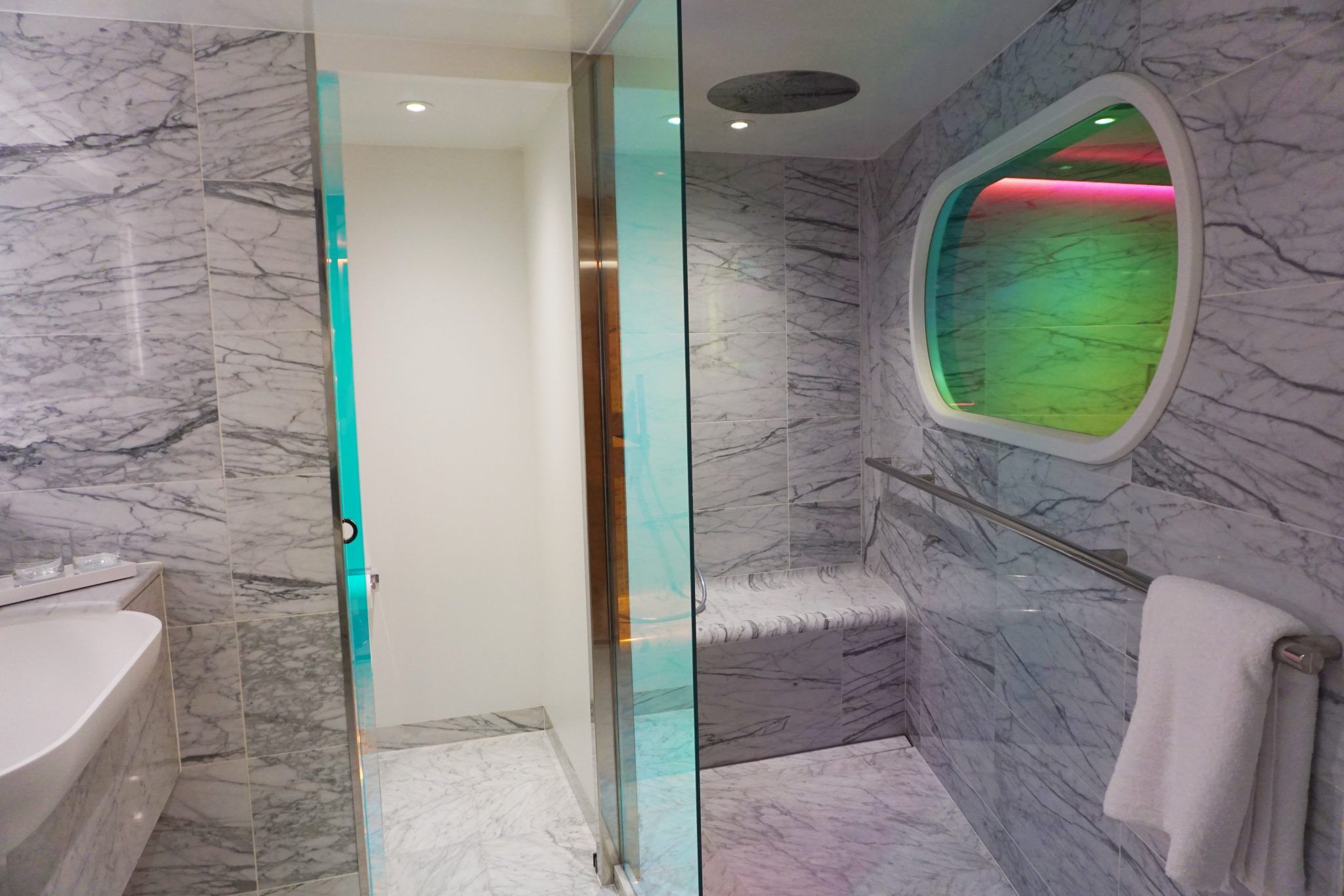 There are several different RockStar Suite categories debuting on Scarlet Lady including the Brilliant Suite, the Cheeky Corner Suite, the Seriously Suite, and the Sweet Aft Suite. Each category offers differing room and terrace layouts and sizes. The Brilliant Suites can be found on Deck 14. These suites offer sun loungers in addition to the terrace hammock, a champagne table, and even a shower on the outside balcony.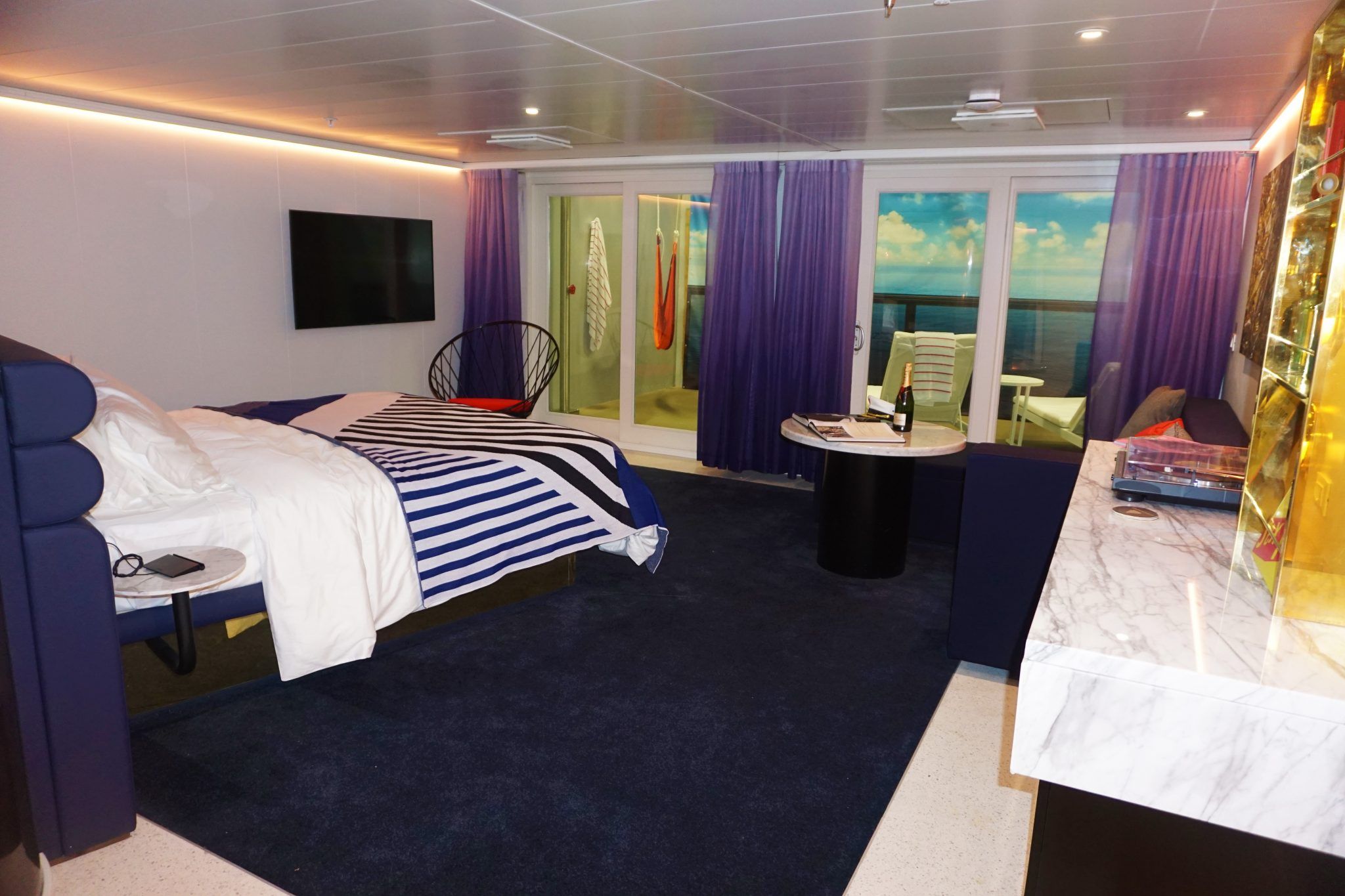 In addition to the above mentioned perks, Mega RockStar Suites also include daily thermal suite access, a hair and makeup squad, complimentary drinks, and other special requests. These suites include the Massive Suite, the Fab Suite, the Posh Suite, and the Gorgeous Suite.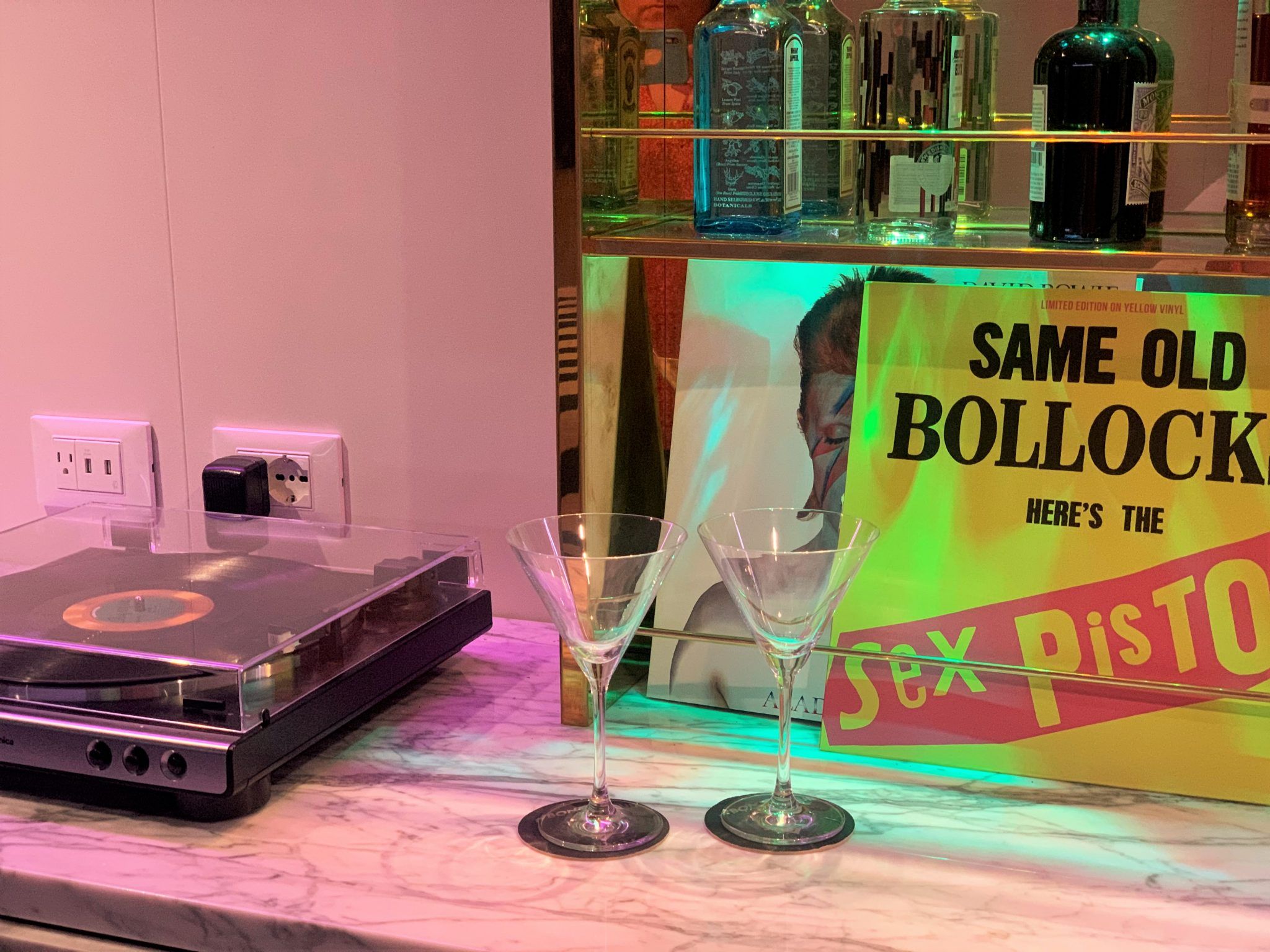 You still have a chance to score up to $400 Onboard credit if you book a Virgin Voyages Cruise before March 31st and use Access Key: EatSleepCruiseLoot
The Massive Suite is the largest suite with a total size of 2147 square feet. There are two of these suites available on Scarlet Lady for those sailors who are looking for the ultimate rockstar cruise experience. Featuring its very own music room with guitars (acts as a second bedroom), views of the ocean from every corner, and a massive terrace with a hot tub, hammocks, and outdoor dining table, we wouldn't blame you if you never left the cabin.


Comments
Do you have a cruise booked on Scarlet Lady? Which room category would you choose? Drop us an anchor below to share your impressions of the Virgin Voyages Cabins.