Scroll Down to Check Out Our BRAND NEW Video of Everything You Need to Know About Virgin Voyages' Scarlet Lady!
Virgin Voyages is set to debut its first ship, Scarlet Lady, in early 2020! While select early deposit holders were eligible for a pre-sale last week, bookings for the general public have officially opened today. If you are considering a cruise on this forward-thinking ship, here are the Top Things to Know about Virgin Voyages' Scarlet Lady.
Top Things to Know about Virgin Voyages' Scarlet Lady
Adults Only
The Scarlet Lady, Virgin Voyages' first ship, is breaking the cruise mold and restricting the age of its "sailors" to 18+. While some cruise line's are more family-friendly than others, Virgin Voyages is launching as adults-only. With a design aimed to appeal to the 18+ crowd, Virgin Voyages is hoping that this kids-free atmosphere will draw a more sophisticated crowd.  They are esepcailly looking to appeal to those who might not ordinarily consider a cruise for their next vacation.
GET FREE ONBOARD CREDIT NOW!
When you book a Virgin Voyages Cruise before March 31st and use Access Key: EatSleepCruiseLoot score up to $400 of Onboard credit!
Departing from Miami, Florida
Scarlet Lady will depart from Miami, Florida with all sailings leaving at 7 pm.
Virgin Voyages' new terminal which is in the works will face downtown Miami. With a design inspired by Miami Beach's palm trees, the rooftop will resemble a palm tree grove allowing natural light into the building. By night, up-lighting will shine upon the iconic Virgin Voyages red logo. There will be designated areas for VIP drop-off and ride sharing services. This state of the art terminal, set to be finished in 2021, will be aimed at providing a seamless shore to ship experience. In the meantime, Scarlet Lady will sail from Terminal F in Miami.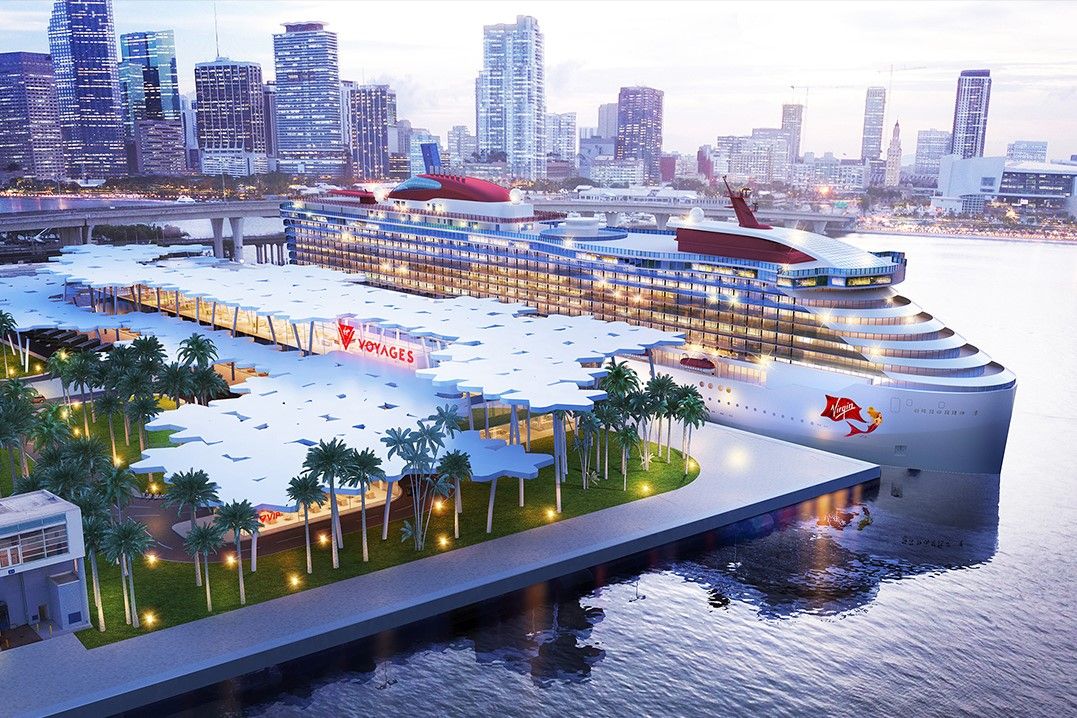 Distinct Itineraries
Thus far, Virgin Voyages has announced 3 distinct itineraries that will allow sailors more time to visit and explore the ports of call. The "Havana After Dark" itinerary will include 4 and 5-night sailings that will feature an overnight in Havana, Cuba. There will also be a "Mayan Sol" itinerary that will feature a stop in Costa Maya, Mexico. Finally, there is the "Dominican Daze" itinerary that will feature a stop in Puerto Plata, Dominican Republic. Each itinerary will also visit the second port of call, Bimini, Bahamas. This destination includes access to The Beach Club at Bimini, a private beach exclusive for those sailing on the ship. The first sailing will depart on April 1, 2020. Which of these culturally-immersive sailings will you choose?
The Beach Club
Just a short ride away from the pier, The Beach Club at Bimini will "rival the best beach clubs in Ibiza and Saint-Tropez". The private paradise will overlook the ocean and offer an expansive lagoon-style pool. The club's vibe will transform throughout the day with yoga and meditation spots in the morning to a high energy DJ-led pool party during the day and a beach bonfire to end the evening. Grammy Award-winning Marc Ronson will be among the first DJs to perform. The Club will also offer plenty of hammocks and beach loungers to relax as well as more private poolside and beach-side cabanas for rent, complimentary food options, active areas for watersports, and an exclusive area for those staying in RockStar Suites. Guests will also have the option to leave the resort area to explore the rest of the island.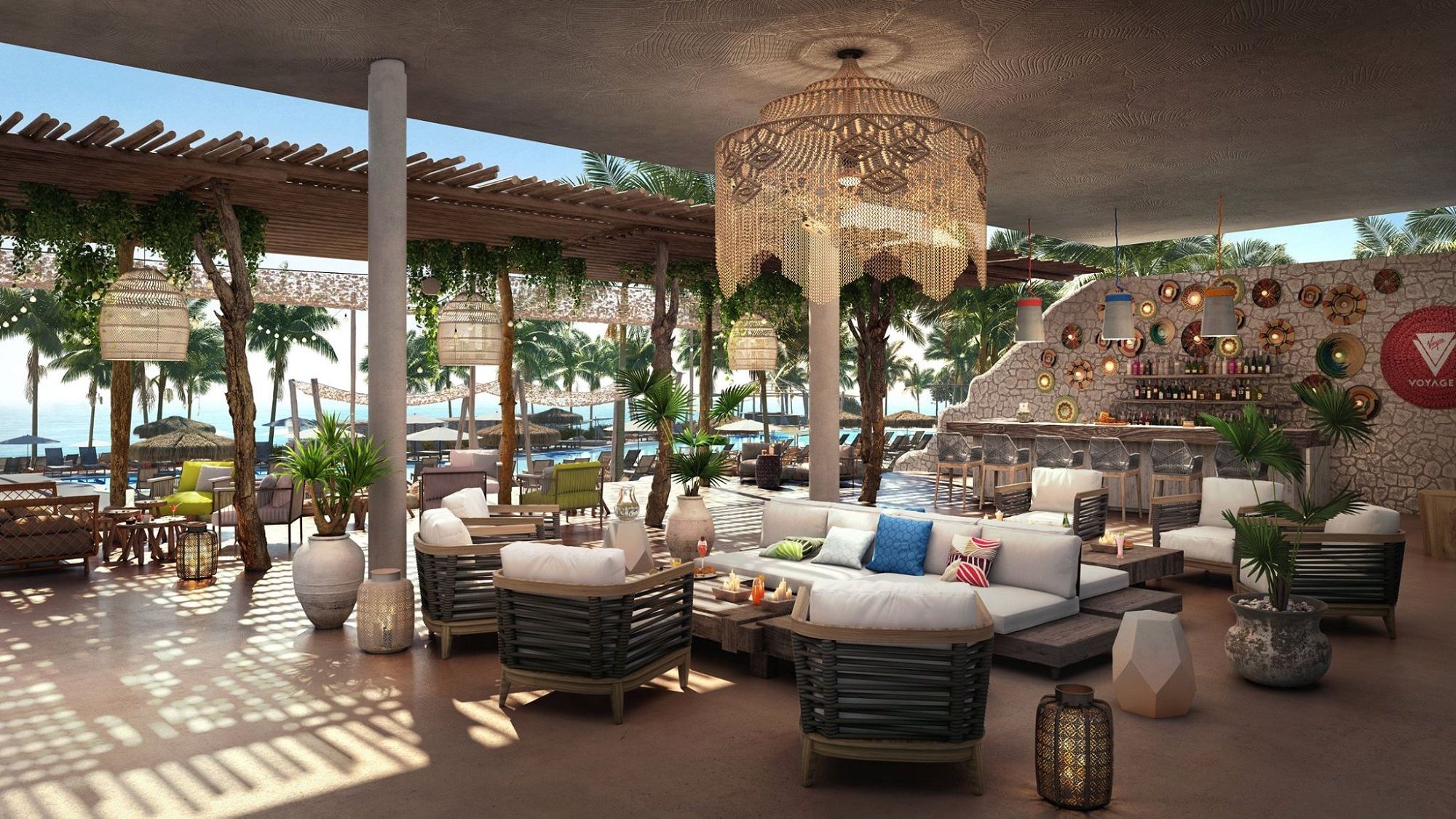 A Dining Revolution
Imagine a cruise with no main dining room, no buffet, and no set dinner times. Well, look no further than Virgin Voyages. Scarlet Lady is set to revolutionize the whole dining experience on a cruise ship. There will be 20+ dining options on the ship that will all be included in your cruise fare. From casual options to upscale dining experiences, there will be no up-charges to dine at any of the restaurants. You will also have the ultimate flexibility in where you want to dine, with whom you want to dine, and at what time you want to dine.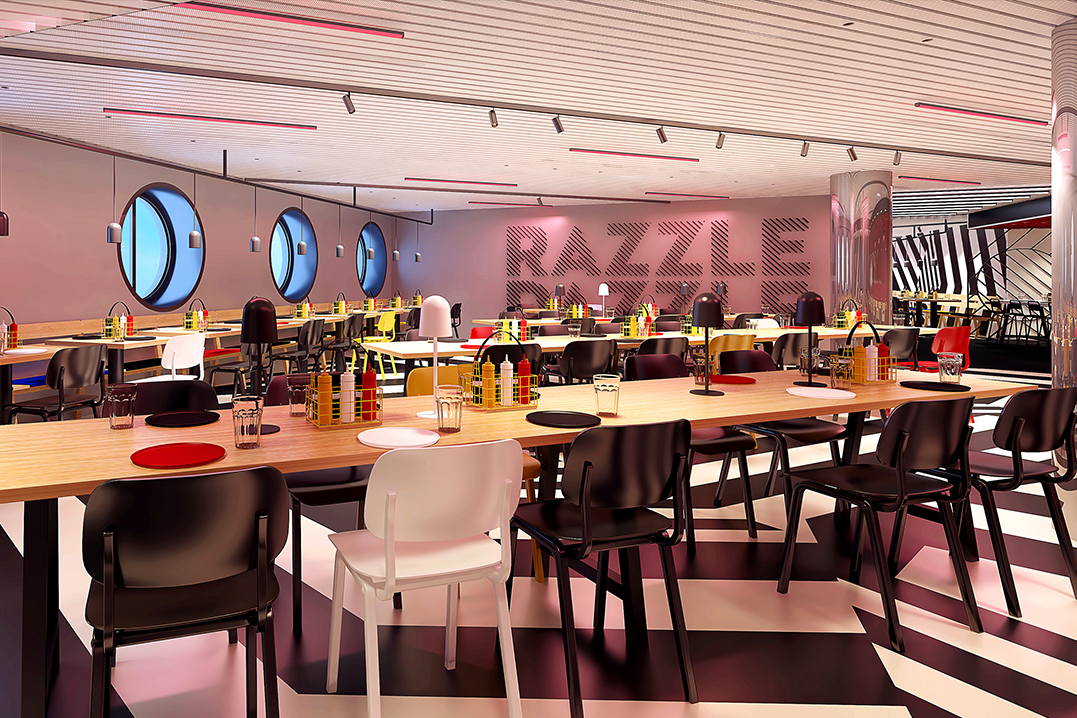 New Restaurants
Virgin Voyages has announced several of these complimentary eateries that will debut on Scarlet Lady. Perhaps the most talk about venue is Razzle Dazzle. This upbeat dining spot get its name from the practice of camouflaging ships during WWI and WWII. The restaurant offers a "naughty" and "nice" take on dining as well as an infamous Drag Brunch. Wake will be the largest and most glamorous restaurant and your go-to spot for steak and seafood options in the evening. Test Kitchen, set in a laboratory-like environment, will be part cooking school and part restaurant.
Gunbae will be a Korean BBQ that is sure to be a lively atmosphere. Complete with a complimentary round of soju, you will be encouraged to participate in Korean drinking games throughout the night. Extra Virgin will be an Italian trattoria serving handmade pastas, while Pink Agave will be an upscale Mexican restaurant.
There will also be casual options which include the Dock, a beach club inspired al fresco eatery offering small plates.  The Galley will be a quick service spot with stations and food carts serving up burgers, paninis, tacos, pastries, and more.
No Nickel and Diming
Virgin Voyages has made the claim that there will be no nickel and diming on Scarlet Lady. All cruise fares will include basic beverages like soda, bottled water, coffee, and tea. Cruise fares will also include all gratuities, even on services such as spa treatments. Of course, you are always welcomed to provide additional gratuities for exceptional service.
Virgin Voyages will also not charge additional fees for other cruise add-ons like fitness classes as many other rival brands do. WiFi will also be complimentary on the ship. Now, you can share all the highlights of your voyage on social media at no additional charge!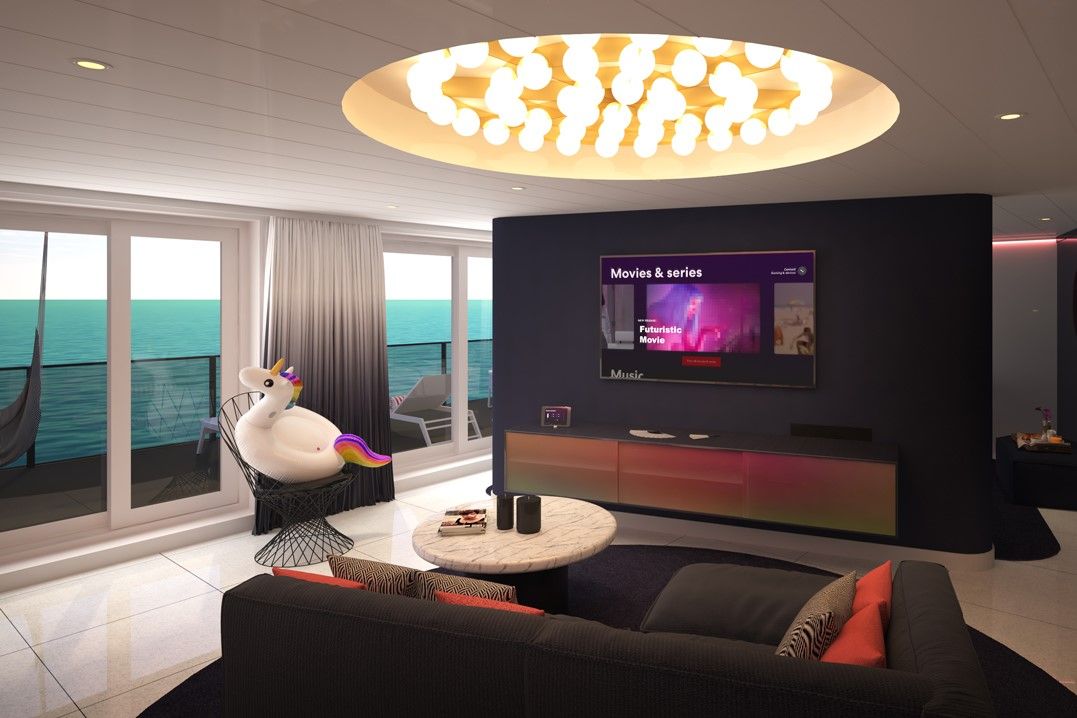 Rock Star Suites
When she debuts, Scarlet Lady just might have some of the most lavish suites at sea. With 78 Rock Star suites in total, there will be 8 different suite categories. All suites include fully-stocked bars, peek-a-boo showers, and access to exclusive areas on the ship.
Sweet Aft Suites will feature large balconies and great aft views from everywhere in the room. Similiarly, the Cheeky Corner Suites will boast an open concept that also overlooks the wake of the ship. There will be even larger suites, like the Gorgeous Suites, Posh Suites, and Fab Suites, offering distinct living and sleeping quarters as well as an outdoor shower.
If you want to really party like a rock star, and can afford it, you will want to book one of the two Massive Suites onboard the ship. These suites feature a music room with guitars and a vinyl turntable (doubles as a second bedroom), a hot tub, and outdoor dining.
Revolutionary Stateroom
If you can't afford that lavish lifestyle, there are other stateroom options as well.  All rooms, including the Sea Terrace, Sea View, Insider, and Solo, will feature flexible furnishings. These rooms feature sleek and stylish decor, a 4K HDTV flatscreen television, and rain shower heads in the bathroom. There will also be technological and energy-saving settings that will sense your presence in the room. When you return, the room will adjust A/C, lighting based on the time of day, and open the blinds to welcome you back home.
Many staterooms with also offer the new "seabeds", which are transformational pieces that covert from lounger by day to bed at night, allowing for more entertaining areas. Virgin Voyages has also announced that 93% of all cabins will have an ocean view and 86% will have a balcony, complete with hammocks of course.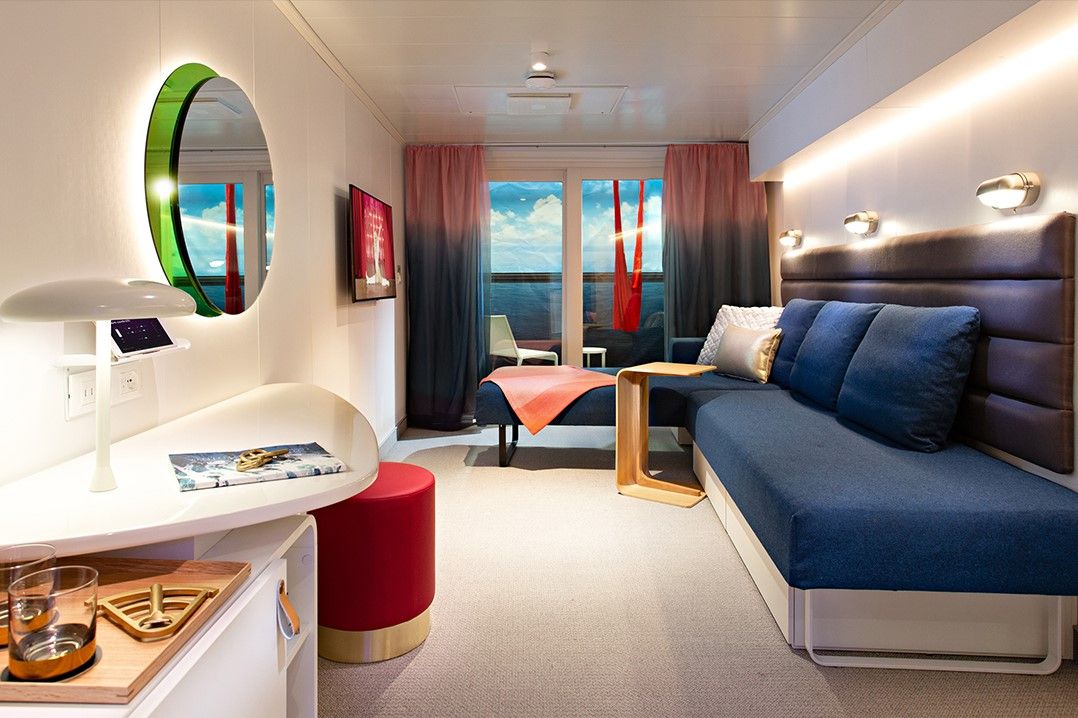 First Ever Tattoo Studio at Sea
Virgin Voyages' Scarlet Lady will be home to the first ever tattoo studio at sea. The cruise line has teamed up with World Famous Tattoo Ink, Soho Ink, and Freshly Inked Magazine to create "life-long memories" for their sailors. Squid Ink will have two resident tattoo artists, and among them will be some of the best world-renowned guest artists. All tattoos in the parlor will be created with original vegan ink. The shop will also offer body piercings and permanent makeup treatments. This studio will allow guests and employees alike to express themselves.
You still have a chance to earn up to $400 of onboard credit when you use Access Key: EatSleepCruiseLoot and book a Virgin Voyages Cruise before March 31st!
"Events & Gigs"
In keeping with its theme of throwing all the cruise rules out the window, Virgin Voyages' Scarlet Lady will take entertainment to the next level offering alternative "happenings" around the ship. The Red Room will be the transformational theater with four different configurations to allow for completely different experiences throughout the cruise. Scarlet Lady will feature six original shows by award-winning producers including Phantom Folktales, Ships in the Night, Duel Reality (a modern twist on Romeo and Juliet), and Never Sleep Alone with relationship therapist Dr. Alex Shiller. These shows promise to be engaging, participatory, and unlike anything you have experienced on a cruise before!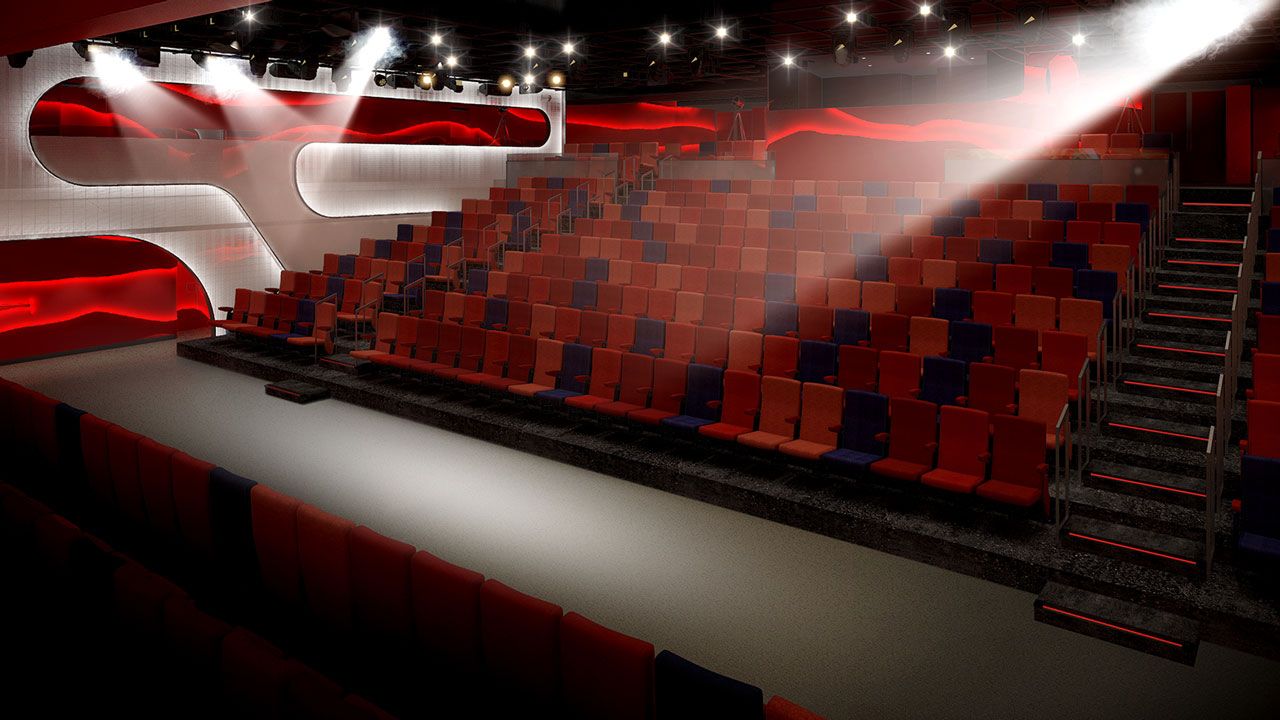 A New Take on Cruising
Virgin Voyages is set to offer a unique, boutique take on cruising that is "rooted in the modern romance of sailing". Along with a more all-inclusive feel and an array of dining experiences, the cruise line will have many firsts at sea. These include the Athletic Club, an adult playground complete with a boxing ring, gymnastics equipment, outdoor yoga classes, and a halo-like jogging track on the top of the ship. In addition to tossing the traditional dining concept out the window, Virgin Voyages will have no formalities, so you can cruise however you choose!
Virgin Voyages not only values passenger well-being but also aims to provide sustainable experiences. While many cruise lines are also moving in this direction, Scarlet lady will have no single use plastics, including straws, bottled water, coffee cups, and more.
Comments
Are you ready to set sail on Virgin Voyage's Scarlet Lady? What do you think about this new brand set to change the definition of cruising? Drop us an anchor below to share what you are most looking forward to on this innovative new vessel set to debut in 2020.