SCROLL DOWN TO WATCH OUR NAVIGATOR OF THE SEAS CRUISE TIPS VIDEO!
Royal Caribbean's Navigator of the Seas has recently undergone a $115 million renovation. This newly amplified cruise ship now offers a variety of new dining, entertainment, and onboard activities. It also regularly cruises to Royal Caribbean's updated private island Perfect Day at CocoCay. If you have a 3 or 4 day Bahamas cruise on this impressive vessel, we have put together these 20 Navigator of the Seas Cruise Tips.


20 Navigator of the Seas Cruise Tips
Book a Guaranteed Cabin
Odds are, if you are looking to take a short 3 or 4 day cruise, you will want to do so while spending the least amount of money. That is where booking a "guaranteed" cabin category might be your best option. You can score a low fare, yet still be eligible for perks. For both our trips on this ship, we booked a guaranteed balcony and received free gratuities and onboard credit from our travel agent. Yet, we were still placed in acceptable staterooms on Deck 9 and Deck 6, respectively.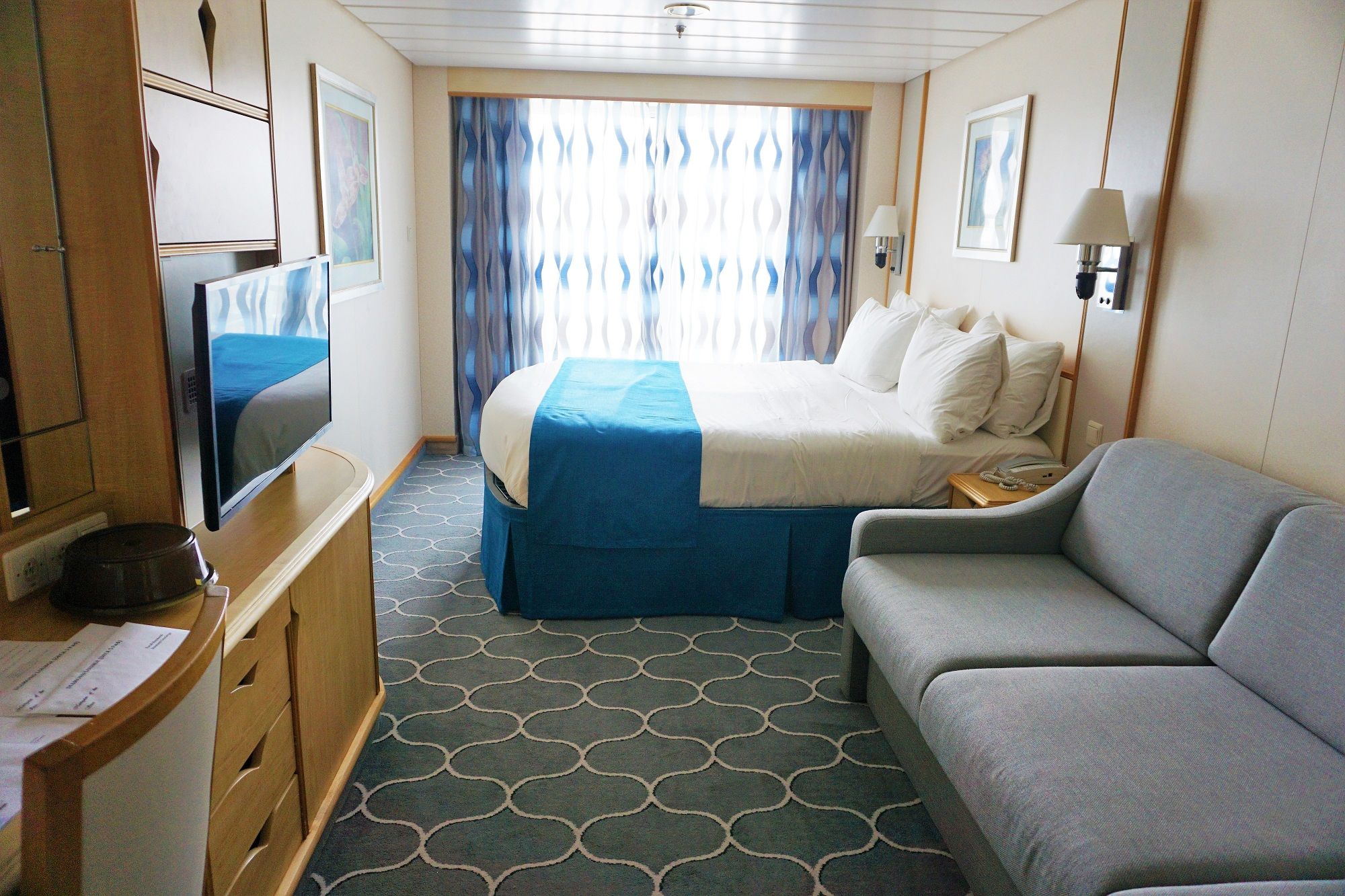 Download the Royal Caribbean App Before Sailing
Even if you do not purchase WiFi on the cruise, the Royal Caribbean app is a must for your voyage. You can check-in on the app, with your set sail pass saved to your smartphone. This makes going from curb to ship a breeze. Once onboard, the app provides information on scheduled events, activities, dining times, and more. There is no more need to carry around a printed copy of the cruise compass.
Arrive to the Terminal Before Your "Boarding Time"
When you check-in on the pre-cruise planner, Royal Caribbean will provide you with a time to arrive at the port. Just ignore that suggestion and arrive at the port earlier. We usually get to the terminal between 10 and 10:30 am, and we have had no issues being allowed to check-in. Normally, the cruise line begins letting passengers onboard by 11 am, starting with highest tier cruisers and Suites.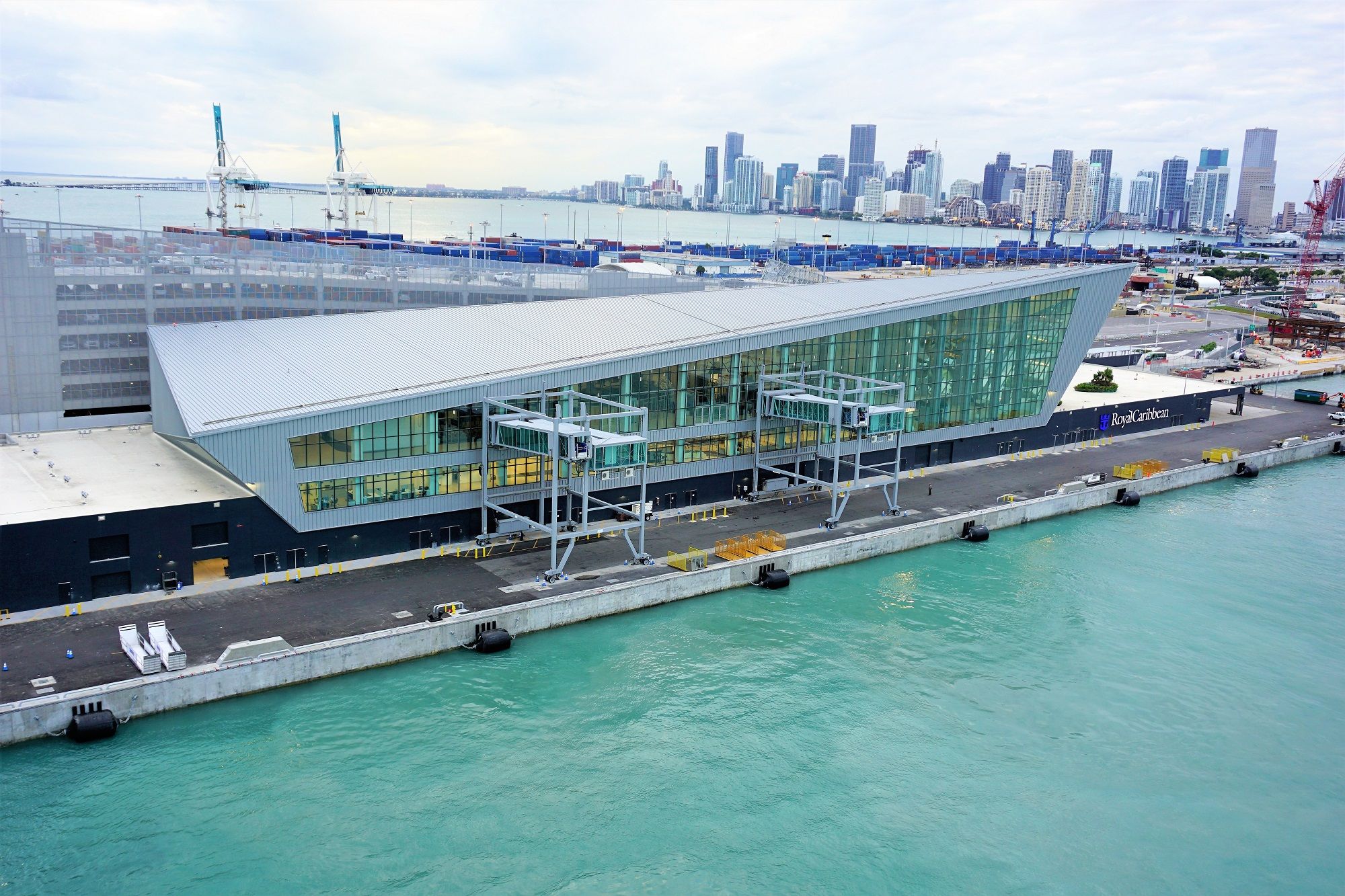 Pre-Purchase the Deluxe Beverage Package
In your pre-cruise planner, you will regularly see deals on many upgrades and packages. Usually, you can score discounts on shore excursions, internet, and dining. It is up to you whether you want to purchase any of those up-charges. If you believe you will consume at least 6 alcoholic beverages a day, then one of our Navigator of the Seas cruise tips is to pre-book the Deluxe Beverage Package. You can usually purchase the package for around $48-52 per person, per day which the cruise line claims is around 25-30% off. Once onboard the ship, the price for the package will cost you more money.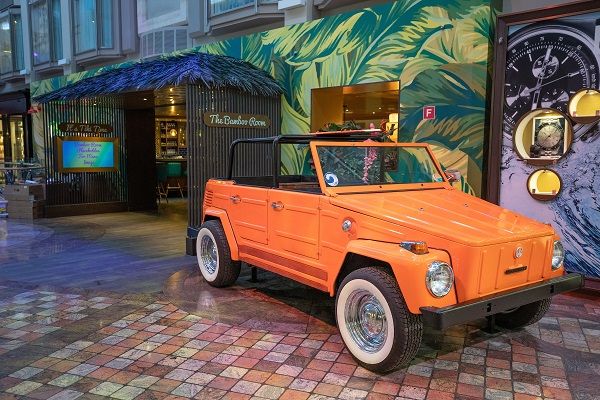 Related Post: Why You Should Purchase a Cruise Ship Beverage Package
Ride the Perfect Storm on Day 1 or Nassau, Bahamas Day
Among some of the new features on Navigator of the Seas are two waterslides. In our experience, the lines are the shortest for these rides on Day 1 or Nassau, Bahamas day. We rode them multiple times when they opened at 10:30 am on that port day. Or, these attractions are open at 11:30 am on Day 1. The lines tend to be shorter earlier in the day. This is even true on sea days if that is the only time you can ride the slides.
Related Post: 7 Reasons to Stay on the Ship at a Port of Call
Pack Appropriately to Weekend Like You Mean It
Along with packing a bathing suit, sunscreen, medication, and necessary documentation in your carry-on, you should also pack some other essentials for the trip. We never cruise without our over-the-door shoe organizer to store small items in our cabin. Magnetic hooks also come in handy for hanging additional items like bags, hats, or drying clothes. Also, be sure to pack closed-toe shoes if you want to test out the laser tag course.
Skip the Windjammer for Lunch
While the Windjammer design has been improved on Navigator of the Seas, it can still be chaotic on embarkation day. We suggest skipping it to try other casual options instead. Additional venues that are open on embarkation day include El Loco Fresh, with a selection of tacos, burritos, quesadillas, and a custom salsa bar. Also, the Cafe Promenade is open with freshly made pizzas and pre-made sandwiches such as the King Arthur. Up-charge casual venues like Johnny Rockets and Playmakers are also open for lunch on embarkation day.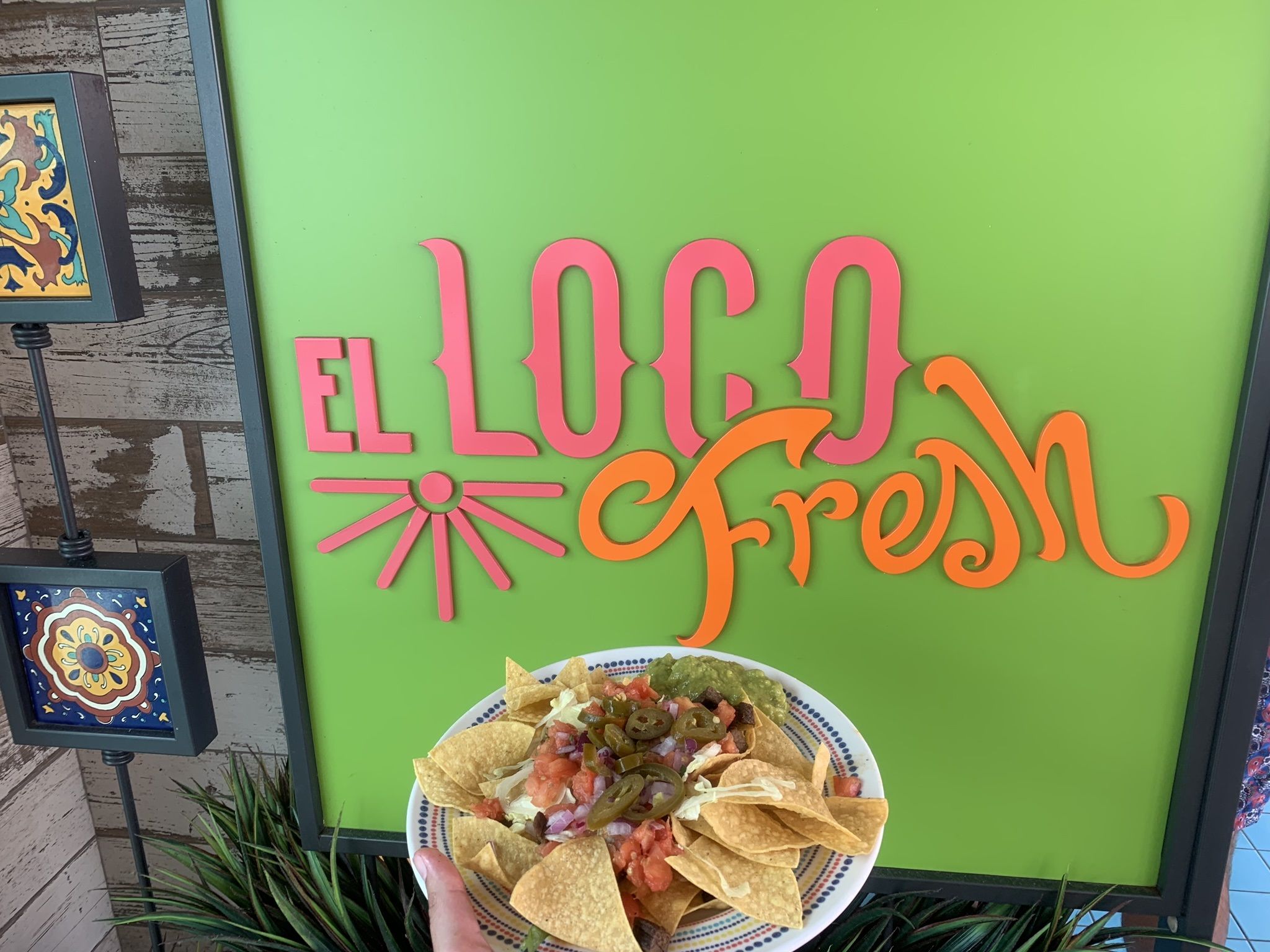 Play the Free Games at Playmakers Sports Bar and Arcade
A new addition to Navigator of the Seas is Playmakers Sports Bar and Arcade. This pub offers drinks that are included in the Deluxe Beverage Package, as well as specialty dining items priced a la carte. At Playmakers, the arcade games will cost you additional money; however, a nice touch is the inclusion of some free bar games, like pool, foosball, and several large Jenga games. So, find some friends, grab a few drinks, and challenge them to a friendly competition.
Test out Specialty Cocktails
Most of the cocktails and drinks on the ship are covered in the drink package. So, make good use of it during your quick escape by trying some of the signature drinks and specialty cocktails found exclusively at some locations. The outdoor Lime and Coconut Bar offers some new favorites, including the signature Lime and Coconut mixed drink, while the Schooner Bar is your place for martinis. Other bars with specialty menus include the Latin-inspired Boleros, as well as the new Bamboo Room. Some of the Polynesian drinks at the Bamboo room are a slight up-charge, but many of the drinks like Bamboo Mai Tai are within the drink package's $13 allotment.
Find the Stowaway Piano Player
There is one surprise entertainer that you need to discover during your cruise. He is the stowaway piano player. You tend to find this hidden performer in elevators during the evenings. On both our cruises on Navigator of the Seas, we spotted this "secret" performer but were never quick enough to get a picture or time our elevator rides appropriately to enjoy a quick song. Trust us, he is somewhere onboard your cruise!


The Lime and Coconut is Open Late
While many pool bars tend to close once the sun goes down, the Lime and Coconut is anything but typical. On most nights, one of the decks is open until midnight. With lighting and additional seating up on Deck 13, you can enjoy the Bahamian breezes with a umbrella drink in your hand. Most nights, we found the crowds to be rather light outside. So, if you want to escape to find your own outdoor oasis, complete with cocktails, this might just be your late night stop.
Casitas Provide Shade and USB Power
The pool deck on Navigator of the Seas has been enhanced to feature a new Caribbean style and decor. Along with new day beds and hammocks, there are now several covered structures, known as casitas, on Decks 11 and 12. These casitas are free, and first come first serve. They offer great protection from the sun, and most feature two lounge chairs and a side table. Recently, the cruise line has added USB charging stations. Now that is smart thinking!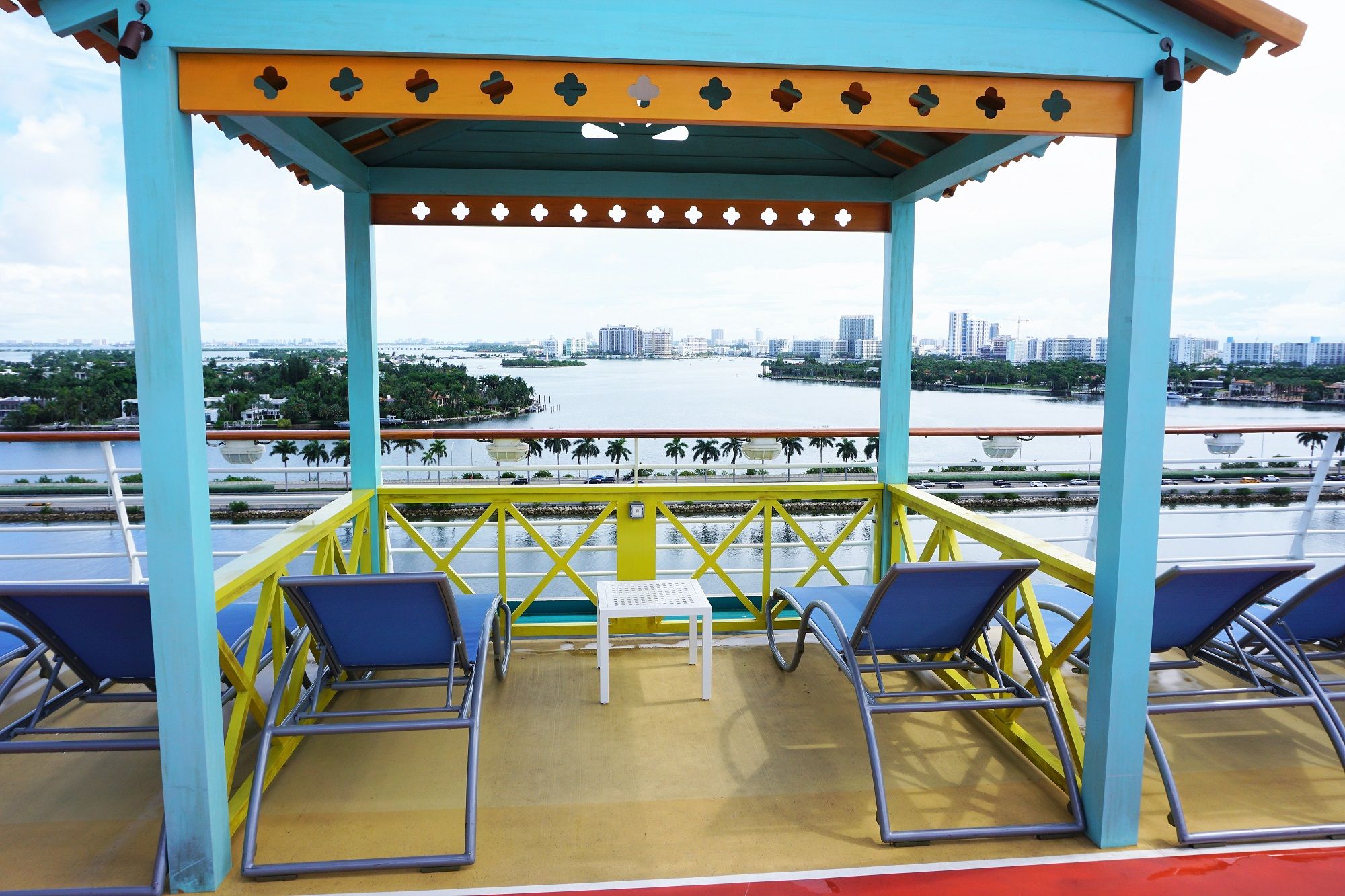 Lifeguards are on Duty Until Midnight
Another nice addition on Navigator of the Seas is the extended pool hours. While many cruise lines close the pools at dark, both of the main pools and adjacent whirlpools remain open until midnight on this ship. Lifeguards are on duty until the posted time, and there are often movies being played on the outdoor big screen. We know you want to make the most of your cruise, so a late night dip is certainly an option.
Watch iSkate on Night 1
Like many of Royal Caribbean's mega-ships, Navigator of the Seas offers signature entertainment. We highly suggest checking out iSkate on Night 1. There will be two performances scheduled around the main dining room times. If you arrive about 30 minutes early, you could even score some of the coveted center seats near the theater's entrance. These ideal viewing locations offer an uninhibited view of the performers. All of the other main theater shows were never that full, so you don't have to arrive that early to find a seat.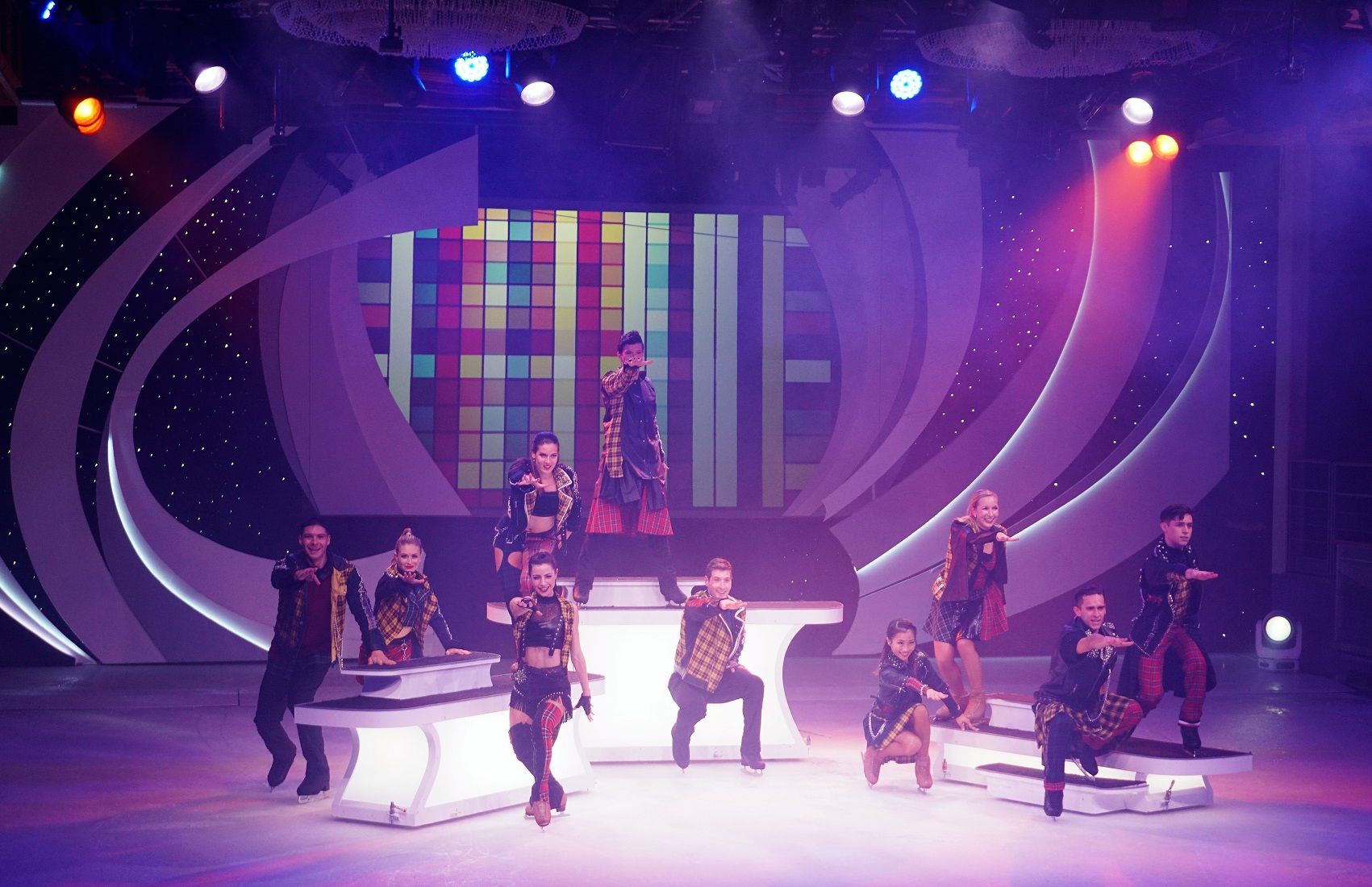 Playmakers and Johnny Rockets are Included in the Unlimited Dining Package
If you want to upgrade your dining experience on the trip, you should consider Royal Caribbean's Unlimited Dining Package. We tested out this new offering on one trip and loved its flexibility and inclusions. Along with the four specialty restaurants for dinner, the plan also includes Playmakers Sports Bar and Arcade, as well as the Johnny Rockets Express on Deck 11. We made sure to check out all of the locations during our trip to get the greatest value possible from the plan.
All of Your Packages Work on Perfect Day at CocoCay
One of the best parts of cruising on Navigator of the Seas is that the ship offers at least one stop at Perfect Day at CocoCay. This new private island is amazing. It offers plenty to do, see, and eat, and all of your packages purchased on the ship work on the island as well. Yes, your WiFi connection and beverage package can be used while you spend the day ashore. You can share all of your updates to social media, while sipping the island's signature Coco Loco poolside.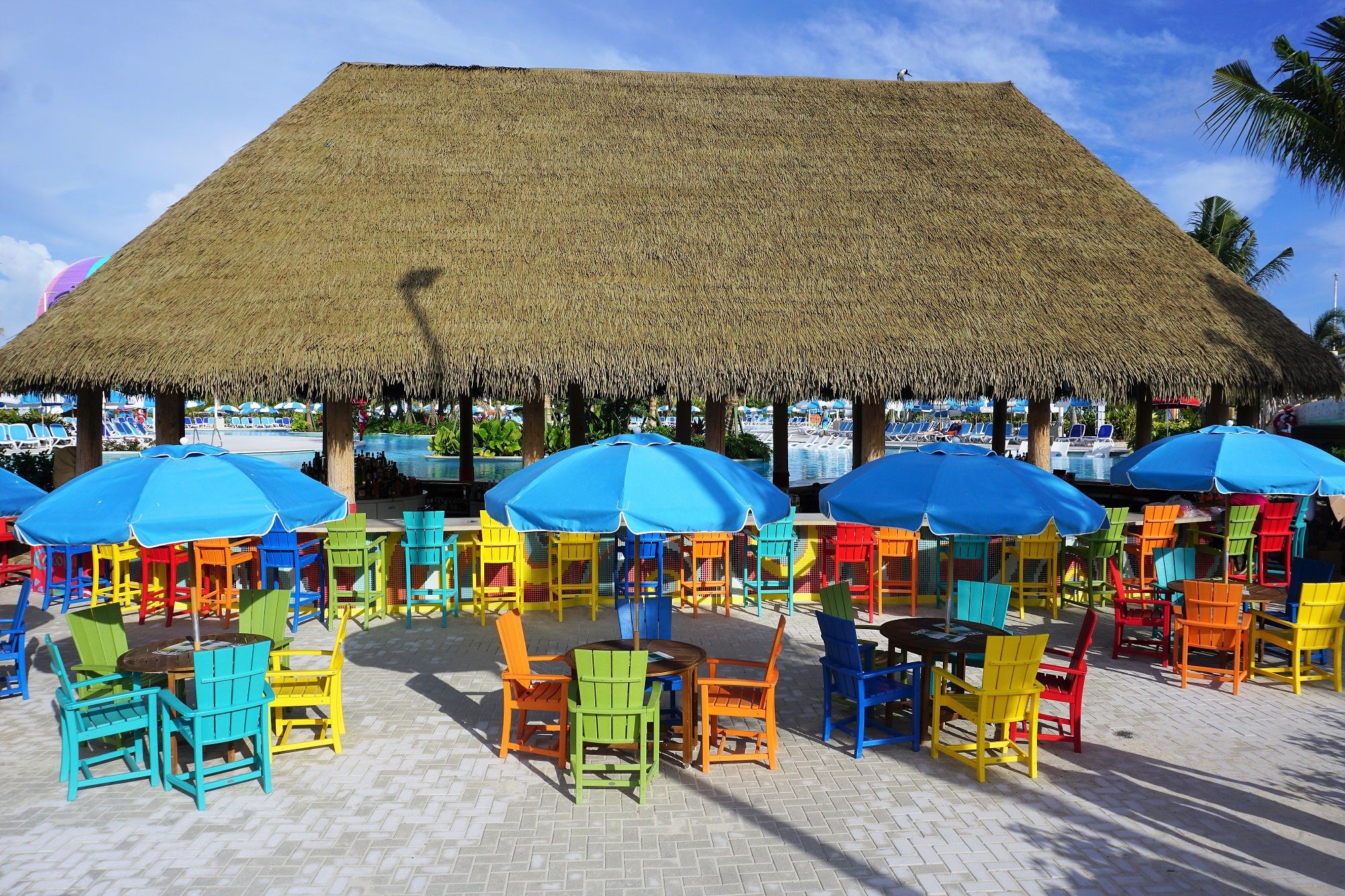 Related Post: Our Honest Review of Perfect Day at CocoCay
English Pub is Prime Viewing Location for Promenade Parties
On three and four day Bahamas cruises, the cruise line still packs in all of the parties, game shows, and events that you expect on a typical 7-day cruise. You can score a great viewing area for parties on the Royal Promenade like the 70's Disco Party or the 80's Party at the Copper and Clover Pub. In fact, we arrived around 30 minutes before showtime and snagged a table and chairs outside the venue. So, we had court side seats to all the fun with bar service! Now, that is a valuable Navigator of the Seas Cruise Tip!
Don't Miss the Navigator Dunes on Deck 13 Forward
One area of the ship that you could completely miss is the improved mini-golf course. Located on Deck 13 forward, we have found that this area is usually quite empty. So, not only can you play a few rounds of this complimentary activity throughout your voyage, you can also enjoy some quiet time in the deck chairs or shaded Adirondack chairs.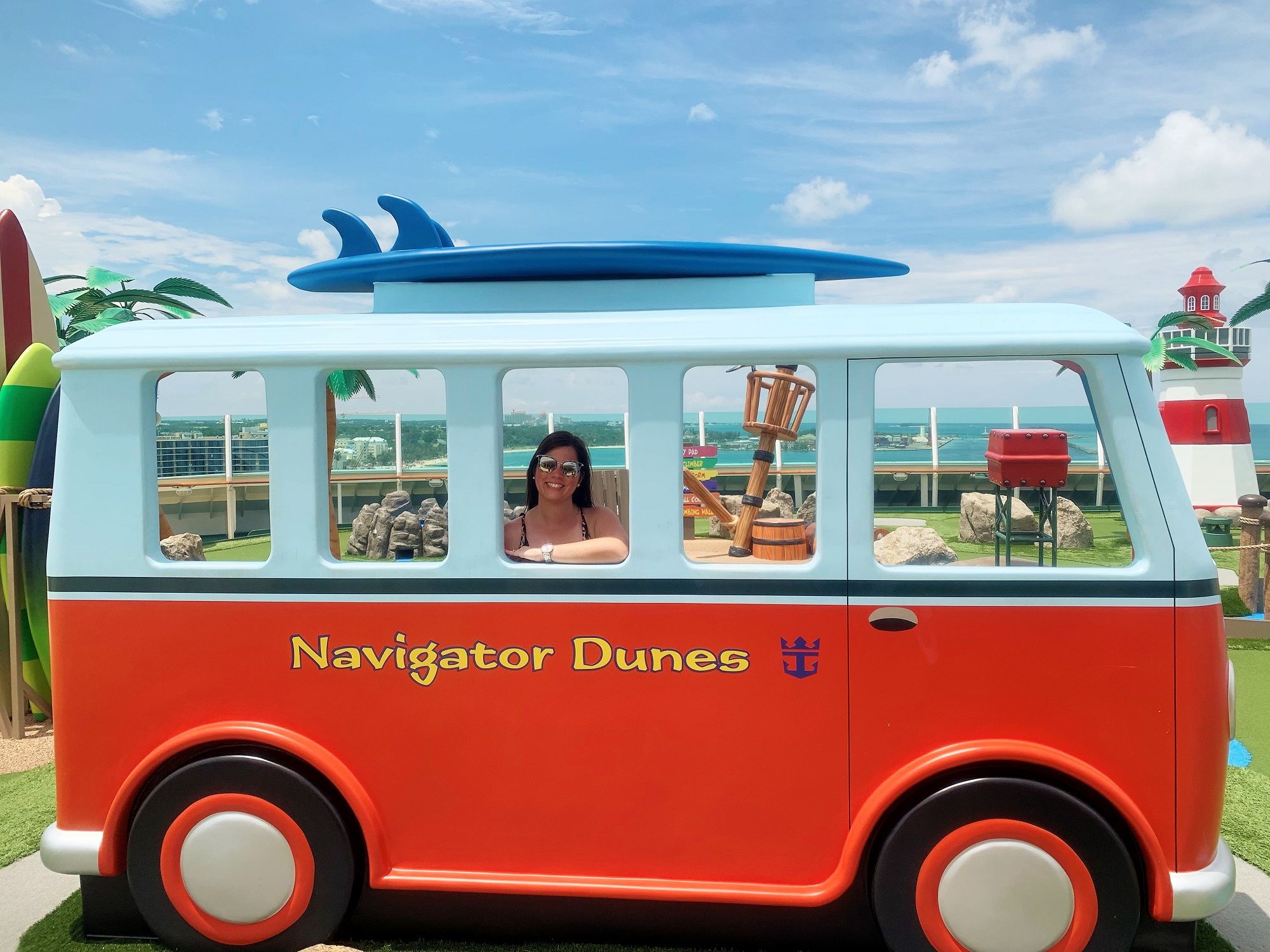 You Can Access the Helipad
You can grab some of the most epic photos from the ship's Helipad, especially during sail away or while docked at a port of call. You can access this area via the outdoor walkways on Deck 5. Head all the way forward and utilize the stairs to find yourself at this secluded outdoor area. Once there, grab some Instagram-worthy shots from this unique perspective.
Do Self Check-Out for Disembarkation
We know you do not want to think about disembarkation day. It is certainly the worst part of your cruise! To make things go as smoothly as possible, you should do the self check-out option. As long as you are able to carry your own bags off the ship, this is the simplest and easiest way to exit the vessel. Normally, the ship is cleared and allows passengers to start disembarking between 7 am to 7:30 am. You can then walk off the ship with few lines to head back to work or the airport, and back to reality. The longer you wait to disembark the ship, the longer you will have to wait in line.


Comments
Have you cruised on this newly amplified ship yet? Have we missed any of your Navigator of the Seas Cruise Tips? Drop us an anchor below with your secrets for cruising on this vessel.