After spending over a year planning our Norwegian Bliss cruise, the seven days spent onboard this beautiful new vessel have already come and gone. Exploring the ship for an entire week, we got to know this 160K gross ton vessel rather well. If you have plans to sail on Norwegian Bliss soon, be one of the most informed cruisers on the ship with our Top 35 Norwegian Bliss Cruise Secrets.
Top 35 Norwegian Bliss Cruise Secrets
Opt for the Ultimate Beverage Package as a Perk
If you are looking to book a Norwegian Bliss cruise, wait until the cruise line is running a "Free at Sea" promotion. Even if you are not a big drinker, the best perk to pick is the "free" Norwegian Ultimate Beverage package. You do need to pay the daily service charge, which equates to $16 a day, which is the equivalent of less than two alcoholic beverages. This is a no-brainer to us!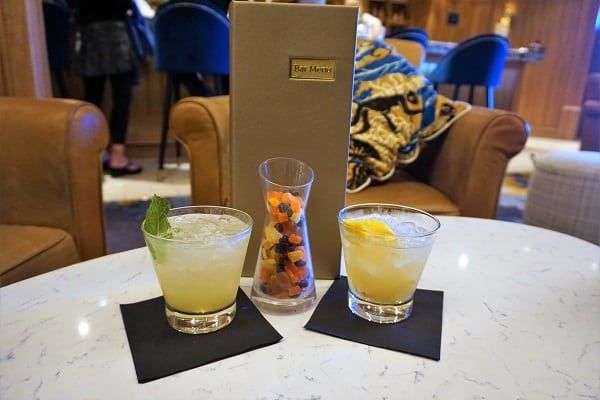 Book Your Entertainment Pre-Cruise
Before you even step foot on the ship, one of the most important Norwegian Bliss Secrets is to pre-book your entertainment using your online My NCL account. 120 days prior to sailing, this online portal is available to book the two main theater shows, Jersey Boys and Havana. At this time, the comedy shows and Happy Hour Prohibition can only be booked once onboard the ship.
Pick Your Shore Excursions at Home
While we vary between purchasing shore excursions with local tour companies and with the cruise line, we do all of the planning ahead of time. We recommend that you pick your excursions and book them from the comforts of your home. Most companies offer generous cancellation policies with a few days notice, so you can always change things up down the road. Waiting to book until you are on the ship can be a recipe for disappointment when that really cool helicopter tour or private beach cabana is sold out.
Get a Specialty Dining Package
If you didn't get a complimentary specialty dining package as a second free perk (which is what we would recommend), then we suggest purchasing at least a 3 day package. Almost all of the specialty dining venues on this ship are priced a la carte. In our experience, you definitely do save money with the plan when compared to paying the a la carte pricing for appetizers, entrees, and desserts.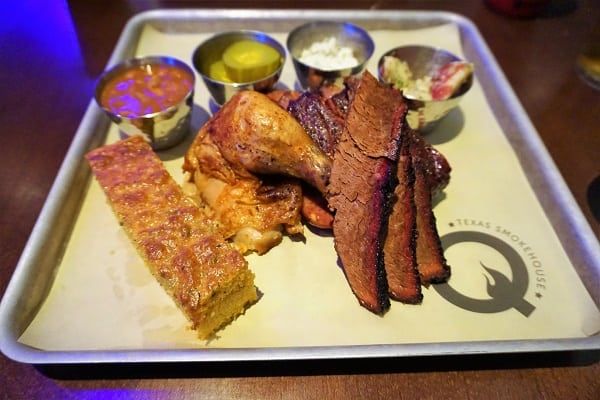 All Three Dining Rooms Serve the Same Menu
The complimentary main dining rooms on Norwegian Bliss are Savor, Taste, and the Manhattan Room. For breakfast and lunch, the menu is the same every day and is served in either Savor and Taste. For dinner, all three dining rooms are open nightly. The menu does change each evening; however, it is the same across all of the locations. You can pre-reserve the Manhattan Room before your cruise, or you can choose to walk up to any of these venues whenever you want to dine. You can check out our latest guide to all of the Norwegian Bliss menus for more details on the food offerings!
Reserve Dining for Popular Restaurants
The most popular restaurants on Norwegian Bliss are Cagney's Steakhouse and Le Bistro, the upscale French restaurant. Tables at these locations are hard to come by any week you travel. So, if you want to dine at either of these venues, we suggest you make a reservation ahead of time. Reserving a table before you step foot on the ship will ensure you get to enjoy these restaurants. Reservations are available to book pre-cruise for most of the other specialty restaurants as well with the exception of Food Republic (which is also not included in the specialty dining package).
Board the Ship Before Your "Assigned" Time
Regardless of the time you are assigned to board the ship, we suggest you get to the terminal by 10 am. They will already be letting people in by this time, and you will be through security, checked-in, and ready to board in about 20 minutes. They will begin letting cruisers on the ship as early as 11 am, so you can be among the first onboard to start exploring and make additional plans.
Book Additional Entertainment and Activities Day 1
On the first day of your cruise, you can reserve time slots for the go-karts, laser tag, and additional entertainment in-person at the Q Texas Smokehouse restaurant. Head there as soon as you board the ship and reserve some slots as these popular onboard activities do book up quickly. If you want to purchase a day pass or a week pass now is the time to book that also. There will also be a separate line to book one of the comedy shows. There will be two comedians rotating days and times throughout the cruise, but you are only allowed to reserve one slot.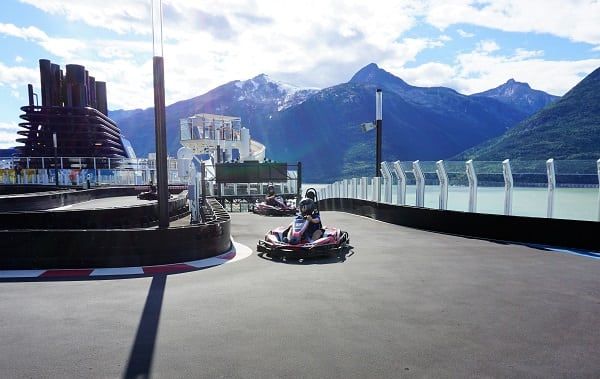 Sign Up for the Norwegian iConcierge App
Download the iConcierge app to your smart device. This app gives you access to the daily planner listing all of the day's activities, show times, and dining information at no additional cost to you. You can also review your account activity to keep track of your charges throughout the cruise. You do not need to pay for the internet to use the app, and it saves you from carrying around the paper version of the Freestyle Daily.
There Are USBs in Your Room and the Observation Lounge
The lights next to the bed in your stateroom have USB outlets to charge your smartphone or other devices. The same is true for the lamps in the Observation Lounge. So, make sure you bring your USB cord with you so you can easily charge your devices. This will ensure your device is always fully charged and ready to capture all the amazing scenery.
Get to the Observation Lounge Early
The Observation Lounge is one of the coolest spots on Norwegian Bliss, so it is inevitably busy at all times of the day. Premium seating is tough to come by, especially if the weather outside is not great. You will have to be an early riser or extra vigilant if you want to snag a nice couch or chair by the panoramic glass windows. But please, don't be a chair hog! If you are not going to use the space for a while, don't leave your stuff behind to "reserve" the spot. You have all week to enjoy the space.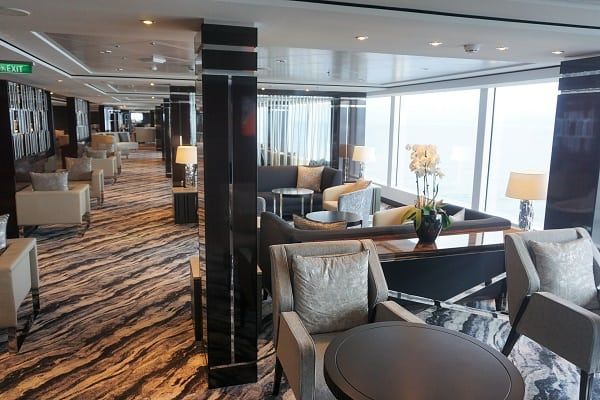 Skip The Vibe Private Sun Deck
If you need to book Vibe, do it as soon as you board the ship at Guest Services. It costs around $100 for the week and is capacity controlled. In our experience, there is plenty of deck space on Norwegian Bliss that you really don't need to spend the money for this "exclusive area". Furthermore, it is not very private as the laser tag area looks over the Vibe Sun Deck. We would save the money and spend it on other onboard amenities, like the race track, laser tag, Thermal Suite, etc.

Follow the Fish to the Forward of the Ship
Don't get lost when walking back to your stateroom with this Norwegian Bliss secret- the fish on the hallway carpets always swim forward. Of course, they won't remember your stateroom number, or if you are on the starboard or port side of the ship, but at least it's an easy trick to figure out if you are heading forward or aft once you exit the elevators.
Gain Access to the Silent Disco
You heard that right. Norwegian Bliss now requires you to reserve access to the Silent Disco party at the Social Comedy club. This party occurs on one of the last days of your cruise. If you are not familiar with the theme, the Silent Disco is where each passenger is given a headset and listens to a music channel of his/her choice while dancing and singing along. It is "silent" because if you take the headphones off, there is no music playing and everyone is dancing and singing to the beat of their own drums.
Take Advantage of the Touch Screens Throughout the Ship
Need to reserve something and don't feel like waiting in line? The touch screens near the elevators provide information on what is happening on the ship. They also allow you to book shows, dining, and other events. On the lower right-hand corner, you can insert your card and take advantage of the screens to book available activities. It is convenient, easy, and helps you avoid the lines.
Grab Breakfast at Margaritaville
Another "hidden gem" that is in plain sight is the breakfast buffet at Margaritaville. This breakfast is complimentary and offers select warm items, breakfast pastries, and fruit with al fresco seating. You can avoid the lines of the Garden Cafe before heading ashore at your port of call. With so many dining options on Norwegian Bliss, we hardly stepped foot in the buffet at all. Margaritaville even has outdoor heaters for those cool Alaskan days.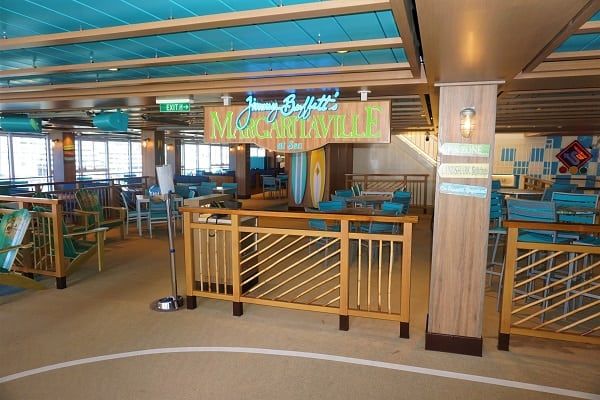 Dress Up Or Not Night
Norwegians like to freestyle, but even those laid-back cruisers have one night to get fancy if they choose. During our Alaskan cruise, Day 2 was the first full sea day and Norwegian's Dress Up or Not Night, which meant some ties, sports coats, cocktail dresses, and photo stations were spotted around the ship. There were several photo studios spread around Decks 6 and 8. Overall, attire is more casual on Norwegian Cruise Line, so don't feel pressured to dress up if that's not your style.
The Seafood Buffet in the Garden Cafe
Most likely on the second night of your cruise (at least on the Alaskan itinerary), the theme in the Garden Cafe will be the Seafood Buffet. It includes a raw bar with mussels and shrimp cocktail, along with a few other seafood inspired dishes throughout the different stations. We never eat dinner in the buffet, but if we were going to, this would be the night.
Get Seats Before Food at the Garden Cafe
Cruise ship buffet etiquette 101. Get a drink and silverware, secure a seat, then get your food. Don't be that lost soul roaming around with an overflowing plate of food and nowhere to sit. We recommend walking straight to the back of the dining room. Not only does it offer great views, but it tends to be less crowded. Of course, if you show up at a prime time, seating will be limited everywhere, so we suggest that you try to dine at off hours to avoid the crowds.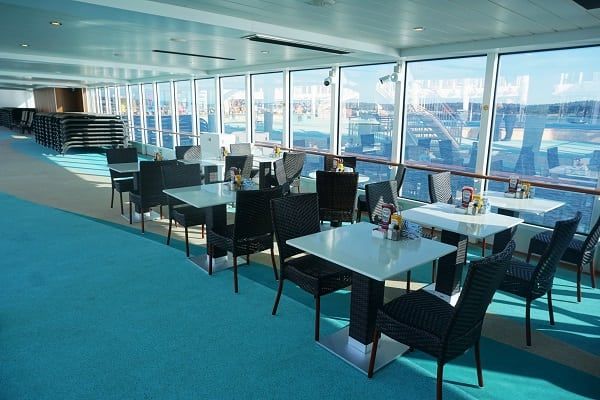 Pack With the Parties In Mind
If you want to be one of those people who dress the part, now you can be prepared for all of the parties. The Caliente party is a Latin-themed party that incorporates black lights and neon colors. There is also the Nashville Nights and Lights party that occurs in Q Texas Smokehouse. This country-themed party includes plenty of plaid, cowboy boots, and line dances. You will also have the Awesome 80's and Throwback 90's parties taking place in the Social which means you can finally dust off your old wardrobe.
There are a Few Designated Smoking Areas
For those of you that smoke, there are a few select venues that are designated for such. There is a section of the casino where smoking is allowed. Note, the open air section of the casino is now smoke-free! There is also the Humidor Cigar Lounge on Deck 8 that is a smoking venue. The starboard side of the bar in Spice H20 is also designated for smoking, as is a section of Deck 19.
The Chill Bar Serves Signature Margaritas Included in the UBP
Margaritaville is an up-charge ($14.95 a person) venue that will be open most days until 5 pm. While you might not feel that the food is worth the additional costs, you don't have to pay to visit the Chill Bar which is tucked away in the back of the restaurant. You can pull up a stool and order one of the 8 different margaritas or signature boat drinks that are part of the Ultimate Beverage Package!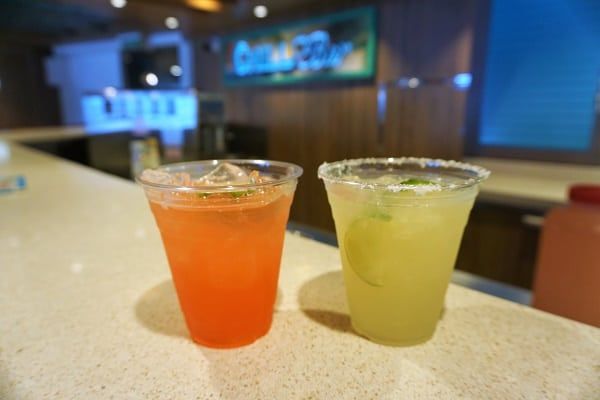 Spice H20 is Adults Only Until the Evening
If you want to escape the families and crowds in the main pool area, then you should spend your sea days in Spice H20. This adults only area includes a water feature, a bar, and two hot tubs. After 6 pm, the venue opens up to everyone and occasionally hosts events including some of the themed parties during the warm weather cruises.
Thermal Spa Passes Are Cheaper Pre-Cruise
If you know that you will enjoy the Thermal Suite amenities, including the sauna, snow room, salt room, and heated loungers, it pays to reserve passes before the cruise. You can save at least 10% (or more) when compared to onboard prices. If you are not sure about paying for all 7 days, port-day passes are sometimes offered.
Make the Most of Your Beverage Package
If you want to get the best value for your package, then you will want to try all of the signature cocktails at the select venues. These tend to cost around $12 and are all covered under the drink package allotment of $15. Some of our favorite spots include the Sugarcane Mojito Bar, Malting's Whiskey Bar, and the District Brew House. Why not try them all? We have a complete Norwegian Bliss Bar Guide with Menus showcasing all of the ship's lounges.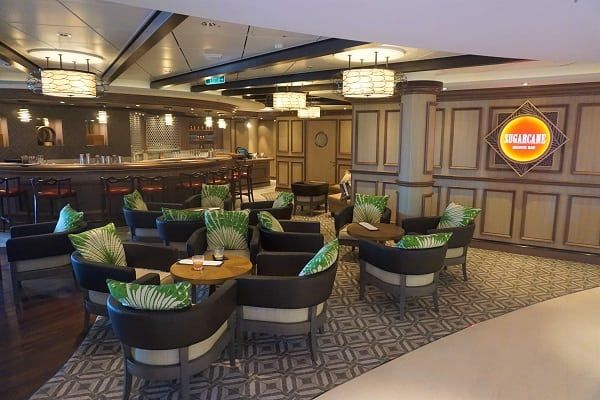 NCL Will Take Your Selfie
Another Norwegian Bliss secret that not everyone knows is that there are conveniently located selfie stations. These kiosks, including one on the Waterfront on Deck 8 and another in the Observation Lounge on Deck 15, snap a photo of you with a cool ship themed frame and let you post it to social media. Why not make your friends back home jealous with one of these onboard selfies?
Not to Miss Entertainment
There are plenty of lounges and entertainment venues on the ship, but the nightly game shows and other events occurring in the Atrium should not be missed. You will not stop laughing at the hilarious antics of the Perfect Couple Game show. You might want to join in on the fun of the heart-pounding Deal or No Deal Game show. In the Cavern Club, you can sing along to one of the several musical tributes. The venue is also standing room only when the Beatles tribute band performs, so get there early. Check the Freestyle Daily for each evening's shows and be prepared for a good time.
Coffee and Snacks at the Observation Lounge
Need to warm up after a day ashore in Alaska? We recommend heading to the Observation Lounge to grab a coffee or tea and some snacks. The service areas on both the starboard and port-side serve light fare for both breakfast and lunch, as well as a selection of beverages. All these treats are complimentary and another great alternative to the Garden Cafe.
Remove ALL ACCESSORIES on the Ocean Loop
One of my favorite onboard activities on Norwegian Bliss are the water slides. The gravity-defying Ocean Loop water slide does have some strict rules. You need to be 48″ tall and at least 100 pounds (and no more than 250 lbs.). In addition, you are also prohibited from wearing any accessories including watches, necklaces, rings, earrings, fitbits, goggles, and so forth. Be sure to leave everything in your safe before heading to the slides, so you don't get turned away after waiting in line.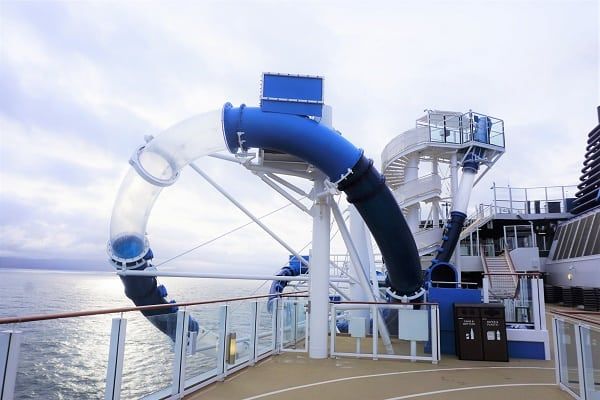 Get a Morning Walk in on the Waterfront
Space is limited on the deck 17 jogging track. So, if you are looking to just take a morning stroll, one of our Norwegian Bliss secrets is to walk the loop around the Waterfront on deck 8. An early morning walk around this larger and mostly wide open space is the perfect way to start your day. You can also enjoy the scenic views along the way.
It Takes Tactics to Win at Laser Tag
First off, you will need to come prepared with closed-toe shoes to partake in a game of laser tag. There will be a quick briefing prior to the game, but the biggest takeaway is that you always want to use Commando mode. You will also want to strategically engage your invisibility shield when you are deep in enemy territory. Your gun is the target, so when your shield is depleted, hide the gun so the other team can not shoot at it. With these tips, hopefully you can come out victorious! (There is a up-charge of $9.95 to play laser tag which includes 2 consecutive games.)
You Need to Dress the Part for the Race Track
To drive on the race track alone, you need to be at least 55″ tall. There are a few double-seater cars, allowing parents and children to drive together. All participants must have closed-toe shoes. Long hair must be tied up so it can fit under the helmet. No bags of any kind are allowed, and there are no lockers, so you will need leave your belongings with a friend or back in your cabin. There is also the potential to get dirty especially if the track is wet, so we suggest that you do not wear nice clothes during this activity.
There is a "Hidden" Mini Golf Course
This really is a Norwegian Bliss secret. If you don't search carefully, you will probably miss it. After the ship completed its maiden voyage, the cruise line added a small, tucked away mini-golf course due to travelers requesting more complimentary family-friendly activities. This 5 hole course is located on deck 19, behind the race track. You have to enter on the starboard side and walk through the course to get to the starting point. It is just as awkward as it sounds, but hey, who doesn't love mini-golf on a cruise?
Escape the Big Top
Norwegian Bliss has an escape room onboard, and it is complimentary! The Escape the Big Top puzzle break occurs several days and times during the cruise in the Q Restaurant. You will work together in groups of approximately 10 people competing against up to 9 other teams to solve a series of six challenges. The first team to discover the magic words will reverse the spell and be crowned the winners. You can sign up for this activity in advance at the Box Office.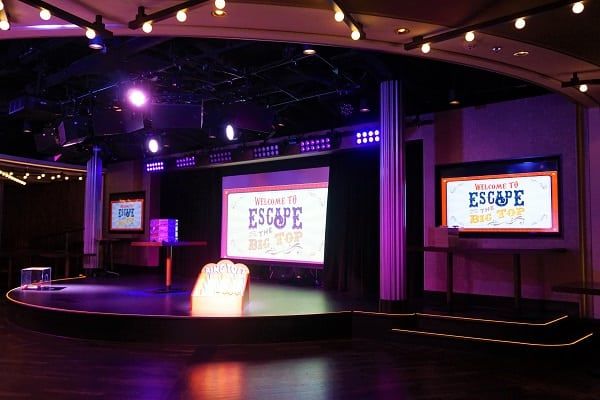 Take Advantage of the First Few Sea Days
It is not your imagination, the ship does get busier as the cruise progresses. Regardless of the itinerary, lines and waits will be longer towards the end of the cruise for signature attractions. So, another one of our Norwegian Bliss secrets is to use the first few sea days to do things like the waterslides, the racetrack, and mini-golf. Whatever it is you want to do, and this might include just relaxing in a deck chair, do it early on in the cruise.
Bonus- There's a Speakeasy Onboard!
Perhaps the biggest Norwegian Bliss secret is that there is a speakeasy onboard the ship. For a cover charge of $29.95 (+service charge), you can gain entrance to the hottest bar in town, Mahogany Hall. During Happy Hour Prohibition- The Musical, you will be entertained by Madame Lulu and her girls with one spectacular show. Enjoy some jazzy tunes, sultry dance moves, and 5 included cocktails during this hour performance that takes place on the eve of Prohibition.
Comments
Have you sailed on Norwegian Bliss? Do you have any other secrets about this ship that you'd like to share? Drop us an anchor below to let us know your insider tips for sailing on Norwegian Cruise Line's newest ship, Norwegian Bliss.