There is a lot to consider when planning a cruise to Alaska. Often, one of the first questions asked is "When is the best time of year to go on an Alaskan cruise"? Unlike Caribbean cruises, the Alaskan cruise season only occurs during select months of the year.
The answer to the question of when is the best time of year to go on an Alaskan cruise is not as clear cut as you would think. There are numerous aspects you should consider when planning your travel to this 49th state. Luckily, we have put together this article to help you determine when is the right time for you and your family to go on an Alaskan cruise.

Best Time of Year to Go on an Alaskan Cruise to Save Money
The Alaskan cruise season runs from May to September. As with most seasonal cruise regions, the shoulder season is when prices tend to be the lowest. For those looking to save money, the best time of year to go on an Alaskan cruise would be either May or September. Besides having lower fares, there also tends to be less crowds this time of year, especially families. This means you will have greater choices for cabins and can score the perfect mid-ship balcony at a reduced cost.
Sail During Shoulder Seasons to Avoid Packed Cruise Ships
If you travel towards the end of the season, you may be able to score some great deals on souvenirs too as many of the local shops run sales to get rid of merchandise before closing for the season. Another perk of sailing in September is that you will have a chance at seeing the Northern Lights. On our September cruise, we were told to be on the lookout for the Northern Lights on two separate nights, but we never did seem them.
Best Time of Year to Go on an Alaskan Cruise to Have Great Weather
Don't let all those beautiful pictures of Southeastern Alaska fool you. Unfortunately, the summer months in Alaska are not always bright and sunny. In fact, the weather during the Alaskan cruise season tends to be rather wet.
A benefit of traveling earlier in the season is the reduced precipitation. Historically, May is the driest month of the cruise season. Less rain is good, but the weather also tends to be cooler so animal sightings may be less abundant.
Odds Are It Will Rain in Ketchikan, Alaska No Matter What Month You Travel
If you are looking for the warmest weather, then you will want to sail Mid July to Mid August. Still, temperature swings in one day of 25 degrees (or more) will not be uncommon. You could wake up to freezing temperatures and be in the mid 60's (F) by late afternoon.
Daylight is maximized during the months of June and July. During this time of year, the sun doesn't set until around 10pm. These extend periods of light make viewing the surrounding scenery sailing in and out of ports even more appealing.
Taking into consideration the average temperatures, rainfall amounts, and hours of daylight, the best time of year to go on an Alaskan Cruise is the month of July.
Late Night Sunset in Alaska
But, with this optimal weather comes crowds and increased costs. July is the peak of the Alaskan cruise season, so you will pay a premium for cruising during this time. Not to mention, popular tours and shore excursions will fill up fast. If you cruise during this time, be prepared to share Alaska with thousands of other cruisers.
If you wait to travel later in the season, you are rolling the dice on weather. It is more likely that excursions will be canceled due to the rain and cold conditions. It also means fewer animal sightings as many have already begun going into hibernation. Of course, this is just the general trend; we cruised to Alaska in September and had unseasonably warm and sunny weather. In fact, we were told that we had some of the best weather all season.

Best Time of Year to Go on an Alaskan Cruise to See Wildlife
Besides the majestic snow-capped mountains, fjords, and glaciers, you are probably traveling to Alaska to see the wildlife. Many will tell you that anytime during the months of May through September is the best time of year to go on an Alaskan cruise to see wildlife. While compared to the winter months that might be true, but some months are better than others for viewing some wildlife.
In terms of whales, you have the opportunity to see a variety of different species on an Alaskan cruise. The most common whales in the region are the massive Humpback Whales. While they are found in the Gulf of Alaska during the entire cruise season, you have the best chance of spotting pods during the months of June and July.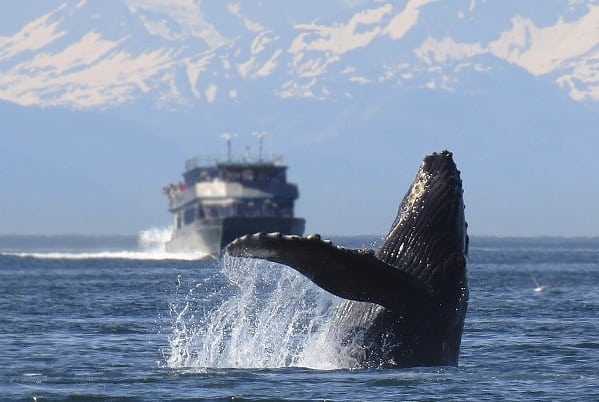 Most whale watching tours will guarantee a whale sighting, but they won't tell you what types of whales you will see or how many.
If Brown Bears (or Black Bears for that matter) are what you are looking to discover on an Alaskan cruise, than traveling from late June through early August will increase your likelihood of seeing these creatures, especially if you take tours that depart from Juneau or Ketchikan.

Luckily, Bald Eagles are around through the entire cruise season in various stages of development. You can head to the Chilkat Eagle Preserve to see the world's largest collection of bald eagles. Early in the season, the eagles will be preparing their nests. During peak cruise season, they will be caring for their young, and later in the season (Mid August through September), you might get lucky enough to see adult eagles teaching their young ones how to fly.
Best Time of Year to Go on an Alaskan Cruise Summary
We warned you that there was no clear cut answer to this question. We did a late season Alaskan cruise on Celebrity Solstice. On our September 2014 cruise, the weather was unseasonably warm and dry, with only one day of rain in Ketchikan (which is a given no matter when you cruise). On the cold end, temps were in the 30's during the early morning hours but warmed up to the 60's by afternoon, making layers essential.
While less plentiful than we hoped, we did spot a few whales next to our ship and caught a few glimpses of eagles during a shore excursion. Most of the bears were already in hibernation for the season though.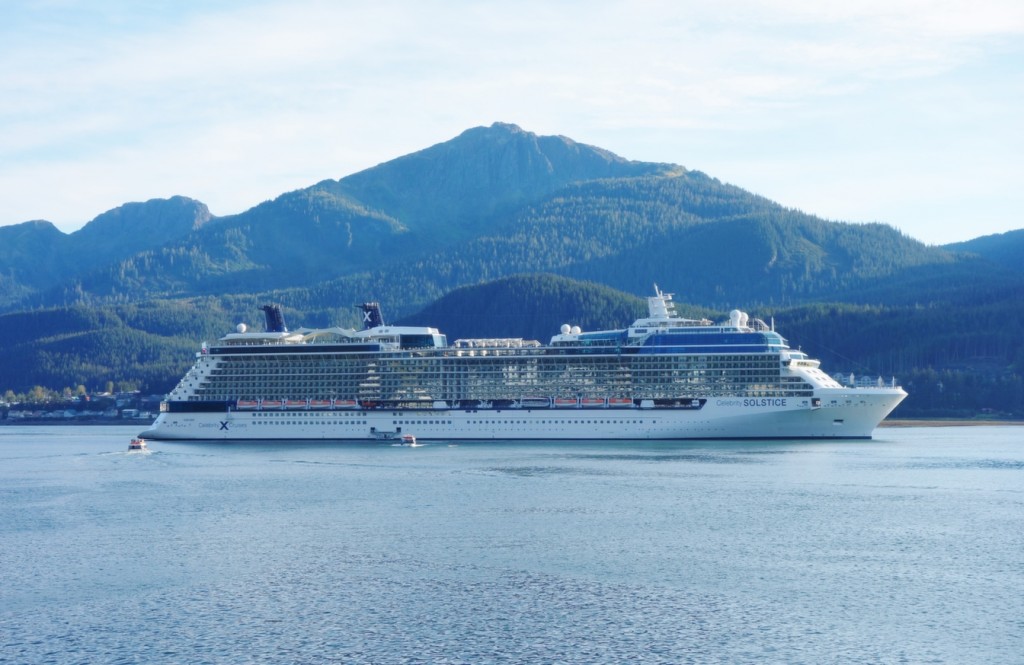 We did score an amazing deal for a mid-ship balcony room that came with several perks. Plus, we cruised on our anniversary, so for us, it was truly the best time of year to go on an Alaskan cruise!
Comments
Have you sailed to Alaska? What time of year did you cruise? Drop us an anchor below to tell us about your experiences cruising in Alaska. Help your fellow travelers determine when they should visit this amazing region.