SCROLL DOWN to watch our complete video breakdown of the Top Perfect Day at CocoCay Shore Excursions!
CocoCay, Royal Caribbean's private island in the Bahamas, has recently undergone a multi-million dollar renovation. This newly transformed island, now referred to as Perfect Day at CocoCay, offers several new island experiences and adventures. If you are considering a trip to this private oasis, you will want to have a look at the Top Perfect Day at CocoCay Shore Excursions to decide how you will spend your time on the island. Of course, there are several complimentary activities to enjoy on the island as well.

Top Perfect Day at CocoCay Shore Excursions
Thrill Waterpark
Are you daring enough to take the 135-foot plunge down the tallest waterslide in North America? The Thrill Waterpark on CocoCay features 13 waterslides, the most slides found in any waterpark in the Caribbean. It also features the Caribbean's largest wave pool and a kid-friendly adventure pool. Daredevil's Peak is just one of 7 slides on Daredevil's Tower. There is also the Family Tower which includes 6 multi-rider slides. Prices for a full day Waterpark pass start at $43.99 (with pre-cruise discount) and are available to book pre-cruise in your online cruise planner. These passes entitle you to unlimited use of all the attractions in the Thrill Waterpark. Half day (afternoon) passes are also available for some sailings.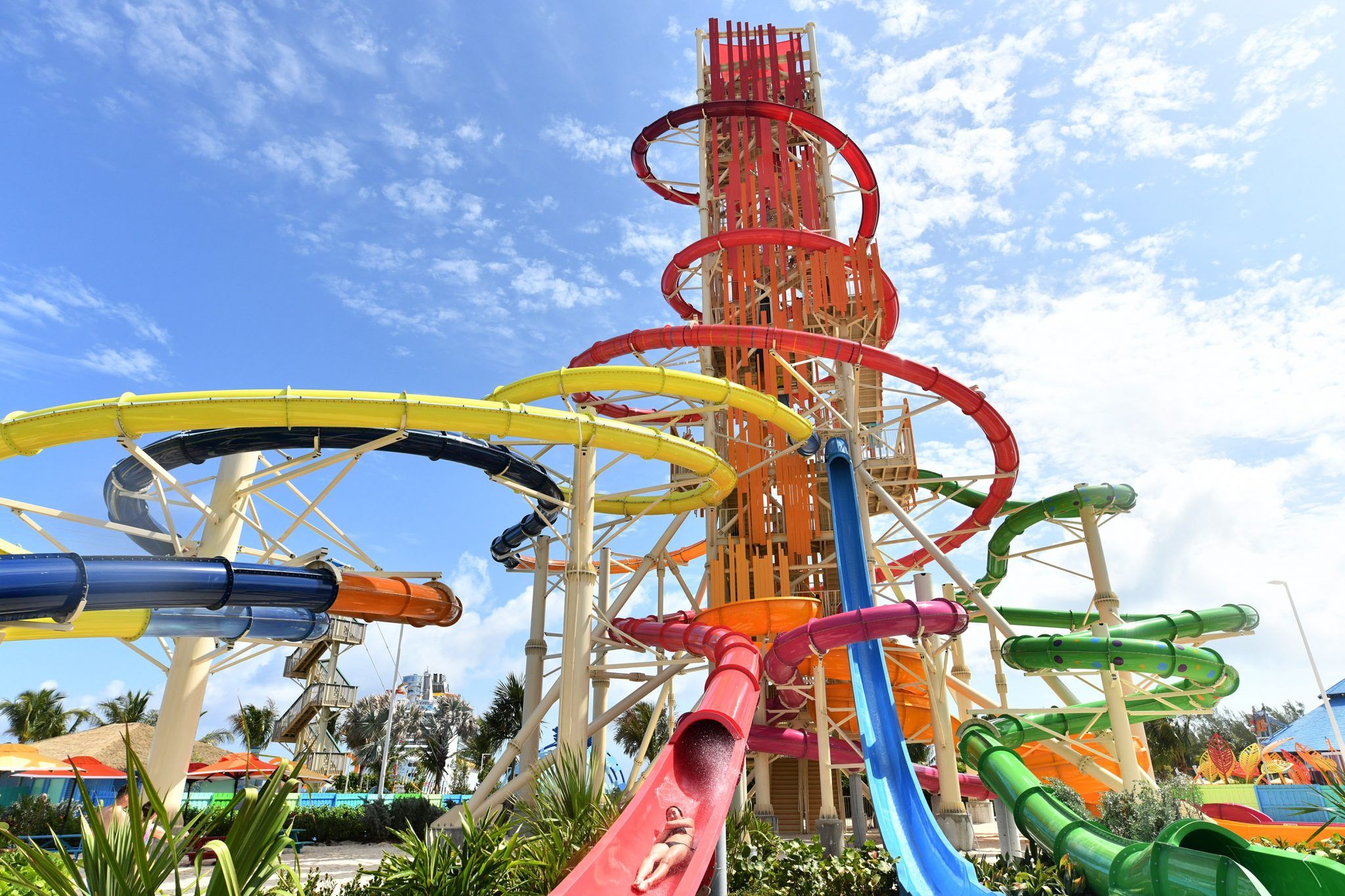 Perfect Day CocoCay Zip Line
While at CocoCay, you can also fly above the island on an exhilarating 1,600 foot long zip line. Strap in for takeoff near the arrivals plaza and soar over the Thrill Waterpark for some amazing aerial views of the island. The excursion includes 3 zip lines and takes approximately 45 minutes, including safety briefing and set up. So, you will still have plenty of time to enjoy everything else on the island. Prices for the Zip Line start at $70.99 (with pre-cruise discount promotions). There is also a Waterpark and Zip Line combo pass starting at $109.99.
Up, Up and Away Helium Balloon Ride
For a whole new perspective, cruisers can rise to new heights in a helium balloon up to 450 feet above the island. From this highest vantage point in the Bahamas, you will score amazing views of Perfect Day at CocoCay. This CocoCay shore excursion lasts approximately 30 minutes with 10 minutes of air time. Be sure to have your cameras ready! Prices for this activity are starting at $39.99. Of course, these prices will vary based on time of sailing and current online promotional discounts, so be sure to check your cruise planner for the most accurate information for your particular sailing.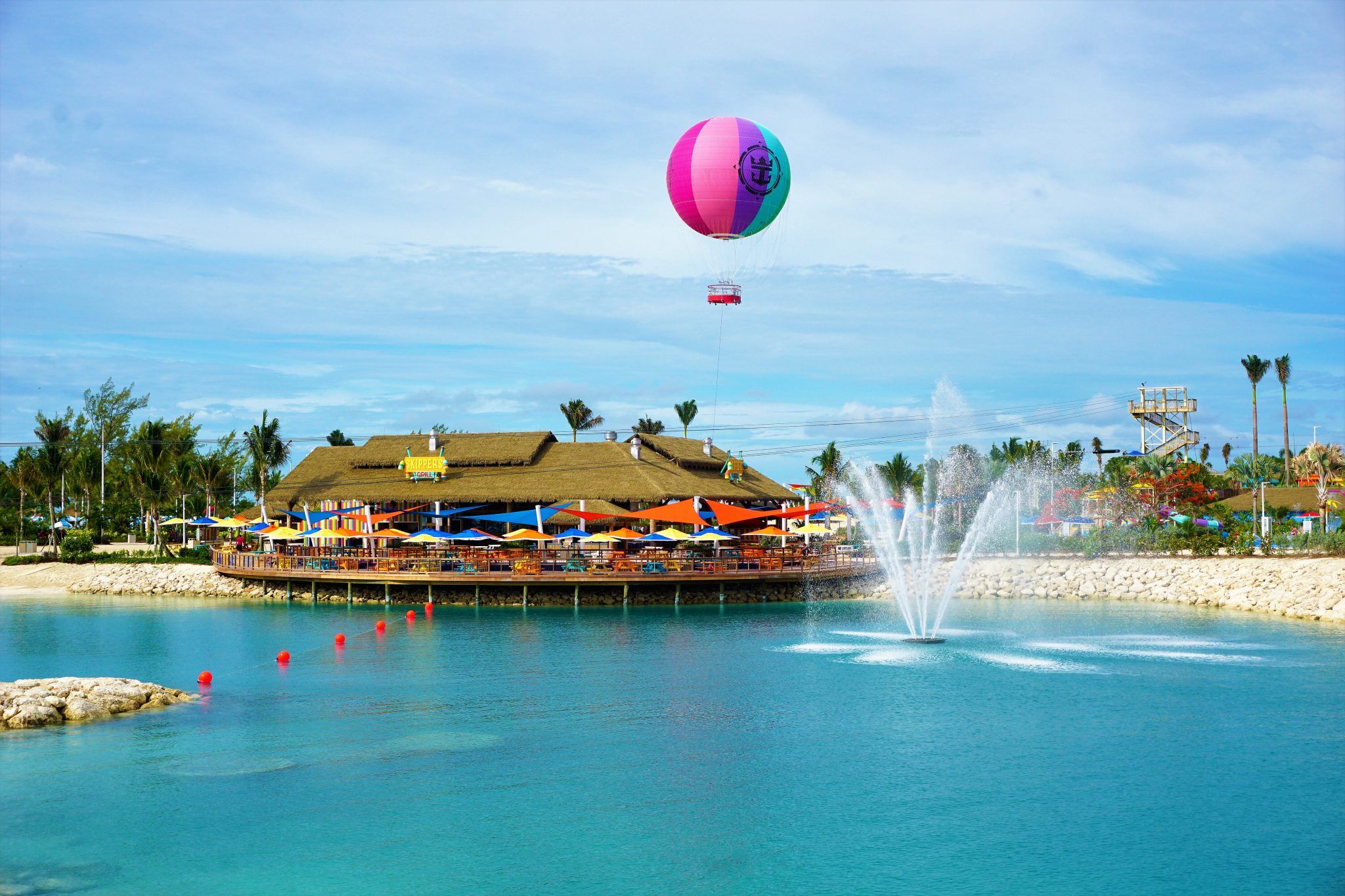 CocoCay All Day Snorkeling
Pick up your snorkel equipment at the Snorkel Shack to enjoy a fun-filled day of snorkeling at your leisure. Explore the tropical waters of the Bahamas to discover the marine life, the breathtaking reef, and the artificial shipwreck teeming with an array of fish. Prices for all day rental of snorkel equipment start at $26.99. Of course, you can also bring along your own snorkel gear and enjoy the pristine waters of CocoCay on your own.
CocoCay Wave Jet Tour
Hop on your own Sea-Doo personal watercraft for a tour around CocoCay and the Berry Islands. During this shore excursion, you will enjoy a full speed guided tour where you will view various CocoCay sights including Great Stirrup Cay Lighthouse, Slaughter Harbor, Starfish Alley, and the abandoned island community of Cistern Cay. This tour is approximately 75 minutes in total length and includes 50 minutes of ride time. You must be at least 16 years old to drive. Prices start at $61.99 for a driver and $21.99 for a passenger.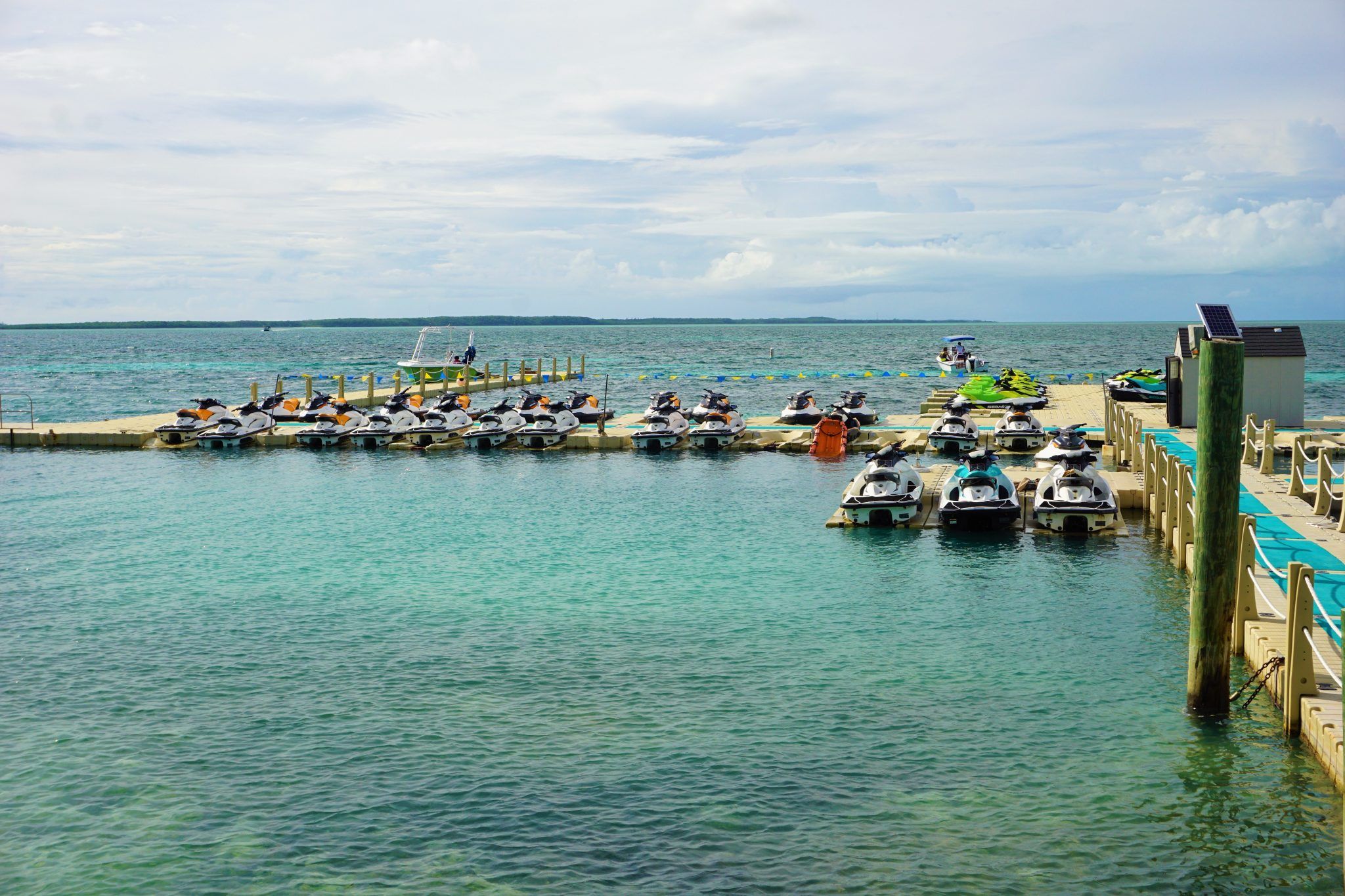 Parasail Adventure Tour
Another way to enjoy the scenery of CocoCay is a parasail tour. From 400 feet above sea level, you'll fly tandem with another guest as you take in the panoramic vistas of the island on this unforgettable adventure. This shore excursion includes an approximately 45-60 minute boat ride and 5-6 minutes of flight time. Prices for the Parasail Adventure Tour start at $73.99 when booked pre-cruise using your online cruise planner.
Stingray City Bahamas
During this tour, you will take a short speedboat ride to Stingray Cay, where the calm, clear waters are the home to many Southern Stingrays. Following a safety briefing, you will enter the 3-8 foot water where you will have the opportunity to interact, feed, and have your picture taken with these gentle creatures. The total excursion time is about 90 minutes including transportation and some additional time for snorkeling. Pricing for this tour starts at $43.99.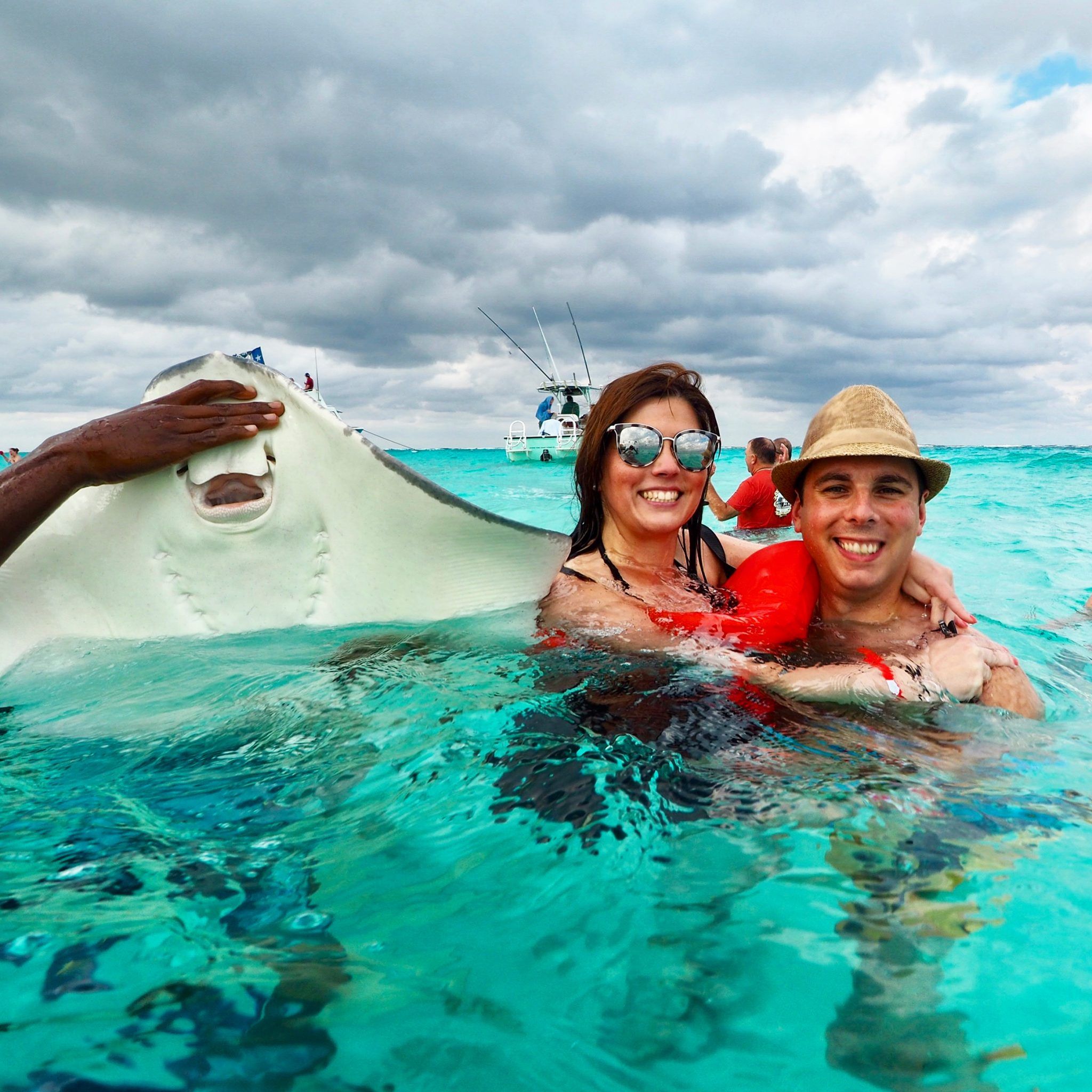 Swimming Pigs Tour
This newly offered 1.5-hour adventure brings you up close and personal with the famous swimming pigs of the Bahamas. You will have the opportunity to feed and interact with these creatures at a private island nestled among the northern Berry Islands. You'll also learn all about how these animals got to the Bahamas and will get to have your photo taken with these amazing swimming pigs. Pricing for this excursion starts at $81.99.
Kayak Adventure
If you are up for a little cardio session, then you can coast through the shallow waters of CocoCay on a two-person kayak. On this guided tour, you will learn all about the animal inhabitants in this ecosystem and get some amazing island views. This Perfect Day at CocoCay shore excursion is approximately 90 minutes in length. Pricing starts at $31.99, or combo passes with snorkeling are available for $53.99+.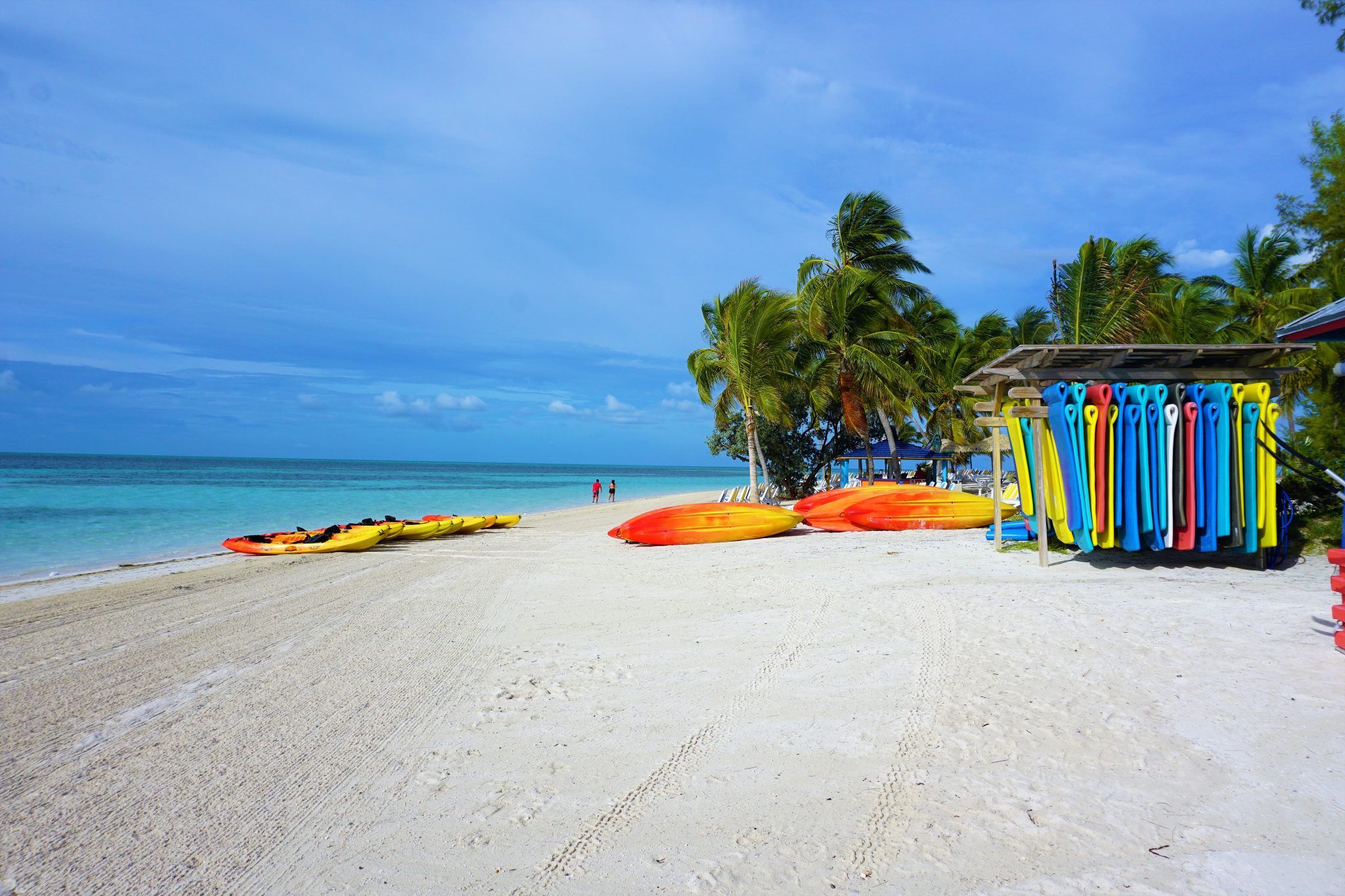 Glass Bottom Boat Tour
In this 90 minute glass bottom boat tour, you will get a spectacular view of the gorgeous Berry Islands' coral reefs, tropical fish, and other sea life. All from the comforts of a catamaran, you can see the different species that swim through the Bahamian waters as a guide educates you on the rich and diverse marine life that call this area home. Prices for the glass bottom boat tour start at $30.99.
Reef Snorkeling and Sandbar Getaway
This shore excursion begins with a guided hour-long snorkeling tour that takes you by boat to a beautiful coral reef system close to CocoCay. Once you're in the turquoise water, you'll see plenty of fish and some beautiful coral reefs. Afterwards, go for a swim in the shallow waters near the sandbar, or relax on a floating chair with a refreshing tropical drink. This tour is listed as 2.5 hours long, with snorkeling depth of up to 10 feet. Prices for this excursion are starting at $39.99
Certified Scuba Dive
If you want to dive a bit deeper into CocCay's underwater world, then you will want to book this Scuba Dive excursion. On this one-tank, shallow-water shore dive, you will explore to a maximum depth of 40 feet. Your PADI instructor will provide you with a tank and help you identify the various marine life and coral formations in the area. This excursion is approximately 90 minutes. Prices start at $50.99 with equipment or $42.99 without equipment.
Extras
If you would prefer to relax during your visit to Perfect Day at CocoCay, there are some extras that can be purchased to make your visit a bit more comfortable. These include floating beach mats, a beach bed (max of 4 guests), or a beach bungalow (max of 6 guests). Of course, if you really want to splurge, you can rent one of the cabanas located throughout the island (max of 8 guests). Currently, cabanas are available at the Thrill Waterpark, Chill Island, and Oasis Lagoon.

Comments
Have you visited this newly transformed private island in the Bahamas yet? What are your favorite Perfect Day at CocoCay Shore Excursions? Drop us an anchor below to tell us what you love about Royal Caribbean's island of CocoCay.