Over the course of last year, we sailed on 9 of the world's largest new cruise ships. Of course, the common question that cruisers want to know is which cruise ship was our favorite. So, to answer that question, we have put together this post. We compare all of these new cruise ships to see which one wins the title for best cruise ship. You might be surprised by the results!
Comparing the 9 New Cruise Ships We Sailed on in 2022
We have to admit that since the cruise comeback, we have been fortunate to cruise more than ever before. In 2022 alone, we sailed on over 20 voyages with 14 different cruise lines.
Among those trips, we had the opportunity to spend at least six nights on 9 of the newest megaships to debut. These vessels include Holland America Line's Rotterdam, Royal Caribbean's Wonder of the Seas, Princess Cruises' Discovery Princess, Disney Wish, Norwegian Prima, Virgin Voyages' Valiant Lady, Celebrity Beyond, Carnival Celebration, and MSC Seascape.
WE COMPARED 9 BRAND NEW SHIPS IN OUR LATEST VIDEO!
Of course, we have reviews for each ship here on the blog. But, the more interesting analysis is how these different vessels compare to one another. Well, we are going to rate these ships on 15 different categories.
Since the name of our website is Eat Sleep Cruise, you know several of these categories have to do with food and the overall dining experience. However, we also include other categories related to entertainment and onboard activities, the public venues, and overall décor.
Find out which categories your favorite ship won.
CRUISE DEALS: BOOK NOW TO SAVE ON 2023 CRUISES!
Best Cruise Ship for Quick Service
In 2022, one cruise ship outshined all the others in delivering the best casual, quick service options at sea. No other ship could match the variety of options, food preparation and flavor, and atmosphere of the quick service on Carnival Celebration!
Guy's Burger Joint remains one of the best takeout burger joints at sea. Likewise, cruisers can get customized burritos, bowls, or tacos for breakfast and lunch at the Blue Iguana Cantina on the lido deck.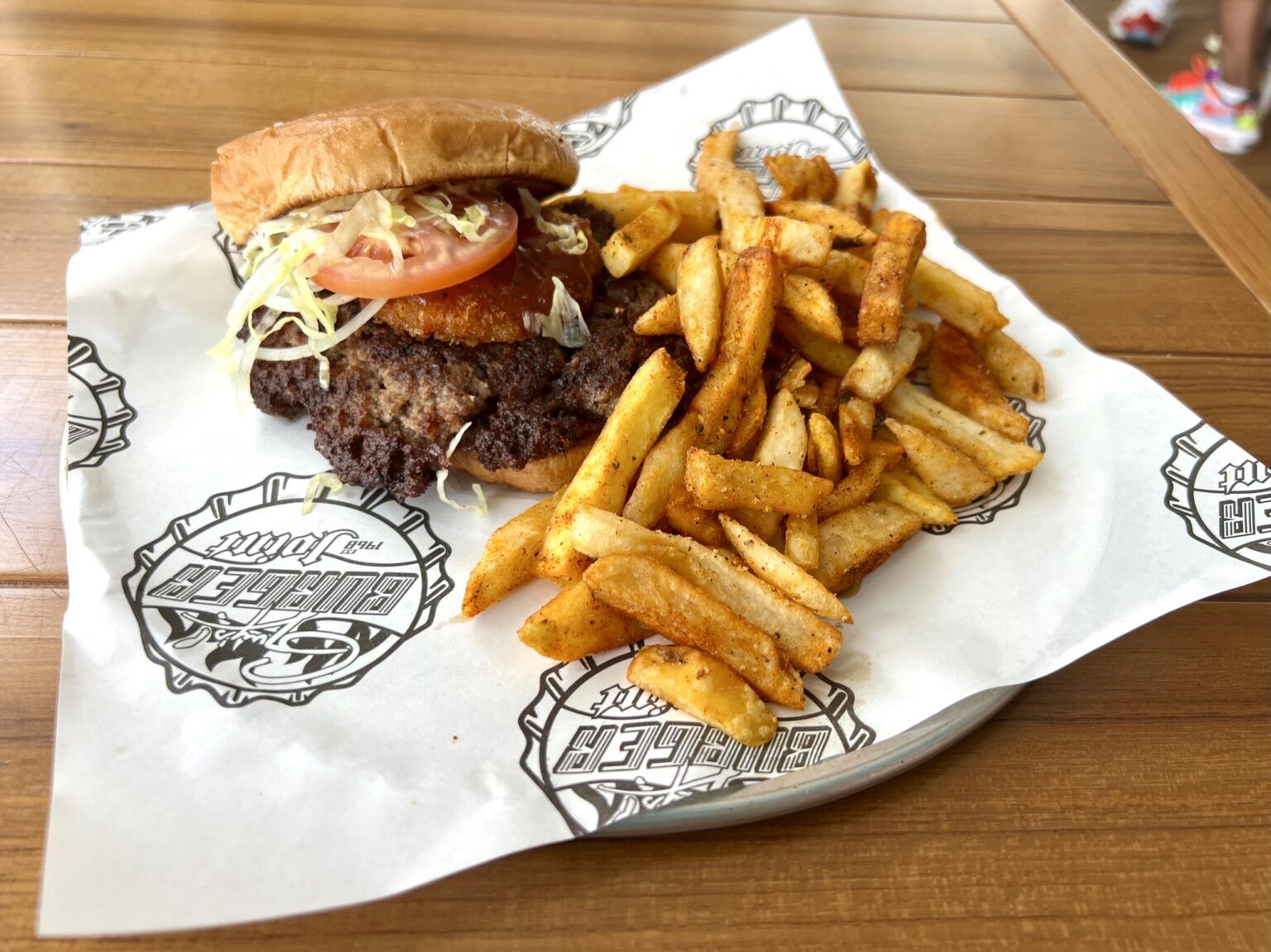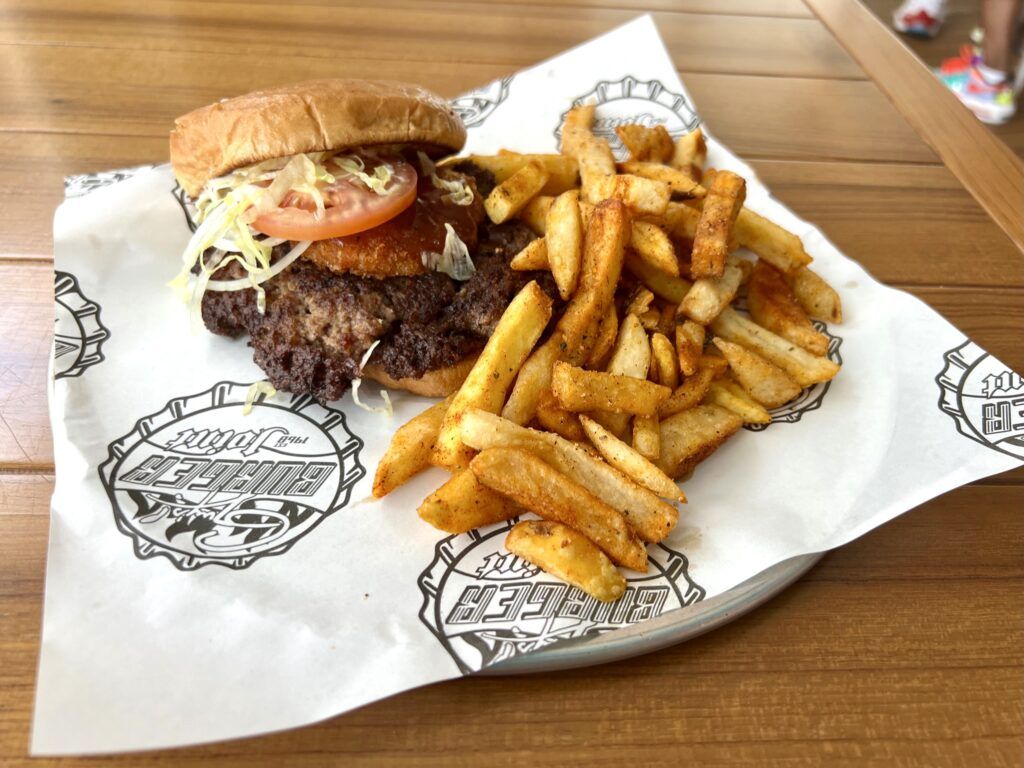 Further, Street Eats serves up small bites with loaded French Fries and options like dumplings, pad Thai, or chicken satays. These plates are just the right size for a quick snack.
Not to mention, aft on Deck 16 is Shaq's Big Chicken. This quick service spot cooks up addictive crispy chicken sandwiches and tenders.
Cruisers can grab a pizza at the Miami Slice pizzeria until the early morning hours or a sandwich from the nearby Deco Deli as well. Finally, the Java Blue Cafe serves up some grab and go options like breakfast sandwiches in the morning, and sandwiches, chicken pies, and empanadas in the afternoon.
Needless to say, there are so many options, you don't even need to step foot in the buffet on Carnival Celebration!
Honorable Mentions for Best Quick Service
While Carnival Celebration takes the title for best overall quick service at sea, we do have to shout out a few honorable mentions in this category.
First up, we give a nod to the Indulge Food Hall on Norwegian Prima. This quick service venue offers 7 complimentary food stations and perfectly prepared menu items. Cruisers can dine on items like beef brisket, pad Thai with shrimp, and totopos, all ordered on a tablet and delivered tableside.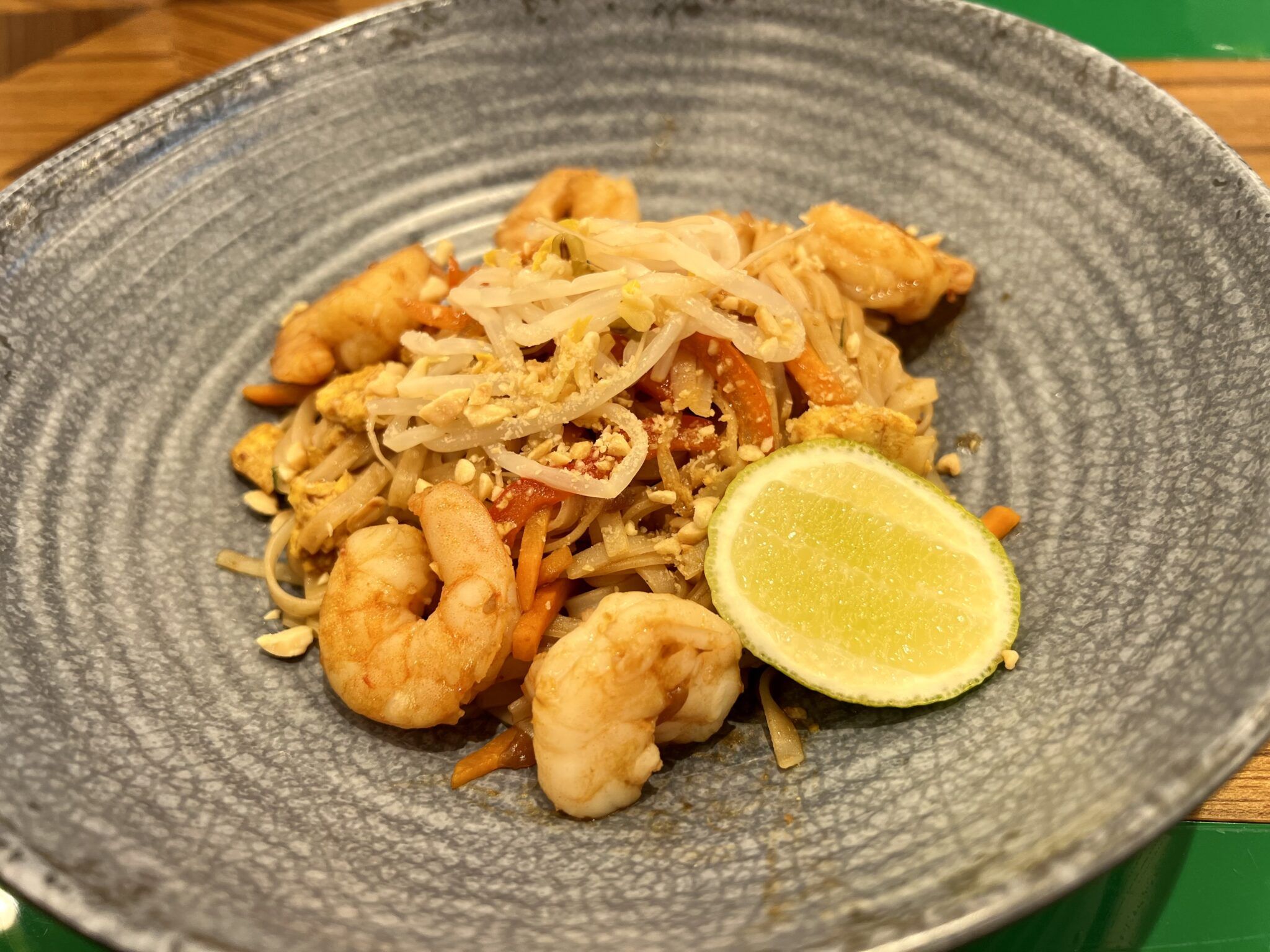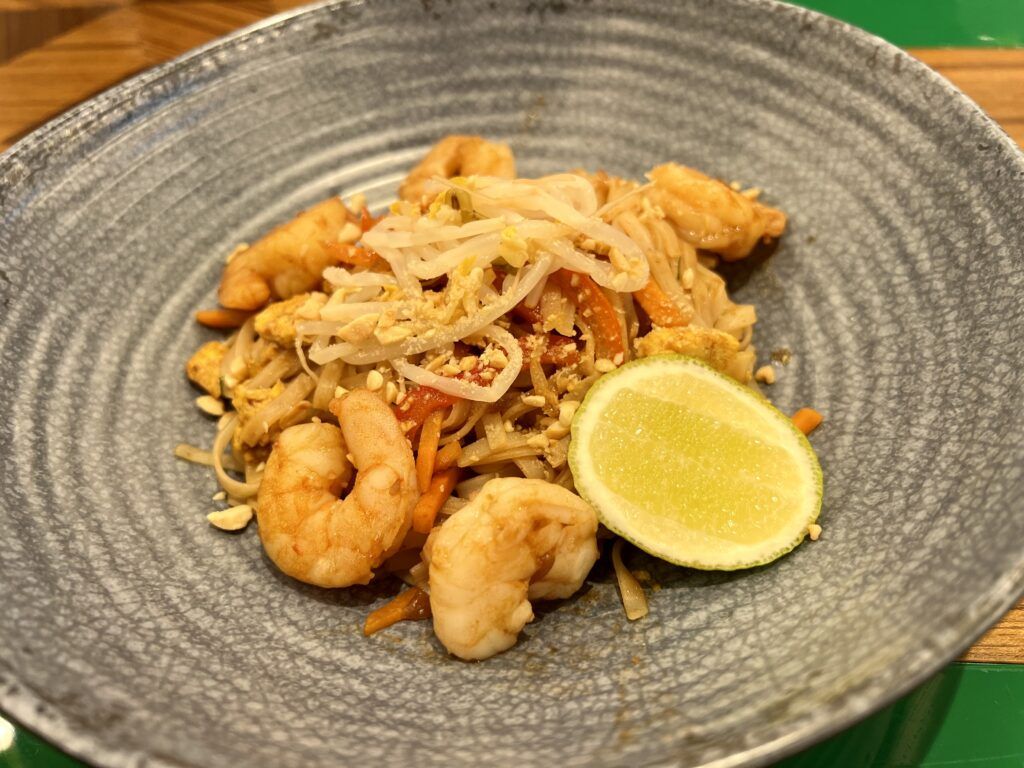 Likewise, the Mickey and Friends Festival of Foods on Disney Wish is a great poolside dining venue. There are a total of 5 different eateries offering family-friendly favorites like pizza, hamburgers, hot dogs, and chicken tenders, fresh BBQ, or Tex-Mex favorites, plus soft serve ice cream, all steps away from the main pools.
Best Pizza at Sea
If you thought we were done evaluating casual dining in just one category, then you don't know us very well.
While the aforementioned ships did a great job delivering great flavors and a diversity of options, some cruise ships did better at delivering specific menu items.
Now, every cruise ship has pizza onboard. Whether it is a stand-alone pizza joint or a station in the buffet, grabbing some pizza is almost mandatory on a cruise. Although, not all cruise pizza is created equal.
While some cruise lines' pizza tastes like it is straight from the freezer, some offerings rival the best parlors in NYC.
This past year, Discovery Princess helped Princess Cruises retain its title for best pizza at sea! Gigi's Pizzeria on deck 7 is a casual, complimentary sit-down restaurant that serves up mouthwatering pizza. This pizza is complete with a crisp and airy crust, and masterfully combined layers of flavorful pizza sauce, cheese, and deluxe toppings.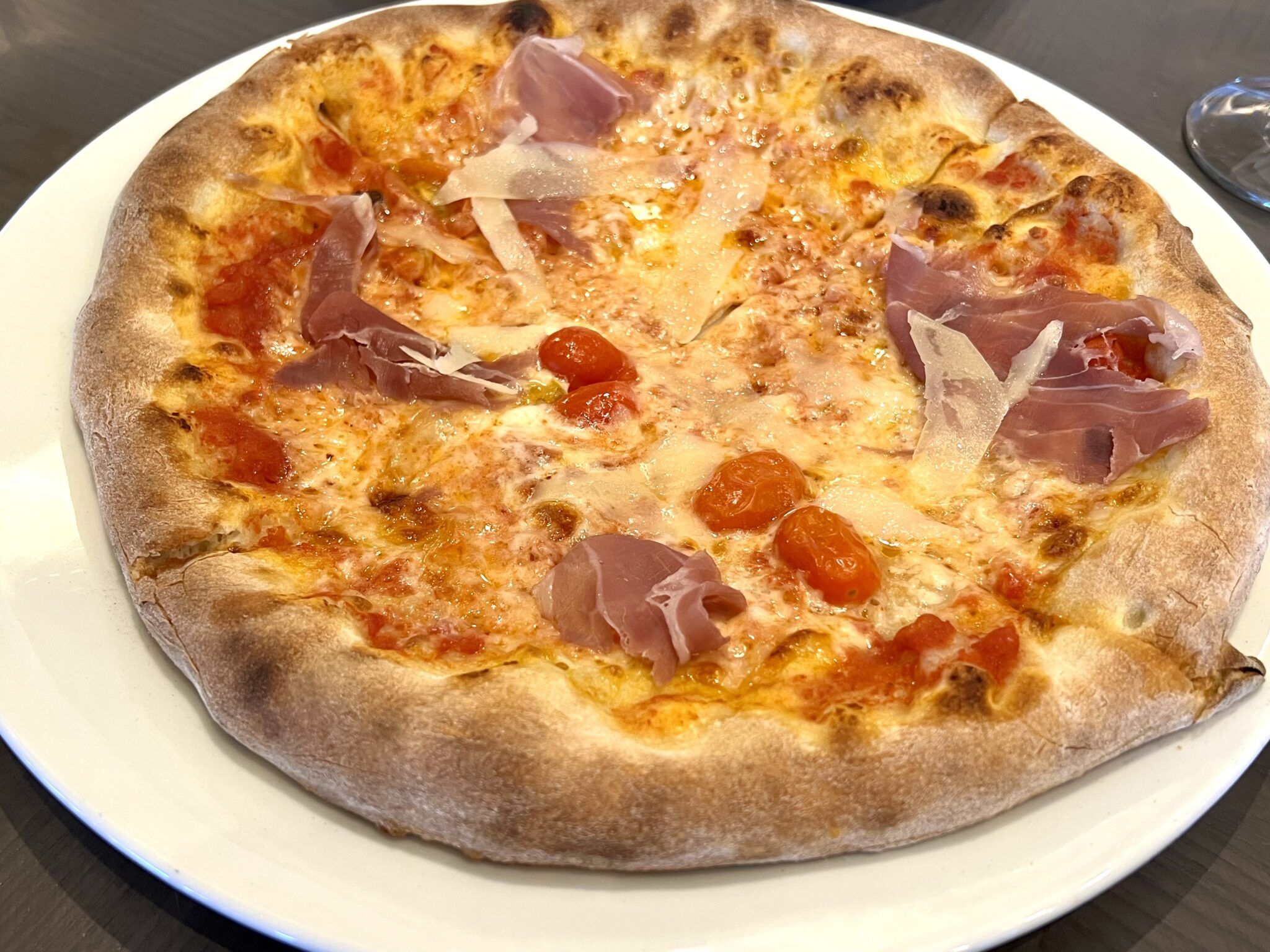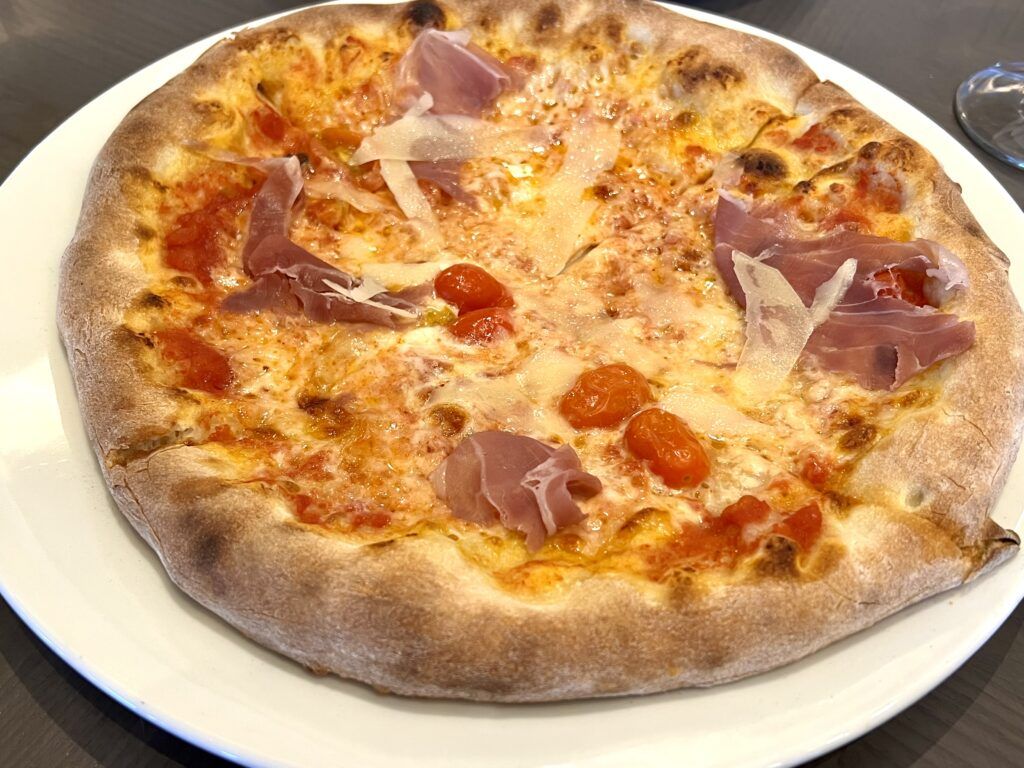 You can't pass up the Princess Pizza or the traditional pizza Margherita. For a quick fix, deck 16 is home to a second pizza place, Slice, which offers hot fresh pizza slices pool side.
Coming in a close second for pizza is Virgin Voyages' Valiant Lady! The Pizza Place dishes out freshly prepared personal-sized pizza.
You can dine in or take your freshly prepared pie to go. The pepperoni and 4 cheese are among our favorites. Another nice bonus is that cruisers can enjoy freshly made salads in grab and go containers alongside their lunch.
The venue is open during the day and reopens in the evening for those late-night munchies.
Best Burgers at Sea
There is nothing better on a hot Caribbean sea day than grabbing a burger and some fries poolside. Not surprisingly, many cruise lines feature grills that are a short walk from the main pool area.
When it comes to the best burgers at sea though, Guy's Burger Joint on Carnival Celebration edges out the competition. Found on many Carnival ships, this fast food style venue delivers.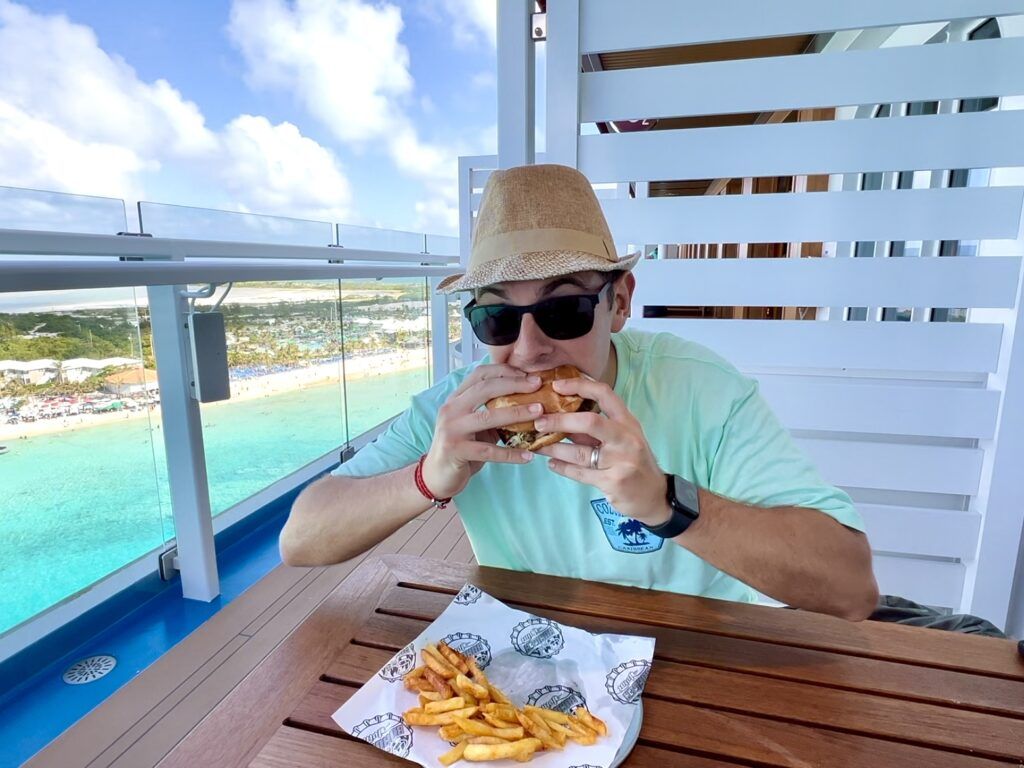 It offers a well-prepared, hot beef patty with the right mixture of toppings, and a complete fixings bar. These burgers are served up with a hearty offering of seasoned fries, which are also a contender for best French fries at sea. While not the healthiest option, this lunchtime offering is quite delicious.
If you are looking for something a bit less indulgent, our honorable mention goes to the Dive In on Holland America Line's Rotterdam. The burgers here are more gourmet than Guy's, with equally tasty fries. Not to mention, the Dive In also serves original Nathan's hot dogs and chicken sandwiches for additional choices.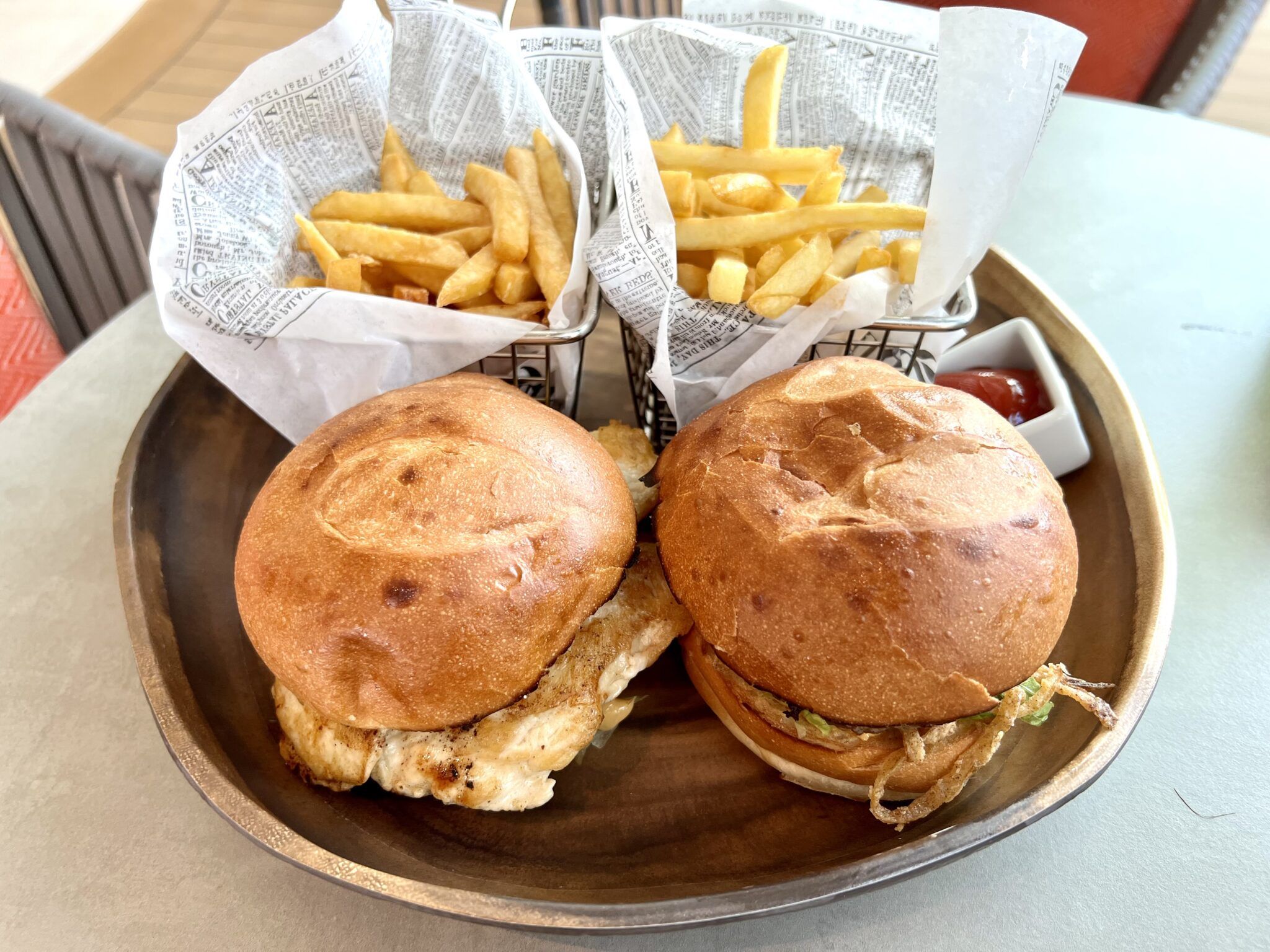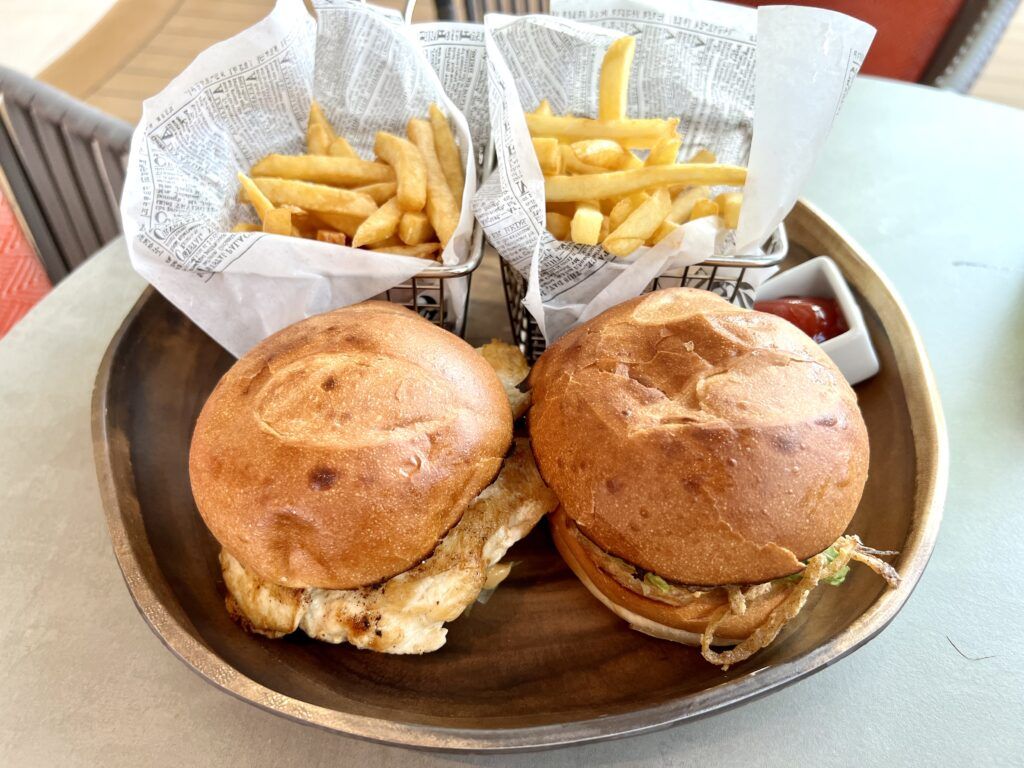 Another bonus for this honorable mention winner is the ability for in-app ordering. You can skip the lines, order your burgers and fries in the app, and receive a push notification when they are ready to be picked up.
Best Main Dining Room
Certainly, cruisers are familiar with the main dining which serves a multi-course dinner every night. Plus, these venues usually offer a sit-down breakfast and lunch on select days.
For all the foodies looking to experience the best cruise main dining room, look no further than Virgin Voyages.
Instead of one venue serving a rotational menu each night, cruisers can select from 6 different themed venues on Virgin Voyages. All of these restaurants are included in the cruise fare just like the traditional main dining room on most cruise lines. Further, the food quality is top notch, and the execution is flawless.
At Pink Agave, cruisers can share an endless array of small, medium, and large plates, like roasted corn, guacamole, seared shrimp, and cochinita pibil to name a few.
At the Wake, premium steaks and chops come fresh off the grill alongside delectable sides and sweet and satisfying desserts. There's also brunch with gourmet offerings like eggs benefit, steak and eggs, and more.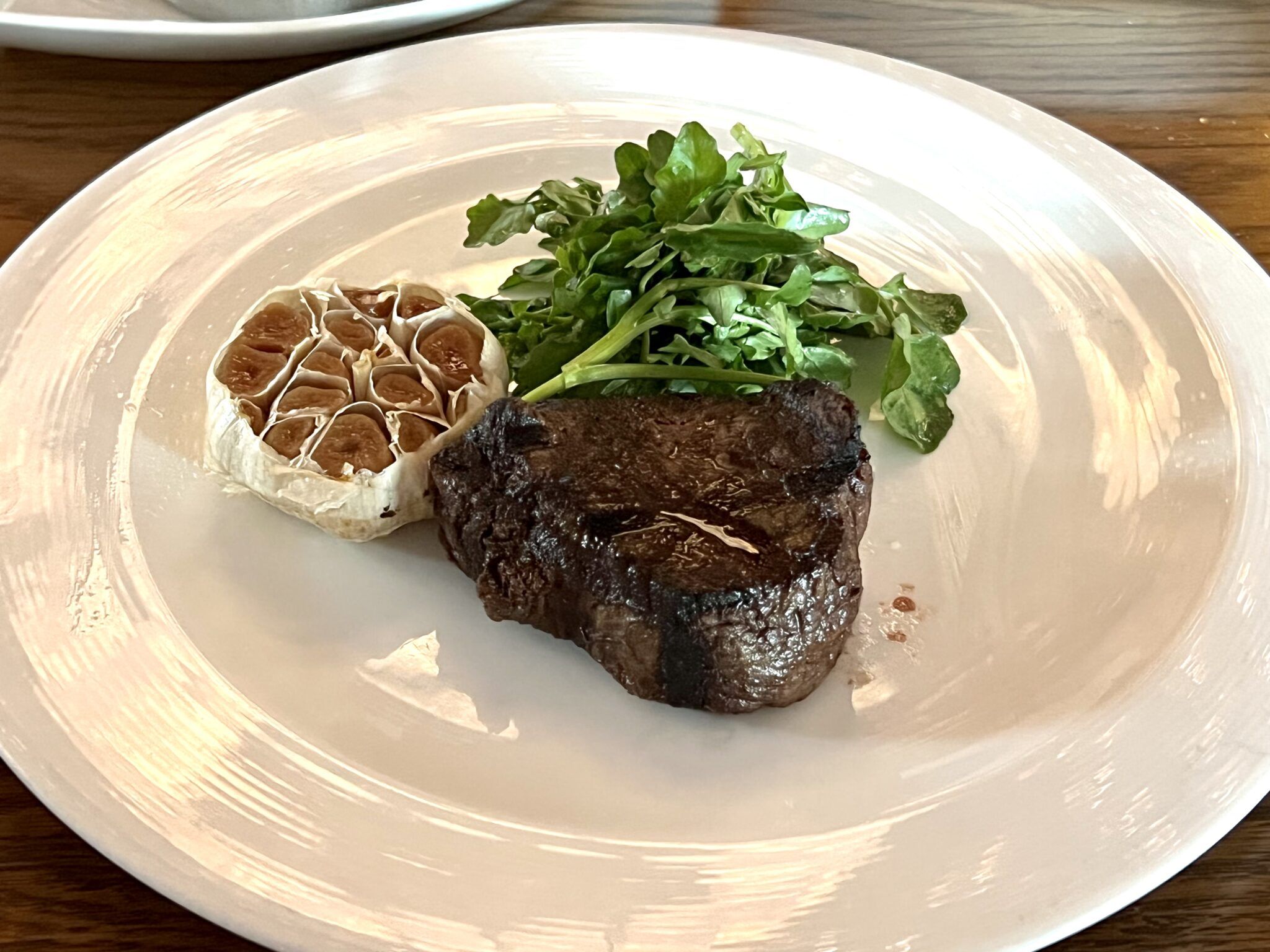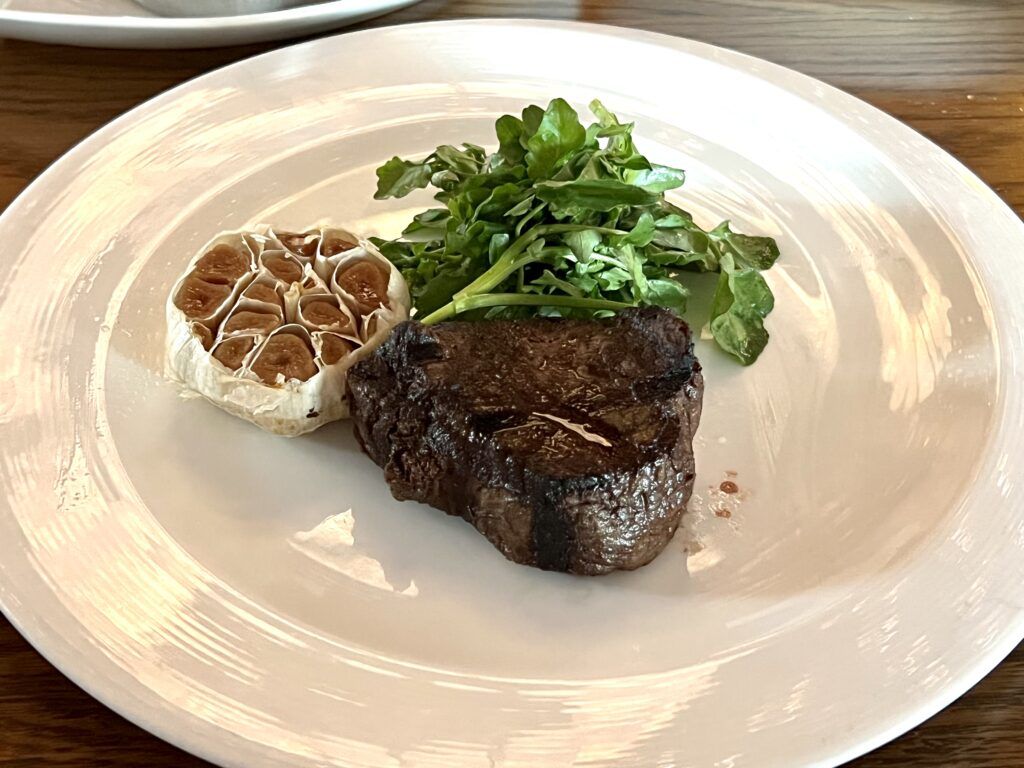 Extra Virgin, the Italian restaurant, serves classic starters, entrees, and homemade pasta that rivals anything you find in the best restaurants on land.
Additional options include the first-at-sea Korean BBQ Gunbae, the vegan-friendly Razzle Dazzle, and the 6-course experiential dining experience at the Test Kitchen.
Our honorable mention goes to Celebrity Beyond. Similar to Virgin Voyages, this new megaship has four different main dining rooms. Each main dining room has an exclusives menu with select items only available at that venue. Plus, each restaurant offers the same rotational menu which changes nightly along with classics that are available throughout the cruise.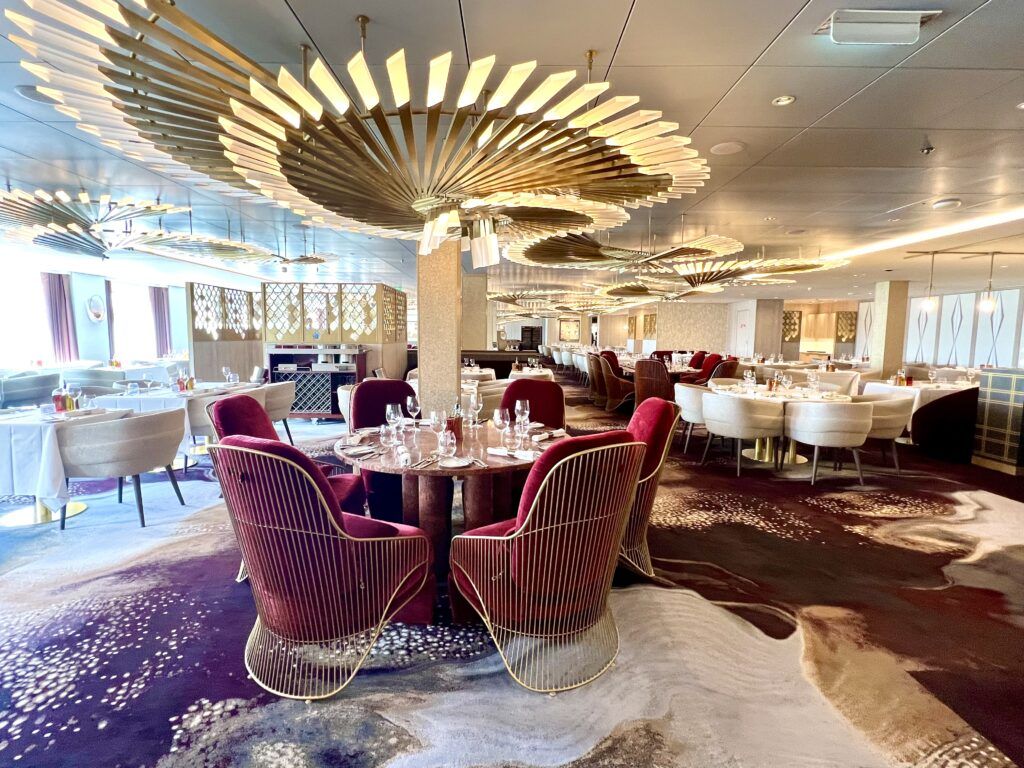 These four main dining rooms include the Greek Cyprus, the Italian Tuscan, the French Normandie, and the American Cosmopolitan. Not to mention, cruisers in Aqua Class cabins have their own main dining room, Blu, featuring health-conscious menus.
Further, those cruisers staying in one of the Retreat suites have a private main dining room, Luminae. Luminae boasts an elevated Mediterranean menu which includes signature items from Michelin chef Daniel Boulud.
EXCLUSIVE SAVINGS: Get Deals on Virgin Voyages Cruises!
Best Specialty Dining Options
While there are plenty of complimentary dining options at sea, the newest cruise ships also offer a number of up-charge venues. Honestly, there were so many great new and classic specialty restaurants that wowed us this year.
If forced to choose just one ship, Celebrity Beyond had the perfect combination of various upscale options that were well worth the costs in our opinion.
New to Celebrity Beyond is the specialty restaurant Le Voyage. From executive chef Daniel Boulud, this exquisite and intimate restaurant features a globally inspired menu offering a taste of cuisine from around the world. I was particularly fond of the Tamarind and Peanut-Crusted Prawns and the Brazilian Moqueca. It was one of the best meals I have had at sea.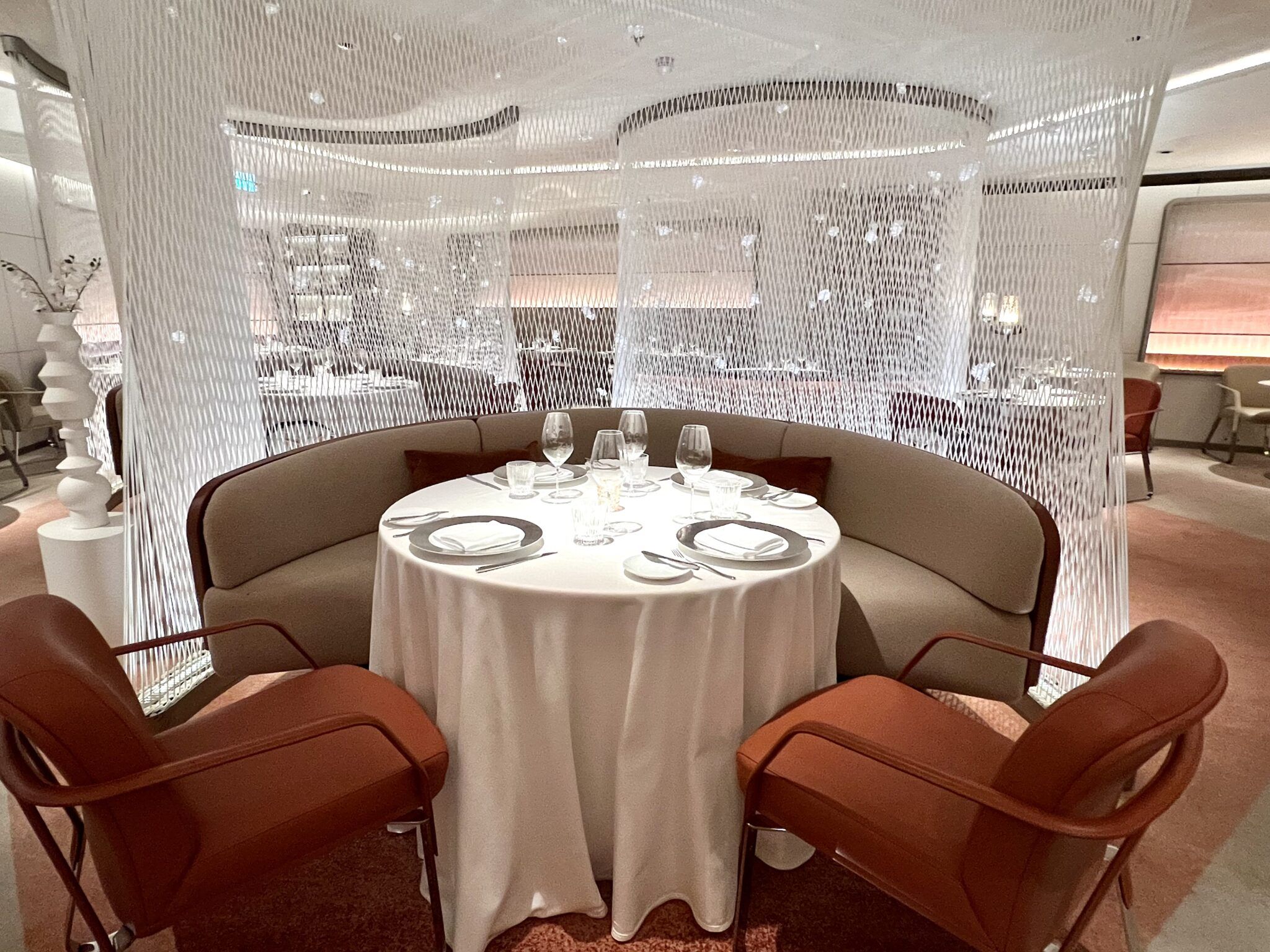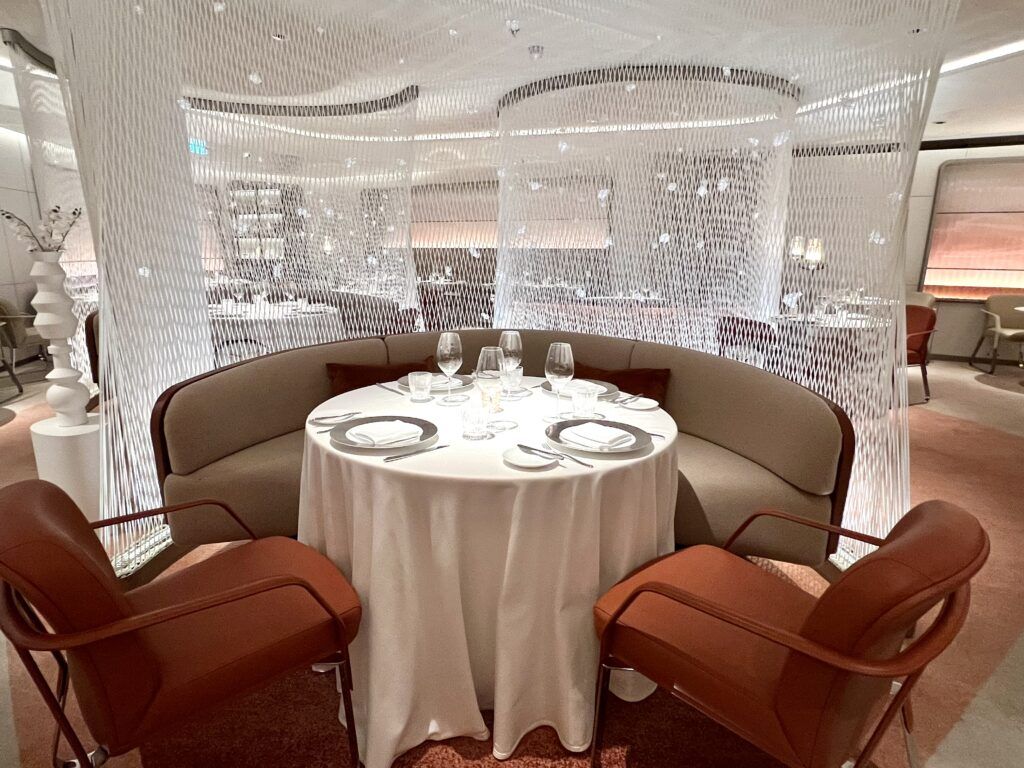 Among other standouts on this ship is the Fine Cut Steakhouse. This restaurant offers succulent starters like a Lobster Cocktail and Ricotta Gnocchi. Further, the several premium cuts of beef pair well with gourmet sides like Bacon Mac and Cheese and Gruyere Tater Tots.
More grilled favorites are available at the Rooftop Garden Grill. This al fresco restaurant showcases smoky favorites like chicken wings, seafood skewers, and baby back ribs.
Further, cruisers can pair dinner with a show at Le Petit Chef or indulge in fresh seafood and "land meats" at Raw on 5. There's also the experiential menu at the Eden Restaurant. This restaurant's newer menu offers some more approachable items like the Aegean Sea Ceviche and the Tandoori-Style Beef.
Honorable Mentions for Best Specialty Dining
While Celebrity Beyond gets our vote for best overall specialty dining, we can't not mention some of our other favorite specialty restaurants at sea.
We applaud Royal Caribbean's Wonder of the Seas for its new, southern comfort restaurant the Mason Jar. Along with great dinner options, the venue serves an amazing brunch and some of the most flavorful signature drinks, all alongside live country music.
For cruisers who are fond of Far East flavors, Tamarind on Holland America Line's Rotterdam delivers some authentic pan Asian cuisine. From the lobster potstickers, to Szechuan shrimp and Red Curry chicken, and Dungeness crab fried rice, Taramind is leaps and bounds better than the competition.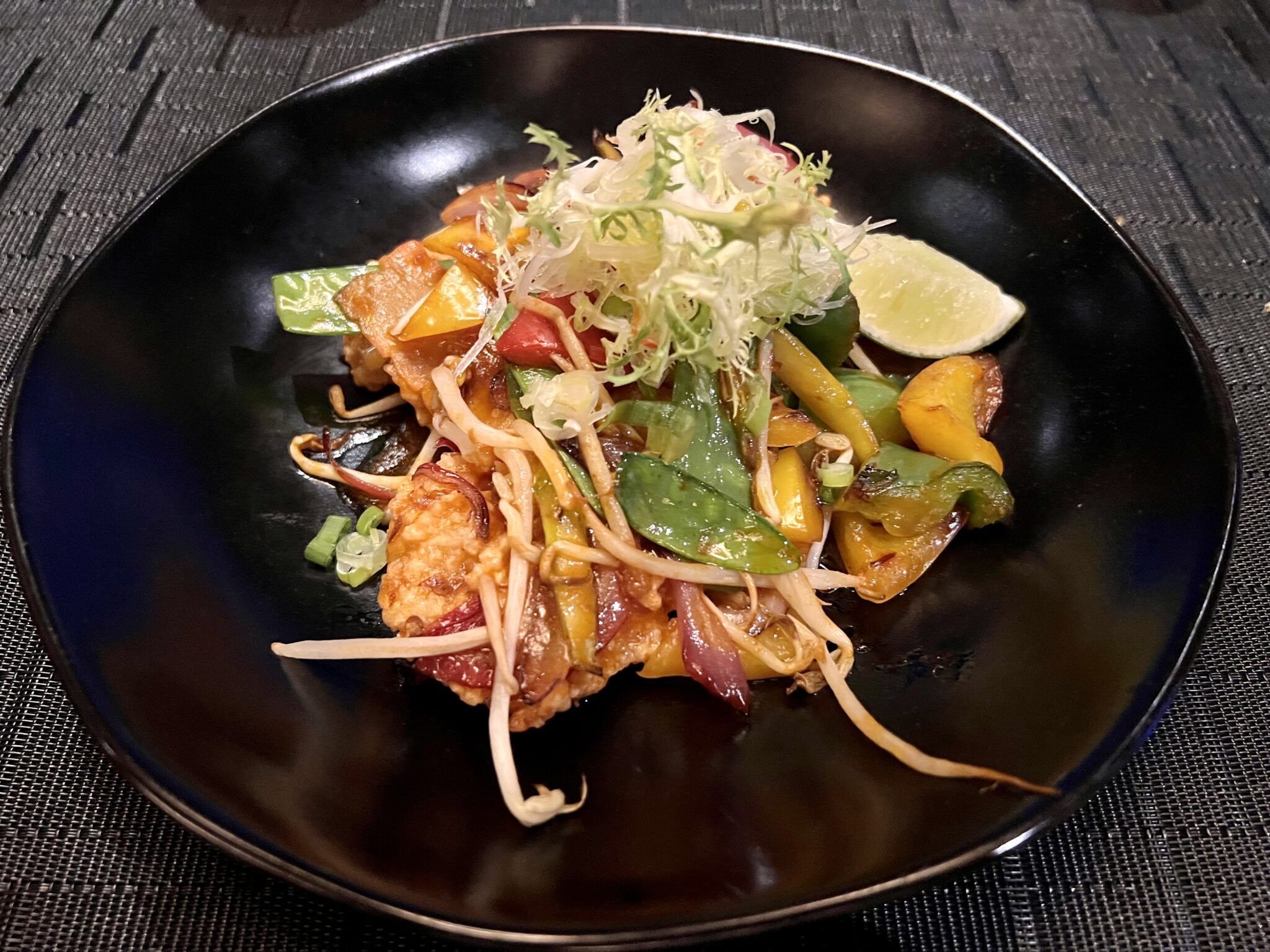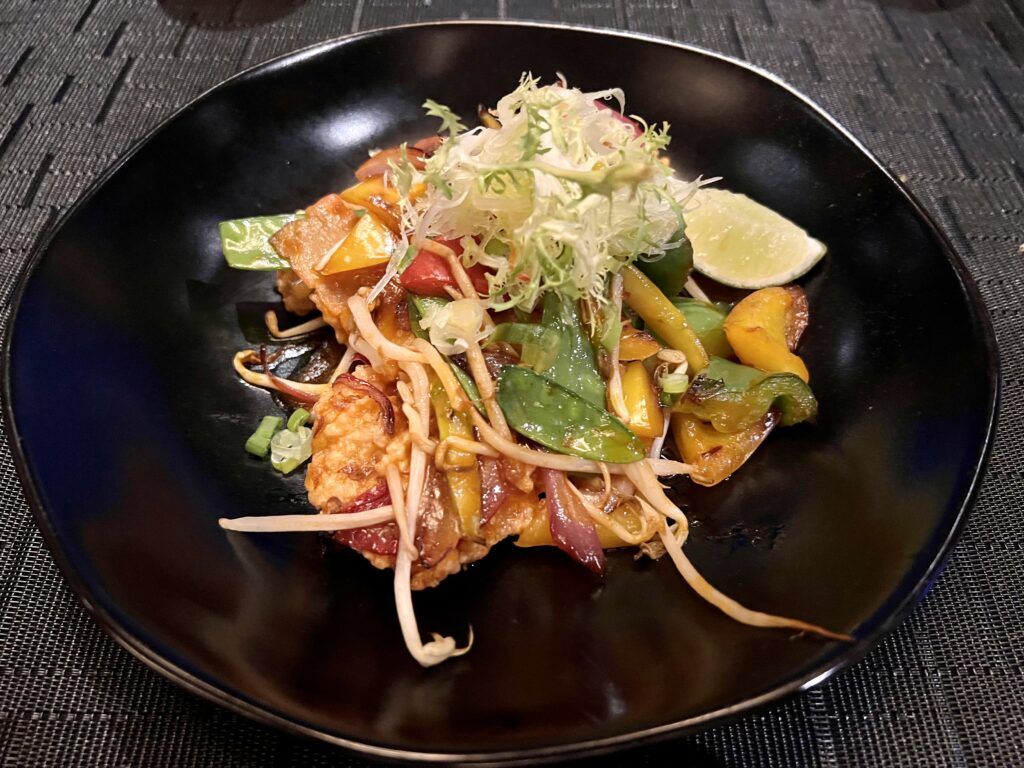 When it comes to cruise ship steakhouses, there are two that tie for second place in our opinion. The Butchers Cut on MSC Seascape sears up an amazing filet, with equally hearty sides like mac and cheese, fries, and decadent lava cake for dessert. Similarly, the Crown Grill on Princess Cruises takes the nod for best value. This steakhouse is only $28 and still manages to offer a delicious meal, complete with the line's signature French onion soup, fine seared steaks, and sides.
For those who love Italian food, Onda by Scarpetta on Norwegian Prima is a must. The freshly made pasta, pizzas, and secondi entrees are exquisitely prepared and well worth the cover charge. While not many cruise lines do Italian food well, NCL delivers with Onda.
Best Signature Entertainment
For us, a perfect evening on a cruise encompasses a delicious multi-course dinner with a dynamic and captivating show. While all of the new cruise ships debuted with signature entertainment, there was one ship that shined above the competition.
Royal Caribbean's Wonder of the Seas wowed us, once again, with its signature line up of shows. Granted, it is tough for the other lines to compete with a ship that offers so many unique entertainment venues. In the Aqua Theater, the show InTENse features an all-female cast of athletes. This high-energy performance mixes music, dance, acrobatics, and high-diving feats with special effects and amazing choreography.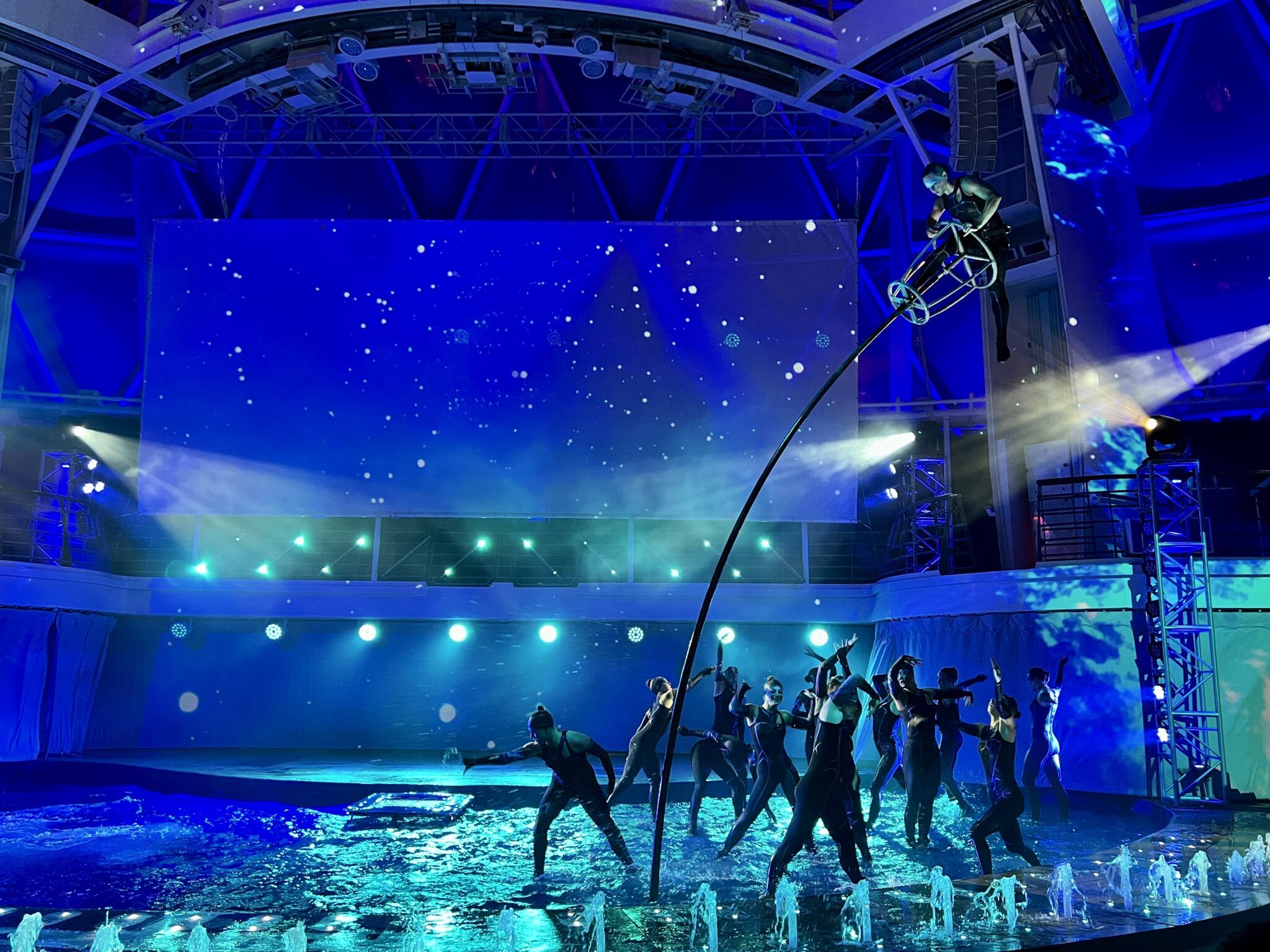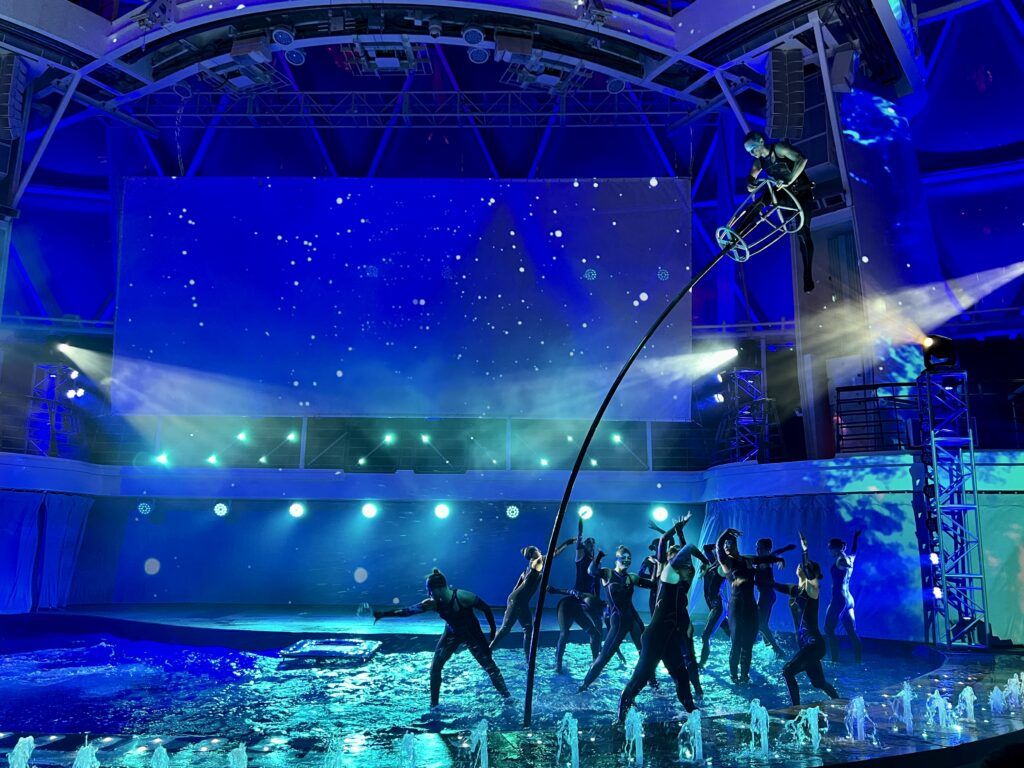 Additionally, the main theater is home to two signature productions. The special effects spectacular is The Effectors 2, Crash and Burn. This larger than life performance features superheroes, villains, and a one-of-a-kind drone show. It's certainly a technical marvel that shouldn't be missed.
The theater is also home to the new show Voices. This real world meets zoom world production features a mix of pre-recorded voices and live performers. It was a powerful show with some of the most talented singers we have ever seen on a cruise ship.
Other entertainment on Wonder of the Seas includes Ice Spectacular 365 in Studio B. This skating show portrays the changing of seasons with well-choreographed numbers complete with elaborate costumes and intricate sets. It is probably the best ice show that we have seen on a Royal Caribbean ship.
Coming in a close second in the signature entertainment category is Norwegian Prima. The ship's transformational theater allows for several distinct setups, which are on full display with the unique shows featured on this new ship.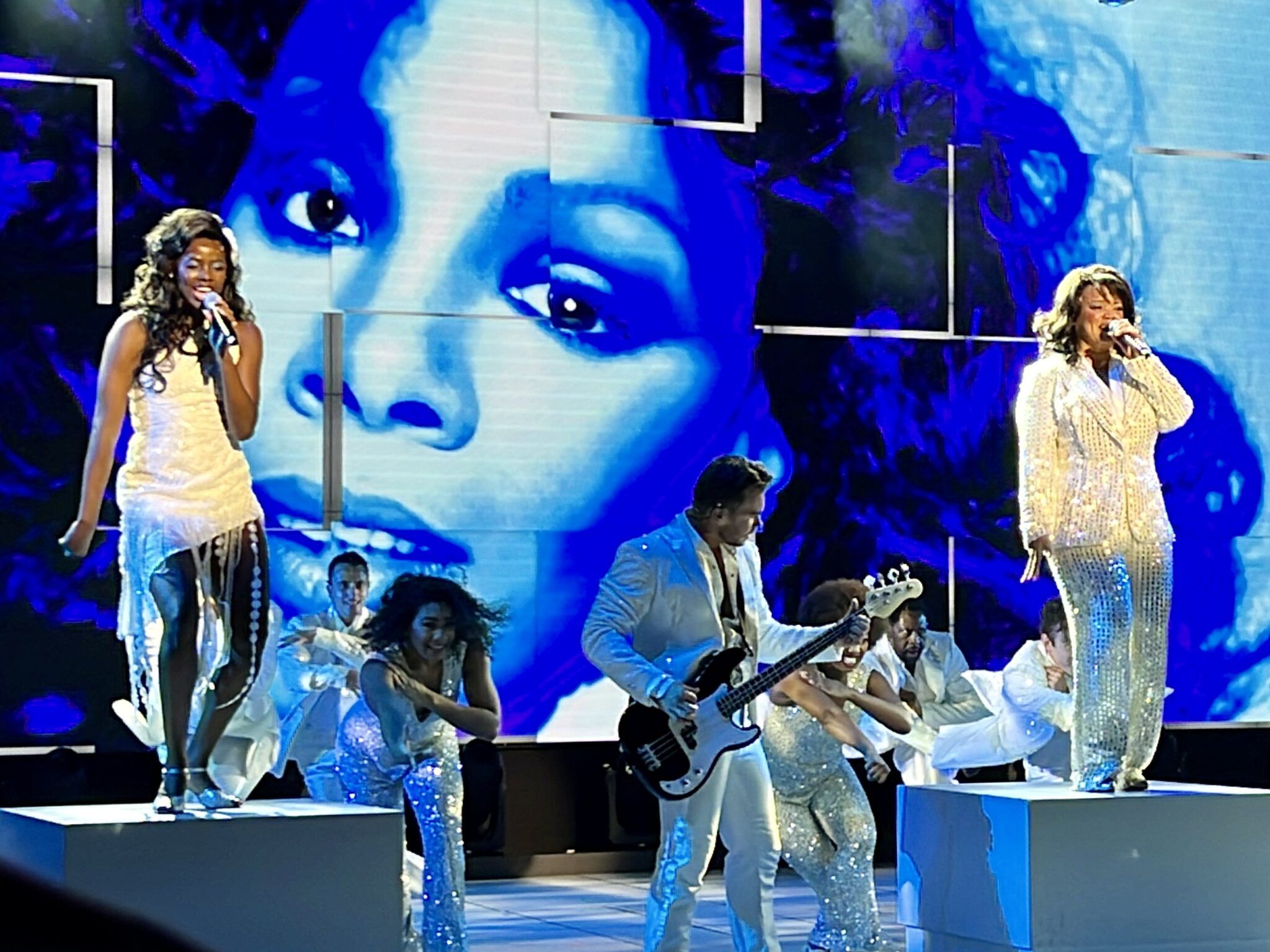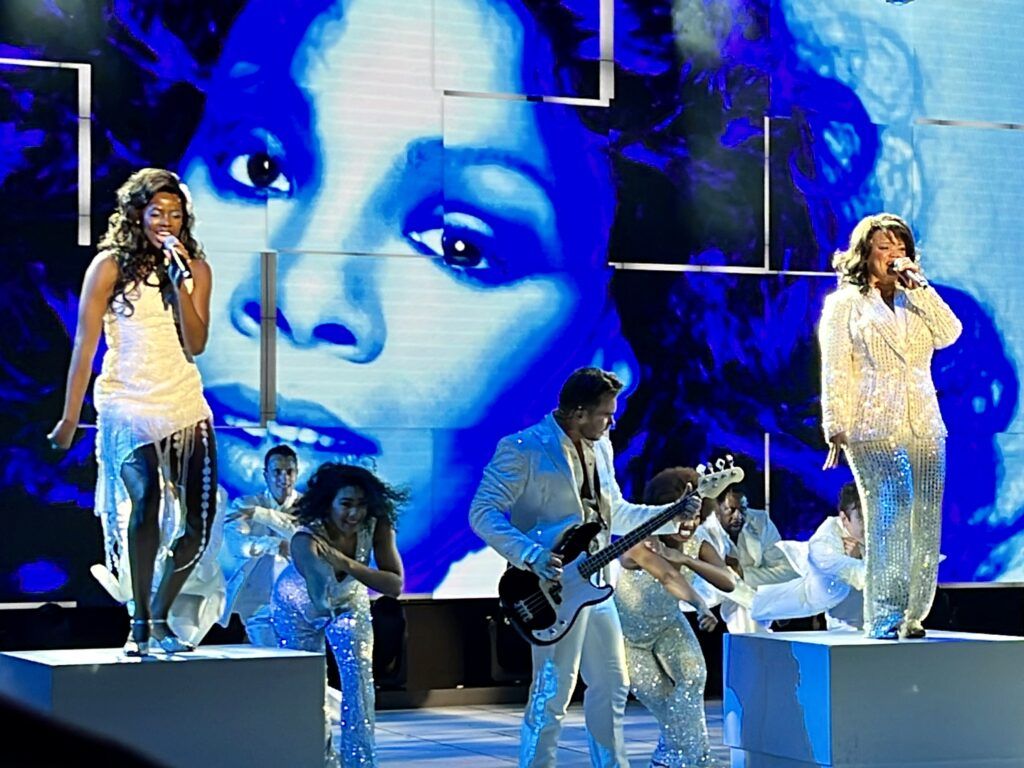 Summer: The Donna Summer Musical rocks the house with the disco legend's classic songs. The show features three lead singers with amazing voices and a strong supporting cast. Following the final performance of the night, the theater then turns into Studio 54 for cruisers to dance the night away.
The Prima Theater morphs even further for the dynamic Noise Boys. Bringing the performers closer to the audience, this show mixes hip hop, R&B, tap dancing, and beat boxing, for one of the most unique shows at sea. Not to mention, Norwegian Prima is home to the Price is Right. Cruisers have the chance to compete for real prizes, and could even win a corvette if they come close enough to the retail price without going over.
SCORE DEALS: Book Your Royal Caribbean Cruise Now!
Best Live Music on a Cruise Ship
For the most part, the newest and largest cruise ships in the world offer a variety of music venues. Many ships have a lounge that offers piano music. Further, several ships have venues that feature live rock music or bands playing contemporary pop hits. You can usually also find duos playing pop songs or Latin hits throughout the ships.
Occasionally, there is a standout performer you might find yourself frequenting throughout the week. Like the country band in Wonder of the Seas' Mason Jar. Or the string trio on Carnival Celebration in the Golden Jubilee.
Although, there is one mega-ship that really kicks things up a notch with its music programming. The Music Walk on Holland America Line's Rotterdam reigns supreme with its mix of musical styles and outstanding performers.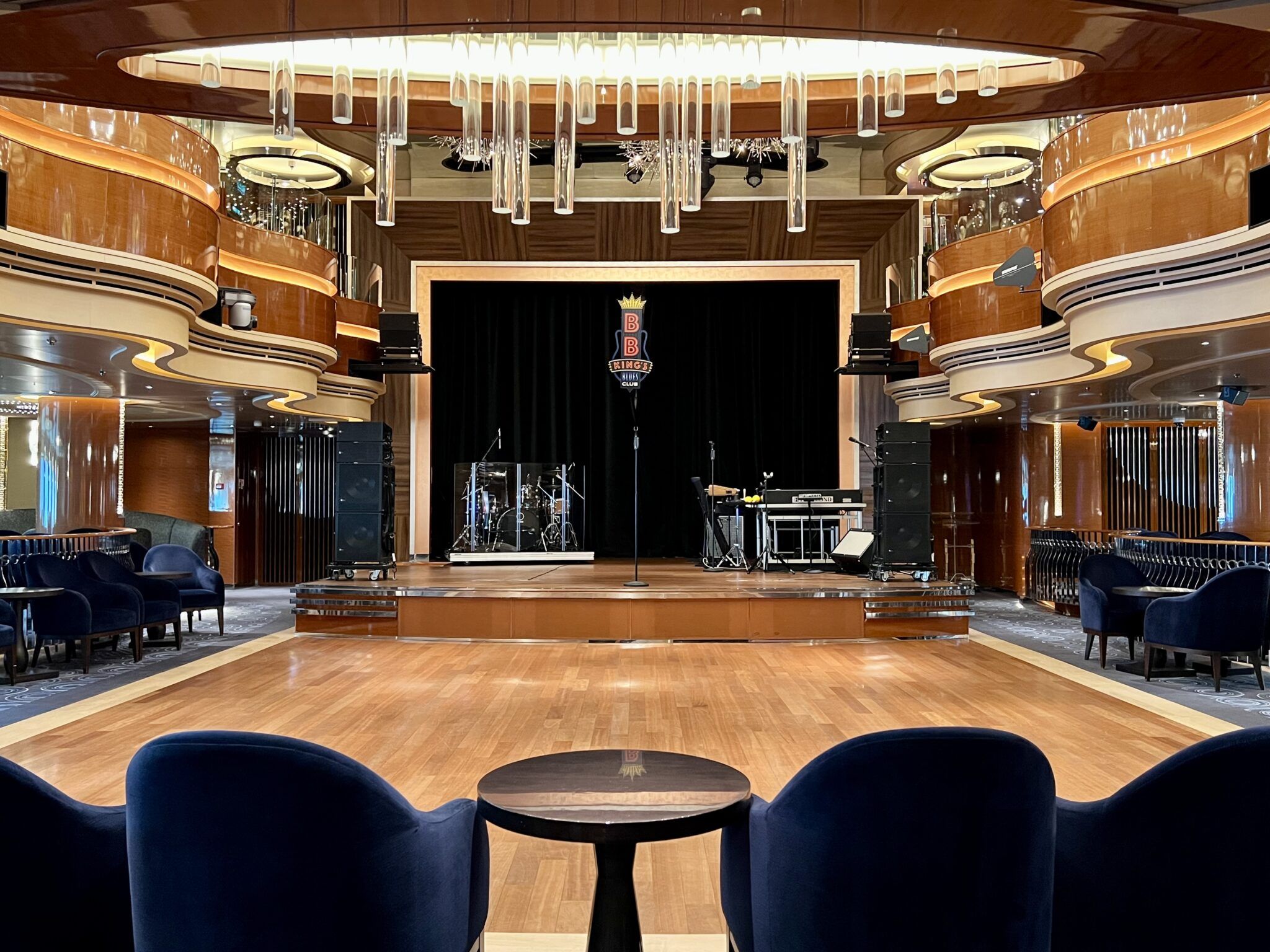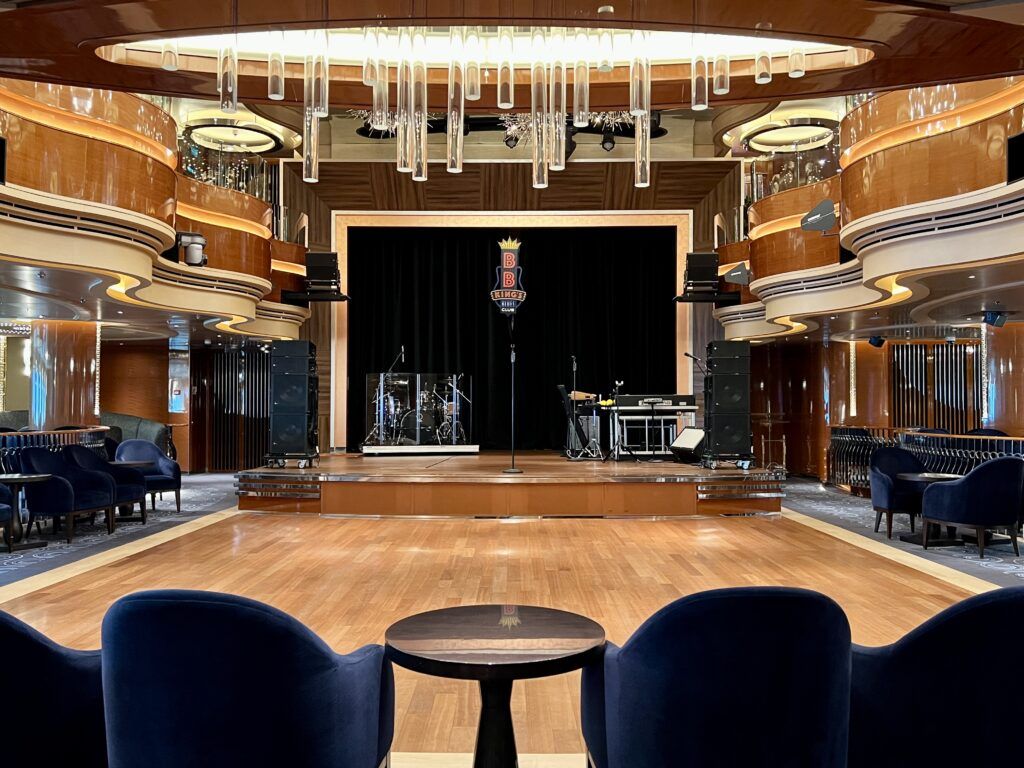 On Deck 2 forward, you will find the Billboard Onboard on the portside. This piano bar is home to two musicians who play themed sets along with all request hours. During our trip, Meagan and Gabe did an admirable job of recreating the most popular piano songs.
On the starboard side of Deck 2, you will find the Rolling Stone Rock Room. This venue, exclusive to Pinnacle Class ships, is by far our favorite music space on the ship. The band here, led by Mr. McMillan, is certainly not your typical cruise ship rock band. They had a wide catalog and were not afraid to improvise or add in some instrumental solos.
Additionally, deck 2 midship is a two-deck space that doubles as both the B.B. King's Blues Club and the Lincoln Center Stage. During the afternoons and early evenings, the space hosts a quartet of musicians for classical orchestra sets that are a nice change a pace from what you typically find on a cruise ship.
At night, the B.B. King's All-Star band plays jazz and classic pop music. This spot also turns into the dance club with either the band or a DJ closing down the joint later in the night.
While none of the other ships compare to the music program on Rotterdam, we do have an honorable mention in this category for a specific music venue.
On Norwegian Prima, we are big fans of Syd Norman's Pourhouse. This venue on deck 7 is intricately themed transporting cruisers to a hip music room from the 20th century. The band too is fantastic, with themed shows like Sail Away with Syd and their Rumours tribute. Just be sure to show up extra early if you want a seat for this rocking performance.
Best Late-Night Scene on a Cruise Ship
Admittedly, we are not usually part of the late night crowd. While most cruise ships begin closing things up around 1 AM, there are two new cruise ships in particular that will have you partying until the wee hours of the morning.
Virgin Voyages' Valiant Lady is certainly a cruise ship for those who like to party. You can find live rock music at the Roundabout all hours of the evening. Not to mention, the DJ is often in the Manor until the early morning. Whether it is a themed party or just a regular club vibe, this venue is one of the busiest on the ship at all times of night.
Of course, Virgin Voyages is also home to several signature events including Scarlet Night. For instance, there is a pajama party on the first night of the cruise. Towards the end of the cruise, there is the ship-wide, immersive, and anything but ordinary Scarlet Night party. With pop-up performances, dancing in the pool alongside a giant octopus, and a mega-after party, it is the biggest celebration on the high seas.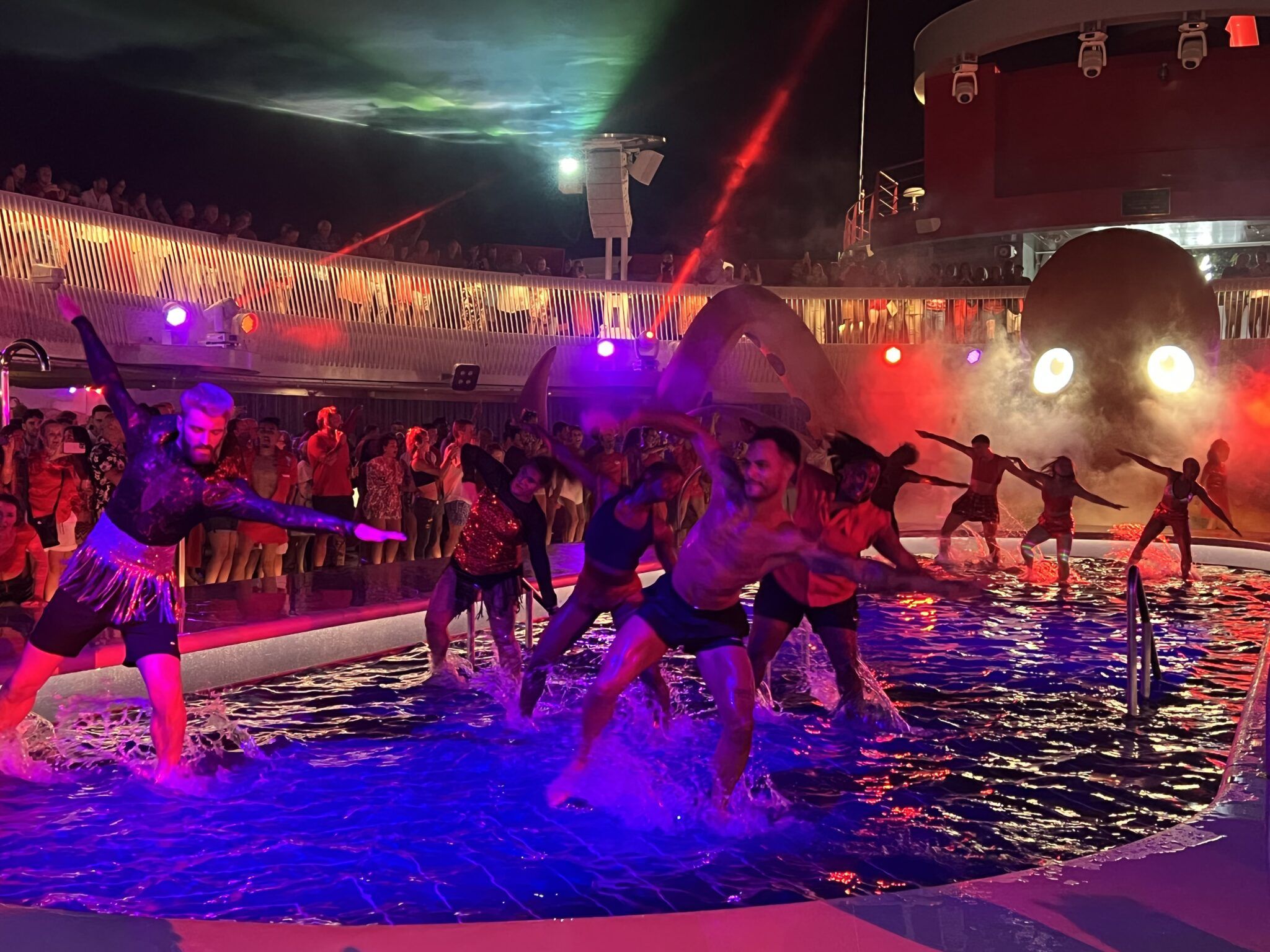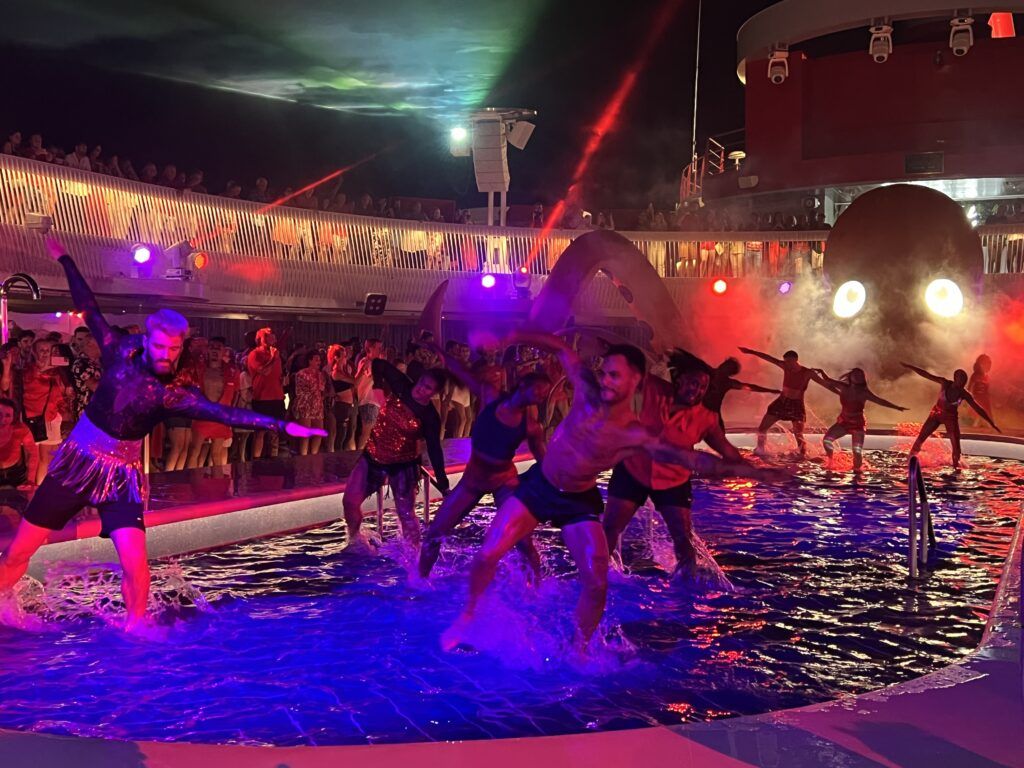 Not to be outdone, MSC Cruises might hold the title for the latest party at sea. If there is one thing this international audience of cruisers knows how to do, it is stay up late. While several of the bars and lounges on MSC Seascape close around midnight or 1 AM, Le Cabaret Rogue is the place to be late night. And, the host wasn't lying when he said it was open until sunrise, as the club was hopping until 4 or 5 AM!
Even if you can't stay up that late, the cruise activities staff starts the fun much earlier. Almost every night of the cruise, there is a deck party. From the White Party to the brand's Tropical Party, these events are very well-attended when compared to deck parties on other cruise lines. In fact, there is even a pre-party kick-off that occurs in the Atrium. Complete with live music, themed costumes, and a selfie station, the party gets started before dinner on MSC cruises.
Best Cruise Director
The cruise director and their staff are crucial to having a good time on a cruise. From setting the overall vibe to hosting events, these are the men and women that are responsible for all the fun.
While it seems many cruise lines have started to downplay the cruise director role over the last several years, one ship's cruise director leaped over the competition with his funny, energetic, and charismatic personality.
Lee Mason on Carnival Celebration sets the bar very high for a cruise director. He was everywhere! From hosting many of the activities to just roaming the ship interacting with guests, he always had a smile on his face and was happy to take a quick selfie with guests. He led the Fun Squad in events from the Sail Away party to the Evolution dance party in Celebration Central.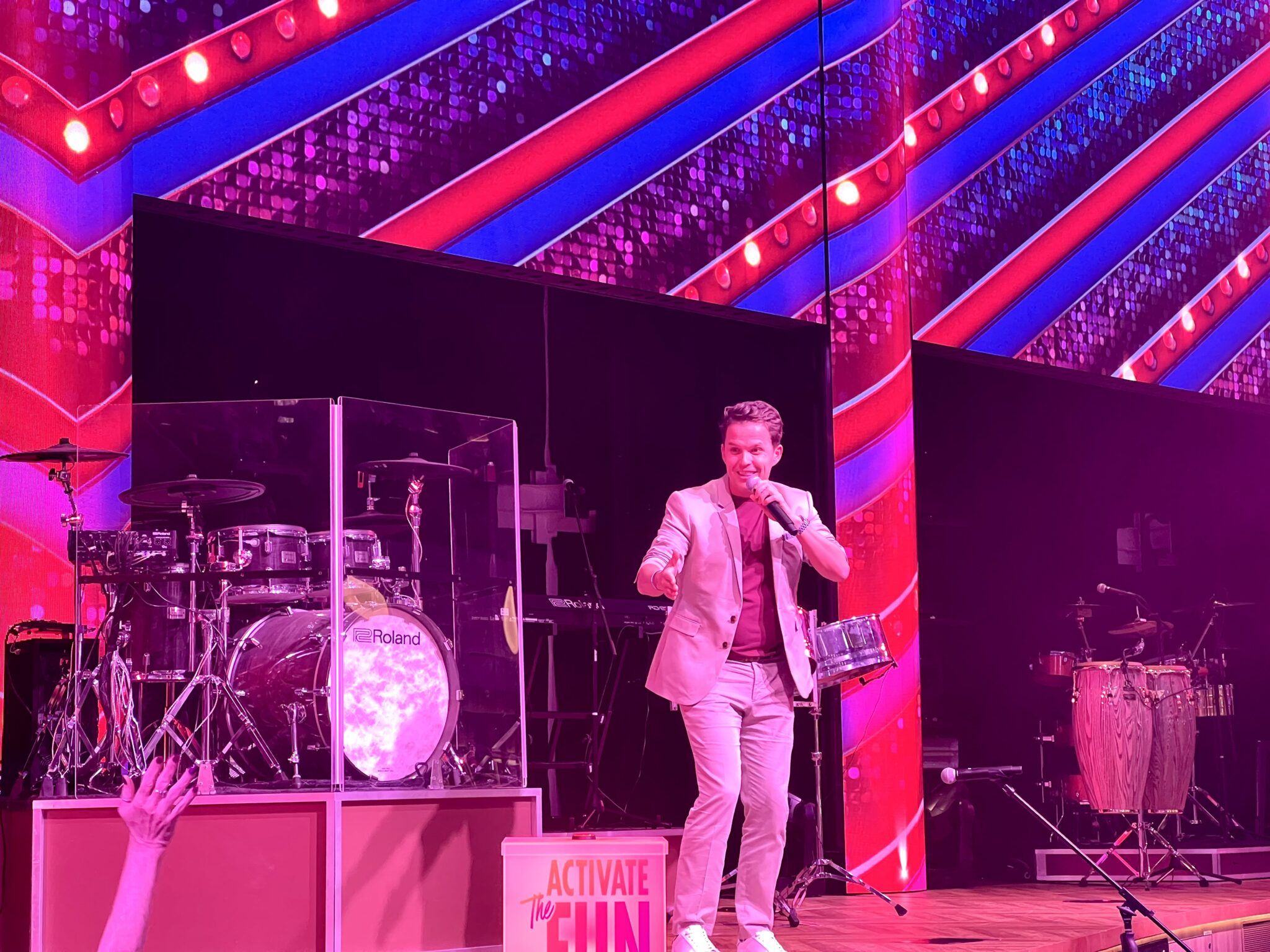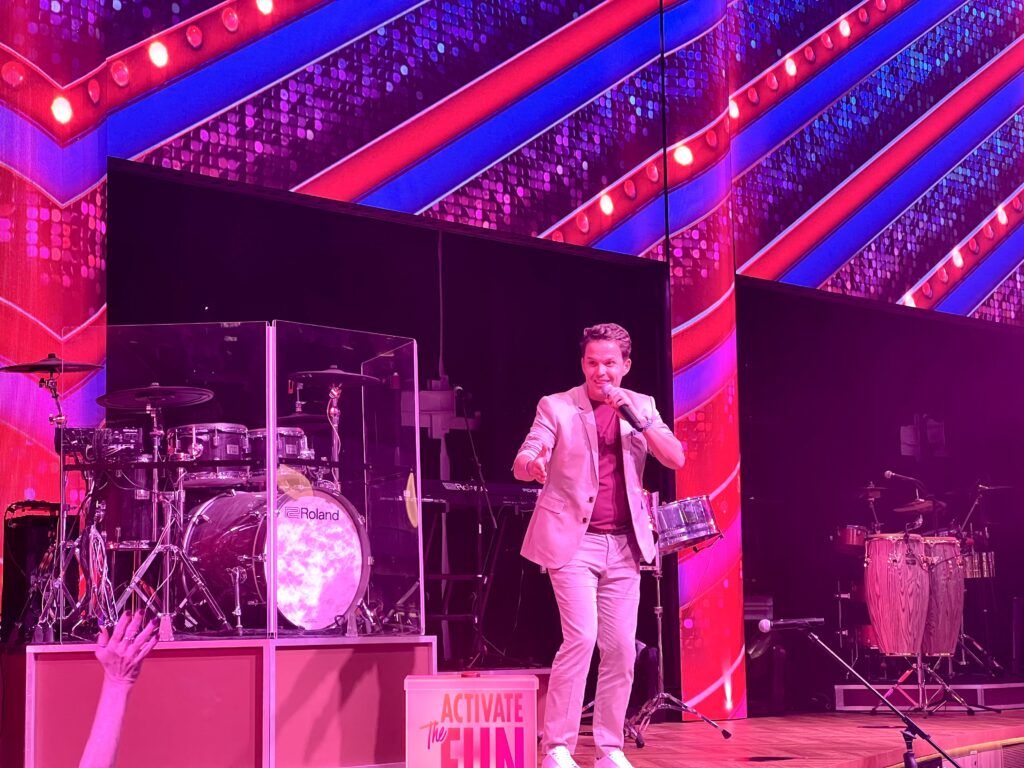 While Lee was fantastic, we like to give an honorable mention to DuVaul Gamble on Discovery Princess. Again, he was another high energy and great host for the week on our Mexican Rivera cruise. While his presentation was a bit more subtle, DuVaul won people over with his smile and smart one liners. He was a skilled host for games like Yes and No and Majority Rules in Princess Live.
Each night in the main theater, he welcomed guests and offered a great introduction to that night's performance as well. Like Lee, DuVaul was regularly found around the ship saying high and mingling with guests.
While many of the cruise directors we had on ships this past year were forgettable, both Lee and DuVaul stood out from the crowd.
SAVE BIG: Carnival Cruises on Sale Now!
Best Signature Attraction at Sea
With all of the new cruise ships, cruise lines also debuted some brand-new attractions last year.
Hands down, the most exciting new ride on a cruise ship is the Robotron on MSC Seascape.
In fact, this robotic simulator is perhaps the most thrilling attraction at sea. For a full 3 minutes, the Robotron whips, spins, and turns cruisers upside down on a heart pumping ride. Cruisers can move to their own music on one of the medium settings or turn up the speed with one of the preset fast rides. Either way, it is unlike anything else at sea.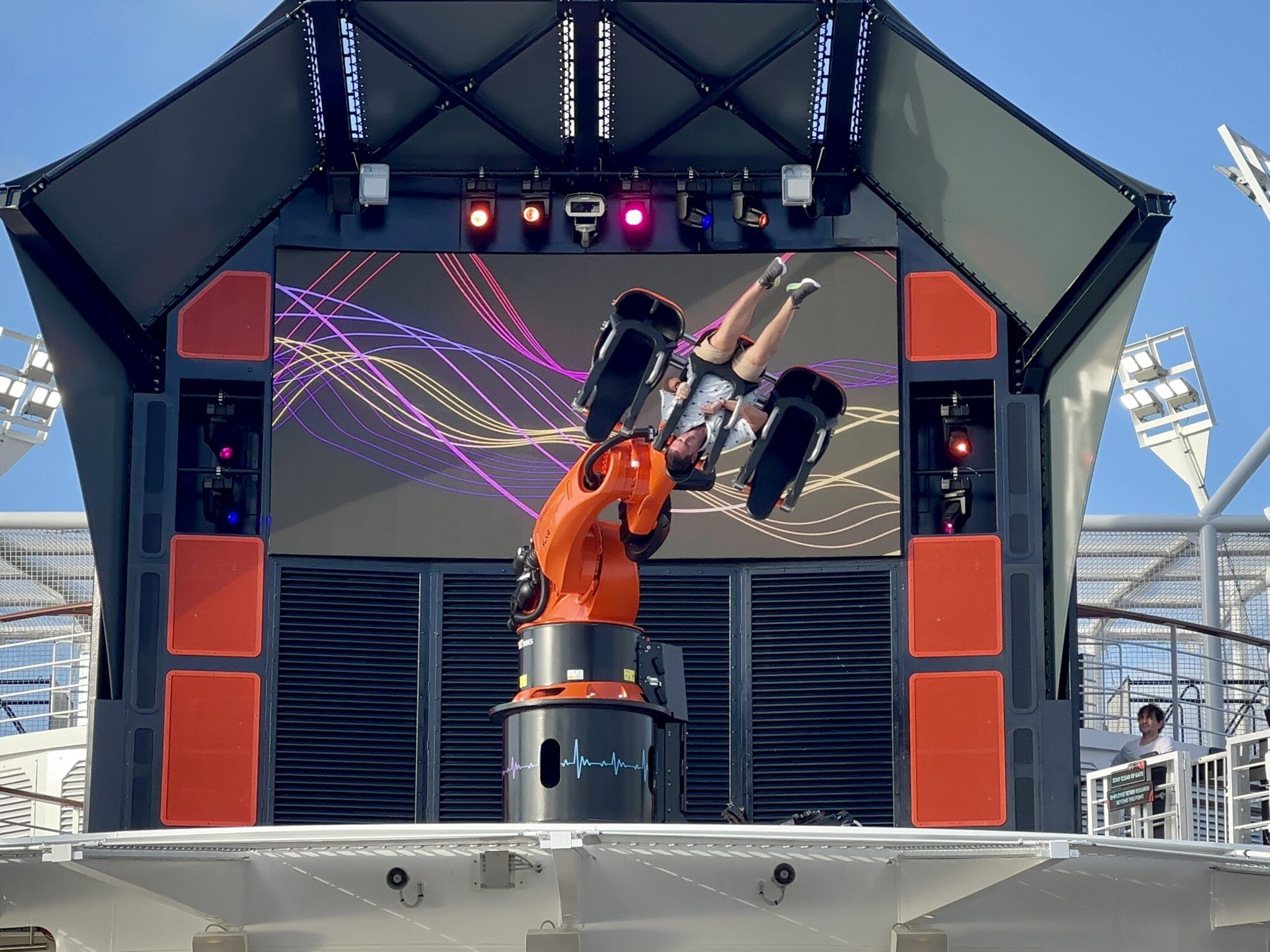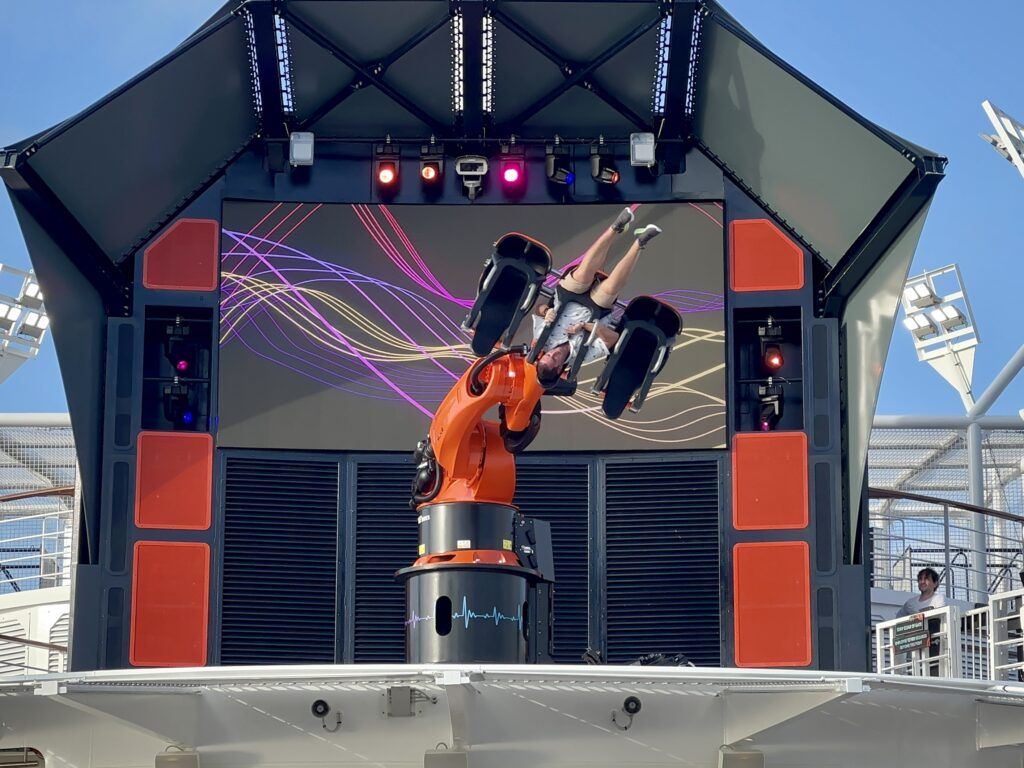 For something that is a bit faster and longer, our honorable mention goes to the record-breaking Prima Speedway on Norwegian Prima. On this 3-level track, cruisers can test their driving skills during an 8-minute race with a longer straightaway than its predecessors and 14 turns. Or, new to this mega-ship, cruisers can see if they can break records with the You and the Track experience. Three laps, just you and the racetrack vs. the clock.
Also, a special nod goes to the Bolt sea coaster on Carnival Celebration. Clocking in at over 30 MPH, this electric roller coaster at sea is pretty amazing, even if it lasts less than a minute.
Best Bars and Lounges on a Cruise Ship
While many cruise ships offer a variety of bars and lounges, none can beat the lineup of venues and signature menus found on Wonder of the Seas. There is the Latin inspired menu and live music in Boleros. Not far away is the English pub, complete with a wide selection of beer and propers.
There is even a bar for kids…well, sort of. The Bionic Bar is home to robotic bartenders that mix up popular cocktails, or you can craft your own. Apparently, our nephew was in love with his non-alcoholic concoctions.
Traditional cruisers like us can't pass up the martinis, Collins, and other mixed drinks at the Schooner Bar. The side car and lavender daquiris are our go-to cocktails.
Sports lovers can enjoy beer and some wings at Playmakers Sports Bar and Arcade. While wine lovers can sip vino and snack on some pizza al fresco style at Giovanni's Wine Bar in Central Park.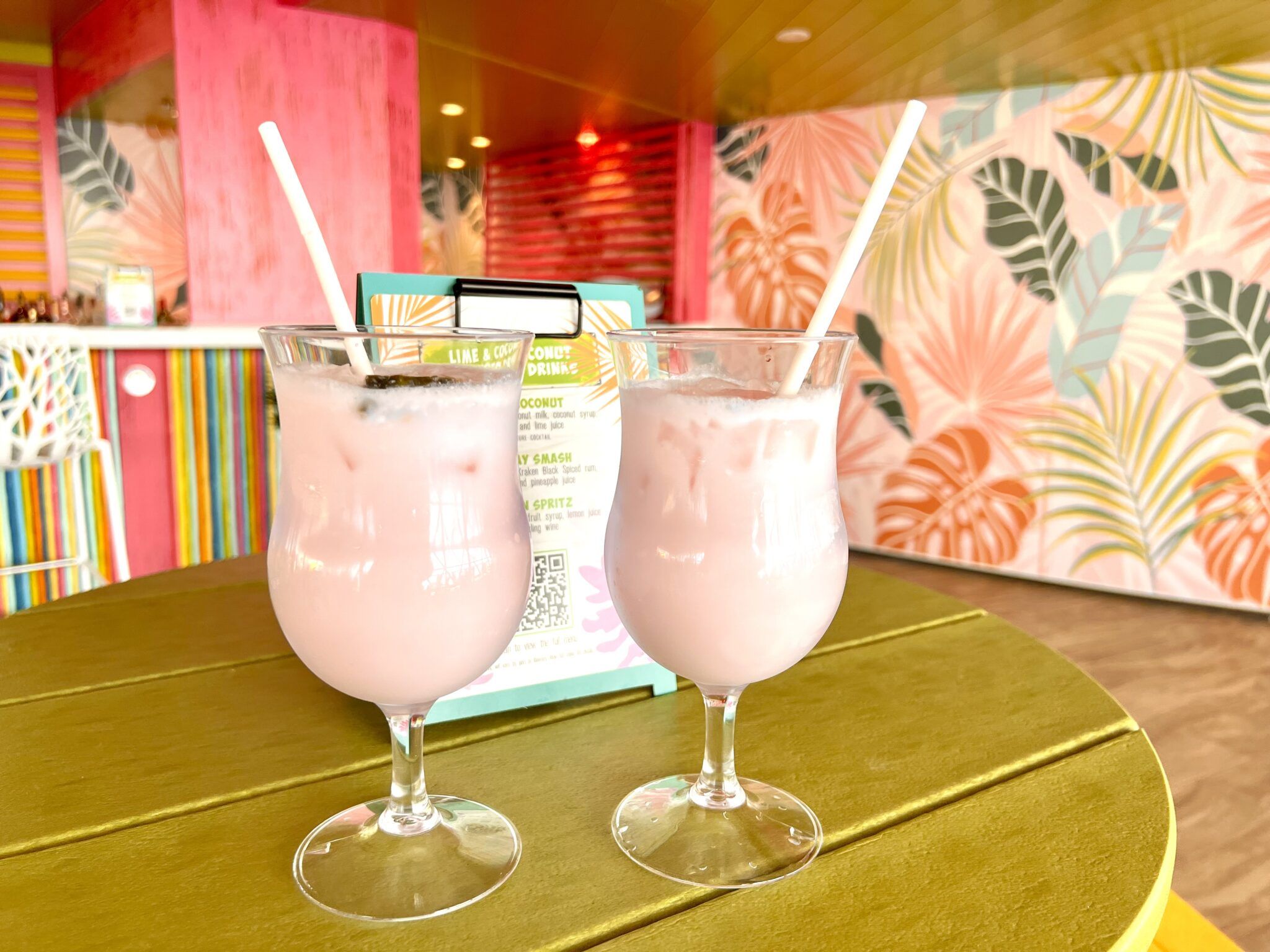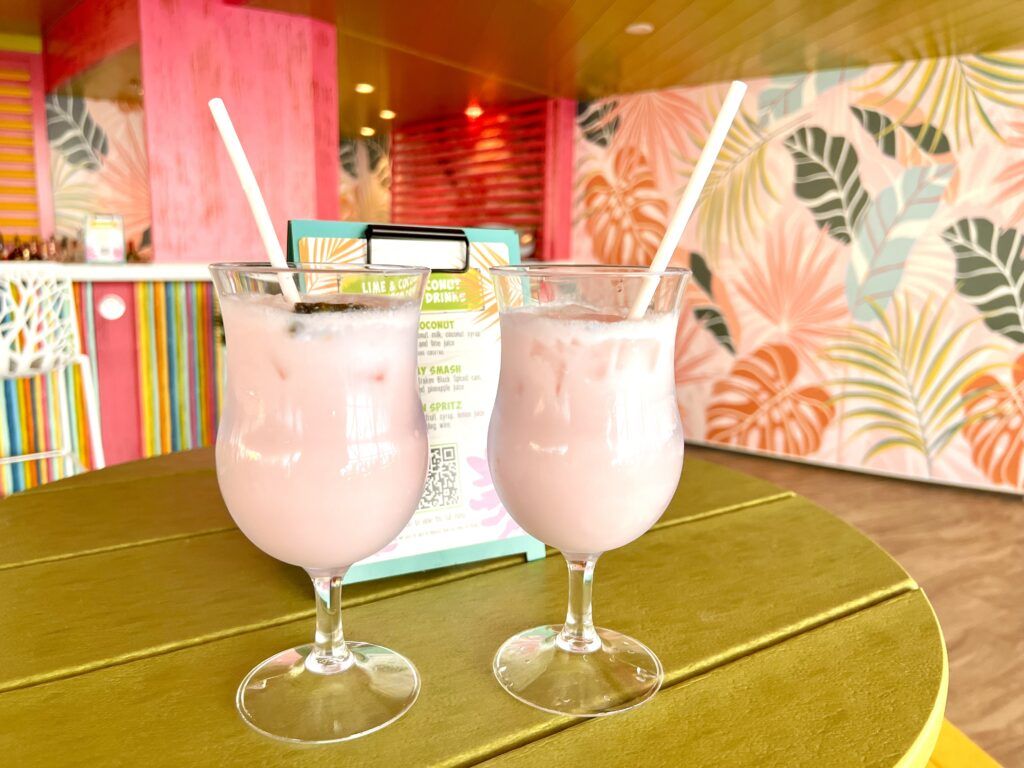 If you love the Caribbean vibes of the pool deck, you'll never have to go far for a poolside drink as there are 3 Lime and Coconut bars. Plus, there's the Solarium bar, the colorful Vue bar, and the Cantina Fresca bar with margaritas. Did we mention the Mason Jar bar has an addictive PB&J Old Fashioned?
Cruisers can also rock out at the Music Hall with themed libations like the Metalliquor or Strawberry Fields or take a ride in the Rising Tide Bar which ascends from the Promenade to Central Park.
Honorable Mentions for Best Cruise Ship Bars
While Wonder of the Seas took top spot, there are a few creative bars on other cruise lines that we love as well.
The wife and I couldn't get enough of the New Orleans themed Bayou bar on Disney Wish. From the décor, to the drinks, and beignets, we kept coming back to this venue for more.
If you are looking for the most chill bar at sea, the Dock (or Dock House) on Valiant Lady is like spending a relaxing Sunday afternoon at an exclusive beach resort, with fantastic aft views and great cocktails.
For early 20th century libations done right, the Half Moon Bar on Holland America Line's Rotterdam serves up a classy, good time.
Or, for those who like their drinks with some backstory and freshly sourced ingredients, the Good Spirts Bar on Discovery Princess delivers handcrafted concoctions worth telling your friends about.
Best Pool Deck
Picking the best pool deck for the newest and largest cruise ships was not an easy task. Many of these vessels offer more outdoor spaces than ever before. Not to mention, almost all of the ships boast multiple pools, with some reserved for families and others just for adults.
Yet, when it came down to awarding the best pool deck, one cruise ship did the best at dispersing the crowds without sacrificing the fun. So, with its 4 separate pool areas, Carnival Celebration snagged this title just like those chair hogs do to pool loungers.
The Beach Pool, midship on Deck 16, is the main pool. Cruisers can head here for live music and poolside games.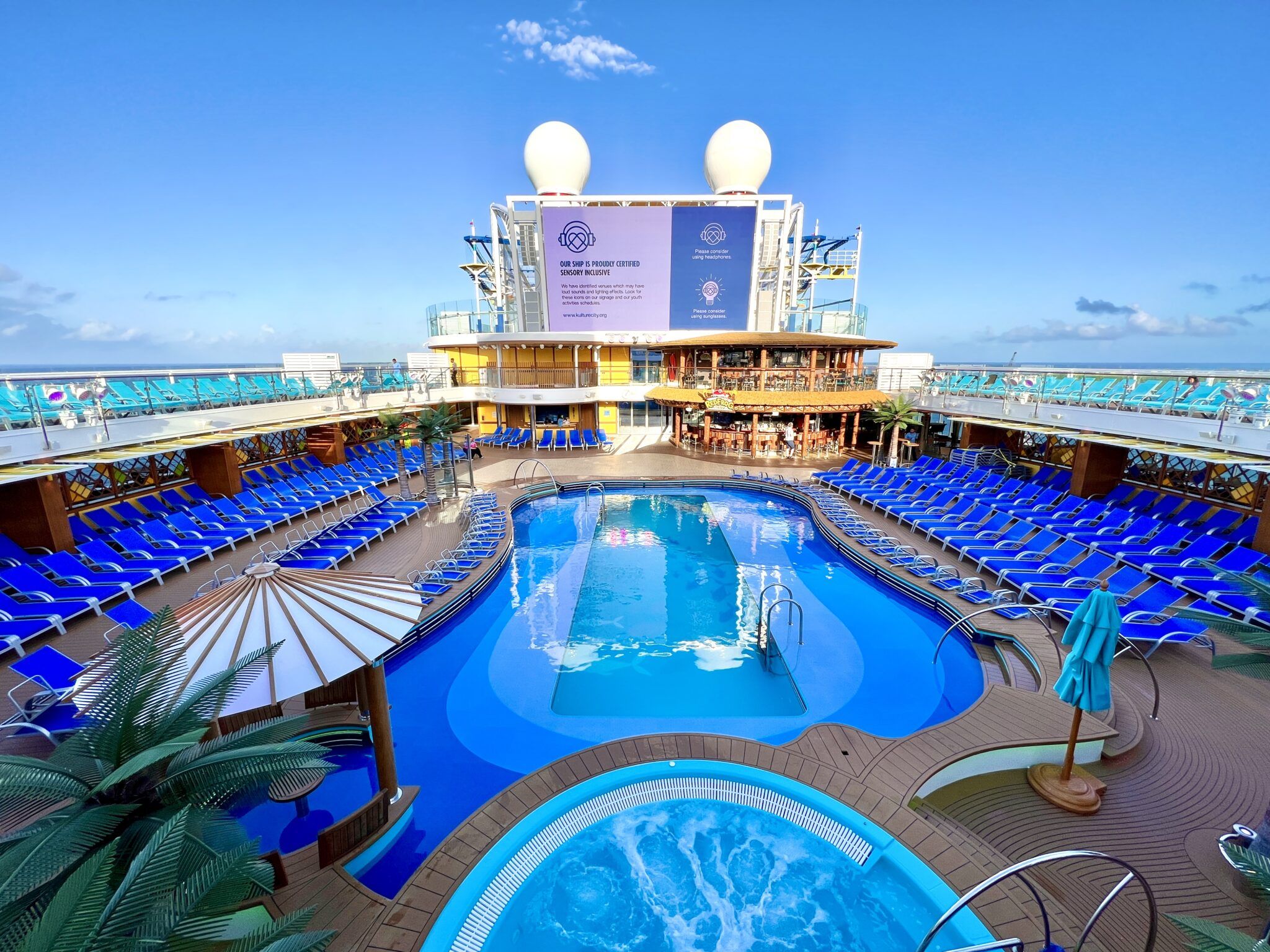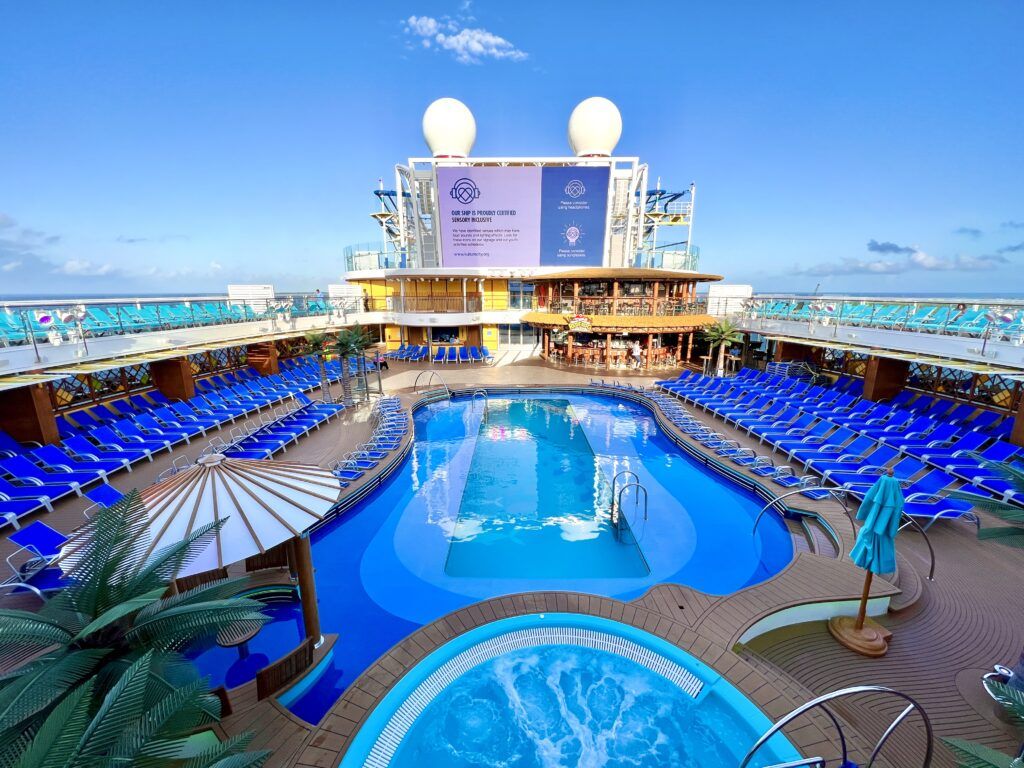 For a more relaxed vibe, but still located near all the lido food and drinks, the Tides pool aft on this deck is home to another pool, more loungers, and whirlpools.
Adults will also love the massive Serenity. This sun deck and pool area all the way forward on Deck 17 is the ideal escape from all the families and kids. It's home to an exclusive bar, outdoor pool and whirlpools, a salad bar on sea days, and some of the most comfortable lounge furniture on the ship.
If that is not enough, cruisers can head to the Summer Landing zone on Deck 8. With whirlpools on the starboard side, this infinity pool overlooks the ship's wake for some amazing views while lounging poolside. Further, it is right next to Guy's Pig and Anchor Smokehouse | Brewhouse, the Watering Hole bar, and short walk from Miami Slice pizzeria.
For cruisers who prefer a more cohesive lido deck, Wonder of the Seas takes our honorable mention. With three giant pools and the family-friendly Splashaway Bay aquapark, the whole family can enjoy this pool deck. The sundeck has been redesigned from the other Oasis Class ships as well, with additional stadium-style seating and unique alcoves to give this outdoor space more character and privacy.
Best Sports Deck
Outdoor decks on modern cruise ships are adorned with plenty of amusements. Many include attractions like a basketball court or waterslides. For us, the cruise ship that offered the best mix of activities was Norwegian Prima.
Of course, the centerpiece of the sports deck is the three-story racetrack, which ranks as one of our best attractions at sea. Still, NCL supercharged the rest of the outdoor activities as well. Trading in the typical basketball court, there is the Stadium. This complimentary outdoor space is home to games like pickleball, ping pong, shuffleboard, and even beer pong.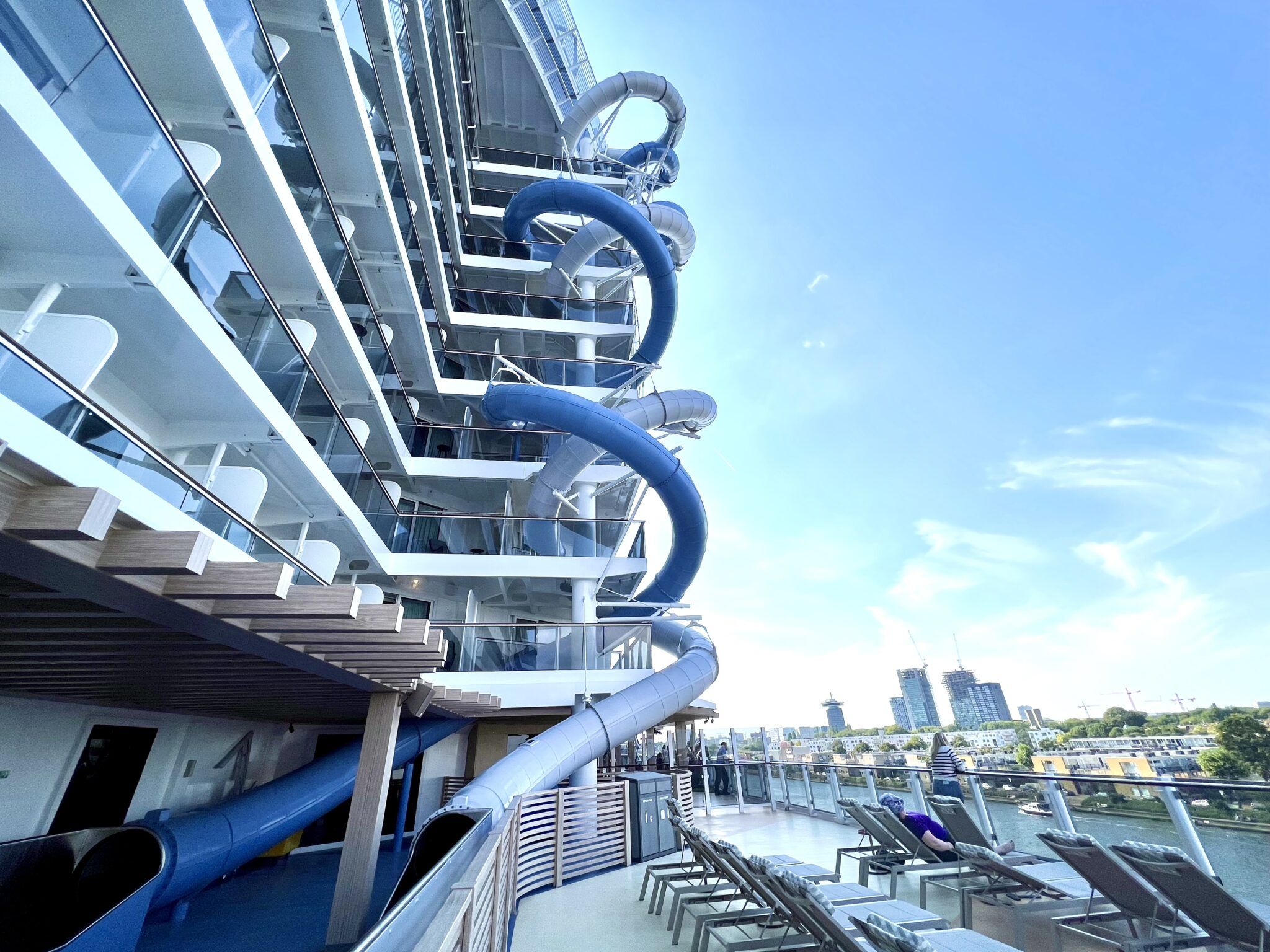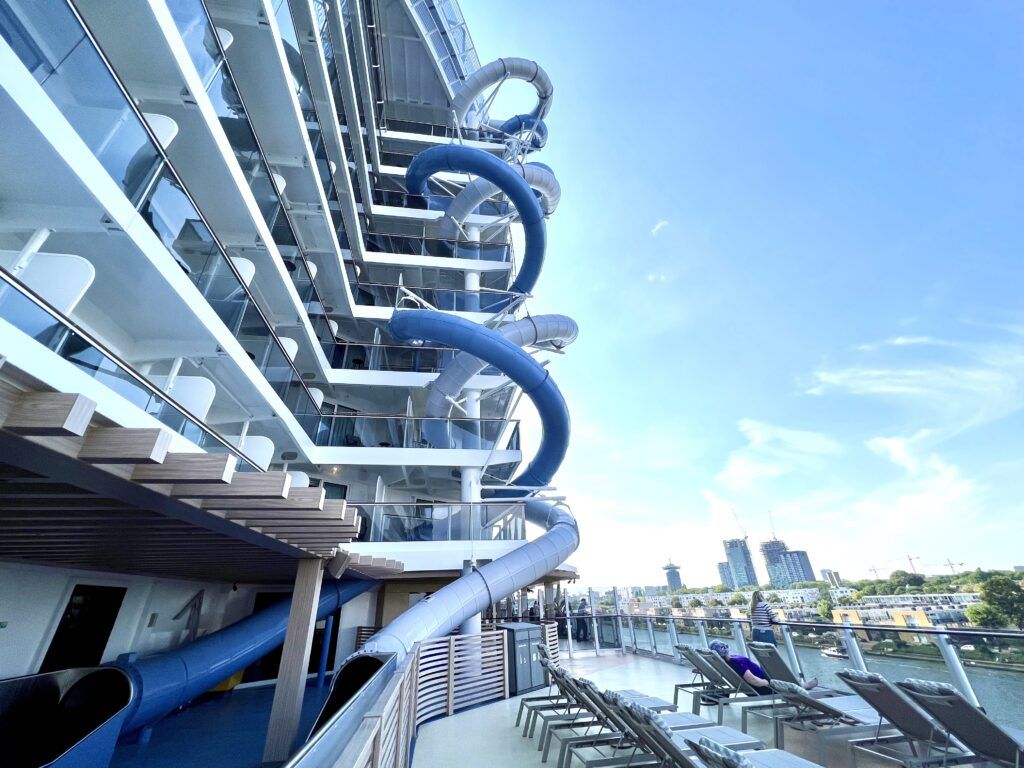 Let's not forget some of the most thrilling dry slides at sea, The Drop and The Rush. These slides are completely complimentary as well.
Nearby is the 9-hole mini-golf course. Now, we do agree this activity should be free; however, this Vegas themed putt-putt is a lot of fun. With automatic scoring and interactive holes, it is the most high-tech mini-golf on any ship.
Next door is the Bull's Eye dart lounge. For a nominal fee, you can challenge some friends in classic games like 301. Similarly, automatic scoring and an interactive digital display make this game stress-free, unless the loser has to buy drinks.
While not technically part of the sports decks, there's the Galaxy Pavilion. This virtual extension of the sports deck includes two of the most intricate escape rooms and some of the most advanced experiences at sea, including an XD cinema.
If you are looking for something more traditional when it comes to a sports deck, our honorable mention goes to Carnival Celebration. Along with the electric roller coaster Bolt, the sports deck on this ship boasts a number of complimentary offerings for the entire family. It features a 9-hole mini-golf course, a full sports court, a 230+ foot long ropes course with a zip line and plank, a jogging track, tabletop games, and a waterpark with three waterslides!
EXCLUSIVE RATES: Get Deals on Norwegian Cruise Line!
Best Staterooms
Most mega-ships have a variety of stateroom categories. Thus, to be consistent, we stayed in a standard balcony cabin on all 9 of these new cruise ships.
And, the clear winner for best stateroom is Celebrity Beyond. Even though we are not huge fans of the infinite veranda, the rest of the cabin's furnishings, décor, and small touches make this our favorite.
The stateroom's color palette is mostly muted featuring light wood tones with pops of red color. According to the Celebrity Cruises' website, the room measures 243 square feet with a 42 square foot balcony.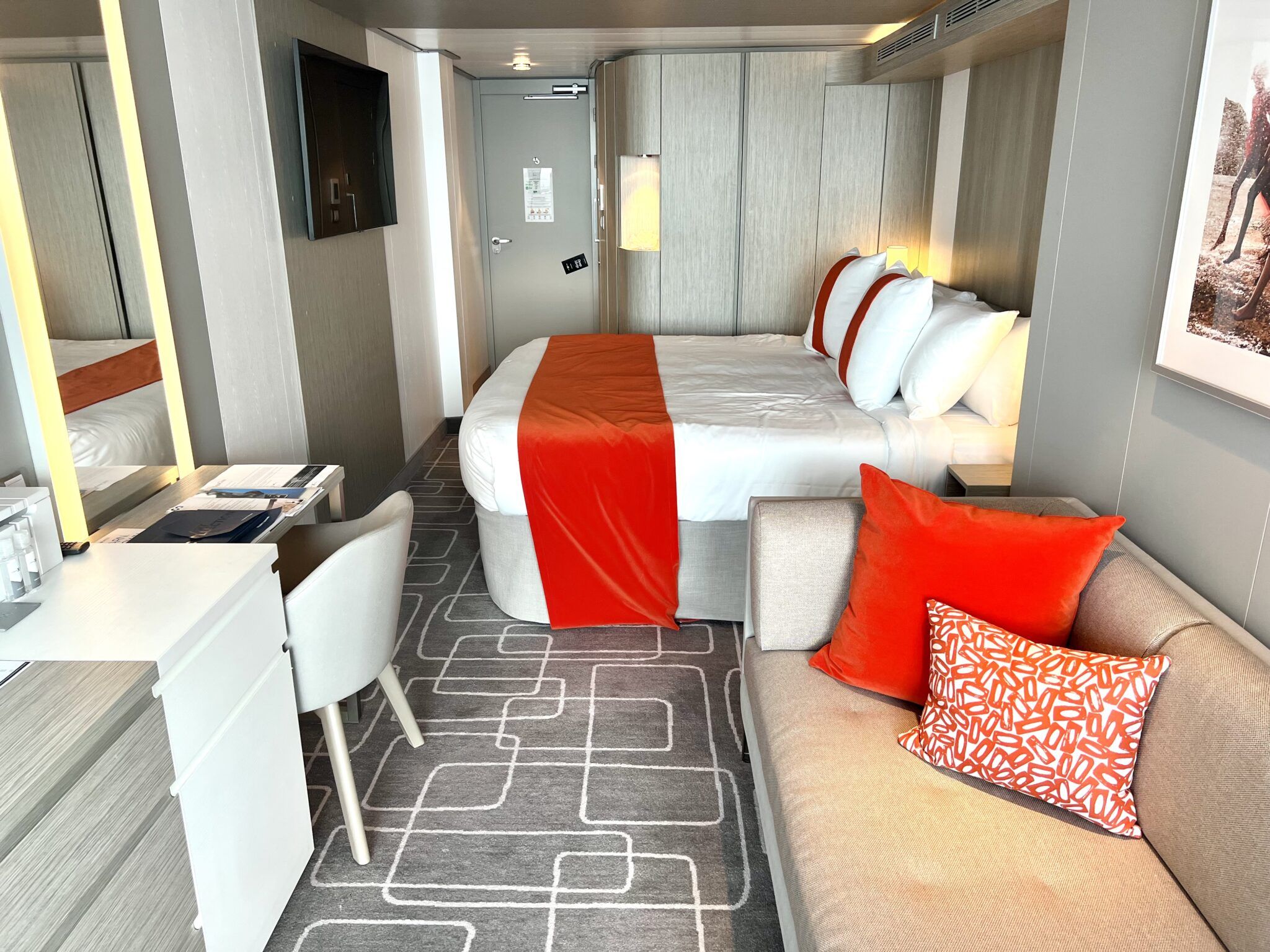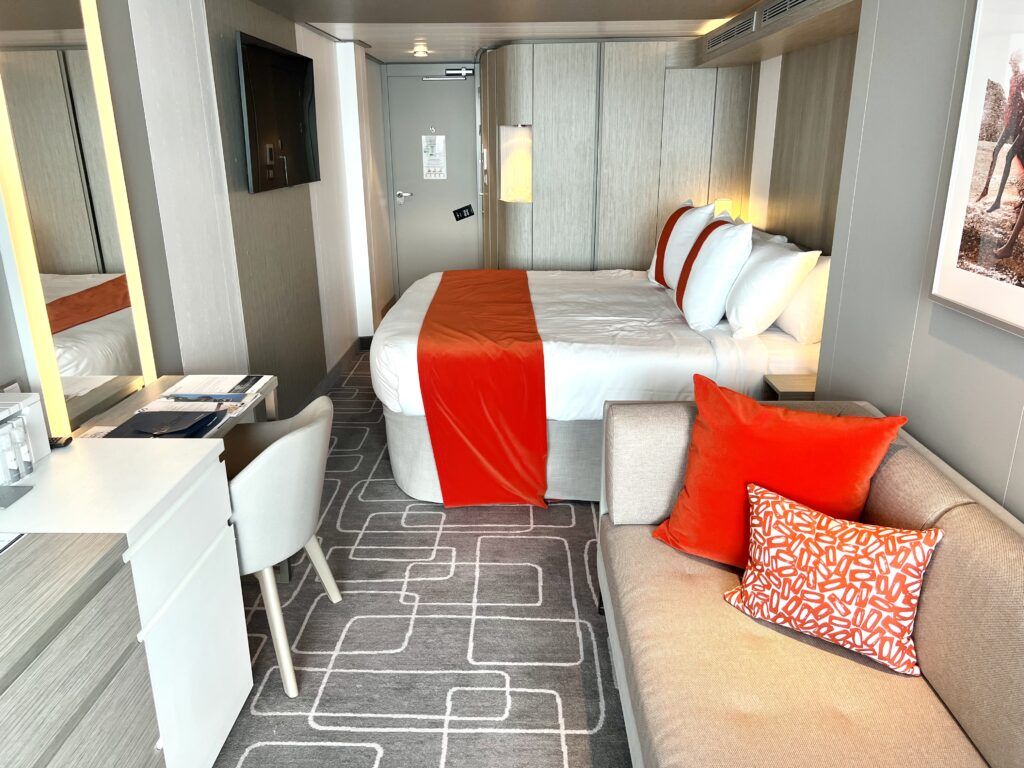 This spacious stateroom includes a king-sized bed and plenty of storage. The closet is smartly tucked around the corner behind the bathroom, with additional storage throughout the room.
Beyond the bed, there is a sofa on one side and a desk and dresser on the other. The desk includes several outlets in one centralized location for charging multiple devices. Not to mention, the dresser has additional drawers for storage and the mini-fridge.
Even the bathroom is an upgrade. This marble bathroom is more chic than most contemporary cruise lines. It has plenty of counter space, storage, and an oversized stand-up shower.
Although, we do have to give a shout out to the cabins on Norwegian Prima. The generously-sized balcony stateroom on this ship offers plenty of space. And, the décor is more modern and sleek than other NCL ships. We also appreciated the number of power outlets in the cabin and the upgraded bathroom.
Best Cruise Ship Décor
Similarly, when it comes to style and décor, the new and improved Celebrity Beyond won us over.
This third Edge-Class ship has been enhanced with several redesigned spaces. The Grand Plaza and Martini Bar are more open, stylish, and feel livelier and inviting. The newly added World Class Bar and the Craft Social Bar add even more sophisticated fun to this space.
Likewise, the newly enhanced 2-story Sunset Bar is a welcomed addition. Now almost twice the size, it includes a trendy Casablanca-inspired bar, plenty of comfy seating, great aft views, and live music in the evenings.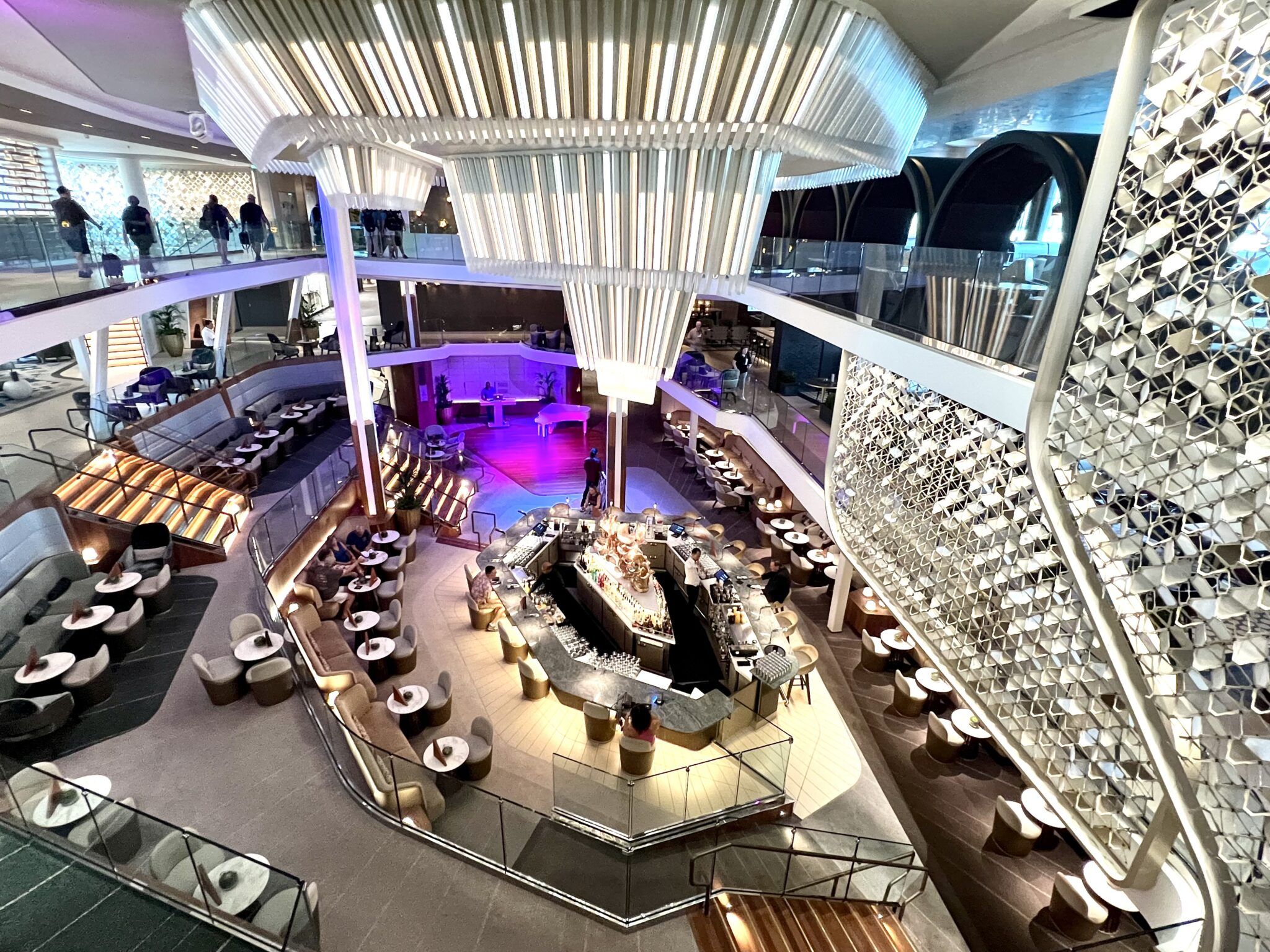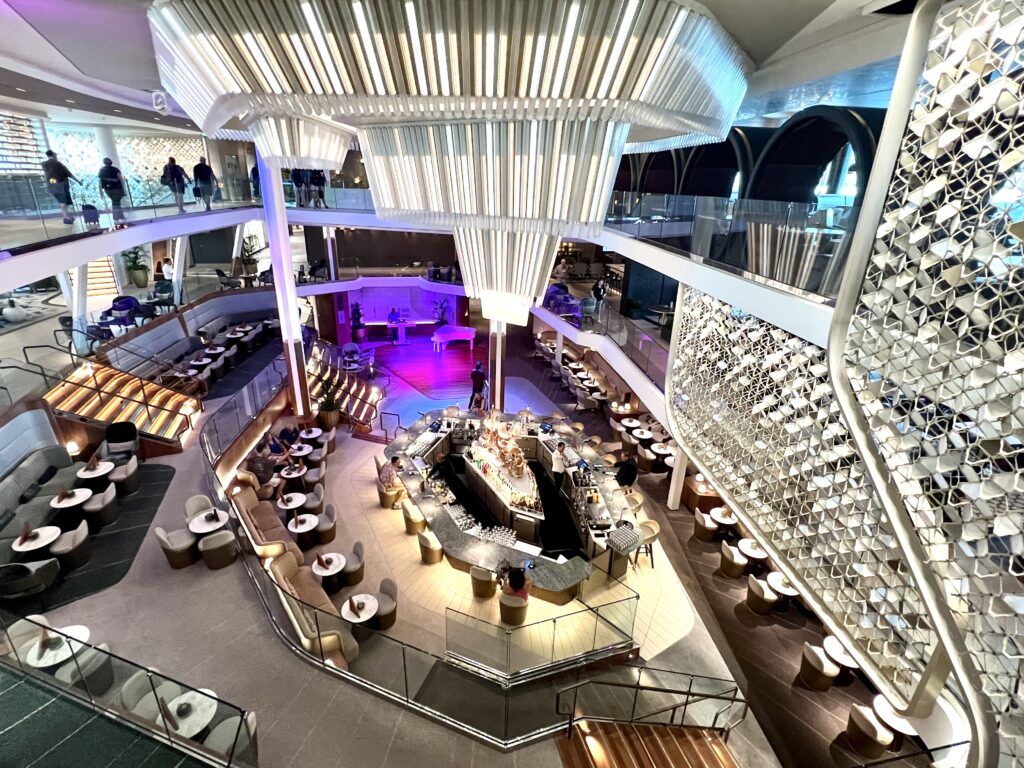 Additionally, the Resort Pool area feels more like a 5-star resort than a cruise ship. And, the Rooftop Garden is the adult's replacement for a sports deck. With greenspace, lawn games, outdoor movies, and newly added float pools, we love this outdoor space.
Celebrity Beyond also features other design staples like the tranquil Eden aft on Deck 5 and upscale restaurant décor, from the complimentary main dining rooms to the elegant specialty restaurants.
This premium cruise ship is gorgeous! With an easy-to-follow layout, it is simple to navigate. And, it is filled with so much to do, see, and eat that you may need a second cruise to experience it all. We already have one booked for our anniversary in 2023.
Honorable Mentions for Best Cruise Décor
As the cruise line's first new ship in a decade, we are very fond of the new Disney Wish. While so many DCL fans are not impressed, we love this deluxe resort at sea. There is immaculate theming, a variety of venues, and one of the most intricate youth areas at sea. Even us big kids were quite impressed with all of the public spaces and Disney touches.
Similarly, Norwegian Prima is certainly NCL's classiest vessel. We love the sophisticated design and layout. For us, Ocean Boulevard and Penrose Atrium are big improvements over similar spaces on the Breakaway and Breakaway Plus Class ships. Ocean Boulevard wins best waterfront promenade all day long.
Lastly, if you are looking for a ship that sparkles, MSC Seascape is your gal. The ship's metallic finishes and Swarovski crystal staircases were made for the spotlight. Thus, this newest MSC Cruises' ship is worthy of an honorable mention for best ship décor.
Comments
Do you agree with our best cruise ships round up? Which of these new cruise ships have you sailed on so far? Drop us an anchor below with your cruise reviews from these stunning new vessels!