Disclaimer: We were guests of Princess Cruises on this sailing; however, as always, all opinions in this Discovery Princess Cruise Ship Scorecard Review are our own.
The sixth and final ship in Princess Cruises Royal Class, Discovery Princess, has just debuted on the West Coast. Currently offering a series of Mexican Riviera and California Coast cruises, this new ship will eventually make her way to Alaska for the summer season. Similar to her sister ships, Discovery Princess offers 19 decks of signature amenities, restaurants, entertainment, and other Princess favorites. We are back from the maiden voyage on this 145K gross ton ship and are ready to share everything with you in our exclusive Discovery Princess Cruise Ship Scorecard Review.
EXCLUSIVE DEALS: Score Savings on Your Discovery Princess Cruise!
Discovery Princess Cruise Ship Scorecard Review
Embarkation/Disembarkation
Flying into the area a few days early, we were well rested for our Discovery Princess embarkation day. We were scheduled for a shuttle to transport us from the Double Tree Hotel to Pier 93 at 10:30 am.
Prior to our cruise, we made sure to get OceanReady and received "green lane" status with the first embarkation time slot of 11 am.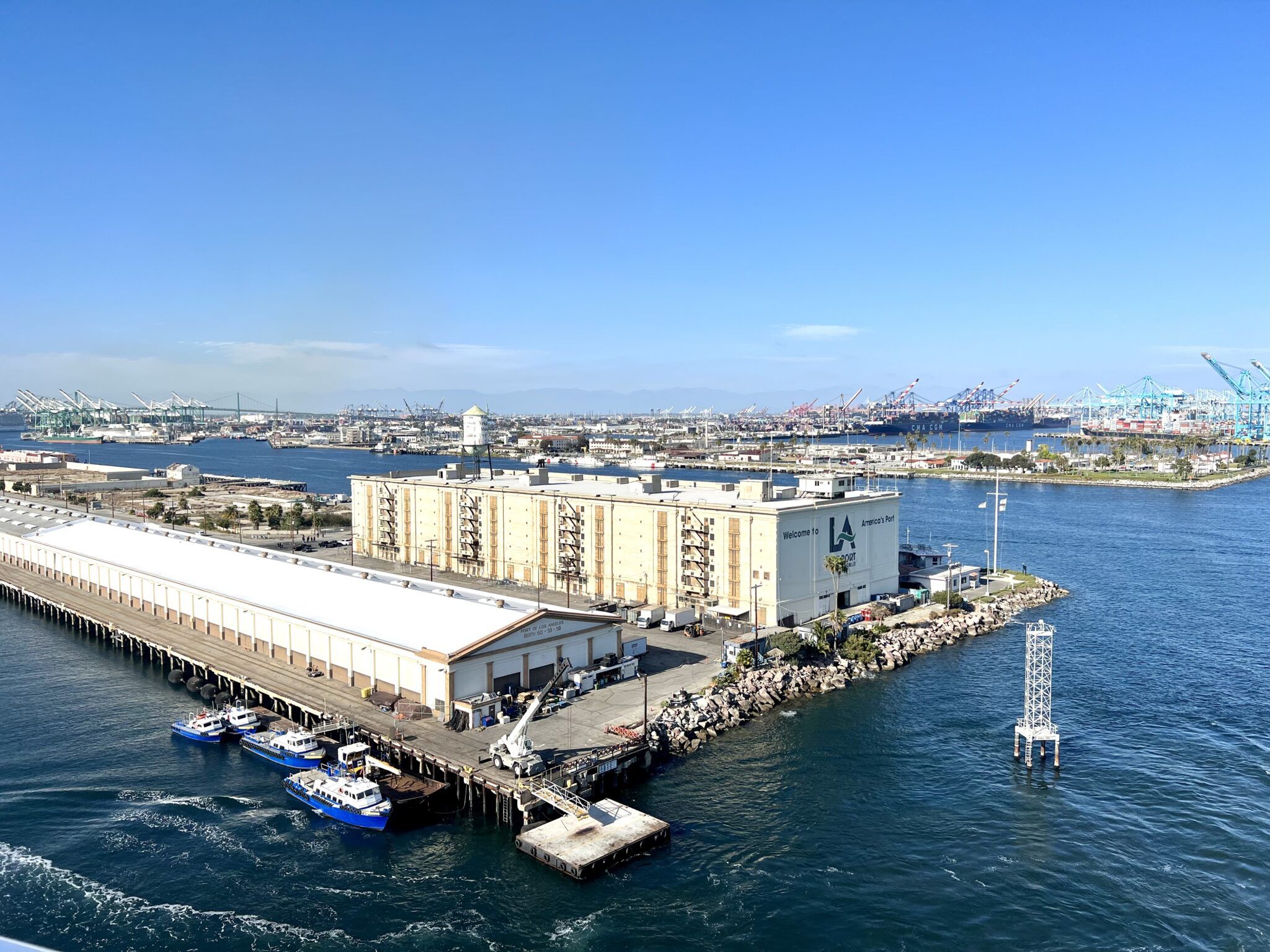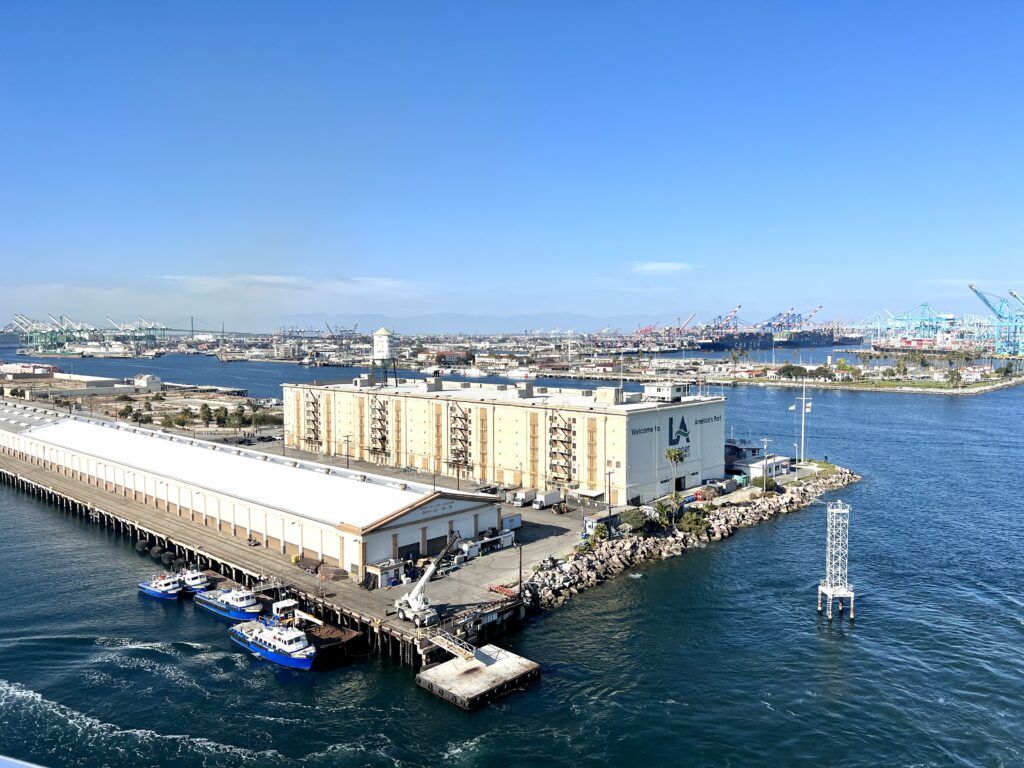 With two mega-ships docked here, our luggage drop off, health screening, and check-in occurred at Pier 93, but we then needed to shuttle to the ship which was at berth 50.
We completed these initial steps in about 30 minutes. Unfortunately though, for our voyage, shuttle wait times extended our embarkation process greatly. Thankfully, this issue has since been resolved.
Disembarkation was a much smoother process. Discovery Princess was able to dock at Pier 93, so we did not need to go through any additional steps. With some of the first luggage tag numbers, we were from our stateroom, scanned off the ship, through border patrol, and at our Lyft in about 25 minutes. We even scored an empty elevator from deck 14 all the way down to deck 7 with no stops!
Outdoor Decks
The new Discovery Princess features the most pools and whirlpools of any ship in the Princess Cruises fleet. We appreciated the many distinct pool areas as they each had a unique vibe.
Deck 16 midship is the main pool area. This centrally located area includes 2 pools, whirlpools, plenty of seating, and two bars. Deck 17 offers additional seating and whirlpools as well. At the back of deck 16 is the Wake View Pool and Bar. This area offers amazing aft views from high above sea level.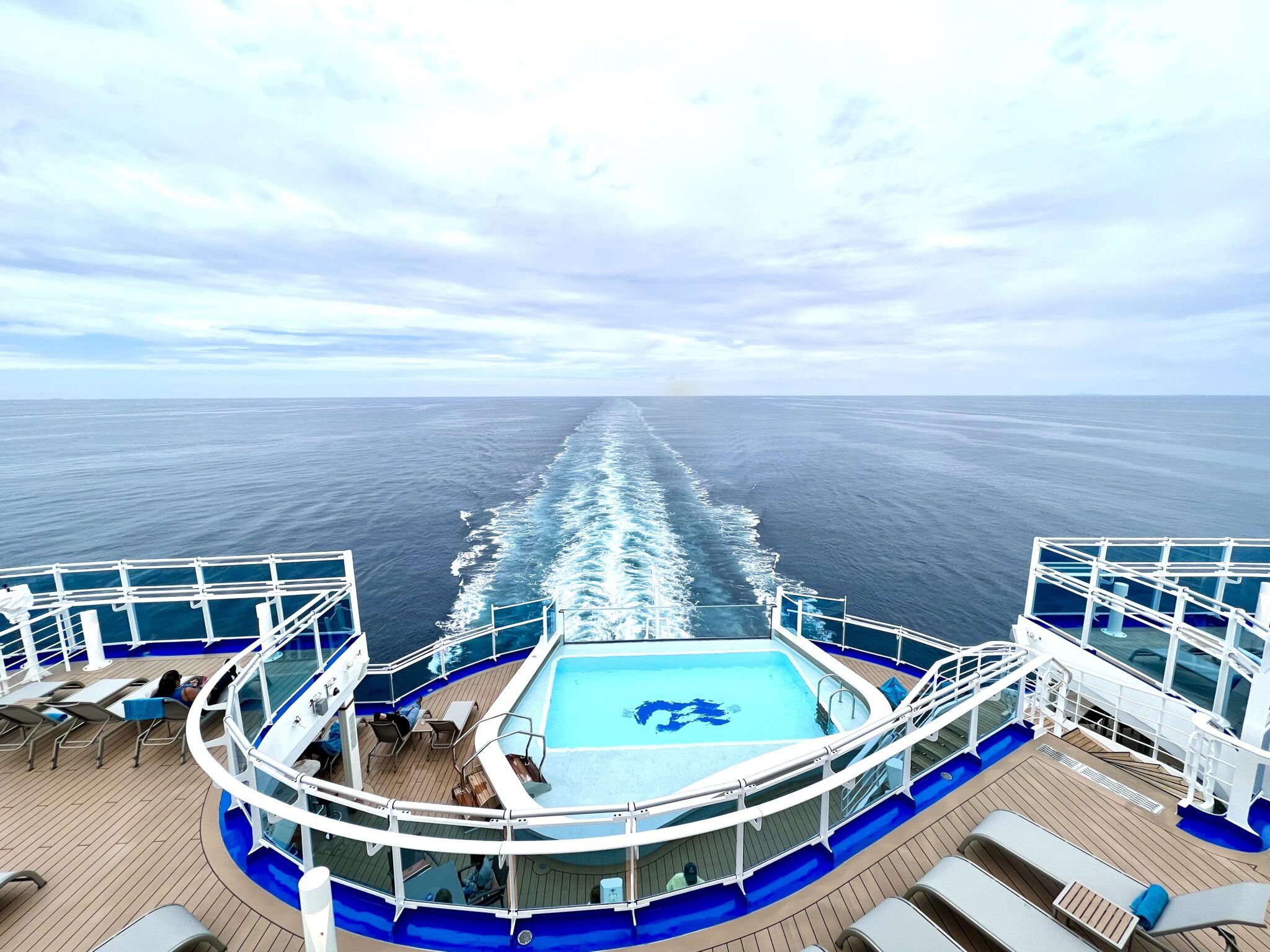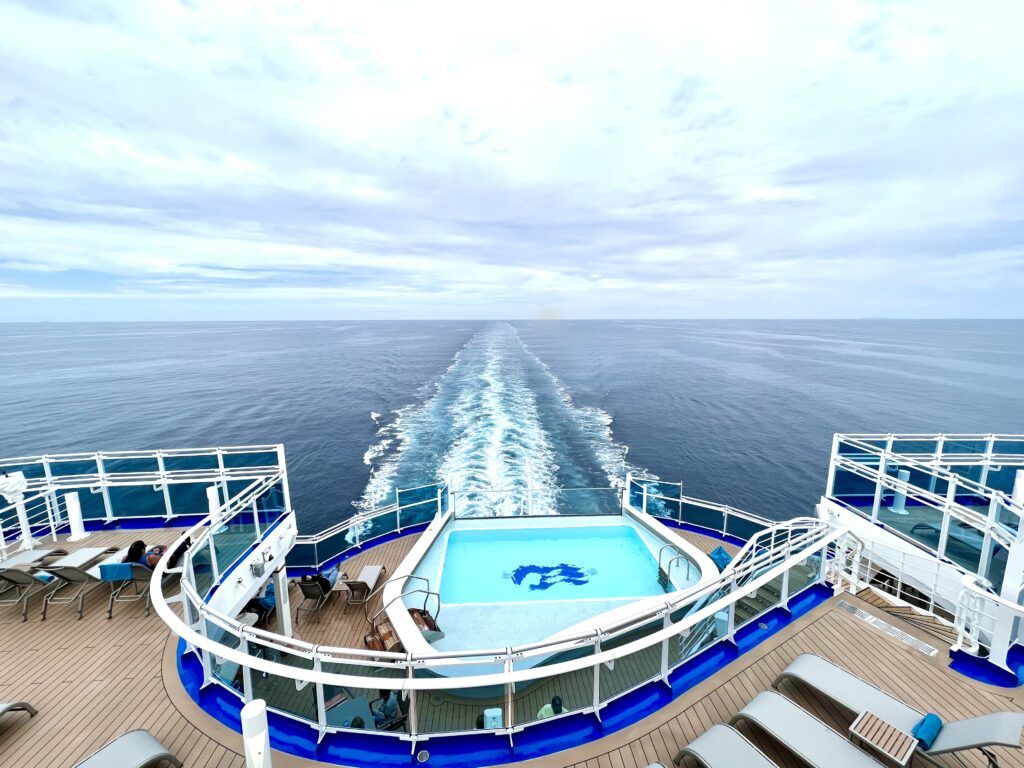 Forward on deck 17 is the Retreat Pool and Bar. This adults-only area offers a quieter, more secluded pool and shaded bar. This pool is ideal for those looking to avoid direct sun and the crowds. The best part is that this area is complimentary to all guests.
For those looking for some privacy and an upscale experience, the deck 18 Sanctuary is an exclusive sun deck. It is home to a whirlpool, loungers, and cabanas. Not to mention some impressive forward-facing views and an elevated food and drink menu.
In the Sanctuary, cruisers have the option to purchase either loungers or a cabana for a half day or a full day.
With the ship sailing at around 63% capacity, we never had issues getting loungers. Though, the weather was also considerably cooler than we expected for a Mexican Riviera itinerary.
On Deck 18 is the Sports Court. This basketball court was home to free play hours as well as some friendly competitions. Directly above this court on deck 19 was the putting green. This was not a mini-golf course, so there was no theming or creative elements. Also, there is a fairly wide jogging track circling this area which takes 7 revolutions to equal a mile.
Of course, for those looking to get in a workout, there is also a fitness center on deck 17. Before you ask, there were no Peloton bikes.
WATCH OUR COMPLETE DISCOVERY PRINCESS SHIP TOUR!
Service
Princess Cruises MedallionClass experience, which has now been rolled out fleet wide, is a game changer for cruising. It allows the staff to customize your cruise experience. From calling you by name right away, to knowing your allergies and food preferences, to not having to ask for your key card, service is more personalized and contactless.
While Discovery Princess has over 1300 crew members onboard, certain venues definitely seemed better staffed than others. Given this was the inaugural voyage, it was to be expected that staff were still working out the kinks.
At the International Café, small queues popped up during peak times, but the baristas were quick to make drinks and serve guests efficiently, especially Ivan.
At the bars and lounges, there were ample staff walking around taking drink orders. In fact, it was often faster to grab a table and wait for a server to take your order than to actually go up to a bar to get a drink.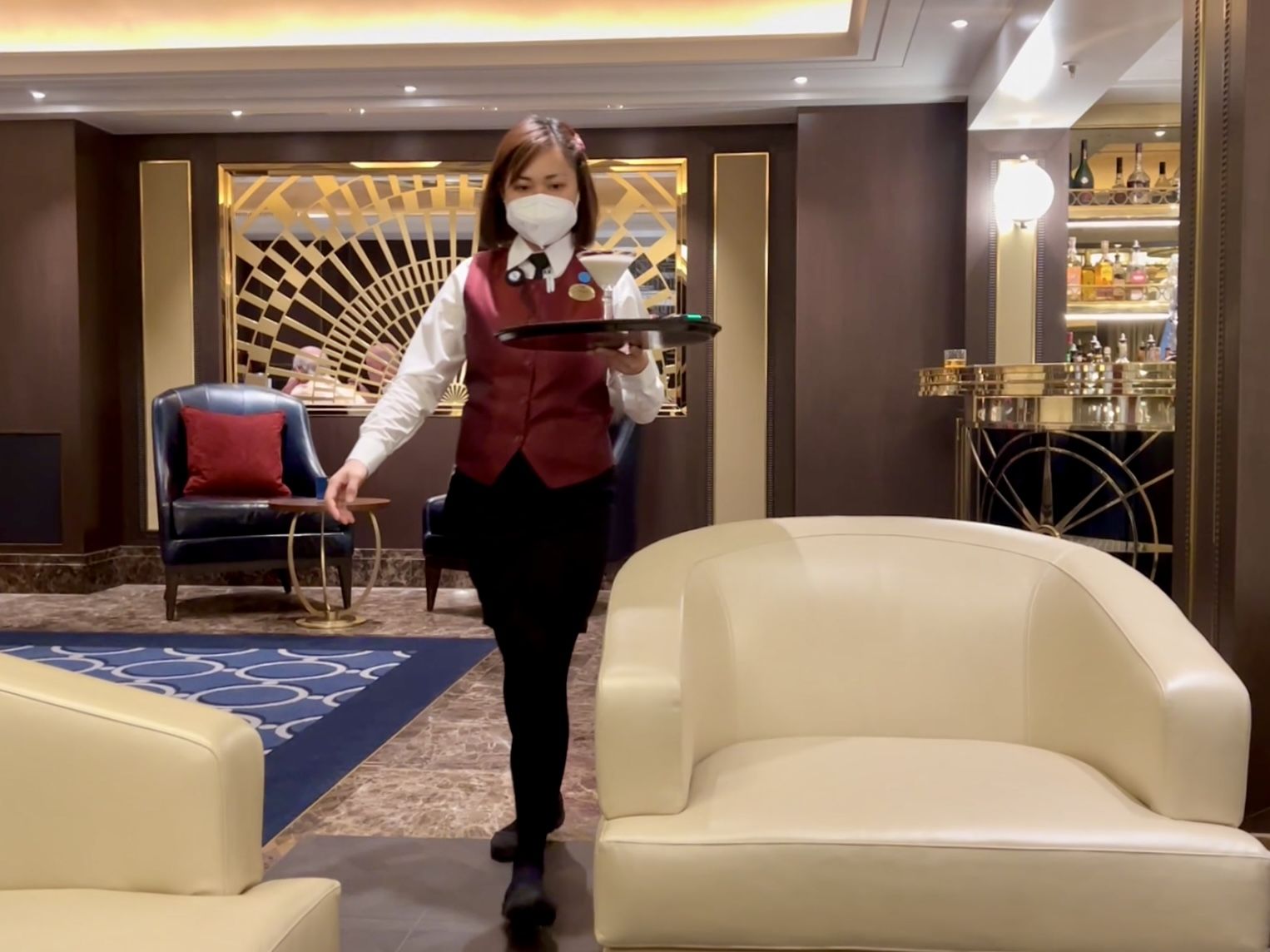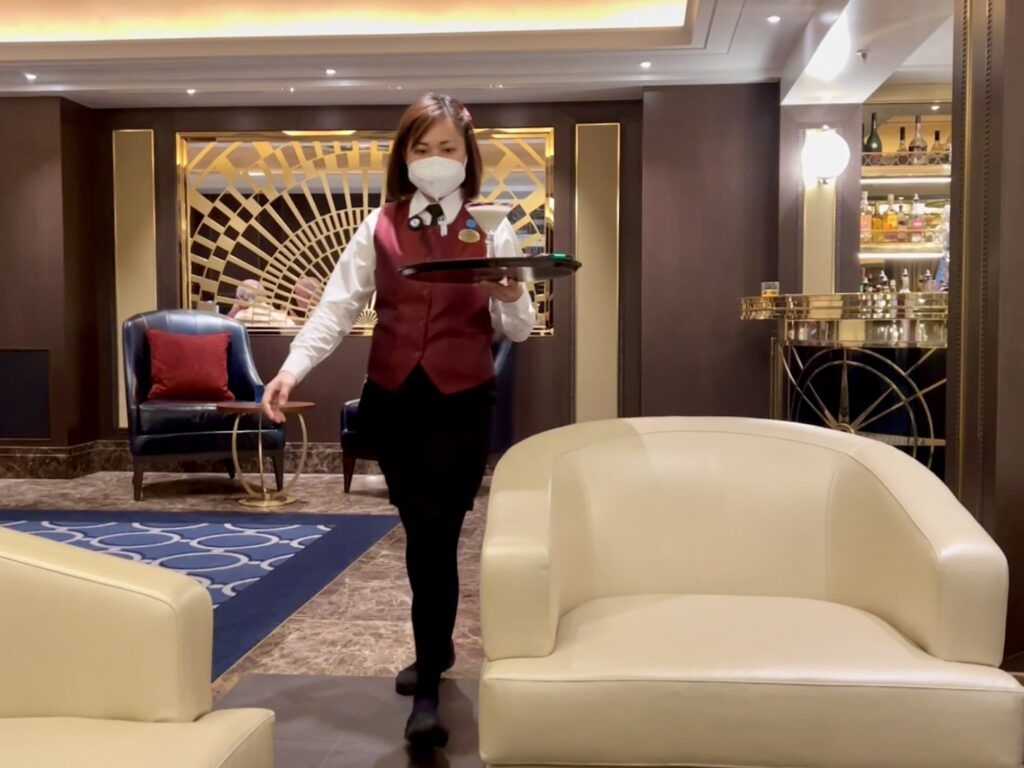 During our two attempts at ordering drinks through OceanNow, our orders were delivered in under 10 minutes, even if one of them was made incorrectly.
Our stateroom attendant, Edward, made sure to introduce himself on day 1. He made up our room at least once daily and whenever else we requested it. He always seemed to be around to say hi and ask about our day.
In the World Fresh Marketplace, the staff served guests most items as part of the cruise line's current health and safety protocols. There were a few "grab and go" options, but for the most part, cruisers were not allowed to serve themselves, which we definitely prefer.
We visited the main dining room for dinner three times during our trip as a party of 2, and we felt like this is where service suffered the most. Our waiter on the third visit, Bozidar, was excellent; however, service was slow on the other two occasions, taking two hours or more with long delays getting drinks and between courses.
At the specialty restaurants, dinner was much better paced. Even when dining with a larger group, the waitstaff did an great job of timing the dinners. Micah at the Crown Grill was certainly a standout when it comes to service in the specialty restaurants. The staff at the Crown Grill were also very accommodating when we arrived back from a shore excursion late missing our reservation.
Daily Activities
We are happy to report for our Discovery Princess cruise ship review that many of the daily activities you have come to know and love about cruising are back.
During the day, there were events like arts and crafts, bingo, and trivia with various themed sessions. You could also learn how to line dance, get some magic lessons, or take in one of the free "seminars" about health and beauty.
The signature Movies Under Stars also had regular afternoon features. Or, you could simply relax and enjoy some live music in the Piazza or on the pool deck.
Additionally, the new Deal or No Deal game show debuted on the Princess Theater stage. This show had us glued to our seats as fellow cruisers competed for real cash in this popular game.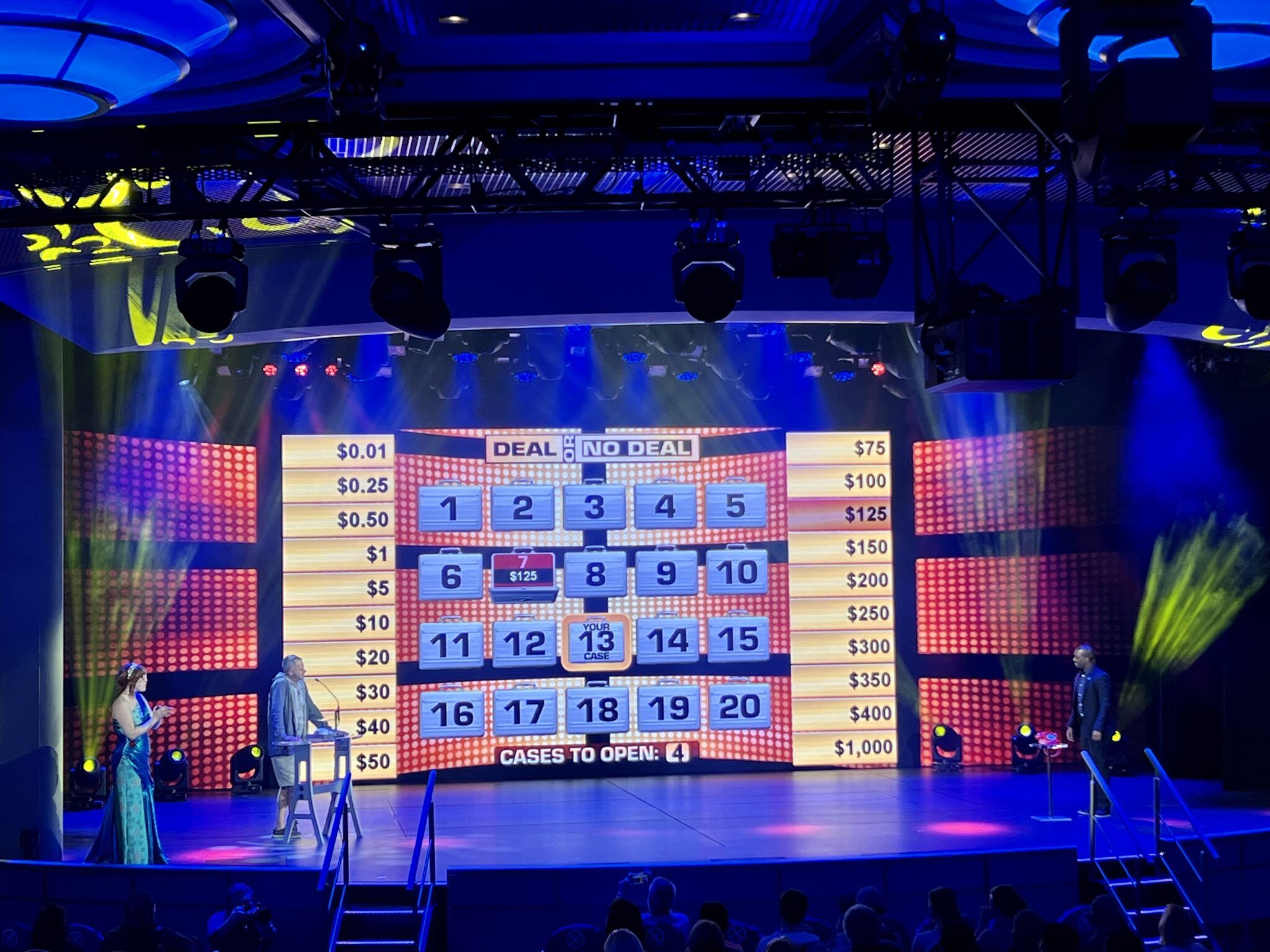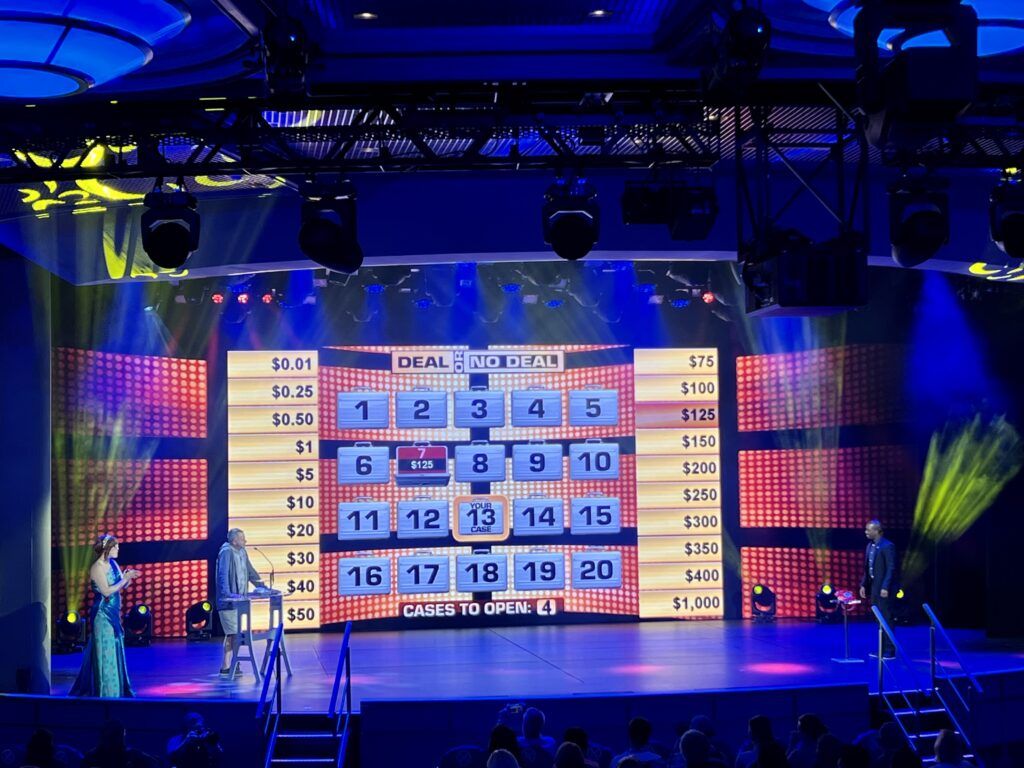 Outdoors, other activities included golf putting competitions, ping-pong, and open play sports like pickle ball or basketball. The Experience Center was not open during our cruise. According to Guest Services, this indoor laser shooting game is similar to the one we experienced on Majestic Princess.
Cruisers could also opt for a pass to the Enclave thermal suite or purchase a treatment from the Lotus Spa. Of course, there is always shopping at the onboard stores as well.
So, whether rain or shine, there were a variety of daytime activities to keep everyone busy.
Main Dining Room
Princess Cruises now offers Dine My Way. This flexible dining option allows guests to reserve the same time every night (more akin to traditional dining) or to customize their dining reservations with different times or party sizes each evening.
For this Discovery Princess cruise ship review, we pre-booked 3 dinners in the main dining room around 6:20 pm.
Our main dining room experience was quite variable in terms of both service and food quality.
On the first night, we both thoroughly enjoyed our meals. The duck was succulent with a sweet orange sauce and the beef tenderloin was perfectly seared. The wife enjoyed her signature pasta dish as well.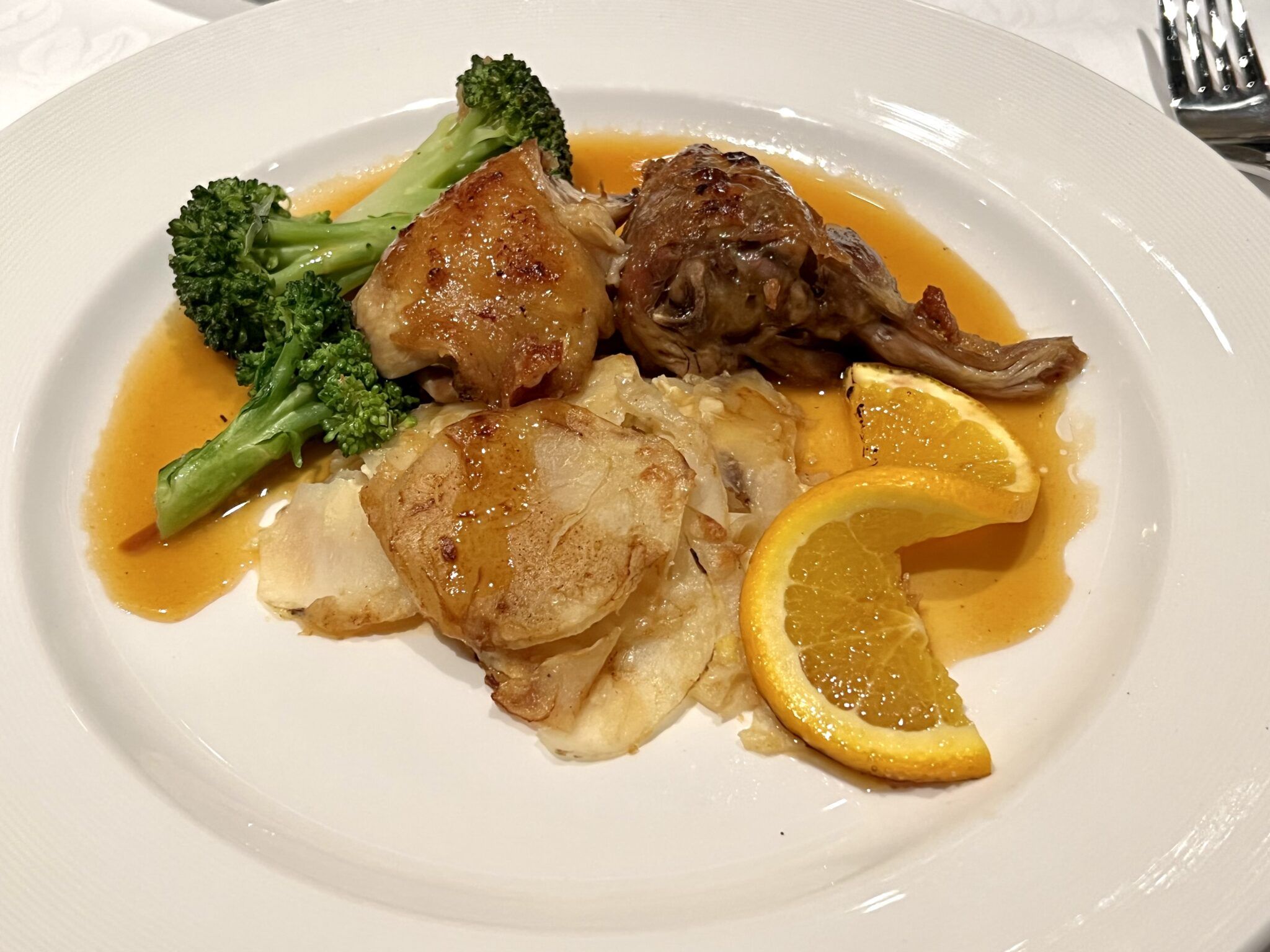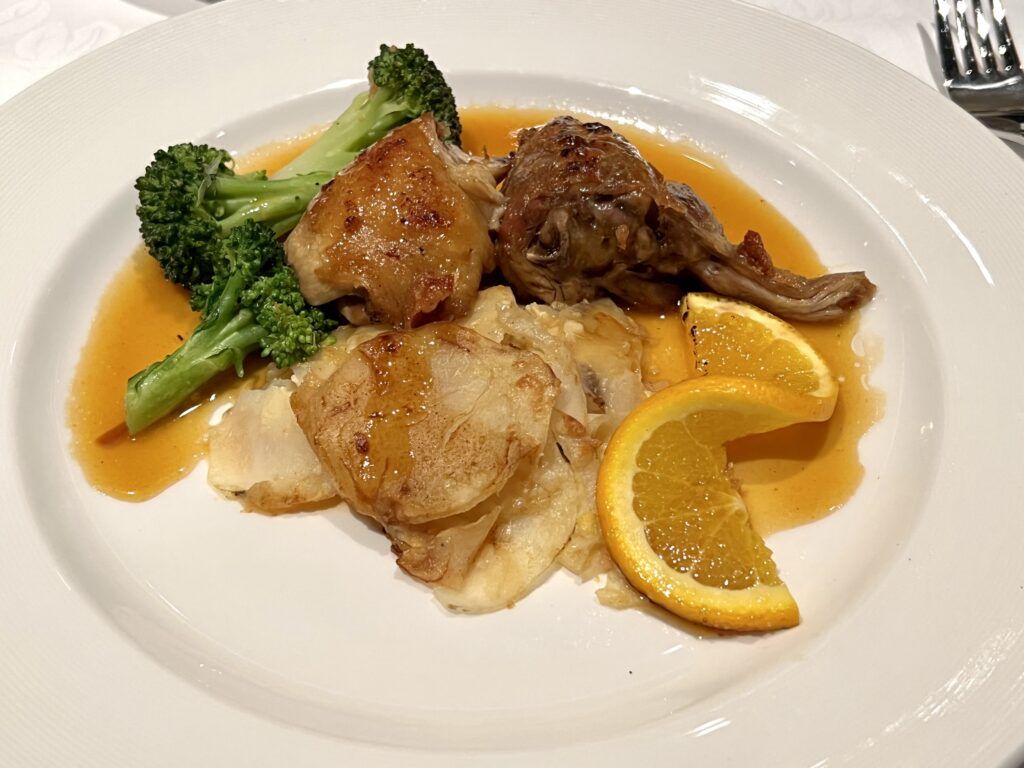 During our second visit to the MDR, our entrees were pretty average; although, the beef wellington was the highlight of the night. At the two hour mark and still no dessert menu, we skipped the third course to get to a show.
Our third and final visit to the MDR was by far the best. Our waiter was friendly and timely. All of our dishes were served warm with appropriate spacing between courses. The Princess always enjoys this final dinner which included turkey and Baked Alaska. I enjoyed the calamari and pork belly paella, but the bacon-wrapped meatloaf was just okay.
We did not dine at the main dining room at all for breakfast or lunch, so we cannot provide any feedback here. Though, reviewing the menus, it appeared there were many standard offerings.
However, we did attend the Afternoon Tea one day in the MDR. This complimentary activity is a nice touch. The menu consisted of black tea, along with small bites like scones, finger sandwiches, and some petite desserts.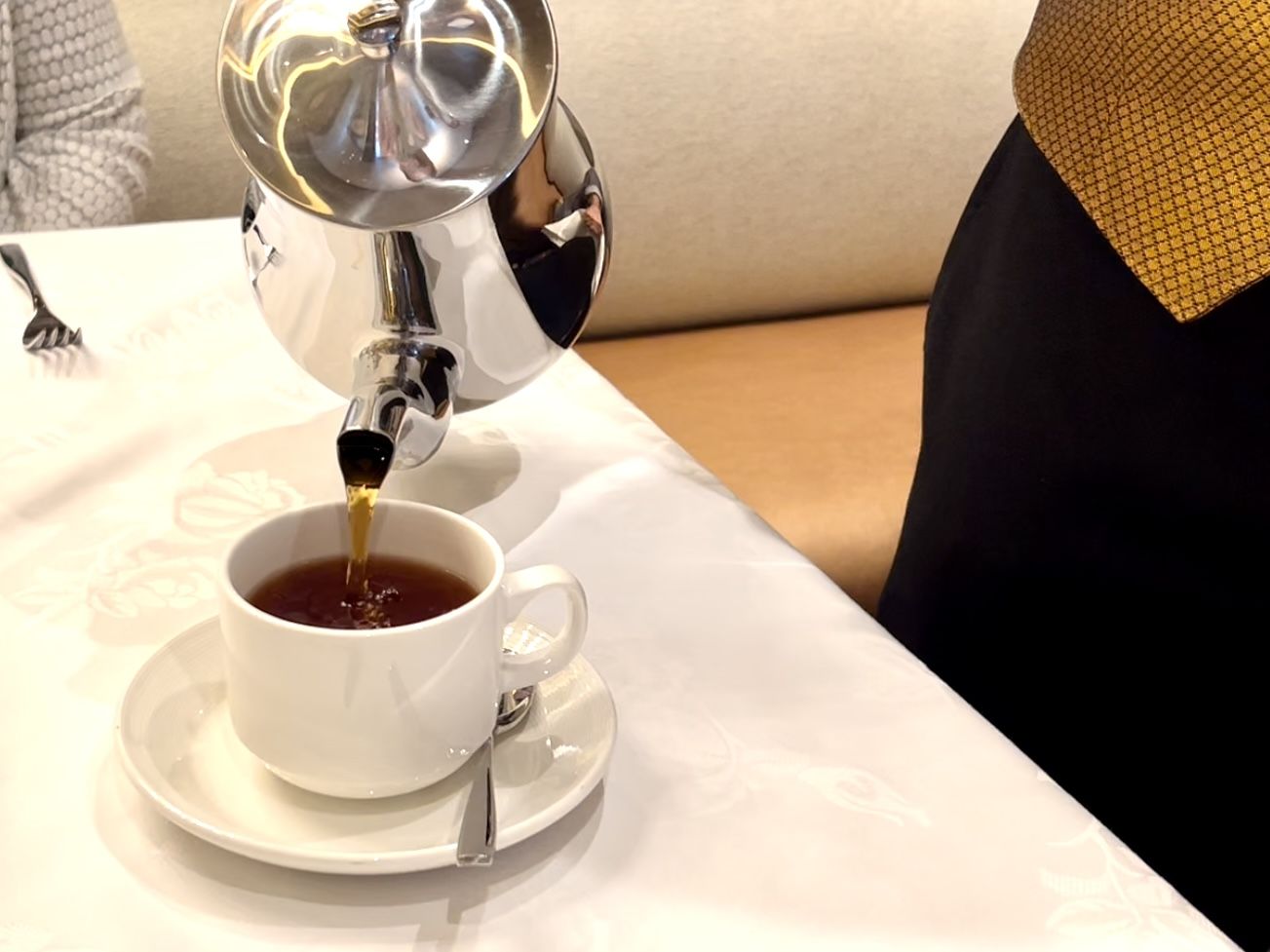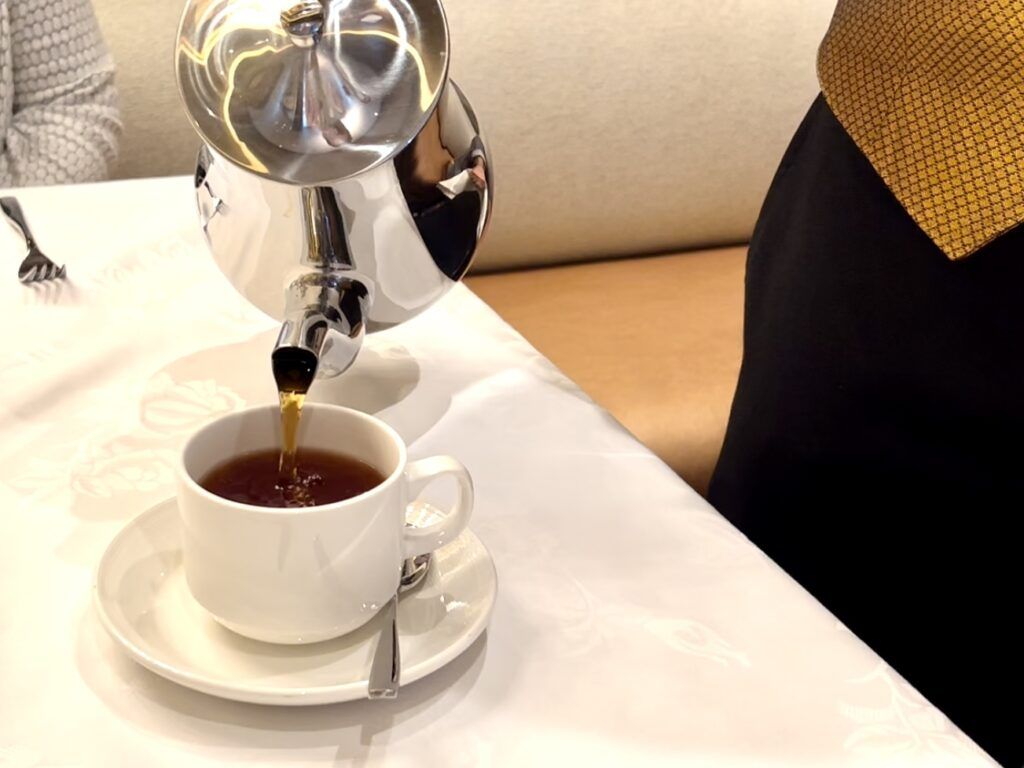 Specialty Dining
While there are a number of dining options included in the cruise fare, Discovery Princess also features some up-charge restaurants. During our cruise, we had dinner at four of these specialty restaurants.
With our hectic embarkation day schedule, we decided to try the Salty Dog Gastropub for dinner. This venue offers small plates, including the signature Ernesto Burger. Included in the $18 per person up-charge are two main plates and one dessert. Honestly, we felt the venue should be complimentary.
Pre-cruise, we booked Crown Grill, the line's signature steakhouse, for night 3 at 6:30 pm. Even though we were 45 minutes late for our reservation (due to a shore excursion), the hostess was gracious enough to accommodate us. Micah, our server, was excellent. So were my premium beef chop and the cheesecake. This specialty dinner was by far the best of our cruise. It is also a great value at just $29 per person.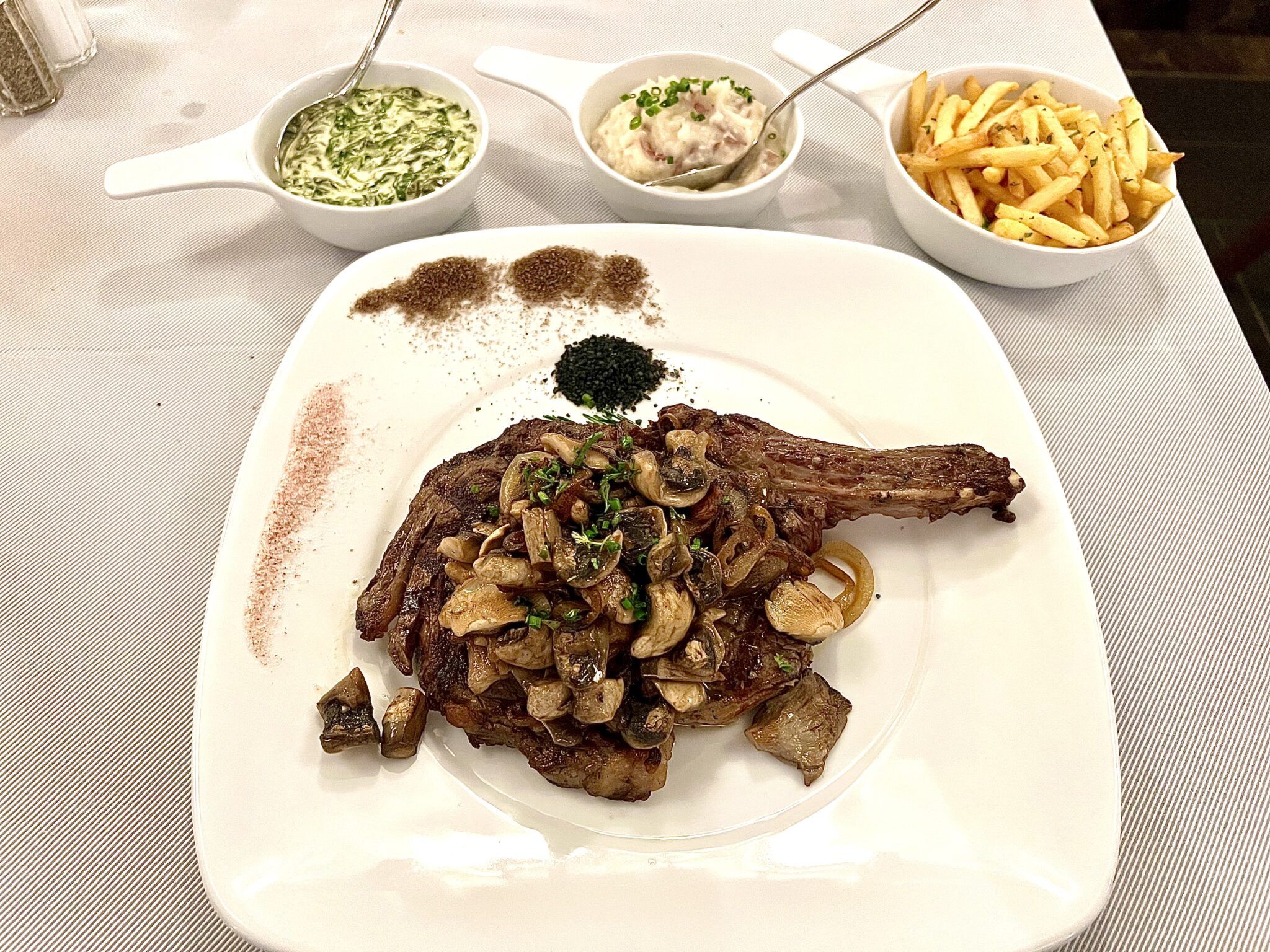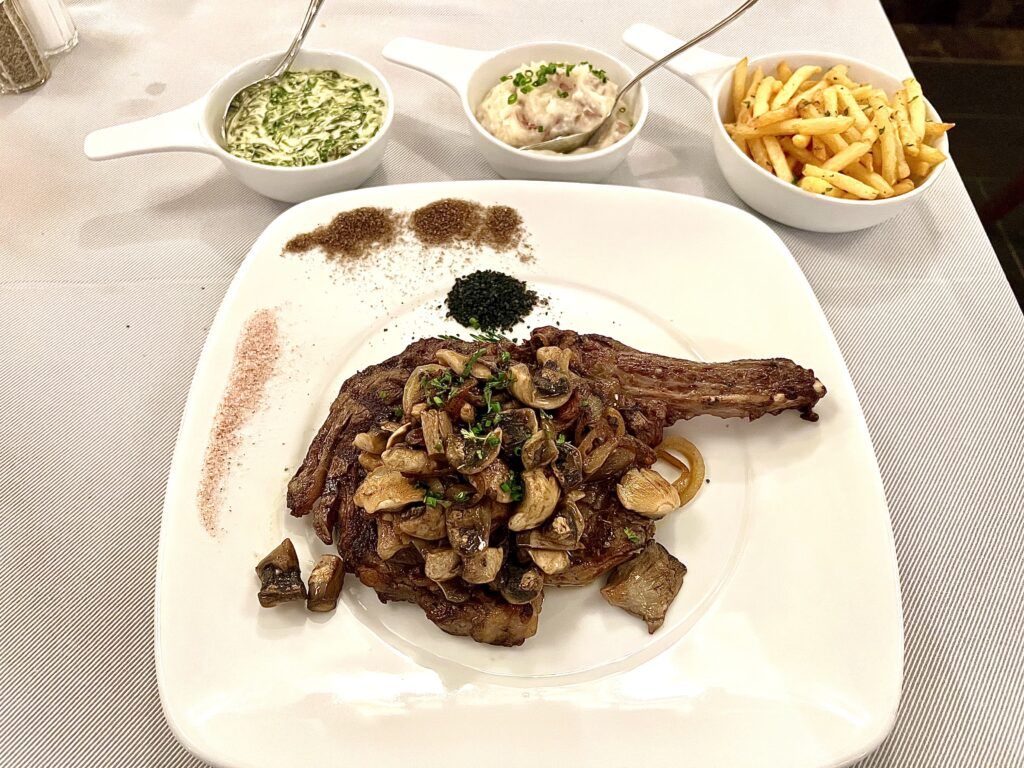 One restaurant we did not get to try on our previous trip was Sabatini's Italian Trattoria. This restaurant serves up all the Italian classics including burrata, fried calamari, homemade pasta, and pork tenderloin. Of course, we couldn't pass up the tiramisu and dessert martinis either. The waitstaff here did a great job accommodating our group of 10.
Lastly, we also dined at the French restaurant, Bistro Sur La Mer. Personally, this is our least favorite of the three specialty restaurants on Discovery Princess. While my filet was cooked well and the Princess enjoyed her potato au gratin entrée, the starters and desserts were just average. Still, with a large group of 9, service was friendly and well-paced.
Casual Eats
When it comes to food, the casual eats on Discovery Princess shine. The complimentary options are certainly better than most other contemporary cruise lines.
We are particularly fond of the International Café. This 24-hour venue is the ship's coffee shop. It also serves fresh breakfast sandwiches and pastries in the morning, as well as items like chicken pot pie, small sandwiches, and cookies in the afternoon.
Discovery Princess has not one, but two pizza parlors. Yes, you need to try them both. Deck 16 features the poolside venue, Slice. This quick service restaurant serves up slices of pizza throughout the day.
Then, there is Gigi's Pizzeria on deck 7. This casual, complimentary venue is a sit-down restaurant serving up small plates and personal pizzas. We would concur that this is the "best pizza at sea"! Seating at this venue is first come, first serve, and it does get busy around lunchtime.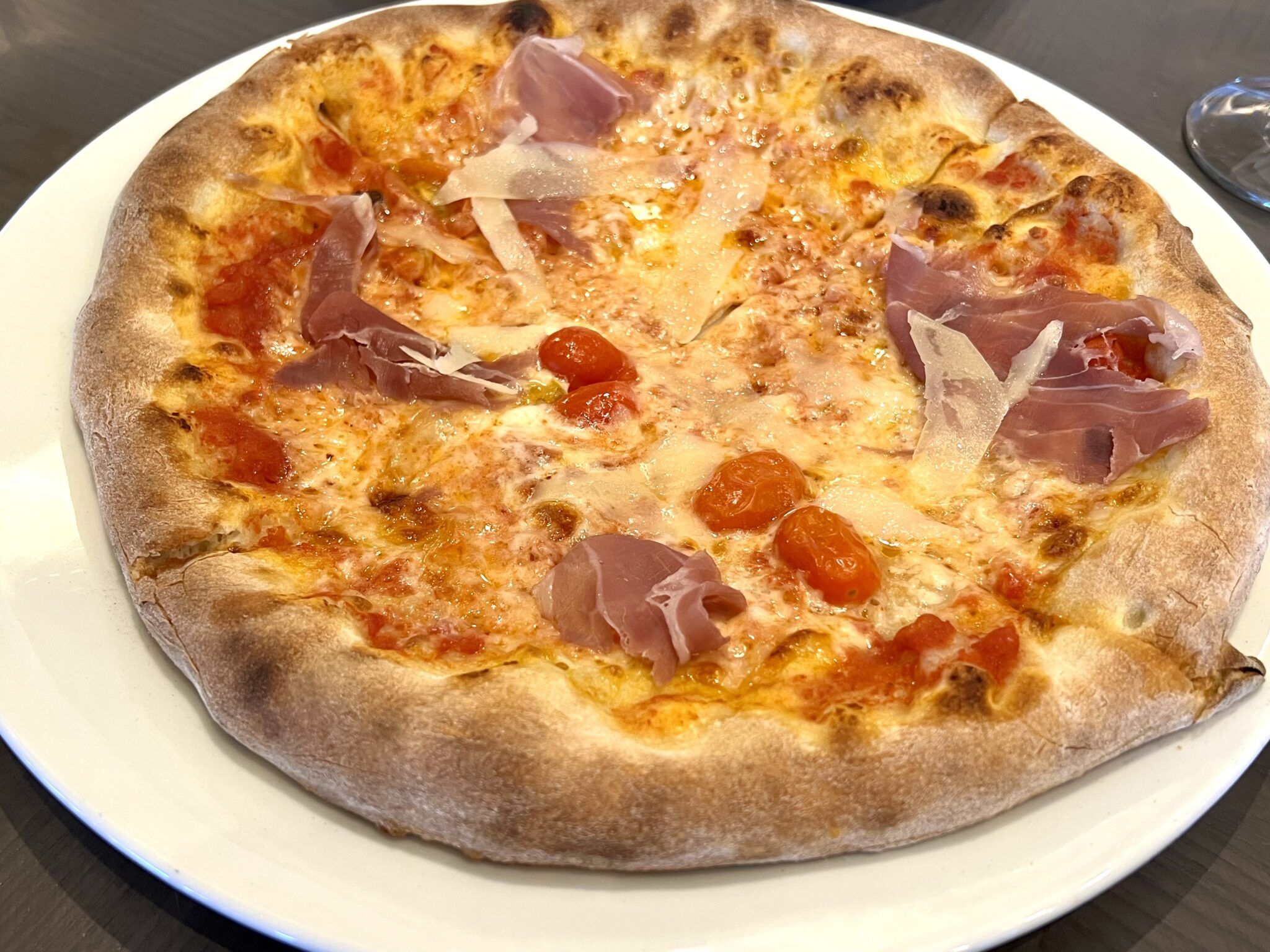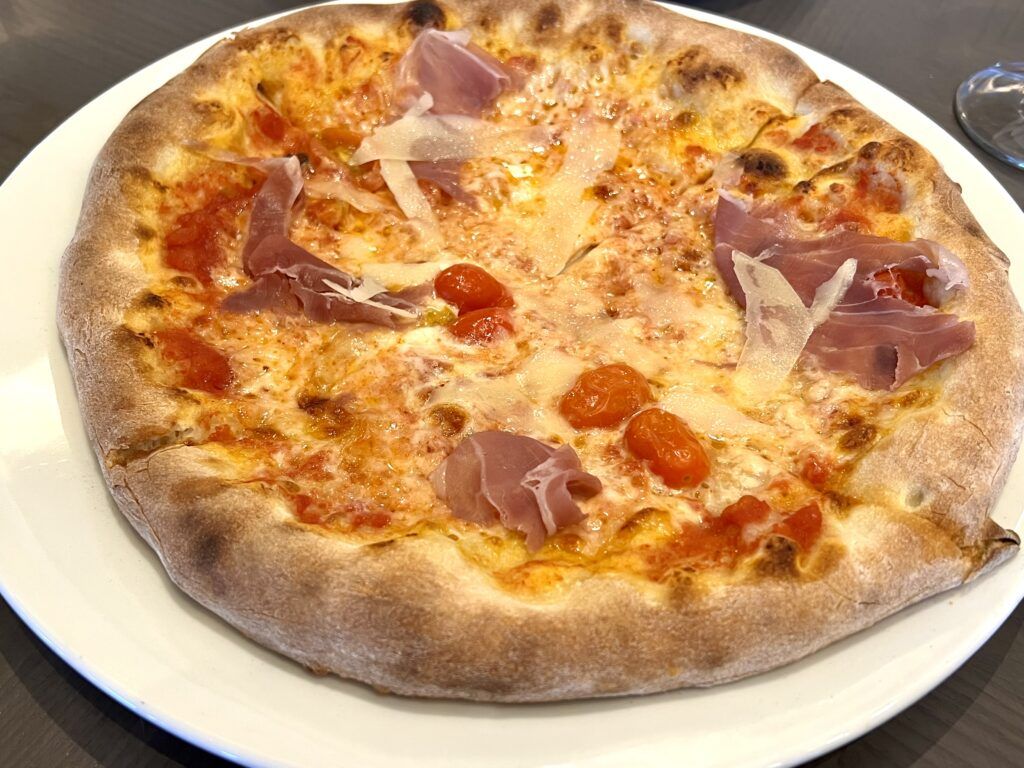 Also near the pool is the Salty Dog Grill. Like many lido decks, this quick service grill serves up freshly prepared hamburgers and hot dogs, in addition to other items like tacos and chicken sandwiches.
Finally, the World Fresh Marketplace is the ship's buffet. This venue was open from 5:30 am to 10:00 pm daily. Serving breakfast, lunch, snacks, and dinner, you can always get something to eat on Discovery Princess. We passed through this aft restaurant several times, but we only dined here once for breakfast. During this visit, the omelet passed the wife's test, and there was a variety of other breakfast items.
Main Theater Entertainment
The Princess Theater on Decks 6 and 7 featured a new show each evening. Almost every night, there were two showtimes at 7:30 pm and 9:30 pm.
The ship's singers and dancers were featured in the production show, Rock Opera. This high-energy show featured impressive vocals with a number of songs from "The Greatest Showman", along with other classic ballads and rock music. This show was certainly the highlight of the main theater entertainment.
While we did not get to see it on our sailing, the second production show, Spotlight Bar, will be debuting soon on Discovery Princess.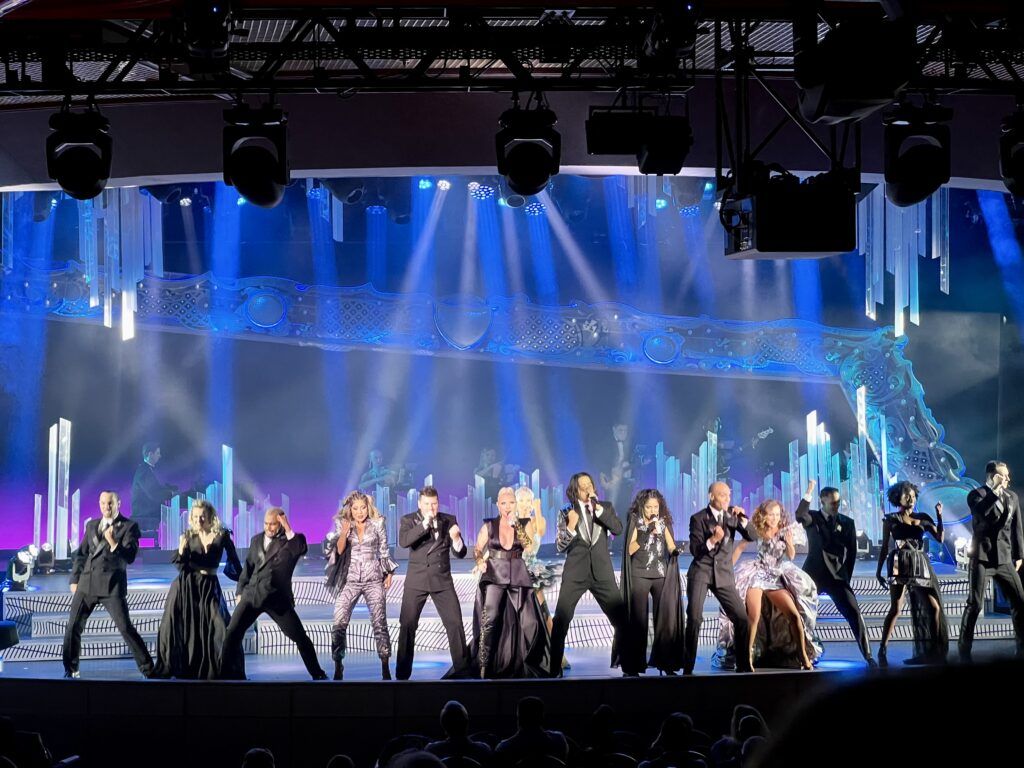 The main theater also featured five different headliner acts. On night 1, the headliner act was comedian Carlos Oscar, who is a Princess Cruises' entertainer of the year. He also did a second set in the Vista Lounge on night 2.
The other headliner acts included the Motown Group, Uptown, who played songs from artists ranging from Marvin Gaye to Bruno Mars. We have seen this act before, and they always get two thumbs up from us. There was also a magician, a tribute to Elton John, and another comedian.
With our schedule, we did not get to all of the shows, which is rare for us. However, we were pleased with the shows that we did see.
Nighttime Activities
With several bars and lounges on Discovery Princess, there were plenty of venues offering live music during the evenings. The Crooners Bar is the martini bar on the ship, featuring nightly piano music with AJ Clarke. The Crown Grill also featured light piano music in the evenings.
The Piazza mostly featured two different musical acts in the afternoons and evenings, playing a wide range of standards and serving as the perfect backdrop in this lively area of the ship.
The Vista Lounge also hosted live music in the evenings. With sets ranging from tributes to ABBA to Music of the 80's, the house band, Meridian, kept the room rocking until 11 pm. This venue then turned into the resident night club with a DJ spinning hits until the wee hours of the morning.
Finally, the Take 5 lounge also featured live jazz music by the Larry King Trio. This intimate venue was an inviting spot to enjoy the music alongside era-appropriate drinks from the specialty menu.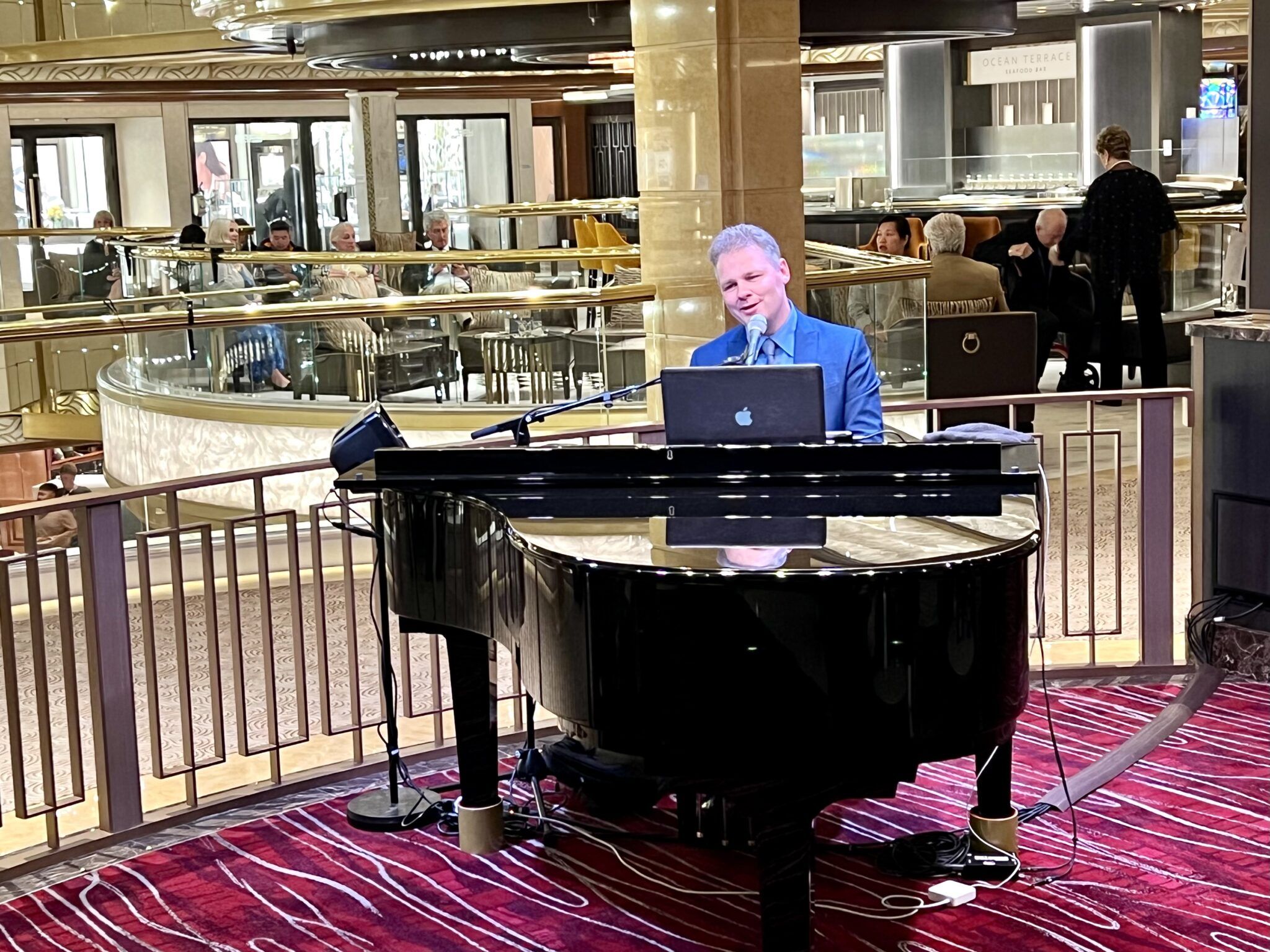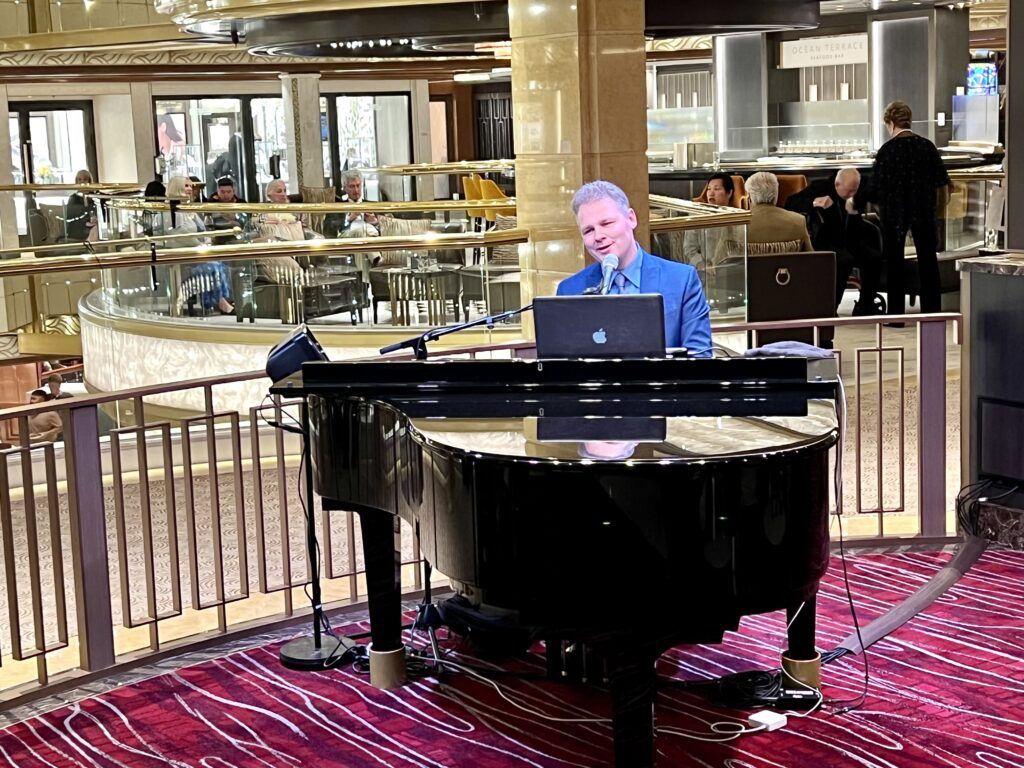 Most nights of the cruise, there were multiple events occurring in Princess Live as well. This newly redesigned space on deck 7 is now more open and inviting. This venue hosted mostly trivia, games shows, or karaoke in the evenings. Some of our favorites included Yes or No, Liar's Club, and Majority Rules. Of note, they did have a Marriage Match game show, but this event occurred in the Vista Lounge.
DuVaul and his entertainment team were funny and did a great job hosting these events.
Fitting for our Mexican Riviera itinerary, there was also a Mexican Fiesta Deck Party on night 4. It was surprising that there weren't other parties like a silent disco or white party on this cruise.
Given we are creatures of habit, we loved the predictable routine each evening of dinner, a game show, and main theater entertainment.
Bars and Lounges
Speaking of bars and lounges, Discovery Princess features more than 10 different venues with many offering signature cocktail menus.
Although, with the OceanNow technology, cruisers actually have expanded drink options that can be ordered and delivered to anywhere on the ship, including your stateroom.
When compared to our cruise on Majestic Princess, Discovery Princess offers a number of unique bars. The newest is Jazz on Five. Featuring early 20th century era cocktails, like the Sidecar and Ella Fitzgerald, the venue (on Deck 6) is also home to live music.
The Crooners Bar on deck 6 is a piano bar with a similar vibe. Featuring a cocktail menu with signature martinis, it is an ideal evening spot. Additionally, the Crown Grill Bar also serves up martinis and light piano music, making it an ideal spot for a pre-dinner cocktail.
Other indoor bars include Bellini's, with champagne-inspired cocktails, and the Salty Dog Gastropub serving up various beers and cocktails. There is also the Princess Live Café and the Vista Lounge featuring a standard drink menu.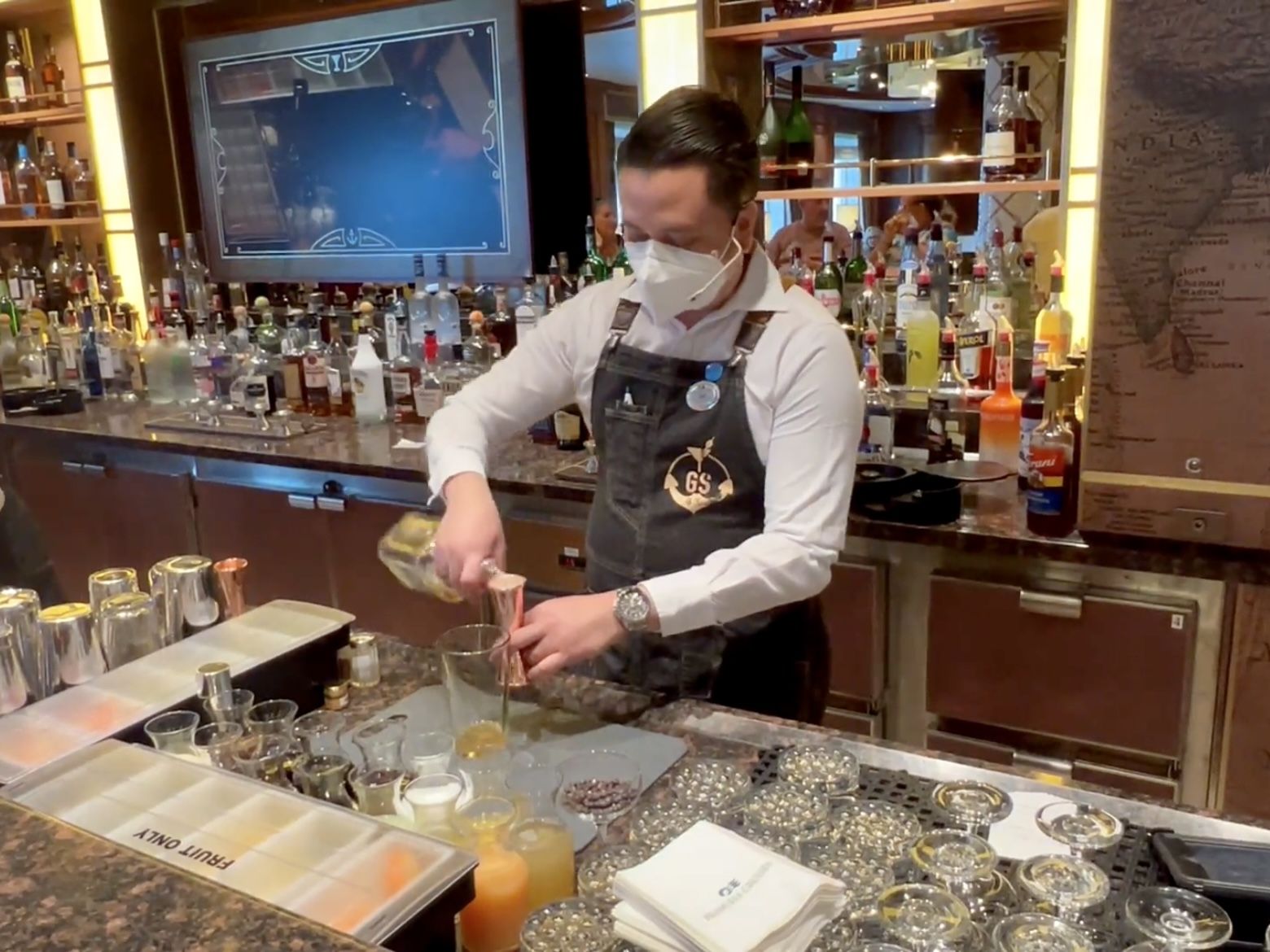 On Deck 5 of Discovery Princess, you will find the most unique bar on the ship, Good Spirits at Sea. This venue showcases cocktails made with fresh ingredients and mixed up with some flare. The bartenders even provide a detailed narration while making each drink.
Moving outdoors, there are 4 bars serving your favorite cruise drinks. From the line's signature 24k Gold Margarita, to the Dirty Banana, and various other drinks, you will never have far to go for a drink while lounging poolside. There is a bar conveniently located near the Wake View Pool and the Retreat Pool. Then, there are two bars near the main pools, the MIX bar and the SeaView bar.
Stateroom
We stayed in a balcony cabin on Deck 14 for this Discovery Princess cruise ship scorecard review. Our starboard side stateroom, cabin R241, was right next to the forward elevators. According to the Deck plans, this BB category balcony cabin measured in at 222 square feet with a 41 square foot balcony.
Further, the cabin had an updated color palette for a more upscale feel. It included very neutral tones, with light woods and soft blue accents.
When entering the room, both the bathroom and closet were on our right side (aft wall). As we expected, the cabin had a large closet with plenty of hangers and a series of shelves right next to it.
The bathroom felt on par with other cruise lines; though, the shower did seem a bit smaller than the one we had on Majestic Princess last year.
As for the main cabin area, it certainly felt smaller than standard balcony cabins on other contemporary cruise lines. We especially missed the loveseat and coffee table typically found in other balcony staterooms. There was also no dresser near the desk for additional storage.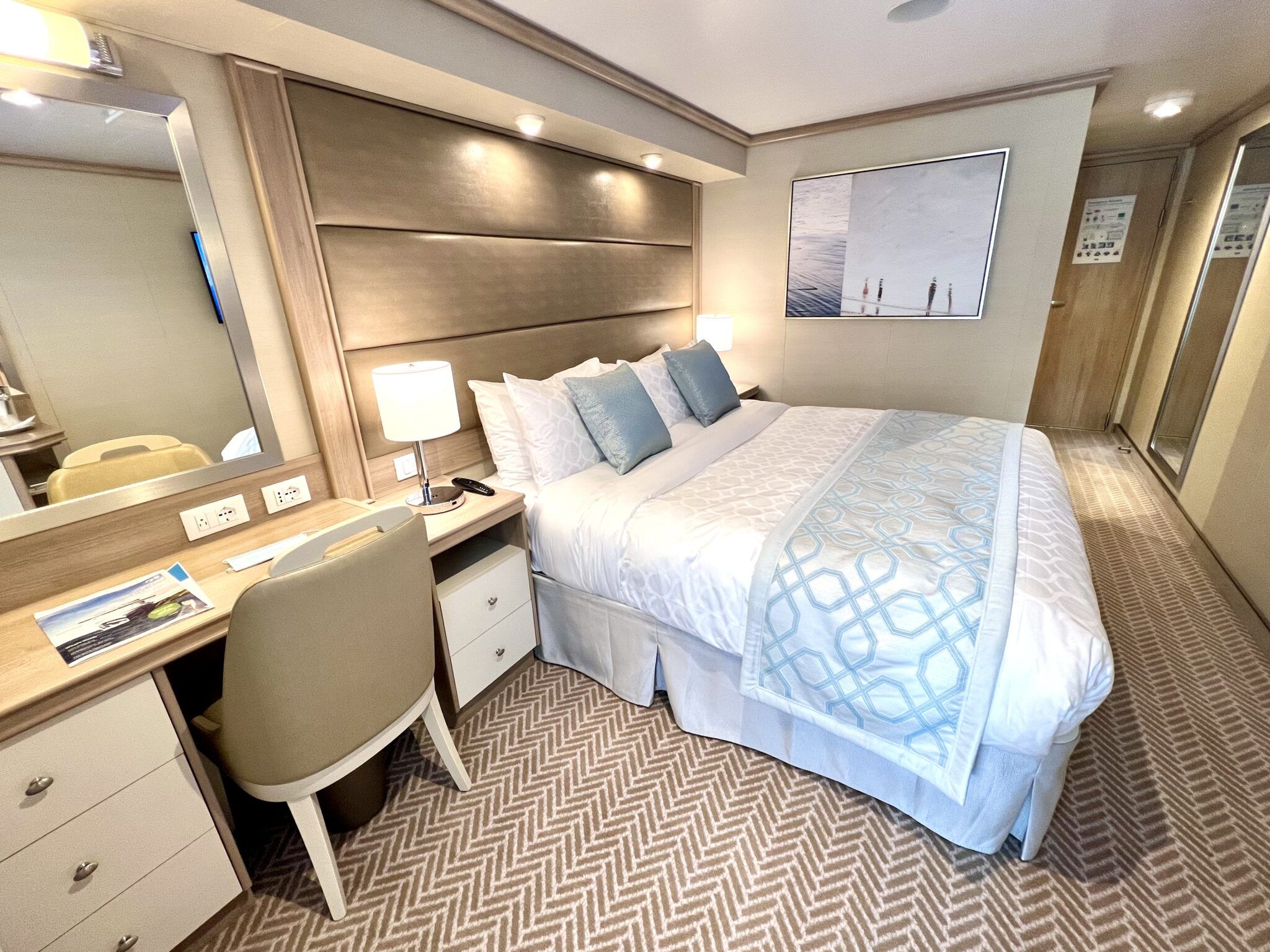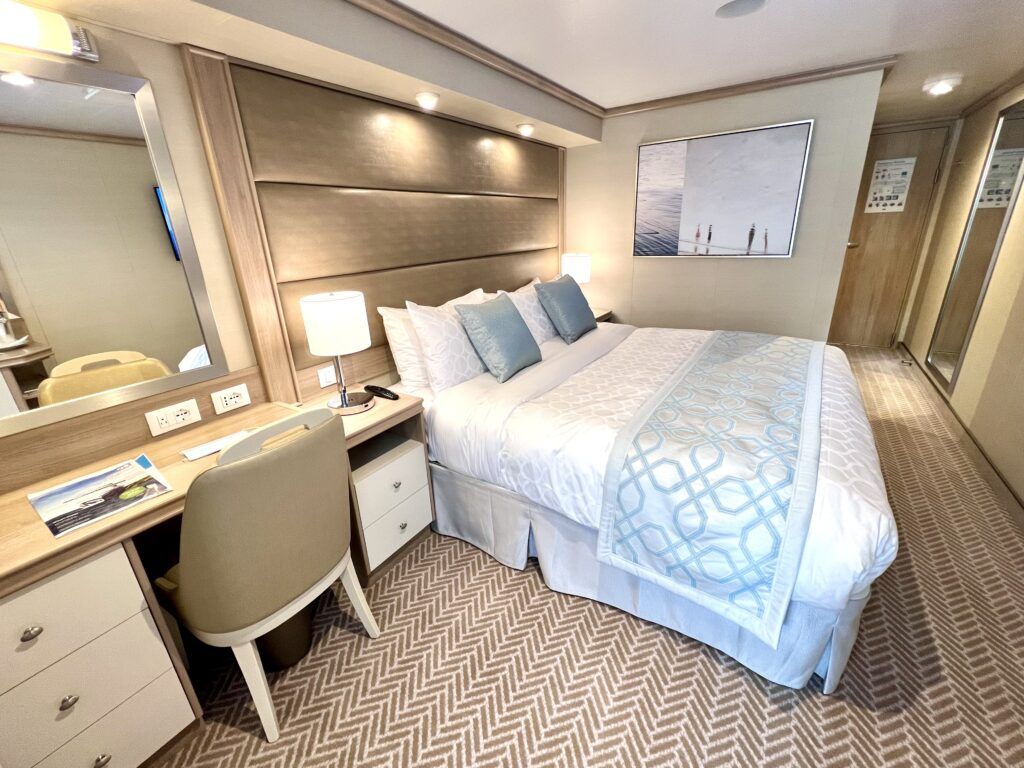 We did appreciate the USB outlets on both sides of the bed; however, the only other outlets in the room were located at the compact desk.
The balcony space included two upright chairs and a small table, with just enough space to allow us to enjoy sail ins and sail outs with a drink in hand.
With some creative unpacking, and our cruise ship cabin space saving hacks, we were able to make due in this cabin for the week. However, we would probably upgrade to a deluxe balcony or mini-suite when sailing with Princess Cruises in the future.
BOOK NOW: Get Deals on Discovery Princess Cruises!
Recap of Our Discovery Princess Cruise Ship Scorecard Review
Discovery Princess is a fitting conclusion to the line's largest class of cruise ships to date. This 145K gross ton vessel delivers a megaship cruise experience without some of the over the top elements found on other cruise lines. With plenty of outdoor space, diverse dining, and elegant finishes, the ship provides cruisers with all the comforts you expect to find on a modern day cruise ship.
When opting for the Princess Plus package, cruisers can enjoy a more all-inclusive vacation. This Princess Plus fare includes a Premier Beverage Package, unlimited MedallionNet WiFi, and gratuities.
While Princess Cruises is family-friendly, you are not going to find amusements like waterslides, rock climbing walls, or even an arcade. Still, Discovery Princess offers a variety of spaces and activities that families of all ages can enjoy together. It also features the most pools of any ship in the fleet, its signature Movies Under the Stars, and a dedicated space for both kids and teens.
With unique public spaces and a plethora of daytime and nighttime activities, there is never a dull moment when cruising on Discovery Princess. The ship's design strategically creates intimate spaces and helps to spread out the crowds.
As our 13th cruise since the restart, Discovery Princess was one of our busier sailings. In a way, we appreciated this, as it means cruising is quickly returning to "normal". The Piazza was bustling morning, noon, and night. Other entertainment venues did fill up quickly as well; though, we were always able to squeeze into all the popular game shows at Princess Live and the productions in the main theater.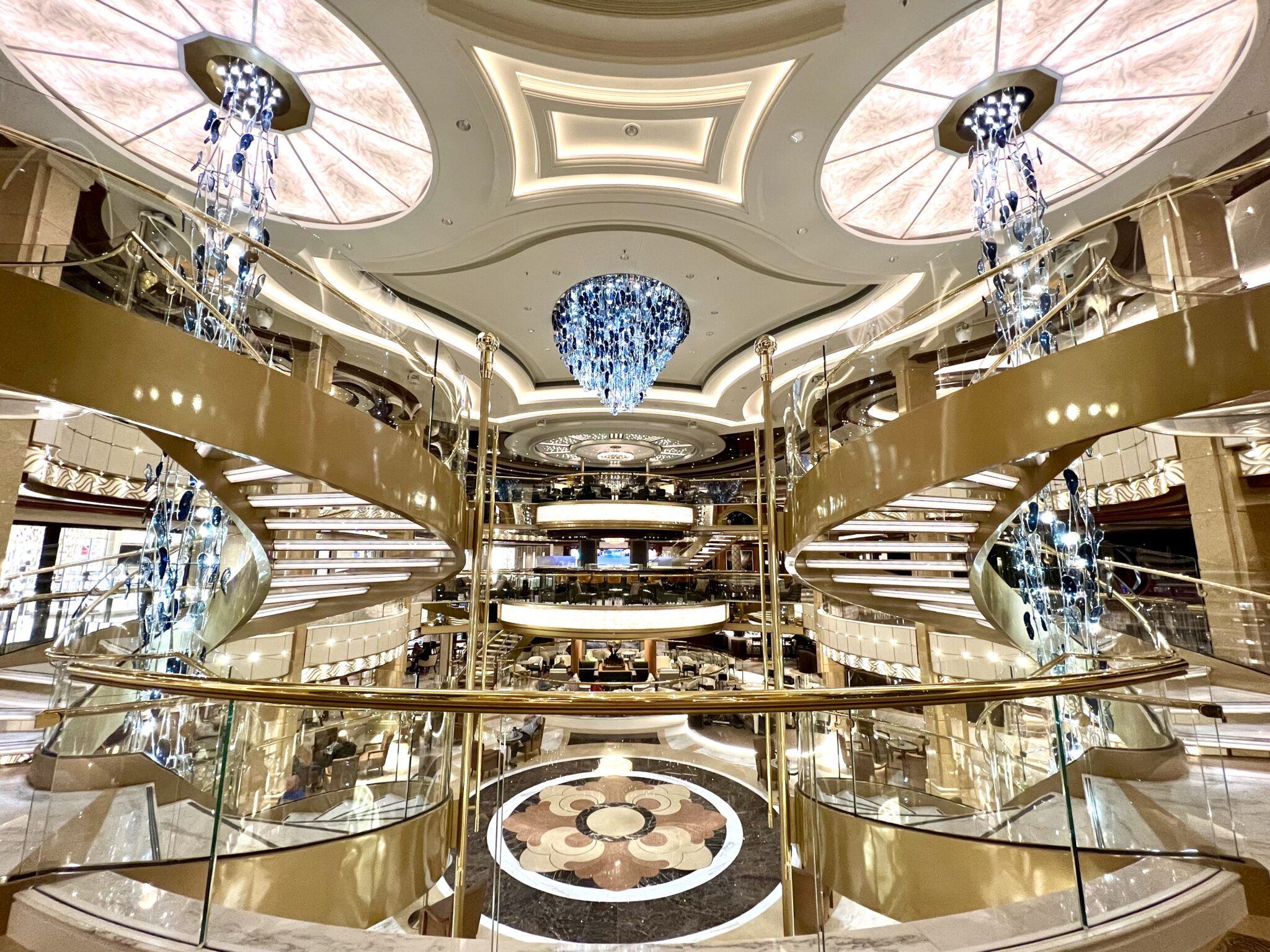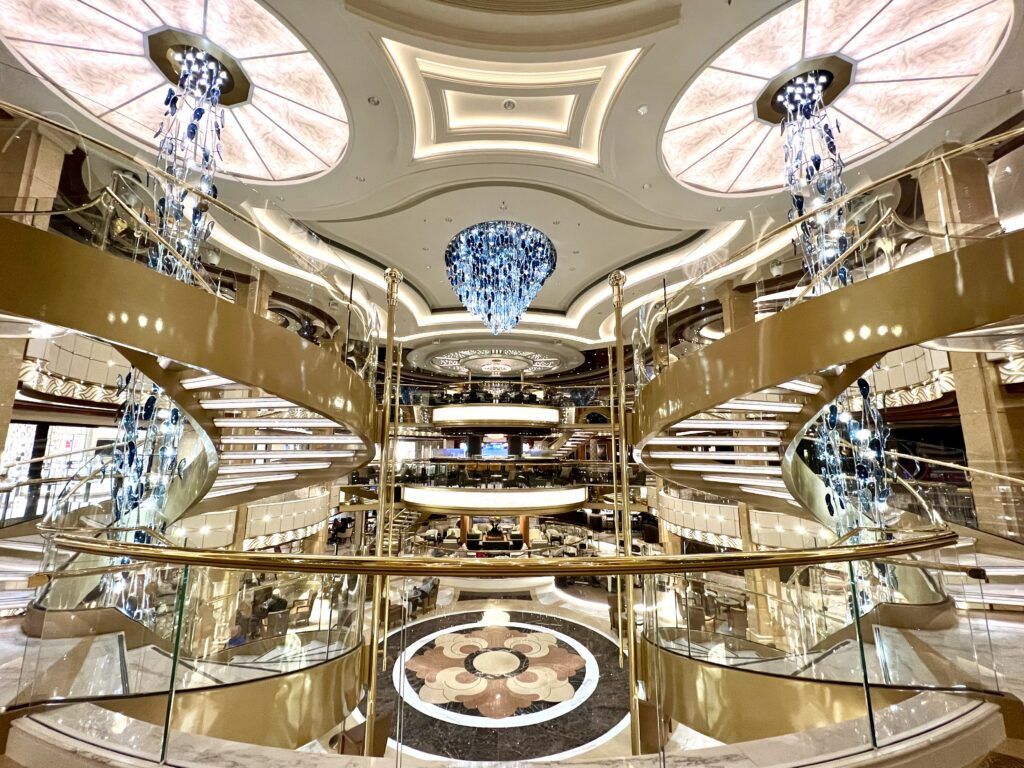 Overall, the food met our expectations. We love all the different restaurants and dining venues available on the ship. Among our favorites were Gigi's Pizzeria, the International Café, and Crown Grill.
While service was a bit inconsistent, we expect this to improve as the staff get more accustomed to the ship.
We also really enjoyed the MedallionClass experience. The little touches like not having to carry a key card, to keyless stateroom entry, to being able to order food and drinks right from our smartphone were nice additions to our regular cruising routine.
Discovery Princess will be setting sail to Alaska this summer, and she is certainly one of the best ships cruising the region this year!
Comments
Did you find our Discovery Princess Cruise Ship Scorecard Review helpful? Do you have plans to sail on this new Princess Cruises ship? Drop us an anchor below to share your upcoming cruise plans.