One of the best new cruise ships for 2022 has just set sail! Disney Cruise Line's 5th ship, Disney Wish, is now sailing the Bahamas. We are back from one of the first revenue sailings on this ship and have put together this Disney Wish Restaurants Guide with menus so you can see what is available at the different restaurants onboard. Even if you are a DCL aficionado, you will want to have a look as there are many firsts for the brand on this new cruise ship.
Disney Wish Restaurants Guide With Menus
Complimentary Disney Wish Restaurants
There are several dining options that are included in your cruise fare on Disney Wish. These include the main dining rooms, the Marceline Market buffet, and some other casual options. With so many great offerings, you certainly do not have to pay extra for dining (if you don't want to). Though, this new ship also offers a few specialty restaurants that are worth a try.
EXCLUSIVE SAVINGS: Save Big on Disney Wish Cruises!
Disney's Rotational Dining Concept
Following suit with the other four Disney Cruise Line ships, Disney Wish features the signature rotational dining concept. Guests can select their preference for either an early (5:45 pm) or a late dining time (8:15 pm) for the duration of their cruise.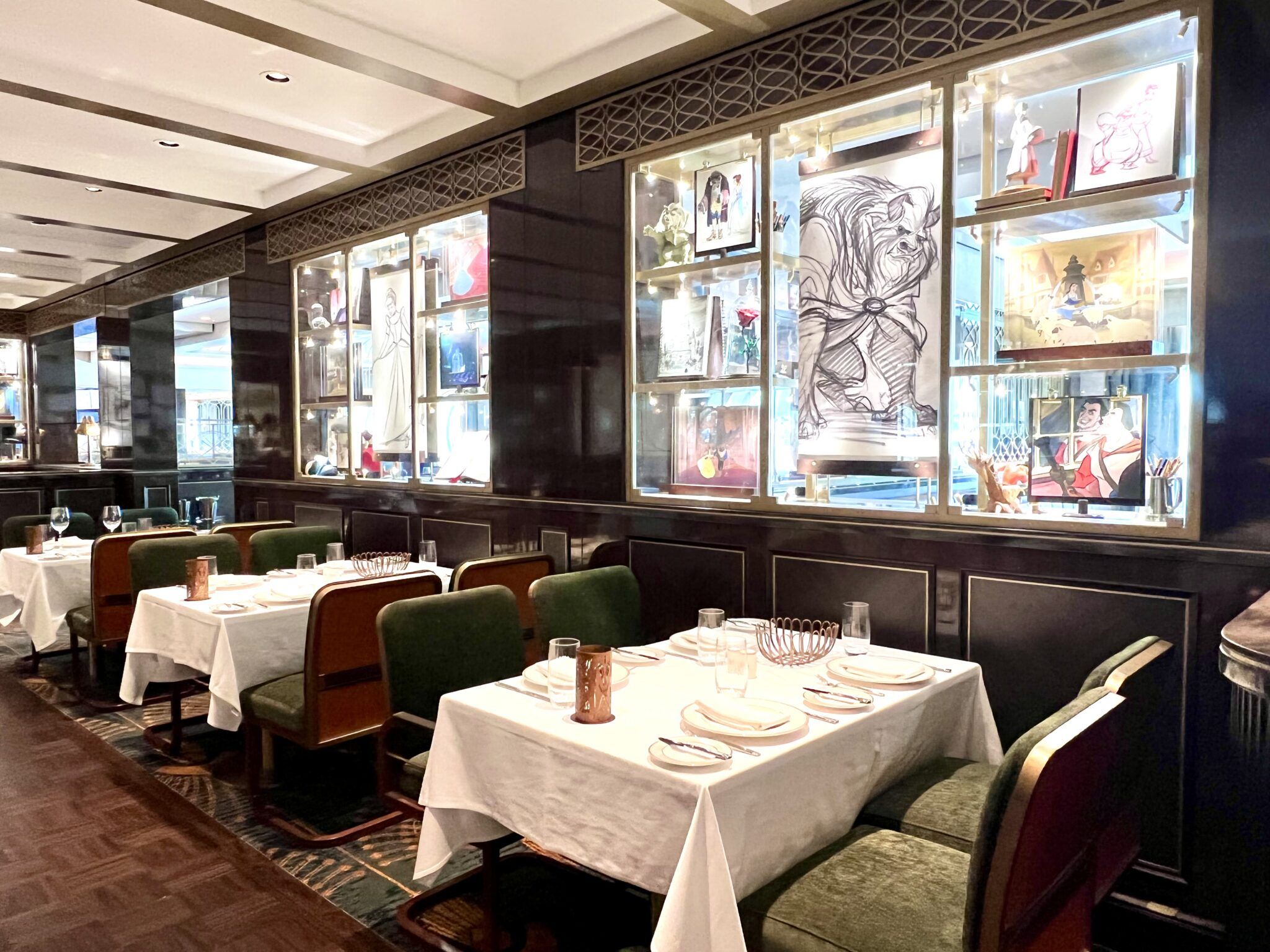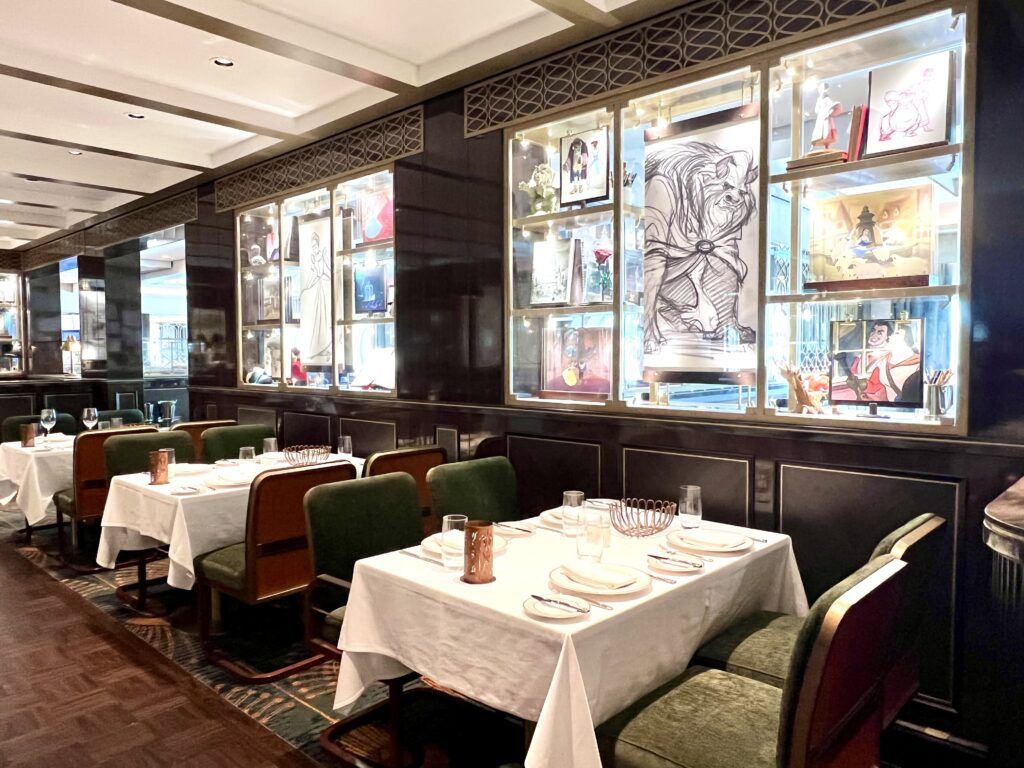 Then, guests rotate between the three complimentary dining venues on Disney Wish. Your waitstaff and same table number also rotate along with you so you can get to know the cast members during your voyage. Staterooms are assigned a particular rotation so as to disperse the crowds amongst the three venues.
On 3-day Disney Wish sailings, this means you will get to enjoy each of the three new restaurants once. Or, on a 4-day sailing, you will dine at one of the restaurants twice. You can check the Disney Cruise Line Navigator app once onboard the ship to see your specific restaurant rotation.
1923 (Deck 3)
The first of these Disney Wish rotational restaurants is 1923. Named for the year The Walt Disney Company was founded, 1923 is a celebration of the company. The décor in this venue pays homage to the golden age of animation and its Californian heritage. It includes drawings, props, and other tools of the trade.
This restaurant has two smaller venues, Walt Disney and Roy Disney, located on the portside and starboard sides of the ship respectively. These venues are aptly named for the men behind the Disney magic.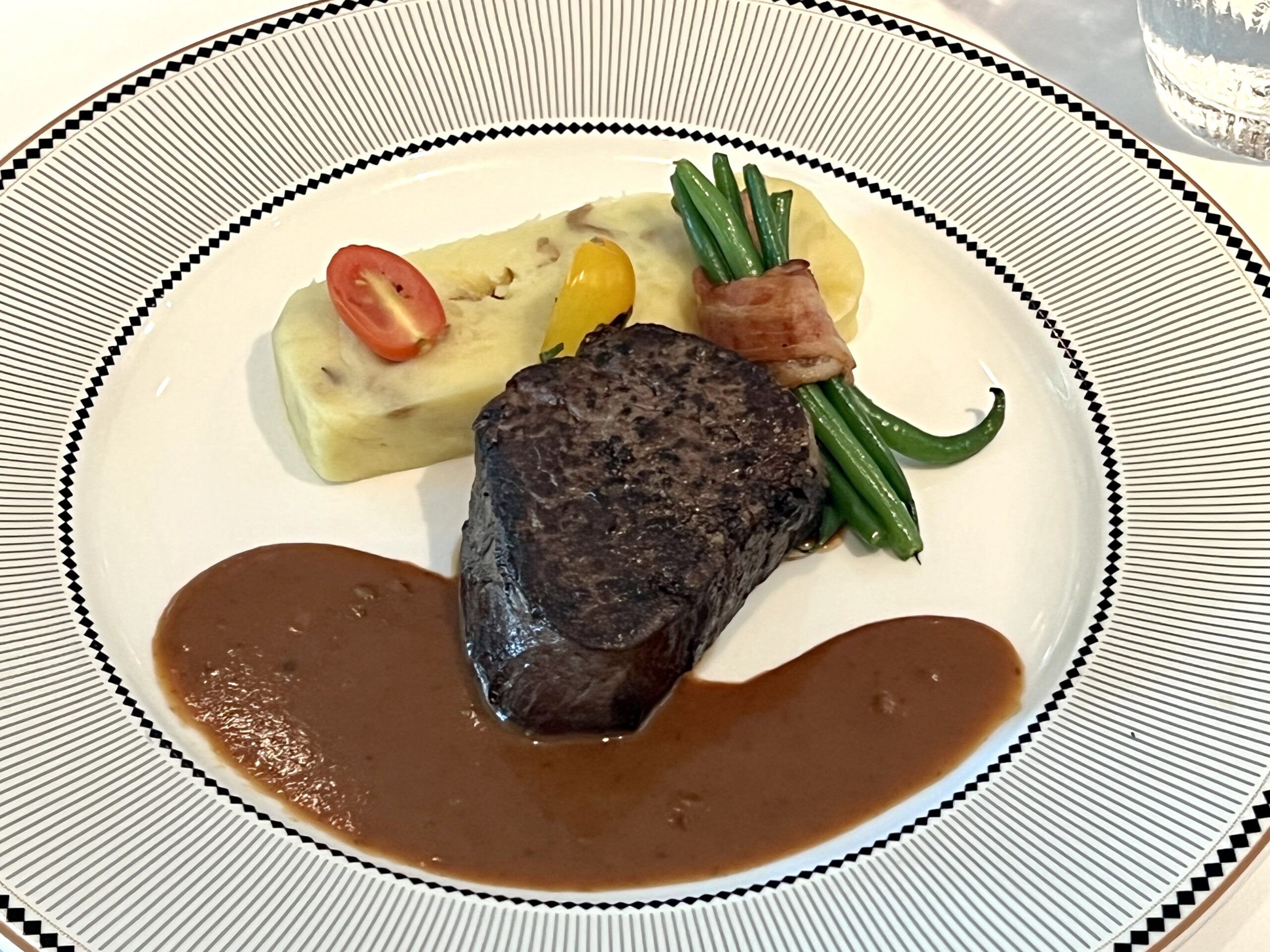 The menu at 1923 features an array of appetizers, soups, salads, and entrees. The menu also features a vegetarian and Lighter Notes section, as well as a separate allergy-friendly menu. The Lighter Notes section includes one signature salad for the venue and a classic steak, chicken, and salmon dish offered across the three dining rooms.
Don't forget to save room for the signature bread service and desserts either.
Some of our favorite dishes at 1923 included the burrata and prosciutto, filet mignon, and apple cheesecake. Of the three dining venues, we enjoyed the food the most at 1923.
On our 3-day sailing, 1923 also served breakfast on day 2 and day 3, as well as lunch on day 2. Breakfast on disembarkation morning was at whichever venue you dined at the previous evening.
1923 Dinner Menu | Cocktail Menu | Dessert Menu | Kids Menu | Allergy-Friendly Menu | Breakfast Menu | Lunch Menu
Worlds of Marvel (Deck 4)
The second of the complimentary Disney Wish Restaurants is Worlds of Marvel. This restaurant is the first Marvel cinematic dining adventure, where guests play an interactive role in an Avengers mission. Further, every table features an interactive Quantum Core, a brand-new device that can cause objects to shrink and grow remotely.
During Avengers: Quantum Encounter, Ant-Man and The Wasp host a special presentation with the use of digital screens surrounding the venue. The characters might even make a special appearance to thank you for helping save the day when things go awry.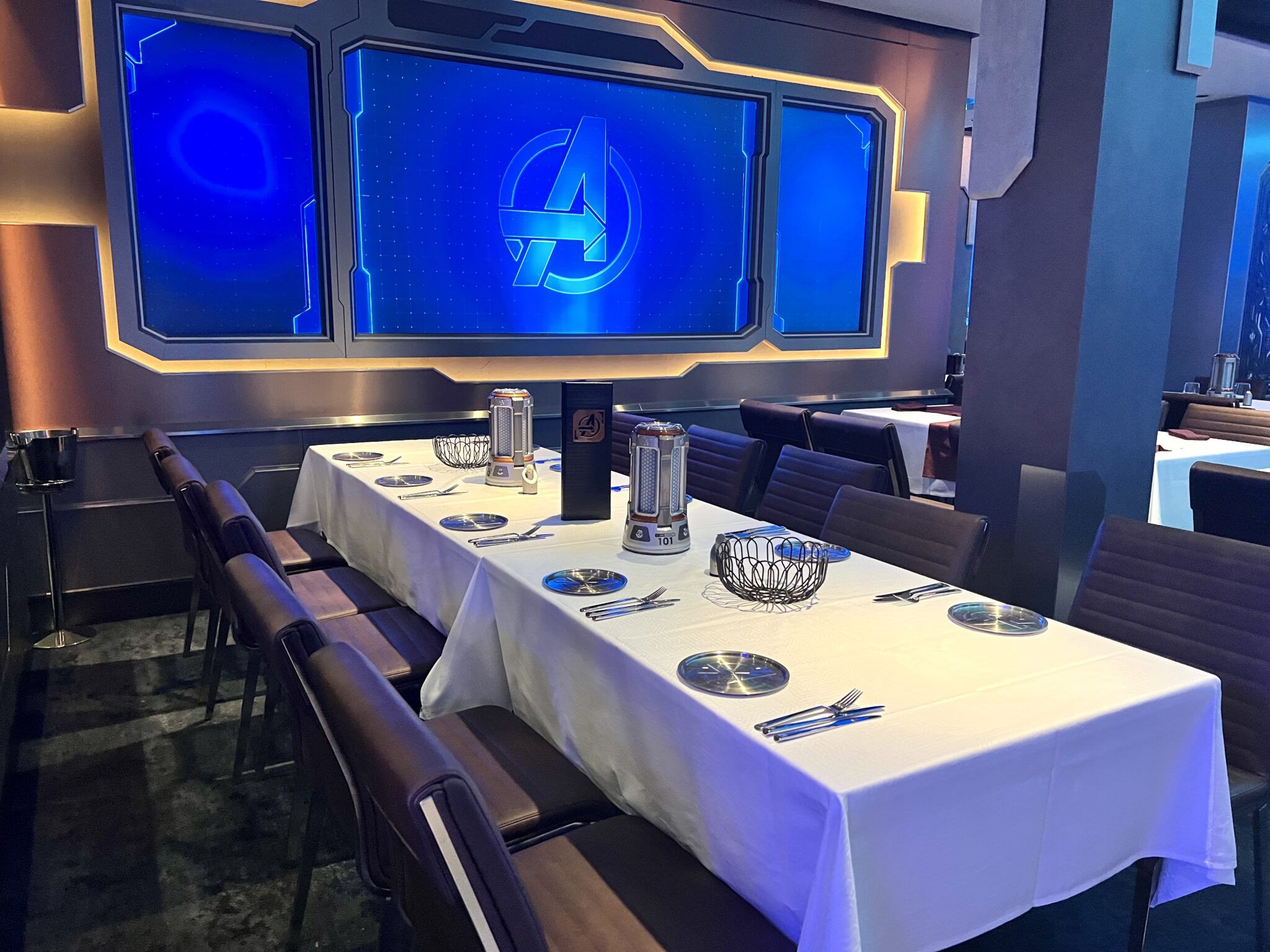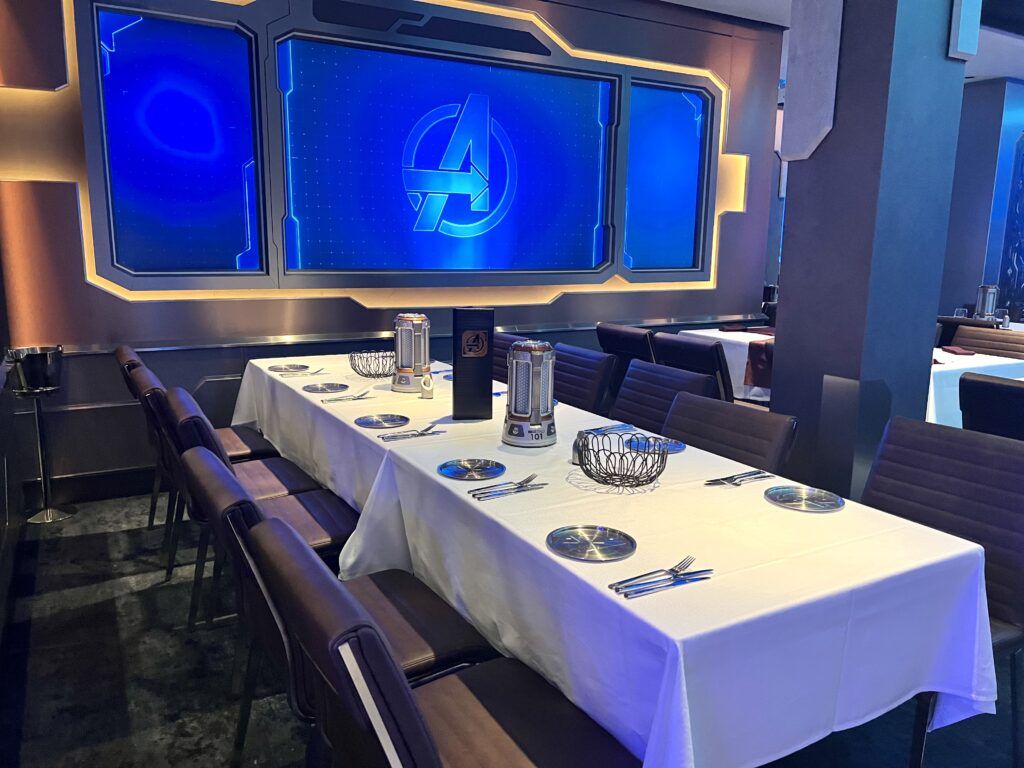 Of course, there is a menu that goes along with the show. The menu features selections from the real and fictional settings of the Marvel Cinematic Universe. With the same format as 1923, guests can select from apps, salads, soups, entrees, and desserts.
Some of our favorite dishes from World of Marvel included the jumbo fried shrimp appetizer and the desserts. The entrees were just average.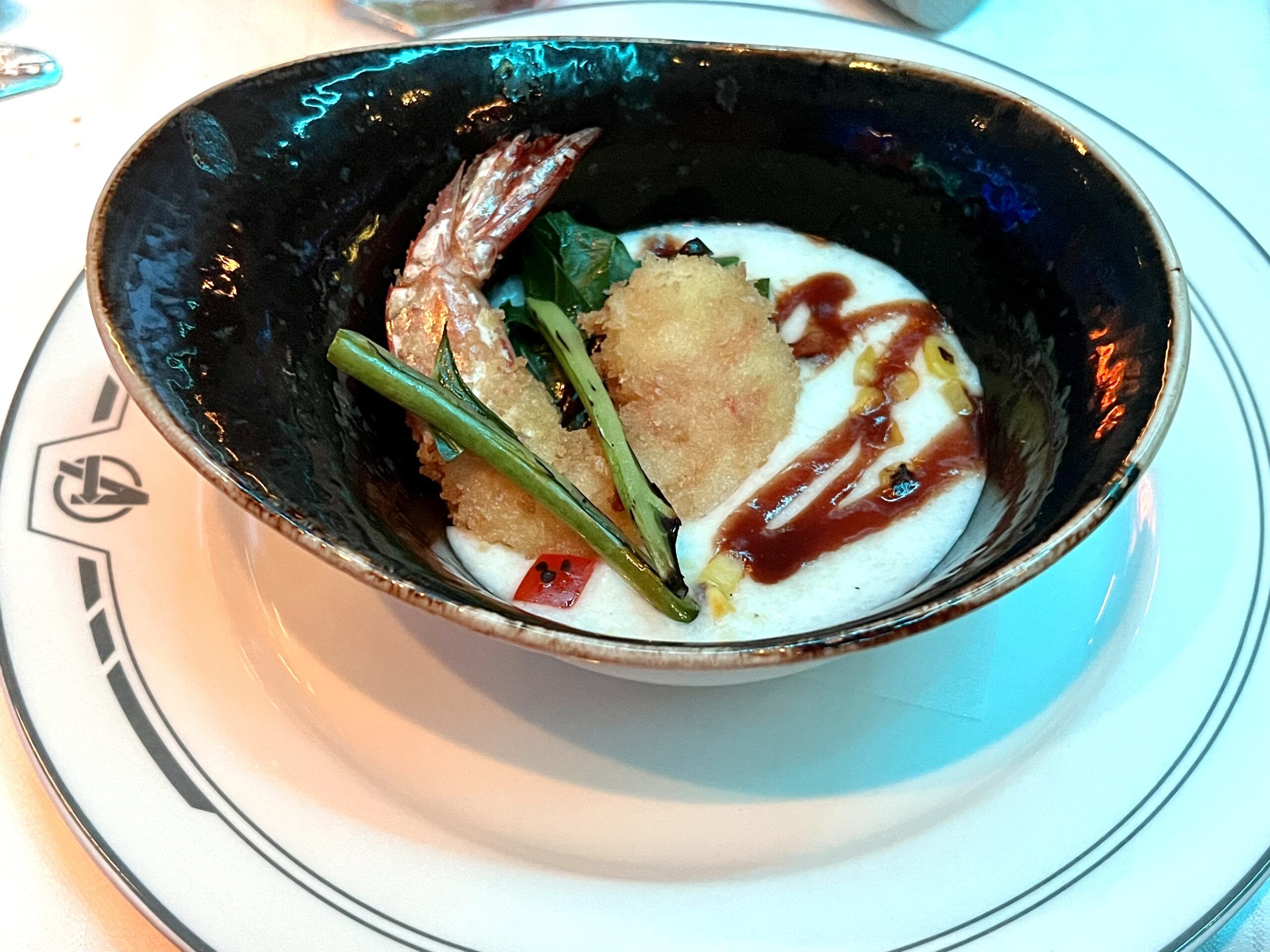 Honestly, this was our least favorite of the dining experiences on Disney Wish.
World of Marvel also served lunch on embarkation day during our sailing.
World of Marvel Dinner Menu | Cocktail Menu | Dessert Menu | Kids Menu | Allergy-Friendly Menu | Lunch Menu
Arendelle: A Frozen Dining Adventure (Deck 5)
The third of the Disney Wish main dining room restaurants is Arendelle: A Frozen Dining Adventure. This theater in the round entertainment venue is Disney's first Frozen-themed theatrical dining experience. This dinner show brings the kingdom of Arendelle to life to help celebrate the royal engagement of Queen Anna and Kristoff.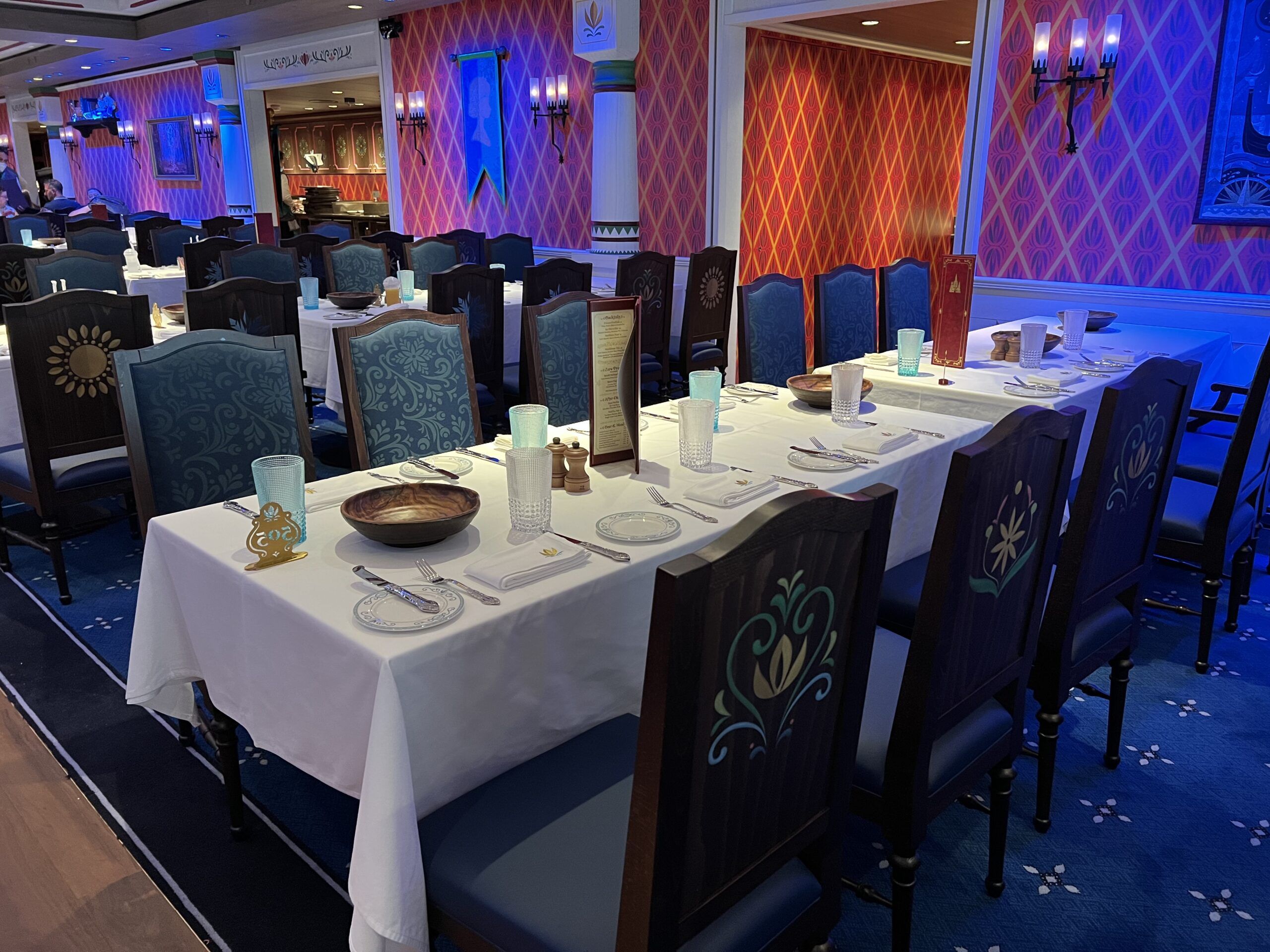 Picking up where Frozen 2 left off, guests are invited to their engagement party on Disney Wish. Hosted by Elsa and Olaf, this celebration is catered by none other than Oaken's Hearty Party Planning Services.
Throughout the meal, guests are treated to live music, character appearances, and special effects.
The Arendelle menu features dishes inspired by Nordic cuisine. Some of our favorite items included the the ham and cheese tart and the apple cake. The Norwegian meatballs entrée and Norwegian pancake dessert were just okay.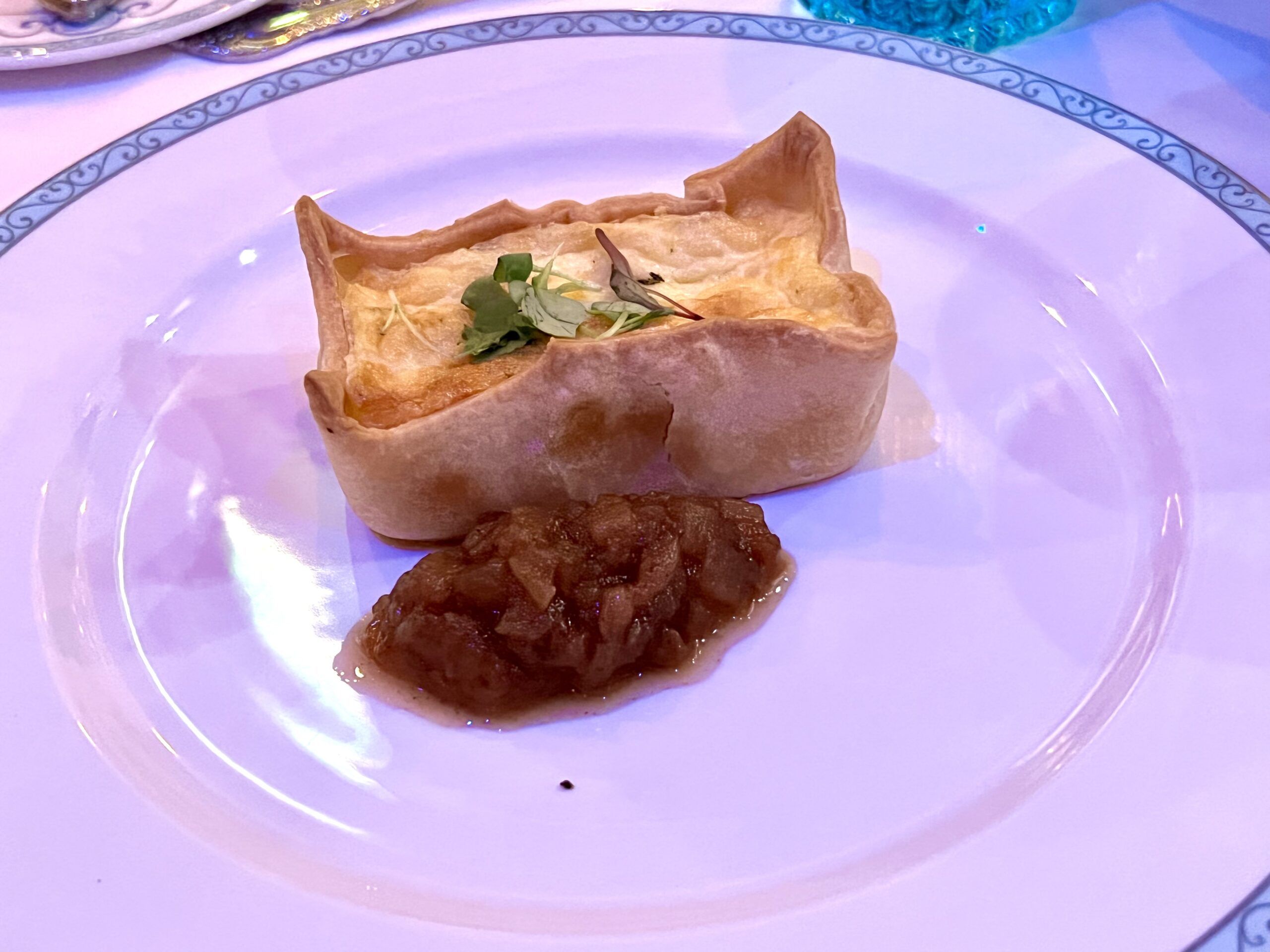 This restaurants wins best overall dining experience for us, even if the food quality was better at 1923.
Arendelle Dinner Menu | Cocktail Menu | Dessert Menu | Kids Menu | Allergy-Friendly Menu
Mickey and Friends Festival of Foods (Deck 11)
Located in the center of all the action on the pool deck is the new Mickey and Friends Festival of Foods. These quick-service stations, styled after a seaside boardwalk, are the perfect spot to grab lunch, dinner, or a snack. This Festival of Foods is open most days from around 11 am until 6 pm with some stalls staying open later.
This open-air eatery features five themed food stalls: Mickey's Smokestack Barbecue, Donald's Cantina, Daisy's Pizza Pies, Goofy's Grill, and Sweet Minnie's Ice Cream. Disney Wish is the first in the DCL fleet to offer dedicated quick-service venues for barbeque and Mexican-inspired fare.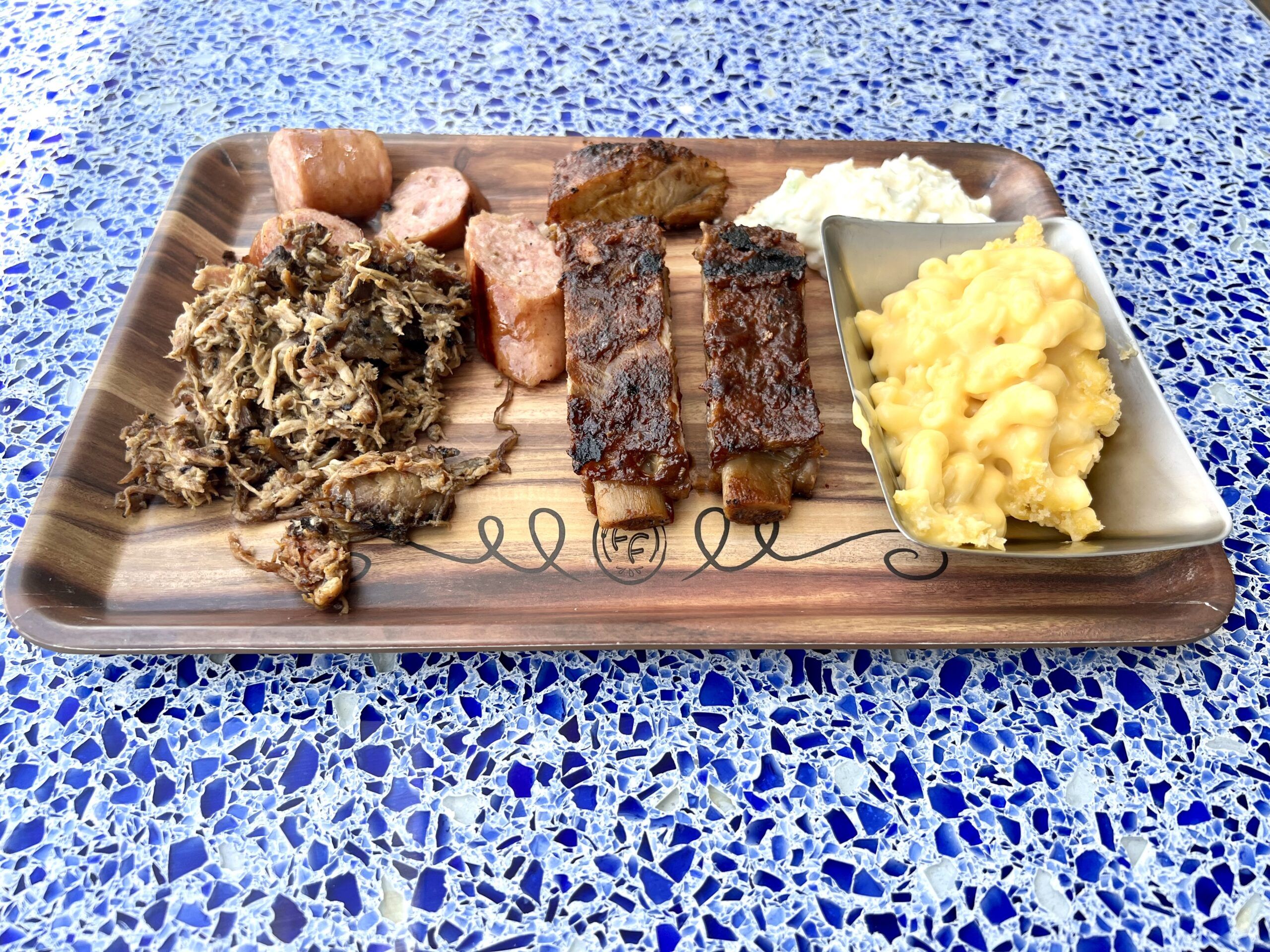 The Mickey and Friends Festival of Foods includes a sizable seating area nearby for guests to enjoy their meals.
During a 3-day cruise, it is tough to sample all the food options that Disney Wish has to offer. Though, we did enjoy the options here better than the Marceline Market.
Smokestack BBQ | Cantina | Pizza Pies | Grill
Marceline Market (Deck 11)
Named for Walt Disney's early childhood hometown in Missouri, Marceline Market is a stylish food hall inspired by popular marketplaces around the world. Disney Wish's take on the typical cruise ship buffet features a number of food stations, a bar, and both indoor and outdoor seating.
The Marceline Market includes a variety of cuisine from American classics, international selections, seafood options, soups and salads, baked goods and desserts, and more. There is even a kids section featuring items like Mickey waffles for breakfast and chicken tenders for lunch.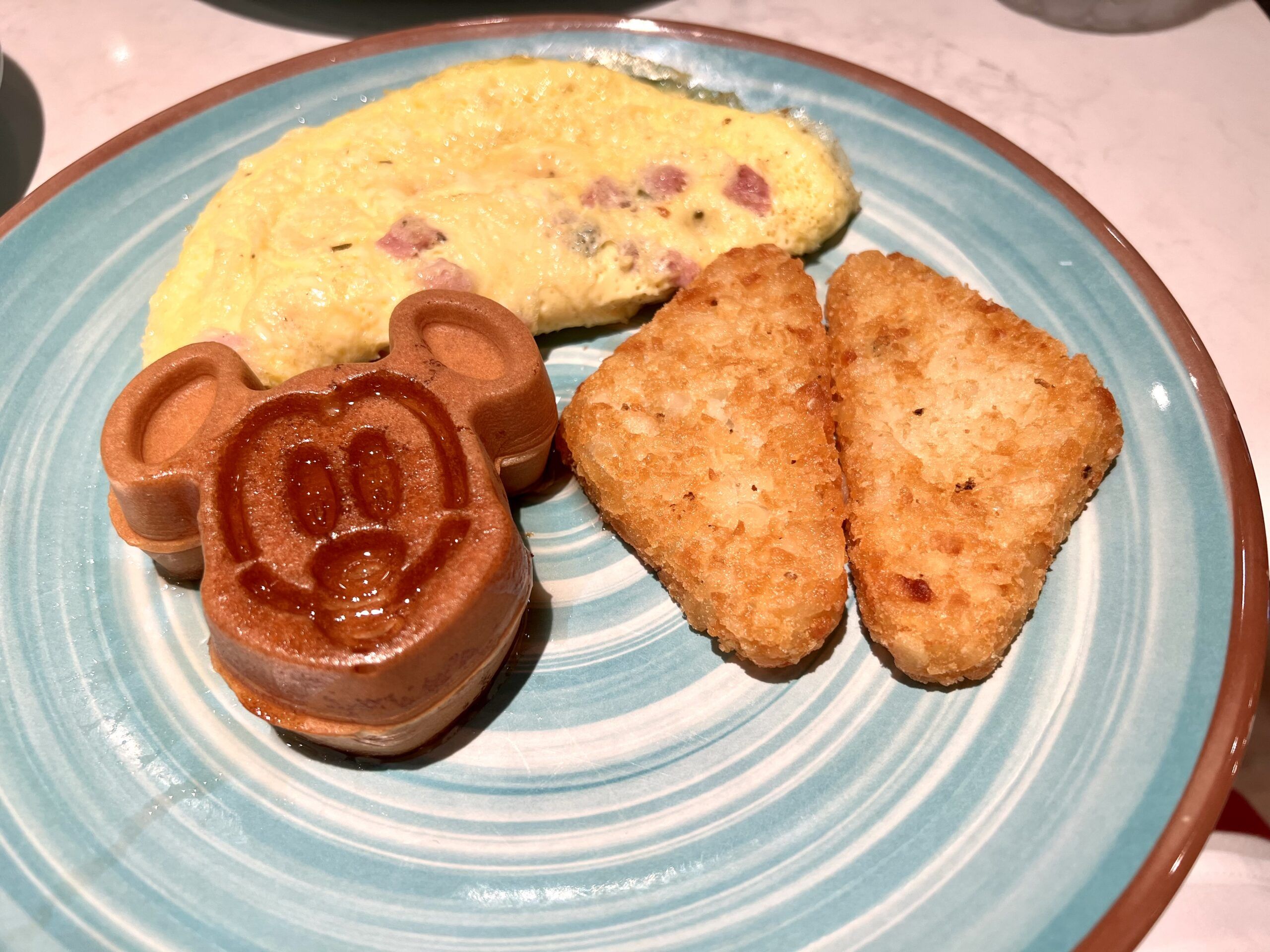 Be sure to make your way to the back of the venue as this is where the custom omelet station is in the morning and the seafood bar in the afternoon.
Marceline Market is open for breakfast (around 7 to 10:45 AM) and lunch (around 12 to 2 PM). Disney Cruise Line claims that the venue functions as a casual, walk-around dining experience for breakfast and lunch, followed by table-service at dinnertime with entrees cooked to order. However, it was not open for dinner on our sailing.
Room Service
Room service is available 24 hours a day on Disney Wish. Further, most room service items are complimentary on Disney Cruise Line for breakfast, lunch, and dinner.
Breakfast items are available for delivery from 5 am to 9:30 am, and the all-day menu is available outside of breakfast hours.
The room service menu includes items like sandwiches, salads, desserts, as well as continental breakfast items.
SCORE DEALS: Get Exclusive Rates on Disney Wish Cruises!
Specialty Restaurants on Disney Wish
While Disney Wish does offer a number of complimentary dining venues, this new cruise ship also features a few specialty venues. These venues do all have up-charges, which you should consider when budgeting for your Disney cruise.
If you plan to dine at either of the two specialty restaurants, you should make reservations pre-cruise, as popular dining times do fill up quickly.
Keg & Compass (Deck 5)
The Keg & Compass is a nautically themed pub that celebrates stories of the sea with its décor and theming. Essentially, this is Disney Wish's version of a sports bar.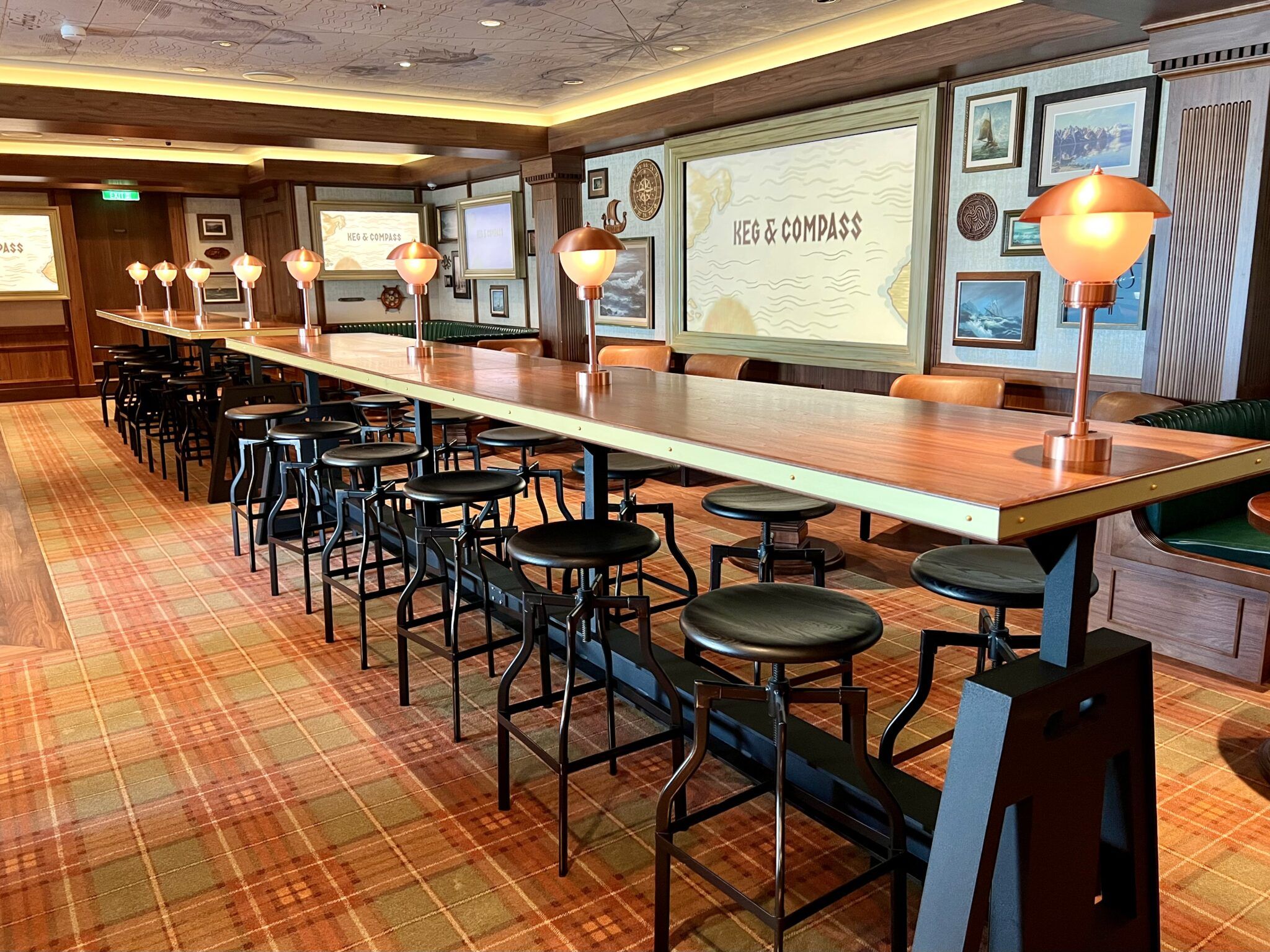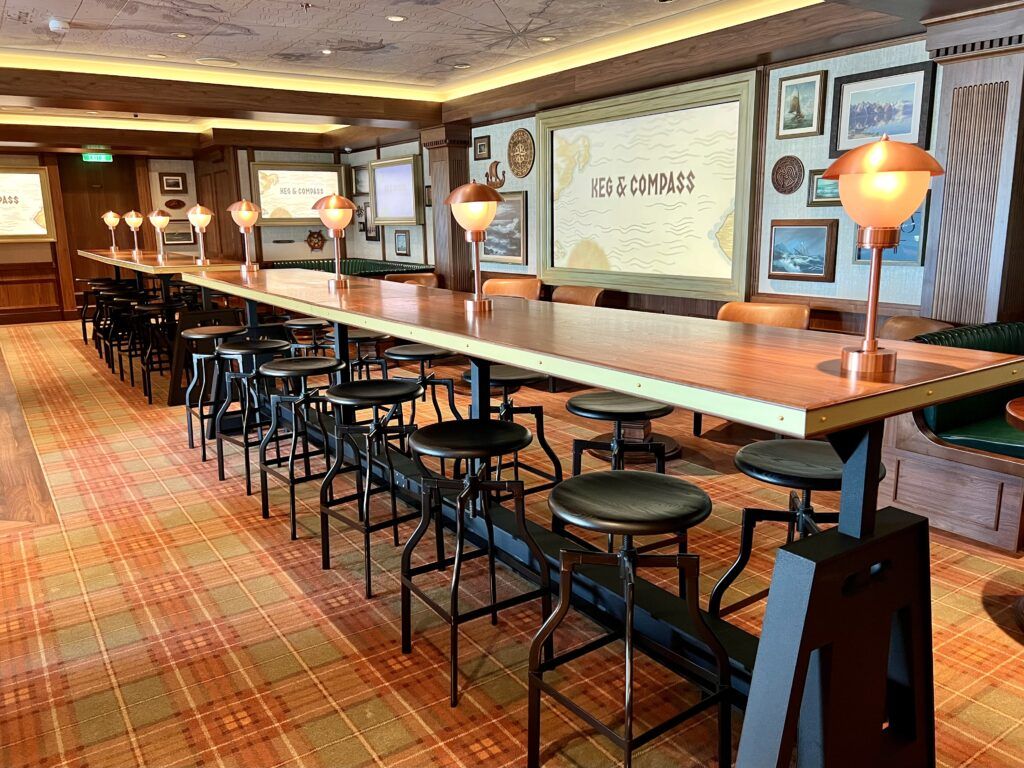 With a selection of custom craft brews available exclusively aboard the Disney Wish, a few cocktails, and some wine, this is a great casual spot to relax with friends.
The Keg & Compass also has an a la carte food menu in the afternoon and evening. These offerings include everything from buffalo wings, to a German pretzel, to bangers and mash, or fish and chips. Prices range from $8 to $16 for these offerings. Although, we did not see anyone order any of these items during our cruise.
Inside Out: Joyful Sweets (Deck 11)
For all those with a sweet tooth, you will definitely want to check out Inside Out: Joyful Sweets on Disney Wish. Paying tribute to the films emotional characters, you will find statues of the characters and plenty of sweet treats.
This venue serves candy-filled chocolate memory orbs, cupcakes, fresh-made ice cream and gelato, and more at a la carte pricing. Ice cream pricing starts at $3.50 for one scoop and gelato at $3.75 for one scoop.
Wheezy's Freezies (Deck 12)
Located near the Toy Story Splash Zone, you will find Wheezy's Freezies. This quick-service station serves up a variety of frosty snacks and drinks to enjoy. These include sno-cones and dole whip. All items at this spot are an up-charge.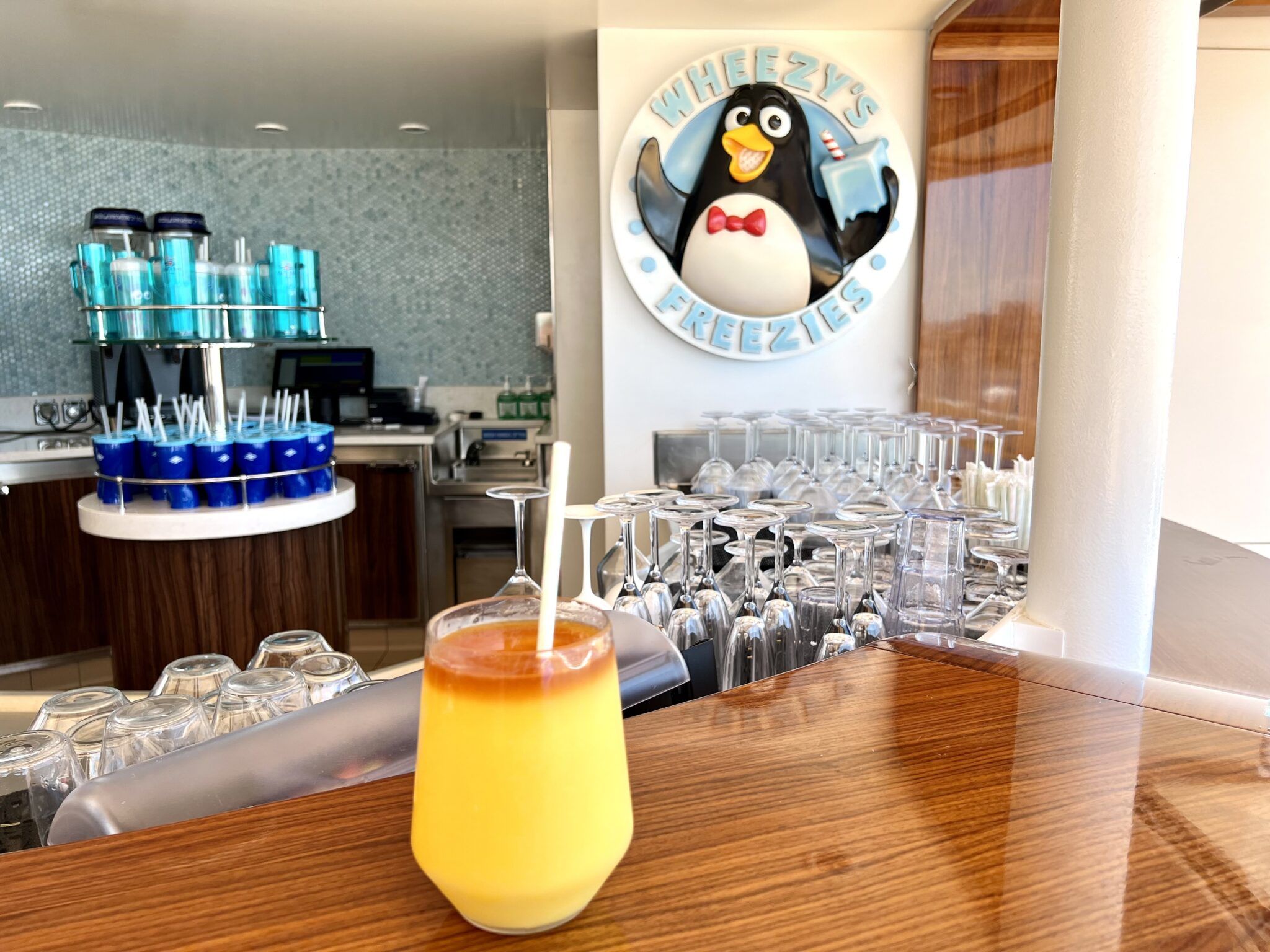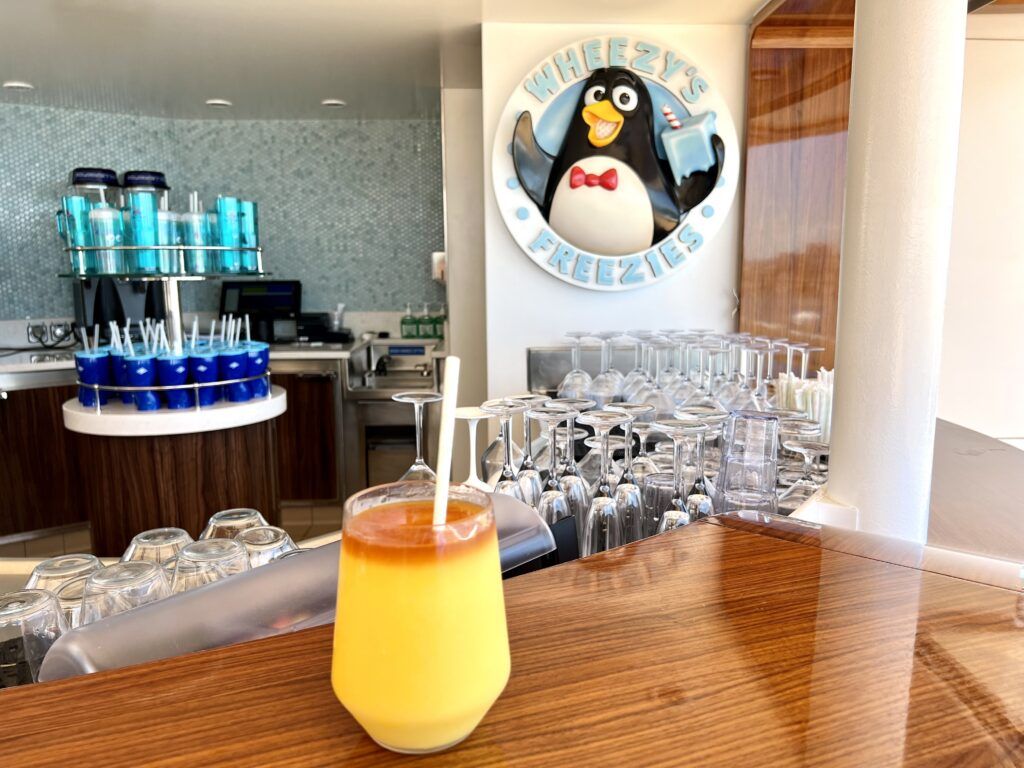 Sno-cones are priced at $3.50 and dole whip is $6. Of course, you can upgrade to an adult treat by adding a shot of rum to your dole whip!
Palo Steakhouse (Deck 12)
One of the upscale specialty dining venues on the new Disney Wish is Palo Steakhouse located at the aft of the ship. This restaurant is an evolution of the Palo restaurant found on other DCL ships. Now, Palo Steakhouse combines authentic Italian dining with a modern steakhouse.
In a setting inspired by Cogsworth from the Beauty and the Beast film, guests can enjoy an elegant dinner with ocean views as the backdrop. With warm wood tones, shiny metal, and ornate clocks, this venue feels very luxurious.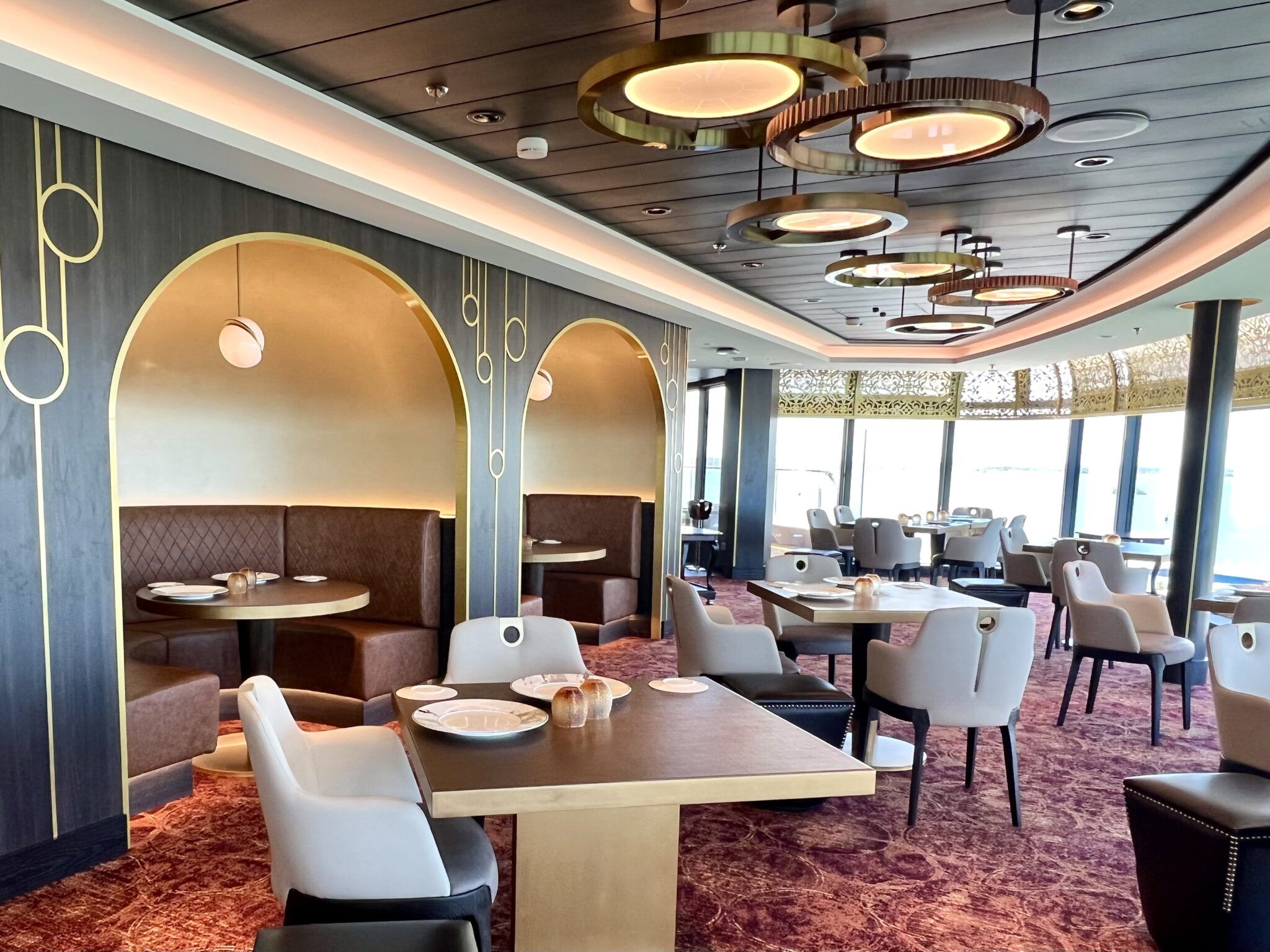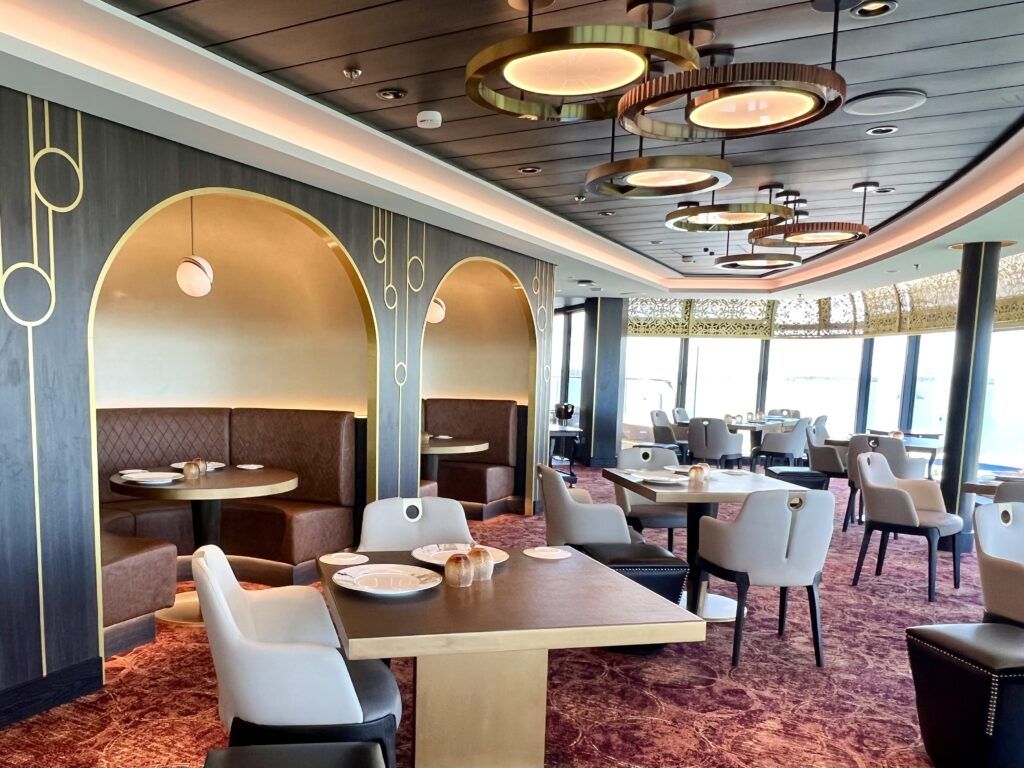 Palo Steakhouse's menu features Italian classics alongside premium cuts of beef. This menu pairs perfectly with Italian wine as well.
While dining at Palo Steakhouse, guests can choose the Prezzo Fisso menu or order a la carte. The Prezzo Fisso menu includes Antipasti, Insalata, Il Secondo, and Dolce with more limited options for each category.
There is a $45 per person up-charge for the Prezzo Fisso menu. Palo also serves brunch for $45.
Reservations are required for this adult dining venue.
Palo Steakhouse Menu | Brunch Menu
Enchanté (Deck 12)
Enchanté offers the most luxurious dining experience on Disney Wish, also located at the aft of deck 12 on the starboard side. This specialty restaurant features a gourmet menu crafted by Michelin-starred Chef Arnaud Lallement. Chef Lallement also helped to create the menu for the French-inspired Remy restaurant on Disney Dream and Disney Fantasy.
With décor inspired by Lumiere from Beauty and the Beast, this venue is romantic and intimate with candlelight, shimmering light fixtures, a soft blue color palette, and metallic embellishments.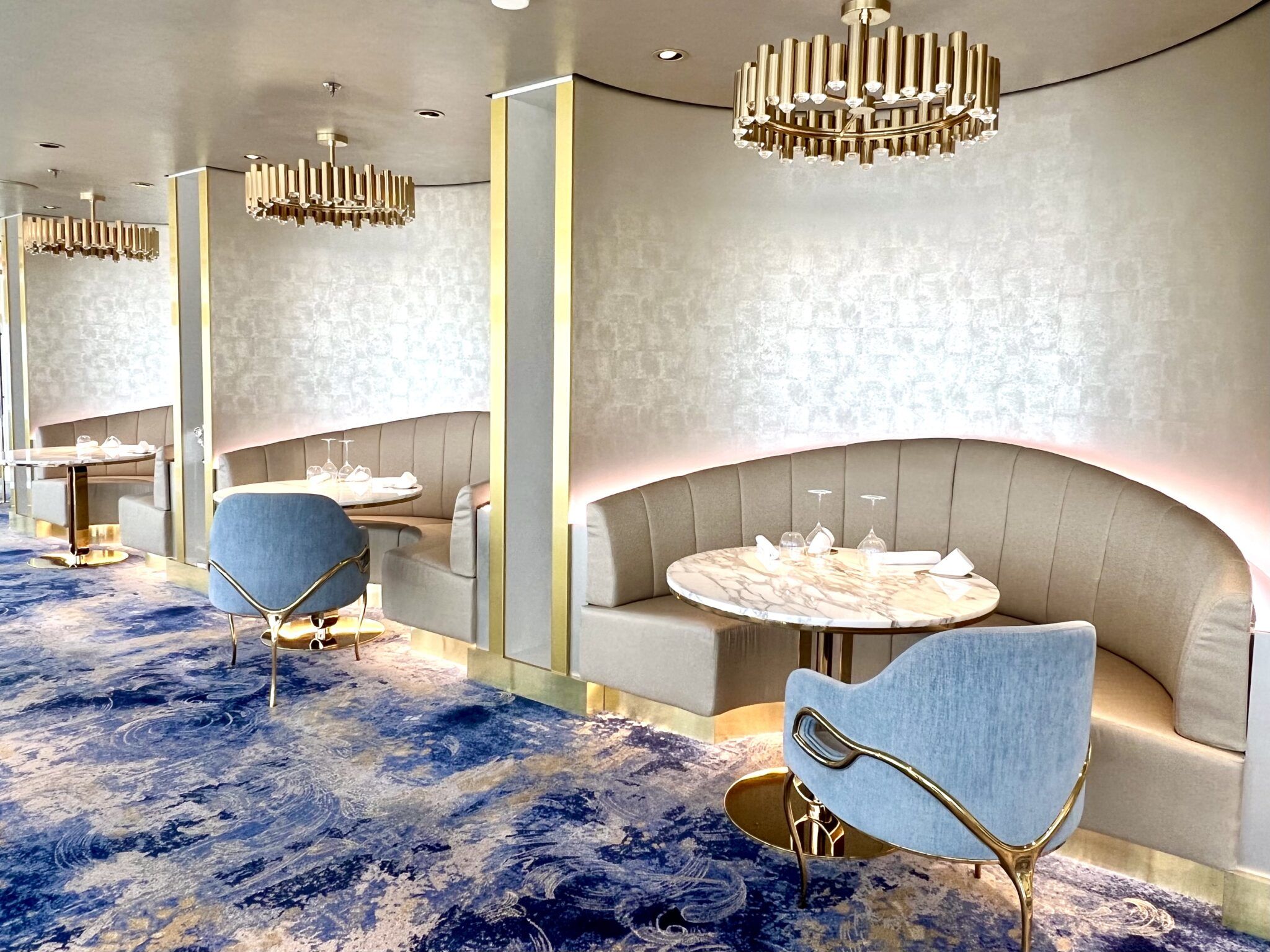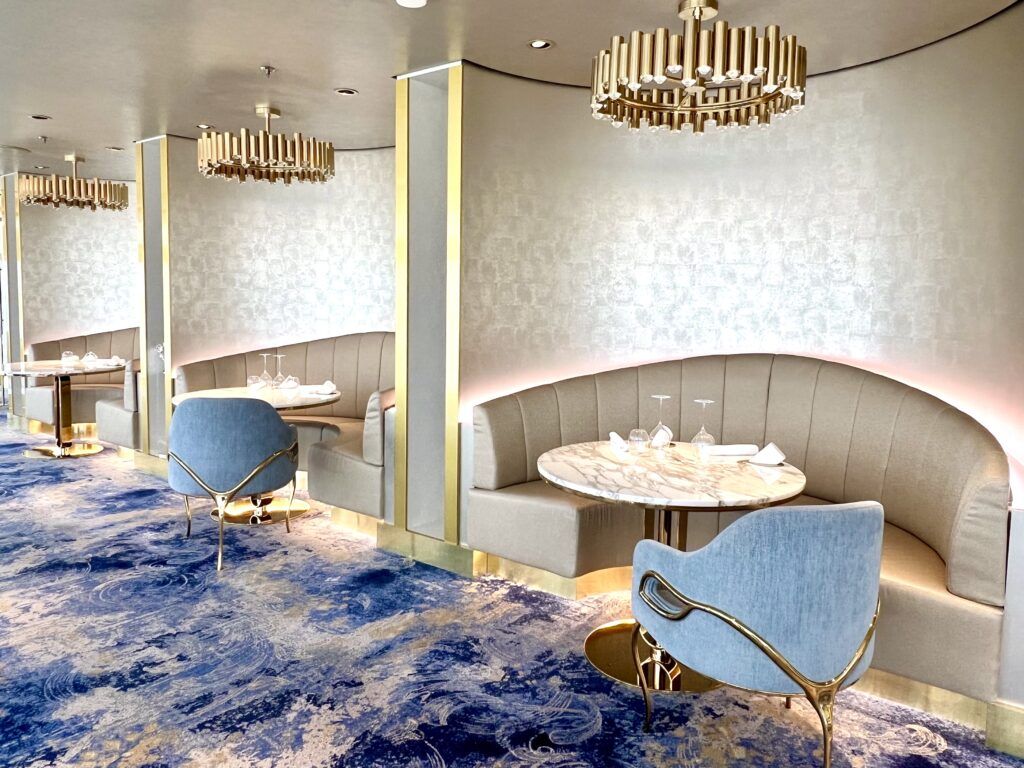 This 6-course dinner features expertly prepared dishes with seasonal ingredients from around the world for the most upscale and unique menu items.
In addition to dinner, Enchanté also offers a Brunch and Just Desserts dining experience. The Brunch features a glass of bubbly and a French-inspired 5-course prix fixe meal. The Just Desserts features a 5-course dessert menu served with coffee.
The up-charge for dinner is $125 with an optional extra wine pairing. The Collection experience is $195 with an optional extra champagne pairing. Additionally, there is an a la carte dinner menu if guests wish to choose their courses.
The up-charge for brunch is $75, and the dessert tasting menu up-charge is $60.
Like Palo Steakhouse, reservations are also required for this 18+ dining venue.
Enchanté Dinner Menu | Brunch | Just Desserts
Comments
Do you have plans to cruise on the brand new Disney Wish? What is your favorite Disney Wish restaurant? Drop us an anchor below to share your dining preferences on Disney Cruise Line ships.