While Maui certainly has several noteworthy places to visit, high on our list during our Celebrity Solstice Hawaii cruise was the Haleakala Crater. Famous for its early morning sunrise tours, the Princess could not convince me to wake up at 3 am for this excursion after 7 straight days of sightseeing and touring. So, we opted for a day time excursion that visited this massive volcano. Still, it was mesmerizing to ascend to the summit even if the sun was already high in the Hawaiian sky. If your cruise is venturing to Maui, you should not pass up the chance to reach new heights on a Haleakala Crater Tour.
Why You Should Visit the Haleakala Crater in Maui, Hawaii
Comparing options, we decided to book a tour of the crater directly through the cruise line. If you want to be more adventurous, car rentals are available allowing you the chance to drive up the crater for yourself and explore at your own pace. There is a small entrance fee to the park of $25 per car for up to three days.
This was our second day in Maui. After a long day riding the Road to Hana yesterday, it was another early morning. Our meeting time onboard the ship was 7:45 am in the theater.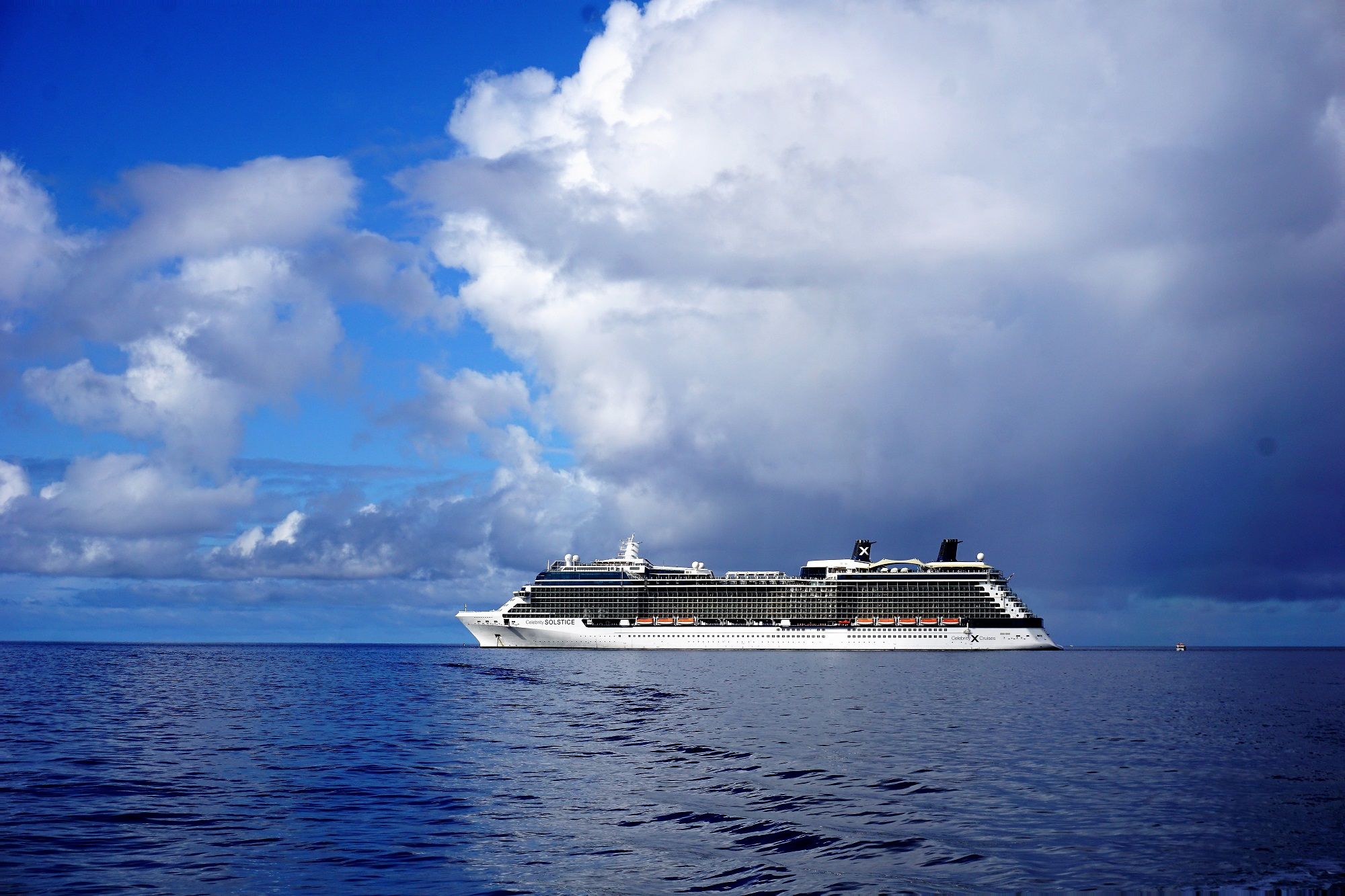 Tendering took a bit longer today due to some rough seas. Disembarking our tender once ashore, we were quickly loaded onto a bus to begin our journey to the other side of the island. Unfortunately, this was a pretty standard coach bus, so we were grouped with a number of other travelers.
The total drive time from the Lahaina Harbor to the National Park was about 75 minutes. During this time, our tour guide pointed out some landmarks along the highway. Many of these we had already seen the day before though.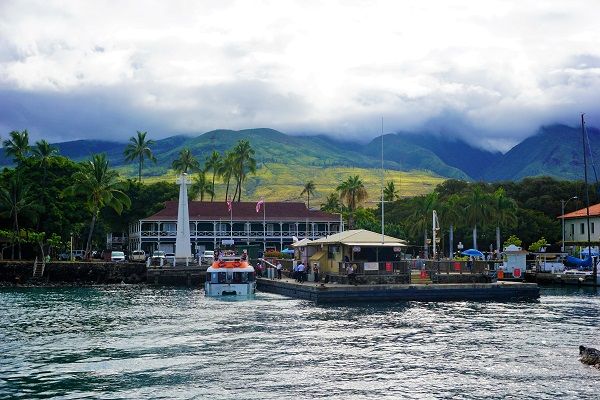 Unfortunately, our guide was not very knowledgeable about the area, admitting that she was new to the job. On the bright side, the weather was sunny and warm…at least for the time being.
Starting to Ascend
Upon arrival at the Haleakala National Park, we began our 37 mile journey from sea level to summit. This is one of the greatest elevation gains in the shortest distance in the world!
It was at this point that our guide began playing a recorded narration about the volcano, unique flora and fauna, and the history of the national park.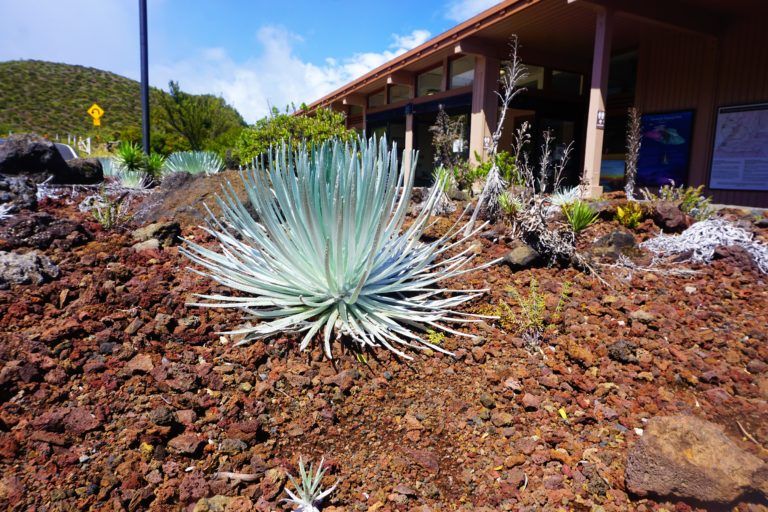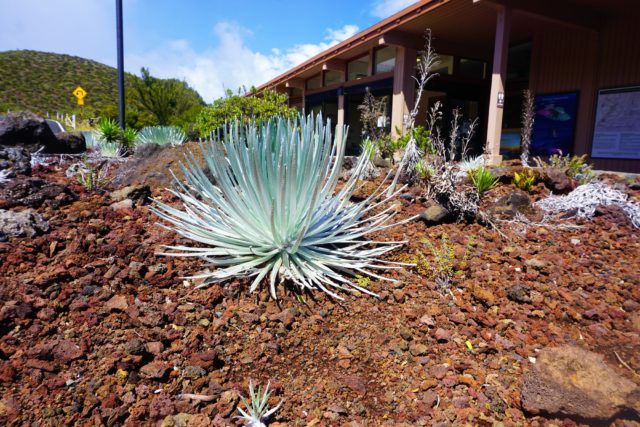 While I am usually not a fan of such video explanations, I appreciated the geological background and other facts and folklore about the area.
For instance, we learned that there are over 850 species of plants within Haleakala National Park, including the silversword. This particular species can live up to 90 years, yet its flowers bloom only once in its lifetime.
Haleakala means "house of the sun". It is sacred to Native Hawaiians and is still used for cultural practices to this day. In Polynesian folklore, the demigod Maui is said to have climbed to the top of the mountain to lasso the sun, forcing it to travel more slowly through the sky.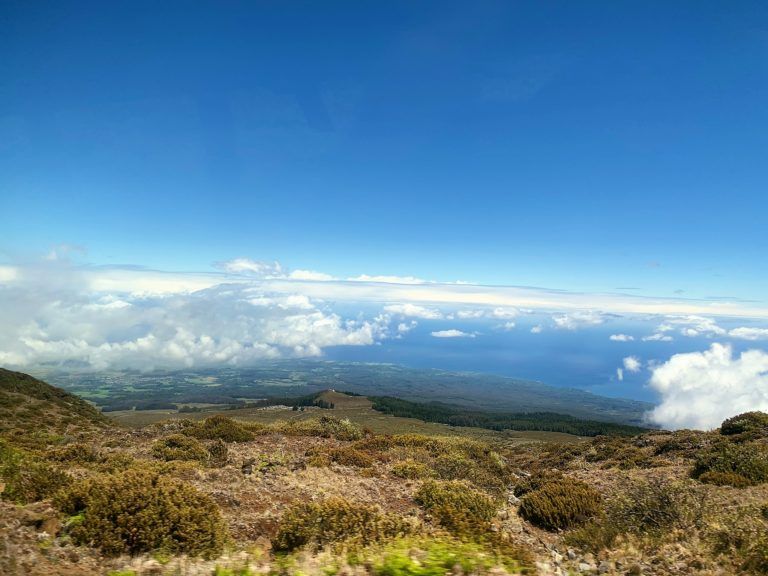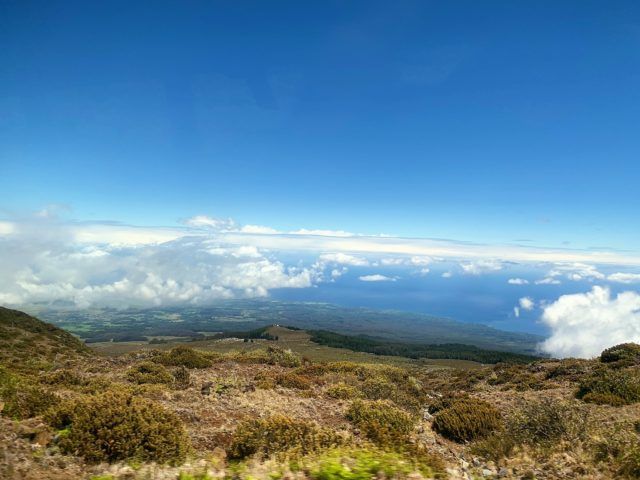 Like all Hawaiian volcanoes, Haleakala is a shield volcano. The shape of Haleakala means that only about 5% of this massive structure is above sea level. It is the world's largest dormant volcano that last erupted in 1790. The vast crater is over 7 miles across and 2 miles wide. It has a depth of nearly 3,000 feet.
Traversing the winding road while listening to this narration, it wasn't long until the bus arrived at the Headquarters Visitor Center, located 7,000+ feet in elevation above the park entrance.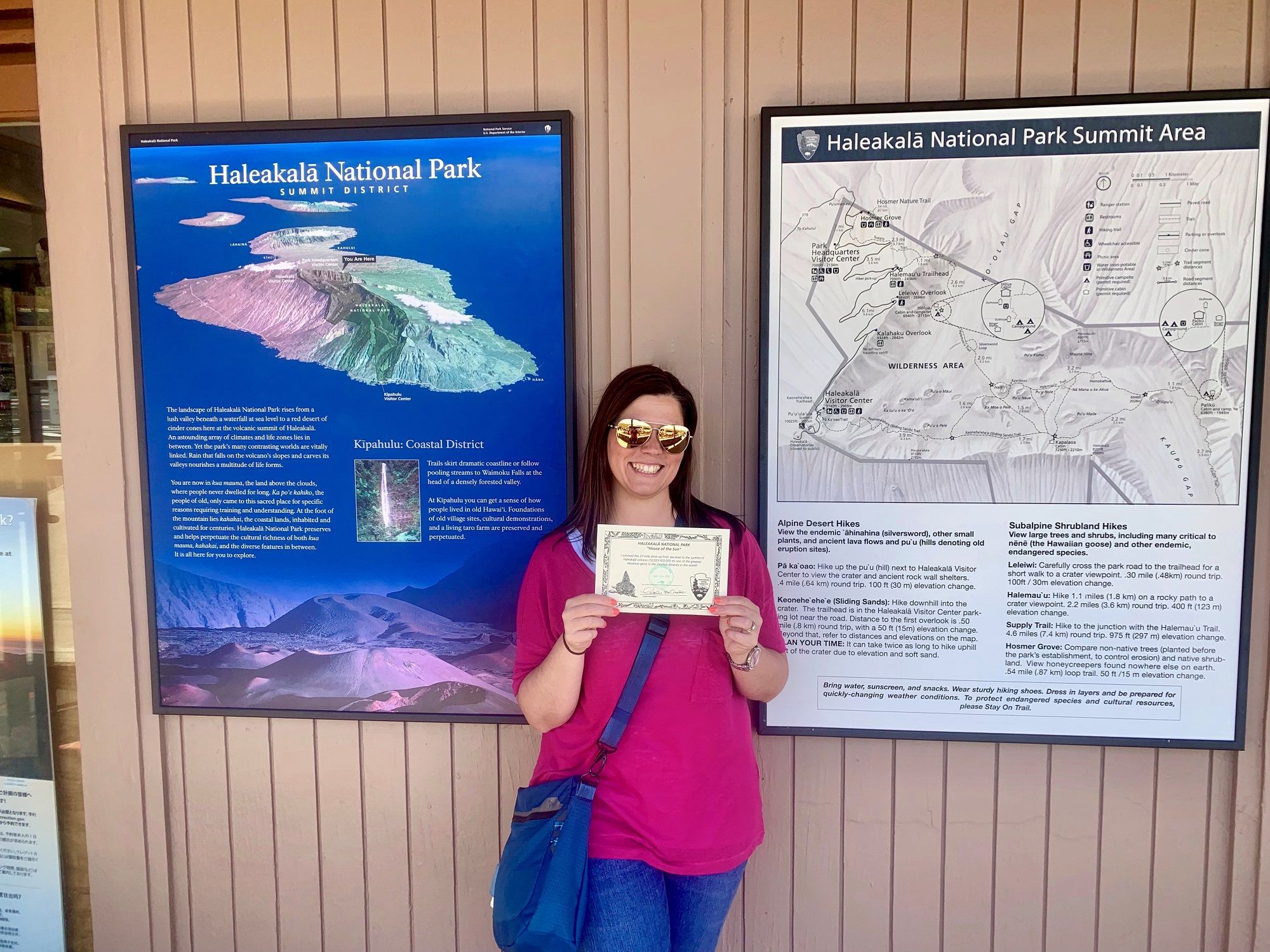 While here, we were able to take a peek at some of the informational exhibits, use the restroom, and explore the surrounding grounds. If you are visiting Haleakala on your own, this is also the place to get information about hiking trails and current conditions.
On to the Summit
Grabbing proof that we had made it to the top, our stop at this visitor's center lasted only twenty minutes. Now, it was onward to the Haleakala Visitor Center located 9,750 ft in elevation.
Wow! We were not prepared for the wind and considerably colder temperatures. It was easily 15 to 20 degrees cooler up here. There were also wind gusts of over 40 MPH.
We certainly did not pack appropriately! The only additional layer we had were our thin rain coats.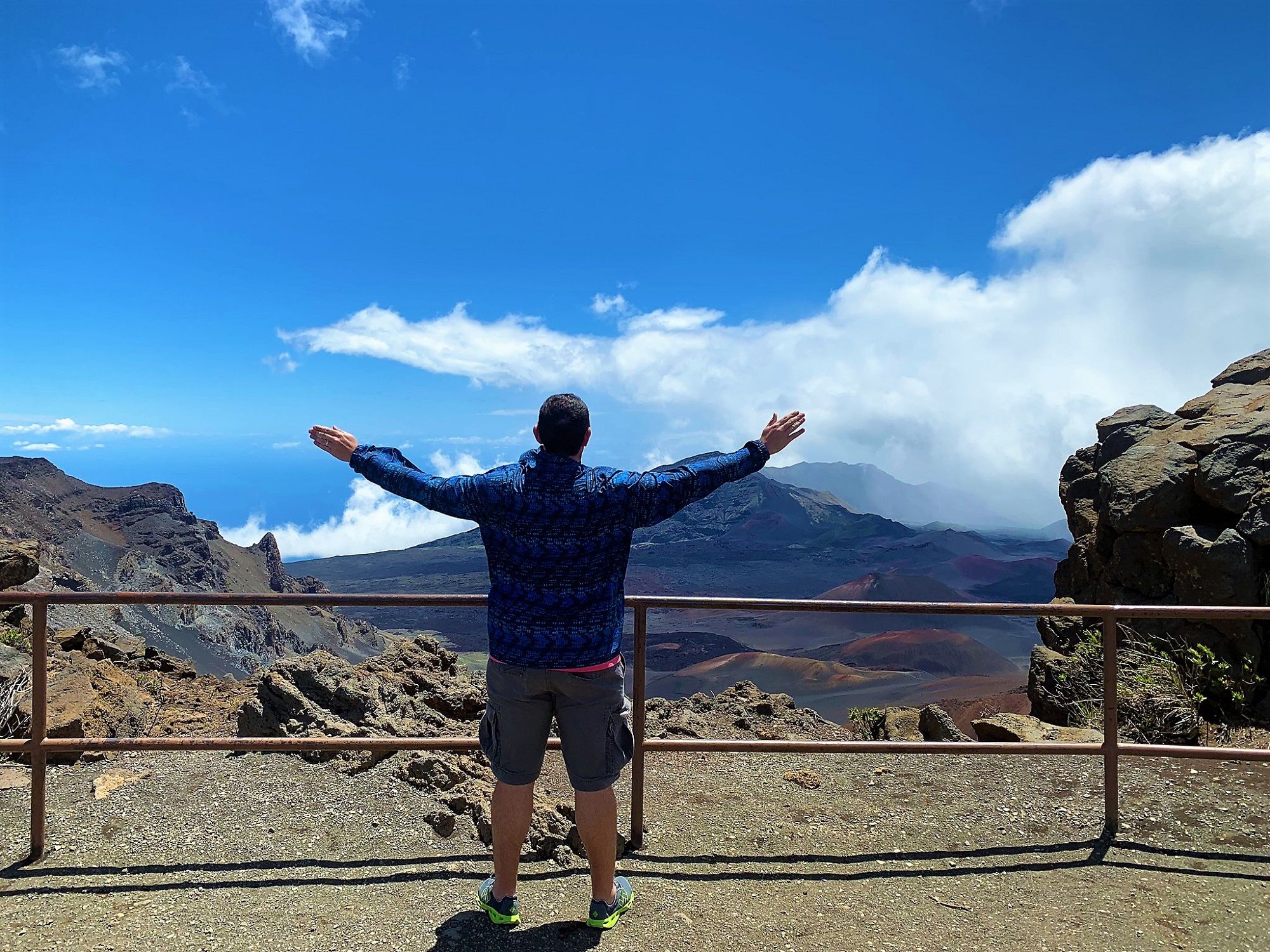 The Haleakala Visitor Center is a small building at the edge of a cliff. It is staffed with park rangers and exhibits that provide information on the development of the volcano over time. Our tour spent 45 minutes here. With the weather conditions, this was just enough time.
Finding the right vantage point was difficult with the wind, but we were able to take in the crater's beauty and sheer massiveness. There was also a feeling of peace and tranquility. Of course, we also took plenty of photos.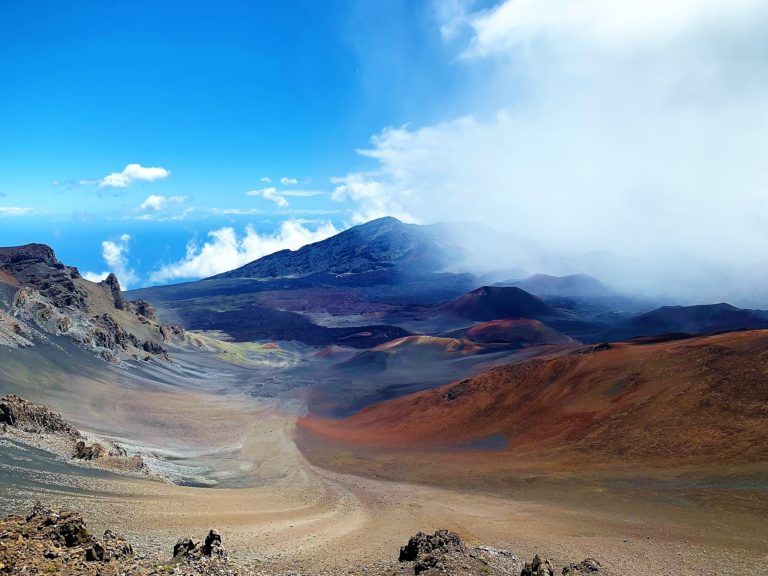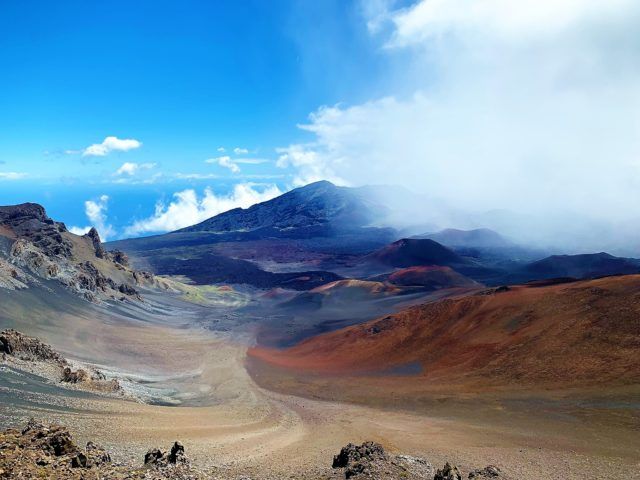 If it had been less windy, we would have probably explored a bit more, as there is a walking trail located nearby.
The actual summit (10,023 ft) was closed given the current weather conditions. Still, from our current location, we were able to garner a new appreciation for Mother Nature.
The Return Trip Home
Meeting back at the bus for our designated time, we began the descent. Apparently, the tour included a lunch stop. We were both taken by surprise, as we did not remember that being part of the online description.
The lunch break was in the small town of Makawao at Casanova restaurant. Oddly enough, lunch was a pasta buffet at an Italian restaurant. While the food was fine, we were expecting something a bit more Hawaiian.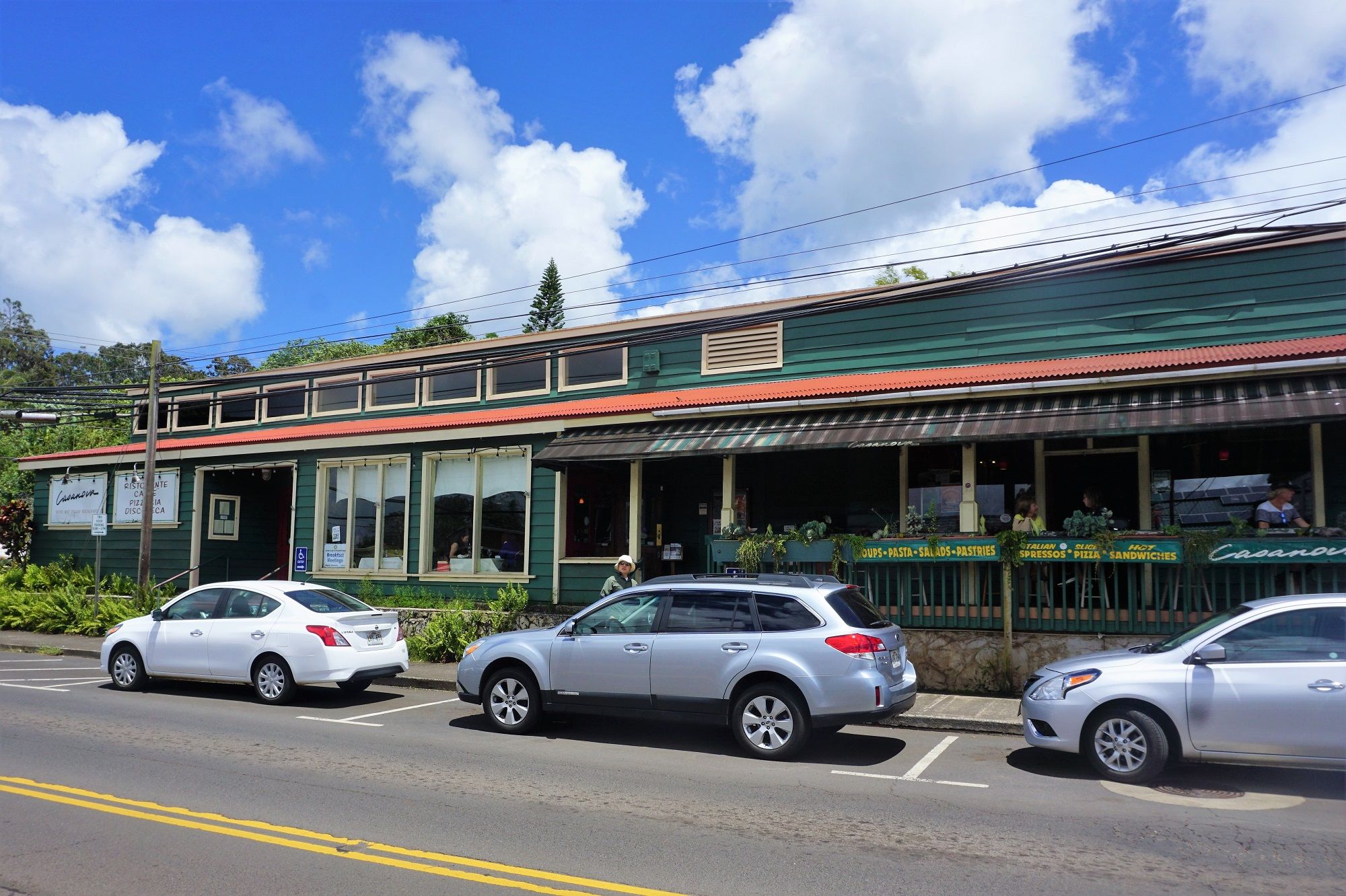 Finishing lunch quickly, we walked around some neighboring streets. We were able to find a local coffee shop for some much needed caffeine.
Back at the bus for 2 pm, it was a little over an hour drive before we returned to the pier.
We initially had plans to do some quick shopping before taking a tender back. However, we were greeted with a massive line of fellow passengers. With the all aboard time approaching and the length of the line, we made the decision to skip shopping.
Recap of Haleakala Crater in Maui, Hawaii Tour
We highly recommend taking an excursion out to see the Haleakala Crater in Maui, Hawaii.
For ease and convenience, we booked with the cruise line this time. When we return, we would probably book a sunrise or sunset excursion with a local tour company for a more personalized experience. You could even venture off on your own with a rental car. Regardless of which option you choose, it is certainly worth the drive out to this massive crater.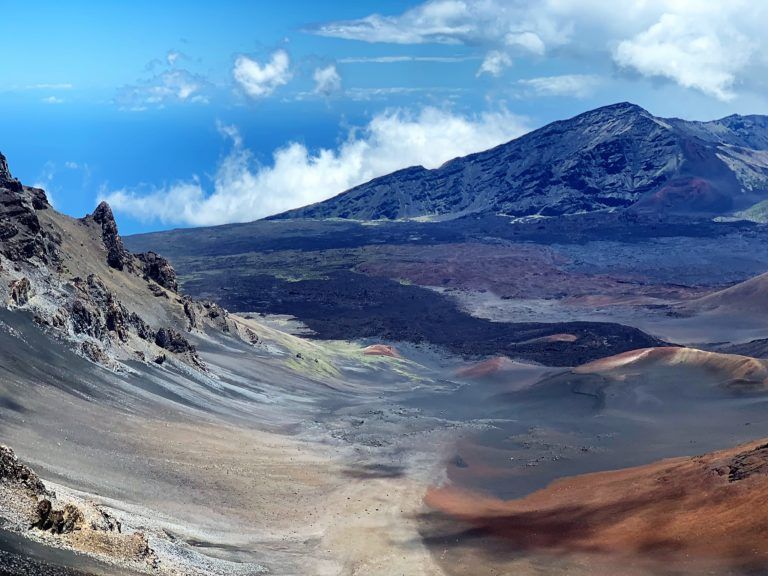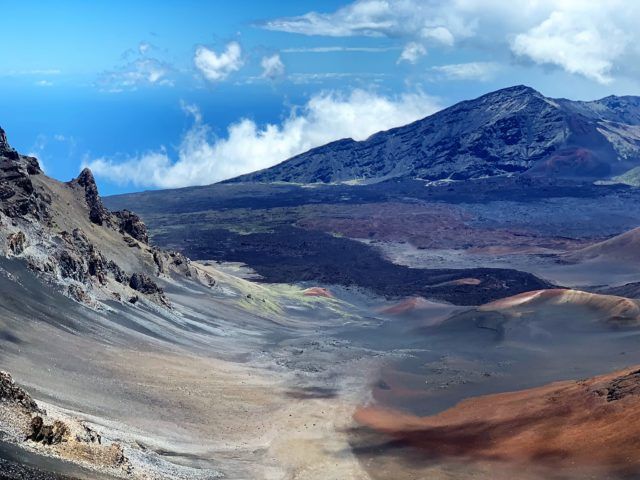 We recommend at least 3 hours at the park, including travel up and down the main road. If you are spending an overnight at the island and do not need to worry about getting back to the ship, there are several hiking trails and additional sites that can easily fill a full day.
The small Hawaiian cowboy town of Makawao was nice to visit if you need a pit stop for a coffee or snack. Honestly though, we would have preferred more time at the crater, skipping the lunch portion completely.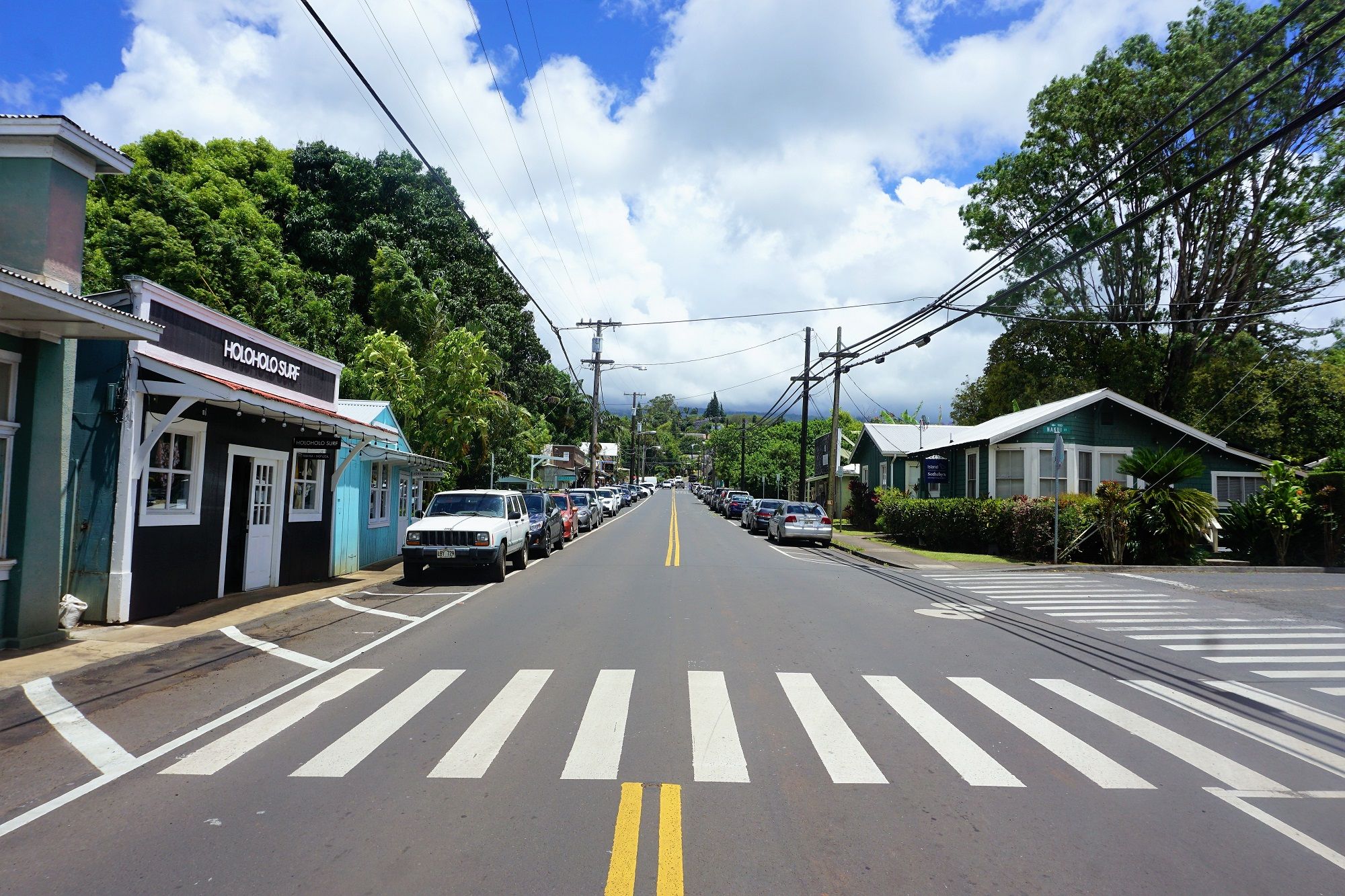 As the largest dormant volcano, the Halekala Crater is certainly one landmark that you do not want to miss during your Hawaiian cruise. You can see this massive and tranquil landscape from almost anywhere on the island, but you cannot fully appreciate the extent of it until you make your way to the top.
Comments
Have you visited the Haleakala Crater in Maui, Hawaii? What are some of your top landmarks to visit on a Hawaiian cruise? Drop us an anchor below to share your review of this popular shore excursion in Maui.