Virgin Voyages Scarlet Lady Arrives in New York
The day is finally here! Following several delays related to the global pandemic, Virgin Voyages Scarlet Lady has arrived in New York. This brand new ship will spend a few days in the Big Apple before heading to Miami to begin her inaugural season on October 6, 2021.
While docked in Manhattan, Scarlet Lady is hosting a series of events brought to you by Thrillist and Virgin Voyages. Revvel is a premium series of events occurring September 16th-18th at Pier 88 in NYC. Now, sailors can experience the new ship without ever leaving New York.


Depending your style, sailors can book exclusive events including the Feeling Nauty Drag Pool Party, Music Festival Starring Major Lazer Soundsystem, or Dine on the Water experiences.
Exclusive Events
The Drag Pool Party will take place Saturday, September 18th from 12 pm to 3:30 pm, hosted by Trixie Mattel and The House of Yes. This event is $100 per person and includes unlimited food and drinks.
The Music Festival will take place Saturday night 9 pm to 1 am. This event will include three parties across three venues in one night. These include 80s & 90s throwbacks on the roof deck, a Disco Prohibition Dance Party with House of Yes, and an all-out performance by Major Lazer Soundsystem. Tickets are $150 per person including unlimited drinks. There will also be a number of A-list DJs performing on Scarlet Lady.


If you are a foodie, then Dine on the Water might be your ticket onboard Scarlet Lady. This special event allows sailors to choose from one of six exclusive restaurants for unlimited food and drinks. Tickets also include a complimentary show, either Duel Reality or UntitledDanceShowPartyThing. The restaurant choices include The Wake, Razzle Dazzle, The Test Kitchen, Pink Agave, Gunbae, and Extra Virgin. This dinner and a show experience is $100 per person.
If you want a true VIP experience, you can even book an overnight stay on Scarlet Lady. The overnight package for 2 people includes a VIP-only dinner, access to the music festival and after party, overnight accommodations, breakfast the next morning, and plenty of VIP perks. Pricing is $1000 for a Sea Terrace or $1200 for a Rockstar Suite (pricing for 2 people).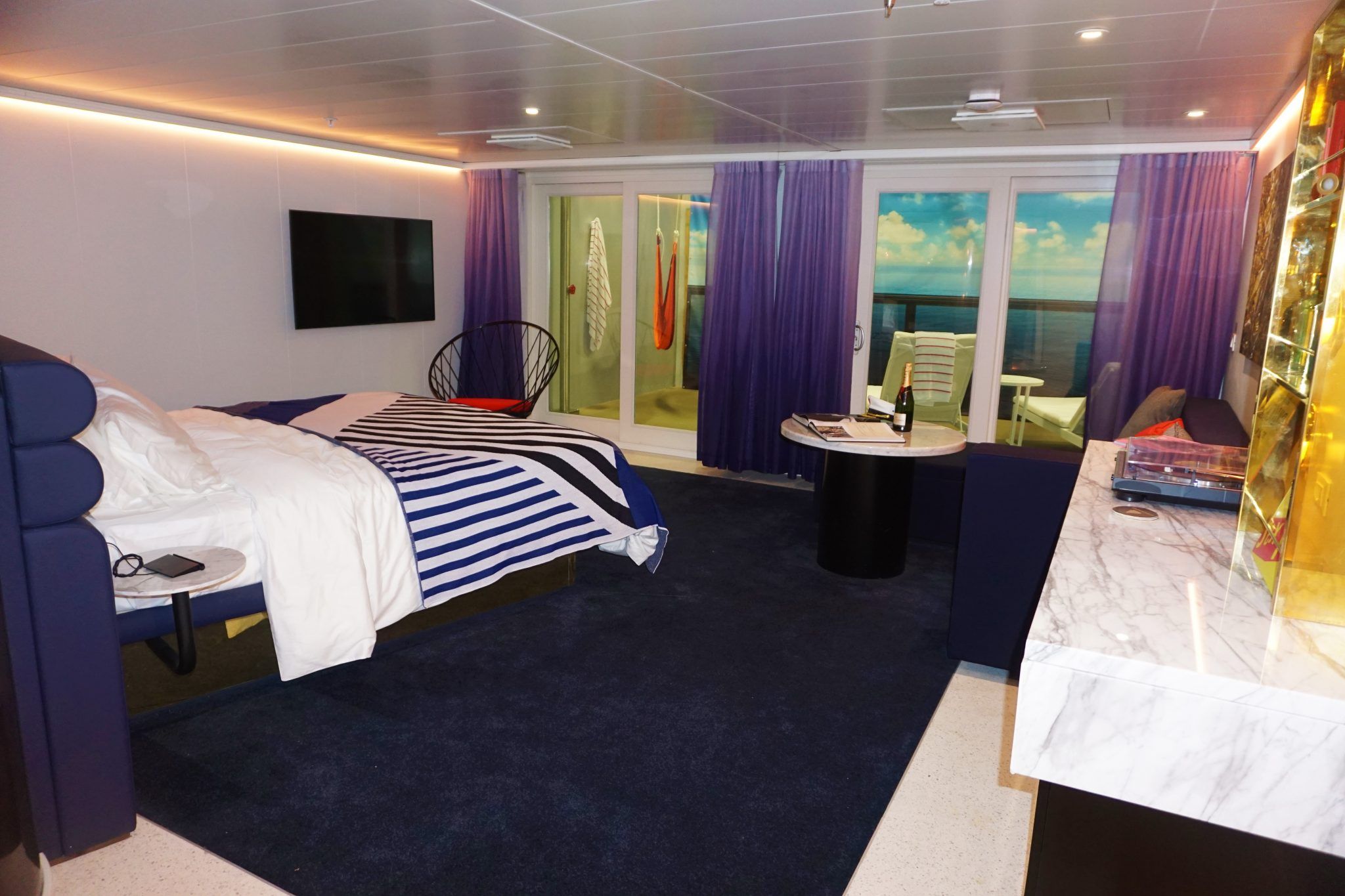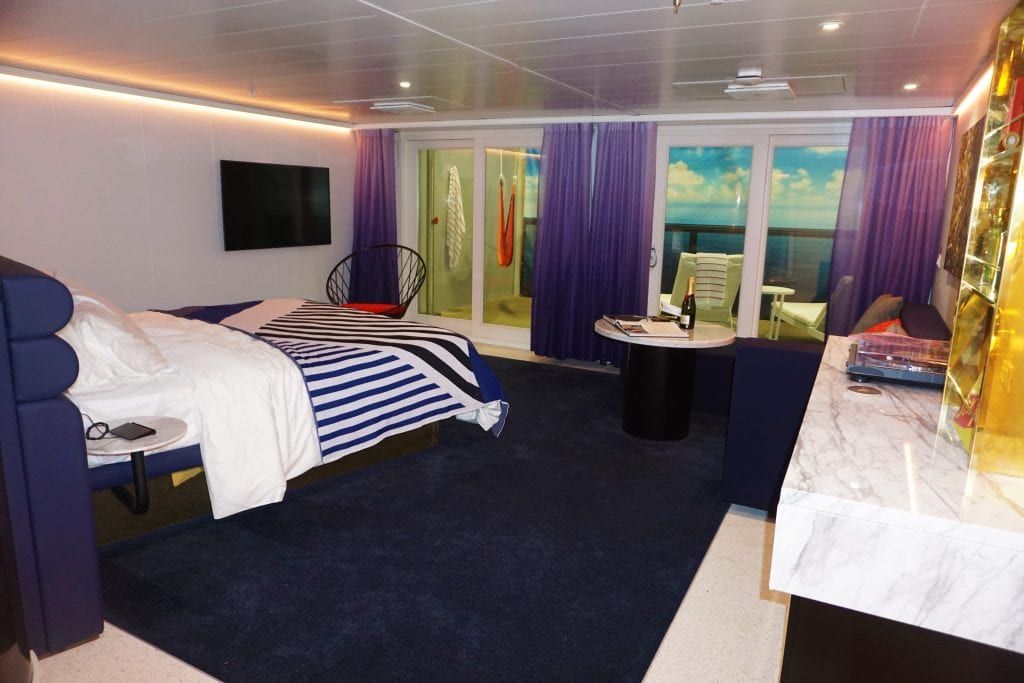 Related Post: First Look at Virgin Voyages Cabins
Safety Protocols
All sailors attending any of these events on Scarlet Lady need to be vaccinated and also need a negative COVID test within 48 hours of the event. Revvel has partnered with CLEAR Health Pass app to streamline this process. Additionally, masks are required for all indoor spaces except when seated at dinner.
MerMaiden Voyage
After making waves in NYC, Scarlet Lady will head to Miami, Florida. Her MerMaiden voyage on October 6th will be extra-special with unexpected events and exclusive experiences. This MerMaiden voyage, as well as all Caribbean sailings on Scarlet Lady, will visit the exclusive Beach Club at Bimini for a day of fun in the sun.
This 4.5 acre resort overlooks the ocean and offers an expansive lagoon-style pool. The Beach Club offers plenty of hammocks and beach loungers to relax. For an up-charge, there will be private poolside and beach-side cabanas to rent. Like many cruise ship private islands, the Beach Club offers a variety of complimentary food options.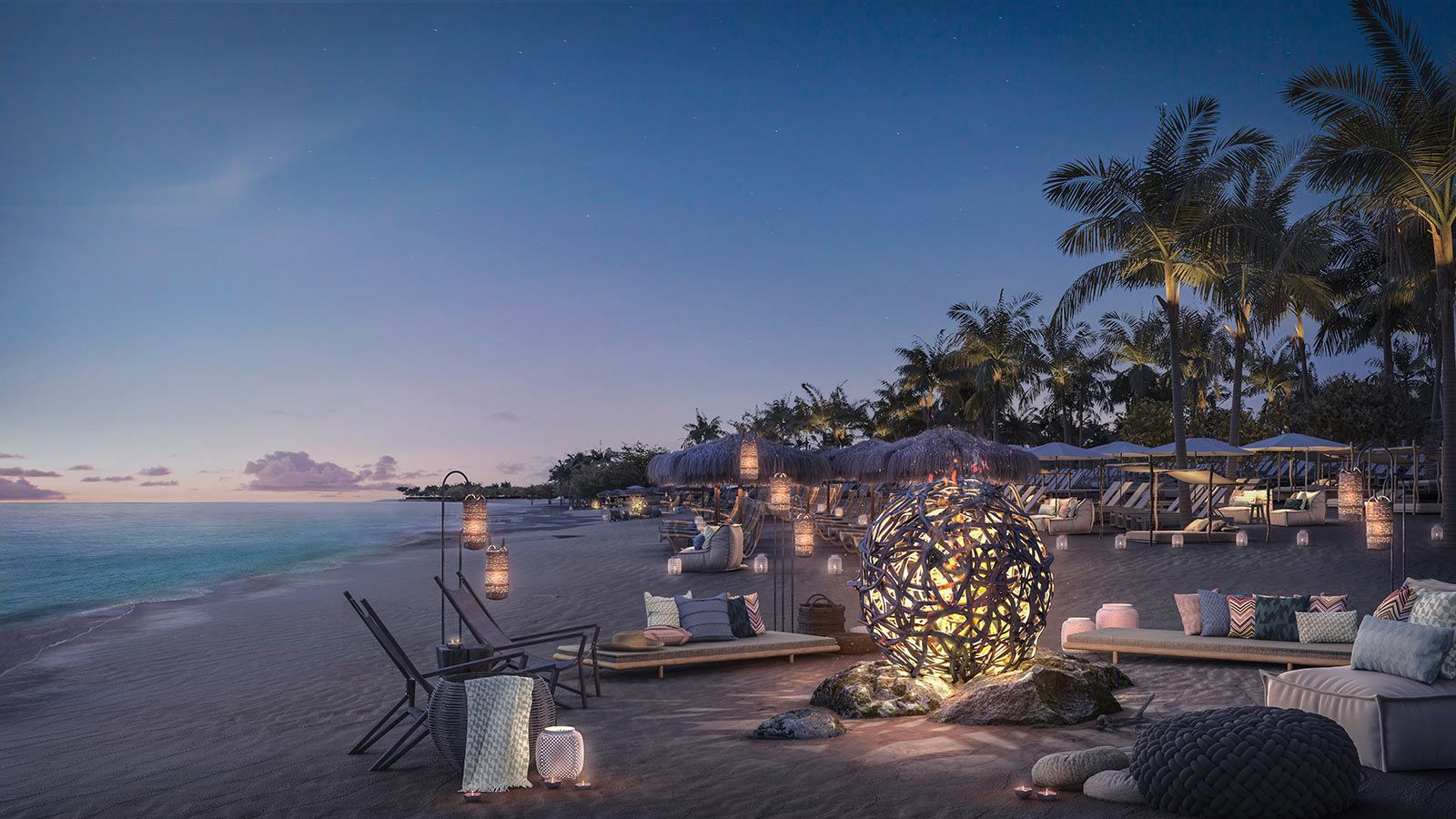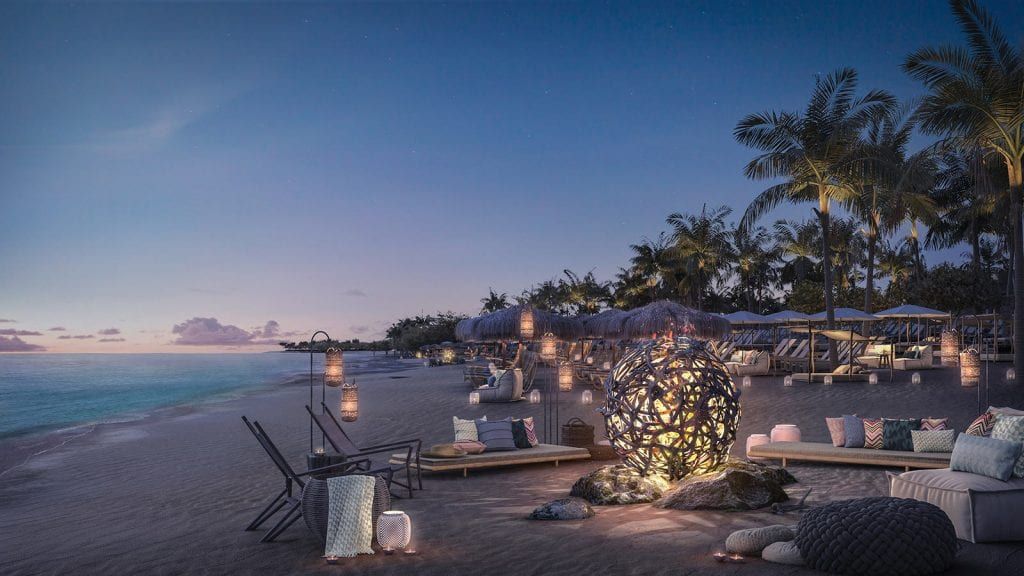 Further, the club's vibe will transform throughout the day. With a more relaxing and rejuvenating daytime experience, to a higher energy DJ-led pool party during the day, and a beach bonfire to end the evening.
If that's not reason enough to book a voyage on this ship, Virgin Voyages is one of the most inclusive options in the premium category. All cruise fares on Virgin Voyages include basic beverages, all gratuities, even on services such as spa treatments, basic WiFi, and group fitness classes. Dining in all venues is also part of the cruise fare. 
Comments
Are you excited that Virgin Voyages Scarlet Lady arrives in New York? Do you have plans to sail on this brand new ship? Drop us an anchor below to share your thoughts on Scarlet Lady.
Stay up to date with the latest cruise news and travel updates!