We have just returned from our first cruise on Holland America Line. Given this was our first time sailing with the brand, we set out to sample as many of the dining venues and menu items as possible to determine how the culinary options compare to other cruise lines. Now, we have put together this Holland America Line's Nieuw Amsterdam Restaurant Menus and Dining Guide to help you plan where you want to eat during your next cruise.
Related Post: Holland America Line Alaska Cruise Review
Holland America Line's Nieuw Amsterdam Restaurant Menus and Dining Guide
Specialty Dining
Pinnacle Grill – Deck 2
The Pinnacle Grill is Holland America Line's specialty steakhouse. The menu features signature cuts of beef and innovative recipes from popular chefs James Beard and David Burke.
For appetizers, guests can enjoy options like shrimp cocktail, crab cakes, lobster bisque, or the exclusive clothesline candied bacon.
Entrees include a wide variety of steak cuts, in addition to a select number of other dishes including lamb chops or chicken breast. There is also a Pacific Northwest seafood selection including salmon, crab legs, and other Alaskan specialties.
Don't forget to save room for the sides or delicious desserts either like the no-so-classic baked Alaska or the chocolate soufflé.
The up-charge to dine at the Pinnacle Grill is $46 per person ($39 plus 18% gratuity) for dinner and $15 plus 18% for lunch. Select entrée choices do include an additional supplement of $10-20. Guests will also be charged an extra $10 for each additional entrée ordered.
Pinnacle Grill Lunch Menu | Pinnacle Grill Dinner Menu
Rudi's Sel de Mer
Rudi's Sel de Mer is a one night only experience that occurs in the Pinnacle Grill. This special event was priced at $57.80 ($49 plus 18%) for our cruise.
The menu features classic French and seafood dishes created by Master Chef Rudi Sodamin in an intimate setting. Some of our favorite menu items included the seafood tower appetizer, Maine lobster, and cheese soufflé. Additionally, the profiteroles and apple tarte tatin were both tasty desserts.
Exclusive Savings: Holland America Line Alaska Cruises
Canaletto – Deck 9
Canaletto is Holland America Line's specialty Italian restaurant. Tucked away in an alcove near the Lido Market, this venue serves all the Italian classics in a rustic and casual setting. The up-charge to dine at this venue for our sailing was $22.40 ($19 plus 18%).
The menu features a large variety of small and large plates, as well as daily specials like chicken parm and osso bucco.
For small plates, you can't go wrong with the buffalo mozzarella, antipasto, or grilled calamari. Entrees include everything from lasagna, to short rib gnocchi, homemade pasta, and a New York strip steak.
Of course, it wouldn't be an Italian restaurant if tiramisu and affogato weren't on the menu. The chocolate hazelnut tart looked good too.
Tamarind – Deck 11
Tamarind is Holland America Line's Asian-inspired restaurant located on the top deck of Nieuw Amsterdam. The up-charge to dine at this specialty venue was $34.20 ($29 plus 18%) for our cruise.
The menu includes dishes inspired by the elements of water, wood, fire, and earth paired with amazing ocean vistas.
The large menu includes classic Asian dishes with an upscale twist. From appetizers like shrimp and lobster potstickers, to entrees like wok-lobster ($20 supplement), crispy duck, and Szechuan shrimp, the menu is packed with flavor.
Surprisingly, the Yuzu cheesecake was quite good as well. It resembled more of a key lime pie than a cheesecake though.
Nami Sushi at Tamarind features recipes from Master Sushi Chef Andy Matsuda. The menu includes a large selection of sake cocktails, sushi, and select items off Tamarind's menu at a la carte pricing.
Related Post: Alaska Cruise Planning Guide
Complimentary Dining
The Dining Room – Deck 2 and 3
The Dining Room is the not-so creatively named main dining room on Holland America Line. On Nieuw Amsterdam, the Dining Room is located on decks 2 and 3. Guests can choose the option of traditional dining (deck 3) or Dine Anytime (deck 2).
With the Dine Anytime option, guests can dine at different times each evening from 5:30 to 9 pm. The Dining Room's traditional times are 5:30 pm early seating and 7:45 pm late seating.
Like most cruise lines, the MDR offers a multi-course rotational menu that changes nightly. Though, the dinner menus did seem a bit smaller versus other cruise lines. While the breakfast and lunch menus were rather impressive.
The Dining Room is open for breakfast daily from 7:30/8 to 9/9:30 am. It is also open for lunch on select days for about 1-1.5 hours around the 12 to 1 pm timeframe. The breakfast menu was the same daily. The lunch menu was mostly the same when the venue was open except for a special menu during our day in Juneau.
We really enjoyed all our options for breakfast and lunch in the dining room. Though, we only dined here for dinner once and would say our selections were pretty average cruise food.
Breakfast | Lunch 1 | Lunch 2 | Dinner 1 | Dinner 2 | Dinner 3 | Dinner 4 | Dinner 5 | Dinner 6 | Dinner 7
New York Pizza – Deck 9
Located aft on deck 9 near the Sea View Pool and Bar is New York Pizza. This poolside pizzeria is open most days from 11:30 am to 11:30 pm, serving up made-to-order 9-inch personal pizza pies named after the boroughs of New York. The venue also offered select salads.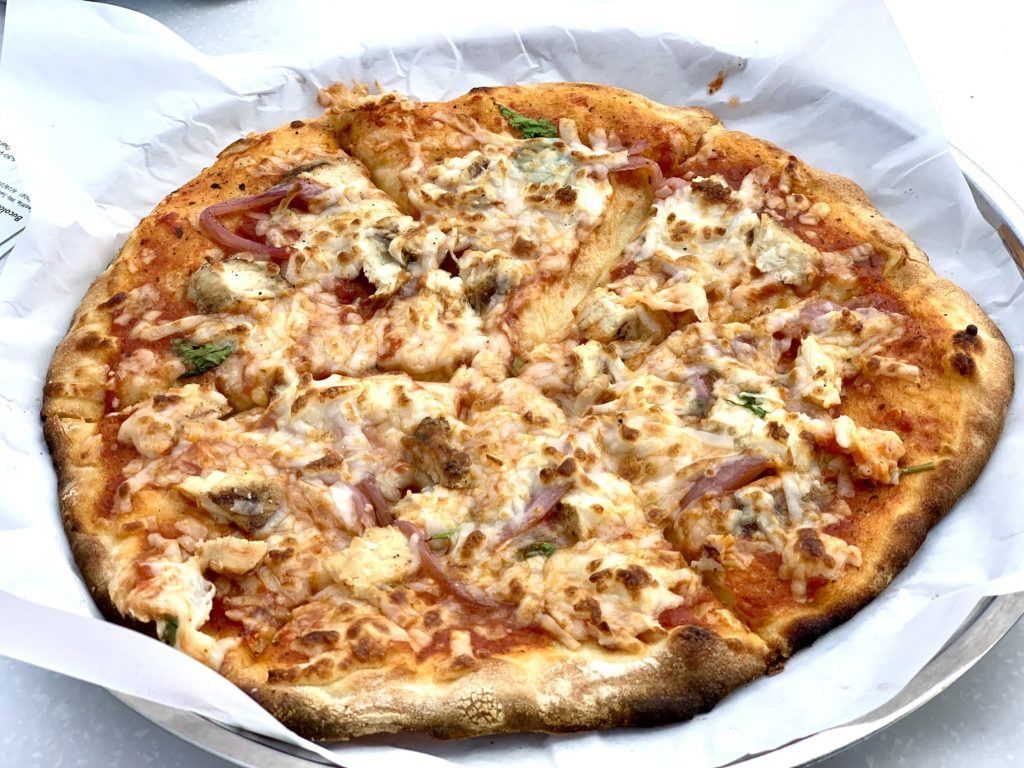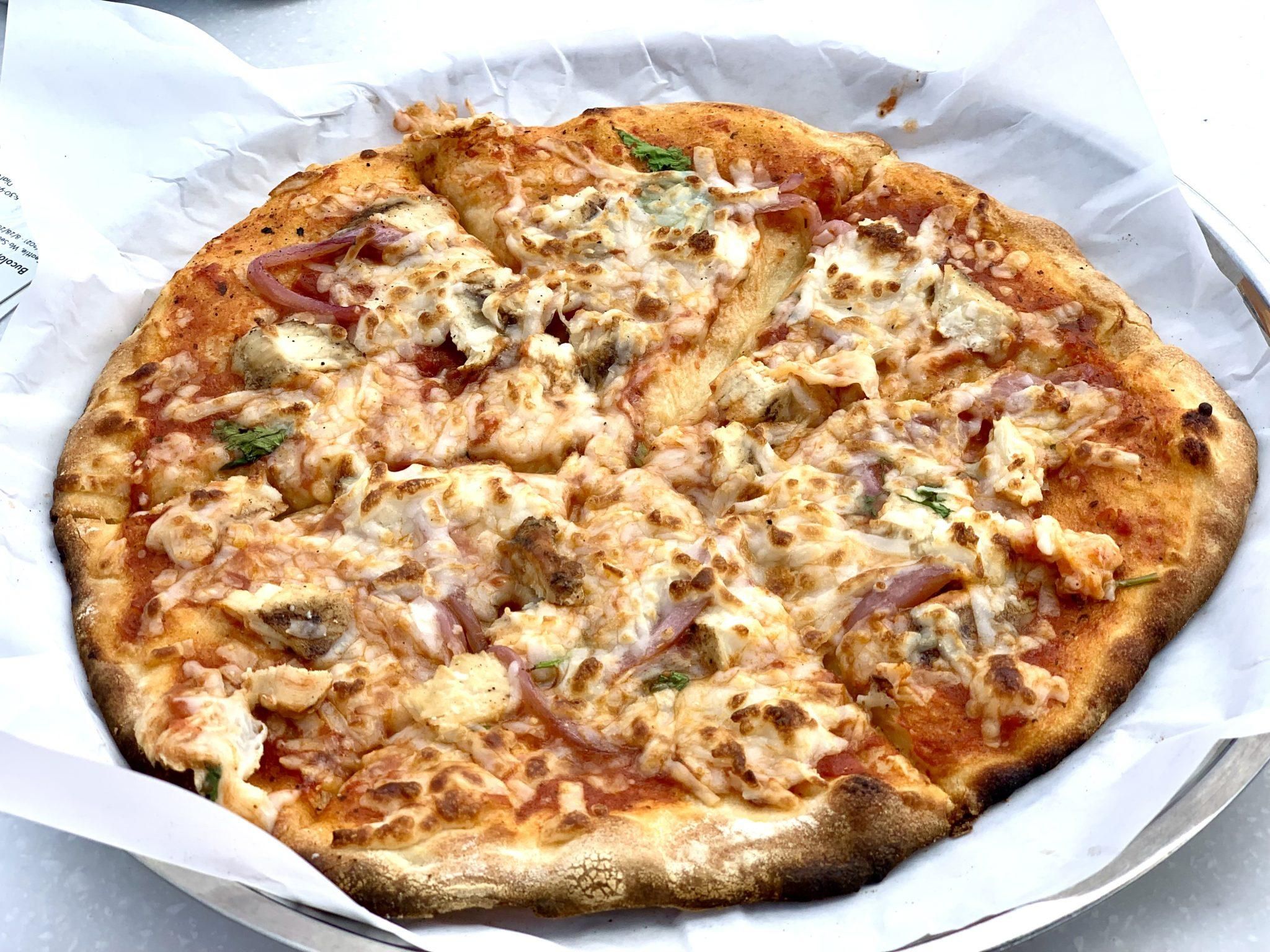 When compared to other cruise lines, this pizza was just average. It did not compare at all to our recent experience with Alfredo's Pizzeria on Princess Cruises. Still, it was a nice alternative to the Lido buffet.
Dive-In – Deck 9
An additional casual and quick-service eatery located on the Lido Deck is Dive-In. Positioned right next to the Lido Pool and Bar, this is an obvious go-to for sea day snacks. This poolside grill is open 11:30 am to 5:30 pm most days, serving up made-to-order burgers with secret sauce, Nathan's hot dogs, and chicken sandwiches with fries.
In comparison to other poolside grills, we would say that Dive-In edged out the competition with solid and well-prepared menu options.
Lido Market – Deck 9
The Lido Market is your typical cruise ship buffet conveniently located near the Lido Pool. With selections from baked goods, salads, warm entrees, and other international cuisine, you will never go hungry on your HAL cruise. Given recent health and safety protocols, staff now serve guests their food selections.
The Lido Market is open daily, serving breakfast, lunch, dinner, and snacks. Generally, the Lido serves breakfast 6:30 to 10 am, lunch 11:30 am to 2 pm, snacks 2 to 4:30 pm, dinner 5:30 to 8 pm, and late night snacks 10:30 to 11:30pm. Depending on your ports of call, these times may vary slightly.
Breakfast options include all your typical favorites including a custom omelet station. Lunch and dinner options include sandwiches, custom salads, a carving station with other hot items, and Italian and Asian selections ranging from pasta to sushi to lo mein.
We dined here a handful of times for each meal and were pleasantly surprised. Even though we are not fond of buffets, this one ranks among our top few cruise ship buffets. We particularly enjoyed the Asian section and the custom salad station.
Breakfast | Lunch 1 | Lunch 2 | Lunch 3 | Lunch 4 | Lunch 5 | Lunch 6 | Lunch 7 | Dinner 1 | Dinner 2 | Dinner 3 | Dinner 4 | Dinner 5 | Dinner 6 | Dinner 7
Room Service
Basic Room Service is included on Holland America Line. Guests can order breakfast in bed or an early dinner to enjoy on the balcony for no additional cost.
A room service menu is located on the stateroom television and details which items are complimentary and which items are up-charges.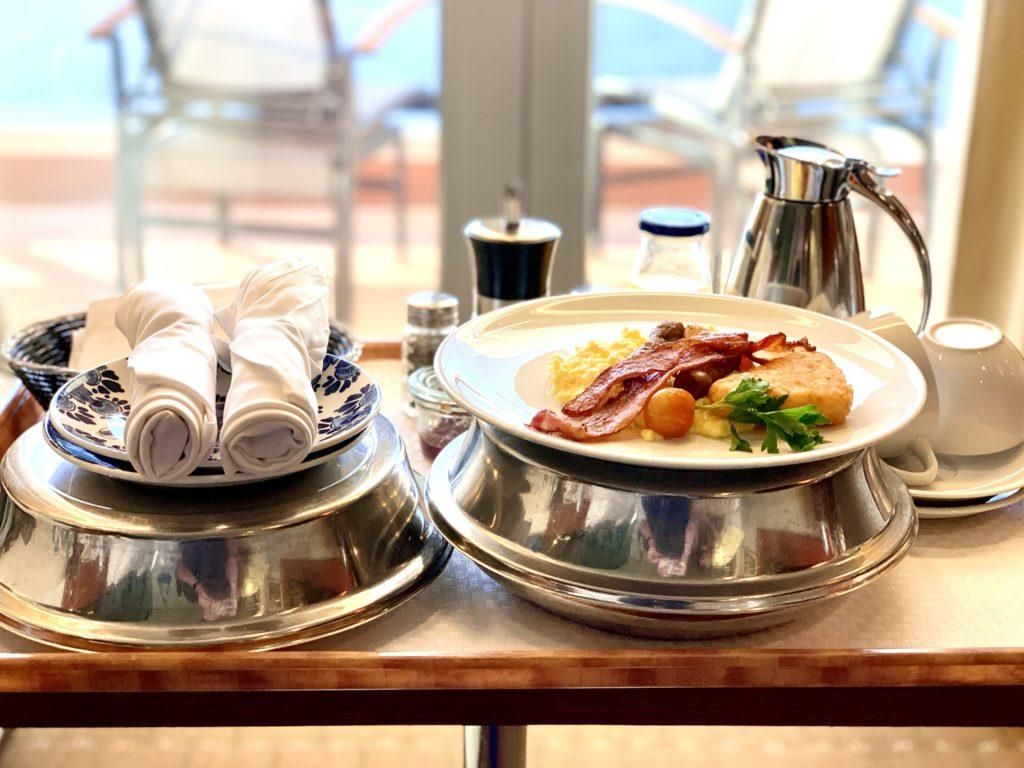 BOOK NOW: Holland America Line Cruise Deals!
Comments
Did you find our Holland America Line's Nieuw Amsterdam Restaurant Menus and Dining Guide helpful? Have you cruised with Holland America Line? What are you favorite restaurants and menu items from this cruise line?