Freedom of the Seas is now truly in a class of her own. The ship that revolutionized cruising when it debuted in 2006 just received a $115+ million renovation. The Princess and I first sailed on this ship back in 2010. So, when we heard Freedom of the Seas was getting amplified and sailing the Southern Caribbean, we jumped at the opportunity to book a cruise on the ship. We are back and share our signature day by day Freedom of the Seas Southern Caribbean Cruise Review.
Ship Overview
Many of the brand's signature attractions are found onboard Freedom of the Seas. The Flowrider surf simulator debuted on this cruise ship and is still prominently displayed on the sports deck. It couples nicely with the two new waterslides, Typhoon and Cyclone, from the cruise line's Perfect Storm. Other new additions include the upgraded Caribbean pool deck. This colorful addition breathes new life into decks 11 and 12. Not to mention that the Lime and Coconut bar is a welcomed addition to the traditional pool bar.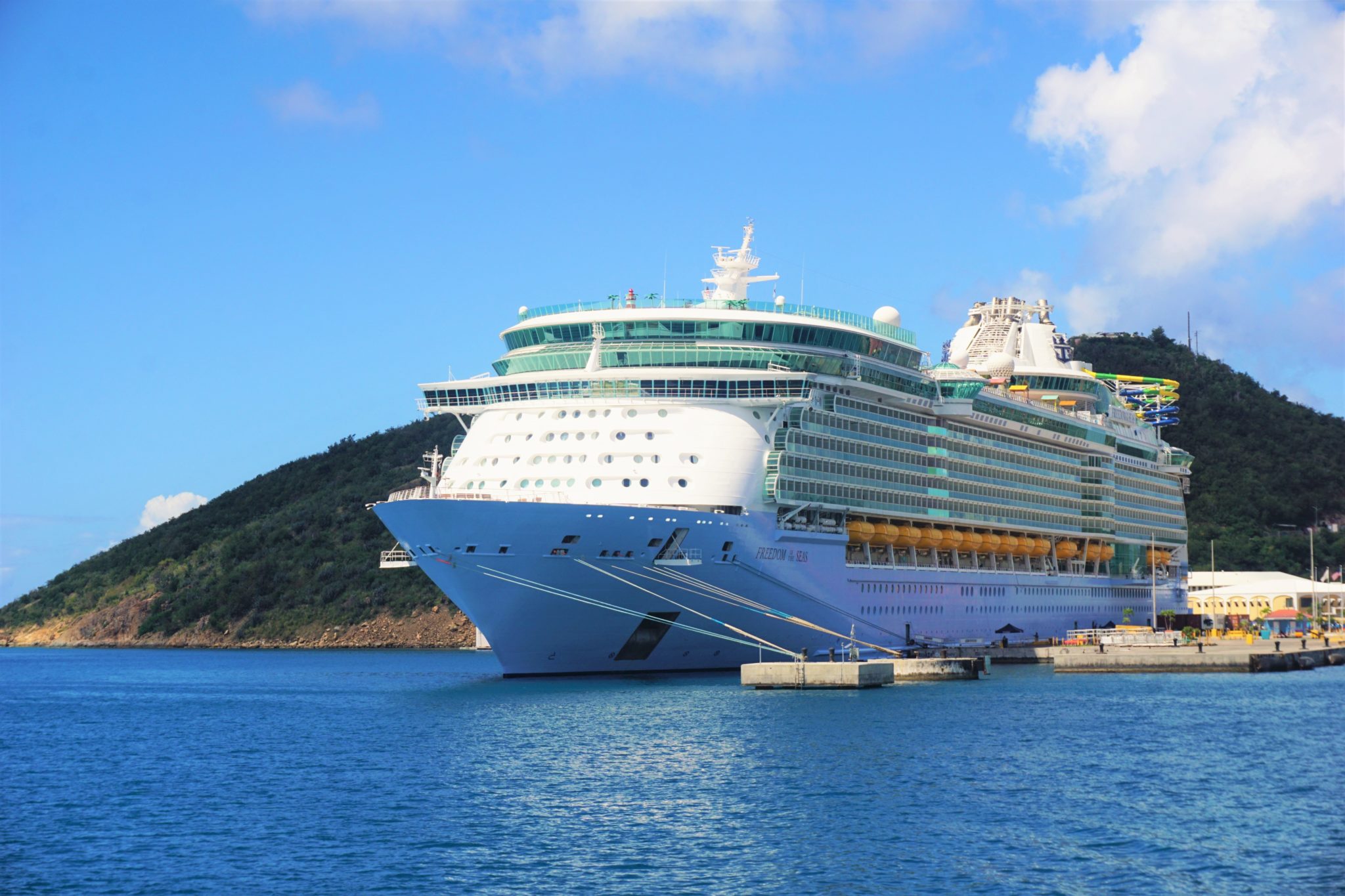 Royal Caribbean also added more dining options during the drydock. The poolside El Loco Fresh offers casual Mexican fare for lunch or a late day snack. The first-ever El Loco Fresh tequila bar was also added to the pool deck. Serving a small menu of signature margaritas, it is an excellent accompaniment to this new dining option.
The new Giovanni's Italian Kitchen debuted on the amplified Freedom of the Seas as well. This specialty restaurant features an open kitchen with a pizza oven making signature pies. In addition to great pasta dishes, Giovanni's serves up some of the best cruise ship sweets.
Another great addition to the ship is the Playmakers Sports Bar and Arcade on deck 4. This location and open layout are ideal for this pub. With dozens of televisions, a complete bar, free tabletop games, and a la carte food offerings, it is the place to be to watch a game or for some friendly competition and socialization.
Add in some other spruced up public areas and the new Clash for Crystal City laser tag game, Freedom of the Seas now feels like a new ship all over again. Minus the staterooms.
Related Post: Freedom of the Seas Scorecard


Freedom of the Seas Southern Caribbean Cruise Review Day 1
A Much Smoother Embarkation
With Freedom of the Seas sailing from San Juan, we flew down two days early to soak up some extra sun in Puerto Rico. Enjoying some relaxation at the Condado Vanderbilt hotel, we were up early and out the door by 10 am on the morning of embarkation.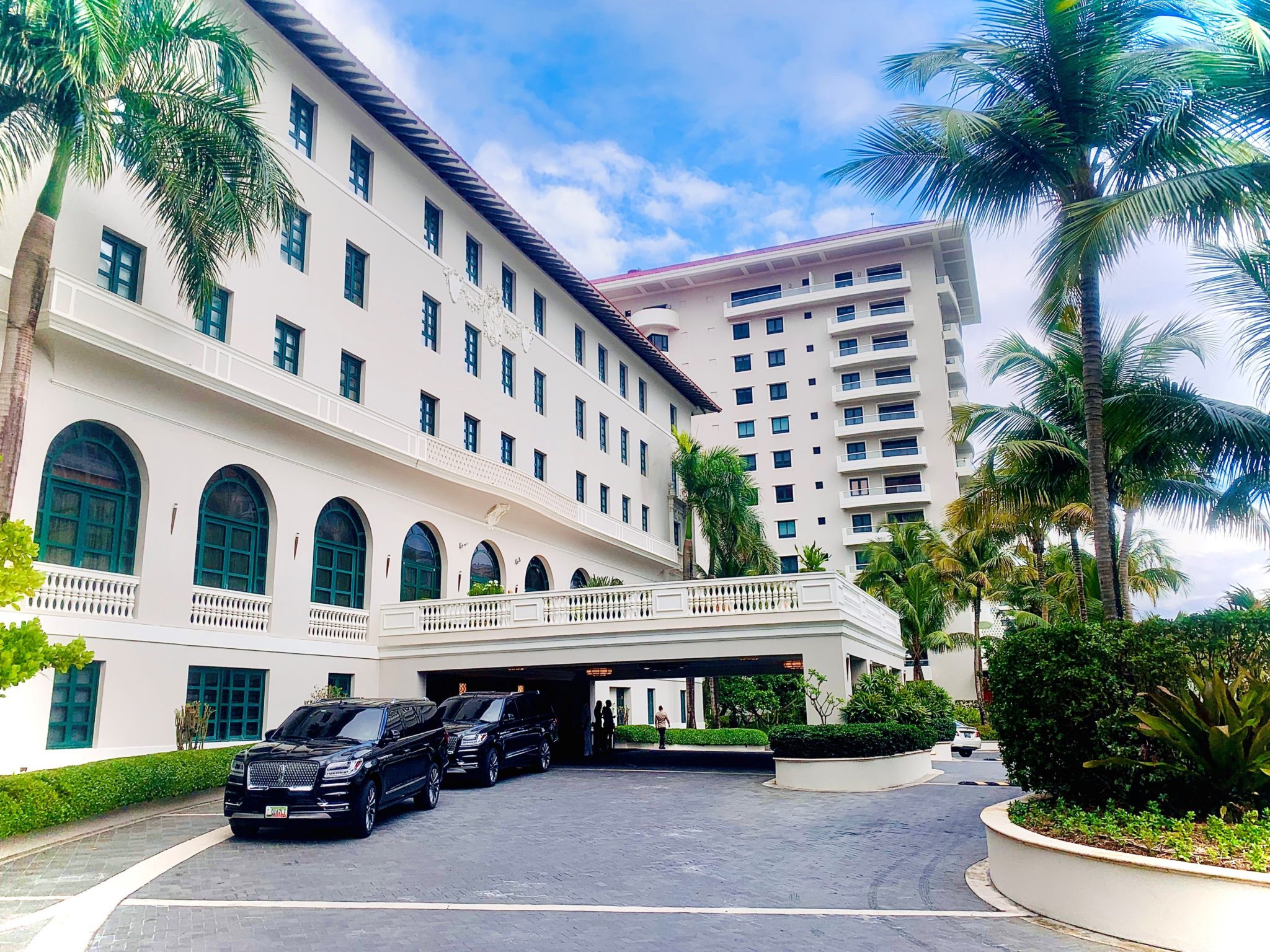 Traffic was a bit hectic close to the port, but we were able to direct our Spanish speaking Uber driver to our ship without too much difficulty. Compared to our last sailing out of San Juan on Adventure of the Seas, this was a much smoother process. We were able to leave our bags with a porter and make our way to the terminal with no wait. Given the increased health protocols, our temperatures were first checked outside of the building.
Receiving the green light, we were through security and at the check-in counter within minutes. The terminal building seemed updated, and the whole process a bit more streamlined compared to our last cruise. With no prior cruise on Freedom of the Seas, we were told we could board the ship immediately following our check-in! Really?!
Well, with no wait, and a small gangway line, we were onboard the ship by 10:45 am. Time for our normal ship explorations!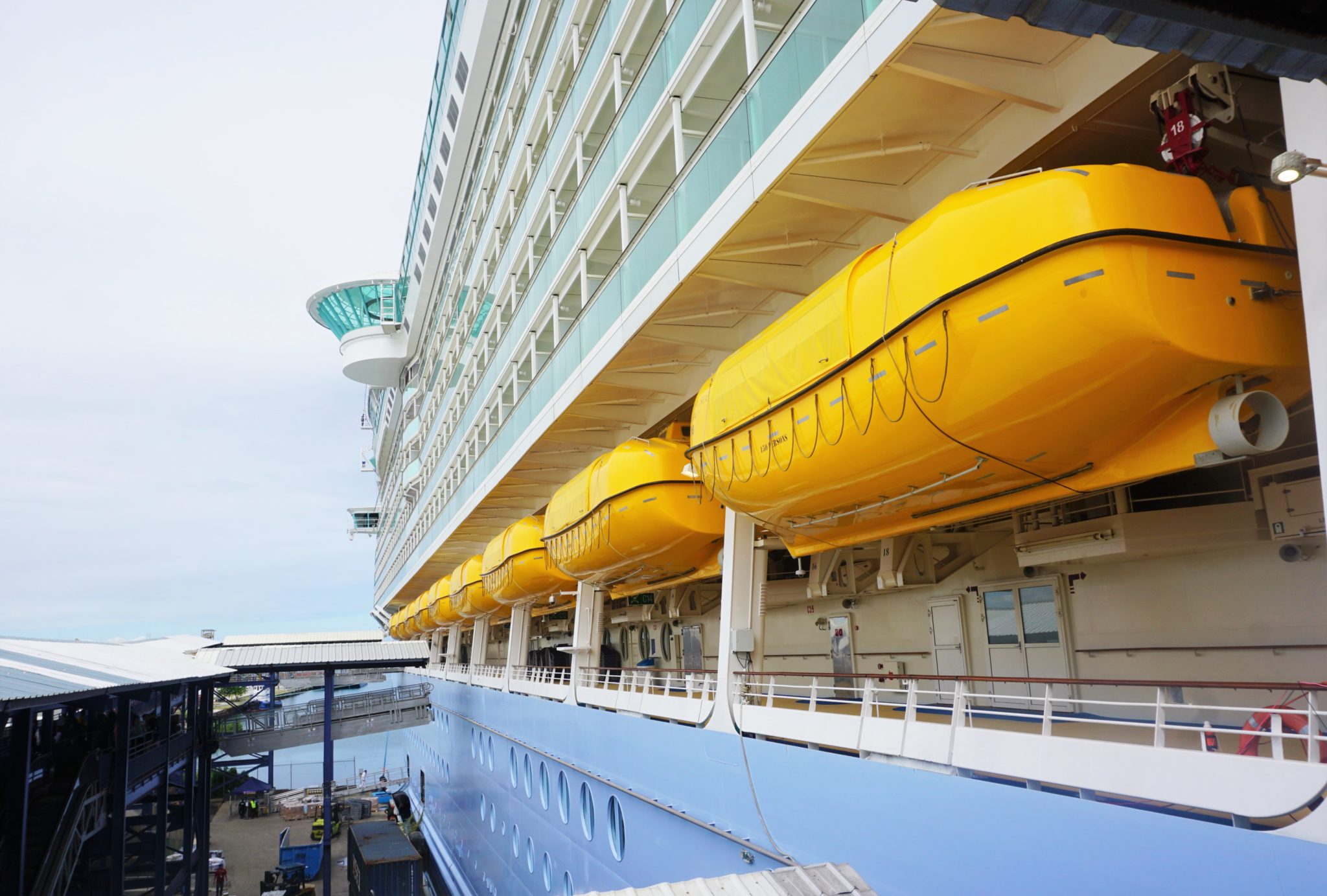 Time for a Ship Tour
Before venturing off to explore the ship, we stopped at our stateroom to drop off our carry-ons. This was another benefit of being the first cruise on this ship. Then, we headed to the top of deck 14 and started our usual ship tour.
Working our way down from Olive and Twist, through the pool deck and sports deck, and down to Studio B took a little over two hours. As we made our way down each floor, we stopped to take pictures and some video.
While the ship did feel a bit emptier than average at 1 pm, it was certainly not a ghost town. Back up to deck 11, we tested out the new El Loco Fresh on the pool deck for lunch. While perhaps not our favorite version of this casual restaurant, we certainly enjoyed it more than the Windjammer buffet.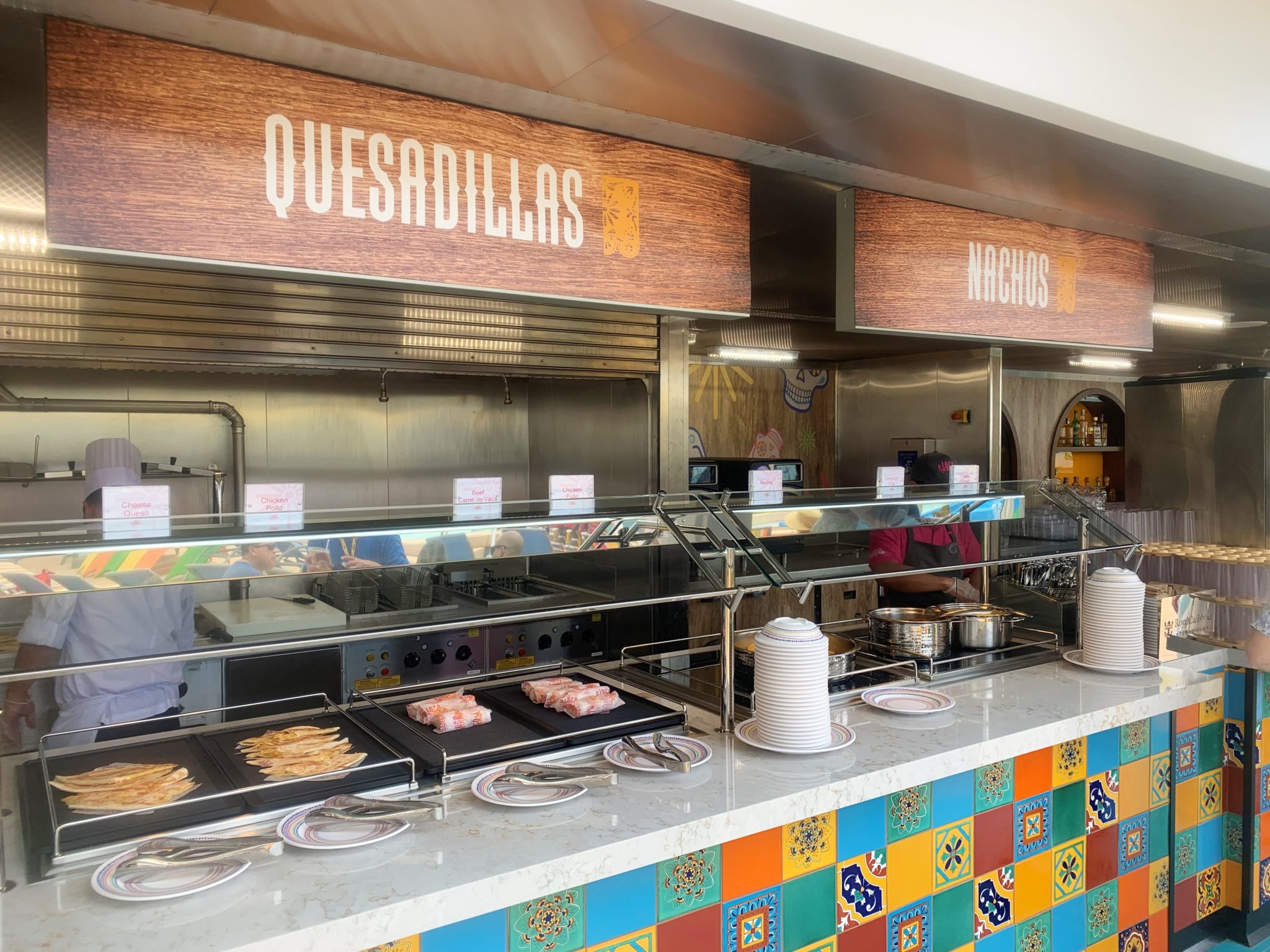 Finishing up lunch by 1:30 pm, it was time for our first drink of this voyage. So, it was the perfect chance to test out the new poolside tequila bar, adjacent to El Loco Fresh. We grabbed our signature margaritas and found some shade in a casita on deck 12. Another excellent new addition from the amplification, these small structures are the ideal place to relax during the day.
We took about an hour to relax, call home, and enjoy the gorgeous weather. With the Princess starting to hit her tolerance for the heat, we headed back to our room to take pictures and video. Along the way, we found our bags not far from our stateroom.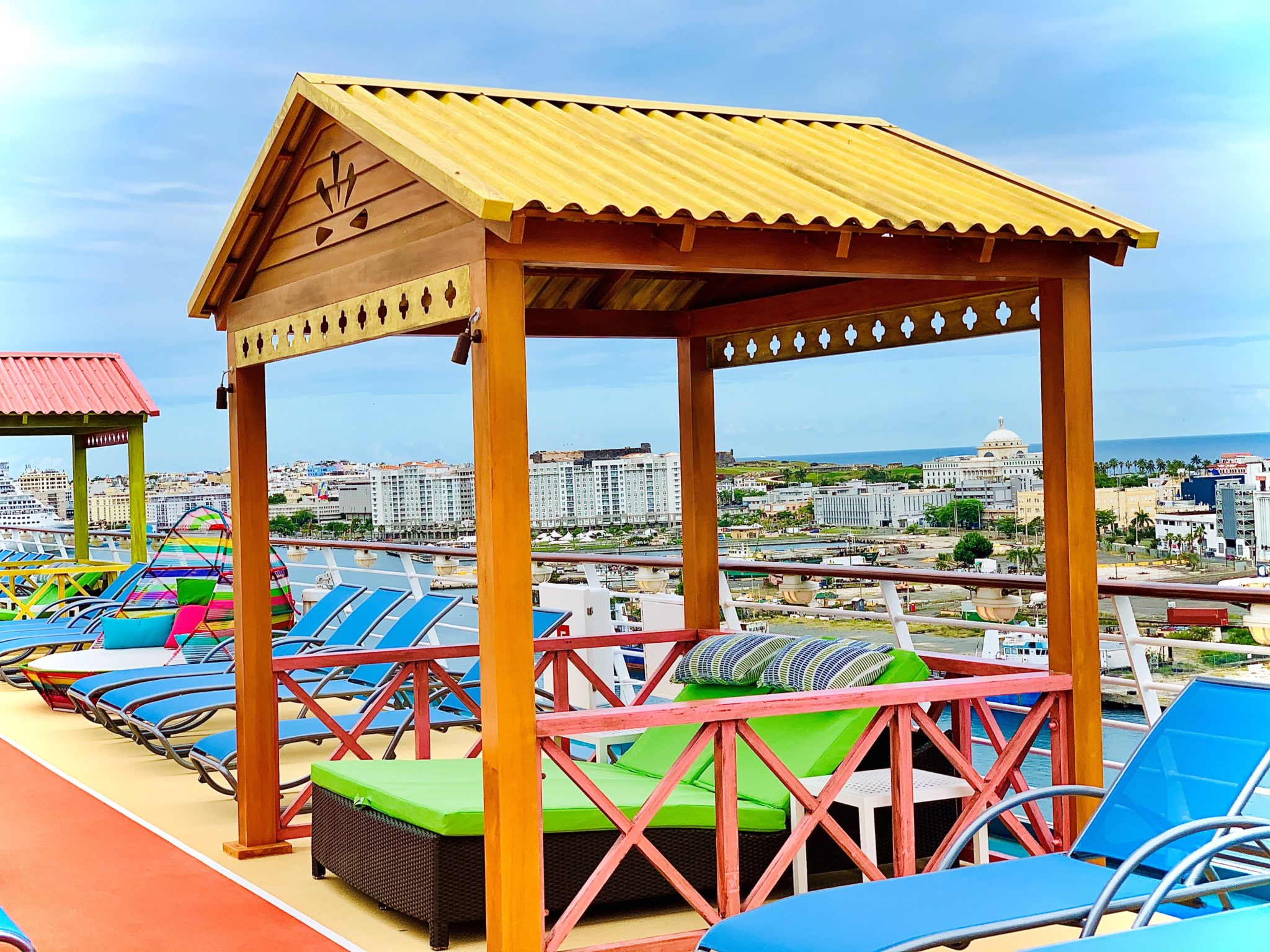 So, we decided to unpack and get situated for the week. As we began this ritual, our stateroom attendant stopped by to introduce herself. Our ship was not scheduled to sail until 8 pm, and our muster was 5:45 pm. Given these activities were later than normal, we had time to grab a coffee and change up for dinner. We were not going to miss our first main dining room dinner.
Not a Very Inspiring First Dinner
Changing up for dinner was a bit of a lost cause, as our muster station was outside! We are not sure why some of Royal's older vessels still force cruisers to go outside on deck 4 for this mandatory drill.
Good thing it was a bit shorter than usual. It seemed the cruise director skipped some of the typical announcements. With the drill done by 6:05 pm, and dinner delayed until 6:30 pm tonight, we grabbed seats at Boleros to cool off a bit.
During our tour of the ship earlier in the day, we stopped in on deck 4 of the main dining room to find our table. It seems Royal Caribbean knows us by now, as they assigned us a table for 2!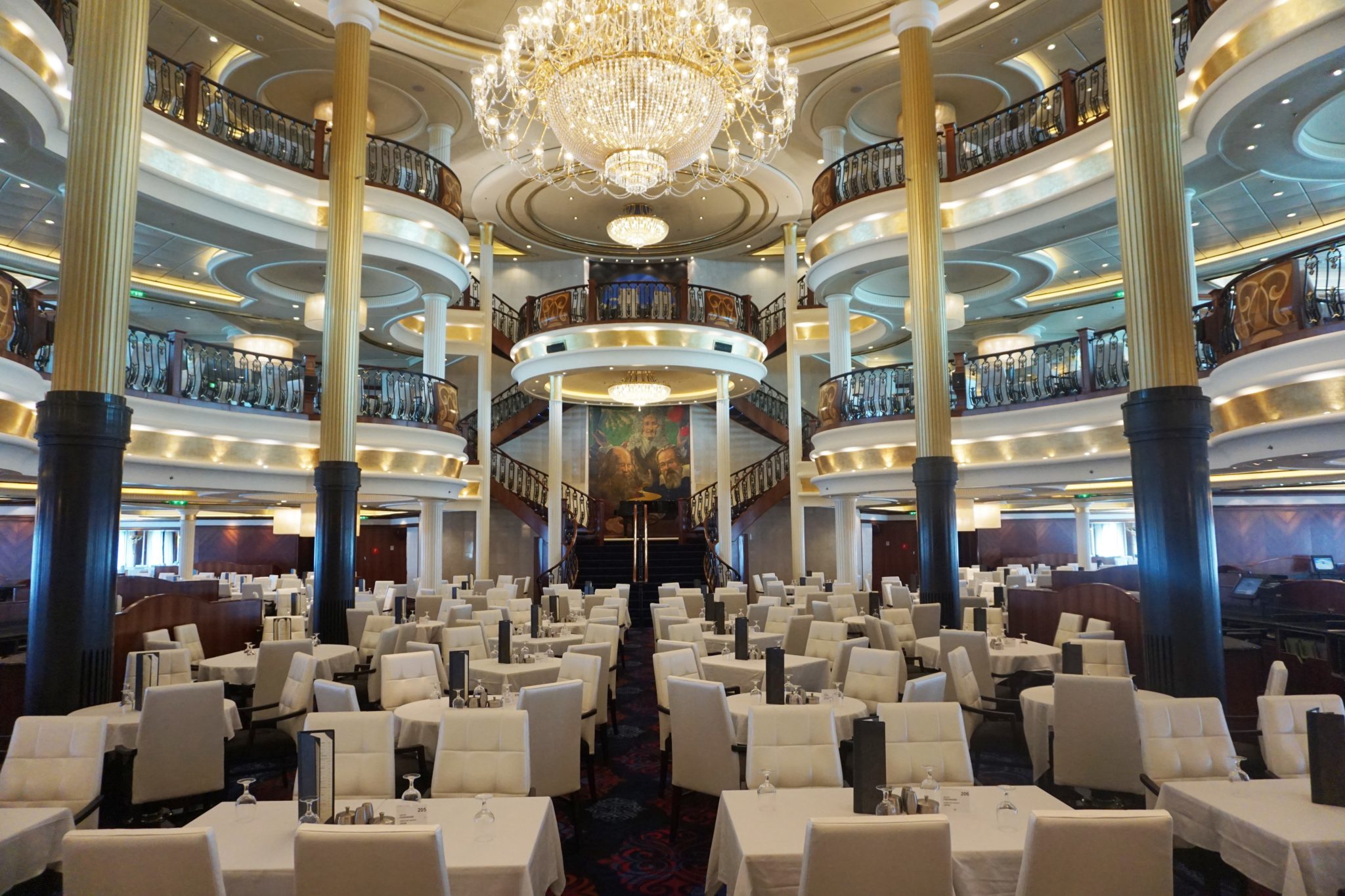 The main dining room opened at 6:20 pm, and we followed the herd into the venue. Of course, we knew exactly where to go for our table. There, we met our waitstaff team of Rafael and Vaikunth.
Rafael, our waiter, was more seasoned, whereas our assistant waiter seemed unsure of himself. He also spoke very little English, which made ordering our drinks a challenge. Yes, we know, cruiser problems.
Another observation throughout the cruise were some deviations to the dinner menus. While the main dining served familiar dishes on predictable days, there were undoubtedly some changes during this voyage.
For night 1, I went with the crab cake and antipasti for an appetizer. Both were fine but nothing spectacular. For the main course, I tried the fried chicken which was a letdown. It was dry and lacked flavor. The Princess did the Waldorf salad and the Classics menu grilled chicken. Both were edible but not noteworthy. Unfortunately, the theme throughout the cruise was that the main dining room meals were nothing special.
The Typical Night 1 Routine
Tonight's Welcome Aboard Show started at 9:30 pm. Out of dinner around 8 pm, this gave us enough time for our next "drink around the ship" libation. There was no better venue than the Schooner Bar for some signature martinis.
Also, we were just in time to listen to the end of the Name that Tune music trivia by the activities staff member Claudio. This guy was a riot while hosting several of the week's events. He indeed went all out for his job.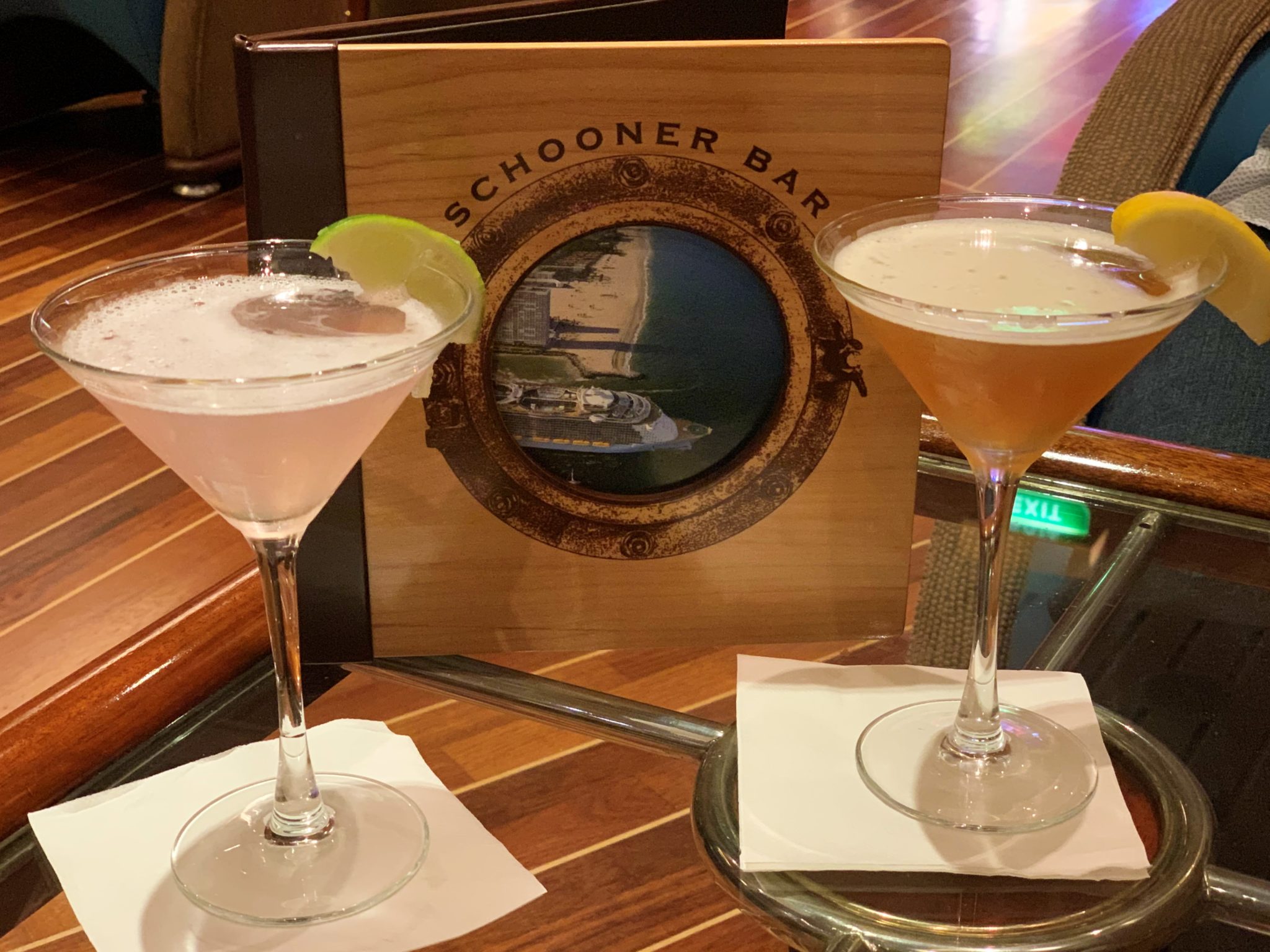 Finishing up around 9 pm, we found seats on the port side of the main theater for the show. As expected, the theater was not very full for this hodge-podge first night production. The main act was the comedian Louis Johnson. The Welcome Aboard show was also the first formal introduction to our cruise director Elvis. As far as cruise directors go, he was not the worst CD, but he was not very memorable either. The comedian was also just average.
One of the new Royal Caribbean events on night 1 is the balloon drop at midnight. So, we found our way to the promenade following the Welcome Aboard show. This was the perfect chance to grab our mandatory t-shirt and cruise ship ornament.
Unfortunately, the ship's logo store did not have newly amplified ship ornaments. Instead, they were leftovers featuring the ship's previous design. Since we did not have one from our last cruise onboard this vessel, we purchased this version anyway.
Somehow, we found seats at the pub with a prime viewing location for the party. With over 40 minutes to kill, we grabbed another round of drinks. Now, we had checked off three bars from our drink around the ship on the first day!
Around 11:40 pm, the Cruise Director came out to begin the celebration. This balloon drop was nowhere near as crowded as the same party on our recent Symphony of the Seas or Navigator of the Seas cruises.
Our first day of the cruise was officially over already. We returned to our cabin to find our first towel animal of the trip.
Related Post: What We Loved About Freedom of the Seas


Freedom of the Seas Southern Caribbean Cruise Review Day 2
A Morning of Relaxation
Up at 6:15 am, I headed down to the promenade for video and photos. Spending about 90 minutes, I captured most of the indoor venues with few other cruisers in my shots. I then grabbed us lattes at the Cafe Promenade from my brother from another mother, Donald.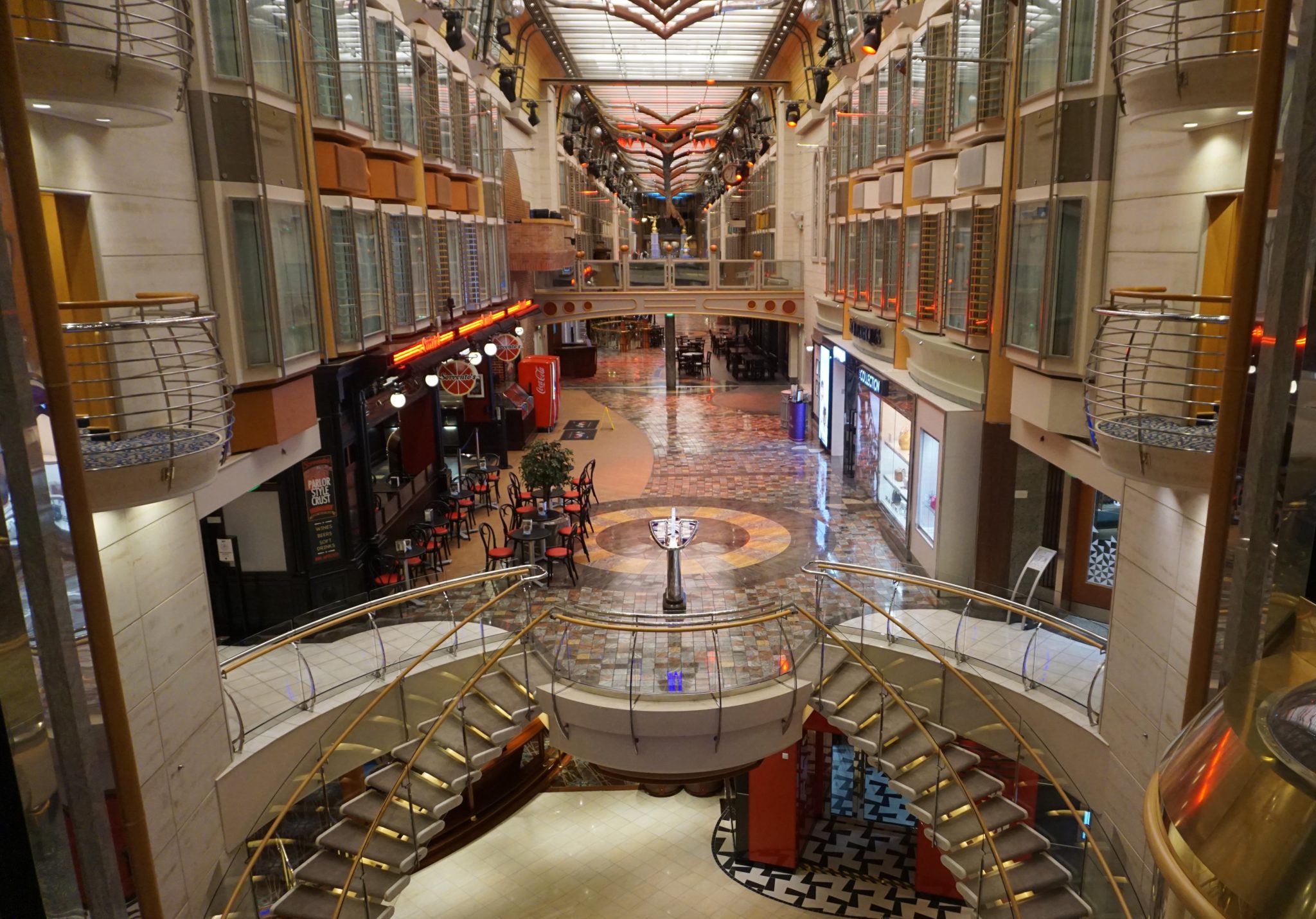 This morning, we opted for the Windjammer for breakfast. I am not a huge breakfast fan, so I was content with a few selections. On the other hand, the Princess did not like the fact that they were still allowing self service here given the current situation. So, this would be the only time we dined at this venue all cruise.
Out to the pool deck by 9 am, we could not find two loungers anywhere near the pool on decks 11 or 12. While the ship was certainly not full, we were sailing with many seasoned cruisers.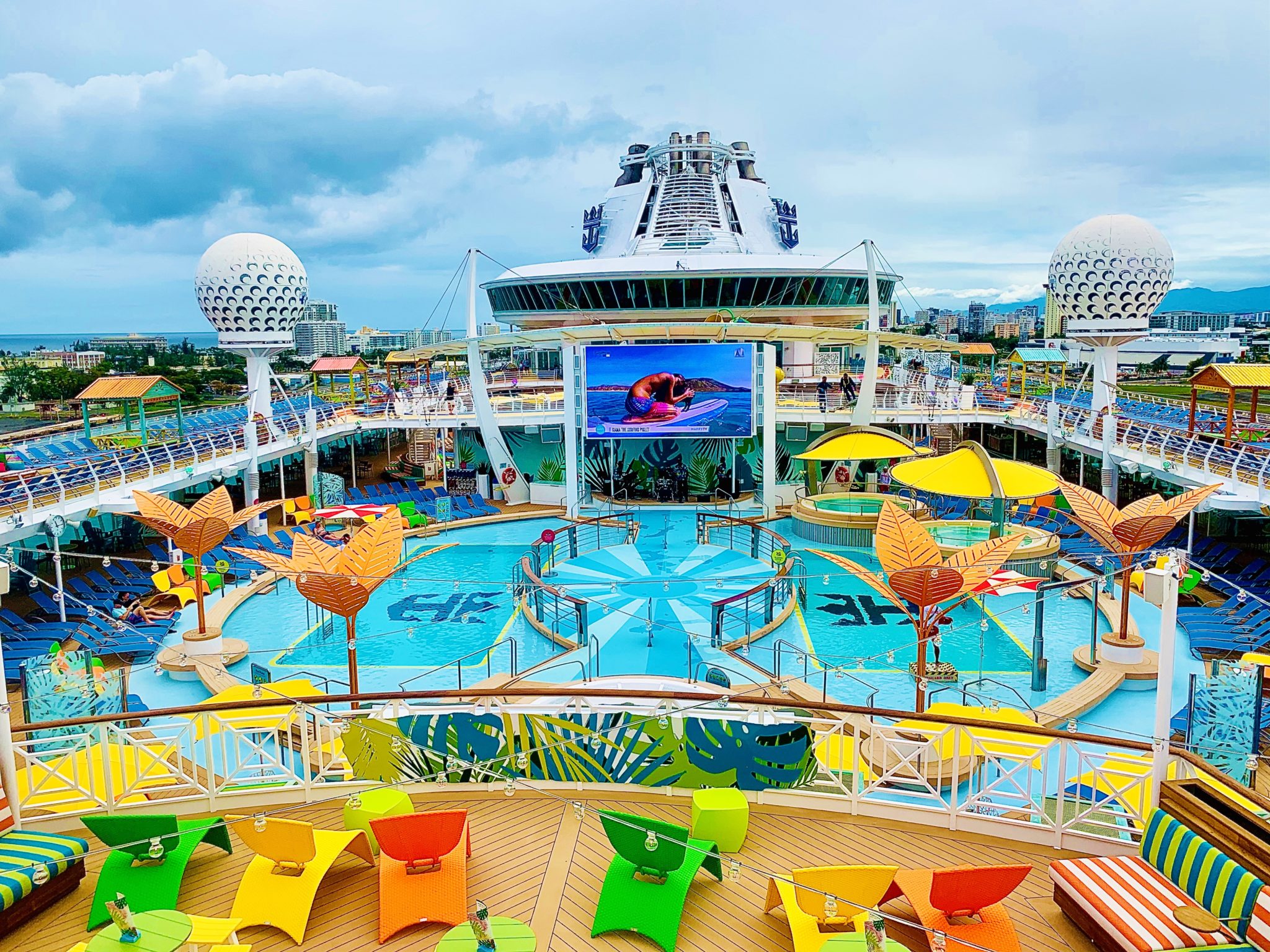 Oh well, we had plenty of sun during our day and a half in Puerto Rico. So, we snagged a couch in the shade on deck 11 instead. It was peaceful and relaxing. Two words I don't often say about my cruise vacations! We spent close to 3.5 hours here, intertwining relaxation and blogging with conversations among our ever-changing seatmates.
Around 12:45 pm, after doing a lot of nothing, we both agreed it was time for lunch. On day 1, we tested out the new El Loco Fresh. So naturally, it was time to test out the new Playmakers Sports Bar and Arcade today.
A Pretty Uneventful Afternoon
Playmakers Sports Bar and Arcade is located on deck 4 on Freedom of the Seas. This restaurant has a more open layout than on Navigator of the Seas or even Symphony of the Seas.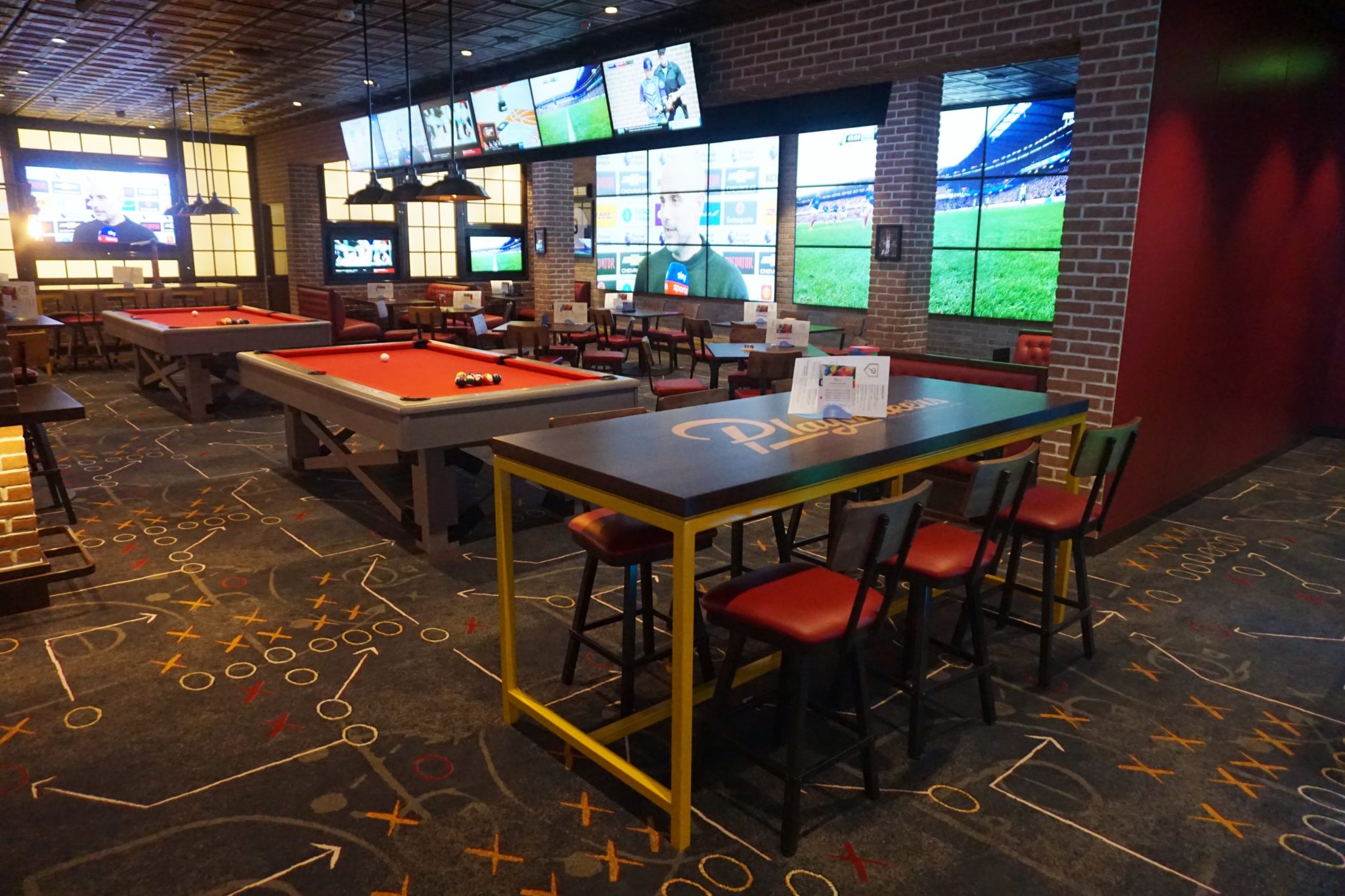 While our server was friendly, it did take a while for her to come over and take our order. There was no host or hostess, so we could see how it would be confusing for staff to know who to serve next.
We didn't mind the extra wait time as we played some of the tabletop games, including Connect 4 and cornhole. Along with some food, we also grabbed two signature cocktails. Another check on our drink around the ship list.
I was a big fan of the onion ring tower and my drink, the black and gold, and the Princess enjoyed the chicken tender meal. This restaurant is an up-charge, with most items priced around $5-$10. With a $100 onboard credit, we could easily justify spending about $20 to test out the menu. We chalked it up to cruise blog research.
Finishing lunch by 2:15 pm, we headed back upstairs and outside. After about 2 hours, we decided to head inside to change up for dinner. On our way back to the room, we stopped off at the promenade for some additional caffeine in the form of a few iced lattes. Yes, all we had done so far today was sit, eat, and drink. And soon, it was going to be time for our next meal.
Pre-cruise, we booked Giovanni's Italian Kitchen for tonight. We were pretty sure that this would be the first formal night, and the Princess is not a fan of the main dining room menu this evening.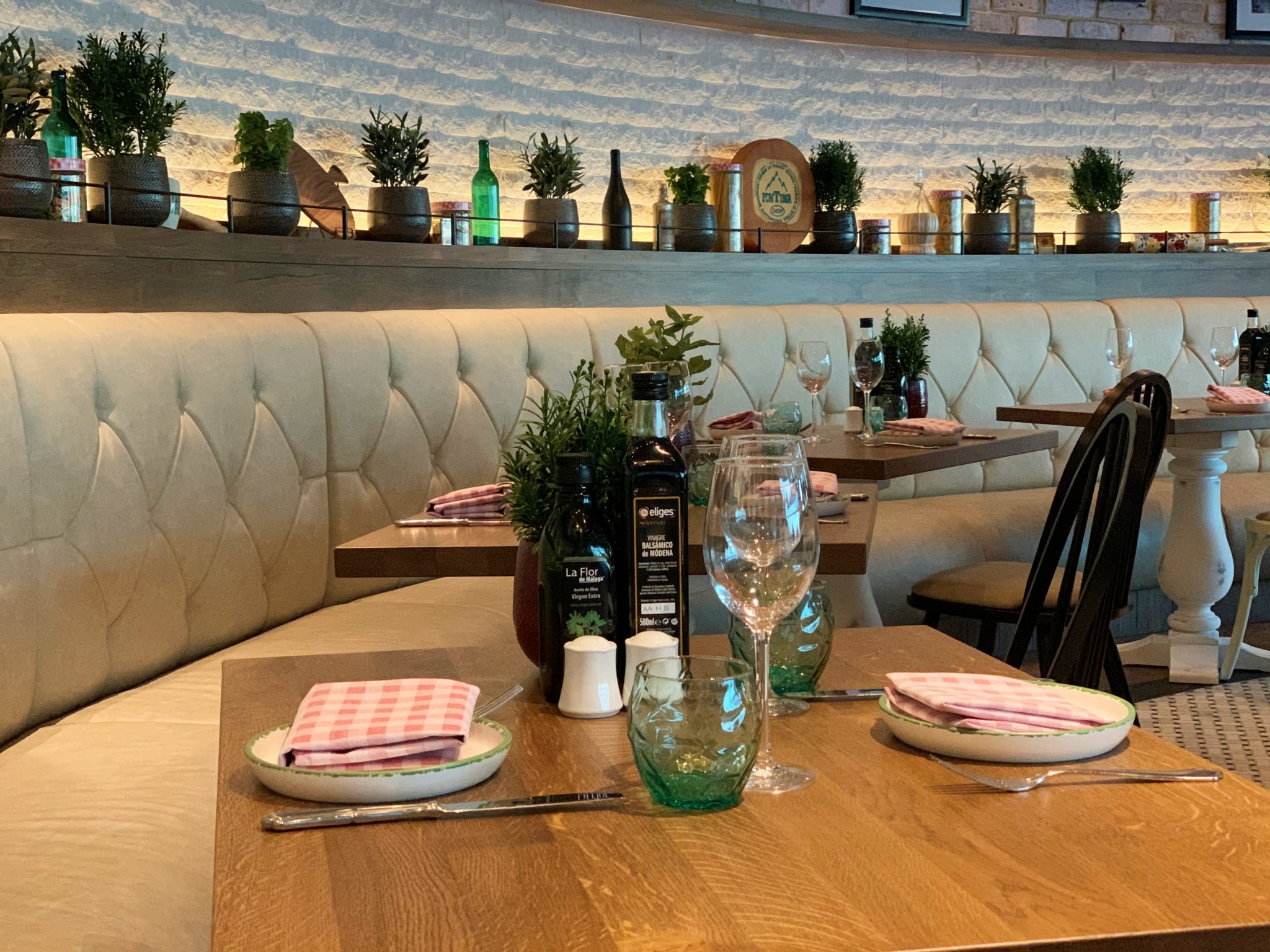 Formal Night Dinner and Show
Giovanni's is located on deck 11, right in front of the Windjammer. Our waiter, "Salami," was attentive and friendly. He reviewed the menu and offered some great suggestions. Overall, we were both more than impressed with this specialty dinner. It was one of the best meals we have had on a Royal Caribbean cruise ship to date.
While the menu might not be as fancy as other restaurants, we certainly liked the family-friendly offerings. The Caprese salad with the creamy burrata was mouthwatering, as was the Osso Bucco entrée. The Princess also really enjoyed her Chicken Parm. The desserts were excellent too. We were both big fans of the decadent tiramisu, offering a tradition take on this popular Italian dessert.
The complimentary limoncello was the perfect ending to this meal. Honestly, we thought this venue was well worth the charge and debated actually making a second reservation here.
Dinner finished up by 8:15 pm, which meant it was a bit of a mad dash to the theater for the 8:30 pm showing of Marquee. Perhaps it was the fact that we were sailing with many seasoned cruisers or the global events unfolding, but the theater was rather empty for this show.
We snagged seats portside around our usual location. In terms of the show, it might be time to retire this production, as it feels dated and looks like it was created before HD video capabilities.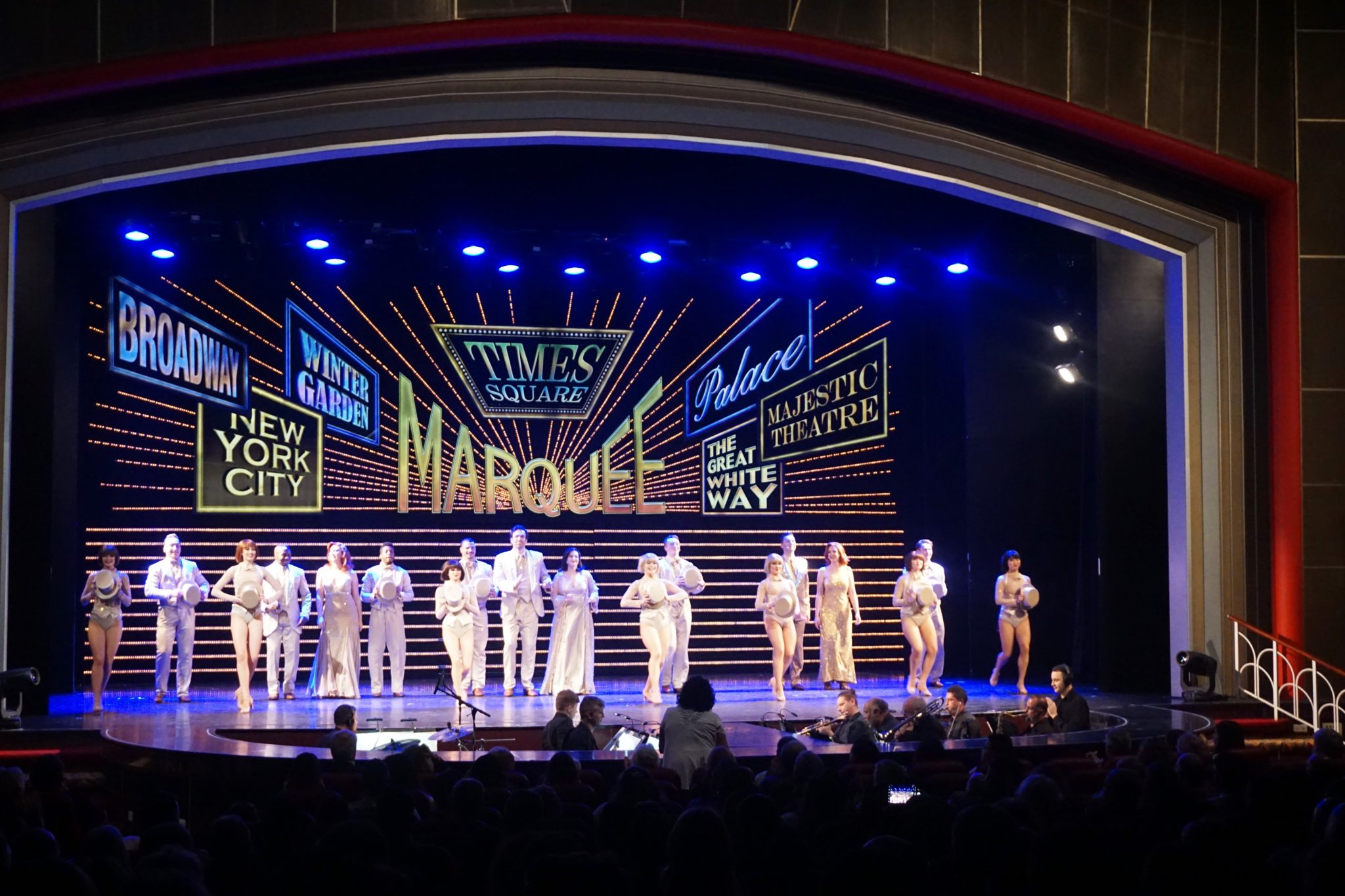 After the show ended, we found seats at the Star Lounge. While the venue does not have a signature menu, we still included it in our drink around the ship. Grabbing a few basic mixed drinks, we watched the end of Finish the Lyric and some Rock-a-Rokie. Both offered plenty of fun, even though we didn't participate.
A little after 11 pm, we decided to head back down to the main theater. The late-night comedy was slated to start at 11:30 pm. The comedian was Louis Johnson, the same headliner from the previous night. This second go-round was on par with the previous night.
Finishing up at midnight, we skipped the silent party for sleep. Tomorrow was our first port of call in Aruba, and we had a full-day tour with ABC Tours planned.


Freedom of the Seas Southern Caribbean Cruise Review Day 3
Preparing for a Long Day Ashore
Our last, and only, visit to Aruba was on our Adventure of the Seas cruise five years ago. On that stop, we did an island tour that included some highlights and beach time. With plenty of things to do in Aruba on a cruise, I was able to convince the wife to go off-roading.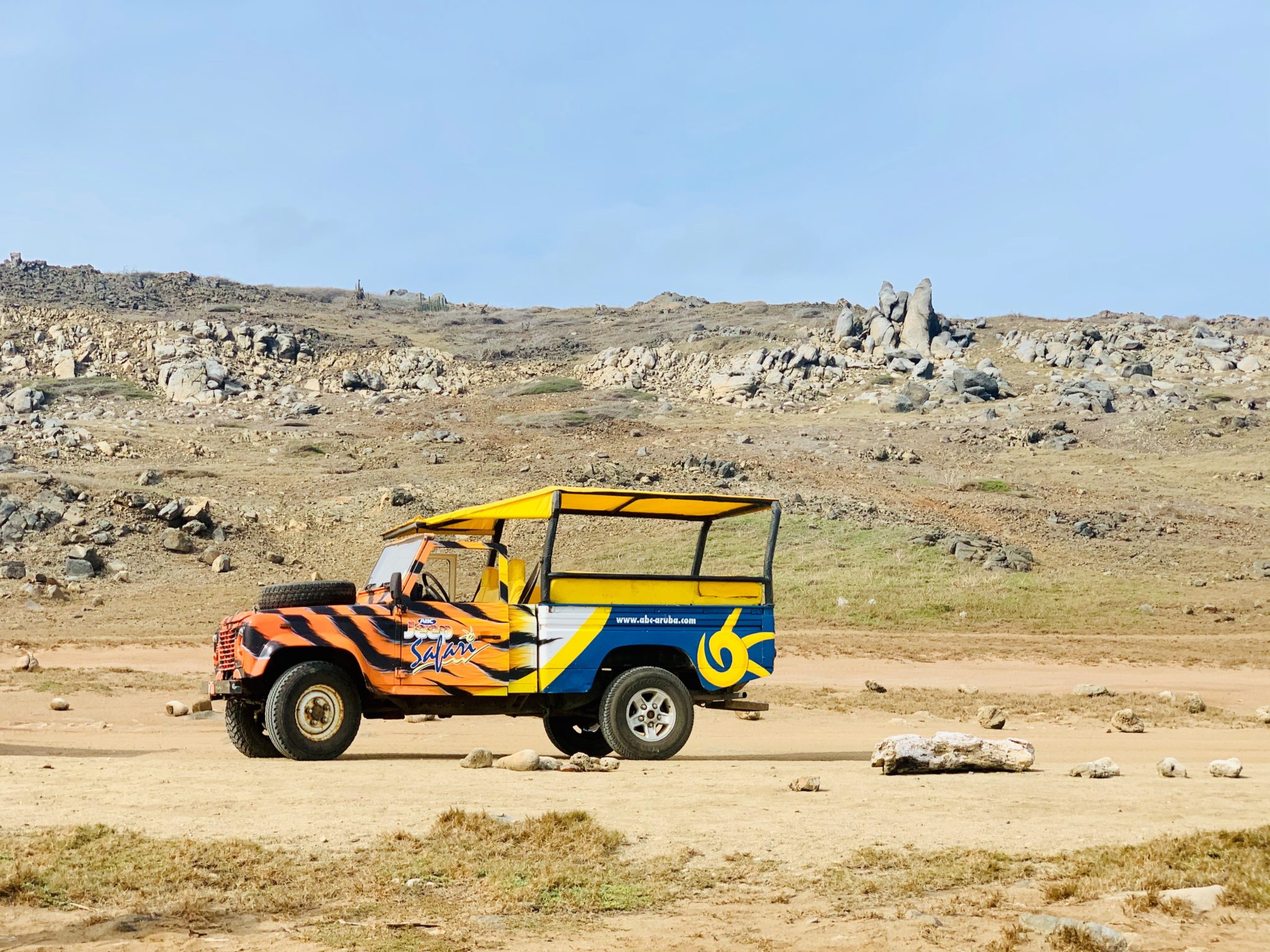 We partnered with ABC Tous Aruba for its Ultimate Island Safari. This adventure has you in a safari-style vehicle, so you can have all of the fun without driving yourself.
Our instructions indicated that we had to meet at the Tourist Center by 8:30 am. This meant that I woke up around 6 am for my usual morning routine. Back to the room with some coffee and continental breakfast items, I was changed up and ready just before the ship's clearance. Of course, I had to make a quick dash up to the pool deck for some towels and to grab a few bottles of water before officially heading down to the gangway at 8:15 am.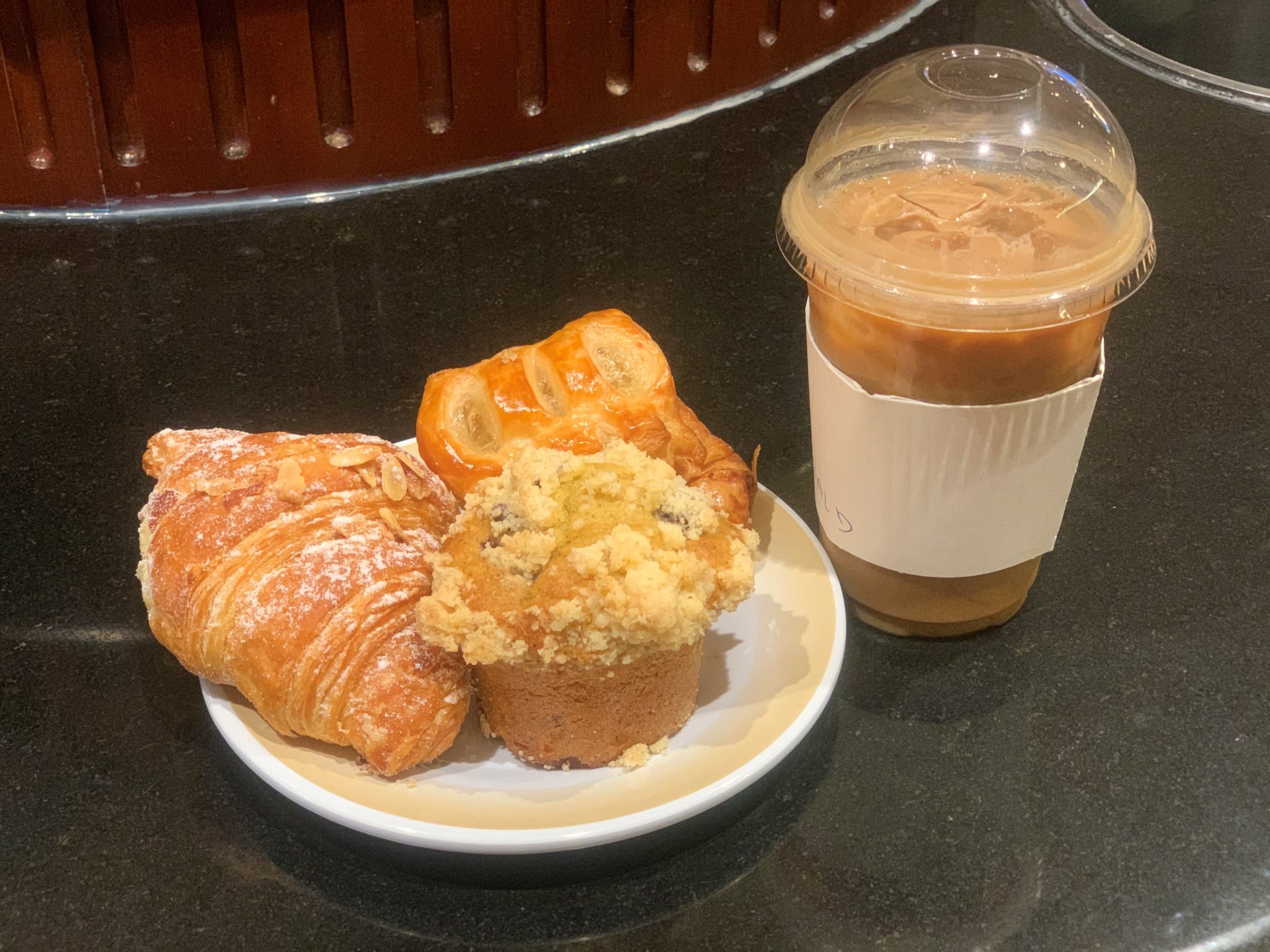 Some New Found Family in Aruba
It was easy to find our tour provider in the small terminal building. We waited less than 10 minutes until the tour provider called us for the short van ride over to the tour company's HQ. Our van consisted of cruisers doing a variety of different excursions with the tour company.
After checking in, we were called to join one of the safari jeeps with our new family led by Uncle Johnny. For the next 9.5 hours, we trekked, bounced, swam, and photographed our way across the entire island. It was hands down one of the best tours we have ever done on a cruise.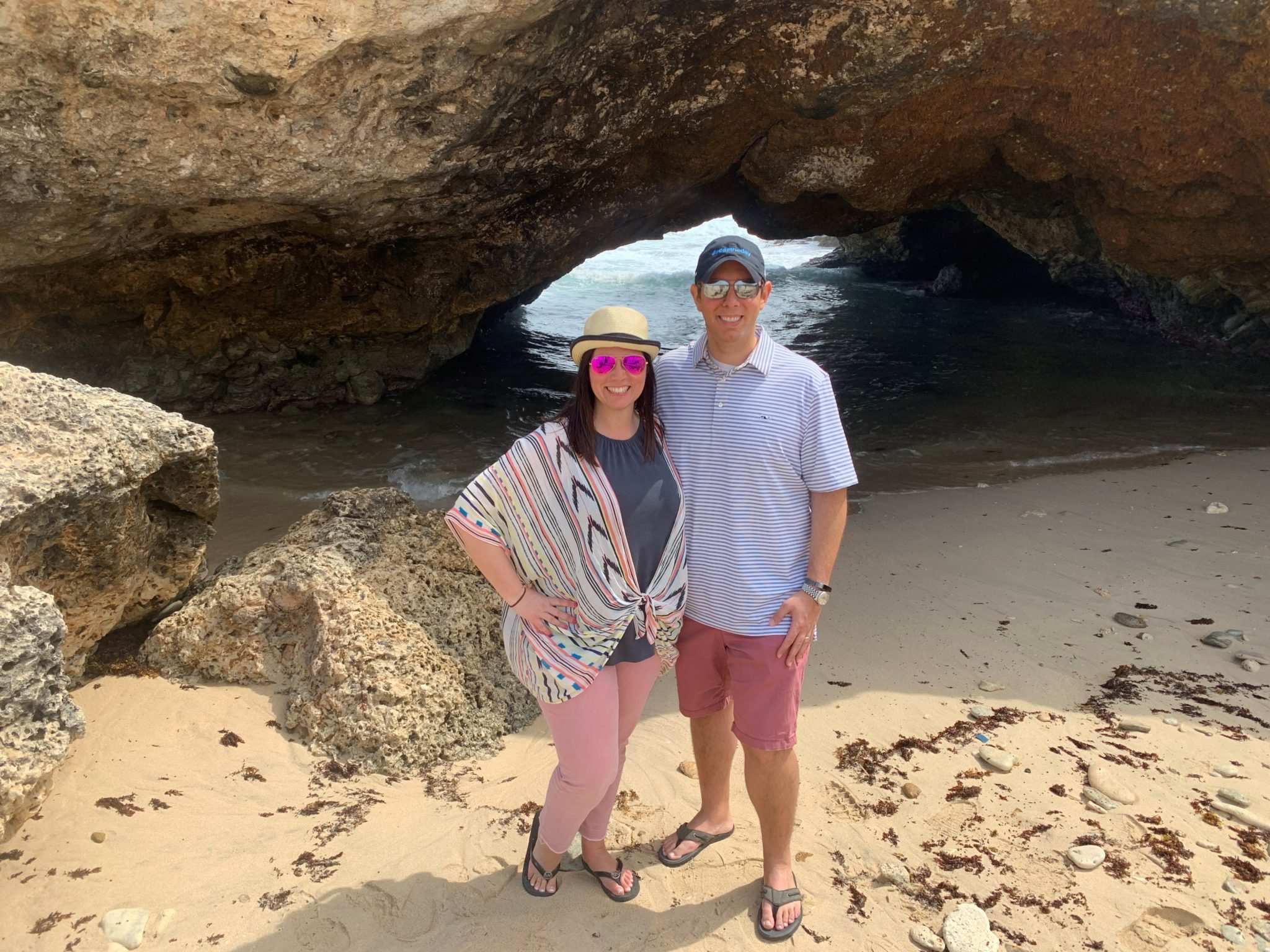 Uncle Johnny was what all tour guides should aspire to be. He was informative, jovial, passionate, and genuinely enjoyed his job. Also, he loved being our "paparazzi" and was happy to take pictures of all the guests at different stops.
We did not leave an inch of the island unexplored, visiting popular landmarks, the Arikok National Park, Baby Beach, and more. On our next trip to Aruba, we will certainly book another tour with this company.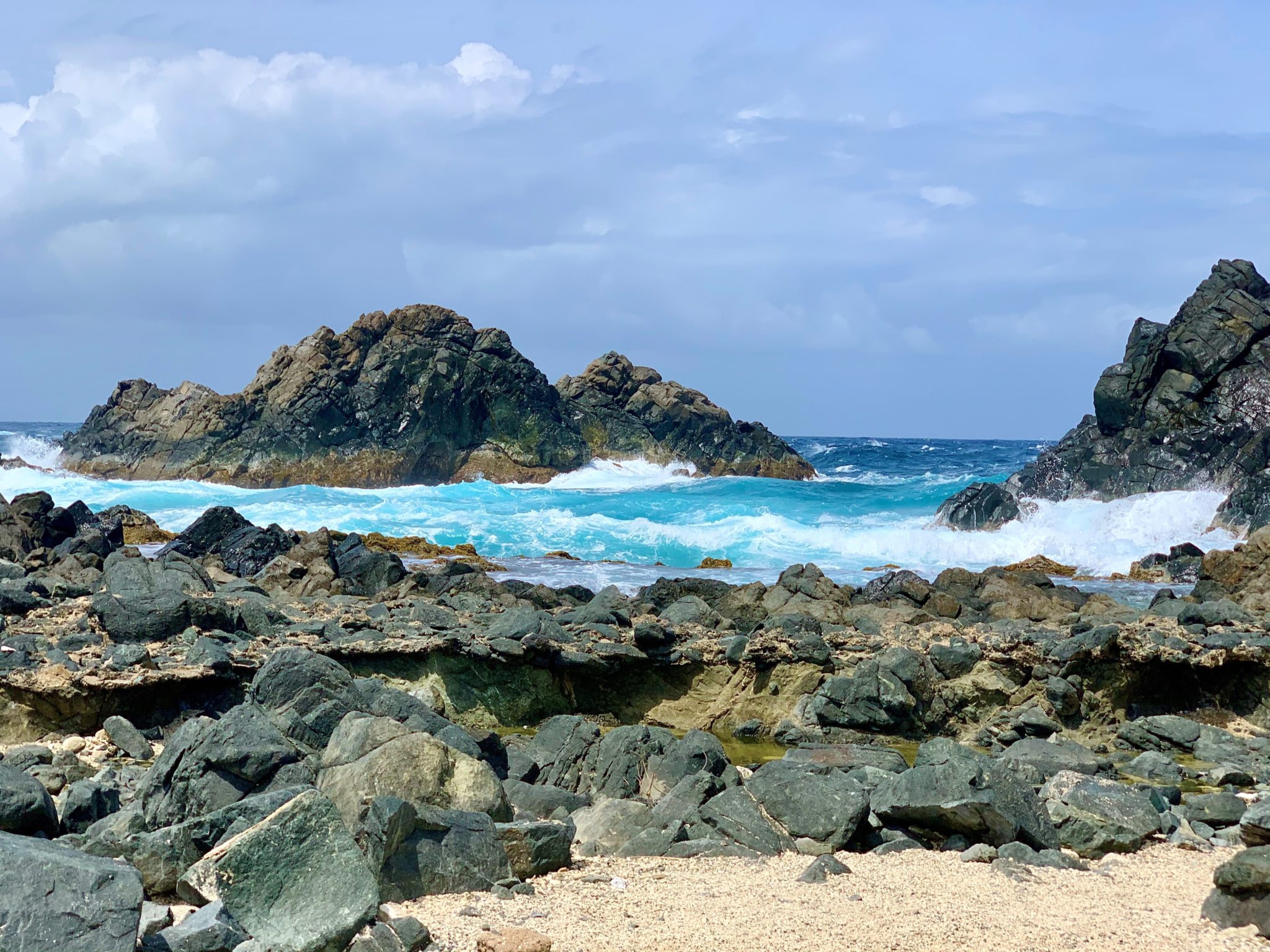 Another Go at the Main Dining Room
This full day of excitement meant we did not get back to the ship until 6:30 pm, already a half-hour past our dinner time. Not feeling the buffet, we showered up and tried to get into My Time Dining around 7:45 pm.
After trying to explain to the host that we just wanted to dine here for that night, we were reluctantly escorted to a table for two.
Dinner was fast. I mean, lightning-fast. With many cruisers enjoying the late call on the island, the main dining room was empty. In fact, our table was one of only a few that the waitstaff was taking care of in the back of the dining room on deck 3.
Through all three courses, including a tender beef short rib and a light and sweet mud pie, dinner was completed in 45 minutes. Compared to the first night, we found the food to be better. Although, the main dining room version of Chicken Parmigiana did not even come close to the version the Princess had at Giovanni's the night before. Yes, she had the same dish two nights in a row.
Cramming It All In
Done by 8:30 pm, we had plenty of time before the 9:30 pm ice show. Going all day, it was undoubtedly time for a drink.
Up one deck to Boleros, we snagged signature cocktails, including a lime daiquiri and coconut mojito. I like the drinks here, but this visit would be the only time we popped in to this venue for a beverage. Finishing up our drinks, we decided to head over to Studio B around 9 pm.
To our surprise, the doors were open, and the small line was already filtering into the venue. Shockingly enough, we were able to get unobstructed view seats in the center section. Again, we chalk this up to the late call in Aruba.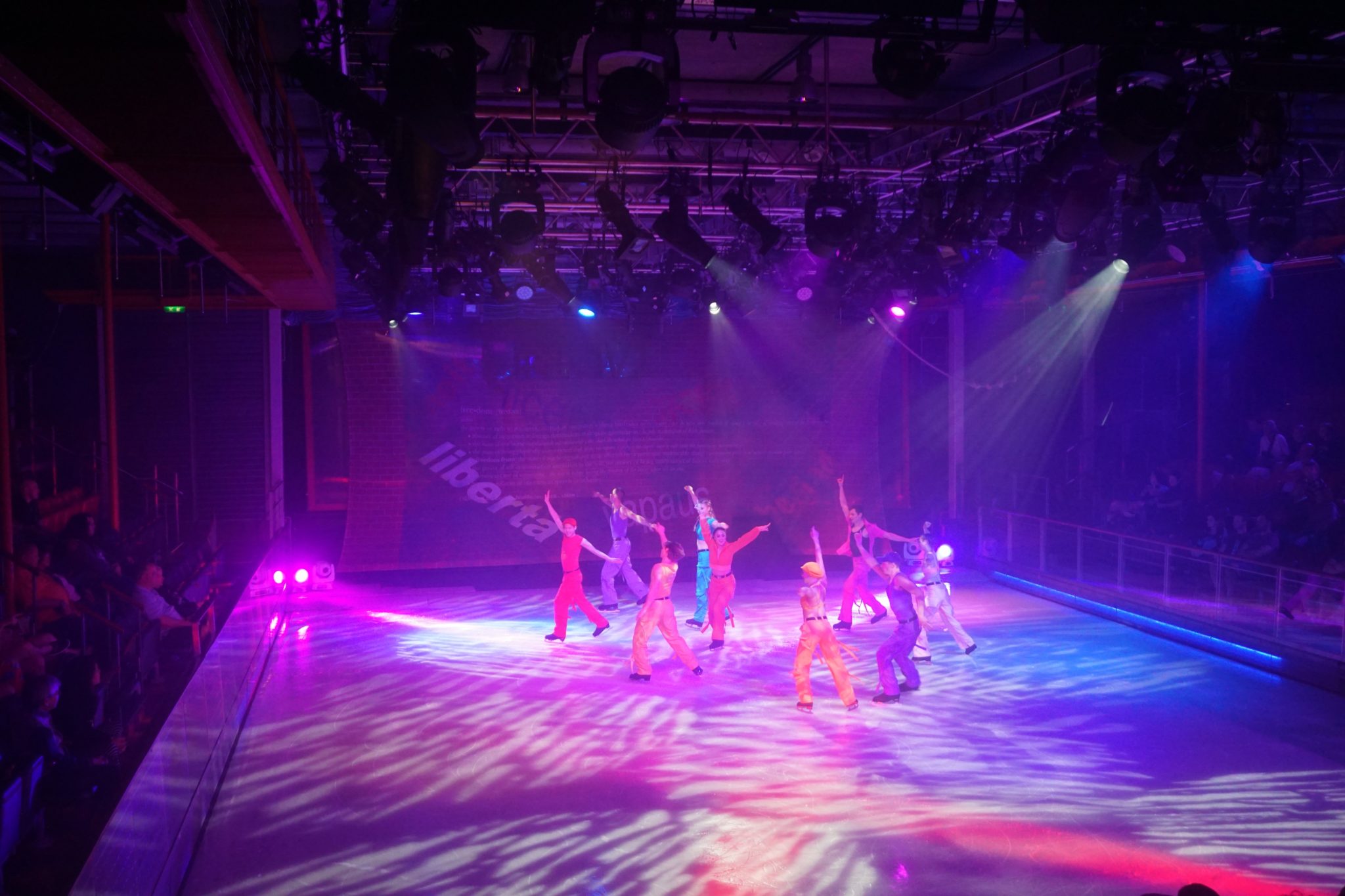 The name of the production was FreedomIce.com. The show was okay, but the choreography and storytelling paled in comparison to the ice shows on the Oasis-class ships.
The 45-minute production gave us just enough time to head to the main theater. Honestly, we didn't even remember who the headliner was; we just knew showtime was 10:30 pm.
In a relatively empty theater, we were amused by the magic of Xavier Mortimer. This French magician had an unusual style, performing several typical illusions. With not much else happening on the ship, we retreated back to our room for some sleep following the show.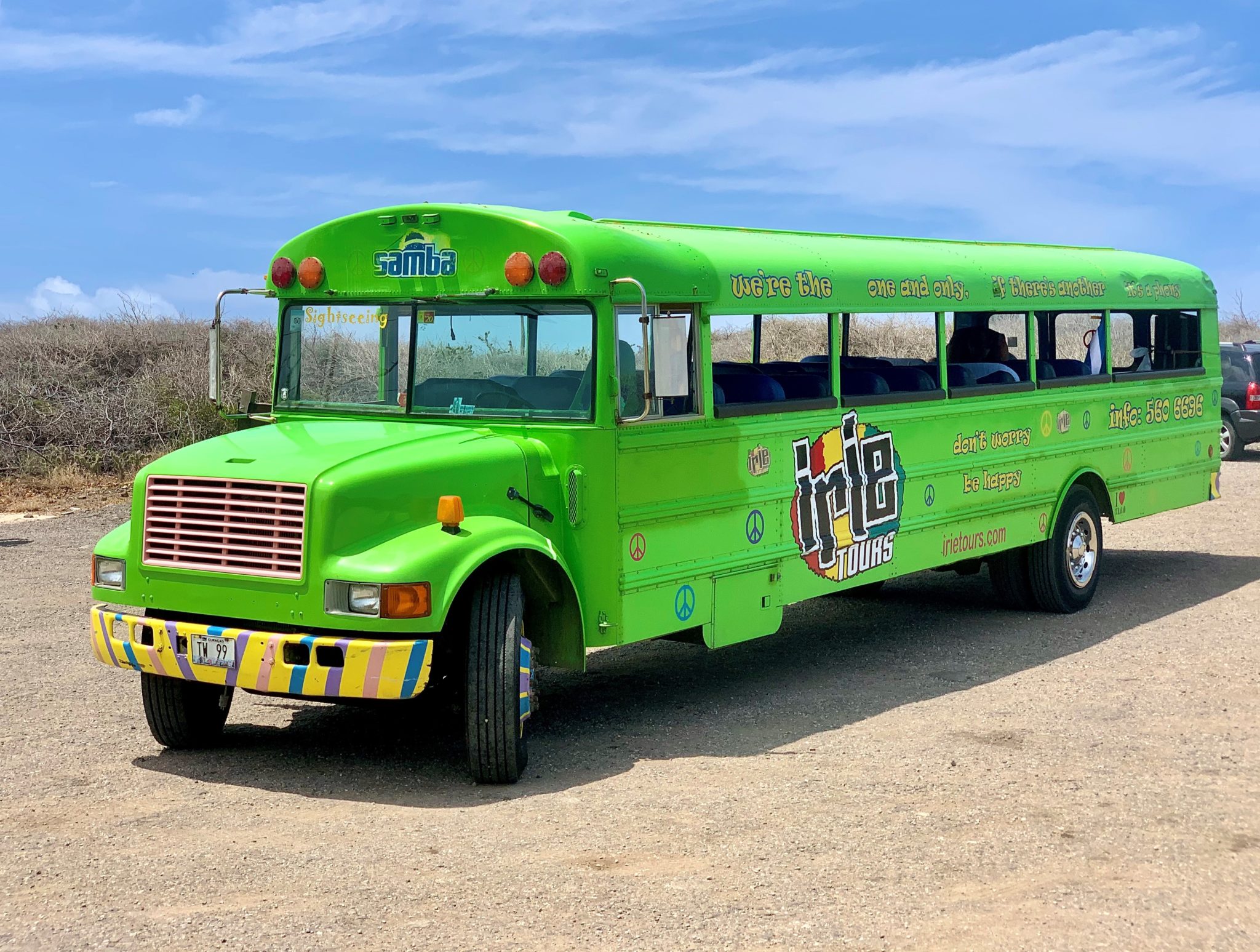 Tomorrow was our second port of call. Yes, you guessed it, we had ANOTHER full-day tour. This time, it was a beach-hopping jaunt with Irie Tours in Curacao.


Freedom of the Seas Southern Caribbean Cruise Review Day 4
We Have Plenty of Time
The instructions for meeting our tour this morning indicated we needed to head to the "white tents". With our ship expected to dock at 8 am, the tour was scheduled to depart for 8:30 am. This early departure time meant another 6 am alarm.
This morning, I had some work to catch up on while the Princess got ready. Still, I did manage to get us some iced lattes and a few breakfast pastries.
Once the Captain announced that we could head to the gangway, we grabbed our beach bags and towels and hustled down to be off the ship by 8:30 am as we were a bit late being cleared this morning. Following the signs along the pier, we found our meeting spot and our tour provider.
As I expected, the tour provider indicated they were going to delay the tour departure time as our ship was late. In fact, we were some of the first people from our ship to check-in with her. Perfect, this gave us time to snag video and photos of the ship. It was a beautiful day, and the ship looked gorgeous sitting in the Curacao sun.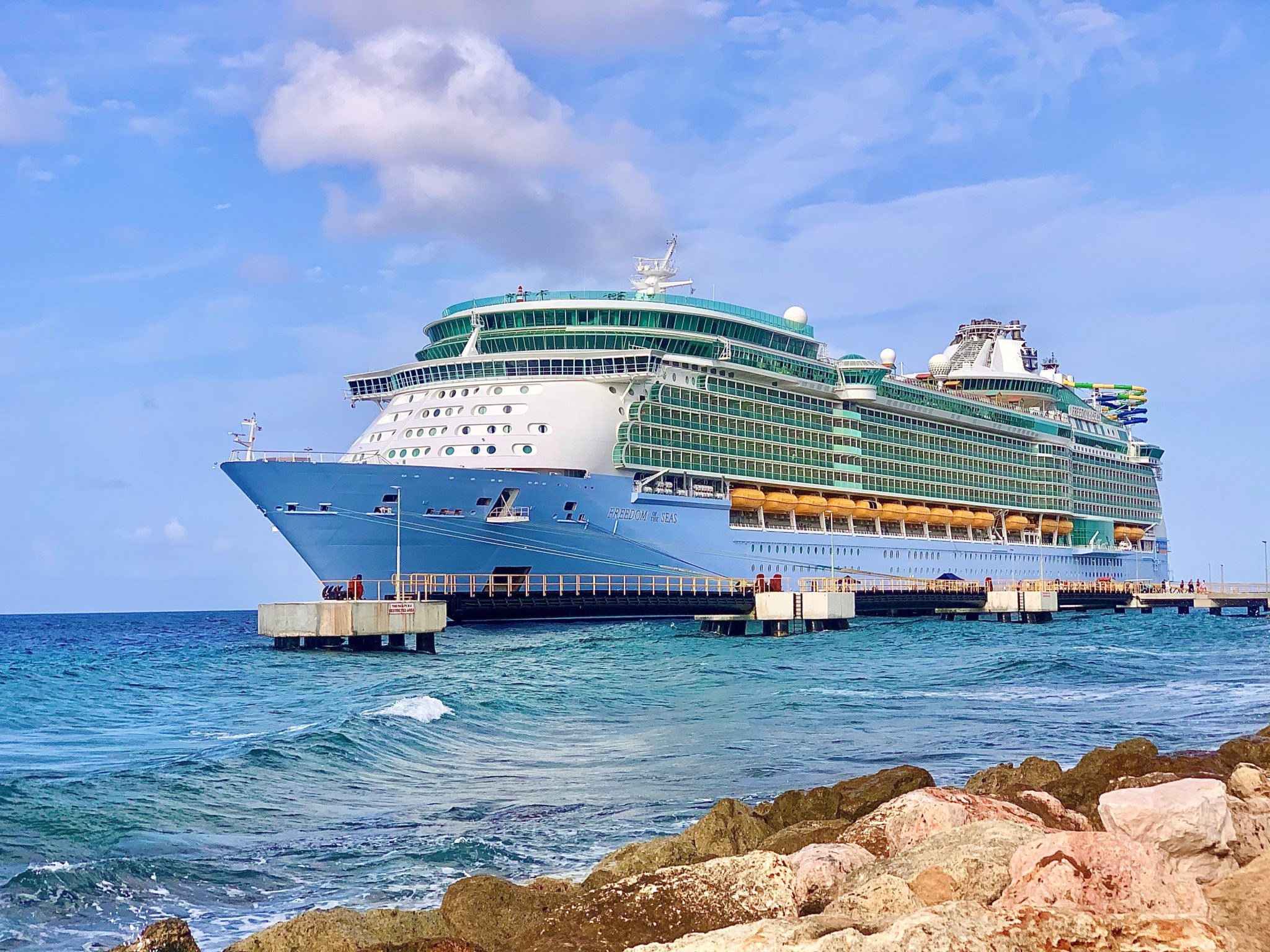 Beach Hopping With Miguel
When it was time to depart, we were escorted to a bright green and yellow bus which would be our transportation for the day. Guided by Miguel, our west end beach hopping tour stopped at many of the island's better known locales.
First, we visited the local's preferred beach, Knip Beach, for about an hour. This was followed by a short stop at "Turtle Beach", or Playa Piskado, for those who wanted to swim with the turtles.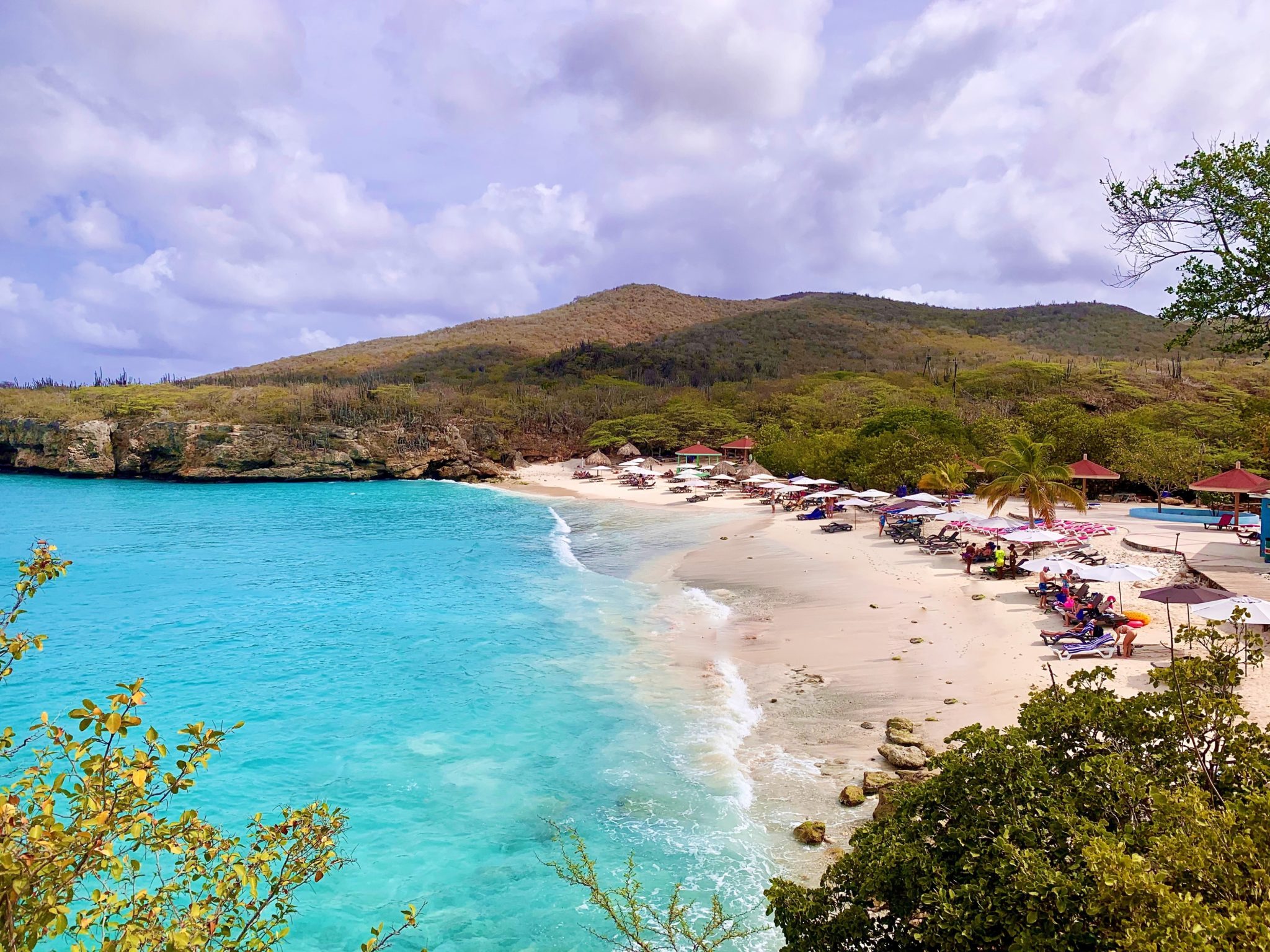 Then, we headed to the Shete Boka National Park for some fantastic views of the waves crashing along the rugged coast. Finally, our tour ended at Playa Porto Marie for a 2-hour beach break with a full-service restaurant and bar, as well as some wild pigs.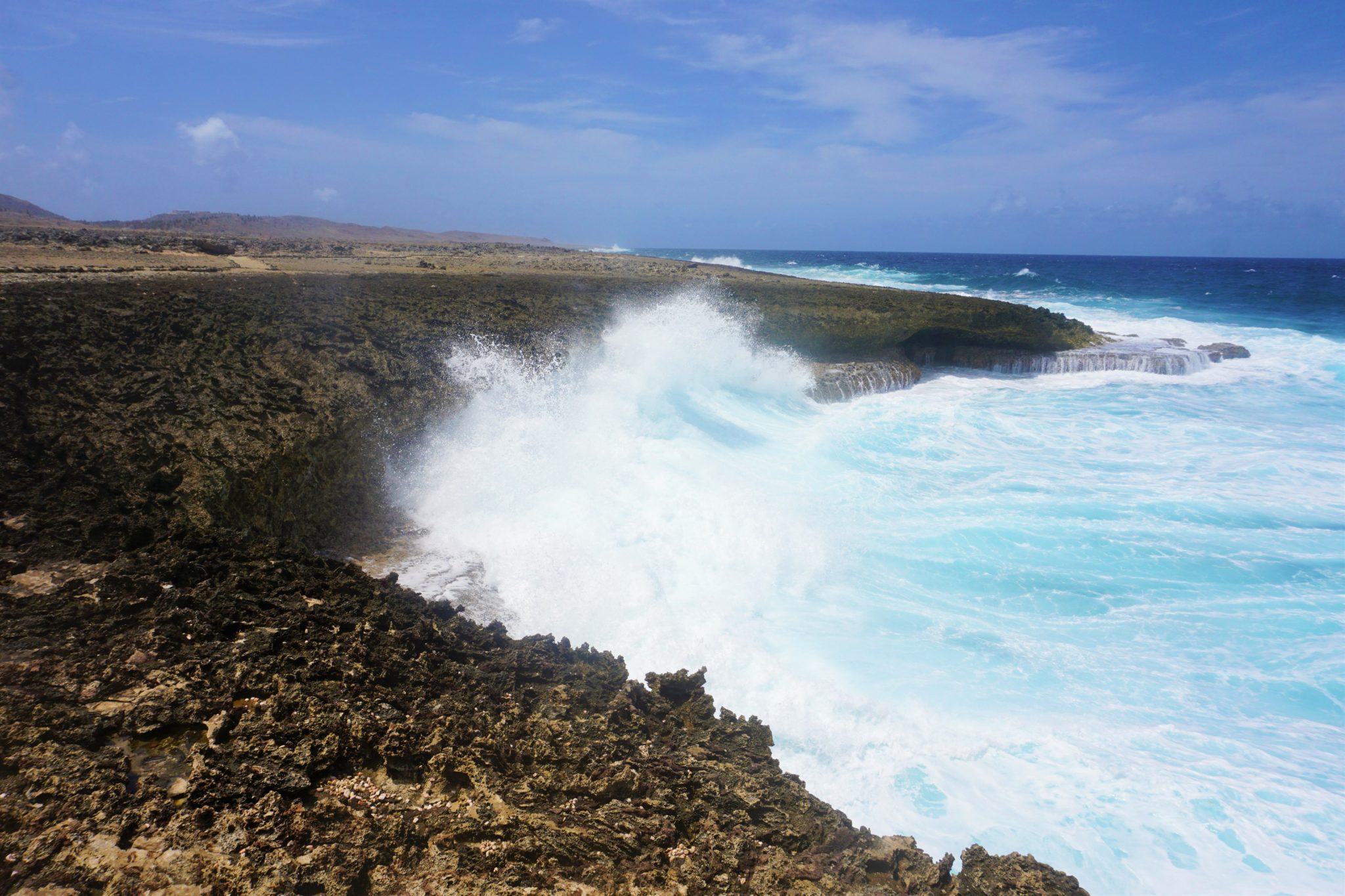 Overall, Irie Tours provided a great day in Curacao. The ideal weather made this the perfect day for beach hopping even though we are not huge beach people.
Related Post: Top Things to Do in Curacao on a Cruise
Back Onboard at a Reasonable Time
Our colorful bus had us back to the ship slightly after 5 pm. Not really in the mood to browse the few vendors located near the ship, we headed back to our room to change up for dinner.
This time, we were able to get to the main dining room by 6:30 pm, albeit still late. Given we had not returned to our table for the past two nights, our waiter seemed a bit surprised to see us again. Still, Rafael provided the same level of attention and detail to us as he had on our previous visit.
Nothing jumped out at me from the menu tonight, so I opted for the classics New York strip. The Princess tried the lasagna. Even the Royal cheesecake, one of my favorites, did not live up to previous versions of the dish.
Dinner was well-timed, so we were out by 7:45 pm. There was no main theater show this evening. Instead, it was a late-night edition of the Love and Marriage show. For us, this is always a highlight of the cruise.
With plenty of time, we found a cozy spot at the R Bar for a few rounds of drinks. We started with a couple signature drinks from the small menu. But, with several trays of chocolate martinis passing by, it wasn't long until our friendly bar server convinced us to get a round for ourselves.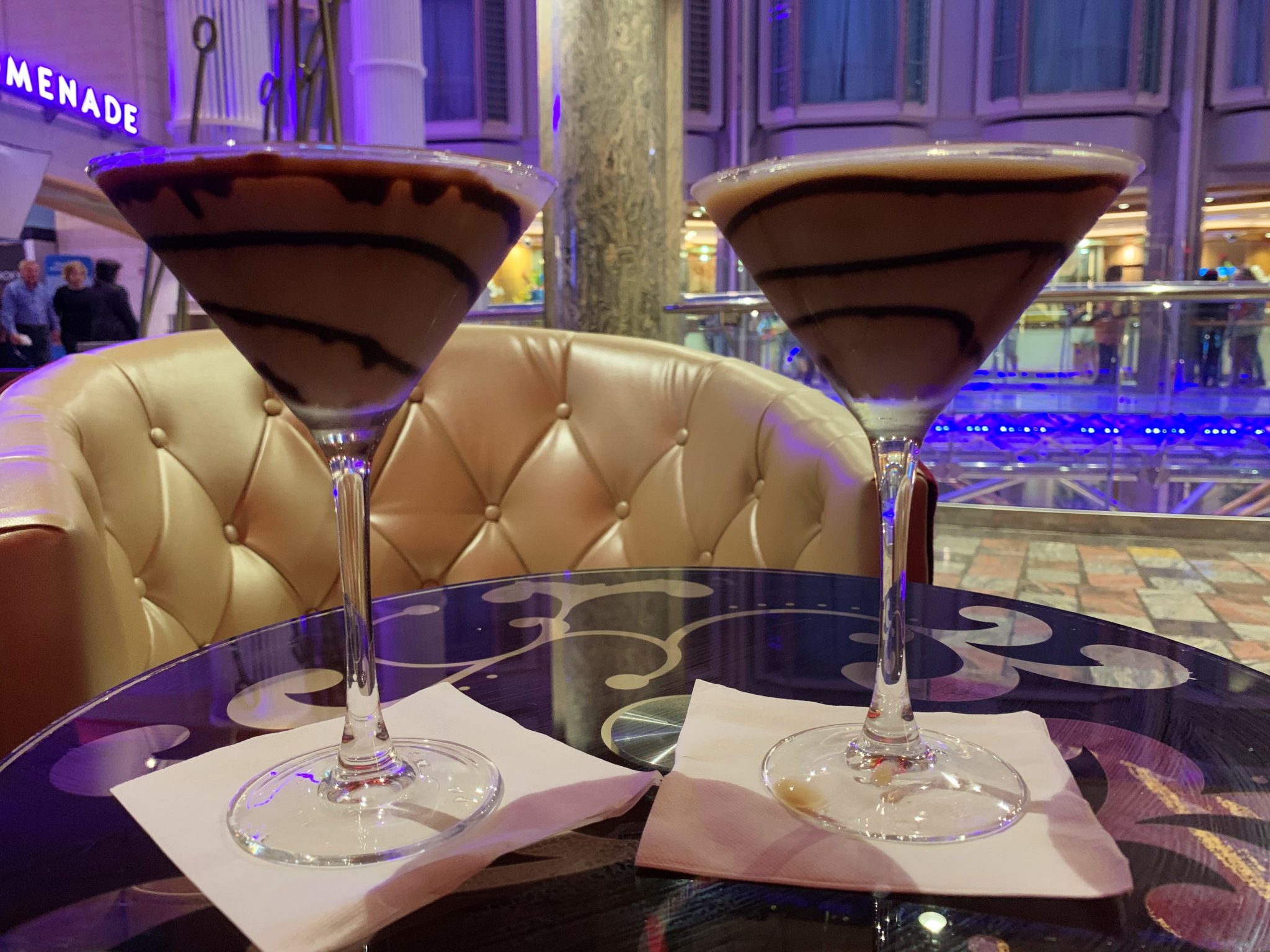 Finishing our drinks by 9:30 pm, we found seats in our typical area for the end of bingo. Like many of the shows on this trip, this game show started a few minutes late. As predicted, our cruise director Elvis went through the typical questions, but he was a rather tame host. Still, the show provided its usual laughs.
Done by 11 pm, it was time for the 70's Disco Inferno Party on the promenade. We were actually able to get front row seats at Vintages for this Royal Caribbean cruiser favorite. We have easily watched this show dozens of times. Yet, the Princess insisted we sit through it. At least this time, we had seats and glasses of wine! Another drink around the ship venue checked off our list.
This version of the 70's party again fell a bit short, but it still contained all of the predictable acts. The ship's macho men made an appearance, the cruise director's staff needed a "hero" from the audience, and there was plenty of Saturday Night Fever moves.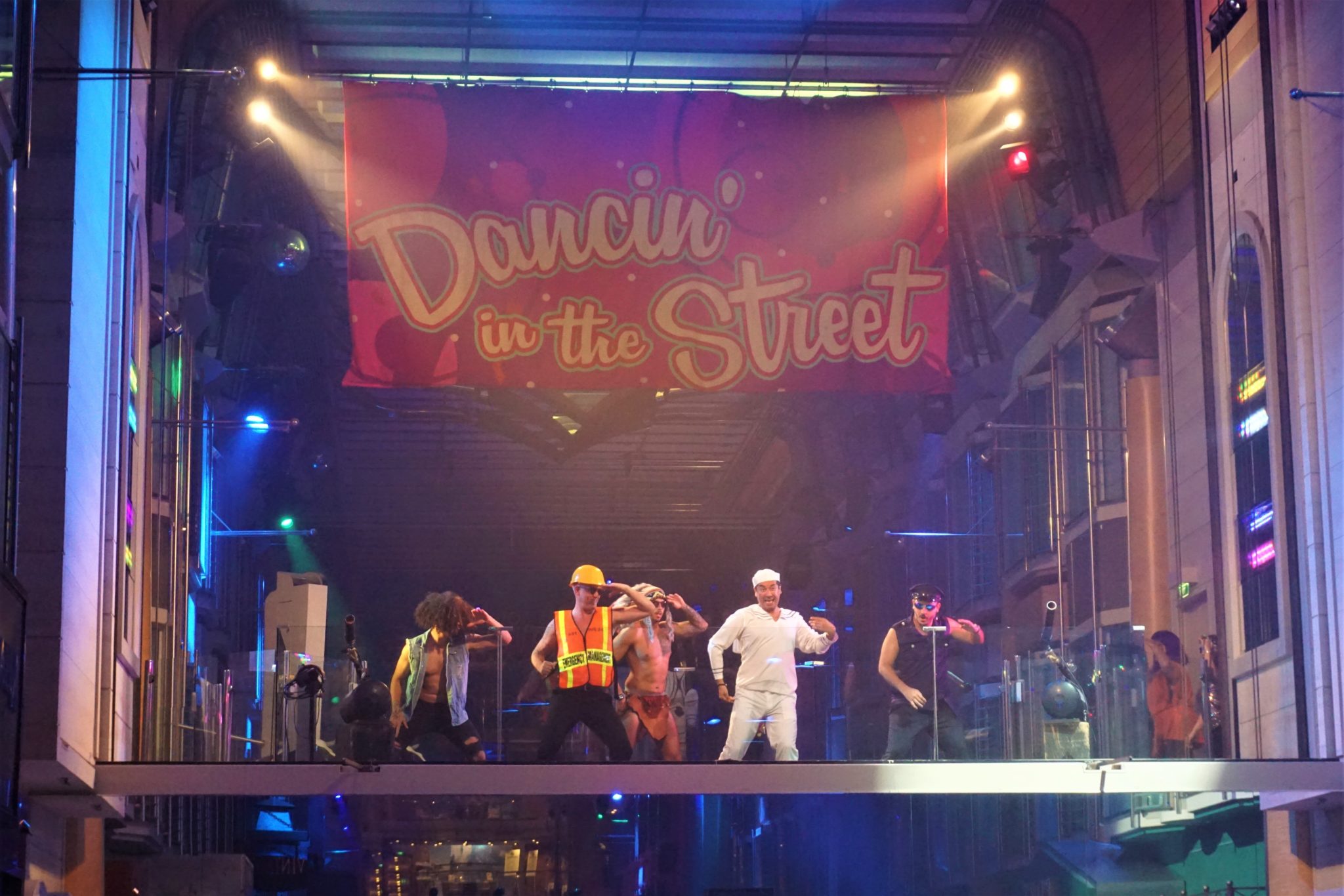 When the party ended at midnight, we headed straight to bed. Tomorrow was another early port day in Bonaire. This time around though, we had a shorter tour planned. Still, we had to be off the ship as soon as we docked.
Freedom of the Seas Southern Caribbean Cruise Review Day 5
A Half Day Tour
Another morning port of call, another 6 am alarm. With some beautiful weather, I was able to get to the outside decks this morning for some videos and photos. Still, I had to be back with towels and coffees by 7:30 am.
For our stop in Bonaire, we booked a popular snorkeling tour with Woodwind Bonaire. This 3-hour tour had a meeting spot that was about a 5-minute walk from the ship. Once we were cleared, we grabbed our gear and found the meeting spot utilizing the easy to follow directions provided in our confirmation email.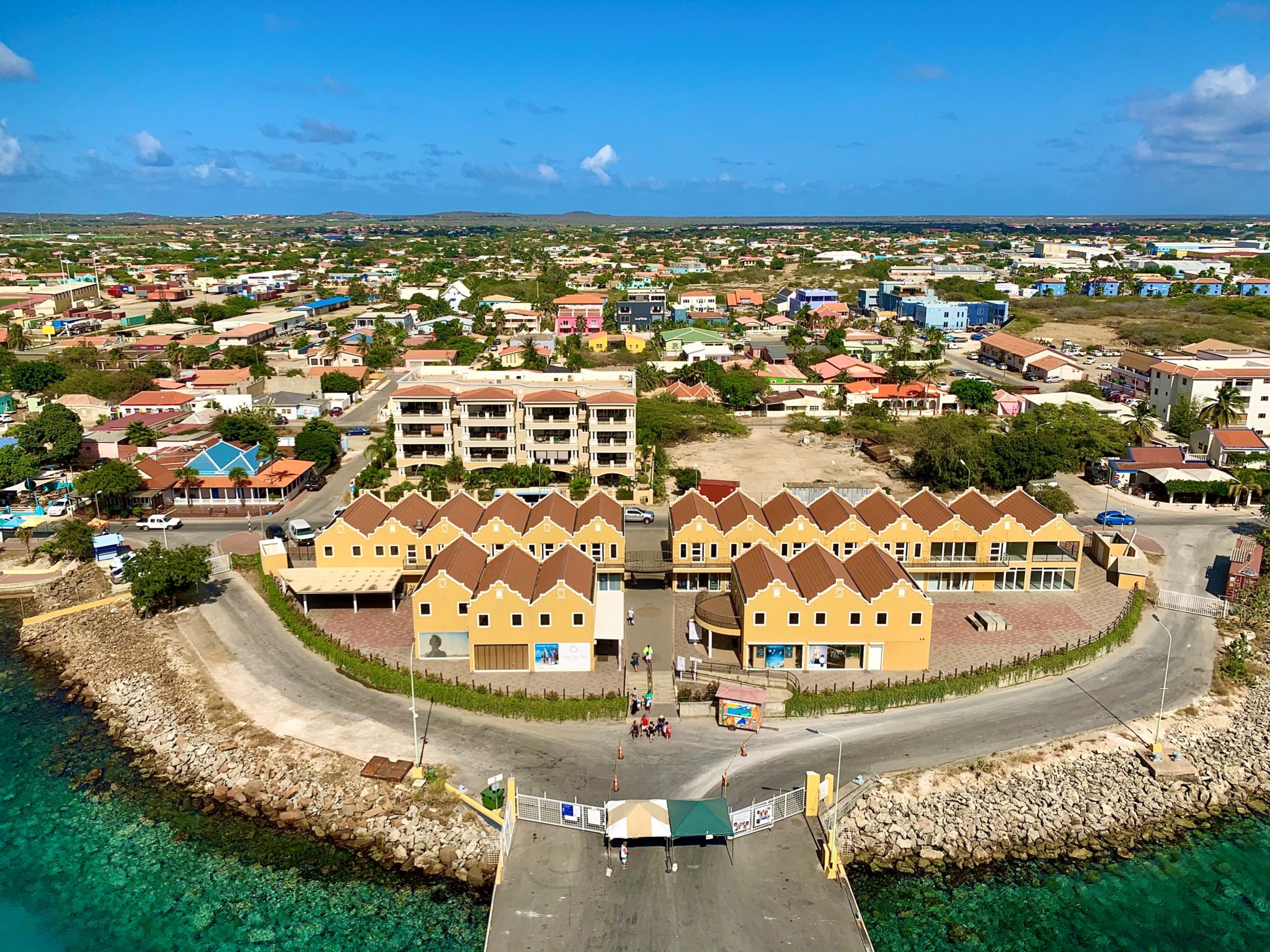 Waiting for a few other individuals to arrive at the meeting point, we were all escorted to a nearby catamaran for a relaxing morning exploring the reefs off the coast of Klein Bonaire. The Princess doesn't snorkel, so I was able to enjoy the 75 minutes of calm waters, while she was back onboard the vessel on social media learning about the craziness that was starting to unfold in the cruising world.
The tour included onboard drinks and food, as well as gear. The trip was better organized and equipped than past snorkeling excursions that I have completed through the cruise line. There were fins, snorkeling masks, and even rashguards for those who didn't want to get burned by the sun.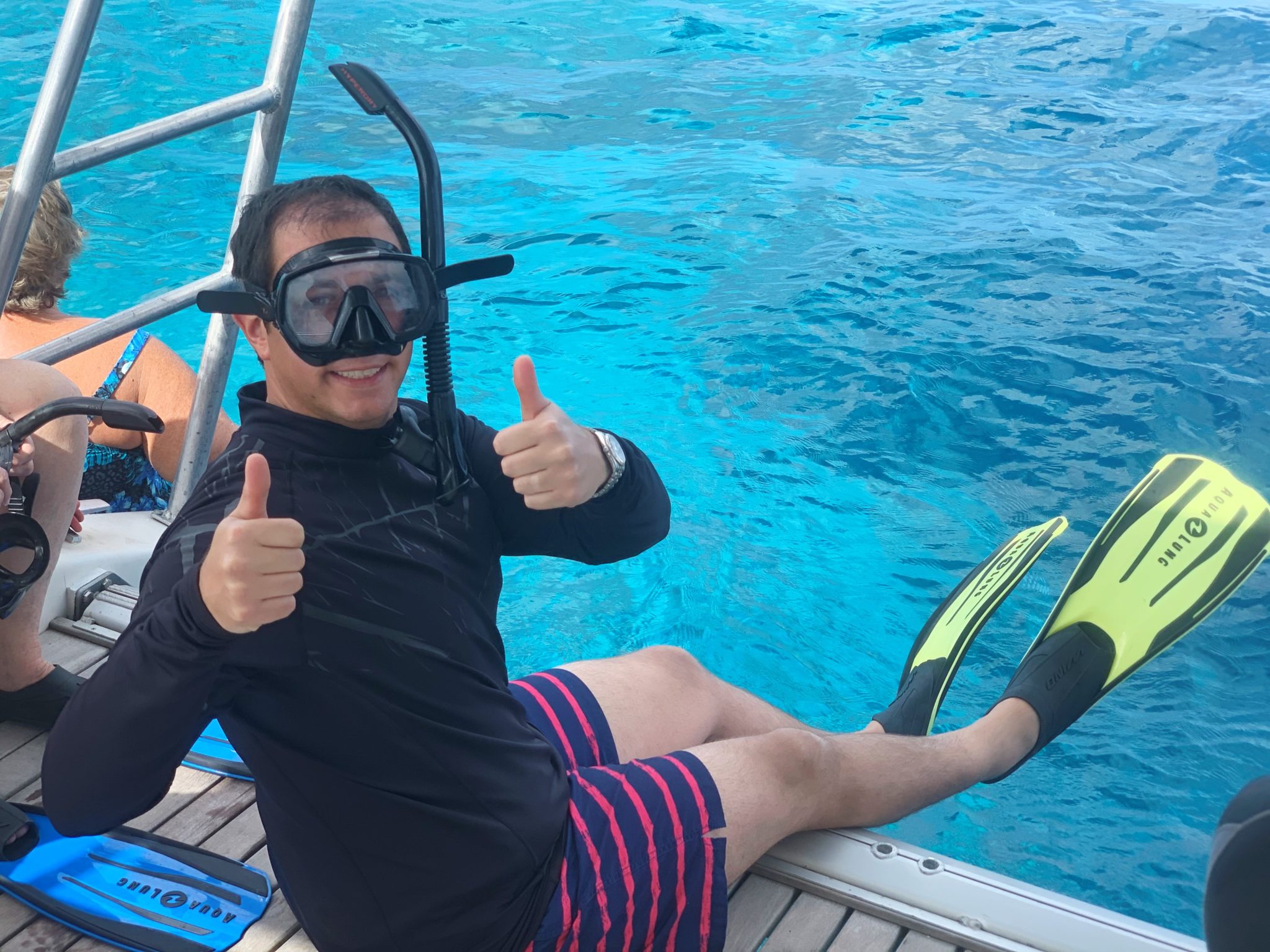 Again, I would highly recommend this tour if you like to snorkel. For those who want more time in the water, there is a 4-hour version of the excursion.
Enjoying a Relatively Empty Ship
We were back on land by 11:45 am. After a quick pass through the nearby straw market, we returned to Freedom of the Seas by 12:30 pm. With a quiet pool deck, we grabbed a quick snack at El Loco Fresh and enjoyed the sun along with a few drinks while others were still exploring the island.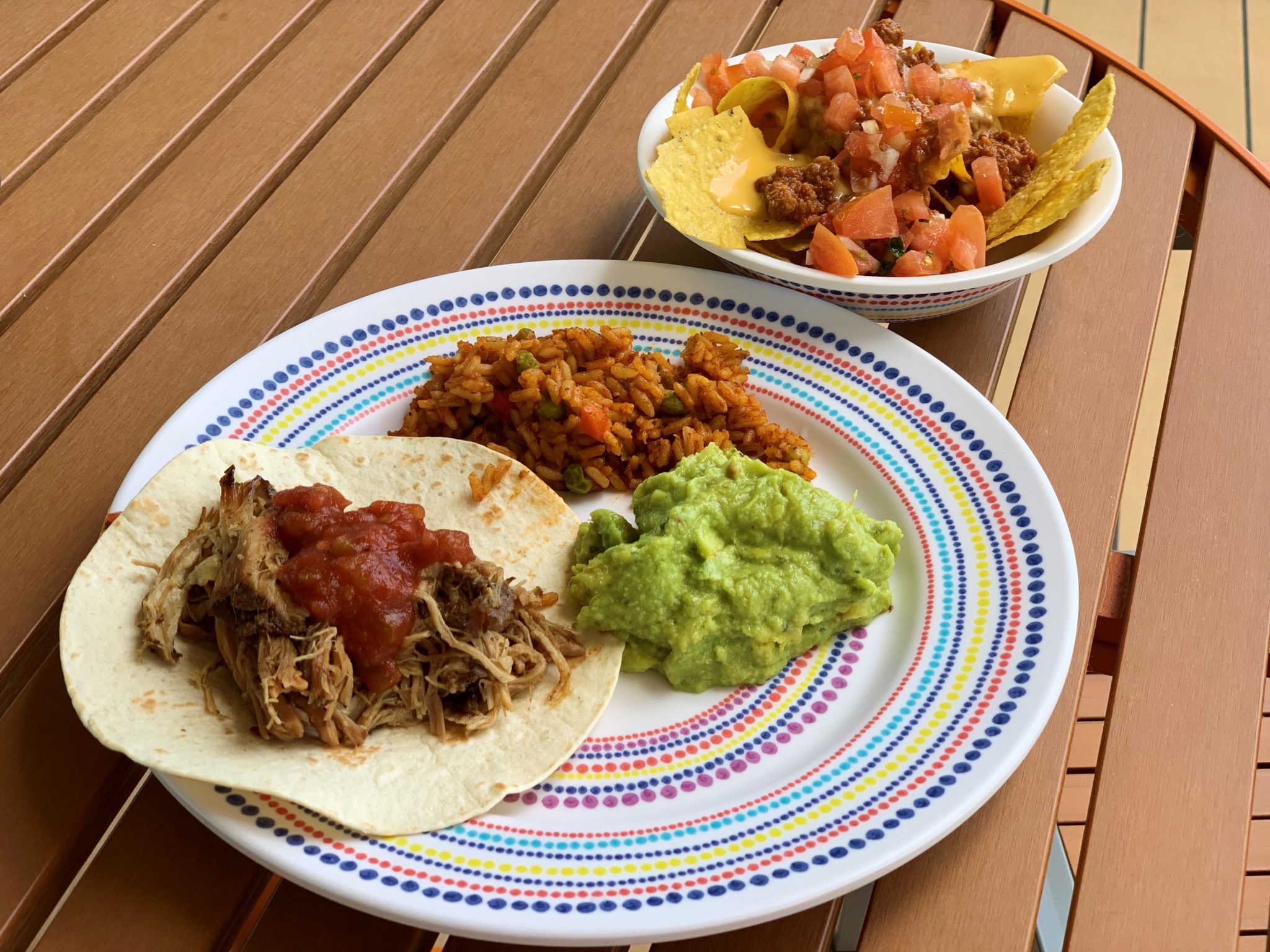 Needing a break from the sun, and some caffeine, we headed indoors around 3:30 pm. Back in the room, we took our time getting ready for dinner. By now, the social media updates and news about cruise line cancellations and conditions back home had us distracted. Hey, at least we had toilet paper on the ship!
Along with all of the perks for booking this cruise, we received a free specialty dinner from our travel agent. On embarkation day, we stopped in at Chop's Grille and made a reservation for this evening at 6:15 pm. We had subsequently tried to swap this reservation for another visit to Giovanni's, but it was booked for the evening.
A Musical Evening
Ready early, a rarity for us, we were at Chop's Grille this evening a little after 6 pm. Tonight's dinner was one of our better Chop's experiences.
My starters, including the crab cake and shrimp cocktail, were fresh and flavorful. My rib-eye was tender and a perfectly seared medium temperature. Of course, the Princess opted for the wedge salad and the only chicken dish on the menu.
Dinner took a bit longer than our main dining room meals, lasting close to two hours. So, by the time we arrived at the Schooner Bar for 90's Name That Tune music trivia, there was not a seat in the house. The Princess was all set to win this competition. While she had an admirable run, she was by no means the champion. It doesn't help when you don't know the official title of songs. Just being able to sing them does not give you points.
Following trivia, we descended into the main theater for tonight's headliner. It was the musical act Mo5aic. This must have been our third or fourth time watching this talented quintet; the only knock was that the song selection was exactly the same. It would be nice if they changed up some of the tunes in their set.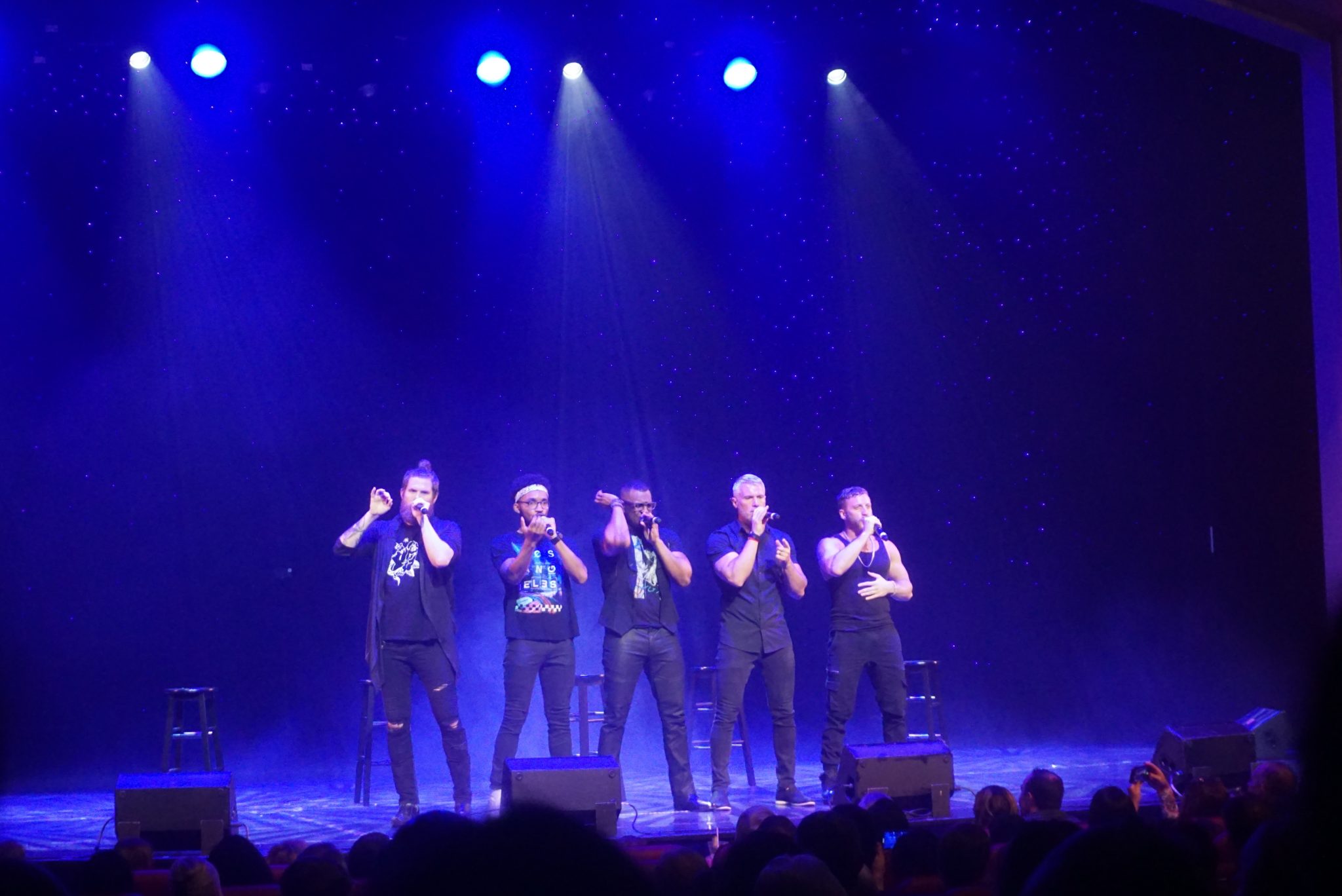 With the Crazy Quest scheduled for 10:30 pm in Studio B, we grabbed two seats and drinks at the Schooner Bar for a few minutes between shows. It was already day 5, and we had not heard the ship's piano player yet. Tonight would be no different, as a solo guitarist was performing here instead.
After twenty minutes or so, we finished our cocktails and arrived for the adult game show. This is a pure spectator sport for us, as we do not participate. As usual, the game show provided plenty of laughs.
Immediately following the Crazy Quest was the Red Party. We debated getting another drink and sticking around for a bit, but with tomorrow a sea day, and plenty of time for cocktails, we decided to call it a night.
Related Post: Best Things to Do in Bonaire on a Cruise
Freedom of the Seas Southern Caribbean Cruise Review Day 6
Squeezing in a Few Last Items
On our second sea day, I was able to sleep in a little bit until 7 am. As you would expect, we had several items on our to-do list today. First on the agenda was laser tag. The Clash for Crystal City is a new theme for Royal Caribbean, so we wanted to test it out. Knowing you need closed-toe shoes, both of us were prepared for this activity.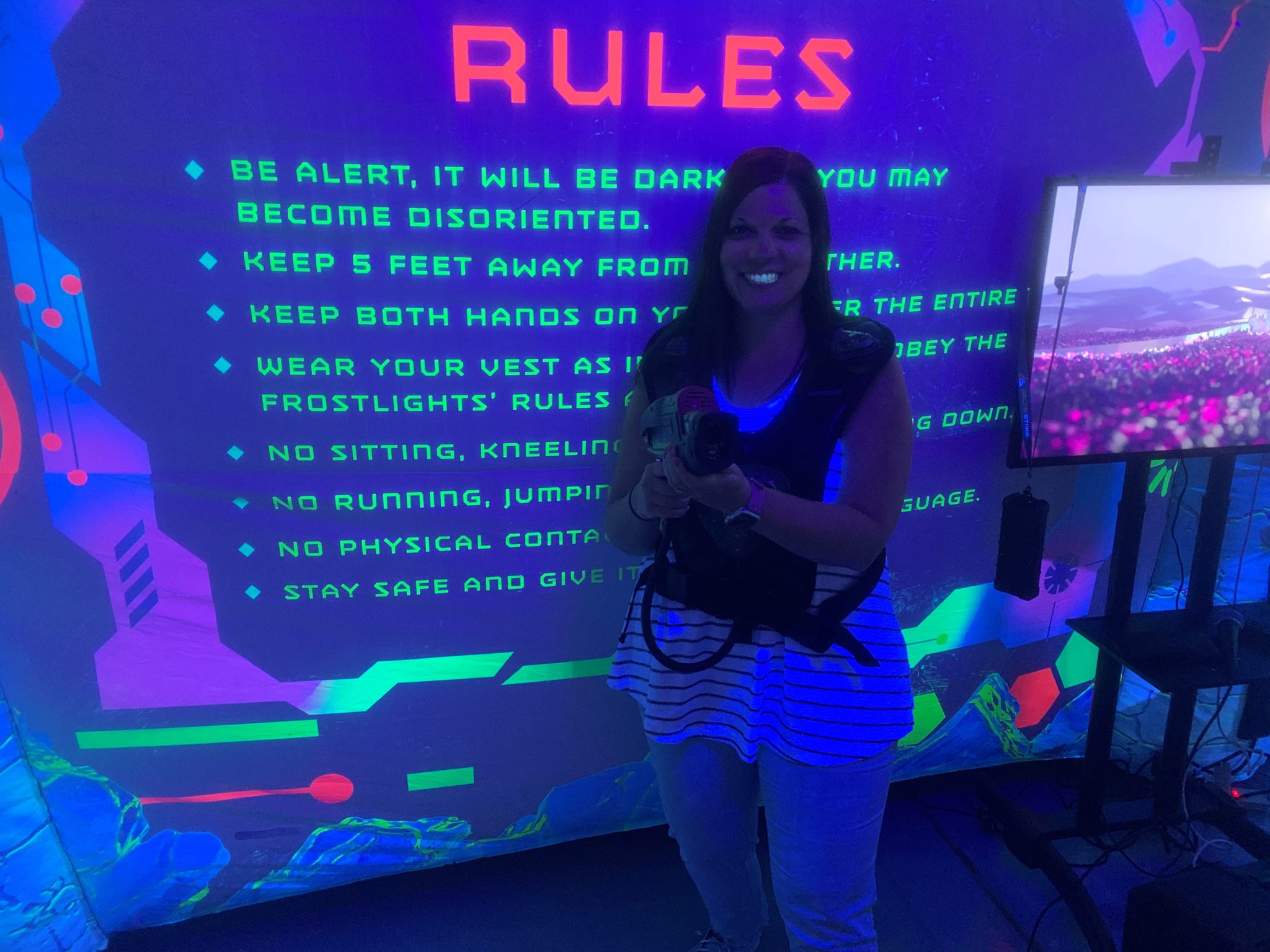 We arrived at Studio B shortly after the opening time to find no line. That was surprising. So, we were escorted into the arena and waited less than 5 minutes before the orientation and getting geared up. It was a fun game, and we liked this theme a bit more than the Battle for Planet Z on other ships. Of course, our team won!
Finishing up by 9:45 am, there were virtually no loungers available on decks 11 or 12. While the ship was not at full capacity, we definitely had trouble finding lounge chairs throughout the cruise. So, we snagged a couch on the port side of deck 11 in the shade, again. Grabbing my laptop, I did some work in the beautiful weather for the next couple of hours.
By now, it was official that all major cruise lines had cancelled cruising for 30 days. We would be on one of the last RCI cruises for the foreseeable future, and the only cruise on the newly amplified Freedom of the Seas.
Over the course of a week since we left home, the conditions seemed to keep getting worse and worse. While most passengers, us included, were carrying about a normal vacation routine still, we did start wondering what all this would mean for us on the ship. Up until this point, aside from some increased sanitation and an emphasis on hand washing, there was no mention of the situation by the Captain or any of the staff.
It Is Already the Afternoon?
Around 12:30 pm, I made a food run down to Café Promenade and Sorrento's. It was the first time all cruise that the Princess had this pizza.
Our lunch was abruptly interrupted by the sexiest man contest on the pool deck sometime past 1 pm. This poolside activity is always good for a few laughs. Once the show was over, we decided to play a round of mini-golf on the new Freedom Dunes on deck 13 forward. This course is an exact replica of the mini-golf on the amplified Navigator of the Seas.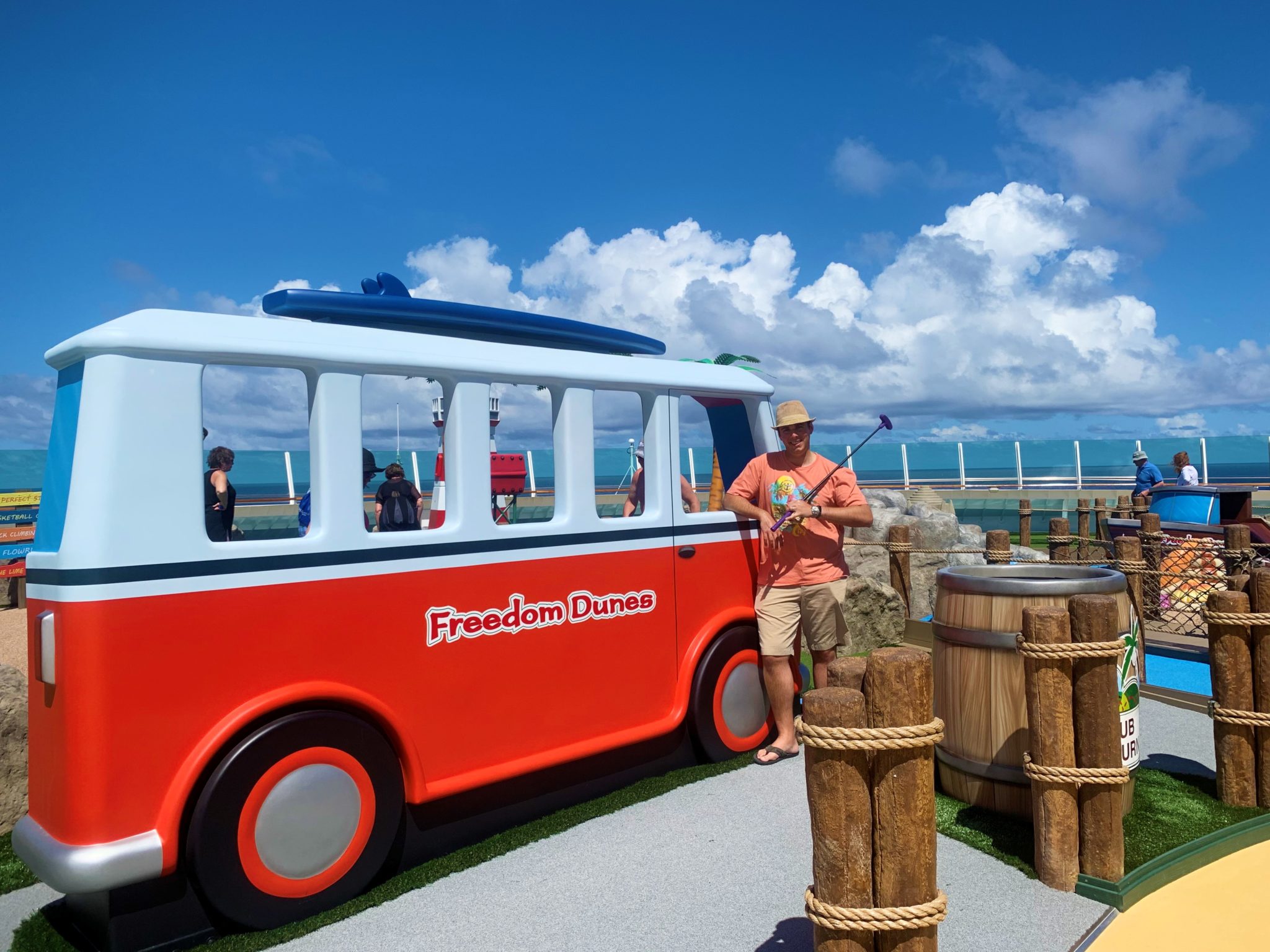 Finishing our game by 3 pm, we headed back inside. With a quick stop for some lattes, we were back to the room just before 4 pm. As tonight was the second formal night, the Princess was adamant about taking some photos, as she couldn't pass up our free Diamond perk.
From One Location to the Next
Taking our time, we were showered and ready for dinner by 5:45 pm. This allowed us to do three different photo stations.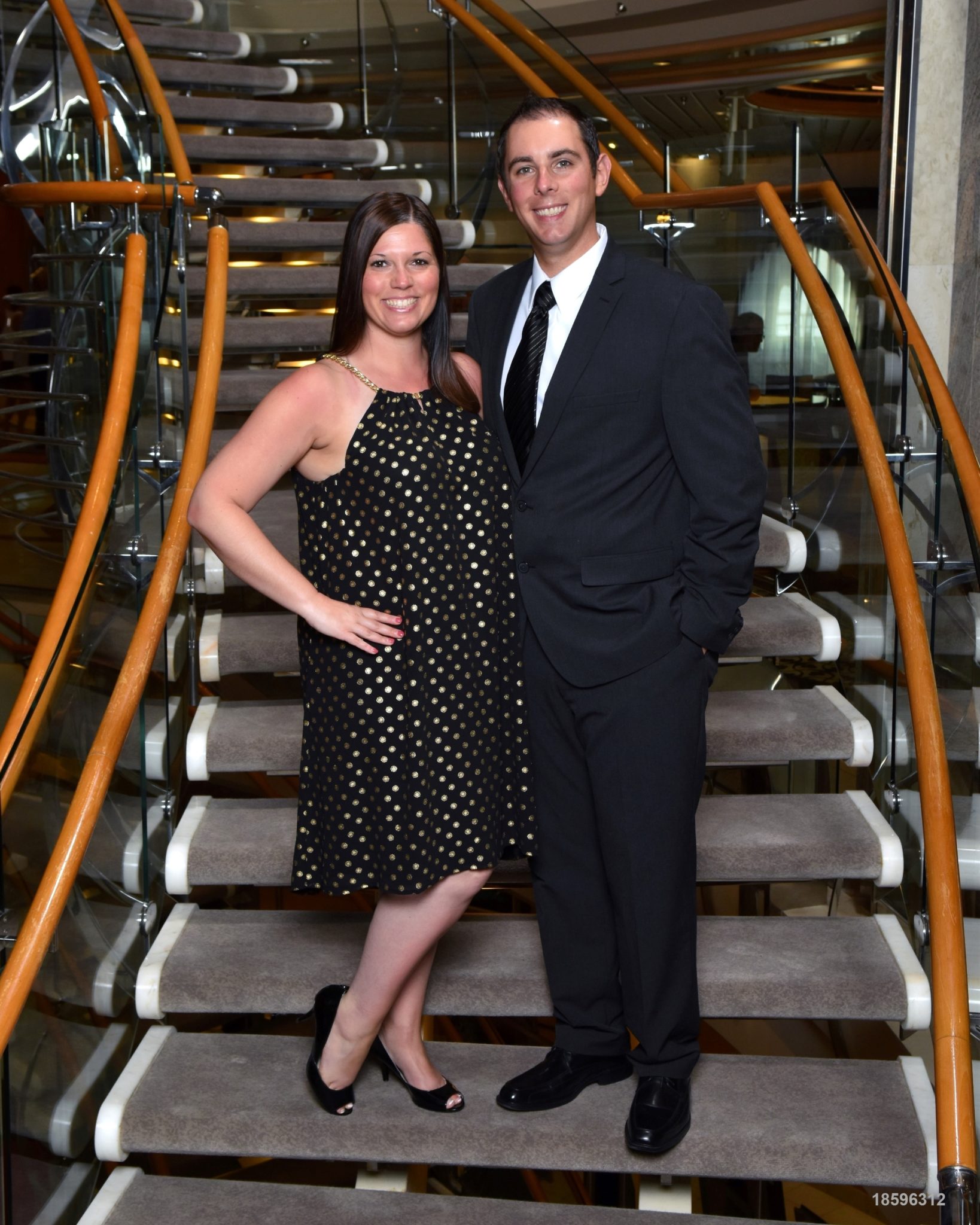 Tonight was lobster night! At least the ship had not changed this on me. My two lobster tails were well prepared, lightly seasoned, and were indeed more flavorful than the bony lobster tail I last had on Symphony of the Seas.
Our slightly extended dinner ended at 8 pm, giving us ample time to get to the theater for tonight's show, Once Upon a Time. This Royal Caribbean classic is one we have enjoyed on several cruises. This cast did a good job with this modern take on classic fairy tales.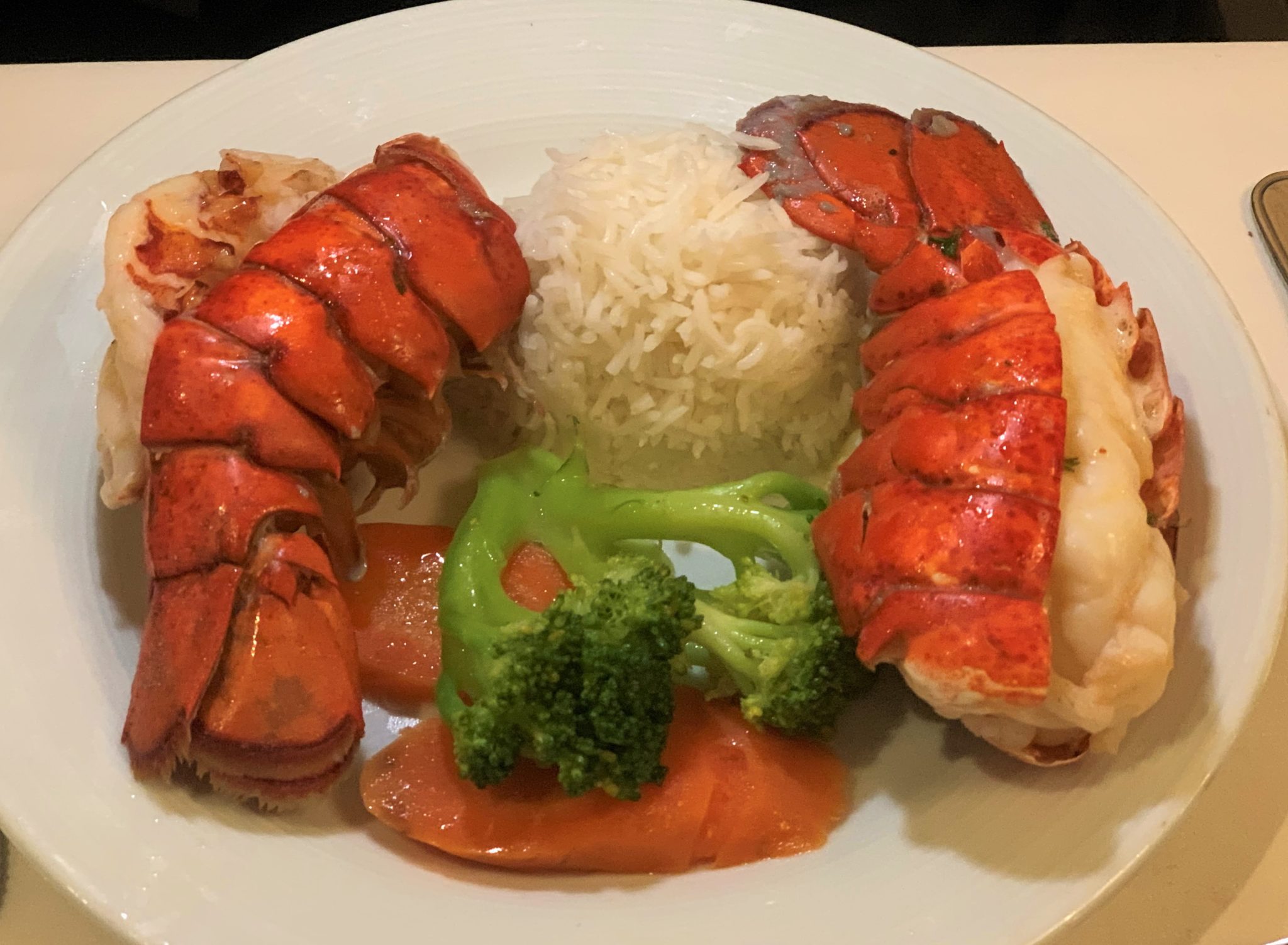 For the rest of the evening, it was a random assortment of entertainment. Following the main theater production, we caught the end of the Family Feud style show in the Star Lounge. Looking to check another bar off our drink around the ship list, we then headed to Olive and Twist on deck 14. Here, we waited for adult karaoke to start and caught a few songs before finishing our drinks and heading back down to the promenade around 10:45 pm for the 80's party.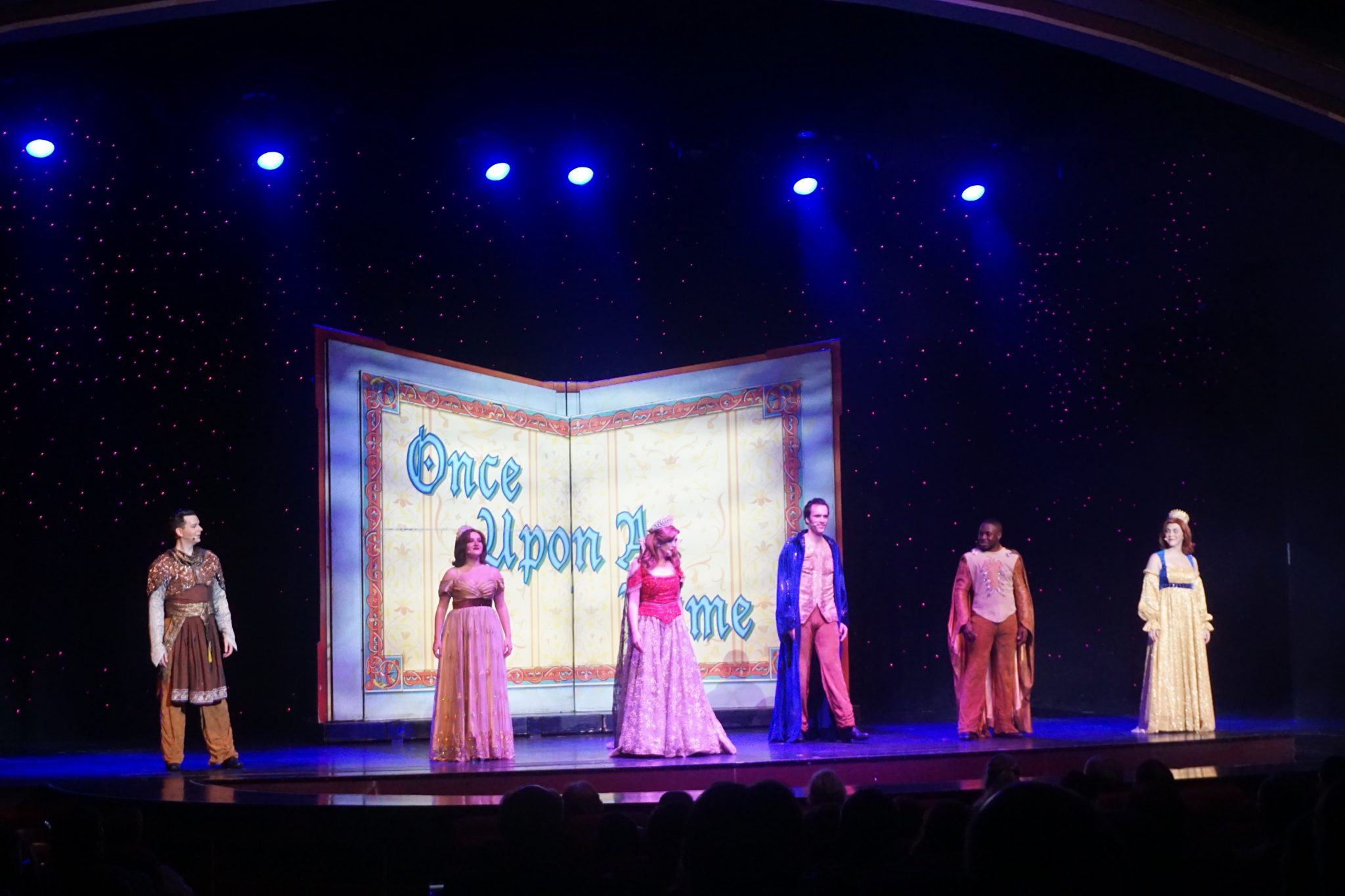 Starting late, the 80's party ran until close to midnight. For the last day, we had a late morning excursion, so we decided to stay up for the midnight comedy show. Good thing as the comedian, Al Romas, was hysterical. It helped that some crass cruisers were giving him great material. Done by 12:30 am, it was back to our room to get some sleep before our last day of the cruise.
Well, at least we thought!
Freedom of the Seas Southern Caribbean Cruise Review Day 7
Another Beautiful Morning
With our shore excursion set to meet at 10:30 am, we slept in a bit this morning. While we are not big fans of having a port of call on the last day, we did book a tour to St. John for today.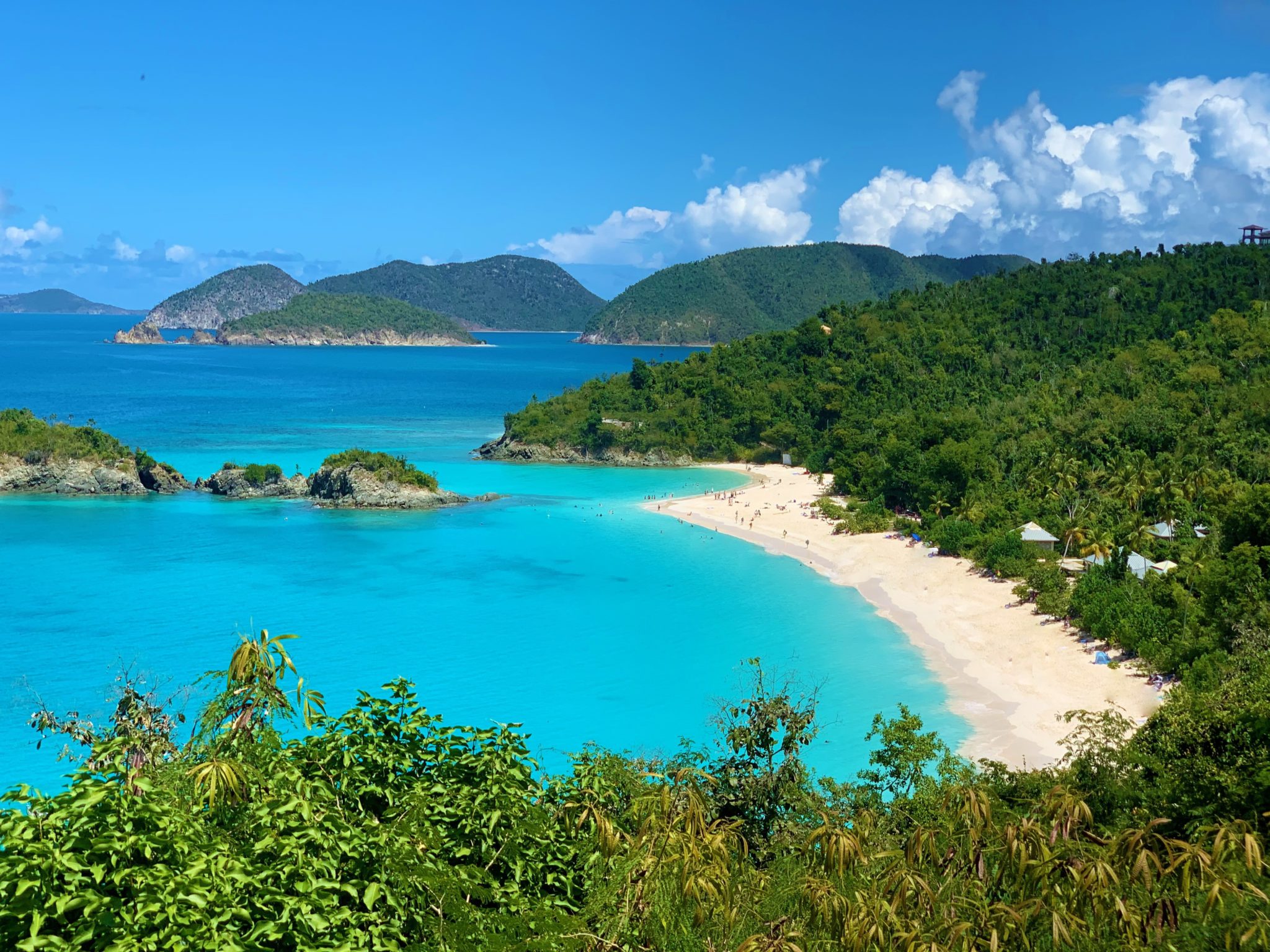 Completing our morning routine, we were ready ahead of schedule. So, we disembarked the ship around 10 am. We had not visited St. Thomas in a few years now, so we grabbed a few selfies and photos of the immediate cruise port area. It wasn't long before we could see our tour being escorted to the ferry. Thus, we began our beach day to St. John by boarding the Island Girl.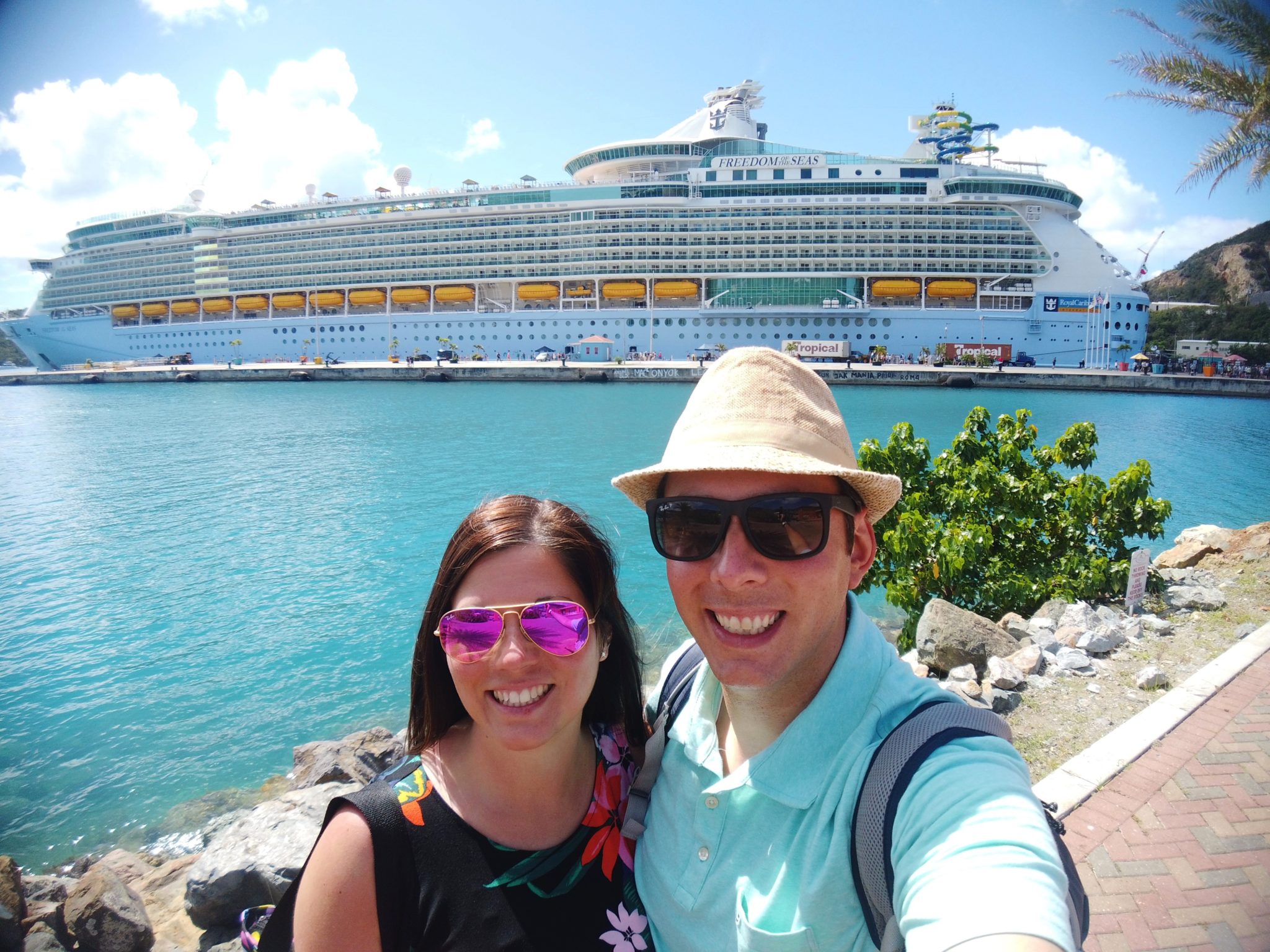 Overall, the tour was well run, with the crew of Island Girl providing plenty of commentary (and humor) as well as drinks along the way. The beach at Trunk Bay was terrific, even if there was no shade to be found. However, it was about a 1.5 hour ferry ride round trip, leaving us only 1.5 hours at the beach. We really would have liked more time to spend here.
Another Typical Afternoon Back Onboard
Returning to the ship by 3:30 pm, we snagged a few bites at Sorrento's and Café Promenade, including some much needed caffeine.
Back to our room, we checked social media and changed up for dinner. We stopped by the Photo Gallery to review our photos and make our purchases. As luck would have it, we easily agreed on pictures; although, we hit some technical difficulties trying to purchase digital versions of these images, which made us late for dinner.
Arriving by 6:15 pm, dinner was just average again tonight. My coconut shrimp and lamb shank were pretty typical. One of the Princess' favorite dishes, the turkey dinner, did not meet her standards either. The profiteroles were a sweet ending to the somewhat inconsistent MDR meals. We are not sure what it was about this trip, but the MDR food quality was really not what we expect from Royal Caribbean.
Saying good-bye to our waitstaff and thanking them for their service, it was on to the last few items to complete this evening. On the top of that list was to finish packing then the final show in the theater.
The Farewell Show featured a strength act, a short set by Al Romas, and the singers and dancers performing a few numbers. In traditional style, many of the senior officers also paraded in at the end to wish us all a safe trip home.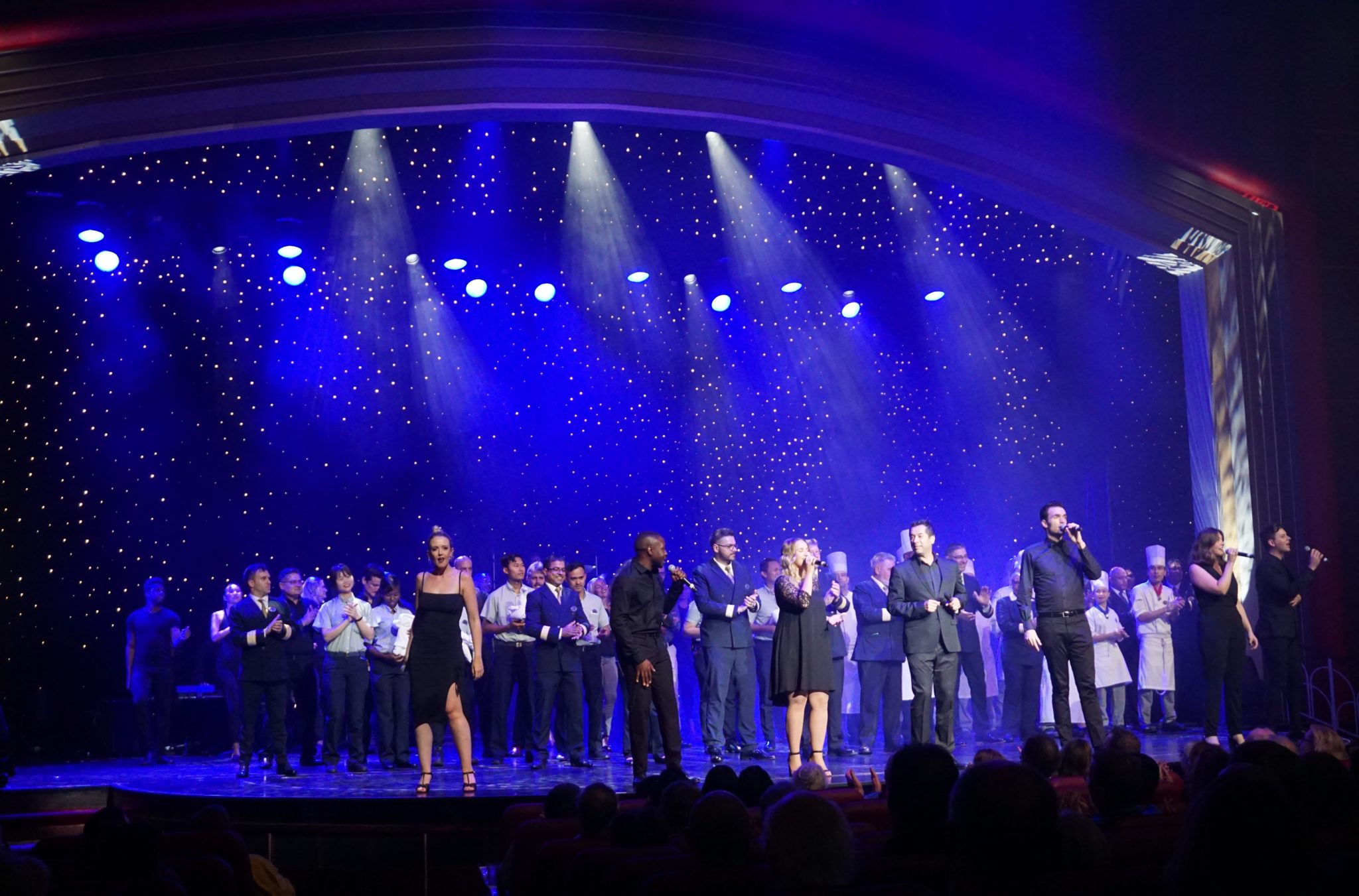 Done by 10 pm, we grabbed our last round of drinks at the Schooner Bar, with some guitar music as our backdrop. With the coronavirus making huge headlines and all cruises now officially cancelled for at least a month, we spent some time anticipating our crazy day of travel ahead. In hindsight, I guess we did not know how crazy it was going to be just yet!
Back to our room by 11:15 pm, we made our final preparations for disembarkation day and were prepared to get off the ship as soon as possible. With an early flight out, we had to be among the first self-assist cruisers off the vessel in the morning.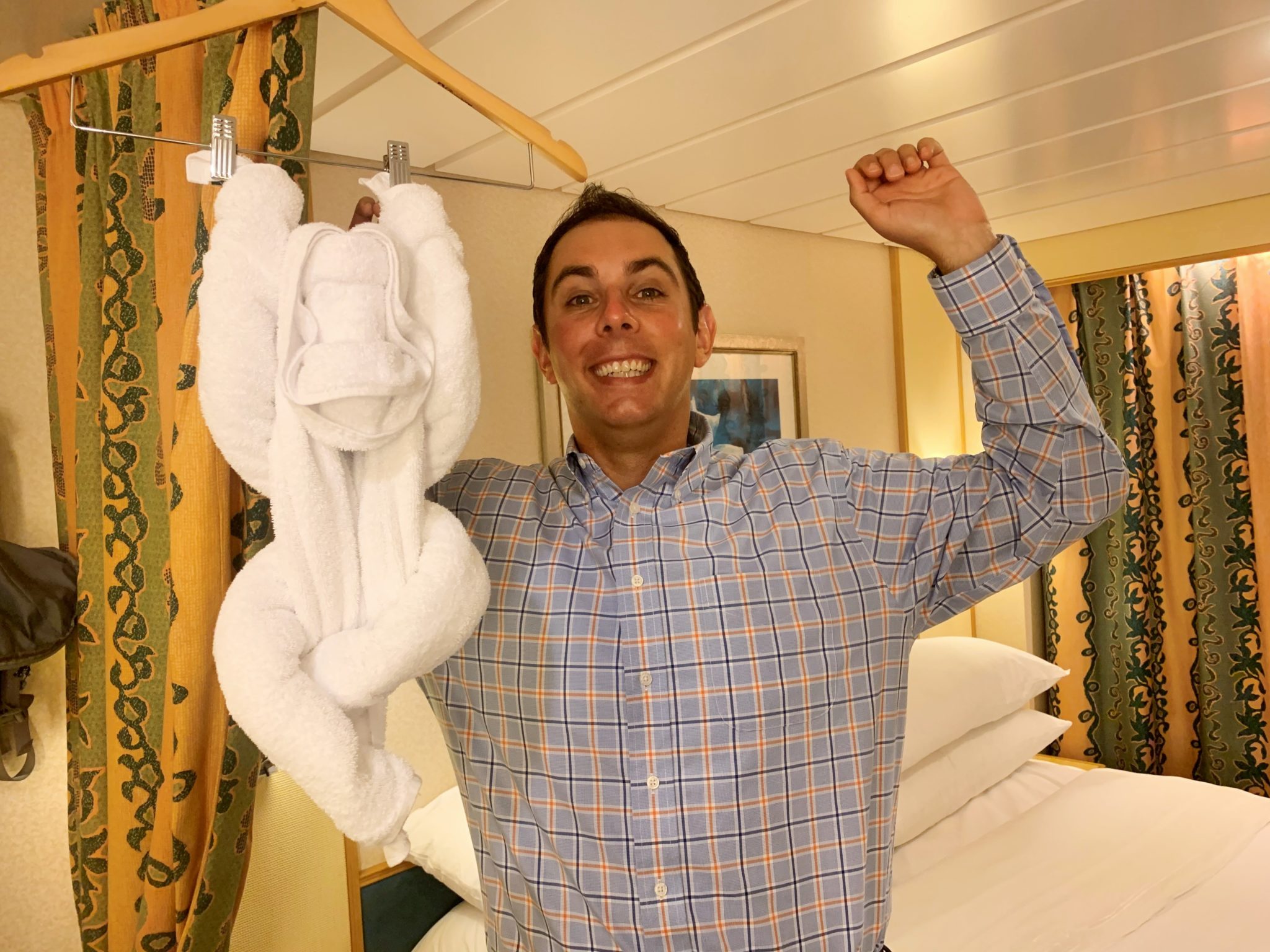 Epilogue
Upon waking up at 6 am, we noticed the ship was still moving pretty quickly and that there was no land in sight. Our first thought was that we were going to be late docking. Great, catching our tight flight home was now going to be even more difficult!
As it got closer to 7 am, our set disembarkation time, we were still steaming forward. It was at that time that the Captain came on the PA to share the news. The officials in San Juan, PR were not going to allow the ship to dock without an extended medical protocol that could last four days or more. So, the team made the decision to sail on to Miami, Florida where we would arrive on Tuesday.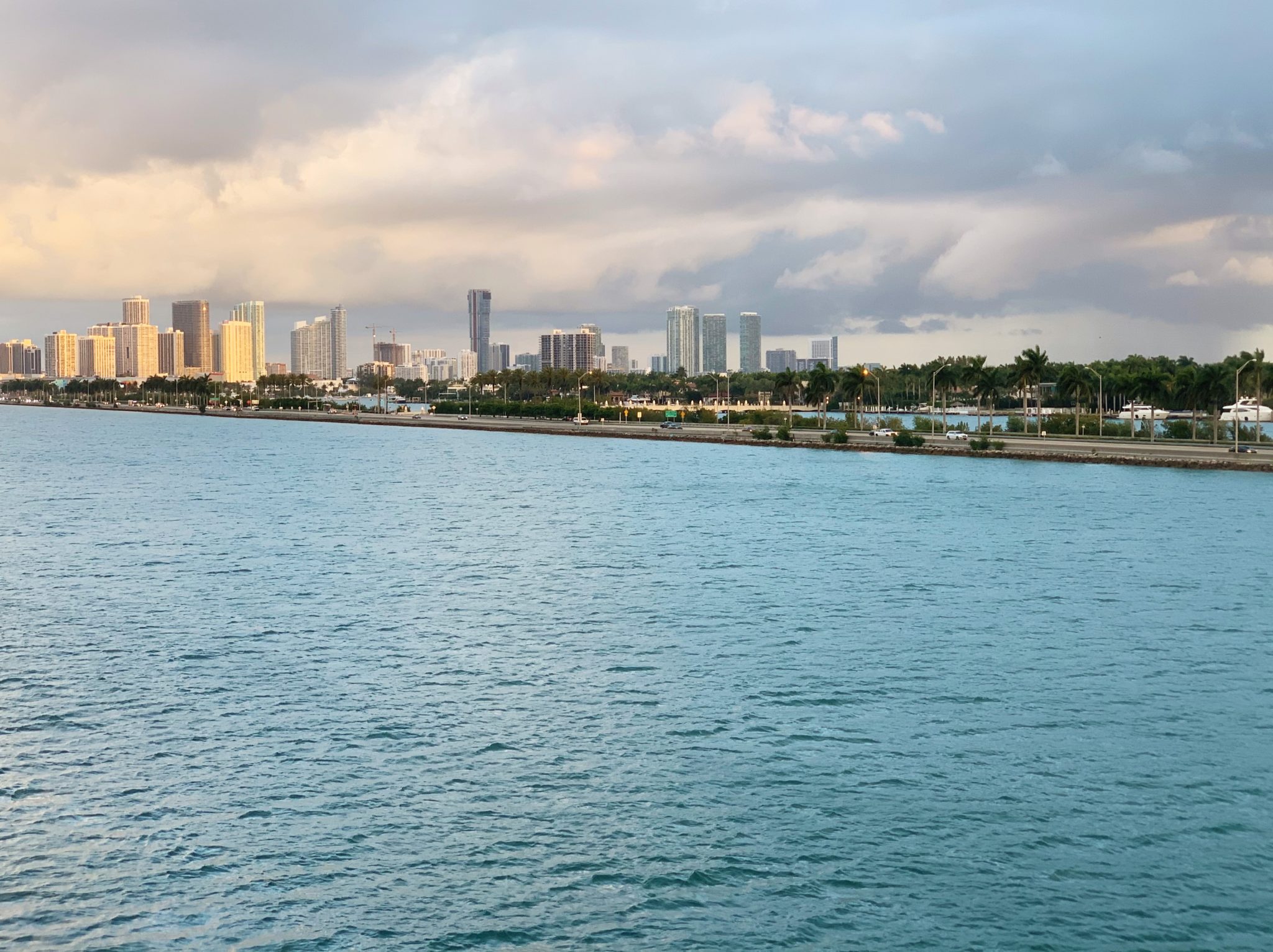 Wait, did he just say Tuesday, as in two more days onboard the ship? Yup. After a frantic morning of struggling with the overloaded internet to cancel flights and re-book new travel arrangements, we settled in for two more glorious days at sea. Luckily for me, I can work remotely, but the Princess had to inform her office that she would not be returning for work on Monday.
The cruise line honored our drink package for the remaining days and tried its best to put together some additional entertainment and activities. The weather was beautiful, so we did sneak in some more poolside time and drinks, sprinkled in with work and preparation for our return home. We also booked another dinner at Giovanni's Italian Kitchen to try some additional menu items.
This time around, we sampled the meat and cheese board, a pizza, and some pasta dishes, along with more delicious desserts. Everything was fabulous again tonight. In our opinion, this is one of the best Italian specialty restaurants at sea.
On Tuesday morning, disembarkation was a mess. The line wrapped around deck 4 and tensions were heated among travelers, all wanting to leave the ship and get home. With an unclear line and no direction from staff, people were cutting in line as we snaked our way outside down the length of deck 4, inside through Playmakers, the casino, and the theater, then back outside for the entire length of the ship in the opposite direction, and finally through the dining room before reaching the gangway.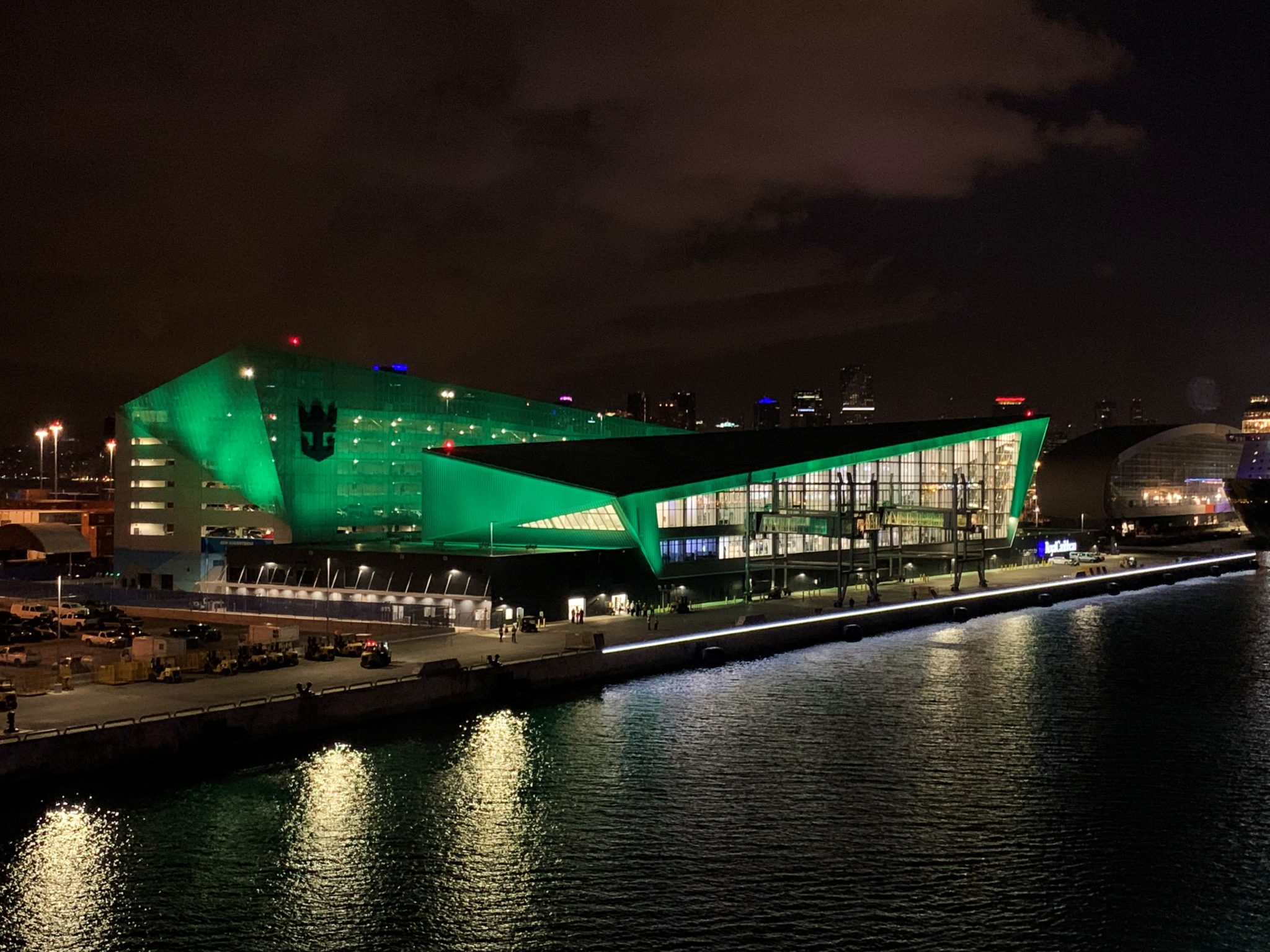 Surprisingly, we were allowed to simply walk off the ship, through customs, and into arranged buses to the airport. There were no additional health screenings, temperature checks, or any other protocols. The Fort Lauderdale airport was much busier than we expected, but we boarded our flight back home without issue, anticipating the chaos that awaited us.
It was undoubtedly a memorable ending to a trip that we will not forget. We returned to a completely different world. Empty shelves, closed restaurants, reduced hours at essential locations, COVID cases exponentially increasing each day, and a self-quarantined nation. Now that we have been home for about a month, it is incredible to look back and think about how much has changed since we departed for our cruise on Freedom of the Seas in early March.
With three upcoming cruises already cancelled, all we can do is wait for the day that we can step back onboard a cruise ship once again.
Comments
Do you have plans to cruise on the newly amplified Freedom of the Seas once the no sail order is lifted? Which of the new features are you most excited to check out? Drop us an anchor below to share all the things you love about cruising with Royal Caribbean.