There is a lot to love about dining on Celebrity Cruises. Cruisers can choose from a number of different specialty and complimentary dining spots on ships across the fleet. There are a variety of casual venues included in the cruise fare. There are also signature specialty restaurants that serve up mouthwatering meals, not to mention the three course feasts in the main dining room. In this post, we share our picks for the Top Celebrity Cruises Restaurants. Do you agree with our choices?
Top Celebrity Cruises Restaurants
Fine Cut Steakhouse
Perhaps one of the most upscale steakhouses at sea, Fine Cut on Celebrity's Edge-Class ships is certainly a slice above other similar venues. With an extensive menu offering several signature cuts of beef, this venue is for the carnivores among us. Though, they do offer seafood and chicken dishes as well.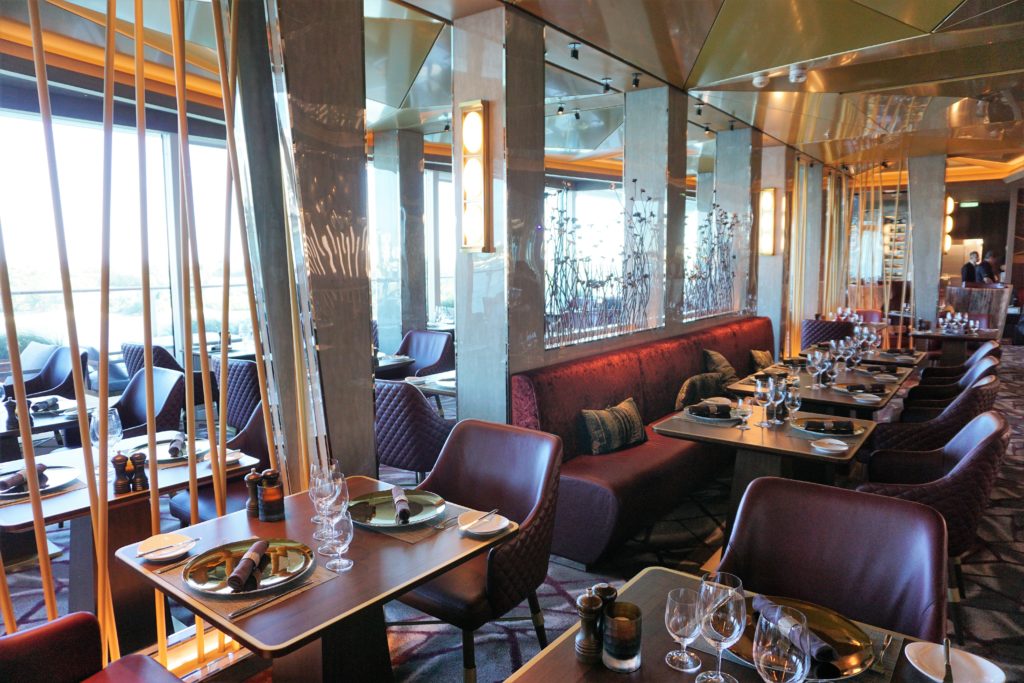 The side dishes and desserts at this venue should not be overlooked either as they are just as good as the perfectly seared bone-in filet mignon.
With a sleek, sophisticated dining room and a small al fresco section, the restaurant feels a bit classier than the four other impressive main dining rooms on these ships.
Murano
The specialty restaurant Murano serves up savory French dishes with a contemporary twist on Solstice-Class ships in the Celebrity Cruises fleet.
This upscale and elegant venue is the perfect spot to celebrate a special occasion. With a bit of modern luxury, like tableside lobster presentation, you will feel like a celebrity while dining at Murano. Other delicious menu selections include Châteaubriand, lamb, venison, and duck.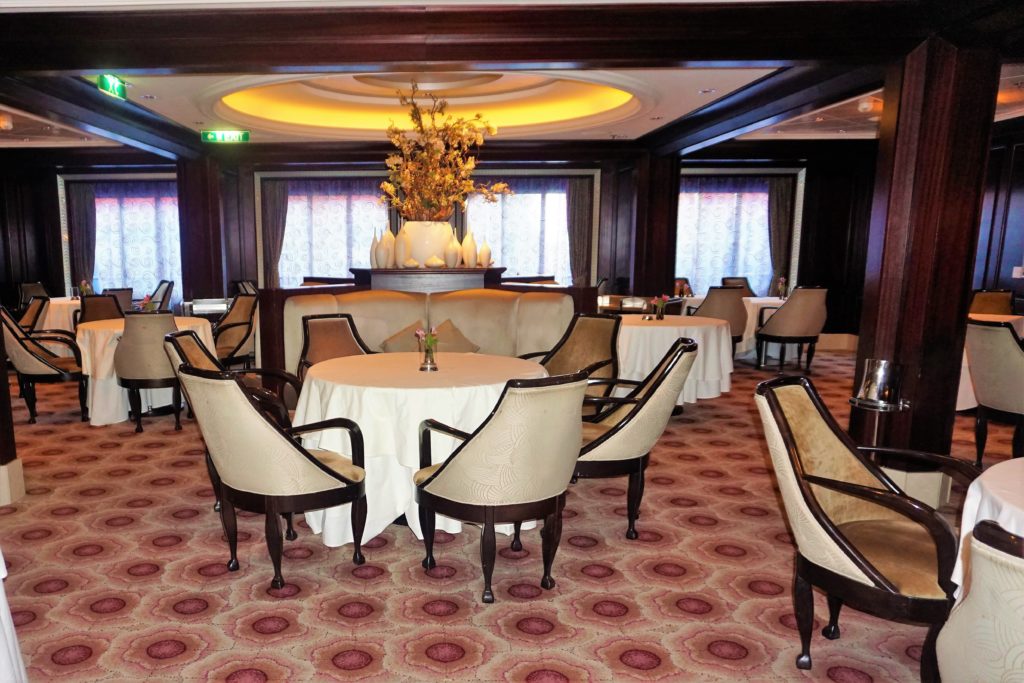 For an even more exclusive offering, you can also try the Chef's Table offered in this venue on select evenings.
Tuscan Grille
Celebrity Cruises' signature Italian restaurant is Tuscan Grille. Tuscan Grille can be found on Solstice and Millennium-Class ships. This venue serves iconic Italian dishes with a modern twist in a rustic yet sophisticated atmosphere.
The menu offers a wide selection of tasty appetizers, entrees, and desserts. Don't forget to try the house-made limoncello either. The homemade pastas are a real standout at this venue, as are the butcher cuts.
Le Petit Chef
Le Petit Chef is a unique dining experience that you can only find on Celebrity Cruises. Available on several ships in the fleet, this 3D experience expertly pairs tabletop entertainment with an upscale pre-fixe menu.
Le Petit Chef is a digitally enhanced dinner which includes a four-course meal and a "show". This event is offered in Qsine on select ships. On the Edge-Class, you can meet this tiny chef along with his friends in Le Grand Bistro.
During this first of its kind experience at sea, the petit chef himself will appear on your plate to artfully create each course of the menu. On Edge-Class ships, technology and story-telling combine as 4 mini-chefs compete in a cooking competition right before your eyes.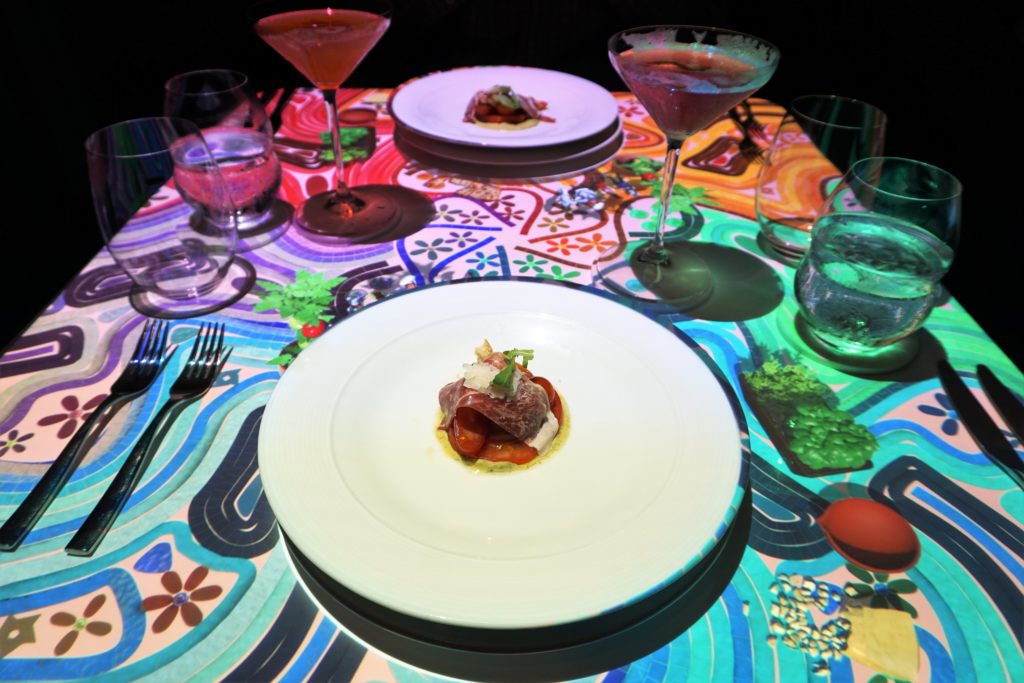 The impeccable timing and the delicious food make this a must-try specialty restaurant on Celebrity Cruises!
Rooftop Garden Grill (Lawn Club Grill)
The Rooftop Garden Grill is an al fresco restaurant found on Celebrity's Edge-Class ships. This venue offers some mouth-watering options fresh off the grill alongside fantastic views. Here, you dig into classics like baby-back spareribs, roasted chicken, and other BBQ favorites in this sophisticated alcove.
A similar experience can be found on select Solstice-Class ships. The Lawn Club Grill on Celebrity Silhouette and Reflection pairs grilling with an outdoor setting overlooking the Lawn Club. This venue offers a gourmet salad bar, build your own pizza, and more than 12 grill specialties.
Eden
On Celebrity Edge and Celebrity Apex, cruisers can indulge in a unique culinary journey at Eden. Eden is perhaps the most unique restaurant on any cruise ship.
Eden offers a tasting menu that is as distinct as the venue itself. During your dining experience, you will be in the center of the action as Edenists engage with guests and partake in unique performances.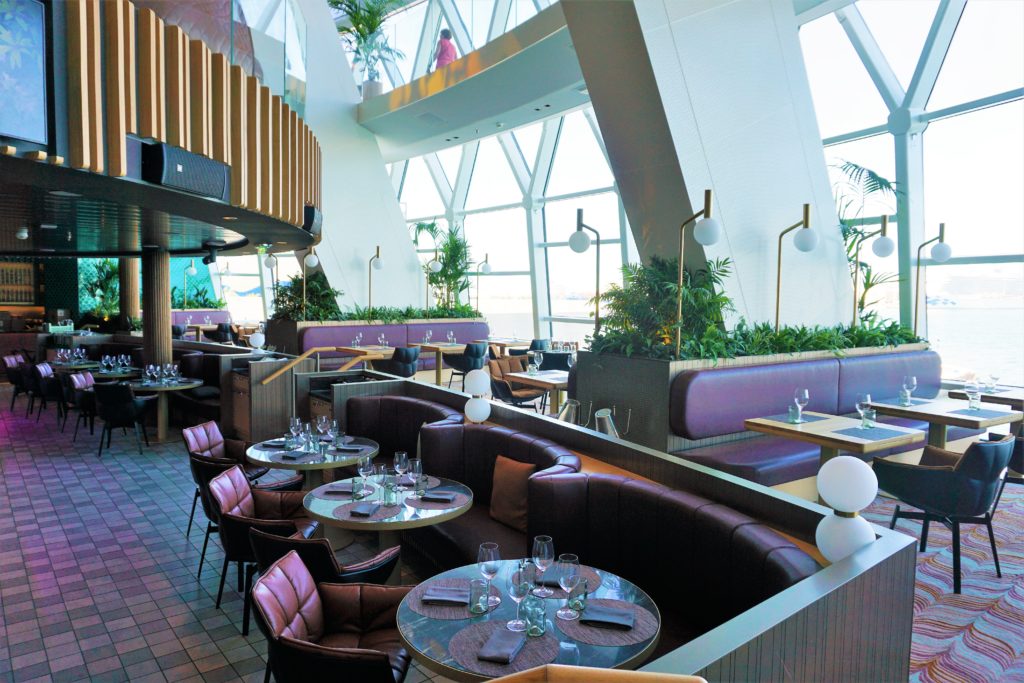 Given that this five-course meal is seafood-heavy, we have not dined here. Though, it does get rave reviews from other cruisers.
There is also the complimentary Eden Cafe that is available for breakfast and lunch offering sandwiches, paninis, and more.
Main Dining Room
In our opinion, Celebrity Cruises offers some of the best complimentary main dining room food in the industry. The Main Dining Room is open for breakfast each morning, lunch on sea days, and dinner every evening.
For dinner, you can choose either early seating or late seating. Or, if you prefer something a bit more flexible, Celebrity offers Select Dining. Regardless of which option you choose, there is a different menu each night of the cruise. The menu features the same classic entrees every night in addition to featured entrees that change nightly, including lobster on one Evening Chic night.
If you are staying in an Aqua Class cabin, you will also have access to Blu for breakfast and dinner. Suite guests may dine at Blu as well but also have their own private restaurant, Luminae. Luminae is open for breakfast, lunch, and dinner.
Oceanview Cafe
The Oceanview Cafe is your typical cruise ship buffet found on Celebrity Cruises. This casual dining spot offers traditional favorites as well as cuisine from around the world. The Oceanview Cafe is open for breakfast, lunch, and dinner.
For breakfast, you will find typical selections like eggs, pancakes, omelets, breakfast meats, pastries, fresh fruit, and various continental breakfast options.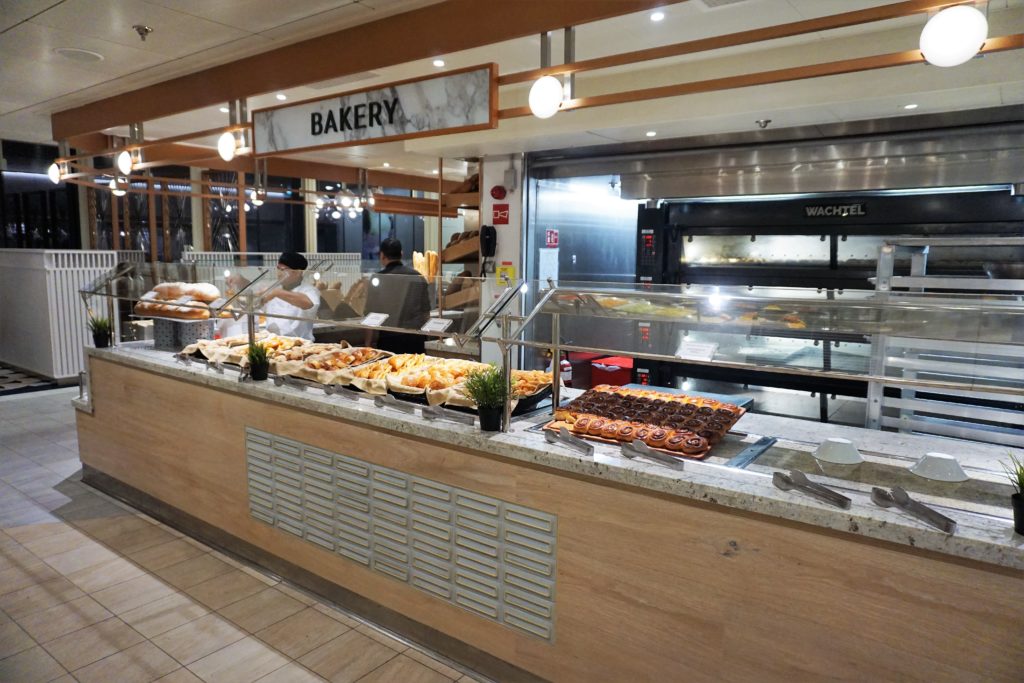 For lunch and dinner, the Oceanview Cafe offers several different entree options including Asian and American favorites, a grill with a wide selection of different meats, a custom sandwich shop, a salad bar, pizza, pasta, a charcuterie section, carving station, among other options.
Cafe al Bacio
While cruise lines have been adding more additional premium offerings over the recent years, Celebrity Cruises offers our favorite java spot at sea.
We can't get enough of Cafe al Bacio. It is the perfect spot to grab a latte and a sweet treat any time of day. All pastries are complimentary and change throughout the day. From breakfast pastries and cookies, to more elaborate cakes, tortes, and other desserts, they are just too delicious to pass up.
The best part is that with Celebrity Cruises' new "Always Included" pricing, most of these specialty coffees at this venue are now included in the cruise fare.
Spa Cafe
Located in the Solarium on all ships in the fleet (except expedition ships), the Spa Cafe serves up healthy options as an alternative to the buffet for breakfast and lunch.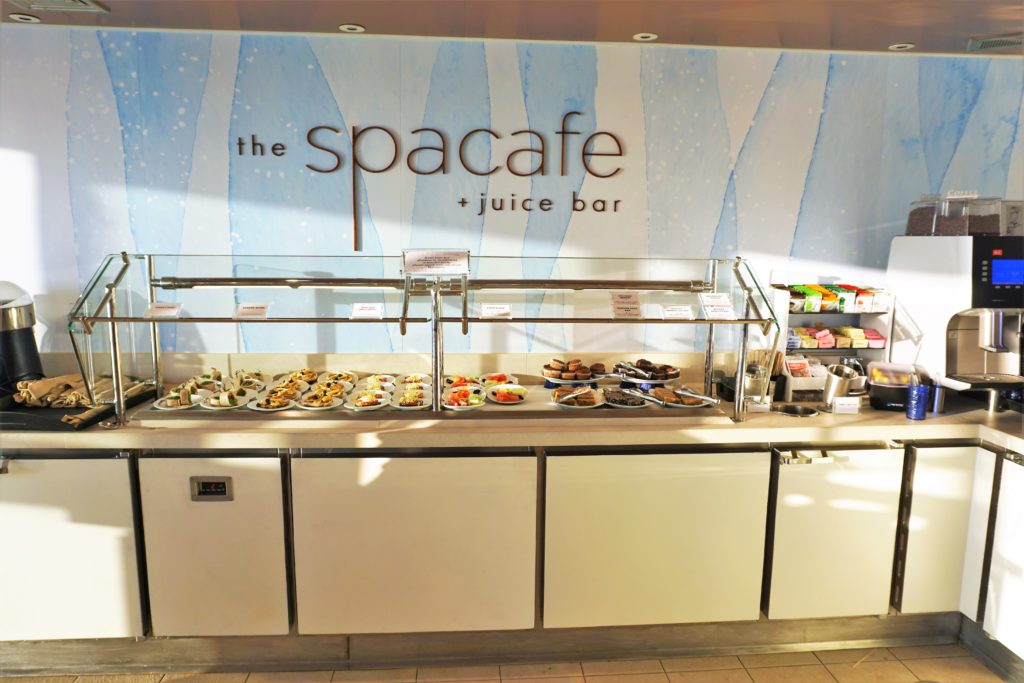 Featuring small plates and gourmet smoothies, this is the perfect spot to grab a quick bite to eat while relaxing on a sea day. Breakfast options include energy bars, granola, avocado toast, fruit plates, and more. For lunch, cruisers can enjoy salads, fruit, soup, and a small selection of wraps and sandwiches.
Comments
Do you agree with our Top Celebrity Cruises Restaurants? Do you have another venue that you think should have also made our list? Drop us an anchor below to share your favorite spots to eat on Celebrity ships.