Offering familiar amenities, delicious dining options, and diverse entertainment, our first cruise with Holland America Line has had a mix of contemporary cruise favorites with some unique surprises. Find out what we loved, liked, and what fell short during our Alaska cruise on Nieuw Amsterdam as we share some first impressions from our Holland America Line cruise.
First Impressions From Our Holland America Line Cruise
Dining
If you love to cruise, then you probably enjoy the variety of dining options onboard cruise ships. So, there is no better way to start our comparison of Holland America Line to other lines than with dining.
Overall, the food has surpassed our expectations.

The cruise ship's buffet, the Lido Market, offers plenty of variety in an easy to navigate setting. Whether it is the custom omelet station in the morning, the salad bar for lunch, or the pasta station for dinner, you know exactly where to find your favorite selections.
Likewise, food quality has been better than some other cruise lines' buffets. I am a big fan of the Distant Lands Asian selections with sushi and a variety of rice and noodle dishes. The custom salad bar is also a great option.
However, the other casual options have been a bit more hit or miss. In our opinion, the Dive-In burgers rank among the best at sea; whereas, the New York Pizza fell quite short when compared to the competitors.
Exclusive Savings: Score a Great Deal on Your Next Holland America Line Cruise
Our limited main dining room experiences have been positive. Both our sit-down breakfast and lunch featured a large menu with unique offerings. They were all tasty, fresh, and served in a timely manner. Our one dinner in the main dining room was average with a seemingly smaller dinner menu than other cruise lines.
In terms of specialty dining, the steakhouse on Nieuw Amsterdam, Pinnacle Grill, delivered a delicious meal and excellent service. With a perfectly cooked medium-rare filet and a succulent candied bacon starter, it was everything you want, and more, in a cruise ship steakhouse. The Rudi's Sel de Mer experience offered upscale seafood options for one special evening in the steakhouse as well.
First Impressions of Holland America Line Cruise
Public Spaces
Overall, the Holland America Line cruise décor is simple. There is little theming in the various public spaces. For some, this non-descript design is a nice alternative to the sometimes over the top décor found on modern cruise ships. Thankfully though, the public spaces are clean, functional, and inviting, even if they are a bit plain.
For instance, the covered midship pool and the aft sea view pool are simplistic. Similarly, most bars on the ship offer the same design. The two standout venues are the Billboard Onboard featuring live piano music and B.B. King's Blues Club.
The Explorations Café on Deck 11 forward is ideal for unwinding after a long day ashore. It is also home to the coffee shop and the shore excursions desk. Though, it does not offer any light fare or snacks. It reminds us of similar venues like the Observation Lounge on some NCL ships or the Explorers' Lounge on Viking.
The one venue that seems out of place on the ship is the main dining room. With bright red and metallic finishes, it seems to stick out. Further, with several large tables, it does not seem ideal for cruising right now.
The same color scheme spills over to the main theater, making it seem dated compared to other modern cruise ship theaters.
Onboard Activities
On sea days, Nieuw Amsterdam offers many of your expected cruise activities.
The ship has regular trivia sessions and friendly competitions from bridge, to ping pong challenges, and corn hole tournaments.
There is also a series of enrichment talks. Topics like the Alaskan wilderness, Tlingit native history, and the Iditarod Race were some of the highlights.
The cruise line also offers for-fee classes, seminars, shopping events, and Bingo. Of course, cruisers can opt to visit the spa or the small thermal suite for an up-charge as well.

Still, it would be nice to have a bit more to do during the day, especially when the foggy, wet Alaskan weather keeps you indoors.
Nightlife and Entertainment
For an 87K gross ton ship, it was surprising to find so many entertainment venues. The Main Stage on Decks 1-3 is the ship's main theater. During the day, it is home to various talks from the Cruise and Travel Director and the onboard naturalist.
Over the first few nights, the featured performances have been a bit different. They have included a BBC Earth musical performance, a production show from a dance troupe, and a magician. The ship's only production show so far, Humanity, was a dance and light spectacle. We much preferred this performance to other stale cruise ship revue shows.
Holland America Line cruise ships also offer live orchestra performances in the Lincoln Stage. This intimate venue offered a variety of themed sets throughout the first few days.
Then, there is Billboard Onboard. This piano bar features two performers who rotated through sets and "all request" sessions.
There is also the B.B. King's Blues Club. This multi-purpose venue hosts cooking demonstrations and such by day to comedy shows and live music at night. The talented "All Star Band" features a male and female vocalist who rock through 45 minute sets from 70's funk, to Motown, to Memphis classics. This is the busiest venue in the evenings.
Health and Safety Protocols
As our first cruise with Holland America Line is occurring during the cruise restart, we are able to compare the line's health and safety protocols with the other line's on which we have sailed in 2021. Recently, Holland America Line has instituted updates to these protocols including pre-cruise testing and mask use onboard the ship.
Keeping with the CDC's requirements to bypass simulated voyages, all HAL ships are sailing with at least 95% of all passengers vaccinated. This means that only 5% of those cruising are not eligible for the vaccination, either by age or medical exemption.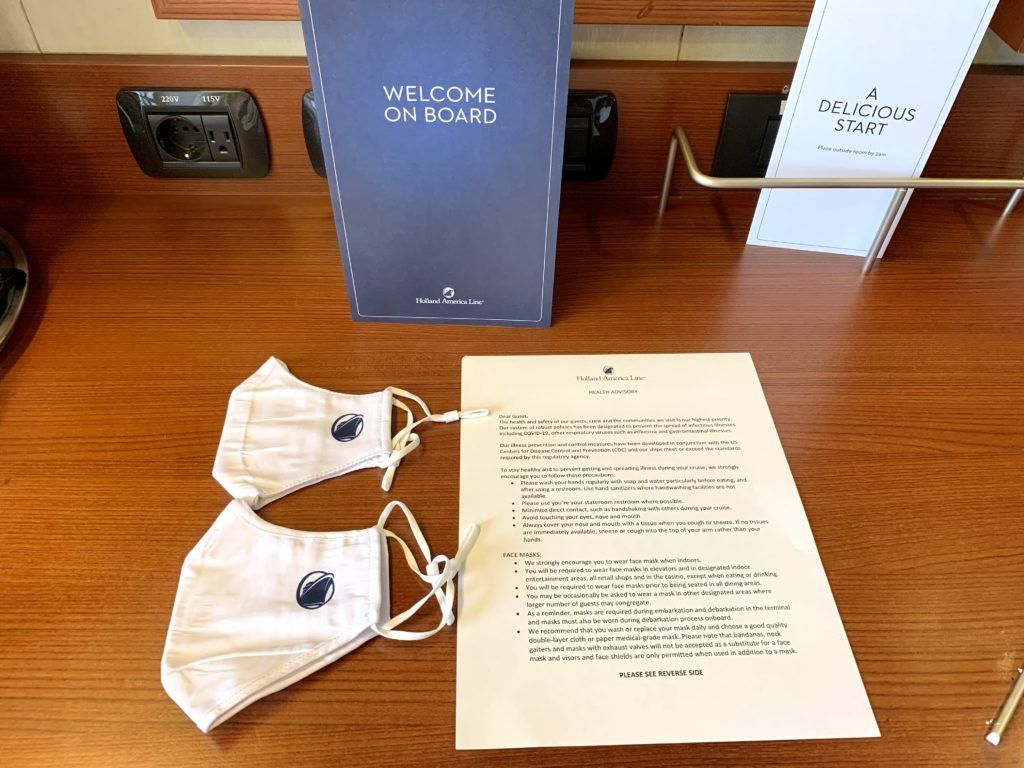 Despite this vaccination requirement, the cruise line has instituted a mask mandate given the rise in delta variant COVID cases. Now, cruisers must wear masks in indoor venues; however, cruisers do not need to wear masks in outdoor public spaces.
During the first several days of the cruise, most cruisers are strictly following this mandate. In fact, often times masks were visible even when on the open-air decks. Further, masks are required during embarkation and when going ashore in Alaskan ports of call.
In addition, cruisers must now arrive to the ship on embarkation day with a negative COVID-19 test taken no later than 3 days before the cruise. This test can be either a molecular or antigen test and is at your expense.
For this sailing, the ship is at 70% capacity, but there are no formal social distancing measures in place. There is no reservation system for shows or entertainment venues. As far as we can tell, the cruise line is running its full activities program, with only slight modifications in place.
Some new measures include staff serving guests in the buffet, QR code menus for bars and restaurants, and electronic shore excursion tickets.
With these measures in place, we feel completely safe cruising with Holland America Line right now.
Overall First Impressions of Our Holland America Line 2021 Cruise
We were not sure what to expect from our first Holland America Line cruise. Happily, we can report that our first few days onboard have been fun and refreshing. With fabulous dining options and unique entertainment spaces, Nieuw Amsterdam provides a wonderful backdrop to the beauty and majesty of Alaska.
There is plenty of staff at all venues with amicable service throughout the ship.
The food has been a pleasant surprise. Expecting average cruise cuisine, our taste buds have been more than satisfied so far.
There is no shortage of nighttime activities either, which is something we did not really expect on this cruise line.
While we would have liked a bit more to do on sea days, and perhaps some cruiser favorite game shows, we have been enjoying our time on this Holland America Line cruise. The biggest downside has been the WiFi connectivity, which has been essentially inoperable most of the trip.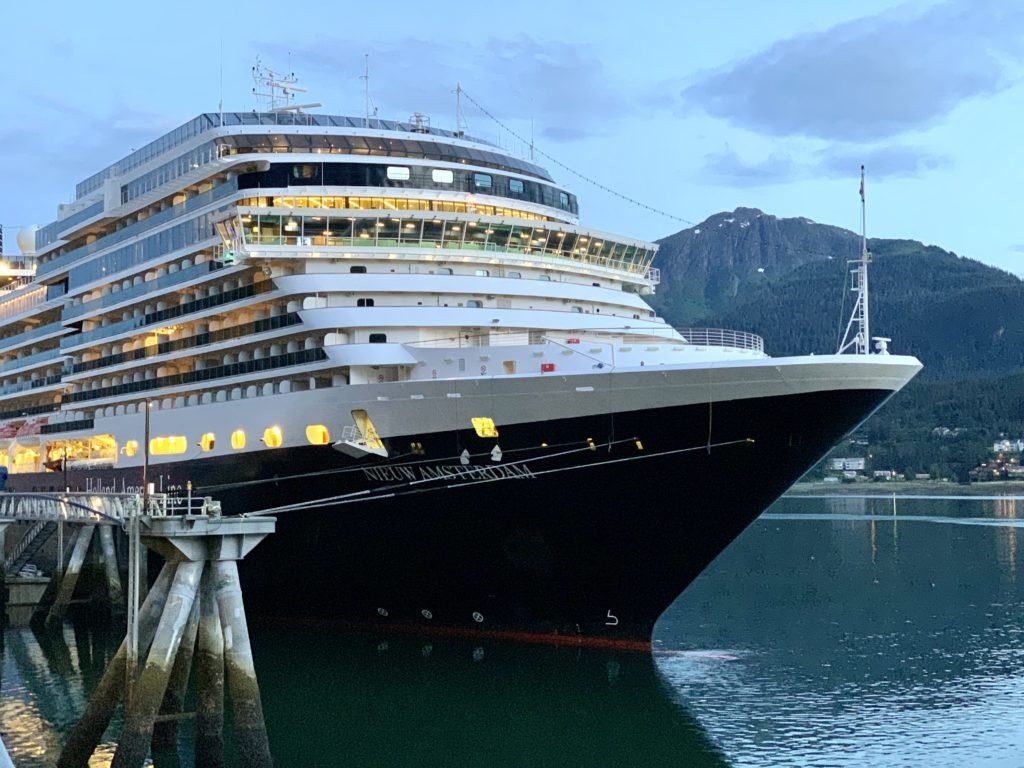 Holland America Line is a perfect option for port intensive cruises and unique itineraries. Still, with plenty of its own style and charm, cruisers should not overlook a Holland America Line cruise in popular regions either.
Regular cruisers will feel right at home with the comfortable public venues, familiar layout, and plenty of options for entertainment and dining.
With distinct options that make Holland America Line unique and engaging, you might just see us onboard another HAL cruise in the near future.
Comments
Have you taken a Holland America Line cruise? What do you love about the brand? Drop us an anchor below to share your cruise reviews of Holland America Line.