If you're a first-time cruiser, perhaps one of the items not on your initial vacation to-do list is decorating your cruise door. But if you cruise often, you'll come to find that on many cruise lines, decorations on cabin doors are a fun way that some passengers express their personality and display their excitement about the sailing. Whether it's a banner to mark a milestone birthday or a wreath during Christmas, cruisers have been known to take full advantage of door real estate to transform their stateroom into a home away from home for the entire voyage — from the outside in.
Of course, even cruise door decorations aren't without a little controversy. Some passengers lean into the over-the-top embellishments. Others feel it's a bit tacky. Even cruise lines are divided on the issue of decorating cruise ship doors. Some actually ban the practice claiming it's a fire hazard.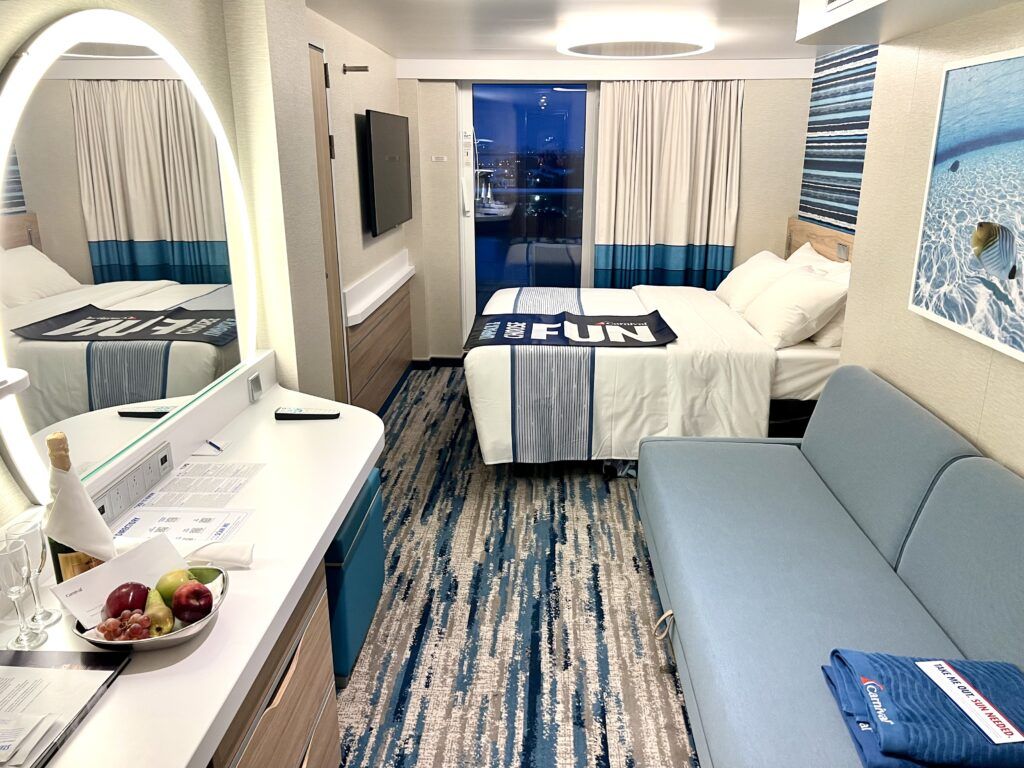 So ultimately, what are the dos and do nots of decorating your cruise door? Find out everything you need to know if you're curious about snazzing up the door of your cruise ship cabin — including which lines don't allow it.
Dos and Don'ts for Decorating Your Cruise Ship Cabin Door
Do check whether your cruise line allows door decorations.
Many family-friendly cruise lines embrace their guests' creative compulsion to dress up their stateroom door. Disney Cruise Line, Carnival Cruise Line, Royal Caribbean, and Princess Cruises all allow cruise door decorations. These can range from enthusiastic cutouts of Disney characters with kids' names on them to hanging hearts for a honeymoon or anniversary celebration.
But even cruise lines that allow door decs have restrictions, which should be followed closely for safety reasons. For example, Carnival's policy does not allow the use of materials deemed flammable or not fire retardant. In addition, they must be manufactured as flame retardant and can't be transformed using a flame-retardant spray.
To avoid your room steward having to disassemble your cruise door masterpiece, read the fine print for your cruise ship before boarding with an entire bag of ribbons and posterboard.
EXCLUSIVE SAVINGS: Score Cruise Deals Now!
Don't decorate your cruise door if the cruise line prohibits it.
This one is straightforward. Door decorating is a blast, but don't do it if the cruise line tells you not to. If you're cruising with a line that doesn't allow anything on your door and you do decorate, it's possible that your stateroom attendant will clean it off with a warning.
Cruise lines that don't allow door decorations include but aren't limited to:
Norwegian Cruise Line
Virgin Voyages
Do use door decorations to celebrate holidays, anniversaries, and birthdays.
If you and your travel party have established that (approved) cruise door decorations are permitted onboard your ship, then get ready to unleash your inner design artist. Surprise a friend or loved one by decorating their door for a birthday, bachelorette party, or a "just because." Not only will they feel special every time they get to their stateroom but having a jazzy cruise door is also extremely helpful in spotting your cabin.
Not everyone is crafty, and that's totally fine. Cruisers can easily purchase or customize online door signs and magnets intended for cruise ships. The best part is that some of them already adhere to cruise line rules about door décor materials. Others are even ready to adhere to the door. (Most cruise doors and cabin walls are metal and therefore work with magnets).
Don't damage the door with your decorations.
Even if your materials are up to code, make sure you don't affix them with tape or anything that could damage the door. After all, while it is your room for the week, it is still company property of the cruise line.
As mentioned, most cabin doors will be metal and should work easily with magnets. Though, there are some models with a wooden veneer. In many cases, Command strips that are easily removable after a few days might be a good option. If you're not sure about the surface of your door, ask your travel advisor or look up some photos and reviews online to see if you can gage whether the door will be magnetic.
For those looking to turn their cruise door into a spectacular display of lights, know that no string lights or anything of the kind is allowed on the door or anywhere else in the corridor. This also extends to the ceiling of your cabin and your balcony if you have one. Regardless of cruise line, these rules are basic safety measures to avoid fire hazards and obstruction of the hallways.
If you do damage your door or insist on hanging prohibited materials, you could face a fine from the cruise line for the infraction.
Do use your cruise door as a way to engage with friends and fellow passengers.
We're not talking about inciting a lively debate over politics. Consider hanging a white board and erasable marker so you can write simple messages or communicate with others in your cruise group.
Remember to only decorate a door even your mom could be proud of, meaning vulgarity is never acceptable. Not only will offensive content be removed from a cruise door, but you're bringing bad vibes onboard. And, that is simply not cool.
Ask a question or a riddle, play Tic-Tac-Toe…the options for an entertaining cruise communique via door go on and on.
The holidays are an especially popular time to leave goodies on the door. Attach a small bucket or bag on Halloween so cruisers — or crew — can go "trick or treating". Or, hang a few candy canes in December. A cruise vacation is all about having a good time, so spread the cheer beginning with your door.
BOOK NOW: Get Exclusive Rates on Your Next Cruise!
Don't let fish extenders or pineapples confuse you.
On Disney Cruise Line specifically, you'll find pouches hanging from a wooden dowel attached adjacent to many cabin doors. These are called "fish extenders". The name is derived from the metal fish above each stateroom number on Disney Magic and Disney Wonder. While this little metallic adornment varies by ship class (it's a seahorse, for example, on Disney Dream and Disney Fantasy), its purpose it to hold documents and tickets left by your room steward.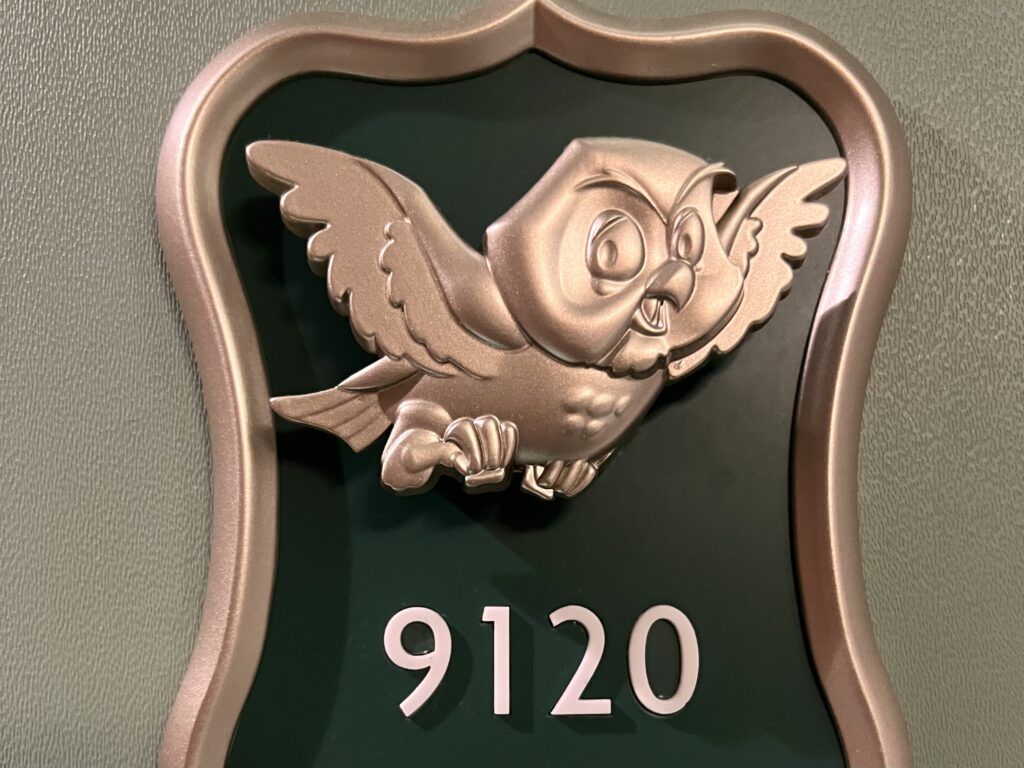 It also conveniently allows these fish extenders to hang, serving as a place for little gifts. Make your own fish extender or find an elaborate variety on websites like Etsy. Not only is it a place for friends and family to leave surprises for the kiddos, but prior to sailing, some Disney cruisers take to message boards to organize a White Elephant-style gift exchange for anyone who wants to participate.
In terms of the pineapple, it might seem like a festive, tropical fruit to brighten up your door for a Caribbean cruise. However, it's worth mentioning that it has an alternative meaning when placed on a cruise door. Used in many cultures to symbolize hospitality, a pineapple on a door aboard a ship could signify that the couple inside is very hospitable…and open to meeting other like-minded couples, if you catch our drift.
Comments
Are you known for decorating your cruise door? What types of themes and décor have you used to decorate your cruise ship cabin? Drop us an anchor below with some inspirational tips.