Hot off the presses, or should I say dining room table? We have the newest main dining room menus on Oasis of the Seas. Debuted a few weeks ago, the cruise line has been testing out some new dishes and concepts. The rumor is that these menus will be going fleet wide soon. With news that Dynamic Dining is done as of November on Anthem of the Seas, be on the look out for these menus (or very similar ones) to be coming to other Royal Caribbean ships very soon.
If you are like us, you love to plan your vacation. Planning an Oasis of the Seas cruise is even more crucial with so much to do, see, and eat on this ship. Knowing what meals are being offered each night in the MDR prior to sailing can help you plan specialty dining reservations and show times.  Note: these menus can be altered by Royal Caribbean at anytime. Here are the new main dining room menus on Oasis of the Seas as of September 2016. Plus, we have all of the specialty dining menus here too!
New Main Dining Room Menus on Oasis of the Seas
To download the new main dining room menus, simply click on the image to get the high resolution file. Feel free to share with other like minded cruisers.
If you have questions, feel free to email us at editor@s33722.p856.sites.pressdns.com. Bon Appetit!
Brand New Main Dining Room Menus on Oasis of the Seas
These new main dining room menus on Oasis of the Seas have a similar setup to previous versions. Each night, new menu items are offered for starters, entrees, and dessert. If none of those offerings are appealing, Classic options are offered every night. These Classics are the same each night and consist of a chicken, beef, fish, and pasta dish.
The rotation here comes from a 7 night Western Caribbean Cruise with formal nights on Day 2 and Day 5. It is possible that the order of these menus could change based on your cruise, itinerary, and time of year.
Main Dining Room Menu Day 1

Main Dining Room Menu Day 2
On our cruise this was the first formal night. Similar to the first formal night on other Royal Caribbean ships, it did feature a duck dish as well as the roast beef tenderloin.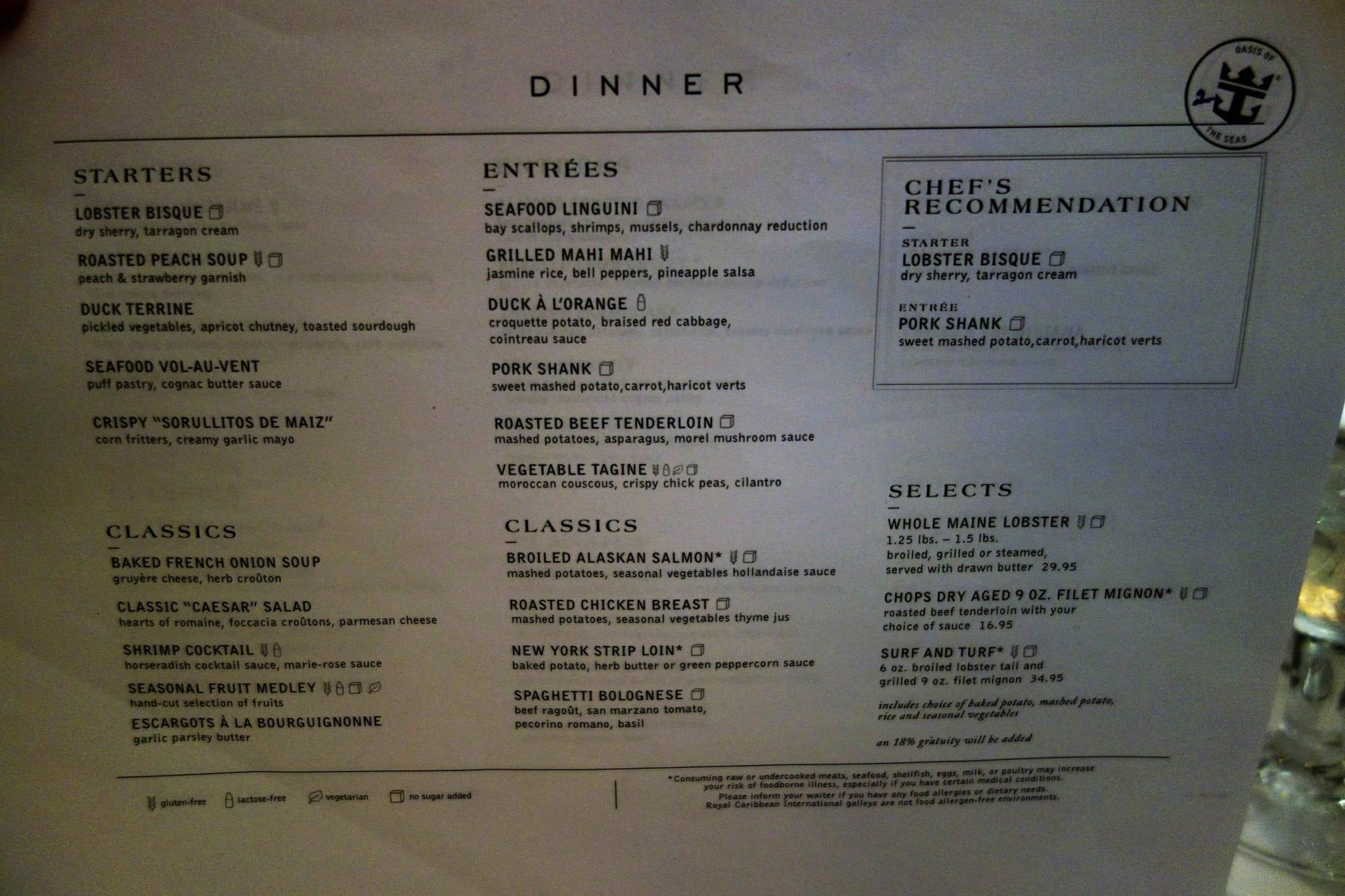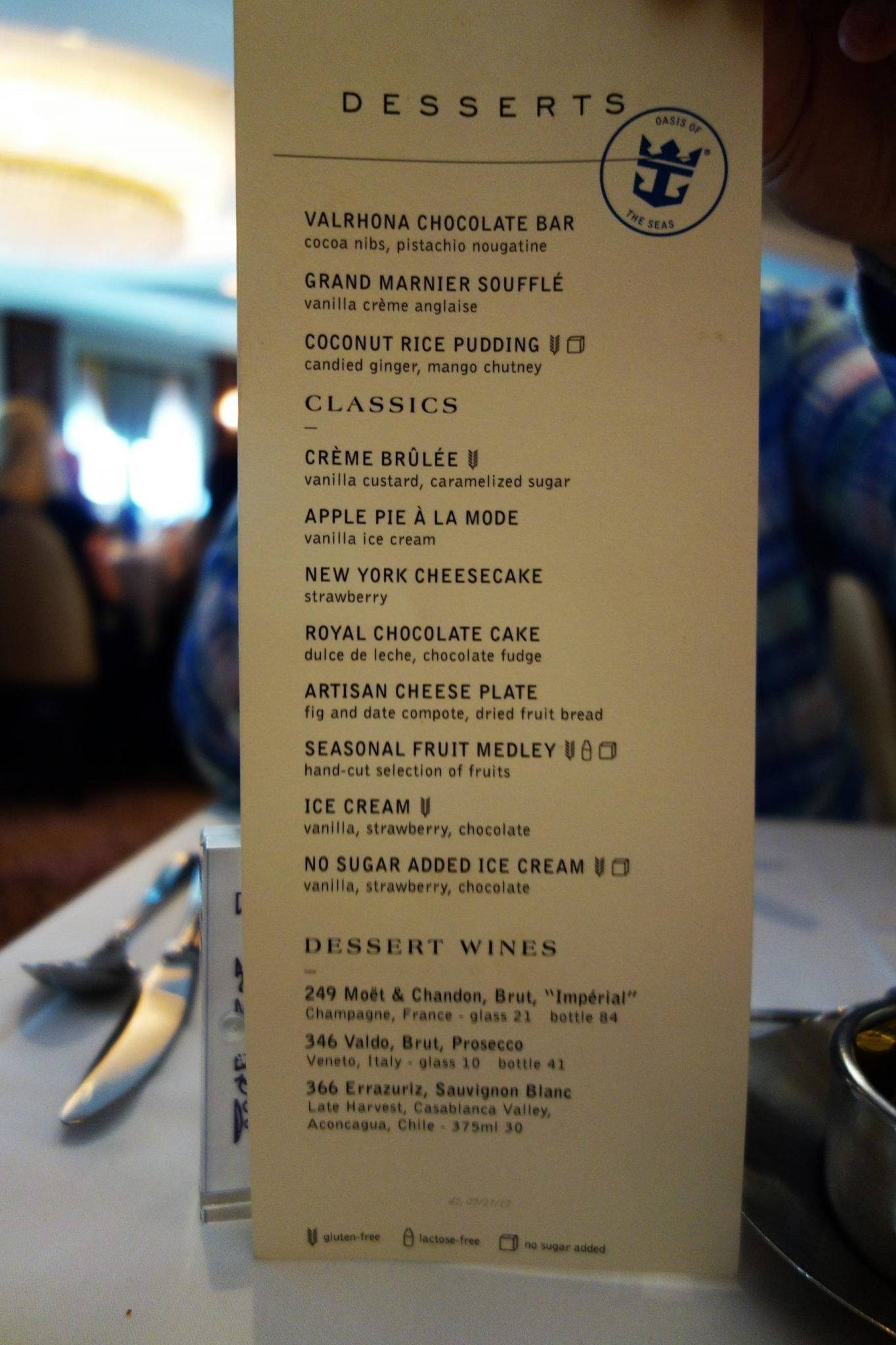 Main Dining Room Menu Day 3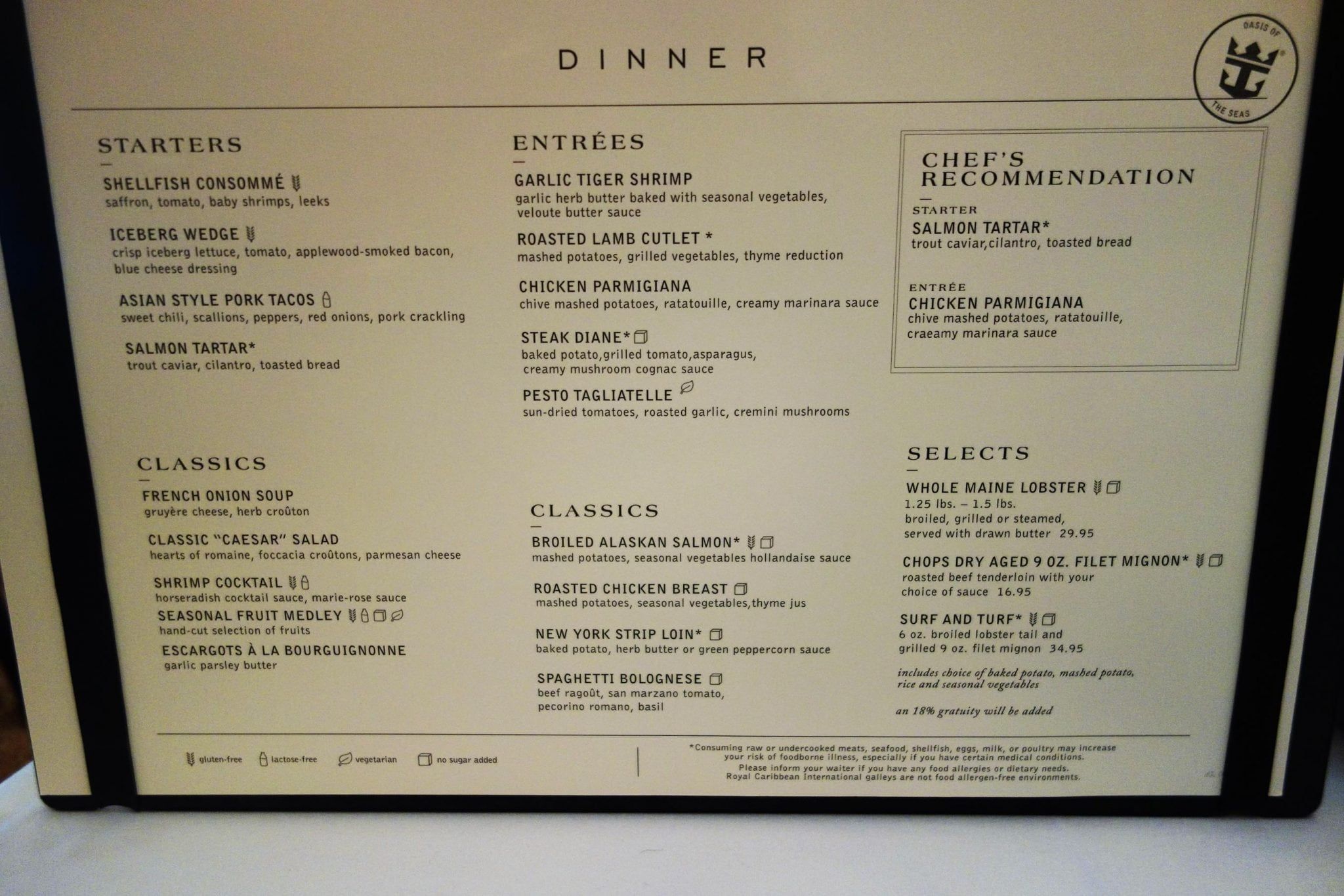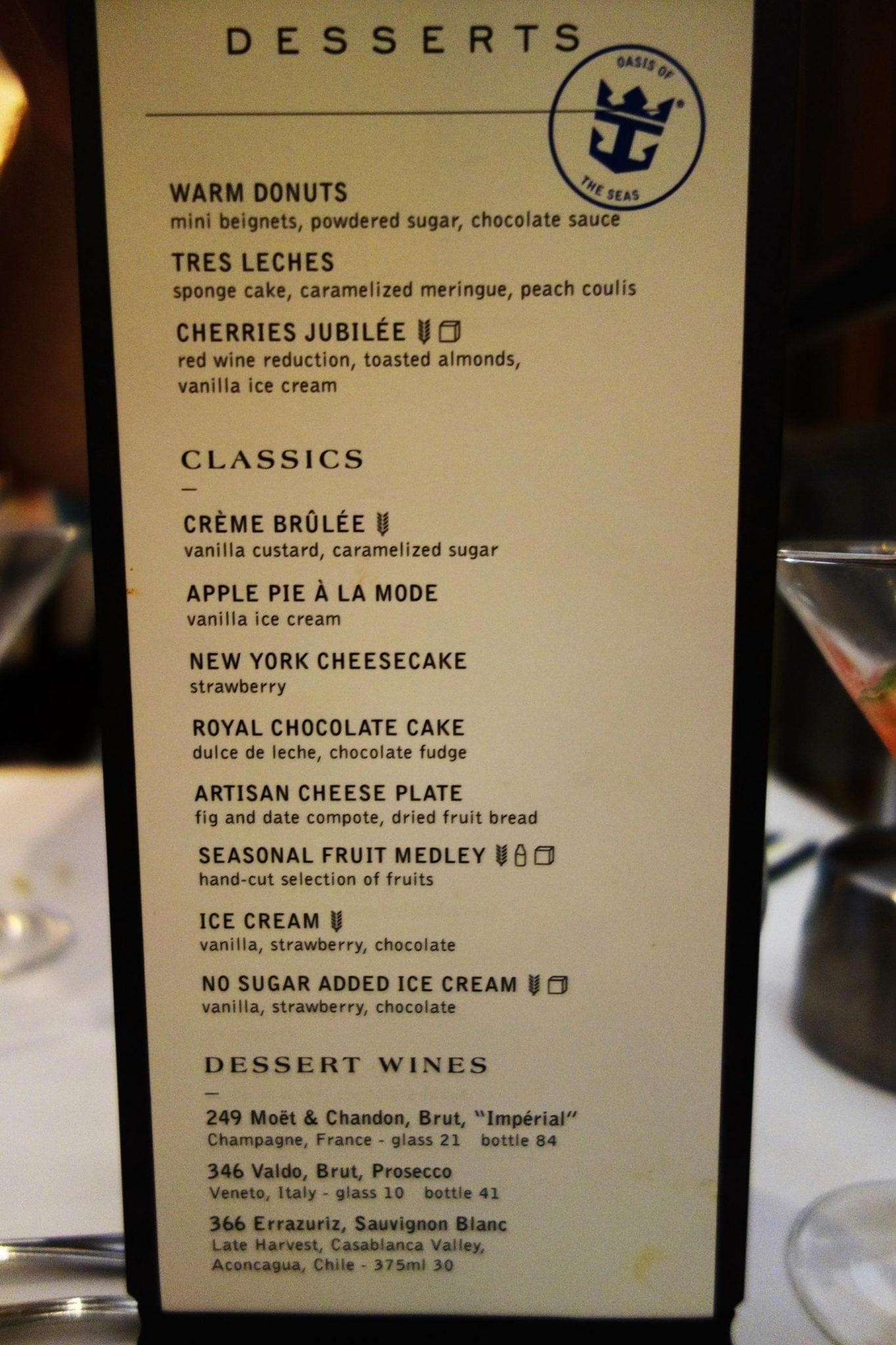 Main Dining Room Menu Day 4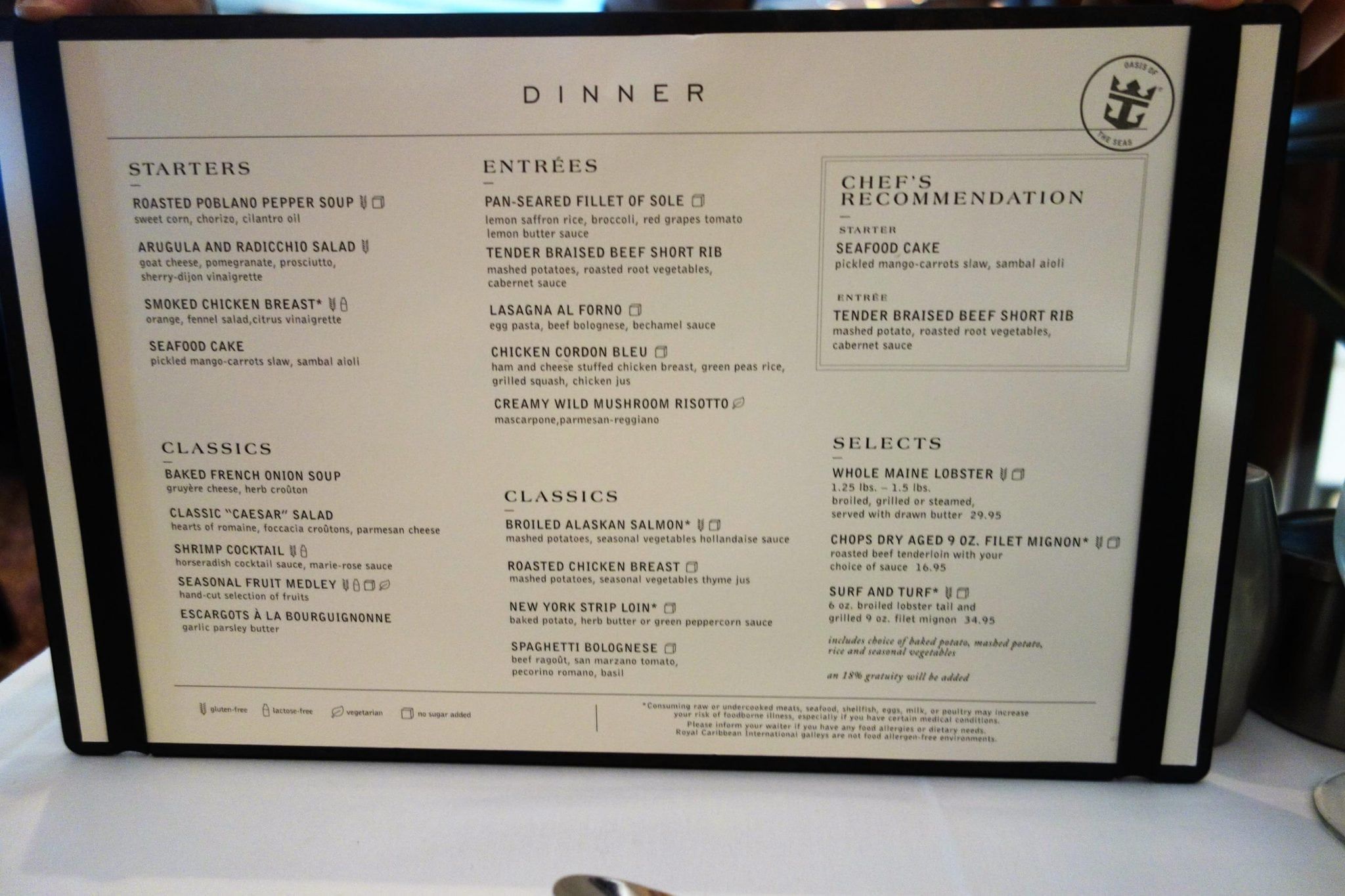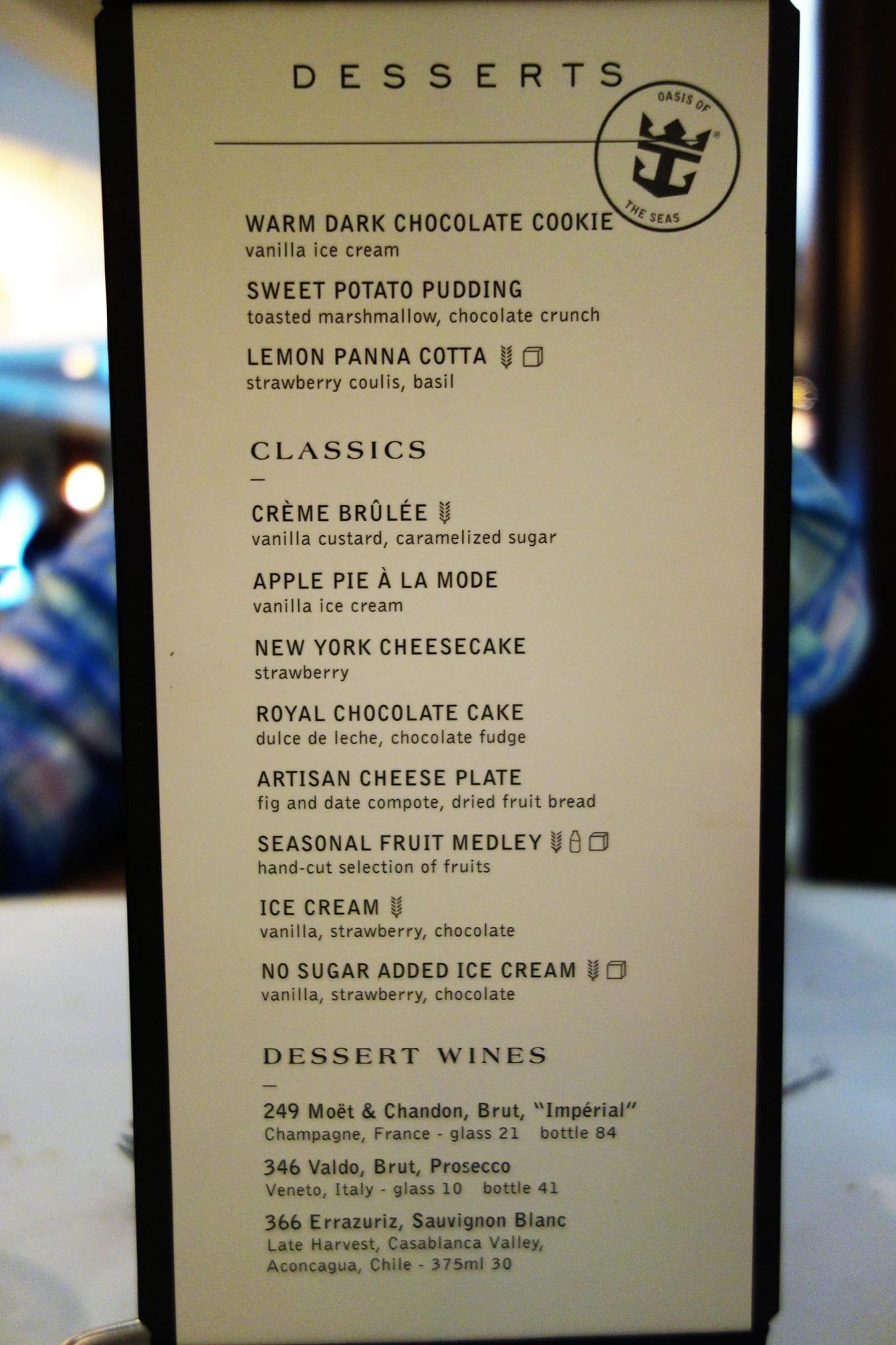 Main Dining Room Menu Day 5
On our cruise, day 5 was the second formal night. Yes, it did include broiled lobster tail. And yes, I did order more than one! The Princess' Baked Alaska was also still on the dessert menu.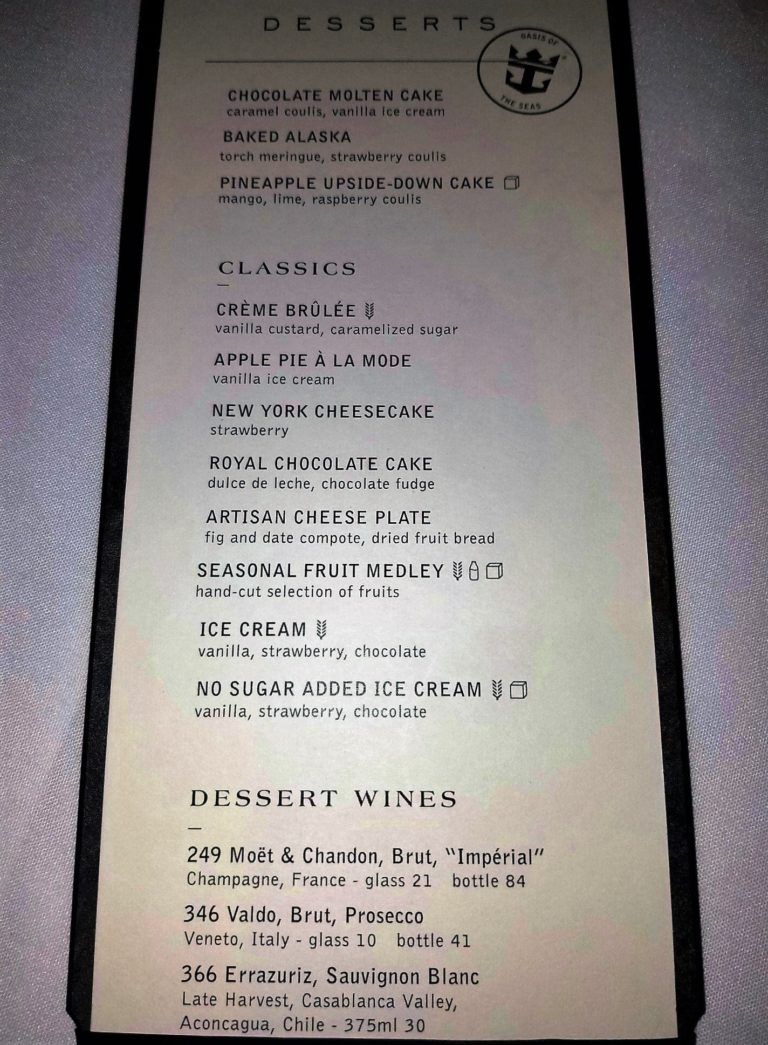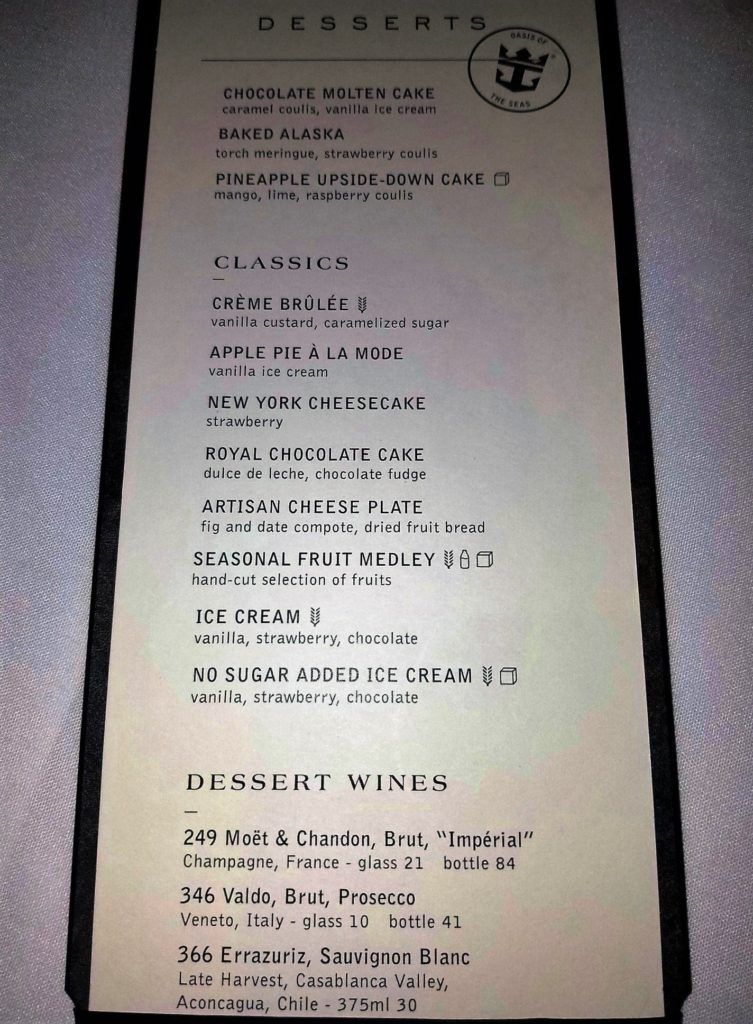 Main Dining Room Menu Day 6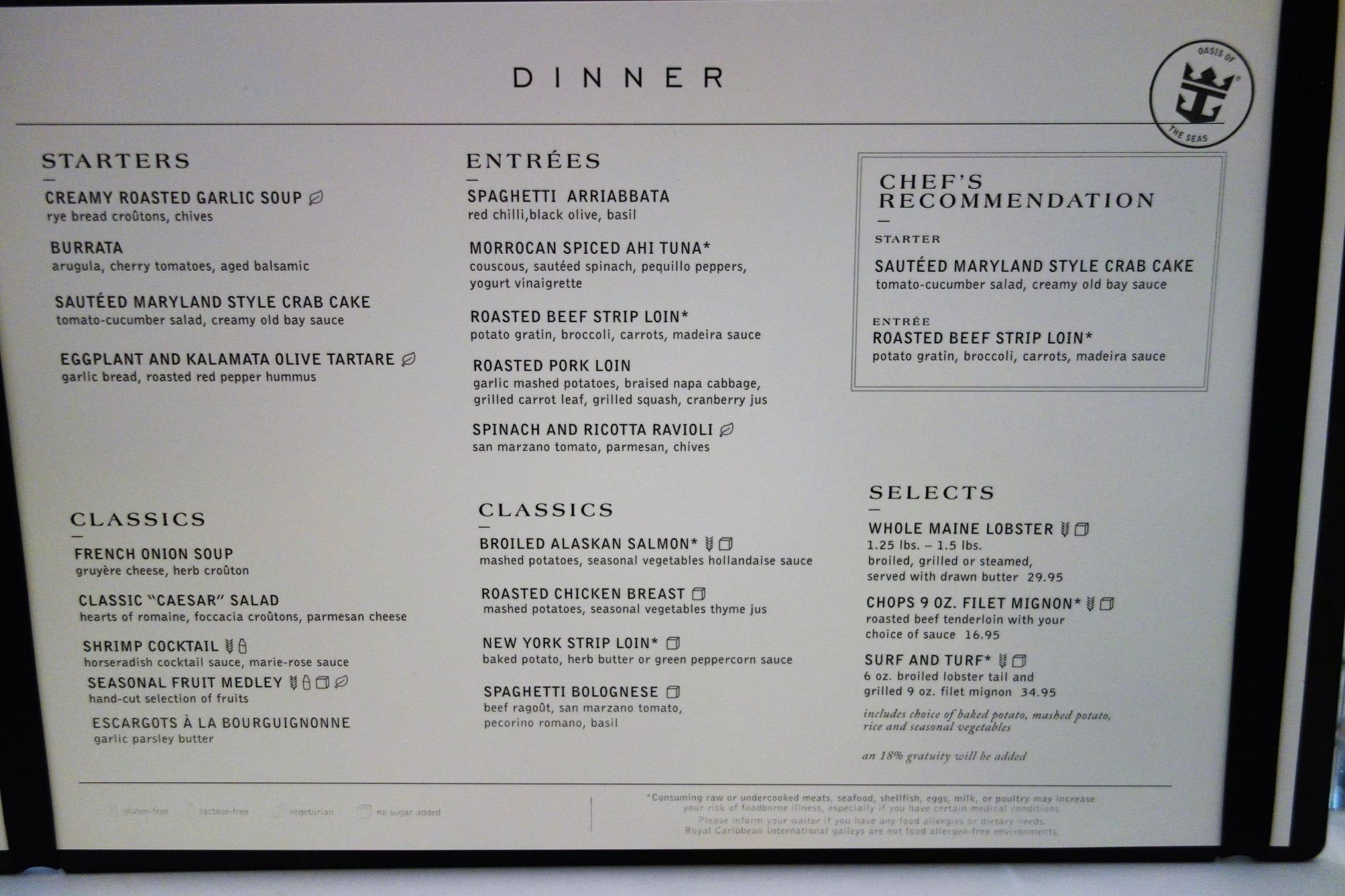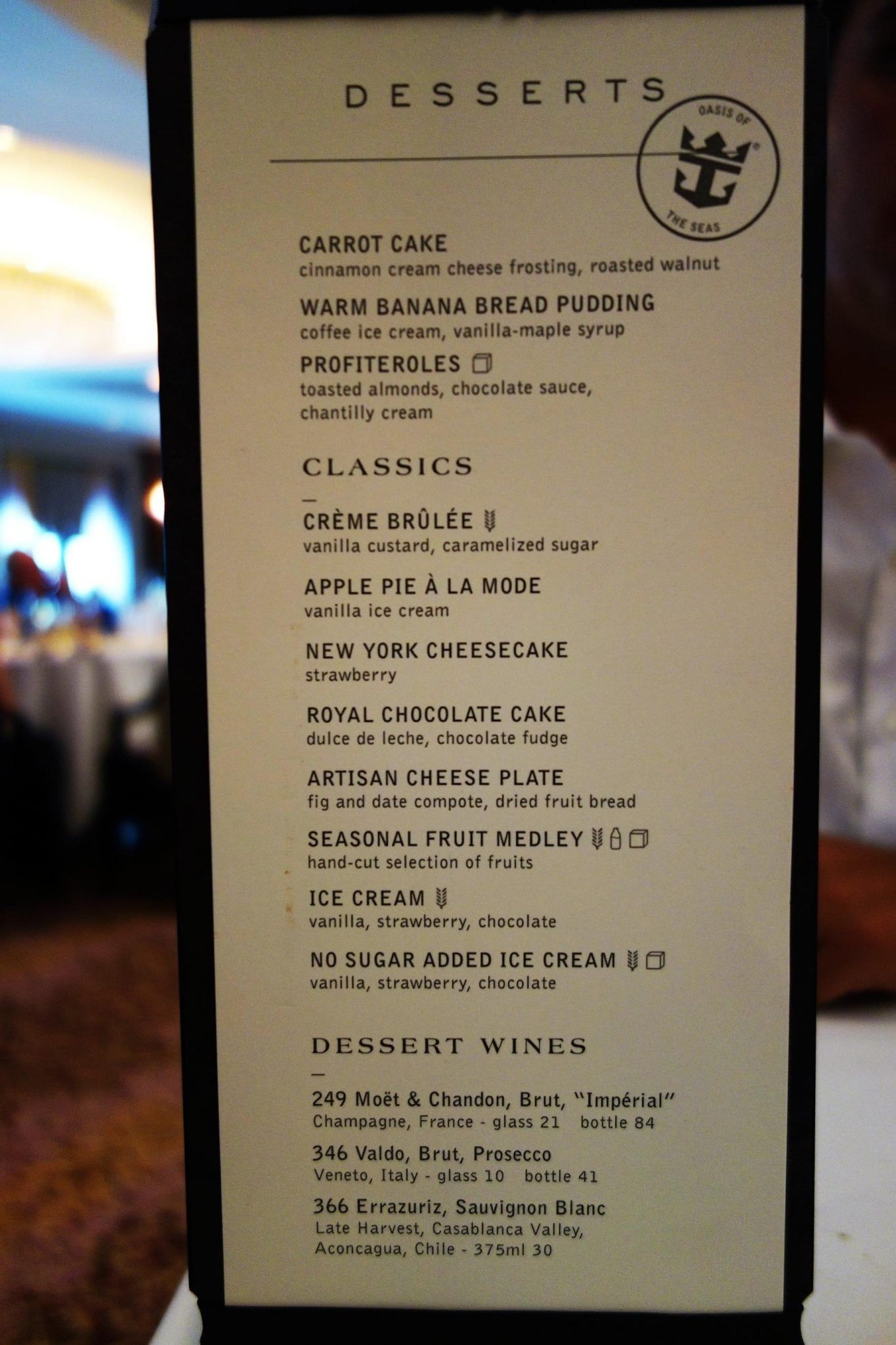 Main Dining Room Menu Day 7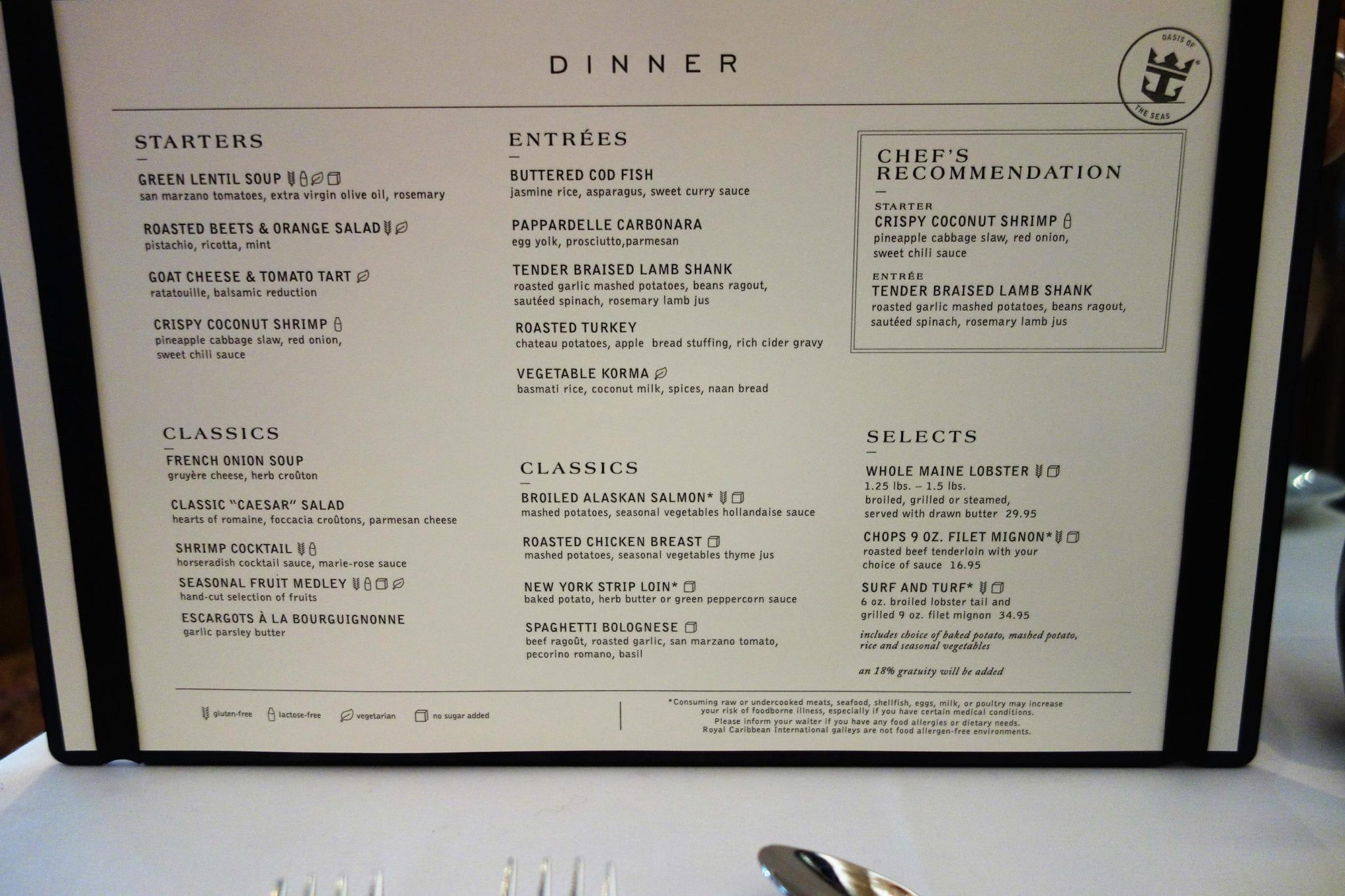 Coastal Kitchen Menus
For suite guests, you have exclusive access to breakfast, lunch, and dinner in Coastal Kitchen. As a Sea Class junior suite member, we had access to the venue for dinner only by making reservations. During our sailing, there were three menus. The first menu was offered on Days 1 and 2, the next menu was for Days 3, 4, and 5, and the final menu was served Days 6 and 7.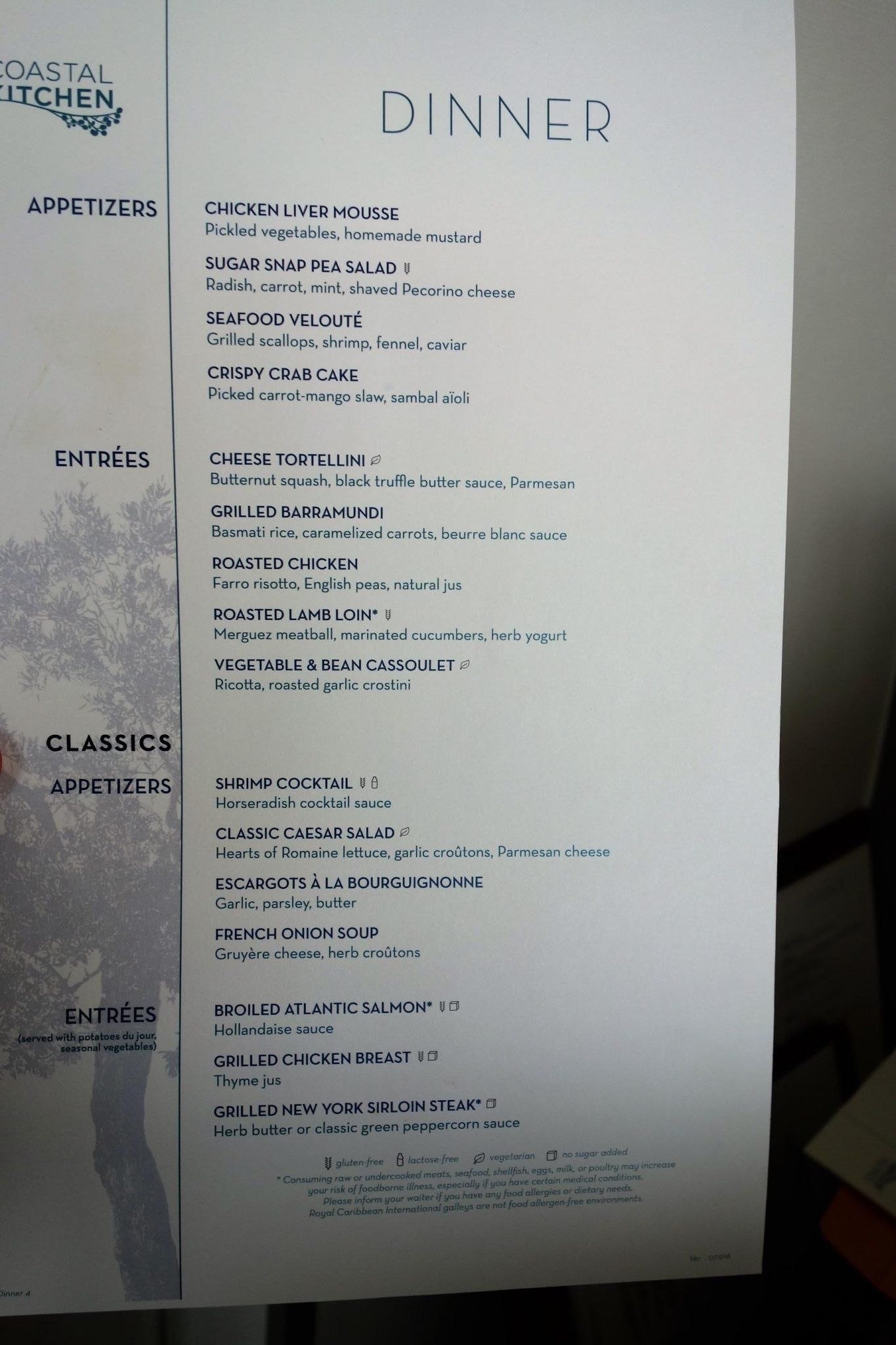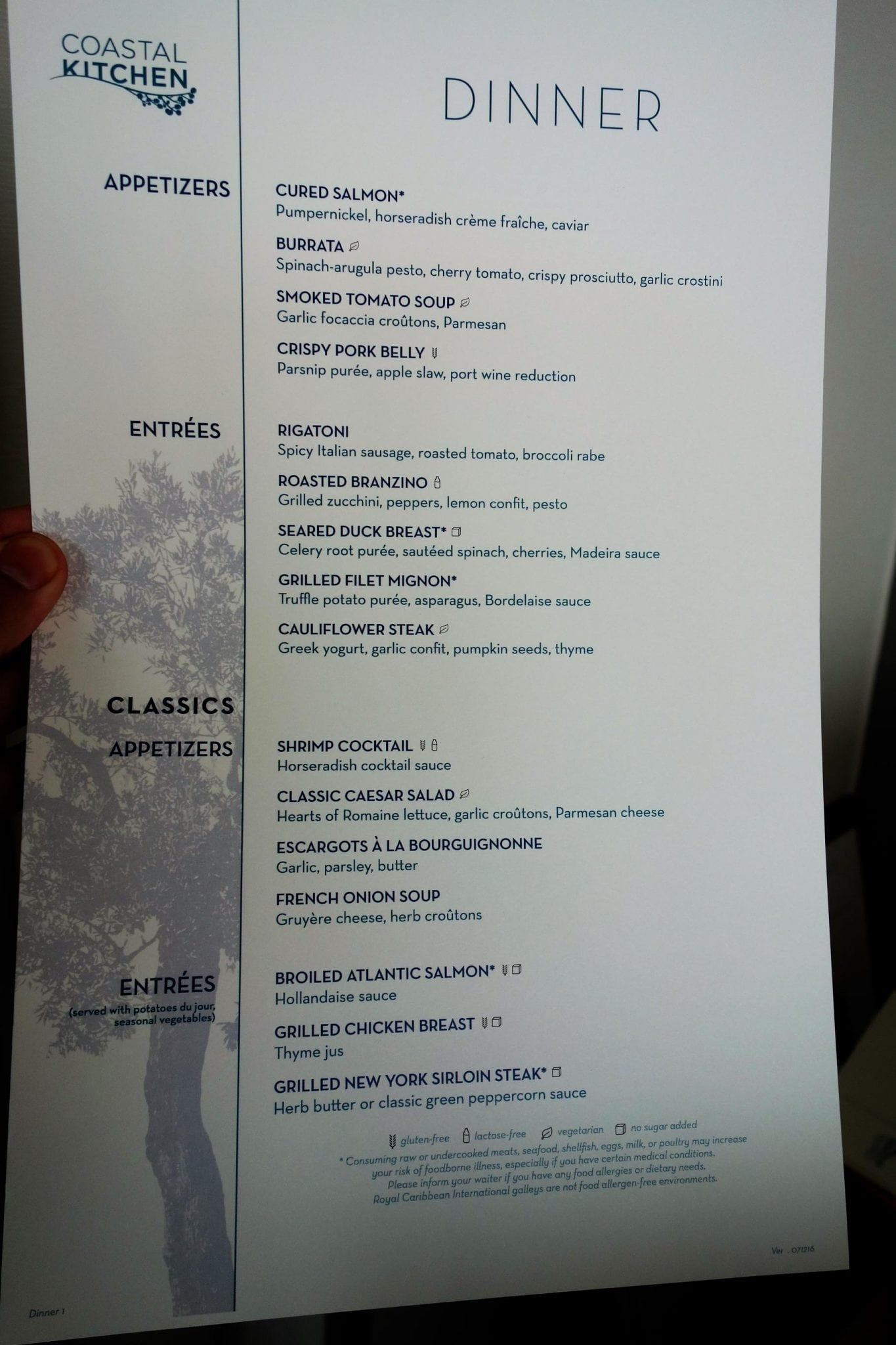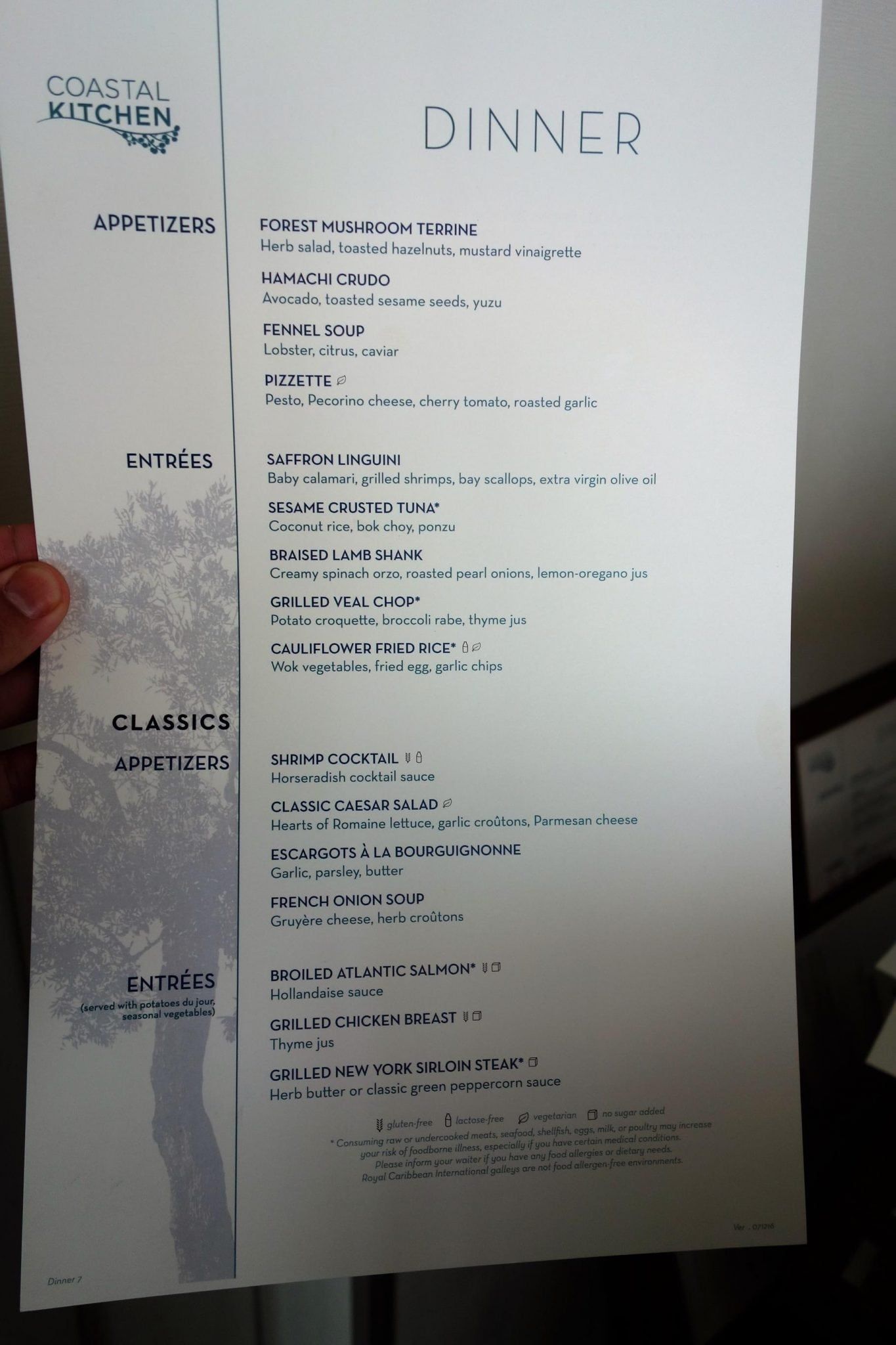 Specialty Dining Restaurant Menus
Along with grabbing the new main dining room menus on Oasis of the Seas, we also got copies of all the specialty dining menus from our sailing. Note: the prices for some restaurants have increased slightly from when we booked our cruise. If you definitely want to dine at a specialty restaurant, it might be better to pre-book the reservation to lock in the (potentially) lower costs.
Izumi-  Deck 4
Izumi on Oasis of the Seas offers two dining options. The traditional sushi restaurant is open on select days for lunch (check your cruise compass) and every night for dinner until 9:30pm. The menu is a la carte. Reservations are accepted and recommended, especially for dinner.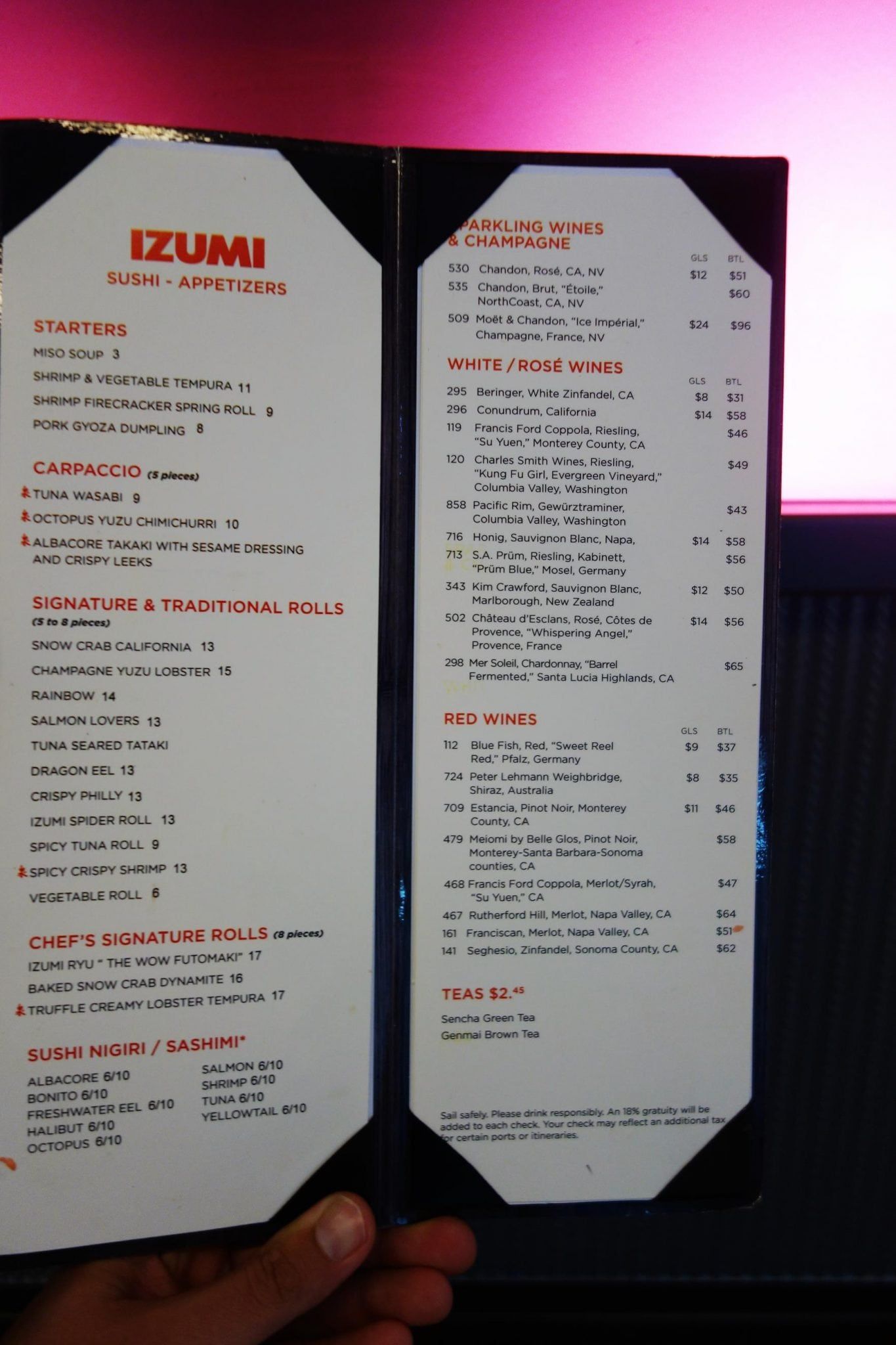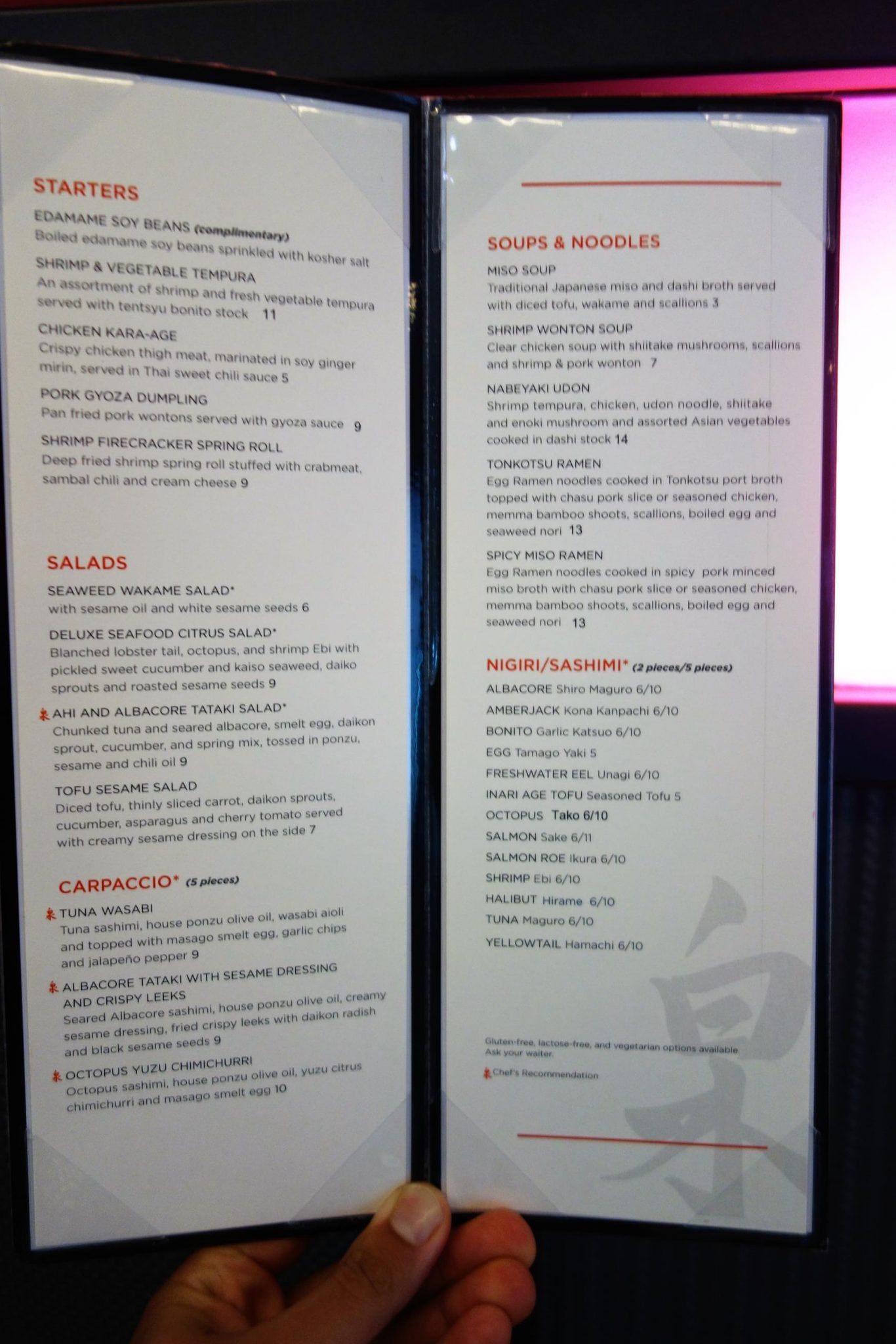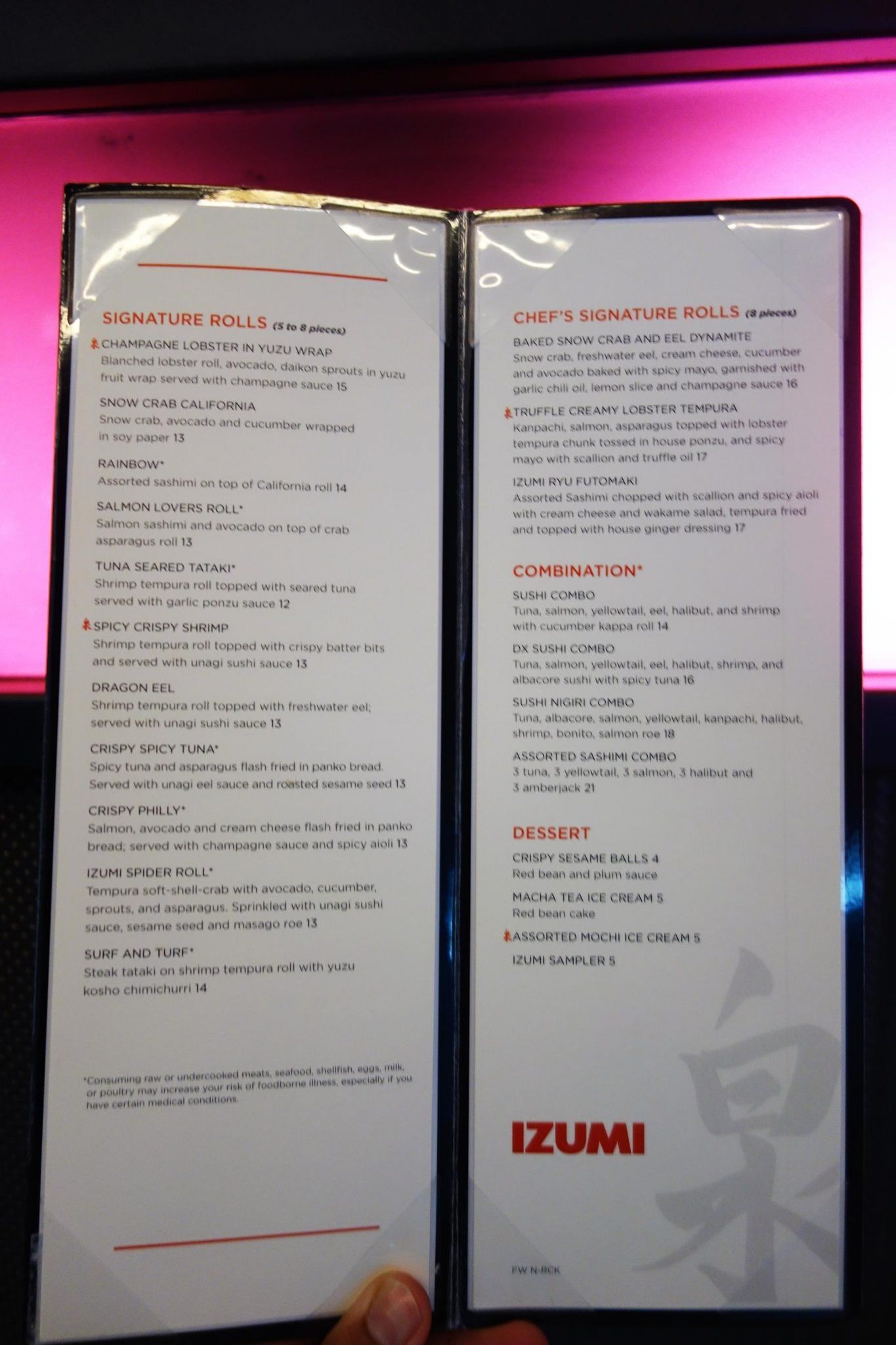 For the past two years, Izumi also offers a traditional Japanese steakhouse experience. This Hibachi experience costs $35 or $40 per person, depending on your entree selection. The meal comes with soup, appetizers, wok style cooked entrees, rice or noodles, and dessert for the set price. There are only a few tables, so we suggest making reservations in advance as they do fill up quickly.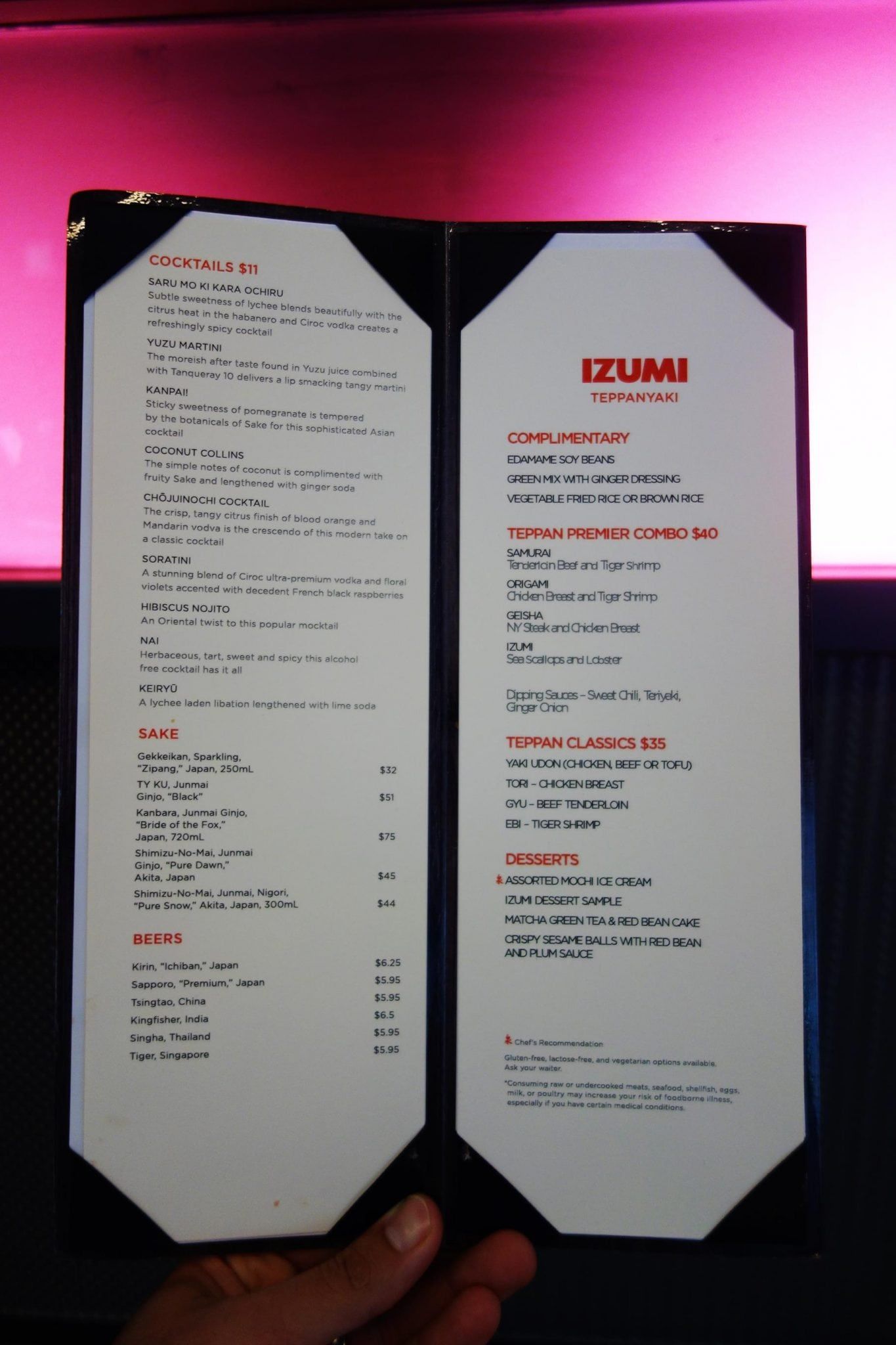 Johnny Rockets- Deck 6
Open most days from 11:30am to 10:00pm, this burger and fry shop offers snacks that are priced a la carte. No reservations are required/accepted. Breakfast is complimentary in Johnny Rockets.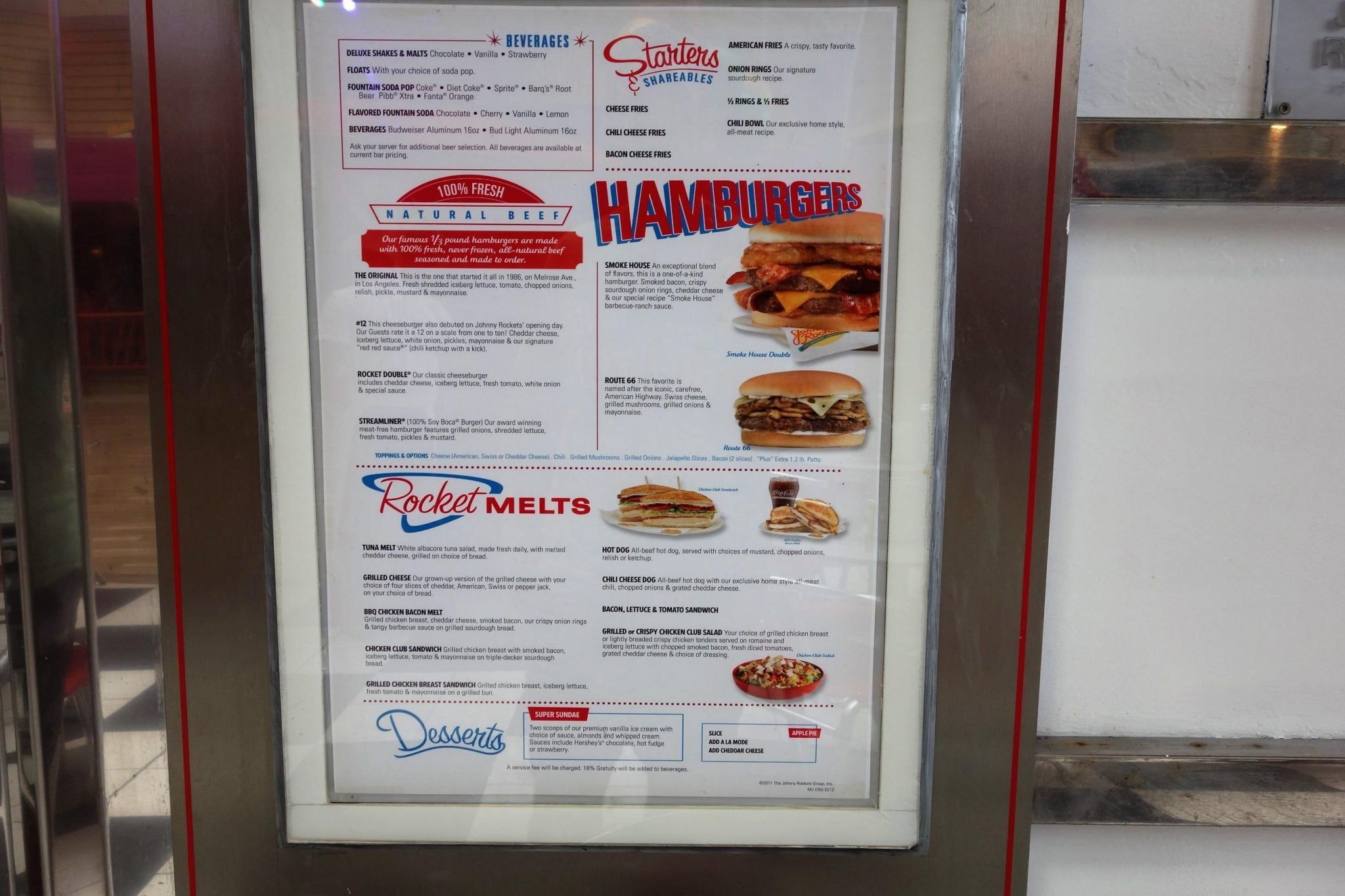 Sabor Taqueria and Tequila Bar- Deck 6
This restaurant generally opens in the early afternoon and closes by 11:30pm. Reservations can be made here but are probably not necessary. Food items are priced a la carte at Sabor, so you can eat as much or as little as you like. Margaritas, chips, and house-made guacamole are a must here. This was one of our go to places for a light meal onboard.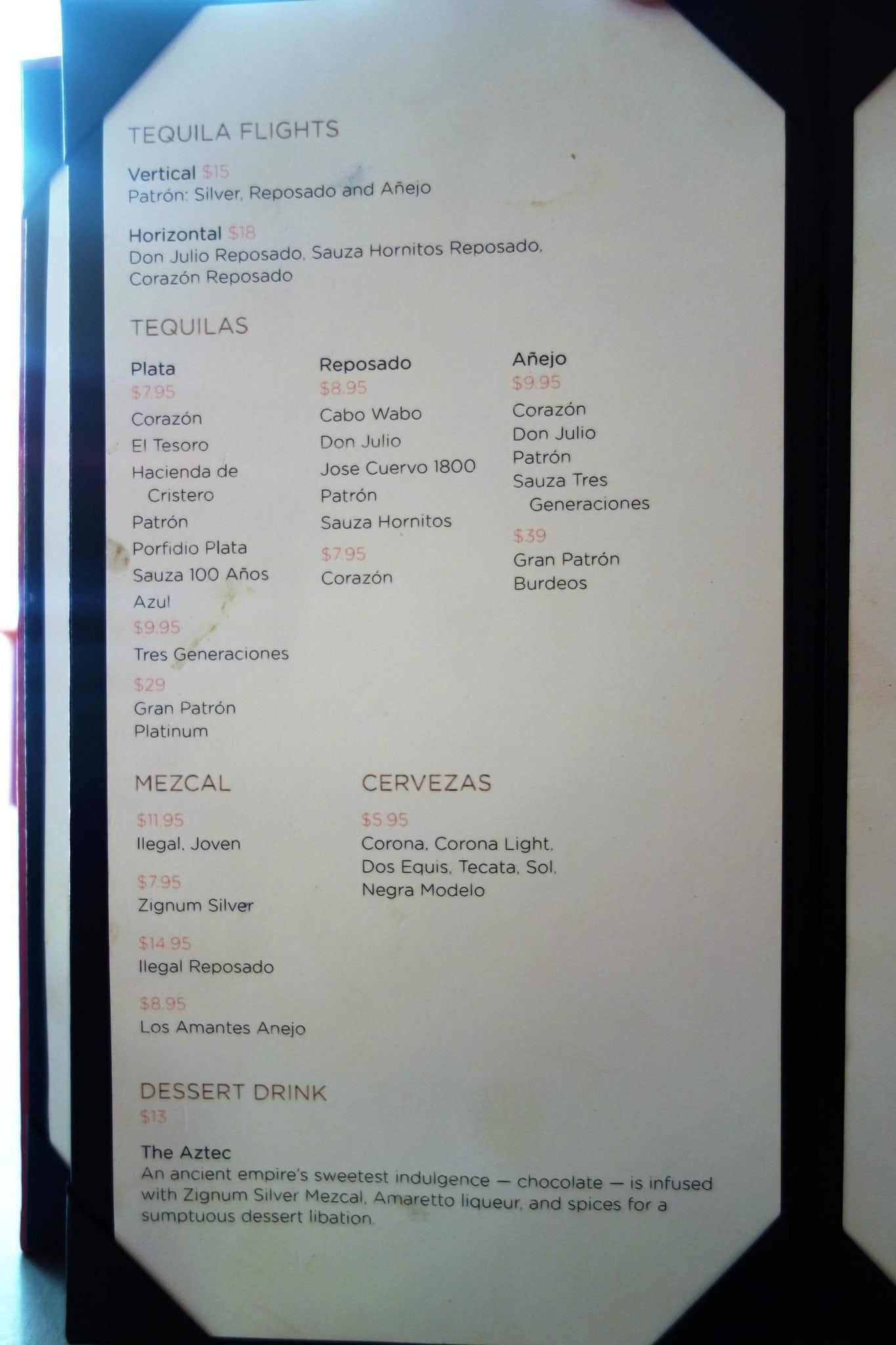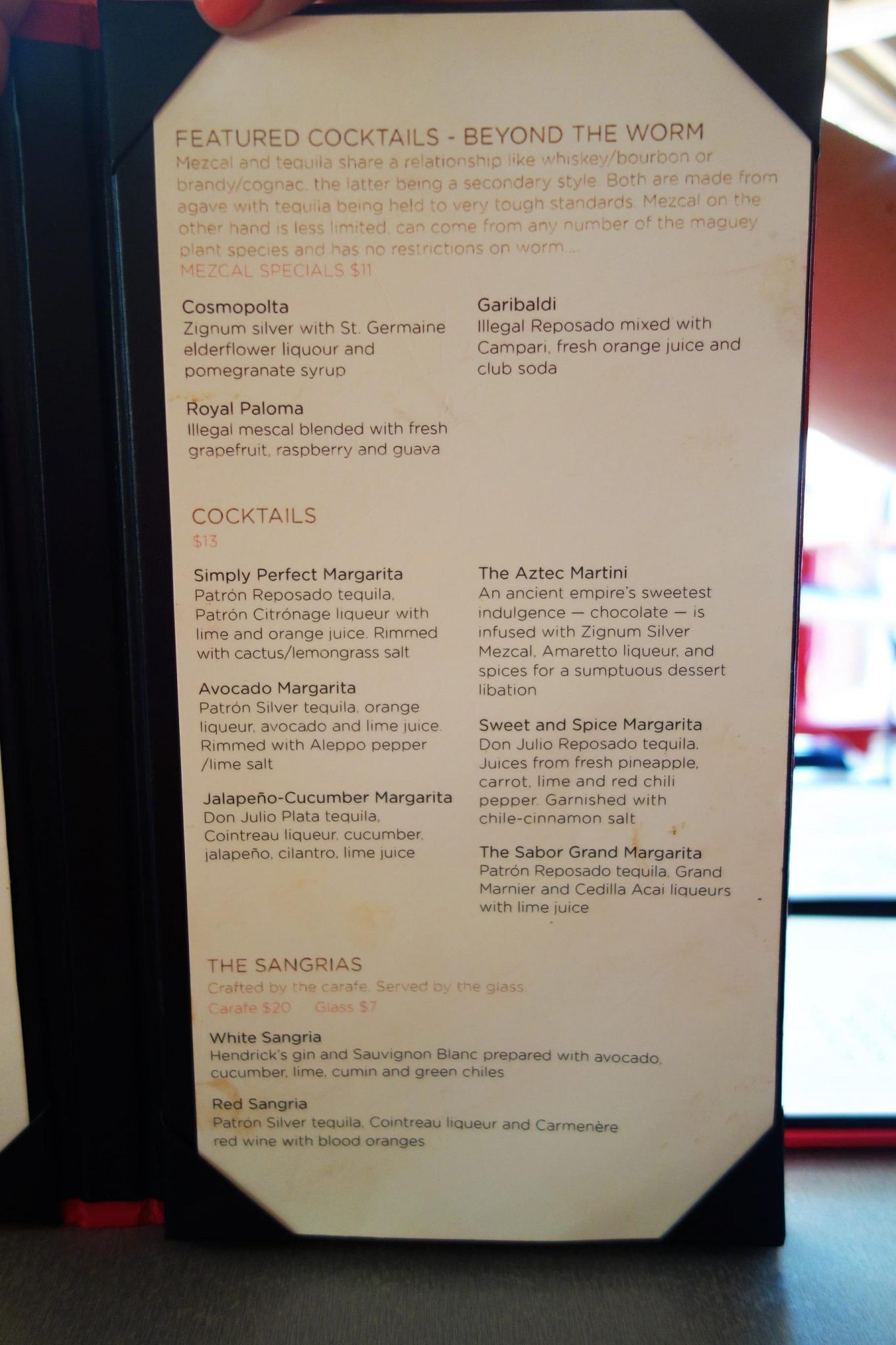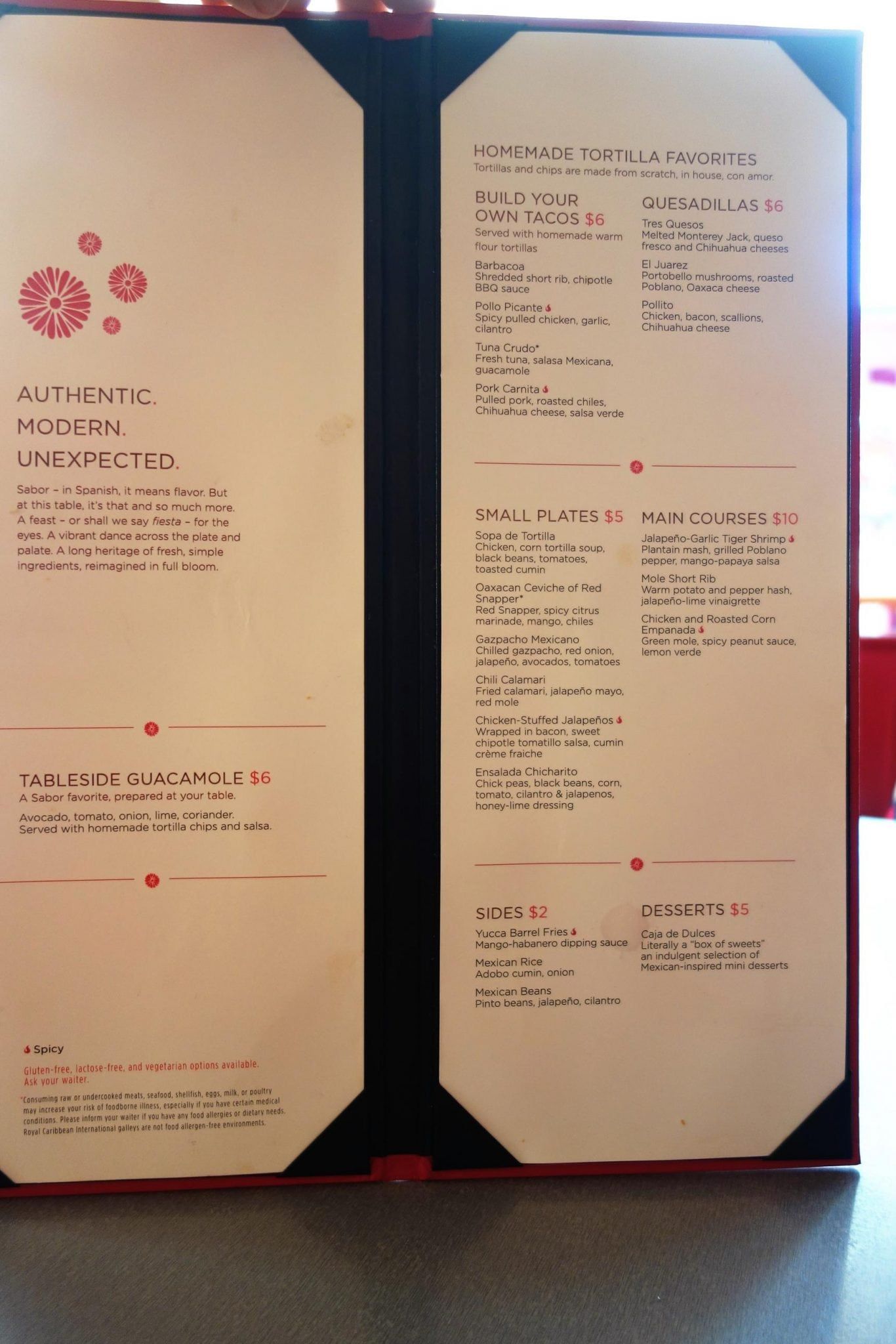 Giovanni's Table- Deck 8
This restaurant was priced at $25 a person for dinner during our sailing. Reservations were accepted, and we suggest you make them as the venue is small. We had plans to eat here one evening, but given the new MDR menus, we decided to cancel our reservation.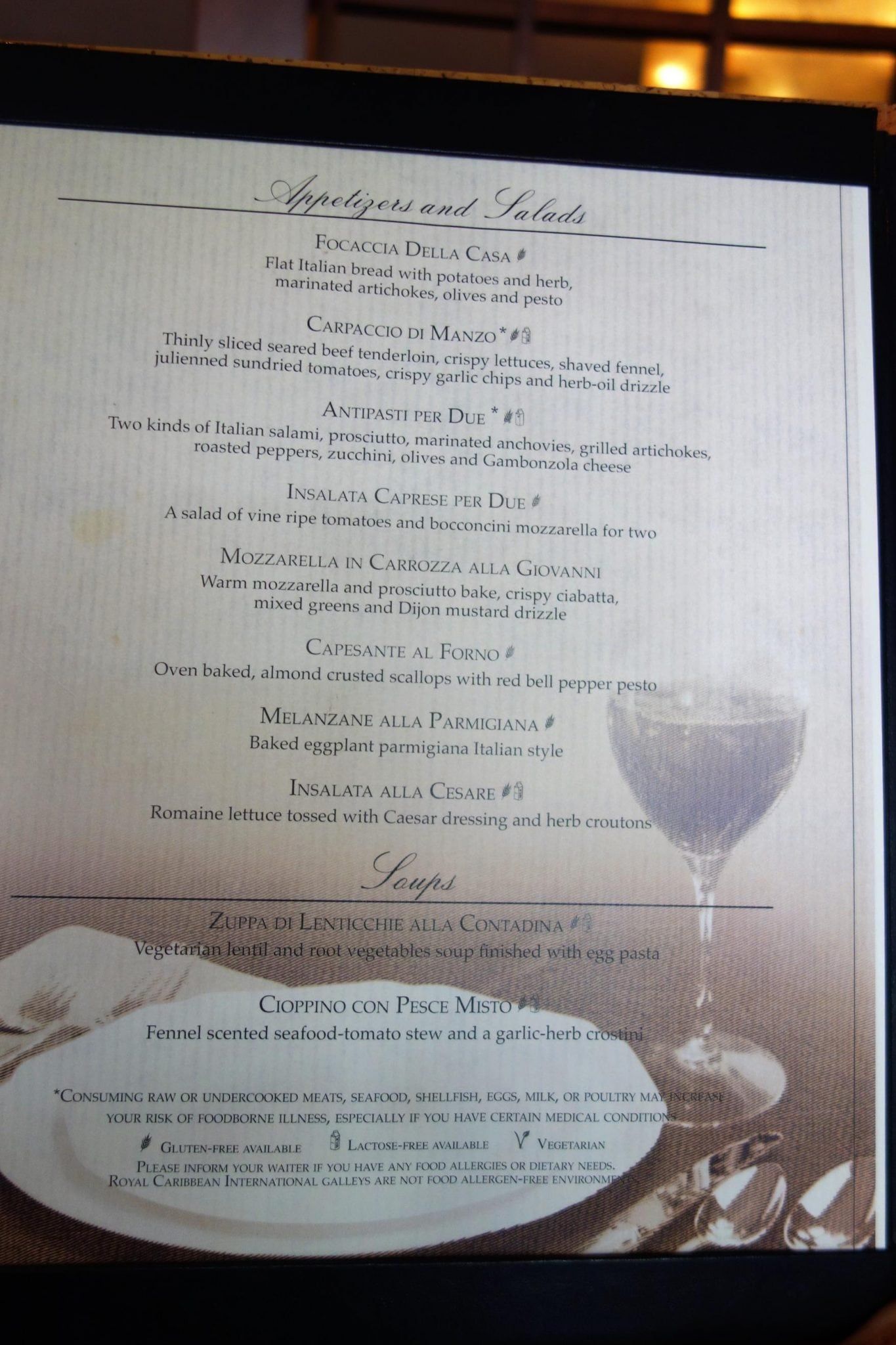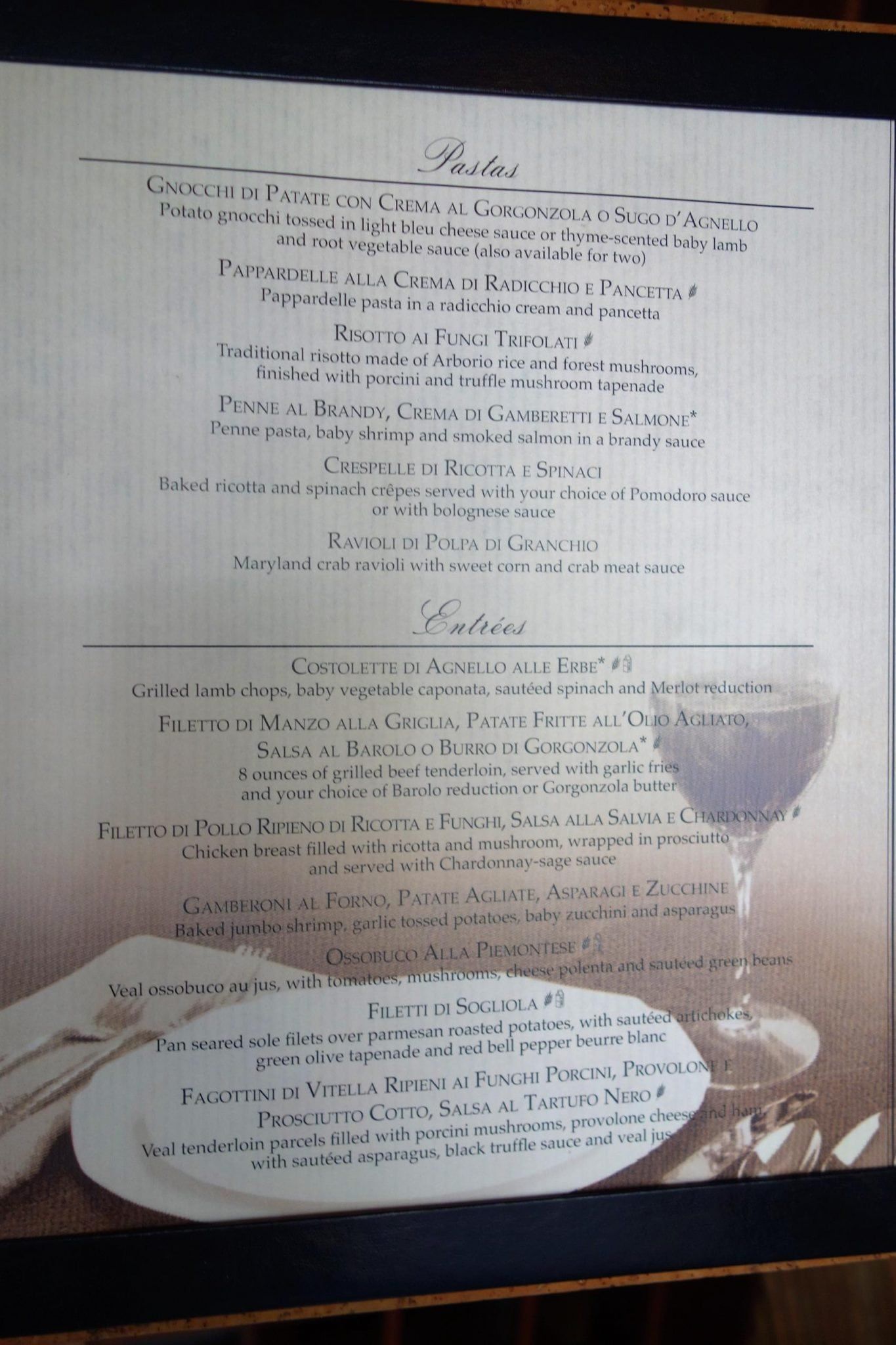 There is also a very similar lunch menu (page 1 and page 2) that is offered on select  sea days for $20. You will notice that there are fewer selections and the addition of a calamari dish that is not on the dinner menu.
Chops Grille- Deck 8
The signature steakhouse, this popular restaurant is found on many Royal Caribbean ships. On our sailing, dinner was $42 per person (though we only paid $39 as we had pre-booked a few months in advance). For this up-charge, all the starters and sides you want are included and ONE entree. Additional entrees were $10, and there were also upgraded dry aged steaks and lobster for additional costs.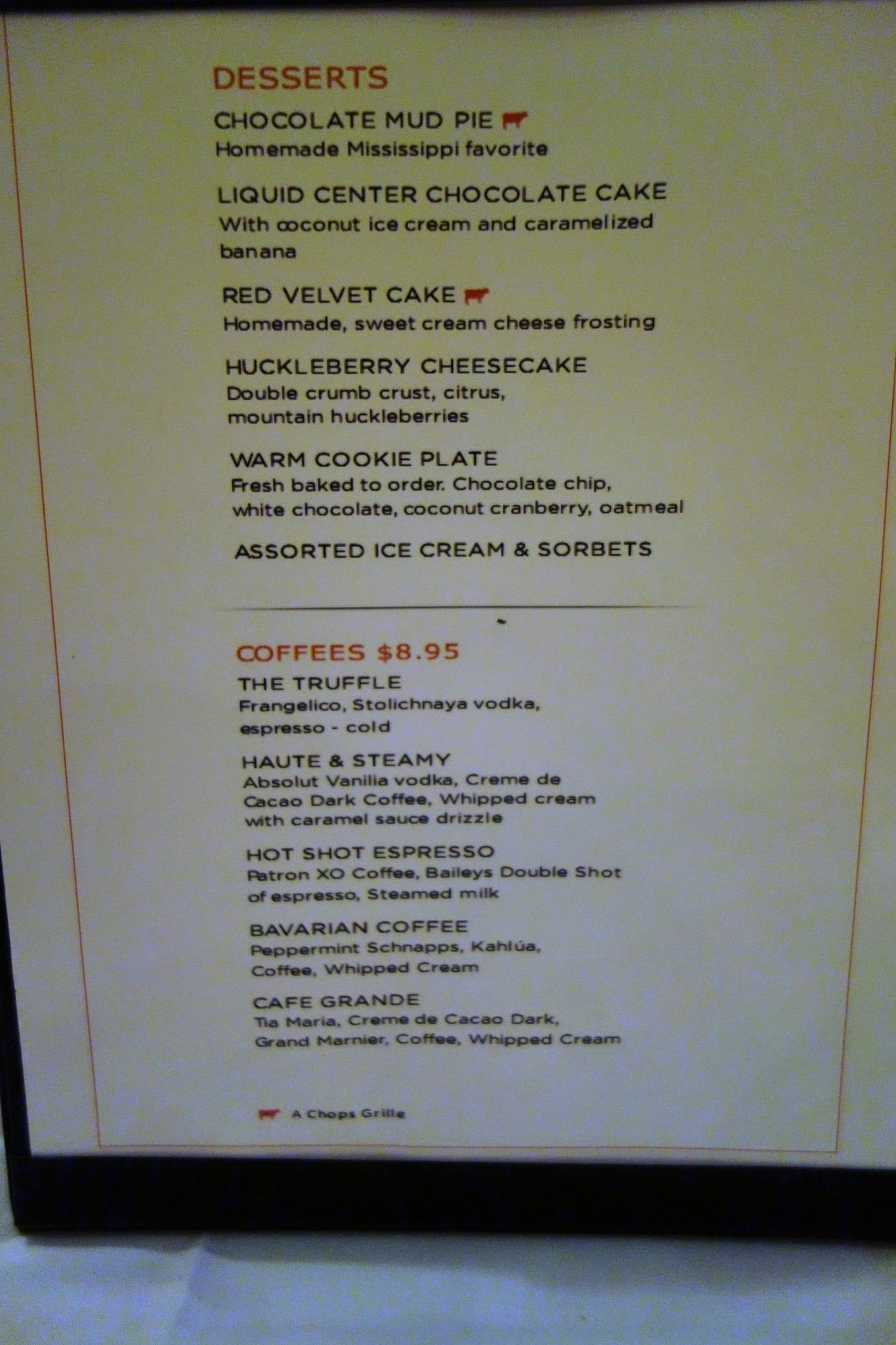 Another offering, for $35 a person, was a special lunch at Chops Grille offered on the last sea day. This lunch included a galley tour, along with a three course meal, which was very limited (see the menu here).
Vintages- Deck 8
This signature wine bar also offers a wide selection of tapas. You can purchase them in sets or a la carte. No reservations are needed/accepted. This venue was never very busy on our cruise, and if we hadn't eaten so much at other places, we might have sampled a few of these menu items.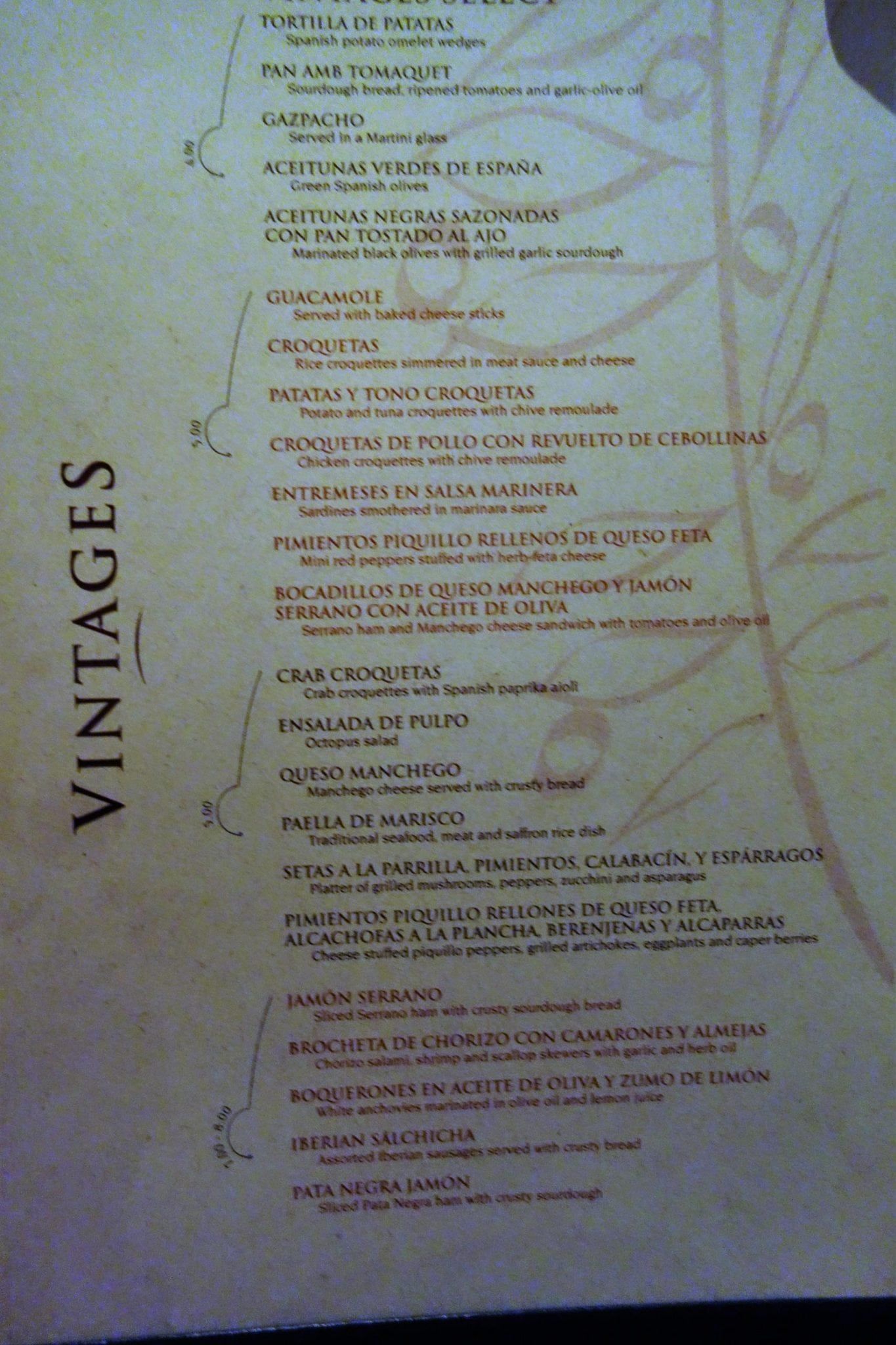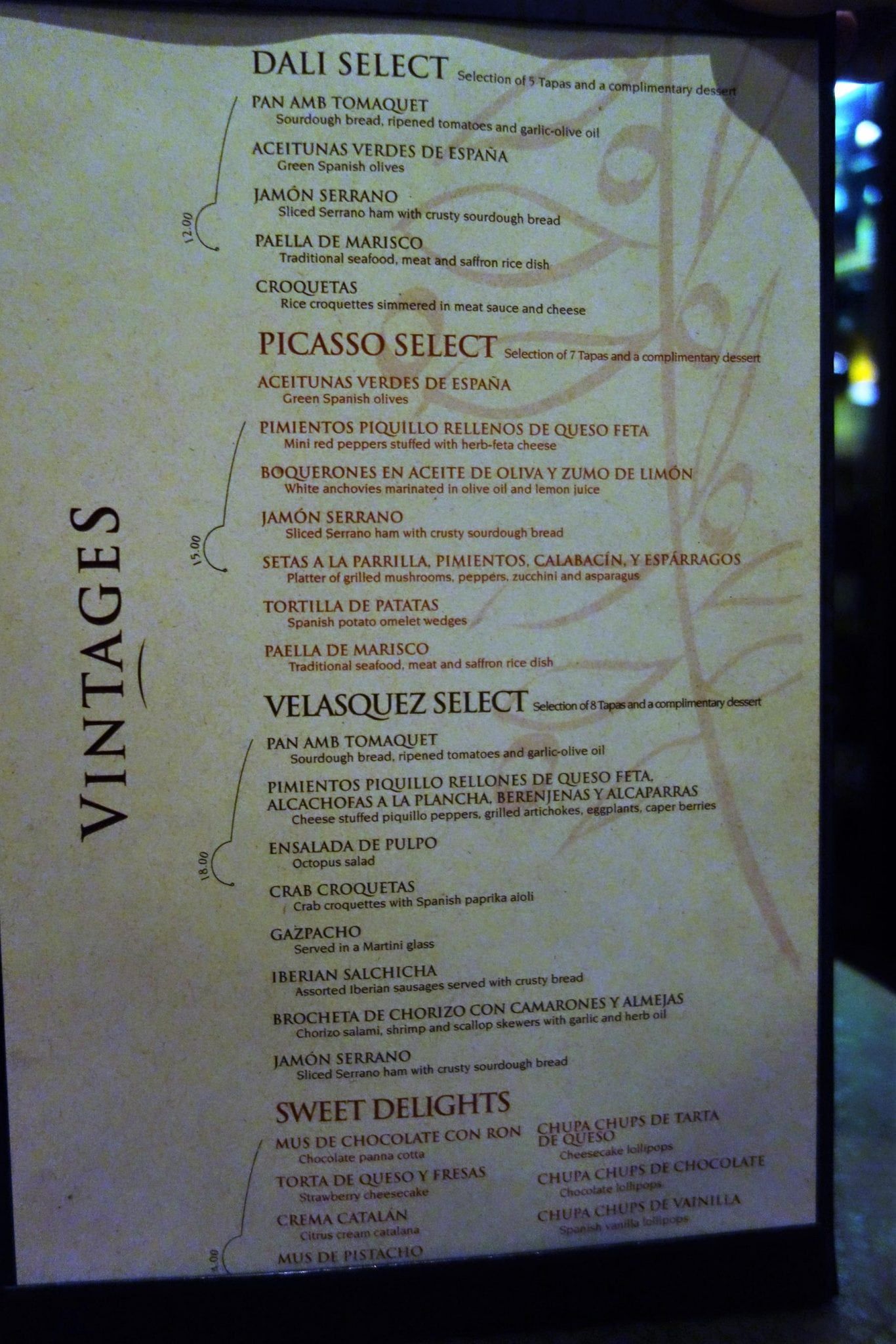 150 Central Park- Deck 8
At 150 Central Park, you can experience an elegant six course meal straight from executive chef, Michael Schwartz. Reservations are necessary. The venue is small, and table seating is limited. Two separate menus were offered during our cruise. Dinner started at 7:45pm, and you could choose to have dinner for $40 a person or a wine pairing with each course for $75. Given the Princess' delicate palette, we never considered eating here.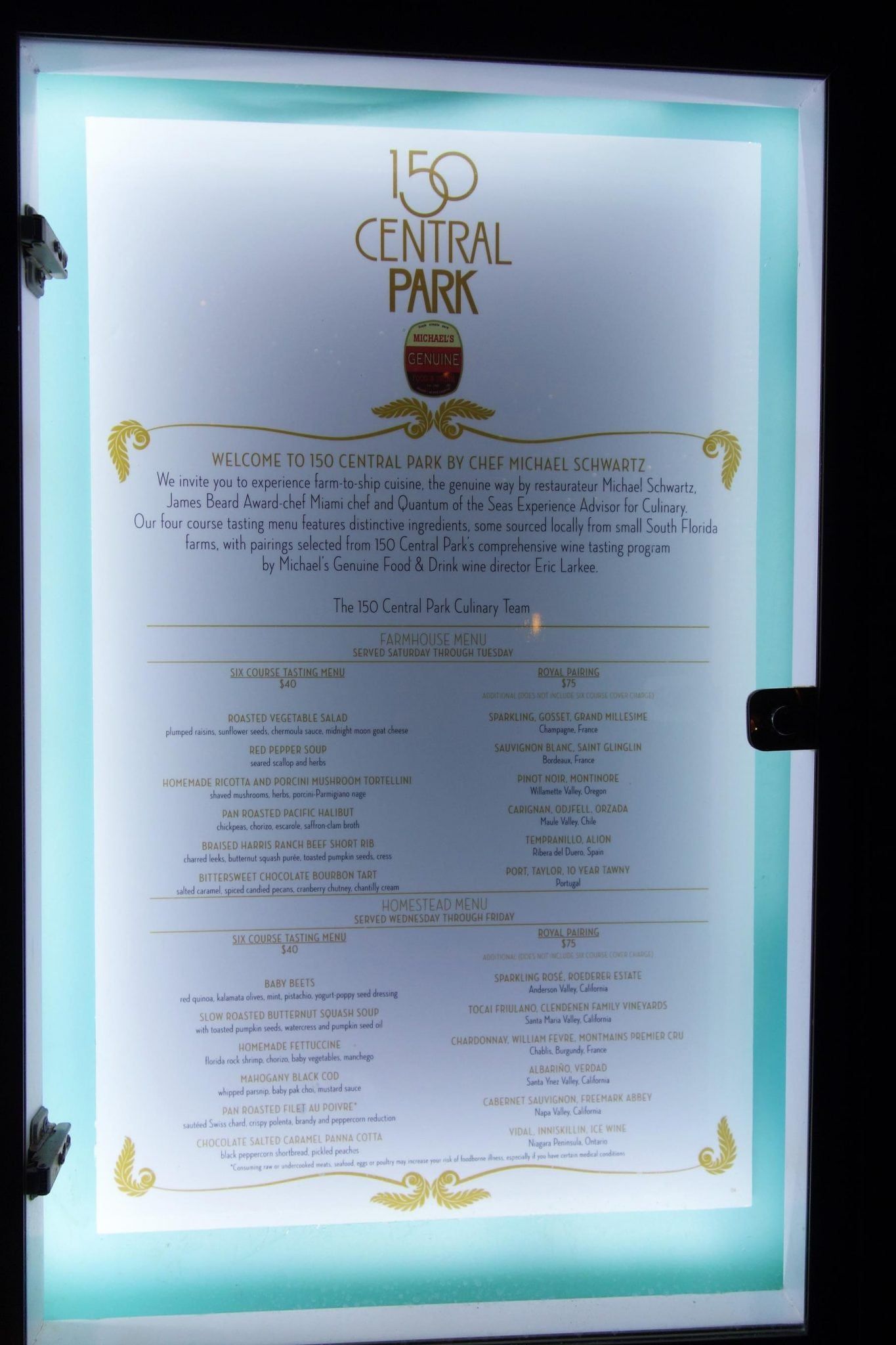 Comments
Which items do you like on the new main dining room menus on Oasis of the Seas? Are there any items you wish they would add to these menus?  Drop us an anchor below to share your thoughts on these new menus or your favorite cruise meals.