Ship Overview
Odyssey of the Seas is Royal Caribbean's newest ship in the fleet. This second Quantum-Ultra Class vessel boasts several of the line's most popular amenities and attractions. Combining elements of its namesake sister ships, with hints of other classes of ships, Odyssey of the Seas is the combination of all the best that the cruise line offers.
Odyssey of the Seas features a newly re-configured and open two story main dining room on Decks 3 and 4. This stunning venue delivers the classic Royal Caribbean multi-course dining experience each evening.
Odyssey of the Seas Cruise Review Video
For specialty dining, the ship offers a number of great dining options. Odyssey is home to the line's signature steakhouse Chops Grille and Izumi Sushi. New to this class is the family friendly Giovanni's Italian Kitchen. From executive chef Renato Viola, this restaurant offers authentic Italian cuisine and some of the best pizza found on land or sea. Also new to the ship is Teppanyaki, a lively Japanese-style dinner and show.
Casual eats are plentiful on the ship too. From Mexican options at the poolside El Loco Fresh, to the line's signature Windjammer buffet, to sandwiches from Café Two70, there is a variety of options for breakfast and lunch.
Further, there is never a dull moment on the ship. With activities ranging from a sky diving simulator, to bumper cars, to surf simulators, active cruisers will have plenty to keep themselves busy. Of course, there are several pools and lounge spaces as well for those looking to relax.
At night, Odyssey of the Seas comes alive with all the cruiser favorites and some one-of-a-kind production shows. The main theater features two signature productions including the visually stunning Effectors, complete with lasers and drones. In Two70, cruisers will be captivated by the technologically advanced theater set up and digital effects in The Book: Seven Chapters, One Adventure.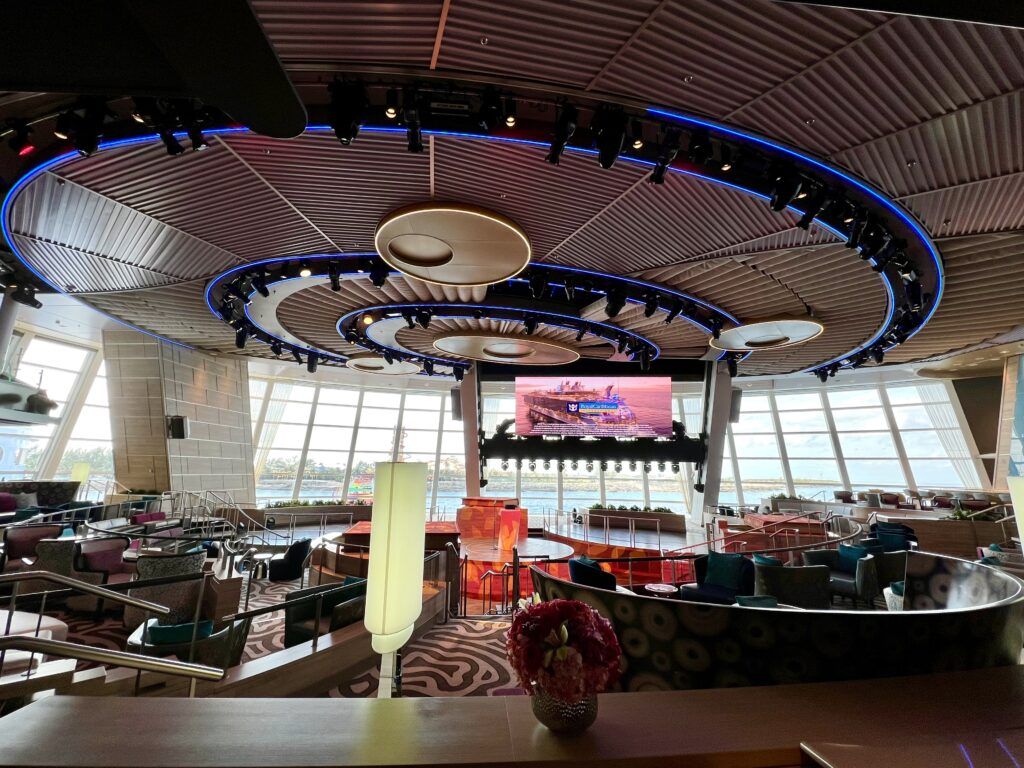 Now cruising the Caribbean, Royal Caribbean's Odyssey of the Seas offers the perfect cruise vacation for couples, families, and multi-generational groups.
EXCLUSIVE SAVINGS: Get Deals on Odyssey of the Seas Cruises!
Day 1 – Odyssey of the Seas Cruise Review
Back Onboard Again
This sailing on Odyssey of the Seas was technically our second cruise on this ship. Immediately preceding this cruise, we were guests of Royal Caribbean on the two-day inaugural cruise and christening of Odyssey of the Seas.
Given we were doing a back-to-back cruise, our embarkation for this trip was a bit different. We joined about 100 or so other cruisers also sailing on both voyages around 9:20 am in the Music Hall.
Once all other passengers had disembarked, we were escorted off the ship to go through customs and re-board the ship. This meant we had the ship all to ourselves until around 11:30 am when the first new guests were allowed to board.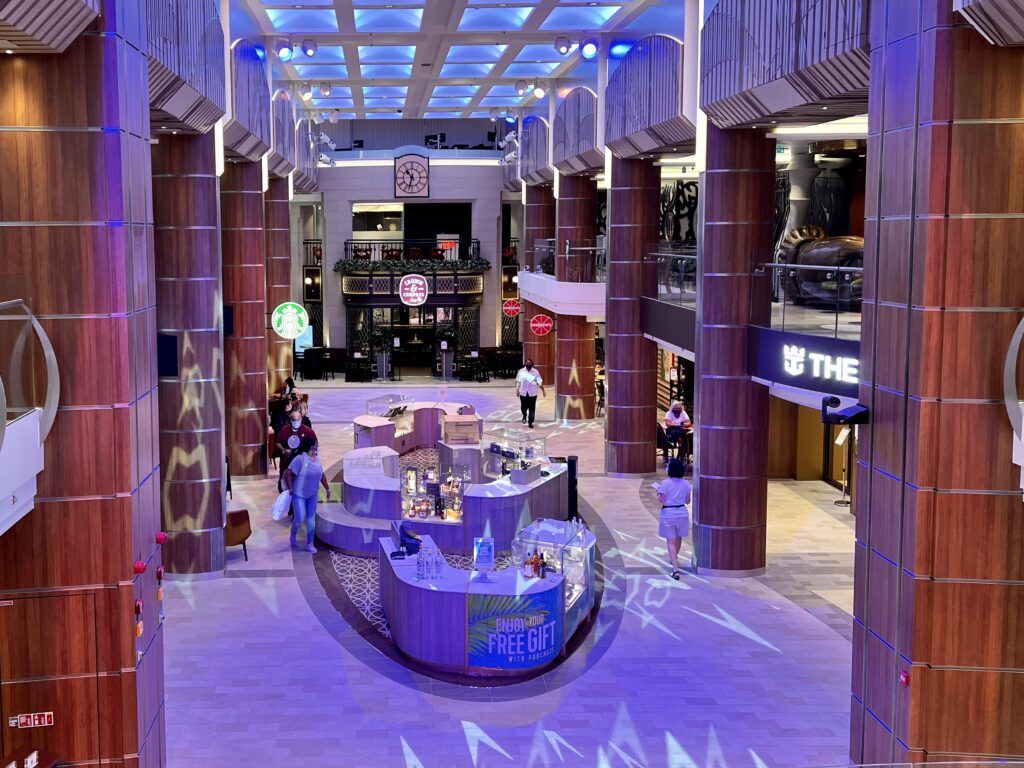 Now was the perfect time for us to grab some additional photos and video of the public venues that we missed during our very busy previous two days on the ship.
Before heading to our cabin, we grabbed a quick lunch at El Loco Fresh. Located on Deck 14 midship, this al fresco eatery is the perfect addition to the pool deck on Odyssey of the Seas.
Featuring pork, beef, or chicken tacos, quesadillas, and nachos, it is one of our favorite new venues on Royal Caribbean ships.
A Rather Lazy Afternoon on Odyssey of the Seas
After lunch, we returned to the SeaPlex to get more information on the new virtual reality experience Zone Zero. Unfortunately, it was not running, and it ended up being closed the whole cruise due to technical issues.
So, we returned to our room to unpack. Since we didn't learn until earlier this morning that we would not need to switch rooms, we had been living out of suitcases the past two days. Luckily, our room from the first cruise was unoccupied on this sailing, so the team let us keep this cabin.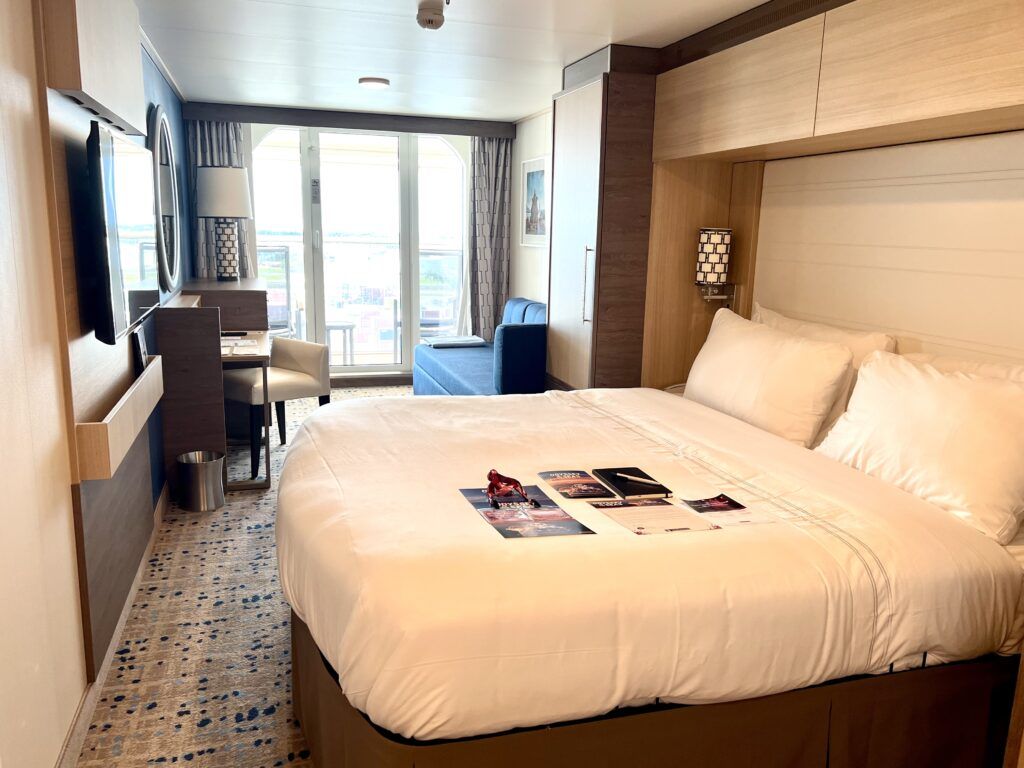 Finished settling in by around 2:30 pm, we headed out for the afternoon. First, we made a pit stop at our muster station for the mandatory drill. Then, it was on to the pool deck.
For a Monday in Fort Lauderdale, it was surprisingly mild. Dare we say, a bit on the cool side.
I had some work to catch up on. Of course, there is no better way to do so than with a "welcome aboard" drink from the Lime and Coconut.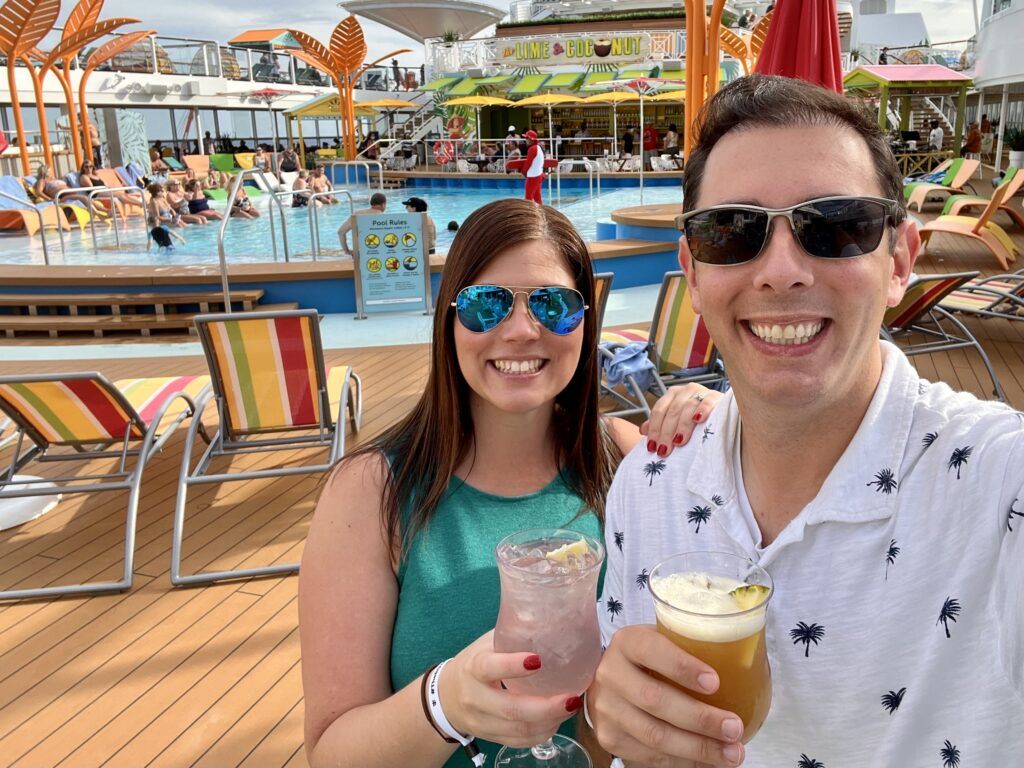 From there, we watched the nearby Celebrity Millennium sail away a little after 4:30 pm. Next, it was our turn. Although, with several individuals late to complete Muster Drill, our sail away did not occur until around 5:15 pm.
Calling it an Early Night
With the sun setting, and the wind picking up, we headed back to our cabin to get ready for dinner. Pre-cruise, we had booked two specialty restaurants and reserved three My Time Dining reservations in the main dining room. Tonight was the dining room for 6:45 pm.
The first night at the MDR was a little chaotic. The line for those without reservations was extending out near the elevator banks. Luckily, the line for cruisers with reservations was much shorter.
Waiting only a few minutes, we were escorted to Table 371. Here, we met our waitstaff, Ronald and Mia. They were a great service team. Following dinner, we made a request for a table in their section for the other two nights.
For this first night, I went with my usual, a crab cake and a medium-rare prime rib. The key lime pie with a cup of coffee was the ideal finish to this meal.
Our waitstaff did an amazing job of pacing out the dinner. It did not feel rushed or dragged out. The food was served hot and fresh, with plenty of flavor. In fact, it was one of the better first night MDR experiences we have had in a while.
Out in less than 90 minutes, we set off on our usual "drink around the ship". No Odyssey of the Seas cruise review would be complete without testing out each bar on the ship.
We opted for the Music Hall tonight. The band Sea Surfers was on the stage. The venue was nowhere near as busy as it would get later in the week with the Journey tribute band.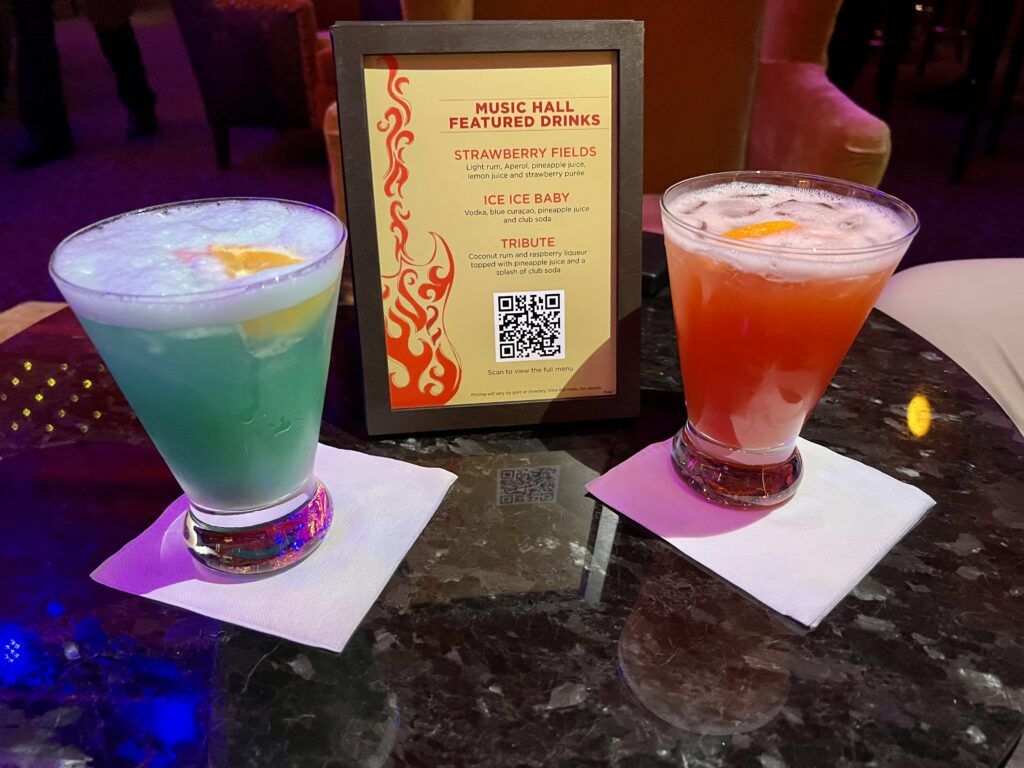 This visit, we tried some new cocktails- the Strawberry Fields and Ice Ice Baby.
With the band finishing up around 9 pm, it was time to head to the theater for the headliner comedy show.
With the new restrictions, we had to wait until we boarded the ship to make our entertainment reservations. Luckily, we were able to get all the showtimes we wanted. Tonight, the show featured comedian, Kivi Rogers. His act was pretty standard for a "family friendly" show.
Given our previous two busy days during the media sailing, we decided to call it a night after the show. We couldn't start the week off too tired. There was plenty more to experience on Odyssey of the Seas.
Day 2 – Odyssey of the Seas Cruise Review
Getting Some Work Done on a Cruise
Today was our first port of call of this trip. Again, we would be stopping at the cruise line's private island of Perfect Day at CocoCay. I had to get some work done in the morning. So, we planned to spend the morning on the ship and then head to the island in the afternoon.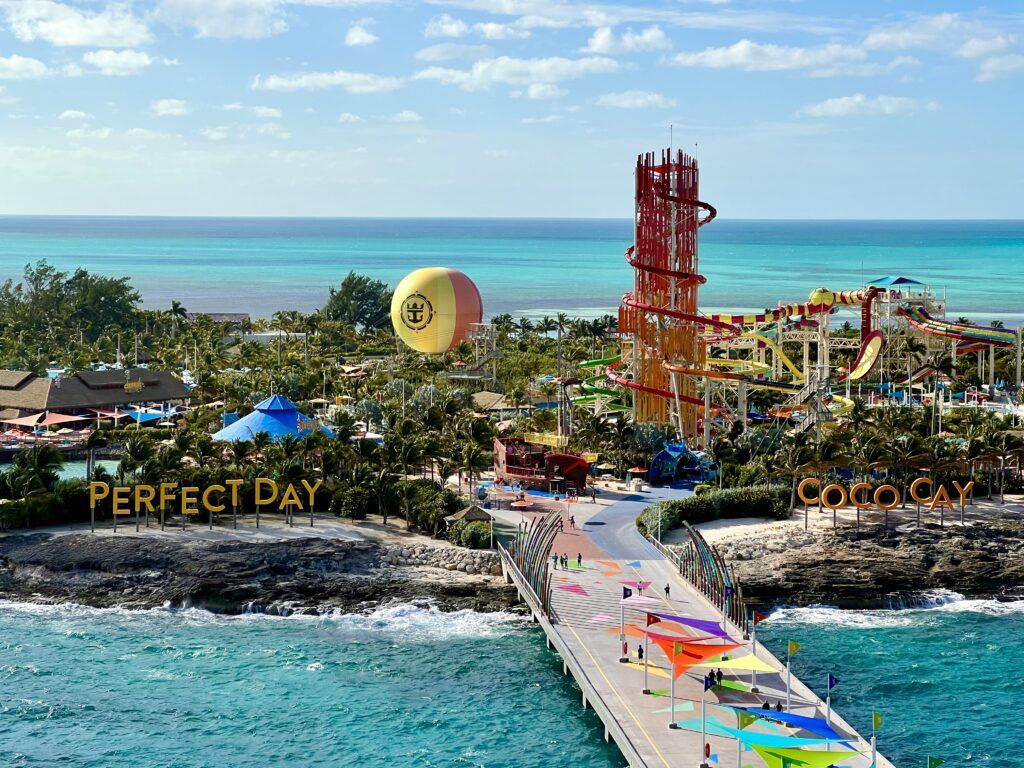 Surprisingly, the latte shop in Café Two70 did not open until 7:30 am for our morning caffeine fix. Unfortunately, Café Promenade on Odyssey of the Seas does not offer espresso based drinks.
Getting ready for the day first, we were still able to grab our coffees and squeeze in a quick breakfast at the Solarium Bistro before my meetings.
This restaurant offers a complimentary sit-down dinner in the evenings, but it is buffet-style for breakfast and lunch. Still, we were able to get some omelets and few other breakfast items quickly and avoid the Windjammer.
We worked in the cabin until about 11:15 am when it was time to check-in for our NorthStar reservation. Unlike the previous media sailing, the cruise line was only letting 4 individuals into the gondola per ride. Good thing we booked as soon as we could on Day 1 as we heard it filled up very quickly.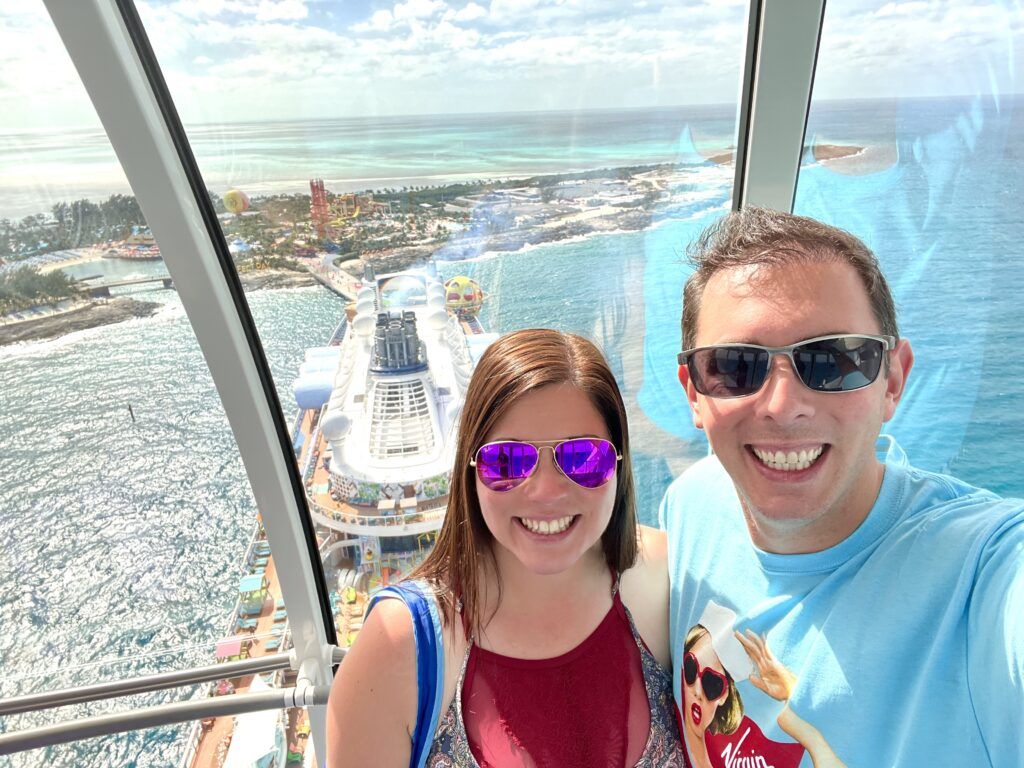 The complimentary ride in NorthStar lasts approximately 9 minutes. It takes riders straight up over 300 feet above sea level. This gave us a clear view of the island and the ship. Of note, cruisers can purchase an extended flight on sea days for $29 per person.
Safely back on solid ground, we returned to our cabin to pack up for an afternoon of fun and sun with Perfect Day at CocoCay all to ourselves today.
An Afternoon Ashore
Given the gorgeous and sunny weather, we headed to the Oasis Lagoon.
Unlike our previous stop during the media sailing, we were the only cruise ship docked. So, the island was quiet, and we had no trouble finding available loungers.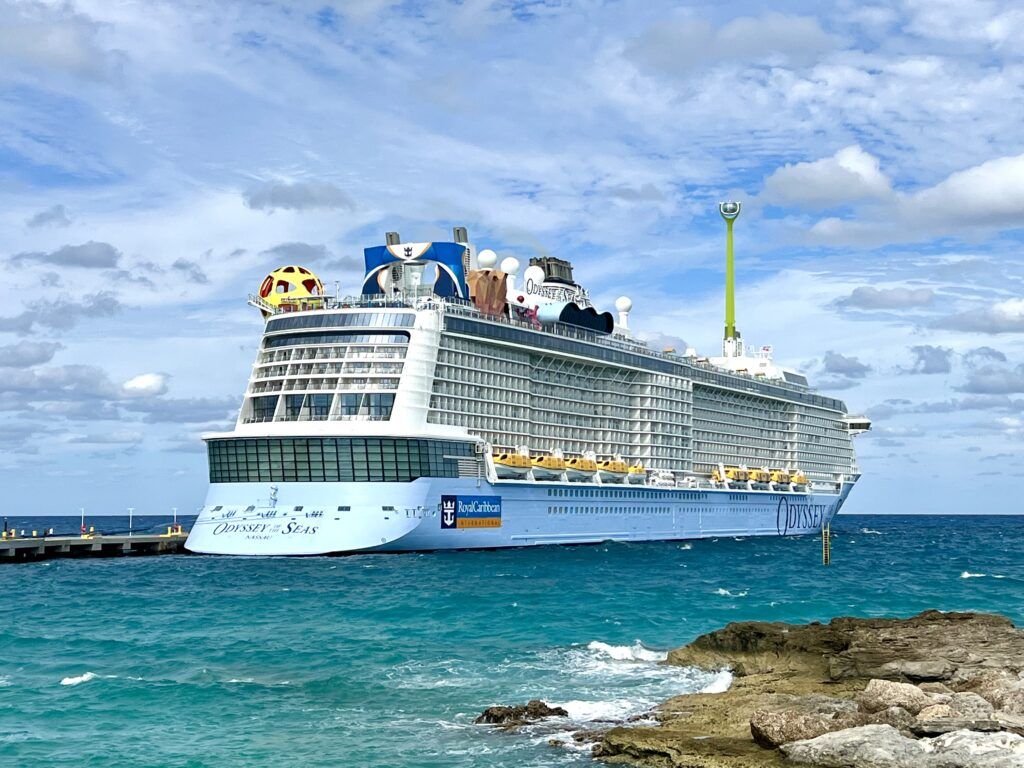 With the ship's Wi-Fi working only intermittently, it was tough to get much work done. Instead, we spent the day with friends enjoying conversations and Coco Locos, the signature island cocktail.
Slightly before closing time, we made our way to Skipper's Grill for a quick bite to eat prior to heading back onboard the ship.
Back on the ship, we made a stop at the coffee shop for our afternoon iced lattes before heading back to our cabin.
This gave us a couple of hours to get some work done before dinner.
Tonight, we were meeting a friend at a specialty restaurant. This new Italian restaurant is one of our favorites. We dined at the Giovanni's Italian Kitchen on Freedom of the Seas back in 2020.
A Typical Night on Odyssey of the Seas
Getting to the restaurant a few minutes early, our party was seated at literally the last table before the kitchen.
Our waiter, Angel, was very attentive and informative. He made sure we knew all about the menu options. Not to mention, he gave us the complete history of the restaurant concept.
Since we were dining with others, we were able to sample several additional items on the menu.
The feast began with appetizers. For the table, we ordered the primavera pizza, giant meatball, caprese salad, and the calamari.
The calamari was fresh and crisp, served with a tangy marina sauce. The giant meatball was a combination of beef and pork. Stuffed with mozzarella cheese and topped with parmesan cheese, it was a rich, flavorful combo. The pizza and salad were equally delicious.
For entrees, Heidi and I both went with pasta options tonight. I did the linguine with shrimp, and Heidi did the spaghetti carbonara. Both entrees were just the right size given all our other selections.
Dinner did take close to two hours, but we had enough time (and room) for a complimentary limoncello. Also, we may have split two desserts, with the cannoli being the clear favorite over the chocolate ravioli.
We then headed to the Crown and Compass pub. Tonight, the guitarist Stephen Burke was playing the usual selections.
We had reservations at 10:15 pm for the signature show, The Book, occurring in Two70. We knew this popular production would fill up fast. So, we left our friends at the pub around 40 minutes before showtime to get prime seats.
The front row in the center balcony had only a few seats left when we arrived. Apparently, we weren't the only ones who knew about this ideal location.
This signature show showcases some of the high-tech features of the dynamic venue. Utilizing the roboscreens and 12K vistaramas, the production takes the audience through seven chapters on one epic adventure. Mixing acrobatics, dancing, and a talented contortionist, the show came to life all around the venue.
Although, when compared to the two other shows found on Quantum and Anthem, we would actually rank this one in third place. It could have used a bit more cohesion to the story, as well as more vocals.
The show finished around 11 pm. Heading back to the Esplanade, it was no surprise that our friends were still at the pub. With one more Diamond voucher left for the night, they didn't have to twist our arms to grab a last round of drinks before calling it a night.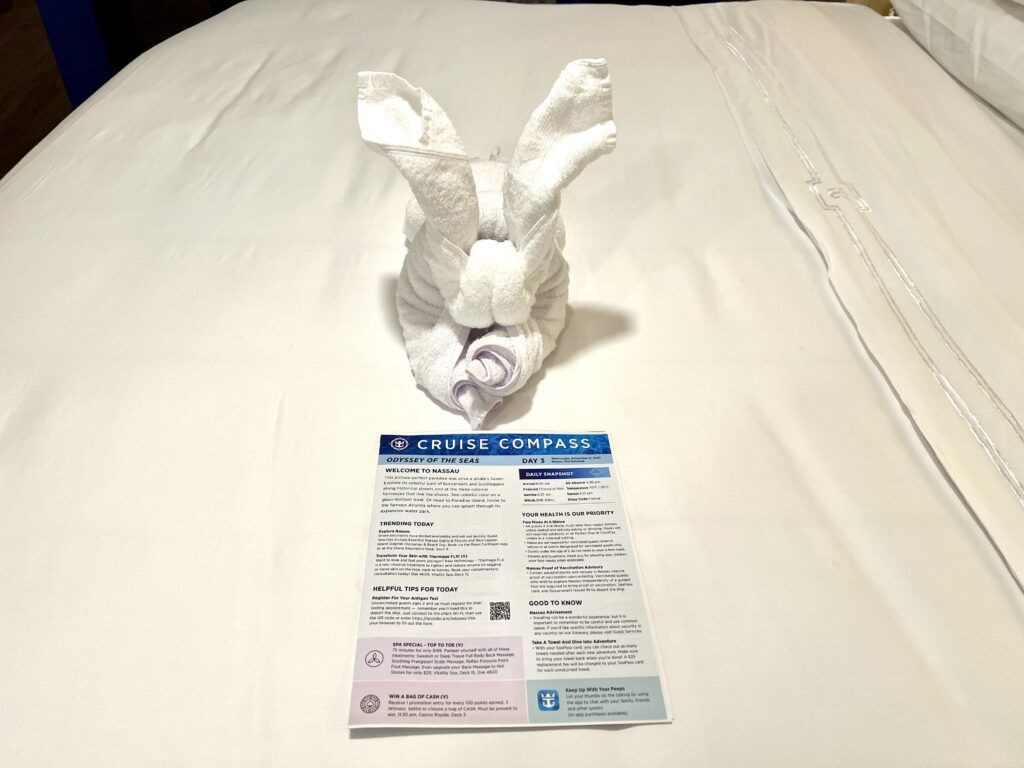 Tomorrow, I had to work again in the morning, so I needed to get some sleep.
Related Post: Odyssey of the Seas Restaurant Guide
Day 3 – Odyssey of the Seas Cruise Review
Returning to Nassau
Today, the ship was docking at Nassau, Bahamas. Like many frequent cruisers, we did not book any excursions.
Needing to get some work done early this morning, I couldn't wait for Café Two70 to open for coffee. Therefore, I headed up to the Windjammer coffee shop which opens an hour earlier. Sadly, the espresso based drinks were not as well made as those from the baristas in Two70.
Skipping on breakfast, we stayed in our cabin working until about 10:45 am.
Unfortunately, the internet was not cooperating again today. By purchasing an international day pass with our cell provider, I was able to get most of my work done with some struggle.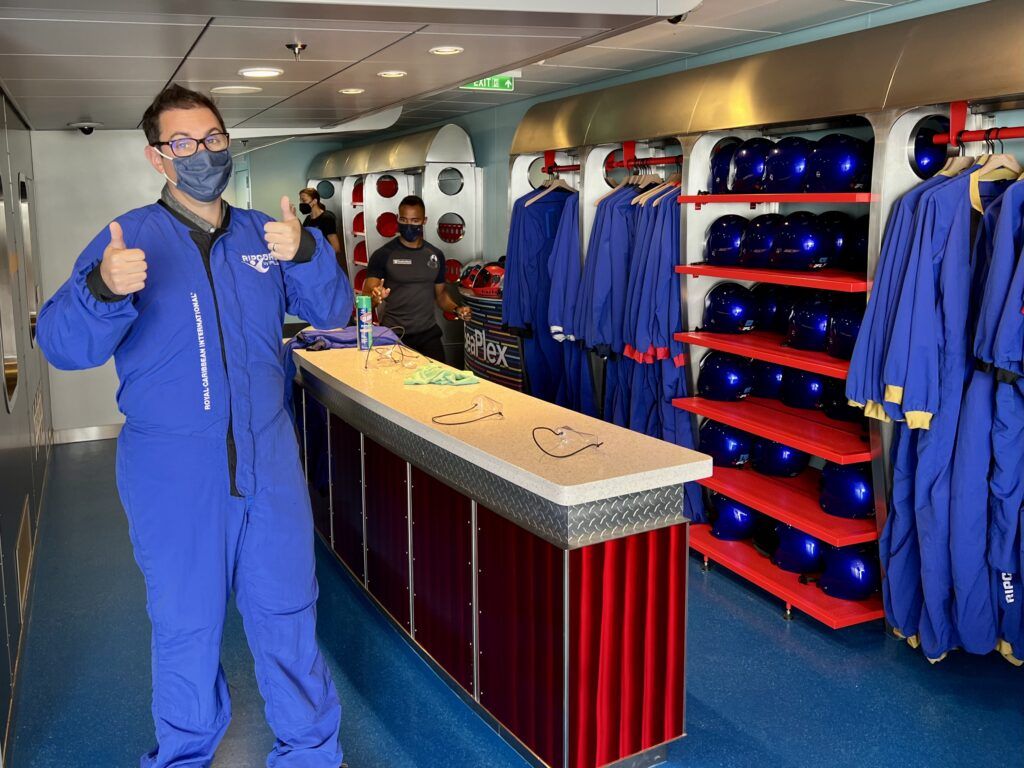 We had a reservation for the skydiving simulator, Ripcord by iFLY at 11 am today. Again, we made sure to reserve this popular, complimentary activity on embarkation day.
Arriving 10 minutes early, I completed the check-in and waited for the remaining flyers. At the last minute, Heidi decided to opt out. I guess two previous flights was enough for her. After all, someone had to capture videos and photos!
Even though our last Quantum Class cruise was five years ago, I feel my 60 second flight was a success. It was probably one of my better performances, even if the 70 year old grandma next to me did better.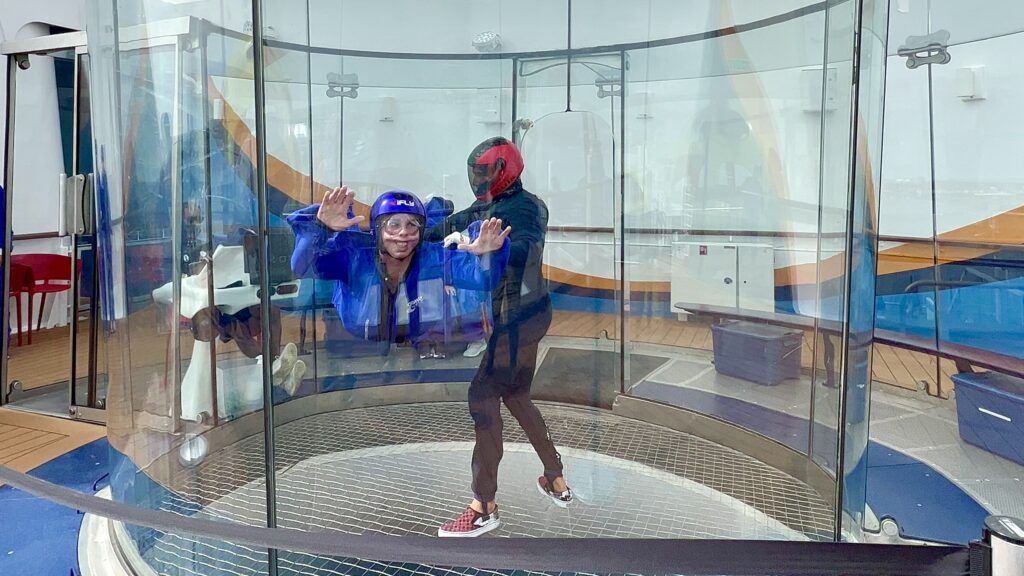 Who Needs to Leave the Cruise Ship?
While we had debated getting off the ship this afternoon, we decided to stay onboard and grab lunch at Playmakers Sports Bar and Arcade instead.
Playmakers is located on Deck 16 in the SeaPlex on Odyssey of the Seas. This restaurant is a great addition to this sports area; though, it does feel a bit smaller than other versions of the venue.
Given that it took a while for a waitress to come over and take our order, we should have known this was going to be an extended lunch.
Like always, the food was stellar. The massive nachos, hot and fresh buffalo wings, and chicken tenders really hit the spot. But unfortunately, the food took forever.
Approaching two hours at the venue, I had to leave Heidi to close out the tab so I could attend an afternoon work meeting.
By the time I finished up work, the weather was gray and gloomy. Thus, we found seats in the Solarium and grabbed drinks from the Sunshine Bar.
Here We Go Again
Tonight was the only formal night of this cruise. While the Princess is a big fan of this dress up event, I could easily forgo the formalities.
We had our dinner reservation in the main dining room for 6:30 pm.
This gave us enough time to grab a pre-dinner drink at Boleros and listen to the guitar melodies with Alex. The venue was quiet, but it still took close to 20 minutes to get our drinks. So, we ended up heading out to dinner with our cocktails shortly after.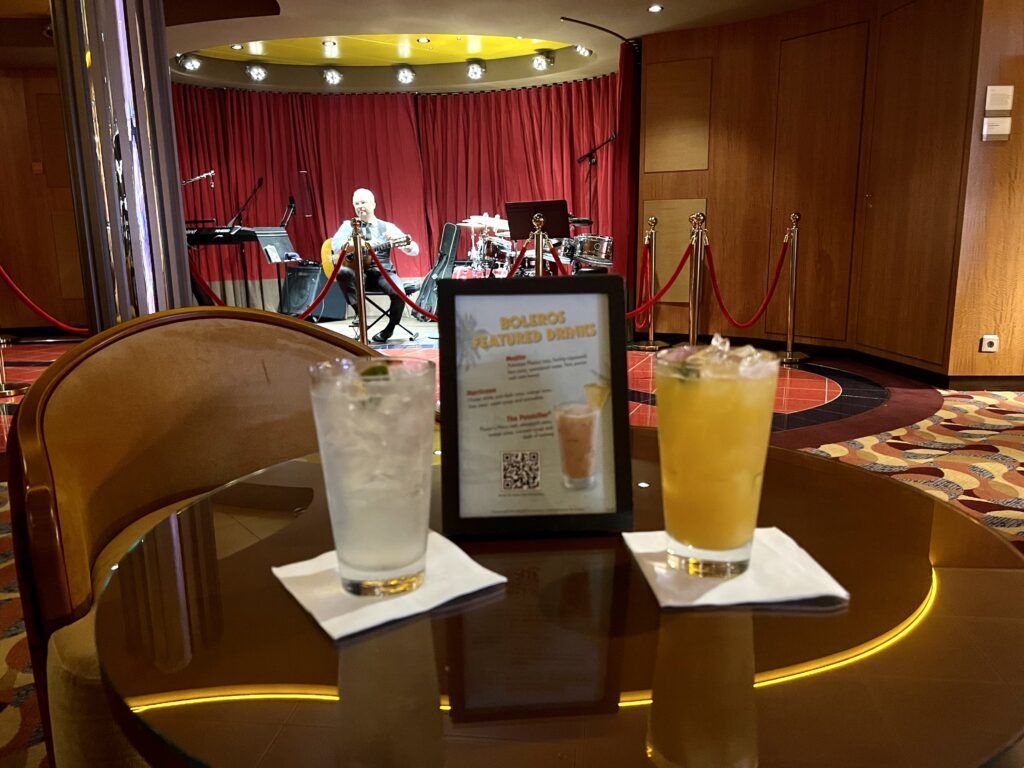 Checking in with the hostess, we requested to be sat in the same section as night one. Thankfully, we were given a table with the same waitstaff, even though it was technically in the section next to theirs.
Tonight's dinner was again on par with the main dining room experience. The roasted beef tenderloin was prepared medium-rare, with a rich mushroom sauce. The Grand Marnier soufflé is always a great dessert option as well.
Another Late Night
Dinner took less than 90 minutes, which gave us time to grab a drink at the new Giovanni's Wine Bar before our show reservation.
This venue replaces Vintages, the typical Royal Caribbean wine bar. We really like the new vibe and menu at Giovanni's. It also has an a la carte snack menu.
Finishing our glasses of wine, we headed to the theater for the headliner act, Tap Factory.
Even though we arrived 30 minutes prior to showtime, the theater was actually pretty filled.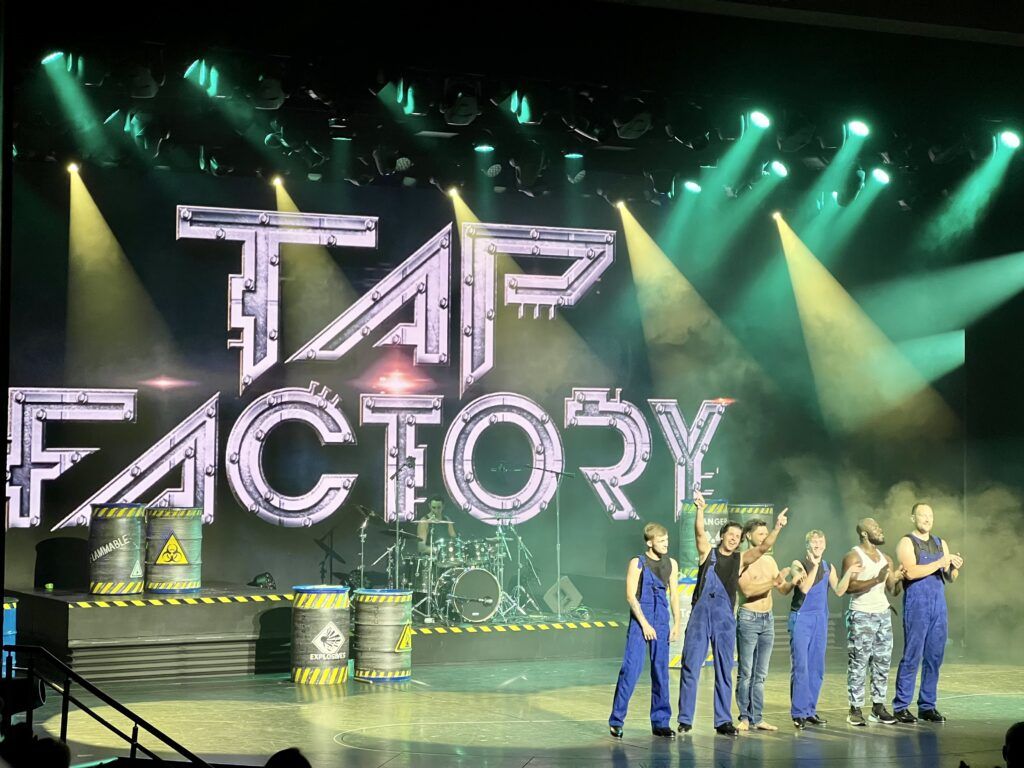 The Tap Factory troupe merges dance, percussion, and acrobatics for a unique, high energy performance.
Following this show, we headed aft to Two70 for the Love and Marriage game show. Like many versions, this one did not disappoint.
This Love and Marriage show was particularly funny as the husband of the older couple had a very odd personality. Not to mention, the honeymoon couple was from the Dominican Republic, so some of the show's jokes and innuendo were lost on them.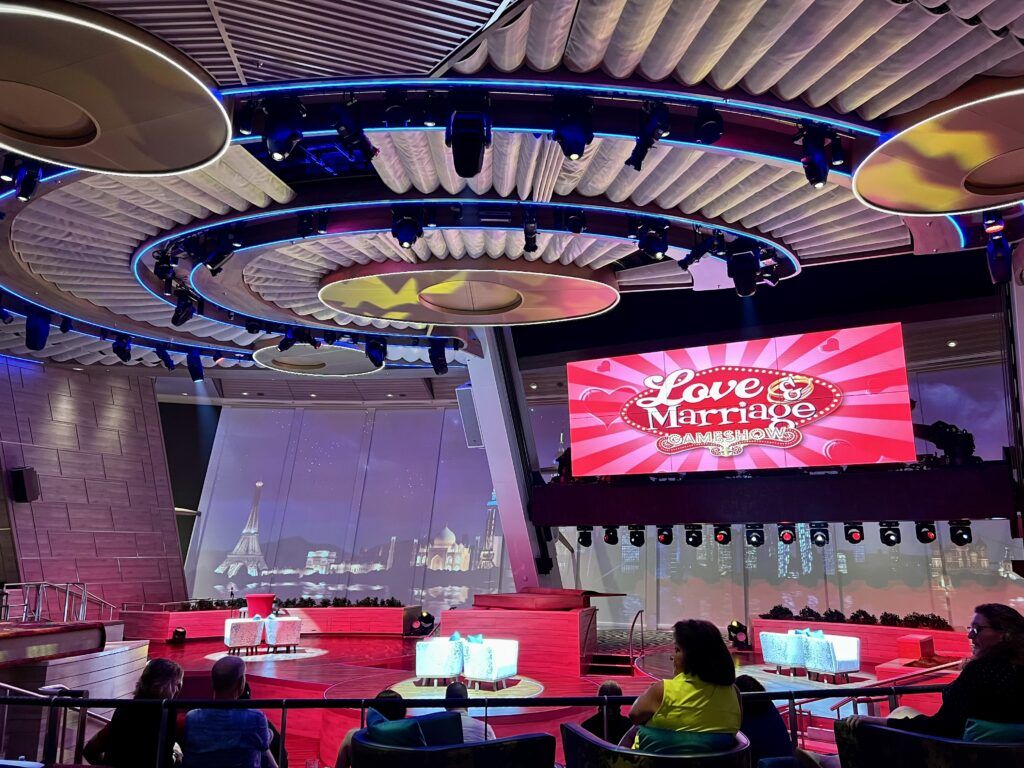 Finishing up right before midnight, we raced to the Schooner Bar for one last drink of the night. Unfortunately, it was already closed.
So, it was back to the pub.
With the house lights coming up around 1 am, we got the hint that it was time to leave.
BOOK NOW: Lock in Savings on Your Odyssey of the Seas Cruise!
Day 4 – Odyssey of the Seas Cruise Review
A Triple Dip at Perfect Day at CocoCay
Unlike the previous days, our plan today was to spend time ashore in the morning as I had several work meetings in the afternoon.
Given our rather late night, we slept in until around 7:30 am.
For this visit to the island, Freedom of the Seas was docked alongside us. This meant the island was certainly going to be busier than our last stop.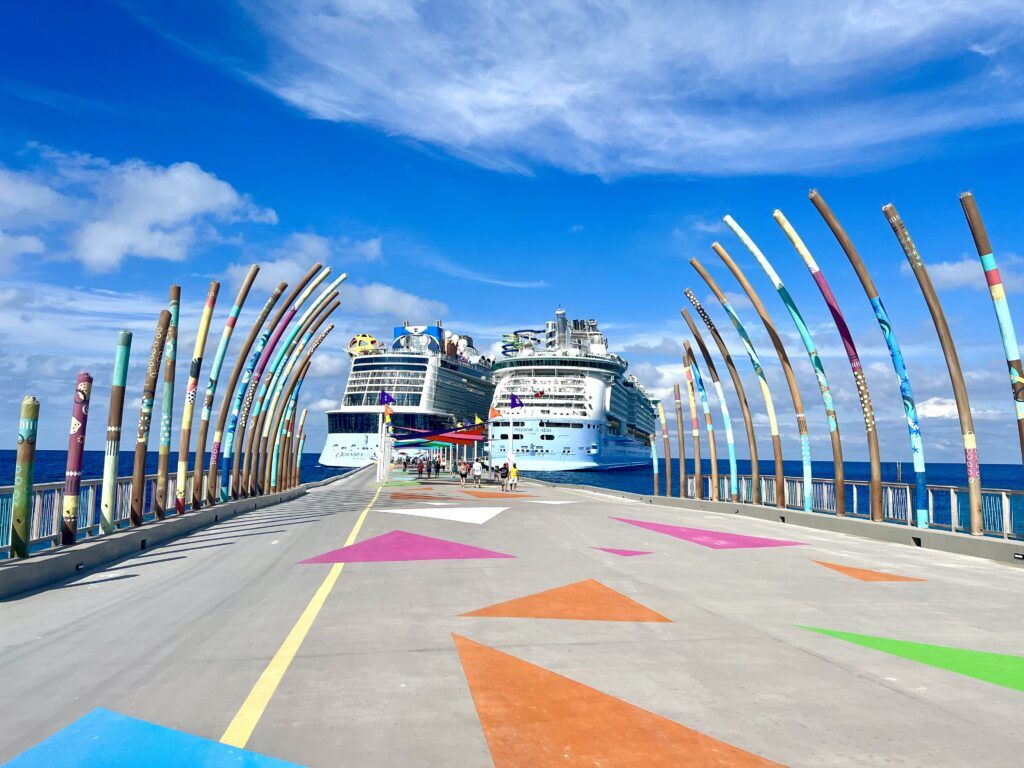 It was a partially sunny day when we walked off the ship at 9 am. It was also quite windy. In fact, we were surprised both ships were able to dock given the sea conditions.
We found a secluded spot at Harbor Beach, which is a bit more sheltered than the Chill Island or South Beach areas of CocoCay. Here, we spent the morning relaxing.
Around noon, I grabbed the wife her favorite chicken sandwich and mozzarella sticks from the Snack Shack. After her lunch, we relocated to Captain Jack's for my midday meal. After 6 previous visits to the island, I finally tried the chicken wings and fries from this up-charge restaurant.
When compared to Playmakers' wings, this island version was not worth the additional costs.
Here Comes the Rain
Along with some island drinks, we finished up lunch and headed back to the ship before 1:30 pm in time for my meetings.
With work meetings and getting our afternoon coffee, it was already closing in on 5 pm.
As fate would have it, we didn't miss much as it began to rain quite heavily in the afternoon anyway.
Now, it was time to get ready for our 6 pm dinner reservation at Teppanyaki. While new to Royal Caribbean, this dinner and a show experience is always a good time on a cruise.
Our chef was funny and served up a lot of food. All cruise, I tried my best not to over eat. Tonight, I may have broken my self-imposed rules.
From the shrimp and filet mignon that I ordered to even a few pieces of lobster and chicken, coupled with stir-fried vegetables and fried rice, it was certainly a feast. Even the mochi ice cream, while not my first choice for dessert, hit the spot.
Tonight, we had reservations for the other signature production show on Odyssey of the Seas, The Effectors. Finishing dinner by 8 pm, we had time to get a drink at the Bionic Bar.
While I think it's gimmicky, the bar is part of our drink around the ship. So, we needed to include it in our Odyssey of the Seas Bar Guide.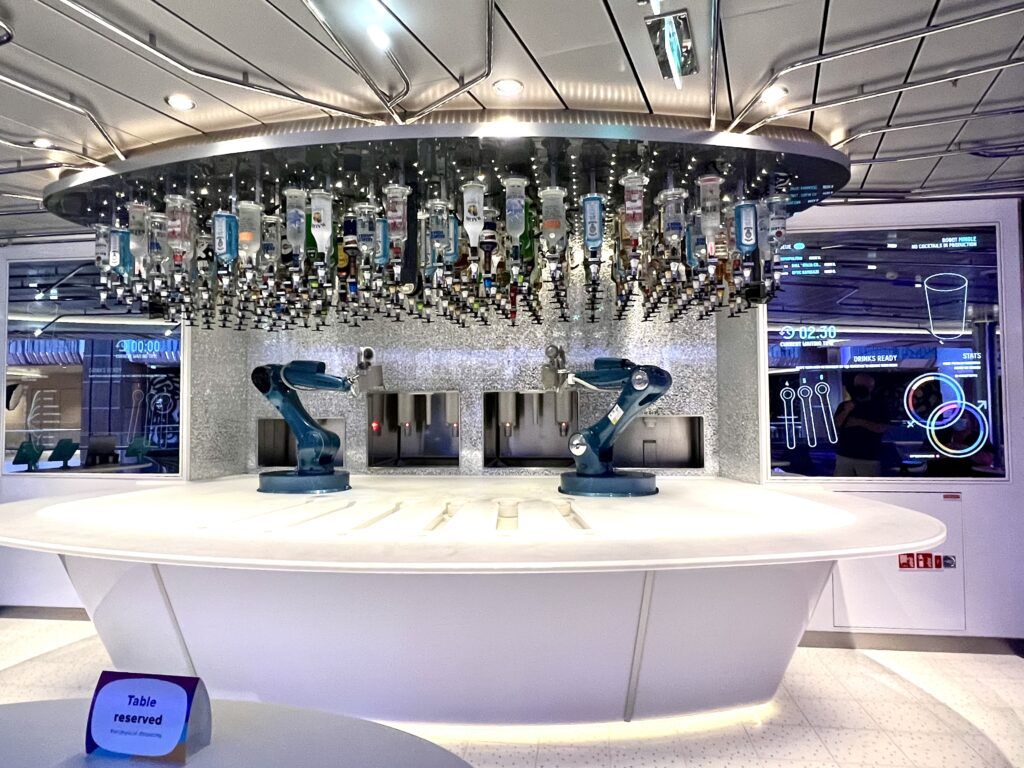 As usual, the drinks were not that well made.
While sipping these beverages, we noticed a line forming at the main theater. Knowing that the premium seats for this show would fill up quickly, I convinced Heidi to go wait in line around 8:45 pm. While she was convinced that the line was for standby, of course, I was correct that it was actually the line for those with reservations.
The Effectors is a visually captivating show that you won't find on any other cruise ship. This state-of-the-art theater mixes lasers, digital effects, drones, and other high-tech features to make you feel like you are in the middle of a Marvel movie.
The five featured singers all had powerful voices, and the choregraphed "fight scenes" were certainly a welcomed departure from the predictable cruise revue shows. I did think it walked the line of being a bit cheesy, but the Princess really enjoyed it.
Finishing up at 10:30 pm, we had time to kill before the tribute band began in the Music Hall. Onboard this sailing was DSB, the Journey tribute band. We really enjoyed them on Anthem of the Seas years ago, so we were eager to catch their show.
On our way to the Music Hall, we made a detour to the casino. Here, we had a short run before ultimately losing our initial whopping $30 investment at the roulette table. We also got to meet the casino host on Odyssey of the Seas, Chris Wong.
Getting to the Music Hall right after 11 pm, we couldn't find seats on the first floor, so we headed to the balcony. With some drinks in hand, we stayed until midnight listening to the band.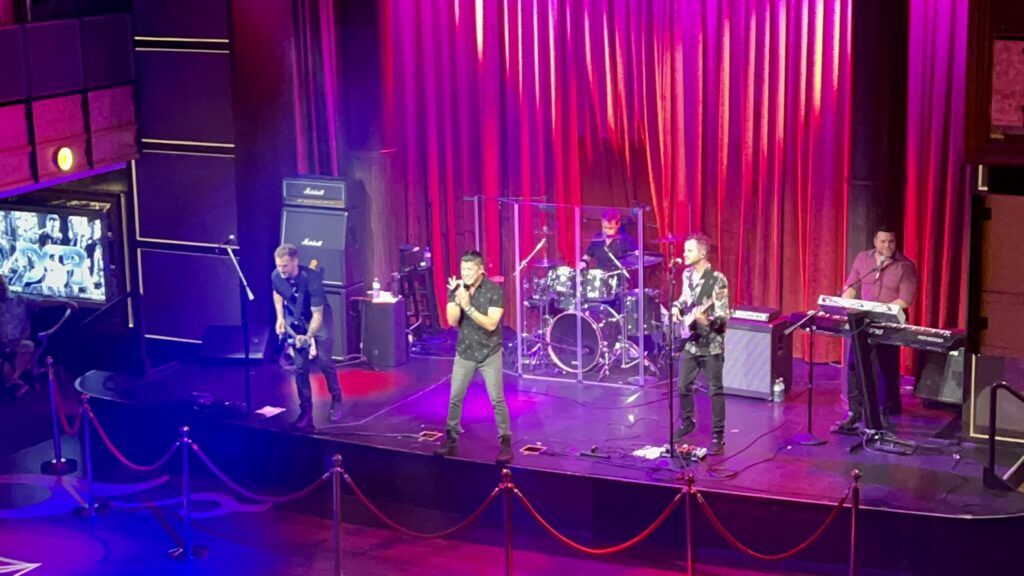 Tomorrow, we had to take a COVID test at 8 am. This test was required for our next cruise on Oasis of the Seas for Thanksgiving with our family.
Related Post: What's Included on Perfect Day at CocoCay
Day 5 – Odyssey of the Seas Cruise Review
A Cloudy Morning at Sea
This final day of our Odyssey of the Seas cruise review was a sea day. Like most final days of a cruise, we had a list of things we wanted to get accomplished.
First on our agenda was the COVID test for our upcoming cruise.
Neither of us really wanted to get up, but I was concerned that the testing was going to be a drawn out process. So, showered and ready for the day, we went down to the medical center a few minutes early.
We arrived at the Deck 2 testing site to find only four people in front of us. It took no time to go through the registration and get the test. According to the staff, printed results would be in our room by 7:30 pm.
From here, we opted to get some breakfast sandwiches and coffee from Two70 Café. This would mean we successfully avoided the Windjammer the entire cruise.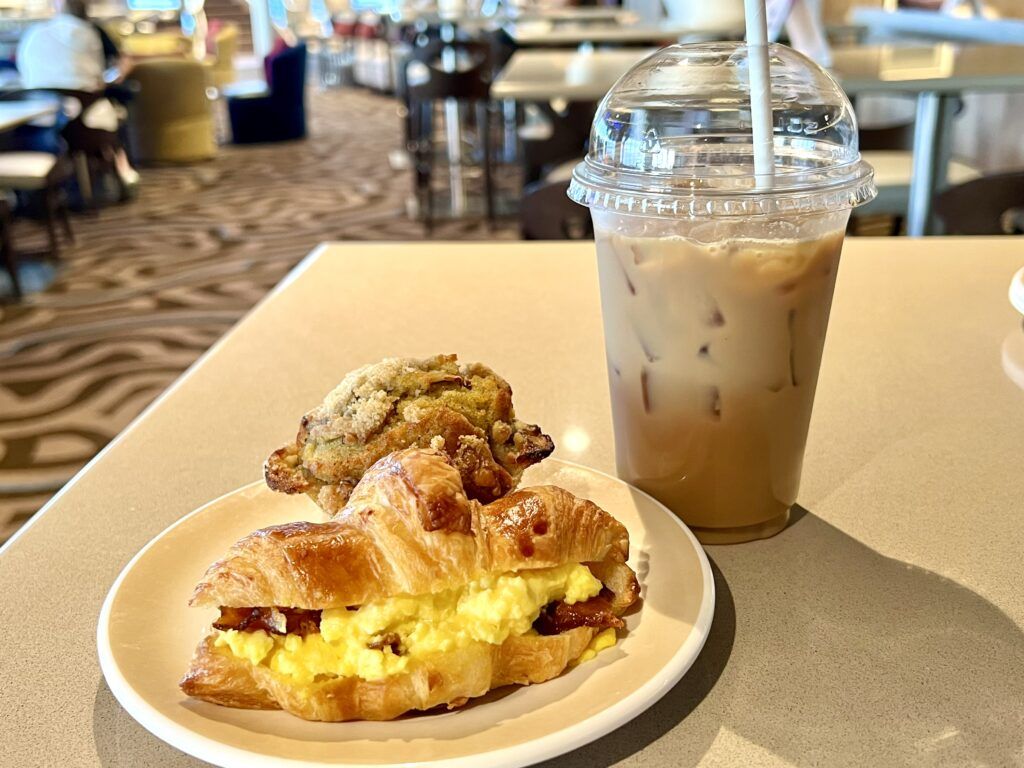 With the weather outside cloudy and cool, we headed to the Logo Store to get a few items that we were eyeing during our two-day media sailing.
The Last Afternoon on the Cruise Ship
While the sun wasn't out, the temperature was nice enough to do some work on the covered outside decks. We may have also grabbed a Lime and Coconut drink too.
We finished work and chatting with another colleague around 2 pm. Having eaten at most places, minus the Windjammer, we decided to split a pizza at Giovanni's Wine Bar for lunch.
Having the flexibility to grab drinks and a la carte items from Giovanni's during the day is a great option.
Before returning to our cabin, we grabbed our afternoon pick-me-up from Café Two70.
With our dinner at 6:30 pm, there came a point where we had to begin packing. As sad as it was to have this cruise coming to an end, we knew there was another cruise right around the corner.
Preparing our bags for disembarkation day, we then changed up for dinner and headed down to the main dining room on Odyssey of the Seas for the final time.
One Last Drink
Again, we were able to get a table in Ronald and Mia's section. We were actually surprised to see that the night 5 menu for this cruise included the broiled lobster.
Of course, this meant I had a double order of lobster for my entrée. We both started with the Vidalia onion tart as an appetizer. For dessert, we each went with our favorite final course. Heidi- the baked Alaska, and myself- the molten chocolate cake.
This was the perfect end to our main dining room experience on Odyssey of the Seas.
After thanking our amazing waitstaff with a much appreciated gratuity, we headed back to the room in search of our COVID test results. Now, Heidi had received an email several hours ago with her negative result, but I never received anything.
As expected, the test results were still not in the room either. So, we asked our stateroom attendant to follow up on this.
For this evening, we had reservations for the headliner act. Tonight's performer was a singer, aptly named, Jennifer Singer.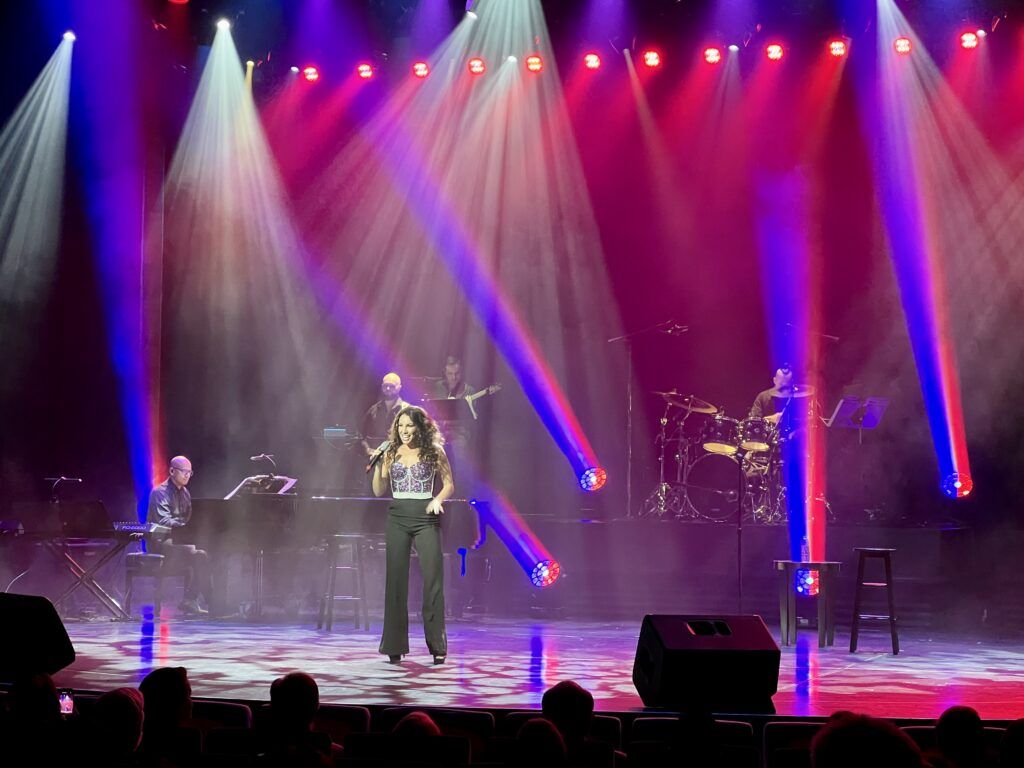 All along, we thought the show started at 9:30 pm. When we arrived to the theater around 9:15, we were surprised that the house lights dimmed as we began walking in. Quickly, we found seats on the starboard side of the ship, which is the opposite of where we typically sit.
This performance featured songs by artists including Carole King, Celine Dion, and Gloria Estefan. Perhaps the best part was the encore featuring rock songs from Bon Jovi and Guns N' Roses.
Following the show, I made a quick dash back to the room. This time, we had our printed negative COVID test results.
Both relieved that we would be able to board our next ship on Sunday, we headed to the Schooner Bar for a drink and a few songs on the piano with John Hides.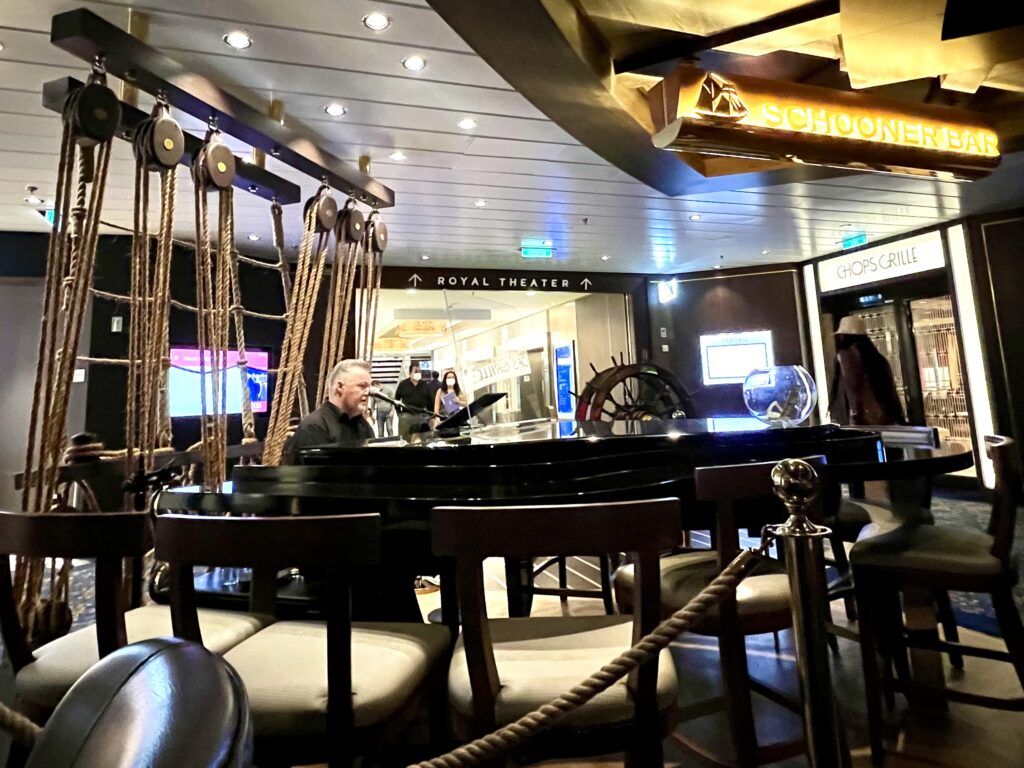 Messaging some friends, we all agreed to get one final drink at the pub. While it was busy, we secured a table in the back of the bar. By 11:30 pm, everyone at the table looked like they were ready to call it a night.
Our 6:30 am alarm would be coming soon. With a travel day in between cruises, we could hopefully catch up on some sleep before the next voyage.
Odyssey of the Seas Cruise Review – Disembarkation
Getting to Miami
With multiple pieces of luggage, we decided against self check-out this sailing. Our assigned luggage tag number was 14, with an estimated departure at 8 am. Since we were really in no rush, the cruise line's timing worked fine for us.
Up around 6:45 am, we did some last-minute packing with the one bag we were carrying off the ship. I also grabbed us some coffee from Café Two70, which was open a half hour early for disembarkation.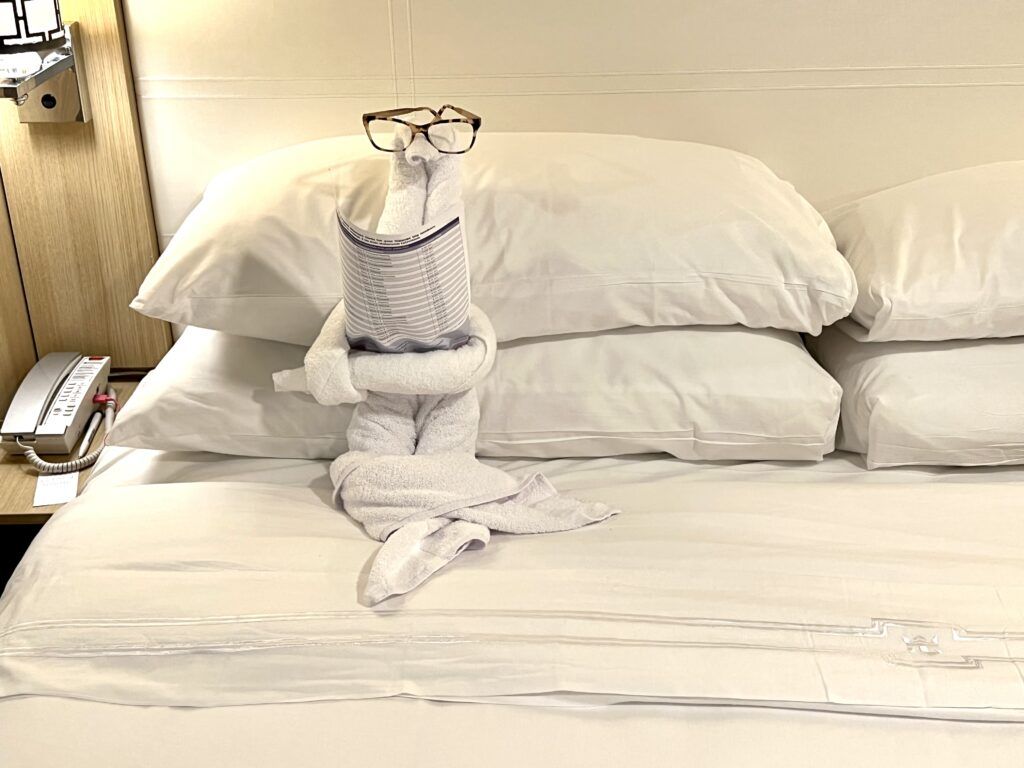 Monitoring the checkout times on the television, our luggage tags were called by about 8:10 am. So, we gathered our belongings and made our way down to deck 5.
With only a few cruisers ahead of us in line, we scanned off the ship and began the depressing trek down the gangway.
We then collected our bags and proceeded through customs and board patrol. In all, disembarkation took less than 20 minutes. Requesting an Uber, we were on our way to Miami about 10 minutes later.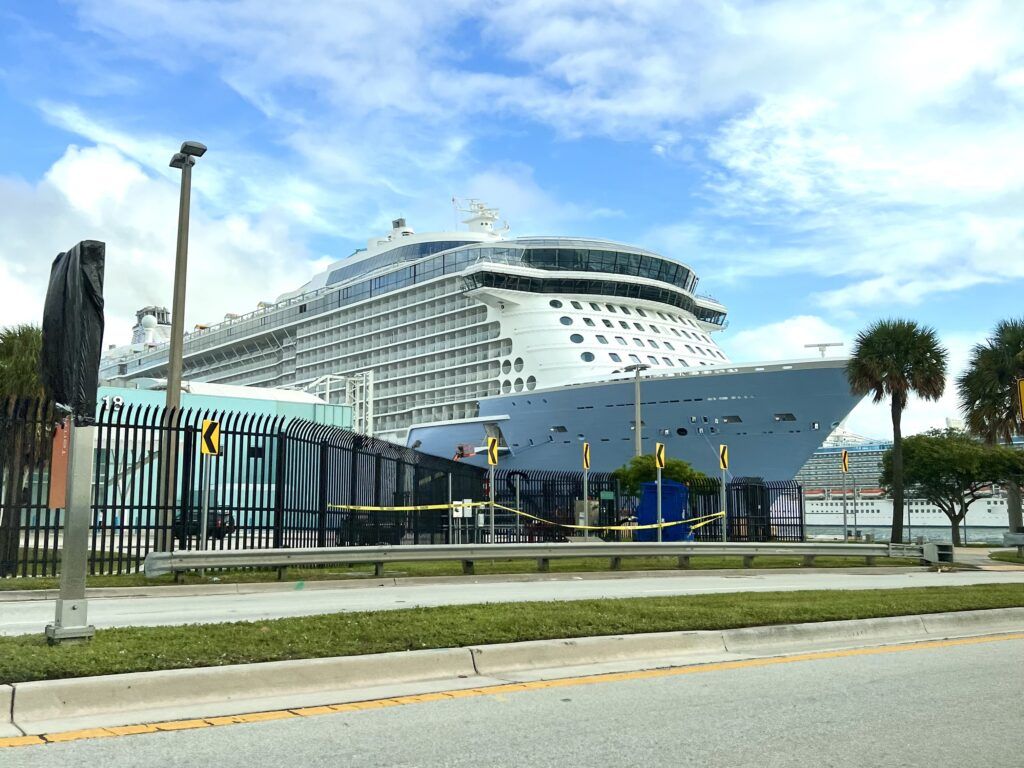 Paying extra for early check-in was a wise investment, as we were able to head straight to our room when we arrived at our hotel, the Hyatt Regency Miami. Now, we could relax for a bit while waiting for family to arrive!
Sunday (tomorrow) would be our third embarkation in 10 days. A week long Eastern Caribbean cruise on Oasis of the Seas with family for Thanksgiving was on the horizon.
Disclaimer: We were sponsored by Avoya Travel on this sailing; however, as always, all opinions in this Odyssey of the Seas Cruise Review are our own.
Comments
What do you think of our Odyssey of the Seas Cruise Review? Do you have plans to sail on this brand new cruise ship? Drop us an anchor below to share what you love about Royal Caribbean's Quantum Class ships.