One of the great things about Norwegian Cruise Line is its Freestyle Dining approach. For us, this usually means dining at many of the specialty restaurants and making great use of our Norwegian Specialty Dining Package. On our recent Norwegian Bliss cruise, we sat down at one of the line's newest Mexican restaurants. Of course, we brought our appetite and camera along for this Los Lobos on Norwegian Bliss Restaurant Review.
Restaurant Review: Los Lobos on Norwegian Bliss
Los Lobos is located on Deck 8 on the Waterfront with seating both indoors and al fresco. This restaurant replaces Moderno found on other Breakaway and Breakaway Plus class ships. The menu highlights classic Mexican dishes with a modern twist, such as guacamole prepared table-side, Grilled Mahi-Mahi Tacos, and Mesquite Smoked Chicken Quesadillas.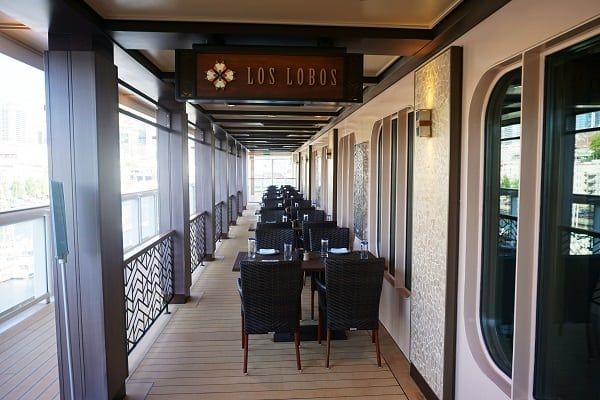 Upon arrival at the restaurant, we were quickly seated and greeted by our waitress. While our waitress went to grab our drinks, a second member of the service staff brought over a basket of chips and salsa. Even though we knew we would be ordering the table-side guacamole, we had to sample a few of these colorful nachos while waiting.
While the guacamole is made to order, it is done so at a cart off to the side of the venue. Somehow we missed the preparation so did not get a photo of the actual process. The guac was thick and flavorful, being one of the better guacamole dishes that I have had on a cruise ship. I particularly liked the heat from the jalapenos.
As we were devouring the dip, our starters arrived. The Princess ordered the three cheese quesadilla with mesquite smoked chicken. This starter was stuffed and could have been a meal all by itself. The quesadilla was a clear winner beating out my shrimp ceviche appetizer.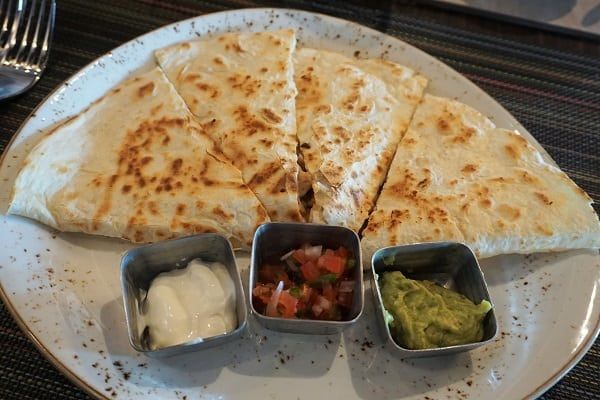 More Food to Come
As we finished our starters, there was a bit of time to digest before our next course, so I obviously took that time to order another Corona. For an entree, I ordered the grilled mahi-mahi fish tacos which were fresh and crispy with just a slight seasoning. I personally added some of the accompanying pico de gallo and guacamole for some extra flavor to these well-stocked tacos. The Princess ordered a burrito which was a brick, stuffed with chicken and cheese. I guess it's a good thing that she passed on the side dishes of Mexican rice and refried beans. While she enjoyed the burrito, she thought the quesadilla was more flavorful.
Neither one of us were able to finish our entrees, as we were saving room for some dessert. For dessert, we agreed to divide and conquer. The Princess ordered the house-made vanilla ice cream, and I did the fried beignets. Alone they were okay, but they are a perfect match when combined. Drizzle a little of the guava sauce over this new concoction, and you are in for some pure bliss.
Our dining experience lasted about 75 minutes, which is on par with our previous specialty dinners. We truly enjoyed the food at Los Lobos on Norwegian Bliss and would certainly recommend. While it did take the place of one of my favorite restaurants, it was a worthy replacement. When compared to other Mexican dining establishments, the venue did lack some theming and decor though. I guess this is understandable as Los Lobos is positioned as an upscale dining establishment. However, what the restaurant might lack in character, it makes up for in finely executed dishes and prompt service.
Recap Los Lobos on Norwegian Bliss
This specialty restaurant is open every night for dinner from 5:30 pm to 9:00 pm. We highly recommend you make reservations ahead of time using the NCL cruise planner as prime dinner times do book up quickly. The specialty dining plan is accepted at the restaurant or you can pay a la carte. The Ultimate Beverage Package is also accepted if you decide to purchase a margarita or other adult beverage.
The restaurant served some delicious food and is in an ideal location on the Waterfront. We already have plans to return to the venue later this summer on our second cruise onboard this brand new vessel. We look forward to testing out additional menu items during our next visit.
Comments
Have you cruised on Norwegian Bliss? Have you dined at Los Lobos on Norwegian Cruise Line? Drop us an anchor below with your restaurant review from this new restaurant in the NCL fleet.