Every cruise line offers various stateroom categories available for booking. For our recent Norwegian Bliss Inaugural Cruise, we were fortunate to have a Mini-Suite stateroom. This was our first time in this cabin category on an NCL ship. So, we were interested to see how the room functioned over our three-day trip and compared to a similar balcony stateroom. We are back and here to share our thoughts in this Norwegian Bliss Mini-Suite Review.
Norwegian Bliss Mini-Suite Review
The Princess and I were fortunate enough to be invited to sail on this three-day inaugural cruise on Norwegian Bliss. As guests of the cruise line, we would have been happy with any cabin that they provided; however, we were informed that we had been upgraded to a mini-suite during our pre-cruise registration.
The Mini-Suite Layout
We were provided with a room on Deck 13 forward. Upon entering the cabin, the first thing we noticed were the dimensions. It felt rather long and narrow. Navigating the room did take some getting used to as there was not much room between the bed and the main passageway.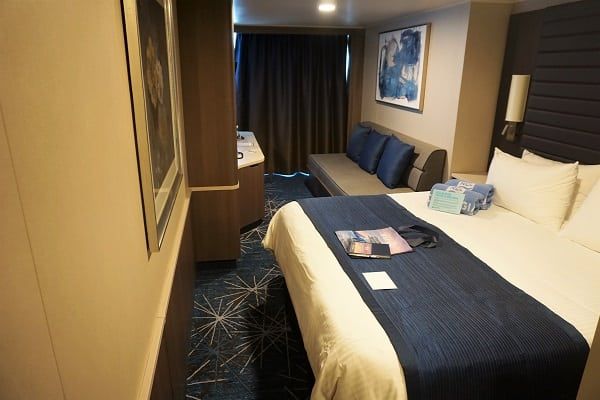 Similar to most cabins, the bathroom was right next to the entrance. However, this was no ordinary cruise ship bathroom. One of the best benefits of the Norwegian Bliss mini-suite was the full sized bathroom.
The bathroom included a full-sized stand-up show with various jets and water pressure settings. It also had a complete vanity with ample space for two individuals to get ready in the morning. Unlike many compact cruise ship bathrooms, the layout of the mini-suite bathroom felt like a real hotel bathroom.
As for the rest of the stateroom, we did not notice any more space than a typical balcony stateroom on a Norwegian Cruise Line ship.
The room included your typical seating area and desk. This area had even less storage than we have come to expect on a cruise ship. For a 3-day cruise, it was adequate; although, we might have to get creative with storage on our 7-night Alaskan cruise.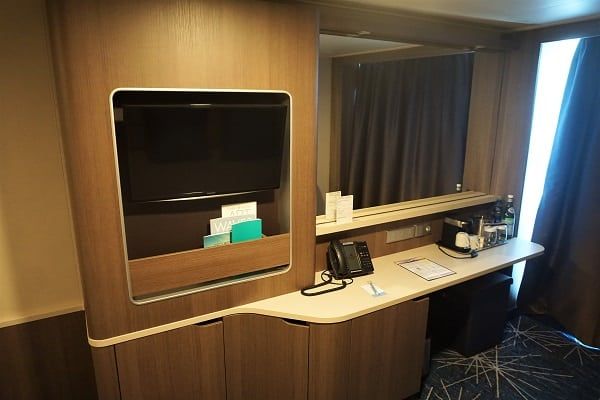 For a larger room, the mini-suite features a small, standard closet with a clothes rack and a narrow column of shelves. We would have liked some additional areas for storing items, like perhaps some storage above the bed or more drawers near the desk.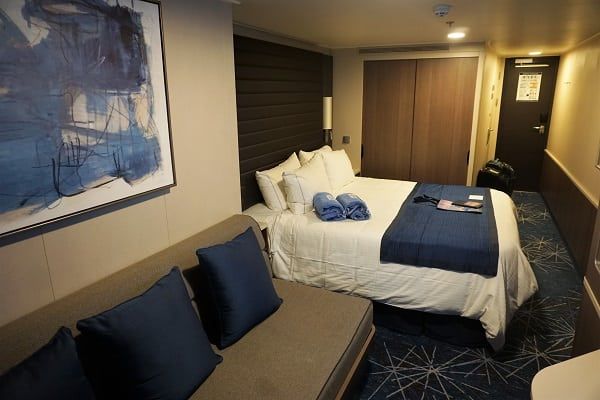 The balcony was also particularly small for a "mini-suite". When compared to the balconies on other cruise lines, we feel this is where NCL has cut corners on space. The area barely fits two adults and the two chairs and table.
Final Thoughts on the Norwegian Bliss Mini-Suite
Given Norwegian Bliss is her inaugural season, the room was in immaculate condition. The design was very simple, yet modern. We appreciated the cabin's contemporary look and feel. The room also had some nice technology features. There were conveniently located plugs for electronic devices at the desk as well as USB outlets on each side of the bed. These outlets are a real perk, and we don't understand why all cruise lines haven't caught on to this detail yet.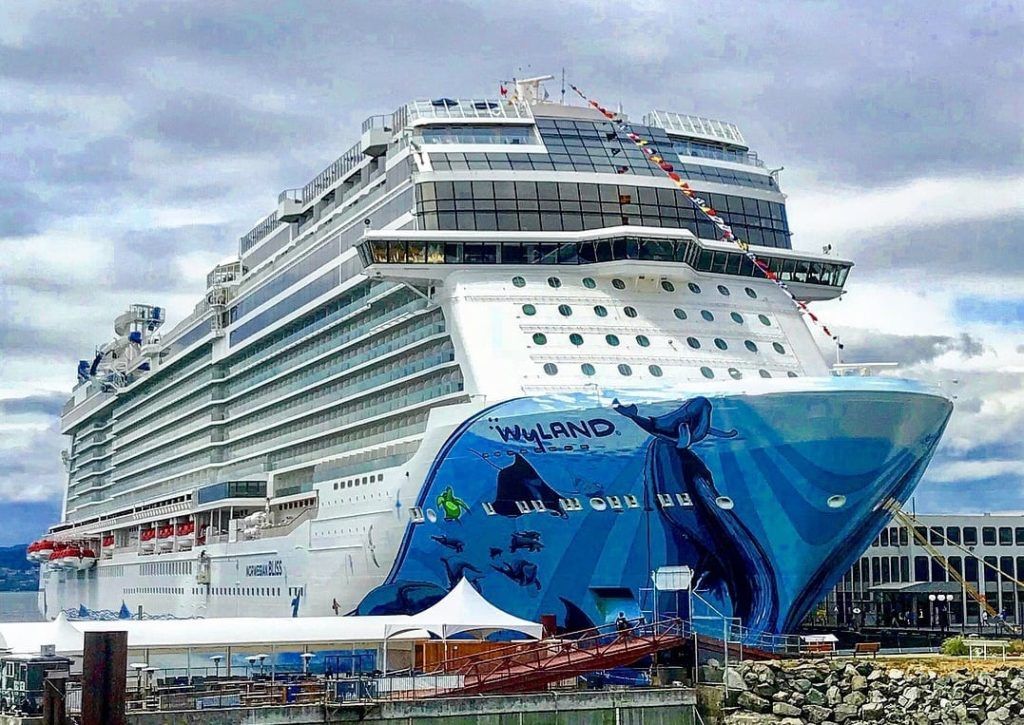 We really loved the bathroom setup and size in the Norwegian Bliss mini-suite. The bedroom setup and bed were adequate, providing a good night sleep for both of us. The lack of storage was the one negative in the room though as we would anticipate that a larger room would come with additional storage features.
If you are willing to spend the extra money, it might be worth upgrading to a mini-suite just to have the additional bathroom space and amenities.
Comments
Do you have plans to sail on Norwegian Bliss? Have you stayed in a mini-suite on a Norwegian Cruise Line ship? Drop us an anchor below to share your favorite cabin categories.