Every cruise line offers various stateroom categories available for booking. Along with the different types of staterooms, cabin location, size, price, and amenities all factor into the decision on which cabin to choose. For our recent Norwegian Bliss cruise, our Norwegian Upgrade Advantage bid was accepted moving us from an interior to a balcony cabin. So, we are back to share our thoughts in this Norwegian Bliss Balcony Stateroom Review.
Norwegian Bliss Balcony Stateroom Review
Our balcony cabin was room number 13768 (Category BA, Mid-ship Balcony). Conveniently located right next to the forward elevators, the room was easy to find and a quick walk to many of our favorite locations. With the upgrade program, once your bid is accepted, you are locked into the room assigned to you in that given category. To get a mid-ship balcony in such an ideal spot was an added bonus for us.
Deck 13 was just a few decks below the Observation Lounge (Deck 15) and the Pool Deck (Deck 16). It was the perfect buffer so we never heard any noise from those higher locations. With a short descent to Deck 8, we were in the heart of the Waterfront and other interior public spaces that are part of 678 Ocean Place.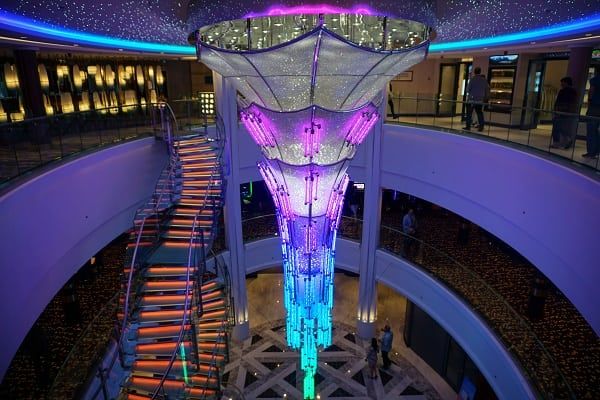 If you are debating on deck locations, we found this "unlucky" deck to be ideal.
Inside a Balcony Cabin on Norwegian Bliss
The Norwegian Cruise Line website claims the square footage of the room is 207 square feet. There was just enough space to squeeze between the bed and the wall on our way to the desk, love seat, and balcony. When compared to balcony cabins on other cruise lines, this one did feel a bit cramped.
This was our sixth cruise on a Norwegian Cruise Line ship, and overall our impressions are the rooms are just smaller than other cruise lines. Still, we were happy that we were not stuck in an inside room that would have been even smaller.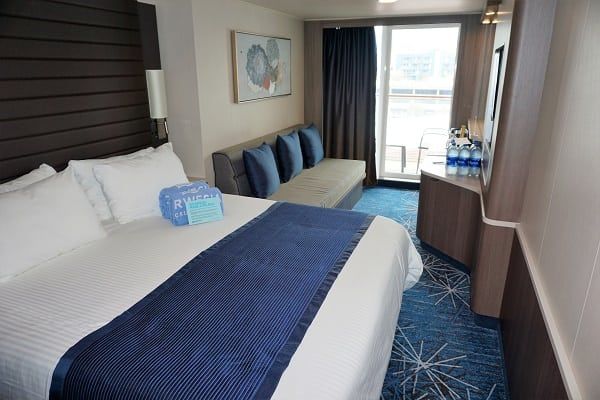 Upon entering the room, the first thing you notice is the bed. Located in the center, you need to pass by it to get to the other side of the cabin.
Located between the bed and the love seat is the television. Not that we spend much time during our trips watching it, but it is nice to have on in the morning to review the day's events and your onboard account.
You will notice that the closet in our Norwegian Bliss balcony stateroom was off to one side of the bed. It was a tight squeeze getting to the closet due to the close proximity of the bed. Even though this ship was bigger than any other ship in the fleet, you certainly did not feel the size in our stateroom.
Could We Get Some More Storage?
For a week long Alaskan cruise, storage was also a bit tight. We had to get creative utilizing the desk drawers for some clothing as well. Being self-proclaimed over-packers, we were glad that we always pack some magnetic hooks to hang things like day bags and hats. Our over the door shoe organizer also came in handy for toiletries and other items like gloves.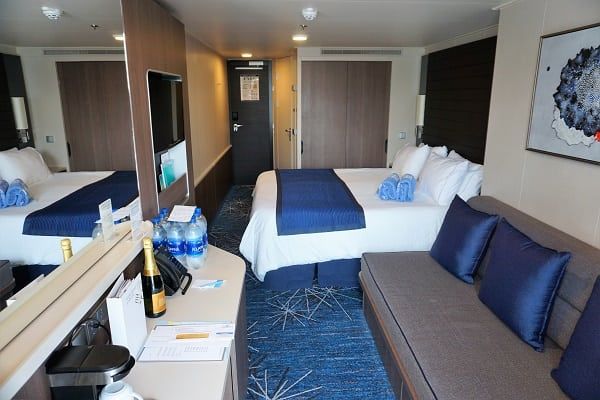 Just beyond the bed is the love seat and desk area. The Princess uses the desk to get ready each day, and it also doubles as our tech area and charging station. The love seat usually just ends up becoming an additional storage station for us throughout the cruise for souvenirs and our cute towel animal creations.
Like most cruise ship cabins, the bathroom was located right next to the front door and was purely utilitarian. Storage was on par with other bathrooms, including two upper and two lower shelves by the sink. The shower design did make it seem a bit bigger than other cruise ship showers; however, nothing in comparison to the bathroom in the mini-suite we stayed in during our May sailing.
The balcony was perfect for us to enjoy the Alaskan scenery, complete with two chairs and a small table. Enjoying the early morning sunrises, sail ins and sail outs from ports of call, and a mid afternoon pick-me-up made this investment the right decision.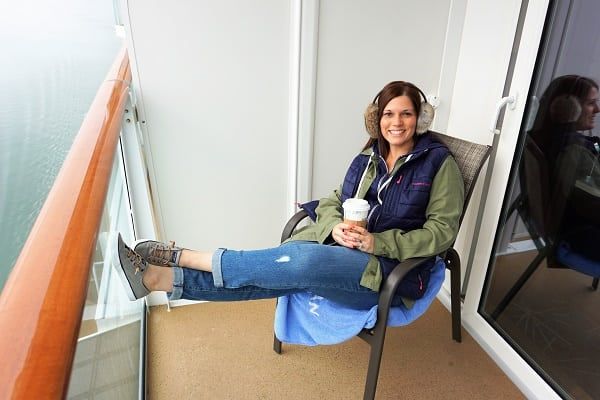 Recap Norwegian Bliss Balcony Stateroom Review
While we were trying to save money when we initially booked this cruise, the $500 upgrade bid to a balcony room was an easy investment. Overall, the room layout was manageable; although, we could have used a bit more storage space. If you have cruised with other lines, you might feel the width of the room is narrower on Norwegian Cruise Line.
The real payoff of upgrading to a balcony for an Alaskan cruise is the wonderful views- sunrises, sunsets, majestic landscapes, and glaciers. Enjoying an afternoon drink or just taking a break from all of the activities onboard the ship in the comfort of your own private outdoor space is nice too.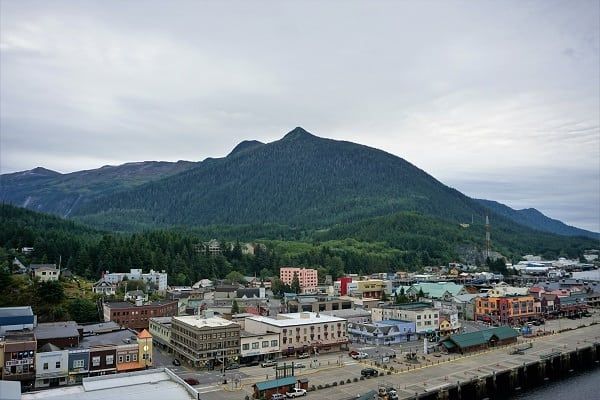 Another nice perk in this Norwegian Bliss balcony is the USB outlets located on each side of the bed which made it convenient for charging phones at night.
The room also features an energy-saving design requiring a room key to be inserted before you can manage the lights and/or temperature control. Admittedly, we try to work around this by inserting an alternate card so that the room is always the appropriate temperature upon our return. Sometimes it worked, and other times, our stateroom attendant removed it.
Comments
Have you stayed in a balcony cabin on Norwegian Bliss? What are your thoughts on this stateroom? Drop us an anchor below to share your preferred cabin categories on a cruise.