That's right, we managed to squeeze in another cruise this summer! Somehow, the Princess convinced me to book this 3-day getaway on Royal Caribbean's Mariner of the Seas. We booked the trip less than 30 days prior to sailing. There must have been some great reasons why we scheduled this last minute trip. So, I will explain why we are excited to sail on Mariner of the Seas.
Why We Are Excited to Sail on Mariner of the Seas
High Tech Add-Ons
Royal Caribbean recently refurbished Mariner of the Seas as part of its new "amplified" program. As part of this update, the ship received some very cool high-tech upgrades that we are excited to check out. Among the additions is the virtual reality bungee trampolines in the Skypad. Mariner of the Seas also now has a laser tag course, which takes place at select times in the Studio B ice rink. Don't worry, you are not competing on ice during this family fun activity. There is also a new interactive escape room called Escape the Observatorium. We really enjoyed this activity on Anthem of the Seas and Harmony of the Seas, so we are ready to test out this latest edition.
Skypad on Mariner of the Seas – Courtesy of Royal Caribbean International
Exclusive Dining and Drinks
The updates to Mariner of the Seas also include the addition of some new dining and drinking establishments. Among the ones we are looking forward to trying out is the Bamboo Room. This venue with a laid-back tiki vibe is a first for Royal Caribbean, and the drink selections sound amazing. We are also interested in the new Playmakers Sports Bar as this venue recently debuted on Symphony of the Seas. The ship also received new specialty dining, including Jamie's Italian and Izumi Hibachi. We have reservations at both restaurants, as we loved Jamie's during our previous two experiences and have yet to try Hibachi on a Royal Caribbean ship.
Inside the Bamboo Room on Mariner of the Seas – Courtesy of Royal Caribbean International
Rest and Relaxation
Even though we were just on two separate cruises in May, those trips were rather intense with some long and fast-paced days. Our upcoming trip to Alaska in August will be rather busy as well with plenty of long days ashore and sightseeing. So, while we plan to partake in all of the new amenities and onboard activities on Mariner of the Seas, we are hoping this three-day getaway will provide a little rest and relaxation. With both of us being busy at our full-time jobs recently and maintaining the blog on top of that, a quick escape is just what the doctor ordered.
Sneak Peak of CocoCay
There is a lot happening in CocoCay, Bahamas. The island is going through the Perfect Day CocoCay transformation that is set to open next May. There is also the new pier that is scheduled to open in Fall 2018. We were last in CocoCay about a year ago and are very eager to see the progress to the island. Plus, CocoCay serves up some delicious CocoLocos and some sandy beaches, so that doesn't hurt either. Make sure you are glued to your social media accounts for all the latest updates.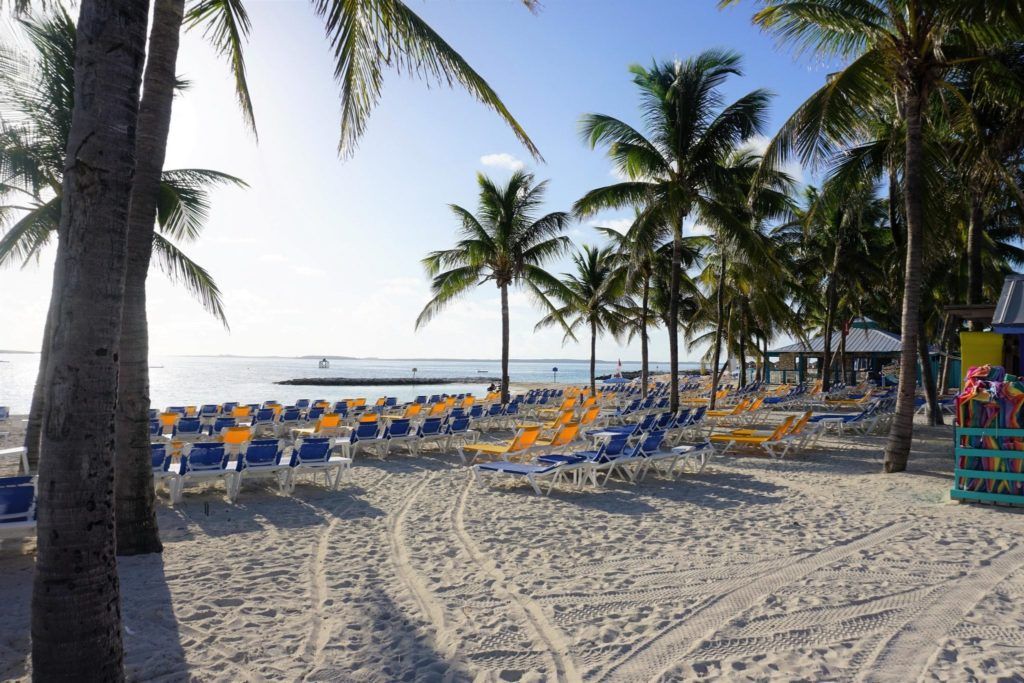 It Was a Very Cheap Trip
Okay, so one of the real reasons the Princess was able to convince me to book this cruise was that the trip cost us very little. We were able to trade in our Cruise Reward points from our Royal Caribbean credit card, so our guaranteed balcony stateroom cost us less than $300 in total. Plus, we were able to use some of our airline points for our flights down, so we only had to pay for one way airfare. Factor in a few specialty dining reservations and the beverage package at a 25% discount, and the trip was very manageable financially.
Comments
Do you have plans to sail on the newly amplified Mariner of the Seas? Have you ever booked a last minute cruise? Drop us an anchor below to share your experiences with other cruisers.