For one set fare, a cruise vacation enables travelers to see multiple destinations while enjoying most of the onboard amenities. Although, the inclusions for each cruise line can vary. To help cruisers considering a vacation on this new ship, we have put together this complete guide to What's Included on Disney Wish.
If you are considering a cruise vacation, you've probably realized that Disney cruises are considerably pricier than other contemporary cruise lines like Royal Caribbean, NCL, or Carnival. As a premium cruise line, part of the higher DCL price tag is the cost of the "Disney experience".
Thus, you will need to decide if the magical extras are worth the added price. If you love cruising and Disney, then we think Disney Wish is a great choice for your next vacation.
EXCLUSIVE SAVINGS: Save on Disney Wish Cruises Now!
What's Included on Disney Cruise Line's Disney Wish
Accommodations
Your cruise fare on Disney Wish covers the cost of your stateroom for the duration of the trip, including twice daily service by a stateroom attendant.
Like most cruise lines, Disney Cruise Line offers a variety of stateroom categories. Your options will range from an interior cabin, to oceanview, verandah, and concierge staterooms including the most luxurious suites.
The type of cabin you choose will be the main driver of your total cruise costs. So, be sure to review all the options available on Disney Wish to find the one that suits your travel party best.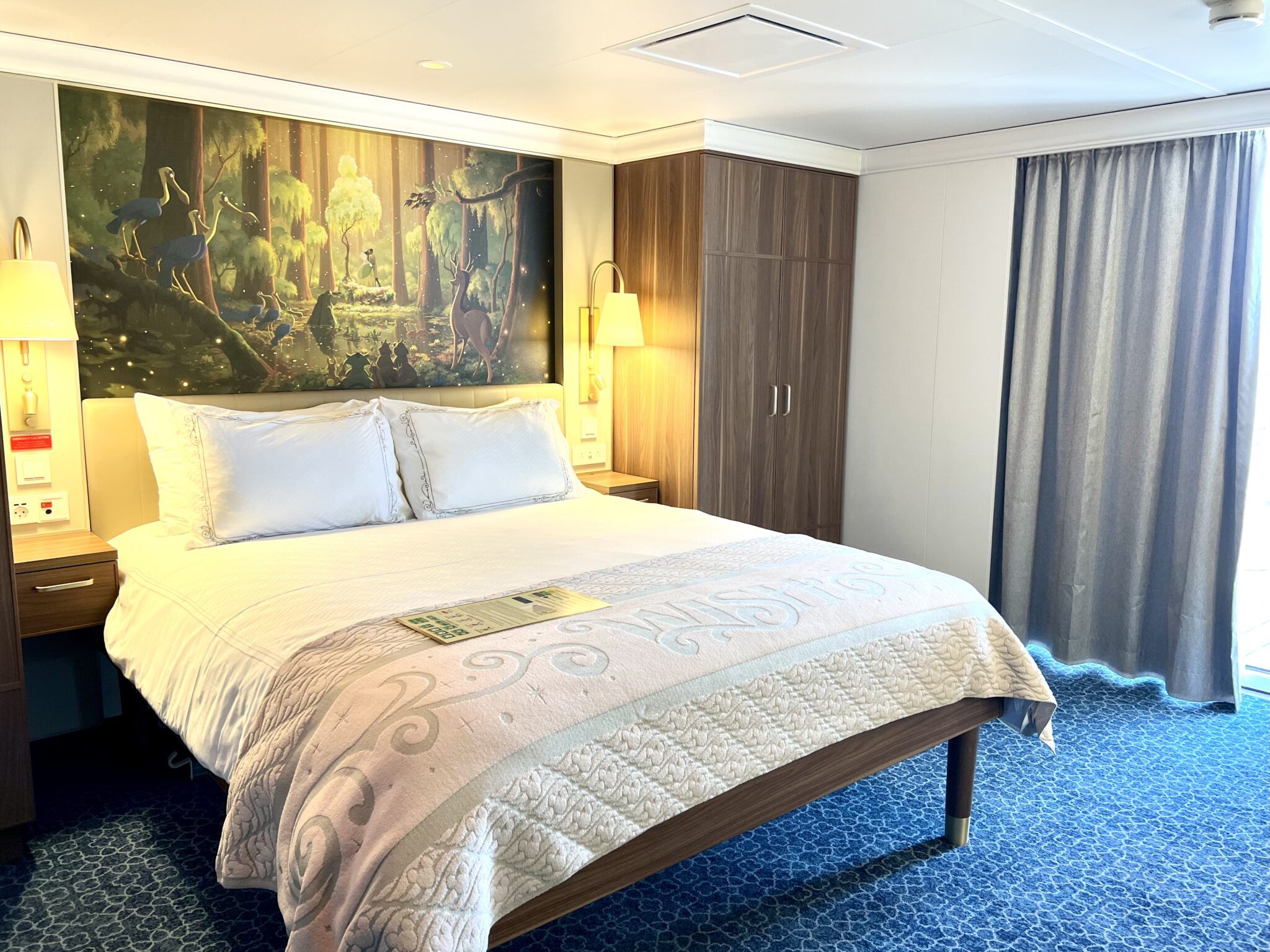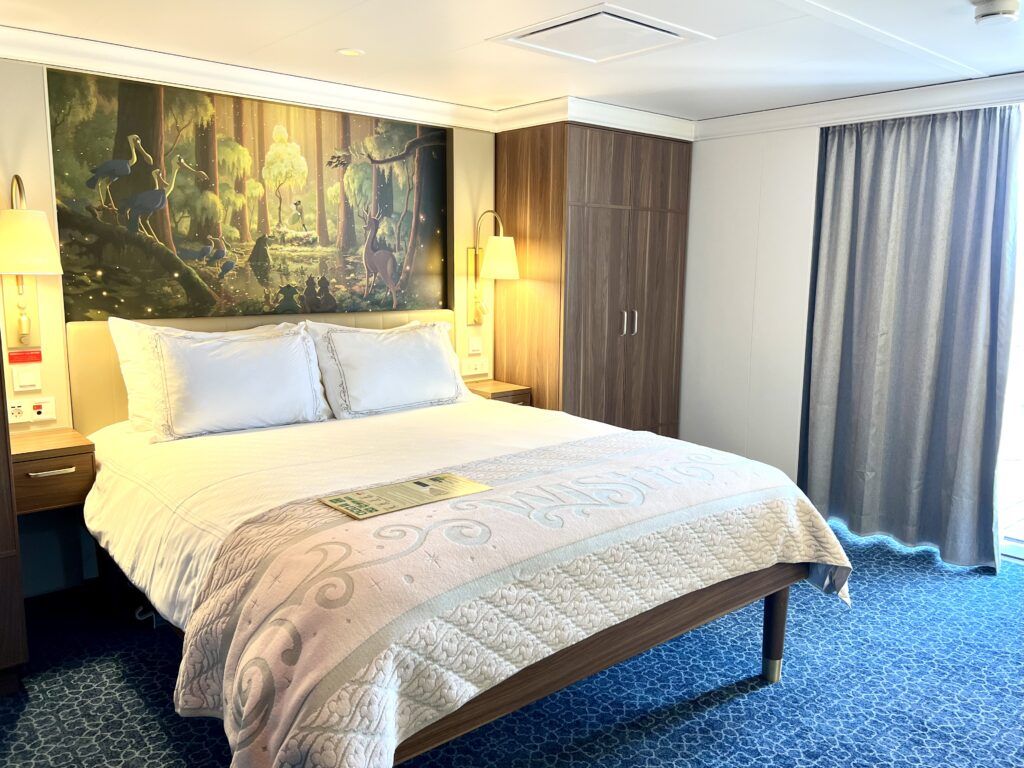 Included in all Disney Wish cabins are plenty of storage, a television with in-room movies, a mini-fridge, hair dryer, and complimentary H2O+ toiletries. Most staterooms also include a split bathroom set-up and a privacy curtain separating the bed from the rest of the cabin.
If you book a concierge level room, there are additional inclusions like exclusive access to the Concierge Sundeck, Lounge, and dedicated concierge staff. Not to mention, these staterooms are often larger and more luxurious.
Food and Dining
On every Disney Cruise Line ship, including Disney Wish, guests can enjoy three meals a day as part of the standard cruise fare.
Disney Wish features the signature Disney Cruise Line rotational dining concept. Guests can select their preference for either an early (5:45 pm) or a late dining time (8:15 pm) for the duration of their cruise. Then, guests rotate between the three complimentary dining venues. Staterooms receive a particular rotation so as to disperse the crowds amongst the three venues.
These three rotational dining rooms include Arendelle: A Frozen Dining Adventure on deck 5, Worlds of Marvel on deck 4, and 1923 on deck 3. Each of these venues has unique theming and a signature menu, along with some Disney magic.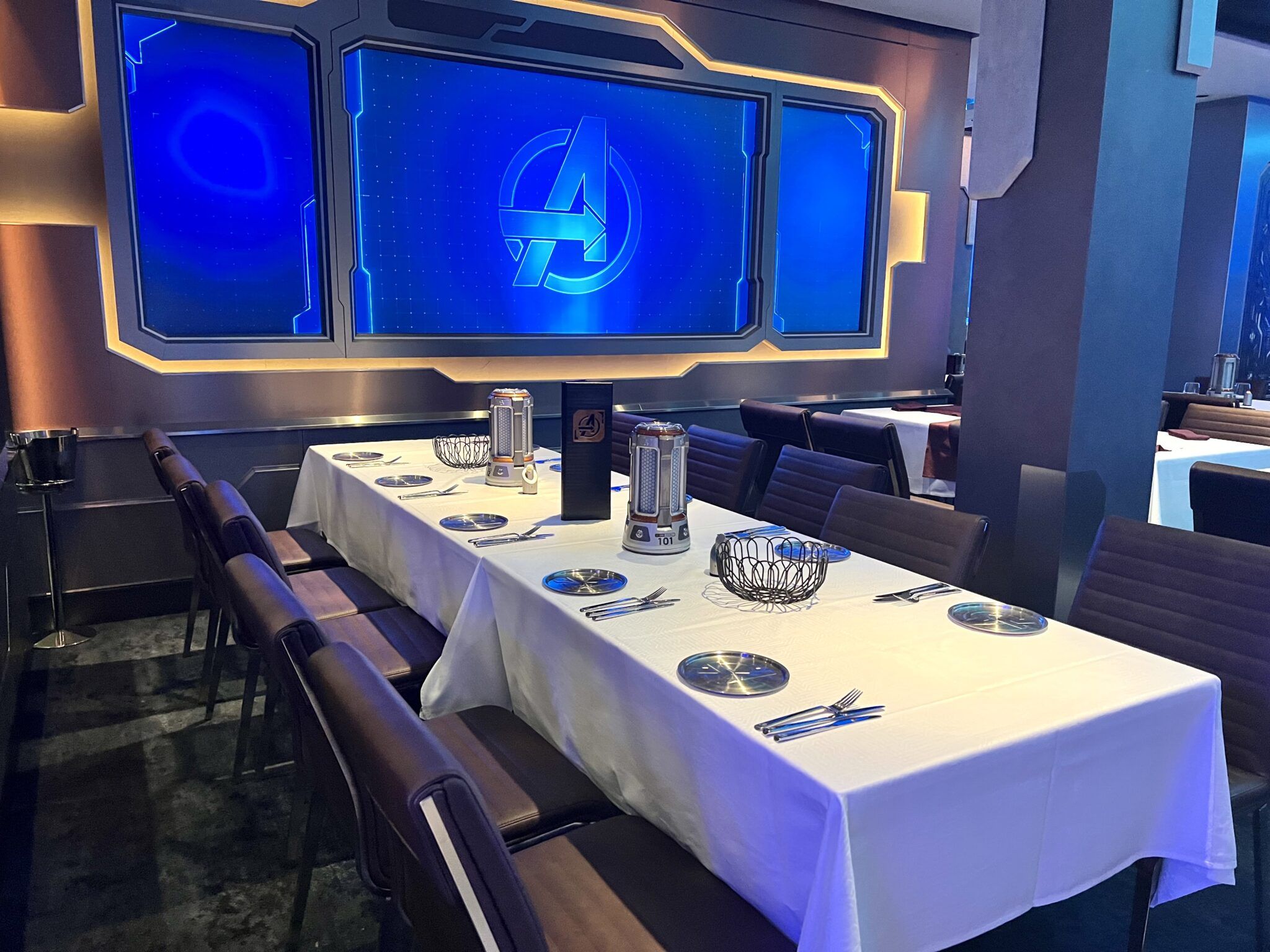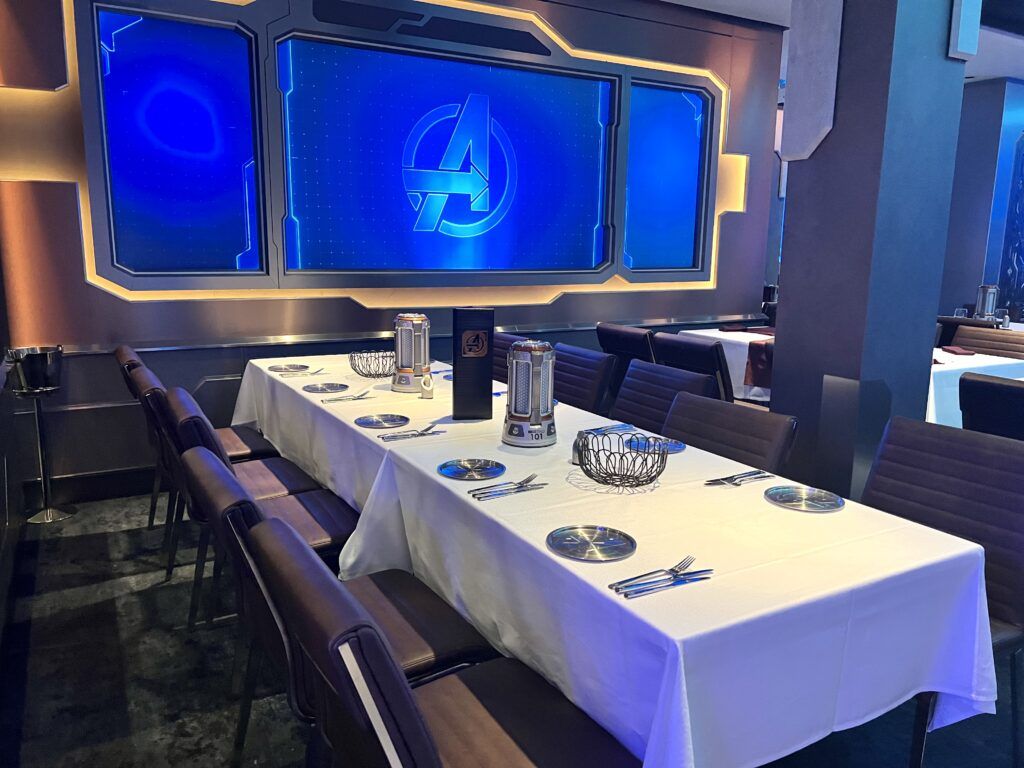 Each restaurant features a list of appetizers, salads, soups, and entrees, along with bread service and desserts. The menus at all three of these complimentary venues also feature a vegetarian and Lighter Notes section, as well as a separate allergy-friendly menu and kids menu.
In addition to these upscale dining venues, Disney Wish offers several more casual dining spots that are complimentary. First, there is the Marceline Market. Disney Wish's take on the typical cruise ship buffet features ten food stalls, a bar, and both indoor and outdoor seating.
Guests can enjoy a variety of options for breakfast, lunch, and dinner, including American classics, international selections, seafood options, soups and salads, baked goods and desserts, and more.
There is also the Mickey and Friends Festival of Foods. Located in the center of all the action on the pool deck, these quick-service stations are the perfect spot to grab lunch, dinner, or a snack. This open-air eatery features five themed food stalls that are all included in the cruise fare.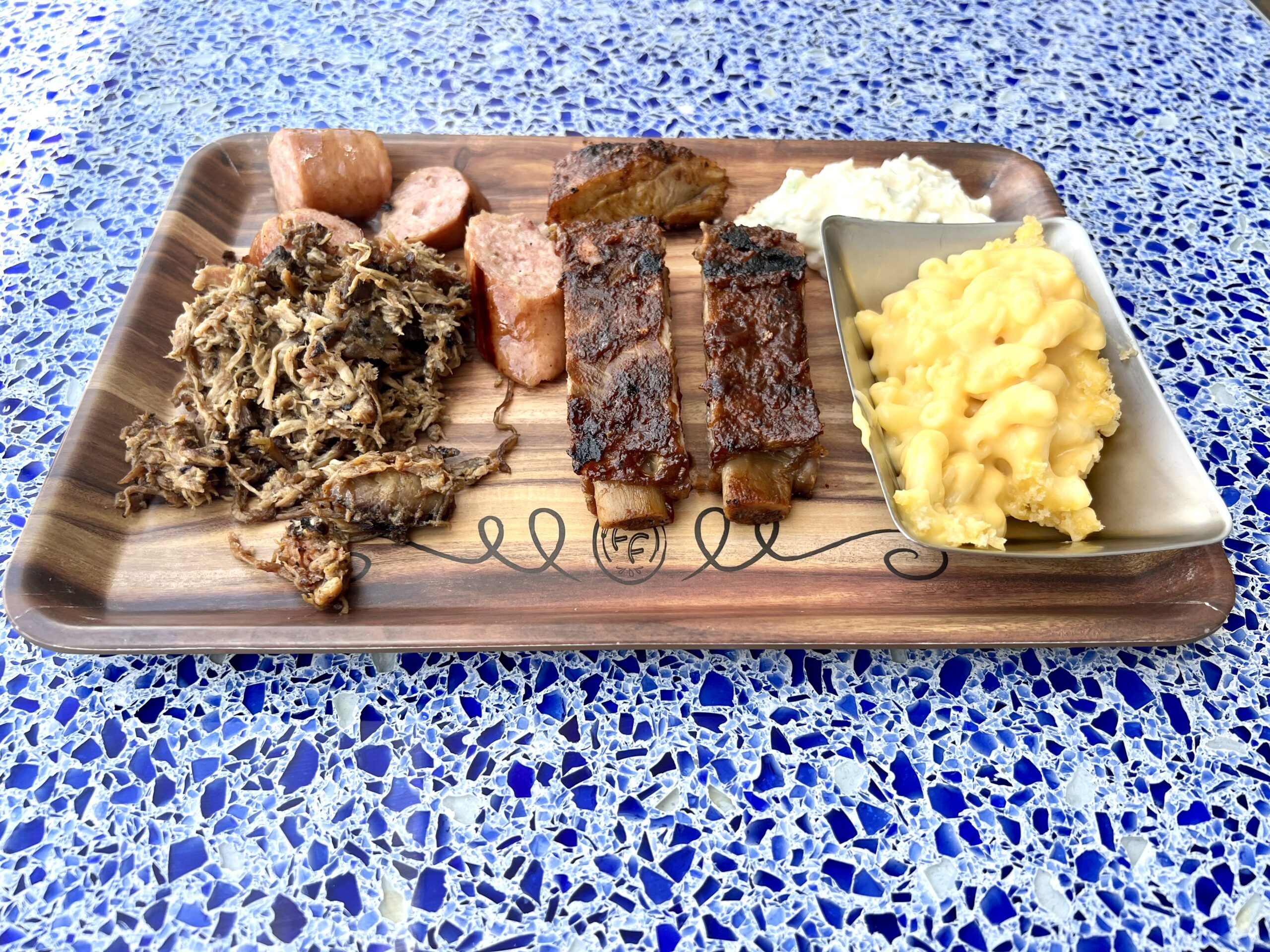 These stalls are Mickey's Smokestack Barbecue, Donald's Cantina, Daisy's Pizza Pies, Goofy's Grill, and Sweet Minnie's Ice Cream (soft serve).
Further, unlike many contemporary cruise lines, 24-hour room service is also complimentary on Disney Wish.
In addition to all these food offerings, some beverages are also free. These include soft drinks (unlike most cruise lines), coffee, tea, milk, and juice. Of note, soda is complimentary at filling stations, but cans will cost extra.
Further, Powerade and Vitamin Water are also complimentary at the self-service stations on the ship.
Onboard Activities
Modern cruise ships are a hub of activities and events. There is always something to do on a Disney Cruise Line ship that will not cost anything. Disney Wish is no different.
Disney Cruise Line features some signature activities that you won't find on any other cruise line. Some of these one-of-a-kind offerings include Disney character meet and greets, first-run Disney movies, and a pirate party with a small fireworks display. These activities are all included on Disney Cruise Line's Disney Wish.
Other more traditional activities are also included. These range from movies by the pool, to trivia, games, dance classes, deck parties, and more.
Of course, there is also plenty happening on the pool deck of Disney Wish. This ship contains more pools and more deck space than ever before. There are six family pools amongst tiered decks and surrounded by lounge chairs. There is also the Quiet Cove area exclusively for adults with an infinity pool.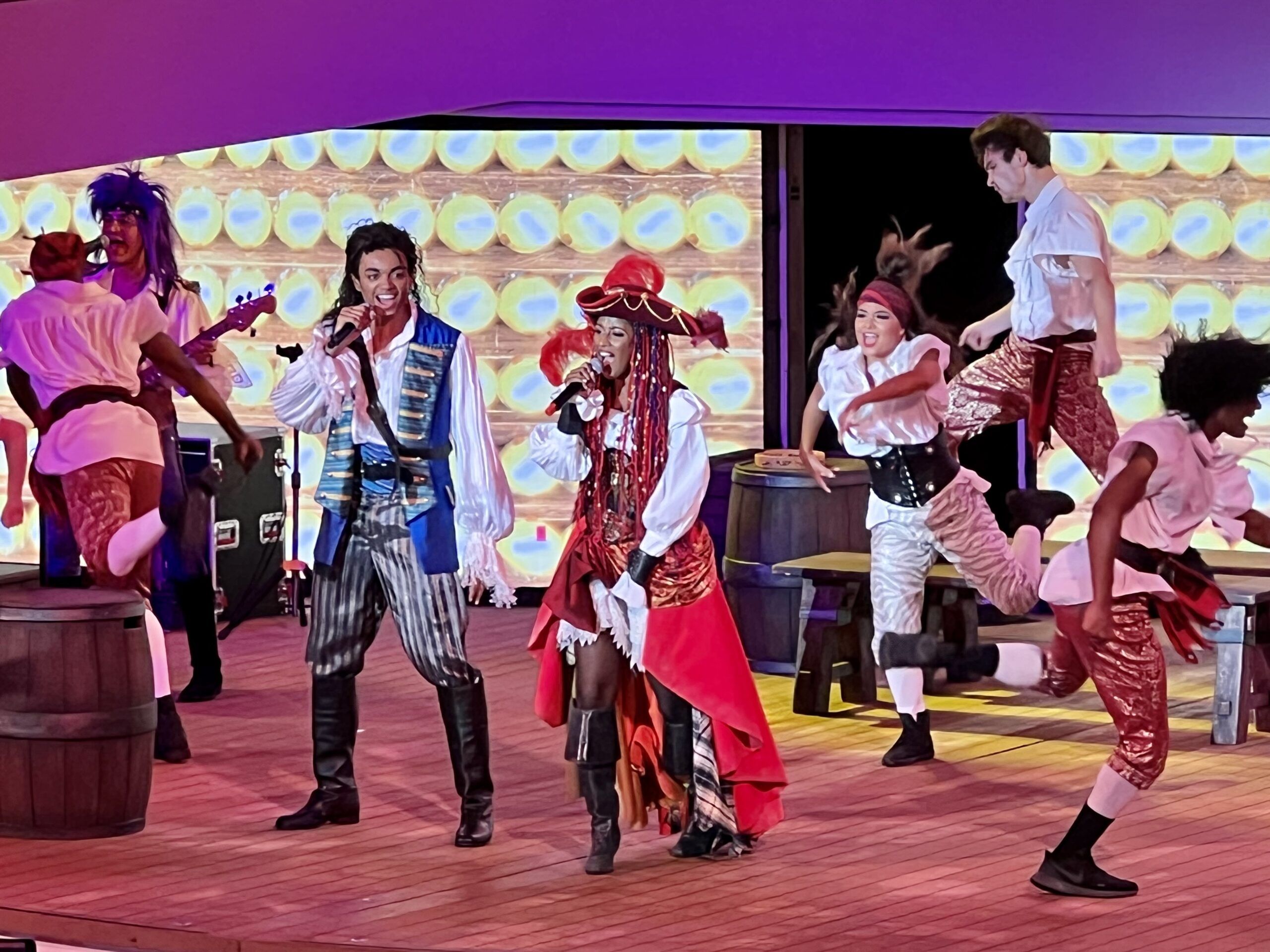 New on Disney Wish is the Toy Story themed area. This area is for the little ones and features a splash zone, wading pool, and family waterslide. Further, there is the first of its kind water attraction at sea, AquaMouse. This raft ride takes the AquaDuck to the next level, with scenes from the Wonderful World of Mickey Mouse animated shorts, lighting, and special effects.
Finally, there are plenty of ways to stay active on the ship. The fitness center and sports court is included on Disney Wish. The Senses Fitness center offers a variety of complimentary cardio and strength training equipment.
The Hero Zone is an indoor sports arena. This area features a basketball court that hosts free play and organized activities. It also houses the Incredi-Games inflatable obstacle course at certain times throughout the cruise. Further, the top level of the Hero Zone has table games like air hockey, foosball, ping pong, and more.
Dedicated Kids Programming
If you are cruising with kids, Disney Wish has a variety of themed areas for each age group that are all included in the cruise fare.
Vibe is for those ages 14 to 17 year old. It features dedicated programming designed to engage the unique interests of teens. Here, they can meet new friends, watch movies, play games, and participate in activities created just for them.
Edge is dedicated to tweens ages 11 to 14 years old. This chic New York City-inspired destination features an artificial grass picnic area, graphic art displays, and more.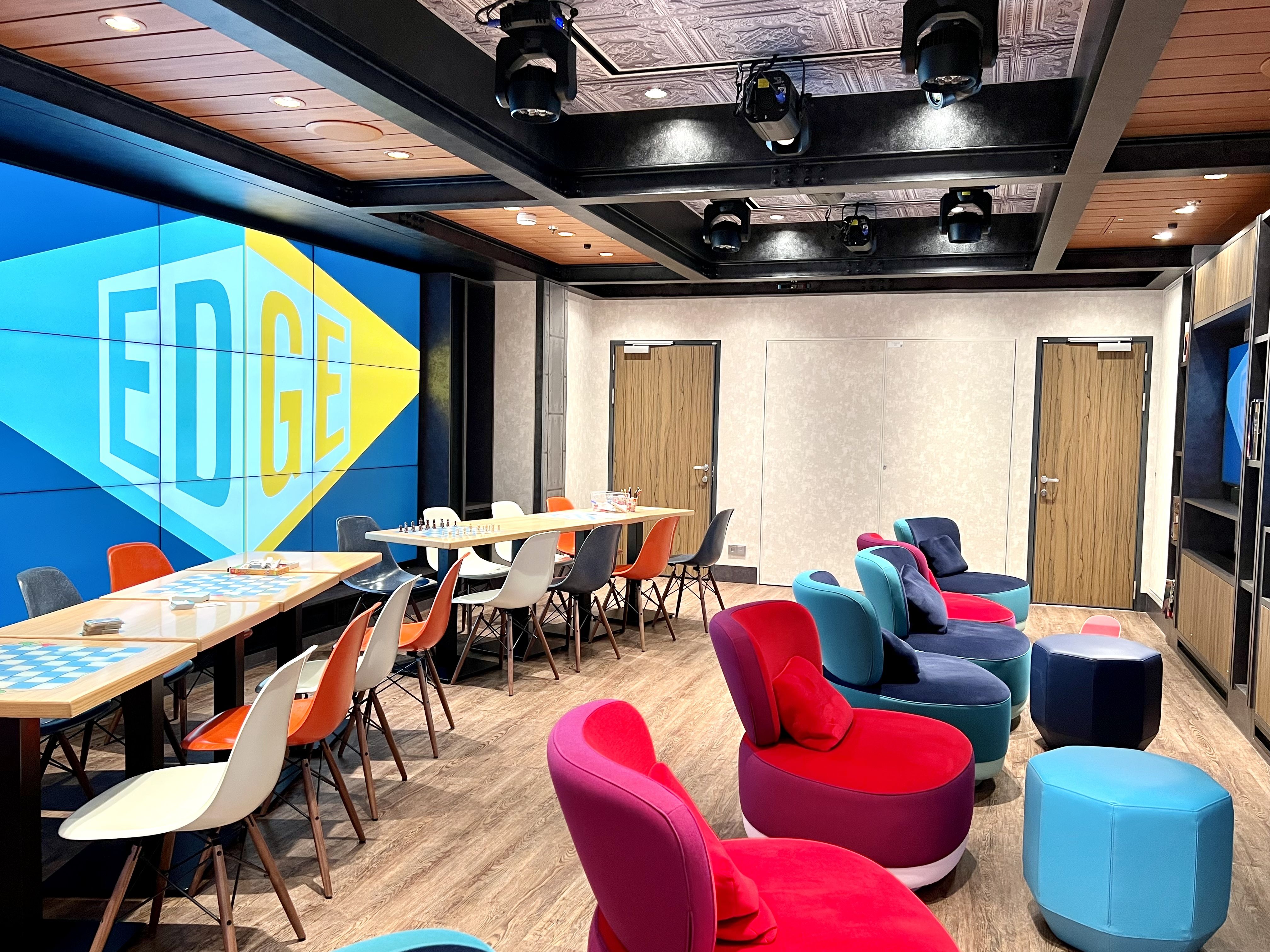 Disney's Oceaneer Club is an area for kids ages 3 to 12 years old. With a whimsical slide entrance from the Grand Hall above, this area features a number of well-themed play zones including Fairytale Hall, Marvel Superhero Academy, Star Wars Cargo Bay, and Walt Disney Imagineering Lab.
Here, your kids will have endless opportunities for fun including storytelling, arts and crafts, dress-up, toys and games, watching Disney movies, and so much more.
Babysitting services in the It's a Small World Nursery is the only program that will cost extra.
Nightly Entertainment
At night, Disney Wish comes alive with plenty of entertainment options that are all included in your cruise fare. It wouldn't be a cruise if there wasn't nightly entertainment in the main theater.
The Walt Disney Theatre is home to three signature productions on Disney Wish. There is the embarkation day celebration, Disney Seas the Adventure, which is a revue show featuring your favorite Disney characters. There is also the brand new Broadway-style adaptation of The Little Mermaid with scenes, songs, and characters from the original film.
Finally, there is Disney's Aladdin-A Musical Spectacular (not ready for our sailing). This musical comedy is a reimagined adaptation of the guest-favorite show found across the DCL fleet.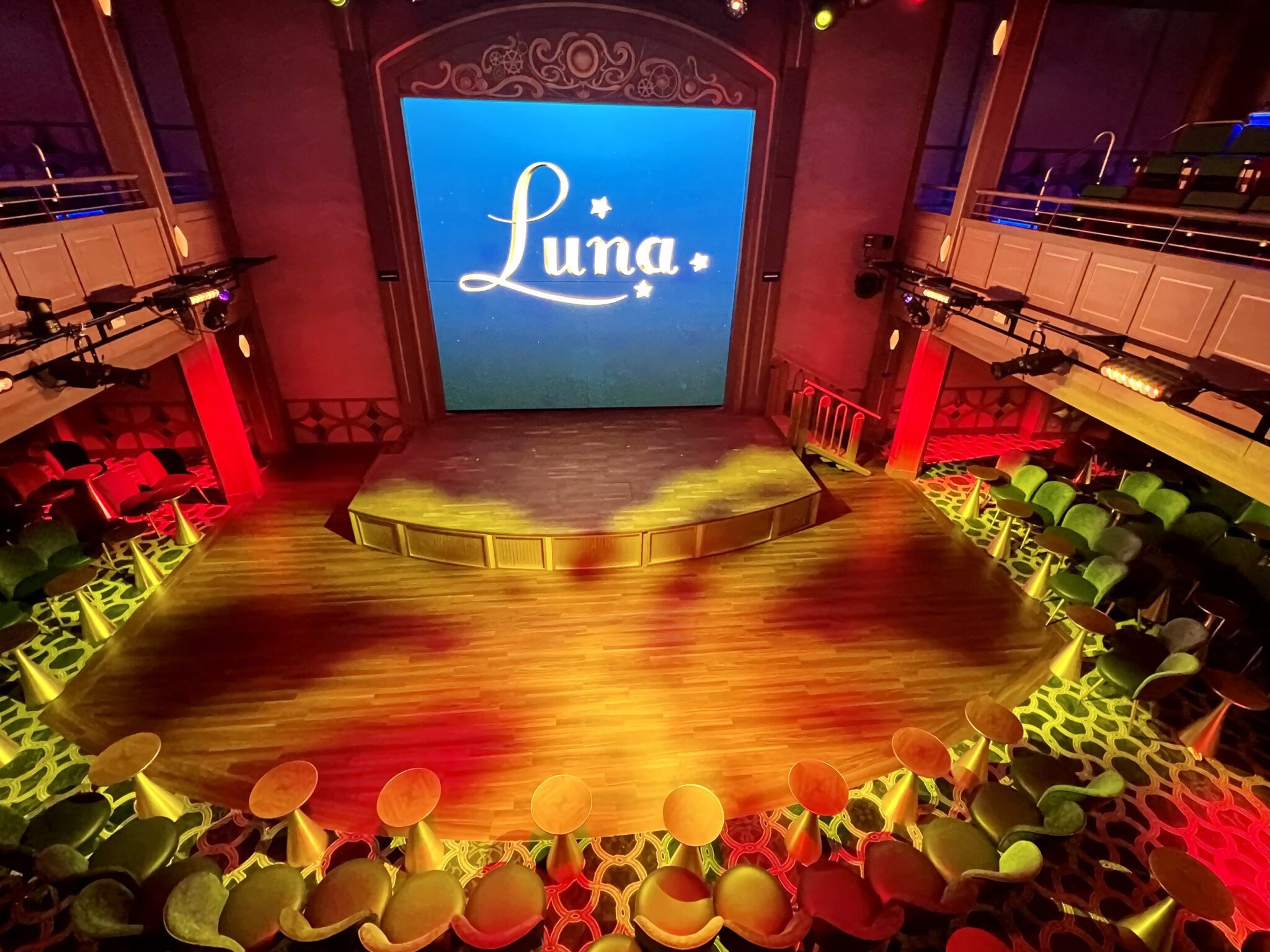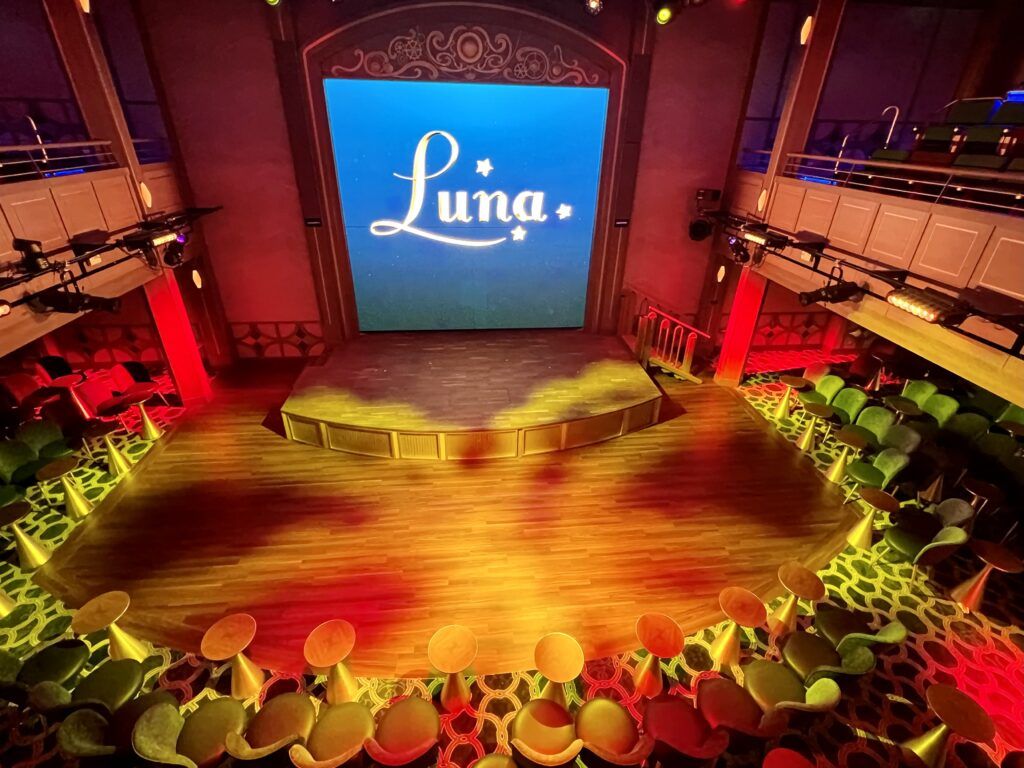 Additionally, Disney Wish has a variety of venues with live music in the evenings. Nightingale's is a Cinderella-themed piano bar serving wines and champagnes in an elegant setting. The Bayou is a New Orleans themed spot with signature cocktails, beignets, and light music.
There's also a number of other entertainment spots around the ship. Luna's transforms from a daytime setting for families into a venue for adult-exclusive entertainment in the evenings, complete with a bar. There's also the Triton Lounge which hosts activities that are fun for all ages like karaoke, trivia, and game shows.
While the drinks will cost you extra, there's no charge for any of the entertainment at these bars and lounges.
A Visit to Castaway Cay
Castaway Cay is Disney Cruise Line's private island in the Bahamas. This beach resort is a stop on both Disney Wish's 3-day and 4-day Bahamas itineraries.
Access to Castaway Cay is part of your Disney Wish cruise. While on the island, there are many amenities to enjoy for no added cost. These include sandy beaches with use of loungers and life vests for the little ones. There's even Serenity Bay for the adults to relax. There are also character experiences, the Pelican Plunge water area, youth activities at the kids club, sports facilities, and more.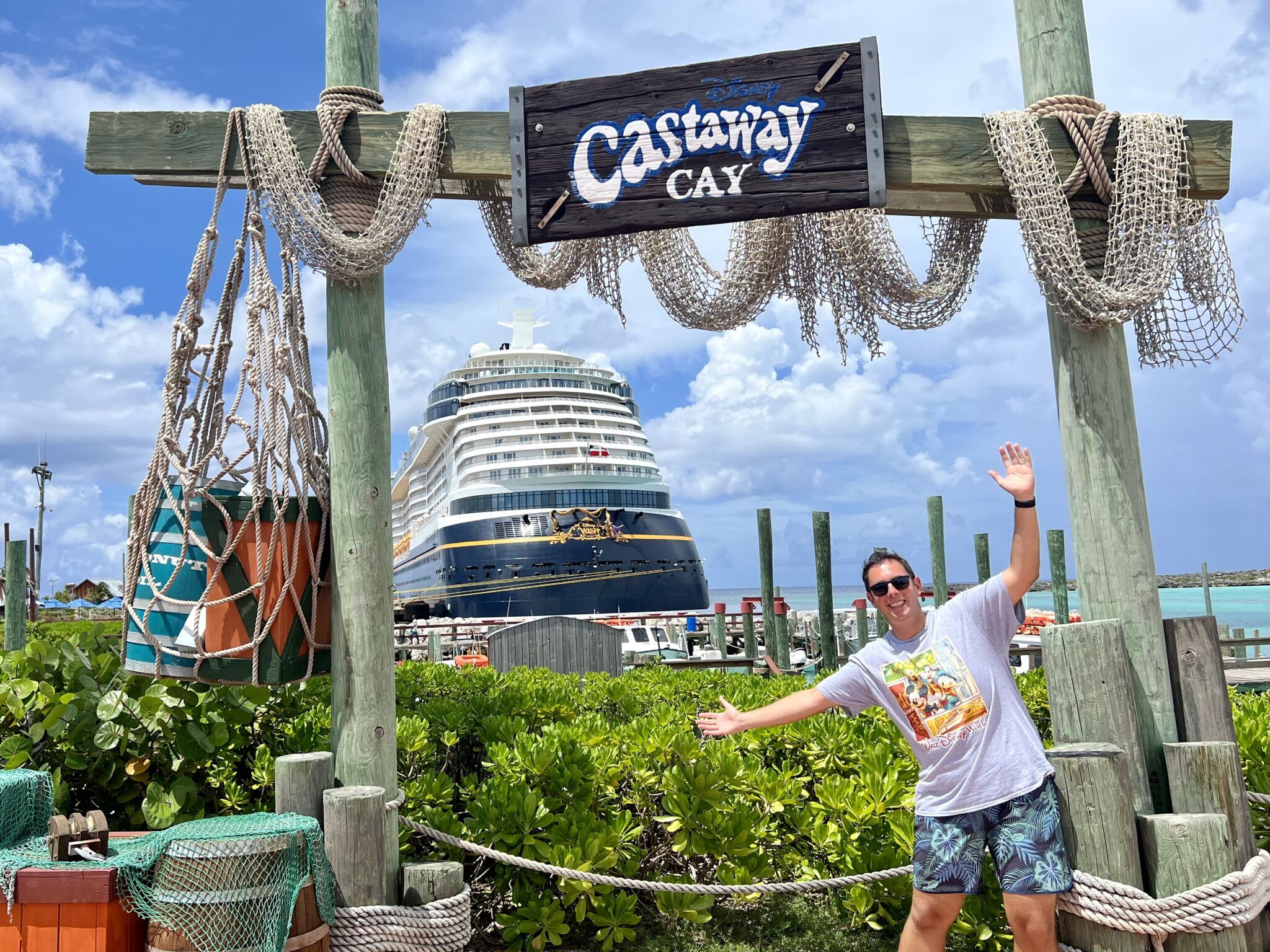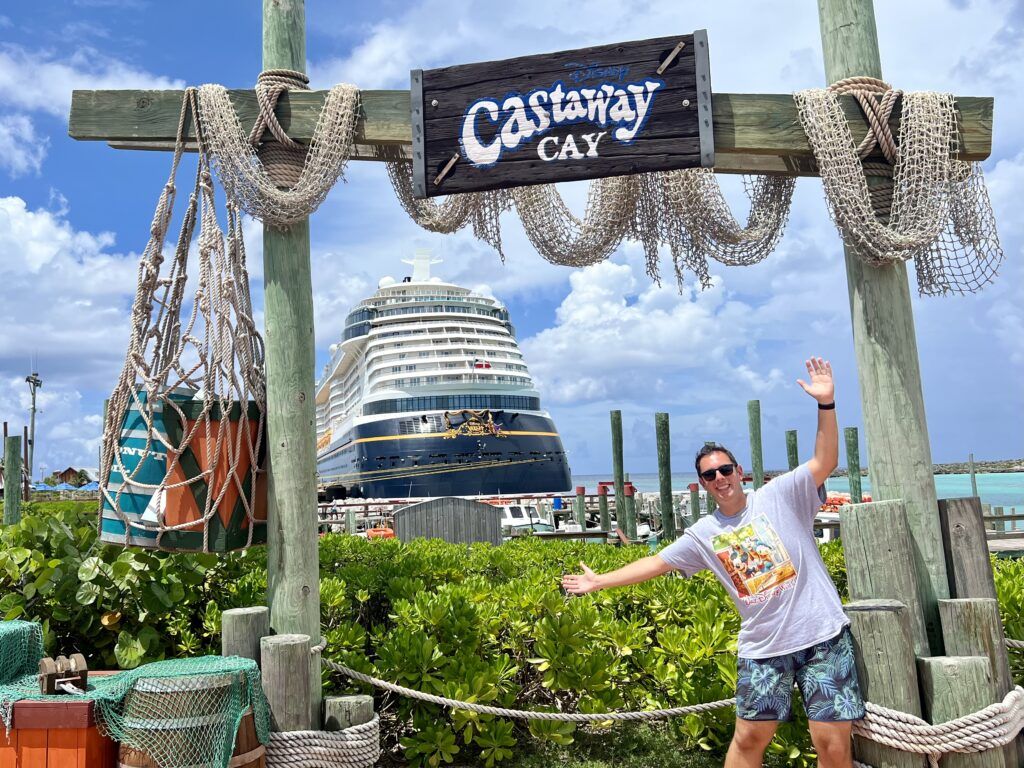 Not to mention, you can enjoy a barbecue buffet lunch while visiting Castaway Cay, as well as complimentary soft drinks and soft-serve ice cream.
Of course, there are upgraded experiences that will cost extra like cabana rentals, massages, shopping, and shore excursions.
What's Not Included in Your Cruise Fare
Gratuities
Cruise gratuities are services charges that are not part of your standard cruise fare, similar to a hotel resort fee. These additional fees are a per person, per day dollar amount. All guests, across all stateroom categories, need to pay gratuities.
These charges serve as a means to reward the hard-working crew for the excellent service provided during your cruise vacation.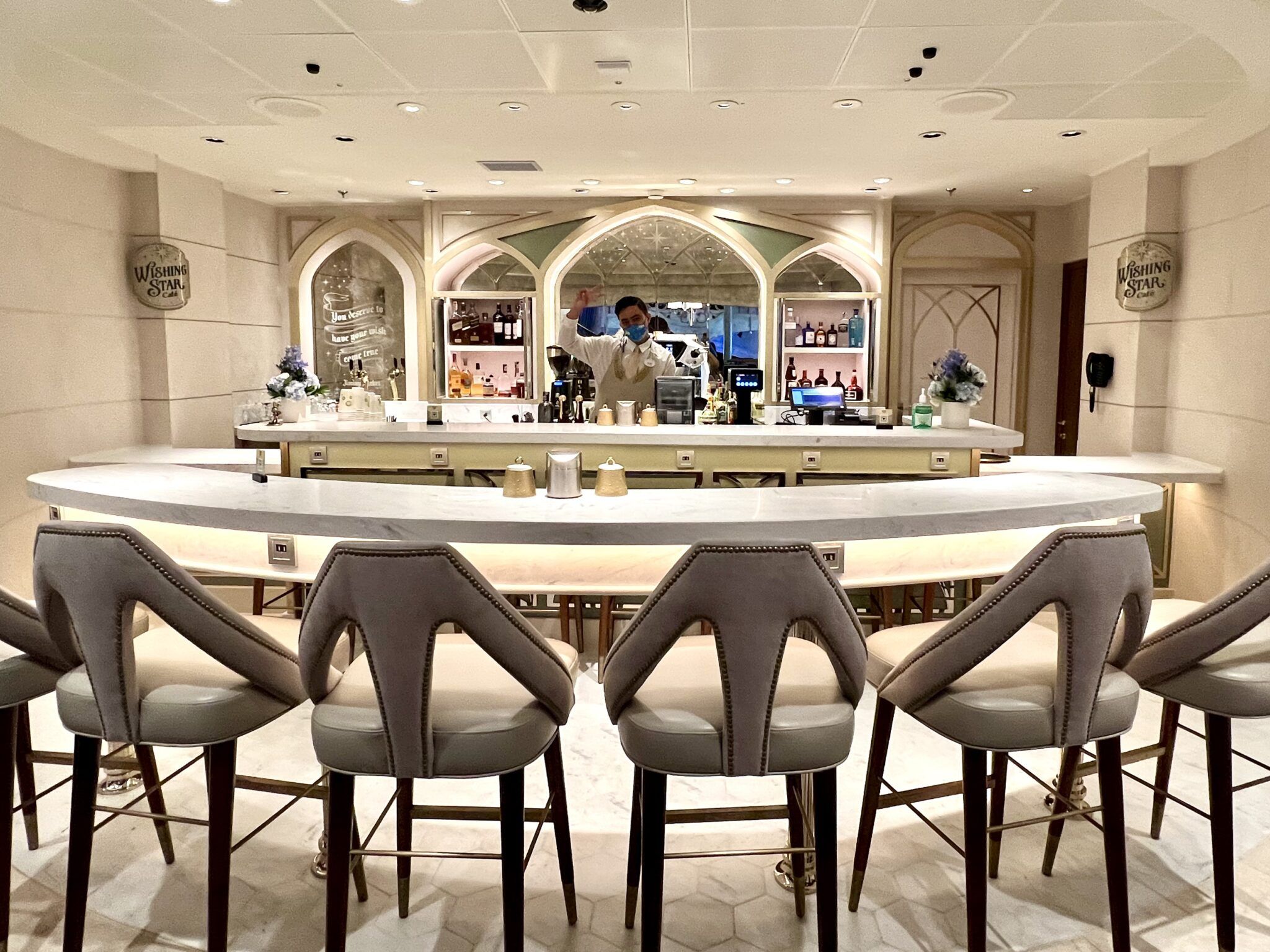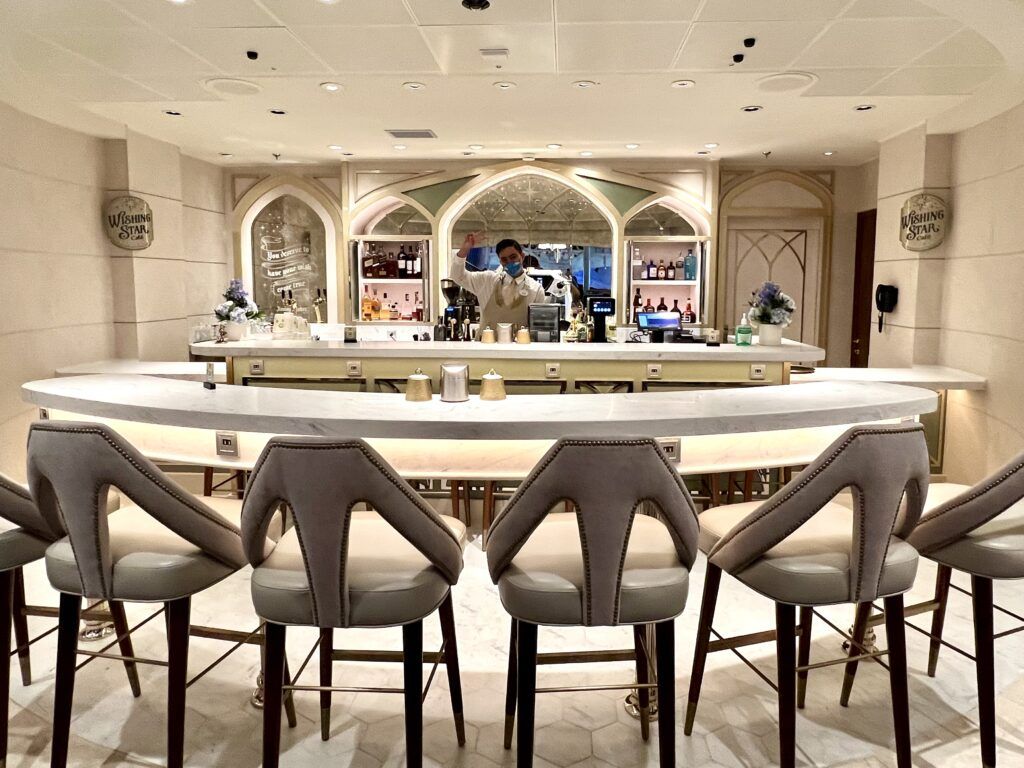 The current recommended gratuity on Disney Wish is $14.50 per passenger, per night or $15.50 for concierge staterooms. This fee can be pre-paid, or it will be charged automatically to your onboard account at the end of the cruise.
Of course, you can always tip special crew members above and beyond this amount.
Further, an 18% gratuity is automatically added to all bar purchases and spa purchases. This is on top of the daily service charge.
Shore Excursions
Disney Wish will transport you to several exciting ports of call. Unfortunately, shore excursions are not part of the cruise fare. You can book these tours and additional experiences through the cruise line or through third party retailers for additional costs.
Shore excursions can range from inexpensive island tours and beach breaks to several hundreds of dollars for unique experiences.
While there is no fee to access Castaway Cay on Disney Wish, some island activities are up-charges. Activities like a banana boat ride, parasailing, kayaking, and snorkeling gear will cost extra. Also, excursions like a glass-bottom boat tour or a stingray adventure are an additional fee as well.
Alcoholic (and Some Non-Alcoholic) Beverages
While Disney Wish does include a number of complimentary beverages, specialty drinks are extra. These beverages include specialty coffee, bottled water, smoothies, and mocktails. Morning espresso-based drinks at the onboard cafes have an average price tag of $4.50.
Items at Wheezy's Freezies and Inside Out: Joyful Sweets cost money too. Additionally, the pub menu items at Keg & Compass are available at a la carte pricing. So are the snacks, like popcorn, outside the theater.
Of course, any alcoholic beverages are also an up-charge. So, if you want to enjoy any cocktails in the Hyperspace Lounge, one of the other bars on the ship, or while laying poolside, you should calculate these costs into your final cruise tab. The average cocktail price on Disney Wish is somewhere in the range of $12-15 per drink.
It is also important to note that Disney Cruise Line does NOT offer a drink package like most other cruise lines.
Specialty Dining
While there are many dining venues covered in the cruise fare, Disney Wish also offers up-charge dining experiences. The two specialty restaurants on the ship are Palo Steakhouse and Enchanté.
Palo Steakhouse is an evolution of the Palo restaurant found on other DCL ships. Now, Palo Steakhouse combines authentic Italian dining with a modern steakhouse.
In a setting inspired by Cogsworth from the Beauty and the Beast film, guests can enjoy an elegant dinner with ocean views as the backdrop. Current pricing is $45 or a la carte for dinner and $45 for brunch.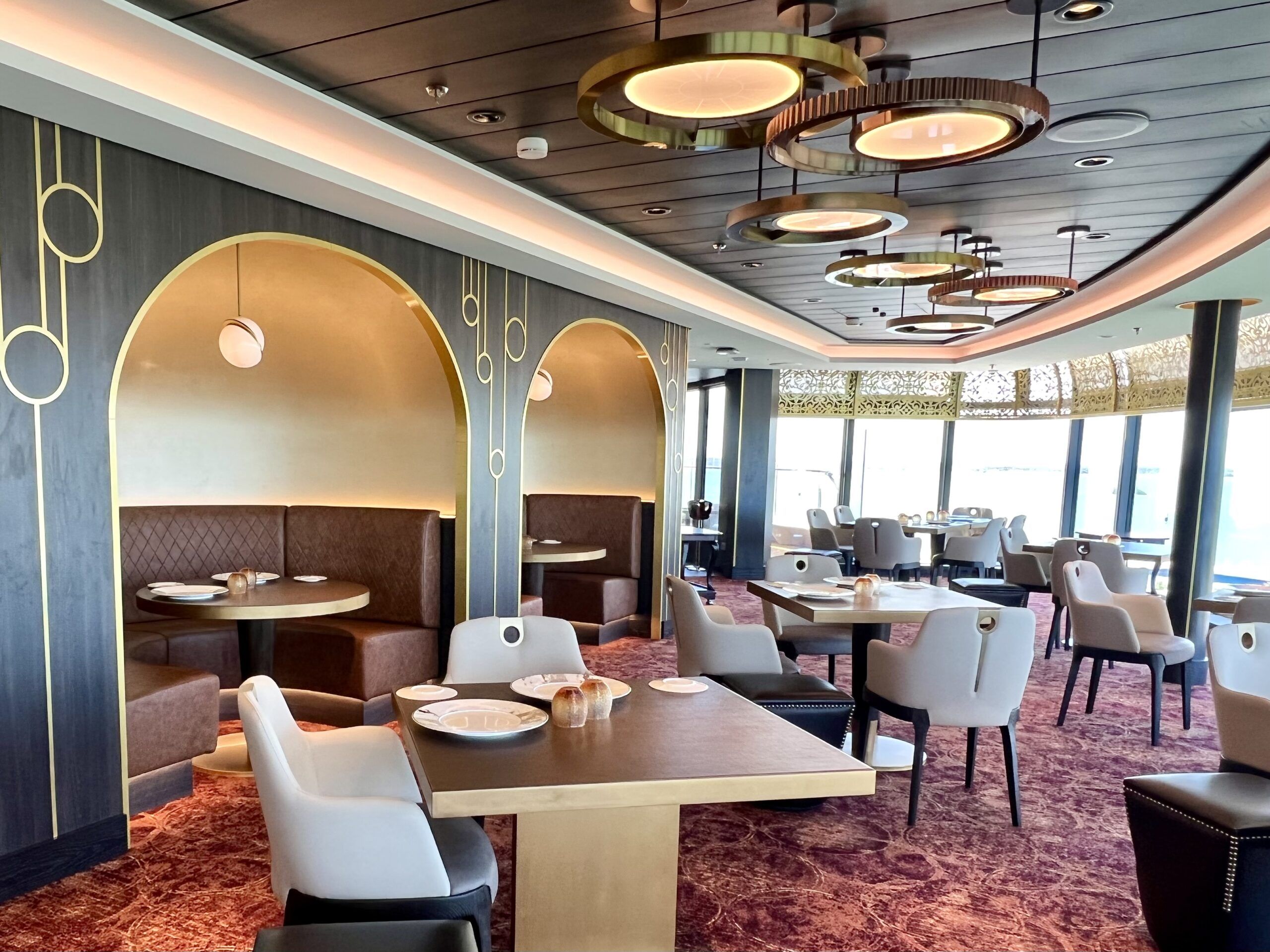 Enchanté offers the most luxurious dining experience on Disney Wish. This specialty restaurant features a gourmet menu crafted by Michelin-starred Chef Arnaud Lallement.
With décor inspired by Lumiere from Beauty and the Beast, Enchanté is romantic and intimate. The current pricing for the 6-course meal is $125, or guests can pay a la carte. There is also a brunch for $75 or just desserts for $60.
Both these restaurants are adult-only and require reservations.
WiFi
You will need to purchase an internet package if you want to stay in touch with family and friends, as WiFi is not part of the cruise fare.
Disney Wish offers three internet packages at varying prices. The Stay Connected package allows for access to social media at a price of either $12 a day or $10 a day when purchased for the duration of the cruise. The Basic Surf package is $24 for the day or $20 a day when purchased for the full length of the cruise. Finally, the Premium Surf package includes streaming. This package will run you $36 a day or $30 per day for the length of the cruise.
There is also a discount for the more devices you purchase.
Spa and Beauty Services
Spa services, beauty treatments, and access to the thermal suite are also an additional fee on Disney Wish.
The Senses Spa offers a variety of treatments including massages, facials, and more. There are several treatment rooms, including a couple's treatment room, as well as tranquil indoor and outdoor relaxation areas with plush loungers and swings.
Unique to Disney Wish is the outdoor spa area at the bow of the ship. This is the perfect spot for a day of relaxation.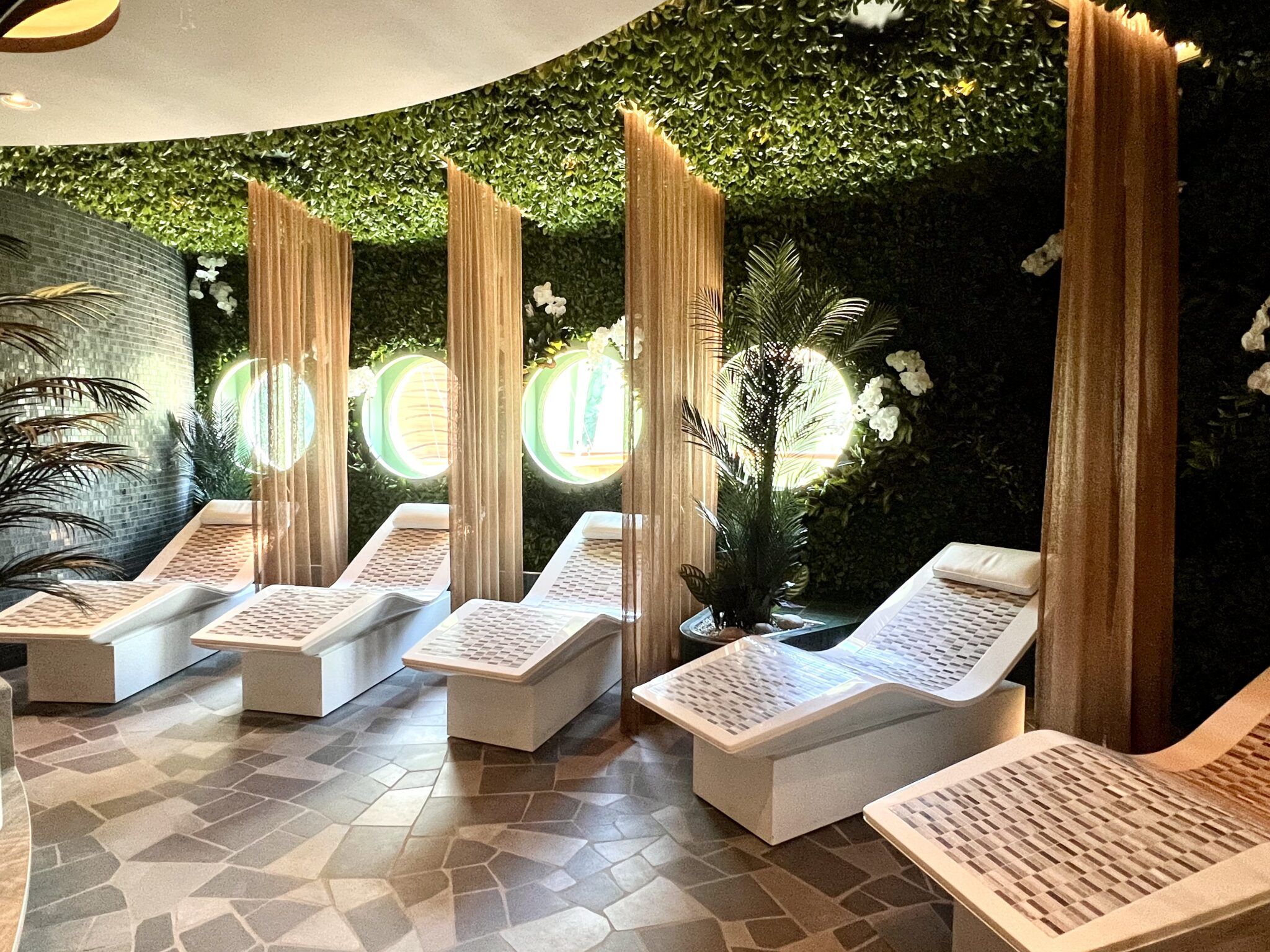 The Rainforest Room features saunas, hot tubs, rainforest showers, and more; however, there is a separate charge to use this thermal suite. Current pricing is $166 for a 3-day cruise and $190 for a 4-day cruise. Day passes can be purchased for $79 if availability permits.
Further, Beauty services at the Untangled Salon or Hook's Barbery will cost extra. The same is true for Bippidi Boppidi Boutique. For those unfamiliar, this venue offers royal makeovers for kids.
Some Activities
While most activities are included in the cruise fare on Disney Wish, there are some up-charge experiences. These include things like liquor tastings and mixology classes, Bingo, and Olaf's Royal Picnic. This 60-minute immersive experience for kids is currently $220 for ages 3 to 12 and $69 for ages 13 and up.
Reservations are required for some of these experiences, so be sure to check your online cruise planner once you've made final payment.
Other Add-Ons
Lastly, other add-ons like photos, laundry, and onboard gifts will be an additional charge. Likewise, if you choose to shop during your cruise that will be out of pocket as well.
Of course, all pre/post cruise travel expenses are not tied to the cruise either. Thus, when determining your cruise budget, you will need to account for expenses like airfare, a pre-cruise or post-cruise hotel, and transportation to and from the cruise terminal.
Luckily, there are a number of great hotels near the Port Canaveral cruise port that are reasonably priced.
BOOK NOW: Exclusive Rates on Disney Wish Sailings!
Comments
Have you sailed on a DCL cruise ship? What are your thoughts about what's included on Disney Cruise Line's Disney Wish (and what's not)? Drop us an anchor below to share your experiences cruising with this brand.