Alaska has the highest concentration of black (and brown) bears, so it's no wonder many cruise passengers seek out bear viewing tours. Luckily, there are several opportunities to see bears in Alaska's southeastern cruise ports. We were fortunate enough to visit Alaska twice this cruise season with a mission to find some bears. Now, we are back to provide our input on the best bear viewing in Ketchikan, Alaska on a cruise.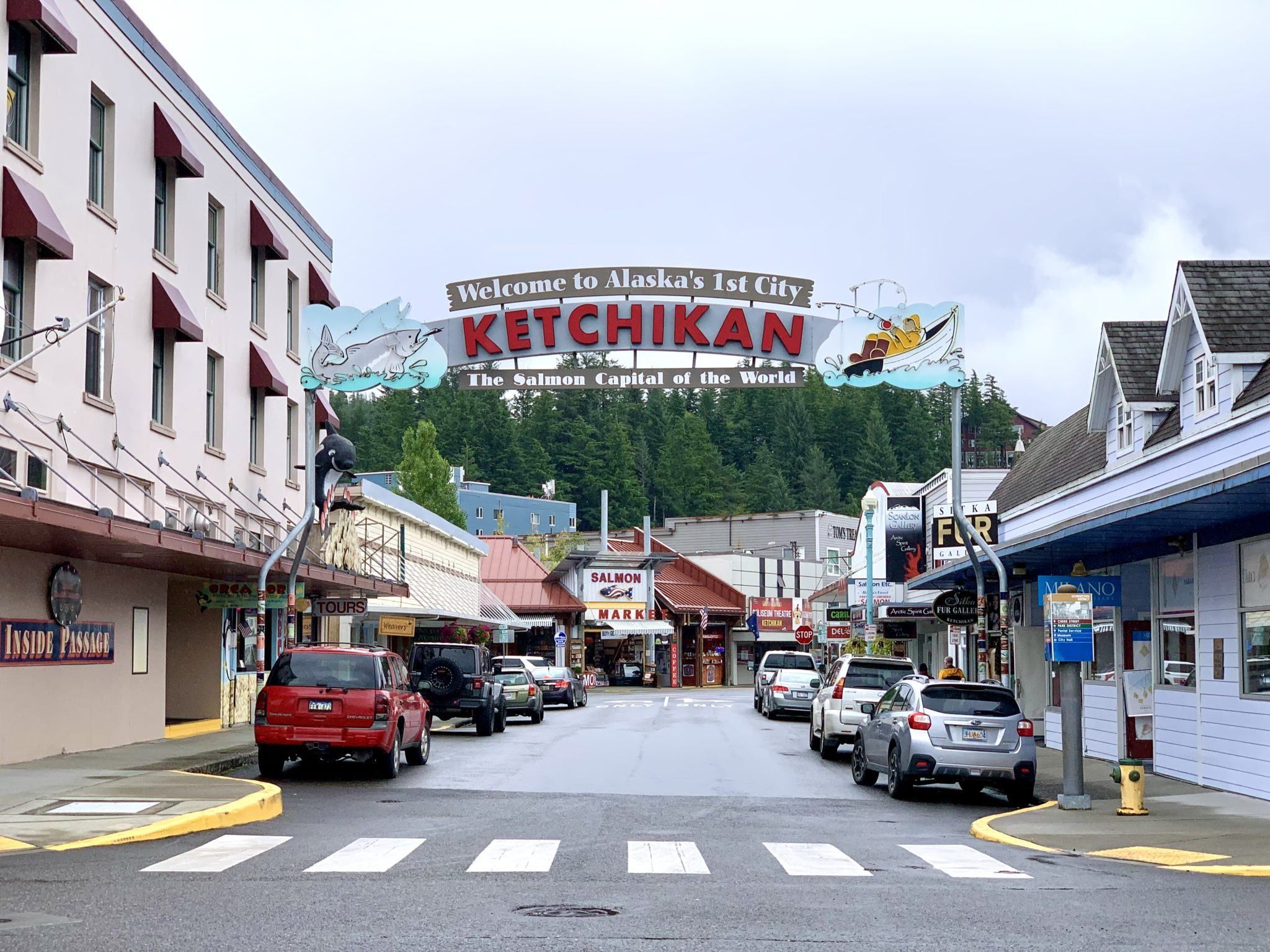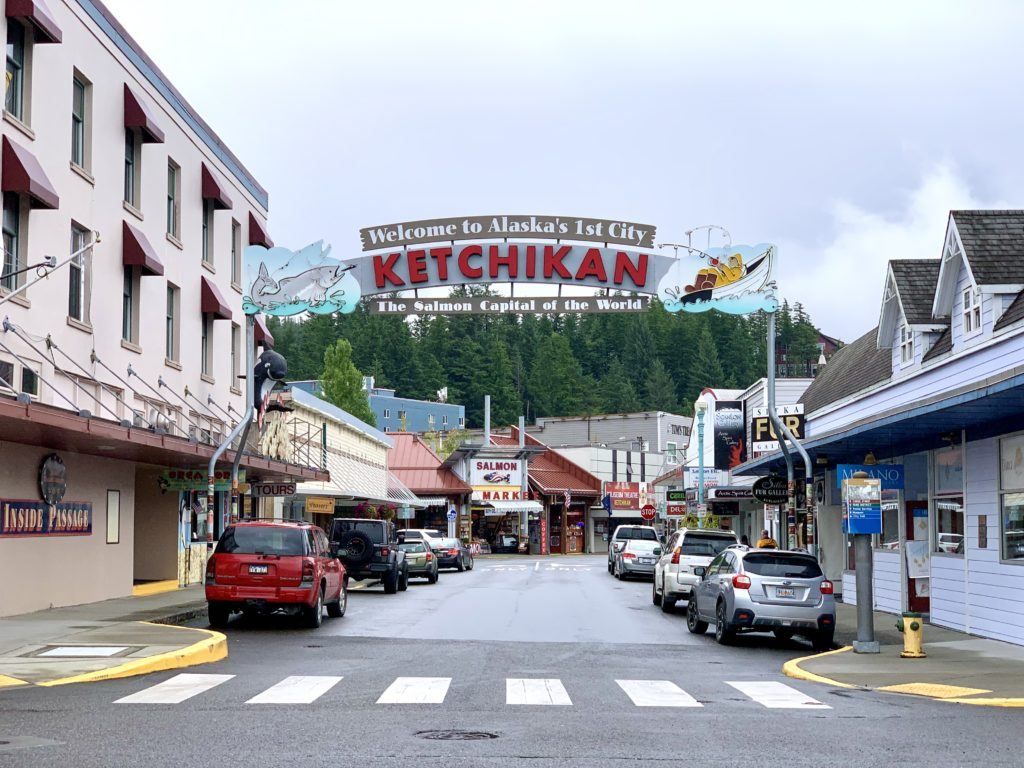 Bear Viewing in Ketchikan, Alaska on a Cruise
Best Time of Year for Bear Viewing
While the Alaska cruise season runs from late April through early October, there are certain times of the Alaska cruise season that increase your odds for wildlife sightings.
While prices and crowds tend to be lower during the shoulder seasons, early or late in the cruise season, this is not necessarily the best time for wildlife sightings. Most sources say that the best time for bear viewing in Ketchikan, Alaska is between late June/early July and late August/early September.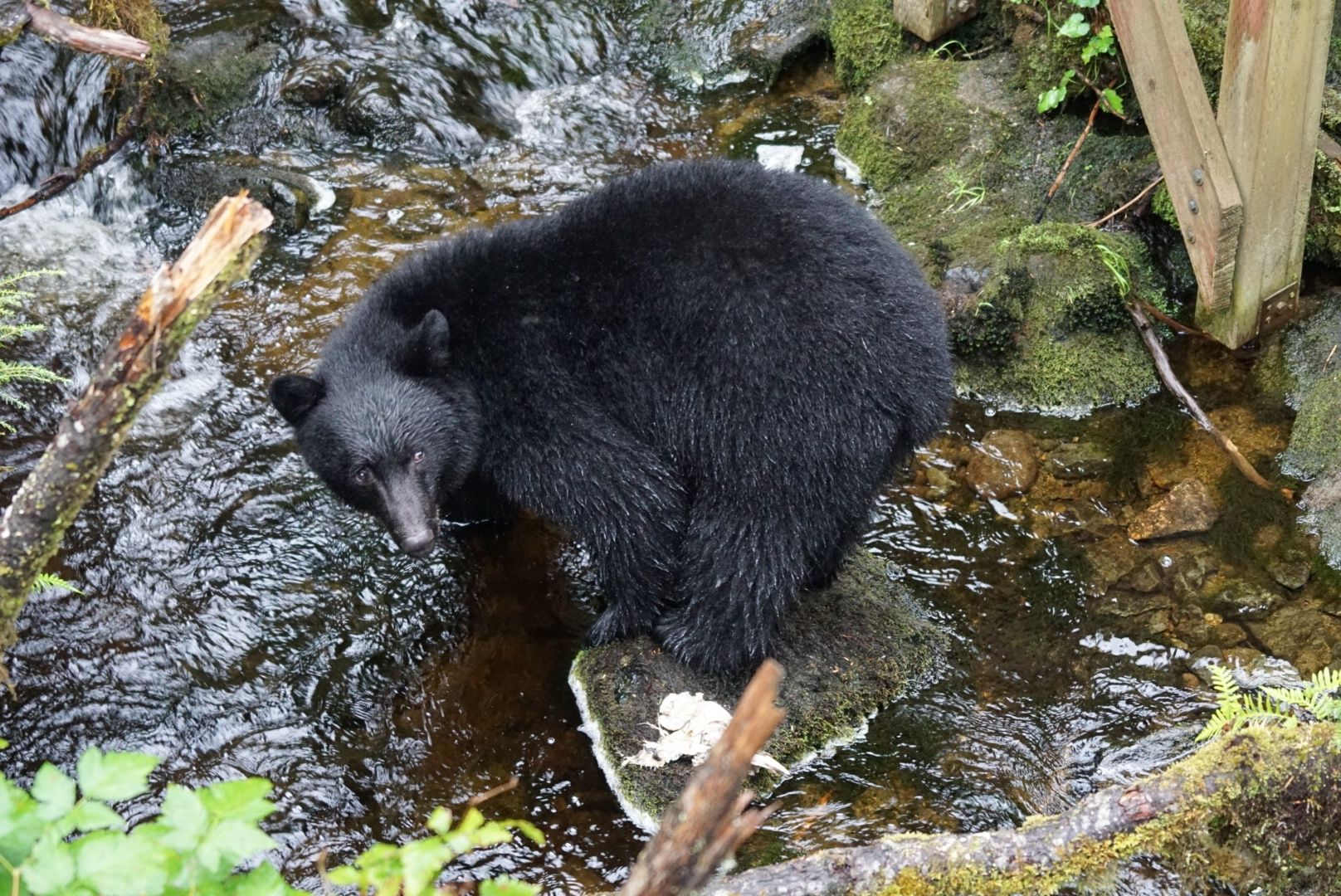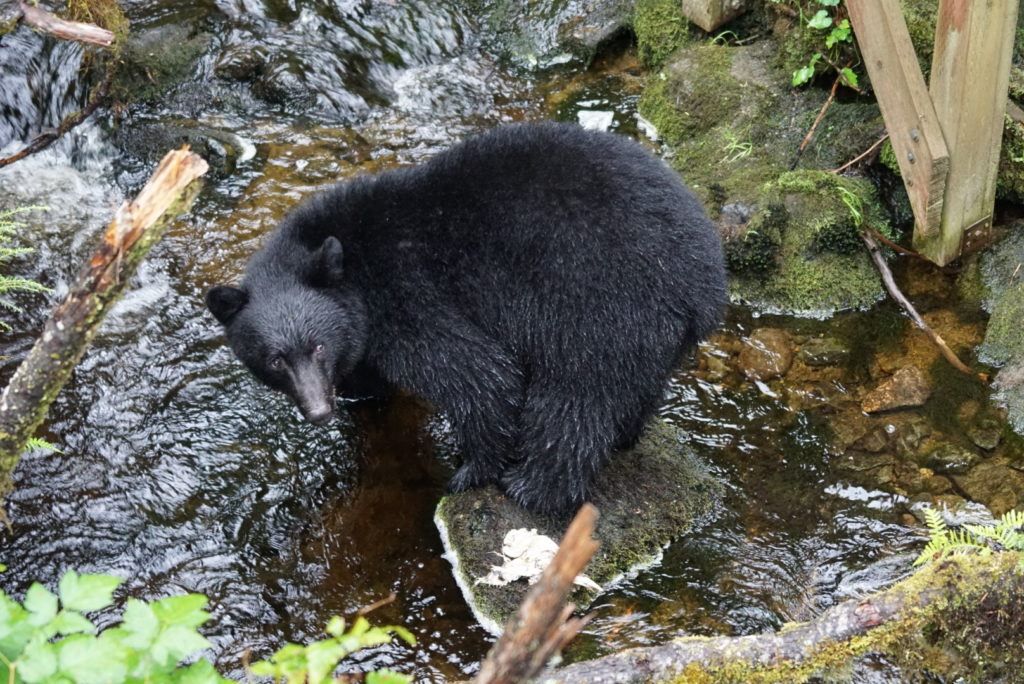 Now, this does still provide quite a large time frame, so wildlife sightings are not usually guaranteed on tours. Bear viewings tend to be more frequent during the salmon runs. So, if you follow the fish, you are likely to find some bears. Each season salmon run upstream to spawn. Thus, you can usually find bears at the mouths of rivers and streams feasting on these fish.
Types of Bear Viewing Tours
Most cruise lines offer several different bear viewing tours. In Ketchikan, these tours can also be combined with several other activities for longer excursions depending on your time in port.
While each cruise line has slightly different names for its tours, they are usually either walking tours, boat cruises, or floatplane adventures. Each of these tours have their pros and cons.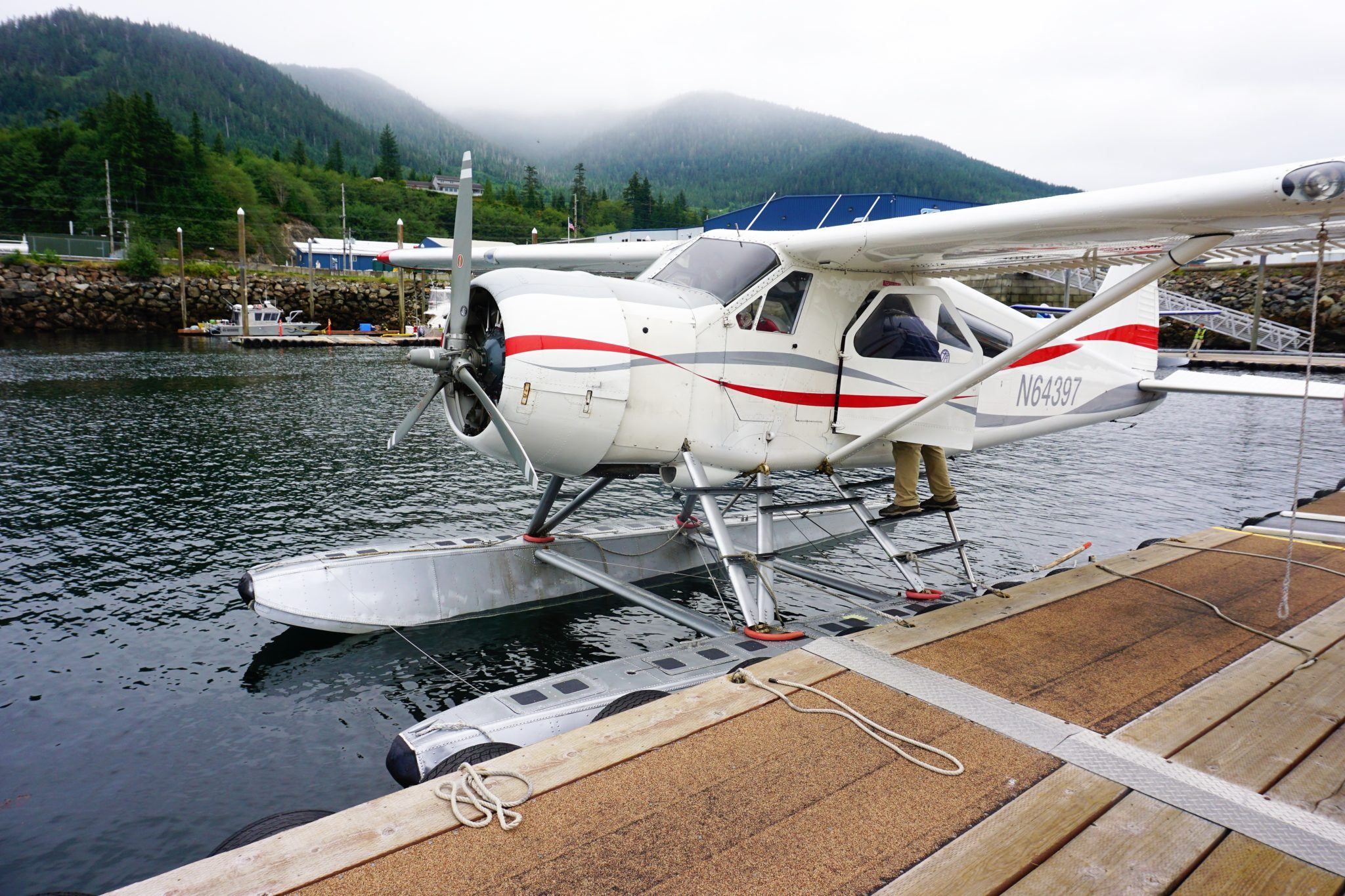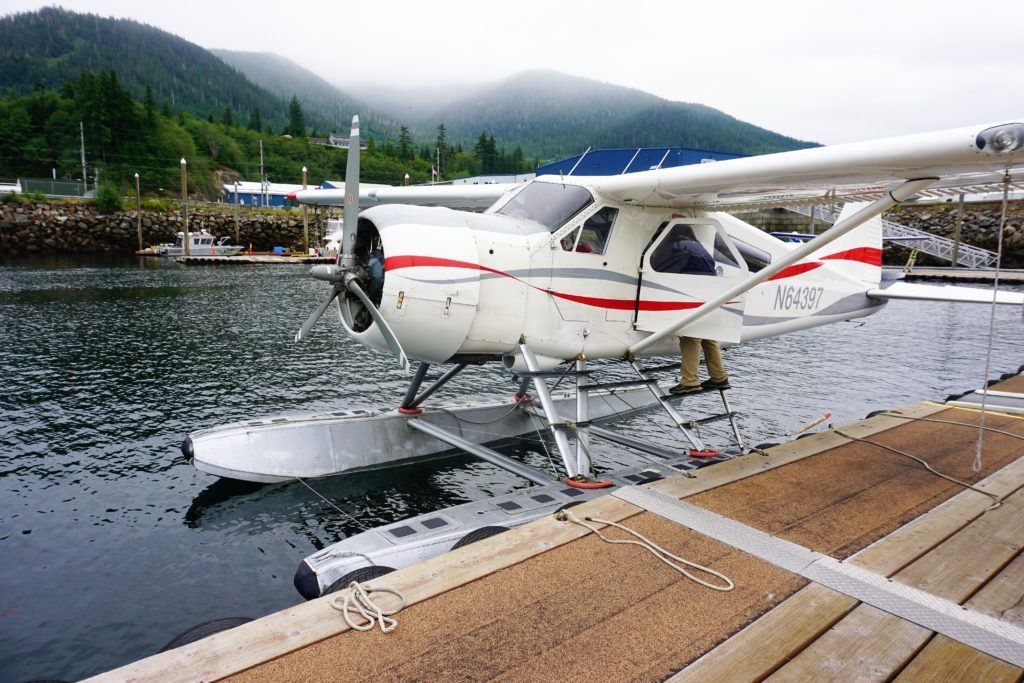 Further, the majority of all tours visit one of three locations. Most sources indicate that Anan Wildlife Observatory is the BEST place to spot both black and brown bears in their natural habits. However, given its distance from Ketchikan and capacity limits, most cruise lines do not offer excursions here. The three most common areas are Neets Bay, Herring Cove, and Traitors Cove/Margaret Creek.
Neets Bay Bear Viewing
During our first cruise of the season on Princess Cruises Majestic Princess, we booked a Neets Bay Bear Cruise. This 4.5 hour tour departed from a nearby dock for the 40 mile trek from Ketchikan north to Neets Bay. Our transportation was a 65 foot vessel that offered indoor seating as well as an observation deck.
The scenic cruise included narration from an onboard naturalist as we passed city landmarks. Some of these included the Ketchikan airport, Totem Bight totem park, and Guard Lighthouse. Our naturalist did a great job pointing out specific landmarks and providing us with a history of the area.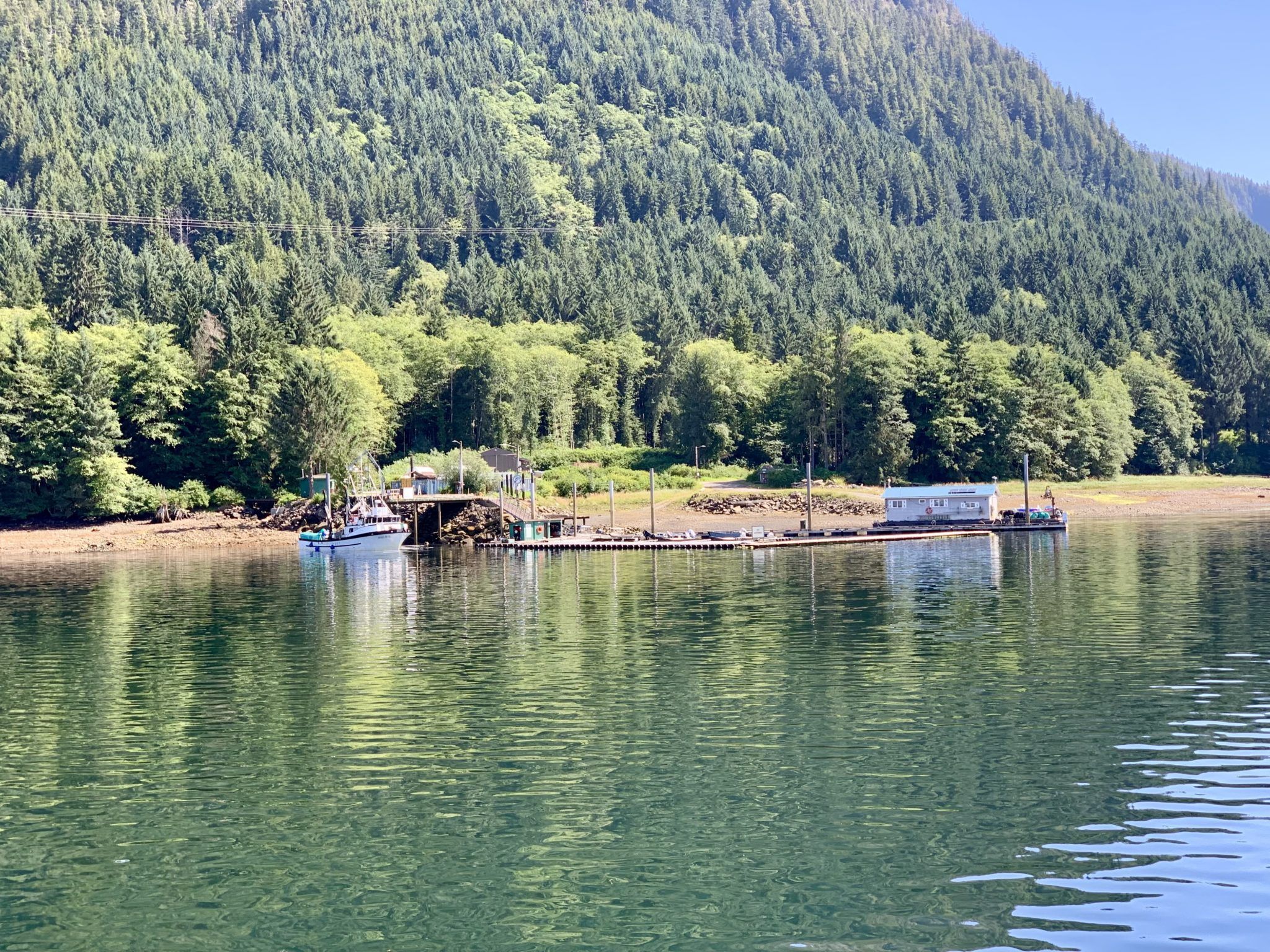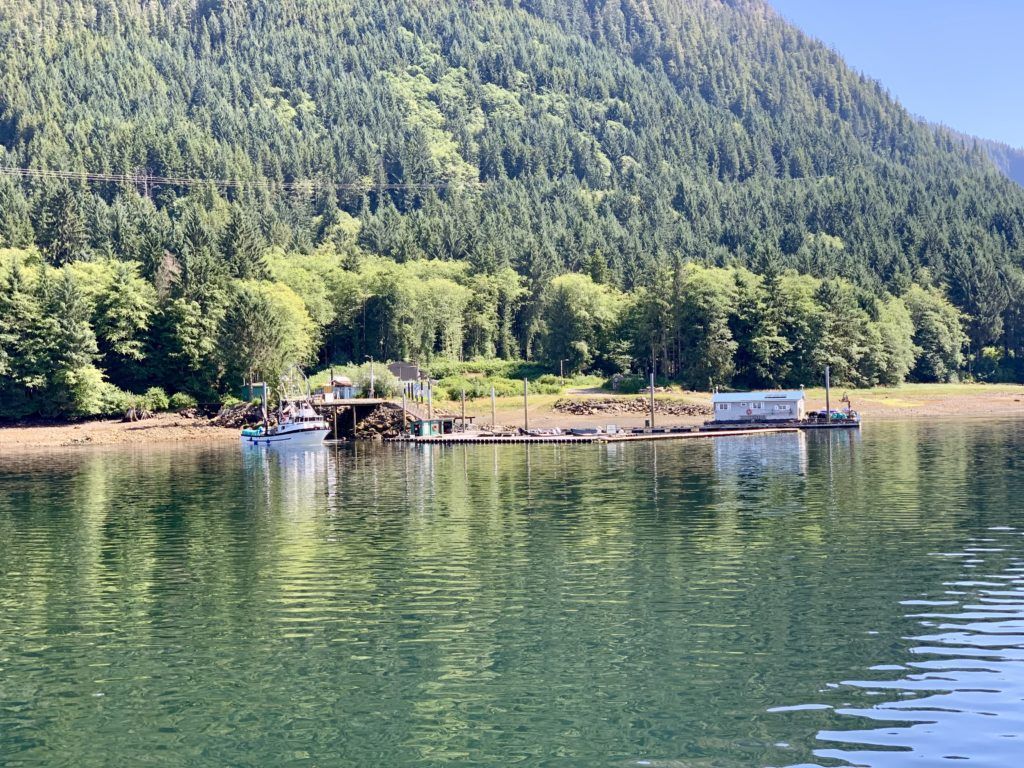 To our surprise, we had amazingly sunny and warm weather….in Ketchikan. We assumed these ideal conditions would be perfect for spotting wildlife. Besides bears, harbor seals and eagles are also common sightings in the area.
Once we approached Neets Bay and the hatchery, our entire group was on bear watch. This productive salmon hatchery is known to attract bears that feast on the salmon along the coastline.
We drifted along the shore in search of bears for a good amount of time, but we just did not have any luck. This is the one drawback of the boat cruise. You are limited to what you are able to spot on the shoreline as you never leave the boat.
If you would prefer to spend some time on land, many cruise lines also offer a floatplane excursion to Neets Bay in the Tongass National Forest. This tour includes a short flight over to the hatchery. You are then able to exit the plane for a walk around the hatchery to a viewing area.
While we didn't realize it at the time, this option provides more opportunity for potential up-close bear viewing.
Related Post: Alaska Cruise Packing Guide
Rainforest Sanctuary Bear Viewing at Herring Cove
For our second Alaska cruise of the season on Holland America Line's Nieuw Amsterdam, we opted to book a wildlife walk. In hopes of getting up-close to these creatures, we booked the Black Bear, Wildlife, and Nature Walk tour offered by the cruise line.
This 3.25 hour tour includes a bear-viewing opportunity at Herring Cove. This is the only site accessible by vehicle.
Located just eight miles from Ketchikan, the private 40-acre Alaska Rainforest Sanctuary is home to abundant wildlife. Given the nearby Whitman Hatchery that ensures the river is full of salmon every summer, this is a popular bear viewing site.
Upon arrival at the location, we were greeted by 3 guides who would be leading us on this approximately 90 minute, half-mile walk amongst the towering spruce, hemlock, and cedar trees in search of bears and other wildlife.
This walk is mostly on a manmade walking path and raised boardwalk not too far from civilization. This elevated boardwalk trail includes viewing platforms overlooking Eagle Creek.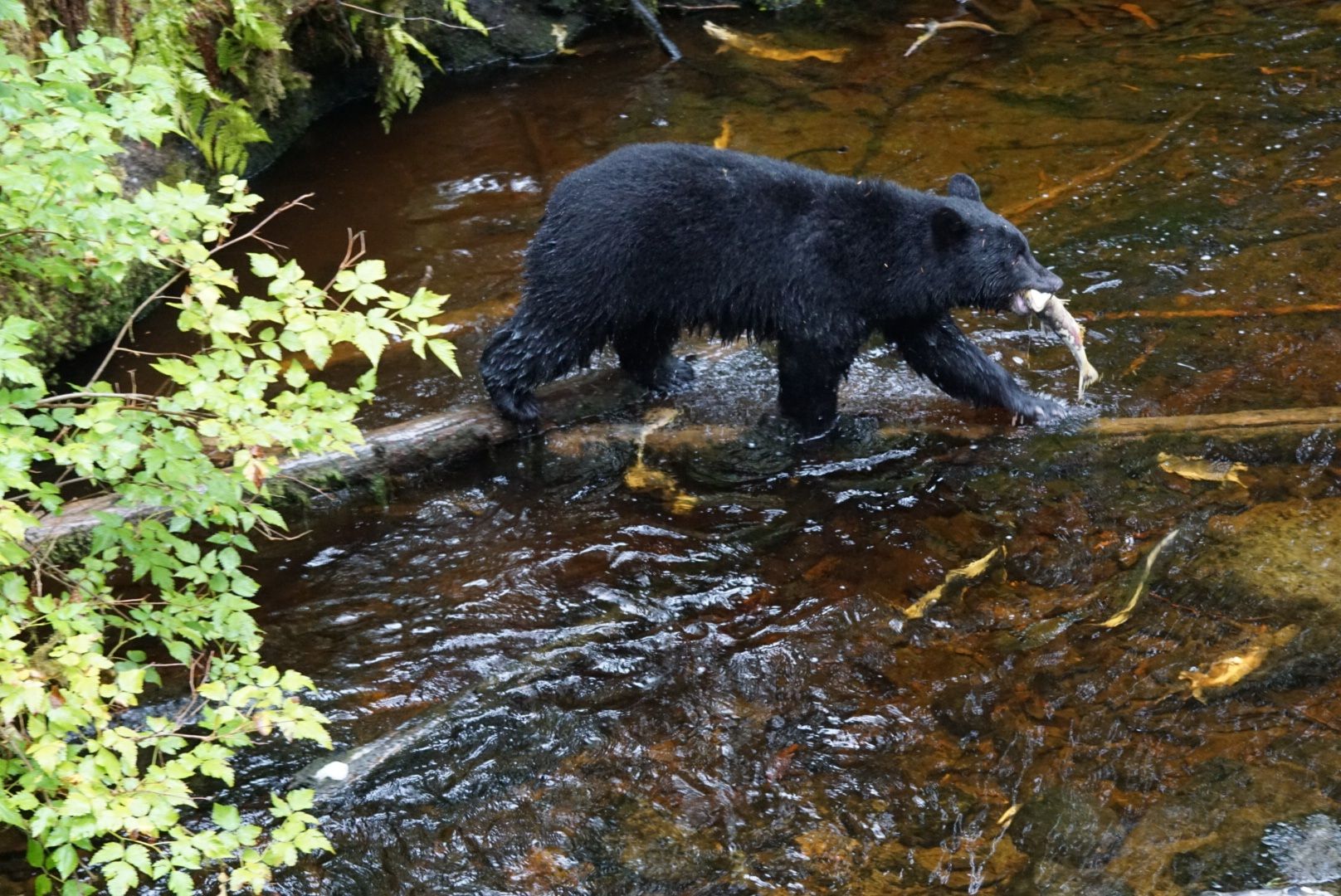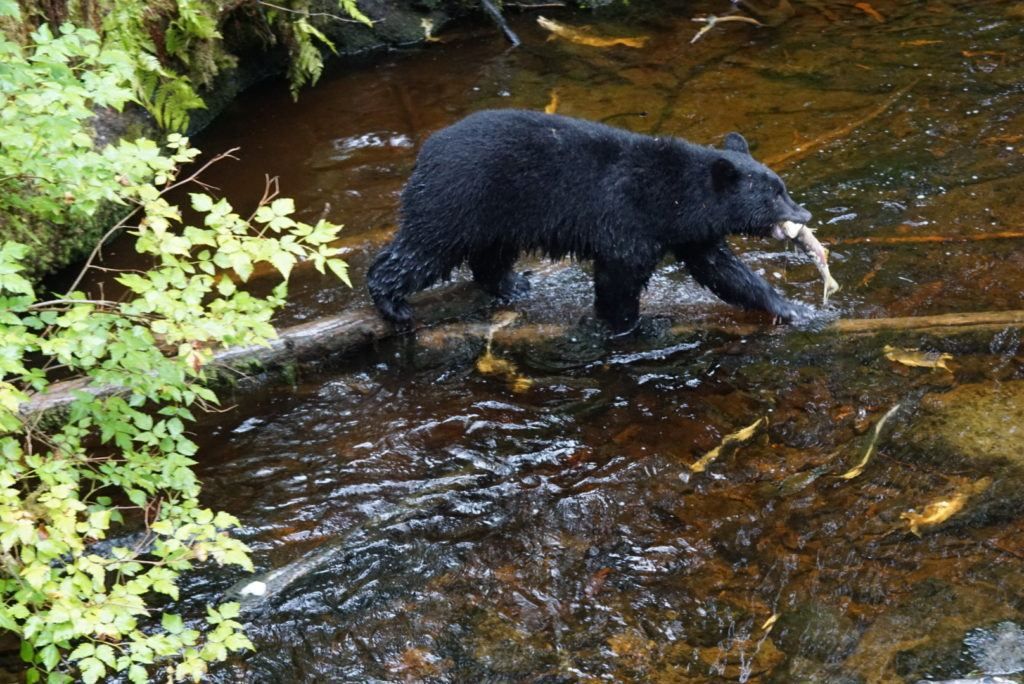 Worried we might not find any wildlife, we didn't have to wait long at all! Unlike our previous Neets Bay bear watching cruise, there were multiple black bear sightings within minutes of entering the forest.
It was amazing to see these massive creatures in their natural setting. From bears climbing trees to those hunting salmon in the stream, we were a mere few feet away from these bears.
After our fill of bear sightings near the stream, we continued along the path towards the hatchery and Alaska Raptor Center for a narrated presentation and a chance to see birds up close.
Lastly, the tour concluded next to a local totem pole craftsman's workshop. The facility is also home to the old Herring Bay Lumber Company sawmill, some totems on display, and a gift shop.
Traitors Cove Bear Viewing
Many cruise lines also offer excursions to Traitors Cove for bear viewing. Traitors Cove is approximately 26 miles north of Ketchikan. The most popular is a flightseeing tour which includes a 20 minute floatplane ride to this secluded area in the Tongass National Forest.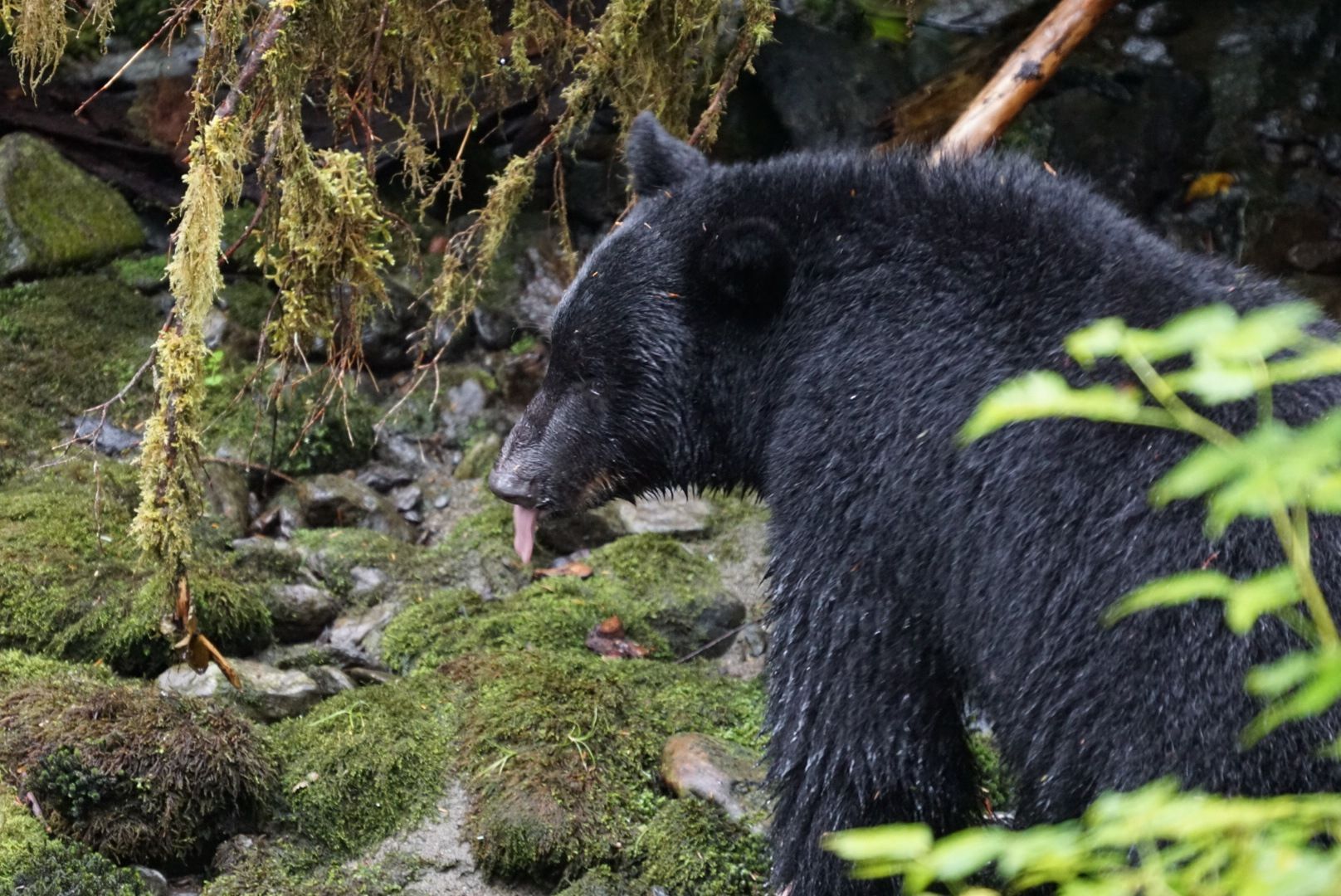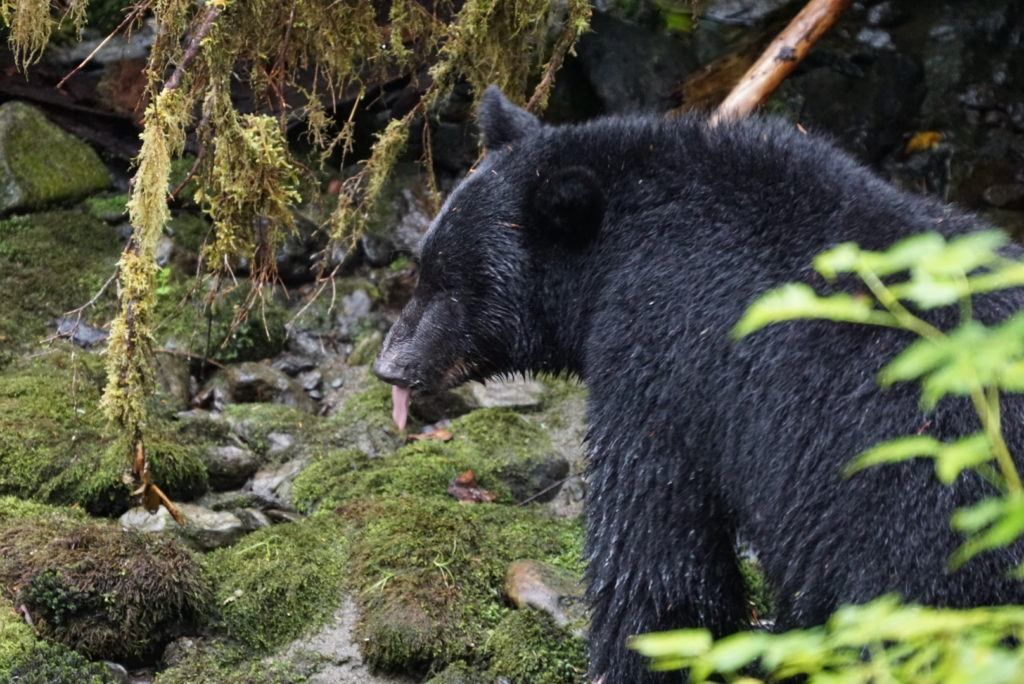 Upon landing, there will be a mile drive (or walk) to the trailhead. It will then be a short walk along a manicured trail to the observation platform. This platform is situated above a waterfall on Margaret Creek which is the prime bear viewing location.
There are also boat tours available to Traitors Cove that include an approximately 60-70 minute ride in each direction.
We have not visited this area ourselves so can not comment on the prevalence of bear sightings.
Related Post: Top Things to Do in Ketchikan, Alaska on a Cruise
Comments
Do you agree with our picks for best bear viewing in Ketchikan, Alaska on a cruise? Have you taken any of these excursions? Drop us an anchor below to share where you've had the best bear sightings.