Beef or pork? Which of the two slabs of ribs was I going to try first? My next debate was the sweet barbecue sauce or the tangy Carolina sauce on the table? Oh, and that is just the start of it. Who would have thought that there would be so many decisions to make about food? Read all about it in our Things You Need to Try at Q Texas Smokehouse on Norwegian Bliss. It's the hottest new BBQ joint at sea, complete with plenty of wood and some wagon wheels for décor. The look is finished off with red  "solo cups"  for water glasses and a stage which features live Country music later in the evening.
On our recent Norwegian Bliss cruise, we sampled the new dining establishment for lunch. The full menu was available during our sampling, so we got to pick from all three courses. If you have a cruise planned on Norwegian Bliss, here are the 5 Things You Need to Try at Q Texas Smokehouse.
5 Things You Need to Try at Q Texas Smokehouse on Norwegian Bliss
Signature Drinks
The Smoked Peach Margarita is always on tap at Q. This drink is the perfect accompaniment to a night of good food, great music, and some line dancing. If you are more of a brew fan, the Smokehouse also features several beers from Texas as well as a few other specialty cocktails with some Southern charm. All drinks are covered in the Ultimate Beverage Package, so feel free to order as many rounds as you want.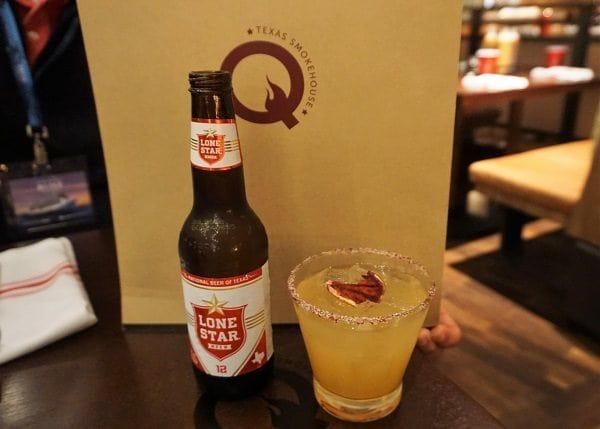 Shareable Starters
Large parties might want to order a few shareable sides for the table. You can't go wrong with the Deviled Eggs that come topped with maple glazed bacon. Or, you can spice things up with the Lone Star Chili, a hearty portion of beef chili topped with jalapenos and served with tortilla chips. You could also opt for Q's rendition of classic Fried Green Tomatoes. With so many delicious appetizers, don't forget to save room for the remaining courses.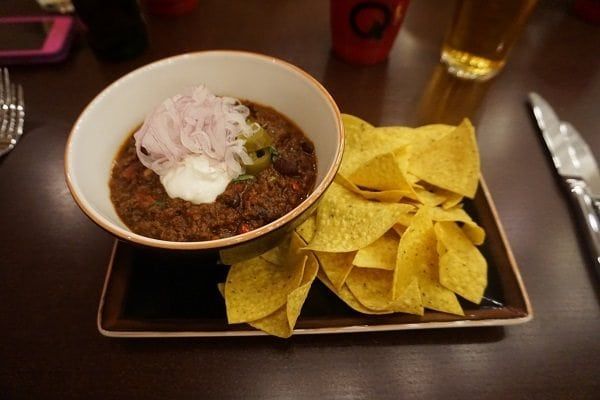 Smoked Meats
The main attraction at Q is, of course, the smoked meats from the pit. With entree selections like pulled pork and beef brisket, you might have trouble deciding on your meal. Personally, I had to get a little messy and test out the ribs. The beef short ribs were succulent, falling apart with just the slightest pressure from my fork. The pork spareribs were equally tender and naturally sweeter. If they weren't already flavorful enough, there are a variety of sauces available tableside as well.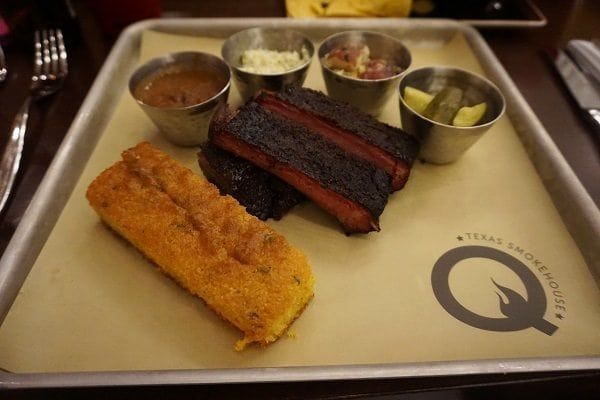 Perfectly Paired Side Dishes
The winner for best supporting side dish has to be the Jalapeno Cheese Cornbread. Most entrees are served with a slice of this spicy cornbread infused with just a mere kick of heat and cheese. Other accompaniments that had our table raving were the crunchy onion rings and the velvety mac and cheese. Other fixings that you might find at a Sunday picnic like baked beans, potato salad, corn on the cob, and cole slaw are also available.
Down Home Desserts
How do you top a smokin' meal? With just the right mix of sweetness of course. From the homemade desserts like the Banana Pudding served in a mason jar to the over-sized slice of pecan pie, how will you decide? These delicious treats are sure to satisfy any sweet tooth's cravings and are the perfect ending to your dining experience at Q Texas Smokehouse on Norwegian Bliss.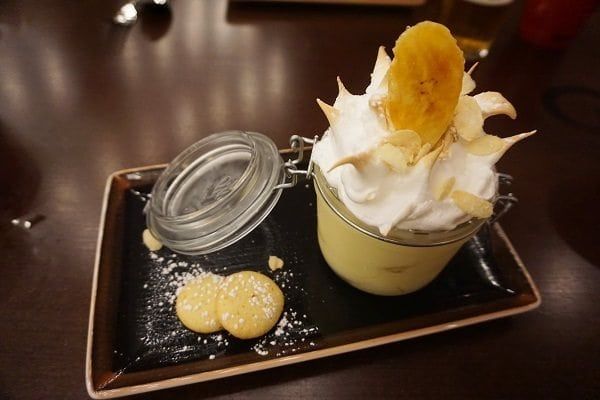 Live Music
If the food is not enough to entice you to visit Q, you will want to head there later in the evening for some of the most kicking music on the ship. With a live Country music band covering your favorite hits and some good ole line dancing, this venue is a hoot after dark. So, grab a partner and mosey on down to Q on Norwegian Bliss.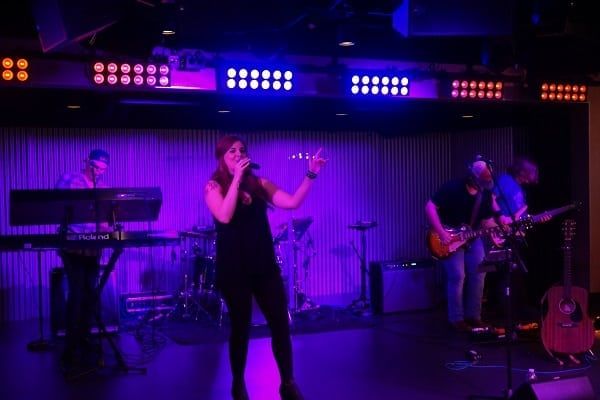 All the Details
Q Texas Smokehouse is a specialty dining restaurant that is open for dinner from 5:30 pm. You will want to make reservations for this popular new restaurant. Currently, Q is not available to book in the online cruise planner, but we were able to do so for our August sailing by calling NCL. The menu is priced a la carte, and the restaurant is currently included in the Norwegian Specialty Dining Package.
Drinks Menu | Dinner Menu | Dessert Menu
The total cost of DB's meal, which included one starter, an entrée, a side dish, and a dessert, was $29.47 and the Princess' meal had a total cost of $21.48 (plus 20% service charge). Thus, using the specialty dining plan at this venue can be a good return on value, especially if you have a dining package as part of a promotion. We enjoyed the restaurant, and have plans to eat here again on our next cruise.
Comments
Do you have plans to sail on Norwegian Bliss? What are your thoughts on the new Q Texas Smokehouse restaurant? Drop us an anchor below with your favorite meal from this venue's menu.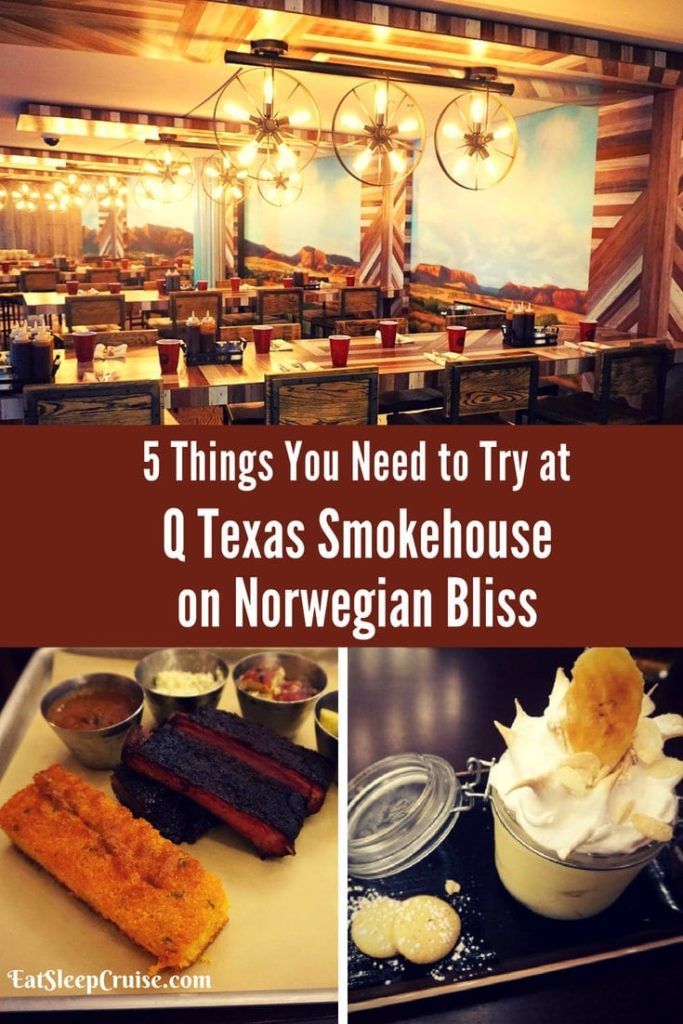 Disclaimer: We were guests of Norwegian Cruise Line on this cruise and while dining at Q Texas Smokehouse; however, all opinions and reviews are our own.