Among the various specialty restaurants in the Celebrity Cruises' fleet, Qsine stands out as one of the most unique. This restaurant offers a one-of-a-kind dining experience mixing flavors, presentations, and culinary approaches from across the globe. On our recent Celebrity Eclipse cruise, we had the opportunity to dine at Qsine and sample several of the appetizing selections at this eclectic restaurant. Join us as we savor every moment in our Qsine Celebrity Eclipse Review.

Qsine Celebrity Eclipse Review
Located on Deck 5 forward, Qsine is situated next to the other specialty dining restaurants. If you are not familiar with the layout of the Solstice-class, you will need to walk through the Ensemble Lounge to access the specialty restaurants. Depending on when you decide to dine at Qsine, you will want to consider a pre-dinner or post-dinner cocktail in the lounge as it offers plush seating and soothing live music.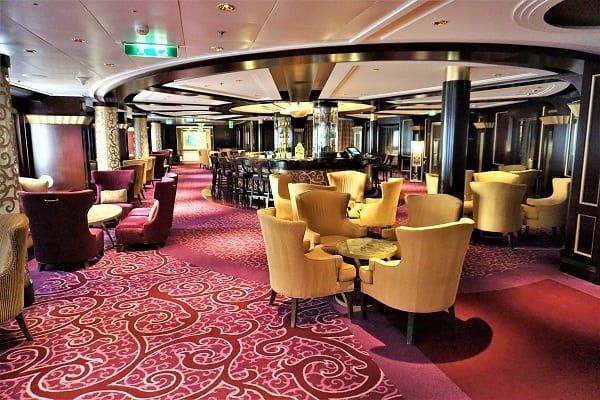 Our visit to Qsine was in the middle of our 10-day Celebrity Eclipse Ireland and Iceland cruise. As you know, the Princess is a planner, so we had pre-booked reservations prior to cruising for 7 pm. We returned early from our tour that day, so we ended up arriving about 20 minutes early for our reservation.
Upon arrival at 6:40 pm, we were seated at a lovely table for two right next to the window. As it was a bit on the early side, the restaurant was only around 50% capacity. We figured it would fill-in at some point, but the restaurant never really did get busy.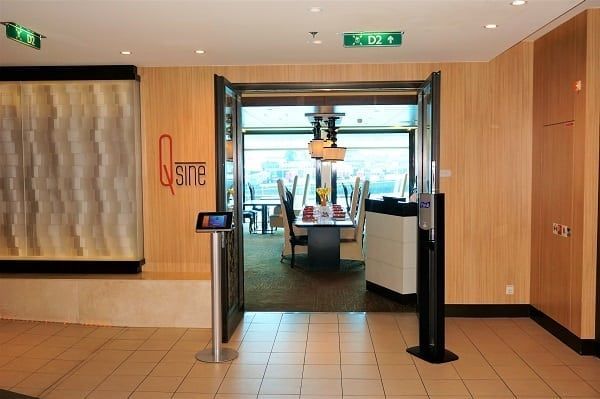 Our waitress came over to introduce herself and explain the general concept and setup of the menu. For one flat fee, you are able to select as many of the different plates as you choose, some are larger than others but all are meant for sharing. Too bad I am not very good at sharing! Of course, we needed a few minutes to review the tablet-based menu.
While placing our drink order, the server recommended that we start with four selections from the menu. While I was ready to go all-in with more choices, we took her advice and chose a mix of options. Among the selections in our first round were the Spring Rolls, Disco Shrimp, the Persian Kebob, and the Crunchy Munchies.
Our drinks, consisting of a Sidecar and Qsine Sangria, arrived shortly after ordering as did a plate of warm and flavorful bread. Even though we had just ordered a bunch of food, we both sampled a few pieces of the warm herb-infused bread of course.
While we were eyeing the other various selections at the tables around us, it seemed like the food was taking longer than it should have, especially given that the venue was by no means busy. After quite some time, our plates started to appear. The food avalanche took up most of our small table, but we managed to find room for everything.
What the restaurant lacked in timely service, it more than made up for it in flavorful and well-prepared selections. Essentially everything we tried was absolutely delicious. The first round of small plates were finished quickly, keeping the assortment of "chips" around for later.
It took a while for our waitress to check in and see if we wanted to order additional items. Inquiring about some of the other selections, we opted to try the Chitini's and Lobster Escargot. There were certainly other selections that I would have tried, but saving room for dessert, we stopped at that.

Well, it took round two even longer to arrive, meaning that there was no way we going to be able to fit in dessert and get to the show for 9pm. The Chinese Martini comes with small selections of popular "Chinese" food like Orange Chicken and Sweet and Sour Pork. You can't go wrong with those options. Equally impressive was the buttery and rich lobster and escargot "fritters".
With our waitress missing, again, it took a while for these plates to be cleared and for our dessert selections to be ordered. For pre-dessert, we were each given a chocolate-covered strawberry. Yes, even dessert here has multiple courses! For our "main dessert", I went with the Beignets, and the Princess ordered the Cheesecake Tini. We could not agree on which dessert was better as we each preferred our own selection. Wrapping up dinner by 9:30 pm, our dining experience lasted close to three hours- a new record for us!
Qsine Celebrity Eclipse Review Recap
Qsine on Celebrity Eclipse offers a nice departure from the main dining room. While the food was superb, the service was disappointingly slow. Part of the reason may have been that our waitress did have a few larger parties. Still, we did feel that the restaurant could have used more staff and certainly a more attentive manager. Despite the lackluster service, we would certainly dine at Qsine again on this ship or on another vessel in the Celebrity Cruises' fleet.
The cover charge of $45 is on the higher end for a specialty restaurant, but the quality of food and diverse selections make the up-charge a great value in our opinion. Although, I just might have to sample a few extra dishes the next time around.
Restaurant Menu: Specialty Drinks | Dinner | Dessert
Comments
Have you dined at Qsine on a Celebrity Cruises' ship? What are your favorite dishes at this venue? Drop us an anchor below with your review of this specialty restaurant.