For one set fare, a cruise vacation enables travelers to see multiple destinations while enjoying most of the onboard amenities. Although, what is included in each cruise line's standard price can fluctuate. To help cruisers planning a Celebrity Cruises' vacation, we have put together this list of what is included in a Celebrity cruise. See why a cruise vacation might be the best value for your travel dollars.

What is Included in a Celebrity Cruises' Cruise?
Accommodations
Your cruise fare covers the cost of your stateroom for the duration of the trip. Included with your accommodations, you will have a friendly room attendant who will make up your room twice a day.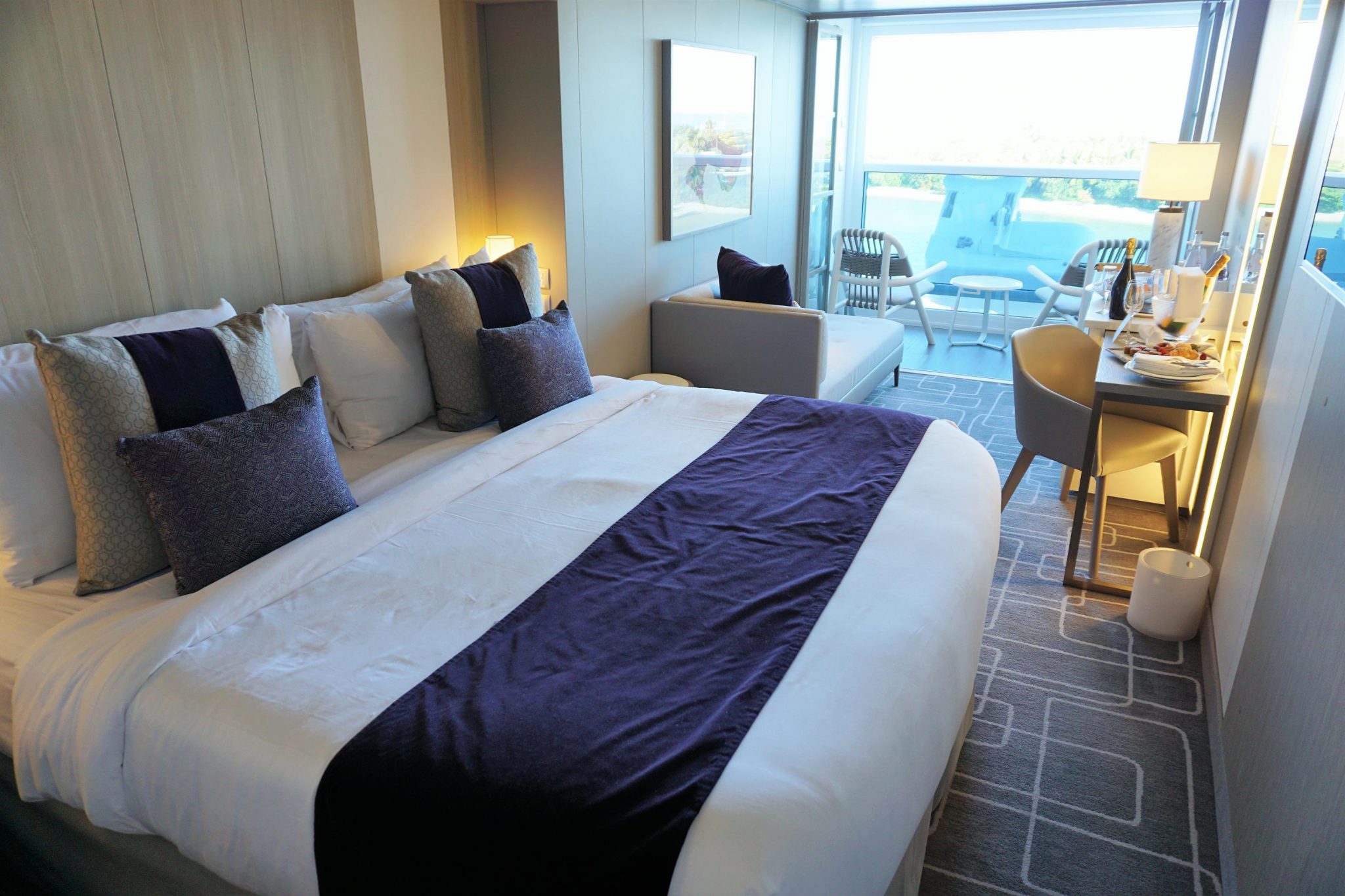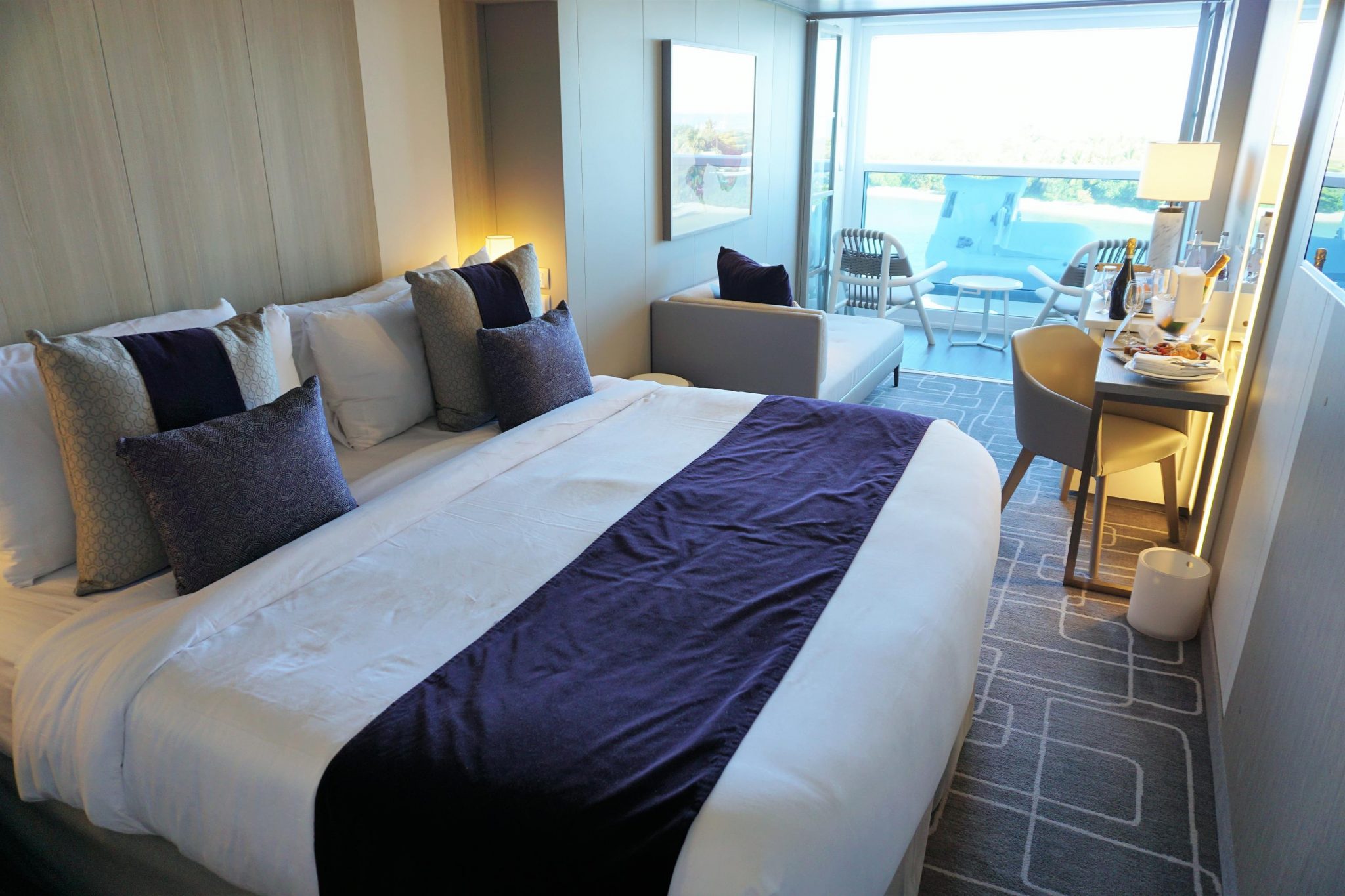 All Celebrity Cruises' ships offer a variety of different room types and categories. Choosing your cabin type will be the main driver of your total cruise costs. Along with larger rooms and suites, certain cabin categories provide travelers access to exclusive dining venues and other areas of the ship (like the spa). So, make sure to review all of the benefits for each cabin category before selecting the perfect fit for your next Celebrity cruise.
Food and Dining
Regardless of the ship, you can enjoy three meals a day (with some snacks in between) at the casual Oceanview Café. This buffet is part of your cruise fare and offers a variety of menu items morning, noon, and night.
Other casual fare varies from ship to ship, such as the Mast Grill or the Aqua Spa Cafe. The Mast Grill is an outdoor barbecue station serving lunch and afternoon/early evening snacks. That way, you'll never have to be too far away from the pool. The Aqua Spa Café is a healthier alternative that is open during the day for those looking for breakfast or lunch that won't impact their diets.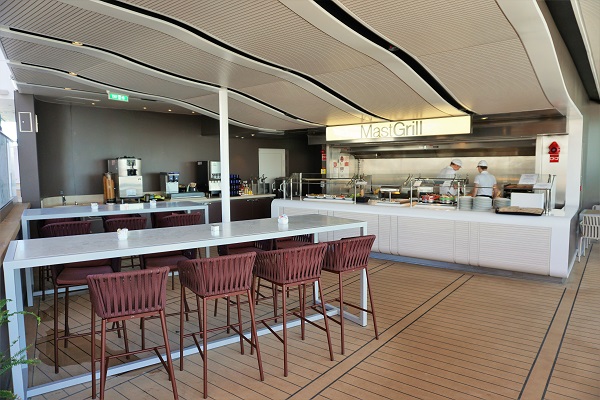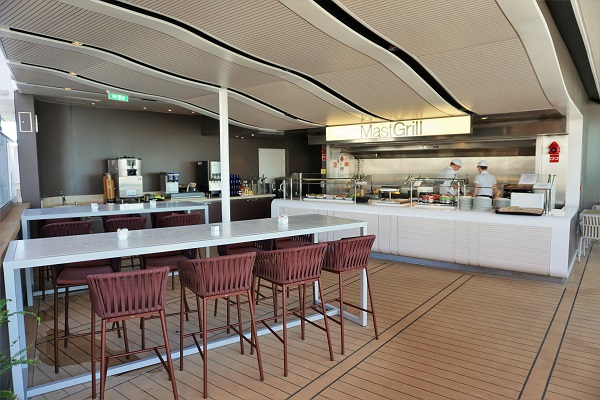 However, If you are looking to indulge a bit while on vacation, you will love Café al Bacio. This coffee shop is home to some of the most decadent treats onboard the ship. The small pastries, cookies, and dessert cakes and pies found here are included in your cruise fare!

In addition to the casual fare, cruisers can also dine in the Main Dining room. The main dining room is always open for dinner, serving a different menu each night, with some standard classics that never change. The main dining room is also open for select hours for breakfast each day. On sea days, the restaurant opens for a sit down lunch.
Regardless of when you eat in the main dining room, your meal in this venue is always part of your cruise fare.
Guests staying at certain suite levels will have the opportunity to dine at exclusive restaurants on Celebrity Cruises' ships. Luminae is open for breakfast, lunch, and dinner and is free for travelers staying in eligible rooms. Those staying in the Aqua Class will have the option of dining at Blu. This restaurant is open for breakfast and dinner at no additional charge for eligible guests.

When it comes to beverages onboard the ship, you will have the options of juice, water, and coffee all day long at select beverage stations throughout the ship. At meals, juices and other select drinks, like iced-tea or lemonade, are available.
Unfortunately, soda drinkers will need to splurge on those beverages. Alcoholic drinks are also an additional cost. However, you can purchase a Celebrity Cruises' beverage package to save money.
Onboard Activities
Your cruise ship is a hub of activity and events. You will always find something to do on the ship that will not cost you a dime.
On Celebrity Cruises, you can enjoy modern fitness facilities for a workout at almost any time of day. If you prefer to be active outdoors, some ships offer outdoor sports decks with a basketball court or a jogging track. On the Solstice-class of ships, you can enjoy lawn sports like bocce ball.
Various poolside activities also occur when the weather permits. From Pool Olympics to water volleyball or table tennis, there are plenty of ways to work up a sweat and burn some of those extra calories.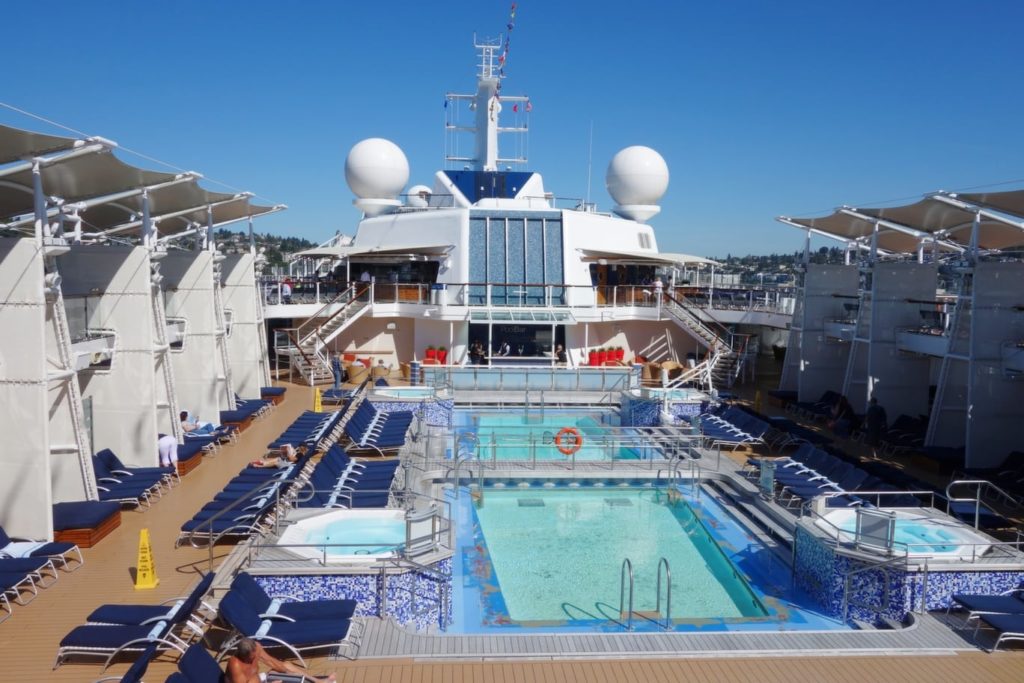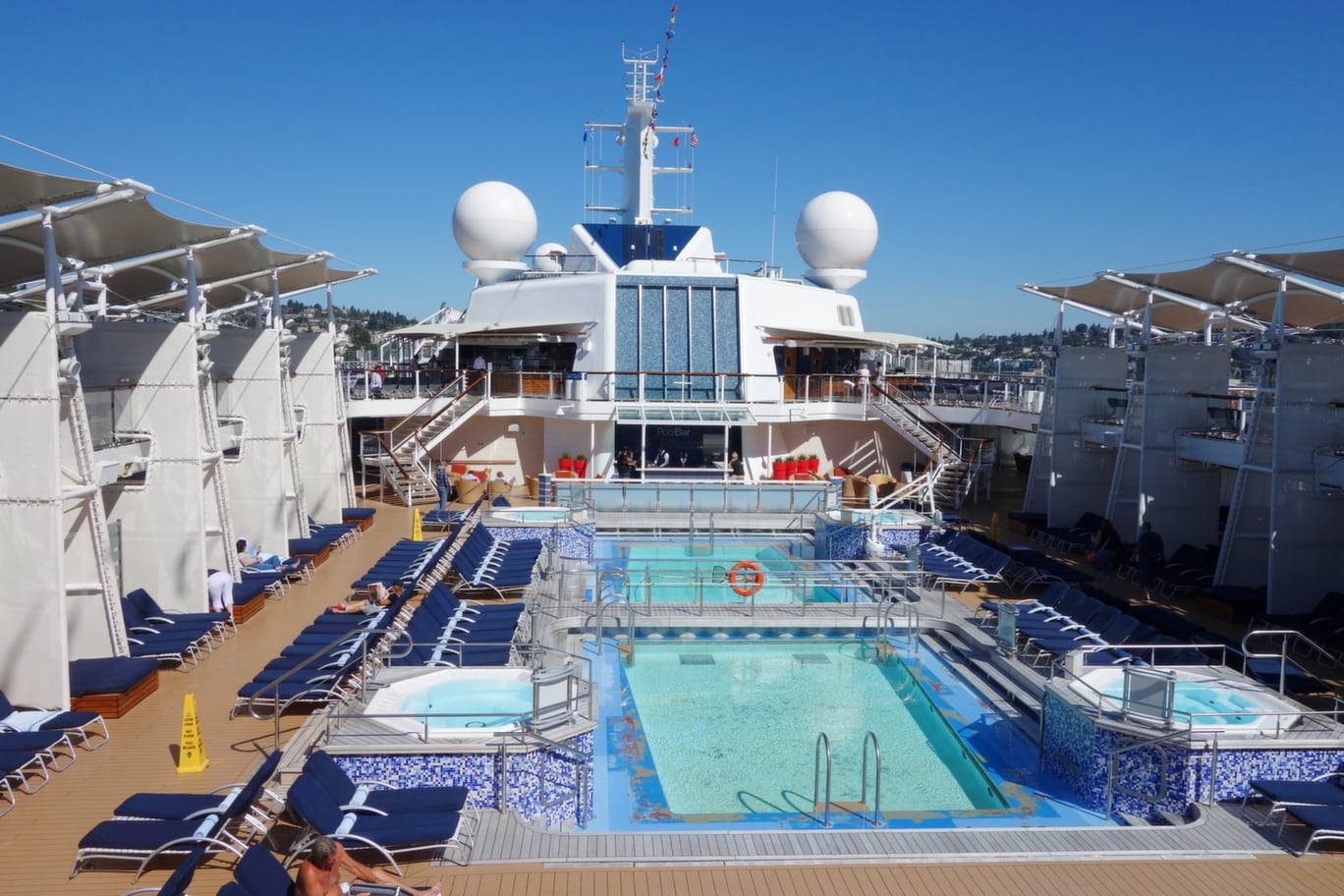 Other onboard events like trivia contests and game shows are also included in the cruise fare. Cruisers can become part of the entertainment too, at no additional cost. These events will be listed in the daily schedule left in your room each evening. Even if you do not participate, these daily activities are equally as fun to watch.
Celebrity Cruises is also known for enrichment talks and lectures. The line's Beyond the Podium series can be found on all ships. World-renowned experts, from historians to college professors and culturists, offer regional talks that vary from ship to ship and provide insight into the ports of call that you will be visiting during your trip.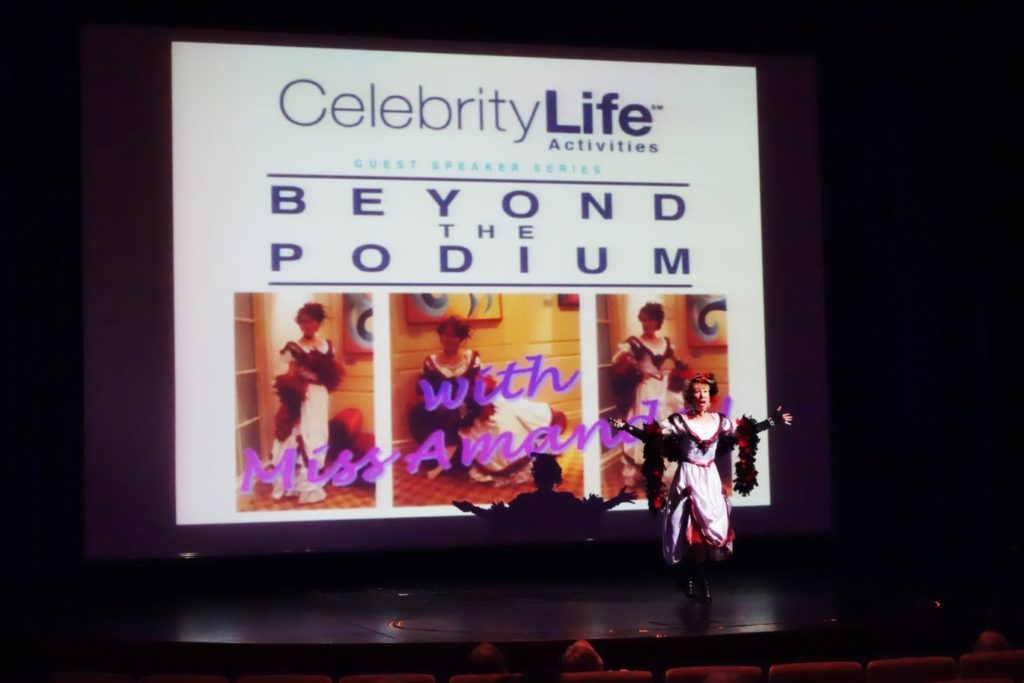 On our Alaskan cruise onboard Celebrity Solstice, these talks by Brent Nixon and Miss Amanda were among the highlights of our trip.
Related Post: Celebrity Solstice Alaska Cruise
Nightly Entertainment
At night, your ship comes alive with plenty of entertainment options that won't cost you anything. The signature evening entertainment can be found in your ship's main theater. Here, there will be featured headliner acts such as comedians, singers, and other performers showcasing their talents.
The ship's cast of singers and dancers will also routinely perform different productions shows. Cruisers with both early and late seating for dinner will have an opportunity to catch these performances as there are usually two showtimes each evening.
Throughout the cruise, additional performances like late-night comedy can occur as well, so be sure to check your Celebrity Today for the latest show schedule.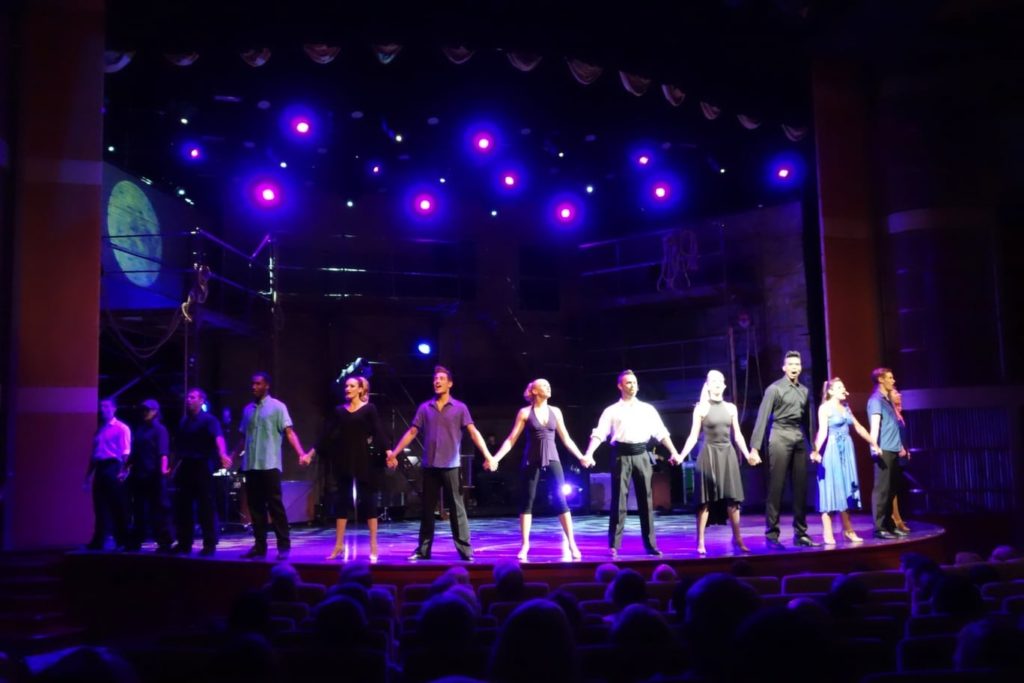 You can also enjoy live music at one of the many onboard lounges as part of your cruise fare. Performers range from piano players to live bands and musical duos. Your ship will also feature DJs spinning tunes until the wee hours of the morning with no cover charges.
There are even themed parties that take place during the cruise that are free to attend. From an outdoor deck party to a 70's disco party and even a "silent party", there is always something happening for those of you who like to party.
Related Post: Caribbean Cruise Review of the New Celebrity Edge
What is Not Included in Your Cruise Fare
While cruises do provide a great value, not everything will be covered in the cruise fare.
Your cruise ship will transport you to several exciting ports of call. Unfortunately, Celebrity Cruises does not include any shore excursions as part of the base fare.
These tours and additional experiences can be booked through the cruise line or through third part retailers at additional costs. Shore excursions can range from $25 a person for a group walking tour to several hundreds of dollars for private tours or unique experiences.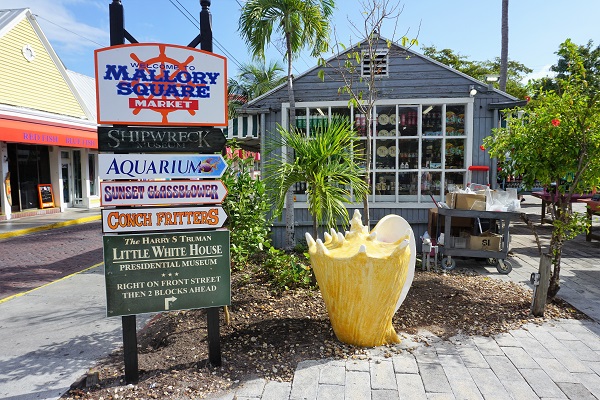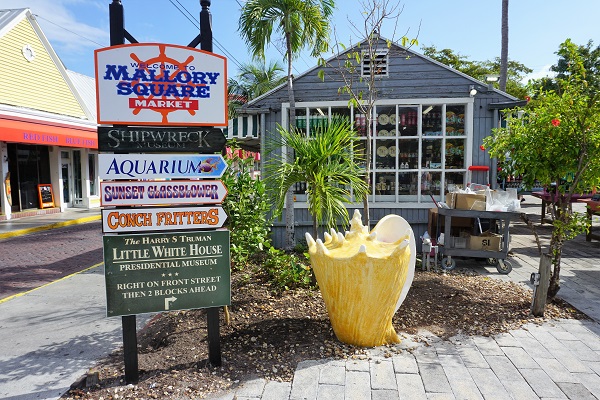 As mentioned previously, alcoholic beverages are not part of the cruise fare either. On most Celebrity Cruises' ships, beers cost around $6-$7. Wines can range from $7 to over $15/ a glass, and most mixed drinks and cocktails range from $8 to $15. Soda and specialty coffee and tea will also cost additional fees.
Depending on your drinking habits, purchasing one of the Celebrity Cruises' beverage packages might be a better option than paying the a la carte pricing.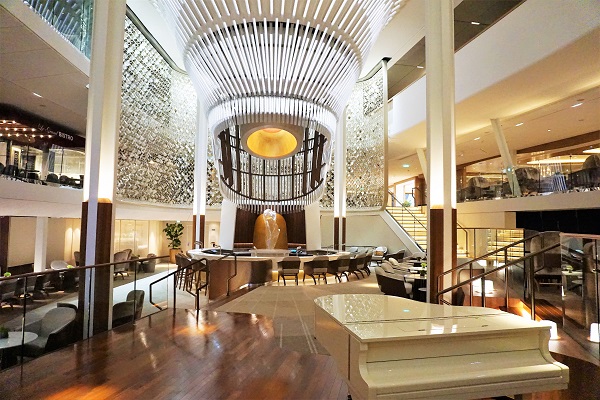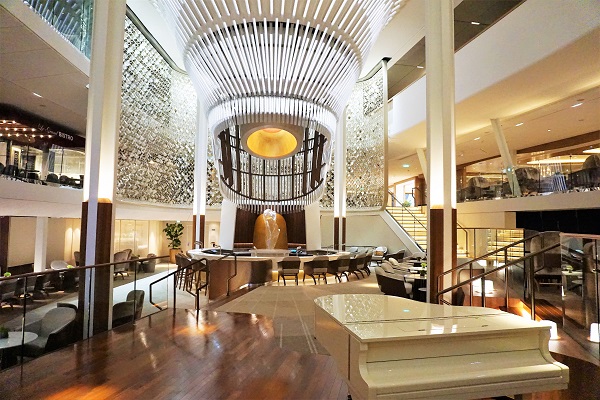 Related Post: What is Included in Celebrity Cruises' Premium Beverage Package
While there are several included activities and entertainment, several ships offer additional classes and seminars that cost an up-charge. These include mixology demonstrations, food and wine pairings, hot glass classes, and more. The costs for these optional experiences are $25 or more per person.
All ships also offer a Spa providing a variety of services for additional costs. These experiences, such as massages or salon services, can be booked pre-cruise or while onboard the ship.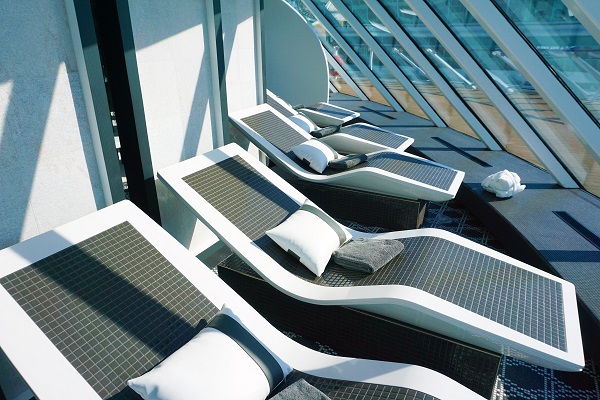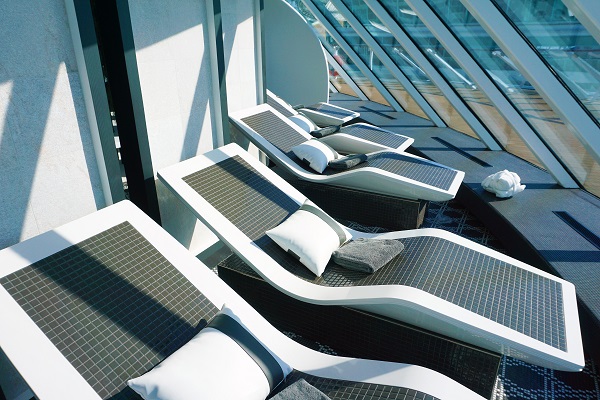 Many ships also have a thermal suite. This area includes a selection of relaxing experiences such as saunas, therapeutic pools, and heated loungers. Cruisers staying in Aqua Class suites will have unlimited access to the ship's thermal suite. However, other cruisers will have to purchase a pass for around $250 a person for the week or around $60 to $70 a person for a port day pass.
While there are many dining venues covered in your cruise fare, Celebrity Cruises also offers upscale dining options and experiences. Specialty venues like the French-inspired Murano, the Italian-inspired Tuscan Grille, or the digitally mastered Le Petit Chef experience will have flat-fee cover charges. If you do want to dine at one of these restaurants, reservations are highly recommended.
For those who want to stay in touch with family and friends online, you will need to purchase an internet package. WiFi is not part of the Celebrity Cruises fare.
So Much More
Once you board a Celebrity cruise, you will discover that there is so much to do, see, and try during your trip, and the best part is that it is mostly all included in your cruise fare. Each voyage offers something unique for all travelers to uncover at no additional costs.
Of note, daily gratuities are also an additional cost not included in your cruise fare.
Comments
Have you sailed on a Celebrity Cruises' ship? What was your favorite part of the trip? Drop us an anchor below to let us know what you enjoyed most during your Celebrity cruise.