If you are planning a cruise to Alaska for the 2019 cruise season, you will want to check out our latest guest post from cruise enthusiasts Steven and Patricia. They sailed on the Ruby Princess and are here to tell you Why You Should Take a Ruby Princess Cruise to Alaska. We loved hearing how their experience compared to our Celebrity Solstice cruise to Alaska and our Norwegian Bliss Alaska Cruise.
Why You Should Take a Ruby Princess Cruise to Alaska
My wife Patricia and I had the pleasure of taking a 7 night Alaska Inside Passage trip on the beautiful Ruby Princess in July 2016. This cruise is roundtrip from Seattle with stops in Ketchikan, Juneau (with a morning cruise in Tracey Arm Fjord), Skagway, and a final stop in Victoria, British Columbia. With so many different cruise options in this region, here's Why You Should Take a Ruby Princess Cruise to Alaska.

Princess Cruises Named "Best Cruise Line in Alaska"
Princess Cruises are not flashy; you won't find waterslides or climbing walls, but what you will find is a cruise line that delivers exactly what you expect – great service, stylish cruise ships, great food, and super itineraries all around the world. Princess Cruises are Alaska specialists; whether you want to sail a 7-day round-trip from Seattle or Vancouver or a longer one-way trip north or southbound, Princess has an Alaska cruise for you! In our opinion, Ruby Princess may be the perfect ship for an Alaska cruise.


The Ruby Princess Herself
The Ruby Princess is a sister ship to the Crown and Emerald Princess. She was launched in 2008 and recently underwent considerable refurbishment during a dry-dock visit. Honestly, Ruby looks brand new. The ship is one of the first Princess ships to be fitted with the amazing new Princess Comfort Beds and high-end linen, tons of new carpeting and furnishings in the public areas, and new sun loungers (Yes, you can still have some sun tanning time in Alaska!).

Ruby is a large cruise ship, but unlike many of the new mega-ships, she has lots of open deck areas and 4 swimming pools including a lovely pool right at the back of the ship. Let's not forget the hot tubs either…imagine yourself warm and cozy in a hot tub as you watch the incredible Alaskan scenery slide on by!
The Promenade Deck
Sadly, many new cruise ships have done away with the 360 degree wrap around Promenade Deck. Not so for Ruby. The Ruby Princess has a Promenade on deck 7 where you can spend the day in a comfy chair, watch the sunrise or sunset, or wander back and forth from bow to stern marveling at the views. This deck is perfect for Alaskan cruising where the weather can sometimes be unpredictable.

The Promenade Deck is covered all the way around, so rain or shine, you will be protected from the elements as you sip your morning coffee or sunset cocktail. If you are like us and don't like being cooped up inside a cruise ship gym, the Promenade Deck is also the perfect place for an early morning walk or jog to work off all those extra calories.
Related Posts: Our Top Alaska Cruises of 2019
The Sanctuary
High forward you will find The Sanctuary. As the name suggests, here you will find peace and tranquility as you relax in the most comfortable loungers at sea. The Sanctuary staff are fantastic and will pamper you with fresh towels, afternoon tea, and even a blanket if the weather gets a little chilly. The Sanctuary has covered and open areas, so it is very suitable for the changeable weather in Alaska. A morning or afternoon pass is just $20, or perhaps you'd rather spoil yourself with a $40 day pass and come and go as you please all day – perfect for a sea day.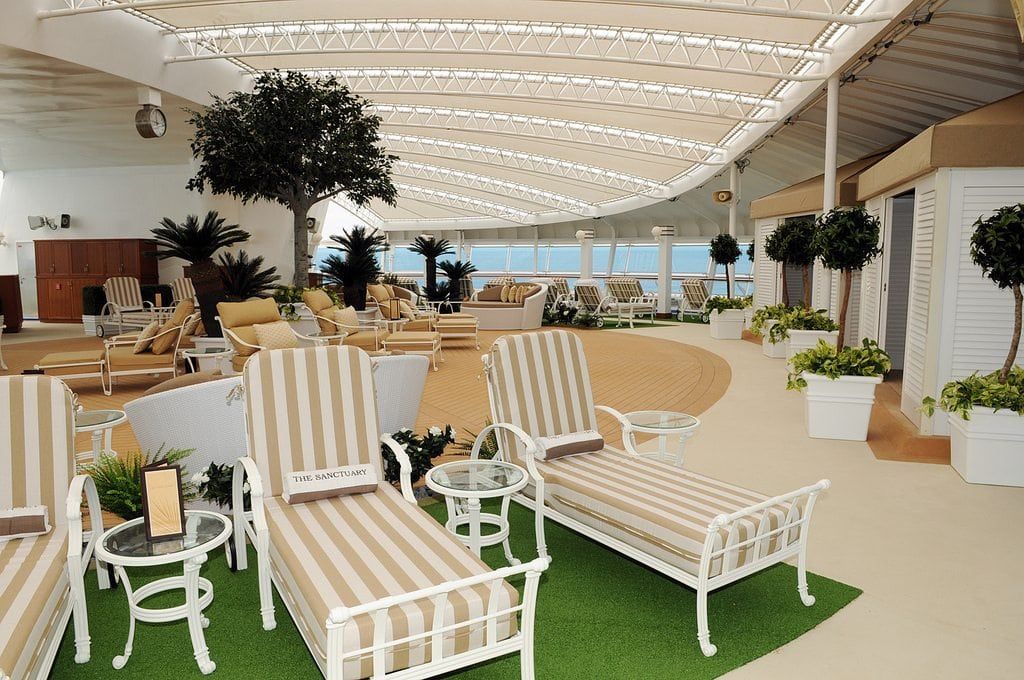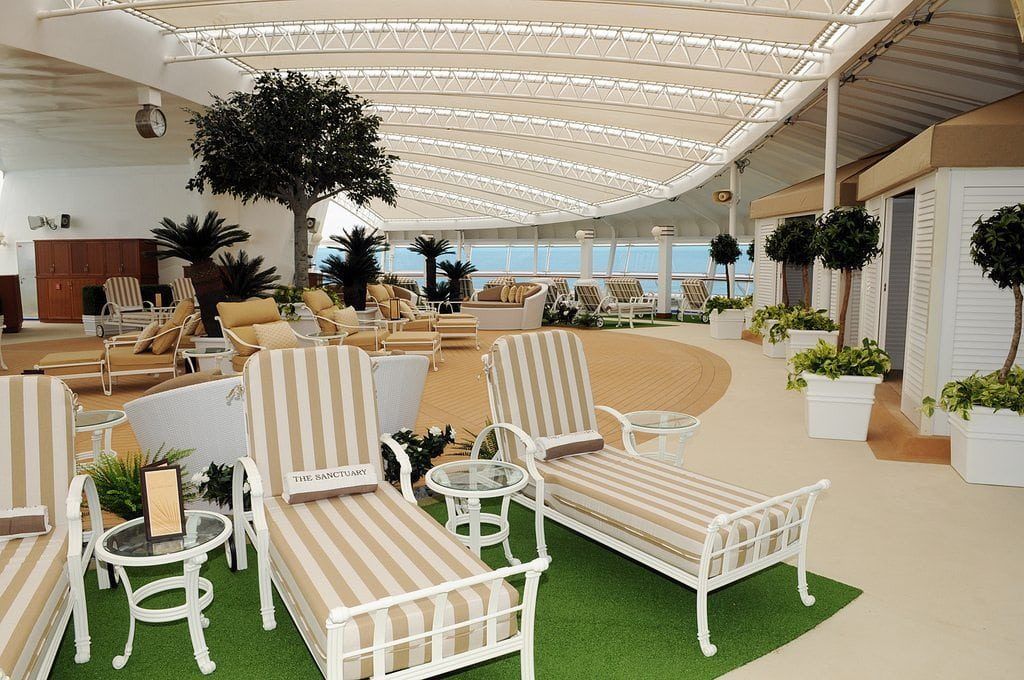 Bonus Tip – The Sanctuary has a special program for the Tracey Arm Fjord cruise morning. With this special package available for $60, you can pick your covered lounger looking out over the front of the ship at the amazing scenery. Blankets, coffee, hot chocolate, and breakfast are all included. Why huddle on your balcony or an open deck when you can be snug and warm and treated like royalty. Only 30 passes are sold per cruise, so if you are interested, go straight to The Sanctuary after you board in Seattle. We found it to be a great investment!
The Princess "North to Alaska" Program
Princess Cruises has a great program called "North to Alaska". This program runs all week and immerses you in the Alaskan Experience. The program varies by cruise, but we were able to attend talks by locals on Native Alaskan culture, hear from an Iditarod dog sled racer, see Husky puppies, attend themed Alaskan parties and shows, and of course, enjoy Alaskan specialties while dining. During the Fjord cruising and while sailing out of Alaska, a local tour guide provides commentary on the open decks about the scenery, wildlife, and culture of Alaska.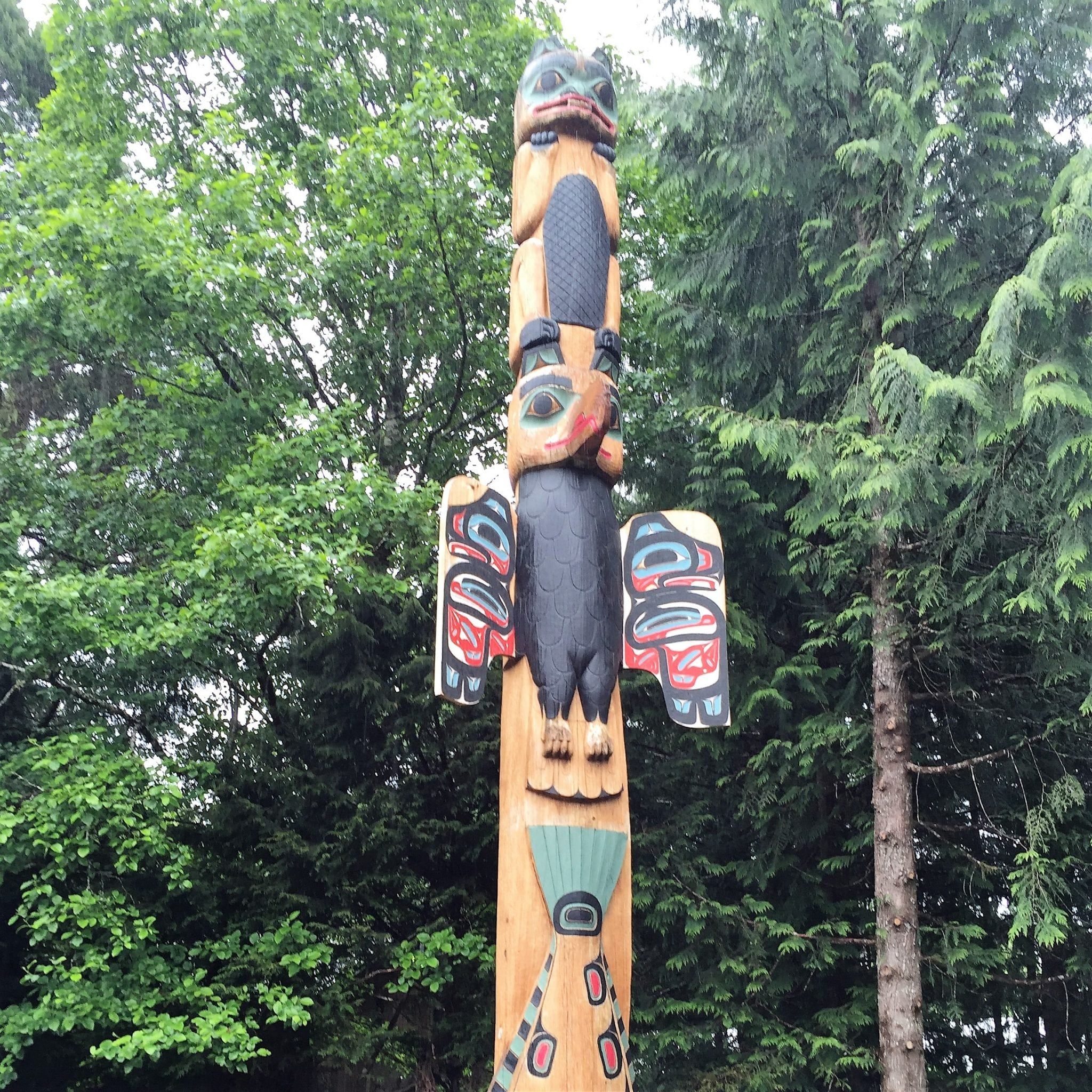 New on the Ruby Princess in 2016 is also a Totem Pole carving. When we cruised, the craftsman had just come on board and started a brand new Totem Pole. As the cruising season progresses, carving continues daily with the goal of a finished Totem Pole by the end of the season. We felt this was a really nice touch and was of great interest especially to the younger cruisers on board the Ruby Princess. Our only regret was not having enough time to soak in all the possibilities that the "North to Alaska" program offers.
Skagway and the White Pass Scenic Railroad
Shifting gears from Ruby Princess herself, let's move onto the locations you will explore during your 7 day Inside Passage Cruise. Skagway was by far our favorite of the 4 ports. Make no mistake, Skagway is a small town, a very small town. You can explore downtown on foot in less than an hour, and we highly recommend doing so – lovely old restored buildings, stores with local goods, and a really nice brewery! ­­­­­­­­BUT the highlight of Skagway was the White Pass Scenic Railway. No words can describe this journey (4-8 hours depending on your choice of itinerary, as a combination of rail and road excursions are offered by the cruise line).

As Ruby Princess pulls into port in the early morning, the White Pass locomotive and beautifully restored carriages await you right next to the berth. We love railways, and there was something special about getting off the Ruby and onto a train parked alongside. Once you leave Skagway, the train huffs and puffs (well not really- it is a diesel not steam, but you get the picture) up the White Pass with absolutely stunning scenery all around and lots of photo opportunities for the railway enthusiasts. Watch out for the many trestle bridges, these make for fantastic photos.
Tip – You are allowed to stand on the small platforms at the front and back of each carriage (Do not cross between carriages, it is not safe!). On these platforms, you can feel the wind in your hair, the temperature changing, and can almost taste the smell of the pine forests! Patricia and I spent most of the journey 'outside'. The White Pass Scenic Railway ranks very highly on our list of all-time favorite cruise ship excursions.
Skagway Sail Away
Being on an open deck during sail away from Skagway is a must. If you are lucky enough to have a balcony cabin, we apologize, but it will NOT be enough for this sail away. You need to be on an open deck so you can run side to side as the majestic landscape unfolds before your eyes. If it is sunny- be on an open deck, if it is windy – be on an open deck, even if it is rainy – be on an open deck… you probably get the picture by now!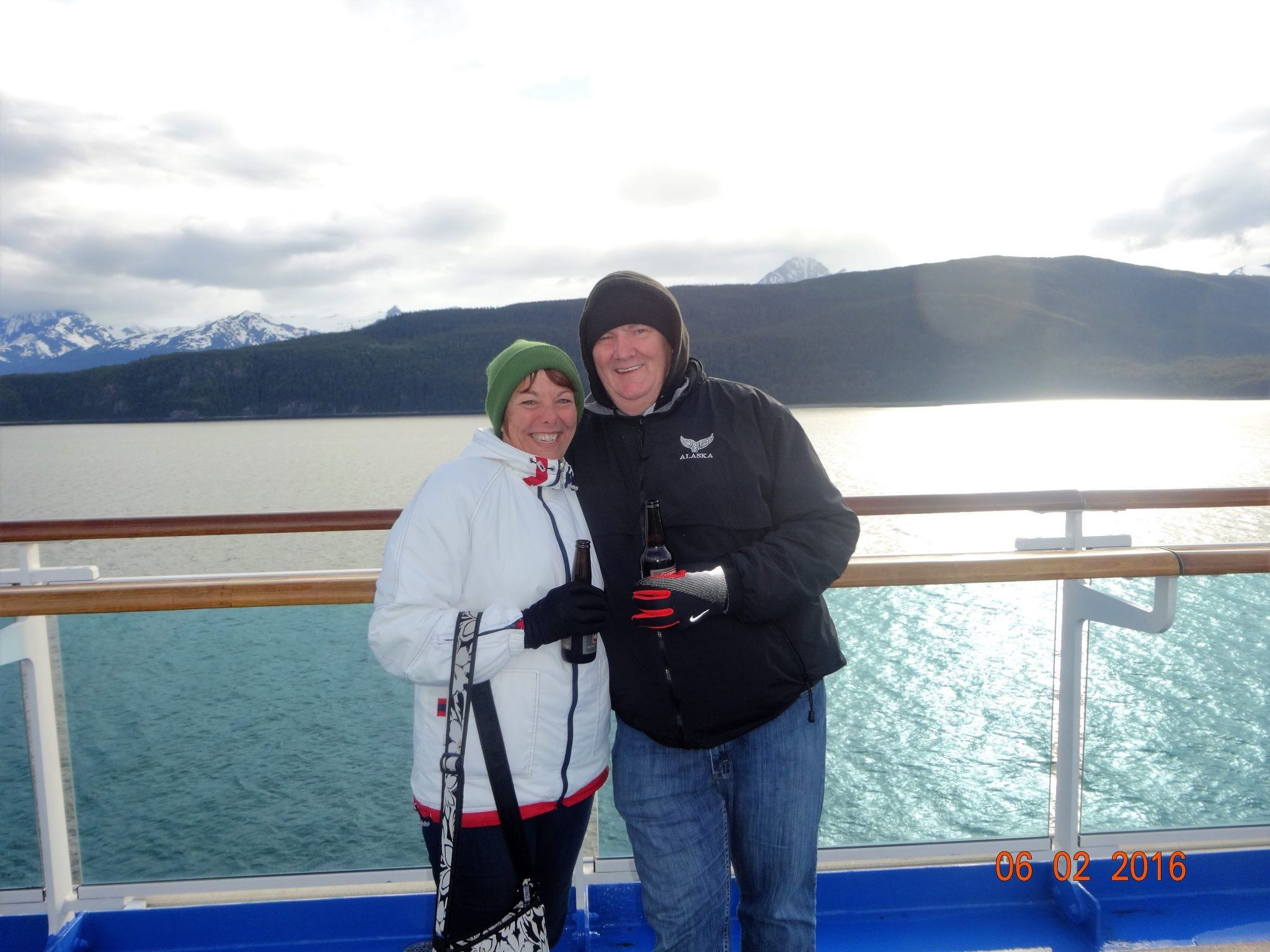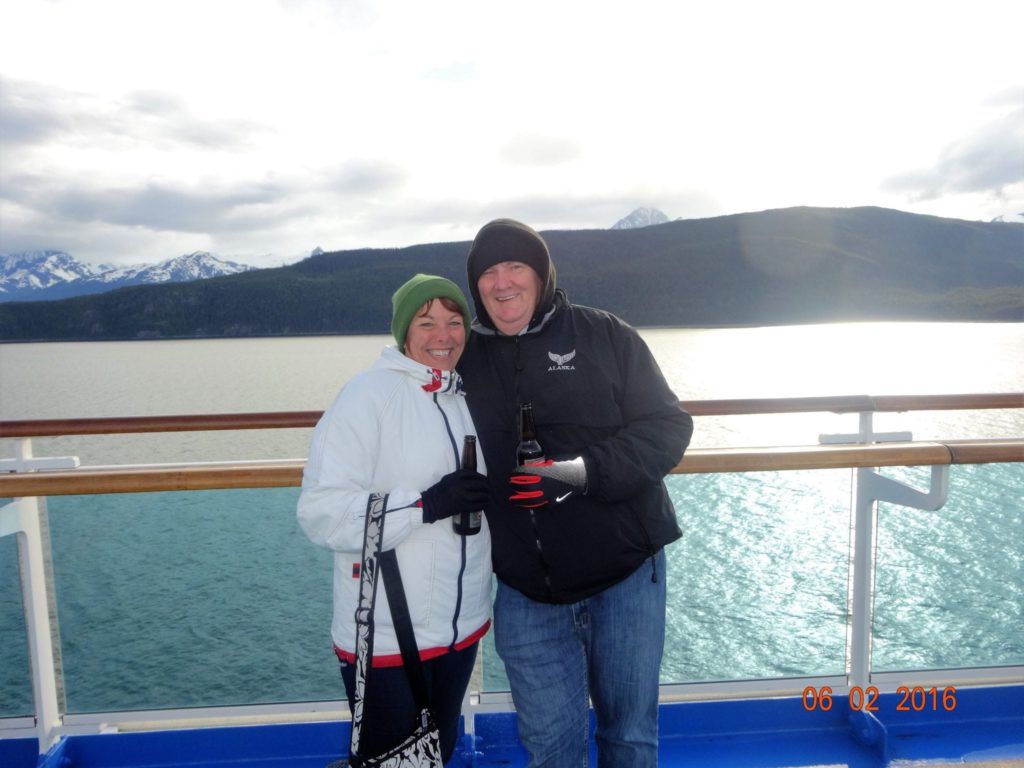 One memory that comes to mind is of a teenage girl with her cell phone camera. She was mesmerized by the view and literally ran side to side to get the best perspectives. At one point, she turned to us and said "Can you believe that right now my family are in the dining room!!! You can get Fettuccine Alfredo anytime but this view only once!". Truer words have seldom been spoken. So dress warm and head to one of the beautiful and spacious open decks on Ruby Princess during the sail away from Skagway.
Related Posts: Top Alaska Cruise Excursions
The Great Outdoors in Juneau
Juneau, the state capital of Alaska, is a mix of modern and old Alaska. Take a stroll along the 'old brothel' road, and you will find a few lovely locally owned and run shops stocked with genuine 'Made in Alaska' gifts and souvenirs. We chose to venture beyond the downtown area and book a bicycle tour of the glacier and surroundings.
A short bus ride brought us to the starting point where we were provided suitable clothing, bikes, and helmets. The ride took in views from two sides of the glacier and was mainly flat and downhill, with only one short but sharp uphill of about a quarter mile in length. Feast your eyes on the local landscapes, flora, and fauna as you pedal by. Being outdoors on a bike in Juneau is exhilarating and special. Bicycles and Beer go hand in hand, so the tour naturally ended at a local watering hole where we could sample local Alaskan beer and snacks.
The Tracey Arm Fjord
Set an early morning wake-up call (it was 4:30am for us), layer-up with your warmest clothing, grab a coffee (Tip – We took our own insulated coffee mugs along on this trip), and head to an open deck. The Ruby Princess entered the Arm at about 5am, and for the next 4 hours, we were treated to a spectacle almost beyond words… stunning, majestic, other-worldly, exhilarating, humbling, and impactful are just a few words that come to mind.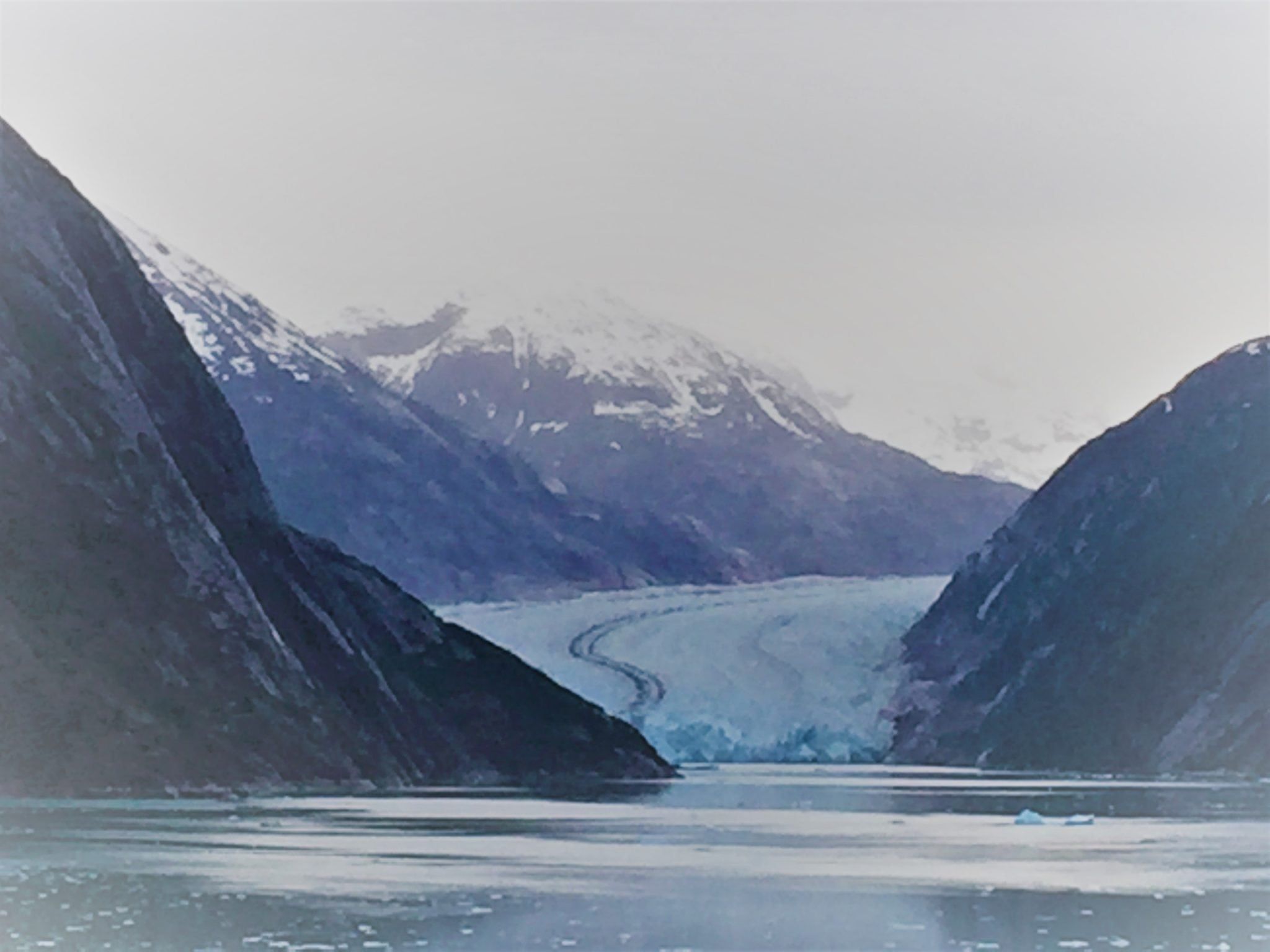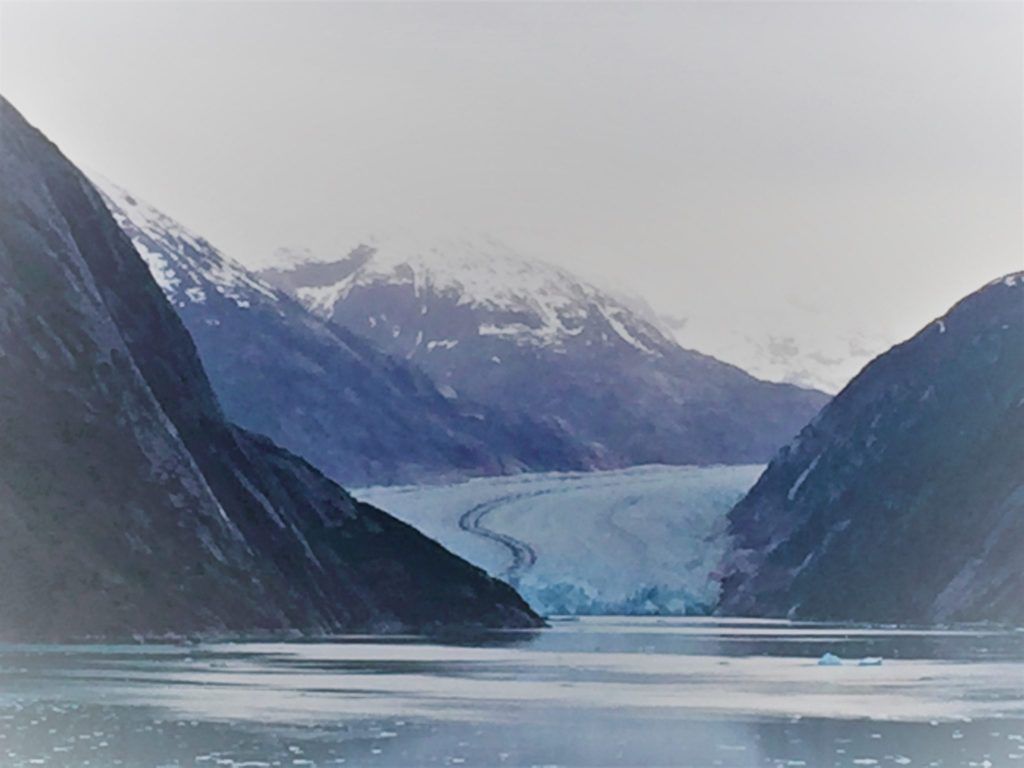 What can be better than watching deep turquoise-blue mini-icebergs floating past the stern as you approach the face of the glacier? Our one regret was not taking the excursion where you transfer to a small boat and go close-up and personal with the face of the glacier. We chatted with a few fellow cruisers who did this excursion, and they said it was truly fantastic. We were concerned about the weather and ended up canceling our booking for this excursion. Mental note to self – weather be damned, next time we WILL take this excursion.
Victoria, British Columbia
Victoria was an unexpected treat to end our cruise on the Ruby Princess. This was our final stop before returning to Seattle, and we arrived in the late afternoon. Victoria is a beautiful Canadian town; in a way, it is still a very British part of Canada. Lovely architecture, fantastic bars and restaurants, and a beautiful sunset were on display as we walked this quaint area. By all means take a shuttle into town, but do yourself a favor and take the 25-30 minute waterfront walk back to the ship. Watch for the floating houses (calling them houseboats does not do justice) along the way. Land is in short supply around Victoria, and we were told it is much cheaper to live on the water. Enjoying a late evening drink as we watched the lights of Victoria fade during sail away towards Seattle was the perfect ending to our Ruby Princess cruise to Alaska.

Final Thoughts
Just before we go… we would be remiss if we did not suggest a couple of things to avoid. Your Inside Passage cruise on the Ruby Princess is a little different from a typical Caribbean cruise. Plan for early mornings and late evenings to maximize your experiences. We suggest you stay very flexible on dining plans since some of the best times to be on-deck are dinner times. Princess Cruises has a good anytime-dining offering, and there is always the buffet if you miss your dinner while marveling at the best Mother Nature has to offer.
The same applies to the theater shows and other entertainment around the Ruby Princess. We suggest that you get your rest – there is another full day of sightseeing ahead, and you won't want to miss a moment. Lastly, we suggest avoiding the fully-inclusive drinks packages for your Alaskan cruise, unless of course you get them for free. Alaska is not the Caribbean; you will have too much to see to waste time sipping cocktails by the pool (Besides, it's too chilly anyway!).
Comments
Have you taken a Ruby Princess Cruise to Alaska? What are your reasons for sailing on this great ship? Drop us an anchor below to share your favorite Alaskan cruise highlights. We would love to hear from you.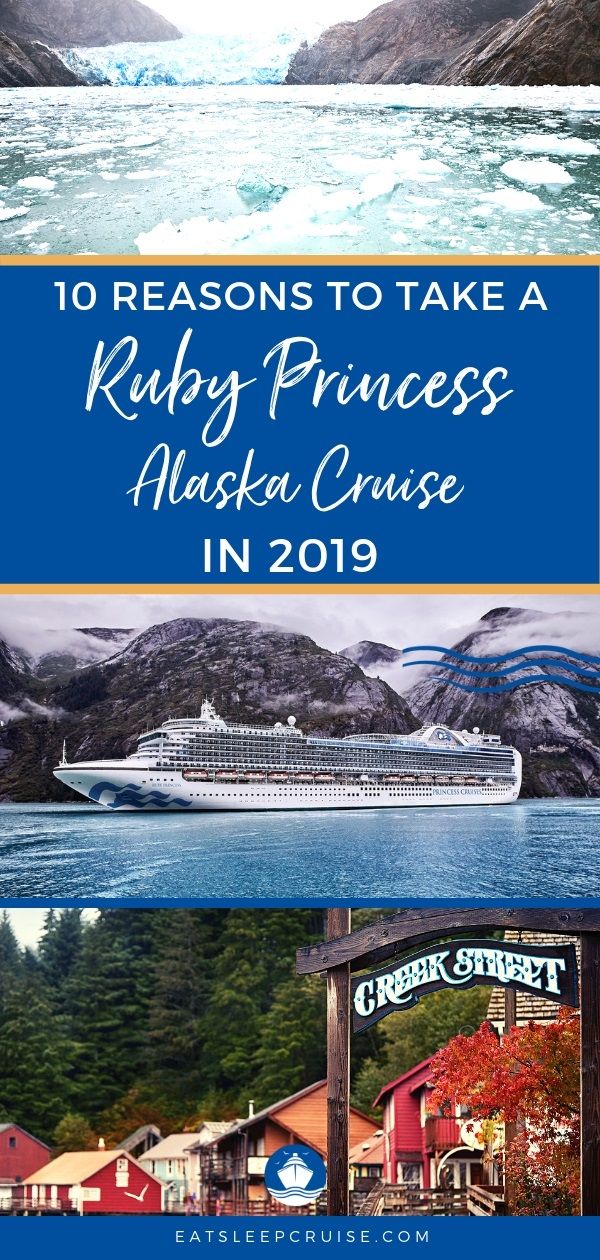 [author] [author_image timthumb='on']https://eatsleepcruise.com/wp-content/uploads/2016/03/Steve-and-Patrica-Gauld.jpg.optimal.jpg[/author_image] [author_info]Steve & Patricia cruise as much as time and money will allow. Home for us is Michigan, and we try to escape the long winter months with a cruise (or 2). We have cruised the UK and Ireland and will be tackling Alaska this summer. We don't have a particular favorite cruise line and have sailed many of the major lines, each one has its own pros and sometime the odd con as well. Have questions for Steve & Patricia? They can be reached at sgauld@gmail.com. [/author_info] [/author]