For the most part, the Princess and I choose to cruise during the winter. Living in the Northeastern United States, there is nothing better than trading the cold and snow for the sun, surf, and warm Caribbean waters on a cruise ship. Plus, the wife has always been adamant about not cruising during hurricane season!
Adventure of the Seas Docked in San Juan, Puerto Rico
But, we planned a family vacation on Royal Caribbean's Adventure of the Seas this year, and the only time that worked for everyone was late August, right in the middle of hurricane season. With a relatively quiet season to date, we were not too concerned until a week prior to our cruise, when a storm was threatening to strike right where the cruise was headed.
A hurricane AND a tropical storm later, along with two itinerary changes, we survived. Our experiences led us to come up with this survival guide for cruising during hurricane season.
Survival Guide: Cruising During Hurricane Season
When is Hurricane Season
For the Atlantic and the Caribbean, hurricane season runs from Mid June through Mid November. Lately, early hurricanes have been rare, with the Eastern Caribbean being more prone to be hit by hurricanes August and early September, and the Western Caribbean being more likely to experience hurricanes later in the season, September through the end of October. Hurricanes are also possible in the Pacific, with the storms affecting both Mexican Riviera cruises and Hawaiian cruises during the same time periods. If your vacation schedule, or kid's summer break, is the only time you can escape on a cruise, knowing that you could encounter some rough weather if traveling to these regions is the first step to surviving a cruise during hurricane season.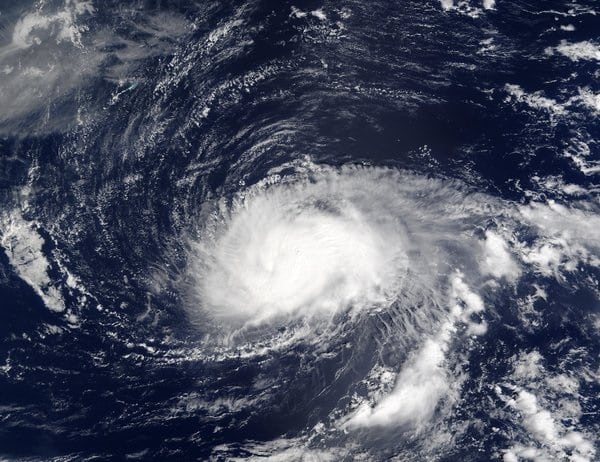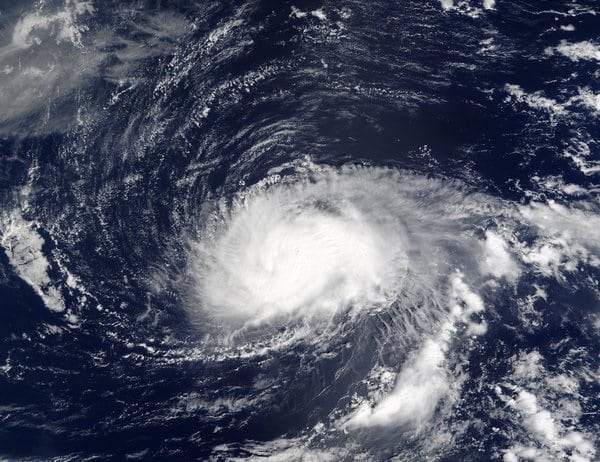 Getting a Good Deal During Hurricane Season
One benefit of cruising during hurricane season is the potential to take advantage of some discounted pricing and special promotions. Cruise companies know that travelers are a bit apprehensive about sailing around this time of year, so cruise fares are lowered or cruise promotions, including "kids sail free", tend to be more plentiful for cruises occurring in potential hurricane zones. Many travel agents also run specials including room upgrades, on-board credit, free gratuities, or other perks to get travelers to book a trip during some of these months. Such specials are often run during "peak" hurricane times. You can usually take advantage of these lower prices even when booking well in advance, allowing families time to plan for their vacation.
The Ship Will Most Likely Sail
If you are booking your vacation thinking that if a Category 5 hurricane is taking aim at the Caribbean, then your vacation will canceled and your money refunded- think again. While hurricane prediction is not an exact science, modern technology provides the weather service and cruise lines plenty of advanced warning about potential storms and the expected areas of impact. It is rare that a cruise during hurricane season is canceled (but not impossible), rather cruise ships will sail around storms. It might be worth buying travel insurance though for other potential travel delays (see below) or instances in which your hometown is impacted by a storm but not the cruise ports themselves.
You Probably Won't be Stuck at the Cruise Terminal During Hurricane Season
Planning Your Transportation to the Ship
While the cruise lines will do everything within their power to ensure vessels cruising during hurricane season depart, there are no guarantees about your travel to and from the cruise port. If you are driving to port, staying up to date on any weather both pre-cruise and post cruise is essential. When it comes to your flights, you will be on your own if the storm leads to flight delays or cancellations.
Prior to our Adventure of the Seas Cruise, We Stayed at La Concha Resort
We always recommend traveling a day ahead of time and spending a pre-cruise day in the departure port to allow more buffer time just in case there are any travel issues. Many travelers plan a post cruise stay too, just in case there are any issues returning to port. Having extra wiggle room on both sides of your trip might be wise when cruising during hurricane season. Again, getting good travel insurance will help defray the costs that you could incur if a hurricane impacts your travel plans to and/or from the cruise terminal.
Your Cruise Ship May Change Course
If there is the potential for impact of a hurricane within the region you are sailing, depending on its potential path, you cruise ship may alter the route or change up the itinerary. For our cruise, the path of Hurricane Danny was heading straight for the Leeward Islands, where our ship was planning to sail. We were informed the day before our cruise of an itinerary change that would make one of the original stops at St. Maarten and then sail out of this region, away from the storm's path.
So, our original itinerary of St. Maarten, St. Kitts, Antigua, St. Lucia, and Barbados was first changed to St. Maarten, Aruba, Bonaire, and St. Thomas. Call it bad luck, but Tropical Storm Erika changed that itinerary once more to St. Maarten, Aruba, Bonaire, and Curacao to ensure we stayed south long enough for the second storm to pass. During these weather patterns, many other Eastern Caribbean itineraries were switched to Western Caribbean itineraries.
St. Maarten was the Only "Original" Port of Call We Visited
These changes are not uncommon, especially when cruising during hurricane season, so the crew and staff are normally prepared. The passengers may not be so ready or willing though! If you want to avoid most potential hurricanes, you should consider cruises that sail to the Southern Caribbean. These "ABC islands" of Aruba, Bonaire, and Curacao are south of the hurricane belt and therefore are least likely to be affected by these storms.
Be Flexible for Itinerary Changes
One thing the Princess is not, is flexible when it comes to her cruise plans and itinerary. But, when sailing during hurricane season, cruisers need to have an open mind and be willing to roll with whatever Mother Nature, and the cruise lines, throw their way. The best made plans can very easily come undone. For our Adventure of the Seas cruise, we spent months planning and picking the perfect shore excursions for each island, only to be in the same boat, pun intended, as every other passenger-waiting in line at the shore excursions desk. Yes, without any time to research, we had to pick activities to do in our new ports of call, not once but twice!
You Can't Always Plan for a Cruise During Hurricane Season
Private Shore Excursion Guidelines
When cruising during hurricane season, booking a tour with the cruise company ensures that any canceled tours will be refunded. In our case, we had originally booked one shore excursion with the cruise company, one directly with a local tour operator, and the others through a third party shore excursions company. After our first change of plans, we re-booked all excursions with the cruise company, as we did not have the time to search for other options.
Our Tours with Shore Excursions Group were Refunded Without Any Hassles
If you book tours privately, be sure to check the tour companies' policies and only purchase tours from companies that offer refunds if your ship misses the port. Our third party vendor required that we call to request a refund. I followed their directions and placed a call when we returned home to request a refund for the 3 excursions that we missed due to the change in itinerary. We received our refund check in the mail within two weeks without issue.
Weather Might Still Be an Issue
While ships can elude the worst of a storm by calling in different ports or staying out to sea, it might not be able to totally avoid the weather pattern. With an unprecedented two storms in one week, we were able to stay clear of the storms for the majority of our cruise, but the ship could not completely evade the second storm on our return trip to Puerto Rico. This meant that the 6 beautiful days of sun and 90 degree weather ended on the last sea day with heavy rains, wind, and some rather crowded indoor venues.
Good Thing We Got Plenty of Sun and Pool Time During the First Days of our Cruise!
Royal Caribbean was quick to respond to the situation by offering extra activities and shows, as well as changing the location of some events to accommodate the larger crowds. If the rain, wind, and rocky seas are not completely avoidable when you cruise during hurricane season, don't worry as there will still plenty of things to do. Which gets me to our last survival tip for cruising during hurricane season…
Pack for the Unexpected
The Princess is known to be a bit of an over-packer, and unfortunately, some of her traits have worn off on me! Although, when you cruise during hurricane season, it is not a bad idea to pack a few additional items in case of unforeseen changes. Luckily, we were prepared for the swaps in our shore excursions with the necessary outfits.
Sometimes You Should Pack a Few Extra Items
Additional things you should pack for any cruise, but even more importantly during hurricane season, are a lightweight rain coat and extra layers. You never know when they will come in handy.
Comments
Have you cruised during hurricane season? How have you handled bad weather or itinerary changes on your previous vacations? Drop us an anchor below to share your stories about those cruises that did not go exactly as planned because of Mother Nature.