The first Princess Cruises ship has officially set sail after 16 long months. Of course, we wanted to be among the first to cruise Alaska with this popular brand. Having sailed on three other cruises with three different brands so far, we were eager to find out what was similar and what was different on Princess Cruises. Now, we are ready to give you our honest take on what it is really like on the first Princess Cruises cruise in summer 2021.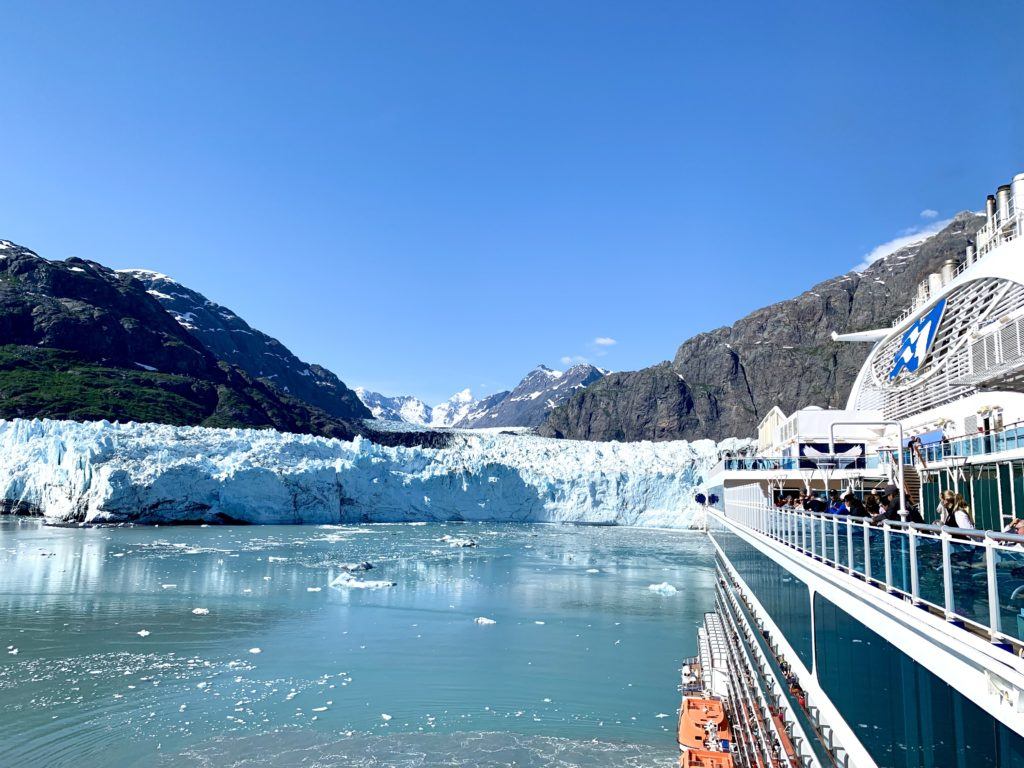 What It Is Really Like on the First Princess Cruises Cruise
Getting Ready for the Cruise
Like most cruise lines sailing in 2021, Princess Cruises requires guests to be fully vaccinated. Guests must also complete an online check-in process prior to setting sail. Majestic Princess is a Medallion Class ship, so this can be completed using the smartphone app.
Guests need to input details such as a photo, passport information, and confirmation of vaccination. During the check-in process, we were also able to choose an embarkation arrival time.
Twenty-four hours before sailing, guests must also fill out a health questionnaire regarding any symptoms of COVID-19. Similar to our sailing on Celebrity Edge, there was no pre-cruise testing required for vaccinated individuals.
Princess Cruises did send several email reminders to ensure we completed all necessary steps prior to our cruise.
While this is our first cruise with the brand, the pre-cruise processes felt pretty typical. We were also able to book our dining and shore excursions online without any issues.
Embarkation Day
Given our hectic schedule, we did complete our pre-cruise check-in a bit late; thus, we were assigned a boarding time of 1 pm. With our flight arriving into Seattle at 10:30 am on embarkation day, we were concerned we would be waiting around a while.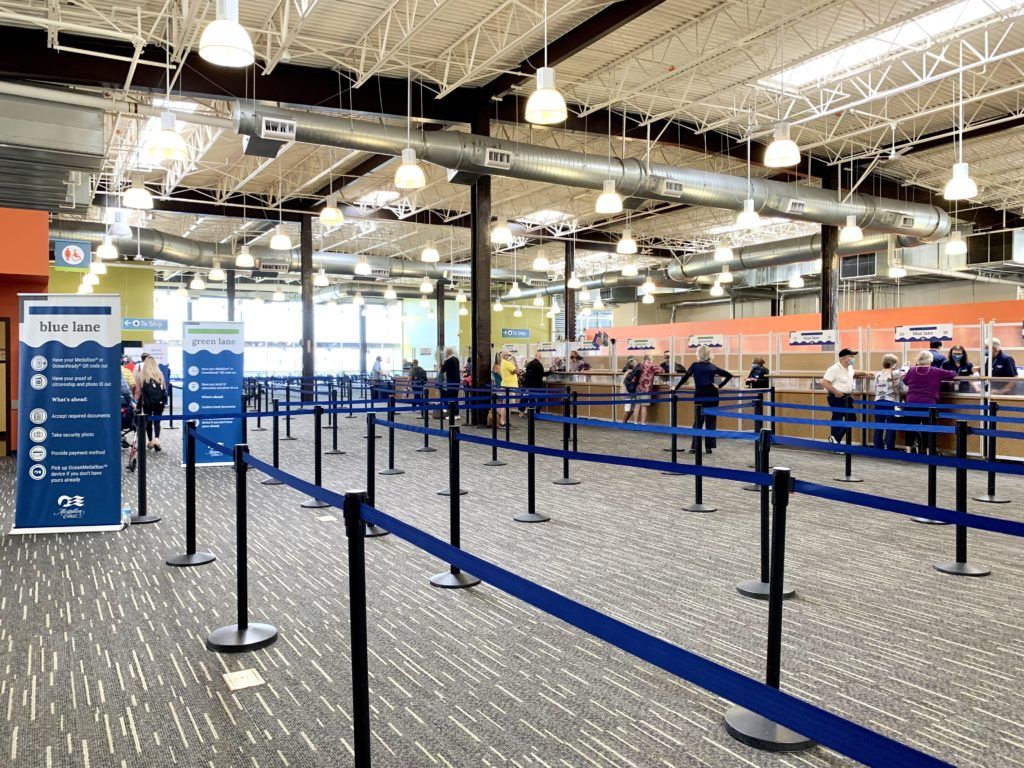 By the time we received our luggage and made it to Pier 91, it was close to noon. Showing our "Green Lane" status on the Medallion app, we were directed to a check-in line right away. Thankfully, we were allowed to complete the embarkation process without any delays.
Of note, all guests are required to wear masks in the terminal during the embarkation process.
Related Post: Is It Safe to Cruise Now?
The first agent scanned our passports, verified our vaccination status, and had us attest that there were no medical changes in the last 24 hours. We then proceeded upstairs to go through security.
Unfortunately, our medallions never arrived in the mail. So, we had to go to a separate counter to retrieve these devices. This added only a few minutes to the entire process.
Once we had our personalized medallions, we could officially board the ship. Exiting the terminal, we were greeted by cheering staff welcoming us back to cruising.
Scanning our medallions at the gangway, this entire process took less than 30 minutes. Overall, check-in was efficient and systematic.
EXCLUSIVE SAVINGS: The Latest Deals on Cruises with Princess Cruises!
Muster Drill
Much like our other recent cruises, Majestic Princess also had a modified muster drill. Now, cruisers can watch the mandatory safety drill on their stateroom televisions or on the app (although, it was not working on our app).
When compared to Muster Drill 2.0 on Royal Caribbean and Celebrity Cruises, this video was certainly longer and more detailed. Still, it was much easier to watch the informative video in the comfort of our stateroom.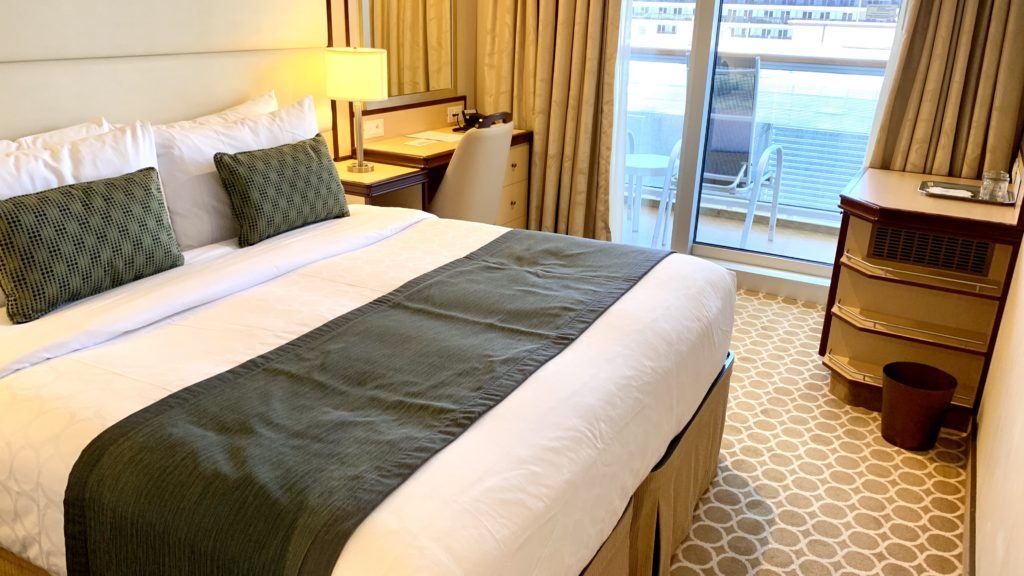 Once that was done, it was down to Deck 7 to complete our "visit" portion of this mandatory safety drill. This in-person check-in took only a few minutes. Later in the day, the Captain made a quick safety announcement and sounded the emergency alarm.
This new and enhanced muster drill is a vast improvement over the crowded safety drills of days past.
Related Post: Alaska Cruise Planning Guide
Entering Our Stateroom
Upon boarding the ship, the staterooms were ready. Thus, we headed up to drop off our carry-on items before exploring the ship.
We booked a balcony cabin room, cabin C310. This deck 10 cabin is close to the forward elevators and offers easy access to the public areas on decks 5-7. It is also a quick elevator ride up to deck 16 and the other outdoor areas.
The room design is a bit different than what we are used to. The setup does offer more closet space with plenty of hangers, in addition to one skinny wall of shelves including the safe.
The bathroom is a similar layout but has a shower curtain instead of the cylindrical doors of other cruise lines.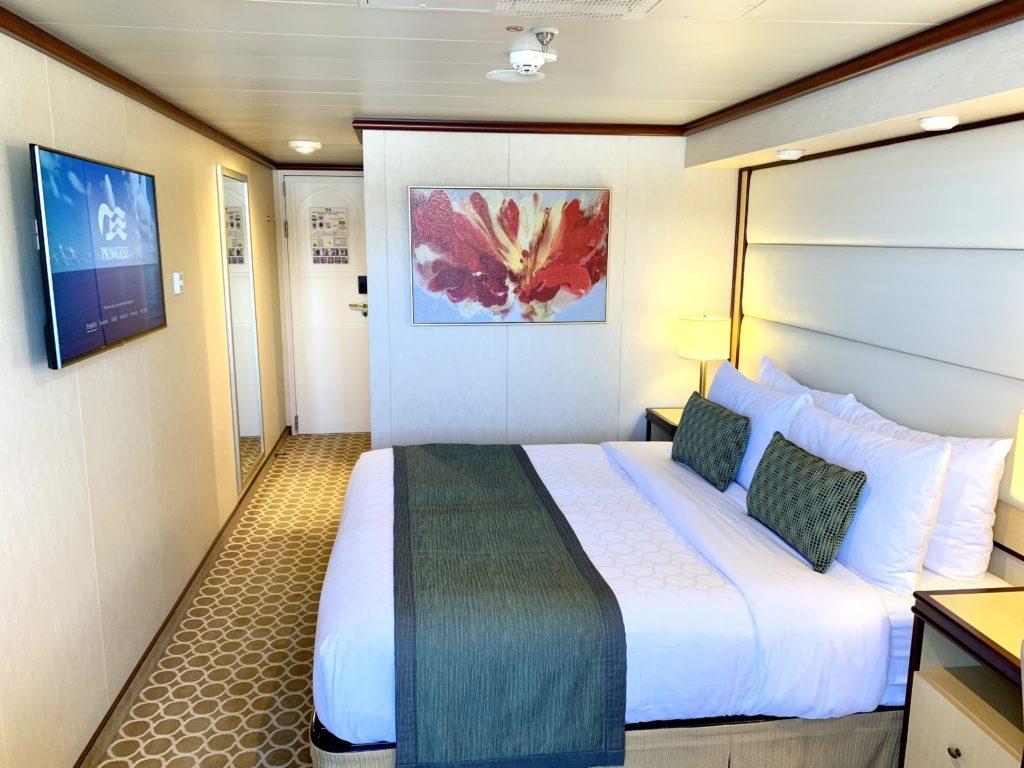 When compared to similar cabins on Royal Caribbean or Celebrity Cruises, the stateroom does feel a bit smaller. The desk area is a bit tight and there is no loveseat or table.
With some creative unpacking and our trusty magnetic hooks, the cabin is functional for our 7-night Alaskan cruise.
Related Post: Alaska Cruise Packing Guide
Dining on Majestic Princess
As this is our first voyage with Princess Cruises, we do no have a baseline to compare the dining experiences for this cruise to sailings before the cruise shutdown.
Still, we are happy to report that the dining experience does not seem to deviate from a typical cruise.
We were able to book all our dining reservations prior to the cruise. We booked two specialty restaurant reservations and Dine My Way reservations for the remaining days.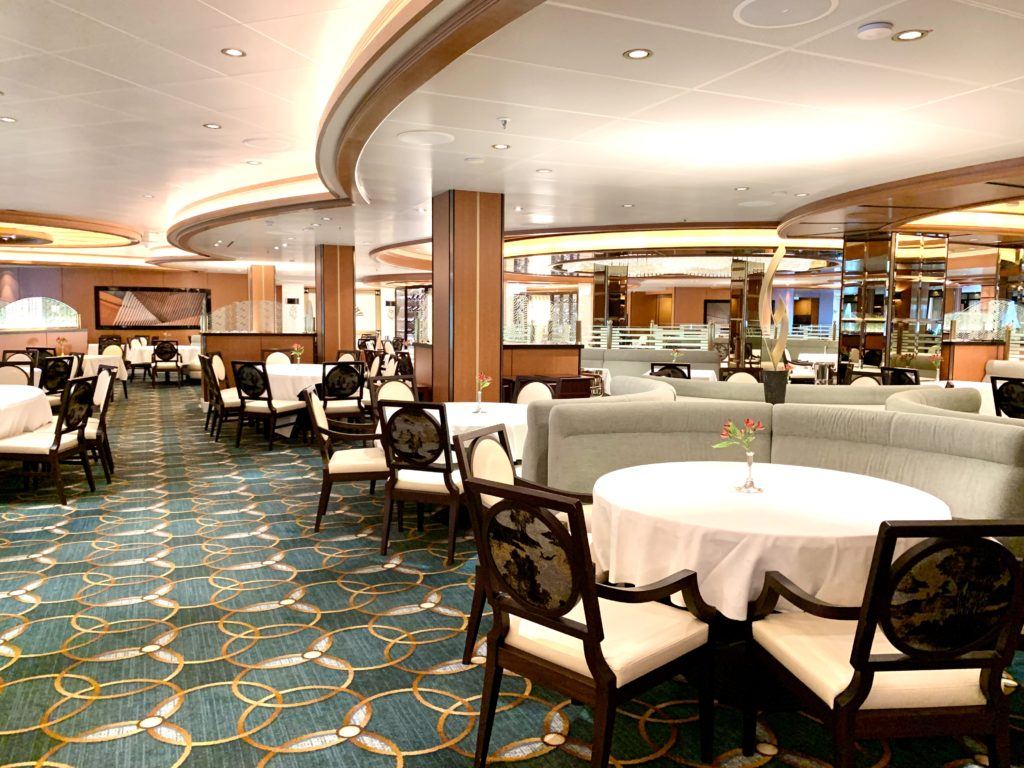 On Majestic Princess, there is no noticeable social distancing in the main dining rooms or specialty restaurants.
The same is true in casual venues like Alfredo's Pizzeria and the World Fresh Marketplace, as well as bars and lounges. Of course, there is no self-service in the buffet. Instead, staff are happy to serve guests their food selections.
Before dining, cruisers are directed to wash their hands or use hand sanitizer, which has always been the case on cruise ships.
Further, there are no social distancing markers for queues at places like the International Café, and guests are allowed to sit at the bars unlike our sailing on Adventure of the Seas earlier this summer.
Sailing at 60% capacity, the dining venues do seem a bit busier than our previous trips.
Overall, the food quality in the main dining room so far has been on par with contemporary cruise lines. The pizza at Alfredo's is delicious, and the snacks at the International Café are quite tasty too.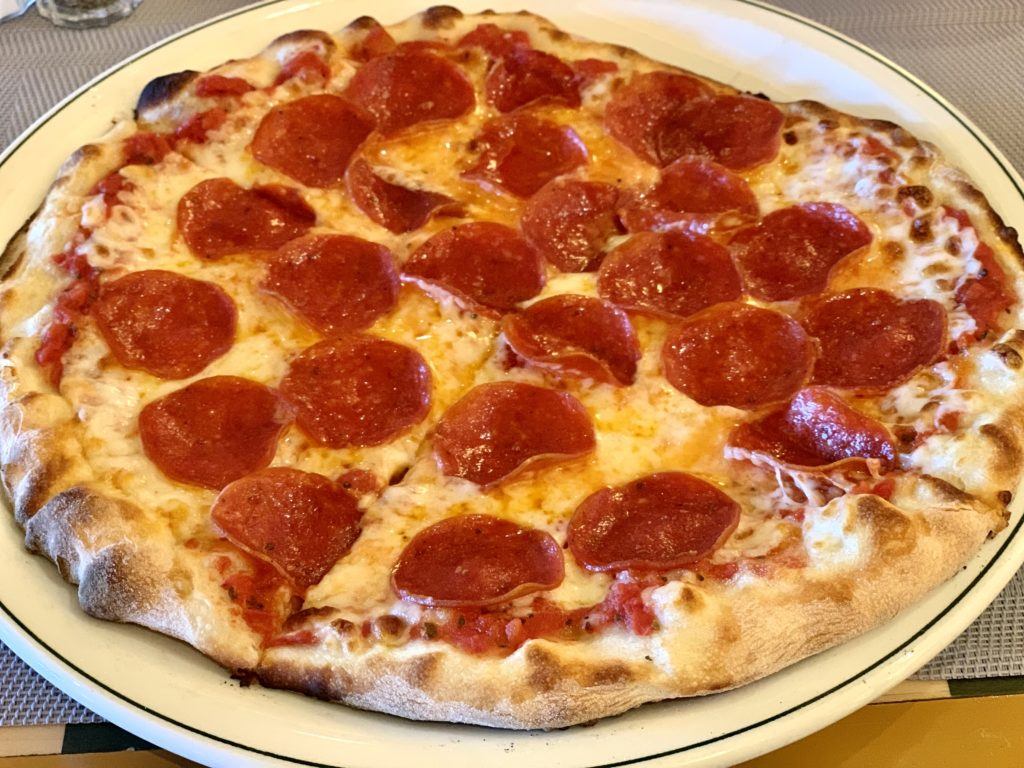 Booking Bonus: Score Additional Perks On Your Next Alaska Cruise!
Entertainment
There are several entertainment venues on Majestic Princess. The Princess Theater on Decks 6 and 7 is home to nightly entertainment. Again, there is no social distancing in the theater. Similar to Celebrity Edge, no seats are blocked off or reserved. Though, this is a far cry from our experience on Adventure of the Seas where the theater capacity was only 25%.
All events in the Princess Theater, as well as Princess Live and the other entertainment venues, are first come, first serve. There is no official reservation system for any of the shows or entertainment.
The theater offers a show each night with an early and a late showtime.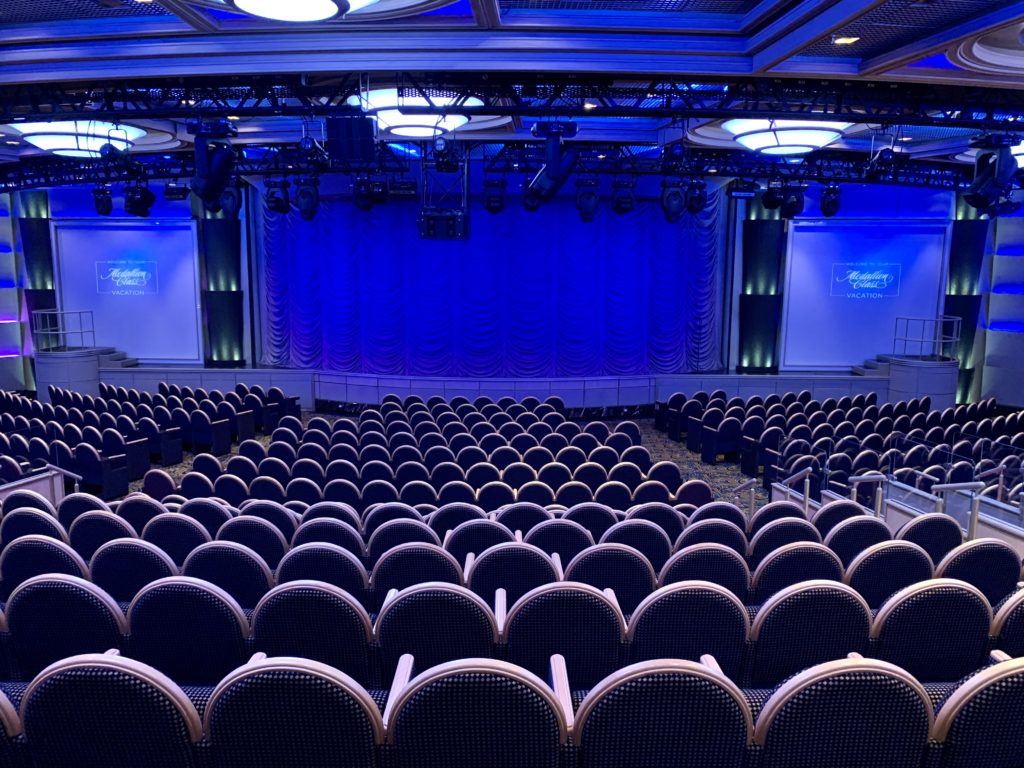 So far, we have attended every nightly show without any issues finding seats. Featured performances are pretty typical and have included a production show, a magician, a vocalist, and a comedian thus far.
So, cruisers can still enjoy all their favorite entertainment when sailing with Princess Cruises right now.
Cruise Ship Activities
The MedallionClass app is your resource to what is happening around the cruise ship. While Alaska cruises tend to be more about the destination, there is still plenty to do on Majestic Princess.
The entertainment staff offer various daily activities. From putt-putt and lawn bowling challenges to the sports court and ping pong tables, there are plenty of outdoor activities to enjoy.
There are also Games Under the Stars and Movies Under the Stars on the pool deck. Not to mention, there are two outdoor pools, whirlpools, and the indoor, adults-only Hollywood Pool Club.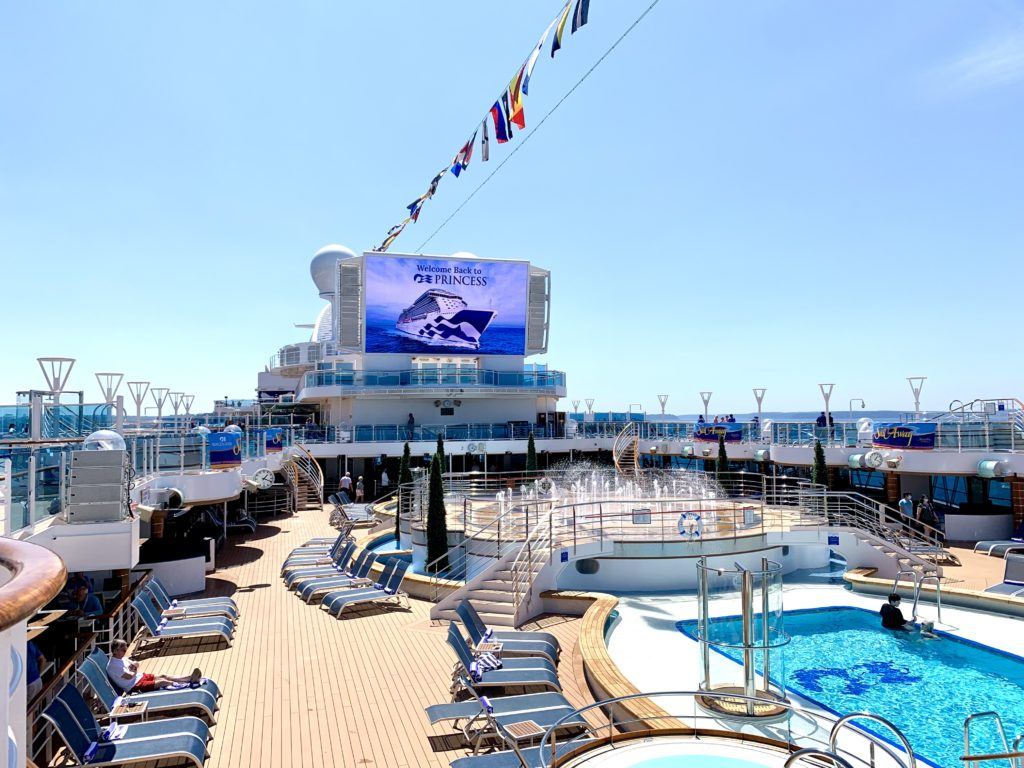 Majestic Princess also features an onboard naturalist, Michael Modzelewski, who offers various talks about Alaska.
Further, venues like Princess Live, the Vista Lounge, and the Piazza host game shows and live music. The Hollywood Conservatory also turns into the resident nightclub in the evenings.
Of all our cruises so far, Majestic Princess has offered the most daily activities. Between amazing adventures ashore and diverse onboard activities, cruisers will never have a lack of things to do. The real challenge might be finding the time to fit it all in.
Time Ashore
This Alaska cruise is only available to those who are fully vaccinated. So, there are no mask requirements or social distancing onboard the ship.
However, when it comes to shore excursions, there are additional health and safety protocols in place. These policies are evolving and will likely vary based on local requirements at ports of call.
Cruisers are allowed to disembark the ship for free exploration, or they can book cruise-sponsored excursions.
Guests are required to wear masks when disembarking the ship. On shore excursions, guests are also required to wear masks during indoor activities, such as bus rides or boat rides. When outdoors, such as hiking or visiting glaciers, we could remove our masks.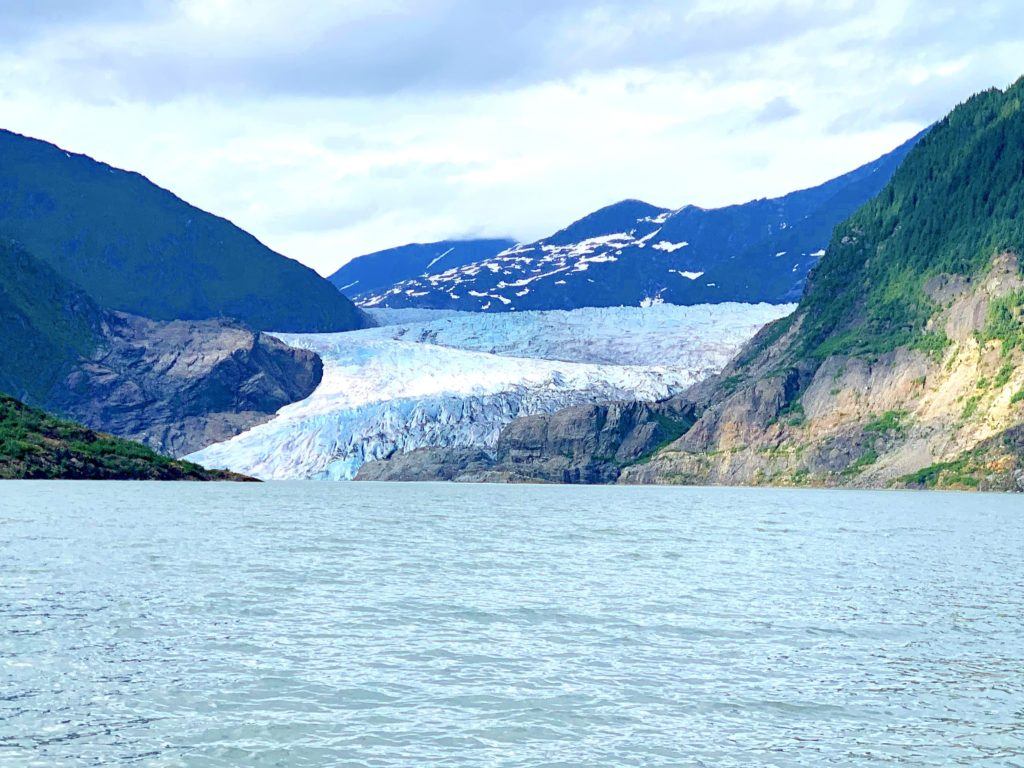 In the towns themselves, mask guidelines seem less clear. In Juneau, we walked around town without a mask. We also dined at the Red Dog Saloon where employees were not wearing masks. However, we did see occasional signage requesting mask usage.
Still, even with a few additional precautions in place, we are having an amazing time exploring the Alaskan wilderness. Not to mention, being the only ship in port is a rare advantage that we will most likely never experience again!
Related Post: Best Time of Year to Take an Alaska Cruise
Our Experiences on the First Sailing to Alaska With Princess Cruises
It is true, We Are Back! Princess Cruises is delivering a memorable Alaska cruise experience. We are happy to report that cruising with Princess Cruises has not changed much since the pandemic. With a few extra health and safety protocols, that mainly go unnoticed, the cruise line is able to offer the same great cruise experience.
While this is our first Princess Cruises' sailing, we can see why the cruise line has become so popular, especially in regions like Alaska. Providing a contemporary cruise atmosphere, with plenty of enrichment and onboard fun, travelers have the flexibility to customize their voyage.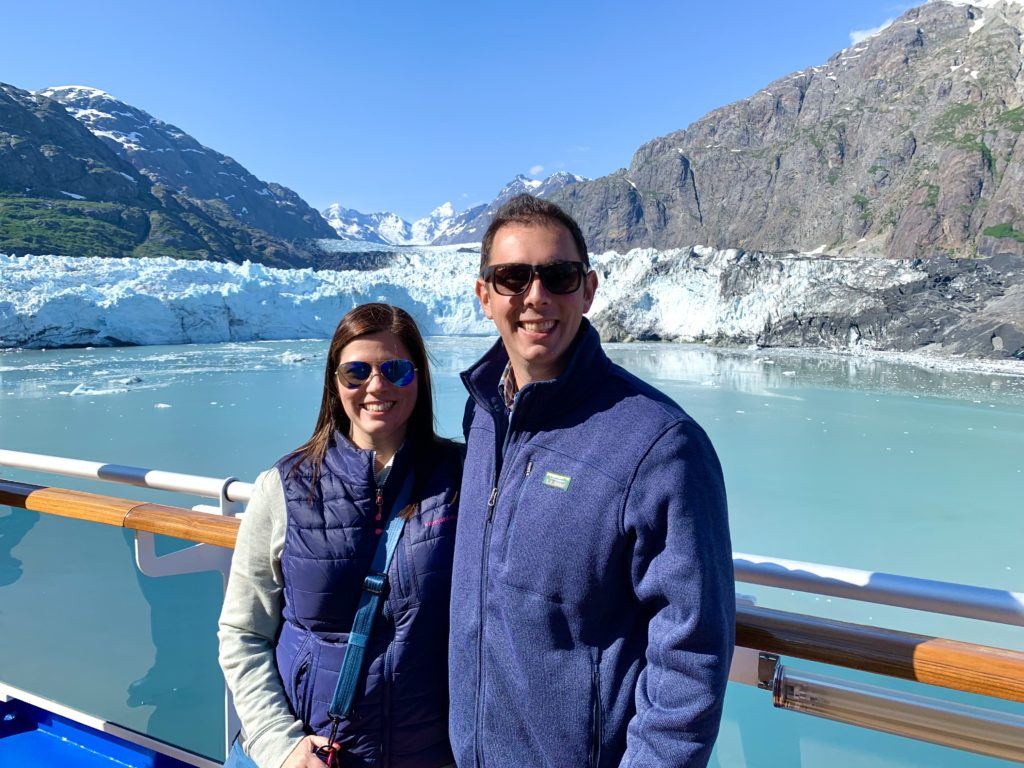 With everyone fully vaccinated, in addition to some enhanced health and safety measures, we feel completely safe on this cruise. Like other cruise lines, all staff members are required to wear masks in all public areas. When compared to our other sailing from the U.S., we have noticed more fellow passengers also wearing masks during this trip even though they are not required.
If you are looking to cruise to Alaska, now might be the perfect time to do so!
Comments
Do you have upcoming plans to sail with Princess Cruises? Have you cruised to Alaska? Drop us an anchor below to share what you love about Princess Cruises.