Scroll Down to See What REGULAR CRUISERS REALLY THINK of Virgin Voyages Scarlet Lady!
Ship Overview
Virgin Voyages' Scarlet Lady is the maiden vessel in this new cruise line's fleet. The first of three ships in the class, this 110K gross ton ship can carry up to 2,700 passengers. Virgin Voyages is a forward-thinking, all adult cruise line that is open only to those 18 years of age or older.
Currently, the cruise line is requiring all "sailors" to be vaccinated, at least through the end of 2021.
Virgin Voyages' Scarlet Lady mixes elements of both luxury cruising and contemporary cruising to introduce something new to the cruise market. Our first impressions of Virgin Voyages is that the cruise lines offers a casual, yet personable and fun cruise that is certainly different.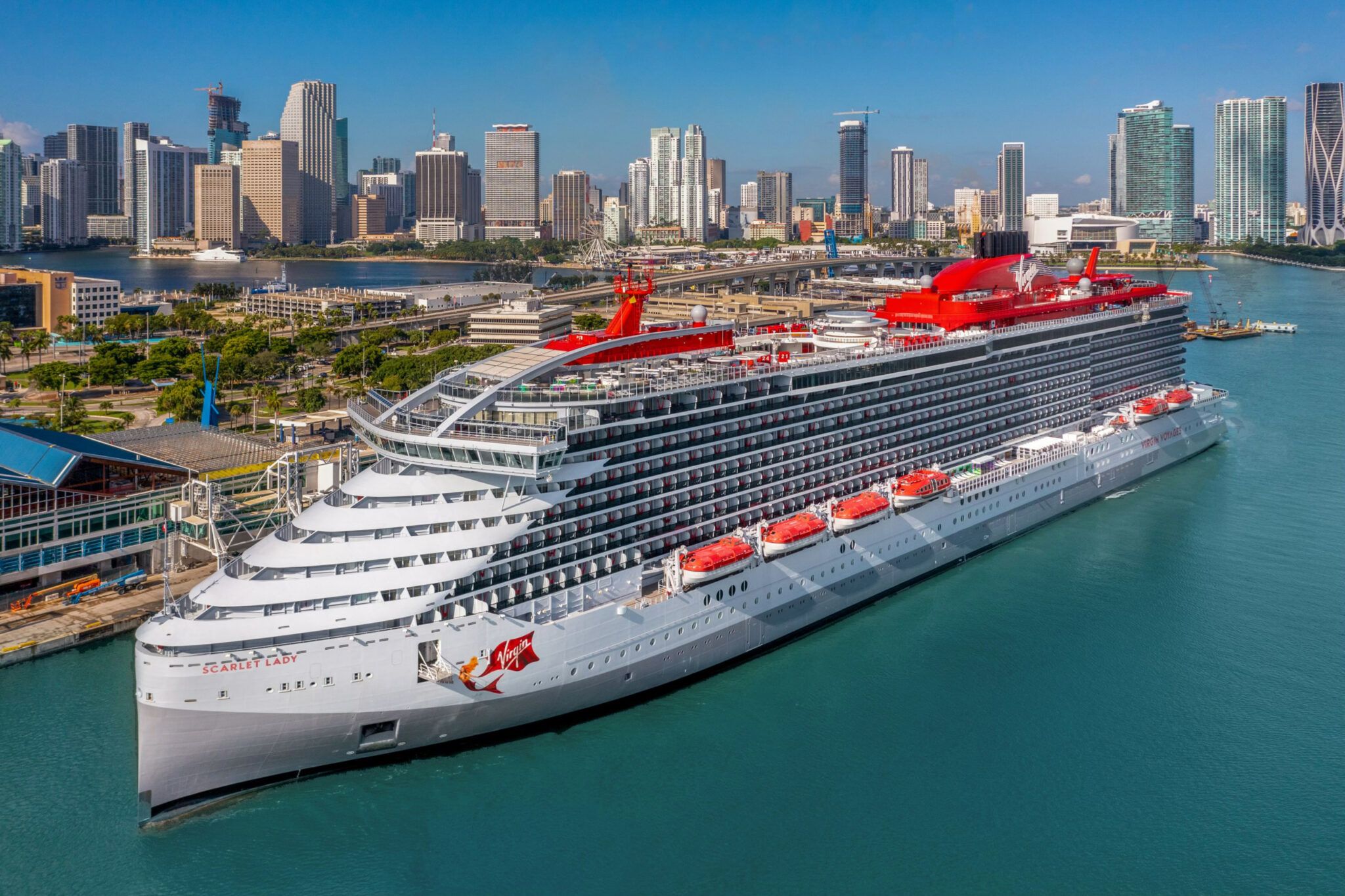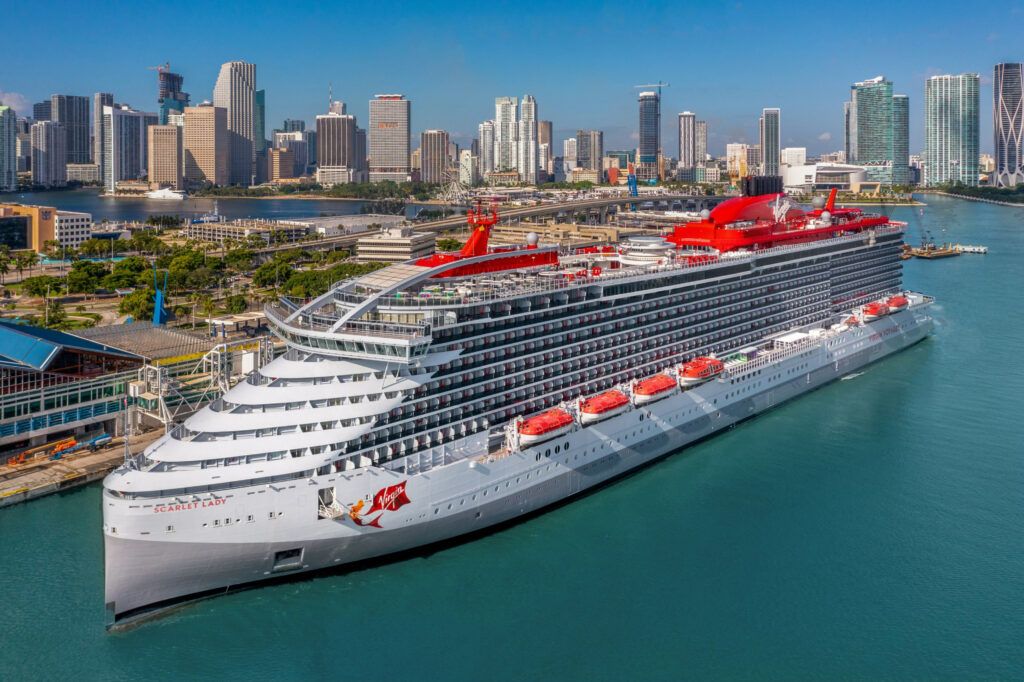 All dining is included in the cruise fare. Further, there are no gratuities or daily service charges, and basic WiFi is also part of the cruise fare.
Scarlet Lady features 6 restaurants, along with a "food court" and other snack options like a pizza parlor.
During our 5-night Virgin Voyages' Scarlet Lady Mayan Sol cruise, there were three shows. Two of these shows were in the main theater, the Red Room. The other took place in the ship's nightclub, the Manor. There were also pool deck parties and a DJ who played nightly.
When it comes to daytime activities, the cruise line focuses on fitness and well-being. Group fitness classes are included in the cruise fare as well. There is also a good size spa, thermal suite, and an outdoor "Athletic Club".
Perhaps our favorite spot to relax on a sea day was the Dock. This aft-located outdoor retreat offers comfy furniture and a relaxed vibe, along with great wake views.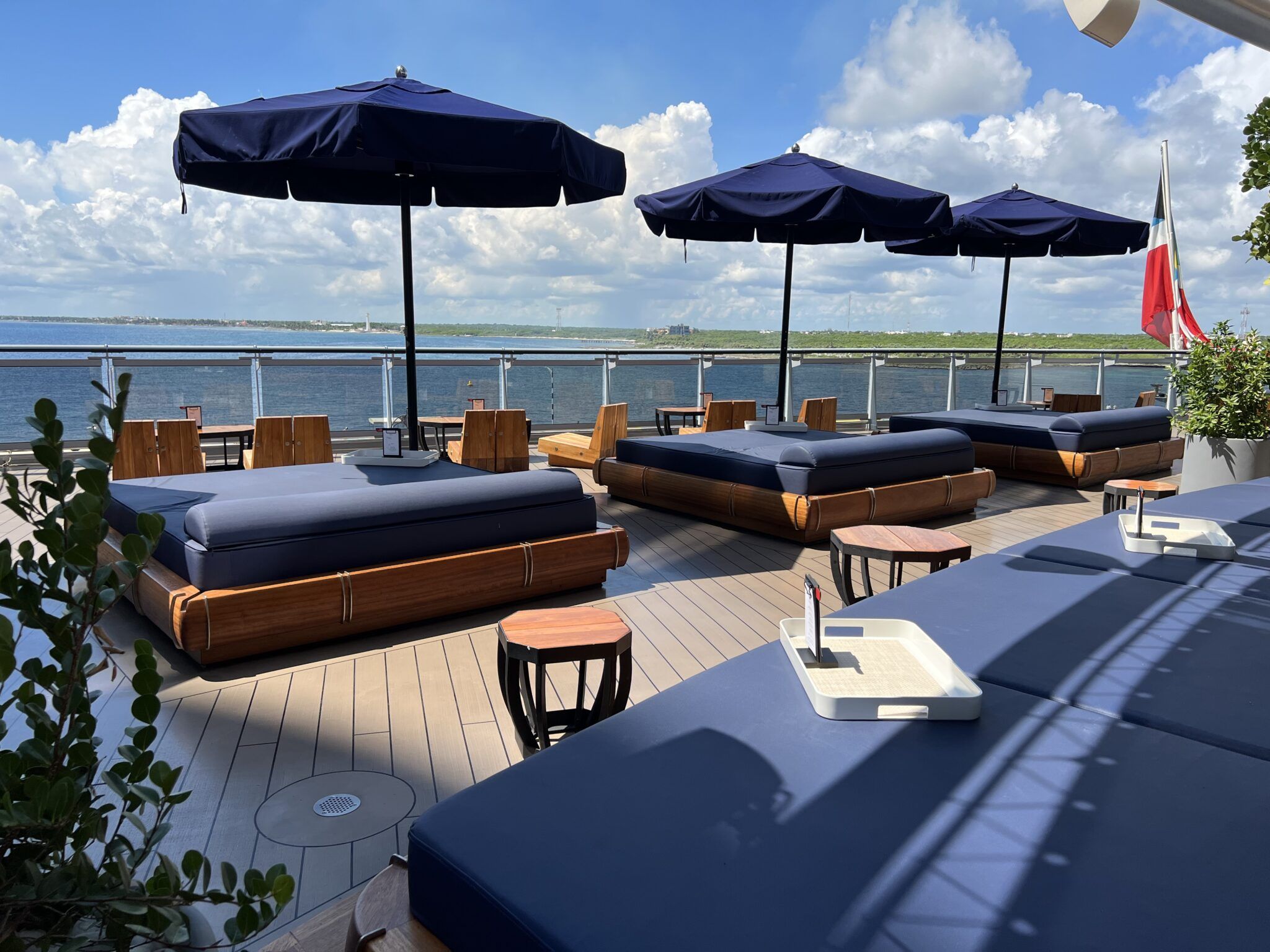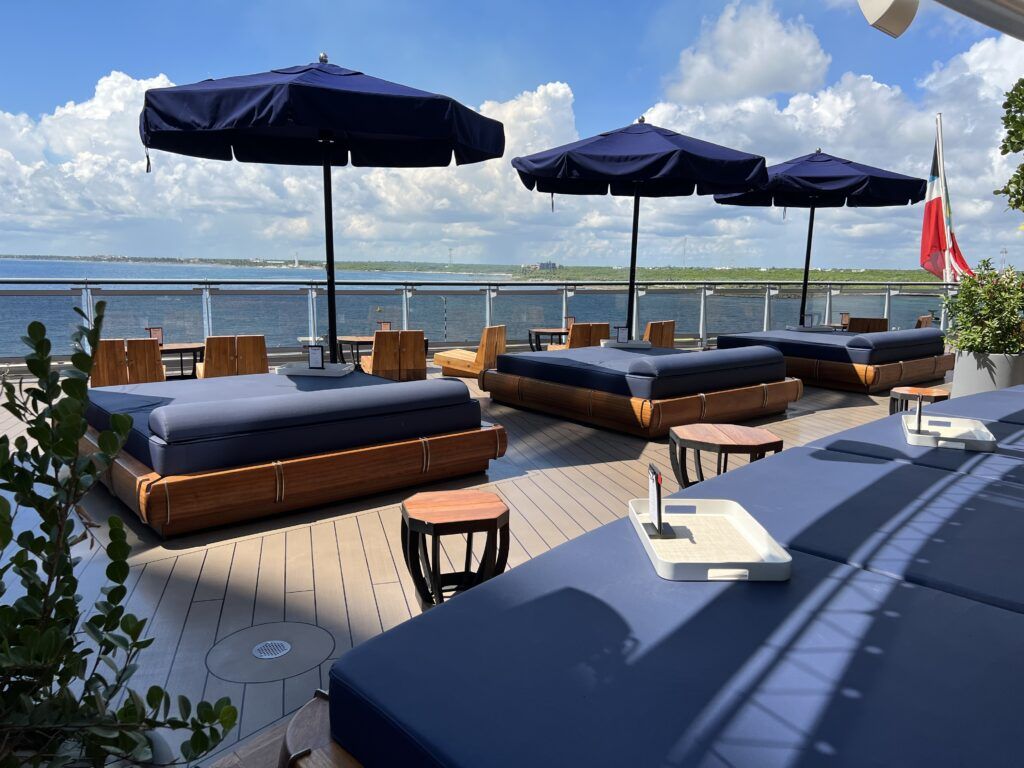 Boasting three outdoor decks with public venues and 3 indoor decks with dining, shopping, and entertainment, the ship has many of the major components you would expect to find on a cruise. However, the ship's design might not seem very intuitive to traditional cruisers.
EXCLUSIVE SAVINGS: Get Deals on Virgin Voyages Cruises Now!
Having just returned from one of the first U.S. sailings on this ship, we report back with our complete Virgin Voyages Scarlet Lady Mayan Sol cruise review.
Day 1 – Virgin Voyages Scarlet Lady Mayan Sol Cruise Review
A Later Than Typical Start
If you couldn't already tell from the cruise line's marketing, Virgin Voyages is aiming for a different approach to cruising, and some of these differences are immediately evident.
Virgin Voyages offers late disembarkation. While this sounds good in theory, it also means embarking sailors can not board the vessel until later in the day.
We were invited on this cruise by Virgin Voyages about a week prior to the sail date. So, completing our check-in rather late, it meant the earliest boarding time we could get was 2:45 pm.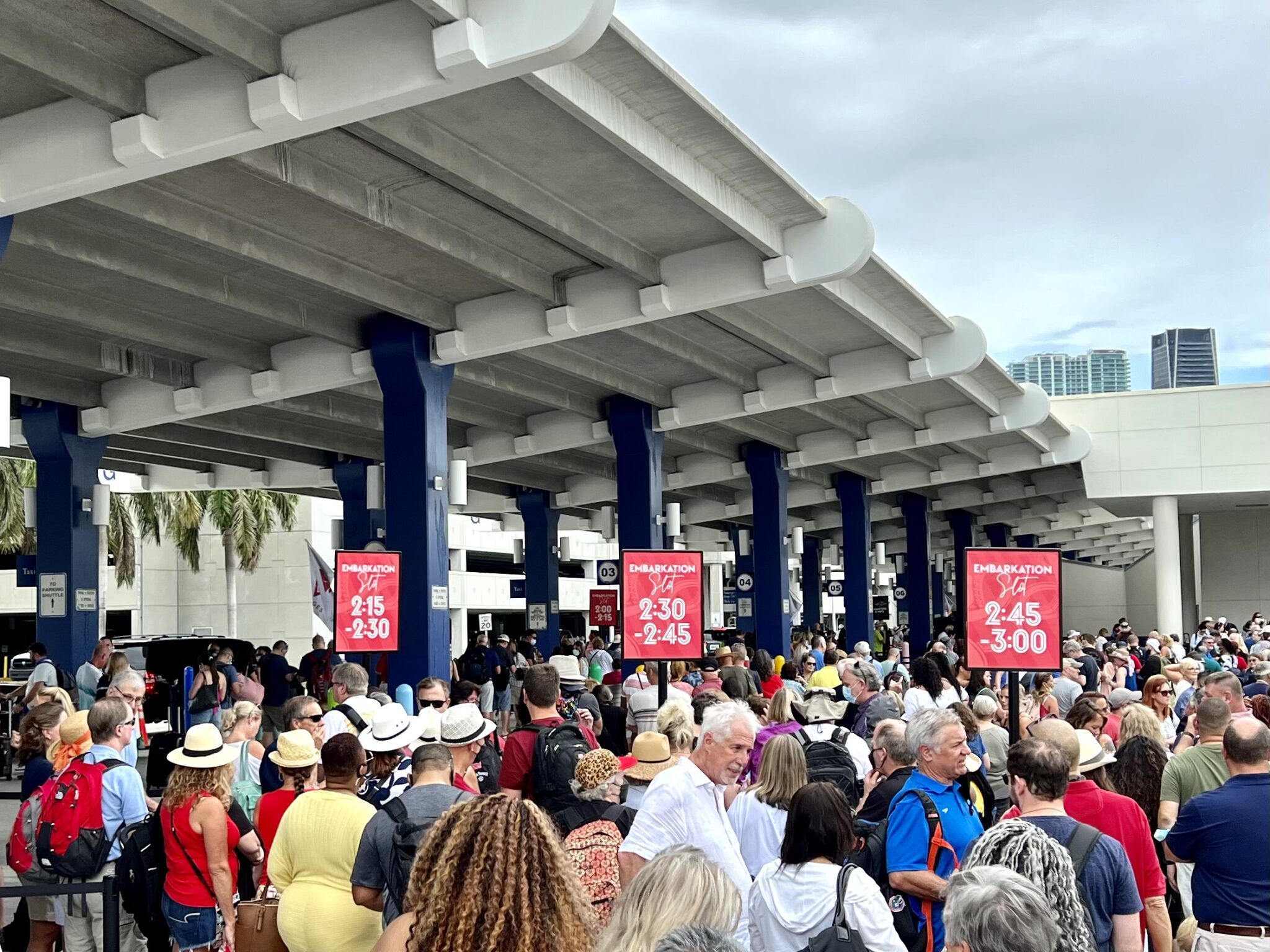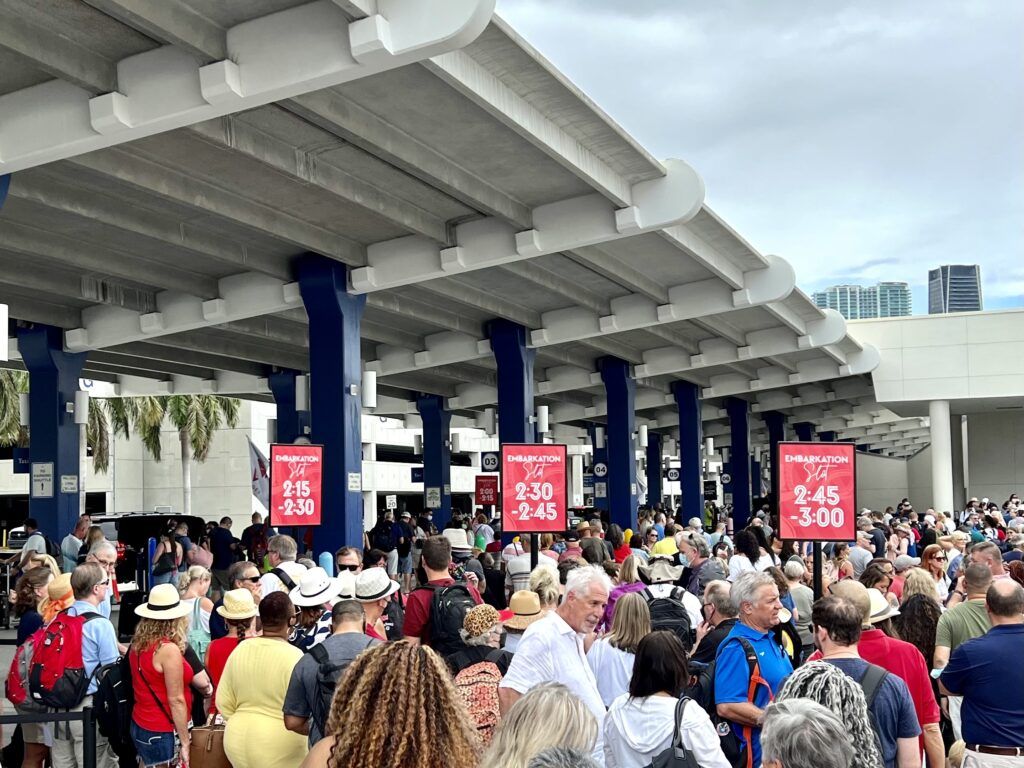 Flying into Miami the night before our cruise, we relaxed at our hotel, the Hyatt Centric Brickell, until the designated check out time. For once, it was kind of nice to not feel rushed to get to the port by 10 am.
In retrospect though, we definitely prefer the earlier embarkation and disembarkation protocols of other cruise lines.
At check-in, the app indicates that you can arrive an hour before your assigned boarding time. So, that is exactly what we did.
Grabbing an Uber to Terminal G, we arrived slightly after 1:30pm to find a sea of people. Making our way to the end of the line for our time slot, we would end up waiting close to 2 hours in the outside queue.
As part of the cruise line's health and safety protocols, all sailors are tested for COVID-19 at the pier. So, after two security check points, testing procedures, and waiting patiently for about an hour for our negative results, we finally stepped foot onboard Scarlet Lady around 5 pm.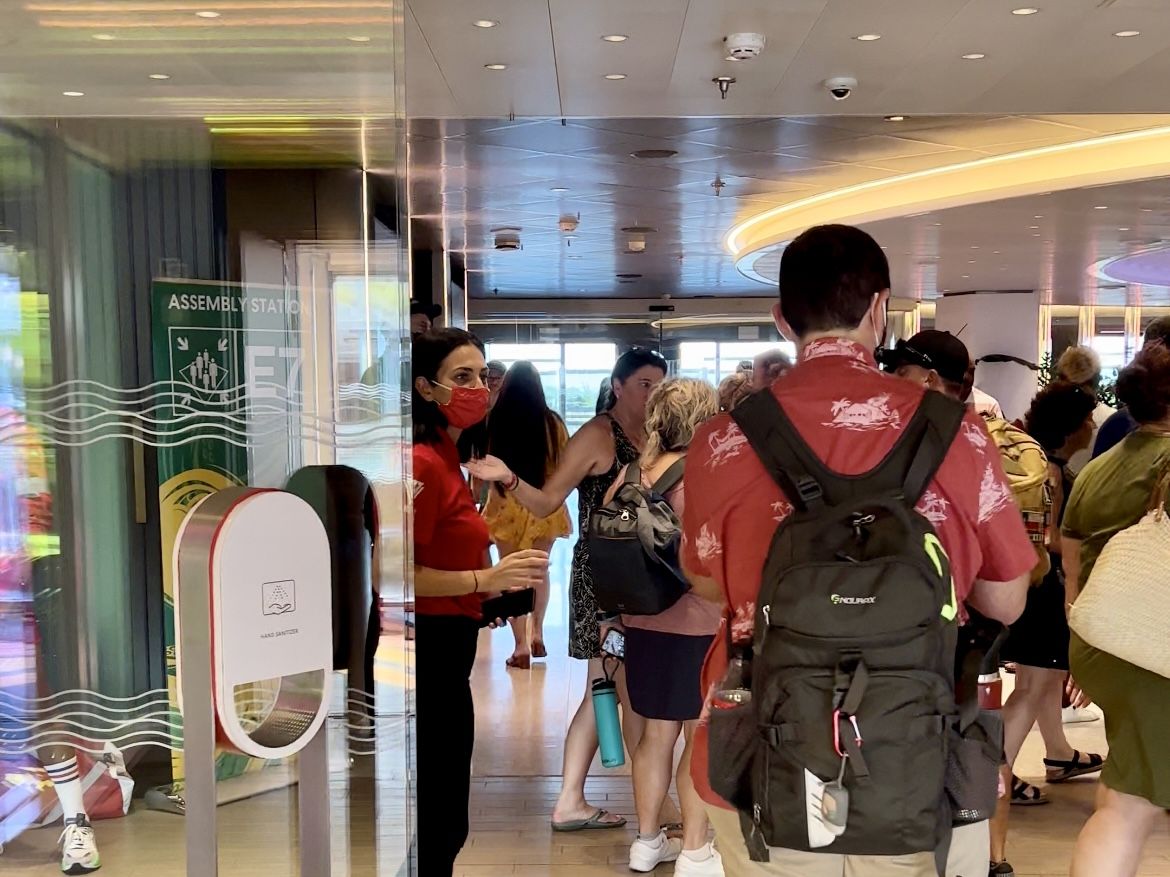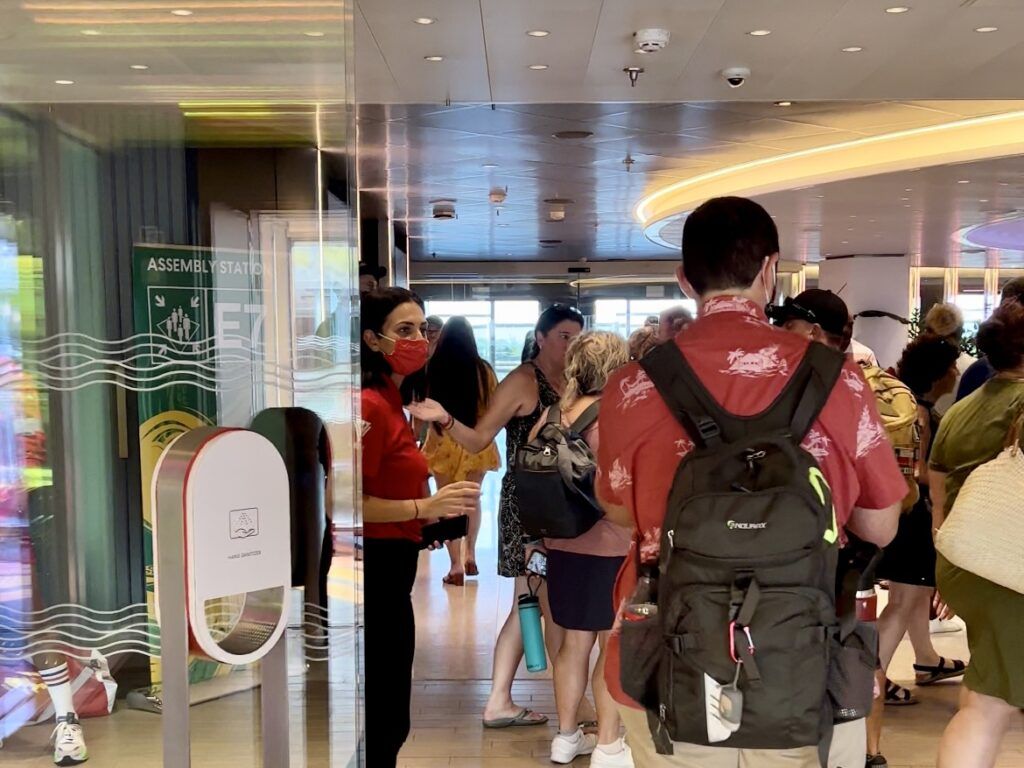 Thankfully, the cruise ship's sail away wasn't scheduled until 7 pm. Normally, a cruise ship departing on a Friday would already be pulling away from the terminal at this point.
Now, we were officially ready to get this Virgin Voyages Mayan Sol cruise underway!
Finding Our Way Around Scarlet Lady
Our first order of business was to stop at our cabin to drop off our carry-on items. We were auto assigned cabin 10070A. This portside cabin is a balcony stateroom, or Sea Terrace, located near the aft of the ship.
To our surprise, our luggage was already waiting for us outside the cabin when we arrived. Though, a bit behind our normal embarkation day routine, we passed on unpacking for the moment.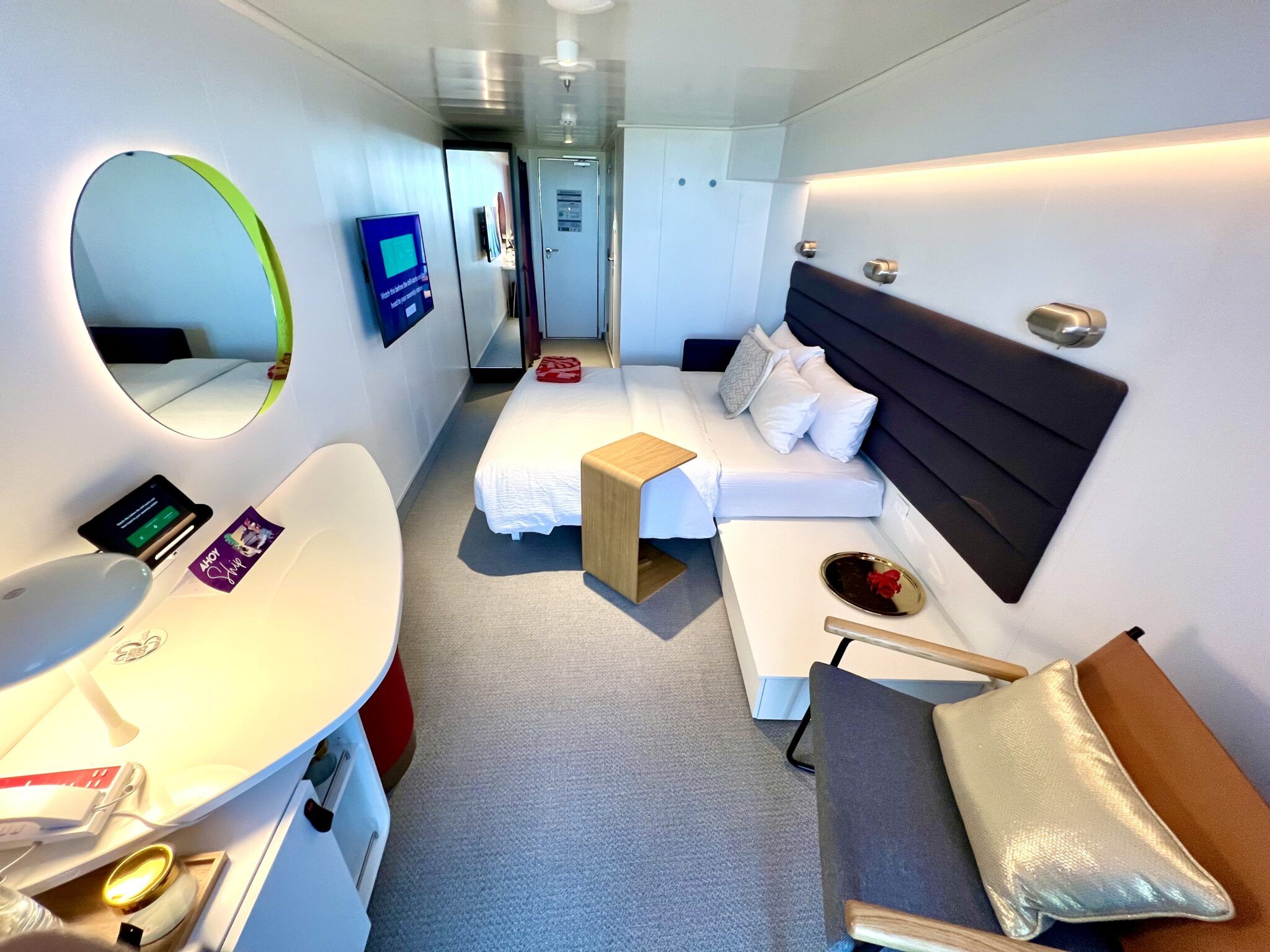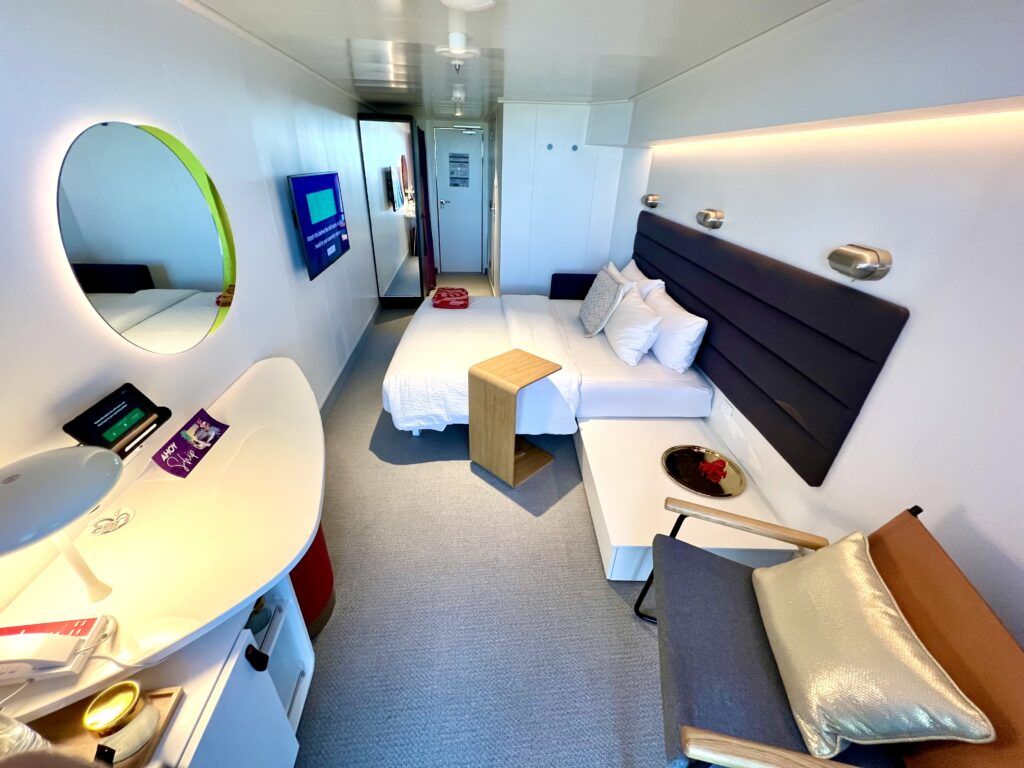 First, we watched the mandatory 5 minute muster drill on our television. Cruise lines have been trying to find ways to make this compulsory safety drill more engaging. Let's just say that Virgin Voyages certainly has made this video its own.
Following the video, we headed downstairs to Deck 7 to our muster station G, located at the Social Club. Here, we checked in with our station leaders and received a brief demonstration on donning the life jacket.
Pre-cruise, we made dinner reservations using the Virgin Voyages app. Given it was so close to sail date, the only reservations available were atypically late for us. While neither of us could have foreseen the embarkation day delays, it was serendipitous that we didn't have dinner until 8:30 pm tonight in The Wake.
Of course, the wife was not going to be able to go all day without eating. So, we first grabbed a latte from the Grounds Coffee Club and then made our way to the Pizza Place on Deck 7. This somewhat secluded spot offers freshly made personal pizzas.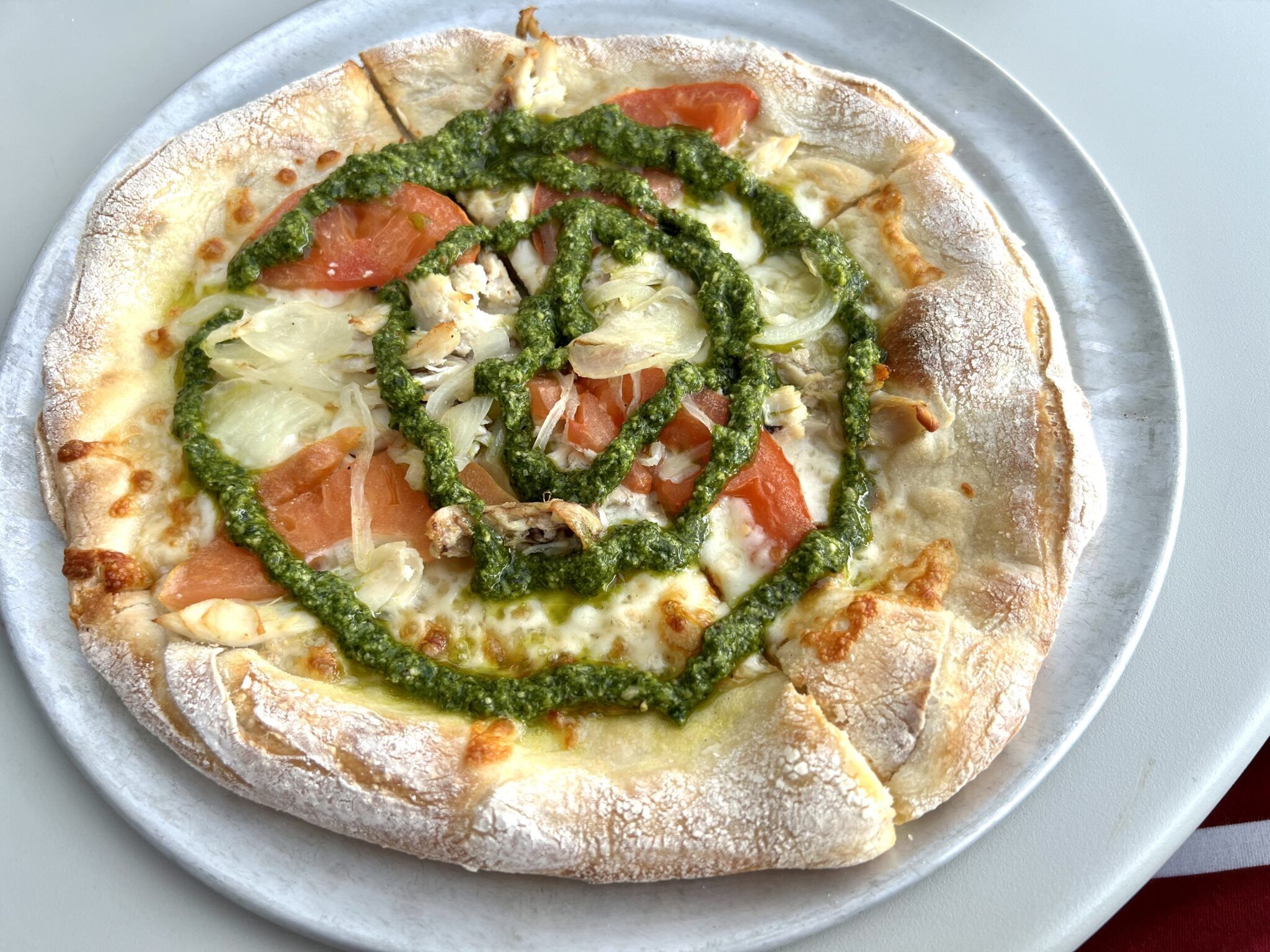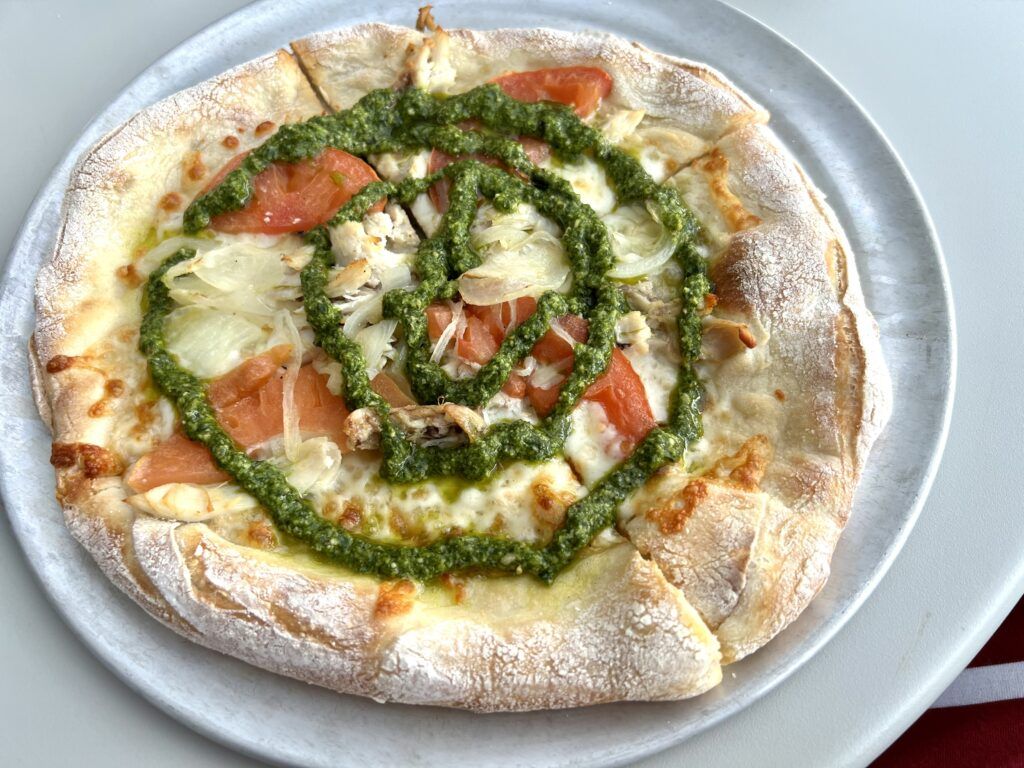 It took less than 10 minutes to get our personal pie hot from the oven. We both agreed that this was probably the second best pizza we have ever had on a cruise ship, with Princess Cruises still leading the way.
With the sun beginning to set, we found seats at the Dock for sail away. Grabbing our first "Welcome Aboard" drinks right before 7 pm was certainly not our norm.
Capturing our sail away from Miami, and a great sunset, it was back to our cabin to get caught up to speed.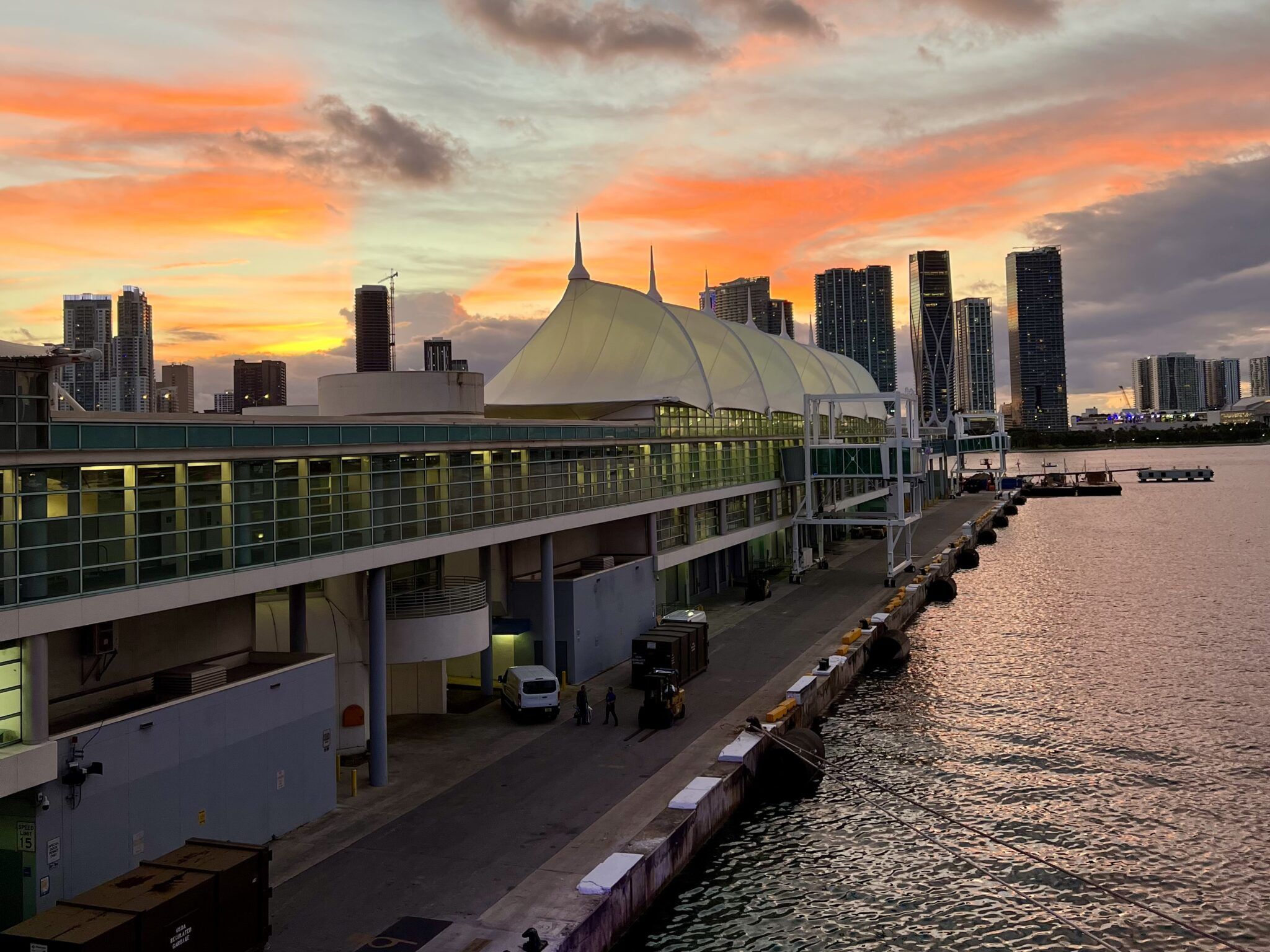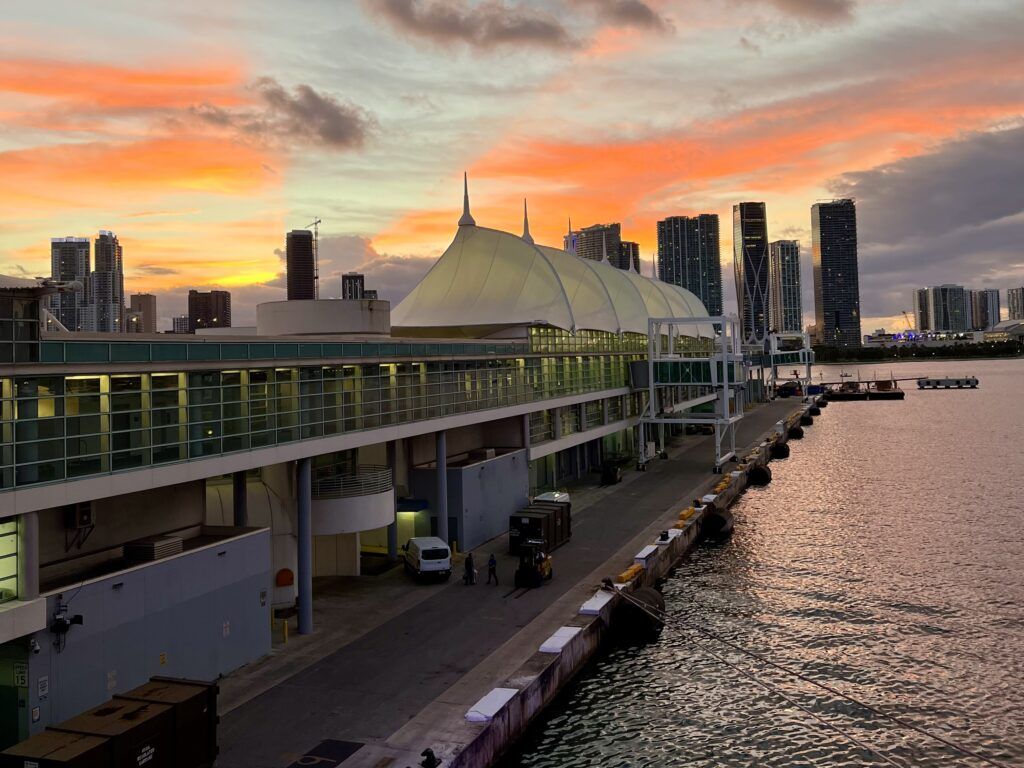 Trying to Get Back into a Routine
To get this Virgin Voyages Mayan Sol cruise back on track, we had some catching up to do. So, this meant unpacking in record time.
At first, we were concerned that the Virgin Voyage's cabins would not offer enough storage. Surprisingly, we did not find that to be the case. The closet had plenty of shelves, a shoe rack, and a clothes bar with hangers. We were even able to fit our two suitcases under the bed.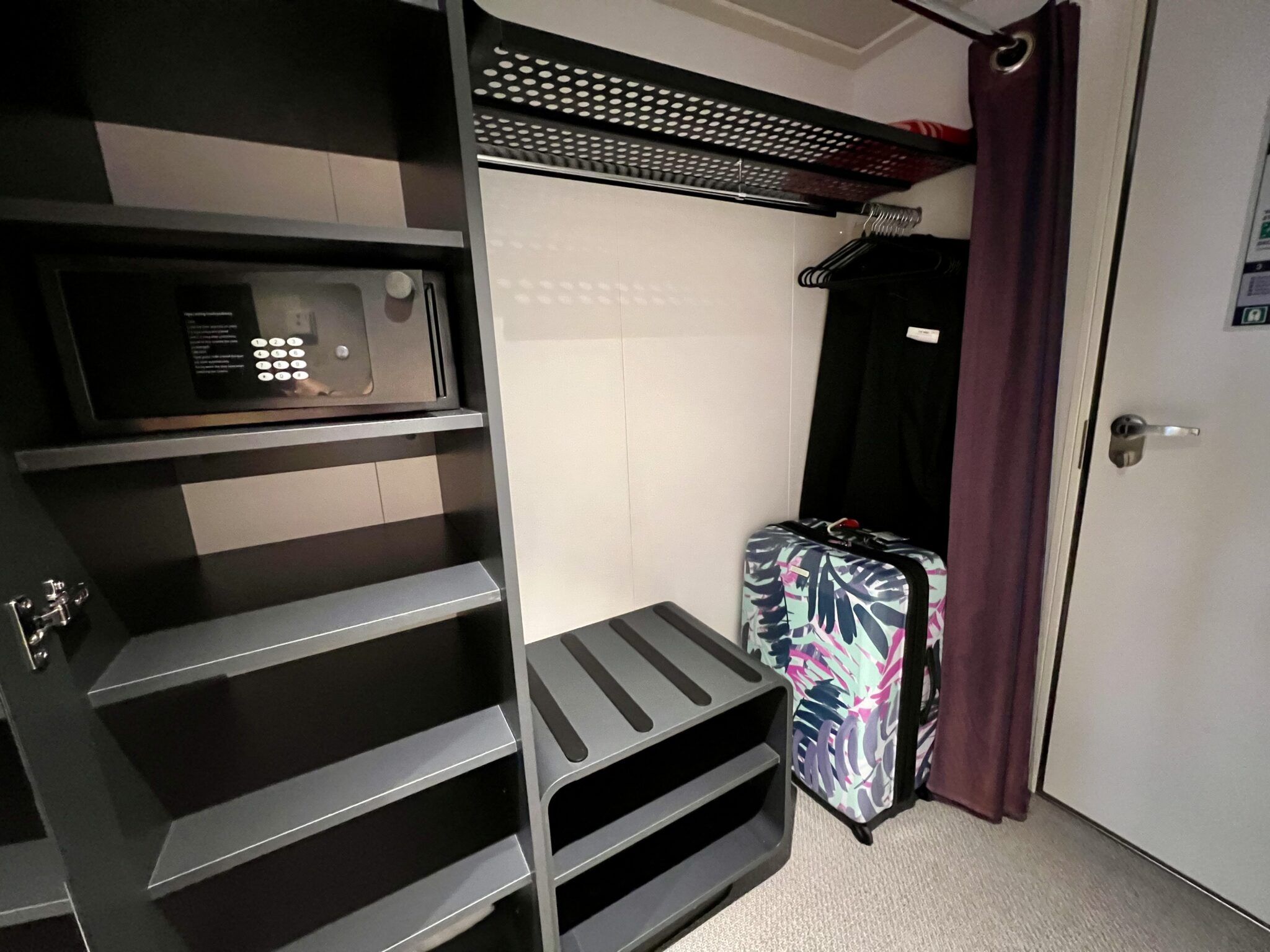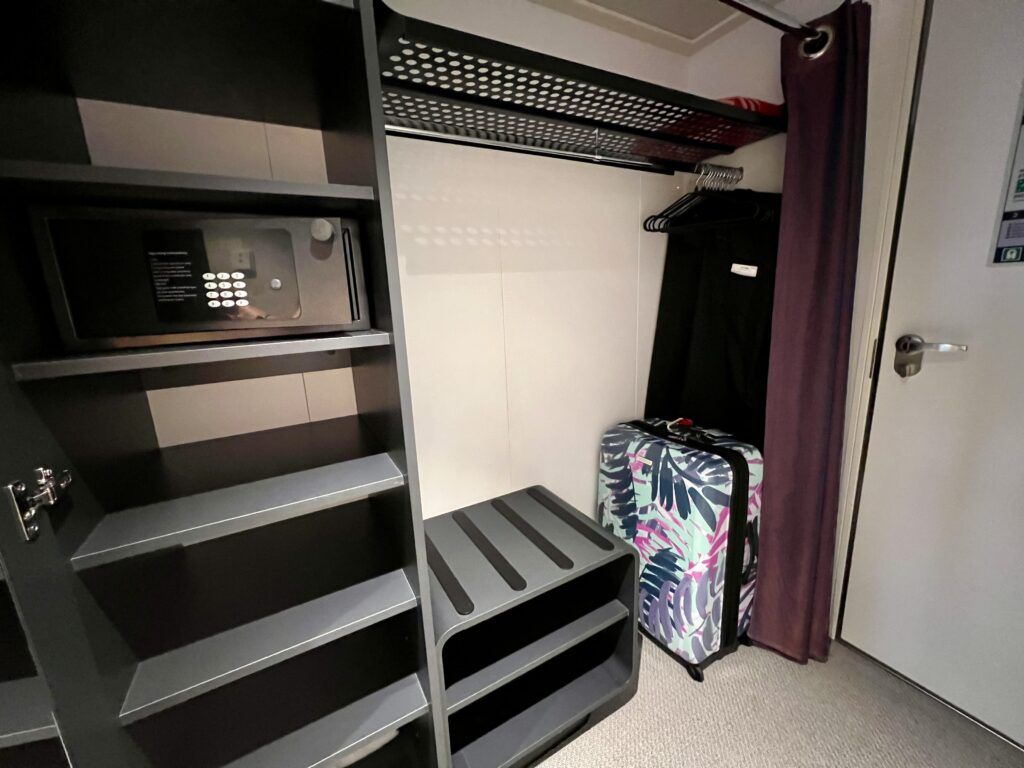 Unfortunately, there was not enough time to get showered before dinner, so we just made a quick costume change.
Somehow, we made it to The Wake only a few minutes late. The small line moved quickly, and we were checked in and escorted to a table for two.
First Night Fun on Scarlet Lady
The Wake is the cruise ship's most formal restaurant and the resident steakhouse. Not to say that you need to dress up to dine here though. Overall, the feeling on the cruise ship is certainly more resort casual.
For me, this is a huge bonus. No cruise ship "formal nights" or photo stations snapping portraits. Of course, the Princess did miss this a bit.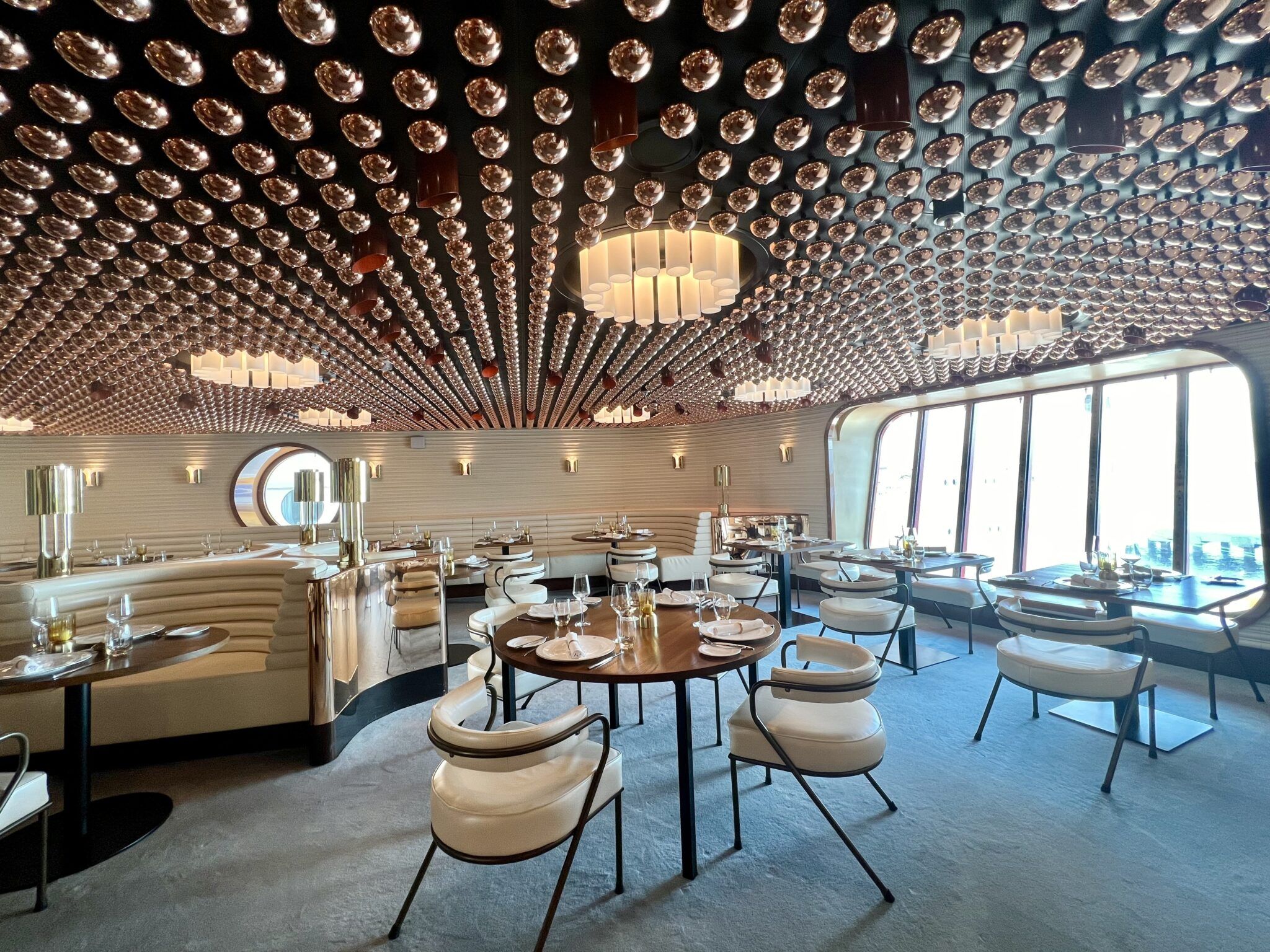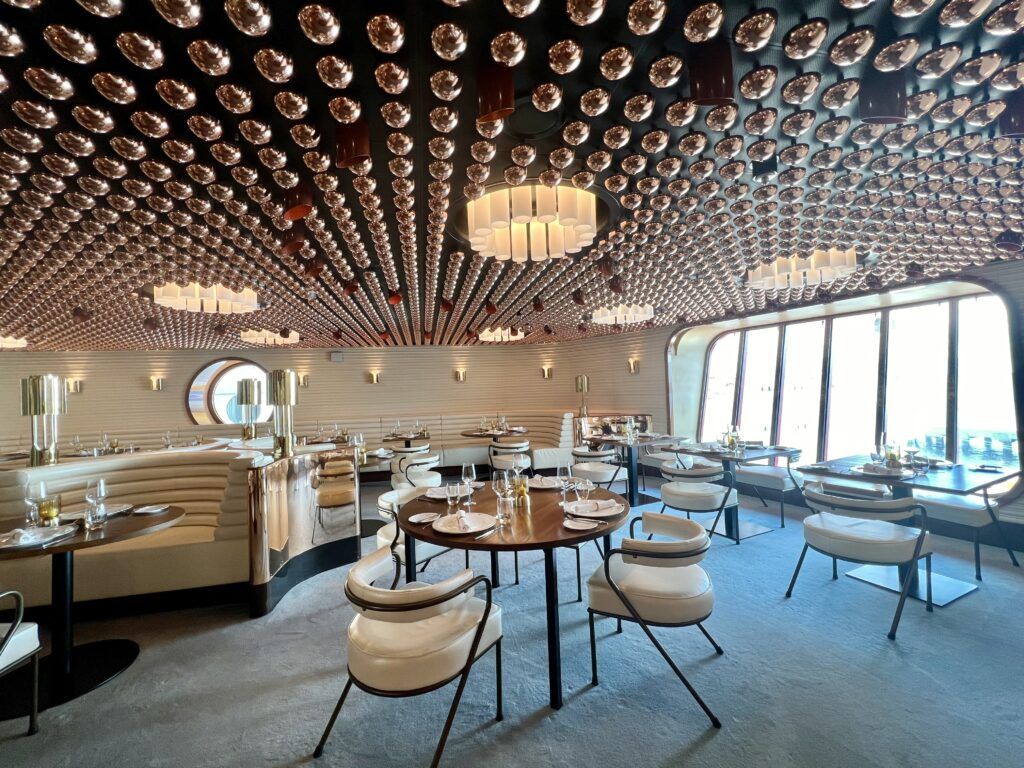 The Wake's décor has lots of metallic accents with a more neutral color palette, and of course, wake views.
When it comes to food, the Wake offered a true steakhouse experience. Our overarching theme all week was that our dining experiences felt more like a restaurant on land than one on a cruise ship.
My wedge salad had a unique presentation but was bursting with the traditional flavors and textures. The wife's clam chowder actually came topped with shrimp which she was not aware of when ordering it.
The main courses and sides were mouthwatering as well. My filet mignon was a tender, medium rare cut with just the right amount of seasoning. Of course, the wife went with the only chicken option on the menu, which she enjoyed too.
For sides, we ordered the sautéed mushrooms, creamed spinach, and French fries. The French fries were thick, steakhouse style, just the way I like them.
Lastly, the desserts were perhaps the least impressive. Still, the apple tatin and non-traditional baked Alaska were a satisfying way to end this 90 minute feast.
Finishing up around 10 pm, we rushed all the way forward to the Red Room, the ship's main theater. While we did have reservations for tonight's show, Untiled DanceShowPartyThing, we figured we would try to go stand-by.
Good thing we did decide to make this last minute change. The theater was relatively empty for this high energy dance show.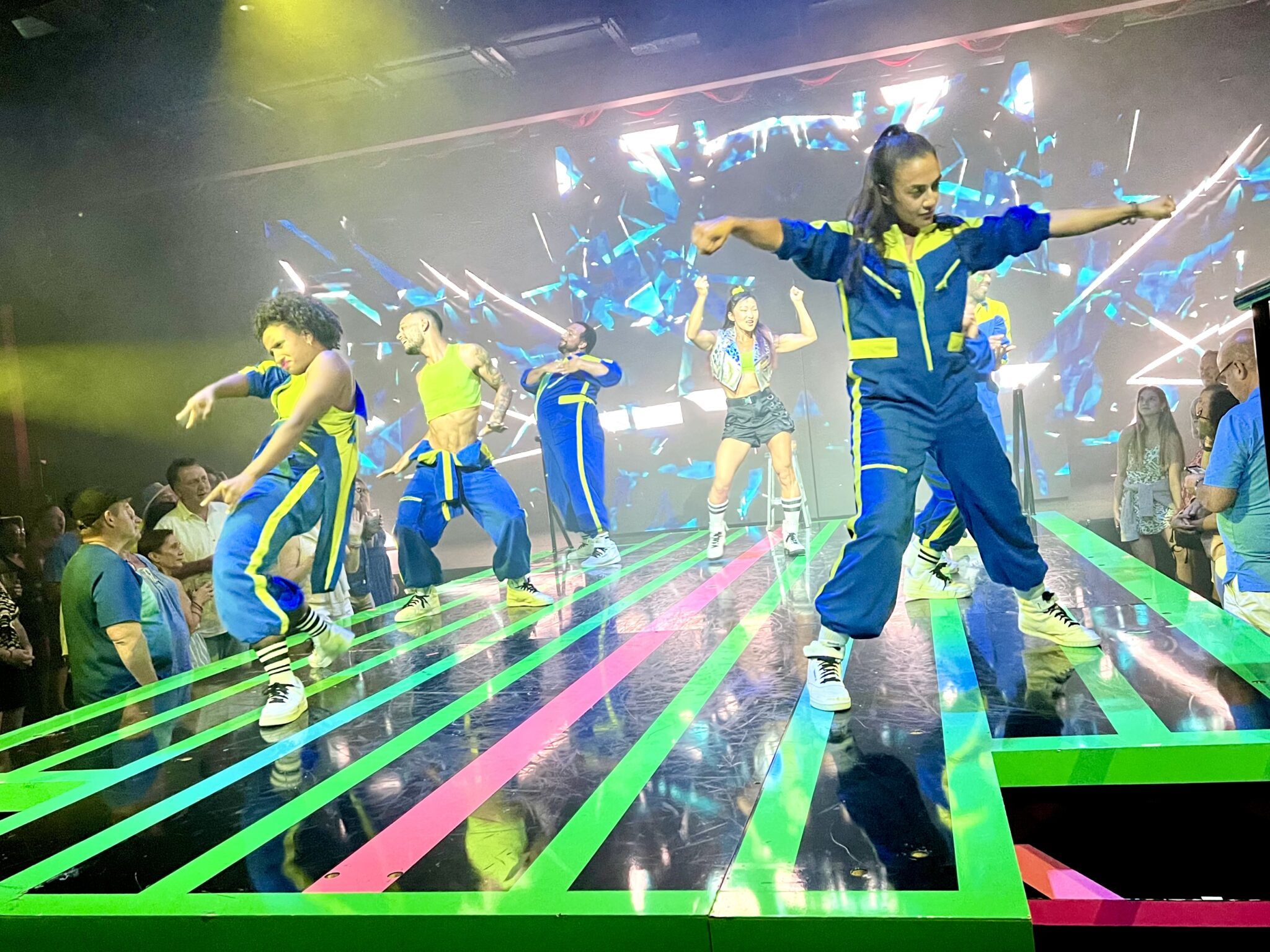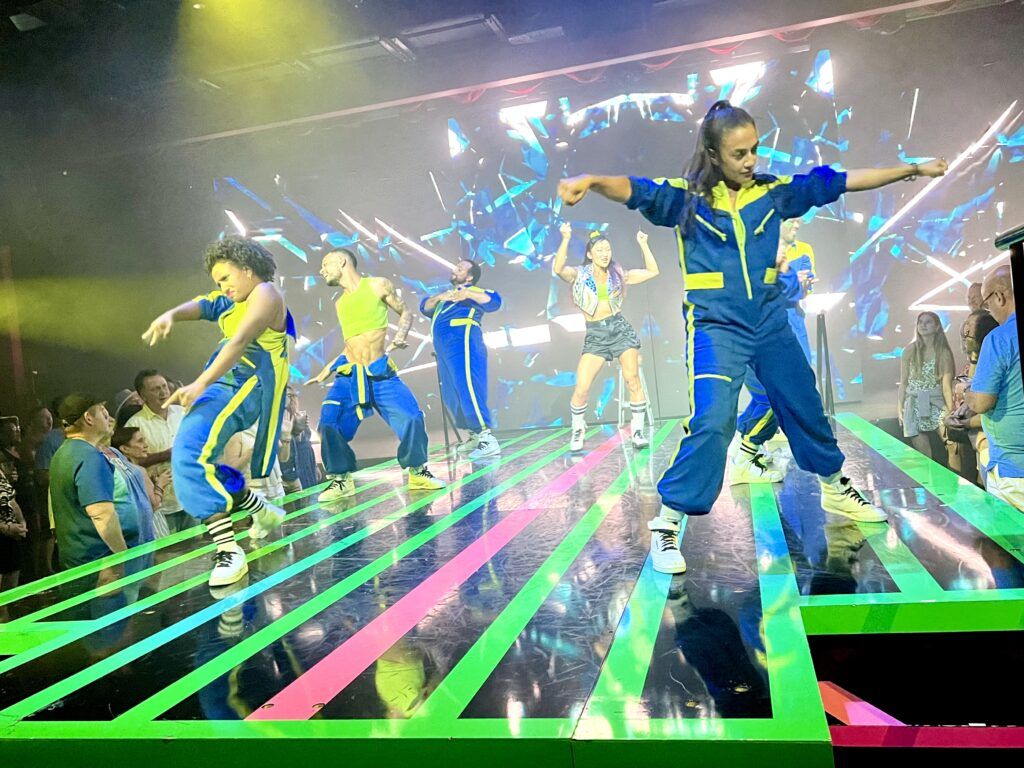 The cruise ship's main theater is transformable, making this show truly interactive. With the stage moving throughout the performance, the audience is certainly not just passive observers.
While difficult to put into words, the show featured talented dancers interspersed with small skits that mocked 21st century culture and cruising. Personally, I found the show more enjoyable than the typical "Welcome Aboard" show on other cruise lines.
The crowd was actively encouraged to dance along. Though, we stayed on the sidelines.
Out of the show around 11 pm, we found seats at the On the Rocks bar located on deck 6. Here, we grabbed our second round of drinks for our drink around the ship.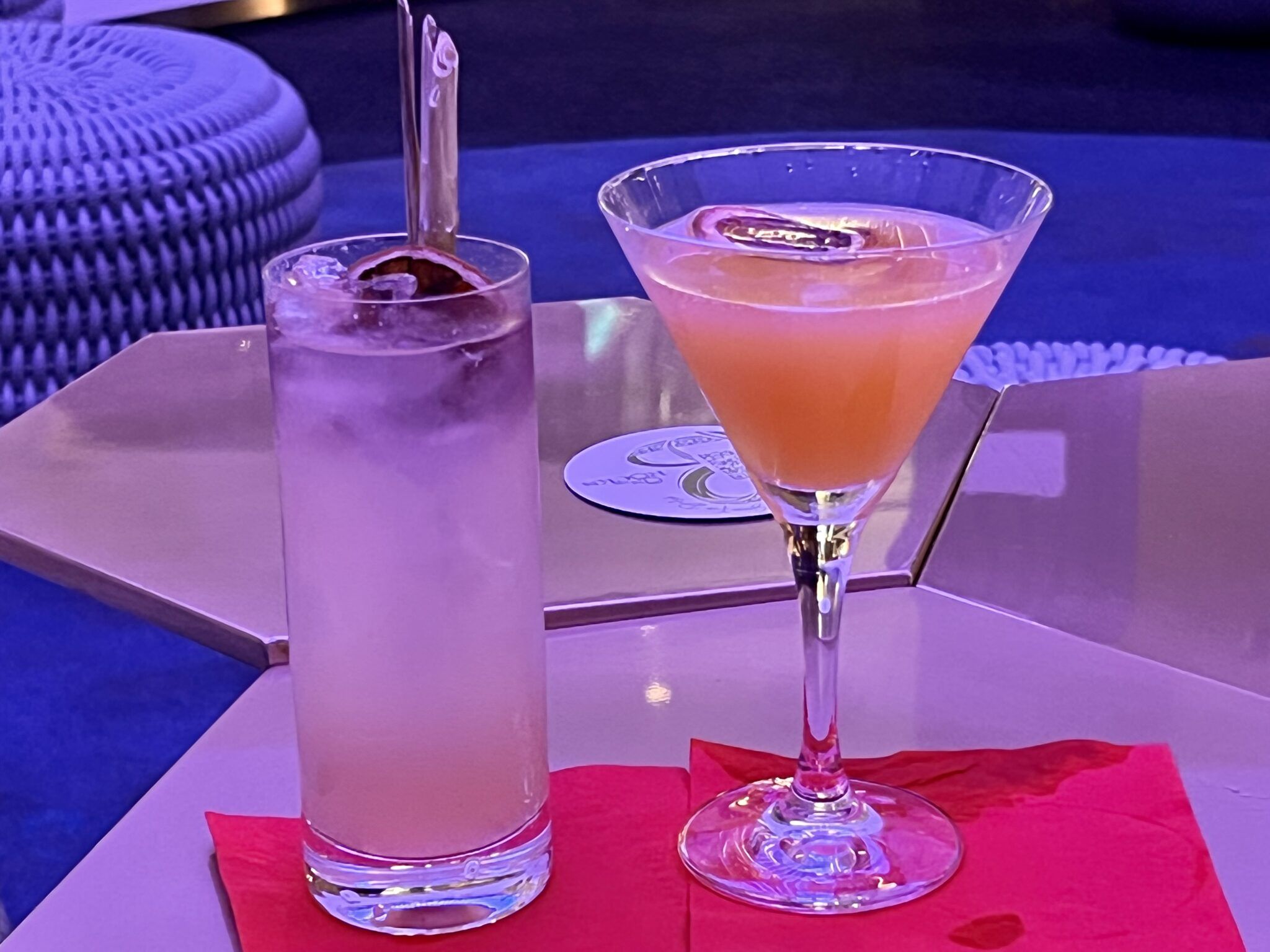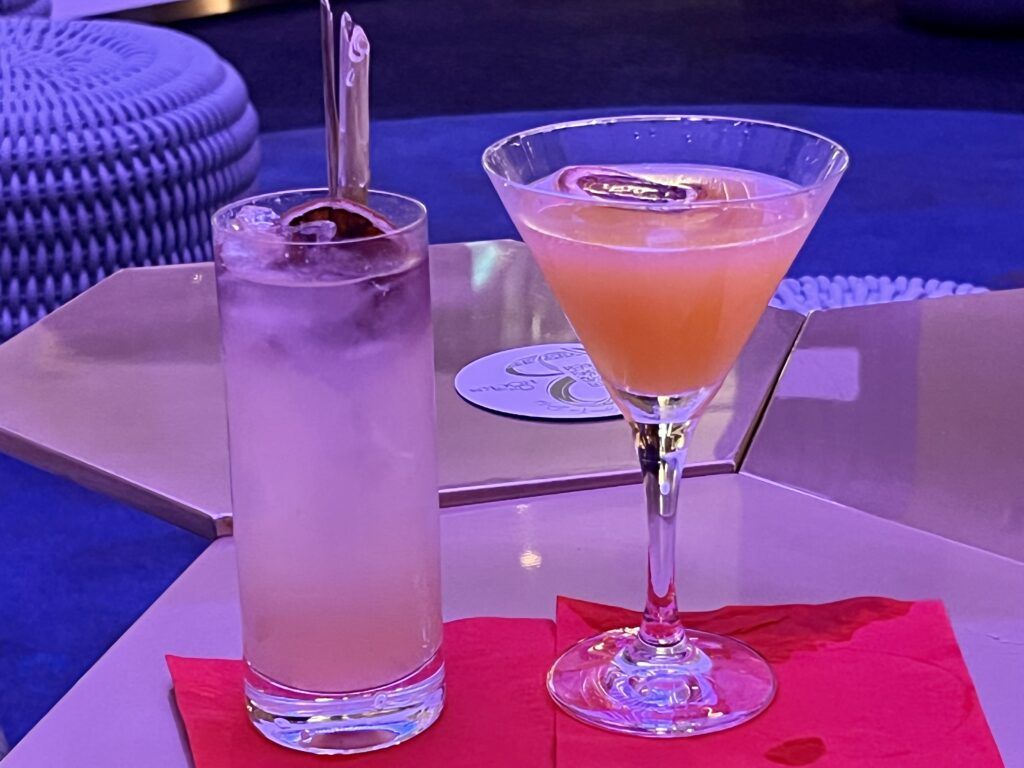 The ship's house band was playing a mix of pop and classic tunes. We listened for about 45 minutes before deciding to call it a night.
Our first day on Virgin Voyages was certainly not like we expected. We were beginning to understand the Virgin way of cruising.
Related Post: What You Need to Know Before Cruising on Virgin Voyages
Day 2 – Virgin Voyages Scarlet Lady Mayan Sol Cruise Review
Our First Full Day Onboard
This 5-day Virgin Voyages Scarlet Lady Mayan Sol cruise included two sea days and two ports of call. Today was our first sea day.
During the near hour in the cruise terminal waiting for our test results the previous day, we were able to log onto the cruise ship's WiFi. This gave us the chance to book all of our entertainment. Also, this allowed us to book a couple brunch options.
All dining is included on Virgin Voyages. However, you can only book dinner at the 6 sit-down restaurants prior to the cruise. (Of note, you can also only make one reservation at each restaurant). Once "onboard", you can also book these venues for breakfast and lunch.
We booked a 9 am breakfast at Razzle Dazzle. Not realizing that there would be a time change, this gave us some extra time to sleep in this morning. Or in my case, extra time for pictures and videos.
Up by 7 am, this gave me over an hour to make my way around the ship. On the way back, I stopped at the Grounds Club coffee shop to get the wife's usual iced caramel latte.
Breakfast at Razzle Dazzle was akin to sit-down breakfast on contemporary cruise lines, with some unique offerings. I ordered the impossible breakfast sandwich, while the Princes made her own version of this sandwich by adding the smoked bacon instead of the impossible patty.
Is it sad that this vegetarian restaurant has some of the best smoked bacon I have ever eaten?
Given the crowd, it did take close to an hour for the meal. Our waiter was very cognizant of the delay, coming over multiple times to apologize.
A Delayed Ship Tour
Done with breakfast, it was time to do a more thorough review of the ship, something we normally do on Day 1. So, we spent the better part of two hours getting more acquainted with Scarlet Lady.
This meant weaving in and out of the public areas on decks 5, 6, and 7 then heading up to the open air decks on 15, 16, and 17.
While some spaces on Scarlet Lady are busy like any cruise ship, particularly the pool deck, others seemed eerily quiet. The Athletic Club on Deck 16 aft was mostly empty throughout the day. With two large bars, unique sofa seating, and the signature catamaran net, we expected this area to be more popular.
One observation is that the ship lacks signage. Even when there is signage, it is very small. If you want to go on a "scavenger hunt", just try locating the restrooms.
Sampling More of Scarlet Lady
By around 1 pm, we returned to our favorite spot at the Dock. We spent some time relaxing and admiring the wake views.
While here, I might have sampled a few of the items from the Grill too. I highly recommend the hanger steak and grilled shrimp. These small bites are the perfect midday snack.
Having various dining options spread across the ship really helps with crowd control. Not to mention, there are even pre-packaged grab and go stations at the Dock, the Galley, and the Pizza Place.
During our time at the Dock, we encounter our first "happening", the Phantom Folktales. These singers and guitarists weave storytelling into unique skits during short pop-up performances around the ship.
After about an hour and a half, we headed indoors so the wife could test out some of the ship's sweeter options at the Social Club.
With a mix of salty snacks, like warm pretzels, popcorn, and hot dogs, and sweet treats like cake pops, this complimentary venue is perfect for a quick snack.
To top off this indulgence, we opted to try one of the "spiked" fountain drinks. The Whiskey Dreams was a mix of vanilla ice cream, the namesake liquor, and coke. It was a very adult drink!
We may have also stopped by the Ice Cream shop for a scoop before heading back to our cabin. Making this cruise ship staple a stand alone venue is a great choice.
Preparing for a Night Out on Scarlet Lady
While I tried to catch up on some work, the Princess happily lounged in the hammock. Honestly, the balcony was bigger than we expected, offering enough space for two chairs, a small table, and the hammock.
Also, while I wasn't sure the hammock was all that necessary, I ended up being a convert. I only wished we had more time to enjoy this outdoor private space during our short 5-day Mayan Sol cruise.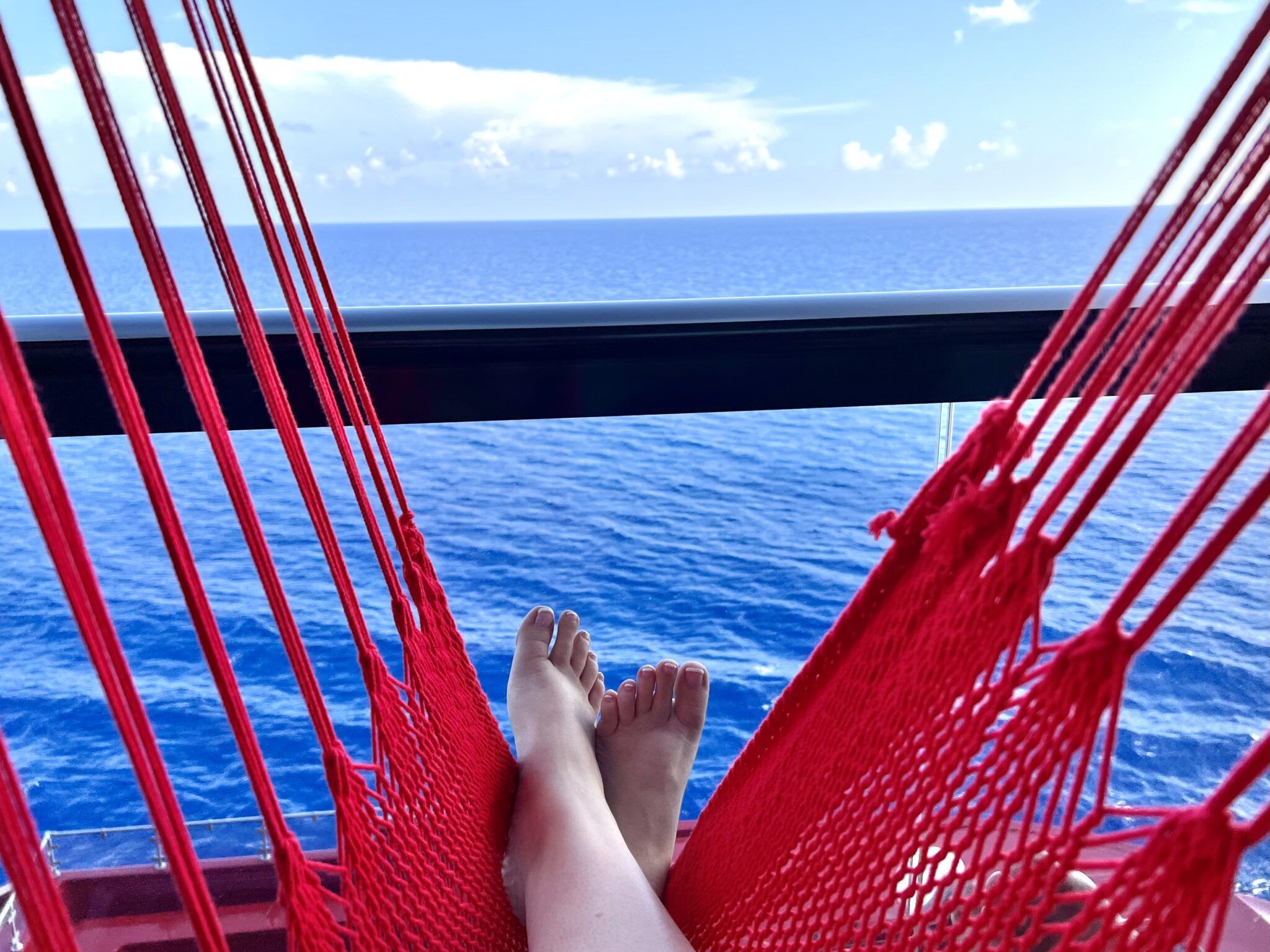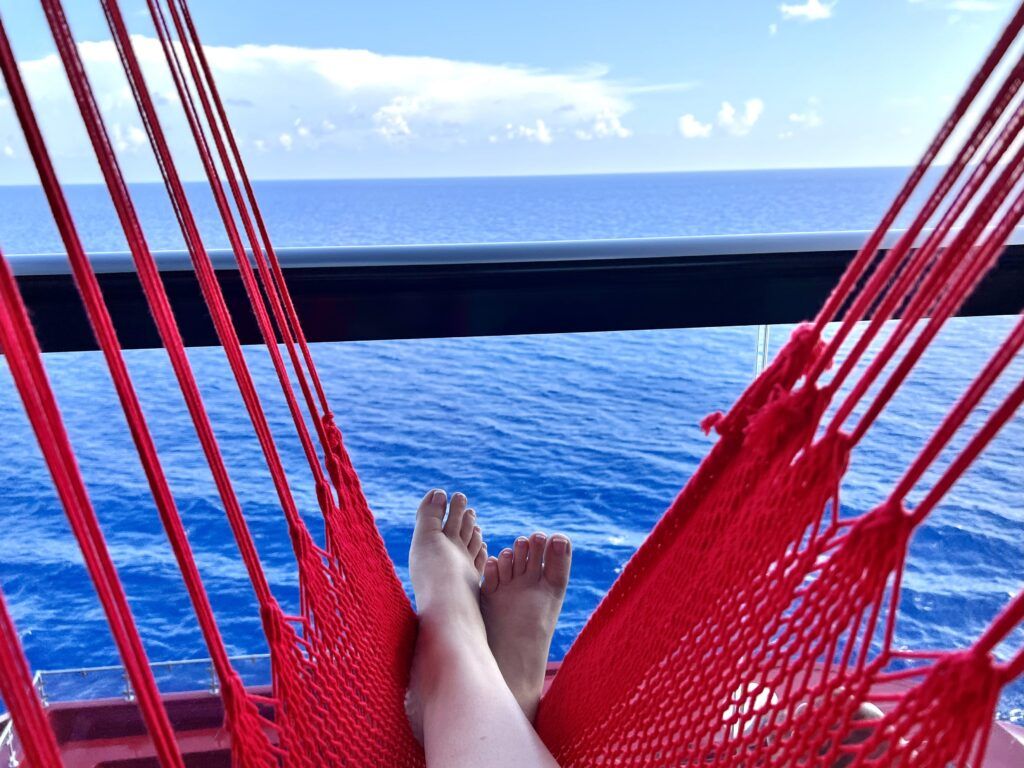 Finishing up what I needed to get done, we showered and got ready for dinner.
We had secured a 7 pm reservation at Extra Virgin for dinner tonight pre-cruise. Perhaps the second most popular restaurant on the ship, we had high expectations for this restaurant following our first night dinner experience.
Again, Extra Virgin felt more like an Italian restaurant on land. Just like any cruise ship dinner, we try multiple dishes. We started out with the meat and cheese board and some fried calamari as appetizers. These classic starters met our expectations.
Next came the main course. We each ordered pasta dishes. Even though our waiter tried to convince us to get entrees as well, we decided to take it easy. The homemade pasta is cooked al dente with hearty enough portions that are more than enough for a main course.
I did the seafood pasta with a filling serving of shrimp and mussels. The flavored pasta came with a very light sauce that showcased the shellfish flavors. It also made it less messy for me to eat. I also ordered a side of meatballs.
The wife went with the bucatini carbonara. This thick pasta came with a rich, creamy sauce that was enhanced by the sharp black pepper and pancetta. While it was quite tasty, she said it was very filling.
The dessert was good, but like most cruise ships, it was not a major highlight of the meal. I ordered the ricotta bombolino, and the wife ordered the affogato. The light and airy fried doughnuts coupled well with the dessert cheese and fruit compote.
Finishing dinner around 8:45 pm, there was no show this evening. Instead, there was a pool party, Odyssea. This was really a dancing through the decades party that occurred on the pool deck. Before heading up stairs, we scored some seats at the Sip champagne bar on Deck 7 to continue our drink around the ship.
With the pool party scheduled to start at 10:30 pm, we headed up a bit early in hopes of snagging some seats.
As far as cruise line deck parties go, Odyssea was very similar to competitor parties. There was a live band playing hits from the 70s, 80s, and 90s, along with a DJ. Throughout the 90 minute party, the Happenings cast intermittently performed.
The hostess, Abi, along with other members of the team, danced choregraphed numbers along with belting out classic songs from AC/DC to Madonna.
Close to finishing up, we headed back to our room around 11:45 pm. Tomorrow was our first port of call, Costa Maya.
Day 3 – Virgin Voyages Scarlet Lady Mayan Sol Cruise Review
One Hot Morning in Mexico
Our plan today was to mostly stay on the ship. We were in Costa Maya, Mexico earlier this summer during the first cruise back on Celebrity Edge.
As the Princess got ready, I continued getting more photos and videos from around the ship.
It was the start of our third day, and we had not sampled anything from the ship's casual "buffet". So, today we decided we would test out both breakfast and lunch at this Deck 15 venue.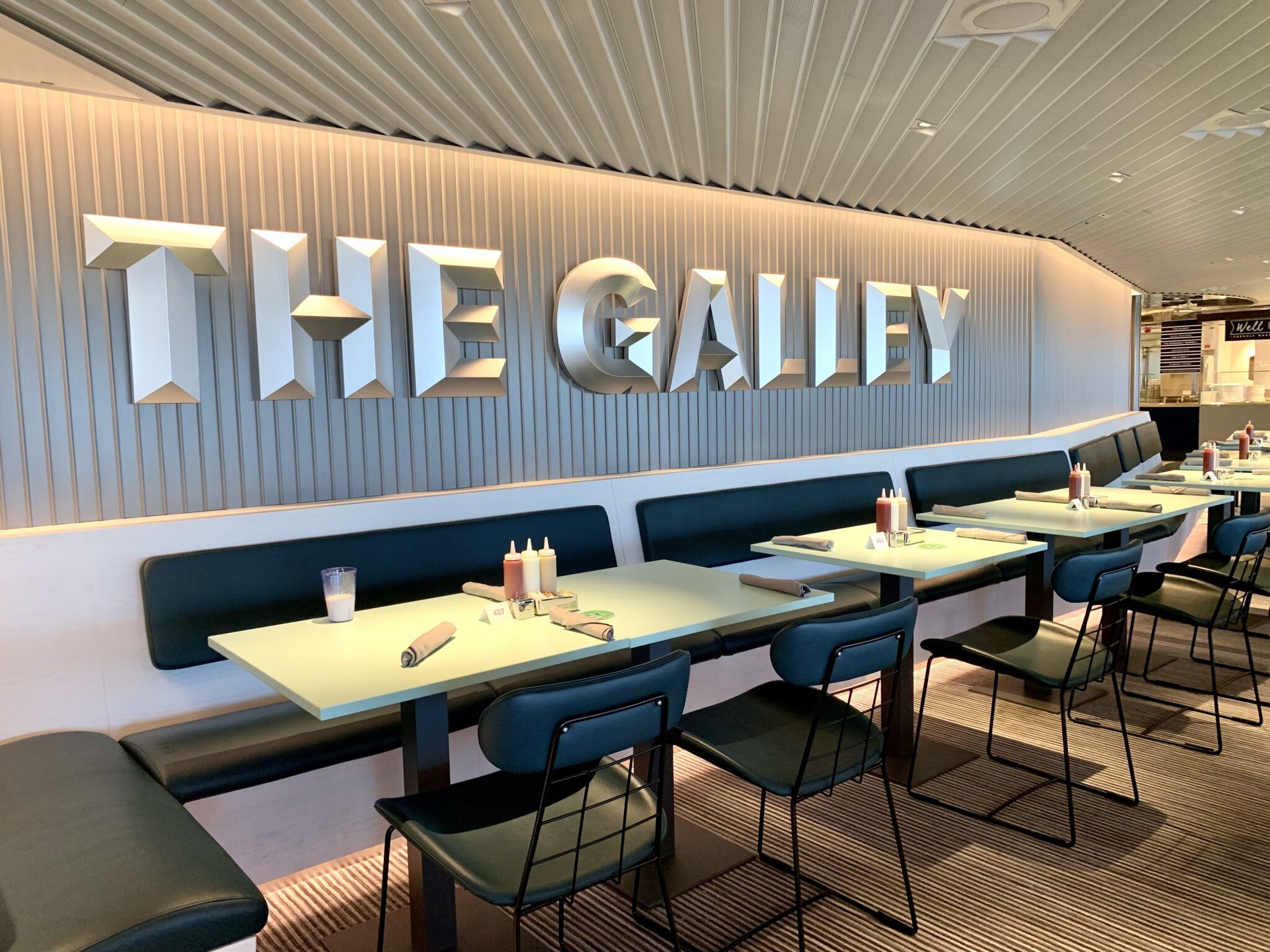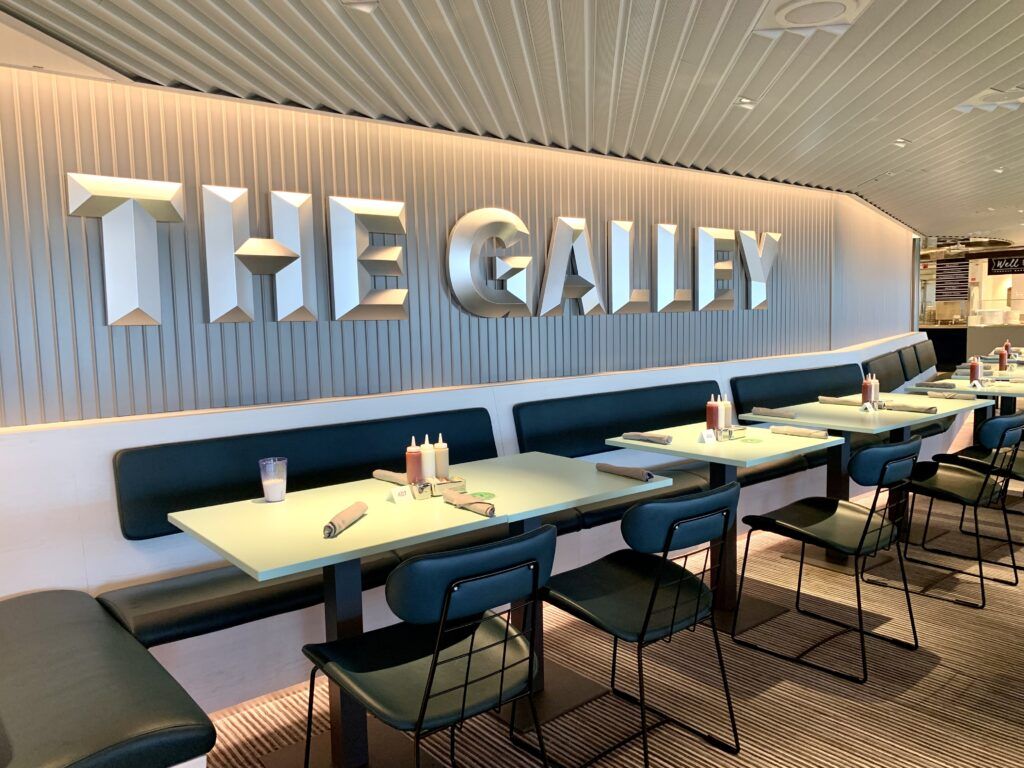 Scarlet Lady was scheduled to be in port from 9 am to 7 pm today.
We headed to the Galley around 9 am. This was the first time the ship felt busy. Of course, this would make sense as everyone was grabbing breakfast before heading ashore.
Despite the crowds, we were able to find a table. Currently, instead of going up to one of the 10 stations in the Galley to order food, waitstaff take your order. Food runners also deliver your selections to the table.
Good thing there appeared to be plenty of waitstaff. Though, it did seem like there was not a clear designation to staff as to which tables had ordered and which had not.
Two stations, the Well Bread and the Sweet Side, do allow guests to order at the station.
The Galley food was always served hot and didn't feel as mass produced as most cruise ship buffets. With items made to order, we enjoyed a custom ham and cheese omelet, the chorizo breakfast burrito, and the sausage and egg breakfast.
We suspect that the table service will be short lived. Our sailing was at 50% capacity. So, I am not sure that the cruise line can sustain this form of service when the ship is sold out.
Finishing up breakfast, it was time to venture off the ship. We were down to Deck 4 midship and checked off by 10 am. Walking down the long pier in the hot Mexican sun, I knew the wife was not going to last long.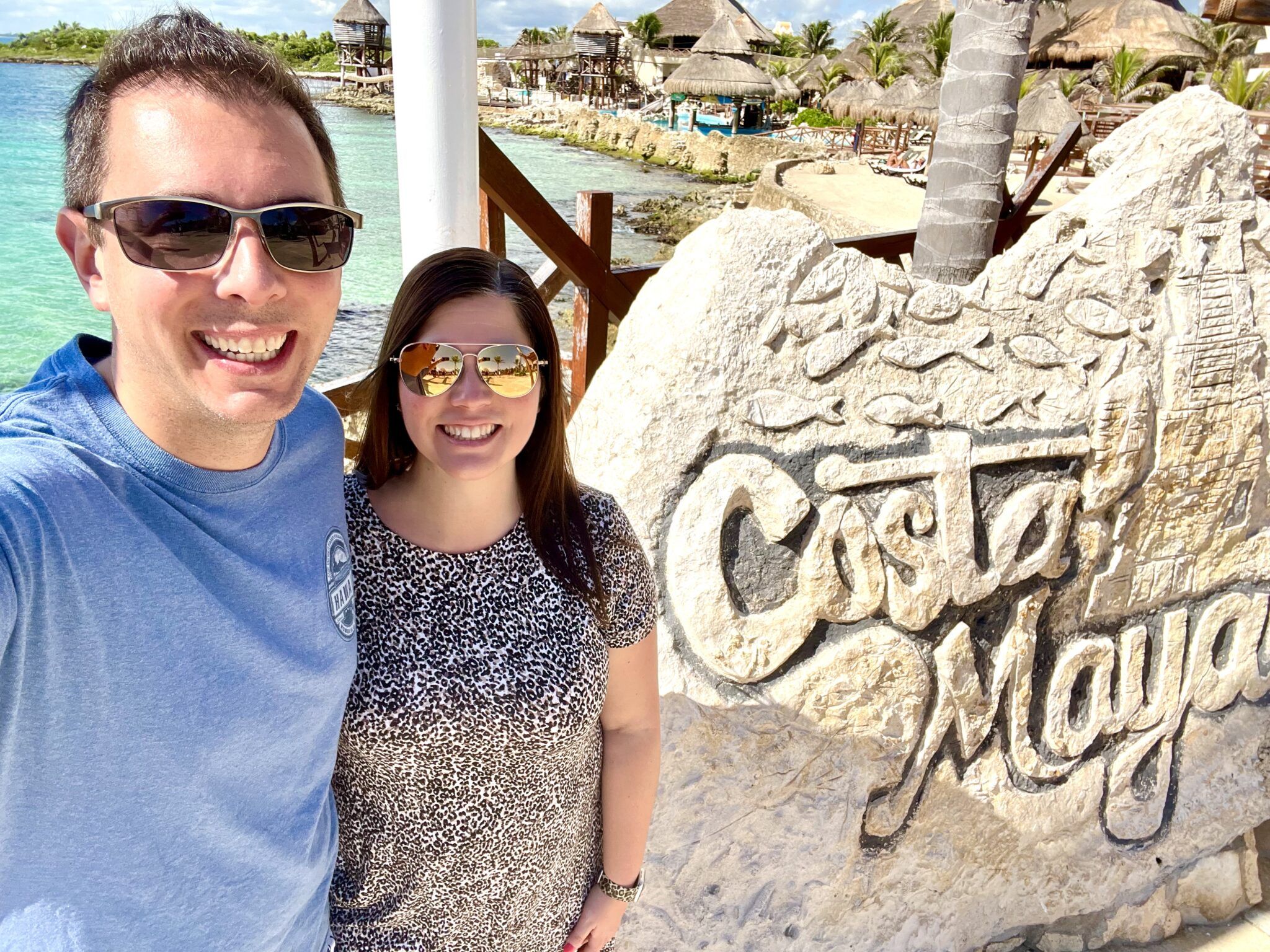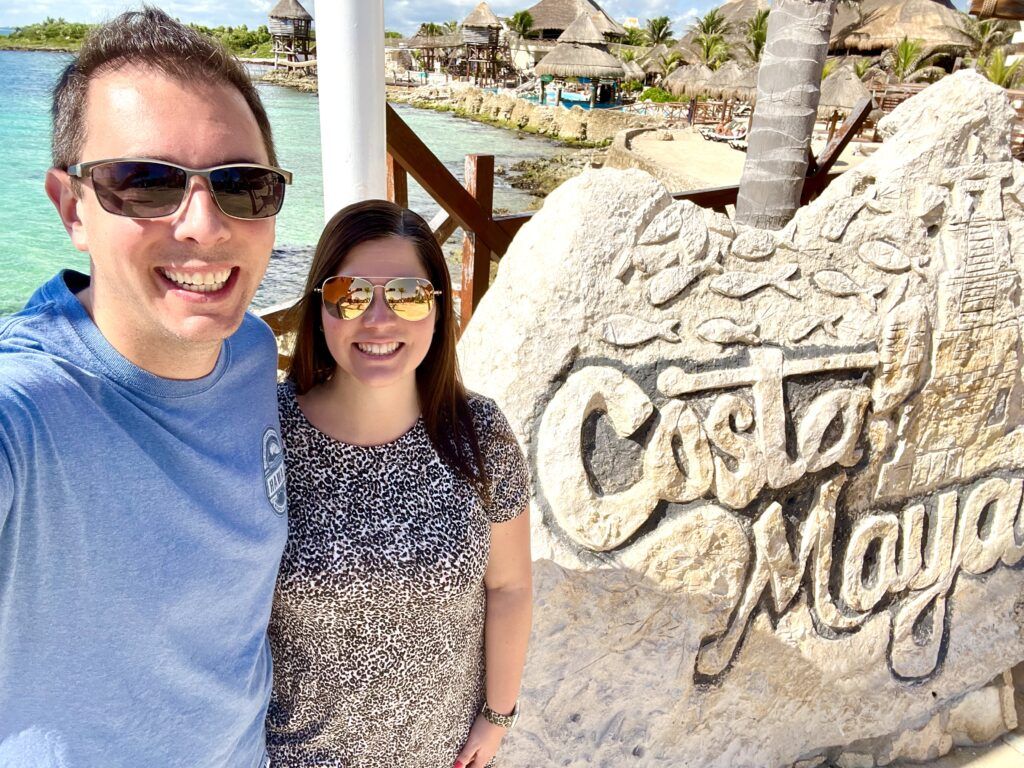 Back Onboard Quickly
As the only ship in port, the Costa Maya port area was pretty quiet. Royal Caribbean's Independence of the Seas would dock next to us later in the afternoon.
We walked around a bit peeking into some of the shops, spending about 90 minutes ashore.
The ship's docking location made it difficult to capture a good angle of Scarlet Lady, but we tried our best before heading back onboard.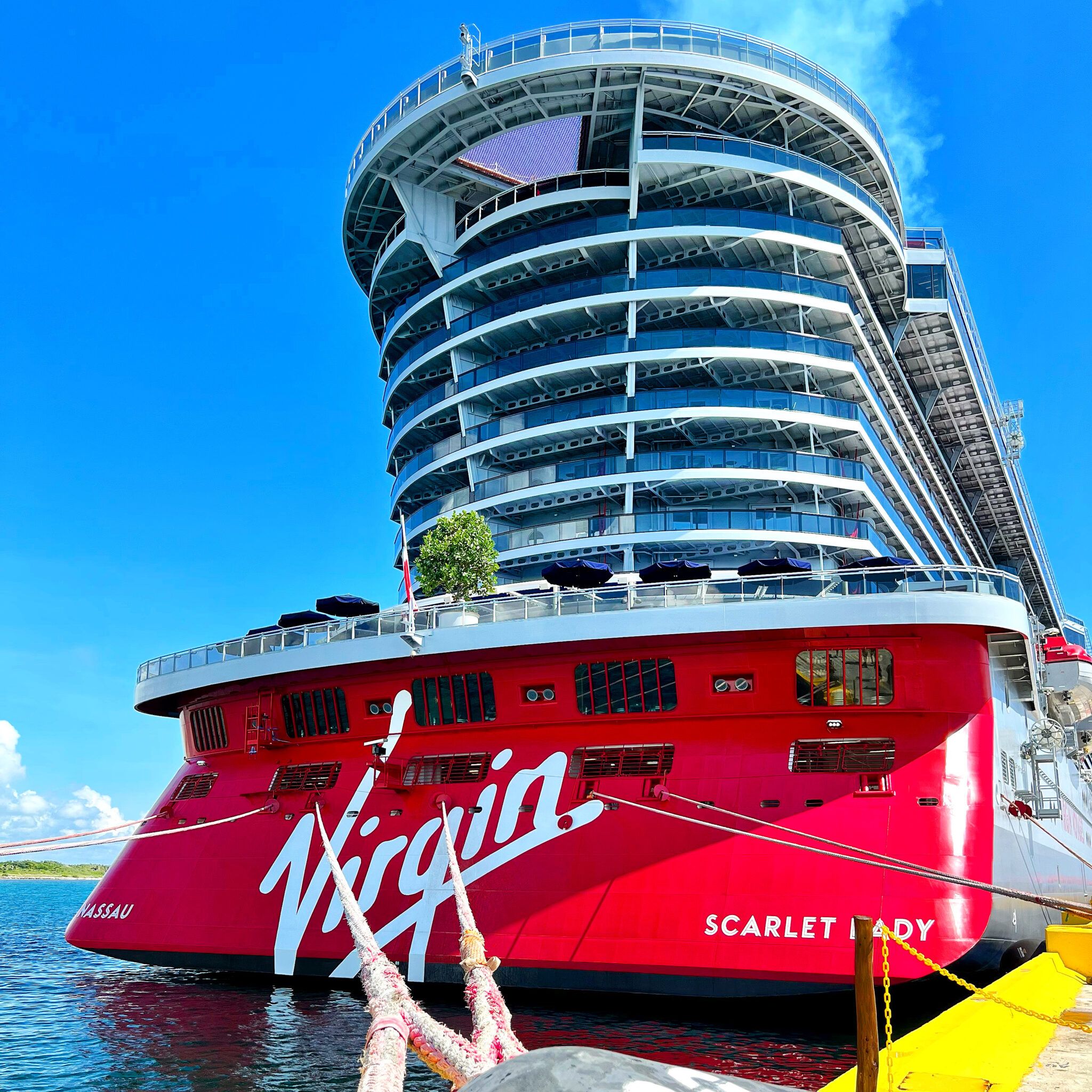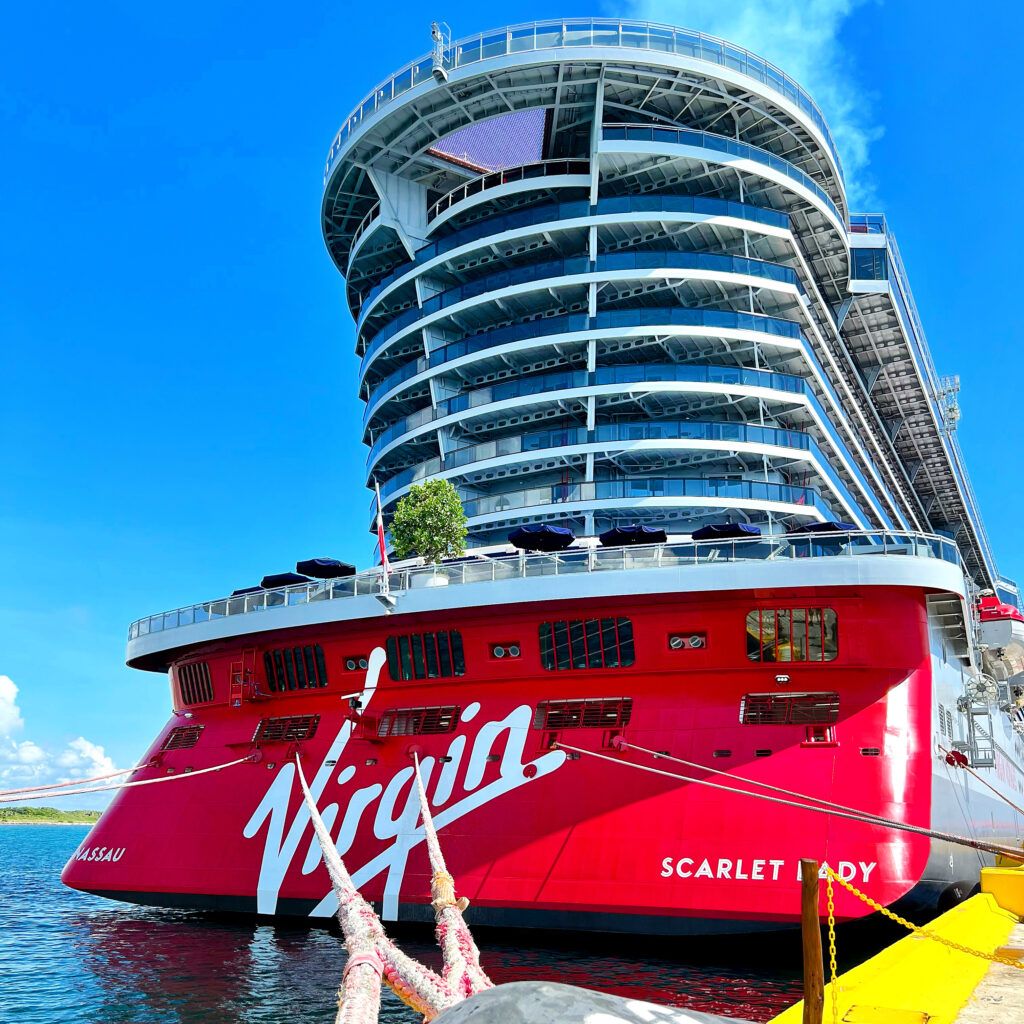 With everyone else off the ship, we had the entire vessel to ourselves. We spent about an hour making our way around the ship for more photos and videos before finding ourselves at the Aquatic Club, the midship pool area.
Finding a couch in the shade, it was time for a drink by the pool. Many of the bars on Scarlet Lady feature a distinct cocktail list which we enjoyed.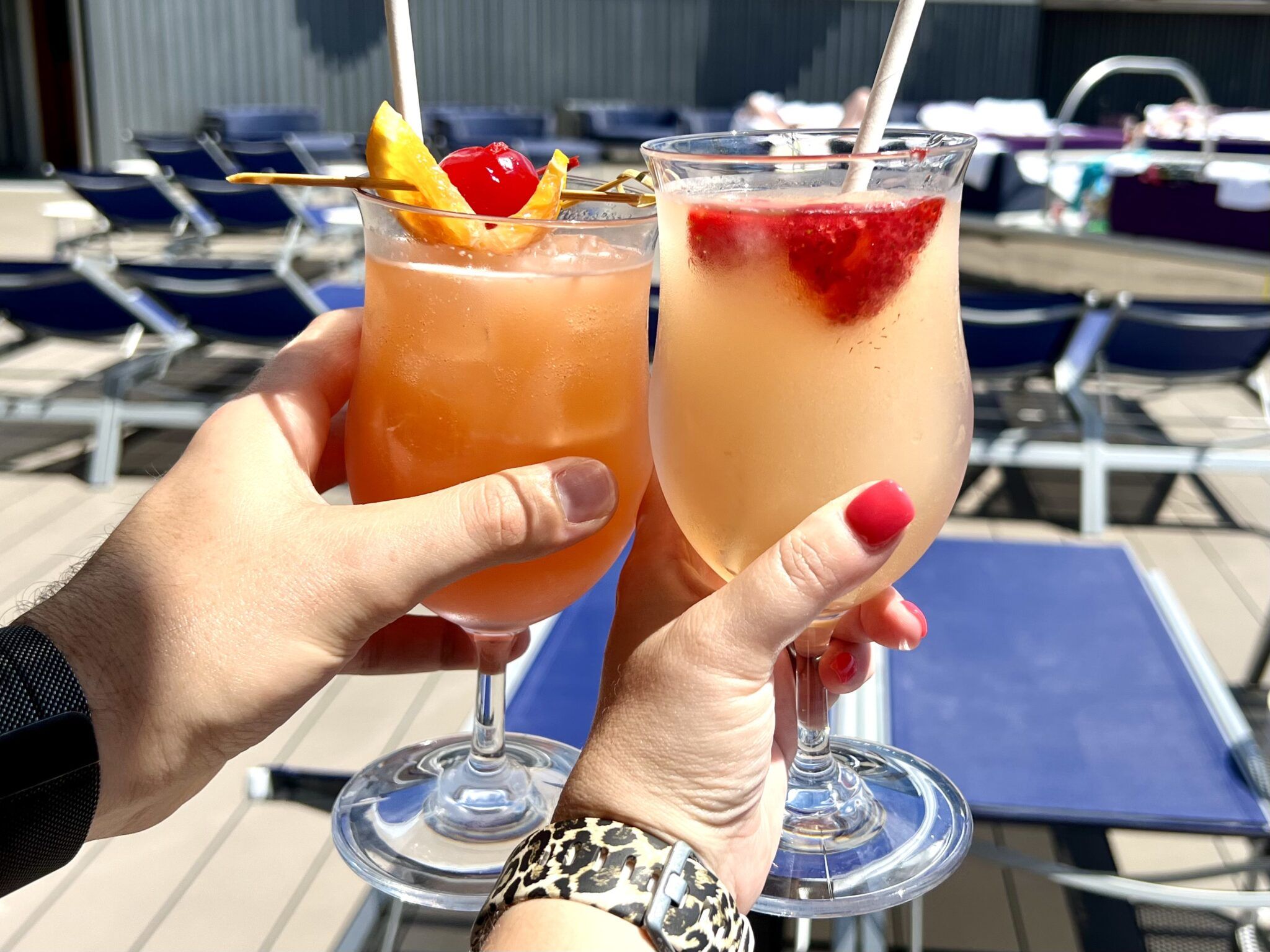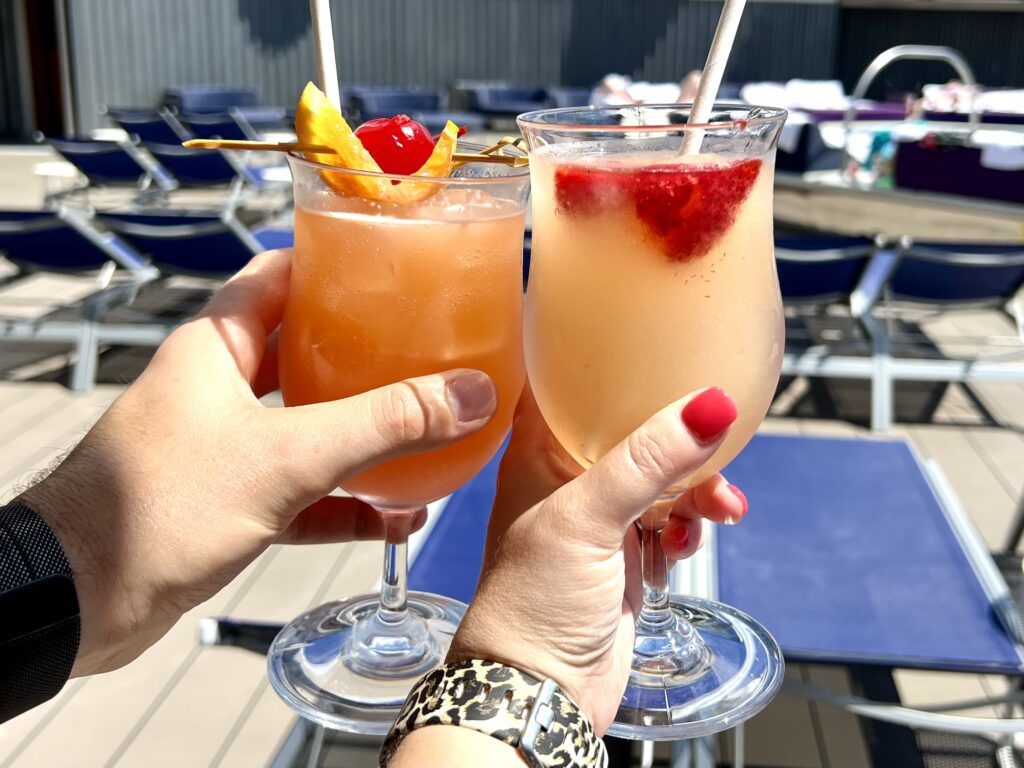 Just like that, it was already lunchtime. Back to the Galley for our second round, the venue was empty this time.
For food, I went with the pork tacos and the hamburger. The tacos were something different and a perfect sized portion. As cruise ship hamburgers go, this one was slightly better than average. Though, the wife was not a big fan of her selection from the panini station.
Trying to Get Some Work Done
Before heading back to the room to relax and finish some work, we popped into the Grounds Club for an afternoon coffee. While Virgin Voyages had initially hinted that "basic bevies" would include specialty coffee, sadly, that is not the case. While the coffees are moderately priced, this did mean we would rack up a $60+ coffee tab for the trip.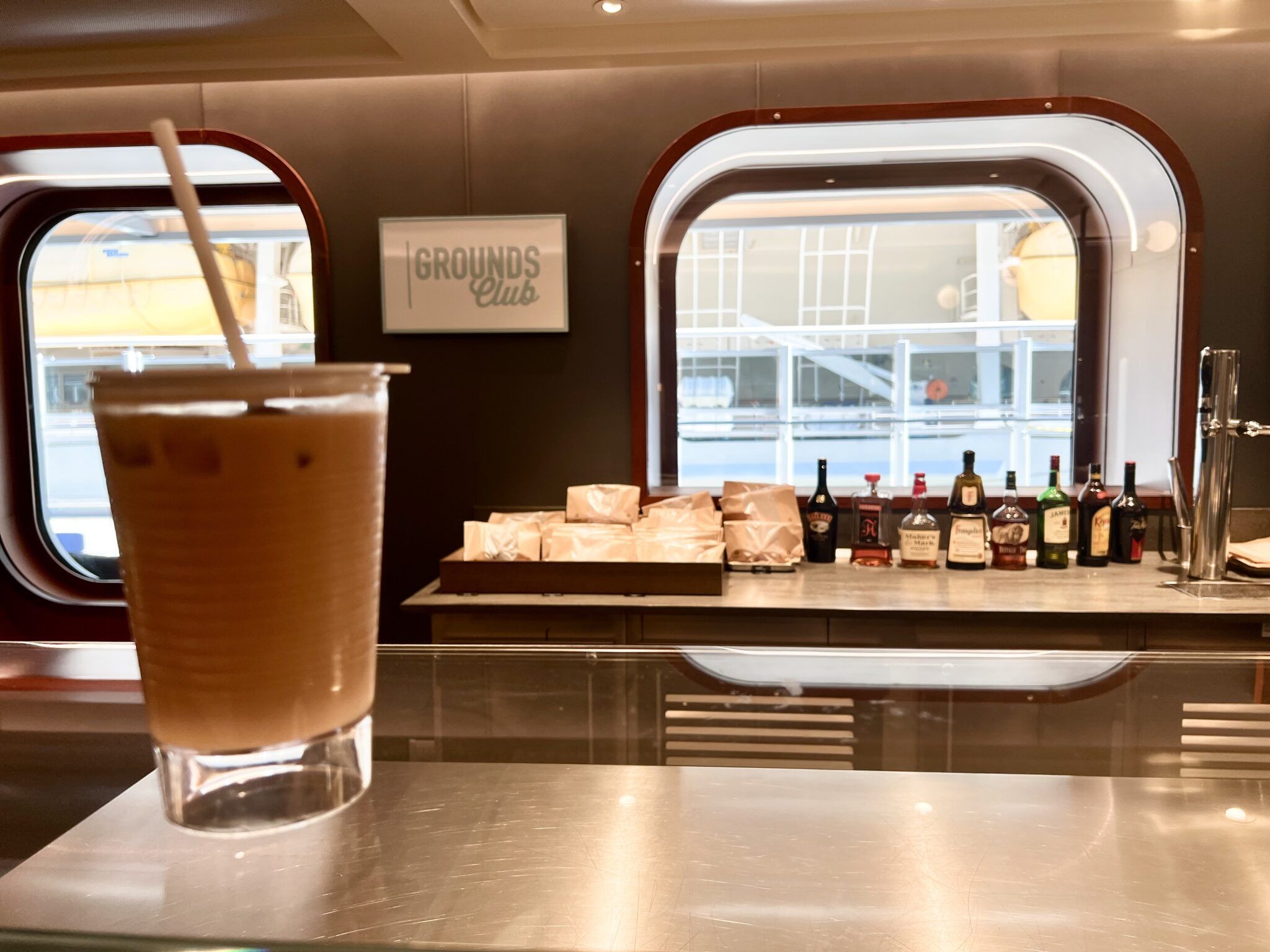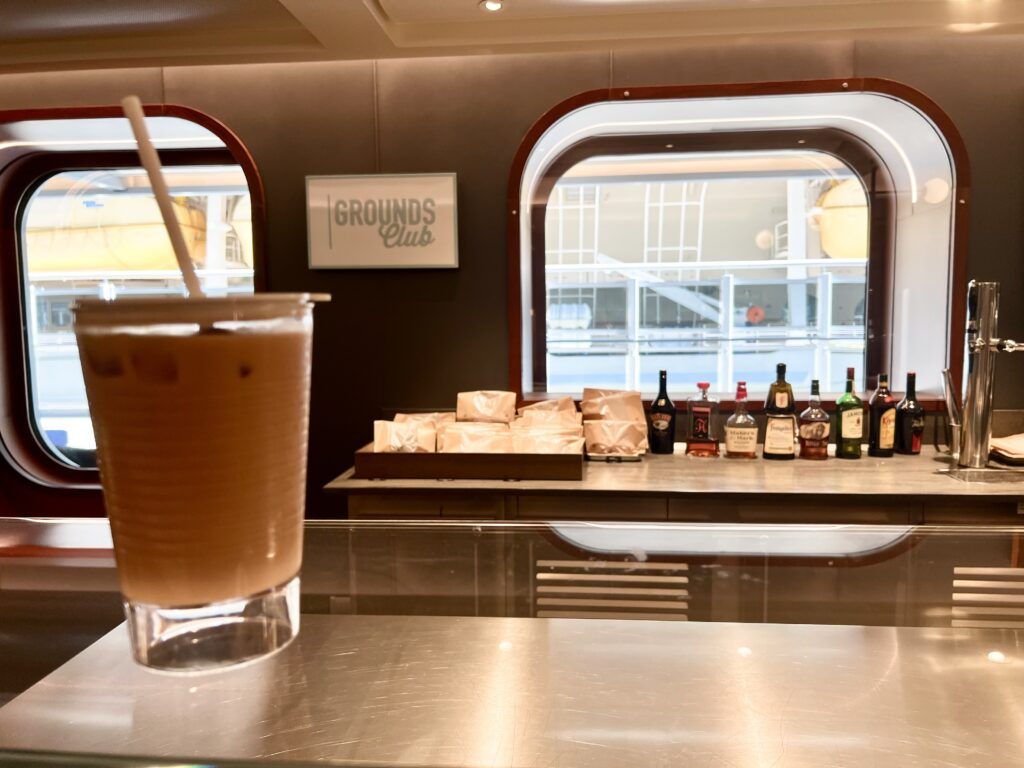 Back in the room, we worked, relaxed, and took our time getting ready for dinner.
Tonight, we had a more "traditional" schedule which included dinner at 6 pm and a show at 8:30 pm. Little did we know that this evening would be anything but ordinary.
Dinner and a Show Virgin Voyages Style
Down to dinner a few minutes early, Razzle Dazzle was relatively dead. This restaurant seems to always have the most availability.
We applaud Virgin Voyages' attempt to cater to all diners with this casual vegetarian restaurant, but I think the marketing has turned off many cruisers from this venue.
Not to worry, Razzle Dazzle's menu does contain many "naughty" items with meat and poultry selections. Honestly, from our observations, more people ordered these "naughty" menu items than anything else.
If we had to rank, Razzle Dazzle was our least favorite restaurant. That is not to say the food wasn't good. We did enjoy many of the items, but nothing really stood out to us.
We each started with the cobb salad. This was most similar to what you would get at a cruise ship main dining room. The Princess ordered the ravioli for her entrée, and I did the half a chicken.
Again, while the desserts are certainly Instagrammable, neither were standouts in our opinions.
Speaking of Instagram-worthy, you should definitely try the drinks here. We sampled the signature popcorn old fashioned and the goldfish.
Finishing up our dinner and drinks, we scanned the indoor areas and casino before getting in line slightly after 8 pm for this evening's show.
Never Sleep Alone is a "cabaret show". It is a highly adult show with sexual themes and risqué audience participation. So, if you are a prude, or my wife, this show is not for you. Needless to say, we sat in the balcony for this performance.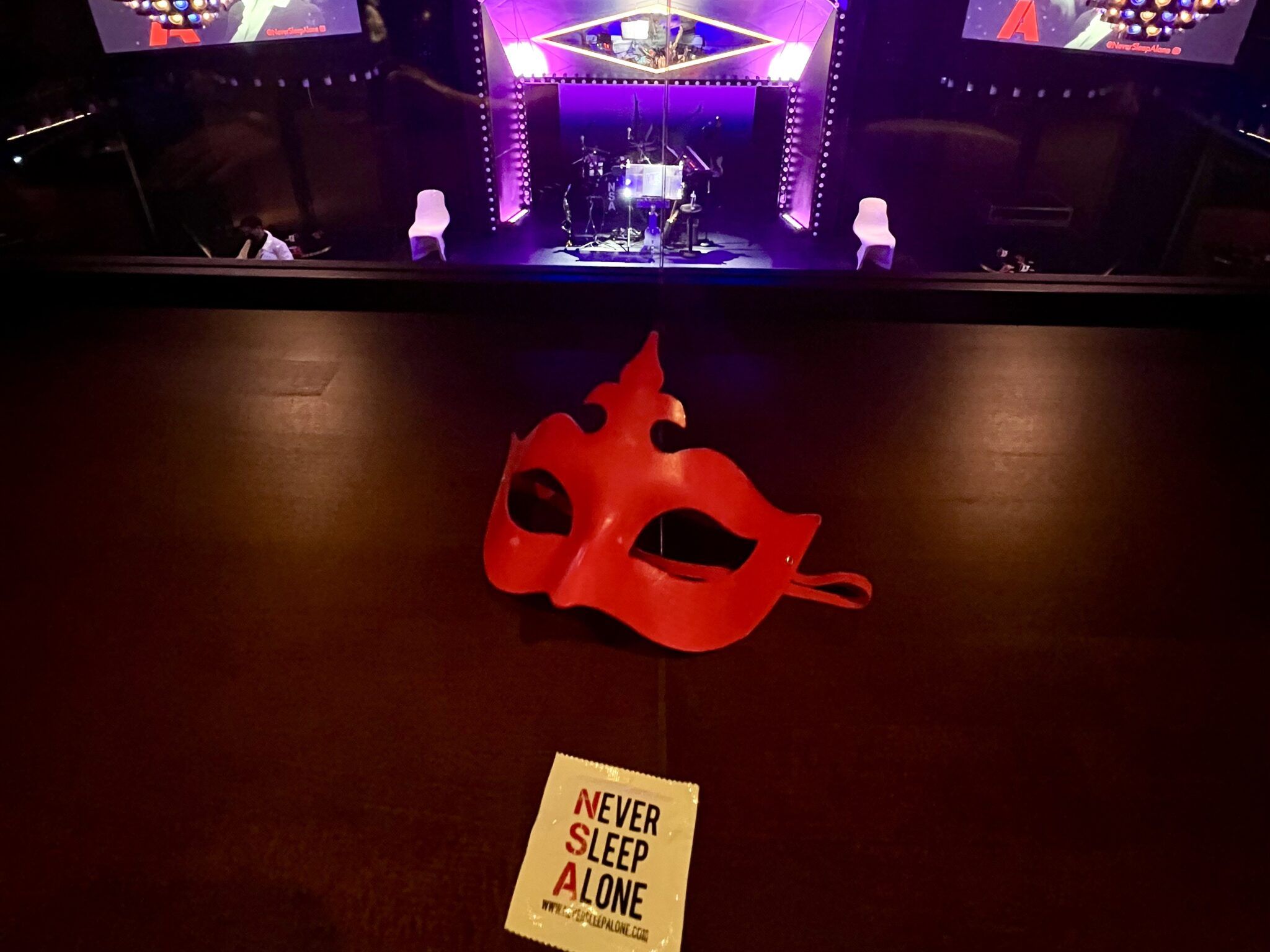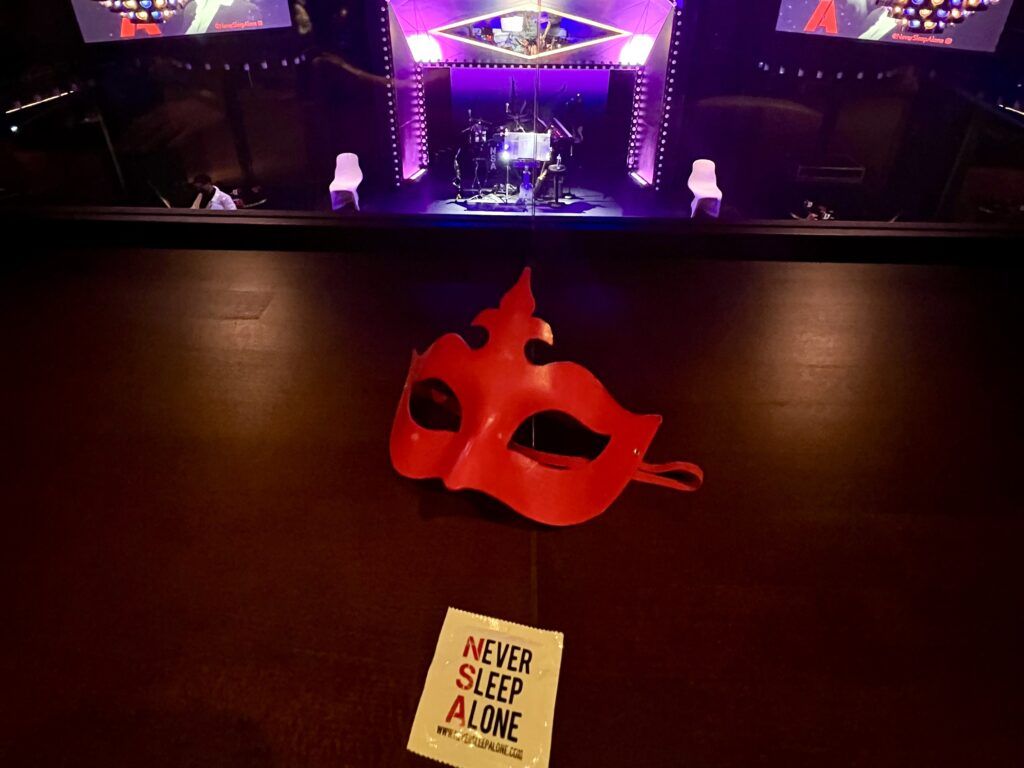 Without giving away too much of the show, the premise is that you are part of an adult seminar on sex. The featured "doctor" leads you through her nine principles of how to never sleep alone, unless you want to!
After the show, we were able to sneak in for a drink at the nautically themed Loose Cannon bar before it closed. This under-utilized and somewhat hidden bar is tucked behind the Social Club. With a juke box filled of rock and alternative music, as well as a selection of beer and distinct cocktails, this is my kind of bar.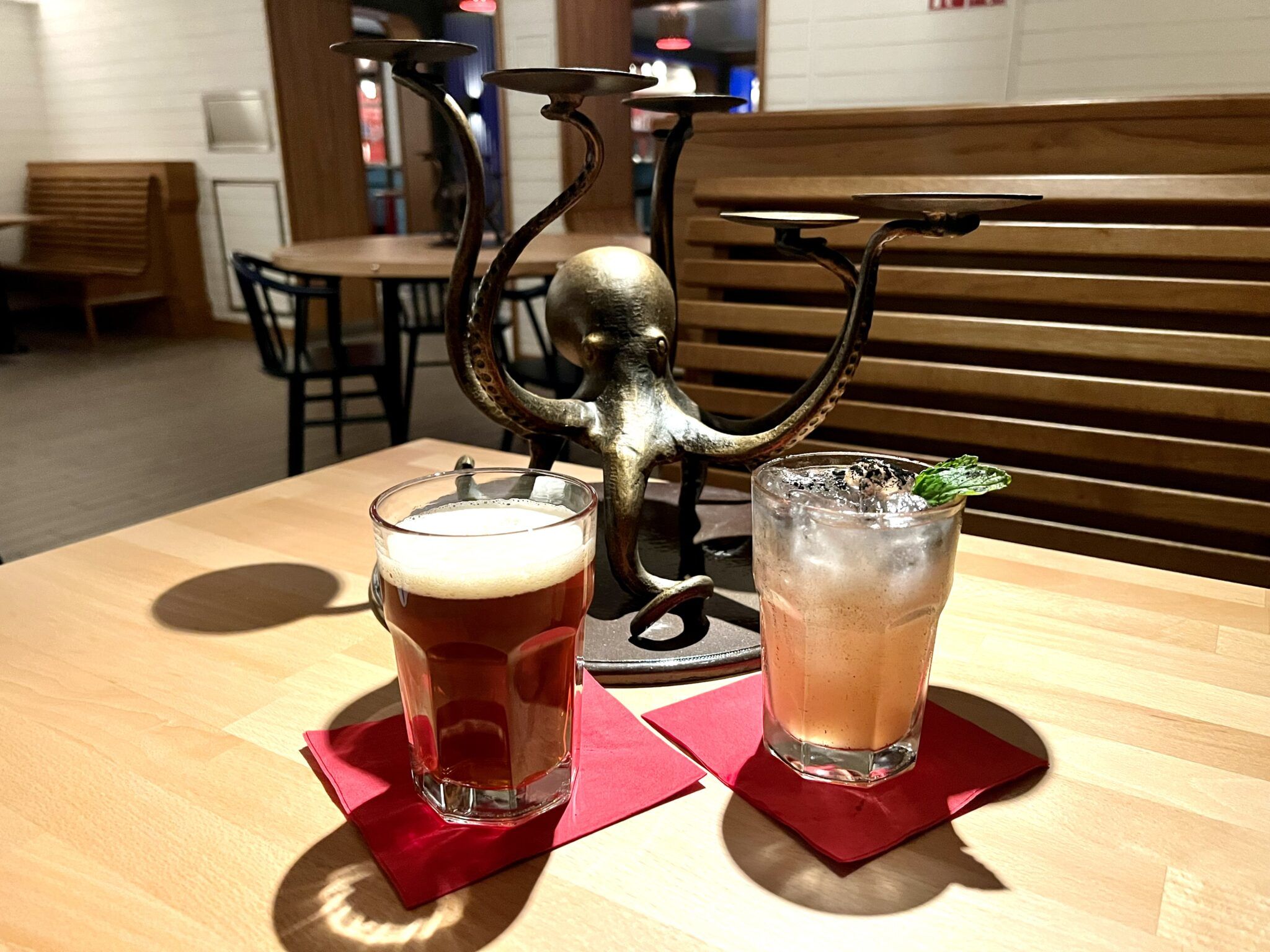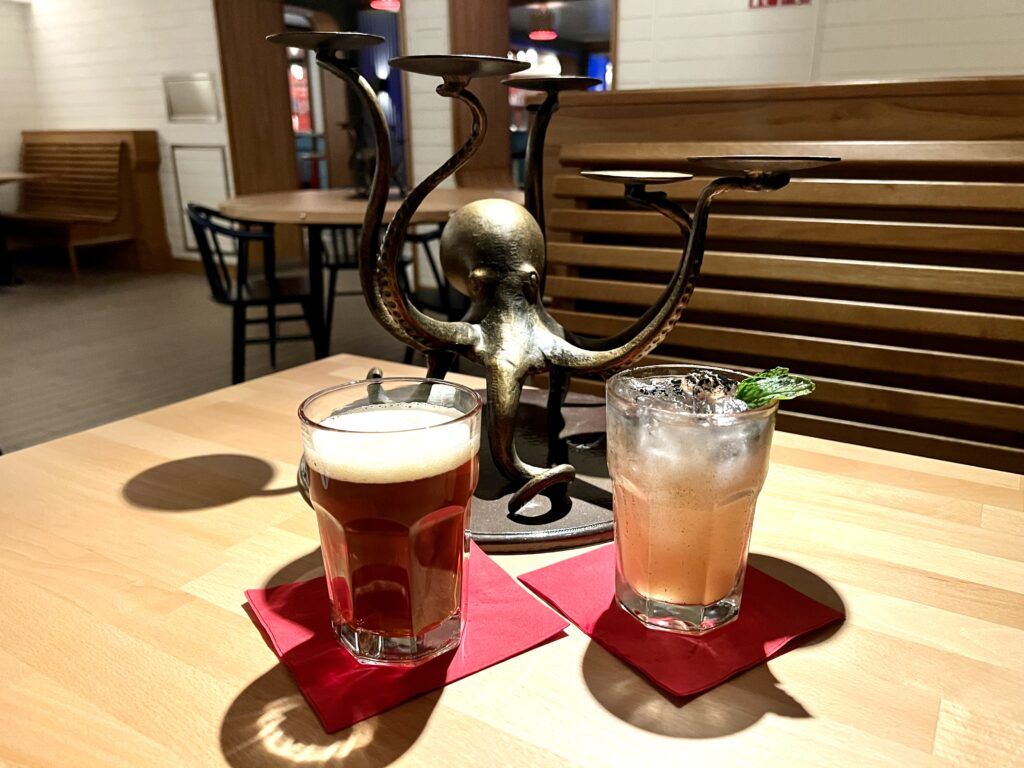 Tomorrow was a work day for me, so we called it a night around 11 pm.
Day 4 – Virgin Voyages Scarlet Lady Mayan Sol Cruise Review
A Work Day at Sea
Given the last minute nature of this trip, I needed to work the next two days of the cruise. This meant a morning of meetings and other work related emails. Thankfully, the connectivity was great all cruise.
On the first day of the cruise, we reserved brunch at the Wake for 10:45 am. This would be in the middle of my meetings. Oddly, we didn't realize that there was a time change for today.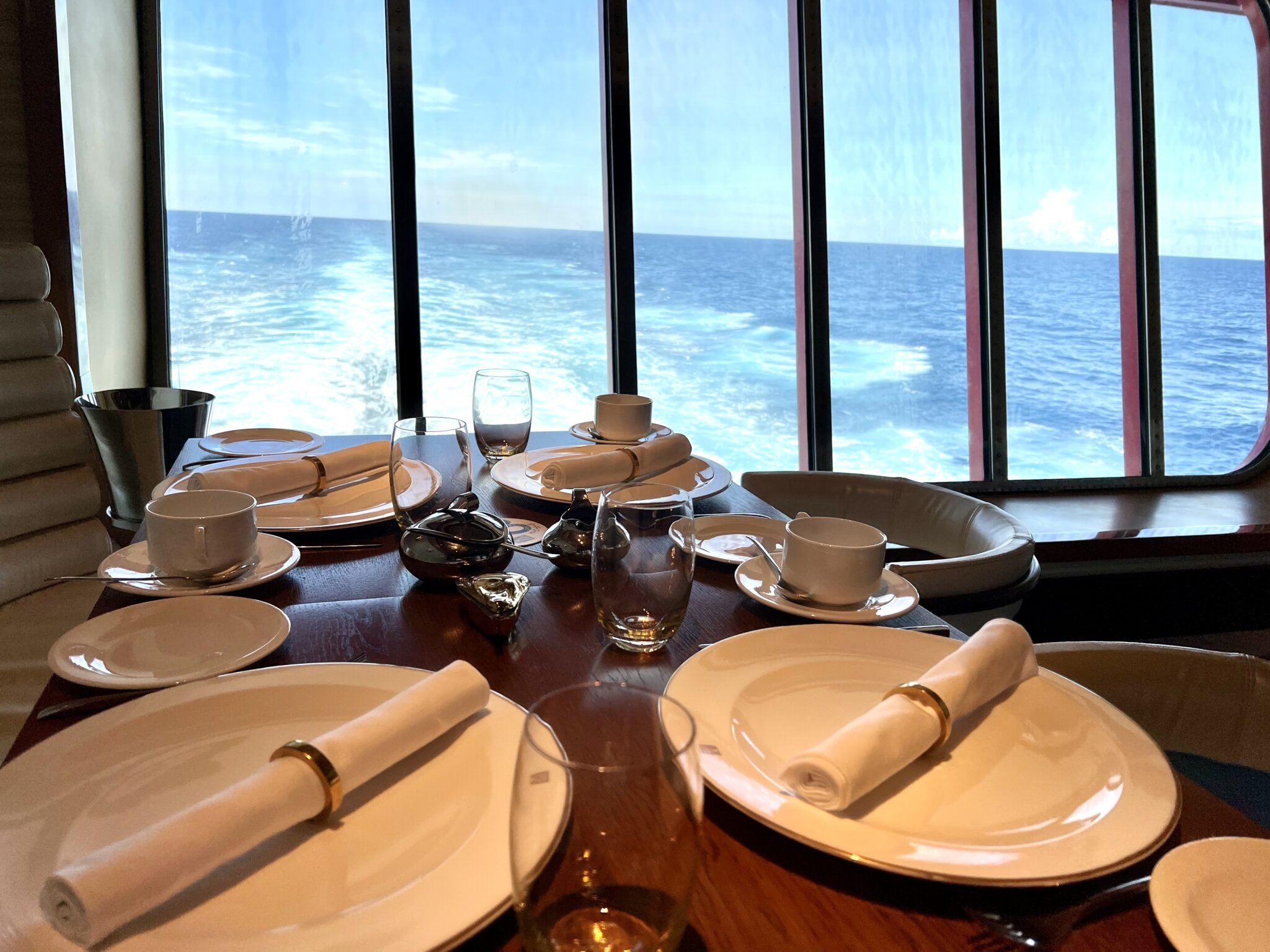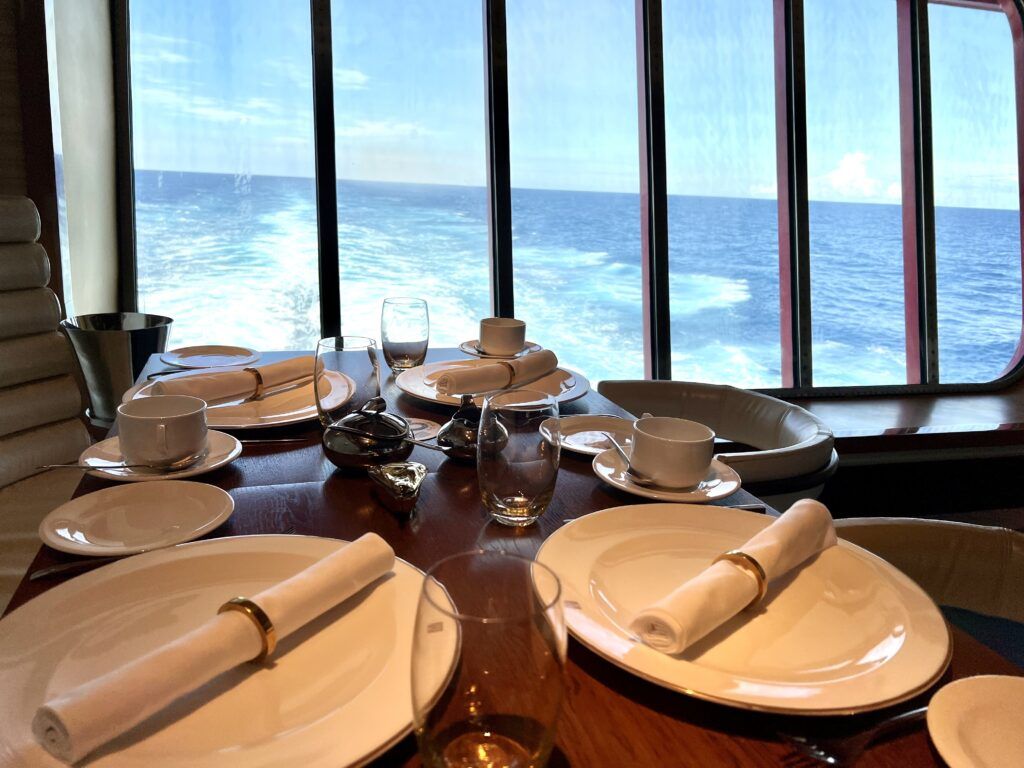 We did not hear any announcements or receive any notifications in our room. Apparently, most communications are done through push notifications on the app.
We would later realize that we did receive a notice at 11:45 pm the night before reminding us to put our clocks ahead an hour.
The brunch at the Wake features a small, upscale menu. I couldn't pass up the steak and eggs. Heidi went with the French Toast. Our server, whose name was actually Princess, was friendly and talkative.
The food did seem to take a little long for breakfast, especially since we each only ordered one item. So, we did not finish up until close to noon.
With a few late day meetings, I took this opportunity to get some work done at the Dock. After all, if you have to work on a cruise ship, why not do it in a beautiful outdoor space?
The plan for this evening was a pre-dinner show of Duel Reality at 6 pm. Then, we would be dining at the Mexican restaurant, Pink Agave.
As a big fan of tapas and spicy food, I was looking forward to this meal. Although, it was still awhile away from dinner.
So, we left the Dock around 2 pm and stopped at the Pizza Place. Similar to Day 1, the pizza took about 10 minutes. Grabbing to-go boxes, we took this hot and cheesy snack back to our room.
Expecting a Bit More for Scarlet Night
Wanting to ensure we had optimum seats for the show, we were among the first at the Red Room at 5:30 pm when the doors opened.
Tonight was also the ship's signature party, the Scarlet Night party. On our way to the theater, we noticed there were already some decorations setup in the public spaces.
Even though we already watched Duel Reality a few weeks prior during the media event, we were ready to see it from a different perspective. This time, we selected seats higher up than our previous location.
This modern day circus is certainly not Barnum & Bailey's. It is not even Cirque du Soleil. Though, it is an impressive mix of acrobatics, strength acts, and jugglers set to a Romeo and Juliet storyline.
While certainly non-traditional, it is probably the closest you will get to a "cruise show" on Virgin Voyages. While "featured performers" like these are often thrown into the middle of some singing and dancing numbers, they take center stage in this production.
Given the movement of the ship, we did notice some of the more intricate stunts we saw the last time were omitted from this performance.
Finishing up just before 7 pm, we headed to Pink Agave for our dinner reservation.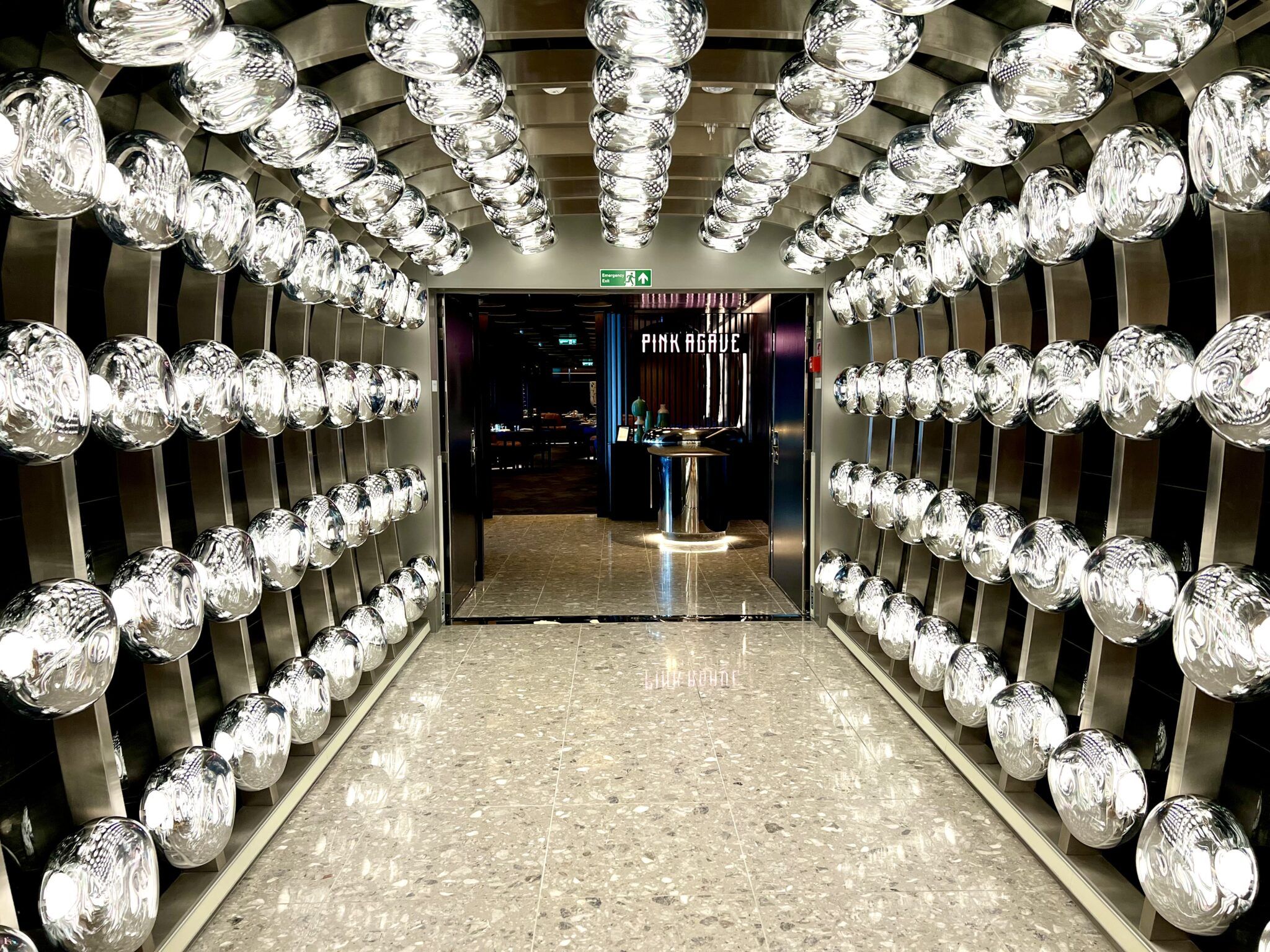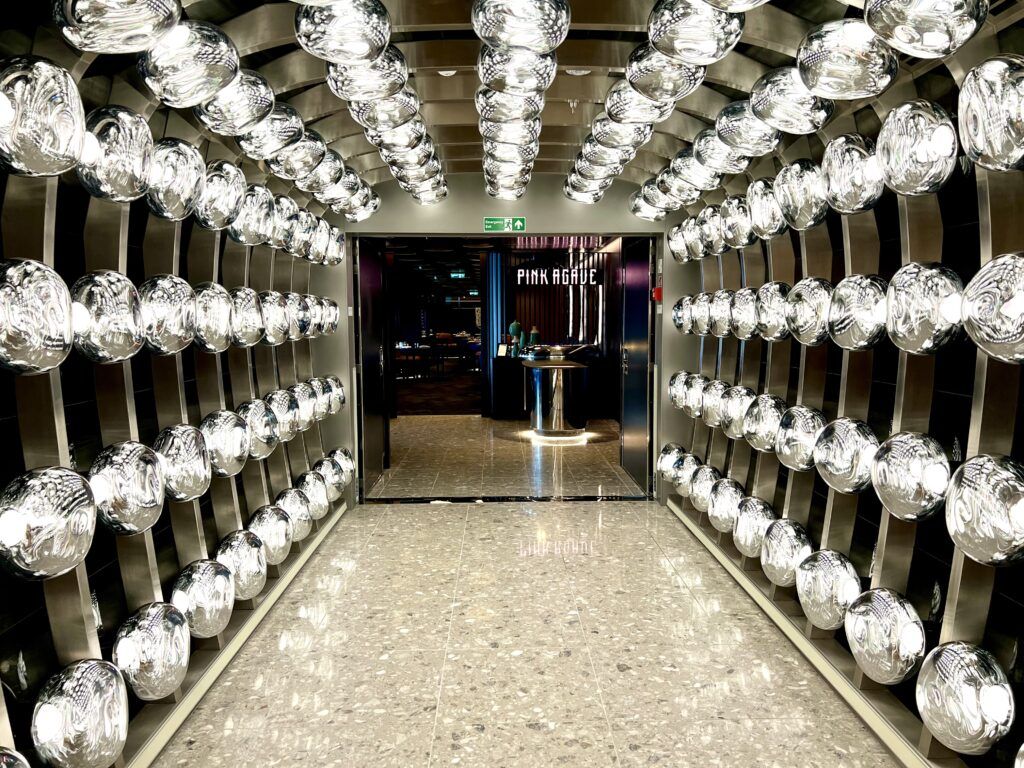 This was perhaps the longest dining line of the entire trip, but we checked in and were quickly sat at a table for two.
Our 90 minute dinner included several plates. Although, if Heidi had a more adventurous palette, we probably would have ordered even more.
Our small plates included the roasted corn and guacamole which were fresh and aromatic. The grilled shrimp, considered a medium plate, was crisp and had just the right amount of mole sauce to intensify the natural flavors.
The wife ended up ordering the chicken enchiladas, also a medium plate, for her main dish. Of course, I couldn't resist getting the steak as my main entrée. It was tender and accented with several spices and melted cheese.
As dinner progressed, the restaurant manager informed us that the hotel director wanted to meet us for a drink. A few days prior, we had met him briefly during our dinner at Extra Virgin.
Of course, I quickly said yes to cocktails. First, we spilt the chocolate tacos for dessert.
Then, we met the hotel director at the On the Rocks bar for a round of drinks. It was great to hear his perspective and get some feedback on the cruise line. We also took the time to tell him what we really liked about the cruise and what we thought could be improved.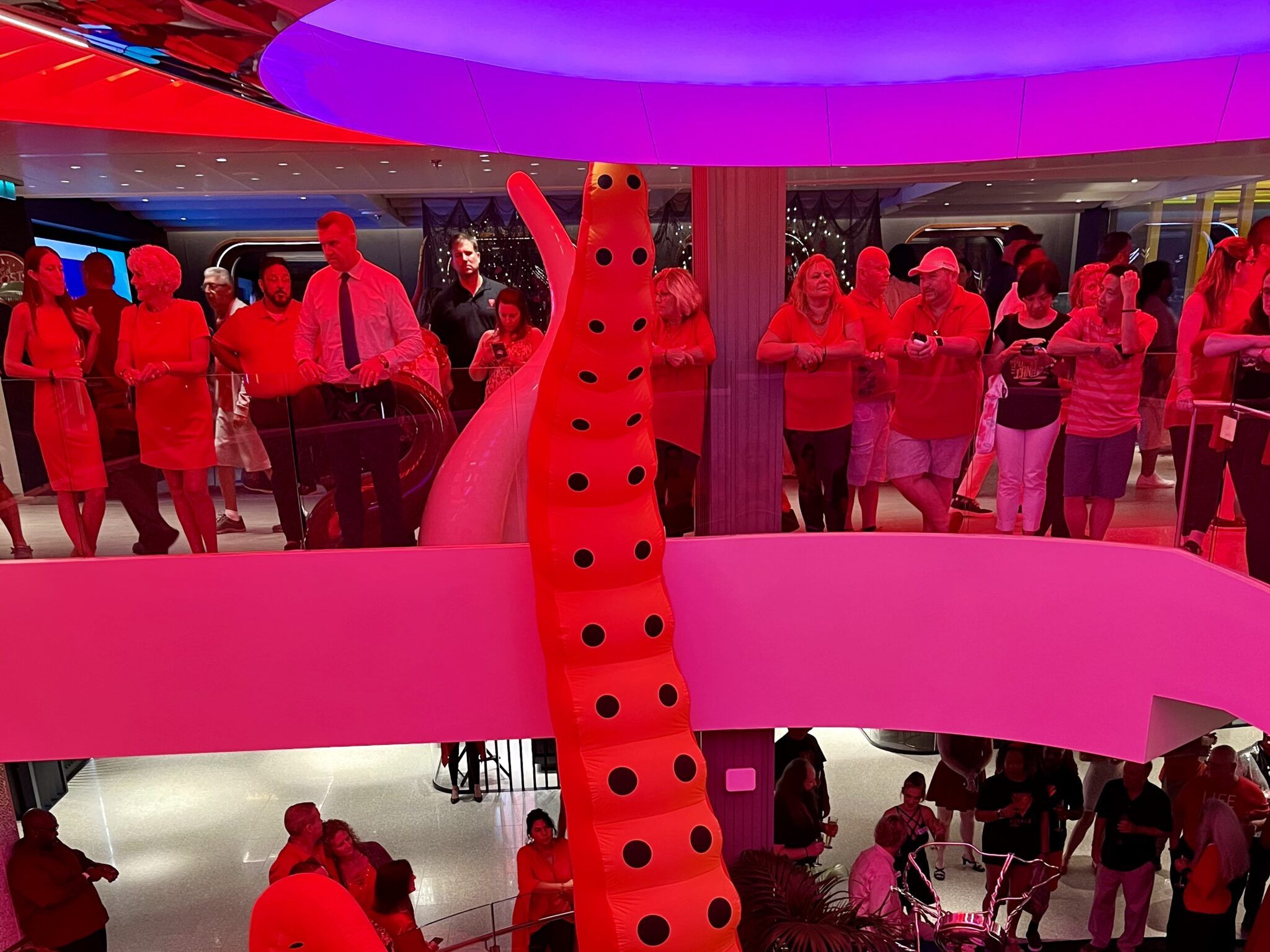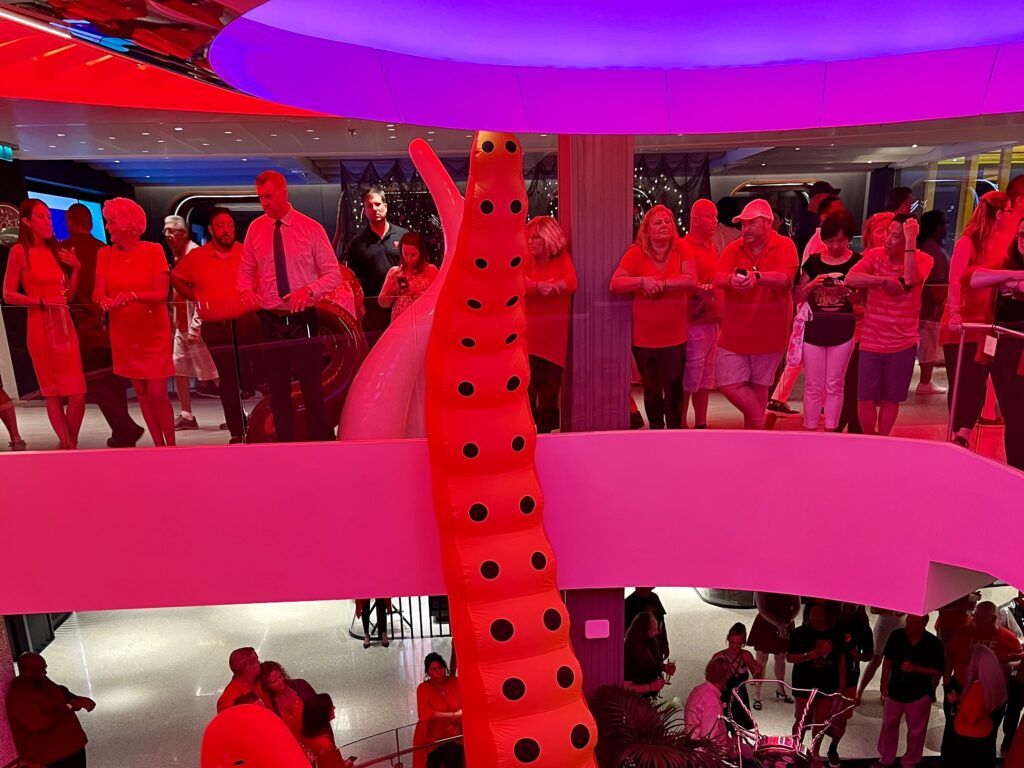 During the conversation, some of the pop-up acts for the Scarlet Night party began in the Roundabout. These included dancers as well as a "marriage".
There were some musicians from Phantom Folktales in the Sip champagne bar on Deck 7 as well.
While the app initially indicated the deck party would begin at 10:30 pm on the pool deck, oddly, there was nothing happening when we arrived.
In fact, the main party occurred in the Red Room. This was quite different from the previous sailings. So, we assume it had to do with the wind conditions.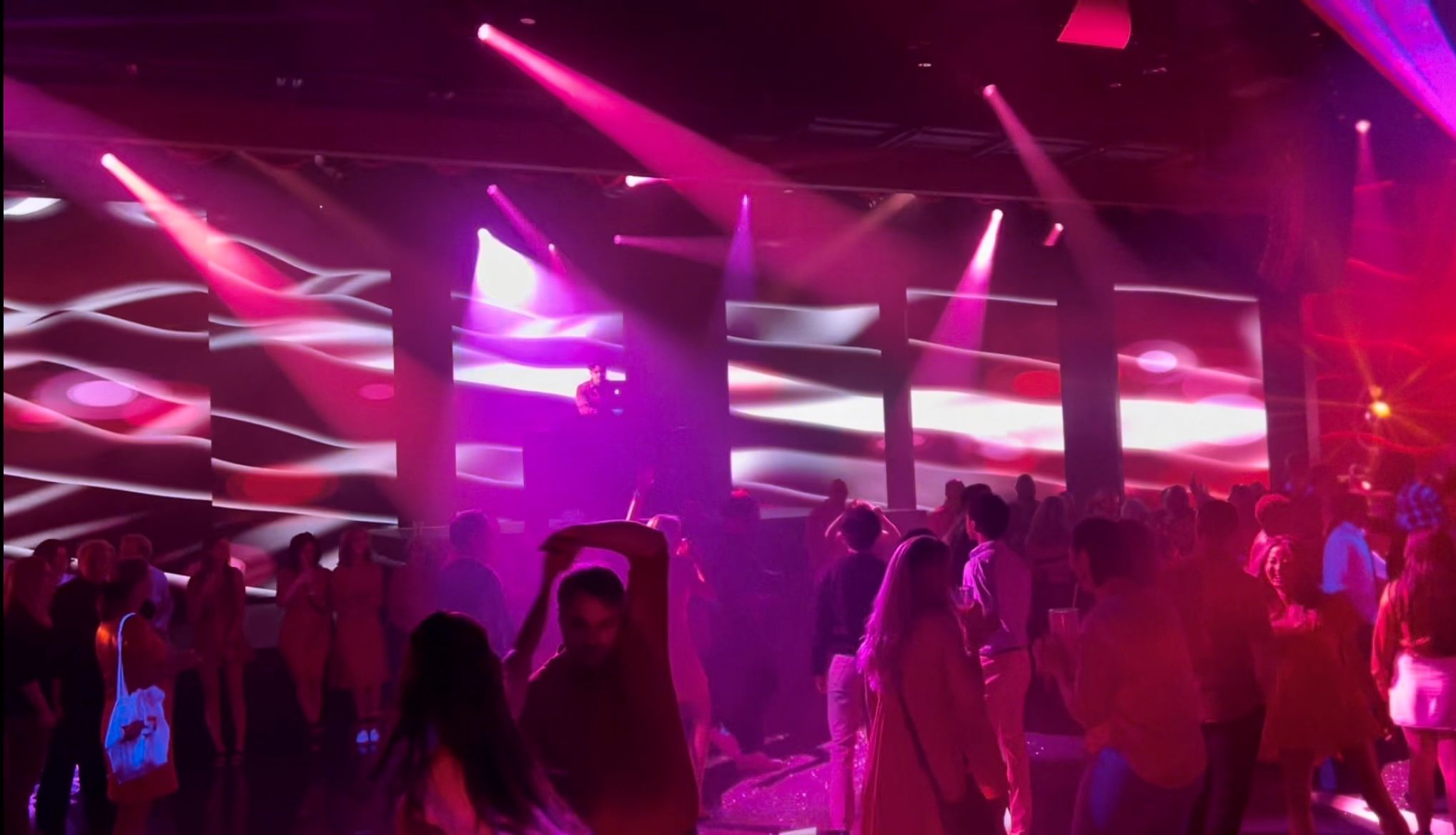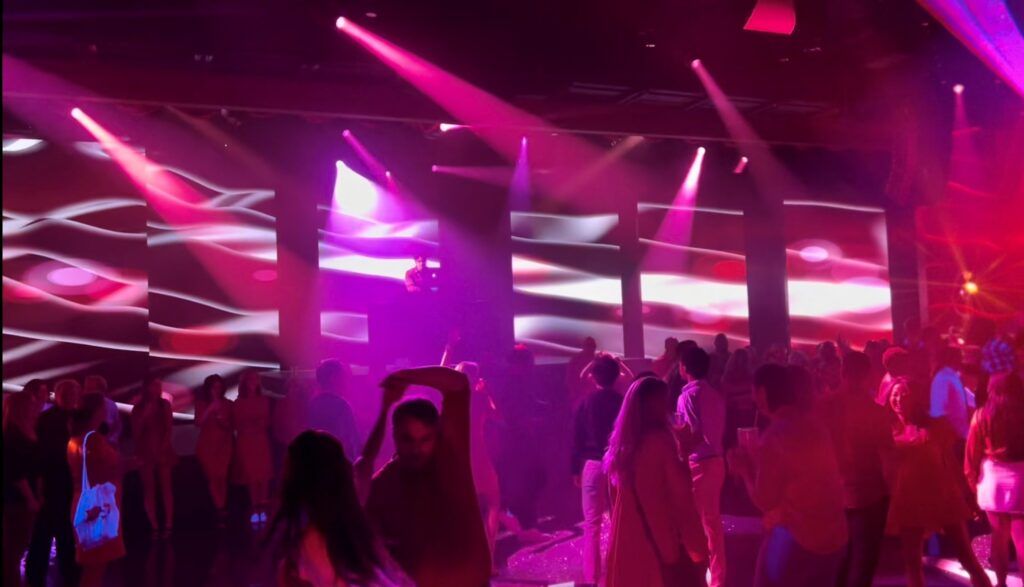 In the Red Room, there was a DJ and lots of lights and color, but no happenings cast or "party". It was really just a nightclub.
Honestly, the party was a let down, and I don't think we were alone. Many of the other sailors, who were all dolled up in red for the event, slowly filtered out of the venue once they realized nothing was happening.
Switching it up, we headed to the Manor. According to the app, the VV band was performing at 11:30 pm. While that was true, this performance did not seem tied to the Scarlet Night party at all.
We stayed until about midnight before calling it a night. For our sailing, this party was a bust.
Day 5 – Virgin Voyages Scarlet Lady Mayan Sol Cruise Review
Getting Ready for the Beach
The final day of our cruise was a full day at the cruise line's private resort, the Beach Club at Bimini. Among the draws of Virgin Voyages' sailings is that all Caribbean cruises stop at this exclusive resort.
For our sailing, the ship was scheduled to be at the Club from 9 am to 10 pm. Wanting to make sure we experienced the Club both during the day and at night, we planned to get there as early as possible and then return later in the evening after dinner.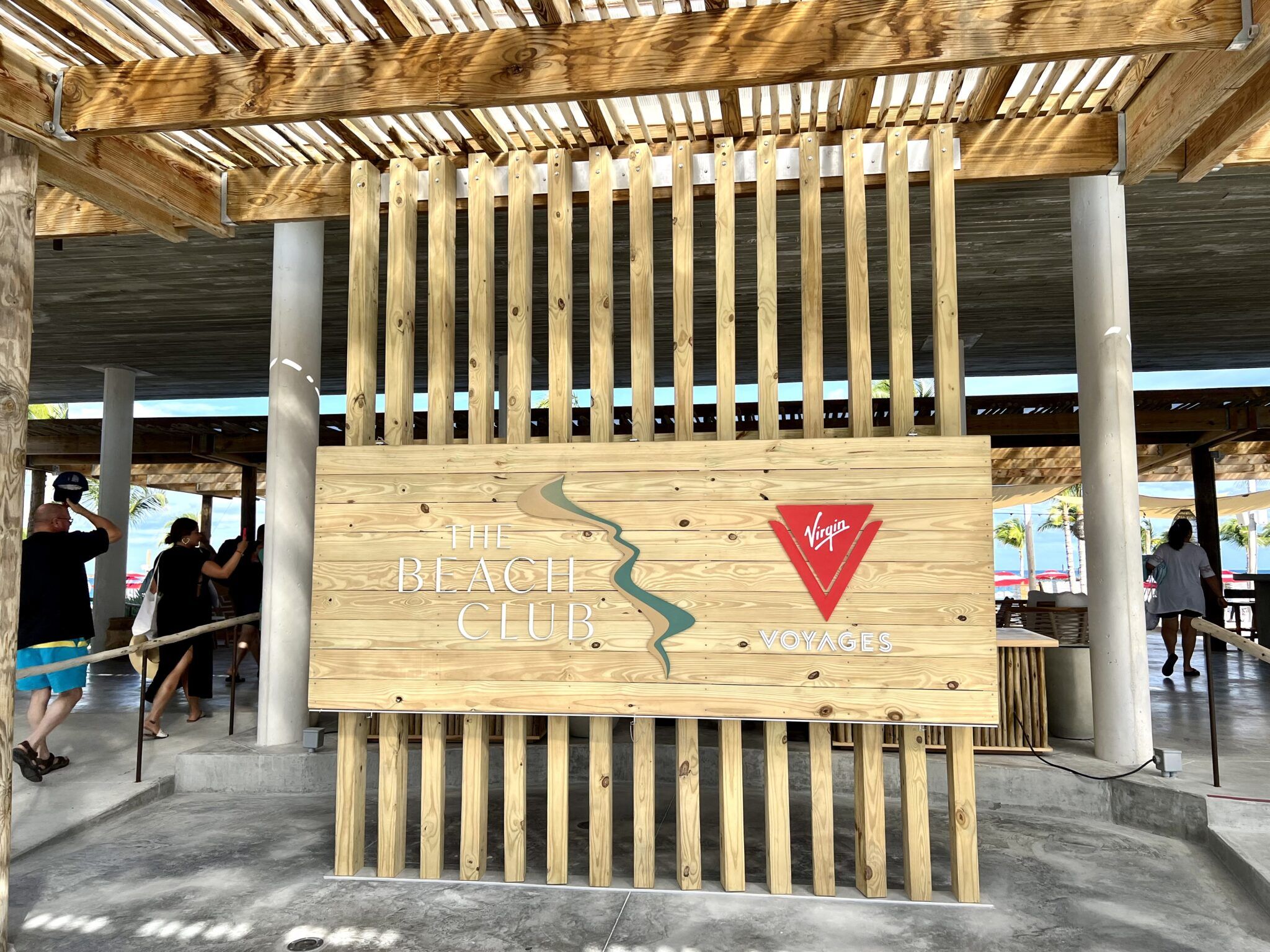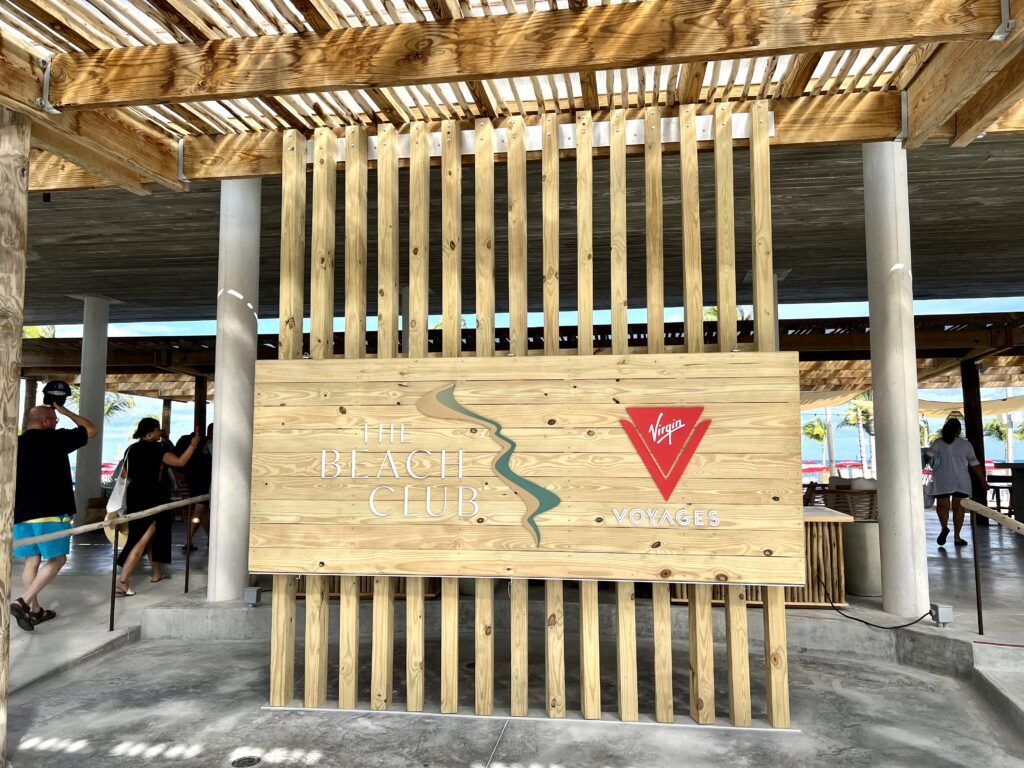 Luckily, WiFi is also included while at the resort. So, I would be able to work poolside today.
We headed to the Galley for breakfast around 8:30 am. By now, the ship was already backing into the pier, and we couldn't quite figure out where the Beach Club at Bimini was located in relation to the ship.
Getting a quick breakfast, it was time to head ashore. It is a fairly long trek down the pier from the ship to the tram loading area.
Further, while I am usually a fan of walking instead of taking the tram, the Beach Club is a 7 minute tram ride away. Technically, you could walk it, but it would take quite a while to get there.
Related Post: Everything Included on Virgin Voyages
A Beach Day at Bimini
We arrived to the Beach Club by 9:45 am, ahead of the crowd. This was the ideal time to explore and get photos and videos.
At first glance, the Club felt smaller than we expected, but still offering plenty of amenities.
There is a long stretch of beach with plenty of loungers and umbrellas, as well as beach beds, that are all complimentary.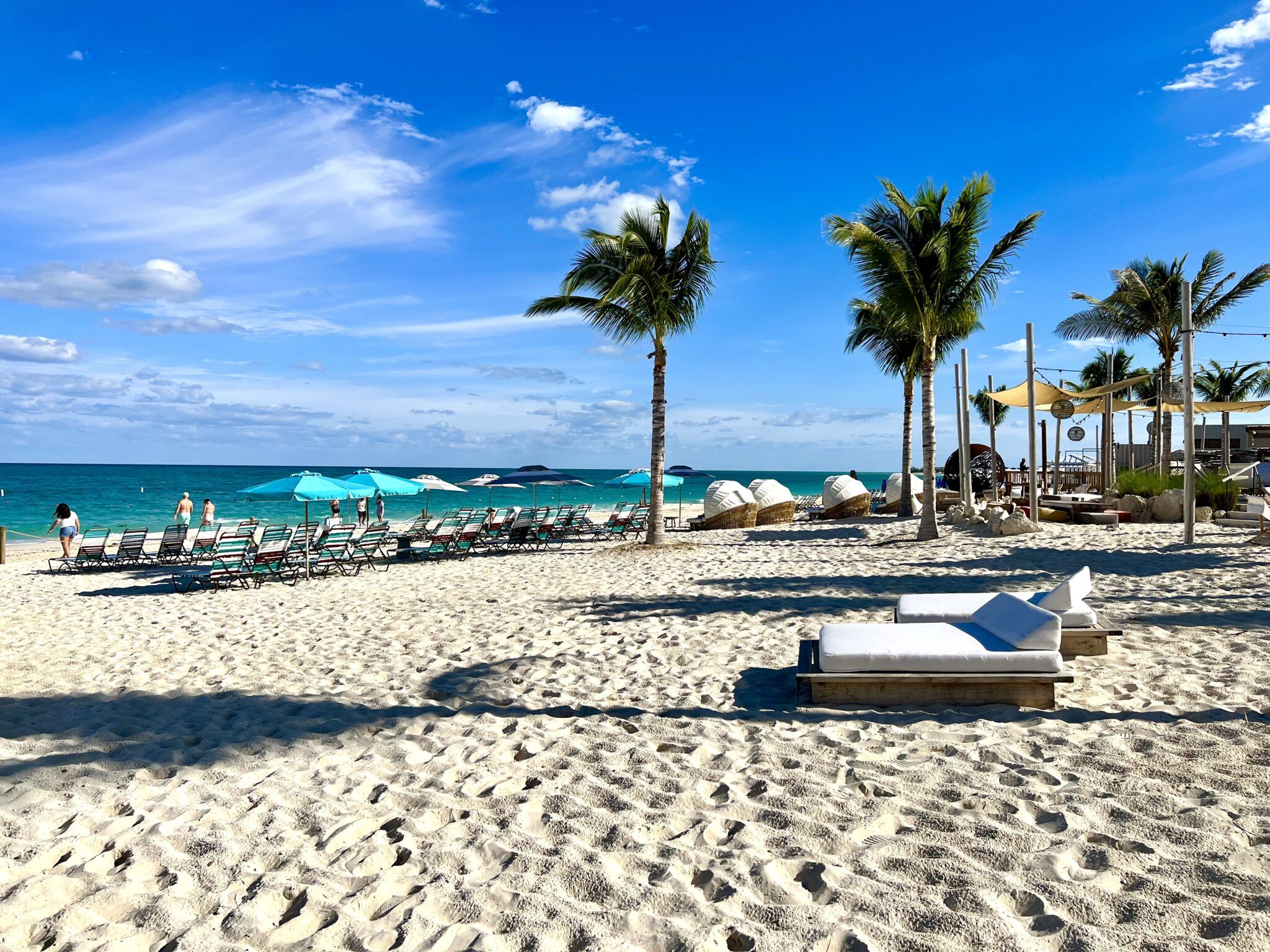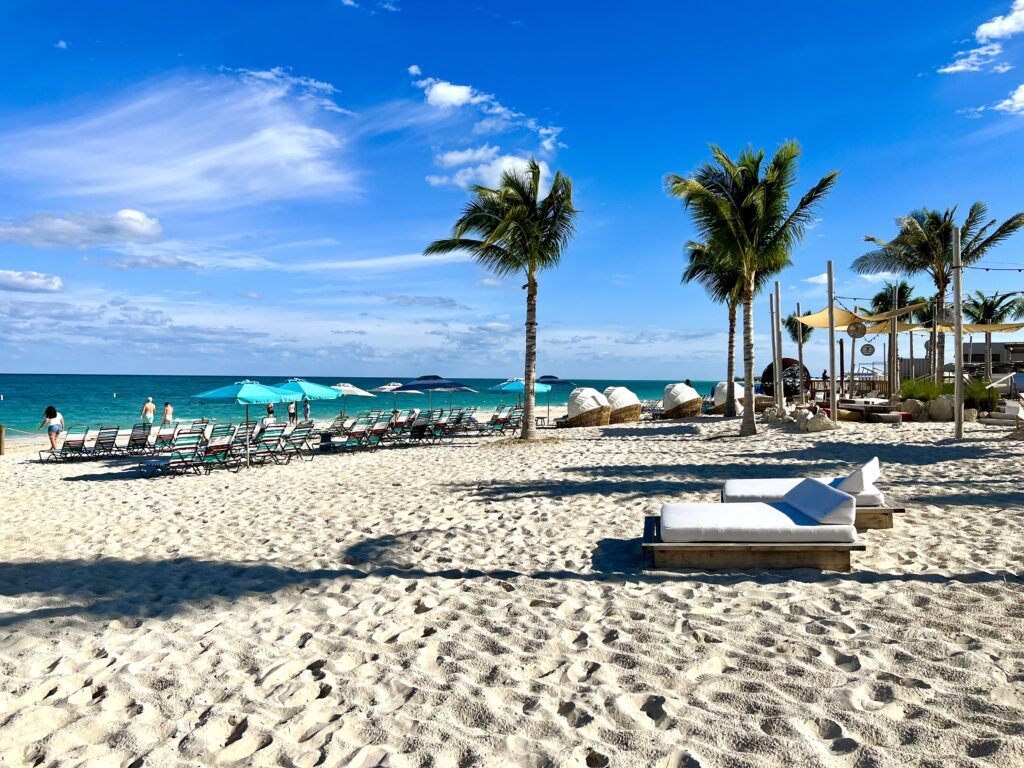 Further, there are two lagoon-style pools offering plenty of loungers and space to relax. The mood starts off more relaxed in the morning then turns into an upbeat pool party scene with a DJ later in the afternoon.
There are also three bars at the resort. One pool bar near the south pool, another on the beach near the north pool, and a small bar at the arrivals building.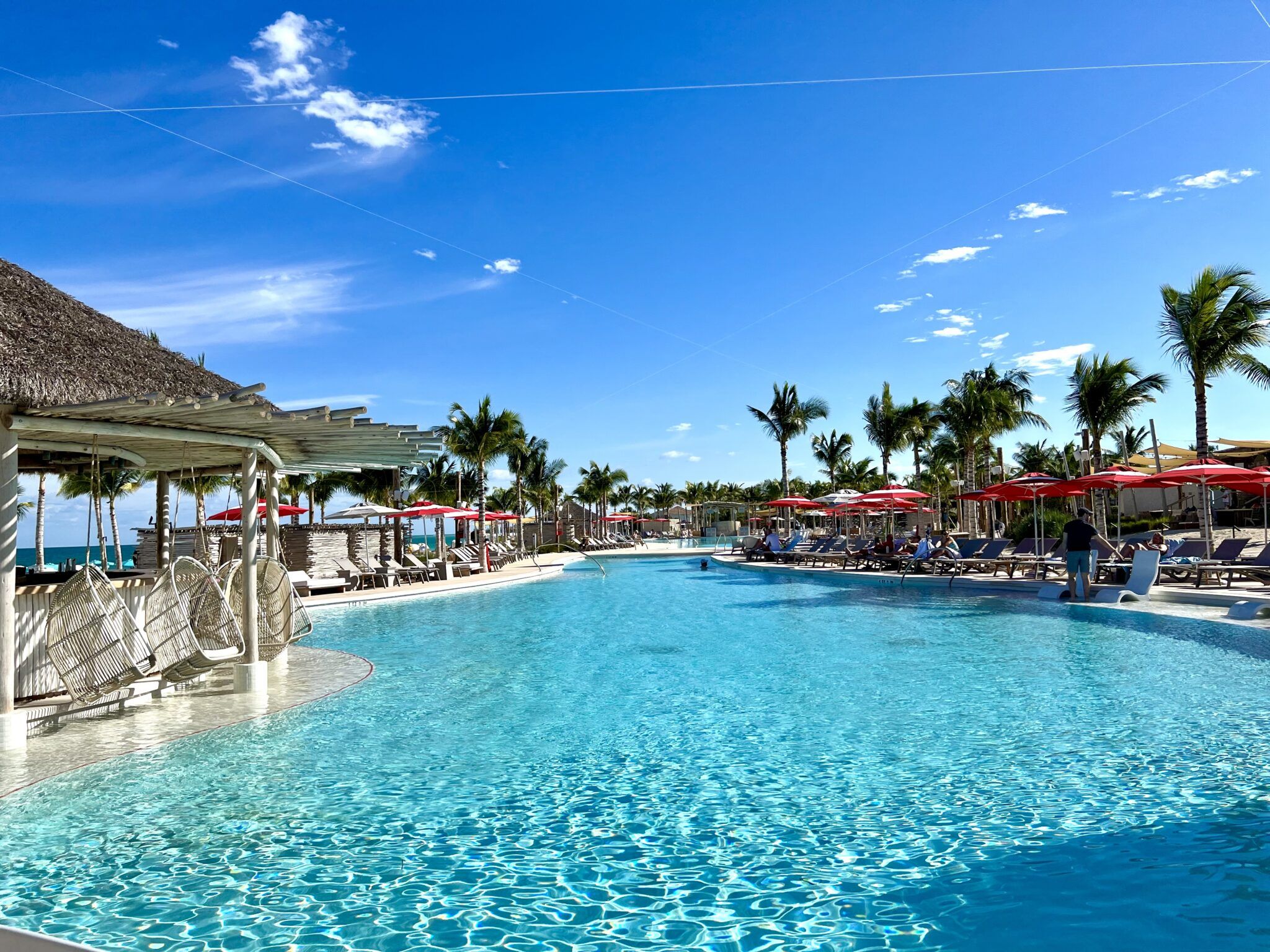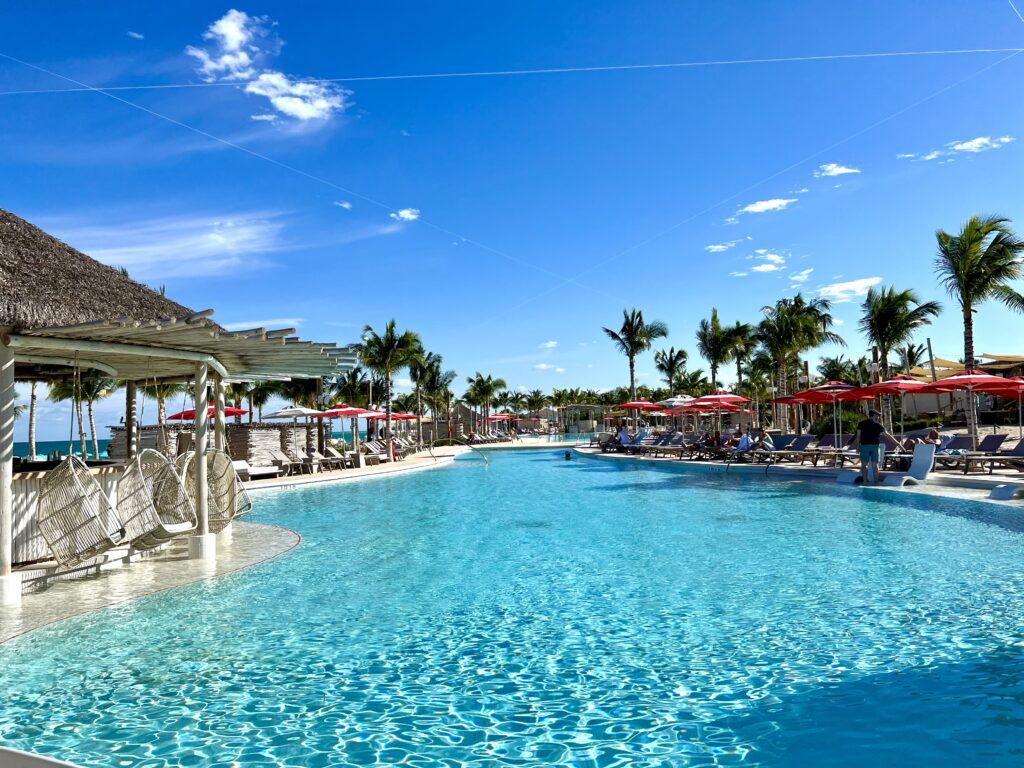 Only one of the two dining venues on the island was open this sailing. Though each of these outdoor eateries serve the same menu anyway.
For our trip, food was available around 11:30 am until 7:00 pm. The menu changes slightly around 3 pm, with some of the entrees removed and some snacks added.
After spending about 90 minutes exploring the entire area, we secured a "clamshell" beach bed near the south pool. The Princess was going to need her shade. This became our home base for the next 3 hours or so.
In between my work, we sampled some of the items from the restaurant.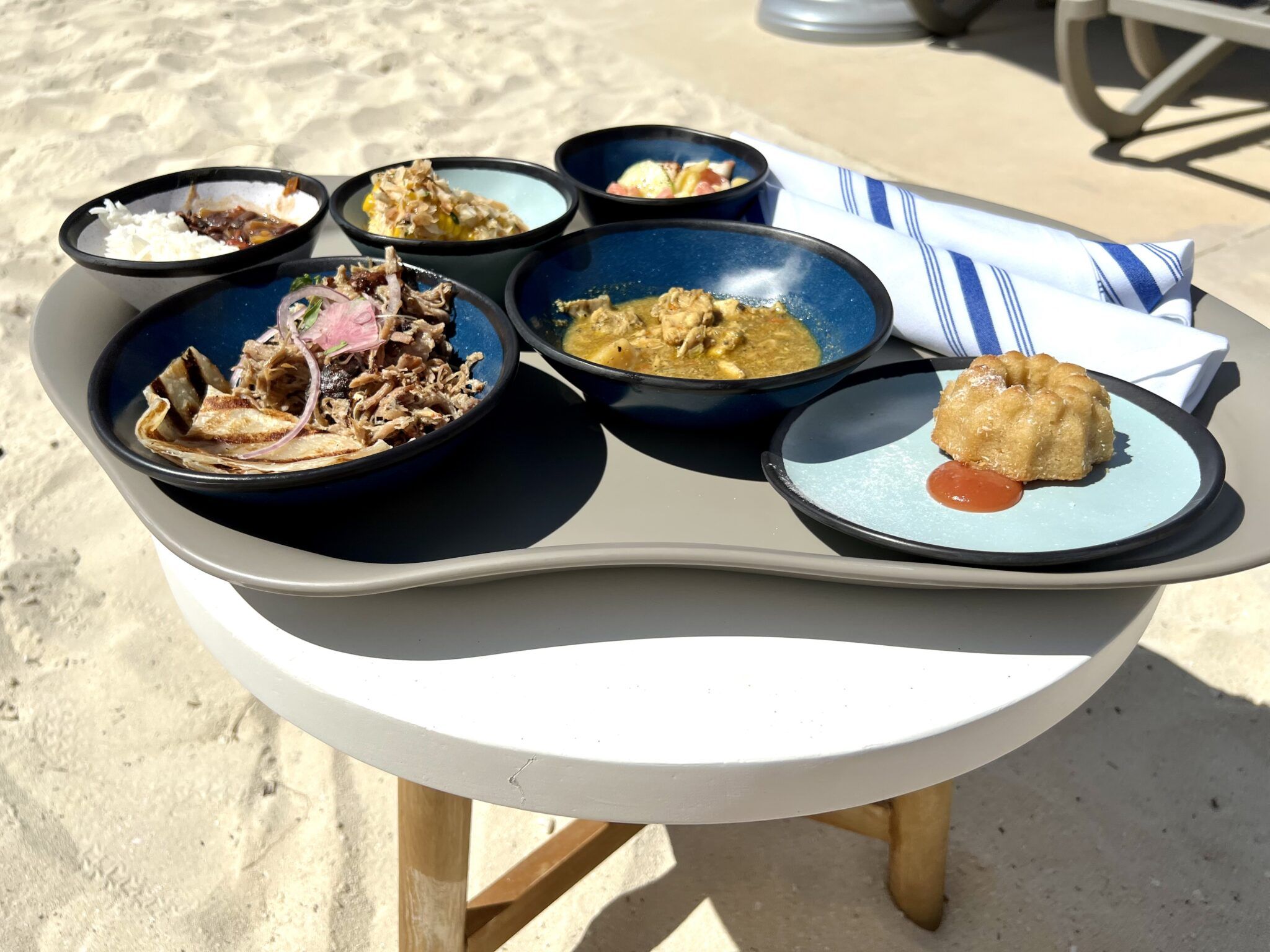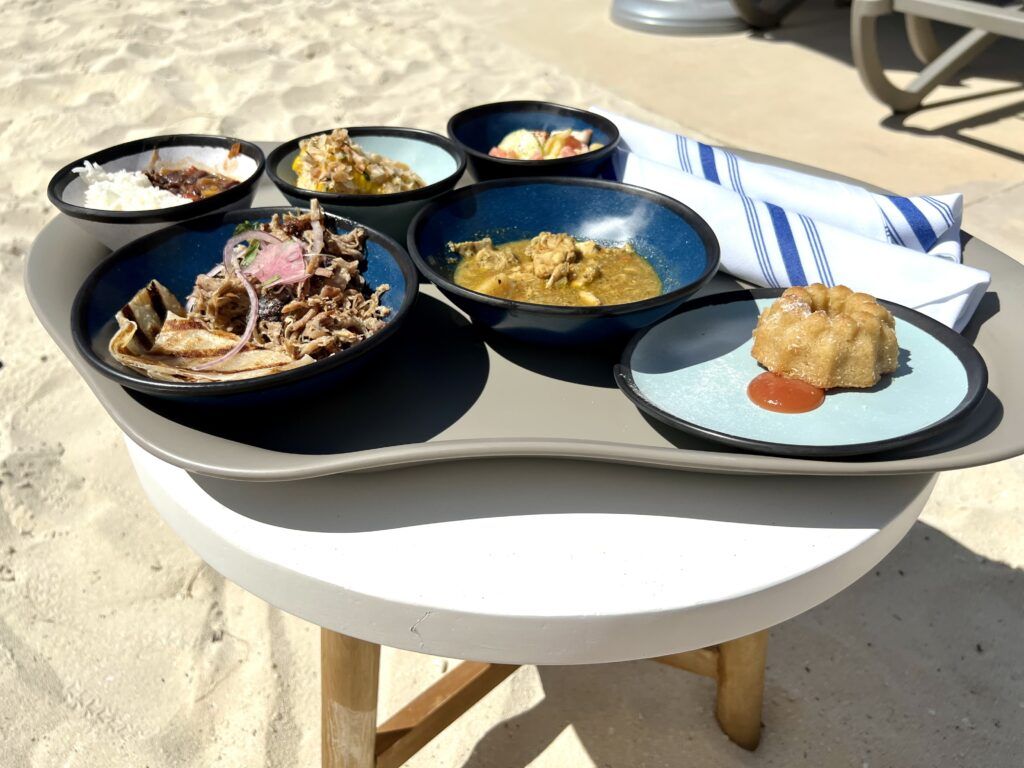 The food was good, but the menu is very small. We would have liked some additional options, perhaps a few more snacks.
Right now, the crew serve the food in pre-plated portions. This is a nice touch instead of a traditional island buffet.
Of course, we also grabbed a few drinks during our time on the island.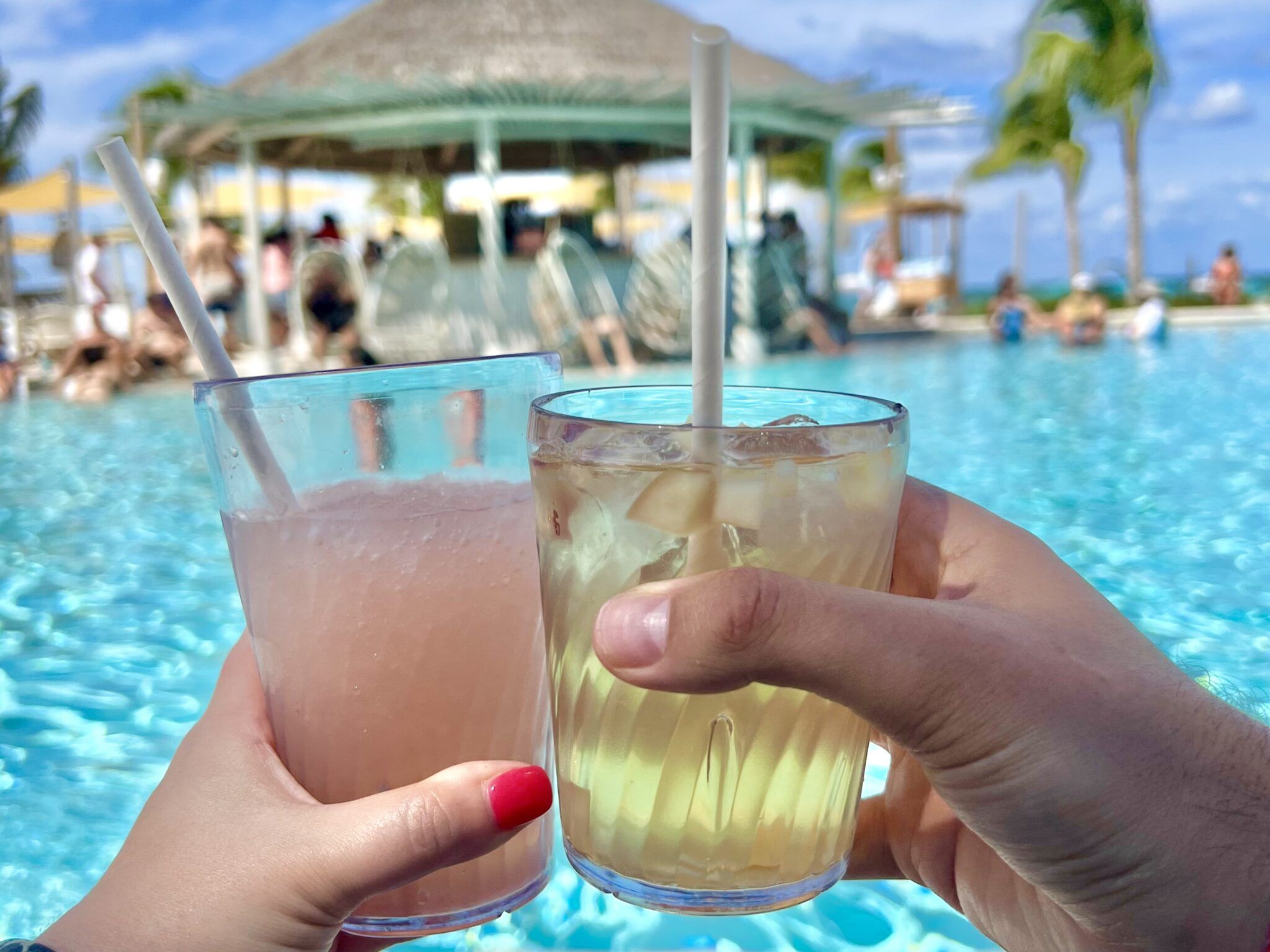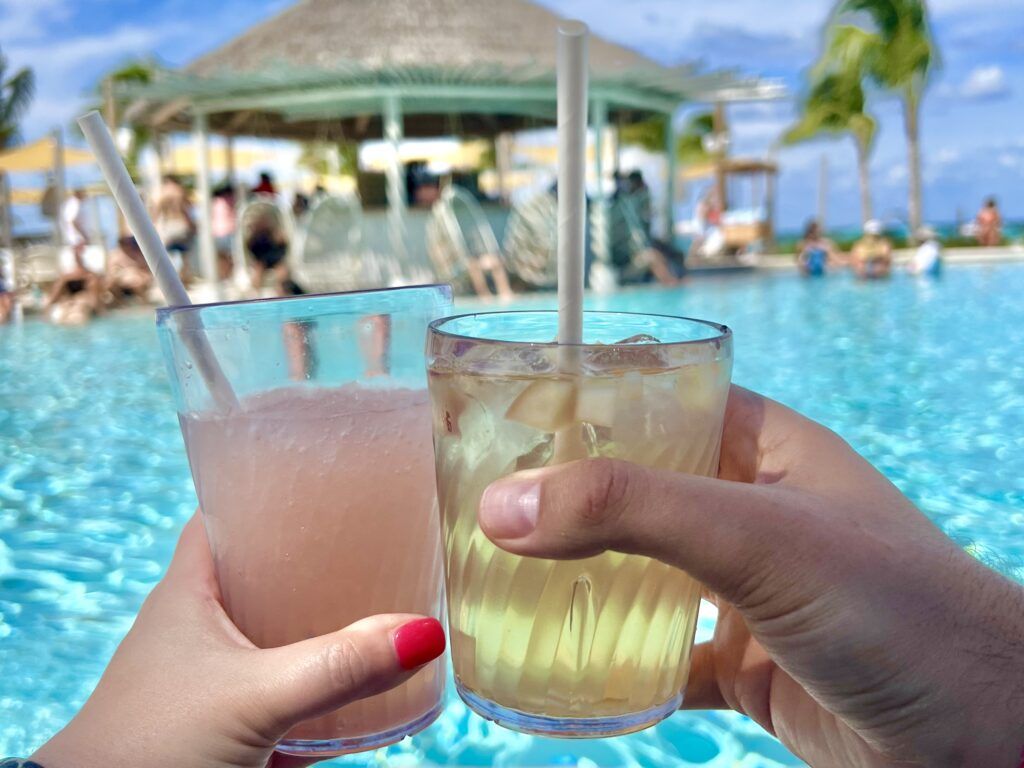 The weather was gorgeous. So, we really enjoyed our time at the Beach Club at Bimini.
Back Onboard for a Bit
Wanting to enjoy the night time activities on the island as well, we decided to head back to the ship around 3:30 pm. Here, we would take a break from the sun and grab a more substantive meal.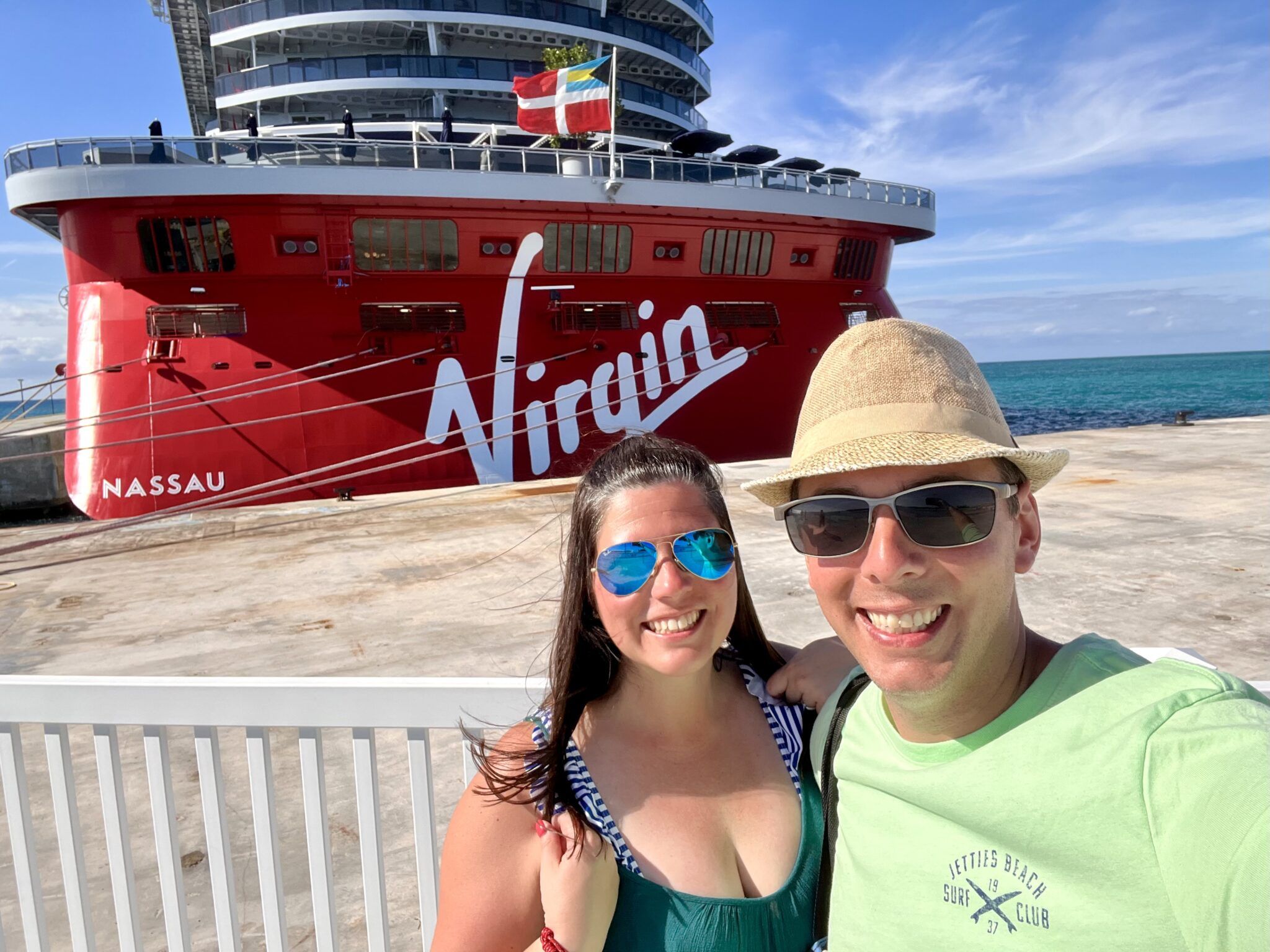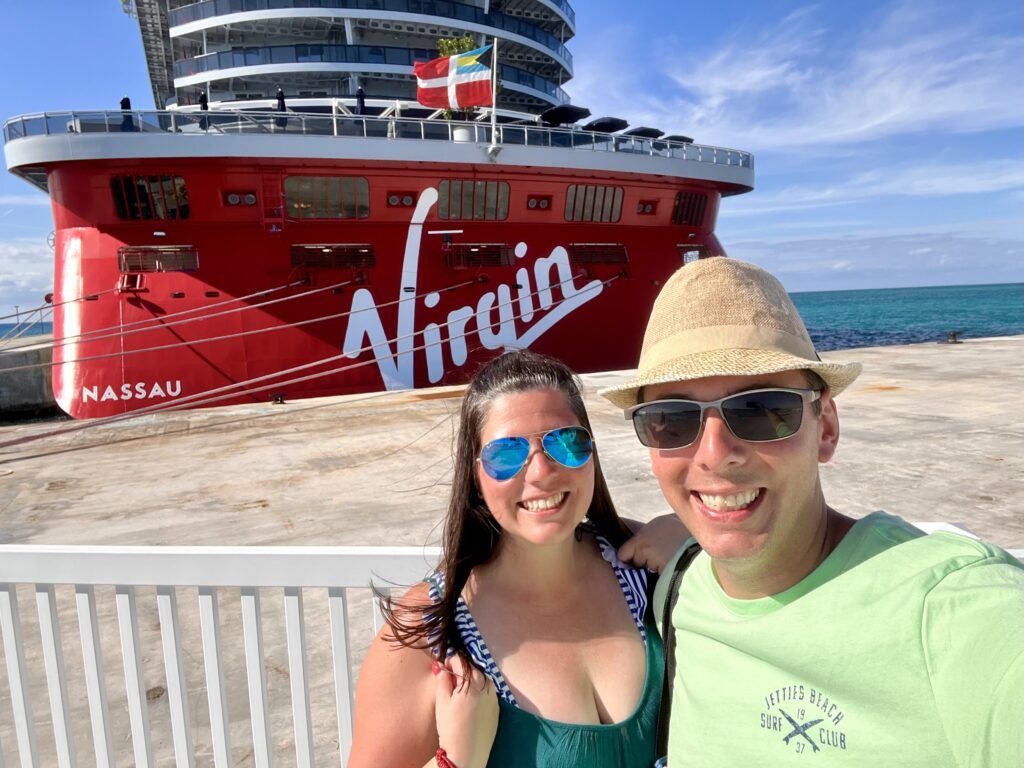 The bonfires and evening programing started at 7:30 pm. Thus, our plan was to be back to the island around that time.
Unfortunately, we had already dined at all of the best restaurants, and the cruise line only allows sailors to reserve dinner at each restaurant once. After that, you can join a wait list if available.
We showered and changed up early, getting to Extra Virgin right at 6 pm when it opened. Unfortunately, we had no luck getting into the restaurant.
Checking the app, no restaurants had a waitlist either, so we headed back to Razzle Dazzle, the only venue with availability this evening.
We tried a few different items tonight, including the "secret steak". The meal was fine, but it did not change our overall impression of the restaurant. It still ranked as our least favorite.
Our Last Night on Scarlet Lady
Finishing up dinner by 7:30 pm, we stopped at the room quickly before heading back to the Beach Club. We should have known something was off as we saw two trams packed with sailors returning from the private area.
If the Club was open until 9:30 pm, why were so many people leaving already?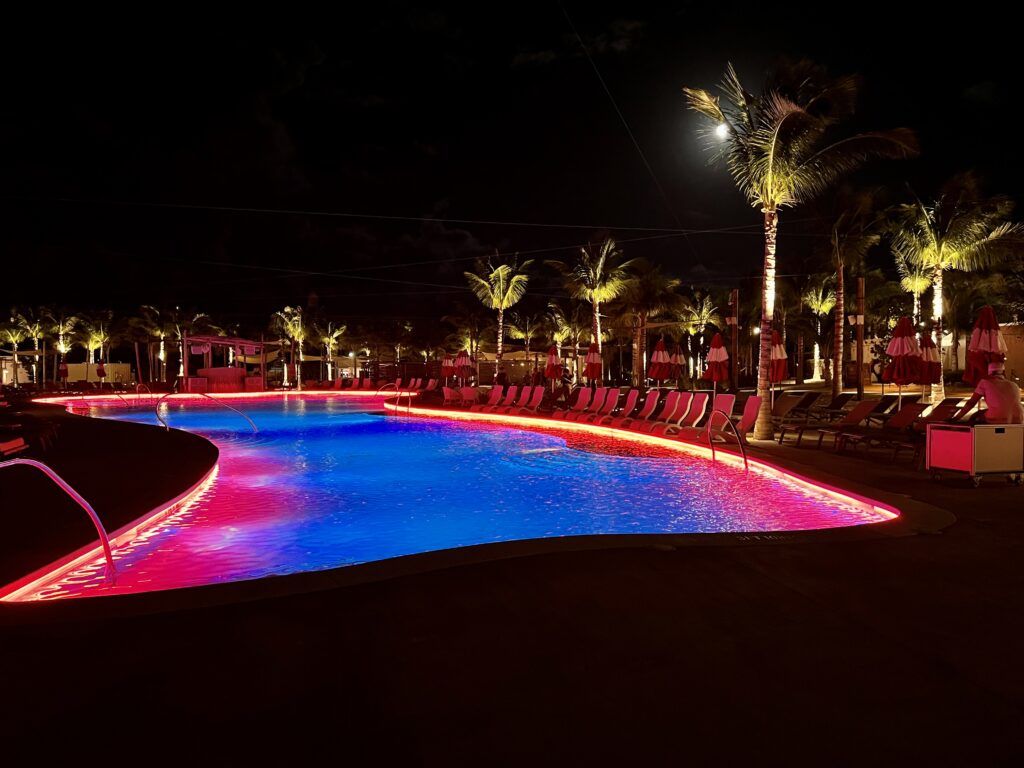 Well, when we arrived around 7:45 pm, we soon discovered why. The Club was empty, with no music or activities. Yes, there were bonfires, but that's about it.
The bars were also closing at 8 pm. So, while the Club looked nice all lit up, it was kind of a wasted trip back.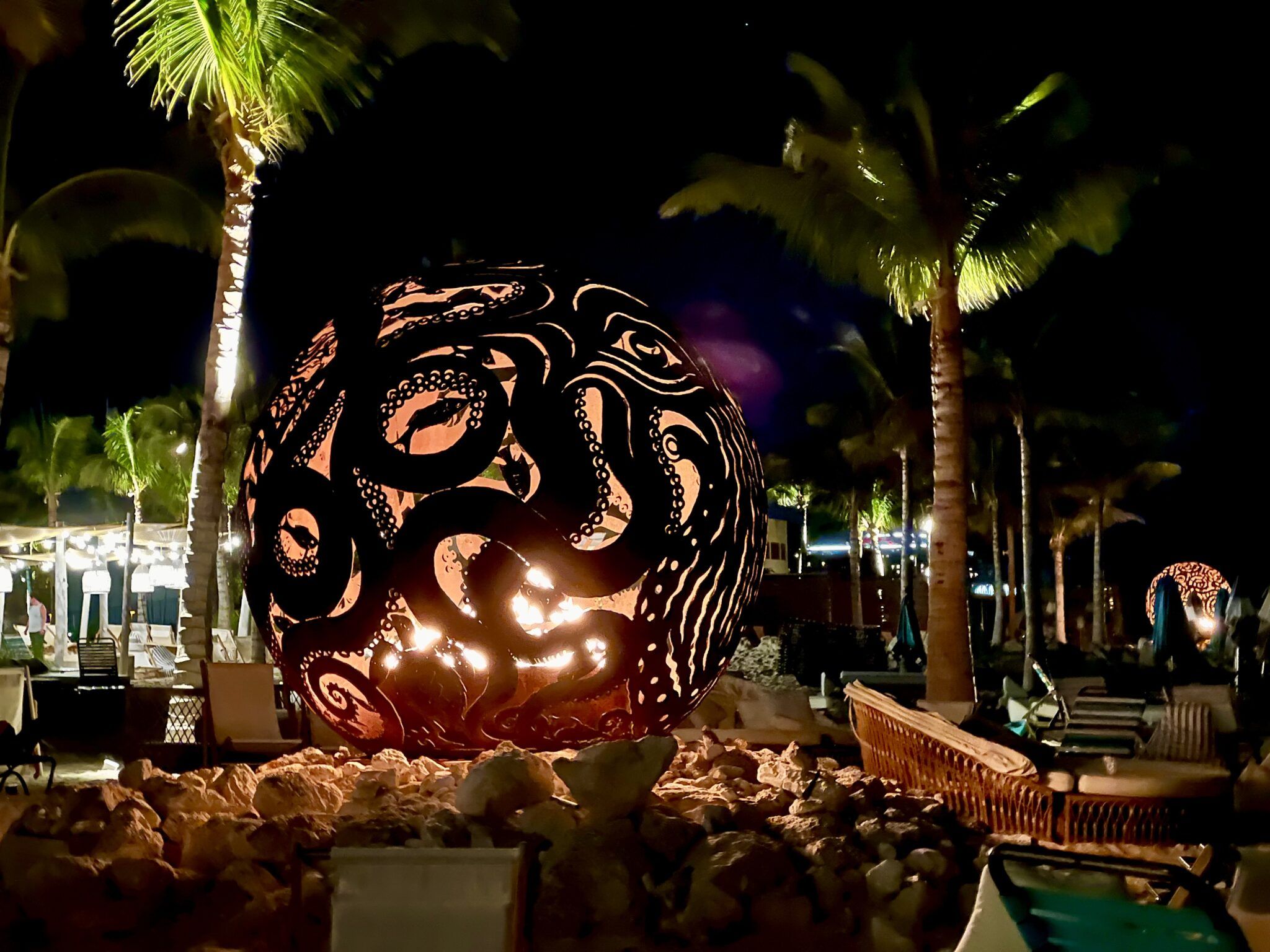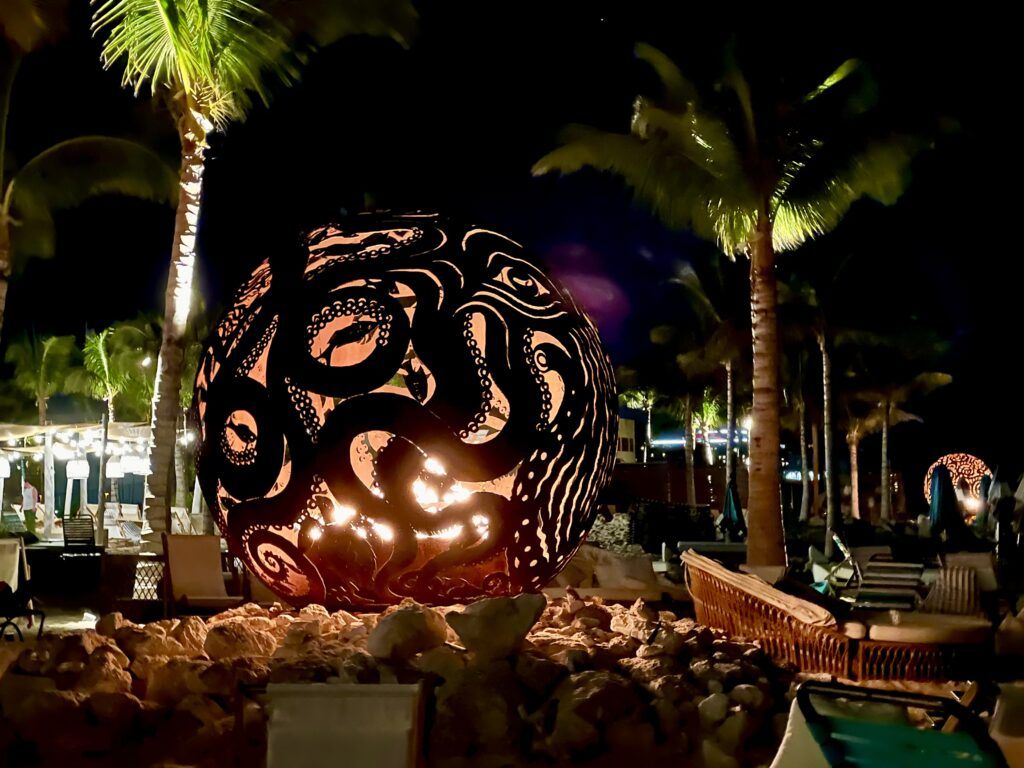 It appears the "late day stays" at the Beach Club were more of a marketing ploy than anything else.
Less than a half hour later, we were on our way back to the ship.
We decided to get one last drink at our favorite bar, the Dock, before it closed at 10 pm.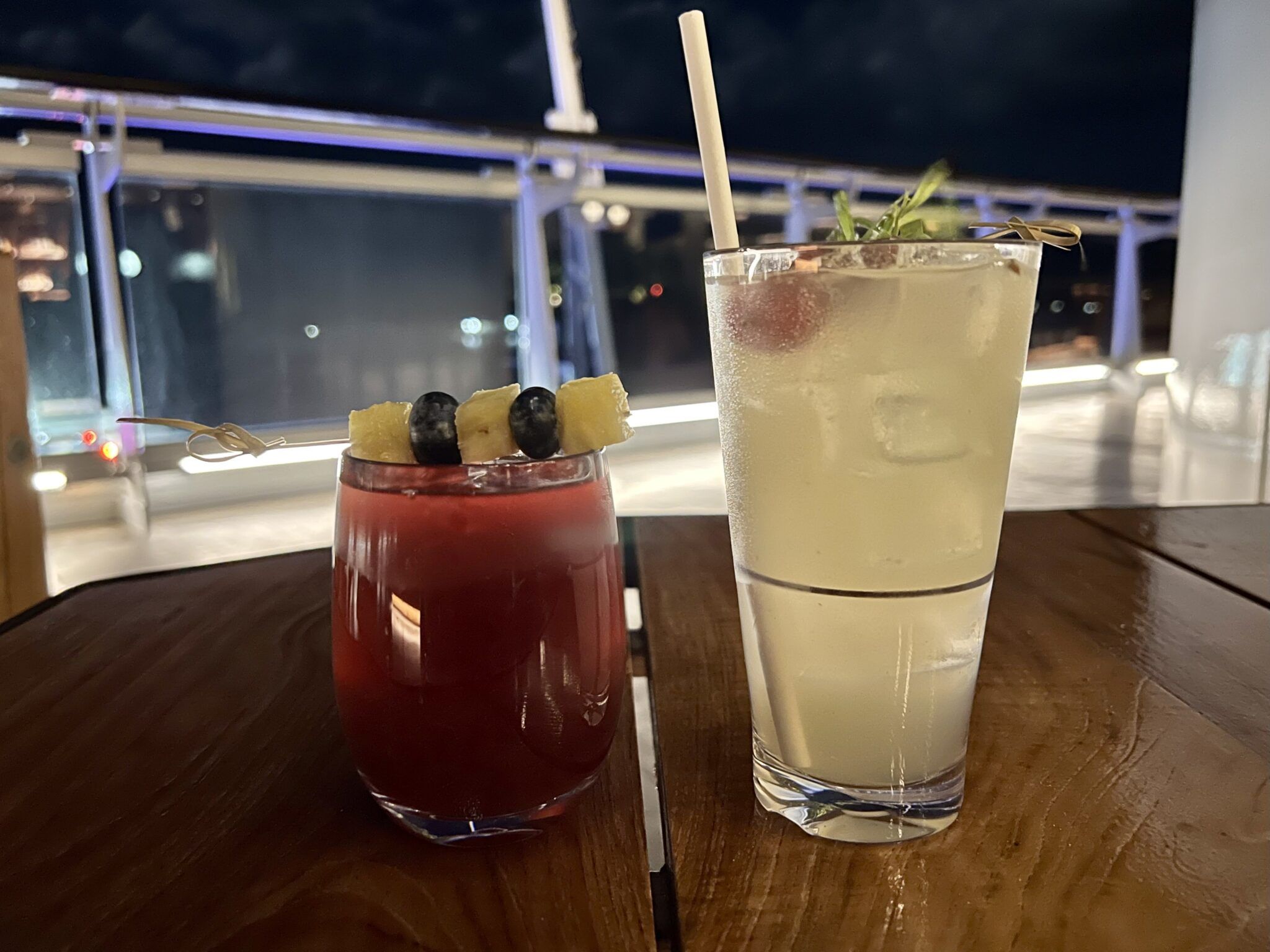 Then, it was back to our room to pack. Tomorrow, we would be picking up a rental car and driving to Disney.
We both enjoyed this Virgin Voyages Scarlet Lady cruise, so we took advantage of an onboard booking offer, combined with our previous FVC, to plan another trip with the cruise line for sometime in 2022.
Disembarkation
As part of the disembarkation process, sailors need to select a check-out time in the app. The latest time slot is 10:45 am. Since we were staying in Florida, we secured a reasonable 9 am time slot to disembark the ship.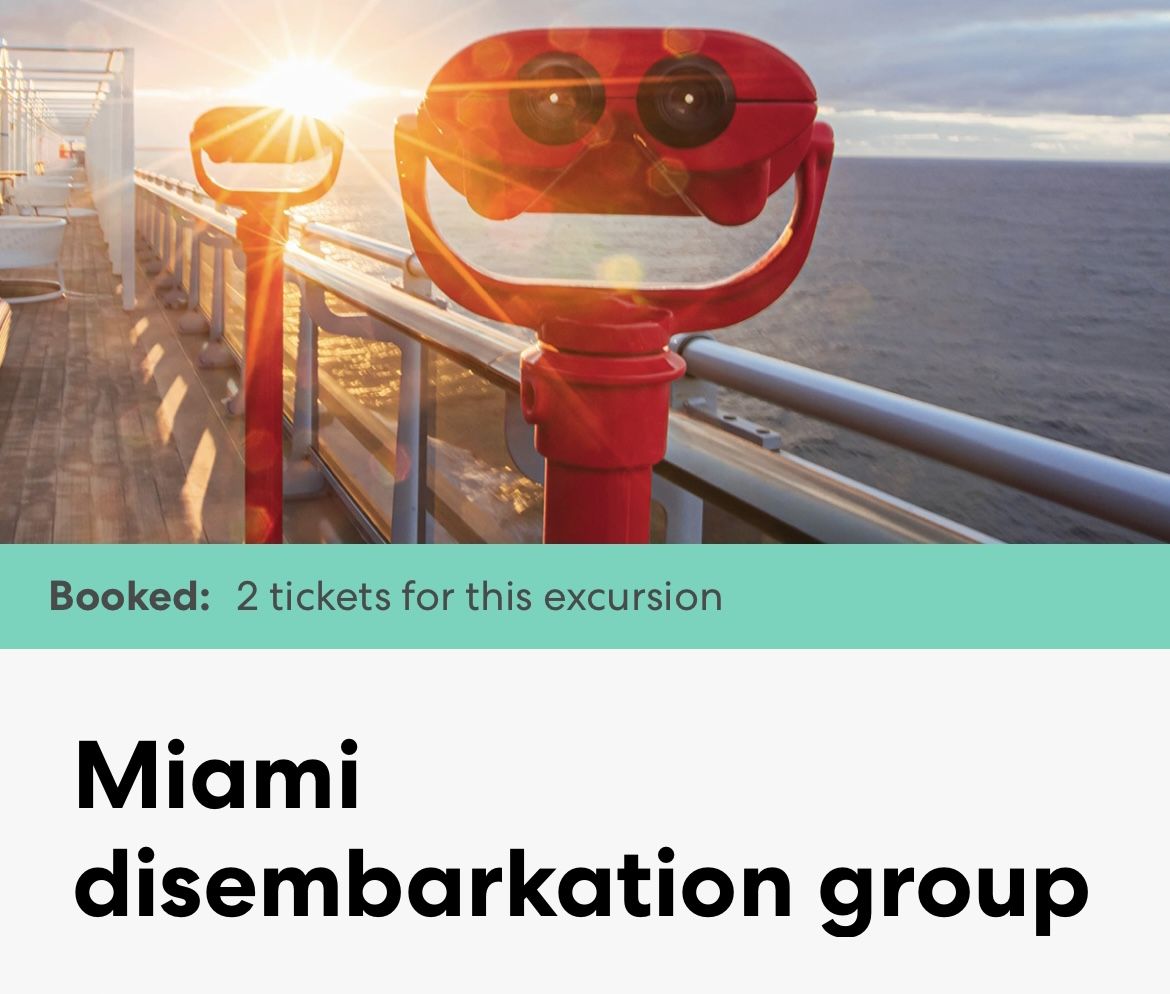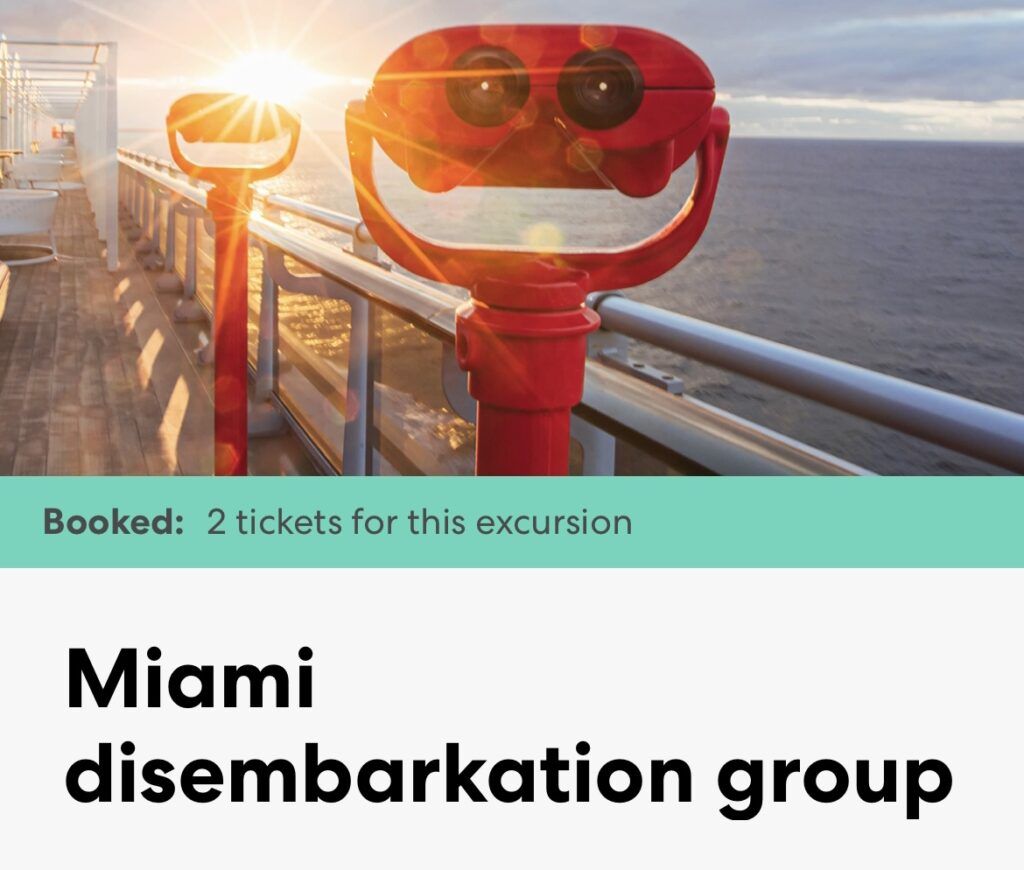 We were up around 7 am to do some last minute packing then grabbed one last breakfast in the Galley.
Back to our room to grab our bags, we walked off the ship at about 8:50 am. We were scanned off and through customs in about 10 minutes. Our Uber arrived shortly after to usher us from the Miami cruise port to our rental car pick up location.
We were now officially on solid land, at least for the time being.
Disclaimer: We were guests of Virgin Voyages on this sailing; however, as always, all opinions are our own.
Comments
What do you think of our Virgin Voyages Scarlet Lady Mayan Sol Cruise Review? Do you have plans to sail on this brand new cruise ship? Drop us an anchor below to share your thoughts on Virgin Voyages.