From its inception, Virgin Voyages has positioned itself as being unlike any other cruise line. As a "traditional cruiser", I was a bit skeptical that I would enjoy a line that was trying so hard to be different. After three days onboard, I am beginning to realize that I might be a Virgin Voyages' sailor after all. Find out why in our first impressions of Virgin Voyages Scarlet Lady.
Our First Impressions of Virgin Voyages Scarlet Lady
Indeed, there are many aspects of Virgin Voyages that are unlike any of the other cruise lines that we have sailed on in the past. Though, despite the line's best attempts, there are still several similarities between Virgin Voyages and other cruise lines.
Some of the line's thoughtful changes are exactly what we are looking for in a forward-thinking cruise line. Though, there are some areas where Virgin Voyages does fall short as well.
What Makes Virgin Voyages Shine
Dining
If there is one reason why we would book another cruise with Virgin Voyages, it would be the dining. Unlike contemporary cruise lines, there is no main dining room. Instead, there are several more intimate restaurants with unique culinary selections.
It wouldn't be a stretch to say that Virgin Voyages has some of the best dining at sea.
So far, we have dined at three of the complimentary "specialty" restaurants.
The ship's steakhouse, The Wake, served up a tender and well-seasoned filet. Along with carefully crafted side dishes, appetizers, and desserts, this restaurant was on par, or better, than similar up-charge venues found on its competitors.
Extra Virgin, the ship's Italian restaurant, served up some amazing homemade pasta dishes as well.
In general, the food and service more closely resemble a restaurant on land rather than a cruise ship.
Additionally, sailors can choose from two sit down options for breakfast and lunch. These venues are open everyday and serve premium offerings, like steak and eggs to more unique fare such as an impossible breakfast sandwich.
Likewise, the ship's "buffet", the Galley, offers small plates that are freshly prepared for each order. Here, you can get a hamburger or a salad, but there are also other "quick service" items rather than the sometimes heavy entrée selections at typical buffets. There are even grab and go options.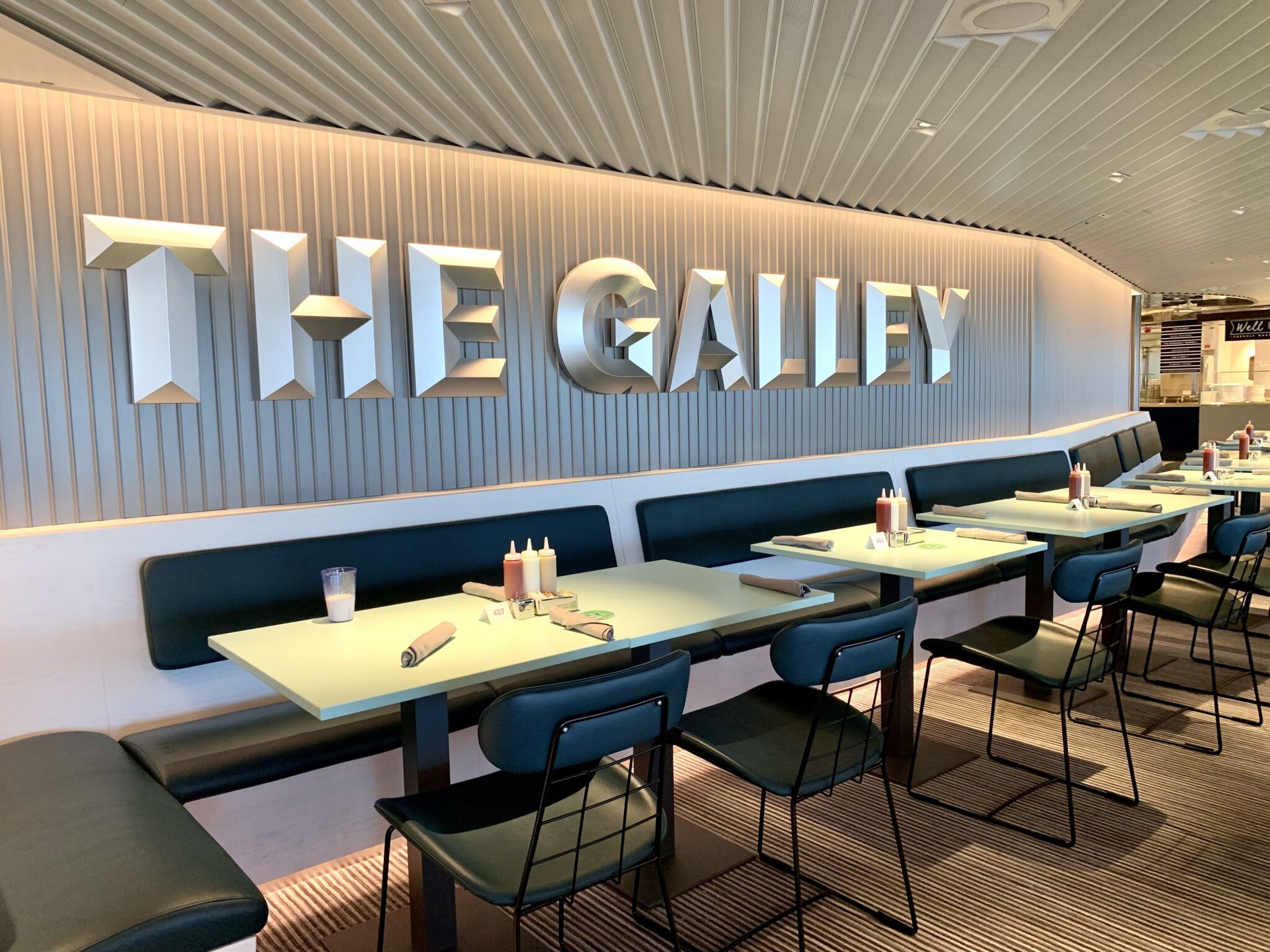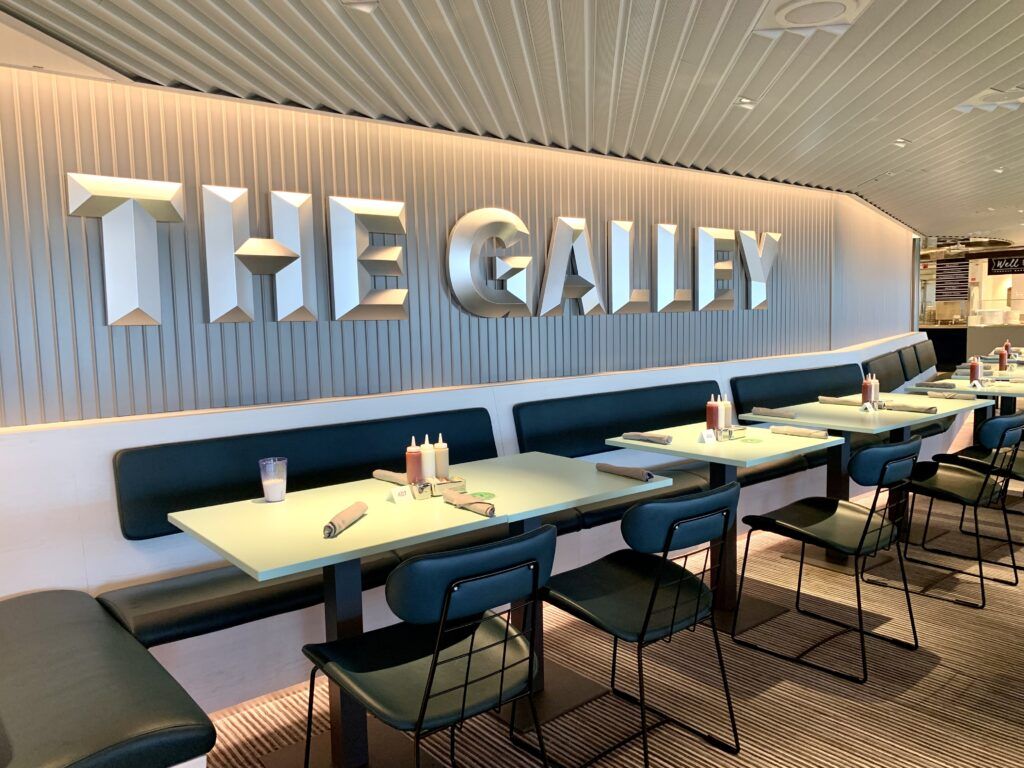 For now, crew even take your order and deliver the food to your table.
Not to mention, there is popcorn and pretzels at the Social Club and freshly made pizza at the Pizza Place. Another hidden gem is the grilled skewers at the Dock and the Dock House on Deck 7.
Service on Virgin Voyages
When it comes to service, Virgin Voyages crew certainly seem more relaxed. Several crew have told us that this cruise line treats them differently. This sense of community spills over into their personalities and overall service.
In all public venues, there are plenty of staff members eager to help guests. In fact, the ship seems a bit overstaffed, given that we are only sailing at about 50% capacity.
The Entertainment
While the verdict is still out on how more traditional cruisers will respond to the entertainment offerings, Virgin Voyages has definitely succeeded in being completely different when it comes to cruise ship entertainment. These shows are more intimate and engaging that your typical main theater productions.
During our cruise, The Red Room offered two signature shows, UNTITLED DANCESHOWPARTYTHING and Duel Reality.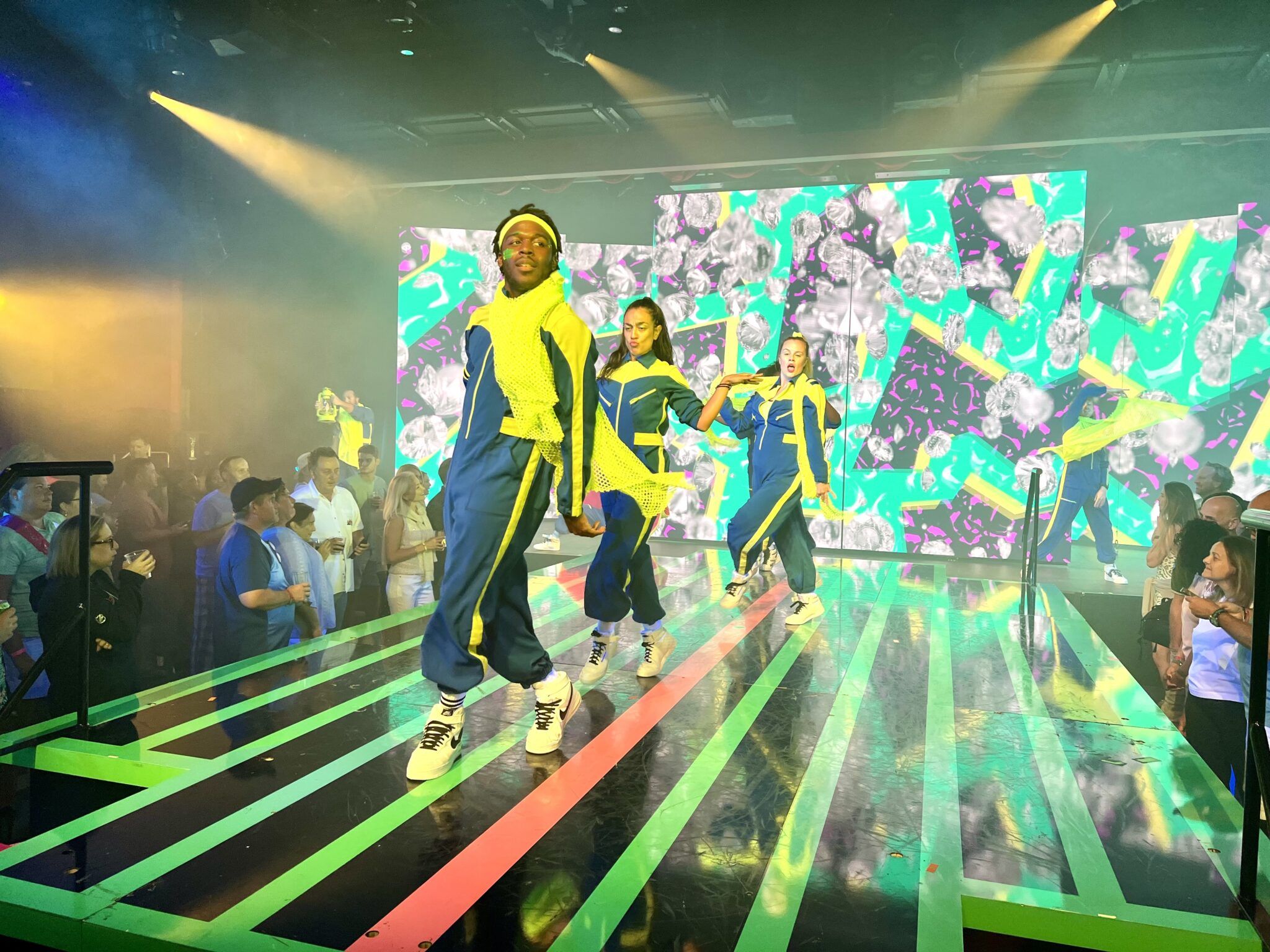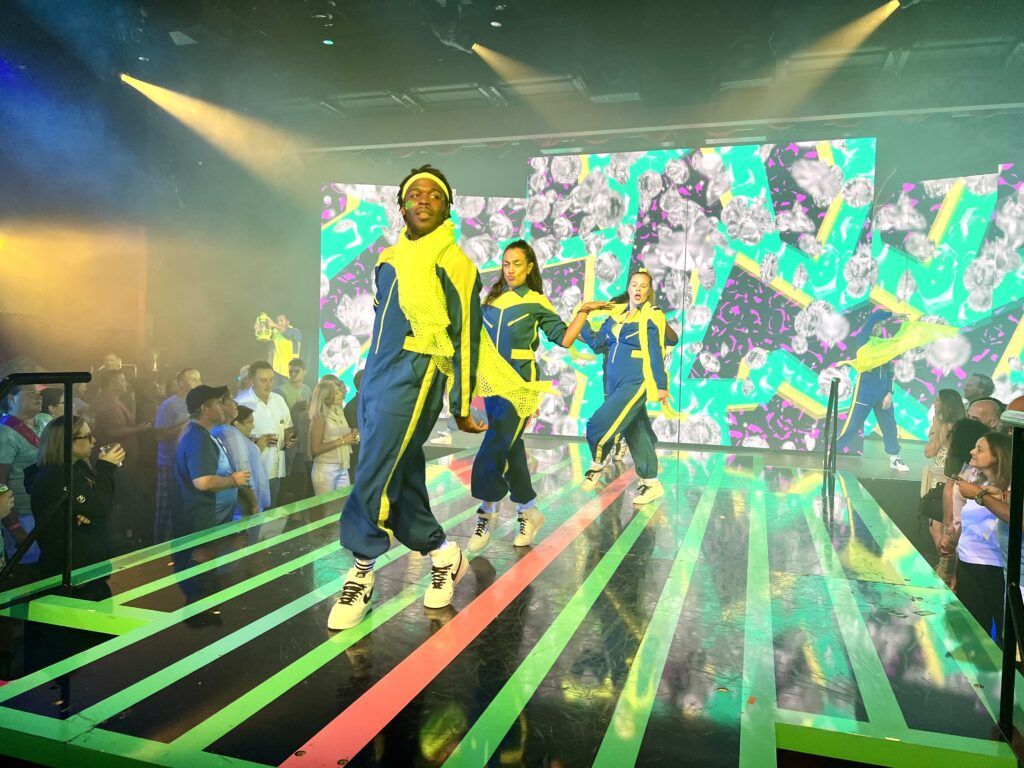 Duel Reality is a creative metropolitan circus, where highly skilled athletes incorporate storytelling into their impressive feats. While at times it felt more WWE than Cirque du Soleil, we did really enjoy this production.
UNTITLED DANCESHOWPARTYTHING is a high energy show that is part dance performance, part satire. The show certainly bucks the trend of the audience being passive observers. Surprisingly, I enjoyed this performance as well.
For those who loathe the traditional cruise shows, you are in luck. The entertainment here is far from ordinary.
The final show is Never Sleep Alone which is offered in The Manor. This edgy show is part cabaret and part the Virgin twist on other cruise lines' adult game shows.
Still, for a 5-night cruise, an additional show would be nice, as there are not many other nighttime activities. We were told that another theater show is coming next month.
Where Virgin Voyages Falls Short
Onboard Activities
Virgin Voyages puts a lot of emphasis on fitness. Many of the daytime activities on Scarlet Lady include fitness classes, yoga sessions, and well-being seminars.
Unless you are a gym rat, there aren't many organized activities during the day. The casino on the ship is small for a vessel of this size as well. So, you will likely be spending most of your sea days just lounging around the ship.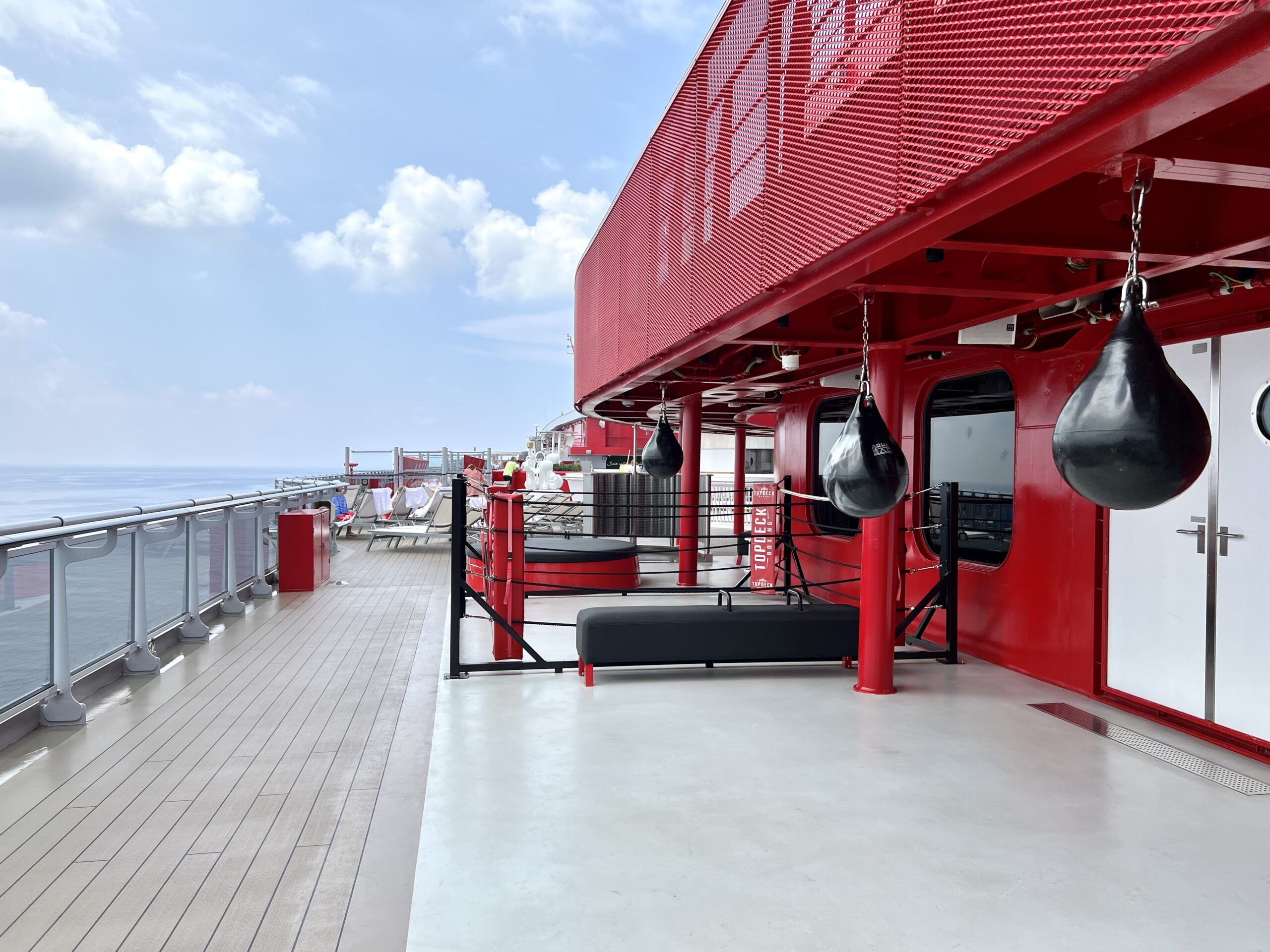 There are some predictable activities, including a daily session of trivia with a "Virgin twist", and The "Gamer" hosts sessions in The Social Club with popular board games and cards.
There are also a few up-charge activities like a mixology class that doubles as an Instagram photo tips class.
In the evenings, there is a glaring omission of live music throughout the ship. During our trip, the VV Band played a few evenings at the On the Rocks bar and the Phantom Folktales are "pop-up" performances around the ship, usually near the Dock or the Athletic Club.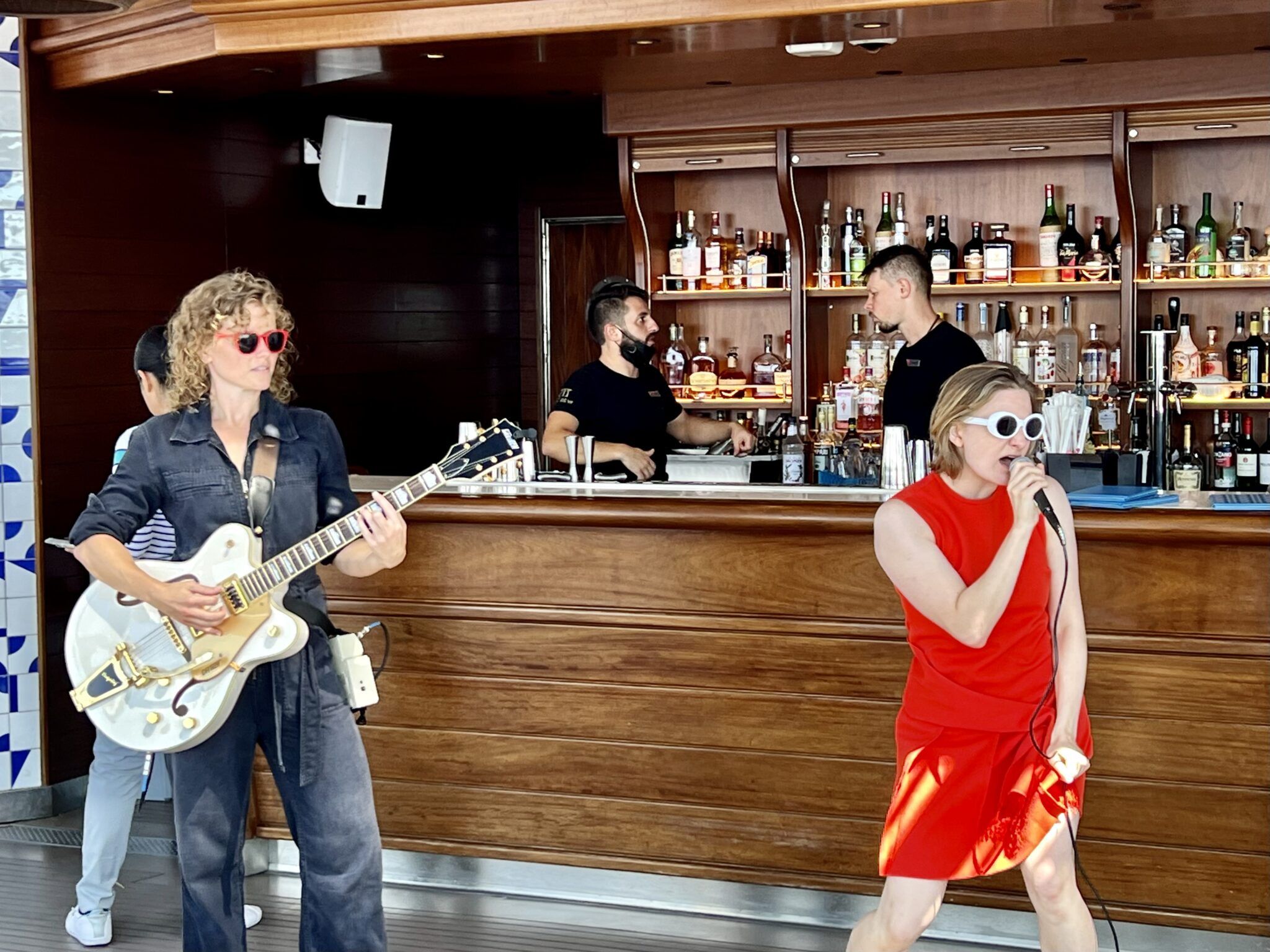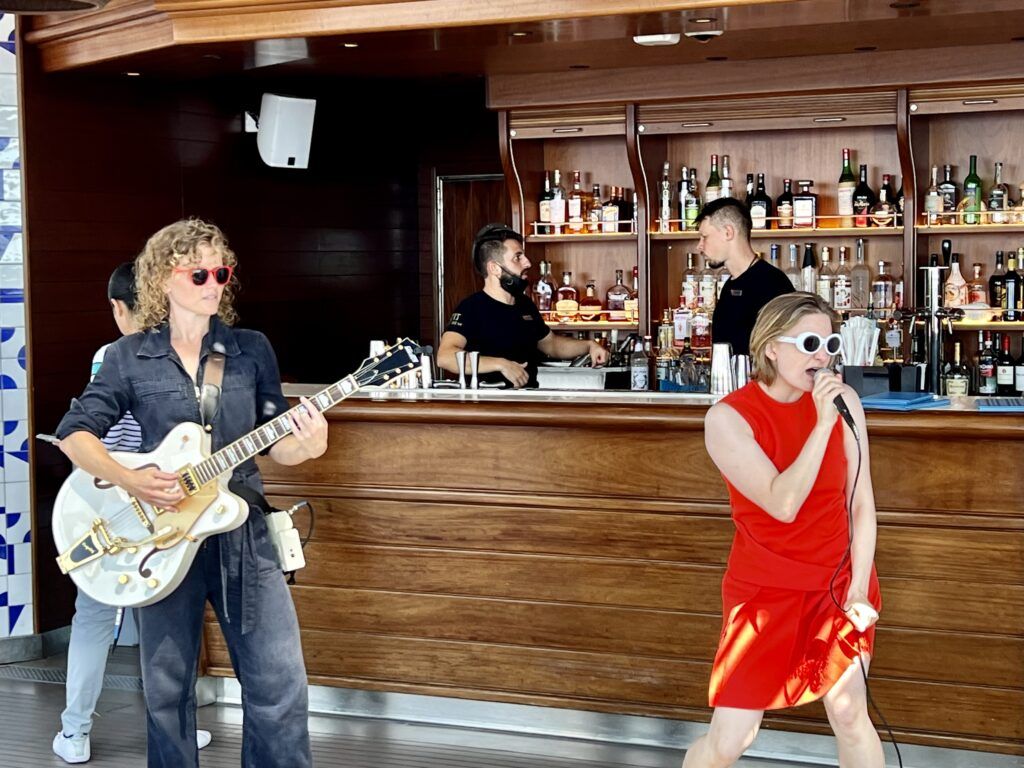 However, there is no piano music, no acoustic guitarist. For a brand so focused on its musical roots, the lack of live music is surprising.
On a positive note, the cruise line does feature several themed pool parties. From the Odyssea dancing through decades party to the very popular ship-wide Scarlet Night Party, these parties are reminiscent of what you would find on other cruise lines.
Virgin Voyages Ship Layout
One thing that surprised us about Virgin Voyages during our day tour a few weeks ago was the layout of the ship. While it was a whirlwind day, we thought the ship was confusing to navigate.
After three days on the vessel, we have habituated to the layout of Scarlet Lady. Though, it's still not very intuitive.
The interior spaces are an interwoven web of small bars, shops, and public spaces.
While we do appreciate the unique theming and transitions from one space to the next, you often have to walk through one venue to get to another. Or, you can only access certain venues from one side of the ship.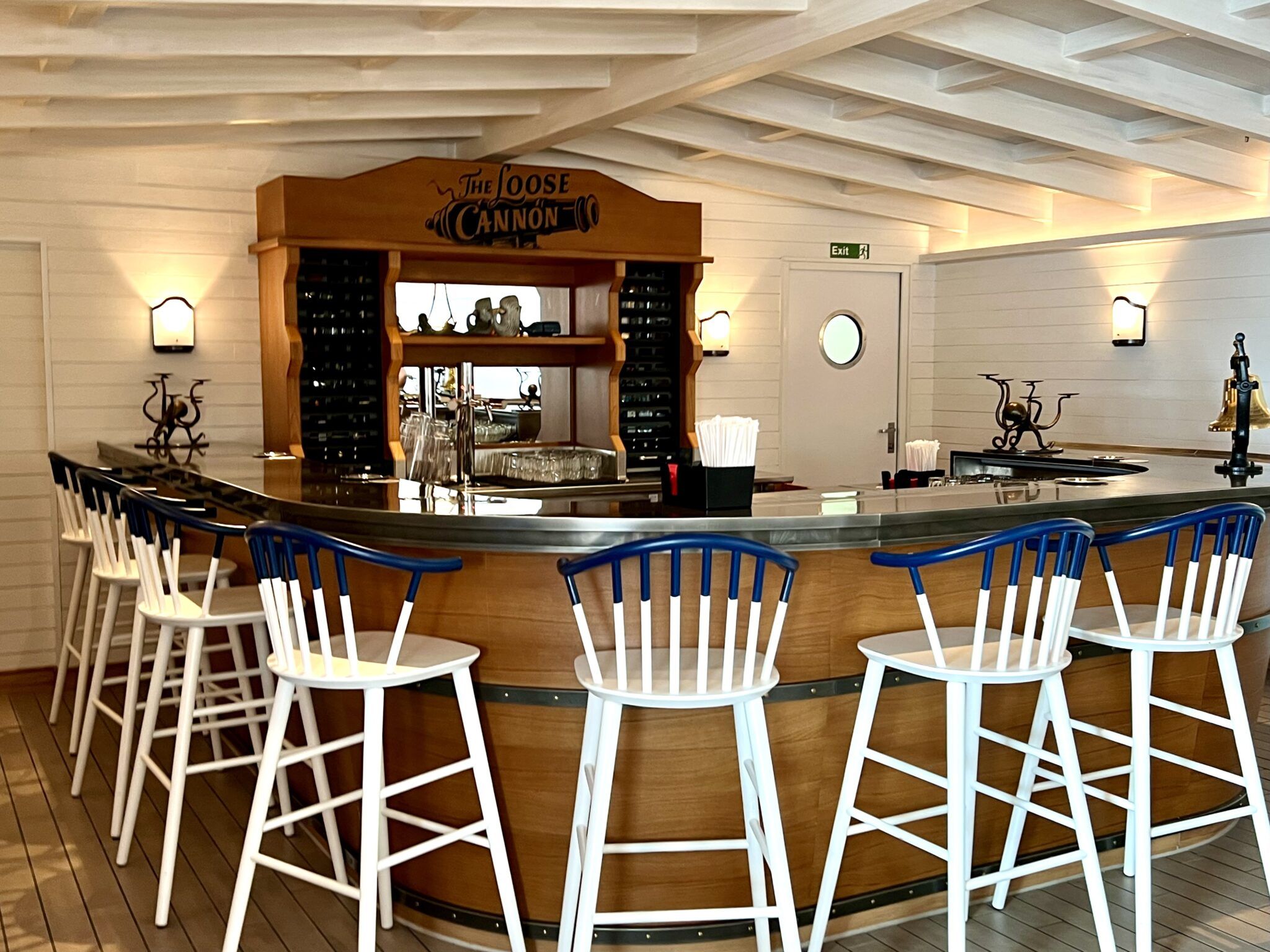 For instance, the only way to access the Loose Cannon bar on deck 7 is to go through The Social Club.
Even some of the outdoor spaces seem closed off and cluttered with amenities that no one seems to be using. Particularly, the boxing ring, the sea saws, and circuit training equipment on deck 16 seem like a waste of valuable outdoor space.
There is also a lack of signage on the ship. The wife, and several other cruisers, have gone searching for public restrooms which are often tucked away from clear sight.
With all of the features in the app, it surprises us that there is no ship map or interactive "directions".
Overall First Impressions of Virgin Voyages Scarlet Lady
It appears that Virgin Voyages has succeeded in offering a more laid back, resort-style feel that is different than your typical cruise vacation.
I like the more casual and fun vibe. Best of all, the cruise line really focuses on eliminating the unnecessary things like cruise ship photographers or flyers in your room to attend a jewelry seminar or port talk.
While not knowing what to expect, our first impressions of Virgin Voyages are more positive than I anticipated.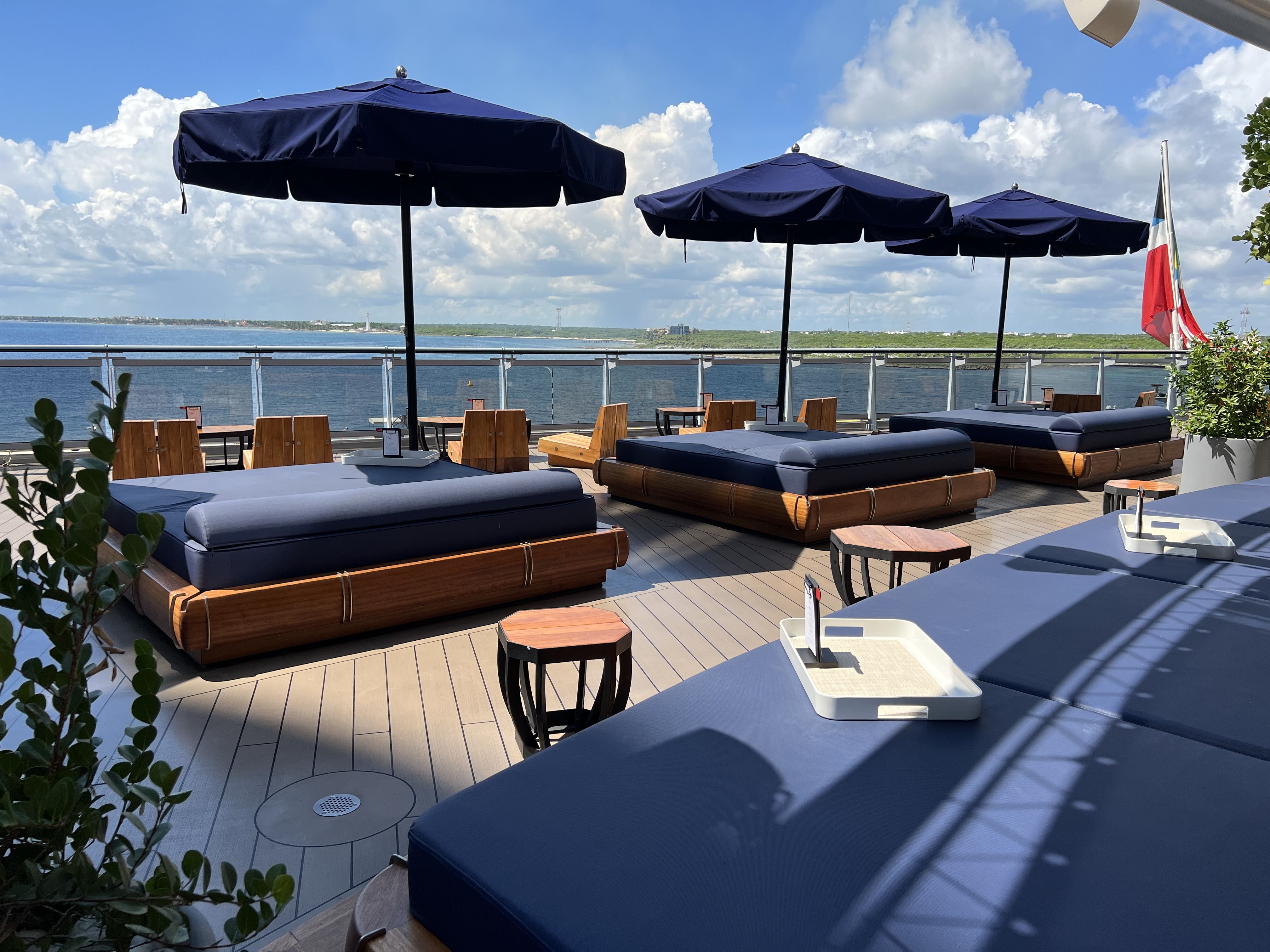 The dining, onboard atmosphere, and service won me over. After a few great meals and drinks, some interesting shows, and a relaxing sea day in The Dock, what's not to love.
While there are certainly still some kinks, many are easy fixes for the brand without compromising its unique style.
We have confidence that the cruise line will find its stride in delivering a chic, urban cruise experience without alienating more traditional cruisers.
Stay tuned for more in-depth reviews in the coming weeks.
Disclaimer: We are guests of Virgin Voyages on this sailing of Scarlet Lady, but, as always, all opinions in this post are our own.
Comments
Do you agree with our first impressions of Virgin Voyages Scarlet Lady? Do you have plans to sail with this new cruise line? Drop us an anchor below to share your opinions of Virgin Voyages.