Viking, known for both its river cruises and ocean cruises, has now entered the expedition cruise market. This luxury line's first endeavor, Viking Octantis, is a 30K gross ton, polar class 6 vessel accommodating up to 378 passengers.
Debuting in early 2022, Viking Octantis is named after the "South Star". While its soon-to-debut sister ship, Viking Polaris, is named after the "North Star". Aptly called, these expedition vessels are built specifically to explore the world's most remote destinations.
While we joined Viking Octantis for a Caribbean sailing, these expedition vessels will visit Antarctica, South America, the Great Lakes, and more. These vessels allow guests to truly explore the world in comfort.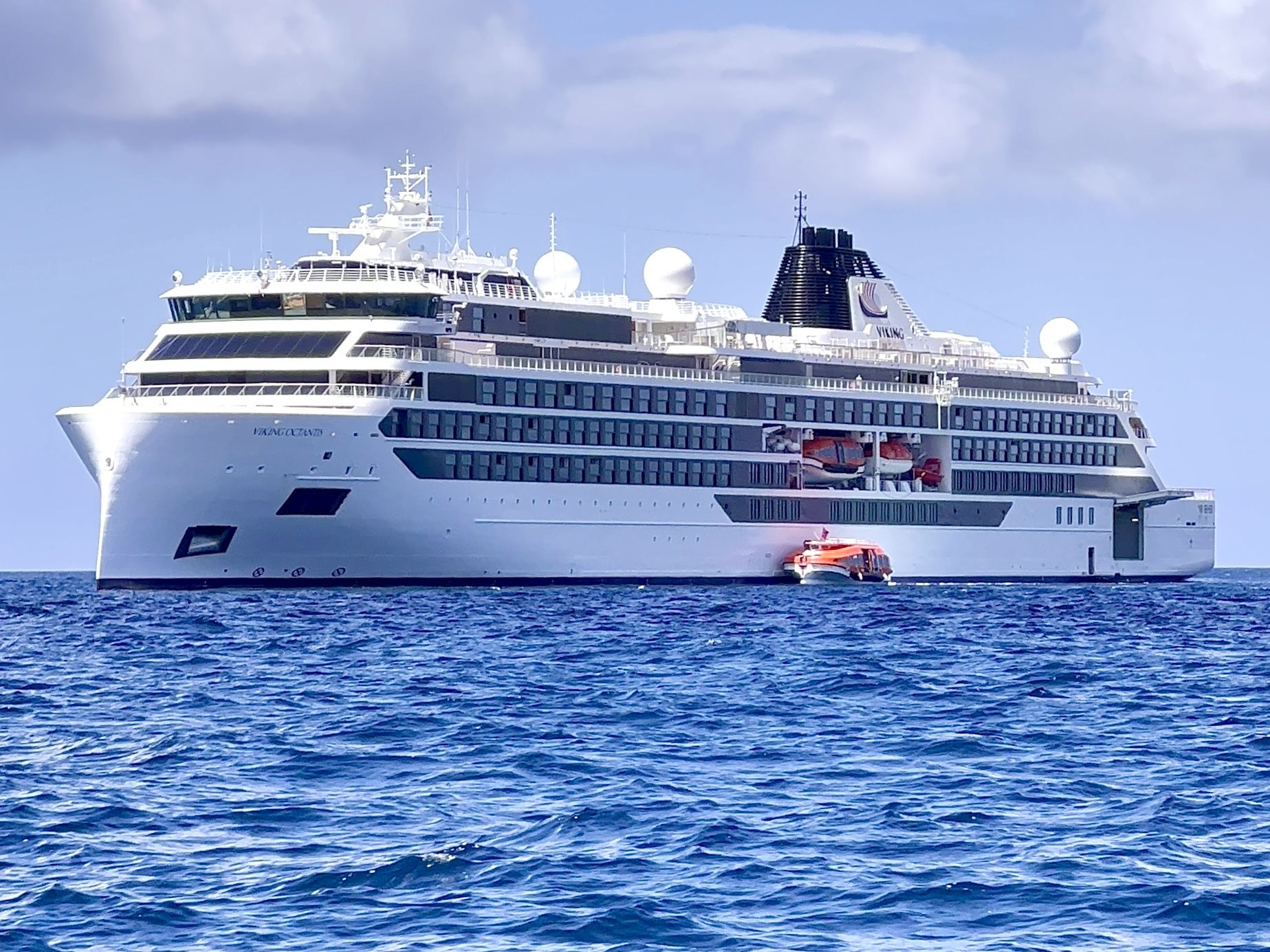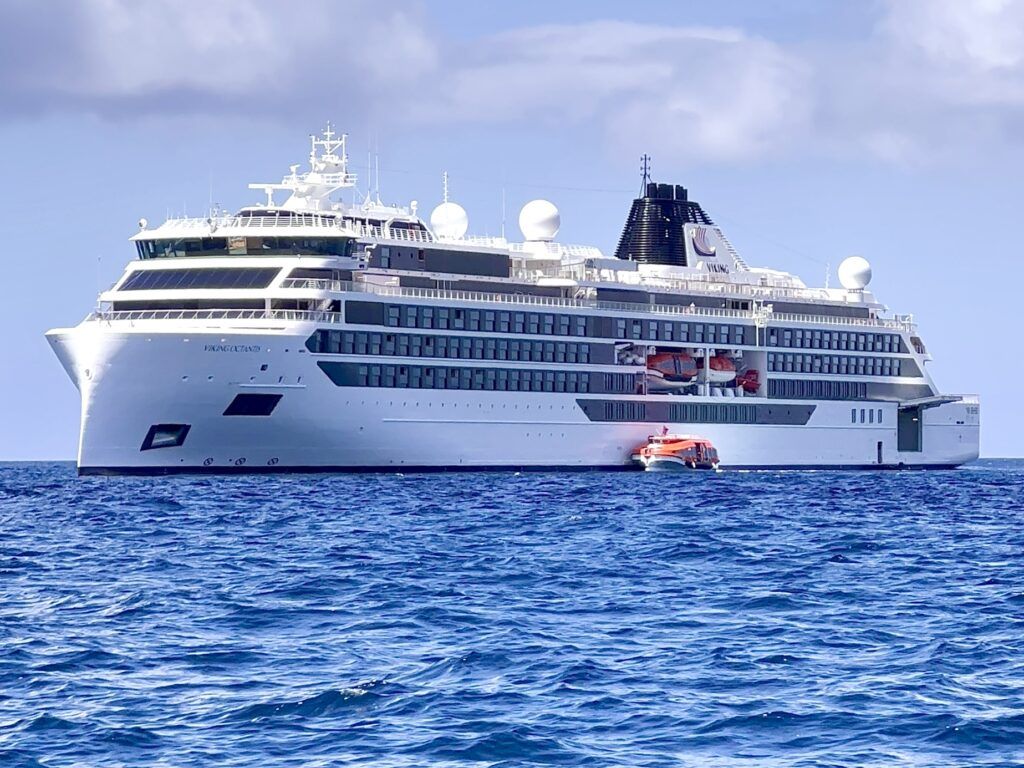 Combining elements from the brand's ocean and river ships, Viking Expedition succeeds at delivering a diverse and engaging small cruise ship experience that is still distinctly Viking.
These vessels are for the 18+ curious travelers who want to dive into their destinations. You will not find casinos, art auctions, photography studios, or formal nights on Viking cruises.
There is also no charge for WiFi, specialty dining, the thermal suite, or use of the laundry facilities.
Instead, you will find several inviting spaces and enrichment activities.
In this Viking Octantis ship tour, we take you deck by deck exploring all that this new expedition vessel has to offer. We also include the restaurant and bar menus. This way, you know exactly what to expect when taking a Viking expedition cruise.
Viking Octantis Ship Tour
Deck 6
We start this Viking Octantis Ship Tour all the way at the top of the ship on deck 6. All the way forward on this deck you will find a secluded area with the most luxurious suites on the ship, the Owner's Suite and 4 Explorers Suites.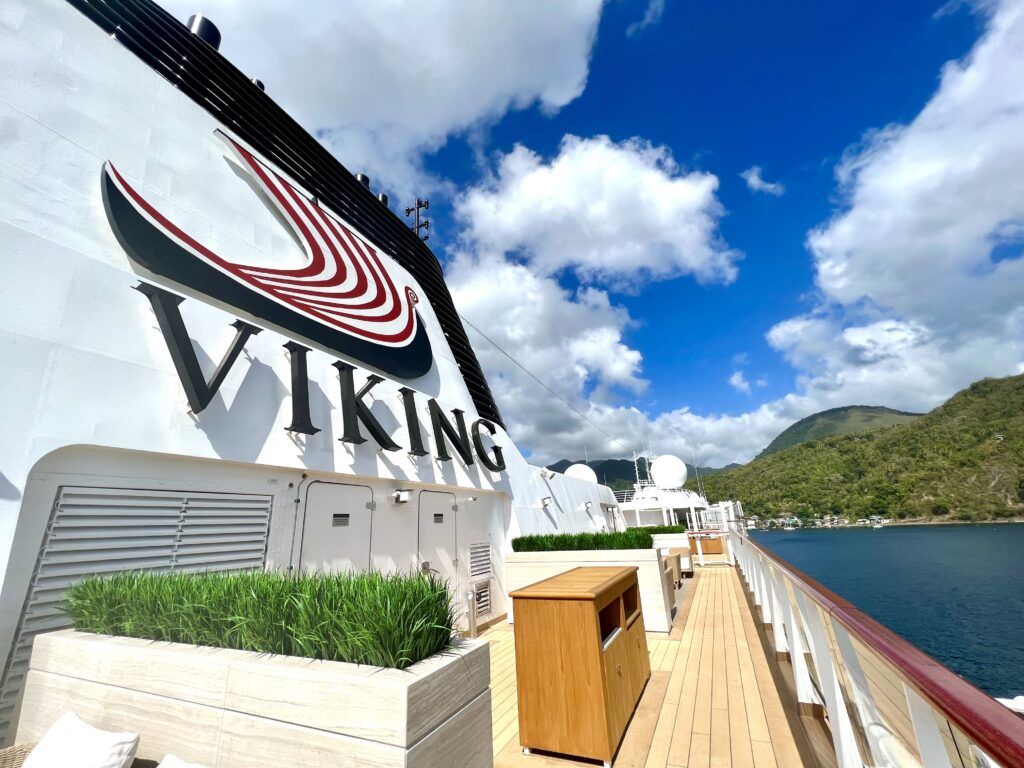 Open Air Deck– Moving more midship, there is an open air deck. This area features some comfortable couches and chairs in the middle. It also has more comfy furniture alongside the smoke stack on both starboard and port sides of the ship.
Additionally, there are some outward facing loungers along the rails to catch some rays on those warmer climate itineraries.
The aft of deck 6 is a crew only area.
Deck 5
Deck 5 is home to many public venues on Viking's new expedition ships. This deck also features a U-shaped outdoor promenade which allows guests to walk almost entirely around the ship.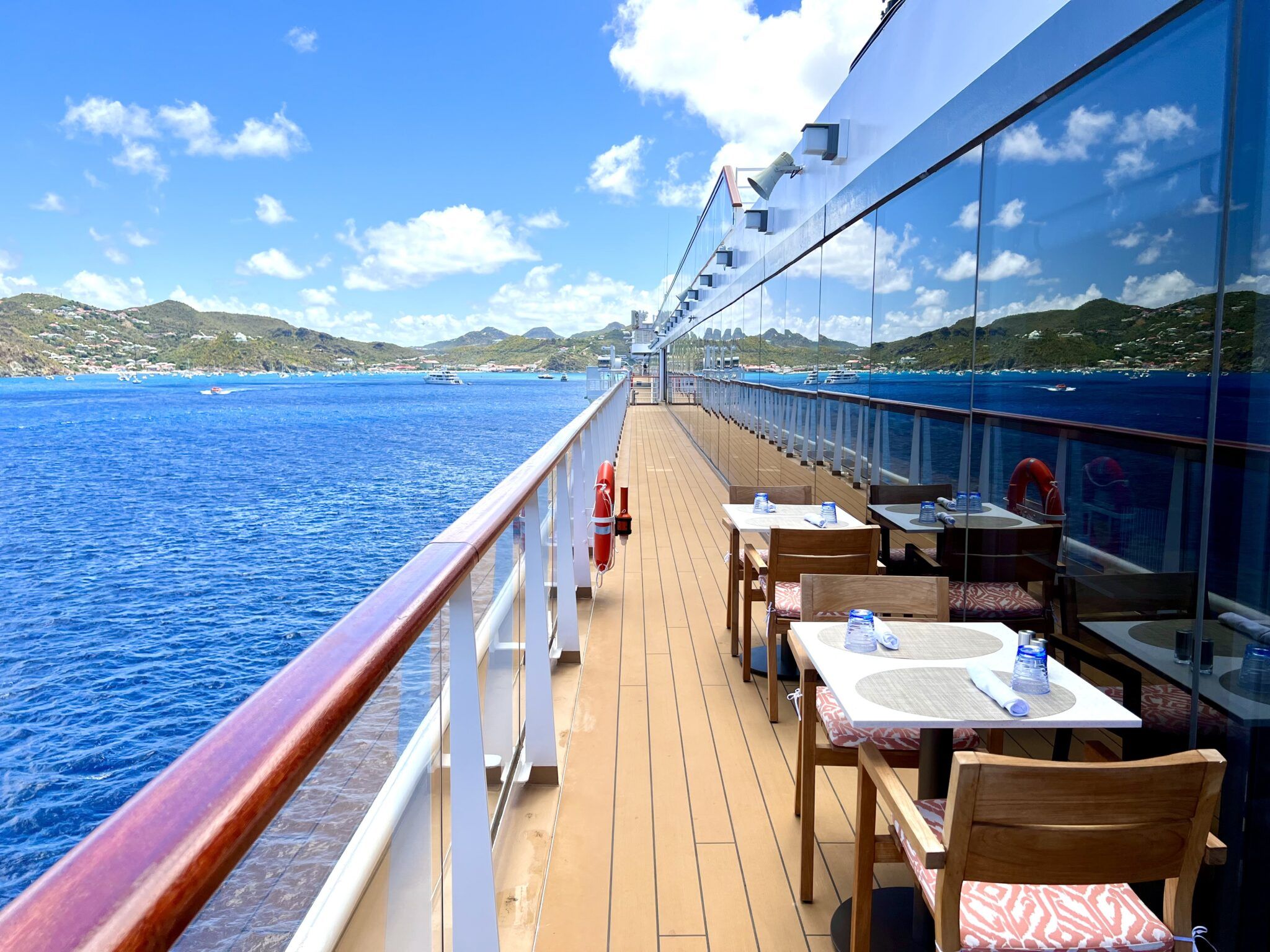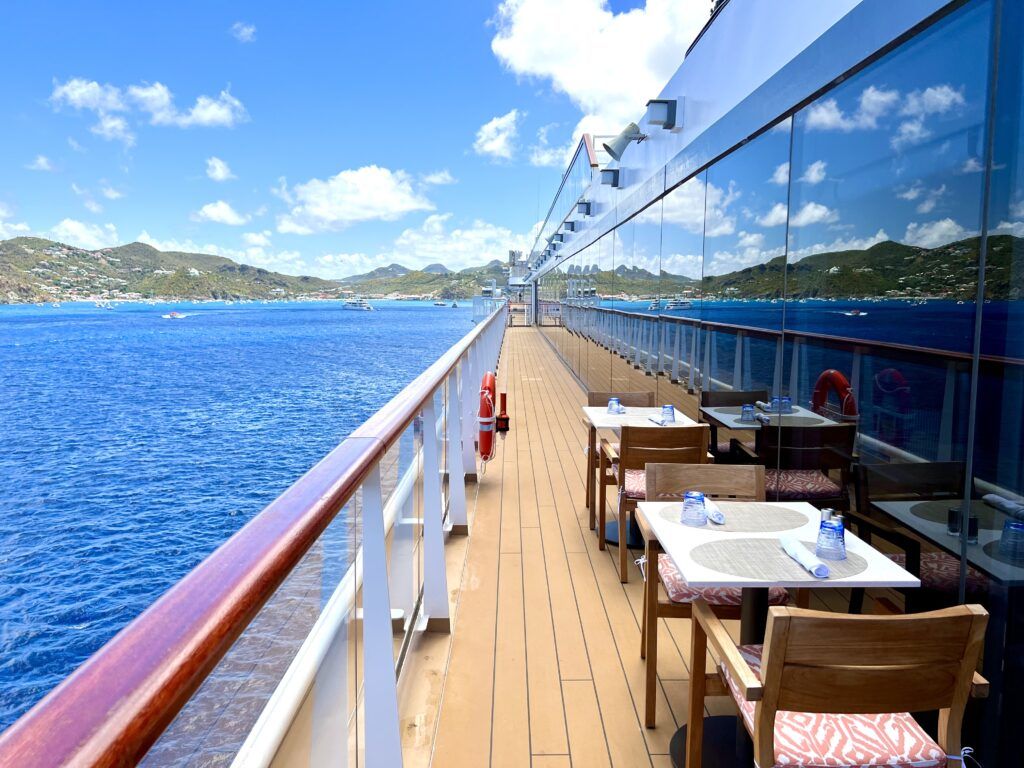 Explorers' Lounge
Starting at the very front of the ship is the second floor of the Explorers' Lounge. This two story space, inspired by the trade routes of Vikings, features floor to ceiling panoramic windows, comfy furniture, and fireplaces.
It is the perfect spot for you to enjoy the views, strike up a conversation with friends, or just relax with a good book.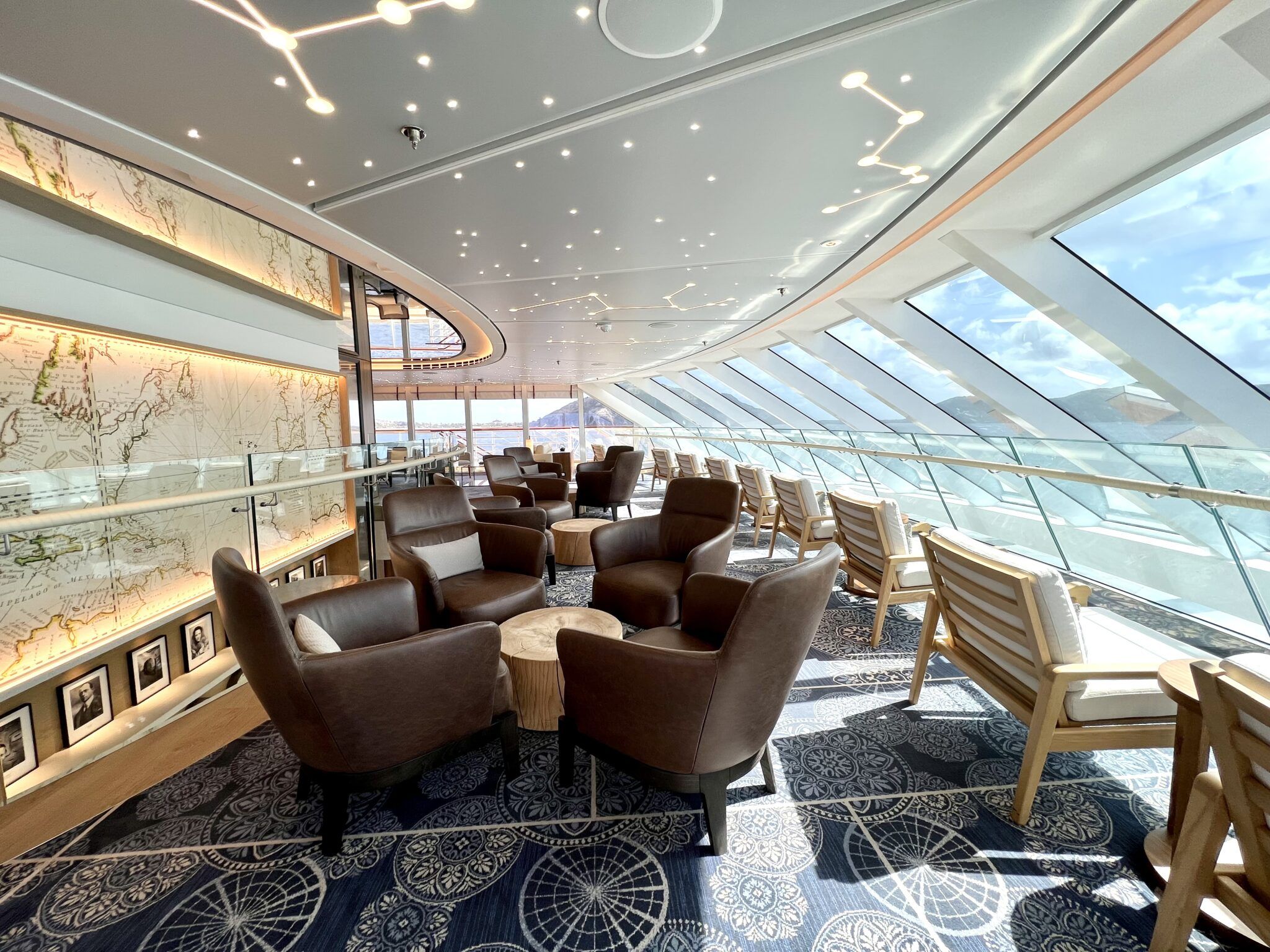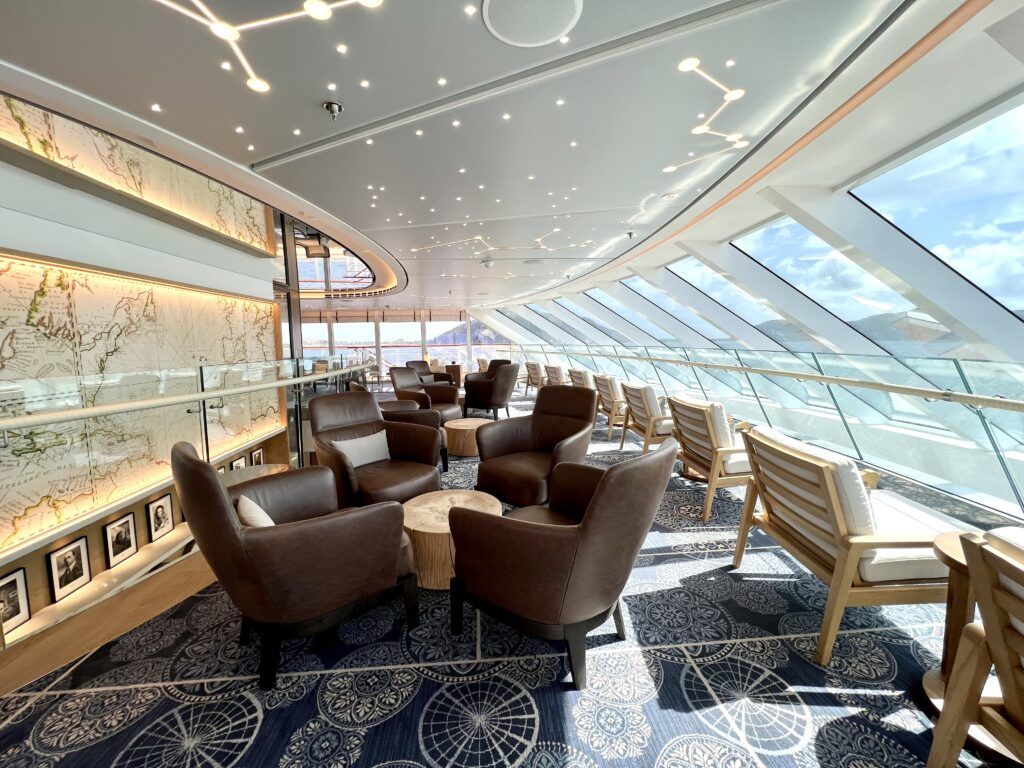 The Living Room
Continuing down deck 5, you will enter the Living Room. This large space features plenty of furniture, outward facing views, and a bar. You will also find puzzles, interactive table games, and a library of books curated by London bookshop Heywood Hill and Cambridge University.
This space truly is your living room at sea.
The bar in the Living Room is open from around 10 am to 9 pm daily. It serves up the cruise line's standard drink menu, as well as espresso-based beverages. This was our go-to spot for lattes and espressos during the cruise.
In the afternoons and evenings, you can also find light classical music in this venue.
Viking Standard Bar Menu | Viking Wine List
Mamsen's
Mamsen's, Viking's traditional Scandinavian deli, is open for breakfast, lunch, and snacks. This venue is located portside on Deck 5.
Breakfast is served usually between 8:30 am to 10:30 am. Lunch is available from 11 am to 2 pm, and snacks from 3 pm to 5 pm.
Viking cruisers will recognize the Norwegian specialties like the open-faced sandwiches, the signature waffles, and the pea soup.
We enjoyed the waffles for breakfast as well as the sandwiches and snacks in the afternoons.
World Café
The World Café is Viking's cruise ship buffet. In fact, the buffet on these new expedition ships is larger than its counterpart on Viking's ocean ships.
The World Café is open for breakfast, lunch, and dinner. To our surprise, the buffet was mostly self-service though.
For breakfast, you could find your typical continental pastries and warm selections like eggs and breakfast meats. There is also a custom egg station.
Lunch and dinner in the World Café offered similar selections. There was always a pizza station, bread station, warm entrée selection, salad bar, and dessert selection. The entrée selections changed daily.
On the portside of the World Café there is a sushi and seafood bar; on the starboard side of the venue, there is the Grill.
During the day, the Grill is your lido deck food stop for made to order burgers, hot dogs, fried chicken sandwiches, and fries. For dinner, the Grill serves made to order steaks, lobster tail, and other seafood selections each evening.
Given the smaller than expected main dining room size and menu, we dined at the buffet more than we usually do on a cruise.
Aquavit Terrace
At the aft of the World Café, you will find the Aquavit Terrace. This is another familiar venue to past Viking cruisers.
This multi-purpose space blends the indoors and outdoors with dining tables, a large U-shaped bar, and loungers.
The Aquavit Bar is generally open from about 10 am to 9 pm daily.
Pools– The Aquavit Terrace is also home to an indoor pool with an inside-out pass-through feature.
Outside, you will find three plunge pools of varying temperatures- the frigidarium, the tepidarium, and the caldarium. The middle plunge pool can be accessed from the larger indoor pool.
We enjoyed this completely aft outdoor space during the warmer sea days to catch some rays and admire the wake views.
Deck 4
Continuing our Viking Octantis Ship Tour, we head down to deck 4.
Explorers' Lounge– All the way forward on deck 4 is the lower level of the Explorers' Lounge. This Viking staple is the perfect spot day or night.
This two-story observational space features live music in the evenings from a piano player and a musical duo as well as a full bar. The bar is generally open from about 12 pm to close daily.
The remainder of deck 4 is all staterooms including Nordic Penthouse, Nordic Junior Suite, and Deluxe Nordic Balcony cabins.
For our cruise on Viking Octantis, we were assigned a Nordic Junior Suite. This spacious and luxurious room provided all the comforts of home and several upgrades that are ideal for expedition cruising.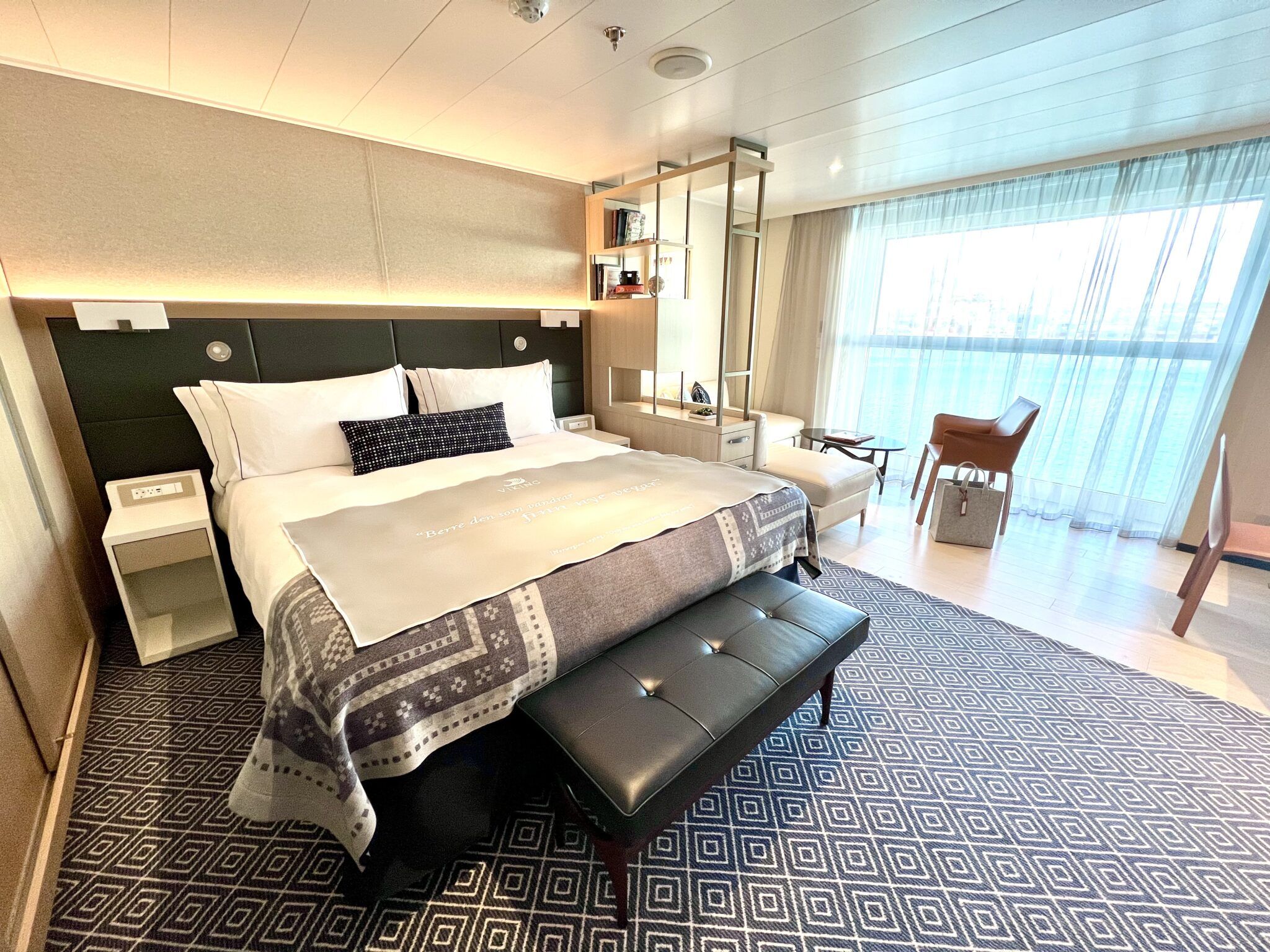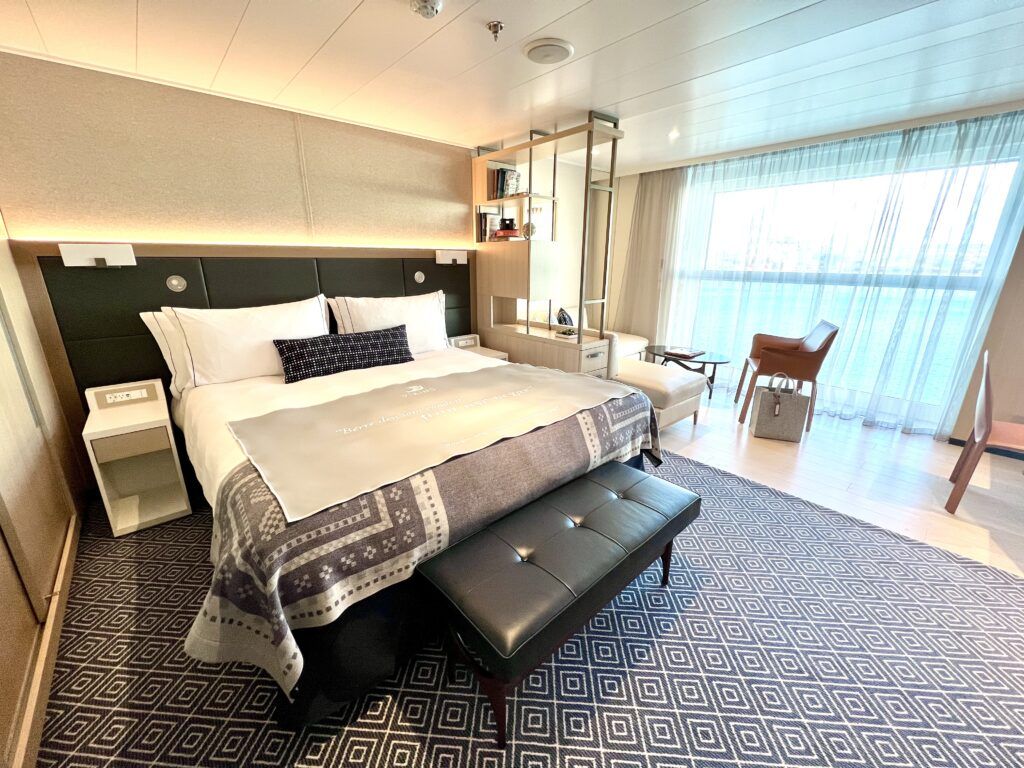 Exclusive Savings: Get Deals on Viking Expedition Cruises!
Deck 3
The Bow– Located all the way at the front of deck 3, you will find a sizeable viewing platform ideal for watching the sail-in to ports of call or for wildlife viewing.
The Shelter– For those chillier times, the Shelter is a partially covered region behind the bow.
The reminder of deck 3 is mostly Deluxe Nordic Balcony cabins.
The only other public spaces on deck 3 are the Nordic Shop and the Travel Consultant desk.
Nordic Shop– The Nordic Shop is rather small but features a collection of Scandinavian sweaters, Helly Hansen jackets, gnomes, and other small collectibles. If you have any onboard credit, you might find yourself coming home with some of these items.
Travel Consultant– If you are looking to book another Viking cruise while onboard this ship, you can head to the travel consultant desk where the staff will be happy to help.
Deck 2
Continuing on with our Viking Octantis Ship Tour, we head down to deck 2.
Forward on deck 2 are more staterooms, the Nordic Balcony Cabins.
Expedition Central– Located midship on deck 2 is Expedition Central. Staffed by the expedition team, guests can learn more about ashore activities and view the real time ship tracker here.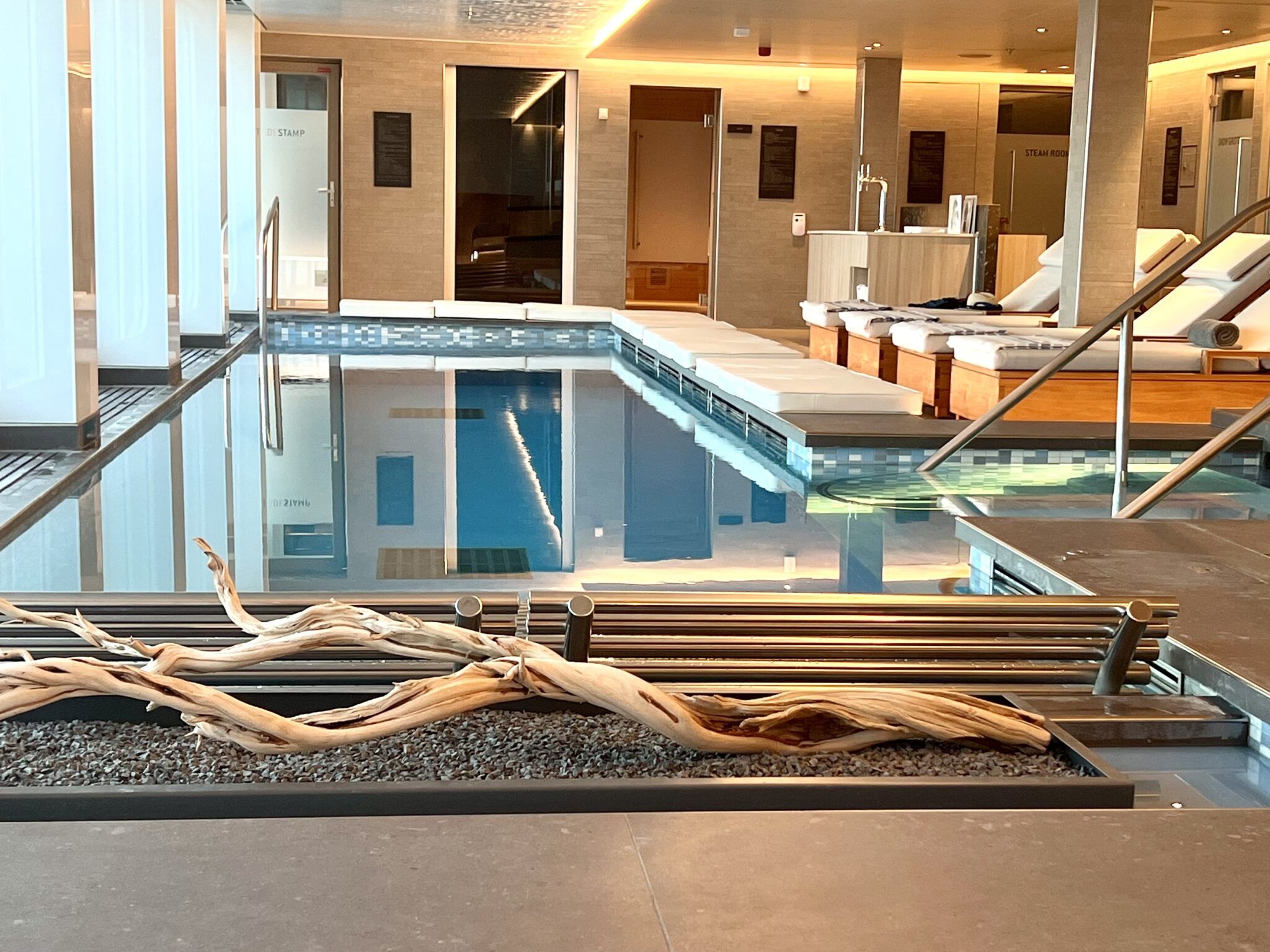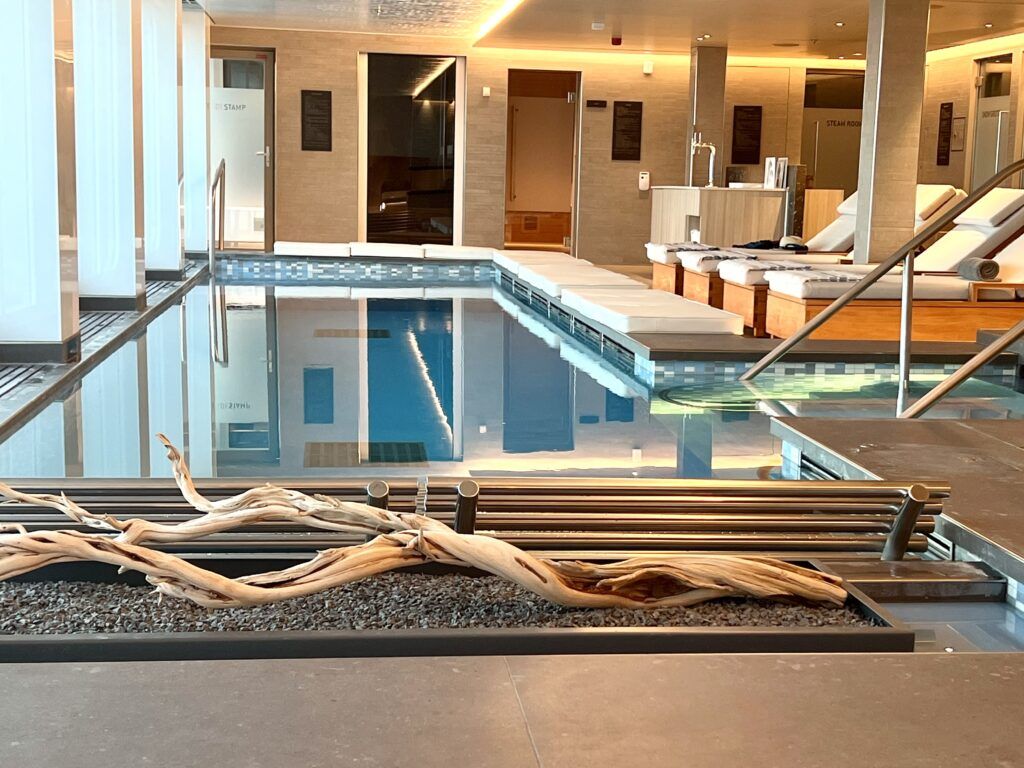 The Nordic Spa– This thermal suite is complimentary to all guests. So, you can enjoy the hydrotherapy pool, sauna, steam room, snow room, heated stone loungers, and more throughout the day.
Of course, you can also book up-charge spa sessions like massages or facials or beauty treatments in the adjacent hair salon.
Fitness Center– Directly across from the Nordic Spa is the fitness center. While small, it does contain cardio equipment, some weight machines, a small free weight section, and some open space for self-led yoga.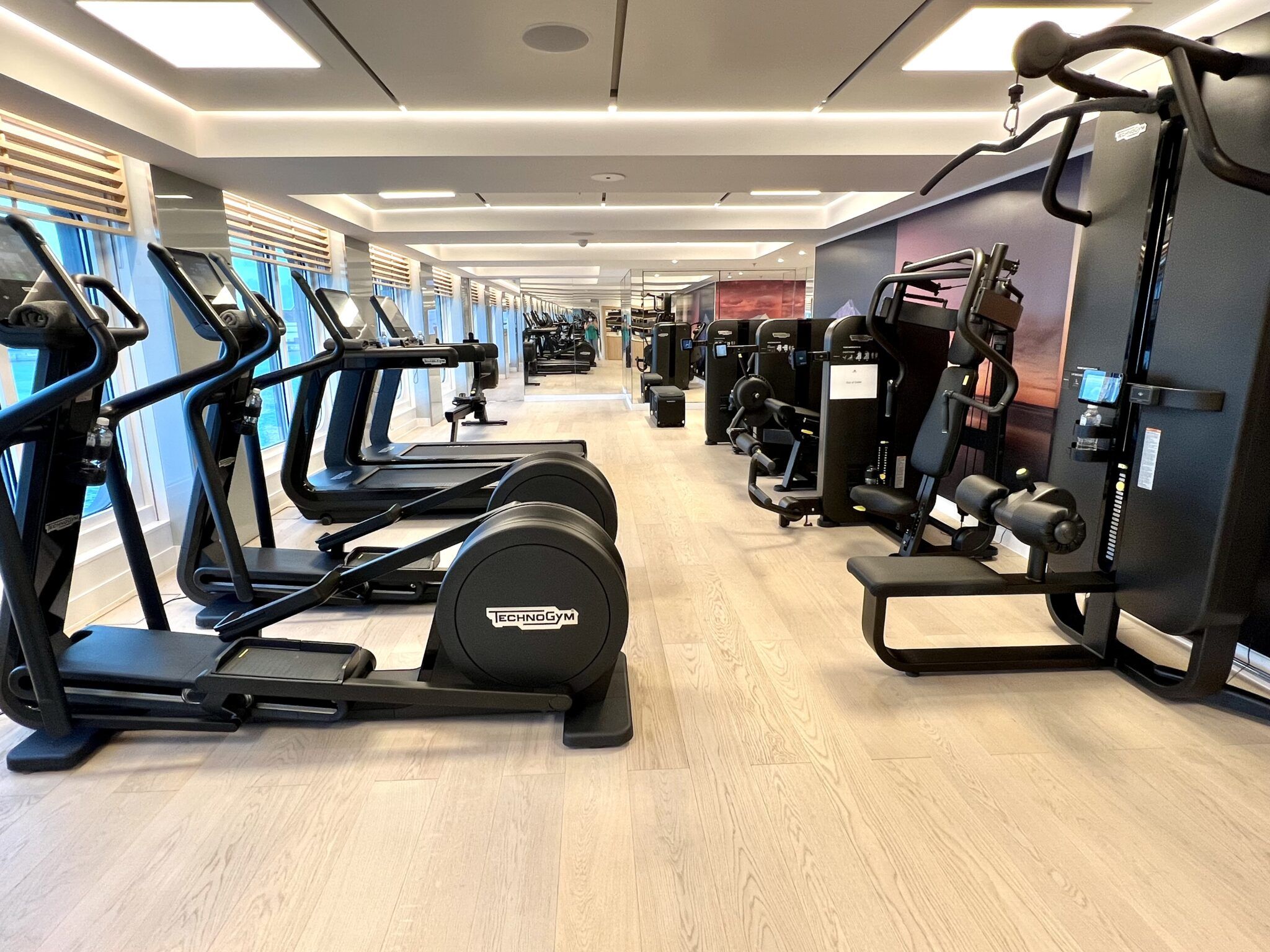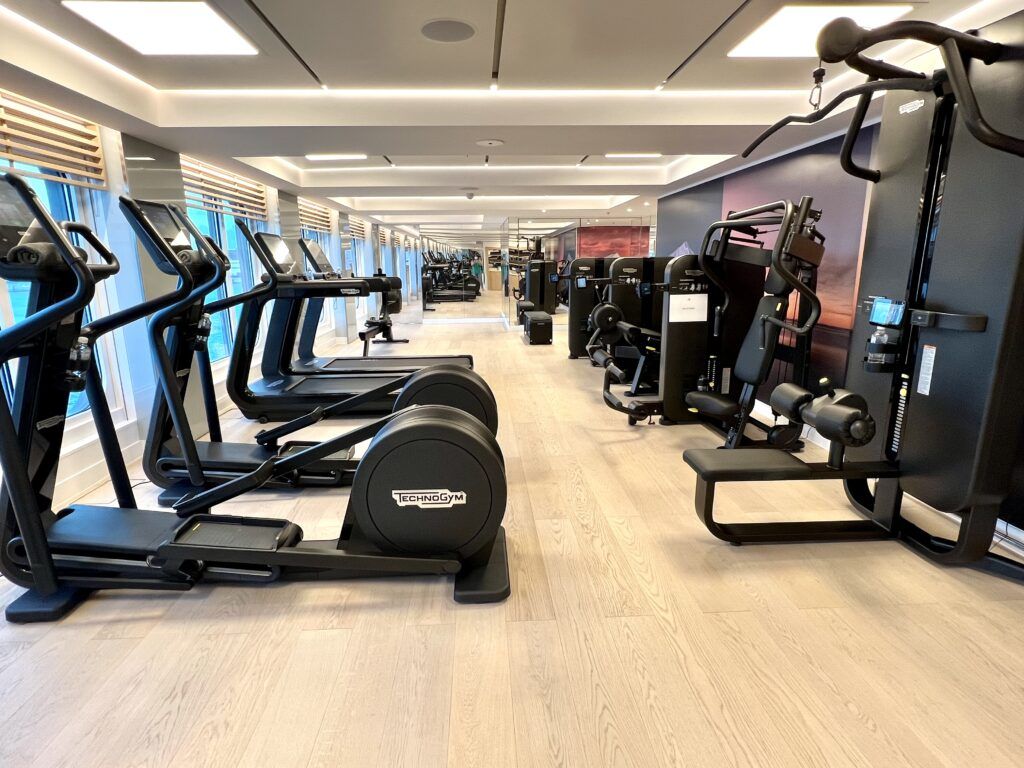 The Aula
Located aft on deck 2 is the Aula, the impressive theater on Viking expedition ships.
The Aula is a stunning panoramic auditorium inspired by the University of Oslo's famed ceremonial hall. This unique space features a 4K panoramic screen which can retract to expose floor to ceiling windows and 270° views.
This venue transforms seamlessly from a presentation theater, to an art gallery featuring Munch works, to a beautiful indoor viewing area.
The Aula is home to documentaries, port talks, movies, lectures, and even some traditional cruise shows like the Liar's Club and a musical production by the Entertainment Manager.
The Aula also serves as a warm aft-viewing area which is perfect for itineraries in the polar regions.
Finse Terrace
Perhaps the most stunning addition to Viking Octantis and her soon to debut sister ship, Viking Polaris, is the Finse Terrace. This outdoor space with sunken seating, outward facing aft views, and even lava rock "fire-pits" is located beyond the Aula on Deck 2.
Named after the Finse Plateau in Norway, where some of the greatest polar explorers did their expedition training, this al fresco lounge area is another great spot to relax and take in the scenery.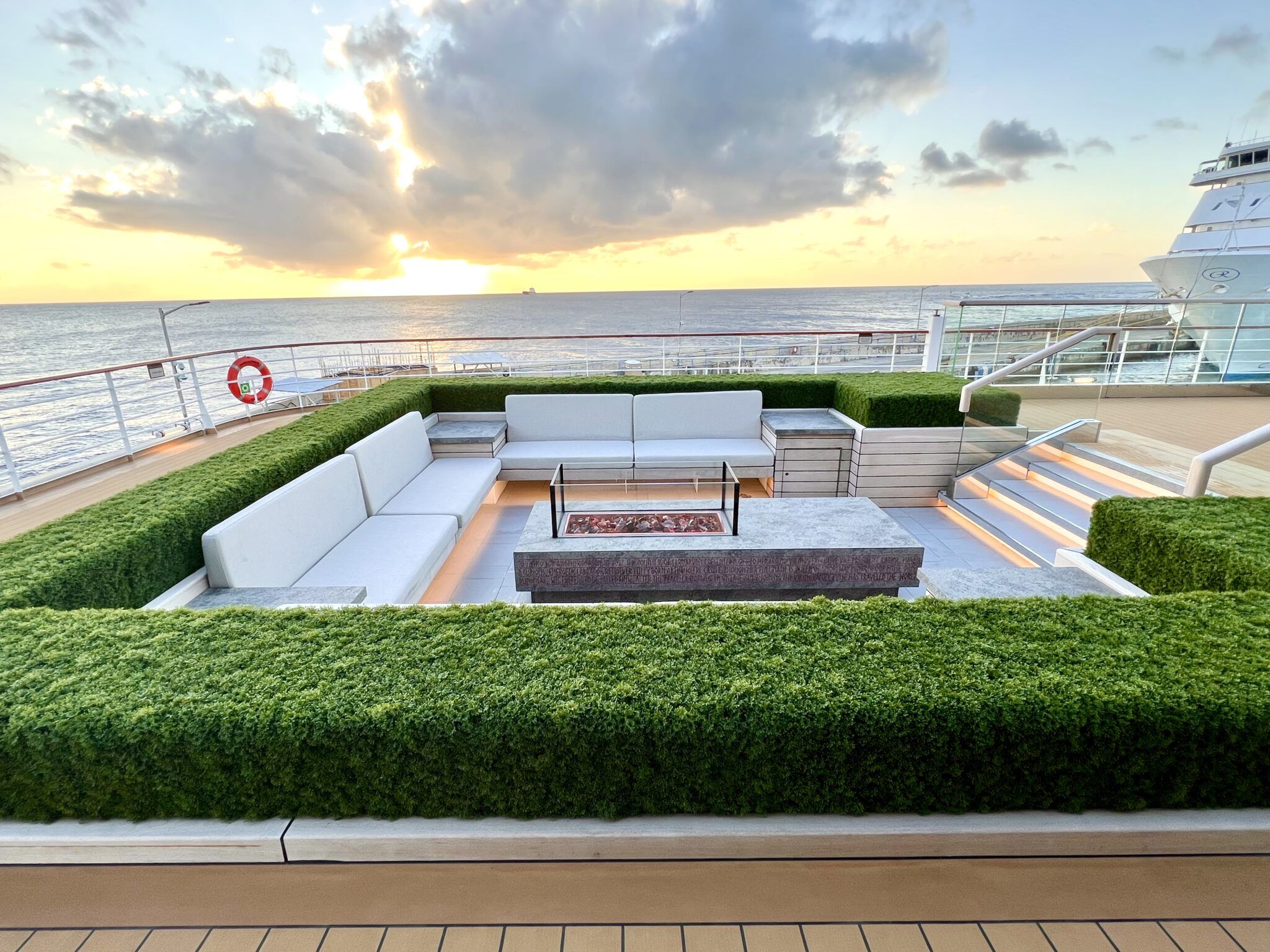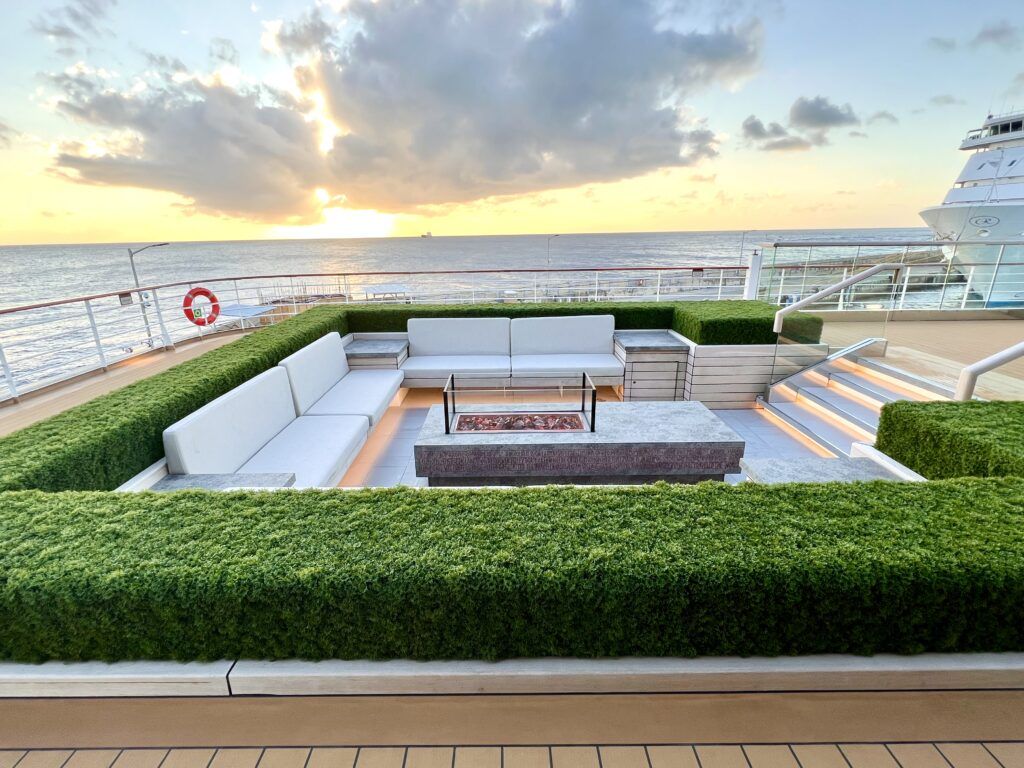 Given it is such a beautiful space, it did seem a bit under-utilized on our sailing. We think this would be a great spot for some live acoustic music, drinks, and star gazing in the evenings especially while sailing the Great Lakes in the summer.
Deck 1
The Hide
Tucked away all the way forward on Deck 1, you will find a new to Viking and rather hidden space, The Hide.
This venue has a swanky, early 20th century vibe and feels akin to a speakeasy. The Hide serves up aperitifs like the signature Viking aquavit. It seemed right at home being at the lowest deck of this expedition ship.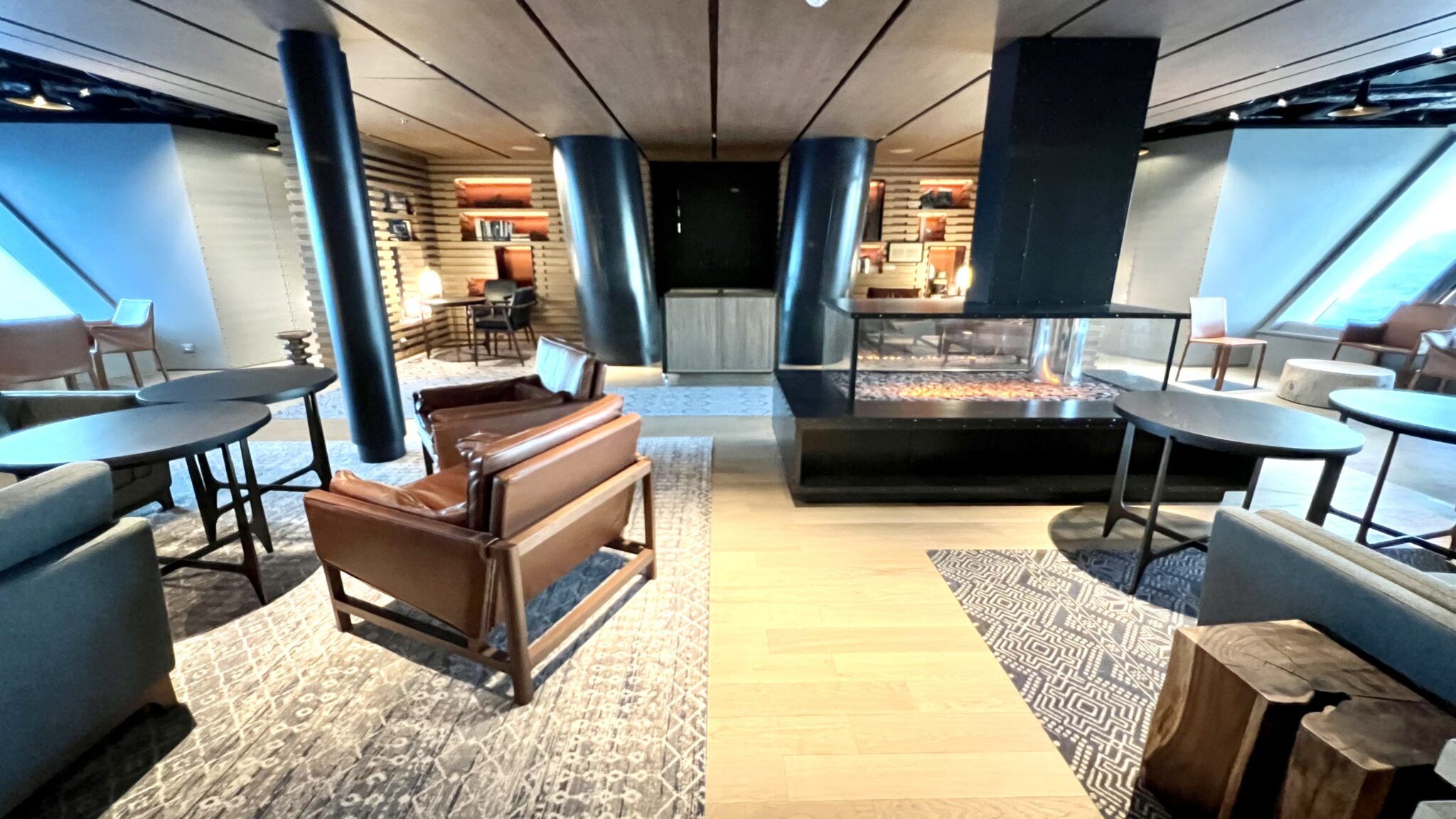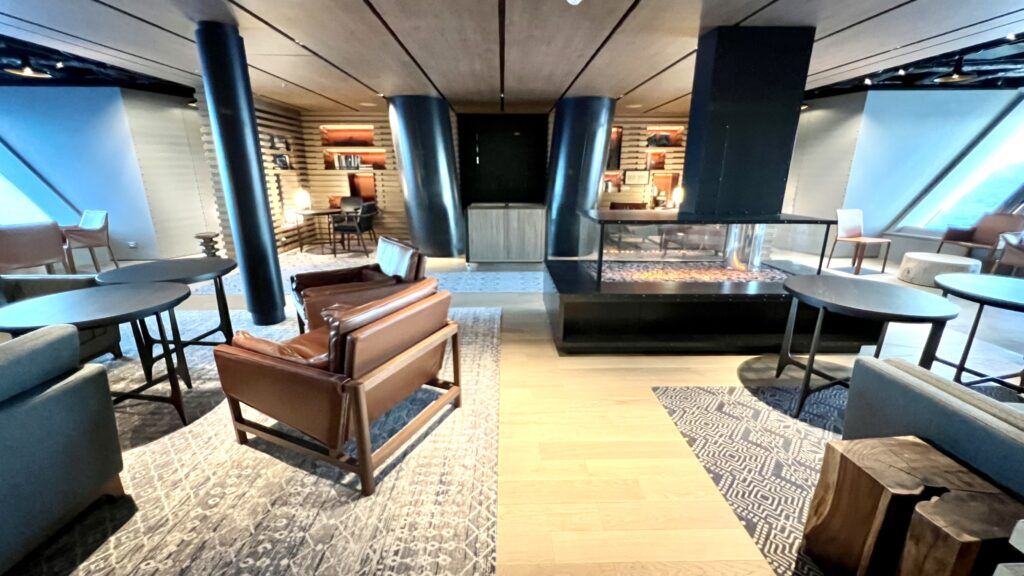 The Hide is only open in the evenings from around 8:30 to 11 pm, with a small make-shift bar. This venue also serves as an intimate venue for expedition stories from your expedition team members, where they share personal accounts of exploration.
Guest Services– Guest Services is also located on deck 1. Here, staff are available to answer all of your questions.
Viking Bar– For your pre-dinner drink, the Viking Bar is located on deck 1 starboard in front of the Restaurant. This bar is open nightly from 6 to 9 pm with standard drink offerings.
Beer and house wines are included with meals on Viking, or guests can purchase the Silver Spirits beverage package which is available for $19.95 per night, per guest. This package includes any drinks up to $15.
The Restaurant
Each evening, Viking Expedition Cruises offer a three-course meal in the Restaurant on Deck 1 with a rotating menu. The Restaurant is open nightly from 6 to 9 pm.
Unlike the river and ocean ships however, reservations for the Restaurant are required. So, make sure to book those as soon as possible. For a ship of this size, the venue is smaller than you would expect.
The menu in the Restaurant is also more limited than contemporary cruise lines; though, the staff will work to accommodate any special requests.
Some of our favorite menu items included the crab cake, the salmon, the spiny lobster, the filet mignon, the roasted rosemary potato ravioli, and the chocolate chiffon pie.
Manfredi's
Like Viking ocean ships, there is one alternative restaurant, Manfredi's, which is also open from 6 to 9 pm nightly.
As one of our favorite specialty restaurants of any cruise ship, this venue features the popular Bistecca Fiorentina, along with homemade pasta and a variety of other Italian classics.
Again, reservations are required for Manfredi's.
Both of these sit-down restaurants are available for dinner only. Breakfast and lunch are available in the casual eateries. Or, there is room service which is always complimentary.
The Science Lab– The Science Lab is a unique space onboard Viking expedition ships developed in partnership with the University of Cambridge. This space allows the onboard scientists to conduct meaningful research and encourages guest interaction.
We participated in a microplastics workshop led by nuclear chemist, Dr. Brandi Revels.
Further, Viking Octantis, in partnership with NOAA, is also a registered weather balloon launch station from the US National Weather Service.
Deck A
The Medical Center is located on Deck A along with the Embarkation station.
Embarkation Station– Given that Viking visits more remote destinations than larger mega-ships, many of the ports of call are tender locations. This means you will need to make your way down to this embarkation station to board a tender boat to go ashore.
This is also where we suited up for our submarine dive.
The Hangar
Technically accessed from deck 2, you will descend two flights of stairs to reach the Hangar.
Providing a true expedition experience, Viking Octantis offers an industry first, in-ship marina. This permits the launch of small excursion crafts from a flat, stable surface shielded from wind and waves. These vessels enter and exit the Hangar via a slipway.
This sports deck of sorts has some of the most high-tech equipment that you will find at sea. Along with dozens of kayaks and zodiac boats, Viking Octantis is home to two special operation boats and two submarines that will get you up-close and personal with your destinations.
We were able to test out the special operations boat and submarine, and all we can say is wow! Given that we only sailed the Caribbean, we can only imagine what it would be like to explore Antarctica onboard these specialized vessels.
Comments
Did you find our Viking Octantis Ship Tour helpful? Do you have plans to cruise on one of Viking's new expedition vessels? Drop us an anchor below to share what you love about Viking cruises.