Disclaimer: We were guests of Viking on this sailing; however, as always, all opinions in this Viking Octantis Cruise Review are our own.
Ship Overview
We recently shared our first impressions of Viking Expedition Cruises with you. Now, we are back from the ship's Caribbean Connections itinerary and want to share our full experience with you in our signature day-by-day Viking Octantis Cruise Review.
Viking, known for both its river cruises and ocean cruises, has now entered the expedition cruise market. This luxury line's first endeavor, Viking Octantis, is a 30K gross ton vessel accommodating up to 378 passengers. This polar class 6 vessel offers 6 decks of signature Viking experiences.
Deck 5 is home to several popular public areas. There is the Living Room, a quiet space to read a book, play a game, or listen to classical music. There is also the Explorers' Lounge. Offering fantastic forward-facing views, live music, and cocktails, this 2-story venue is a great space to hangout day or night. Of course, you will also find Viking's signature Aquavit Terrace and the World Café at the aft of this deck.
Find Out if Viking Expeditions is Right For You With Our Video Review
There are also several unique amenities on Viking Octantis. First, there is the Aula. This multi-purpose theater, located on deck 2, is home to lectures, movies, entertainment, and a unique design. With a 270 degree wall of glass that looks out over the stern, this venue transforms into an indoor viewing area as well. If you'd prefer to admire the views from outdoors, the Finse Terrace is located just beyond the Aula. This space offers great wake views, comfy seating, and even "fire pits".
The best kept secret on this new expedition ship is the Hide. Located all the way forward on Deck 1, this swanky venue has speakeasy vibes. It serves a limited menu of aperitifs, alongside some exploration stories from your expedition team.
Further, guests should not miss the activities from the Hangar. Whether it is kayaking, a cruise in one of the special operations boats, or submarine dives, this is one of the most sophisticated sports platforms at sea.
Additionally, Viking Octantis has two sit-down restaurants. The Restaurant is the main dining room with a rotating menu. Reservations are required at this venue, and they fill up quickly. Across the hall on deck 1, there is the Italian alternative restaurant, Manfredi's. This is one of our favorite specialty restaurants at sea.
For this Viking Octantis cruise review, we sailed on a repositioning cruise from Barbados to New York with several stops in the Caribbean. Though, this expedition vessel cruises remote regions of the world like Antarctica, South America, and the Great Lakes.
With the line's signature service, top notch facilities, and understated elegance, you can't go wrong with any itinerary on Viking Octantis.
Exclusive Savings: Get Deals on Viking Octantis Expedition Cruises Now!
Day 1 – Viking Octantis Cruise Review
It's Going to Be a Long Day
Atypical for us, we had an early morning direct flight from Boston to Bridgetown, Barbados on the day of the cruise.
We almost exclusively fly the day before a cruise to ensure we are rested and ready for embarkation day. However, given the COVID protocols and flight schedule, it made more sense for us to travel the day of the cruise. At least, that is what I thought.
As expected though, we encountered a flight delay and a re-route, which meant we arrived in Barbados about two hours later than scheduled.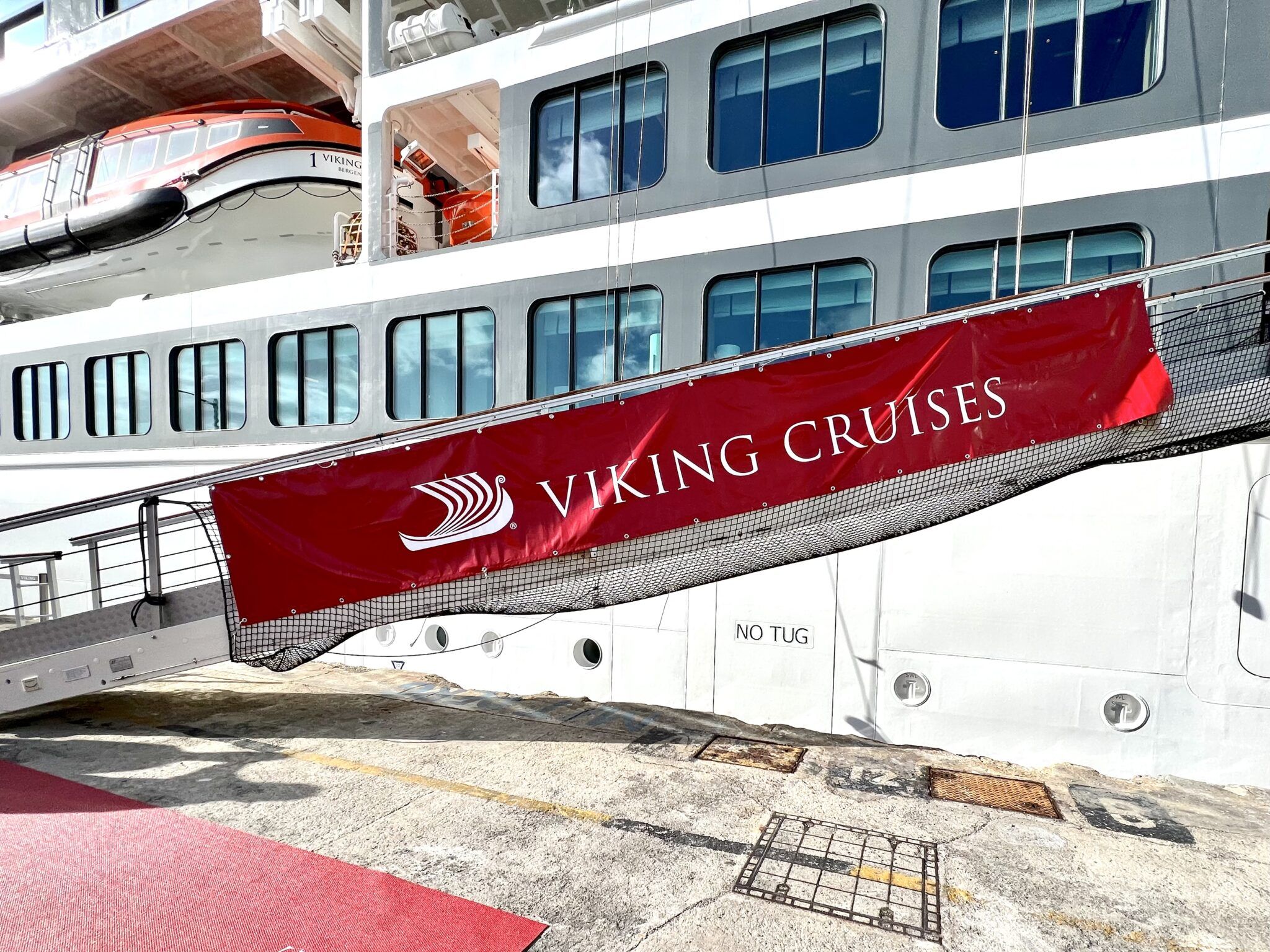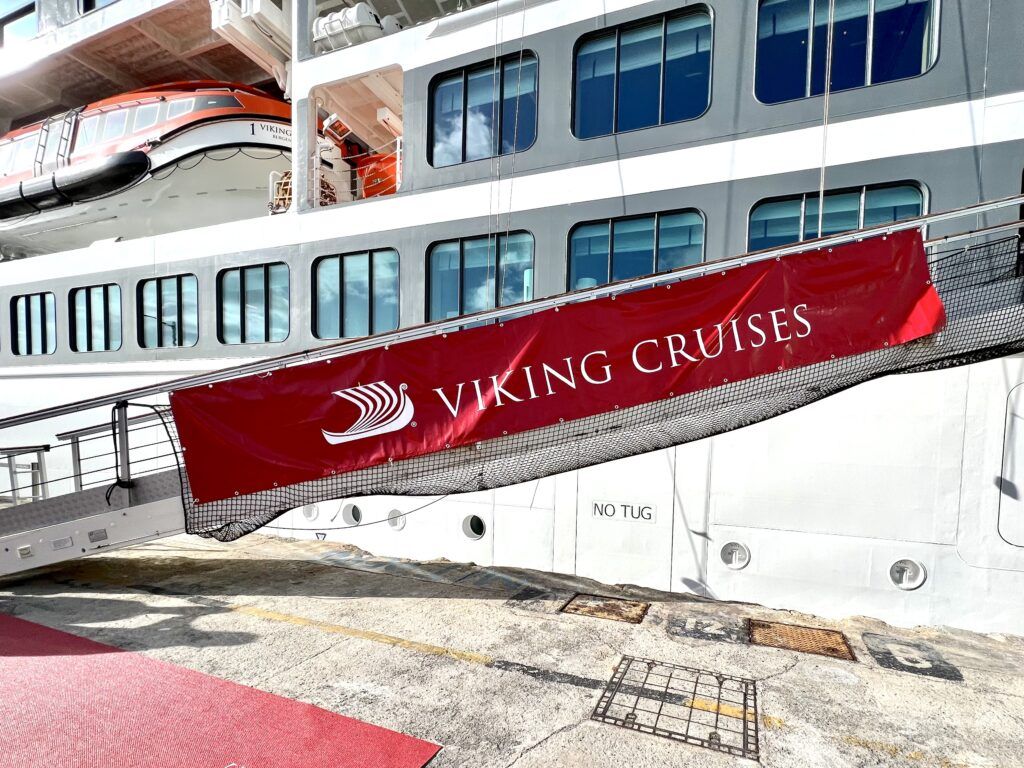 Further, Barbados apparently does not accept COVID test results from Walgreens. So, we needed to complete an additional test at the airport.
Once we were through customs, and re-tested, it was quick and easy to board the Viking shuttle to the cruise terminal. A porter collected our luggage, and we didn't see it again until it arrived in our suite a few hours later.
After an approximately 30 minute drive from the airport, we finally arrived at the cruise terminal. The check-in process was smooth but still involved a number of Viking health protocols. These included a temperature check, receiving a contact tracing device, and undergoing ANOTHER antigen test.
Boarding the ship after 4 pm, we were escorted up to Deck 5 for the in-person muster drill in The Living Room. We finally stepped foot into our Nordic Junior Suite for the first time around 4:30 pm! Much later than we anticipated.
Exploring Viking Octantis
Once in our room, we had to complete the 4th COVID test of the trip, a saliva-based PCR test. This test is still a daily occurrence on Viking ships. Until these results were received, guests were asked to wear face masks when in public.
Given the time, our typical embarkation day routine was mostly shot.
Since Viking Octantis is only 30k gross tons, we still had some time to do a cursory ship tour. Since others were in the same travel situation as we were, many of the public venues were still not very busy.
So, we spent a good hour or more touring some of the public venues. The ship's layout is easy to navigate and closely resembles the line's ocean ships on a smaller scale.
In this unofficial ship tour, we checked out some of the new and innovative areas first. Among the features not found on other ships in the Viking fleet are the transformational Aula theater and the Finse Terrace, an other lounge space complete with "fire pits".
While there are many new features on Viking expedition ships, past guests will notice several familiar favorites, like the Living Room and the Explorers' Lounge. There is also the LIV Nordic Spa on Deck 2 with a hydrotherapy pool and several experiences like a sauna, steam room, and snow room.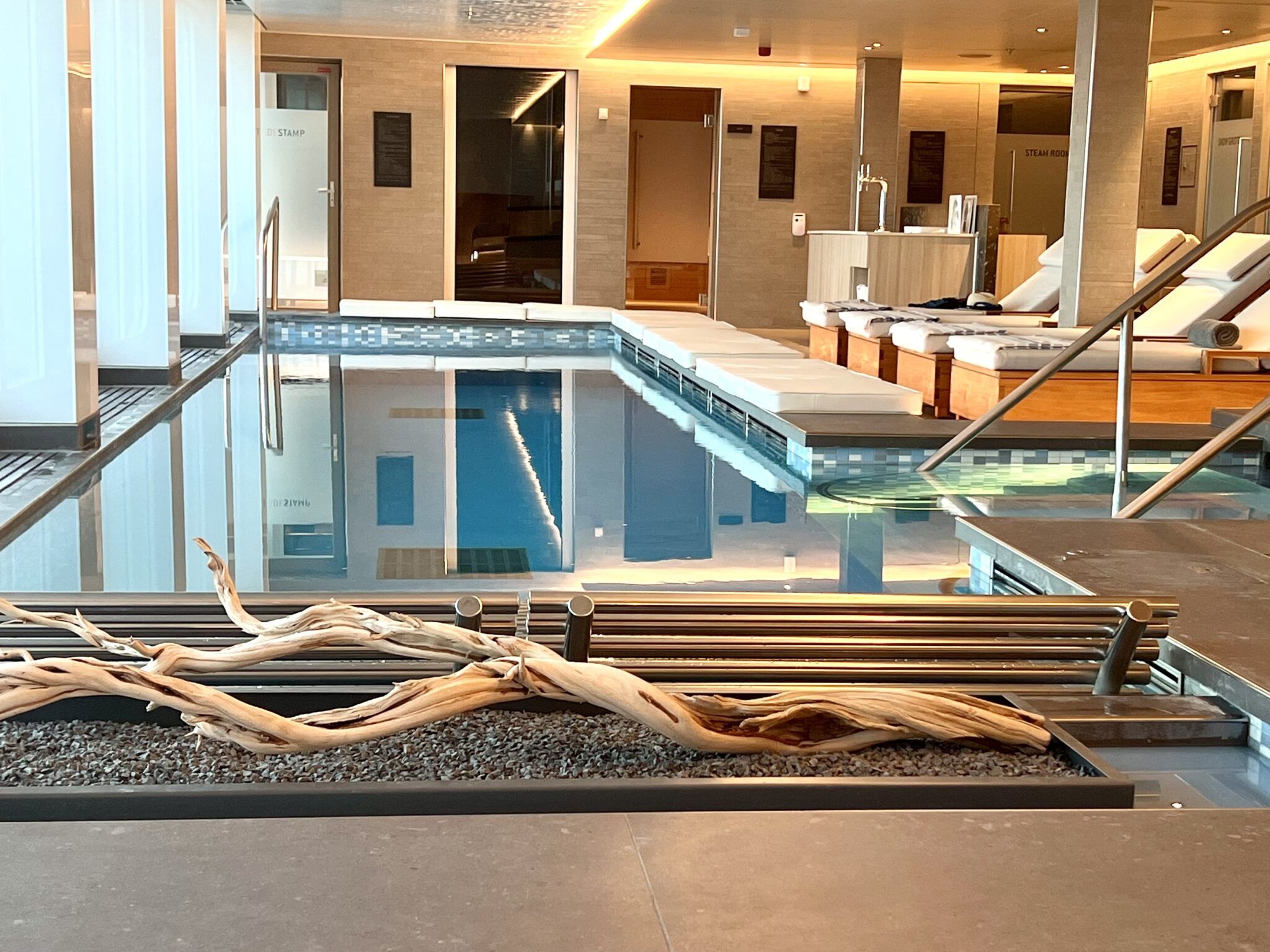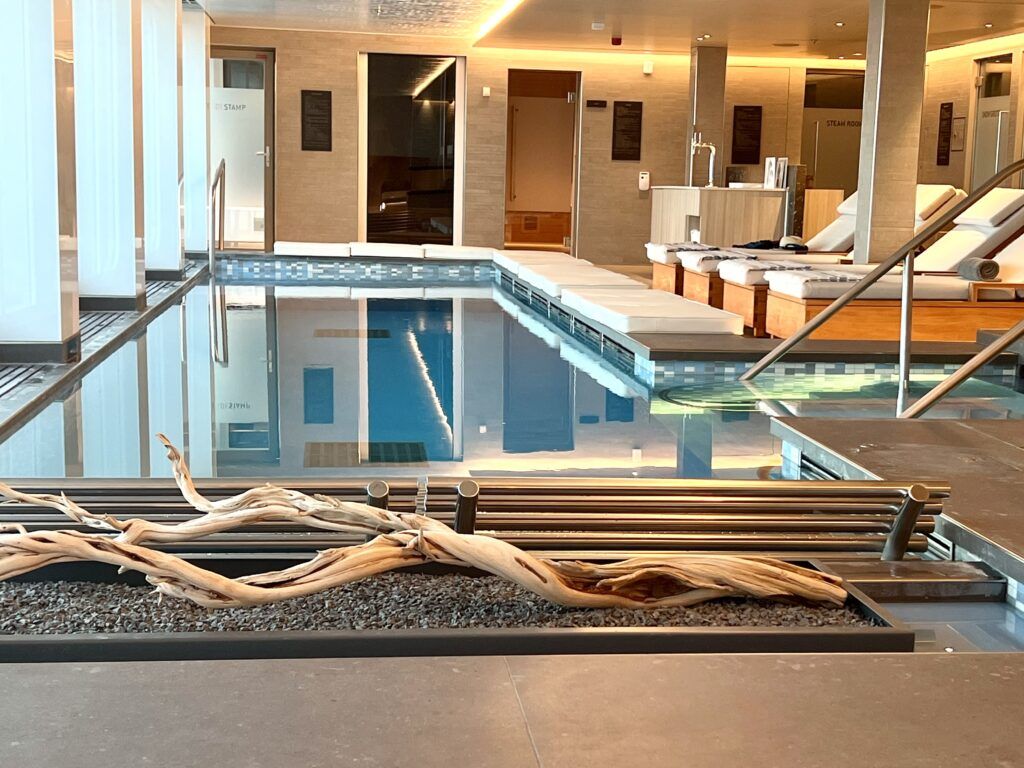 An Early Night, Even for Us
With travel fatigue setting in, we returned to our room by 6:30 PM. Thankfully, our luggage had arrived. Do we unpack, or do we eat? Given our early departure and delays, it has been close to 12 hours since we had eaten anything.
Instead of unpacking and changing up for dinner in the Restaurant, we opted to grab some food in the World Café tonight.
This cruise ship buffet is larger than its counterpart on the line's ocean ships. In fact, this venue can seat almost all of the ship's passengers at one time. Needless to say, there were plenty of tables.
Honestly, we usually tend to avoid the buffet on cruises. However, the World Café does offer more upscale selections. The Grill serves up made to order steaks and chops, including surf and turf with grilled lobster tail. There is a sushi station and seafood raw bar with crab legs and shrimp cocktail as well.
Other custom stations include freshly baked breads, pizza, a dessert selection, a salad station, and a warm entrée section.
After dinner, we fought off the food coma to unpack and get organized for the week ahead.
With all of the day's events, we both needed a shower and some sleep. With limited nightlife onboard this expedition vessel, we did not feel bad going to bed before 10 PM.
Day 2 – Viking Octantis Cruise Review
Already at Our First Port of Call
Even though our first day was hectic, I made sure to get up early to capture more of the ship. With the alarm set for 5:30 AM, I was able to get to all of the venues we missed the day before.
This cruise itinerary was port intense. During our Viking Octantis cruise review, we were visiting 5 ports of call in a row, then 3 sea days on our way to New York.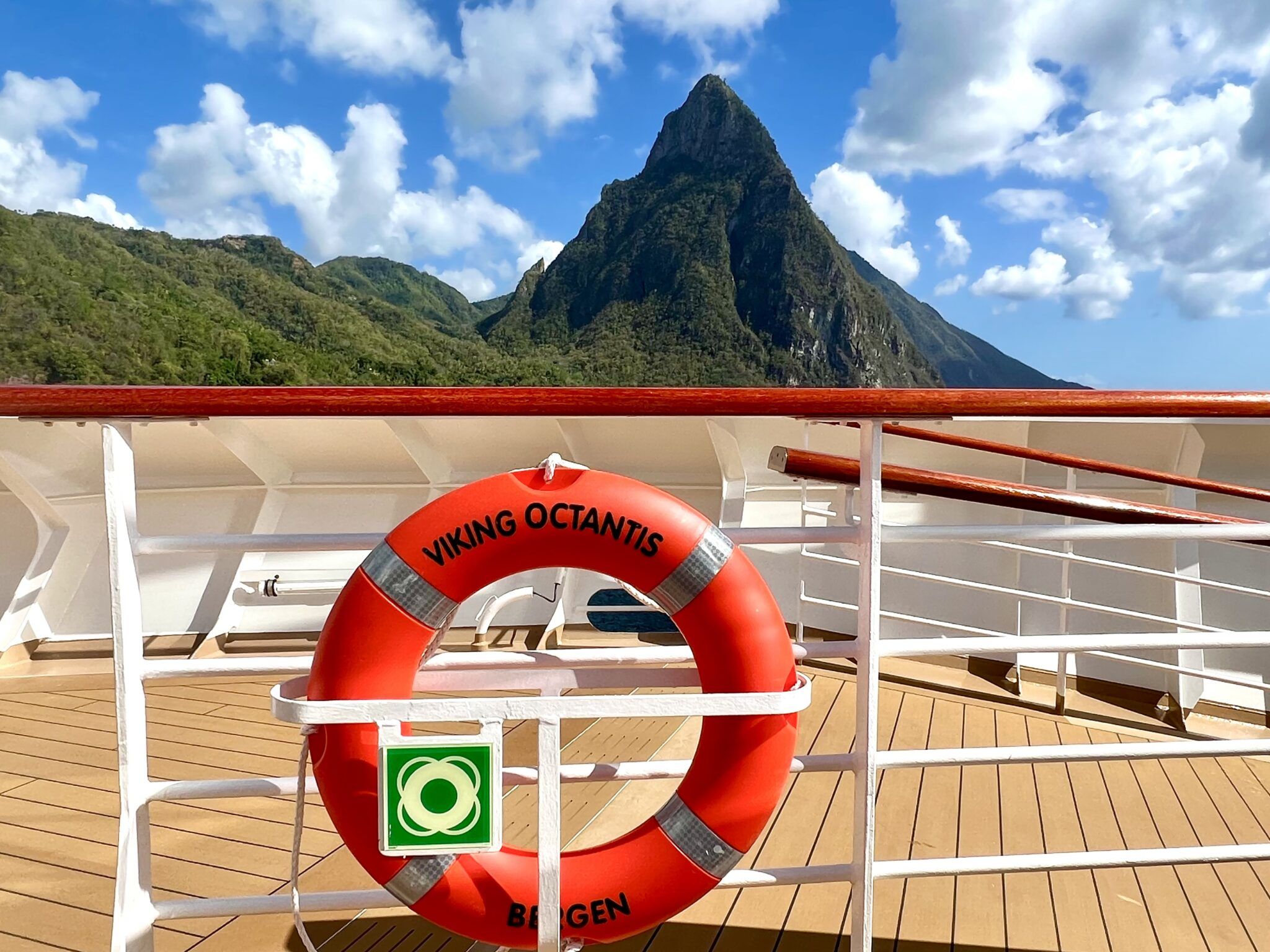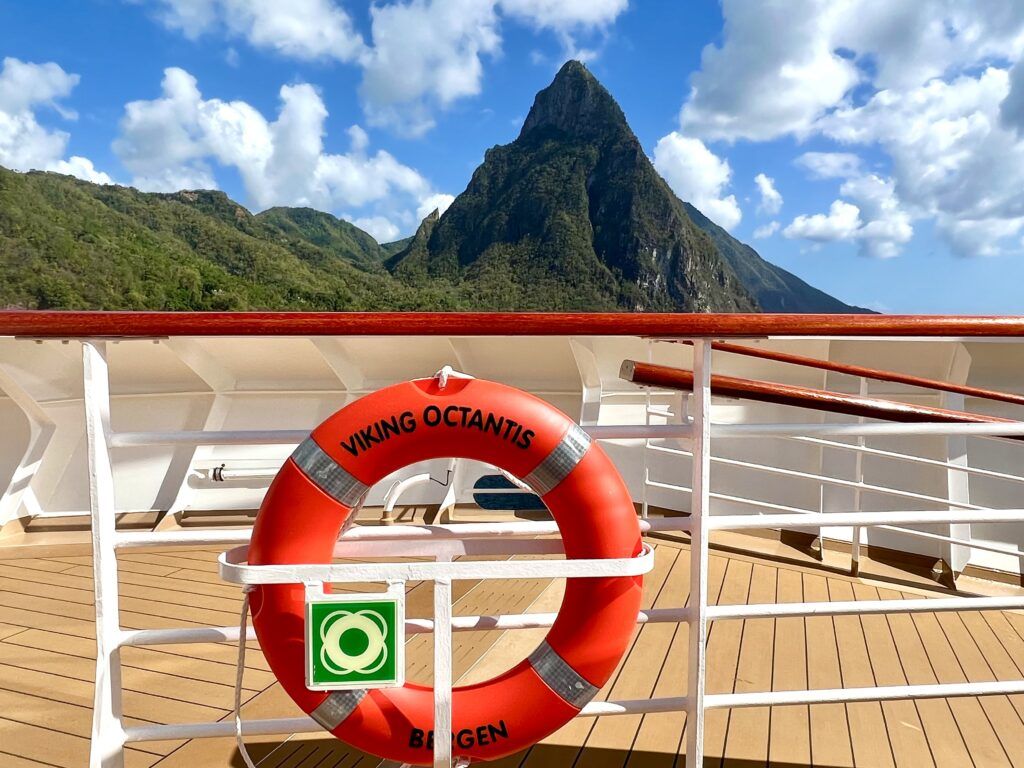 Our first stop was St. Lucia. Given we hadn't been to this island since 2008, we made sure to book a shore excursion. Pre-cruise, we reserved one of Viking's included tours, Scenes of Soufriere.
Advertised as a 3.5-hour tour with three stops, it felt like the perfect re-introduction to this port of call.
Our tour's meeting time was 8 AM.
So, I returned to the room with some coffees and small bites from the World Café after my video tour. Changing up and packing our bags, we were down to the meeting point with a few minutes to spare.
Not long after 8 AM, our group was called to the tender platform. Most of our ports did require tendering, so booking a tour through the cruise line made even more sense.
Not Exactly a Nature Walk
Ashore with the rest of the guests, we were directed to the assigned Bus 3 and our guide Lira. She, and our driver Thunder, would be our escorts for what turned out to be more like a 5-hour expedition.
Unlike most cruise lines which dock in Castries, Viking Octantis was tendered right outside of Soufriere.
The day's adventure began with a scenic drive and the climb towards our first stop, the Tet Paul Nature Trail, for a "nature walk".
While it was a trail with natural steps, it was more rigorous than anyone expected. With a few of our fellow passengers bailing during the ascent, the walk took twice as long as the estimated 45 minutes.
While the views of the Pitons and the surrounding communities were spectacular, the more strenuous, and longer than expected, hike had our tour quite a bit behind schedule already.
Still, we continued to the two other attractions. First, we visited the world's only "drive-in volcano", Sulfur Springs. Honestly, the 30-minute tour here was just the right amount of time to learn about this natural landmark.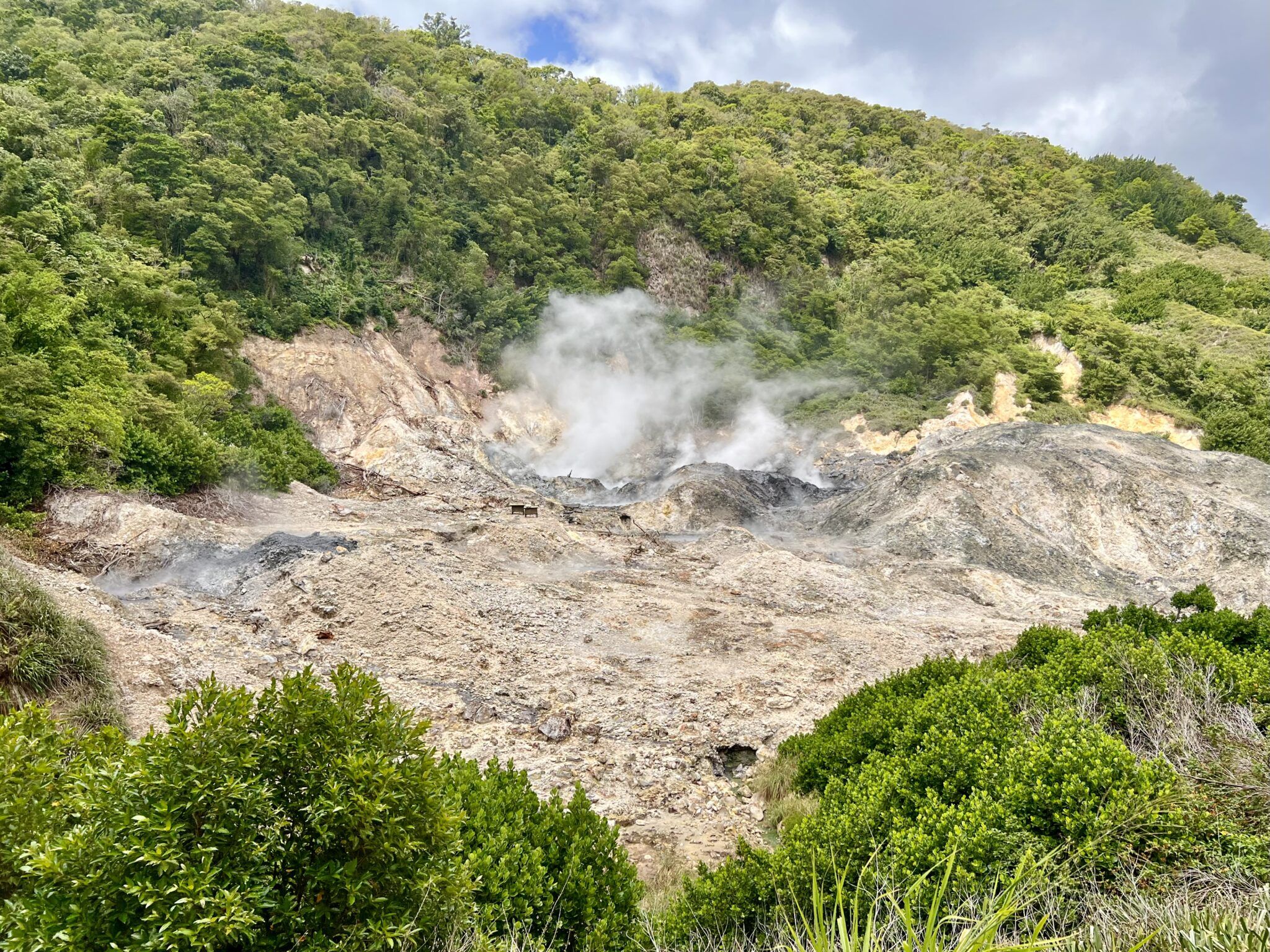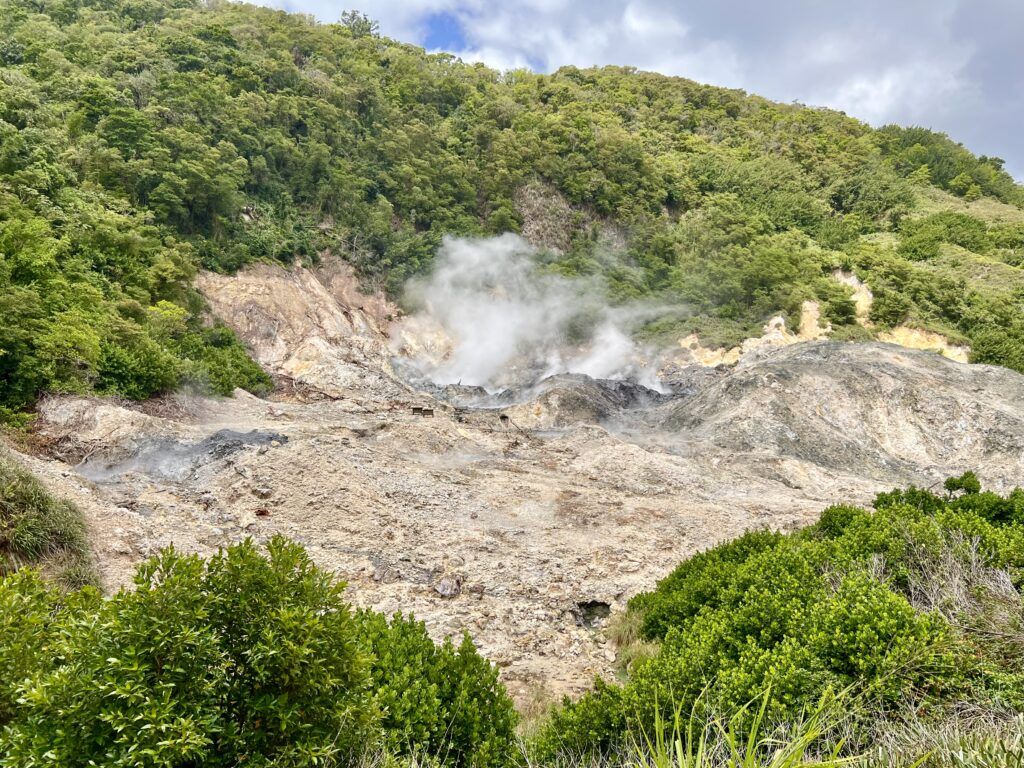 Next, it was on to the 18th century plantation, Morne Coubaril Estate. This portion of the tour felt a bit rushed, but we did still see the property's main sights on this historical tour.
Already way past the expected return time, we opted to take a tender back to the ship upon being dropped off by our bus.
Seeing the Rest of the Ship
Luckily, there was a tender at the dock when our bus returned to the coastline.
Back onboard by about 1:30 PM, it was on to the Living Room for some midday caffeine then lunch.
Overall, I found the lunch selections in the World Café to be pretty average when compared to other cruise lines.
With the gorgeous weather, we walked around the ship for a few hours taking in the views, with photos and videos along the way.
Today was the first time we discovered the Hide. This appropriately named bar, located all the way forward on deck 1, became one of our favorite nighttime spots.
Reservations Required
Finishing up around 4 pm, we decided to head back to the room to do some work and prepare for the evening.
We had made dinner reservations pre-cruise for one night in Manfredi's. Once onboard, the wife made a second reservation for us and a few friends later in the cruise.
Honestly, the thought never crossed our minds about needing reservations for the main dining room. The Restaurant on ocean and river ships is open seating.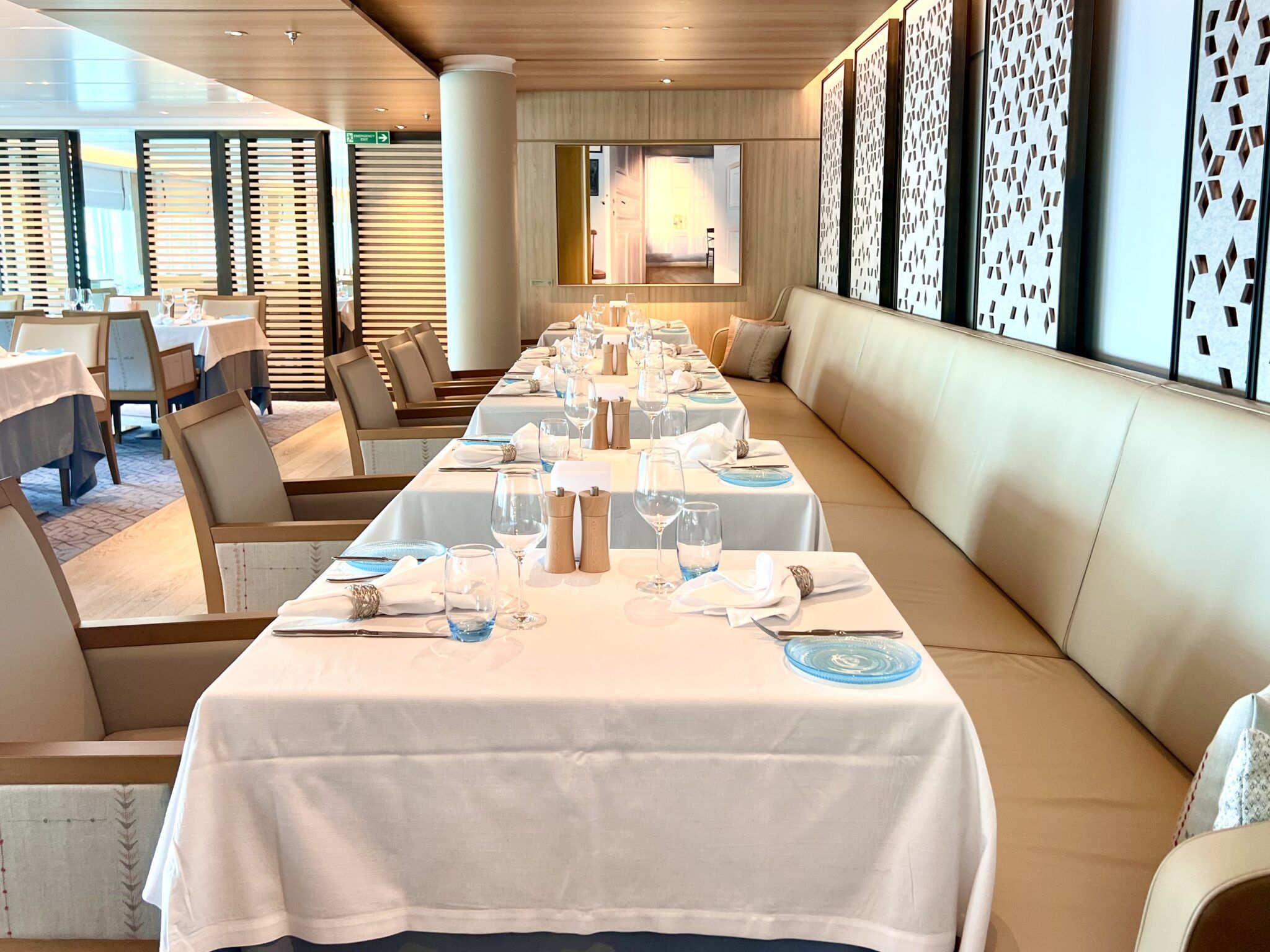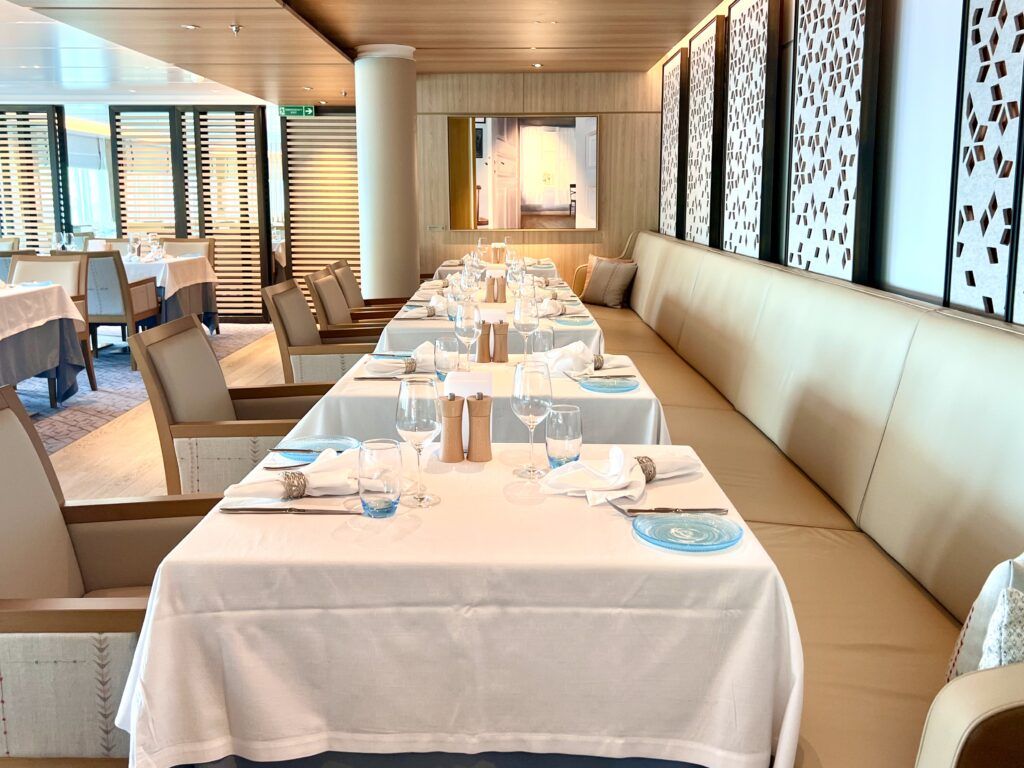 However, when I noticed the daily program indicated both sit-down restaurants required reservations, I headed to Guest Services.
Here, we learned that reservations were in fact needed and there were no dining reservations available for the week. Now, this was not going to fly with the wife.
Showering and getting ready for the evening, we headed to the "office hour" hosted by the PR team at Viking. This "information session" essentially turned into a happy hour most evenings.
Eating Rather Late
We gently mentioned the dining issue to the PR team, and they suggested we just head down later to see if we could be seated.
After more conversation, and a few rounds of cocktails, a few of us tried to grab a table around 8 pm. Thankfully, they did accommodate us.
For a starter, we both tried the ravioli, which was quite good. For an entrée, the wife did the beer marinated chicken, and I tried the braised pork belly entrée. Both were rather average as were the dessert selections. Our first go at the main dining room on Viking Octantis was not all that impressive.
Service was friendly but a bit slow. Still, Daryl and Alberto, our waitstaff team, made sure to take good care of us during this marathon meal.
Done by 10 PM, we decided to call it an early night yet again.
Day 3 – Viking Octantis Cruise Review
Taking It Easy in St. Kitts
Our second port of call on this Viking Octantis cruise review was St. Kitts. This is another island that we hadn't visited in a while. Given that this was another tender port of call, we decided to stick with the Viking offerings for shore excursions.
One of the unique options offered was a special operations boat tour. Not knowing exactly what this entailed at the time, we booked a mid-morning time slot.
Like the days before, we were up relatively early. This was also a work day for me.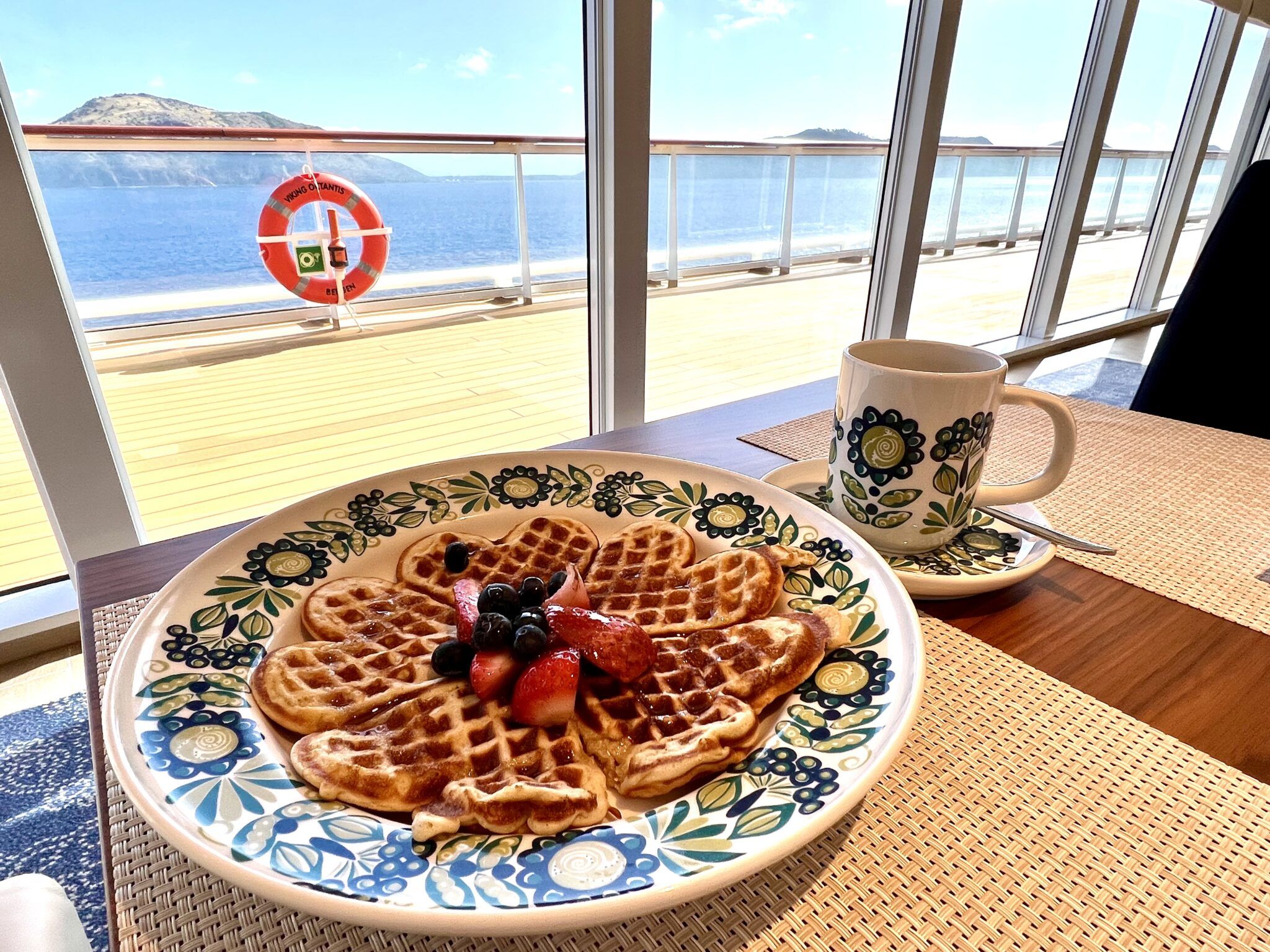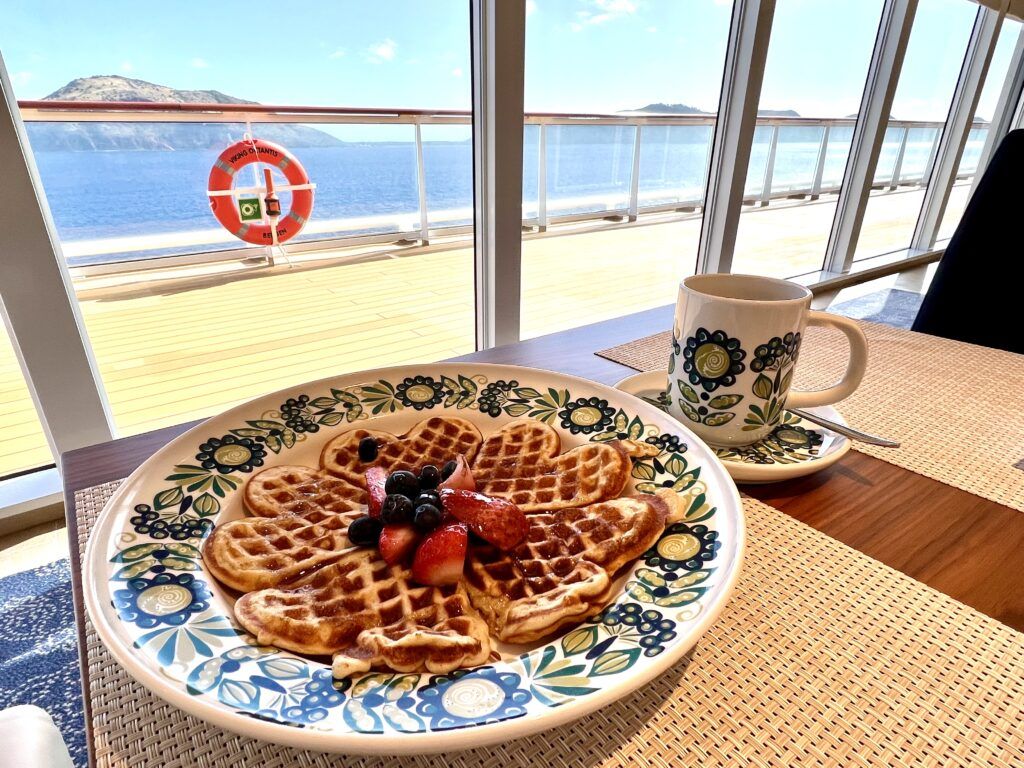 Returning from my typical morning routine with coffee in hand, we decided to grab breakfast at Mamsen's, the signature Scandinavian deli. We did have to wait for the venue to open at 8:30 AM, but it was well worth it.
Unlike its counterpart on Viking ocean ships, this version is more of a self-serve venue. Still, it did offer the signature waffles that we were both craving.
With breakfast done quickly, we we did some work until it was time for our 10 AM tour.
Let's Go Team
Our meeting spot for the excursion was the Aula lobby. Here, we met Dr. Brandi for the first time. As part of the science team onboard this vessel, she checked us all in for the tour.
After a quick lifejacket tutorial, we headed down to the Hangar on Deck A. This high-tech sports deck is one of the most advanced spaces on any ship. The Hangar is home to two special operations boats, dozens of zodiacs, plenty of kayaks, and two submarines.
It wouldn't be long until we learned that these military grade boats offered amazing maneuverability and plenty of speed.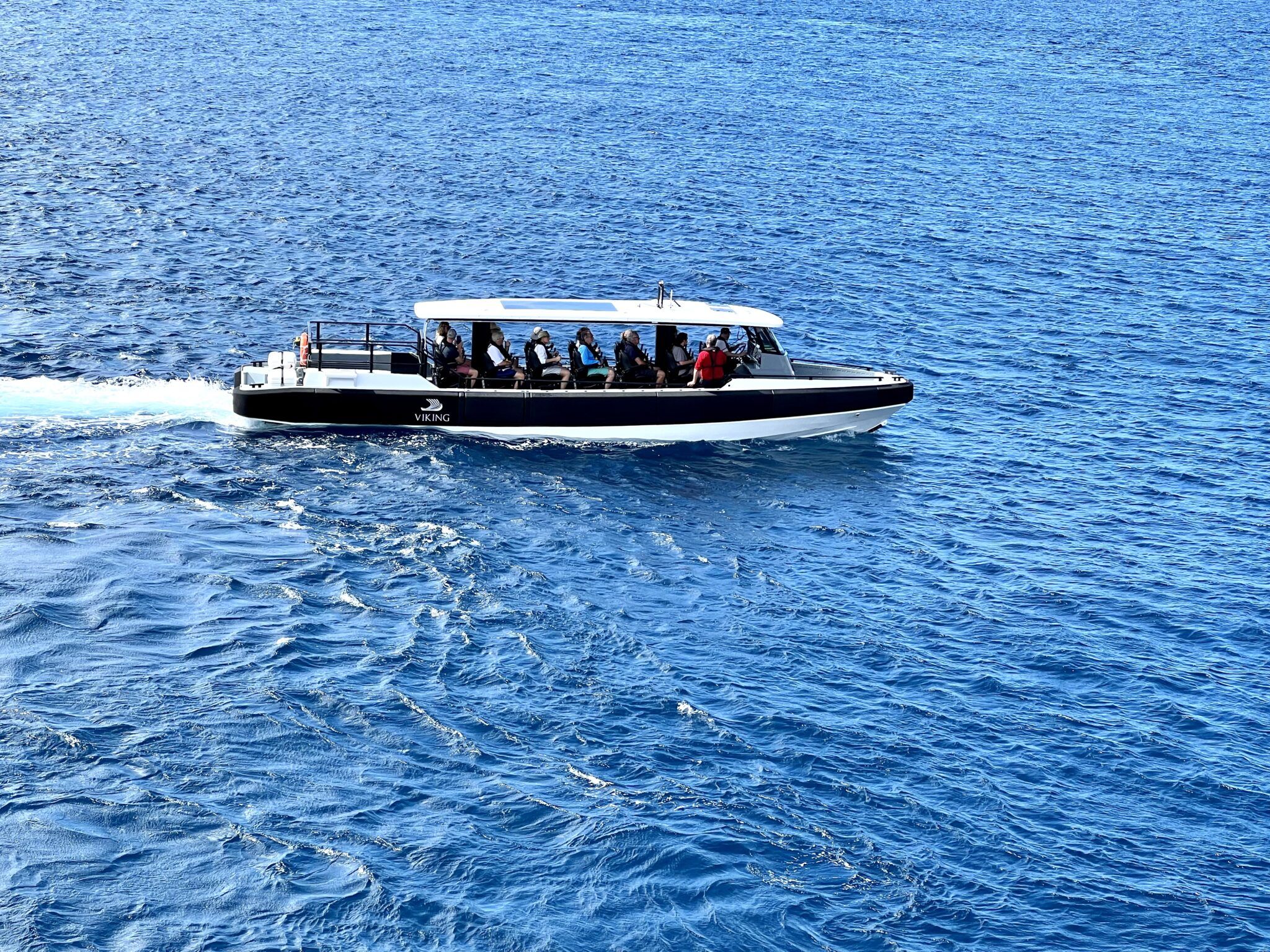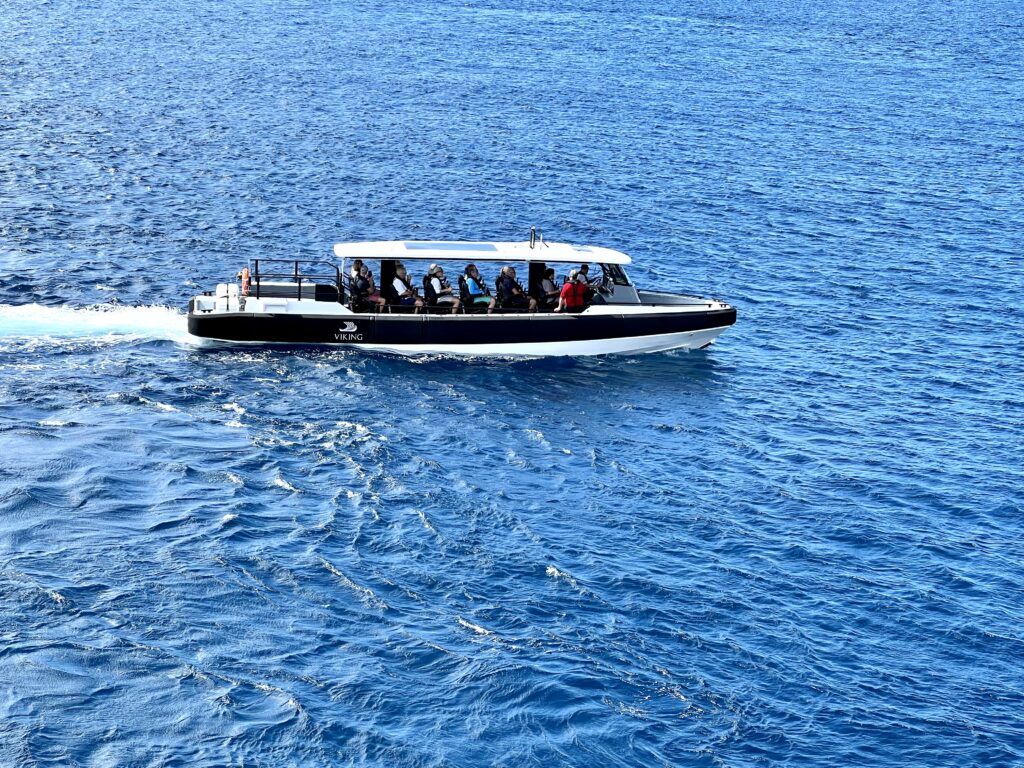 Boarding this 12-person vessel from the comforts of the Hangar, we set off on an hour long joy ride along the St. Kitts coastline. This exhilarating ride was accompanied by some narrative about the natural landscape and animal life of the area.
Honestly, we were here for the ride! Believe us, this experience did not disappoint. It was part adventure ride, part ecological investigation. We can only imagine what this type of excursion is like in a remote region like Antarctica or the Artic.
Once our tour returned, the team let us stick around for a while to watch the next group launch.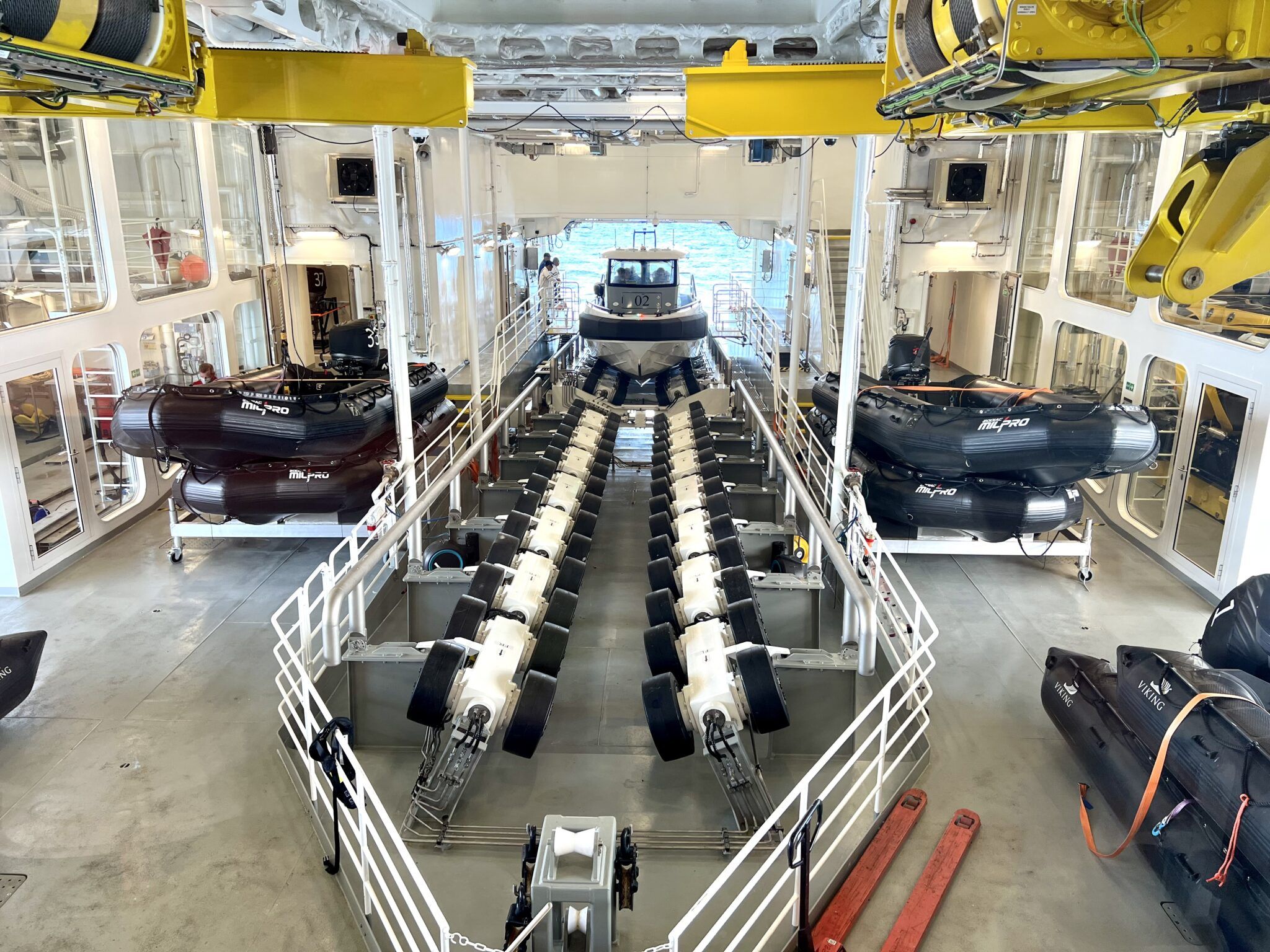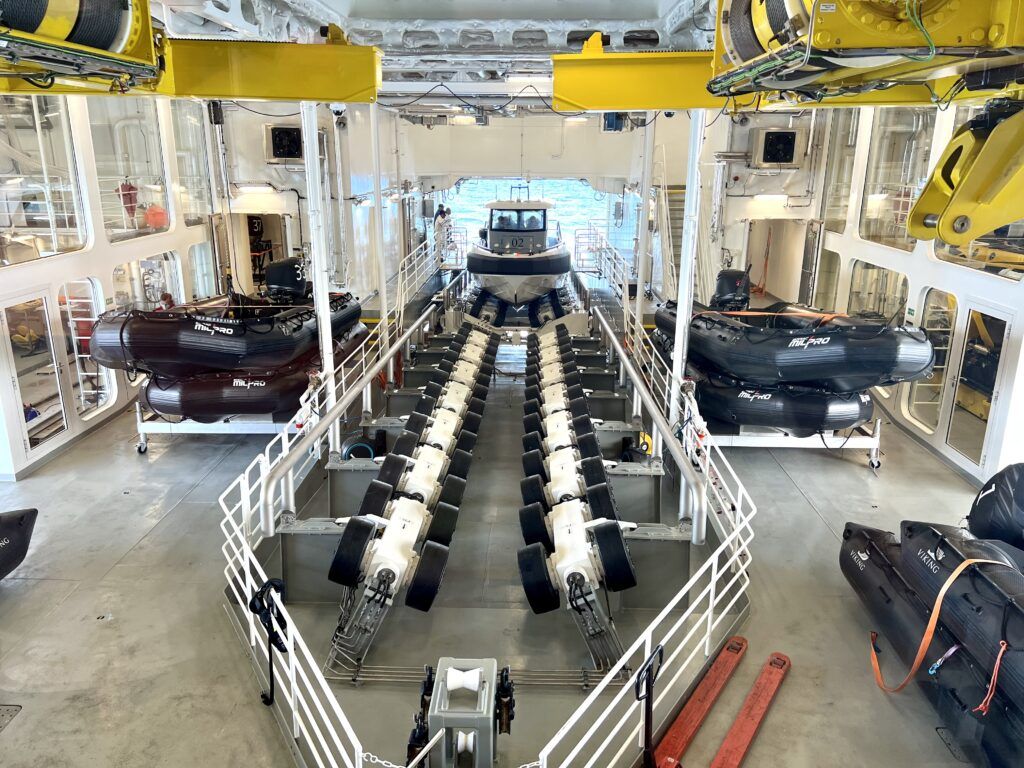 Once we returned from this thrilling adventure, we settled into the Living Room for a few hours to do some work.
Getting a bit hungry, we then headed to the World Café for lunch. This time around, I decided to try one of the grilled options. While not as impressive as the dinner selections at the Grill, it was still a made-to-order burger.
The Expeditions Continue on Viking Octantis
After lunch, we strolled the ship to enjoy some of the unique outdoor spaces. While doing so, we learned from the PR team that we would be able to get on one of the submarine dives planned for tomorrow.
There was no debate here; the chance to explore the depths of the Caribbean Sea was too good to pass up. This did mean that we would need to cancel our planned catamaran excursion though. It also meant that we probably weren't going to make it ashore for the second day in a row.
This new information changed up our plans as we now had to be available at 6:30 PM for a submarine safety briefing.
Donned in our evening attire, we made our way to the Aula for the destination talk with Danny, the Expedition Guide. It was a bit underwhelming when it came to showcasing St. Barths however.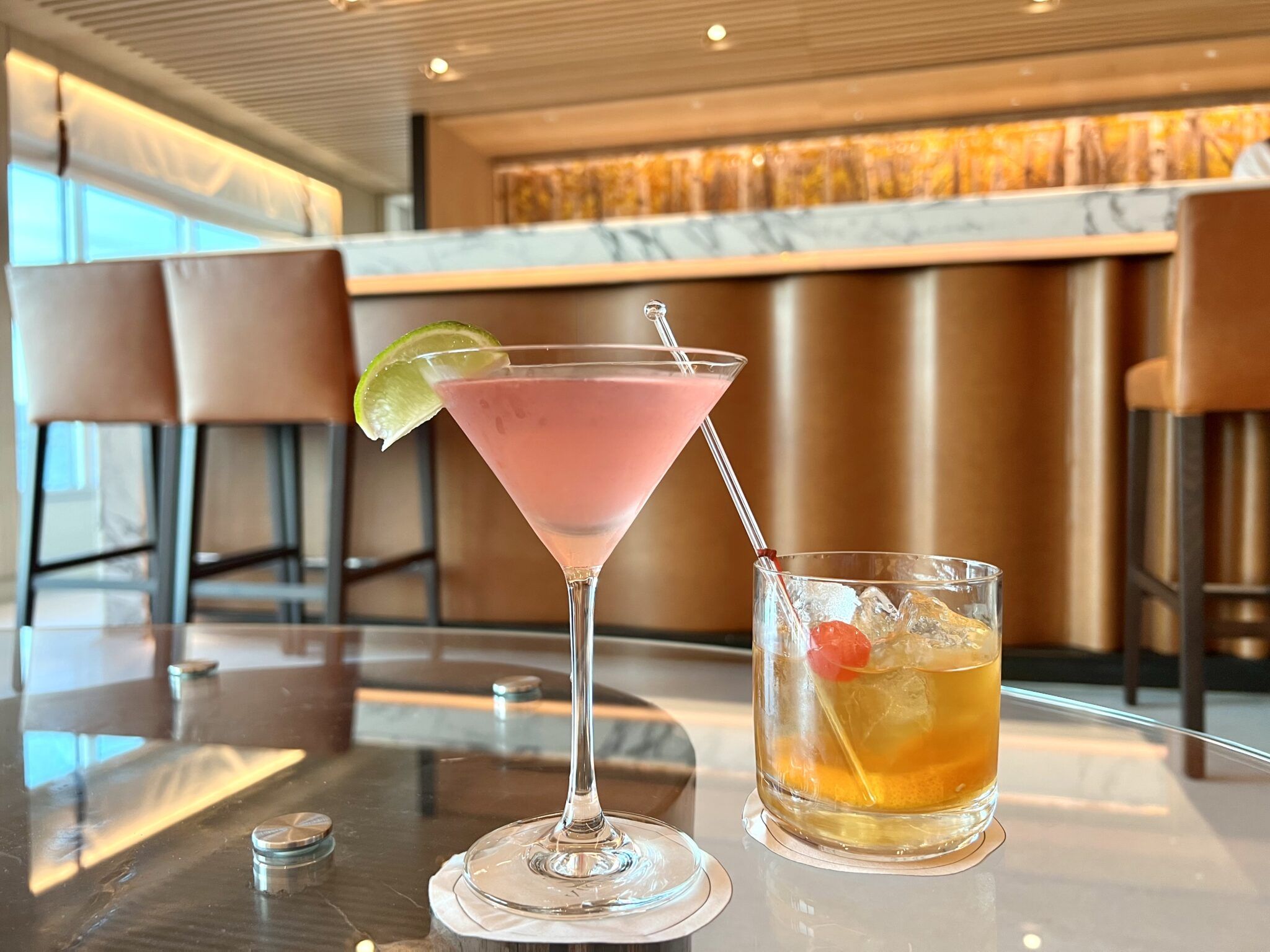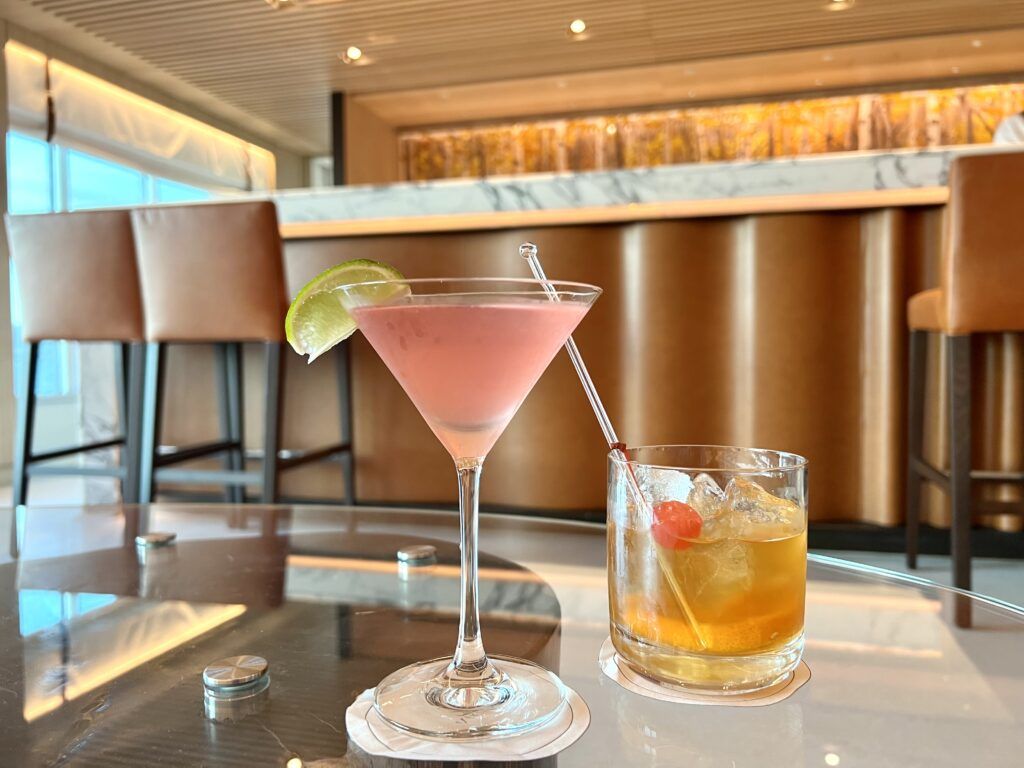 The talk was done in about 35 minutes, giving us some time to kill before our safety briefing. What better way to learn about safety precautions than with a cocktail from the Viking Bar?
With some scare tactic, we learned all about the hazards and restrictions of the dive. There was also a thorough Q&A session and the most dreaded part of the evening, the weigh-in.
Now that the Princess was a bit nervous, we were officially signed up for a submarine dive in St. Barths, weather permitting.
There is Nowhere to Hide
Following the informative session, we hopped up to Deck 4 for the PR "office hour" at the Explorers' Lounge. We chatted with the Explorers' Lounge Duo in the background until it was time to head to dinner.
Tonight's dinner was yet again at 8 PM. We were sat at the same table as the night before. Again, Daryl and Alberto were our waitstaff. The food this time around was better. The service too was quicker.
For a starter, I did the tiger prawns. This larger than expected chilled shrimp was fresh and crisp. For an entrée, I did the Norwegian salmon grilled. I also swapped the sides for rice and brussel sprouts. The salmon had a slight zest and was very flavorful.
The dessert was a sweet treat as well, even if it was not exactly what we expected.
Done in under 90 minutes tonight, we were determined to check out the Hide.
We were surprised to find out this secluded spot was the ship's liveliest night spot. This swanky lounge offers up a variety of aperitifs in a sophisticated setting. The design aesthetic transports you to an 18th century British gentleman's club, only it is located in the underbelly of a luxury cruise ship. Part steam punk, party royalty.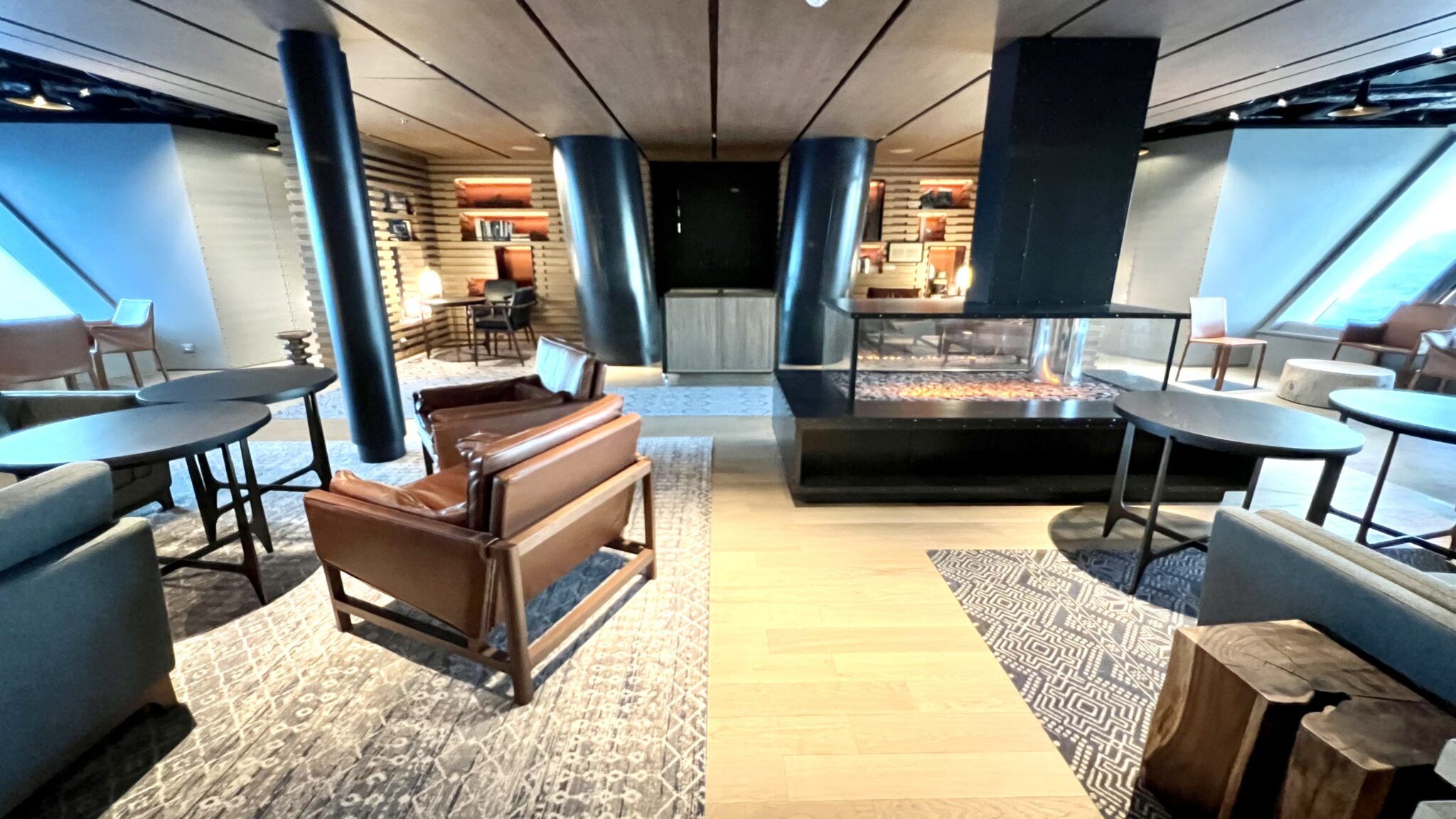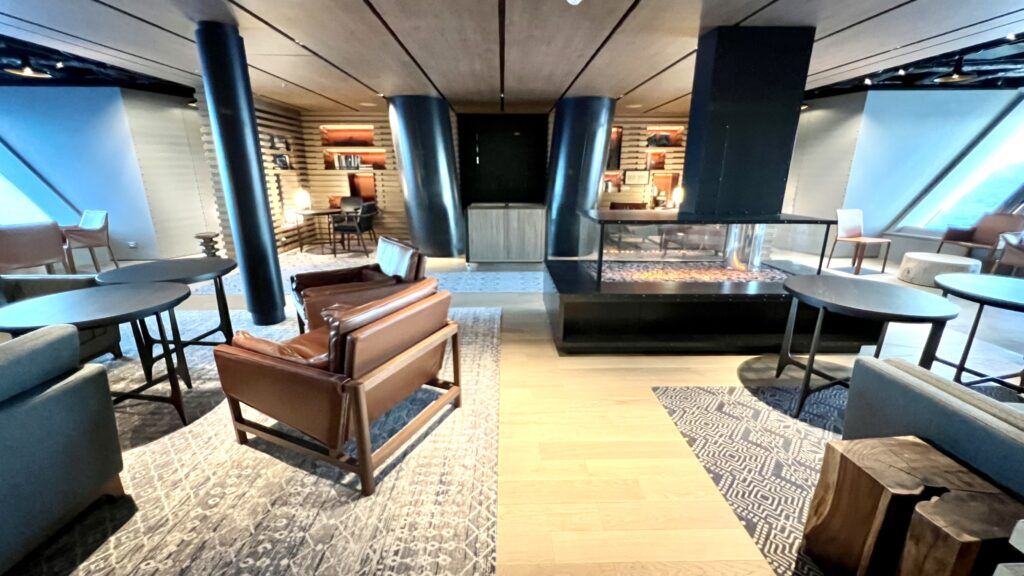 Finding some friends here, we spent about 90 minutes sipping cocktails and laughing. In fact, we "closed" down the bar around 10:45 PM.
SCORE BIG: Book Your Viking Expedition Cruise Now for Exclusive Savings!
Day 4 – Viking Octantis Cruise Review
We All Live in a Yellow Submarine
Today's port of call was St. Barths. Not many cruise ships stop at this French island. So, we originally had plans to do a catamaran sail in the morning and then explore independently.
When the opportunity arose to explore the depths of the Caribbean, we couldn't say no. We were assigned the 12:25 PM time slot for the submarine dive.
Unlike the previous days, we slept in a little later this morning. I grabbed some coffee and a few small bites from the World Café.
Now, the wife was starting to get a bit anxious. To board the submarine, cruisers must take a zodiac ride out to the dive spot a few miles from the ship. They must then transfer from the zodiac onto the 6-passenger submarine with present sea conditions. Given she can't swim, her fear was getting the best of her.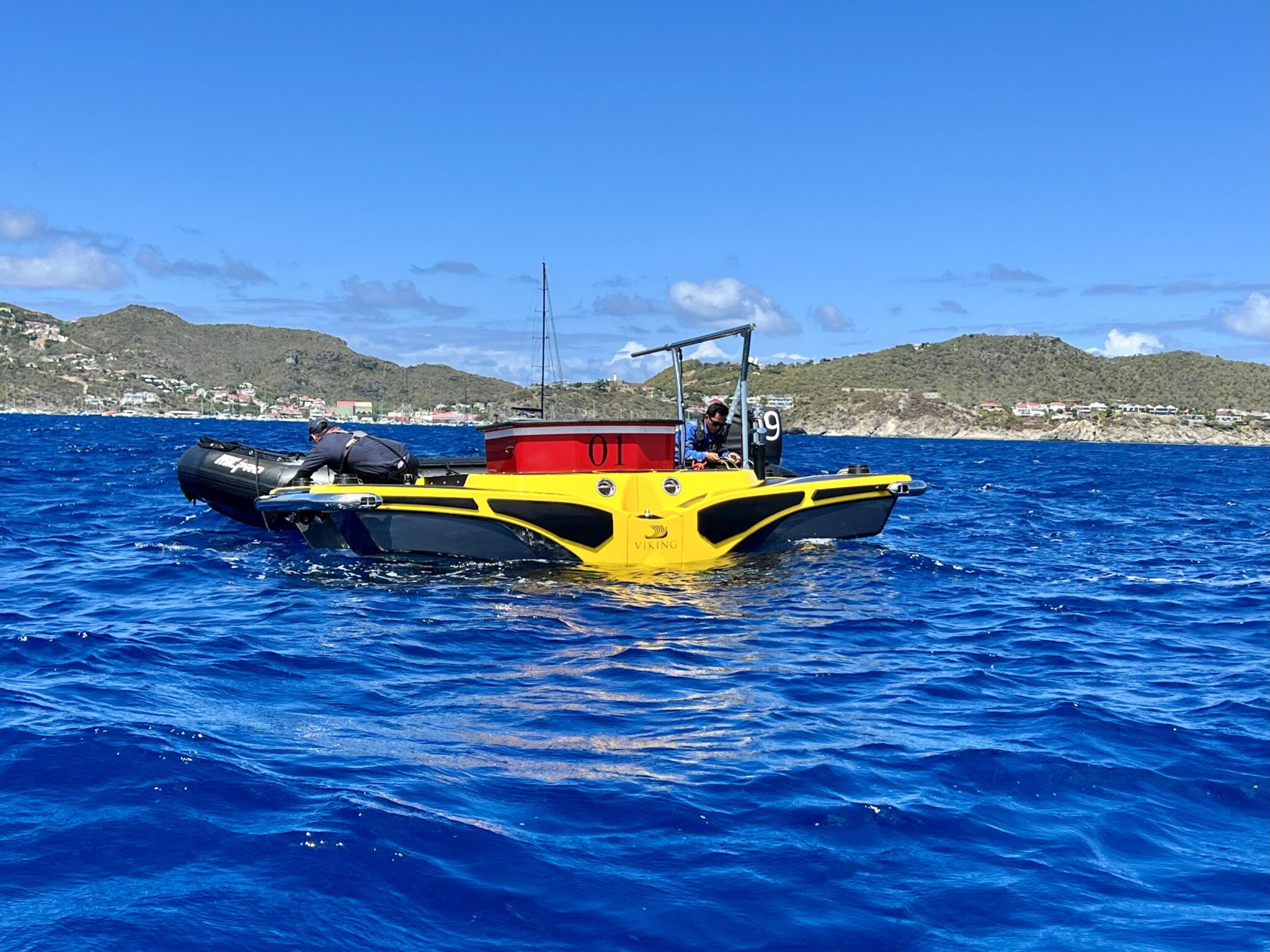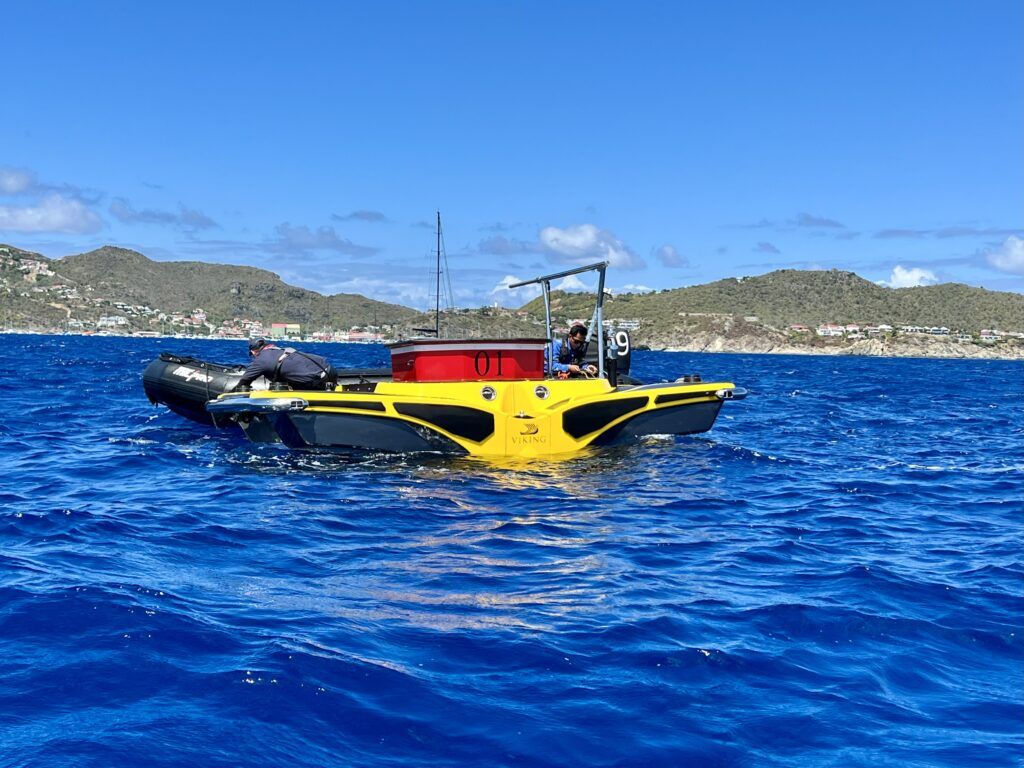 With a few work meetings, the morning flew by. Around 12:15 PM, we grabbed our gear and headed down to the meeting point at Deck A embarkation.
The Last Dive of the Day
Arriving a few minutes early, we saw the other members of the PR group assigned to the 11:55 AM slot still waiting to depart. So, it appeared they were running at least 30 minutes behind schedule.
Meeting our "guide", we donned the necessary gear and went over the plan for the day. About 15 minutes later, we scanned off the ship and headed to the Hangar, where we waited once again. This gave us plenty of time to checkout all of the toys in the Hangar prior to the dive.
Finally boarding the zodiac and getting out to the dive site, it was an eye-opening experience. Admittedly, we did not see much marine life. But, being able to descend about 80 feet below the surface to just feet above the sea floor was a surreal experience.
All said and done, the transfer into the sub was not as bad as the Princess expected, and she was glad she did it.
During our cruise, several of the dives were cancelled due to sea conditions. In fact, we ended up being the last dive of the day and ultimately of the entire cruise! So, we count ourselves lucky to have had the chance to complete a submarine dive.
Given all the intricacies, this excursion took much longer than advertised. We returned to the ship well over 3 hours after our scheduled departure time.
A Science Lab at Sea
Upon resurfacing, we were both ready for something to eat.
It was about 3:30 PM, so it was the perfect time to grab a snack from Mamsen's. This venue offers open-faced sandwiches, scones, and other pastries in the afternoons.
I grabbed a roast beef sandwich and a few sweet treats.
With our devices in hand, we stayed in the adjacent Living Room with some coffee doing work alongside the live classical duo.
The duo ended around 5:30 PM. This was our queue to leave.
For tonight, our media group had a reserved session in the Science Lab.
Dr. Brandi and a scientist from NOAA did a great job presenting some of the interesting onboard equipment and research supported by Viking. As a "ship of opportunity", this expedition ship is in the unique position to collect longitudinal data regarding the conditions of the ocean surrounding Antarctica.
This presentation and hands-on lab focused on training cruisers to identify microplastics. The session was informational and fun. It is nice to see Viking investing in this important research with the onboard facilities and staff to support this work.
Another Early Night on Viking Octantis
The session went until about 8 PM. Thus, we just headed to the World Café for dinner afterwards.
The wife was in luck tonight, as one of the specialties was an Asian stir fry with chicken. In fact, it looked so good that I decided to get some as well.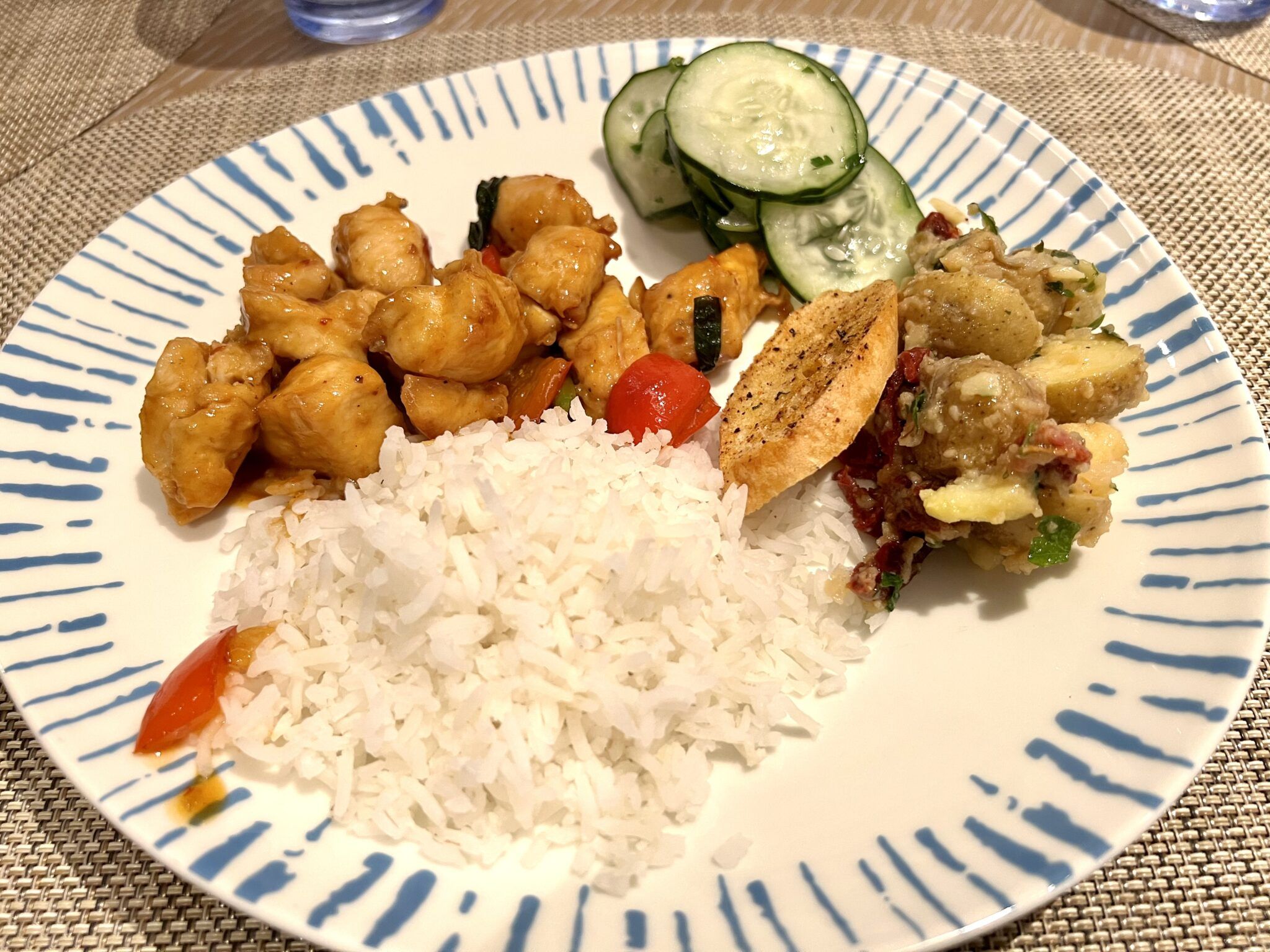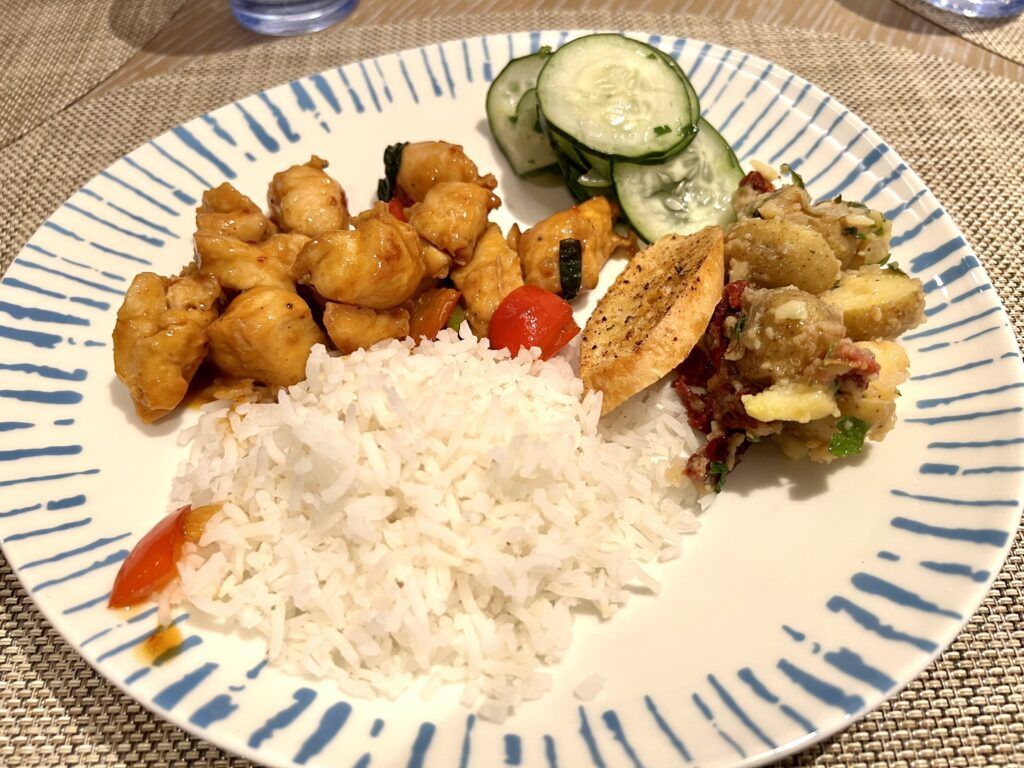 With a couple of drinks and conversation, we were closing in on 9 PM. You know you have overstayed your welcome when the crew let you know the buffet is closing.
Even though we didn't physically do much today, we both felt tired. So, we called it an early night yet again.
We would have plenty of time for more drinks and laughs later in the cruise as we had three sea days in a row.
I was not completely ready to call it a night yet. So, I stayed up until about 10:30 PM trying to catch up on some work.
Day 5 – Viking Octantis Cruise Review
Raise the Red Flag
Our second to last stop on this Viking Octantis cruise review was Virgin Gorda in the British Virgin Islands. Larger cruise ships tend to dock in Tortola; then, cruisers can catch a ferry over to this smaller, more secluded island.
Back in 2019, we anchored in Virgin Gorda with Windstar Cruises. Thus, it was nice to be back again at this beautiful, less busy stop.
Our shore excursion meeting time was 8:15 am. The excursion included an island tour and a stop at the Baths.
Like the previous days, I was up around 6 AM to grab coffee and a few breakfast pastries.
Prior to our tour, we got a push notification that there was no swimming in Virgin Gorda due to the current red flag status. Still, we planned on exploring the caves which required bathing suits. So, we were surprised to see that not many individuals showed up to the tour meeting spot in the appropriate attire.
We overheard others saying the Expedition Central team told them that the Baths were closed. If that were the case, this was going to be a short tour!
Simon Says Don't Worry
Following the tender ride to shore, we were directed to the safari bus loading area. Here, we met our driver, Simon. For the next 4 hours, Simon would cart us around the island.
During our travels, Simon reassured us, excessively, not to worry. Still, he was a friendly guide and was happy to answer any questions along the way.
For the first two hours or so of the tour, we viewed the northeast section of the island with some scenic stops along the way.
Finding the Baths
Winding back down from the tallest point on the island, we drove back through Spanish Town on our way to the Baths.
Finally, we arrived at the Baths by 10:45 AM and were given 90 minutes to explore the area on our own.
Oddly enough, we were directed to head to the beach first, not the caves.
In fact, when I asked, we were told that we could not go down to the Baths first as they wanted one-way traffic.
Winding our way down the dirt path, we essentially worked our way backwards through the caves. We were able to climb our way back to the normal starting point. Although, I believe the main reason they pointed our group towards Devil's Bay Beach instead was that the walk through the caves would have been difficult for some members of our tour group.
We always enjoy spending time at the Baths, but 90 minutes is really not enough time to enjoy everything the area has to offer.
Right on time, the safari bus was loaded for the quick return ride to the marina. Thanking Simon for a job well done, we hopped on the tender awaiting our tour's arrival and were back onboard Viking Octantis by 1 PM.
An Uneventful Afternoon
Back onboard, all guests were required to get a COVID antigen test for our last stop in Puerto Rico.
So, we returned to the room for a costume change and to fill out the form. There was literally no line when arrived around 1:30 PM for the test.
With that requirement quickly completed, it was off to the World Café for some lunch. By now, the selections were getting a bit redundant.
The wife went with some pizza, and I had a chicken salad sandwich.
After lunch, we grabbed some afternoon lattes from Denny in the Living Room and went back to the room to work for the next few hours.
Tonight, we had dinner at Manfredi's at 7:30 PM. Ready early, we stopped at the Viking Bar on Deck 1 for a pre-dinner drink. Like the other bars on the ship, this venue serves a standard menu.
Alternative Dining Done Right
When compared to the Italian restaurant on Viking ocean ships, the menu here is slightly smaller. So, they did not offer the wife's favorite dish, the chicken parmigiana. However, the other hallmarks of the restaurant did not disappoint.
The freshly made bread, including the addictive garlic knots, were delivered quickly to our table. Also, the signature homemade pasta was delicious.
Manfredi's was not very busy; yet, the service still took a while.
Standout items from tonight included the crispy fried calamari with a smooth and tangy aioli dipping sauce. The wife's creamy and rich burrata salad was also a hit.
For entrees, you can't go wrong with the Bistecca Fiorentina. This juicy and flavorful steak was cooked medium rare and was one of the best steaks I have had on a ship.
The wife ordered the night's pasta special, spaghetti carbonara, which she raved about.
Finally, for dessert, you can't go wrong with tiramisu and a shot of limoncello.
Overall, this version of the restaurant was an admirable addition to the fleet.
After dinner, we were stuffed. So, we just returned to the room to do some work before calling it a night.
Day 6 – Viking Octantis Cruise Review
The Final Stop of the Cruise
Our last port of call on this Viking Octantis cruise review was Puerto Rico. Originally, we had booked a morning hiking excursion in El Yunque. However, I had a bunch of work meetings today, so we decided to cancel and stay on the ship. It would also be great to get some stuff done with our 5G internet while in port.
Up around 7 AM, we had arrived in San Juan. I was on an 8 AM meeting while the Princess worked on the blog.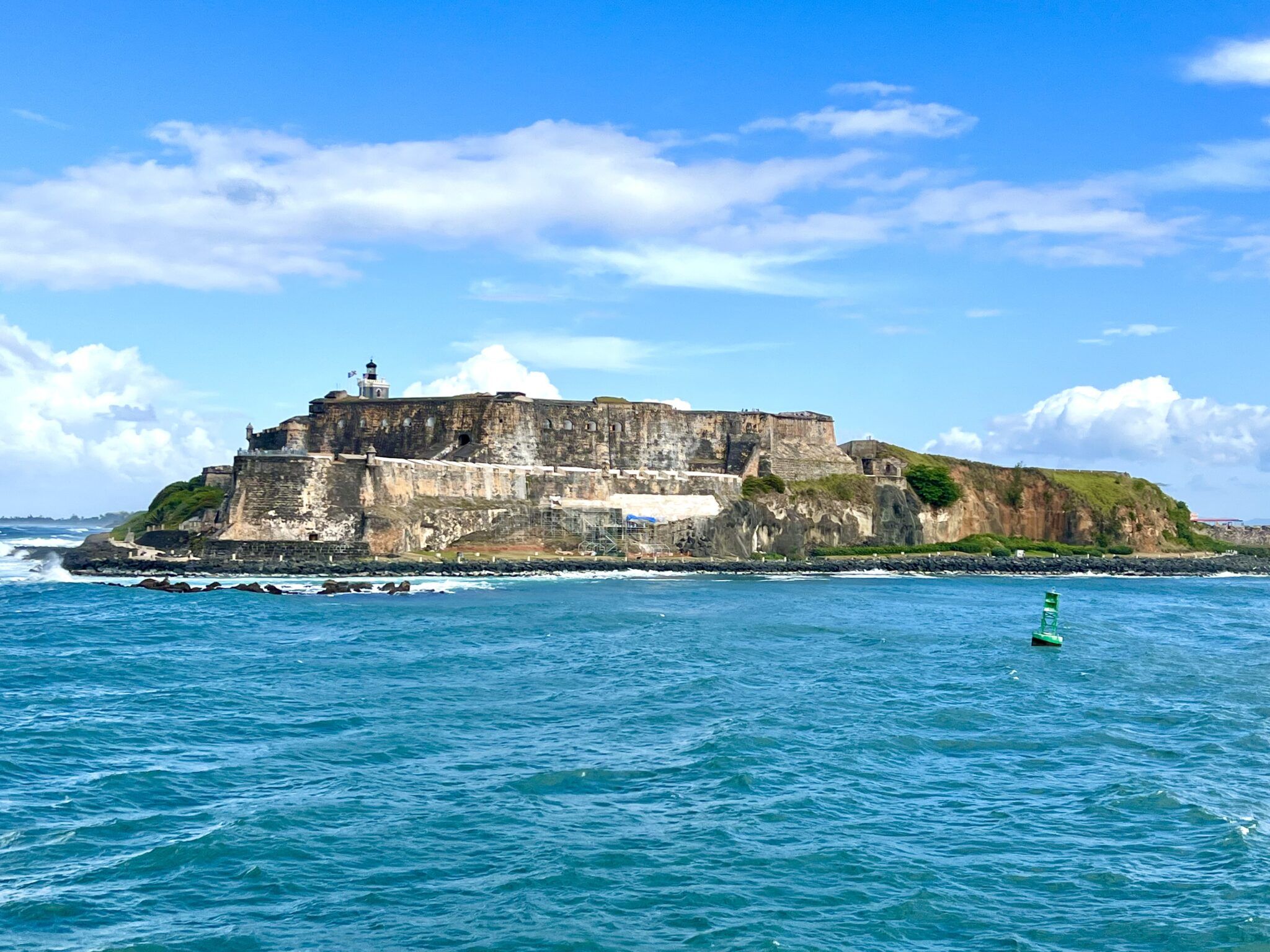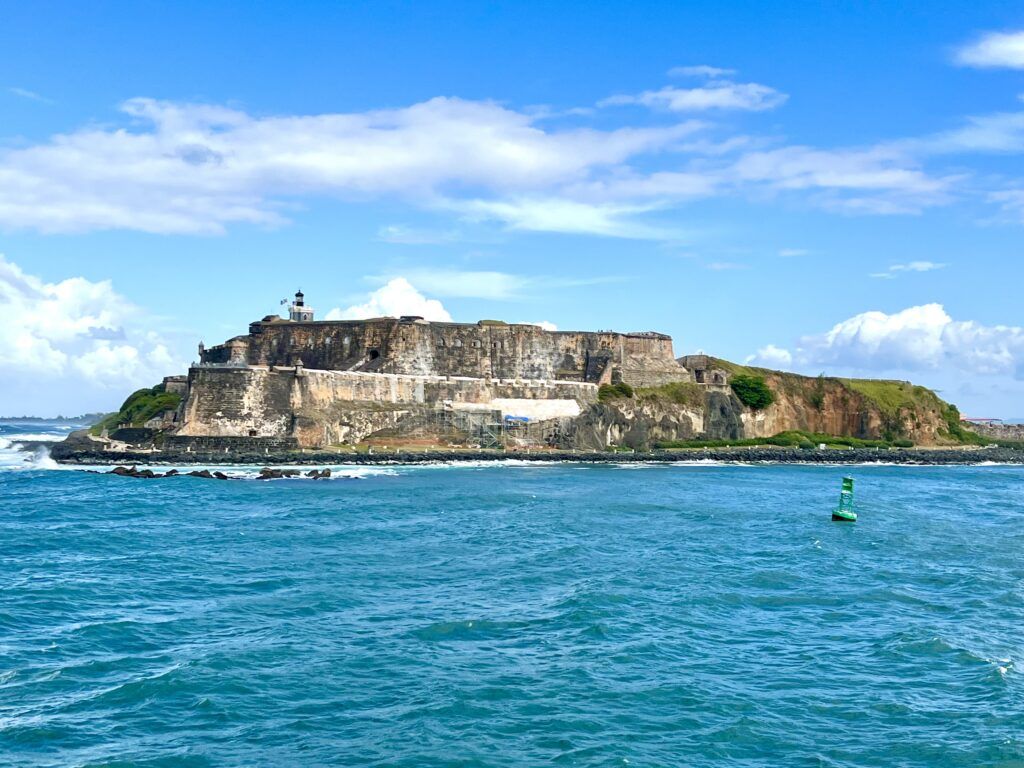 Around 8:15 AM, an announcement was made that guests had to go ashore to clear immigration. We just ignored this first shipboard announcement as we planned to stay on the vessel all day. Ten minutes later, there was yet another warning that we needed to get off the ship.
Unprepared, I had to hop off my call, and we had to change out of our pajamas to race off the ship with passports in hand. Thinking we could just clear immigration and get right back on the ship, we did not take anything else with us.
Unfortunately, we ended up being stuck in the terminal building for over a half-hour waiting for the rest of the passengers to check-in. Clearly, we were not the only ones who didn't get the memo.
A Bright Day Ahead
In and out of meetings most of the morning, we did manage to grab some lunch, and I called it quits by about 2:15 PM just in time for the "sail away party" on the Finse Terrace.
With some rock and roll music playing in the background and waiters serving up complimentary sea breeze cocktails, we watched Carnival Magic and Oasis of the Seas pull away.
Viking Octantis did not begin her crawl out until around 3:30 PM, and it was after 4 PM that we cleared the Fort.
During the afternoon, we were informed that the Chairman and EVP of marketing had boarded the ship for the return leg back to NY. So, there would a welcome reception at 6:15 PM this evening.
Given it was the holiday weekend, my work week was officially over. So, we could relax and enjoy the three sea days ahead.
Hanging With the Late Night Crowd
Changing into more appropriate attire, we mingled with other media folks at the welcome reception before Mr. Hagen gave a short speech.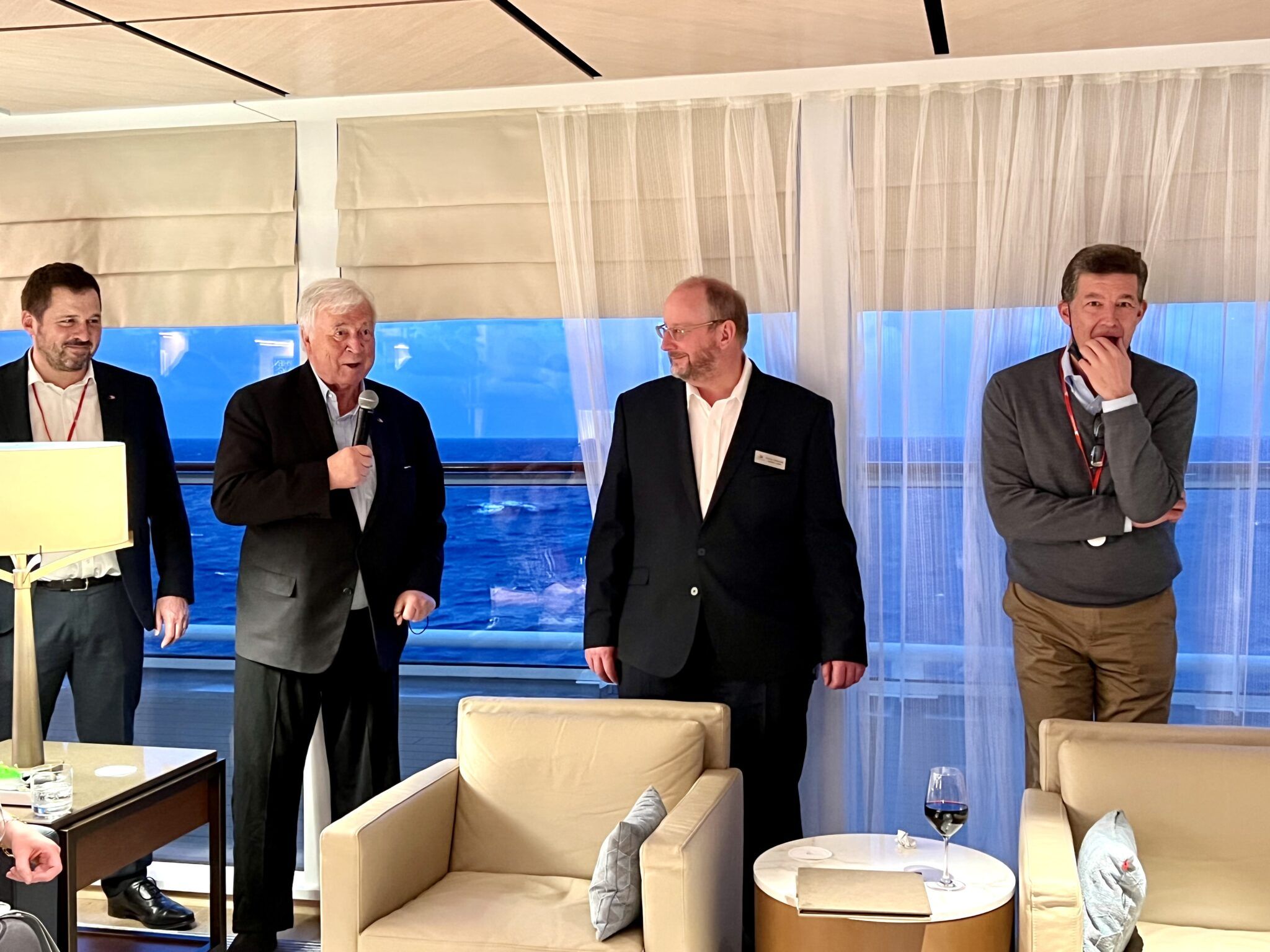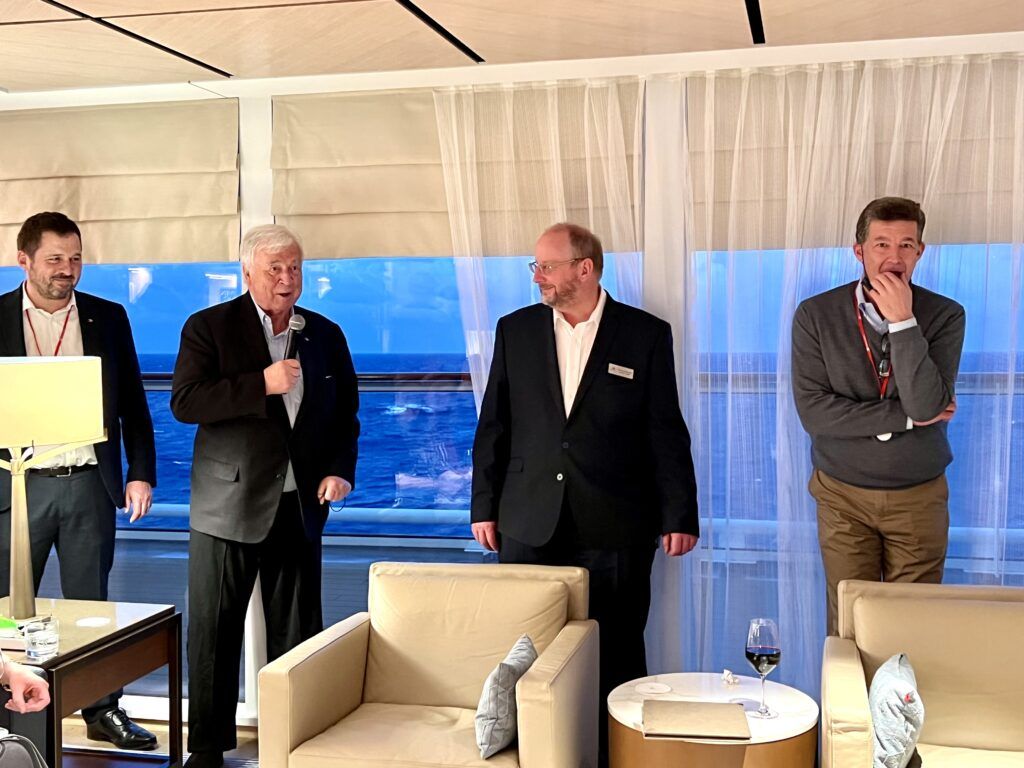 Staying about 45 minutes, we exited to make our 7 PM reservation at the Restaurant.
Interestingly, tonight's menu had both a filet and spiny lobster. So, it was almost like a contemporary cruise ship's formal night menu. Although, my lobster was much better on Viking Octantis than the larger cruise ships.
For starters, I did the crab cake. This was a unique presentation, with an avocado base. It was filled with crab and delicious.
Overall, this was my favorite meal in the Restaurant all week.
Even though the waitstaff were accommodating and very personable, dinner did take over 90 minutes again tonight.
After dinner, we headed up to the Explorers' Lounge to enjoy some of the live music. A few rounds of cocktails later, we exited at 10:30 PM when the music ended for the evening.
Day 7 – Viking Octantis Cruise Review
Our First Sea Day
On most cruises, this would be the final day of our trip. With this unique repositioning itinerary, we had two more "bonus" days on the ship before we arrived in New York on this Viking Octantis cruise review.
It was still warm and sunny, as we were still in the lesser Antilles. Though, it was only a matter of time before the weather would get colder.
On the wife's insistence, we were going to have a "real" breakfast this morning at the World Café.
I am not a huge breakfast fan, so I was fine with some eggs and bacon. The Princess was happy with her custom omelet and hash browns.
Following breakfast, we found two oversized chairs in the Living Room looking out over the ship. While we attempted to organize our photos and videos from the trip, we didn't end up getting much accomplished as we ended up running into several folks ready to strike up a conversation.
Around 11 AM, we decided to find some space on the Deck 6 sundeck to enjoy the weather. While this sounded like a good idea, it ended up being too windy. Instead, we found aft-facing seats outside the Aquavit Terrace.
It was in the upper 70s, sunny, and the perfect sea day.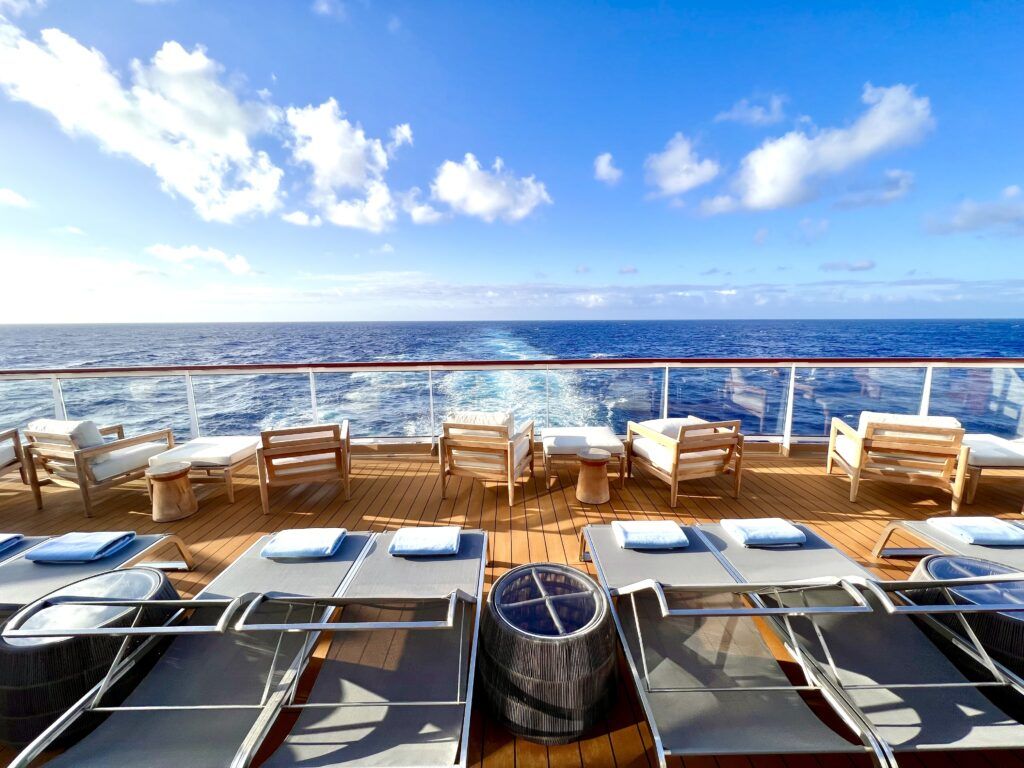 Later in the afternoon, the wife decided it was time to do some shopping. As part of the trip, Viking gave us some OBC, so she wanted to spend it.
The small Nordic shop on Deck 3 has some hallmark Viking items. From sweaters, to jackets and logo caps, the gnomes are what caught her eye. Don't ask me why, but we are now the proud owners of not one but two gnomes.
It's 5 O'Clock Somewhere
By now, it was approaching 5 PM, so there was no better time for a rum punch.
With drink in hand, we watched the wake views from Deck 5 for another hour or so.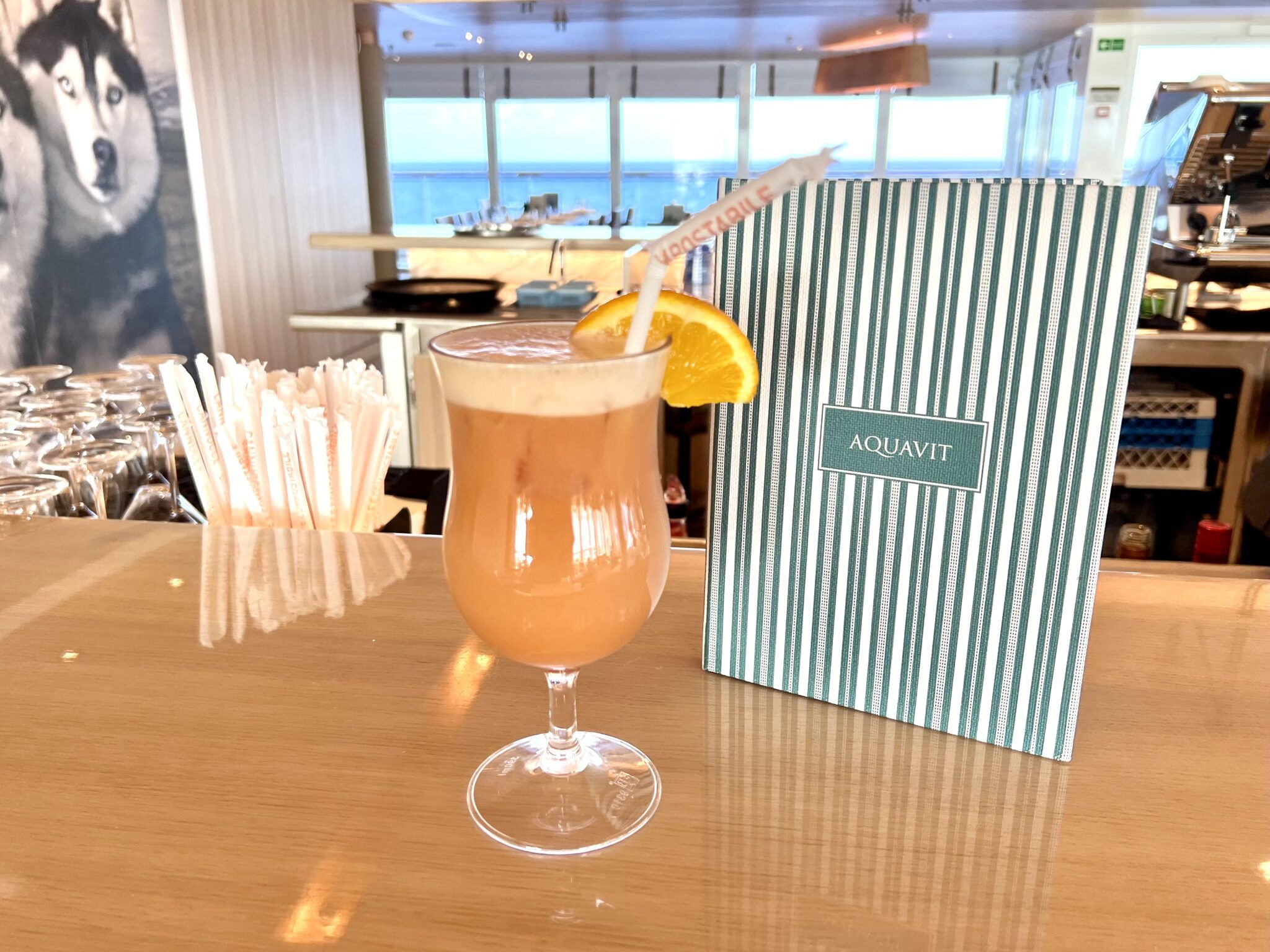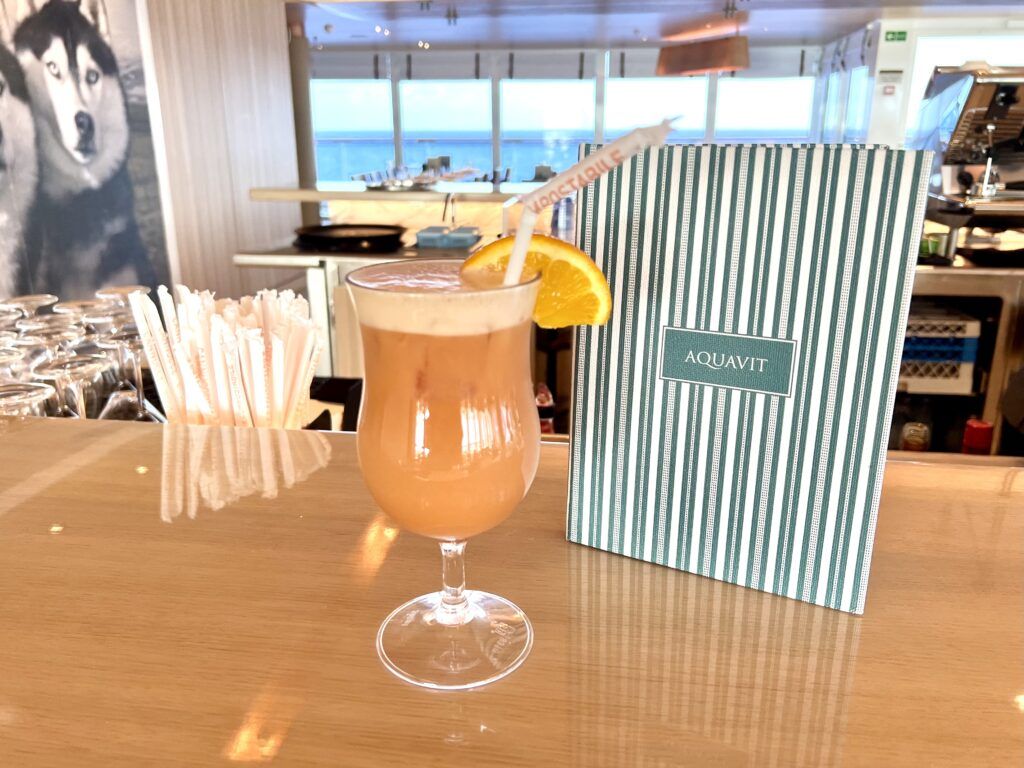 Tonight, we couldn't get dinner reservations in the Restaurant. Originally, we planned on getting room service, but after our lazy day, we decided against it.
Later in the evening, the entertainment staff was hosting a version of the Liars Club in the Aula. This was the first "show" of the cruise, so we didn't want to miss it.
Calling It an Early Night
Unnecessarily changed up for a casual dinner, we were to the buffet for 6:45 PM. By now, we were getting a bit tired of the same selections here.
The highlight of the meal was the custom-made ice cream at the coldstone, with plenty of oreo pieces and chocolate sauce. Now this is a nice touch.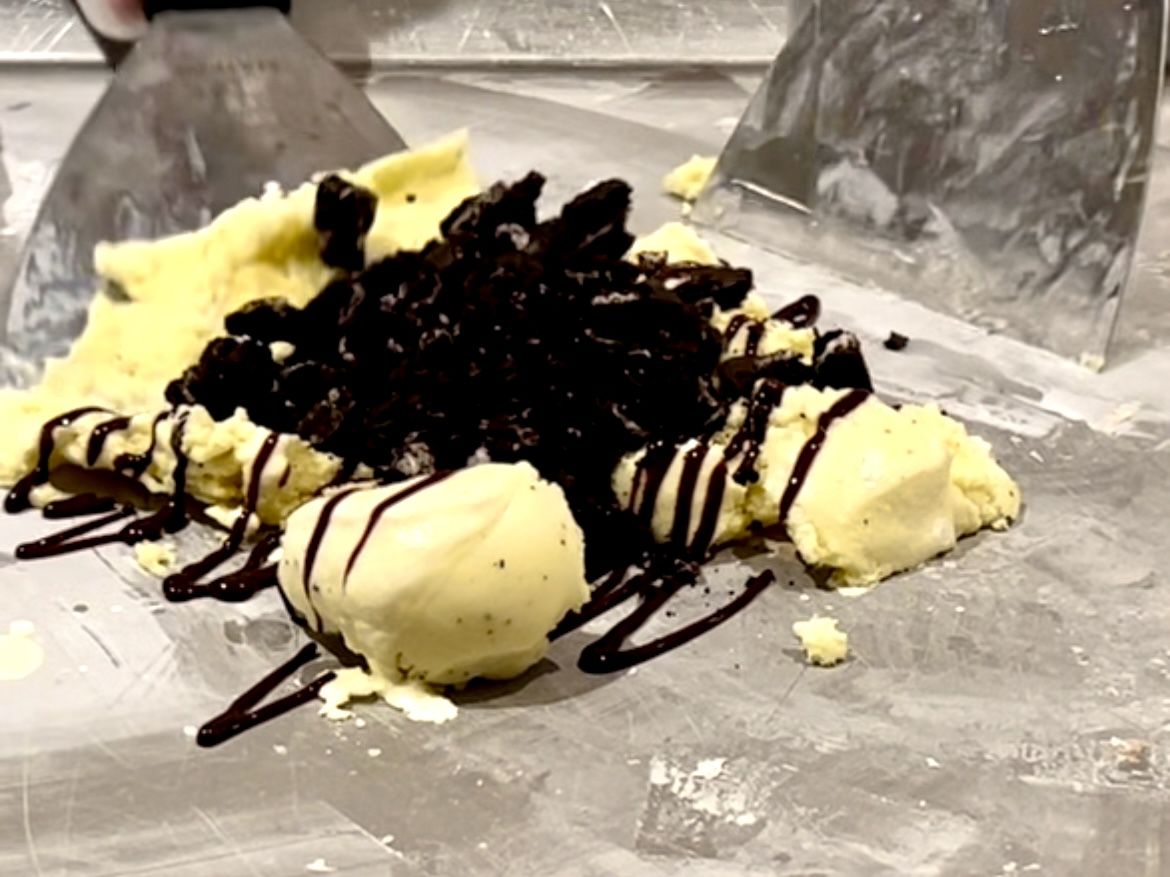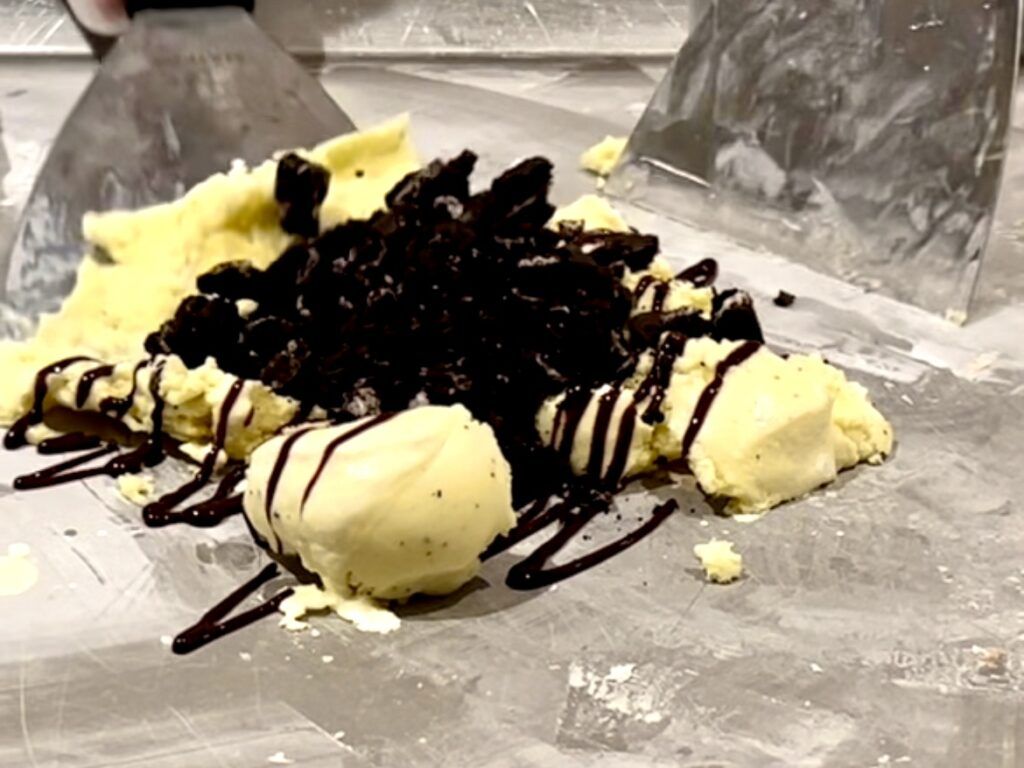 We were out of dinner in time for a drink at the Explorers' Lounge along with some easy listening from the resident pianist.
We then made our way to the theater around 8:20 PM. There were plenty of seats available still. I guess Viking cruisers were not fans of this classic game show.
Hosted by the entertainment manager Scott, the show included Sandy from the expedition staff and the two members of the Explorers' Lounge duo.
The three performers did an admirable job with their lies, with Sandy being the most outrageous and over the top of the bunch.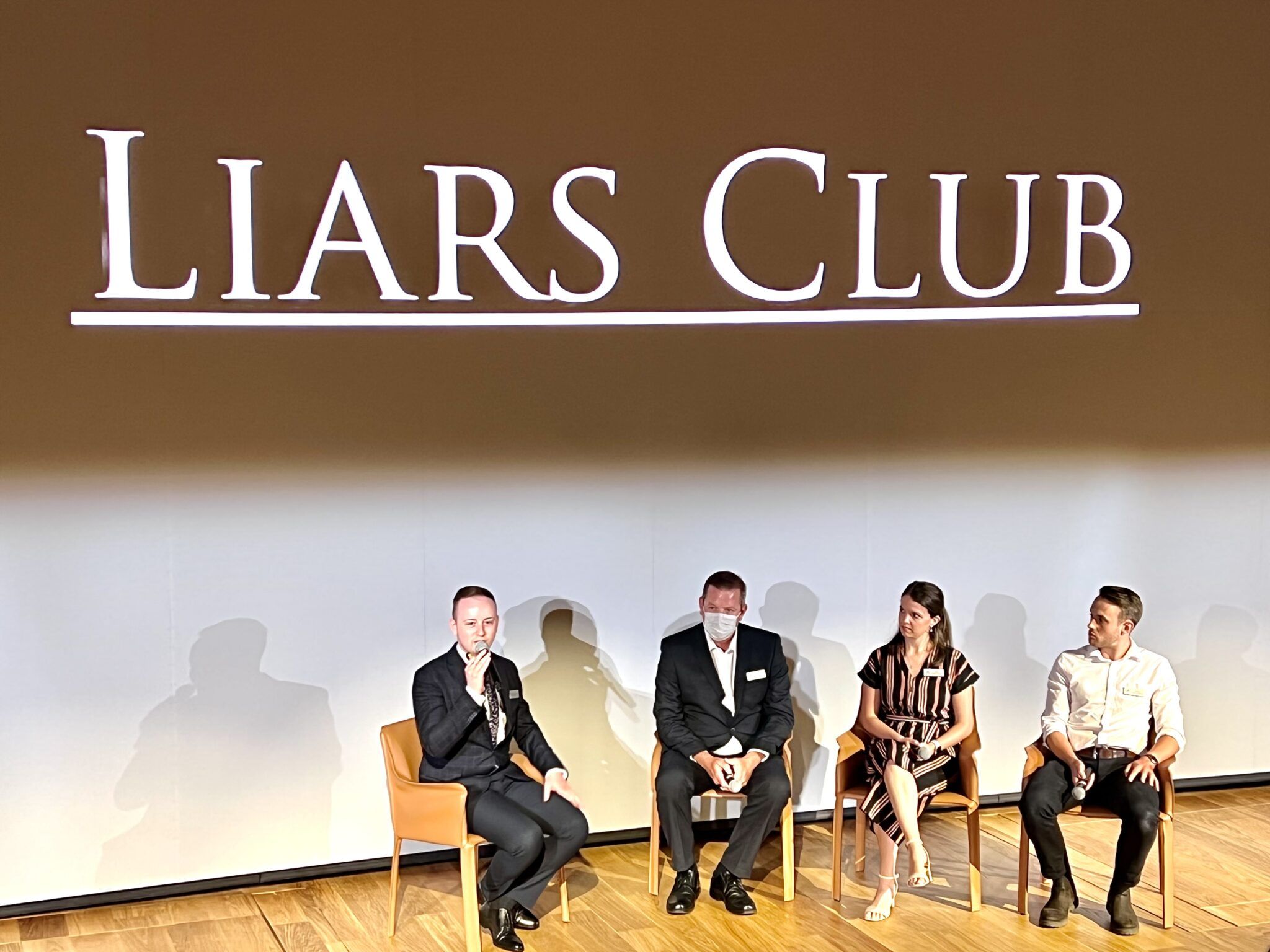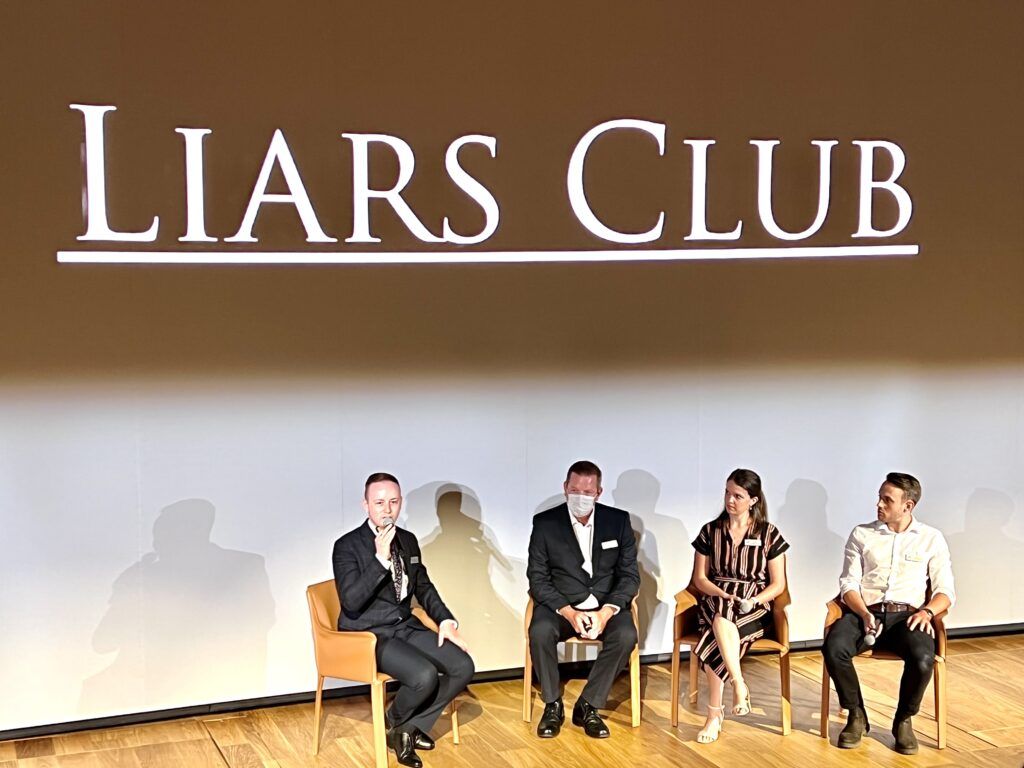 The show was over at 9:15 PM. Thus, it was an IPA for the road and a stroll up to our room to end the evening.
BOOK NOW: Get Deals on Viking Octantis Cruises!
Day 8 – Viking Octantis Cruise Review
Breakfast in Bed
Among the many inclusions in the Viking cruise fare is 24 hour room service. So, we could not let this benefit go to waste. While we had thought about getting dinner delivered the previous evening, we opted to do breakfast today instead.
For once, I decided to sleep in on this trip. Unfortunately, this meant I missed the weather balloon launch that was announced the night before.
We scheduled room service for 8 AM, and the food arrived promptly.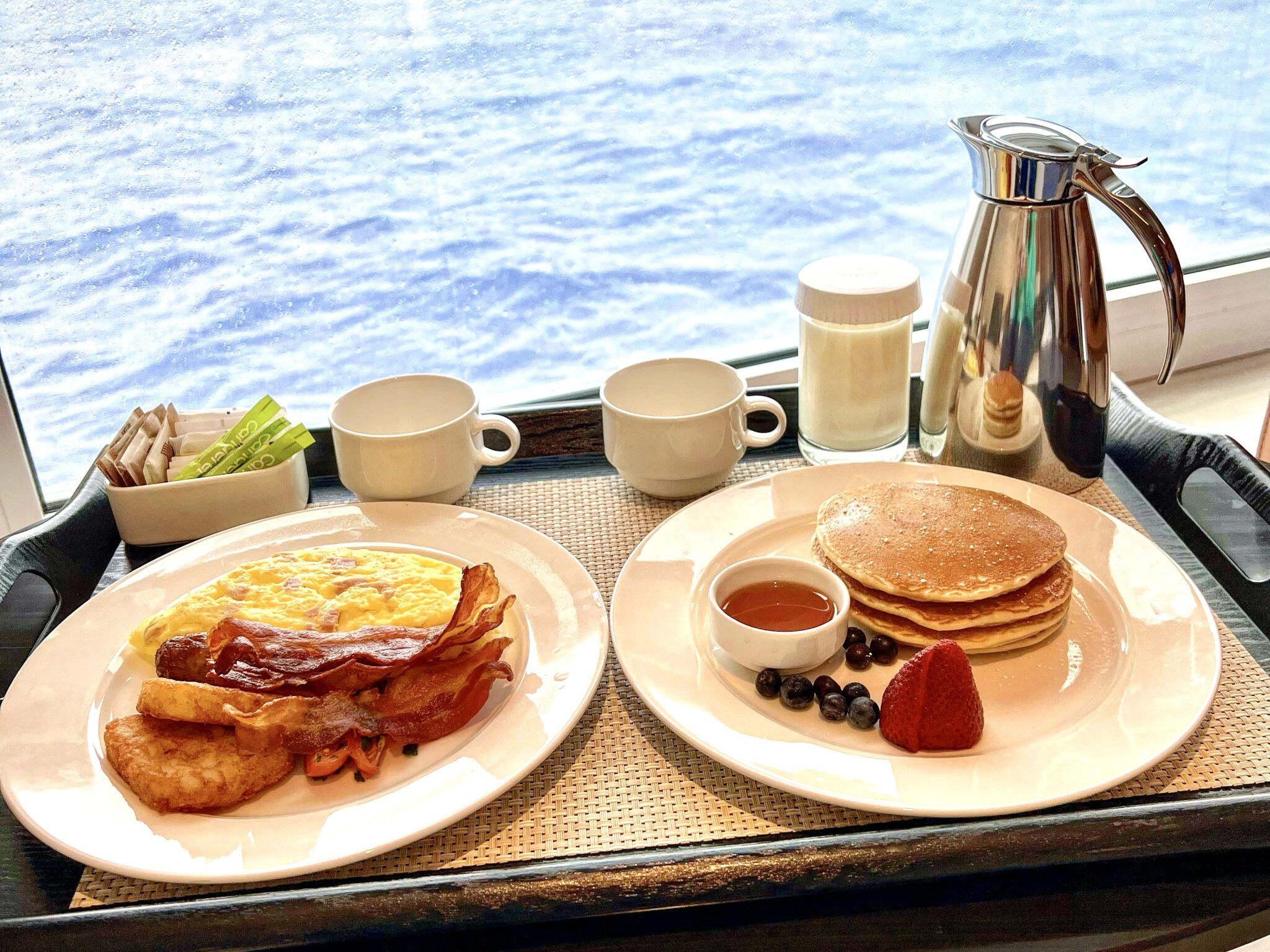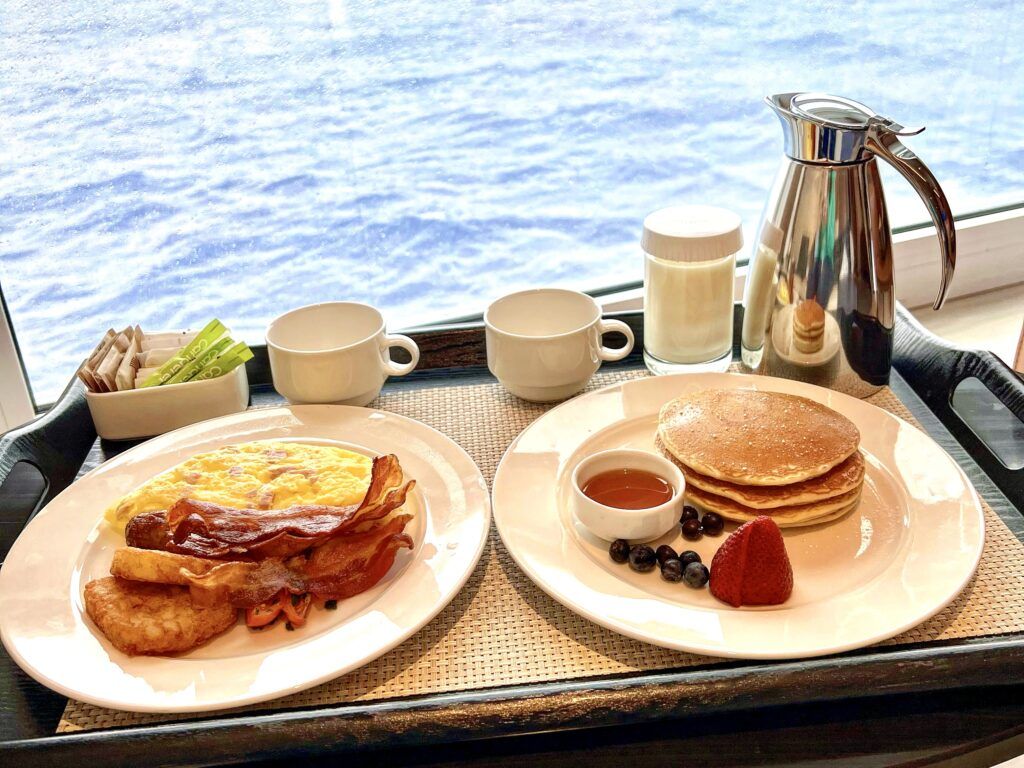 Breakfast was delivered fresh and warm. With our Nordic balcony as the backdrop, it was a relaxing way to begin this Saturday morning.
Finishing up breakfast, we opted to stay in the suite getting our photos and videos organized, since that didn't happen yesterday.
The morning blended into the afternoon. By 1 PM, it was time to take a break. The afternoon sun was shining bright, and we needed some fresh air.
It Is a Caribbean Cruise
Surprisingly, it was warmer outside than we expected. In fact, it was warmer and less windy than the day before. So, it was the perfect opportunity to grab a chair on the outdoor decks for some rays. Plus, a frozen cocktail. After all, this was a Caribbean cruise!
With a pina colada and banana daiquiri in hand, we were able to soak up some sun and the wake views. I was tempted to grab my bathing suit and take a dip in the pool, but that felt like too much work!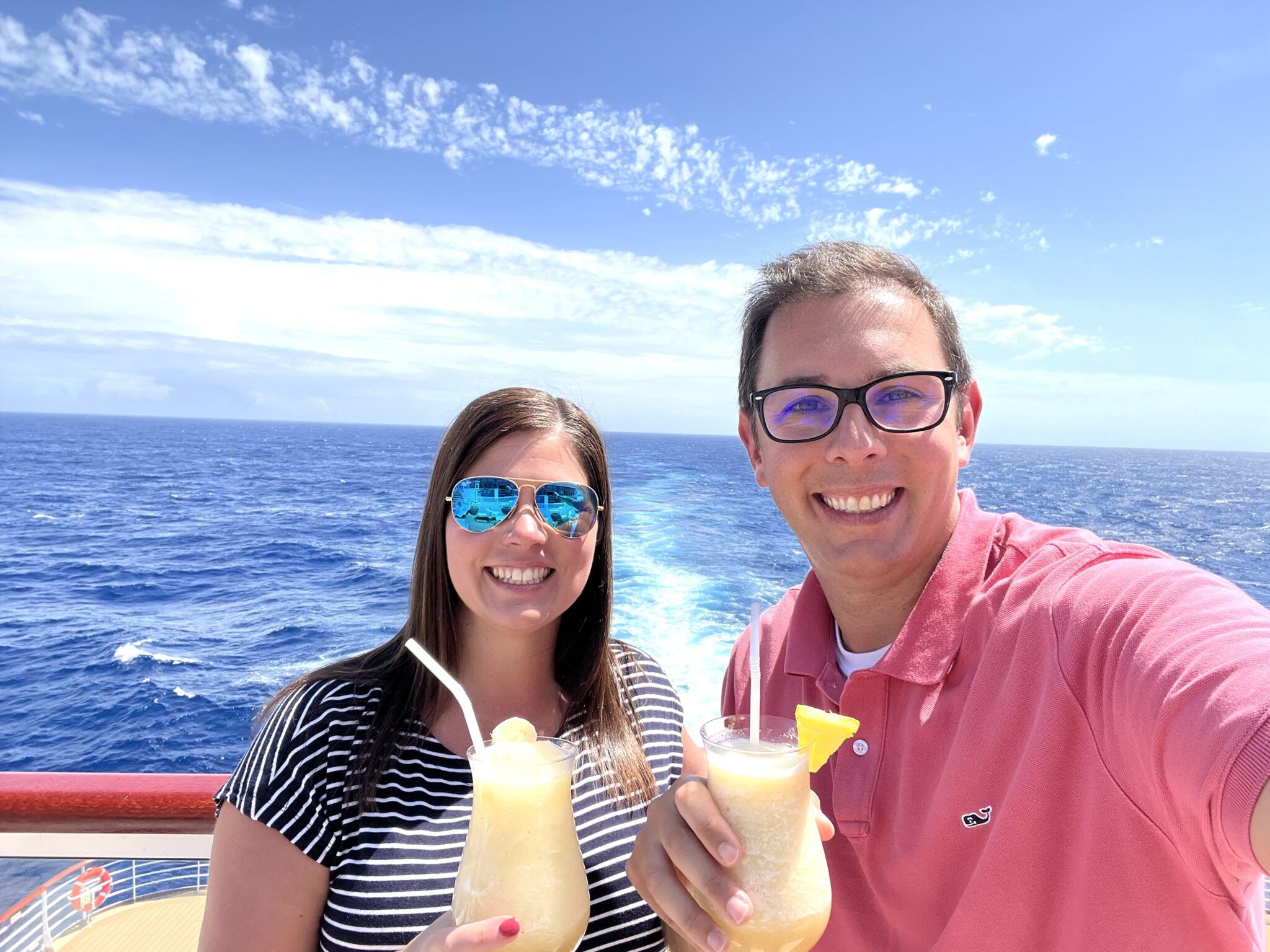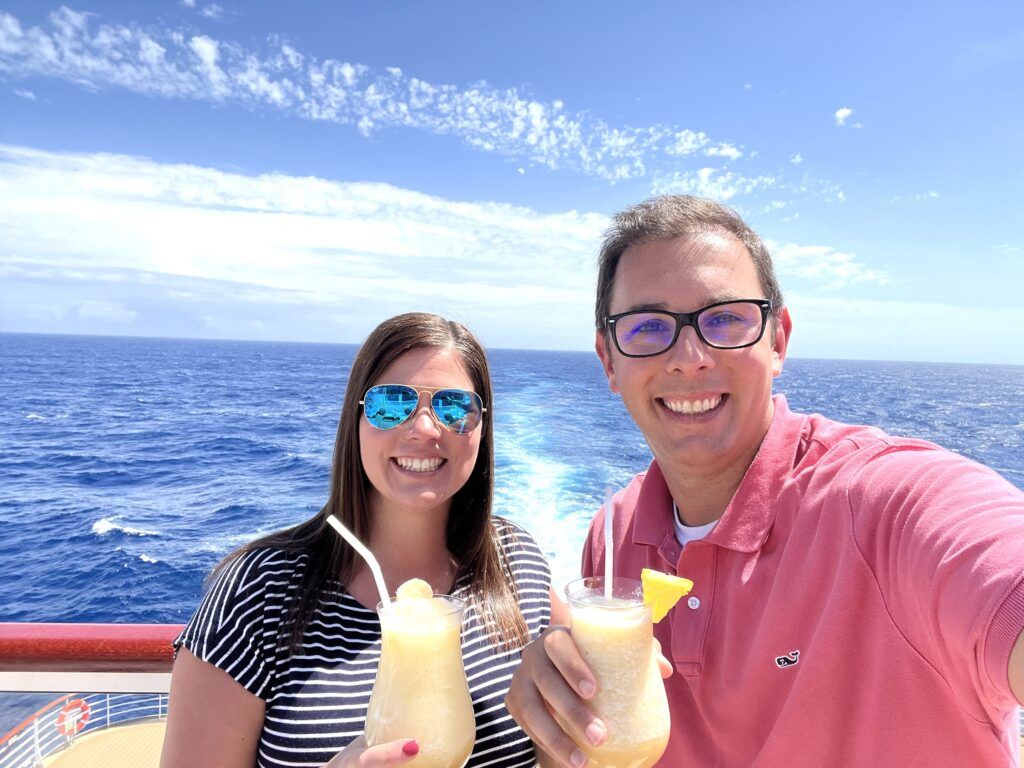 Back to the room before 3 PM, we did some filming in the cabin for our review video before changing up for dinner.
Tonight, we had reservations at Manfredi's at 8 PM. Although, we learned that there was a show this evening at 8:30. So, we were hoping we could be seated earlier.
Changed up and ready, we made our way to the Aula around 5:15 PM for the Captain's Farewell. This final send off included a glass of champagne and a homage to all of the different teams on the ship.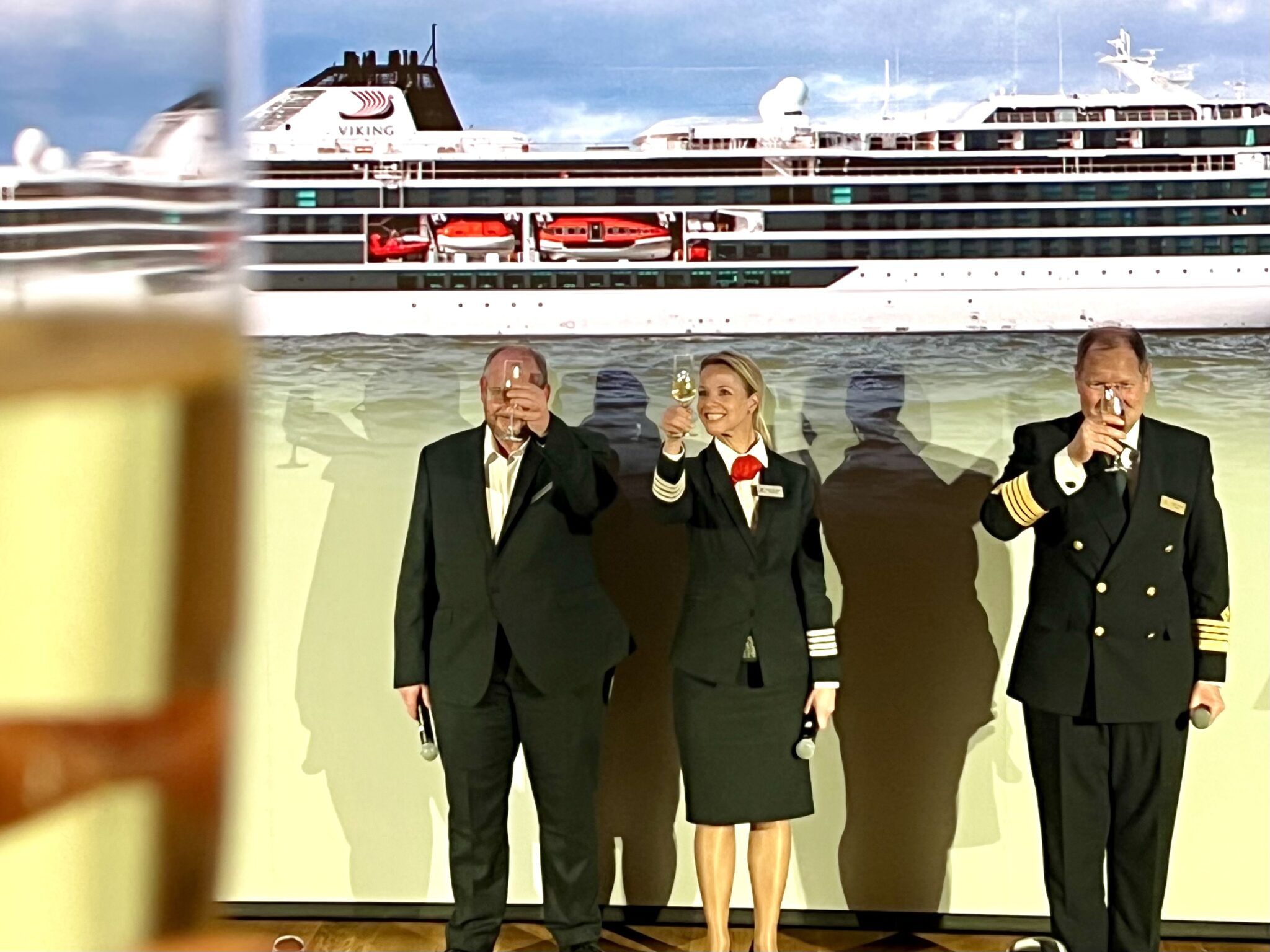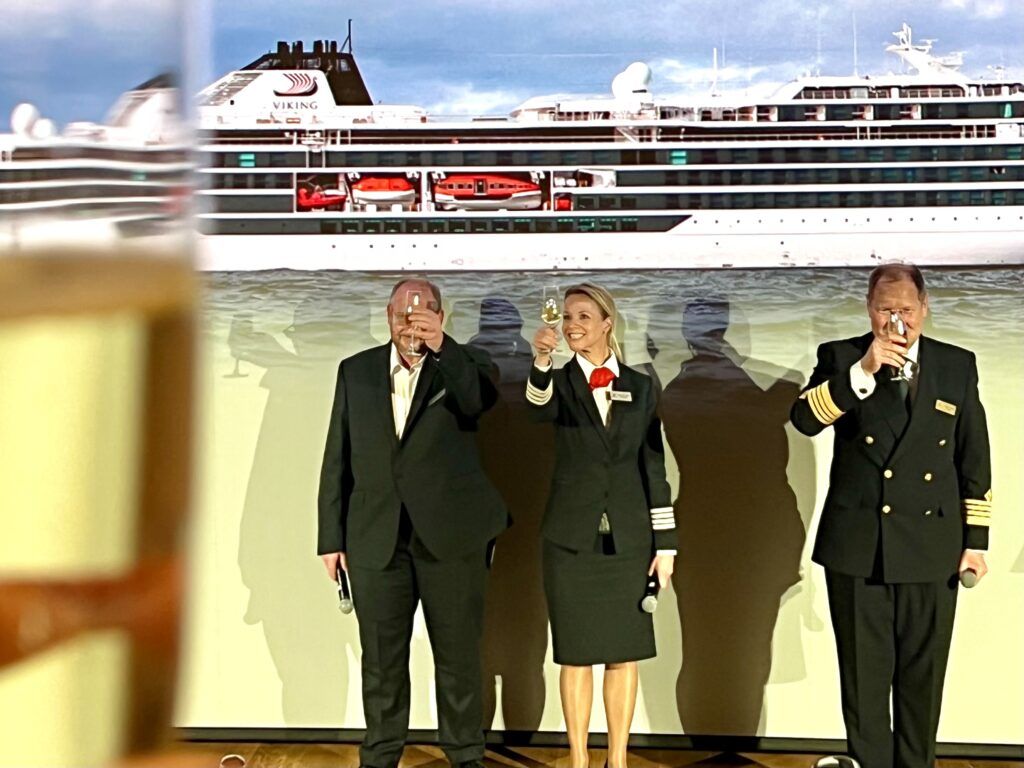 Dinner and a Show for the First Time
The Captain's speech was done around 5:45 PM. Even though the restaurant didn't officially open until 6 PM, we figured we would inquire about eating earlier.
To our surprise, the host said he could seat us (the two of us along with two media friends) right now if we wanted. Everyone nodded, and we were among some of the first diners at the restaurant. Good thing, as dinner was close to two hours.
Being our second visit to this venue, I opted for all new selections. First, I went with the antipasti plate. This massive starter included a selection of cheeses, meats, and grilled vegetables.
Due to peer pressure, I was forced to also get a pasta course. If you are going to do a fourth course, why not go for the lobster with homemade pasta in a rich tomato sauce. I was told this was a half order, but I feel like she was just kidding with me.
For my main entrée, I did the Veal Milanese. This massive, breaded cutlet came with a light arugula salad. After already devouring the first two courses, I could only knock out about half of this impressive serving.
After all, there was still dessert.
Finally done by 8 pm, we had just enough time to make a quick pit stop at our room before heading to the Aula.
This unexpected musical production featured Elmer, one of the entertainment managers. With songs from Elton John, Frank Sinatra, and Andrea Bocelli, the 40ish minute show was entertaining. Elmer had a strong voice with a very regal and polished stage presence.
With the show over before 9:15 PM, we tried to go to the Hide. Apparently, the word was out now about this tucked away bar on Deck 1 as it was standing room only. So, our group of four headed up to the Explorers' Lounge for some music and a night cap instead.
We had one more sea day for this Viking Octantis cruise review. Not to mention, tomorrow was also Easter.
Day 9 – Viking Octantis Cruise Review
Time for Second Breakfast
Like any final day of the cruise, we had an assortment of things we wanted to accomplish.
Up at 7 AM, I got a few remaining videos and photos along with our morning coffees. When I walked into the World Café, the chefs were baking up fresh almond croissants. Now, there was no way I was going to pass up these flaky and buttery morning pastries even if I knew the wife planned on breakfast at Mamsen's.
It is perfectly fine to eat two breakfasts, right? After all, we were going to skip lunch.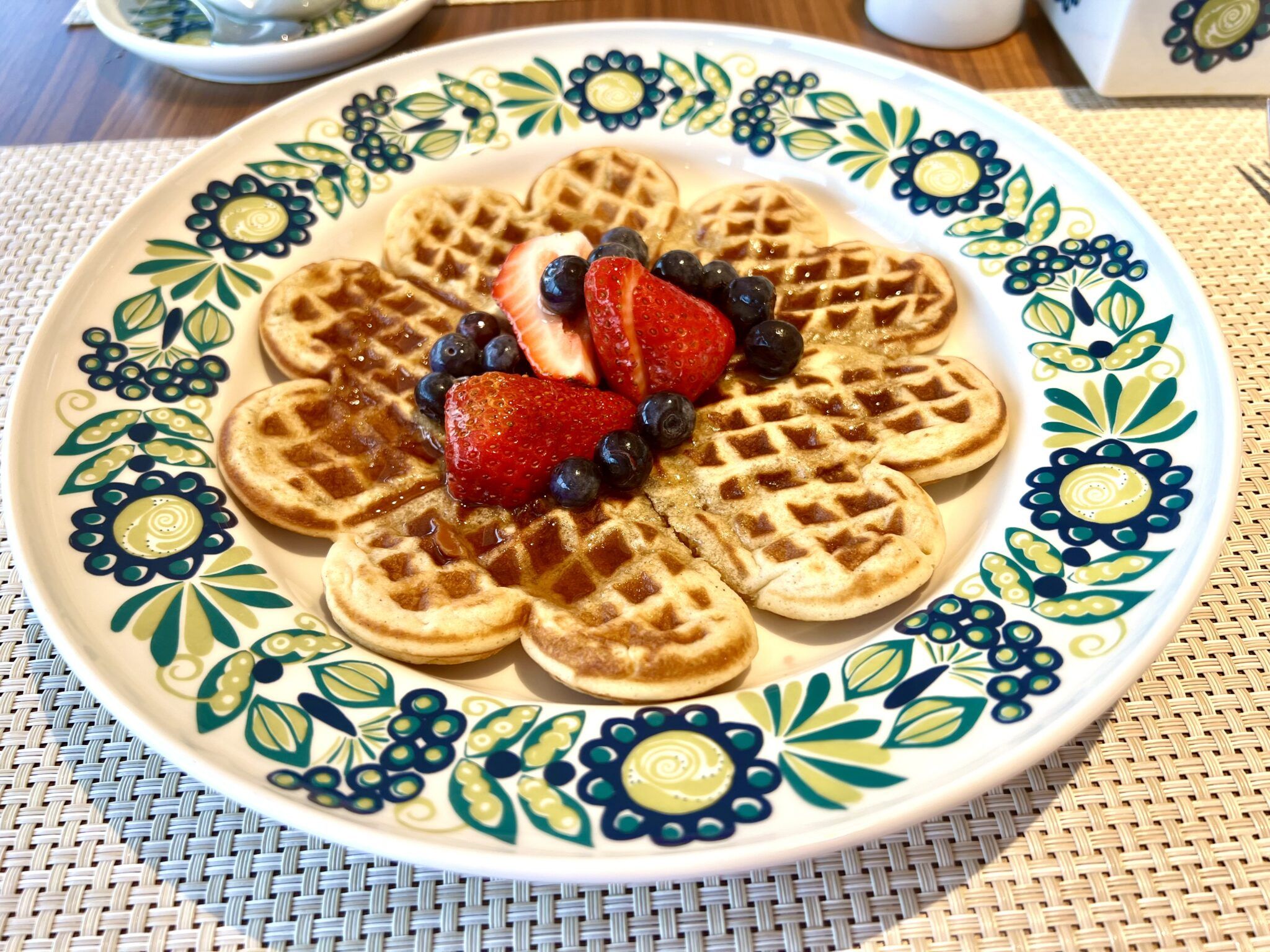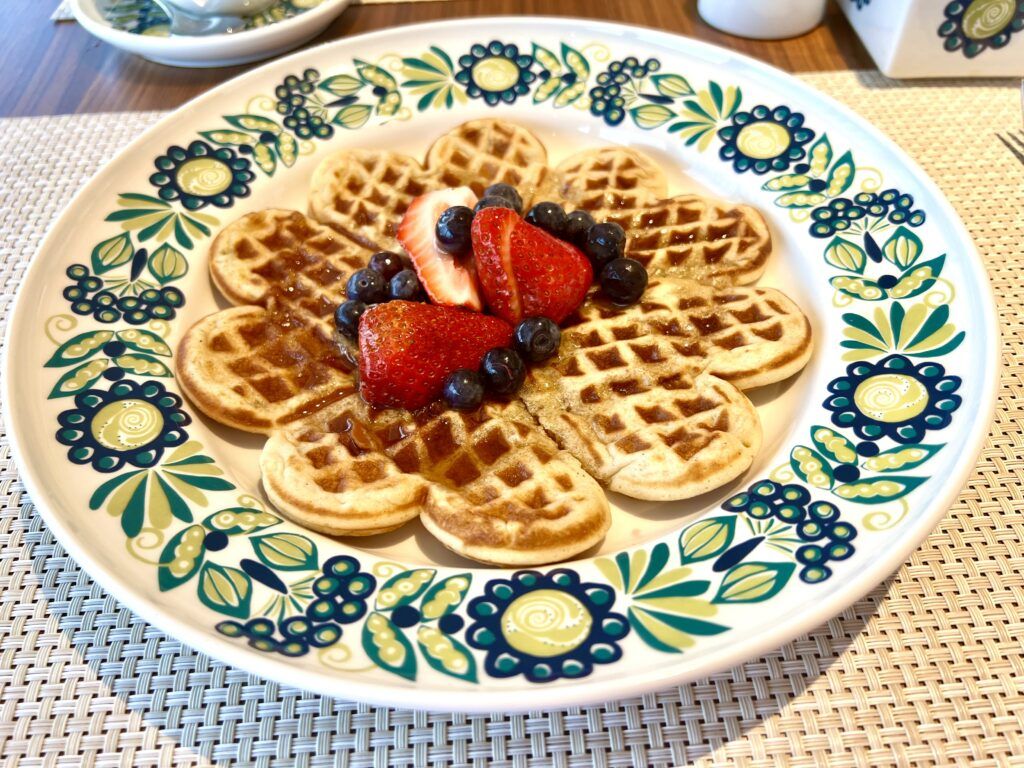 The sweet and delightful waffles at Mamsen's are certainly the highlight of this casual eatery.
Following breakfast, we relaxed in the Living Room until about 1 PM. The night before, the PR team had informed us that the Chairman, Mr. Hagen, would be doing a press conference at 1:30 PM in the Aula. So, there was no way we were going to miss this update.
The session started a bit late and went for over an hour, including some future plans for the company.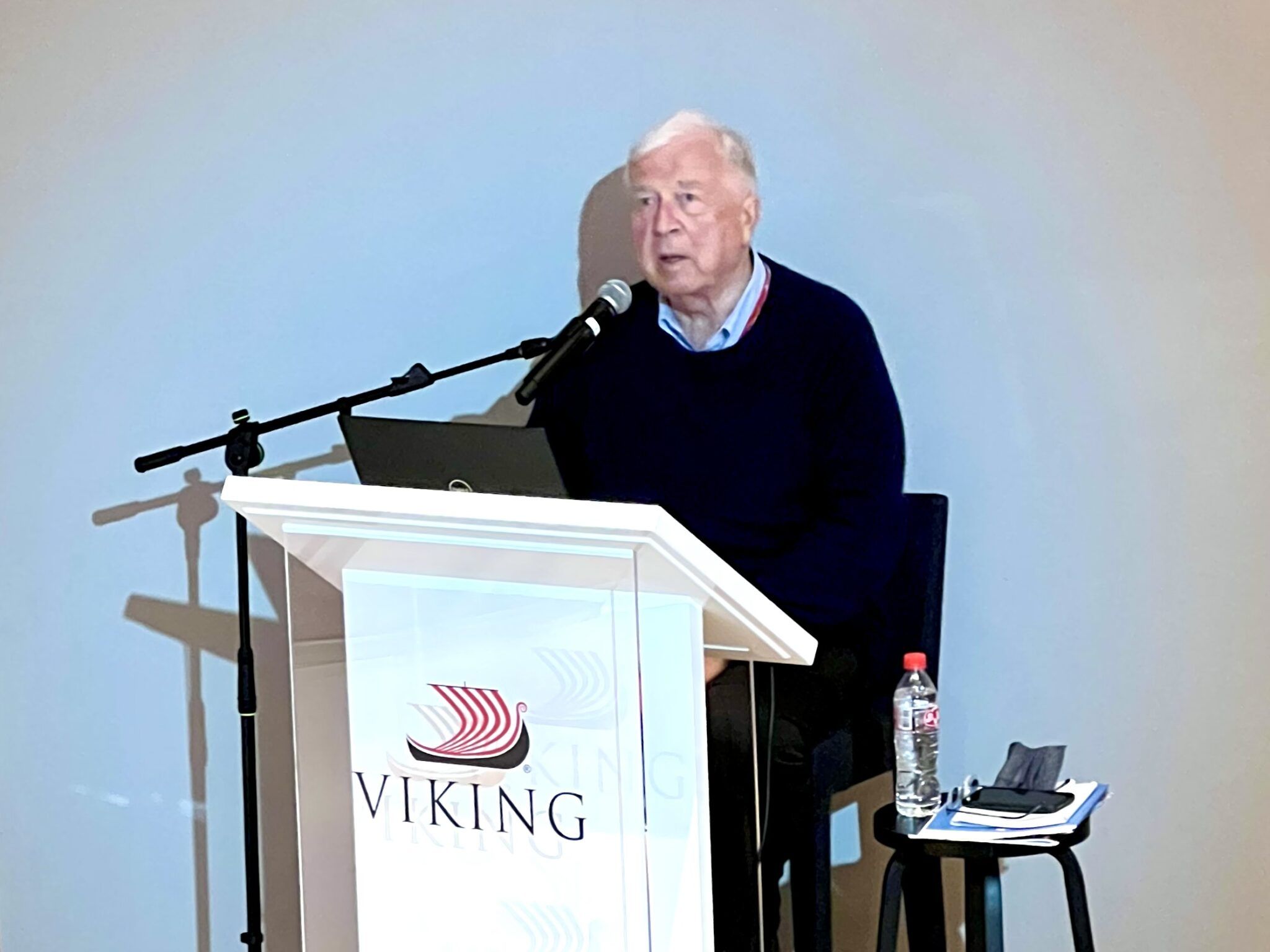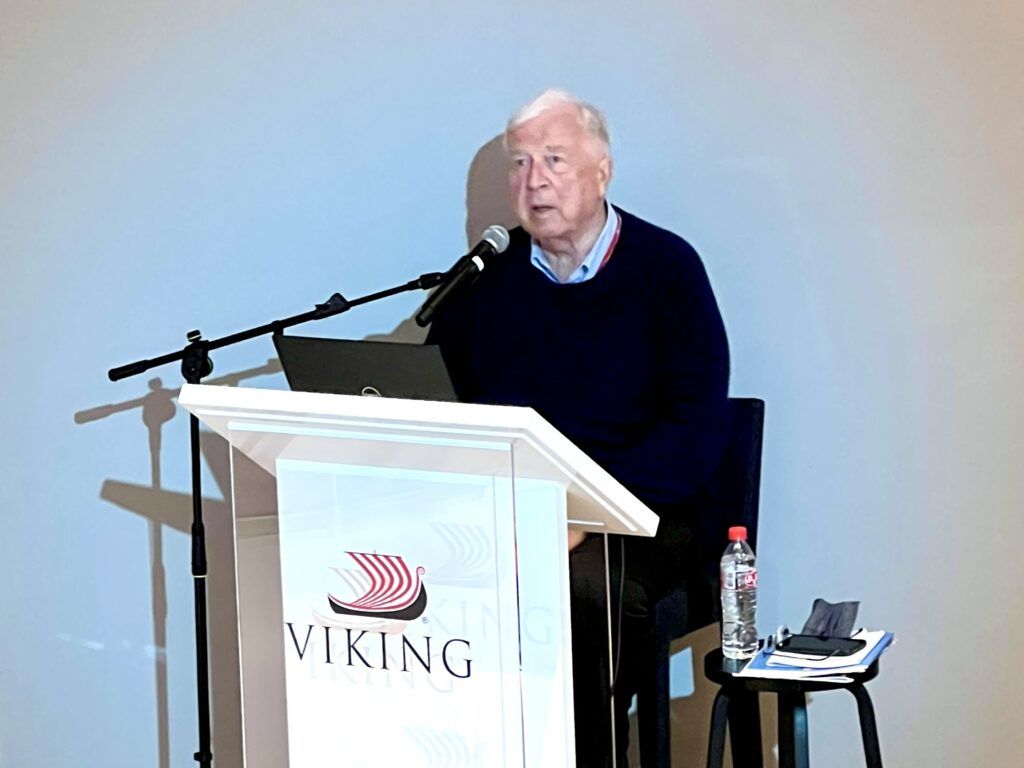 A Rather Uneventful Night
After the business update, we stopped for some caffeine and snacks to take back to our room.
It was now time to begin the dreaded task of packing. Our Blue 3 Luggage tags indicated our bags had to be out of the room by 10 PM.
With two bags essentially packed, we changed up for our last night on the ship. Around 6 PM, we headed to the final "office hour" in the Explorers' Lounge for some cocktails and goodbyes.
While we did have reservations at the Restaurant tonight for 7:30 PM, we decided to skip it after reviewing the menu. Given it was Easter, there were a couple lamb dishes on the menu that the Princess wouldn't eat. However, the World Café actually had turkey on the menu this evening.
While the wife went with the turkey of course, I made one final stop at the Grill for a lobster tail and some slices of the butcher's cut of the day which happened to be a tomahawk. This was actually the perfect meal to end our cruise.
Since we didn't make it into the Hide last night, we were determined to get in tonight. Thankfully, it was much less busy. So, we were able to grab a drink and listen to the expedition stories from Sandy, one of the expedition team members.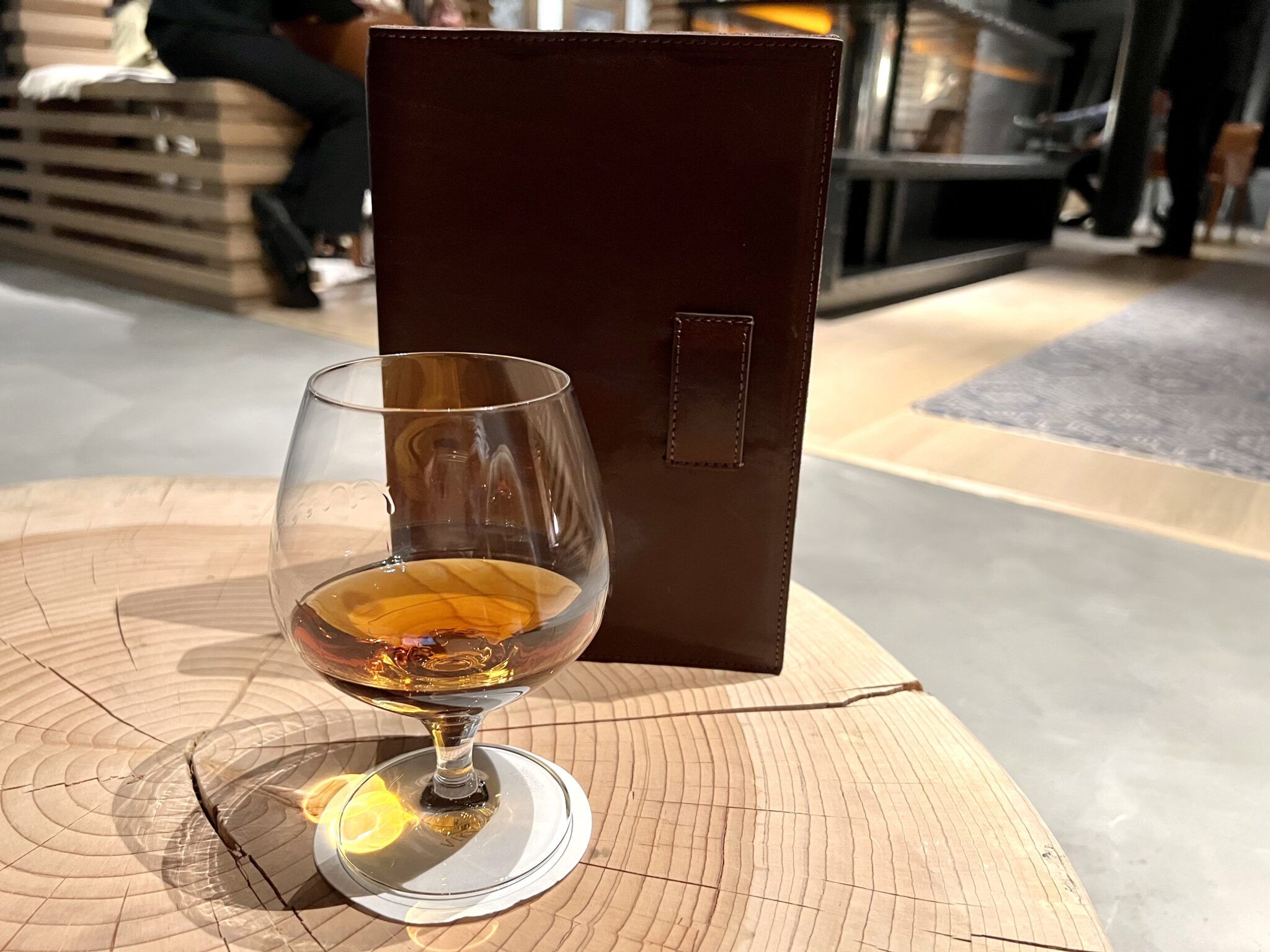 These tales involved some of the mishaps of his younger days when he and his friends thought it was a good idea to buy a sailboat with no prior sailing experience.
With not much else going on this evening, we called it a night after this talk. I wanted to be up early tomorrow morning anyway to catch the sail into NYC, which was scheduled for around 5:45 AM.
Disembarkation – Viking Octantis Cruise Review
Let's hear it for New York!
This repositioning cruise started in Barbados but was ending in New York as the ship was ultimately on its way to the Great Lakes for the summer season.
Like many on the ship, we were up early to witness this gorgeous sail into Manhattan. The alarm went off around 5:30 AM, and I jetted out in my gym clothes. Not exactly the appropriate attire for this cold and windy morning.
As the sun slowly began to rise, we made our way under the Verazzano Bridge, past the Statue of Liberty, and towards Pier 88.
Back to the room around 6:45 AM, I grabbed some coffees and water. We had a long day ahead of us, but neither of us were hungry.
Unfortunately, Viking would not book any return flights home before 2 PM, so we were stuck on a 3:55 PM flight from JFK to Boston. With that, they automatically placed us on a Manhattan highlights tour with an airport transfer. So much for getting work done now. In hindsight, we should have just arranged alternate transportation to the airport where I would have been able to work.
Finished packing up, we left our room by the designated time of 8 AM. Unlike most cruises, we did not do self-check out. Instead, we had to meet in the Restaurant to wait for our Blue 3 luggage tag to be called.
Finally, around 8:45 AM, our group was called to disembark. The entire process took less than 10 minutes.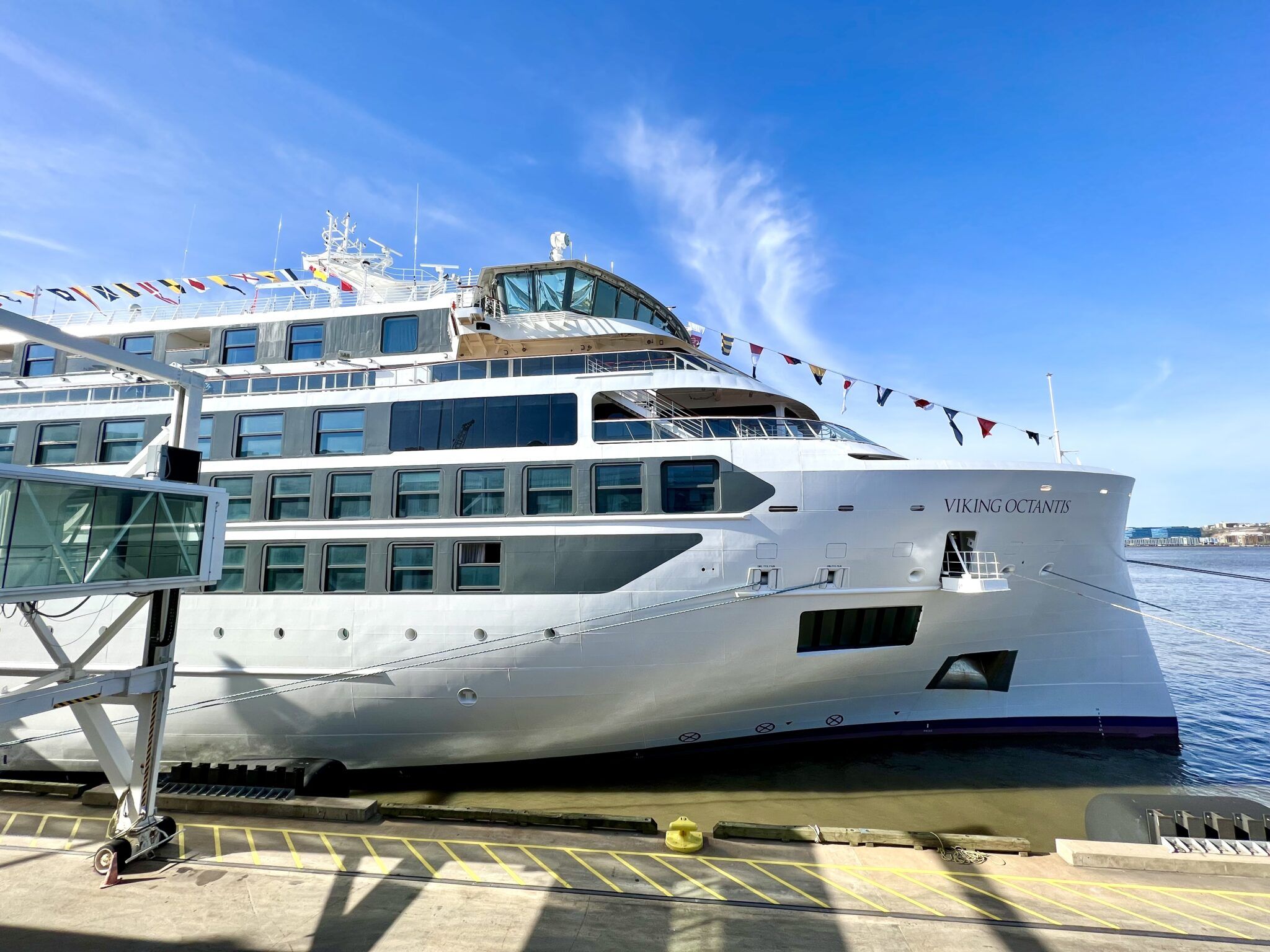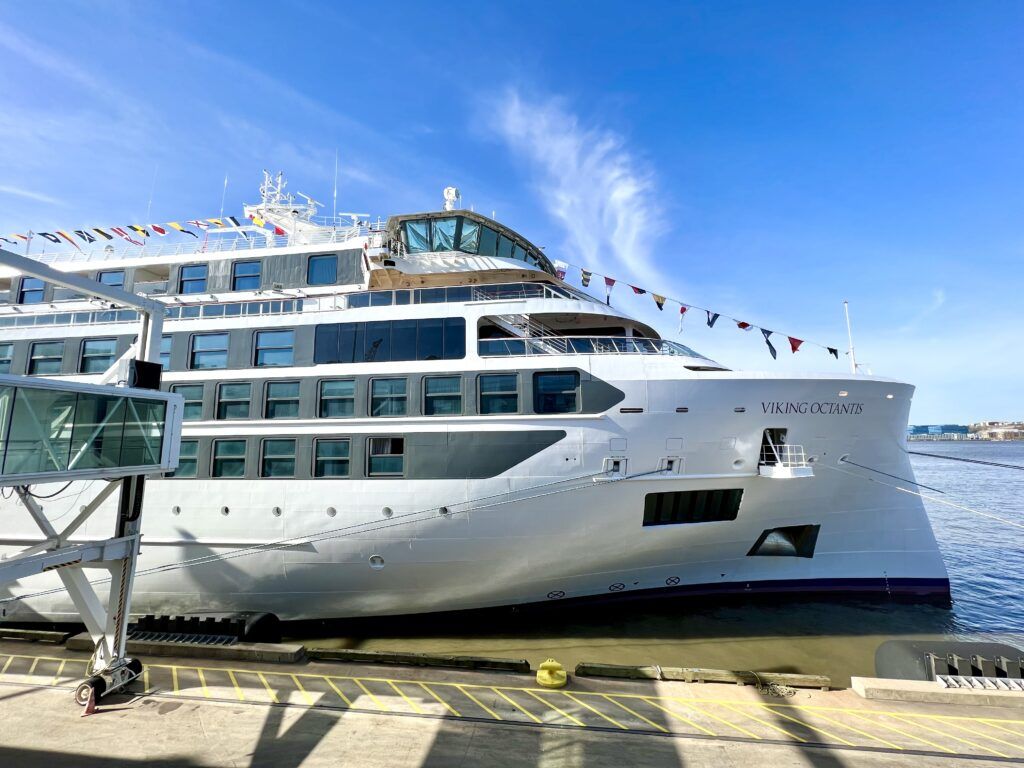 Since we had already cleared immigration in Puerto Rico, we were able to just grab our luggage and head right to the bus for the 4 hour tour.
Home, For Now
Arriving at Terminal 5 around 1:30 PM, this was much closer to our departure time than we normally arrive. Even though the airport was extremely busy, somehow, we were able to complete check-in, drop bags off, and go through security in about an hour.
By this point, our flight had been delayed 30 minutes. So, we grabbed some much needed coffee and snacks at Starbucks before our short 40 minute flight back home.
Surprisingly, we actually have some time to catch up on life, as our next trip isn't for two weeks. This time, we will be testing out American Queen Voyages' new expedition vessel, Ocean Victory. It will be interesting to see how these two expedition vessels compare.
Comments
What do you think of our Viking Ocantis Cruise Review? Do you have plans to sail on this brand new expedition cruise ship? Drop us an anchor below to share what you love about sailing with Viking.