Along with many of the other technological advancements onboard Quantum of the Seas, Royal Caribbean has increased the viewing experience for all passengers, including those staying in inside cabins, with the implementation of virtual balconies. Yes, those staying in interior cabins can now have a real time view of the outside world.
These  Quantum of the Seas virtual balconies were first trialled on Navigator of the Seas during its 2013 refurbishment and are now standard in Quantum of the Seas interior staterooms and presumably all further Quantum class ships including Anthem of the Seas set to debut in April 2015.
Quantum of the Seas Virtual Balconies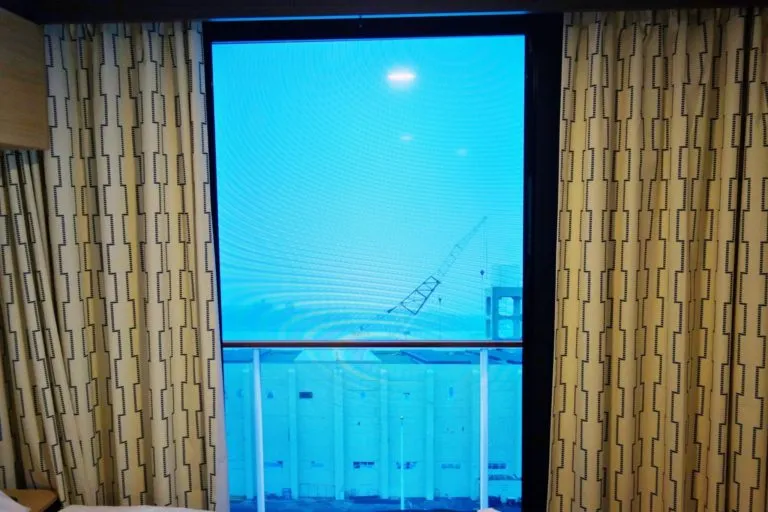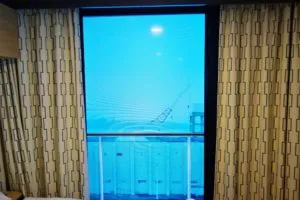 When entering our stateroom, we first saw a projection of warehouse buildings and a crane in Bayonne, NJ. Not so impressive! But, during the 8-days of our recent Quantum of the Seas cruise, we were able to experience many sights and sounds that would not normally be possible from an interior stateroom.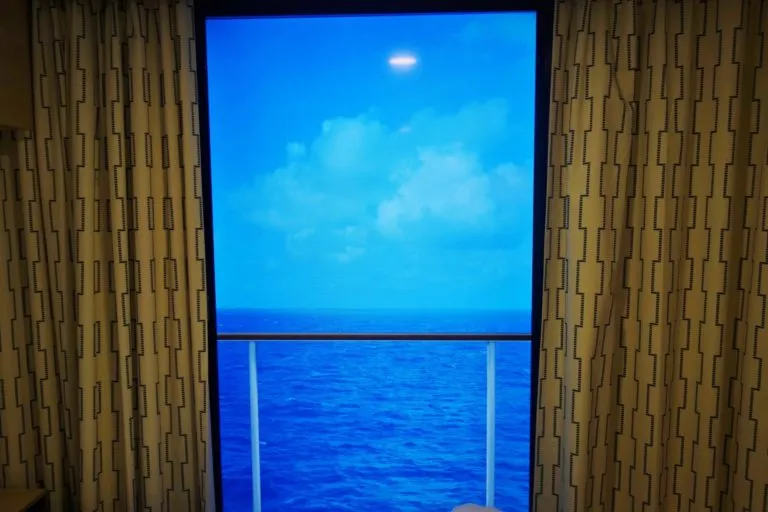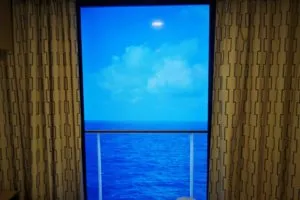 These 80″ 4K LED Sharp Aquos screens pan floor to ceiling, and through the use of technology, project real time video and sound. These virtual scenes are much more life-like than we expected.
These virtual displays come complete with a remote so you can control the video and/or sound as desired. If you are like us, you will probably want to leave your virtual balcony on so you can retire to a beautiful moonlit view, instead of a stale and boring inside cabin.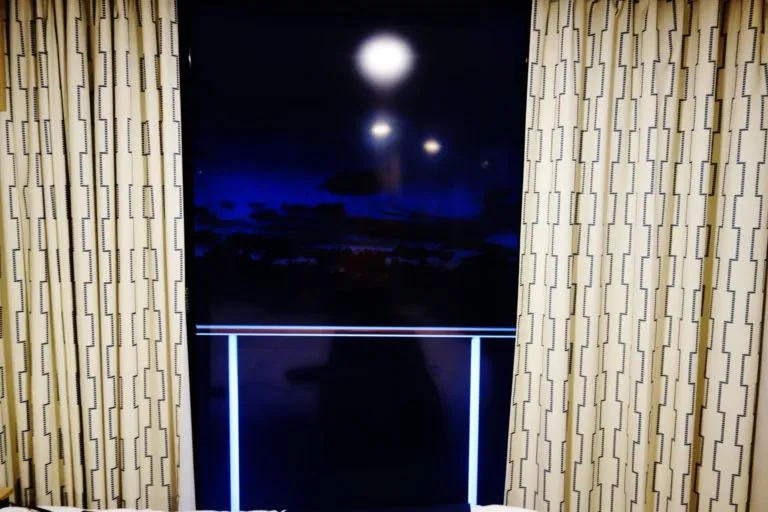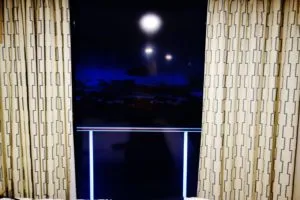 Are virtual balconies better than a "real" balcony? Of course not, but definitely an upgrade from a traditional inside cabin and a unique experience. Though there were some minor glitches in the system, including our sound only working  for 2 days, we did enjoy waking up every morning to a "view".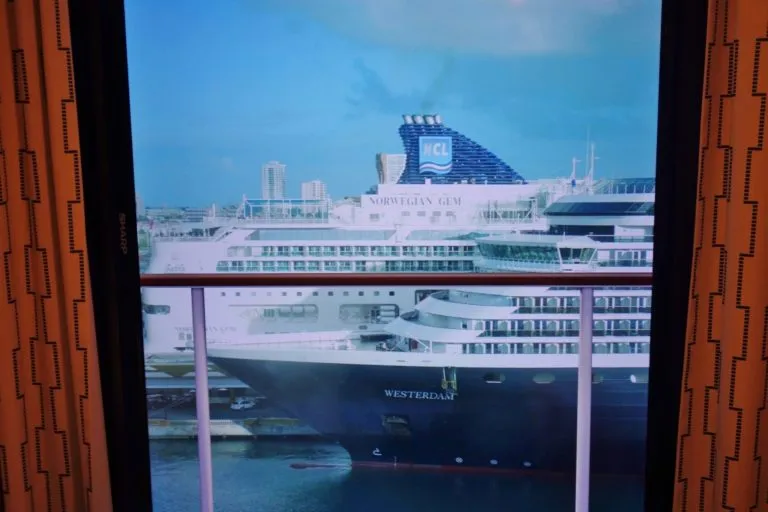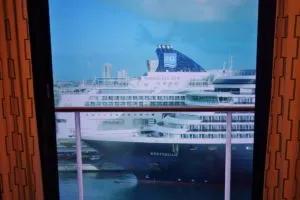 We truly came to appreciate the amazing resolution of these screens when we arrived at our first port of call, Puerto Rico.  In fact, we were able to catch one of the ships docked next to us, the Norwegian Gem, sail away via our virtual balcony.  A short video of the sail away can be found below.
We were amazed at the amount of detail we were able to capture from the virtual balcony. We were able to see activity on the ships docked next to us, as well as catch a sunset or two.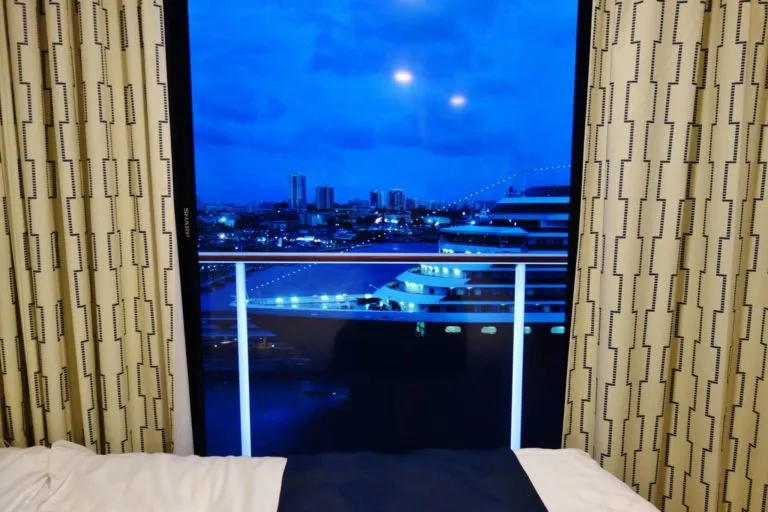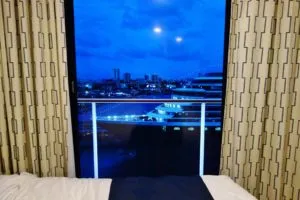 Waking up with a virtual balcony gives you a glimpse of your day to come, as it did the next morning in San Juan when we awoke to Disney Fantasy and HAL Eurodam, docked near us.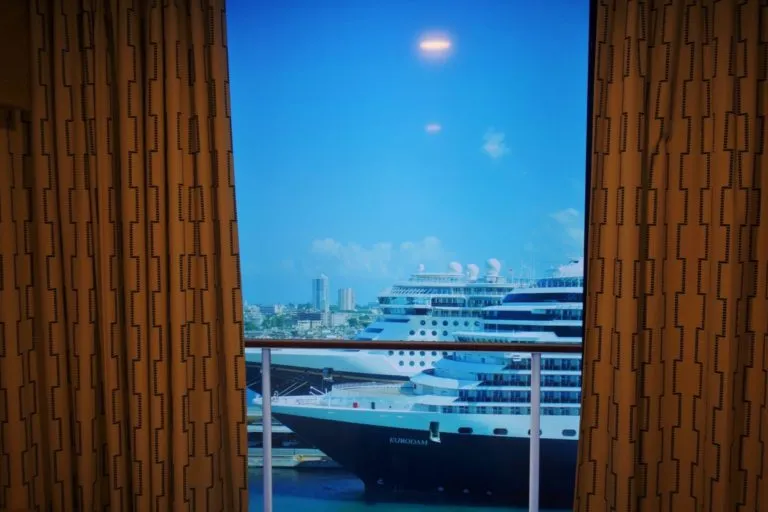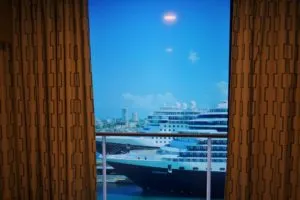 We were also able to catch a glimpse of our sail into Labadee, Haiti without even having to leave our room, via our virtual balcony. The video below shows what we were able to experience with this new technology.
Like all good things though, they must come to an end. Even when arriving back at port, to begin the trek home, the Quantum of the Seas virtual balconies were there to show us what it is like outside, complete with a trace snow cover. Even though this was our good-bye, the virtual balcony was now ready to greet some new guests and provide real-time views for those more economical cruisers!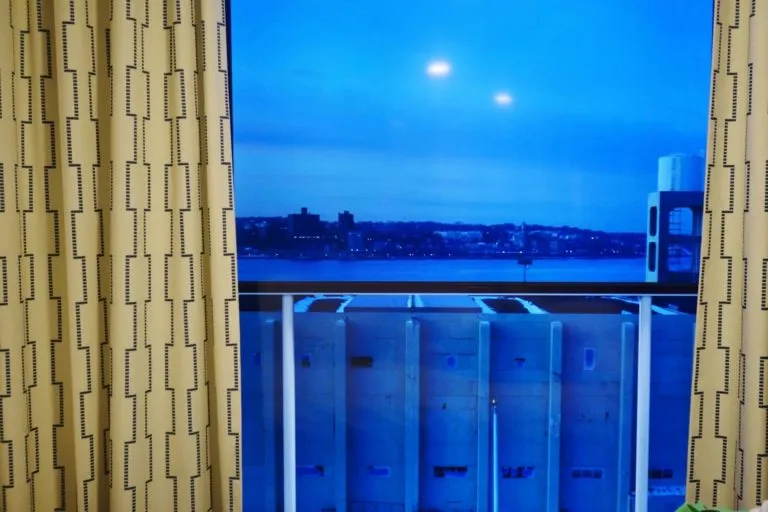 Comments:
Have you sailed on Quantum of the Seas or experienced a virtual balcony firsthand? We would love to hear your thoughts, so drop us an anchor below.