Cruisers booked on Royal Caribbean's Adventure of the Seas cruises this summer received a very welcoming letter earlier today.
In this note, Royal Caribbean reported it was "enhancing" some of the Crown and Anchor Society benefits for Diamond (and above) guests. Will the cruise line make similar changes to its Crown and Anchor society program for cruises from the U.S. as well?
Royal Caribbean Crown and Anchor Society Changes
For those individuals who don't know, the Crown and Anchor Society is Royal Caribbean's loyalty program. With this loyalty program, you are rewarded for cruising with Royal Caribbean. The more you cruise, the more benefits you receive.
Currently, you earn one point towards your Crown and Anchor status for every day you cruise with Royal Caribbean. Now, there are ways to earn more points. For instance, travelers earn two points for every day booked in a suite.
Also, Royal Caribbean sometimes runs promotions that offer bonus Crown and Anchor points for certain bookings or sailings. As you earn more points, you will work your way up the different tiers of the Society.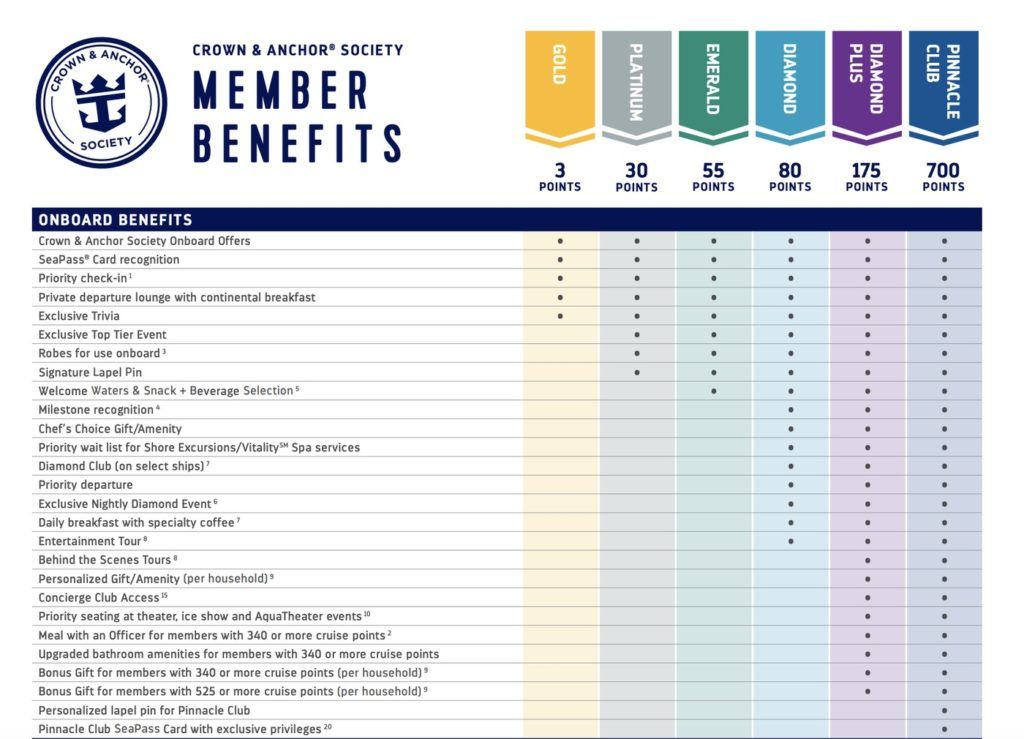 The most coveted Crown and Anchor status is Pinnacle. Cruisers with at least 700 points earn the title of Pinnacle cruiser.
A much more attainable, but still noteworthy, status in the Society is Diamond. Cruisers with at least 80 points earn the title of a Diamond cruiser with Royal Caribbean.
Once you achieve Diamond status, travelers get a number of additional benefits. Perhaps the most popular benefit is the Diamond Happy Hour.
On most cruise ships, there is a Diamond Lounge exclusively for guests with Diamond status or higher. Every evening from 5 pm to 8 pm, there is a "Happy Hour" in this lounge.
During Happy Hour in the Diamond Lounge, cruisers can enjoy unlimited drinks from a lounge menu. Or, cruisers can opt to use three vouchers during Happy Hour to get eligible drinks at other bars on the ship.
Today, Royal Caribbean announced that it's changing this program, and for once, they're making it better (for the Bahamas sailings on Adventure of the Seas for now).
EXCLUSIVE SAVINGS: Royal Caribbean Cruise Deals for 2021
Diamond Cruisers Get Additional Benefits
First, Royal Caribbean is now allowing guests to use the vouchers for any drink up to $13. Yes, cruisers are no longer limited to the Happy Hour menu.
Instead, cruisers can pick from almost any cocktail, beer, and many wines. The $13 allotment coves almost any drink, including martinis at the Schooner Bar.
Second, Royal Caribbean is now allowing individuals to redeem vouchers throughout the whole day. Yes, instead of waiting until 5 pm to use these vouchers, cruisers can use them at any time during the day.
So, why not use your Diamond voucher for a pina colada on the pool deck? Or, for an after-dinner drink in Boleros?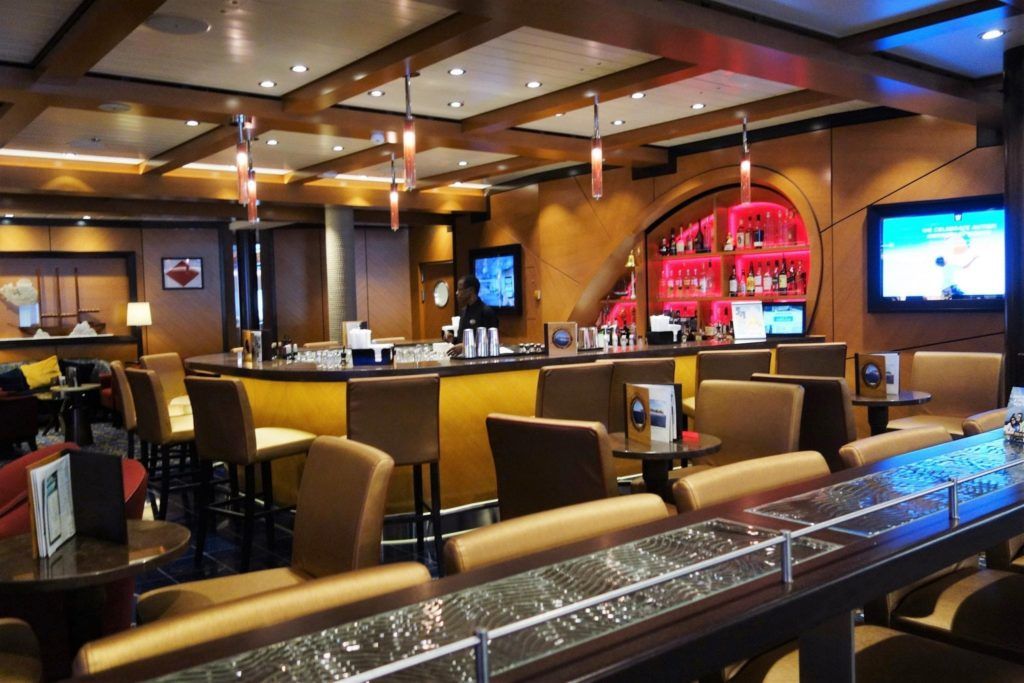 This Adventure of the Seas cruise has two days at Perfect Day at CocoCay. Of course, it would be great if this benefit extends to the bars on the island as well.
And we now know that it does. We have received confirmation from Royal Caribbean that C&A members will be able to use their drink vouchers on the island.
The final change, and perhaps the best, is that Royal Caribbean is increasing the number of drink vouchers. Diamond cruisers will now receive 4 drink vouchers to be used throughout the day.
Diamond Plus cruisers will receive five drink vouchers; while seasoned Pinnacle cruisers will receive six drink vouchers per day.
It is still unclear whether Royal Caribbean will be making this change fleetwide. Though, it would make sense. With health and safety protocols like physical distancing and reduced capacity in place, this would help to alleviate the crowds in the Diamond Lounge during Happy Hour.
We are still waiting for Royal Caribbean to confirm whether these changes to the Crown and Anchor Society will apply to all sailings. When we reached out for clarification, we were told that they only apply to Adventure of the Seas for now.
Additional Crown and Anchor Society Changes for Pinnacle Cruisers
In this letter, Royal Caribbean also announced some other changes due to new health and safety protocols.
These changes affect mostly Pinnacle cruisers.
Due to reduced capacity, Royal Caribbean is limiting access to the Suite and Concierge lounges only to individuals staying in suites. Previously, Pinnacle members did have access to these lounges and perks even if they were not staying in a suite.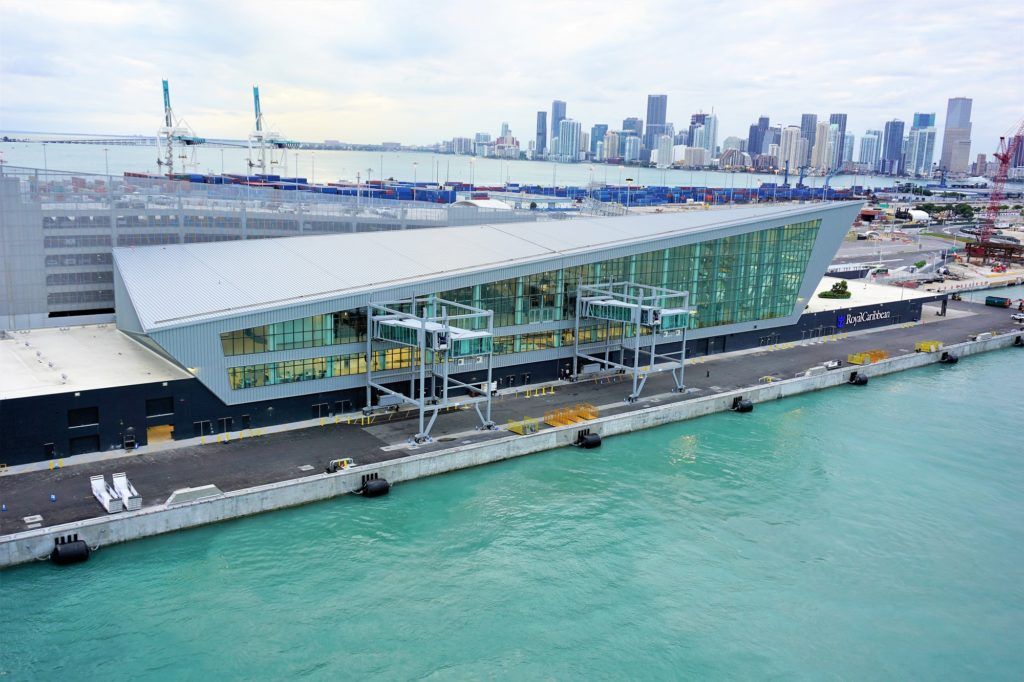 Lastly, to ease the flow of traffic, the cruise line is requiring all guests to adhere to their designated embarkation times. Crown and Anchor Society members will no longer get priority boarding in the terminal.
The only exception is for Pinnacle members. Pinnacle members have more flexible embarkation rules. Now, Pinnacle members can embark an hour before their assigned time up to an hour after their assigned time.
We will make sure to keep you updated if Royal Caribbean makes any further changes to the Crown and Anchor Society benefits for its cruise restart in the U.S. as the details emerge.
Comments
What do you think of Royal Caribbean's changes to the Crown and Anchor Society? Are you a member of this loyalty program? Drop us an anchor below with your thoughts on this new Diamond cruiser benefit.