[et_pb_section admin_label="section" fullwidth="off" specialty="off"][et_pb_row admin_label="row"][et_pb_column type="4_4″][et_pb_text admin_label="Text" background_layout="light" text_orientation="left" text_font_size="14″ use_border_color="off" border_color="#ffffff" border_style="solid" custom_margin="|||-85px"]
Quantum of the Seas Review
1/3/15- 1/11/15

Summary:
The Ship
Quantum of the Seas was one of the most highly anticipated cruise ships to be released in years. With brand-new, never before experiences at sea, such as the Ripcord by iFLY sky diving simulator and the promise of the fastest internet at sea, this ship has been referred to as the most technologically advanced cruise ship to date. The ship itself is breath taking.  A beautifully designed, "extra large" Solstice class ship that offers plenty of smaller venues and intimate spaces for the some 4,000 passengers.  Quantum of the Seas also offers a brand new dining concept, Dynamic Dining, which eliminates the main dining room all together. Over our eight day cruise, we were captivated by some of these firsts at sea, including the Two70 entertainment space and the Music Hall, which housed regular entertainment and some amazing cocktails. We could also be found using the SeaPlex, where you can ride bumper cars and roller skate to 70's disco music! Now the second largest class of ship afloat (behind the Allure of the Seas), Quantum of the Seas offers visitors plenty of food, entertainment, and recreational activities to please any traveler looking for a one of a kind cruise vacation.
Itinerary
For the time being, Quantum of the Seas' home port is Cape Liberty, in Bayonne, New Jersey. She will be leaving here in May 2015 to make a 53 day Global Odyssey to her new home in Shanghai, China.  Right now, she does a variety of 8 to 12 night cruises to the Caribbean. After her departure, Anthem of the Seas (her sister ship) will be making her way to Cape Liberty in November 2015 and will be offering a similar variety of cruise itineraries.
We sailed on January 3rd 2015, an 8 day eastern Caribbean sailing. This meant we would be visiting two ports of call we just recently stopped at on our last Caribbean cruise, San Juan, Puerto Rico and Labadee, Haiti, but a cruise on a Quantum class ship is really more about the ship than the ports of call anyway. When planning your vacation on Quantum of the Seas, or sister ship Anthem of the Seas, we would recommend you plan a vacation around your availability and budget, and worry less about itinerary.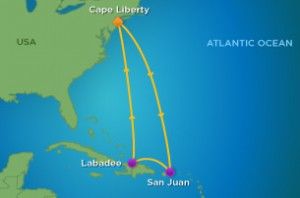 [/et_pb_text][et_pb_text admin_label="Text" background_layout="light" text_orientation="left" text_font_size="14″ use_border_color="off" border_color="#ffffff" border_style="solid" custom_margin="|||-85px"]
Highlight
There is so much to love about Quantum of the Seas, that it is difficult to pick one highlight. For us, the design and layout of the ship was what put this ship a quantum leap forward compared to other vessels.  The flow throughout the ship is fluid, and the decor and art is modern and contemporary. This does not feel like your typical mega ship. Areas like the Via make you feel like you are in the court of a small European village, whereas Two70 is your living room at sea with comfy chairs and great technologically enhanced shows. Then, there is the Esplanade, which is a hub of shopping, eating, and conversing inside the ship. After being a bit skeptical at first, we can say that we did not miss the Promenade a bit. Top all these great features off with a picture perfect Solarium, a large outdoor movie screen by the pool, the SeaPlex, and a wide array of bars and lounges, the ship has virtually everything,  including virtual balconies for inside cabins. This diversity of indoor and outdoor spaces makes Quantum of the Seas the perfect all weather cruise ship, so no matter where she is ported, her venues and public spaces are the real stars.
What's Missing
Being a new ship, Quantum of the Seas still has some kinks that need to be worked out. For us, we found the ship really lacked the personalized service to which we have become accustomed on previous cruises. There are probably a couple reasons for this sub-par service. One is Dynamic Dining. Having the flexibility to dine at different restaurants with unique menus is certainly a great change, and this allows cruisers to customize their cruise experience. The sacrifice is having new waitstaff each night. The servers' knowledge, demeanor, and service varied greatly in the venues we sampled on this cruise. Quantum of the Seas also seemed under staffed during our sailing. The bartenders and waitstaff at restaurants were working very hard, but there was just not enough personnel onboard to cater to the 4,000 hungry (and thirsty) cruisers. We are sure this problem is being addressed, and the high quality service we have experienced on other Royal Caribbean ships will make its way to Quantum of the Seas in the near future.
Main Takeaways
If you are contemplating a sailing on a Quantum class ship, either Quantum of the Seas or Anthem of the Seas, put down that deposit now. The ship is worth every penny. We do recommend making all your entertainment and dining reservations in advance using the Cruise Planner (see our post on booking the perfect Quantum of the Seas cruise).  When onboard take advantage of everything Quantum of the Seas has to offer. Make sure you try the iFLY sky diving simulator, ride in the bumper cars, roller skate, float 300 feet above sea level in NorthStar, ride the waves of the Flowrider, see the robo shows and vistamras in Two70, take in a Broadway show, and rock out in the Music Hall to the tribute bands.  And, that is only the tip of the iceberg for what awaits you on your Quantum of the Seas trip. The technology and entertainment on Quantum of the Seas are like nothing you have experienced before, so get ready to take your quantum leap onboard this amazing ship!
[/et_pb_text][et_pb_text admin_label="Text" background_layout="light" text_orientation="left" text_font_size="14″ use_border_color="off" border_color="#ffffff" border_style="solid" custom_margin="|||-85px"]
Related Links:
[/et_pb_text][et_pb_text admin_label="Text" background_layout="light" text_orientation="left" text_font_size="14″ use_border_color="off" border_color="#ffffff" border_style="solid" custom_margin="|||-85px"]
Read our detailed Day by Day Quantum of the Seas Review below…
[/et_pb_text][et_pb_tabs admin_label="Tabs" tab_font_size="14″ body_font_size="14″ use_border_color="off" border_color="#ffffff" border_style="solid" custom_css_main_element="margin-left: -85px"] [et_pb_tab title="Day 1″]
Quantum of the Seas Review
Day 1 – Embarkation Day
We're Back
After only a short four months since our last cruise on the Celebrity Solstice, we have hopped back into another cruise. Not that it takes a lot to convince us to book a vacation anyway.
While our last cruise marked some milestones, including our five year wedding anniversary, our first non-Caribbean cruise (to Alaska), and our first time on Celebrity Cruise Lines, this cruise was also very special, as we were venturing on the brand new ship, Royal Caribbean's Quantum of the Seas.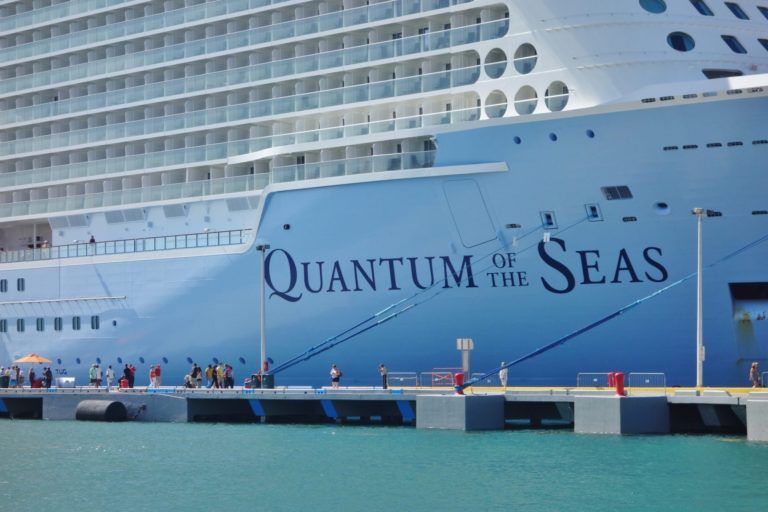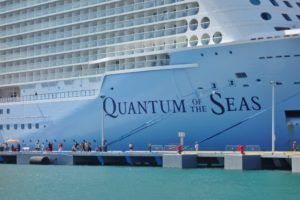 We have been following the construction of Quantum of the Seas and all of the announcements of this innovative ship for some time. With many firsts at sea, as well as some serious technology upgrades, Quantum of the Seas was ushering in a new era in cruising. Plus, it was going to become the second largest class of ship in the world, and the third largest ship overall, behind her big sisters Oasis of the Seas and Allure of the Seas.
While we were anticipating the release of this new ship, we did not make plans to sail on her when reservations first opened up. We have never sailed on a ship during its inaugural season as we have heard that it is not ideal due to the cruise lines still working out the kinks. Soon, we would fully understand exactly what it means to sail during an inaugural season.
We had already had a 2016 Anthem of the Seas sailing booked, but after hearing that Quantum of the Seas would be leaving the east coast bound for China, we reconsidered cruising on the ship. When a preferred travel agent was running a booking promotion that included some nice onboard credit and reduced deposits, we decided to reserve an inside cabin during our traditional sailing dates of early January.
Armed with plenty of information, and a new camera, it was now time to take stock and capture our experiences on Quantum of the Seas, the dawn of a new age in cruising.
Arrival in Cape Liberty, NJ
One good thing about Quantum of the Seas, and her soon to be released sister Anthem of the Seas, is that they are home ported in Cape Liberty, NJ. For us, this is nice because it is only a few hours' drive from our home. The bad news is that depending on the time of year you leave, you do lose some nice weather days on the front and the back of your cruise.
Given that our sailing was in January, we opted to still do a pre-cruise stay at a local hotel, giving us enough time to get to the ship in case of bad weather. Luckily, we did not hit any snow or ice before leaving. It appeared that the bad winter weather was waiting for us to get home!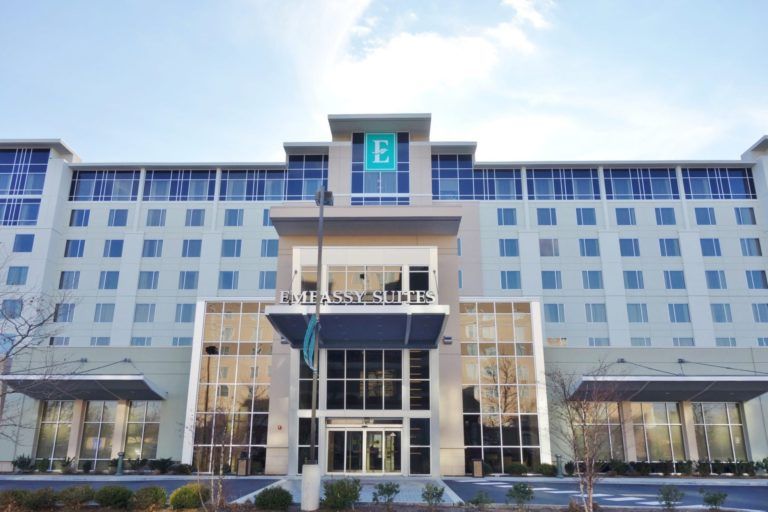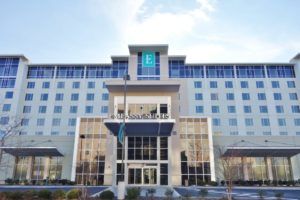 Staying in Elizabeth, NJ, at the nicely appointed Embassy Suites, we took a taxi from the hotel to the port. The ride is estimated to take 20 minutes and costs $65, which I thought was a bit high, but it was comparable to costs others were citing for a car.
The car picked us up at the hotel a little before 10am, and it took a little longer than expected to get to the port. Arriving at Cape Liberty is very anti-climactic. Let's just say, it's not Ft. Lauderdale. The surrounding area is not the greatest and being the only cruise ship around, there is not much to see.
Our excitement kicked in when we actually saw Quantum of the Seas docked. She is indeed a massive and beautiful ship. After getting stuck in a ton of traffic, we were finally dropped off at the pier. Here, we waited about 15 minutes in line for a porter to grab our bags and hand out the RFID tags. At only 10:30 am, it was already a bit chaotic.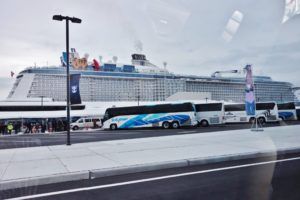 Getting Ready to Board the Ship
The "from sidewalk to ship in 10 minutes", which was one of Royal's taglines promoting Quantum of the Seas, did not occur for us. By the time we dropped off our bags, made it through to security, and were finally checked in, it was closer to thirty minutes. Still, not bad.
We would have been done sooner, if it wasn't for an issue verifying our check-in with our printed SetSail passes. We had completed all the necessary check-in steps ahead of time, including uploading our photos at home, so the process should have been smooth sailing. But, it still took three agents, with three different tablet computers, to finally process our check-in. Not sure if this was human error or technology error. With that being said, our RFID luggage tags were not properly scanned either, so we were not able to check the status of our luggage once onboard the ship, another advertised "smart ship" feature. Not a big deal though.
The new cruise terminal created for Quantum of the Seas is just one massive hall, with not enough seating. There is no organization or no direction. Once passing through security it is a free for all until you stumble upon someone with a tablet to check you in. Once checked in, there is no designated seating areas based on Crown and Anchor status aside from a separate waiting area for suite guests; in fact, there was not enough seating in general. However, there were plenty of photo stations. Needless to say, the Princess and I began our usual routine of grabbing as many pictures as possible at each studio.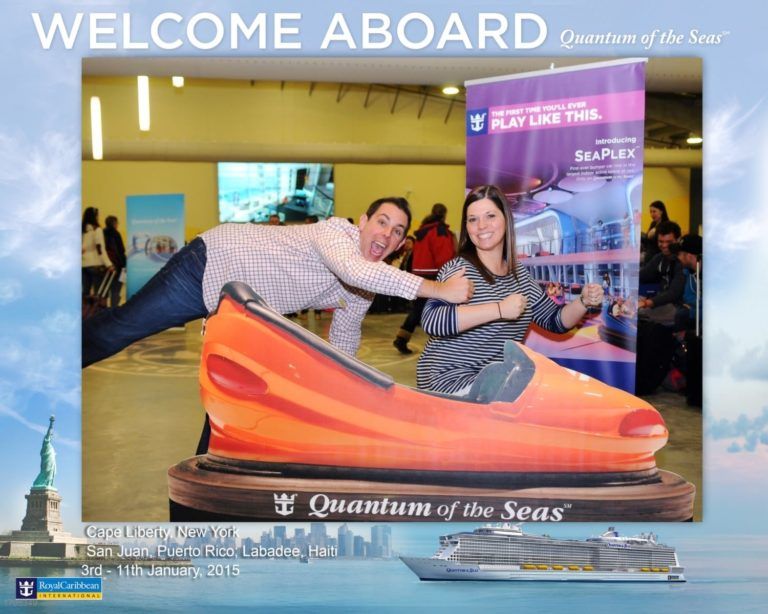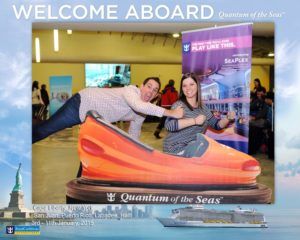 Luckily, we were given one of the early boarding numbers, so even though we had to stand for about 20 minutes before boarding, we were some of the first people to walk on the ship around 11:15am. Once our number was called, it was up an escalator, and across a hall way, slowly inching closer to the ship. Crossing the gangway, finally, we were onboard the brand new Quantum of the Seas.
First Impressions of Quantum of the Seas
We entered on deck five next to the specialty restaurant, Wonderland. First impressions? WOW. ROYAL WOW, even. The ship was beautiful!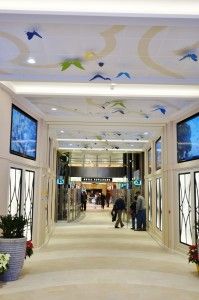 Entering at this location, you are at the intersection of the Royal Esplanade, a smaller, more intimate take on the Promenade, and the Via, a courtyard with shops and eateries surrounding a beautiful glass sculpture.
After a few days, we soon came to prefer the setup of Quantum of the Seas to the typical Royal Promenade, as the Esplanade and the Via allowed for more venues and some smaller, unique places that you typically do not find on a mega ship.
So, what did we do first? Of course, we started taking pictures. We began with the giant butterfly wall, the Via, and Two70. This dynamic entertainment venue hosts the show StarWater, as well as the technological wonders of the Vistarama and the Roboscreens. The Library and The Workshop are also located here for those who like to scrapbook or do some arts and crafts.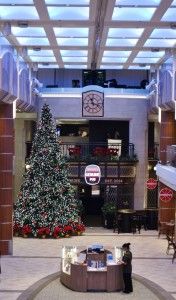 We then headed towards the center of the ship, towards the giant Christmas tree that was positioned nicely in front of Michael's Genuine Pub. Normally, we go to the top of the ship and work our way down with pictures, but given the bad weather outside (cold and drizzling rain) and the amazing scenery, we decided to start on this deck and worked our way down, then all the way back up.
We continued our photo journey taking pictures of other venues on decks 3, 4, and 5 including the Royal Theater, the Music Hall, and bars like Boleros, the Bionic Bar, and the Schooner Bar. After getting these pictures, as well as some shots of the complimentary dining venues and specialty restaurants like Chops Grille and Wonderland, we began our climb up Quantum of the Seas.
Lucky for us, most people run to the Windjammer when boarding the cruise. But, having eaten a full breakfast at the Embassy Suites and some grande lattes from Starbucks, we were fully prepared to skip the buffet lines and get our photo frenzy on. Moving up from deck 5, there are not many public spaces that warrant any pictures. Some of the art throughout the ship is definitely worthy of pictures, but if we took a picture of all 3,000 pieces of art onboard, we might still be on the ship-which wouldn't be a bad thing.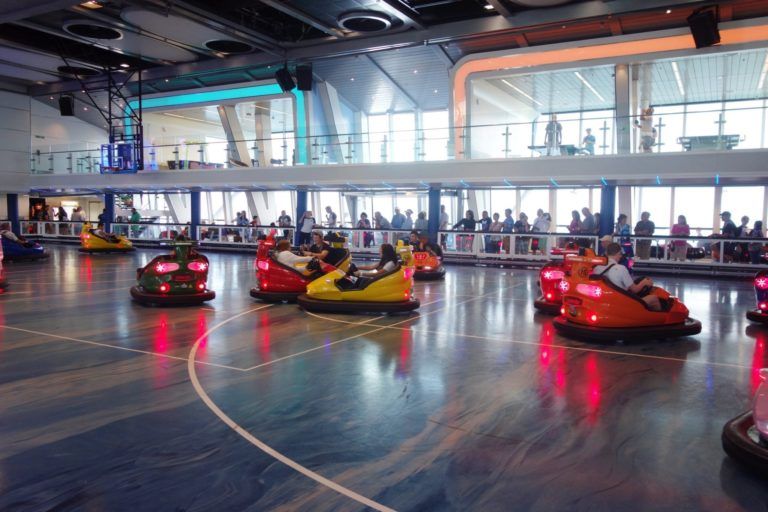 Up to deck 15, we entered the SeaPlex, where the bumper cars were in full swing. I convinced the Princess to give them a go as there was no wait. Good thing, as later in the cruise the line for this attraction got longer, and the no picture taking policy got stricter. We did the bumper cars twice in a row on that day and swapped the camera to get some action shots of us smashing into other travelers and each other.
After the SeaPlex, we ventured outside to try and grab some photos. The fog was setting in, so it was difficult to make out the NYC skyline. You could see the Statue of Liberty barely, but she was not visible in a camera's view. We continued with more inside pictures; we would get better photos of the outside areas on the third day of the cruise with warmer weather. We were able to collect images from the Solarium, with its three tiered pool, the inside pool area, the Pool Bar, as well as some photos of the Windjammer and Coastal Kitchen, the complimentary restaurant reserved exclusively for suite guests.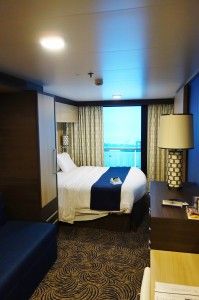 Seeing More of Quantum of the Seas
By this time, it was about 1:00pm, and the announcement was made that rooms were ready. We ventured down to deck 10 to see our inside cabin with the new virtual balcony and collect our sea pass cards and WOW bands, and of course take pictures of the room too. During this time, two of our three bags arrived, so we did some quick unpacking. More of that could be completed later. Given that it was almost 2:00pm, and we had a 6:45pm dinner reservation, we decided to head down to Café Two70 for a snack.
Before hitting up this venue for the delicious and famous roast beef sandwiches, we did stop on deck four to purchase the beverage package. A bit disorganized, a theme we would find throughout this cruise, with no real lines and just passengers hovering around the kiosk. I made my way through the crowd to purchase the Ultimate Beverage Package, giving us the ability to drink essentially anything we wanted on the ship.
So at lunch, two roast beef sandwiches and a Heineken later, I was recharged for some more explorations and some further pictures, but the Princess would need a pit stop at La Patisserie for a latte. Surprisingly, Café Two70 was empty. It seemed like the travelers on this cruise were not aware of the amazing breakfast and lunch options at this restaurant until later in the cruise. For now, we had the place virtually to ourselves with a nice 270 degree view.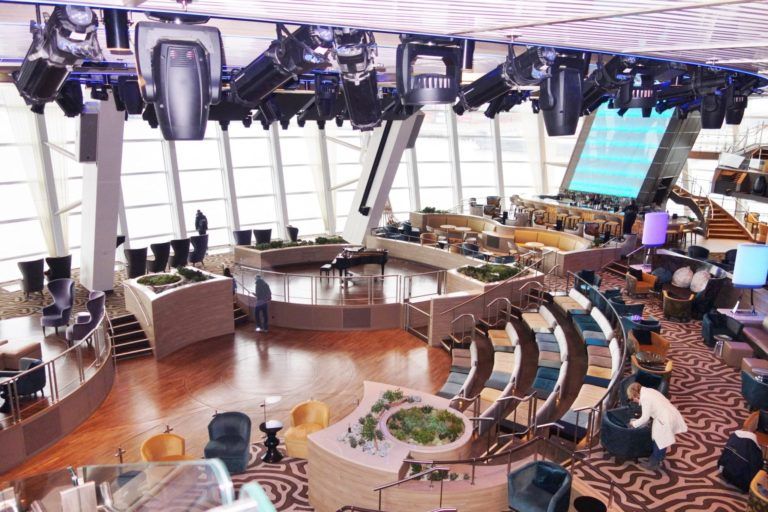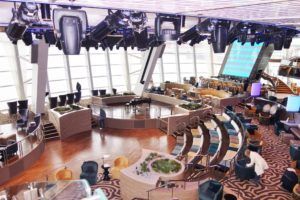 After a getting a latte for the Princess and a bit more exploration, it was time to head to our muster station around 3:30pm, which was Wonderland. Hey, if we are going down, at least it would be in style.
After the muster drill, the captain made a surprising announcement. Free Wi-Fi for all, for the entire cruise! The crowd cheered; now we could all be tied to our phones, tablets, and computers, using social media, email, and all of the internet features that normally cost hundreds on an eight day sailing. Everyone grabbed their phones and got ready to sign on. Admittedly, both the Princess and I would use this complimentary feature all cruise, mostly for email and social media. Sharing our experiences with our followers!
Following the muster drill, we wanted to head outside to get some pictures of the sail away, but Mother Nature had other plans as it was extremely foggy and raining heavier than before. With little hope of getting good pictures, we decided to just head to the Schooner Bar for a drink. After enjoying our drink, we headed back to our room to unpack, watch the sail away from our virtual balcony, and get ready for dinner.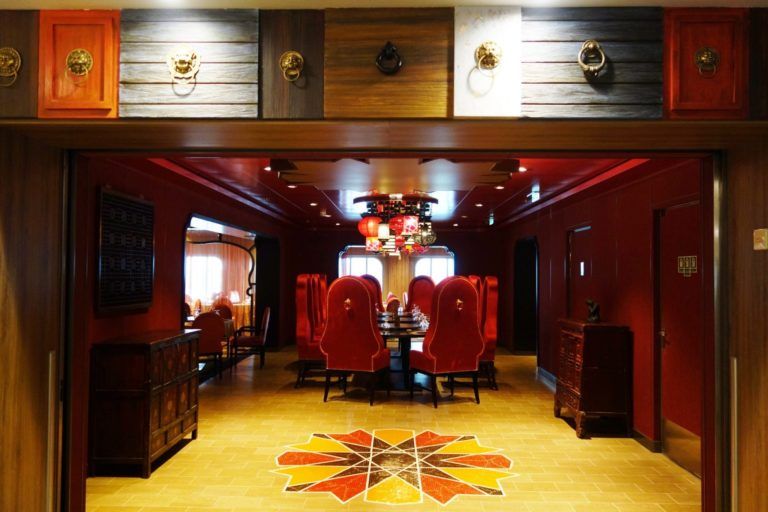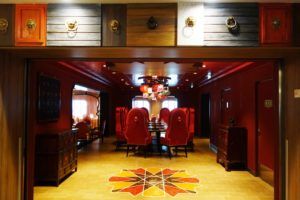 First Evening Onboard
For dinner our first night, we had pre-booked reservations at Silk for 6:45pm, the complimentary pan-Asian restaurant that is part of Dynamic Dining. We ended up waiting over 20 minutes in line outside the restaurant to get seated. It seemed as though the tablets were not working, so the staff had resorted to pen and paper. While we really enjoyed the food, the service was not up to Royal Caribbean's standards begin inconsistent and slow. A complete review of Silk can be found here.
After dinner, we jetted over to Two70 for the cruise director's Welcome Aboard presentation. The Princess found a seat while I grabbed us two cocktails from the Two70 bar.
Jimmy Rhodes, the cruise director, was an excellent master of ceremonies for the cruise. During this first introductory show, he talked about the technology and design of the ship. In particular, he pointed out the many features of the ship and some of the incredible sights and sounds in Two70, including the 12K Vistarama screens and the 6 Roboscreens. For more on this venue, see the Two70 page at EatSleepCruise.com.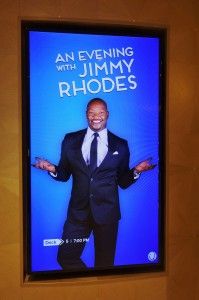 This visual display ended right around 10:00pm. Going strong all day, we were starting to feel a bit tired, but sleep is overrated, especially when on vacation. So, we headed over to the Music Hall for one of our first Tribute concerts.
The Music Hall is a huge two story entertainment complex with a large stage, pool tables, and two bars. For a full review of the venue, visit our Music Hall page on eatsleepcruise.com. During the first few nights of our cruise, the Tribute band Wanted, a Bon Jovi cover band was the featured act. The Princess was in heaven, and I was ready to rock out as Wanted played a 90 minute set that was full of all the band's hits spanning their entire career. Another cocktail each, and we ended the night "Living on a Prayer", retiring for the evening by midnight. It was our first day on Quantum of the Seas and the fun had just begun.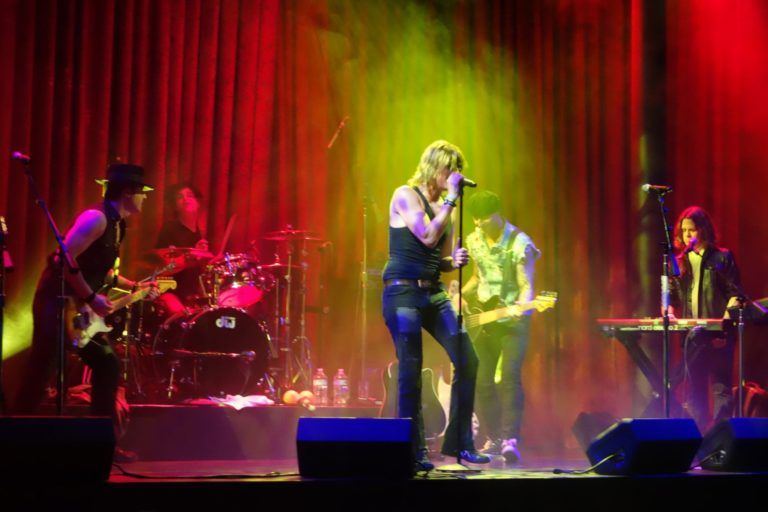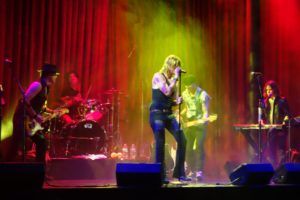 [/et_pb_tab][et_pb_tab title="Day 2″]
Quantum of the Seas Review
Day 2- A Rocky Start at Sea
Beginning a Morning Ritual
We had another long day ahead of us and were eager to get started, so we were up at 7am to shower and get ready. We awoke to partly cloudy skies on our virtual balcony. We did not think much of the virtual balcony concept at first, but over the course of the 8 day cruise, we came to enjoy watching the developments from this life size window. It was much more life-like than we expected. You can read our full review of these windows to the outside world here.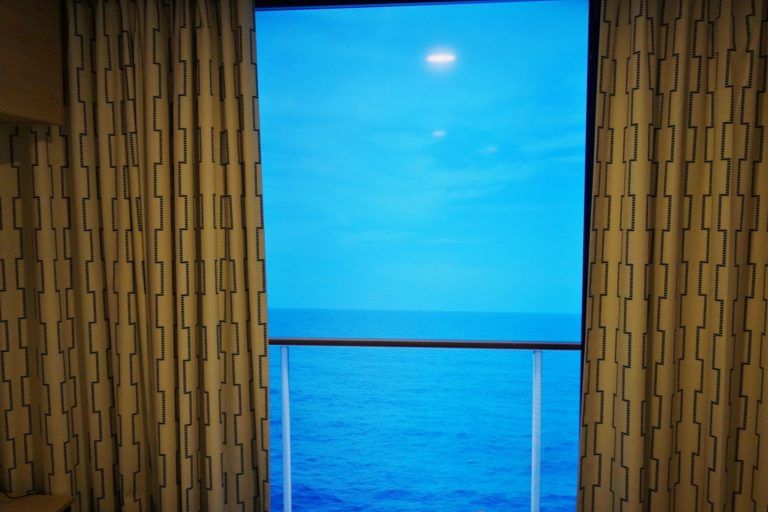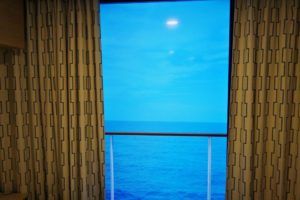 Today was our scheduled iFLY, indoor sky diving simulator, time slot which we booked prior to the cruise on the Cruise Planner. We had also registered for the Cruise Critic Meet and Mingle, something we have never officially attended before.
With a pretty booked morning, first on the agenda was a stop for some for much needed caffeine and two Grande caramel lattes. Allure of the Seas has an official Starbucks onboard whereas Quantum of the Seas has La Patisserie, a gourmet coffee shop with little desserts, including fudge (for an upcharge), that brews Starbucks coffee. Over the course of the cruise, we would get a variety of hot and cold espresso drinks from this establishment. All drinks are included in the Ultimate Drink Package, and the baristas here did an excellent job of making our morning, and many afternoon, pick-me ups.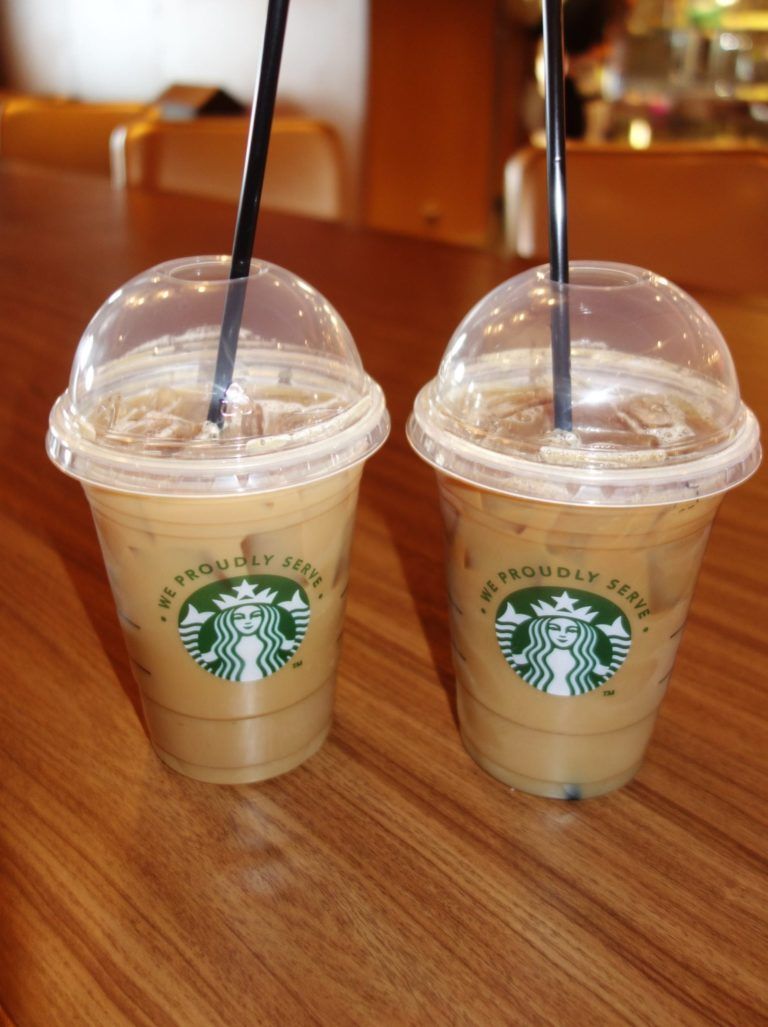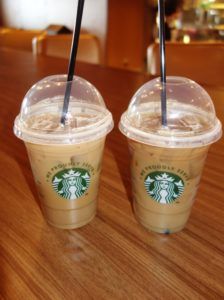 With coffees in hand, we ventured for a quick bite at Café Two70. Again, very few patrons were here getting breakfast. It always takes a few days for other travelers to find their way around the ship and seek out alternatives besides the buffet. Not complaining, of course, as we enjoyed having ample seating and no line when grabbing our breakfast sandwiches this morning.
After breakfast, the next destination was the Cruise Critic Meet and Mingle at the Music Hall for 9:30am. At this point, we could hear announcements being made that due to weather, the captain was closing the upper decks, not allowing anyone outside. The ramifications of this move would soon be felt. Never being to a Meet and Mingle, we did not know what to expect. Basically, they raffled off a few Royal Caribbean logo gift baskets. Hosted by Zack, the activities manager, the session lasted about 30 minutes, and we did not really mingle with anyone.
Our iFLY reservation was for 11:55am, so we decided to head up to that area to scope things out a bit. We soon realized that there was no way to access the sign-in area for the Ripcord, as the outside decks were closed. After speaking with a staff member in the SeaPlex, she confirmed that both the iFLY and North Star were closed because the captain had restricted access to the outside decks. She tried to explain that iFLY is not weather dependent like North Star, but that our flight was still cancelled because we couldn't access the area, then further reported that this rarely happens.
One reason we booked iFLY this day was because we did assume that the weather would not be good for tanning and wanted to make use of our time with other indoor activities. Luckily, the woman at the SeaPlex desk was helpful in rescheduling our iFLY reservation for later in the cruise. We would not miss out on this highly anticipated adventure! Now, we just had some time to kill.
Inside Quantum of the Seas
Quantum of the Seas is built for year round sailing with plenty of things to do both inside and outside. Unfortunately, the indoor pools were also closed due to rough seas; so instead, we did some other cruise staples. No cruise is complete without character photos. Down to deck 5, we posed with some Madagascar characters around 11am.
If you know us, you know the Princess loves her photos, and we often opt for the all-digital unlimited photo package. To our dismay, we learned from the staff today that this package does not exist on Quantum of the Seas. Further, the costs for digital photos on Quantum of the Seas start at $20 a file! On our last 3 cruises, we have taken around 200 photos and have purchased the complete digital files for a cost of about $275. The "best value" digital picture option offered on Quantum was 50 pictures for $480! We still took all the pictures we could and formally complained to plenty of the picture staff and on social media regarding our dissatisfaction about the crazy pricing of these packages.
Next on the agenda, we decided to check out the casino. We took a loop around to try to find the Princess' favorite slot machine. Allure of the Seas did have the elusive slot machine, but unfortunately Quantum of the Seas did not. Actually, many of the slot machines on Quantum were quite boring. We were really surprised at the poor selection in the casino, not to mention the size and layout of the casino in general. For the second largest class of ship, the casino was rather small. It has been announced that when Quantum of the Seas moves to China, they will be enlarging the casino to add more gaming to other areas of the ship. So, $60 later and our complimentary pulls on the Crown and Anchor slot machine, we walked away with ANOTHER VIP key chain.
From the cruise director's presentation the night before, we knew that the Roboscreens played different shows every hour, starting at 12:30pm. The two preview shows were quite remarkable, so we wanted to see what other shows existed. Hence, we made our way to Two70 for the first set. One of the two shows was the same as the night before, but still entertaining to watch. Throughout the cruise, there were four different roboshows we were able to catch, with Dance in a Box being our favorite.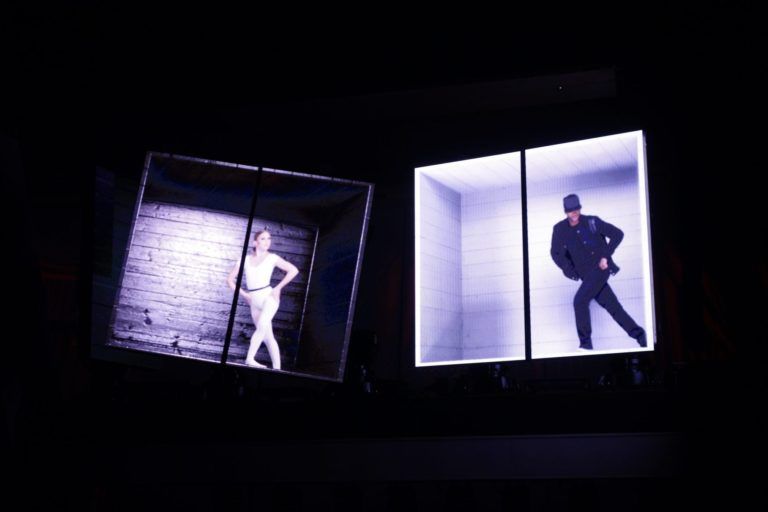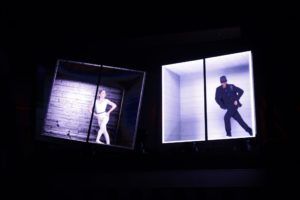 Sitting in Two70, you could see the waves, and the movement of the boat was beginning to get worse. For a ship of its size, I was very surprised how much of the heaving you could feel.
Even though the little white bags were conveniently placed throughout the ship, neither the Princess nor I get motion sickness, so naturally we decided it was time for lunch. To test out the other casual eats on Quantum of the Seas, the Princess headed to Sorrento's for some pizza, and I went up to the SeaPlex Dog House to enjoy one of the dogs offered at this first food truck at sea. Throughout the course of the week, I would make it my mission to sample each of the dogs offered…every dog has his day! After getting my dog, I met The Princess back at Sorrento's to eat and look through our pictures.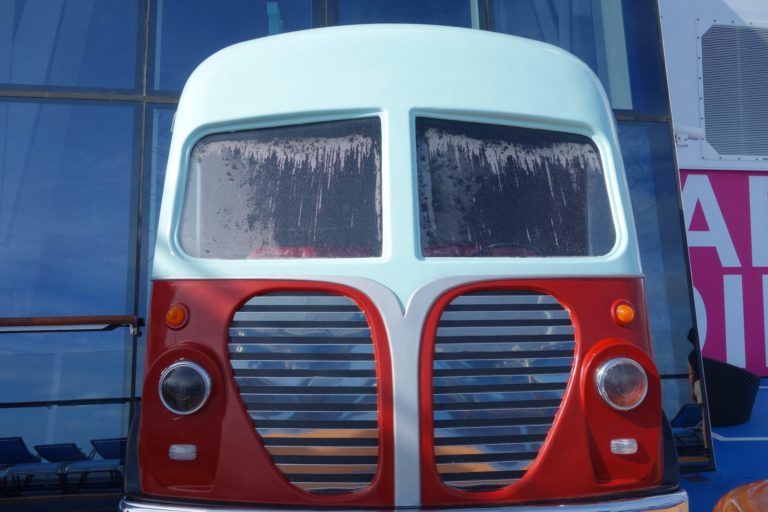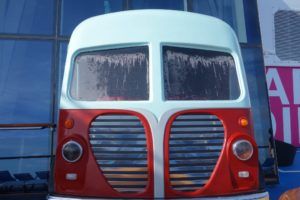 Drinks, Robots, and Some Ogres
Given the lack of sun, we decided to continue with our drink around the ship focusing on indoor venues. While we did have pictures to take, it was not formal night (or so I thought) as our "formal night" at Grande was scheduled for day 5, so having a few cocktails in the afternoon met the Princess' approval.
First, we watched the robotic bartenders at the Bionic Bar make us some drinks. We stopped here multiple times throughout the cruise to watch these programmed mixologists in hopes of getting a good video, but honestly, it was not very exciting. Often times, they would stall or there would be programing issues. Swiping your card to release your drink or trying to order on the tablet computers would often result in a freeze or time out. On one occasion, it even made our drinks twice, good thing we had the beverage package.
Next, we headed back to Two70 to catch the 2:30pm Roboshow and grab another cocktail. The show ended just in time for us to head to the next character photo opportunity, The Princess' favorite, Shrek and Fiona. This photo stop was located in front of the Music Hall on Deck 4, right next to Michael's Genuine Pub. So, we took our picture with Shrek then grabbed a drink in the pub while waiting for Fiona to make her appearance. I really enjoyed the beer selection at Michael's, as I am a fan of craft beers, especially some of the nice Indian Pale Ales (IPA) they had. The specialty cocktails at this venue were just okay per the wife.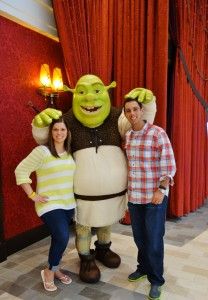 At around 4pm, Fiona made her appearance. Yes, I was lucky enough to have my picture taken with the TWO princesses! Following this, the wife headed back to the room to start getting ready for dinner. I made my bottled water run, and to my dismay, I noted that there were multiple portrait studios set up tonight.
We had dinner reservations for 6:30pm at Chic, followed by a showing of Mamma Mia. We had planned to dress up a bit for the show, but not completely "formal". I was planning on a shirt and tie, and the Princess was planning on a dress but with more casual sandals and accessories. When I opened my big mouth about all the portrait studios, she made a game day decision that we were dressing "formal" tonight as well. So, suit for me and heels and "fancy" accessories for her. Who says you only have to wear a suit at Grande?
Dinner and a Broadway Show
There were about 8 studios for taking pictures spread out on decks 3 through 5. With some new backdrops and some classics, we of course did all of them. Luckily, there were very few lines at most backdrops. We found this to be the case throughout the cruise. If only we could get all of our digital files for a reasonable price!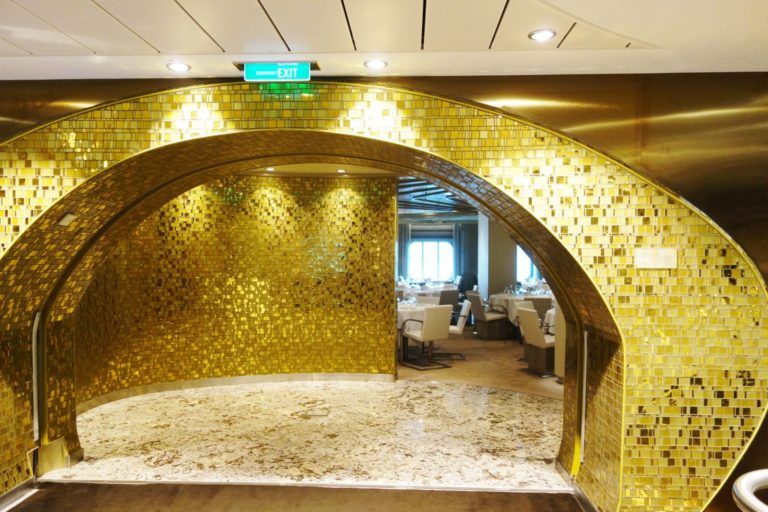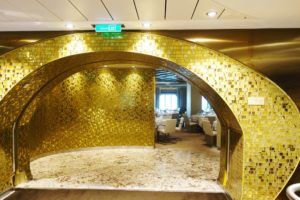 After our photo shoot, we made our way to Chic right on time for our reservation. Luckily, there was no line tonight, so we were sat immediately. The service was a bit more consistent here, but still slow. Our waiter was very professional, but not the friendliest server we have ever had. The food at Chic was average, at best. For our rundown of this restaurant, see our full review here.
Our Mamma Mia reservations were for 8:30 pm, so we had to rush through dessert a bit to ensure we were on our way by 8pm. We were greeted by a small line at the Royal Theatre upon arrival, but we were able to get some decent seats orchestra left, near the aisle.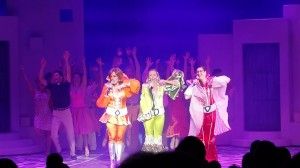 Mamma Mia was excellent-the music and the entire performance were very enjoyable. It is a full two and a half hour presentation, with a 15 minute intermission. Not exactly a huge ABBA fan, but the performers were top notch. This production was much better than the other Broadway show, Chicago, we saw on Allure of the Seas in 2013. For more about Mamma Mia on Quantum of the Seas check out our complete review of the show here.
Mamma Mia ended around 11pm, perfect timing for us to head over to see Wanted, the Bon Jovi tribute band playing next door in the Music Hall. This time, the venue was a bit more crowded, but we were still able to get seats. The Princess was a little disappointed that the set was exactly the same as the night before, but we still had a good time. Closing out the night, again, with Living on a Prayer, we retreated to our room around midnight. Two days on a cruise gone and still no sunshine!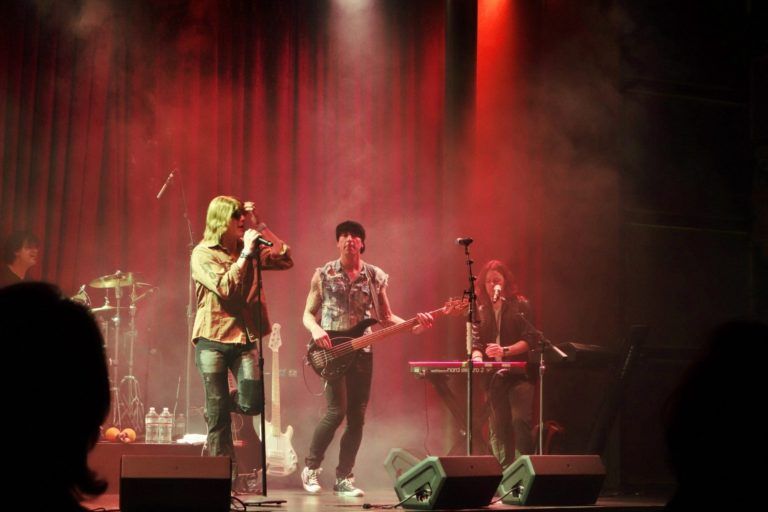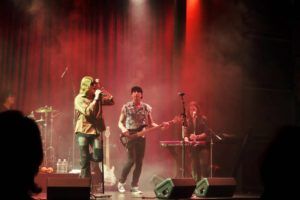 [/et_pb_tab][et_pb_tab title="Day 3″]
 Quantum of the Seas Review
Day 3- Sunshine
 Up and Over the Side of the Ship
We knew what to expect leaving New Jersey in early January, cold and cloudy weather. Luckily, by the morning of day 3, the sun was shining on our virtual balcony. Up around 7:00am again, our game plan was to grab some breakfast, cross North Star off our list, then finally get some sun if the weather would cooperate.
After getting ready for the day, we grabbed some lattes and bottled water on deck 5 then made our way up to Devinly Decadence to sample the breakfast here. Located in the Solarium, where the Solarium Bistro is on many other Royal Caribbean ships, this healthy option restaurant was designed in partnership with Devin Alexander, the celebrity chef from Biggest Loser. For breakfast, the restaurant offers a buffet with healthy options like a scrambled egg bake, turkey sausage, and plenty of fruit, granola, and other selections. Breakfast and Lunch were complimentary on our sailing, but now the venue is fully complimentary.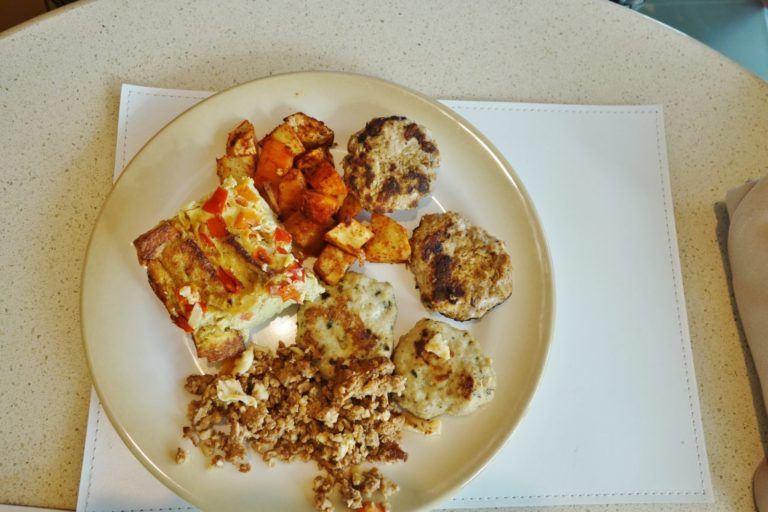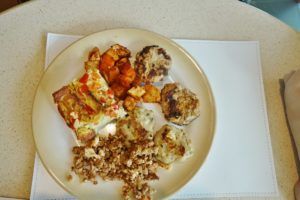 The breakfast buffet was surprisingly good, particularly the healthier breakfast meats, including the homemade turkey sausage and turkey chorizo. I also liked the egg bake better than the typical omelets you get at the Windjammer, which can be greasy. We highly recommend this venue if you are looking for a tasty breakfast that will leave you feeling good.
Finally, the sun was shining, and the temperature was in the mid to upper 70s. It finally felt like we were on a Caribbean cruise. Given the great temperature, I was tempted to run back to the room and change into my bathing suit, but we had already decided that we wanted to take a ride on North Star as it would presumably only get busier as the day and the cruise went on. Walking by the line for North Star at around 9:30am (it opened at 8am most days), there was a queue of about 60 minutes, so we decided to hop in line and wait for this much publicized feature of Quantum of the Seas. Good thing, as the line only got longer with 3-4 hour waits during some other peak times of our cruise.
Our wait was a full hour, and the trip during this sea day took us straight up and over the portside of the ship lasting about 15 minutes or so. For more details and photos from this North Star journey, see our exclusive North Star review. My suggestion is to get there early, right when it opens. Other off-times include while in port, but the capsule only goes up and down and does not rotate to the side of the ship so the ride itself is shorter. Do try North Star once as it is a new and innovative experience, but please do not wait any more than an hour, as I think there are much better things to do on Quantum of the Seas with your time than wait for this short ride.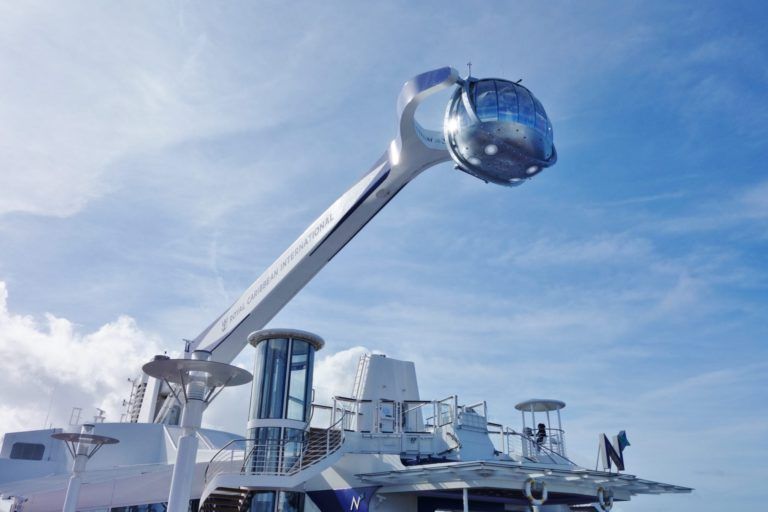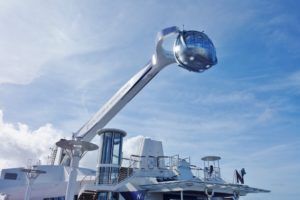 Trying to Get Some Sun
After North Star, we walked aft, to the outside sports deck to explore and take some more pictures as we were not able to do this the first couple of days. About 11 am now, these areas were only minimally busy, with plenty of open space to get photos of the rock climbing wall, the giant magenta bear, iFLY, and Flowrider. This cruise, I would pass on the Flowrider and instead watched other travelers wipeout. Even if you do not participate in these sports, the people watching can provide hours of entertainment!
Approaching almost noon, it was time to get some sun. We went back to our room for a quick costume change and were on a mission to get some lounge chairs. There were already deck chair hogs abound and trying to get two chairs next to each other anywhere on Deck 14 was impossible. We ended up securing some chairs on Deck 15 near North Star.
Over the next couple of days, we would find many lounge chairs were taken at all hours of the day. On this sailing, we did not find many attendants patrolling the area or clearing unattended chairs. Hopefully, more staff was brought onboard after our sailing to help rectify this issue as it isn't fair to other guests when deck chairs are "reserved" for hours at a time with no warm bodies in them.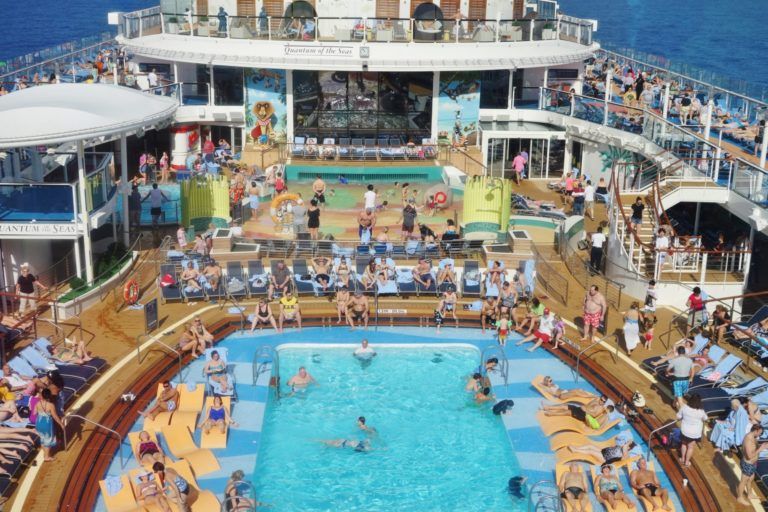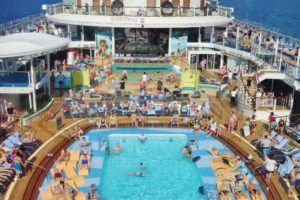 During our two hours of lounging and tanning, I got us cocktails from the North Star Bar. This bar was champagne themed and offered some interesting specialty cocktails highlighting this bubbly beverage. The Princess decided to try one of these drinks, and I went with a cruise favorite, the frozen Pina colada. Service was very slow, as again the bar was understaffed. The surrounding cruisers did not help the matter as I was cut in front of several times by other rude passengers. Patience is a virtue often times when on a busy cruise ship!
Lunch Break
By 2 pm, it was time for some lunch. After all, lying in the sun is hard work, and we had worked up an appetite. I went to the SeaPlex for another hot dog as I continued my goal of eating every hot dog on the ship, and the Princess headed down to Café Promenade and Sorrento's. She grabbed a sandwich from the Café and a slice of pizza too. On my way to meet her, I may have stopped to also grab a King Arthur sandwich at the Café Promenade. We did have a healthy breakfast, right?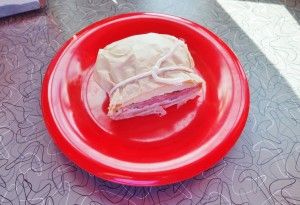 Completing our refueling, we strolled over to the photo gallery on deck 5 to check out the photos from the previous night. On Quantum of the Seas, all photo stations are now digital, either on tablets or large flat screen televisions. No pre-printing of photos anymore. Good thing, as I always thought that was such a waste of paper and time. You still can order the printed photos, so don't worry if you are a fan of the 8 X 10 cruise photo and frame!
The costs for the digital files were high, so we knew we were going to have to limit the number of photos we purchased. Much like Facebook there is a "like" feature, where you can add photos to your "favorites" making it easier to sort through at the end of the cruise.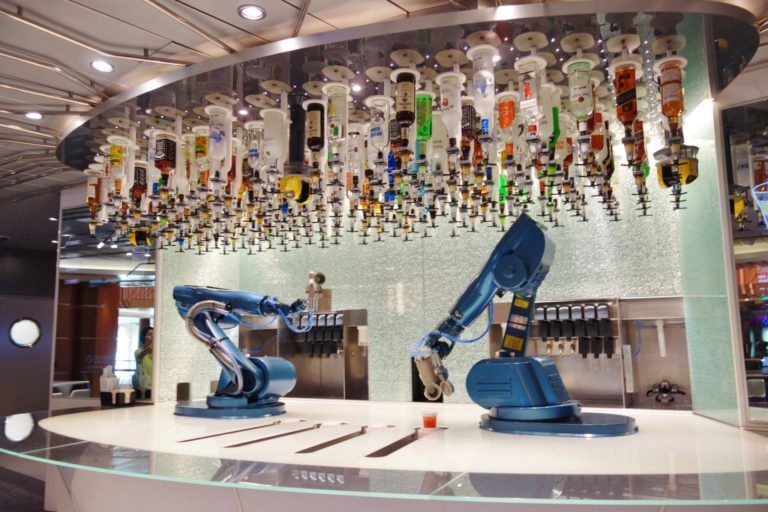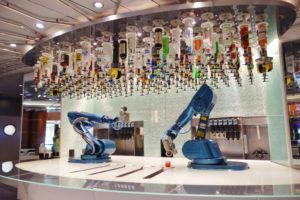 Leaving the Photo Gallery, we made pit stops at the Schooner Bar followed by the Bionic Bar, then headed back to our room by about 4pm.
A Magical Dinner
Our dinner reservations this evening were for 6:15pm at Wonderland. We had made all of our Dynamic Dining reservations through the Cruise Planner prior to sailing and made sure to print out a copy before leaving home. Upon our arrival on day 1, we had received a print out in our room of all our reservations and noticed that our Wonderland reservation was missing. Paying a total of $90, I wanted to make sure that this was a simple oversight. Luckily, when I asked the hostess on day 1 about our missing reservation, she was able to confirm that we were in the system and all set for day 3. Good thing the technology worked out this time!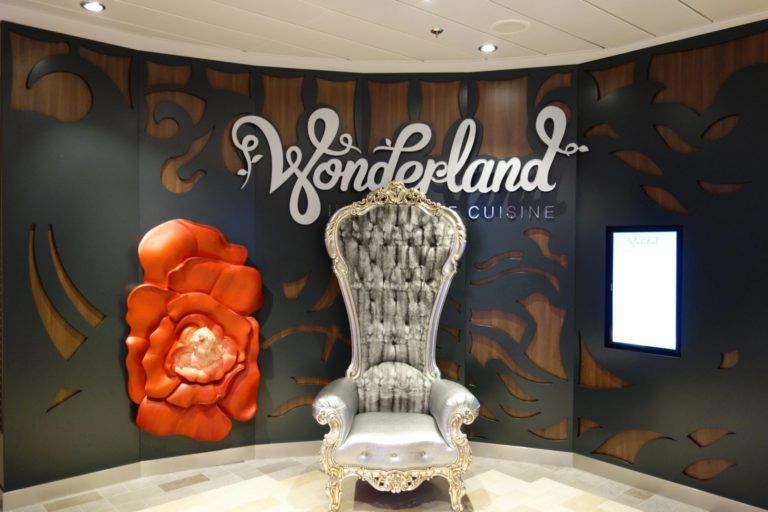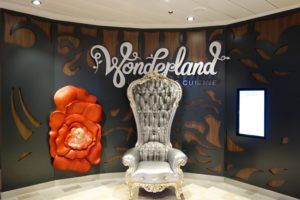 While the Princess started getting ready, I took to social media and email to contact Royal Caribbean and the Image Group about the photos packages as suggested by the staff at the photo gallery.
Running a little behind schedule, we were only able to get two photo studios completed before our dinner at Wonderland. Dinner at Wonderland was truly an imaginative dining experience. It almost had a Disney feel to it with the theming. It was dinner and a show for sure. The food was very good, and the unique preparation was either a big hit, like the Crispy Crab Ceones, or a real miss, like the Liquid Olive. Be sure to check out our complete photo review of Wonderland here.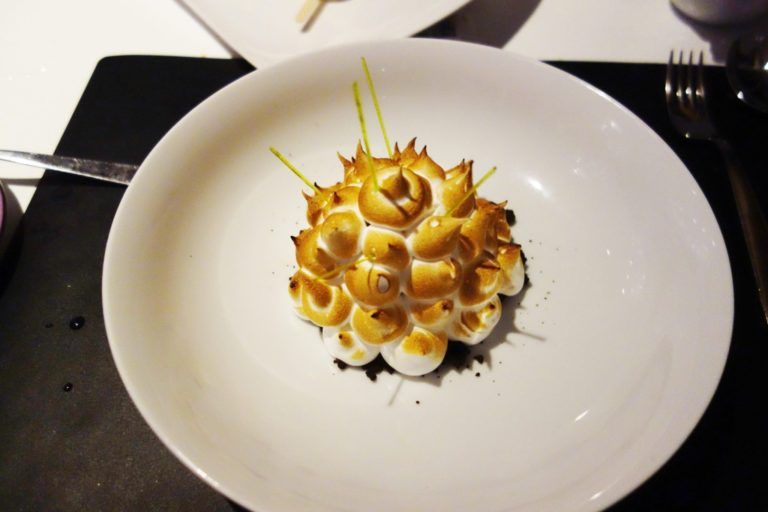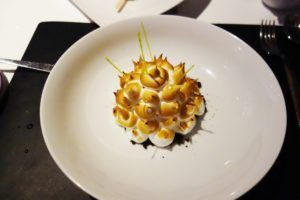 Dinner at Wonderland did take a full 2 hours because they bring you so much food in multiple stages. I think it ended up being more like a 10 course meal. Service was excellent, and we left pretty stuffed, but not stuffed enough to try a few more picture studios. With time to kill, and very few lines, we did three more photo ops at the Princess' request.
Diamonds Are Forever
One disappointing scheduling conflict happened this evening as we had pre-booked StarWater at 10:30pm, which ended up being the same time as the Love and Marriage Game Show. Speaking with cruise staff the day before, we learned that all of the StarWater shows were at capacity, so we could not switch our reservation for another night.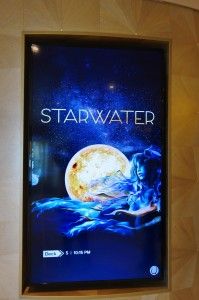 Later on in the cruise we watched the Love and Marriage Game Show on our television, as Jimmy Rhodes kept referencing one couple as being a riot. He was right; the wife of the "older couple" was a complete nut.
At about 8:30pm, we made our way over to Two70 for our 10:30 showing of StarWater. We had heard from the staff that if you were sitting in Two70 about an hour prior to show time, they would start to come around scanning in those with reservations and asking those without reservations to leave the venue. Perfect! We were able to secure great seats, grab some drinks, and watch the Vistaramas until show time.
At around 9:30pm, the staff did begin scanning people in, so I made sure to check-in then ran upstairs to our room to grab our camera that had been charging while the Princess secured our seats. By the time they started letting standby in, the venue was packed and standing room only.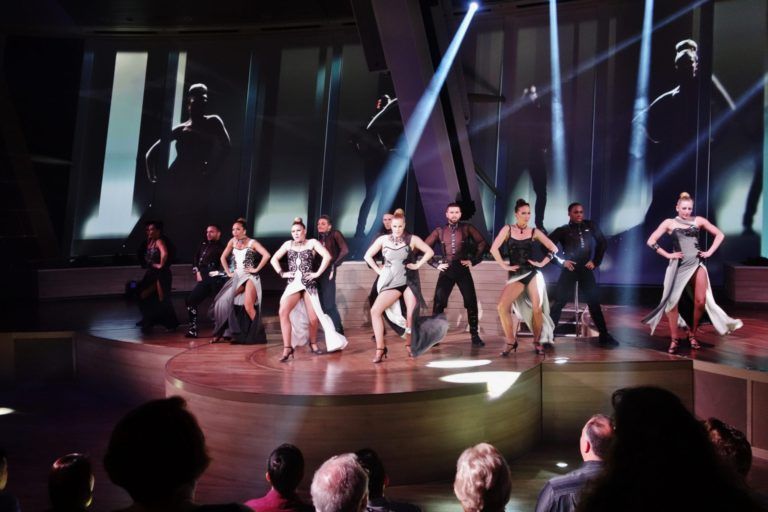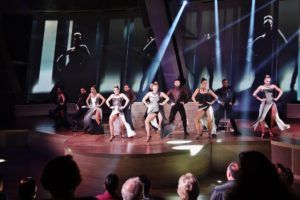 StarWater is unlike any show we have seen on a cruise ship. It encompasses all of Two70. The combination of music, dance, and technology made this my favorite show of the cruise. Telling a story about human emotion, StarWater is a heart-pounding spectacle, so don't miss this show. Our more detailed StarWater review can be found here.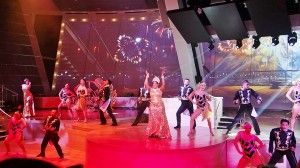 There is a StarWater dance party that begins right after the production on the main stage of Two70. The DJ begins spinning tunes, and the cruise staff, as well as some performers, take to the center stage. Cruisers are encouraged to join in on the fun. Tempted to join them, I was pulled away by the Princess, and we made our way back to the Music Hall for the end of the Wanted set to cheer them on one last time. No other tribute band would be onboard the rest of the sailing, so on the remaining nights, the Music Hall hosted the resident rock band, Horizons or a DJ.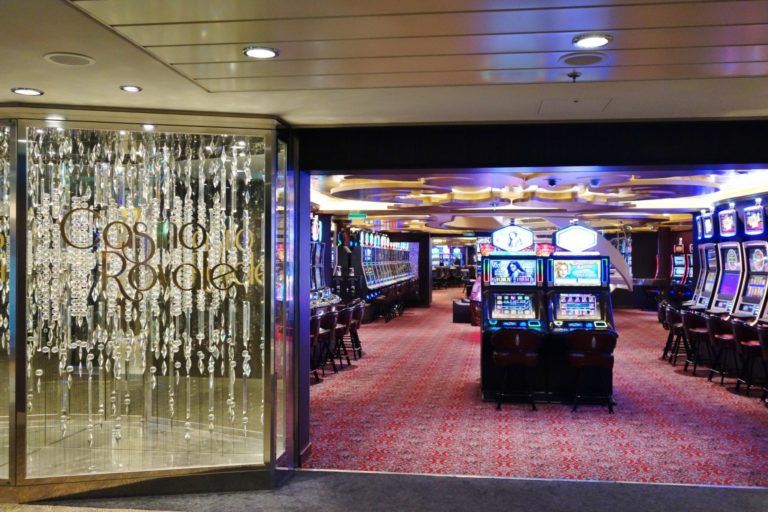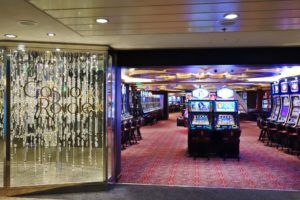 At midnight when the show ended, the Princess was determined to win back her earlier losses at the slot machine. Another $100 dollars down at the one arm bandits and defeated by a long day, we were back to the room to prepare for our first port of call, San Juan Puerto Rico, by 12:30am.
[/et_pb_tab][et_pb_tab title="Day 4″]
Quantum of the Seas Review
Day 4 – Night Time Stop in San Juan, PR
A Bump in Our Sailing
On our last Caribbean cruise on Independence of the Seas, we had a short morning stay in San Juan, Puerto Rico. On our Quantum of the Seas sailing, we had an overnight stay with a late afternoon arrival on Day 4 and an early afternoon departure on Day 5. We have been in port late before, but never an overnight. Would DB and the Princess stay up to the wee hours of the night soaking in some San Juan nightlife and culture? You will have to wait and see.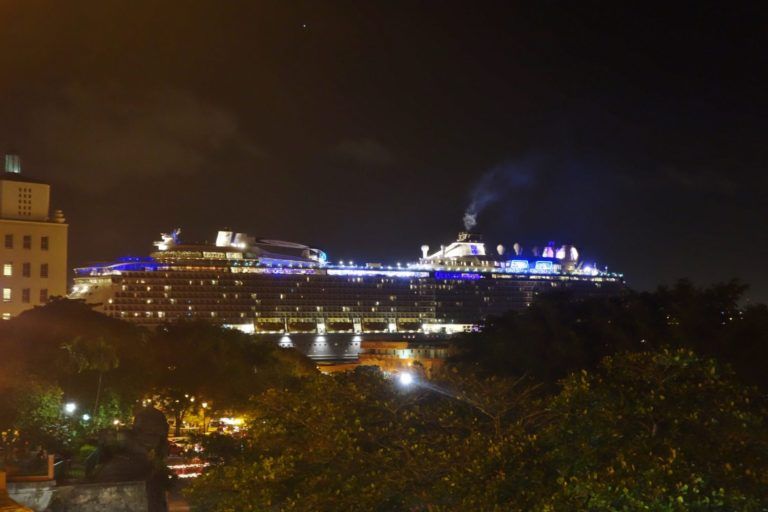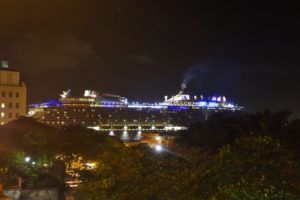 We awoke this morning around 7 am again to see clear skies and another sunny day via our virtual balcony. We had booked a shore excursion for today, a bioluminescence zip lining tour which took place in the evening in a national park in San Juan. We were excited about this excursion as we love zip lining, and this tour in particular sounded unique. So, when we received a voicemail message on our phone saying that the tour was cancelled, we were, needless to say, not so happy.
After grabbing some lattes on Deck 5, we stopped off at the shore excursions desk to speak about our cancelled shore excursion. The staff was very nice and accommodating. They explained that it was a holiday in San Juan today so the National Park was closed and many of their offered shore excursions had been cancelled.
Not sure why Royal Caribbean was not aware of this sooner, but they did offer us a substitute zip line tour that was still running today. It was actually more expensive and included additional extreme activities, like rappelling down a rock wall. We have zip lined before so were more interested in checking out unique glowing wildlife. Explaining that to the staff, we just cancelled the shore excursion and got a full refund.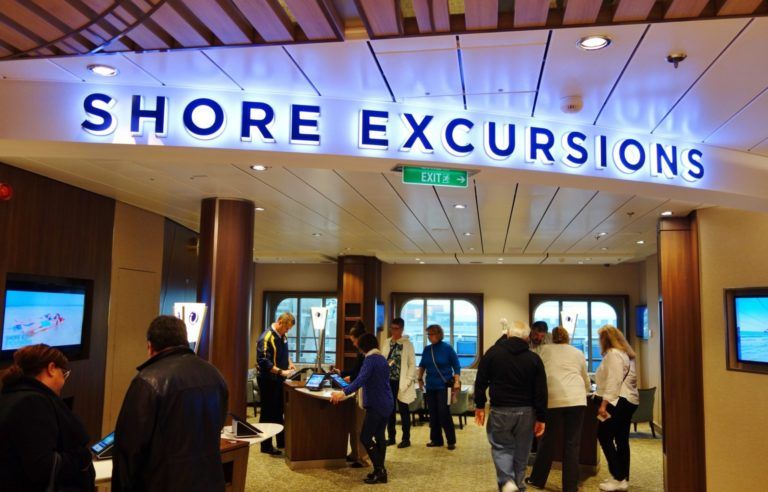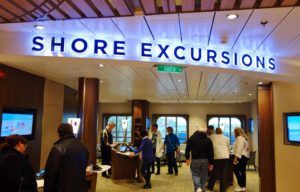 Now, with no official plans for today and no dinner reservations, we decided to grab a quick breakfast at Café Two70 before heading out for our sun fix. My breakfast burrito and coffee were a perfect combination.
The Ultimate Drink Package comes with the Replenish beverage options, which is supposed to include a drink cup that allows you to access the FreeStyle coke machines onboard. There are several machines on Quantum of the Seas – at Sorrentos, Windjammer, and the SeaPlex.
We had never received our cups and all the machines had been closed since the beginning of our sailing. So, before going outside for some sun, I went to guest services to inquire about this matter. They had no answer for me. It turns out that that evening the cups would be delivered to our stateroom.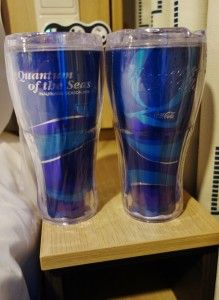 It was later explained during the Captain's Corner Q&A that there was a delay in transit due to weather so the cups were not able to be loaded in Bayonne and actually were flown down from NJ to Puerto Rico to be brought onboard at our first port of call.
In Full View of the Sun
After all of this "work" was completed, it was up to deck 14 for some sun around 10 am. Chair hogs in full effect, we were lucky to score some prime chairs on portside, all the way aft near the Flowrider. It was a perfect angle to the sun with the occasional mist from the Flowrider cooling us off. I brought my Kindle to read, but found that soaking in the rays while people watching and discussing the cruise thus far with the Princess was entertainment enough for me. It was very hot too, so I was making multiple bottled water runs.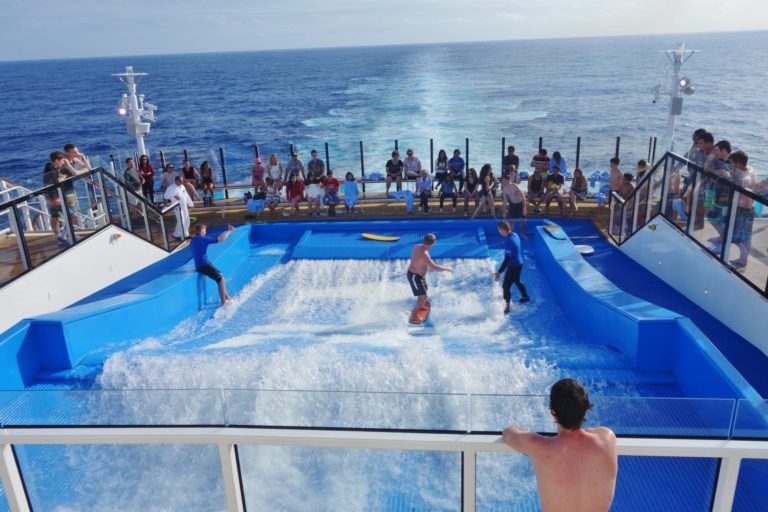 We were outside relaxing and enjoying the Caribbean weather for about two hours when we came upon a rain cloud. At first, it just started with a little drizzle, but quickly it turned into a steady rain. Everyone on the outside decks made a dash for indoor quarters. So, we decided to meander around the ship for some more photos of the indoor spaces.
It was at this point that the Princess decided she wanted to grab more pictures of the art on Quantum, including a series of digital pictures found inside the elevators. After exploring the ship for about an hour and several elevator rides later, I reminded her that the sexiest man competition was at 1:30pm.
The rain had passed, so we went back outside and grabbed some deck chairs on the starboard side, on deck 15 right above the stage for this competition. Note, this occurs in the kids' pool area, behind the wave pool. Don't ask me why; it does seem like a very odd place to host the sexiest man competition.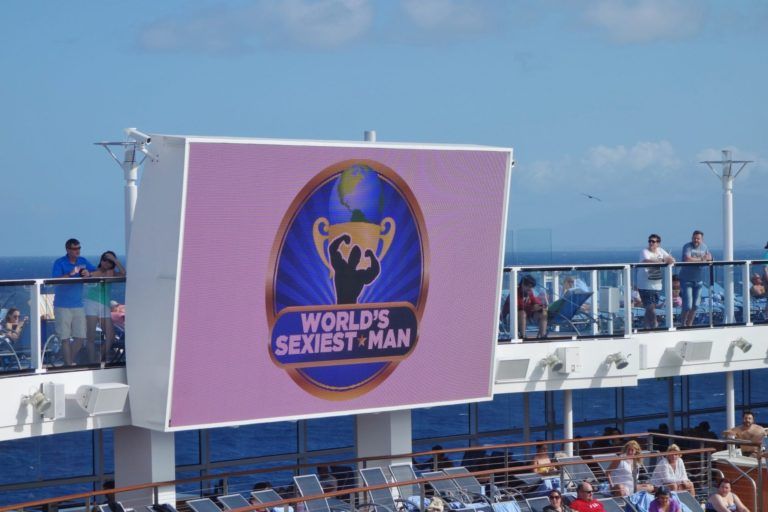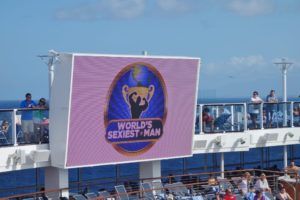 The show was not the best we have seen. The women were very into it, yet the men selected were not too crazy. There is always that one older gentleman that steals the show, but even he was rather tame. Some of the cruise events on Quantum of the Seas did lack the typical over the top wackiness you usually find on a cruise ship.
As the show was ending, we began the sail into Puerto Rico with the views of the harbor on the other side of the ship. The Princess scurried over to get some pictures and video of the sail in.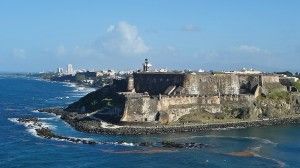 As the ship rounded the inlet, travelers were beginning to leave the decks in preparation for going ashore. If we were going to spend a night in Puerto Rico, then we needed some food and coffee. I grabbed 2 more dogs at the SeaPlex Dog House and met the wife in Café Two70. After lunch, we grabbed some lattes and went back up to the room around 3:30pm. We showered, changed up, and prepared to see downtown Old San Juan.
A Night Filled with Lights
While the wife was getting ready, I made some social media posts and watched the remainder of our sail in on the virtual balcony. Seeing the ship dock via the large 4K resolution screen was very realistic, definitely an upgrade from having no balcony at all. As we docked, we could see two other ships in port. We were actually able to catch one of the ships, the NCL Gem, complete her sail away via the virtual balcony.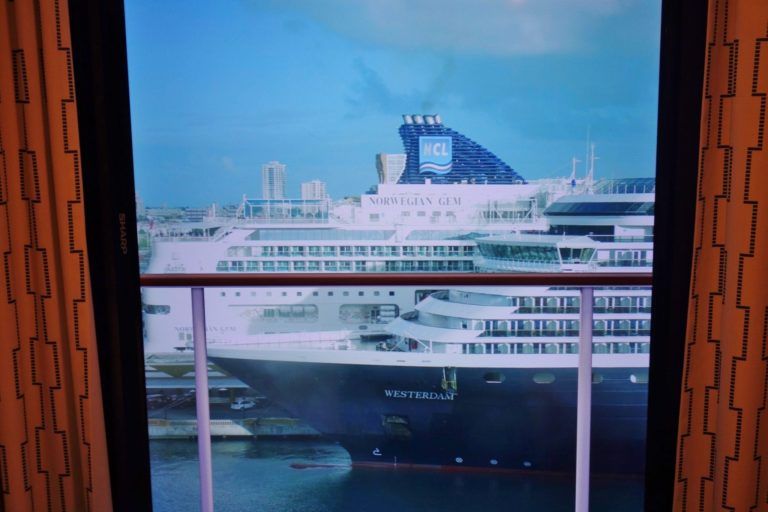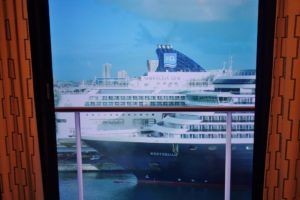 Today in Puerto Rico was the festival of the three kings. According to what we had heard, this holiday is as big as Christmas, meaning many of the downtown areas were closed, and there was a street festival taking place. Wanting to see what all this fuss was about, we excited the ship around 5:30pm to find masses of people along with many vendors and decorations. The street vendors were selling handmade goods and carnival-type foods.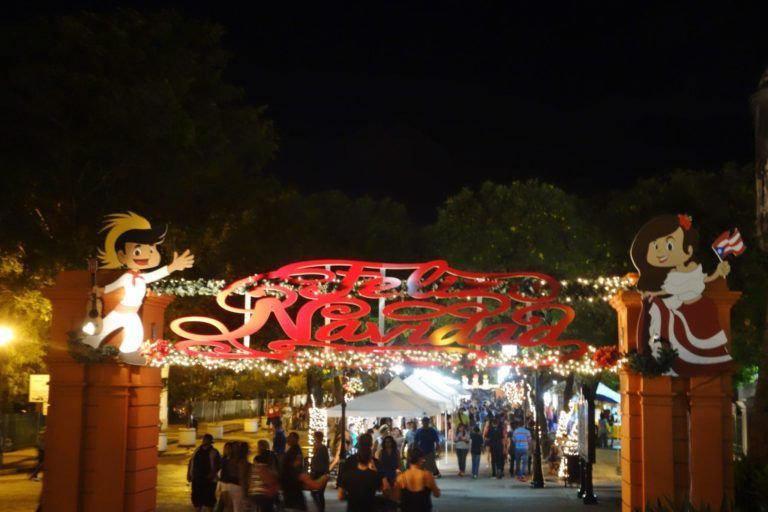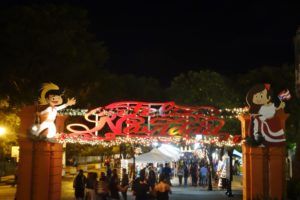 After walking around the festival area, immediately outside the pier at Old San Juan, we began the walk around the walls of Old San Juan on the Paseo del Morro. We did not walk all the way up to the El Morro Fort; instead, we walked through the San Juan Gate, up to the San Juan Bautista cathedral. At the time, we did not know where we were going or really what we were taking pictures of, but on the island tour we would take the following day, this would all be explained to us.
At the cathedral, we took a left to head back to the ship. The city was adorned with Christmas lights and decorations, and the streets were grid locked with cars. Along the way, we came across a huge building with a large security gate and plenty of Christmas decorations. Making our way down the small side street to take pictures of this building, the next day we learned that this was actually the Governor's mansion.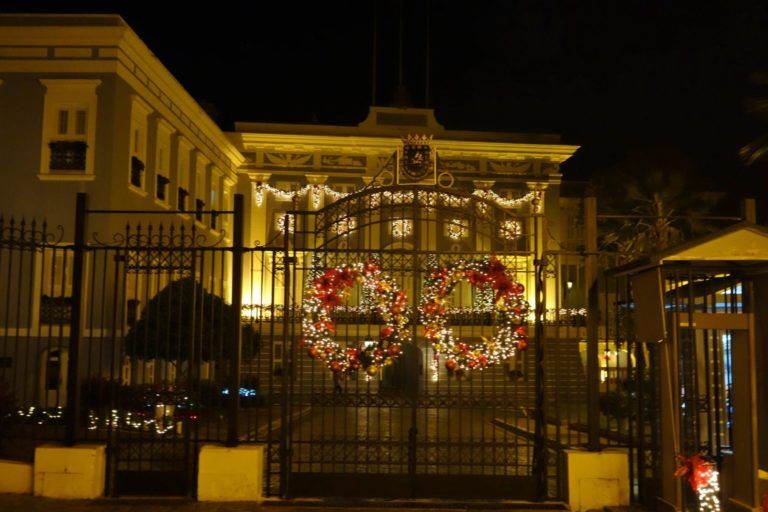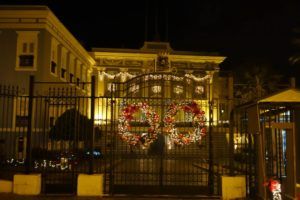 Following the traffic and crowds down the busy roads, eventually the Quantum of the Seas could be seen from the top of the hill. Having enough explorations for the night, we decided to make our return to the ship. Before boarding, there was a photo session in front of the ship from both sides to make sure we could capture her beauty, along with ourselves, in a good ship selfie.
A Quiet Night Back Onboard
Given that we had planned on being on an excursion and did not make dinner reservations for this evening and that Michael's Genuine Pub was virtually empty, we pulled up a few seats to sample some of the a la carte menu items. Overall, the food was pretty good, not sure everything we ordered was worthy of an upcharge though. The service, well, was lacking; given that the restaurant was empty, we would have expected a little bit more from our waiter. For a detailed review of the food at Michael's Genuine Pub, see our review here.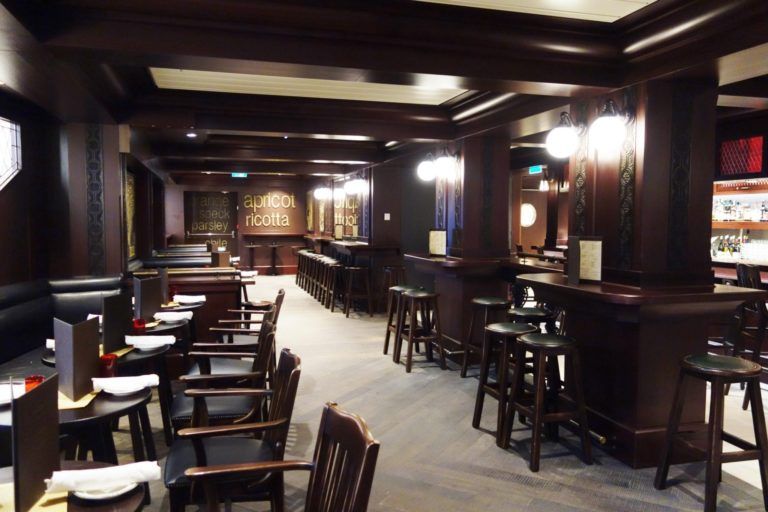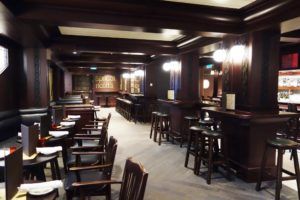 With food and drinks completed by 8:30pm, and the ship relatively empty, our options were wide open. We headed to Vintages to get a glass of wine and continue our drink around the ship. The Ultimate Beverage package allows for wines up to $12. Not being wine connoisseurs, we both found wines within that price point- a white wine for the wife and a red wine for me. Few of the wines here are covered in the package, so if you are a wine fan, be prepared to be paying the difference for most glasses.
After sipping our glasses of wine and relaxing for a bit, we walked over the theater to see the comedian, Rondell Sheridan, for his 9:30pm show. If you like comedy, you may recognize him from his specials on Comedy Central. He was also on a Disney Channel show for a few years.
This was not a show that was able to be pre-booked on the Cruise Planner; but given many passengers were out in Puerto Rico this evening, the theater was pretty empty, allowing us to secure our usual seats. Rondell's set was pretty funny, even if his target demographic was 50+ cruise couples. A lot of his material was about how old couples differ from young couples, but it was still a good time.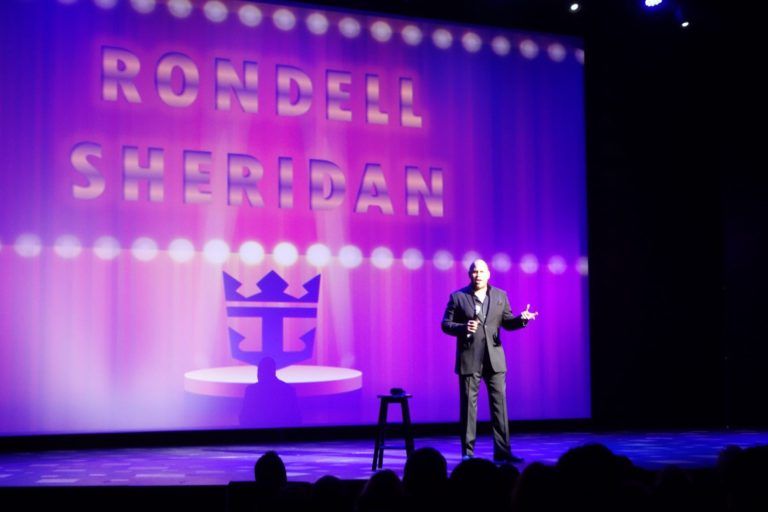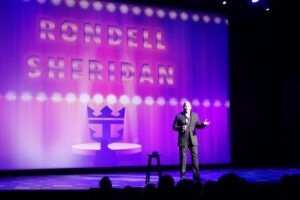 The comedy show ended at 10:30pm. We could have gone back out to San Juan to see the city after dark. However, our shore excursion was departing at 8am, ship time, so our beds were calling. Returning to our room a little before 11:00pm, there was a nice evening view of the pier and a HAL ship on our virtual balcony-a nice way to end our overnight stay in San Juan.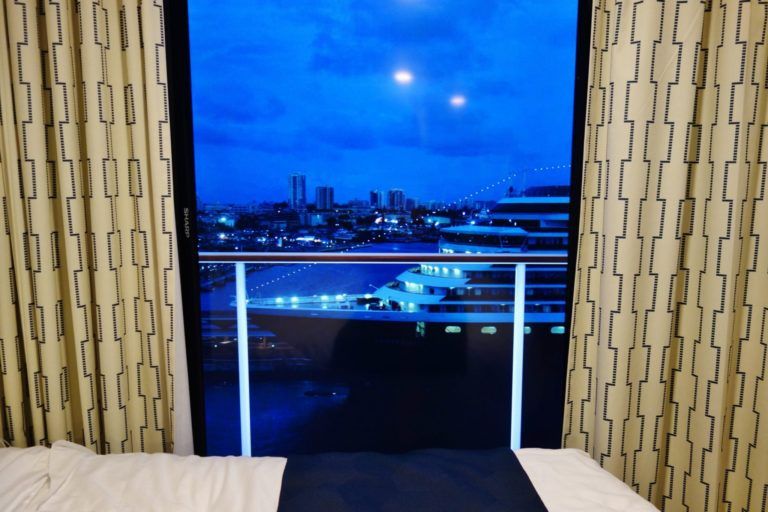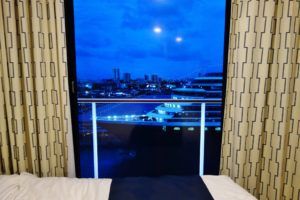 [/et_pb_tab][et_pb_tab title="Day 5″]
Quantum of the Seas Review
Day 5- San Juan, Puerto Rico
New and Old San Juan Tour
When we are on vacation, we try to pack as much in as possible. Often times, we are up just as early on a cruise as we are during a work week. This was the case today, as we had a shore excursion that was meeting at 7:45am. So, the 5:30am alarm woke us up from a deep sleep.
One thing that is disappointing about Quantum of the Seas is the upcharge for room service. Hot breakfast items are now an additional cost; continental breakfast items are still complimentary. Normally on days like today, we would have ordered a hot breakfast to be delivered while getting ready. Not so today.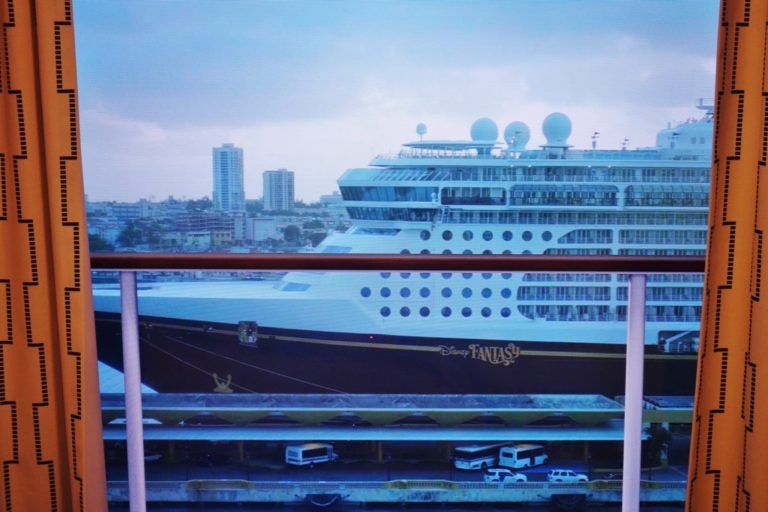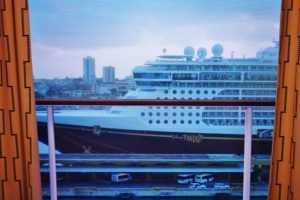 As we were getting ready, we noticed the virtual balcony was displaying a new ship, the Disney Fantasy, had arrived. Later in the day, HAL Eurodam would arrive and the Norwegian Breakaway would also pull into the dock right before our expected departure time.
Given that we did not order room service, once we were ready, we made a quick stop for some lattes and a few snacks from the Café Promenade a little after 7am. With a day of sightseeing ahead of us, caffeine and sugar were definitely needed. The croissants and other breakfast pastries tasted a bit fresher than other ships, so the theme of better cruise food was continuing throughout all of the venues on Quantum of the Seas.
We headed down to the gangway and were able to walk right off the ship. The tour was scheduled to meet in front of the Sheraton Hotel that is directly across from the ship docks. Now, we normally book shore excursions through the cruise company; however, we had the great opportunity to try a tour through Shore Excursions Group.
Setting up the reservation with this company was easy, and my confirmation email indicated the name of the local tour company and the meeting instructions. It took a few minutes, but I spotted a gentleman wearing a hat for the tour company.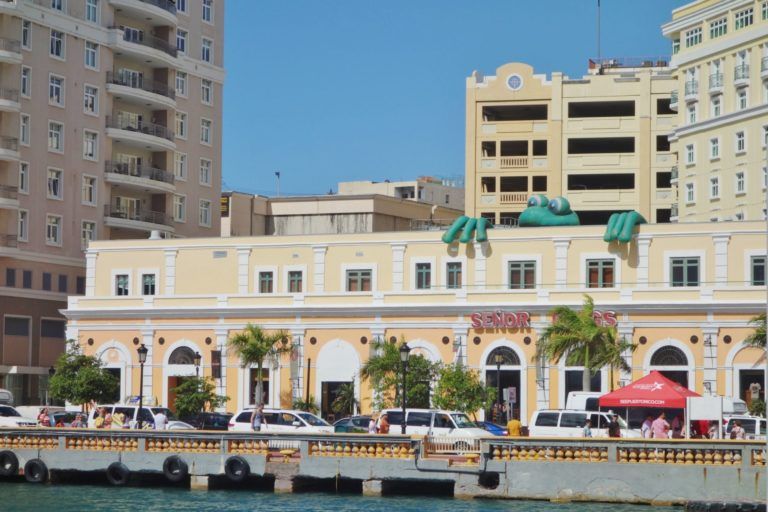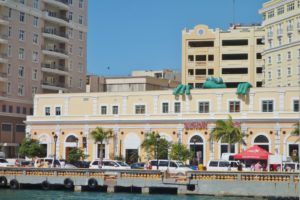 He checked our tickets and indicated that there was one other family from the Disney Fantasy that was also going to be on our tour. In the meantime, of course we encountered a brief passing rain cloud and were not prepared sans umbrella and rain coat. The other family on our tour arrived a few minutes later, and we were introduced to Wiley, our tour guide.
For the two and a half hours or so, we would get a tour of new and old San Juan, including a variety of stops and photo ops, including some historic sites. The tour was first rate, and we would recommend this excursion through Shore Excursions Group. For a detailed description of the tour, see our shore excursion review coming soon at eatsleepcruise.com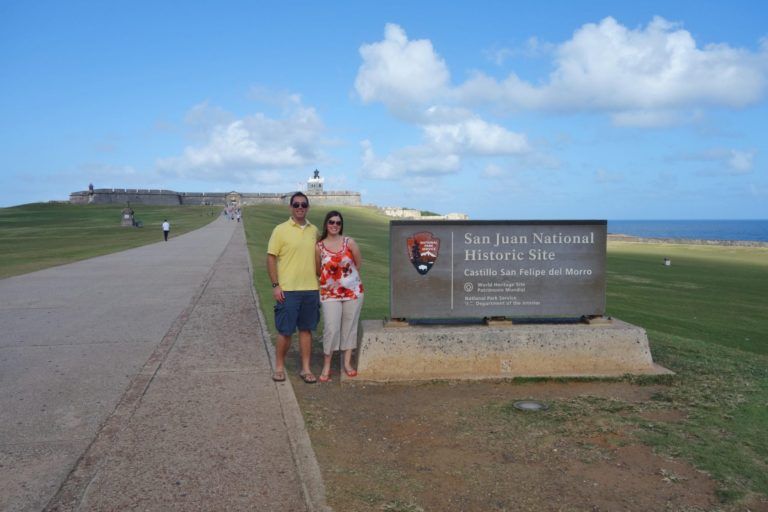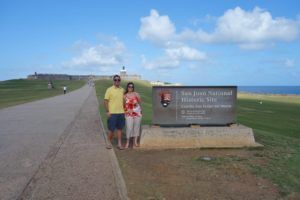 Heading Back Onboard
At the end of the tour, Wiley asked each of us where we would like to be dropped off. The family opted to be dropped off at a local coffee shop, and we asked if we could be dropped off near the Cathedral of San Juan Bautista, the same location we had been the night before, so we could take an inside tour and get some daylight photos. After walking around the cathedral and taking pictures, we trekked down to look through a few arts and crafts stores and purchased some handmade ornaments for our vacation tree!
Before heading back to the ship, we made a quick restroom stop at the Starbucks, behind the Sheraton, and made sure to get more photos of ourselves in front of Quantum of the Seas. It was a little after 11am by this point, and this area was much busier than it had been in the morning.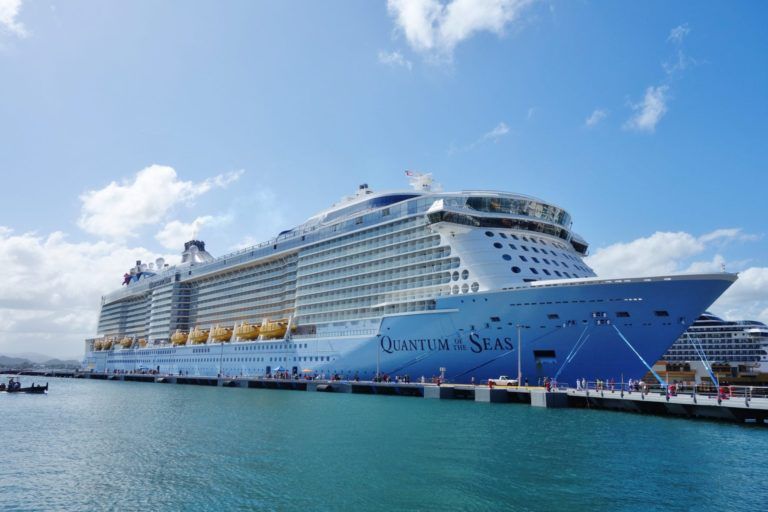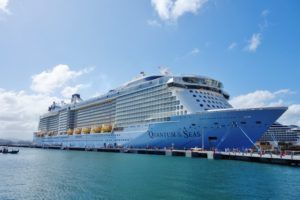 Once back onboard, there was another latte pit stop followed by some lunch at the Windjammer. The Princess is not a huge fan of the buffet, so this would be my only chance to check it out and sample the food selection, except for the occasional cookie runs that she did approve of. I enjoyed what I ate, which included some of the Asian section and steak fajitas. The Princess simply got a plate of french fries.
Quantum of the Seas' departure from San Juan was scheduled for 2pm. To ensure we were on the starboard side to get a good view of the ship's departure, we made our way up to deck 15 around 1:30 pm to score the last few "unoccupied" deck chairs.
We ordered a few cocktails from one of the only bar servers I ever saw walking around the outdoor decks; now, we were all set for sail away. Before that could happen, the Norwegian Breakaway came strolling in to dock right across from us. Not that we are complaining as we were able to get some great shots of the ship.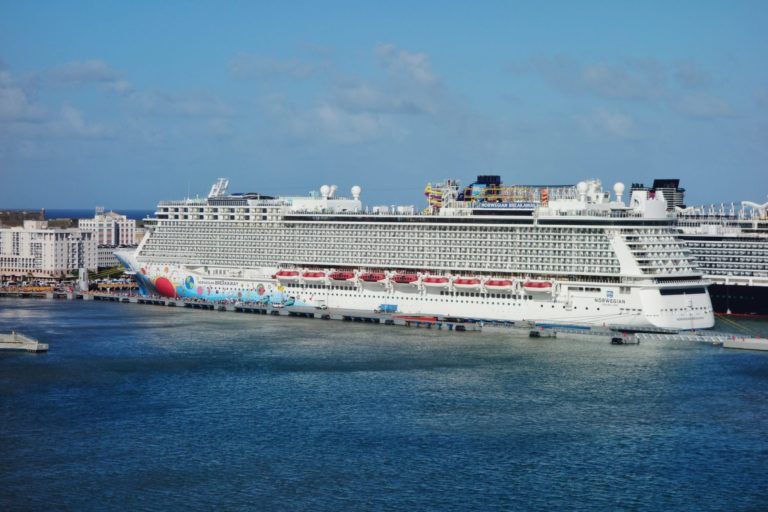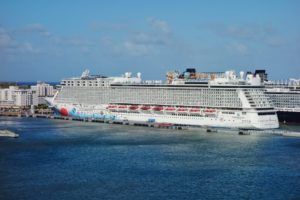 Reportedly, there was a medical emergency on our ship, so our departure was delayed a bit, not actually pulling out of San Juan until after 2:30pm. I would document our sail out on my GoPro, a camera I had just got for Christmas. Let's just say, I still need some work on figuring out the finer points of how to film with this wearable camera.
Get On Up Now
Tonight was our formal night, our chance to try out Grande and the only lobster available at the complimentary restaurants. So by 3pm, we headed back to the room to prepare for dinner and photos.
Our dinner reservations were for 6:15pm, and the picture studios on the ship did not open until about 6:00pm. Normally, the studios are open around 5:30pm on other ships. Tonight there were also more people taking pictures, so we did encounter some lines. Unfortunately, we were not able to hit all the portrait studios before dinner.
Already running a bit behind schedule, we made our way to Grande. Although we did notice lines at Grande at various times throughout the cruise, there was no line tonight.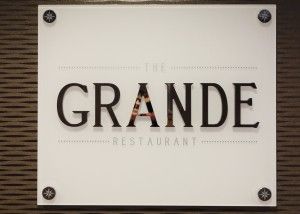 Dinner at Grande was disappointing. The menu has since been changed, but it was not only the food that was a letdown-the service was probably the worst we had all cruise. Our waitress seemed overworked, and the venue was understaffed. Given the situation, I could not blame our server for not having the greatest personality. Dinner was closing in at near 2 hours, and we had a show to catch, so we did not eat much of our desserts this evening. A more in-depth breakdown of our dinner can be found in our complete Grande Restaurant review.
Tonight's show was the Headliner guest entertainer. You can pre-book the show before sailing using the Cruise Planner; however, you do not know who the headliner will be until you are on the cruise. Originally, there were two headliners available for booking on our sailing, but one was removed and replaced with bookings for Starwater about three months out from our sailing. Showtime was 8:30pm, so by the time we got to the theater, the line was mostly scanned in already.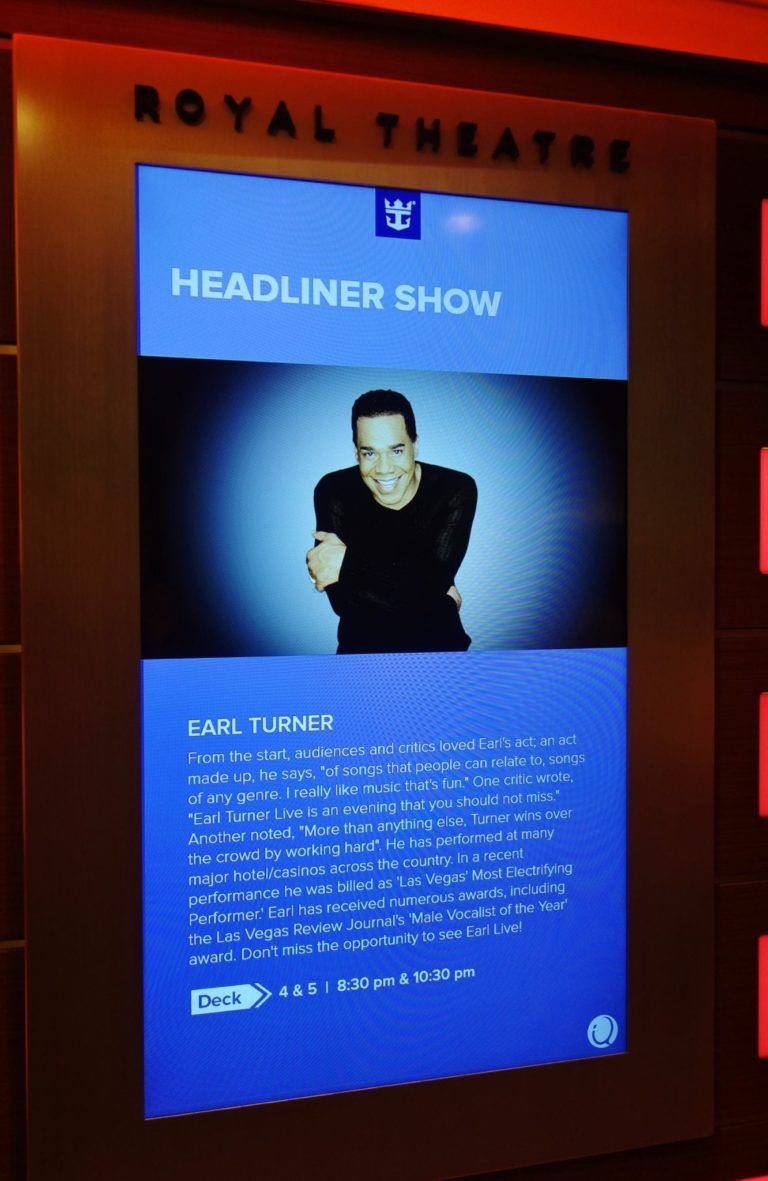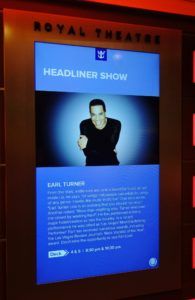 We were not able to get out preferred seats but were still able to secure decent ones. For our sailing, the headliner act was Mr. Earl Turner. He was a male vocalist, performing mostly Motown hits like James Brown and similar classics from the 50s and 60s. Catering to a more senior crowd, his banter between songs was about how music back then had more meaning and more soul than today's music. He was definitely a high energy performer and routinely came into the audience to engage the crowd. He did sing a John Legend song, but it was not in his vocal range. His finale included walking on top of the seats in the orchestra to get the crowd up on their feet. His show was semi- entertaining and certainly not the worst guest entertainer we have ever seen on a cruise ship.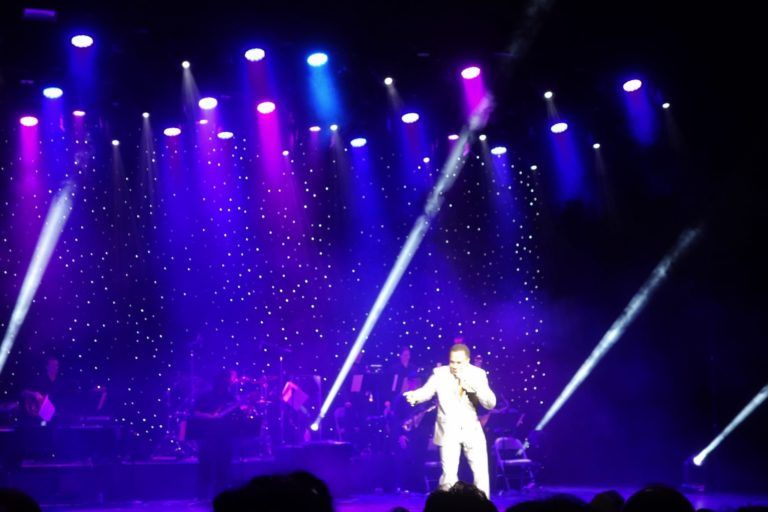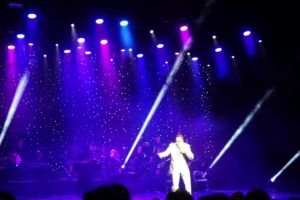 The show was over at 9:30pm, and the lineup of other activities was limited. Starwater was playing in Two70, and there was no more Tribute in the Music Hall. So, to the casino we sauntered to try to win back some of our money. A solid run at the roulette table for about an hour would be washed away in less than half that time at some random slots afterwards.
Walking away even for the night but still down overall, we escaped the Casino a little after 11pm and retreated back to our room for the night
[/et_pb_tab][et_pb_tab title="Day 6″]
 Quantum of the Seas Review
Day 6 – A Beach Day in Labadee
A Virtual Sail In
Today, we were scheduled to visit Royal Caribbean's private island, Labadee, Haiti. Not really an island, rather it is a resort area on the northern tip of the island of Haiti. This would be our third go around at this port. We definitely prefer Labadee to Royal Caribbean's other private resort, Coco Cay, Bahamas which we have not been to since 2010.
Given the launch of EatSleepCruise.com and our new equipment, a planned photo shoot of the island with all new images was our main goal. Then, of course, relaxing on the beach with a few labadoozies as this was anticipated to be the last really warm day of our cruise.
Quantum of the Seas was planned to arrive at 9am, so again we were up around 7am to get ready and pack our beach bag. During this time, we witnessed the sail into Labadee from our virtual balcony and were able to capture about five minutes of this nautical feat on video, watching the ship inch closer and closer to the dock.
The Princess, being a fan of breakfast, had been nagging to try American Icon Grill, the only sit down breakfast on the ship. So given that we only had a few days left of our cruise, we decided to check it out today. By the time we were ready, had our iced caramel lattes in hand, and headed into American Icon Grill, it was slightly before 9:30am, skating in just before the restaurant closed for breakfast.
Overall, the breakfast was a step above the buffet. The Princess' omelet was cooked to order and my two eggs over easy were also well prepared. But, how can you mess up breakfast? Even though it is a sit down restaurant, American Icon Grill also has a buffet section in the back with some staple breakfast items. In fact, the hash brown patties in the buffet were much better than the breakfast potatoes we got with our meals.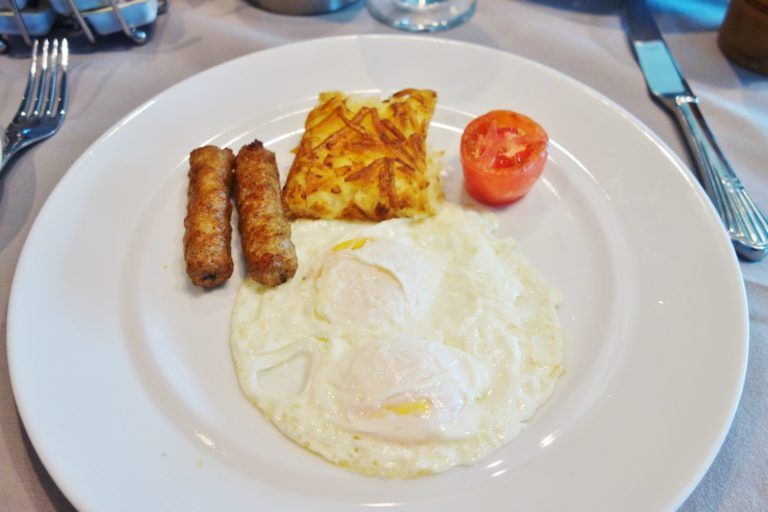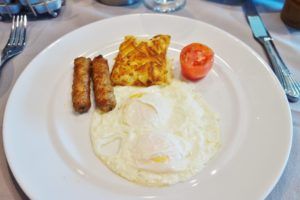 A New View of Labadee
Wrapping up breakfast at 10:30am, we headed to the gangway to start our beach day on Labadee. Getting off the ship, we were greeted by Haitian singers and dancers performing right on the dock. The theming and setup of Labadee is very festive.
We had no excursions planned today, as we have already experienced the main island attraction, the Dragon's Breath Flight Line and had no interest in trying any of the other island offerings this time around. So, we set off on our own little island tour and photo spree. We started from Buccaneers' Bay and essentially walked all around the island taking new pictures with our amazing Sony RX-100 camera.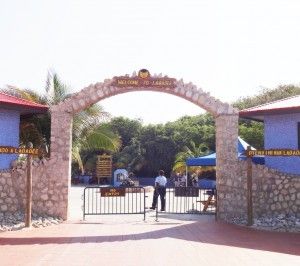 This did mean walking through the Artisan Village, not the wife's favorite area as she gets uncomfortable with the locals attempting to draw her attention to their merchandise for sale. However, we did stop in for a few souvenirs from the Artisan's Marketplace, the set-up here is more like a store with no bartering or pressure to buy. We purchased another handmade ornament for our vacation themed Christmas tree and a few small bottles of Haitian rum. Even though the Princess was eyeing a handmade vase, I made it out with just those few purchases.
Considered one of the rockier beaches, we ended our tour at Adrenaline Beach around 11:30am, grabbing some chairs to lie in the sun for a few hours. This location of this beach is ideal as it is right near the island's very own Schooner Bar, making it easy for us to grab our 3 rounds of labadoozies for the day. It is also located near a buffet station. The wife is a picky eater and does not like any of the offerings at the buffet, but I had to make sure I got my favorite spareribs from the beach barbeque!
By about 2pm, the heat was starting to get to us, so we started our walk back towards the ship, stopping near the zipline landing area to grab a few photos and a video of fellow passengers enjoying their flights.
Back Onboard Quantum of the Seas
Back onboard, we stopped at our room to drop off our beach bag. It was only now that we heard something. Was that singing and music…coming from the virtual balcony? Yes, these screens actually include sound! Unfortunately, the sound would only last through the next day-looks like this is one element of the virtual balcony that has not been perfected just yet. When the sound was working, it definitely enhanced the experience making it much more life-like. Especially the next morning, when we could hear the ocean as we started the trip back to Cape Liberty.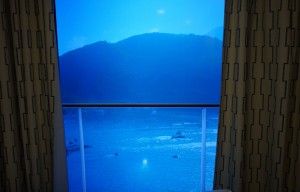 Getting a little hungry, the Princess not me, we made a trip down to Two70 where she tried the Thai Noodle Salad. It did look quite tasty. Actually, all of the food here was very tasty, resembling a Park Café found on other Royal Caribbean ships.
Since the pools were frequently closed due to weather, I had yet to step foot in one of the three pools. So following lunch, that was my mission. The outdoor pool was crowded, so I ventured into the indoor pool, not the Solarium but rather the pool with a retractable roof.
Over time, this pool would become over flowing with young kids that appeared parentless. These children were jumping in and out of the pool, running around, basically doing everything the pool signs tell you not to do. Needless to say, the Princess was getting annoyed and our stay here was short-lived.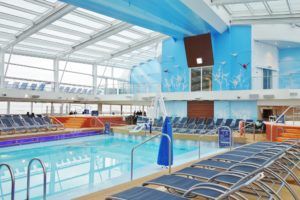 All aboard was 4:30pm, and the pool decks were getting busier, so it was our cue to exit and head back to the room to get ready for dinner.
Dinner reservations this evening were at Devinly Decadence at 6:30pm. On prior sailings, the venue had been complimentary for breakfast, with an upcharge for lunch and dinner. On our cruise, there was no longer an upcharge for lunch, but still an upcharge for dinner of $20 per person. The week following our sailing, Royal Caribbean would make the restaurant complimentary for all meals.
Rolling Around The Decks
Before heading up to deck 14 to the restaurant, we did stop at some of the casual portrait stations on decks 4 and 5, as there were some different backdrops tonight that the Princess liked. When we arrived slightly late, the restaurant was empty. There were more staff, between the servers and patrons, at this restaurant than cruisers, possibly one reason why the restaurant is now complimentary.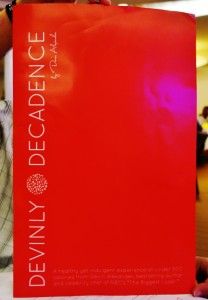 The lack of crowd was certainly not because of the food. The food at Devinly Decadence was outstanding! The portions were huge, and the food was very flavorful and fresh. The Cowboy steak I had was my best steak all cruise. We would highly recommend trying this restaurant. It is certainly not just for those health conscience travelers. To read all the juicy details about our dinner experience, see our full restaurant review here.
We did not have a show for tonight, so after dinner, we headed to the SeaPlex. This largest indoor sports venue at sea is home to a variety of activities, including roller skating. For more details on the SeaPlex , see our full review here.
Tonight in the SeaPlex, there was a 70s disco party with roller skating from 7pm to 9pm. From our discussions with SeaPlex staff a few days earlier, we knew that colored wristbands were given out for 20 minute skating slots. The Princess would need to go back to the room to grab a pair of socks, but we decided to head to the SeaPlex first in hopes of putting our name on the list to ensure we would be able to secure a time slot upon our return as this was one of the last times skating would be offered on our cruise.
When we arrived, the rink was not too busy, and the attendant told us that basically it was open skating for now unless it got busier. She gave us wrist bands and said if there was a problem upon our return that she would just give us a new colored wristband. After a quick trip to our cabin, we returned to give the roller skating thing a try.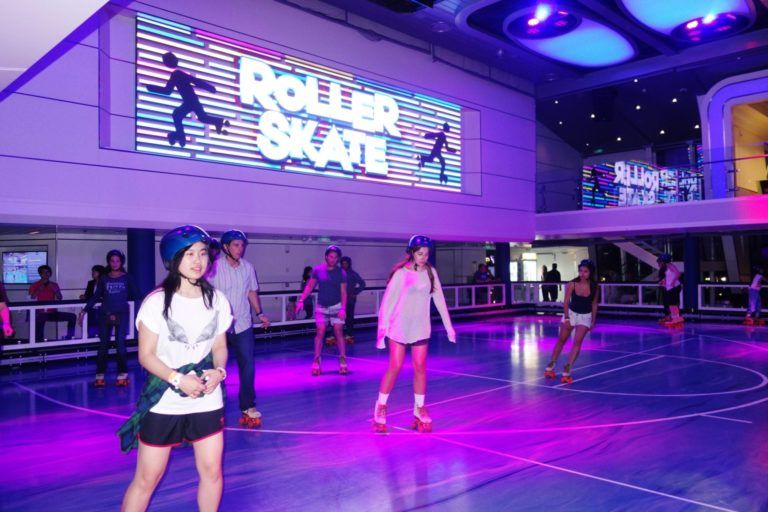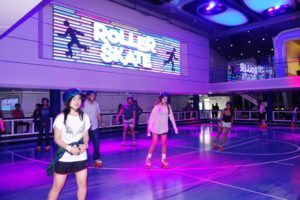 Well, one of us did. The Princess, after of course taking pictures in her outfit, made it around the rink once and called it quits. She was not very steady on her feet, and the physical therapist in her gave one excuse after another about falling, breaking a bone, etc. Me, I could have cared less that I was a horrible skater. Leaving her on the sidelines to watch, I got back out there and spent a solid 30 minutes skating to the 70s music.
There was an older couple with their own skates that were flying around like pros and an RCI staff member who danced in the middle of the rink. But, besides that people were travelling around at various speeds and levels of expertise. I did get a bit better at skating after a few laps but by no means would I say I was good. After only falling once, I'd say the roller skating event was a success. I actually worked up a sweat during the session!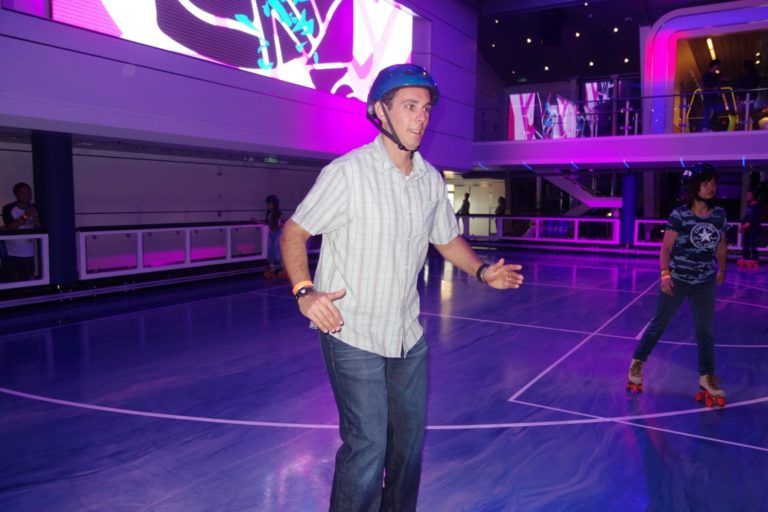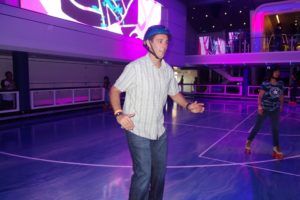 Following skating, we headed over to the photo gallery. Even though we had sent some emails to Image Group and communicated with Royal Caribbean on social media about the picture package pricing, we had gotten no response from either company. Knowing that we would have to limit our photos on this trip, we took this opportunity to continue narrowing down our selections.
Then, it was time to continue our drink around the ship. Off to deck four we went to listen to a little Latin music and grab a drink at Boleros. Having sailed on numerous Royal Caribbean ships, this Boleros felt much darker and closed off than on other ships.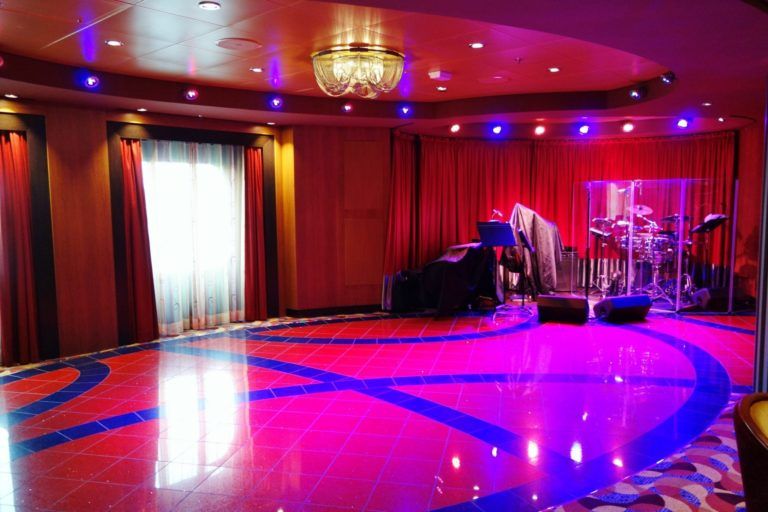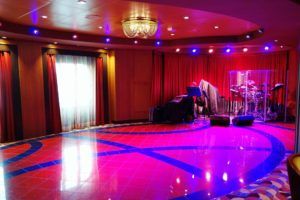 We did not stay long as the music was not really our thing. The Princess was determined to win back some money at the casino. Do I need to even say the outcome of this evening's session? Yes, down again. So, it was time to call it a night, slightly before midnight.
[/et_pb_tab][et_pb_tab title="Day 7″]
Quantum of the Seas Review
Day 7 – Heading Back up the Atlantic
Flying Around
Heading into the final stretch of our cruise, Quantum of the Sea was now traveling north, leaving the Caribbean for the Atlantic. Given our experience on the way down, we assumed that there would not be too much more nice weather to enjoy.
Up around 7am, the virtual balcony was showing a nice clear day, and for the first time, we could hear the ocean. Apparently, there is a remote that goes along with the virtual balcony allowing you to turn the picture on/off and the sound on/off though our remote was missing until last evening. After having a discussion with our room attendant, Adina, she explained all this to us and gave us a replacement remote. Although, it did not matter much as our sound would stop working again this evening.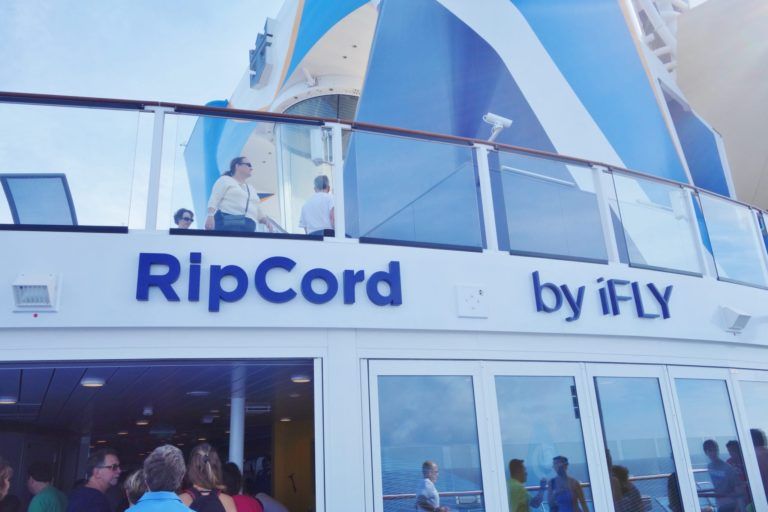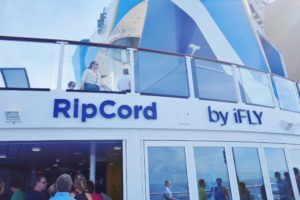 Our rescheduled iFLY session was for 9:55am this morning. So, we headed down around 8:30am to grab our iced lattes and a small breakfast at Café Two70. Before heading up to deck 15, The Princess stopped back at the room to grab her socks and sneakers. Heaven forbid she walk around the ship with these instead of her flip flops!
We arrived at the Ripcord sign in area about 15 minutes before our start time and were told we had at least 10 minutes to kill before we really needed to be there. Those 10 minutes went by quickly and before you know it, we were brought together with about 12 other cruisers for our introductory video briefing.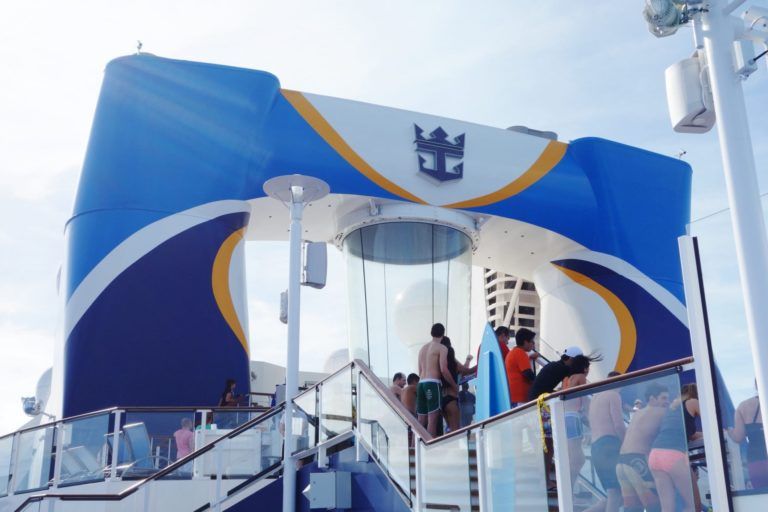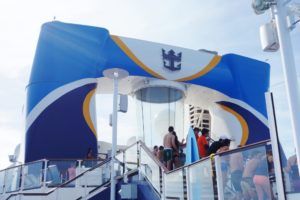 Our instructor was really nice and was with us for the duration of our experience. He was actually a bit more hands-off than some of the other instructors, which I liked. While we were certainly not the best of our group, we weren't the worst either. The Princess and I both agreed that it was harder to maintain ideal flying position than we expected. It was definitely an exciting experience and another first at sea. For a complete look at the indoor skydiving experience on Quantum of the Seas, read our iFLY review here.
A Last Chance at Sun
With this adventure done and the time around 11am, it was time to soak up the last bit of nice weather before we returned to the snow and cold at Cape Liberty. Finding deck chairs at this time proved difficult again, but we did end up securing some on the starboard side, forward of the ship, similar to where we were during the San Juan sail away. While the weather was still warm, the sun was playing hide and seek with the clouds.
So, after about an hour and a half, we decided we wanted to try lunch at Devinly Decadence. We really enjoyed the food the night before at dinner, and since lunch was complimentary, it was a no brainer to eat here instead of some of the other casual eateries.
Devinly Decadence is a small venue and was only open from 12:00pm to 1:30pm for lunch. It seemed as though every time we walked by the venue, there was always a line so to ensure we got in, we headed over around 12:40pm. We were greeted with a rather long line, and shortly after we arrived a staff member came over to tell the couple at the end of the line that they would be the last to get into the restaurant.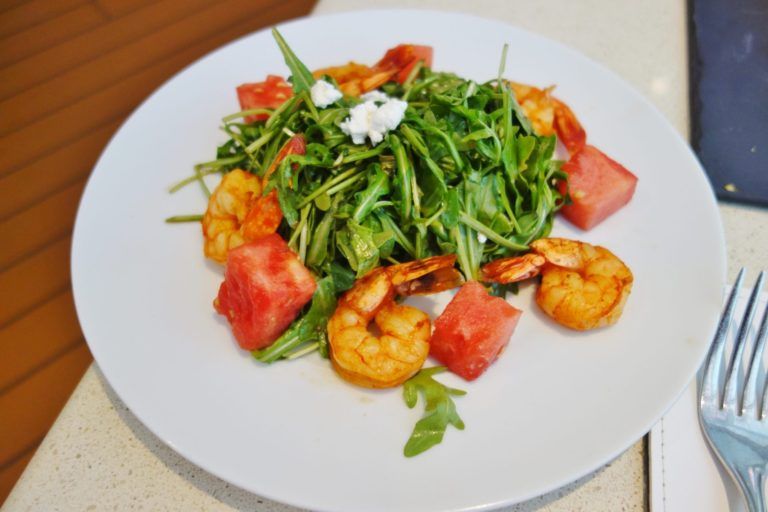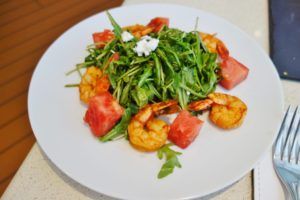 We were seated near 1pm, and Devinly Decadence proved to be just as good as the night before. The menu is basically the same as the dinner menu, minus the steak and a few other items. I ordered the beef stew and a delicious shrimp salad. The wife ordered the chicken satays and the buffalo flatbread pizza.
Everything was delicious with the exception of the buffalo flatbread; the barbeque one we had the night before was much better. Our server was hustling but still managed to be very friendly and accommodating. Upon completion of our meals, we did not even order dessert as the server came to our table with one of each, to make it easier for us and him I guess.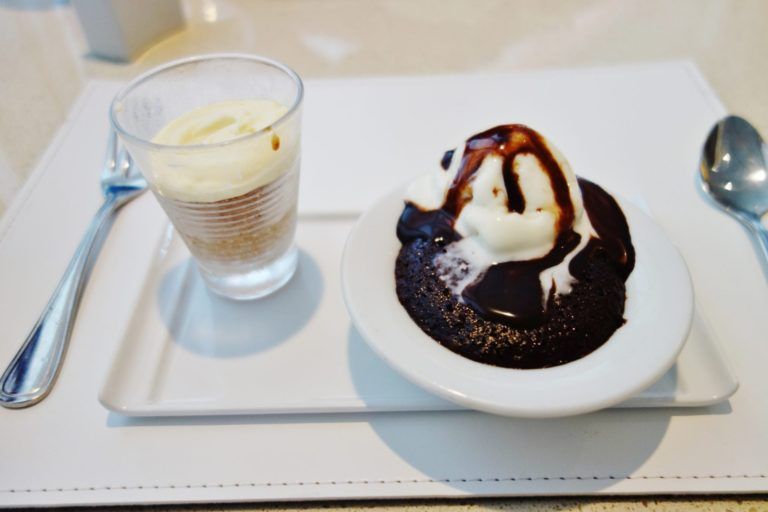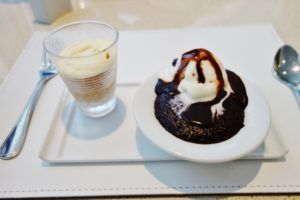 Already being in the Solarium, we went to the Sunshine Bar after lunch to finish off our drink around the ship. There is a full bar here as well as some specialty low calorie cocktails, also featured at Devinly Decadence. I tried something new, the Sparkly Greyhound, while the wife ordered a Power Pina Colada, as the one I had at lunch was so delicious. It was probably just our bartender, but her drink tasted much worse than the one I just had at the restaurant. Oh well, good thing we are not paying for these drinks!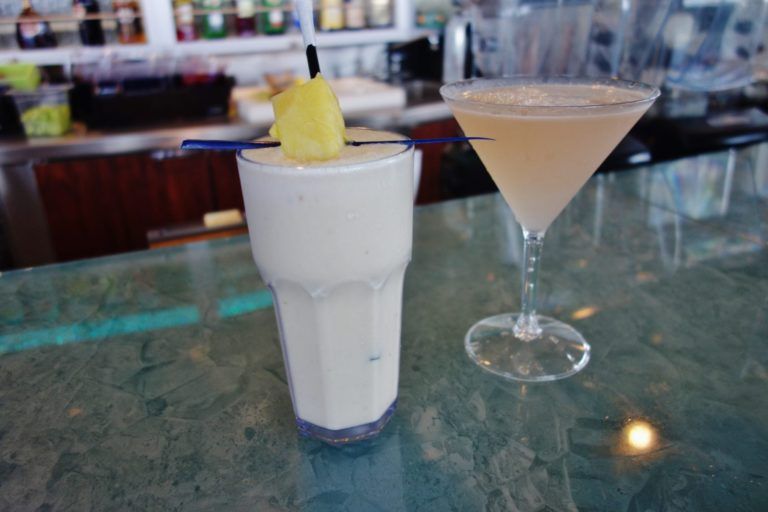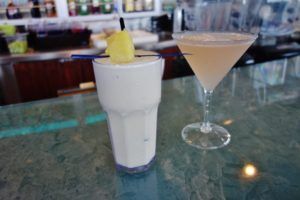 We meandered around the ship a bit more, getting caught up in some people watching. If you want to people watch, there is no better area than the Flowrider and iFLY. Wasting a bit more time here than expected, it was 4pm and time to head back to our room to get ready for dinner.
An "American" Dinner and Show
While the Princess showered and got ready, I spent some time on the computer. The free Wi-Fi was great for times like but it did become a crutch as I felt throughout the cruise everyone seemed to have their face in a smartphone or tablet.
The ship did not have the cruise community feel that we have experienced on other sailings.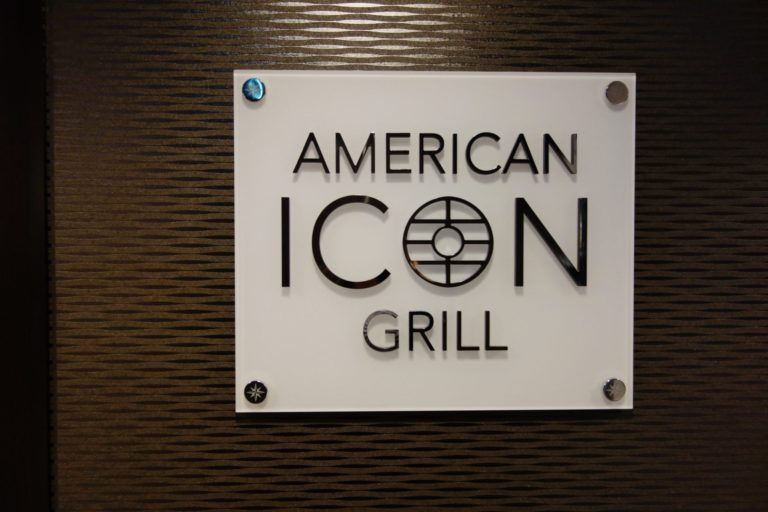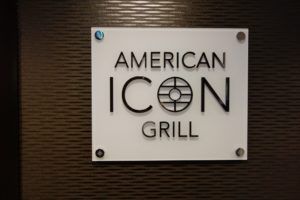 Tonight was our long awaited dinner at American Icon Grill. Even though we booked all of our restaurant reservations months in advance, somehow our reservation for American Icon Grill went missing on our onboard cruise planner. We did not notice this until Day 5, when I went to speak with the hostess at this restaurant.
Good thing I printed out a "hard copy" of our cruise planner calendar prior to sailing. Having this as proof of our reservation, the hostess ended up scheduling us for a 6pm reservation, making a note, and telling us to just show up for our original reservation time of 6:15pm.
Before dinner, I was able to convince the Princess to limit our photo session to only 2 stations tonight. We arrived at American Icon Grill on time and had no issues with our reservation. We were seated promptly all the way in the back of the restaurant, which seemed like a maze to get there.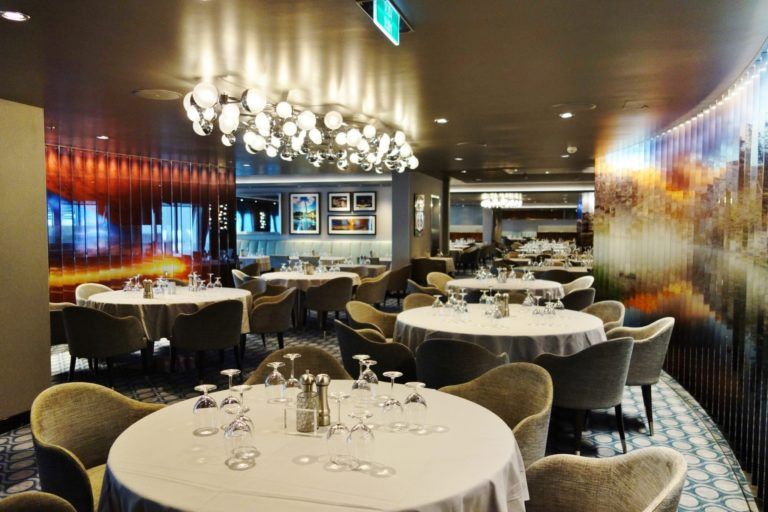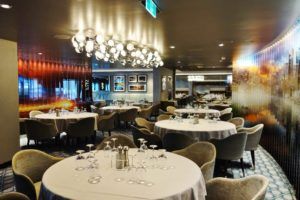 American Icon Grill was great. Getting mixed reviews online, we were definitely fans of the comfort food offered here, especially the Princess who enjoyed her mac and cheese and turkey dinner. The menu has changed a bit since our sailing, removing a few of the starters I enjoyed like the chicken wings.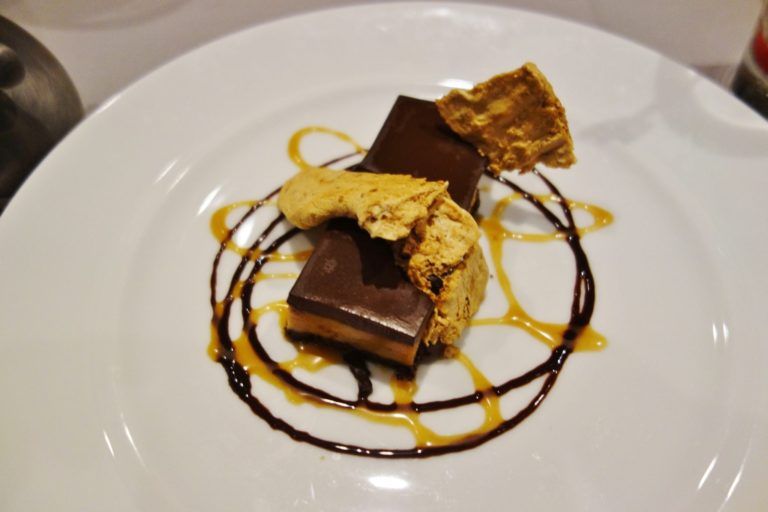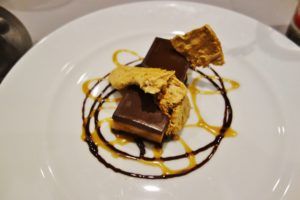 The desserts at American Icon Grill were probably the best of the cruise. Plus, our two servers were excellent. Very knowledgeable about the menu, friendly, and prompt, they were the best wait staff we had all cruise! You can dive into our picture review of American Icon Grill here.
Our last scheduled show of the cruise was Sonic Odyssey at 9:00pm. Given that American Icon Grill was not that busy, and we had an amazing wait staff, we were finished our dinner by 7:30pm and had some time to kill. We decided to get two of our favorite cocktails at the Two70 bar. Unfortunately, no there was no Vistarama playing at this time.
After relaxing in Two70 for about a half hour, we made our way to the theater. It was not even 8:15pm, and we encountered a mob of people on deck 5 waiting to get into the show, which turned into a crazy herd of cruisers on deck 4. Cruise ship etiquette and commonsense is thrown out the window when there are large crowds, but we politely made our way to the end of the line unlike many other fellow passengers. Before long, they had to start letting people into the theater.
Given the amount of people that entered before us, we were surprisingly still able to get our preferred seats. Upon entering the theater, your eyes are drawn to the main attraction, the Earth Harp. Created by William Close, this massive instrument is the center of attention in this production, along with other creative instruments inspired by this unique musician.
With a half hour until show time, we took advantage of our Ultimate Drink package and ordered some drinks. I think our waiter took a few too many orders to remember which ones went where, as we saw him walk by several times with our drinks before we could flag him down.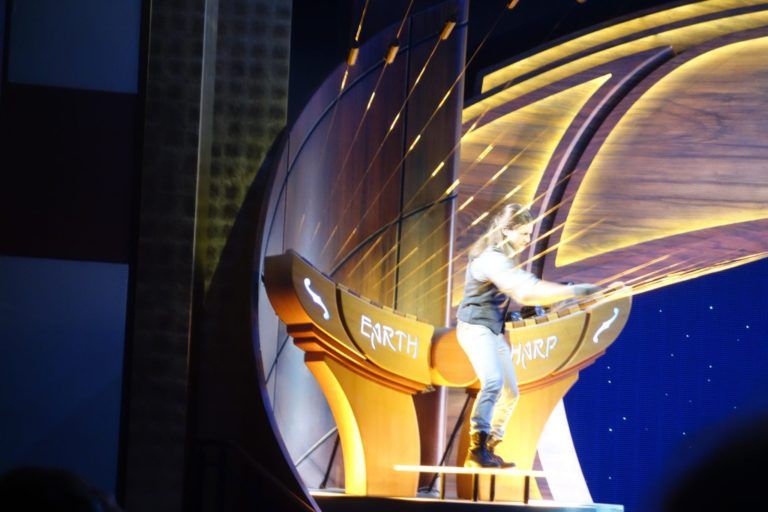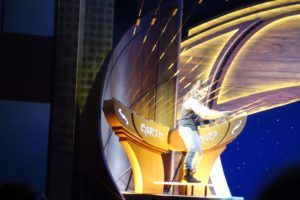 Sonic Odyssey felt more like a traditional cruise review show, with a slight twist. It features the same cast as Mamma Mia, along with the maestro who plays the Earth Harp and other instruments. With modern music and some great costumes, the Princess rated this performance as her favorite of the cruise. While I too really enjoyed the show, my favorite was still Starwater. To see and hear more about Sonic Odyssey, visit our complete review page.
Way Past our Bedtime!
Ending right at 10:00pm, we made our way to the Music Hall for Groovy Town. Anyone who has sailed on a Royal Caribbean cruise knows all about the 70s Disco Party. Happening in the Promenade or Centrum, this show features the cruise director's staff and crew dancing and singing the hits of the 1970s, complete with white leisure suits, a visit from RCI's very own Village People, and a massive conga line.
We learned at the Meet and Mingle a few days earlier that given customer feedback, Quantum of the Seas would change things up a bit by turning this brief "party" into an all-night event. By the time we got to the Music Hall, it was packed, but we squeezed in around the stage left on deck 3, standing room only.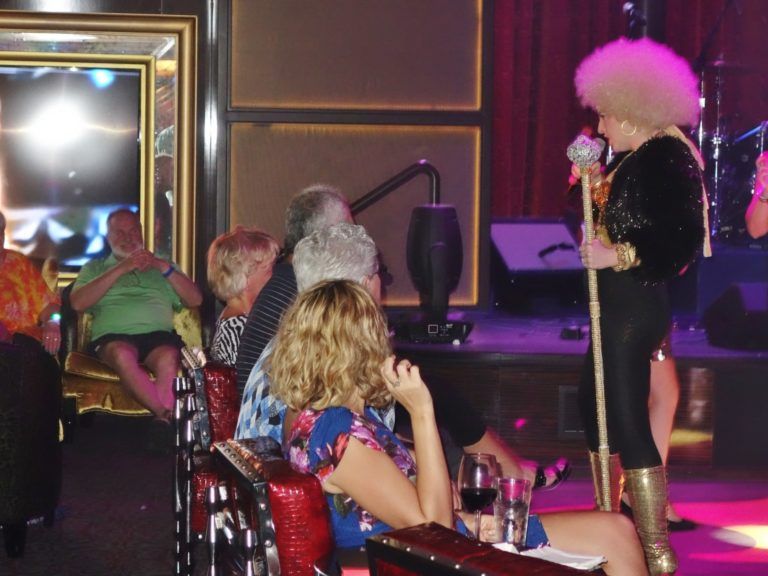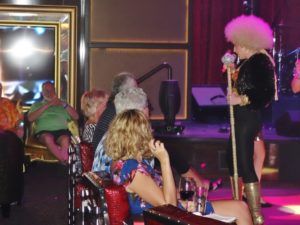 The party "officially" started at 10:30pm with the live music and cruise director staff decked out in 1970s outfits, complete with afro wigs. Walking throughout the venue, the singers and dancers engaged with the audience. It was a lively scene, and everyone seemed to be having a good time. By far, this was the busiest the Music Hall had been all week and the most crowded the ship ever felt.
With the music going and the crowd already deep into 1970s nostalgia, the party entered overdrive at 11:00pm, when the "mayor" of Groovy Town, the cruise director Jimmy Rhodes, appeared. Escorted by a small harem of ladies and dressed in full pimp outfit, the mayor of Groovy Town kicked the party into high gear.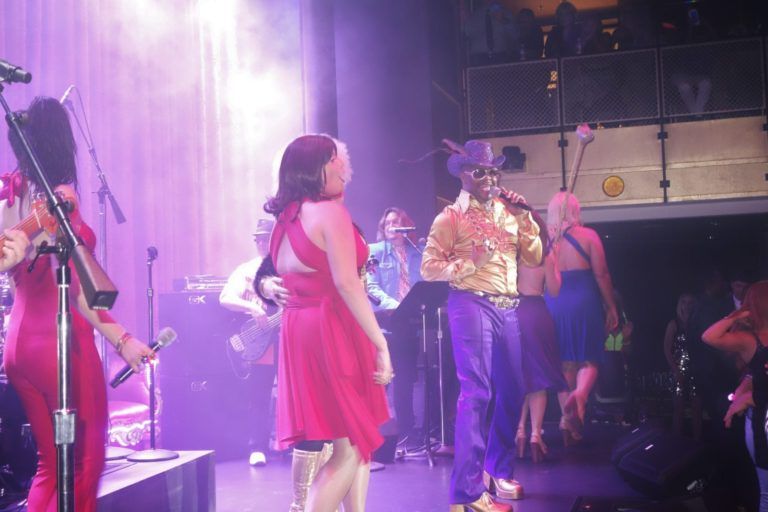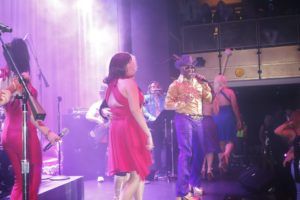 Groovy Town was definitely entertaining to watch. Jimmy routinely walked around the Music Hall to engage with the crowd. He also at one point got behind the bar and started making drinks, in character.
Luckily, a group of people left around 11:15pm, so we scored some seats. Ordering a few drinks, we could now sit back and enjoy this party that lasted until 12:00pm.
At midnight, the party transitioned from Groovy Town to a Battle of the DJ's. Perhaps it was the cocktails, but even though it was late for us, we were in full party mode. Well, full party mode for us translates to me dancing in my seat with the Princess looking on discouragingly!
The party ended at 1:30am, and it was definitely time to call it a night. Wait, is the ship swaying or is it me?
[/et_pb_tab][et_pb_tab title="Day 8″]
Quantum of the Seas Review
Day 8 – Final Day at Sea
A Day Inside
The most depressing day of the cruise is always the last day. One more chance to get your fill of all the ship has to offer. Sadly, given the time of year and our current position in the Atlantic, this day would not be conducive to much outdoor activity. The outside decks were open, but it was bitterly cold and rainy.
Given our late night in the Music Hall, the Princess and I slept in a bit today. Really not feeling all that energetic, our mood matched the weather this morning. We got ready and headed down to La Patisserie for some hot caramel lattes. No more iced beverages on this cruise. Given the time and that the Princess wanted to try American Icon Grill for lunch, we skipped breakfast.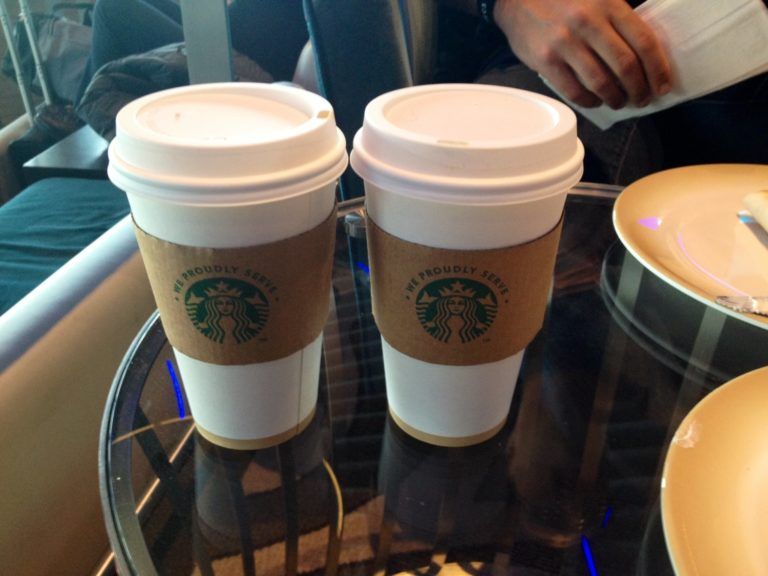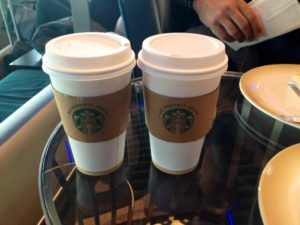 Early in the cruise, I purchased an inaugural Quantum of the Seas t-shirt. But, who could miss the huge $10 t-shirt sale that was in full effect on deck 4, right outside the coffee shop. Of course, the Princess got swept up in this mob of fellow deal seekers trying to find their favorite cruise shirt. The one design I did like was sold out of my size already, but I somehow got stuck waiting in line to purchase 3 t-shirts.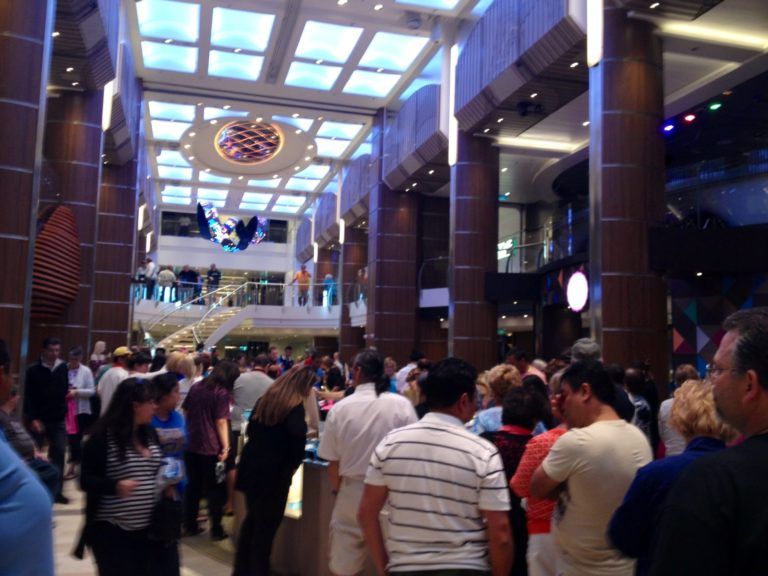 Our shopping spree continued as we went to the Photo Gallery to buy our photo CD of digital photos next. Busy and full of cruisers buying cruise memories, we were lucky to get one of the working tablets. We had agreed on the 20 digital photo package which was priced at $240.
We had looked through our photos on a few occasions and narrowed down our choices to the top 25 or so. One more look through our 200 photos, and we had reached an agreement on which 20 pictures would be purchased. Once you purchase the digital package, you have to go back and add the photos to your order, one by one, until you run out of credits. Once our order was complete, we were told to come back after 11pm to pick up the CD. While there, we also purchased one of the 8 X 10 ship frames that featured light up fireworks.
To date, we have not printed a picture to go in the frame!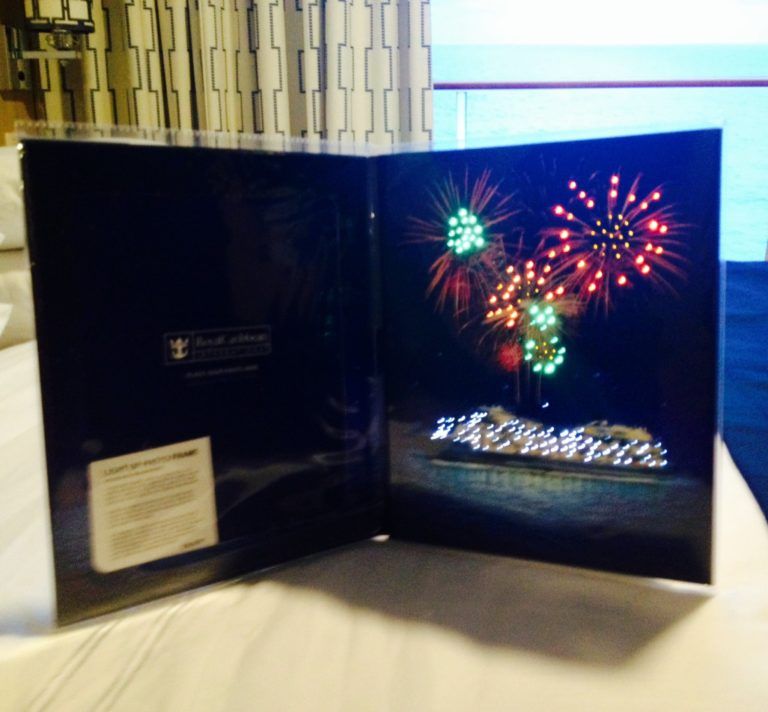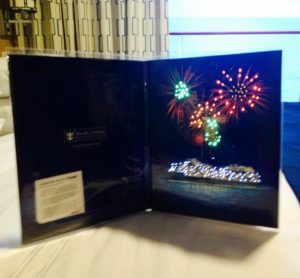 Captain's Corner
All this work done, it was approaching noon, so we slowly walked over to American Icon Grill. It was going to be a tight schedule, getting through lunch and to the Captain's Corner for 1pm. But, it was lunch; it could be done, or so we thought!
Our server was not the most personable, and the service was very slow. I ordered the chicken wings for a starter, and the wife ordered the New England clam chowder. Being New Englanders, it did not really live up to her expectations. Being a bit rushed by the time the entrees arrived, I woofed down my steak burger, which was actually really good, and the Princess devoured her chicken sandwich.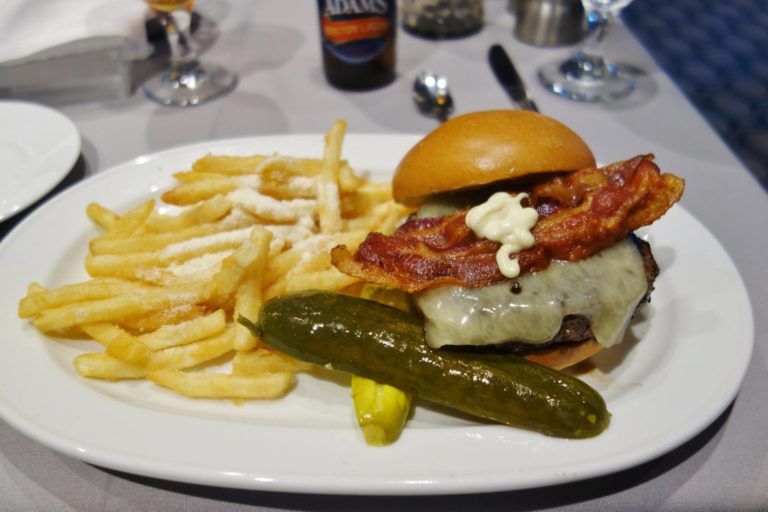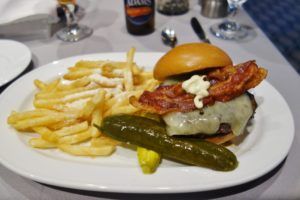 And, we were off with no dessert. The dessert menu, from what we could read over our neighbor's shoulder, looked to be about the same at the dinner desserts.
Getting to the Captain's Corner in Two70 slightly after 1pm, it was standing room only so we improvised and made our own seats, essential sitting on the railing and steps to the left of the stage. This presentation included the Cruise Director, the Captain, the Head of Engineering, the Hotel Director, and the Environmental Officer.
Most of the early questions were pretty basic about the ship's speed, how it was built, and other features of the ship. We actually knew many of those answers already.
One question was asked about changes that would be made to the ship when she moves to China. As suspected, the Hotel Director indicated that the gaming would be increase, and the Music Hall would be refitted to be a high rollers' club. More shopping would be added, and the Johnny Rockets would be converted into a fast food noodle house. Someone asked if Royal Caribbean would be making the Wi-Fi free for all sailings—a nice request, but certainly not sustainable. All in all, it was a very informative and light hearted hour.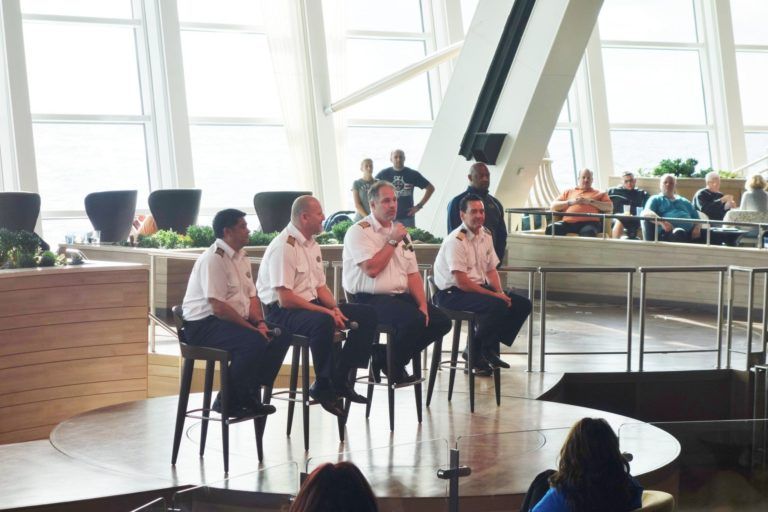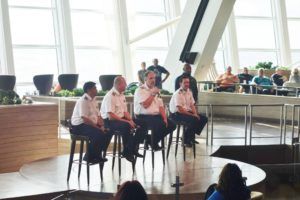 One good outcome of the Captain's Corner was that the afternoon Patriot's playoff game was now going to be shown on the Roboscreens in Two70 per the request of fellow cruisers. It was way too cold to watch the game on the outdoor movie screen!
So, now we had a few hours to kill. Did someone say casino? First, we made a quick cookie run to the Windjammer. Hey, we didn't get dessert at lunch. With a nice little run at the roulette table on our last day, we were able to escape not completely bankrupt!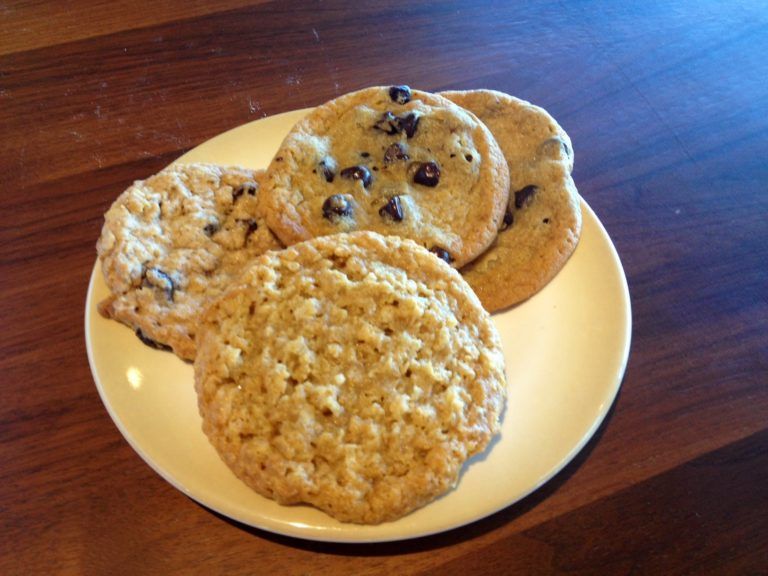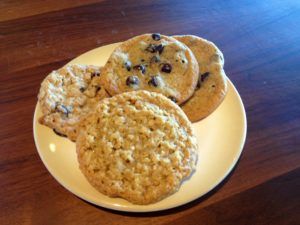 We headed back to Two70 around 4:00pm, and good thing, as seats were already at a slim picking. We were stuck sitting farther away from the screen than I would have liked. There was a meet and greet with Puss in Boots from Shrek at 4pm. With mostly all children in line, and a packed theater, for some reason The Princess now felt a bit awkward walking down to take pictures with the DreamWorks character.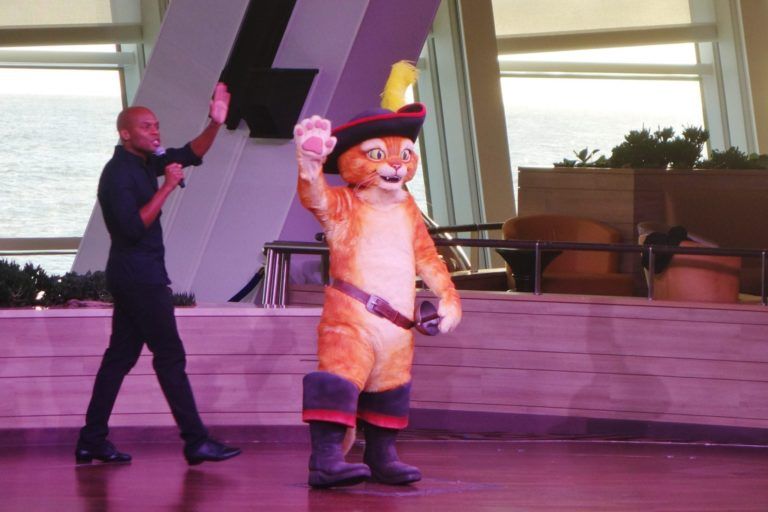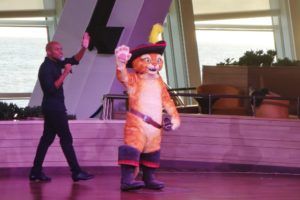 There was a Roboshow at 4:30pm, and then it was football time. Our dinner reservations tonight were at Jamie's Italian for 6:15pm, so we could only watch about an hour of the game. Leaving with the Patriots down, they would rally to win the game and eventually the Super Bowl. We headed back to our rooms around 5:30pm for a quick costume change.
Last Night on the Ship
Dinner was excellent, the best Italian food ever on a cruise ship. The fried calamari at Jamie's was some of the best squid that I have ever had, on land or sea. The homemade pasta, heavier than what you normally get at a restaurant, was also fabulous. Service was on point, and the food and atmosphere were perfect for our last day on the cruise ship. For more pictures and details about dinner at Jamie's Italian restaurant read our full review.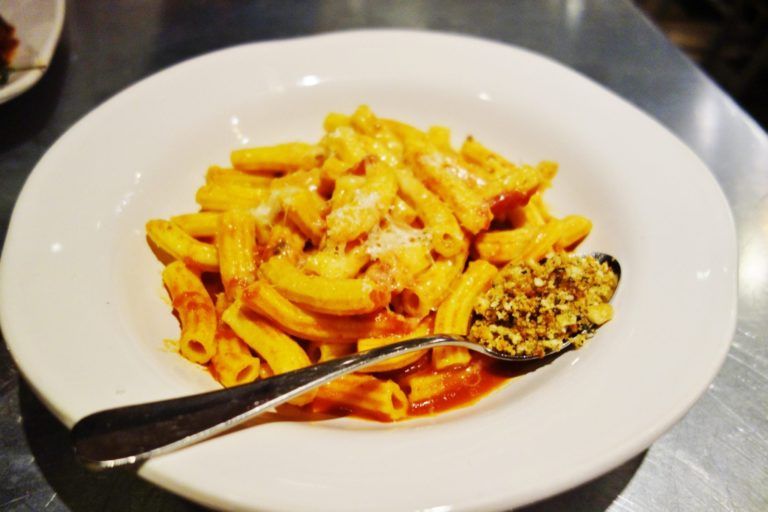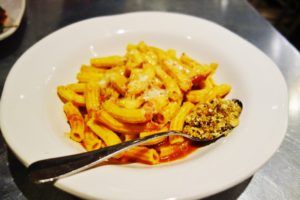 Dinner wrapped up around 7:45pm, and with no official entertainment for the evening, we had some free reign on this last night. But, before any more fun could be had, we needed to pack. We always walk off the ship with our bags, so we did not have to worry about putting them outside our room. While completing our packing, we had an opportunity to catch the entire showing of the Love and Marriage Game Show on our TV, which we missed on night 3.
During the Battle of the DJ's the night before, there was mention that there was going to be the first ever jam session, featuring the different bands from Quantum of the Seas, from 9pm to 11pm. This sounded like something worth checking out. We did have to stay up until 11pm to get our photo CD, so why not make good use of our time.
When we got to the Music Hall about 9:30pm, it was rather empty. With the mix of music all over the map from Horizons the rock band, to Latin Dance Music, to Calypso Music, to music from the Quantum of the Seas Orchestra, this session was not exactly what we expected. Good thing we had a few of our favorite cocktails to enjoy.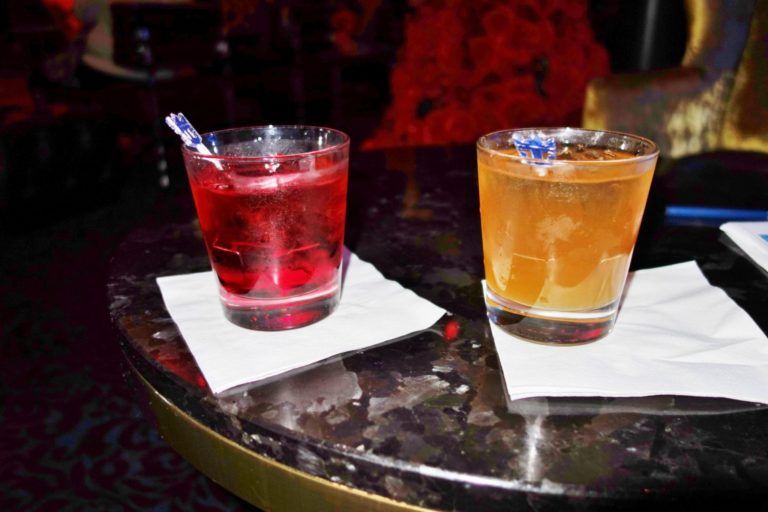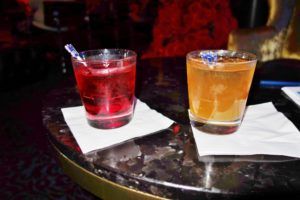 We relaxed here until 11pm, until we could go claim our CD at the Photo Gallery. Only thing, it was not ready. We were told to come back the next morning after 6:30am. A bit frustrated, and admittedly exhausted, we traveled back to our room through a sea of suitcases scattered throughout the hallways.
[/et_pb_tab][et_pb_tab title="Day 9″]
Quantum of the Seas Review
Day 9 – A Long Drive Home
Our cruise on the world's first smart ship, Quantum of the Seas, was over! We were back in Cape Liberty, NJ, complete with a light coating of snow on the ground.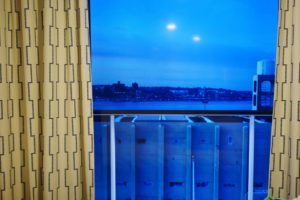 Given that we were driving home, and not catching a flight, we were in less of a rush this morning. We woke up around 6:30am. With all our packing done; we decided to get some coffee and breakfast at Café Two70 around 8am. The drink package does still work on the morning of disembarkation. Café Two70 was very busy and had few options, no breakfast burritos and no egg mcmuffin sandwiches.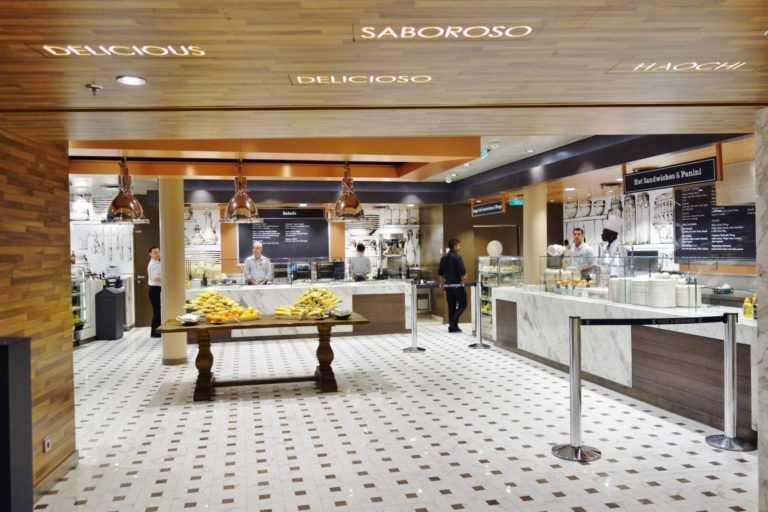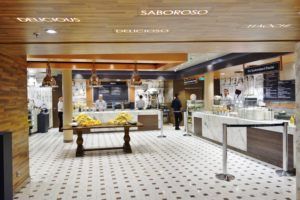 As we were leaving Two70, we did notice a small line for exiting the ship but thought nothing of it. We headed back to the room to grab our bags, double checked that we had everything, and then exited with all of our belongings. It surprisingly only took a few minutes for us to get an elevator that we could squeeze into with all of our stuff.
Exiting on deck 5, we were greeted by an exponentially longer line than only a few minutes ago. Not sure exactly what happened, but the disembarkation line was at a standstill. The cruise staff directed us to the huge line that wrapped around the entire Via area. We would wait for almost 45 minutes, going nowhere, until reportedly another gangway opened, and the line started moving.
Lucky for us there were no deadlines, just our car parked at the hotel we stayed the night prior to our cruise. The couple behind us had a tight bus and train schedule and was getting concerned with each passing minute. They were traveling with another couple who they called after waiting about 30 minutes in line. To the gentleman's shock, the other couple, who left the cabin after them, was already at customs!
We finally exited the ship about 9:30 am. Once the line started moving, it was a walk down the gangway and through customs in less than 15 minutes.   Once through customs, there were masses of people and Royal Caribbean staff that seemed flustered and unorganized. So, trying to figure out where to get a taxi proved difficult.
The taxi stand area was another frenzied situation. The company seemed unable to handle the requests from travelers going to various NYC and NJ locations. One girl asked us at least 5 times where we were headed. Trying to group travelers together going to similar points as there were many larger vehicles and not enough taxis, we were put on a shared van going to Newark Airport about 20 minutes later.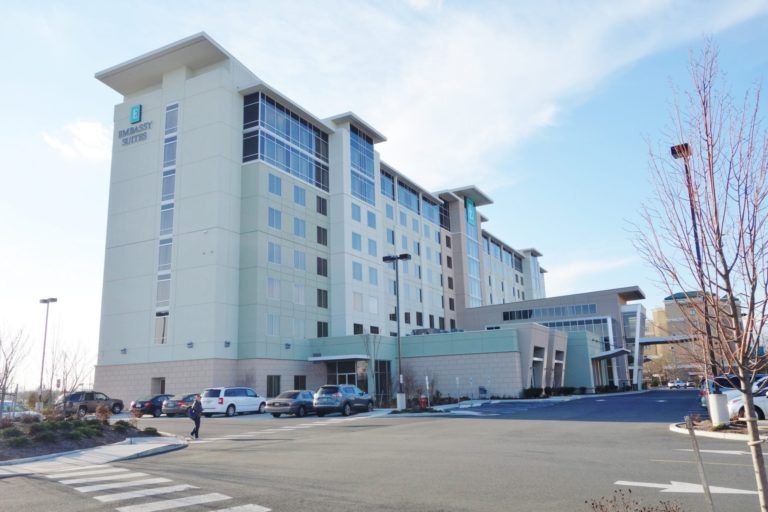 After an approximately 35 minute ride, stopping at a few airport terminals and one other hotel, we were back at the Embassy Suites in Elizabeth, NJ by 10:30am. My Jeep was still parked in the same spot, and given the cold temperatures, fingers crossed that she would start.
After a quick bathroom break, it was destination home, beginning the approximately four hour drive. Similar to our trip down to NJ, we did not encounter any traffic.
Stopping once in the middle of Connecticut for some fuel, Starbucks, and a quick bathroom break, we were back home in Southern Massachusetts by 2:30pm. Unpacking and laundry on tap for our afternoon, we could not help think about the other travelers now on Quantum, taking pictures and enjoying this beautiful ship.
With the exception of a short 3 night Bahamas cruise at the end of February, it will be a full year before we get to go on another extended trip –our 12 day cruise on Anthem of the Seas in January 2016. With all the knowledge we now have from sailing on Quantum of the Seas, we are going to be fully prepared for that voyage. Unless of course, in the meantime, Royal Caribbean throws some curve balls, like totally changing Dynamic Dining…
[/et_pb_tab] [/et_pb_tabs][/et_pb_column][/et_pb_row][et_pb_row admin_label="row"][et_pb_column type="1_4″][/et_pb_column][et_pb_column type="1_2″][/et_pb_column][et_pb_column type="1_4″][/et_pb_column][/et_pb_row][et_pb_row admin_label="row"][et_pb_column type="4_4″][/et_pb_column][/et_pb_row][et_pb_row admin_label="row"][et_pb_column type="1_4″][/et_pb_column][et_pb_column type="1_4″][/et_pb_column][et_pb_column type="1_4″][/et_pb_column][et_pb_column type="1_4″][/et_pb_column][/et_pb_row][et_pb_row admin_label="row"][et_pb_column type="1_4″][/et_pb_column][et_pb_column type="1_4″][/et_pb_column][et_pb_column type="1_4″][/et_pb_column][et_pb_column type="1_4″][/et_pb_column][/et_pb_row][et_pb_row admin_label="row"][et_pb_column type="4_4″][/et_pb_column][/et_pb_row][et_pb_row admin_label="row"][et_pb_column type="1_3″][/et_pb_column][et_pb_column type="1_3″][/et_pb_column][et_pb_column type="1_3″][/et_pb_column][/et_pb_row][et_pb_row admin_label="row"][et_pb_column type="1_3″][/et_pb_column][et_pb_column type="1_3″][/et_pb_column][et_pb_column type="1_3″][/et_pb_column][/et_pb_row][et_pb_row admin_label="row"][et_pb_column type="4_4″][/et_pb_column][/et_pb_row][et_pb_row admin_label="row"][et_pb_column type="1_3″][/et_pb_column][et_pb_column type="1_3″][/et_pb_column][et_pb_column type="1_3″][/et_pb_column][/et_pb_row][/et_pb_section]