MSC CRUISES OFFERS NEW CHILDREN'S ENTERTAINMENT WITH AN EXPANDED KIDS CLUB ON UPCOMING MSC EURIBIA
The new offerings demonstrate MSC Cruises' continued commitment to providing families with innovative and diverse entertainment
MSC Euribia offers seven rooms dedicated to children and teenagers, with more than 100 hours of live entertainment organized by MSC Cruises' clubs
Cruises will feature numerous live family activities and shows alongside primetime activities for teens organized by MSC Cruises' youth staff
MSC Cruises announces plans to bring the line's award-winning kids and family offerings to new heights on board its latest flagship, MSC Euribia, which is set to begin sailing this June. The action-packed program will invite guests of all ages to enjoy a variety of new entertainment options, adding to MSC Cruises' wealth of enriching and innovative experiences at sea.
As a family-owned company, MSC Cruises focuses on providing exceptional family entertainment. MSC Euribia's new kids area will span seven rooms covering more than 7,500 square feet. Each room is dedicated to different age groups, from 0 to 17 years old. Two rooms will be focused on sustainability to help educate children on the importance of the environment. Another will focus on technological innovation in the digital age.
Matteo Mancini, MSC Cruises' Youth Entertainment Senior Manager, said, "We are excited to announce our family-friendly offerings on board MSC Euribia. Designed with the latest technology and taking into account current trends, we want to meet the needs of new generations of children and their families for years to come. The onboard entertainment will reflect MSC Euribia's message of sustainability, with new innovations and environmental components integrated into the cruise experience."
The fun never stops on board, thanks to expanded entertainment options during the extended hours of 9:00am-Midnight.
Highlights of the new offerings on MSC Euribia
Chicco Eco + Baby Club: Designed by Artsana group with sustainability in mind, the ship's new Chicco Eco + Baby club is a partnership with renowned baby brand Chicco. It will feature a designated play area for babies and toddlers under three years old. The space will keep children entertained with safe and environmentally friendly toys made with 80% recycled plastic, or 67% organic and recycled plastic.
MSC Foundation Youth Center: The ship will feature a dedicated space for kids to participate in fun and educational activities. Here, they can learn more about the importance of the environment while their parents learn about the MSC Foundation's programs and causes.
Teens Club Extra Space: This new and innovative space will feature a fun-filled room dedicated to teens. It will provide even more space and activities to meet the needs of MSC Cruises' teenage guests. It offers PlayStation 5, Xbox Series X, Nintendo Switch, VR, foosball, table tennis, and more.
World Quest: The ship's new game show is based on worldwide geography and trivia, offering guests an interactive journey on board and the opportunity to win prizes.
Caravaggio: For the first time on board, MSC Cruises has created an unforgettable spy game show dedicated to art. The immersive game will allow guests to investigate a museum art heist and attempt to catch the thief.
The Kids Clubs on board will include:
For babies: Chicco Eco + Baby Club (0 -2 years) with qualified crew members certified in caring for our youngest guests
For younger kids: Mini Club (3 – 6 years), and Juniors Club (7 – 11 years)
For older kids: Young Club (12 – 14 years old), Teens Club (15 – 17 years), and Teens Lab (12 -17 years)
For children and adults: MSC Foundation Youth Center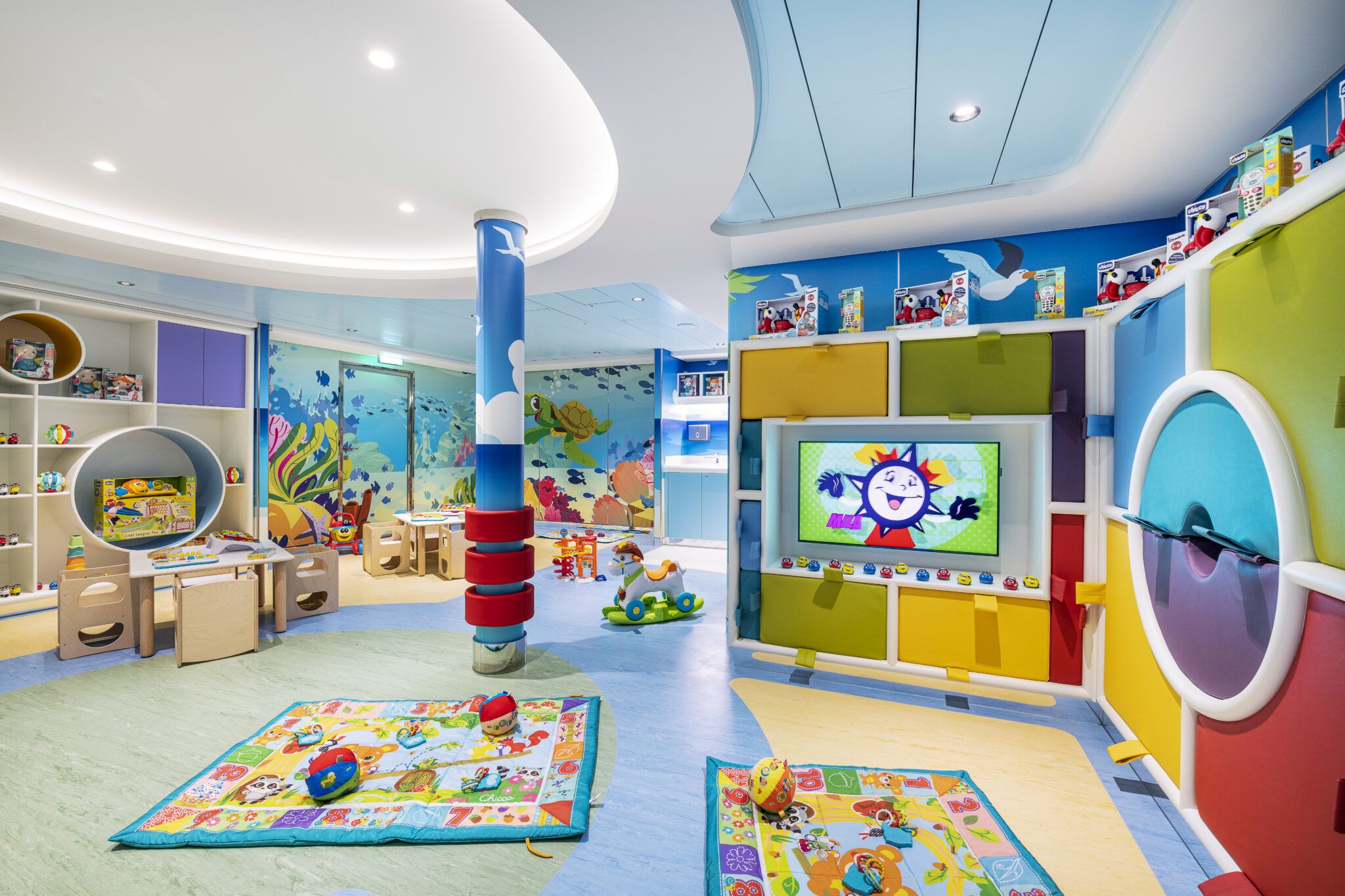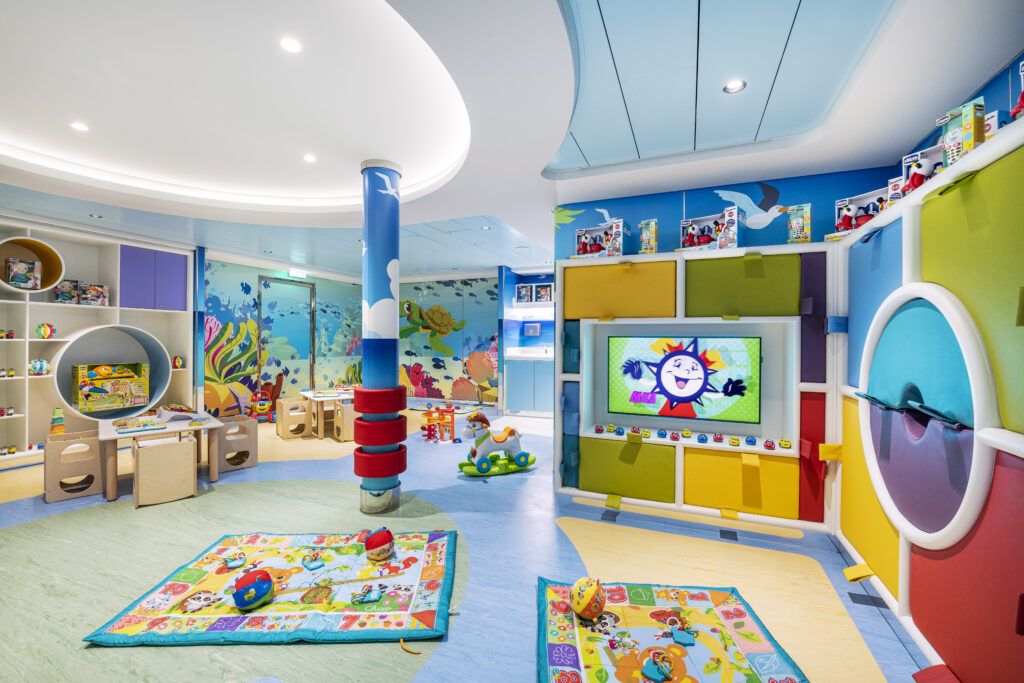 Overview of Other Family Entertainment onboard MSC Euribia
Z Active: Children and teens can enjoy an exciting new sports program featuring soccer, basketball, zorb ball, pickleball, and hoverboarding.
MasterChef at Sea Juniors: Bringing the successful MasterChef TV show to life, the onboard experience will feature an exciting cooking competition on stage for kids ages 5 – 12. The experience will let kids express their cooking creativity and encourage healthy eating habits.
MSC Dance Crew: A thrilling competition developed in partnership with Fremantle, the production company behind TV shows like Idols, The X Factor, and the Got Talent series. The MSC Dance Crew will feature teams of guests from 10 to 17 years old competing to win the ultimate title of dance crew of the year.
Cabin 12006 – The Secret Game: Derived from the MSC original "Cabin 12006" web series, guests will be invited on a truly memorable experience to participate in a game of solving mysteries on board. It will combine music, videos, Tik Tok trials, memory games, and more.
Break the Wall: An immersive high-tech game show where guests stand in front of a giant digital wall determining which surprise tests will be performed on stage, in front of a jury composed of audience members.
Doremiland, Documentary: In the style of a documentary, an exclusive travel show featuring children and teenagers will play on in-cabin televisions. It will offer a captivating behind-the-scenes look at MSC Cruises' exceptional family products and offerings.
Drone Academy 2.0: A lively and high-tech relay race involving glowing drones and obstacles will come to life at night. The unique experience will use POV cameras and VR, allowing guests to compete in teams by navigating through 15 obstacles in the quickest time possible.
To find out more about MSC Euribia, please click here.
Comments
Are you happy to hear that MSC Cruises offers an expanded Kids Club on MSC Euribia? Do you book a cruise based on the family offerings onboard? Drop us an anchor below to share what you love about MSC Cruises.
Stay up to date with the latest cruise news and travel updates!