Over the past several years, cruise lines have been busy building some of the most exhilarating and innovative ships at sea. Introducing so many technological enhancements and firsts at sea, the major cruise lines are always looking for ways to differentiate themselves and offer travelers a one of a kind experience. In recent years, the cruise industry has stepped up its appeal to multi-generational families by offering activities that cater to all ages. For all the adrenaline junkies, these are the 12 Most Thrilling Things to Do on a Cruise Ship!
Yes, You Can Really Do These 12 Things on a Cruise Ship!
Ride a Rollercoaster
Just when you thought the cruise lines couldn't dream up another crazy attraction to build on a cruise ship, Carnival Cruise Line announced Bolt. Debuting on Carnival Mardi Gras will be the very first rollercoaster at sea. Bolt is an all-electric thrill ride that puts you in the driver's seat. You will be able to control the speed of the car as you zip along this open-air course suspended high above the ship.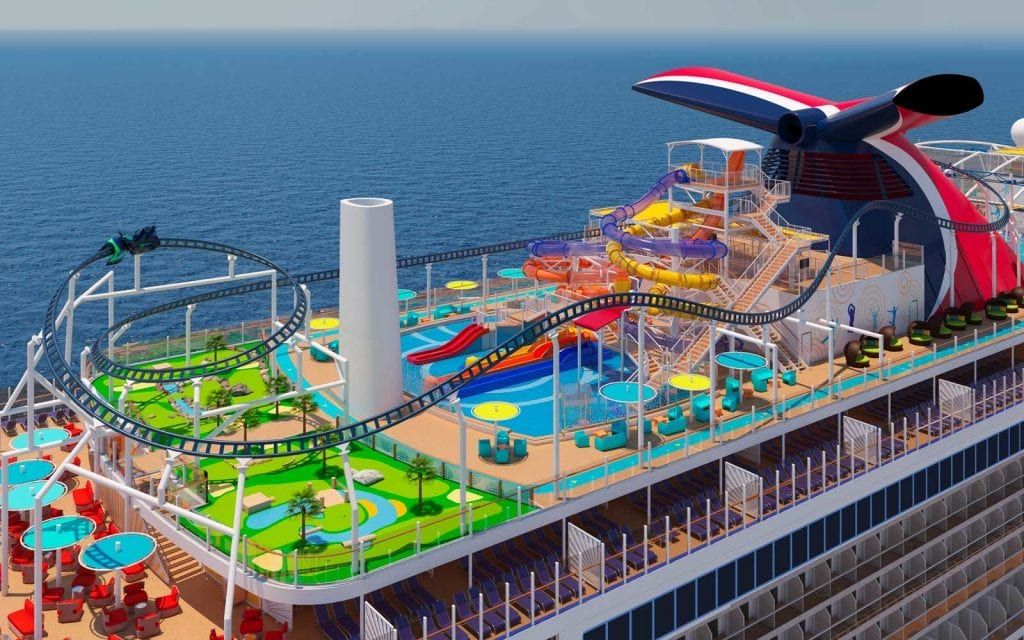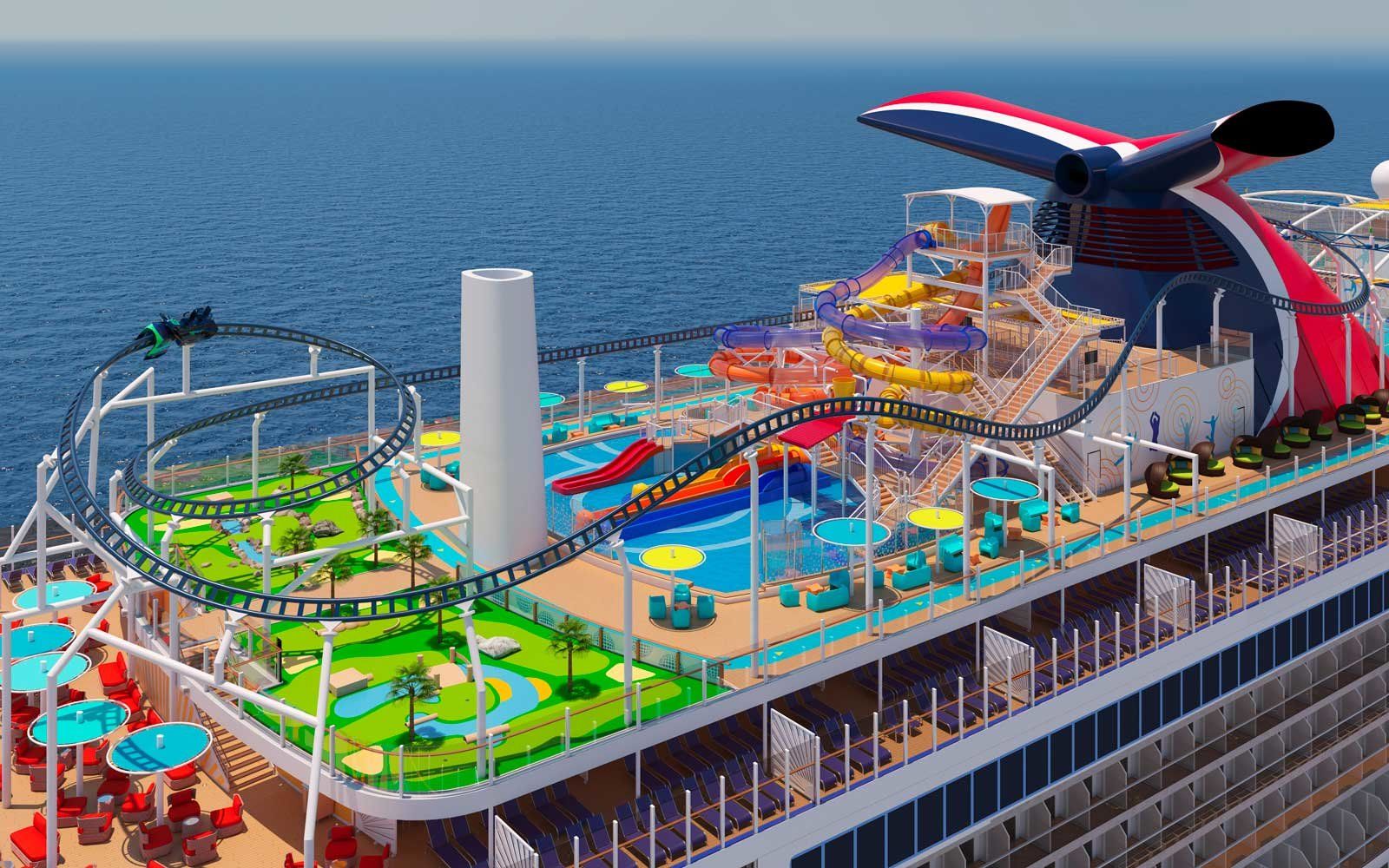 Related Post: Things You Can Only Find on Carnival Cruise Line
Go Sky Diving
On Royal Caribbean's Quantum-class ships you can actually go sky diving. With the line's signature Ripcord by iFLY you can literally fly while cruising the Caribbean. This skydiving simulator is certainly one of the most hair-raising experiences you will find on any cruise ship. This 60-second "flight" will surely be one of the highlights of your cruise.
Zoom Around a Racetrack
Not to be outdone, you can challenge your family and friends on a racetrack on a couple Norwegian Cruise Line ships. Yes, you read that correctly. There is a racetrack on a cruise ship! This two-story track features electric race cars that can reach up to 30 miles per hour. Racers of all abilities have the opportunity to compete in this exhilarating onboard activity. Do you feel the need for speed?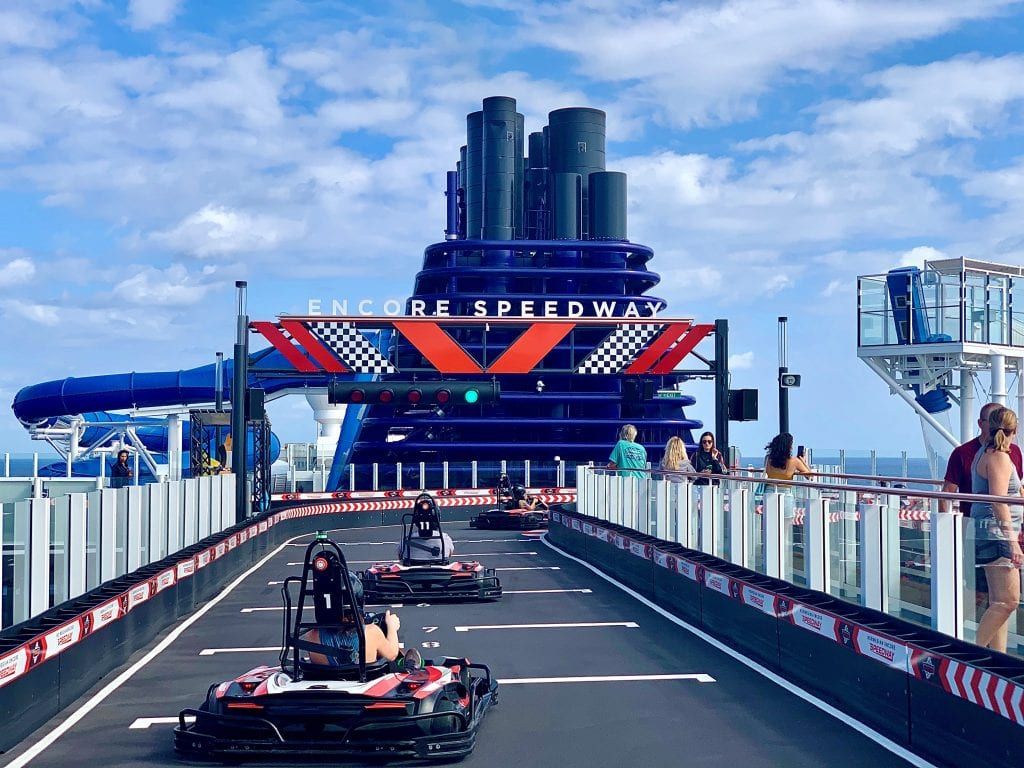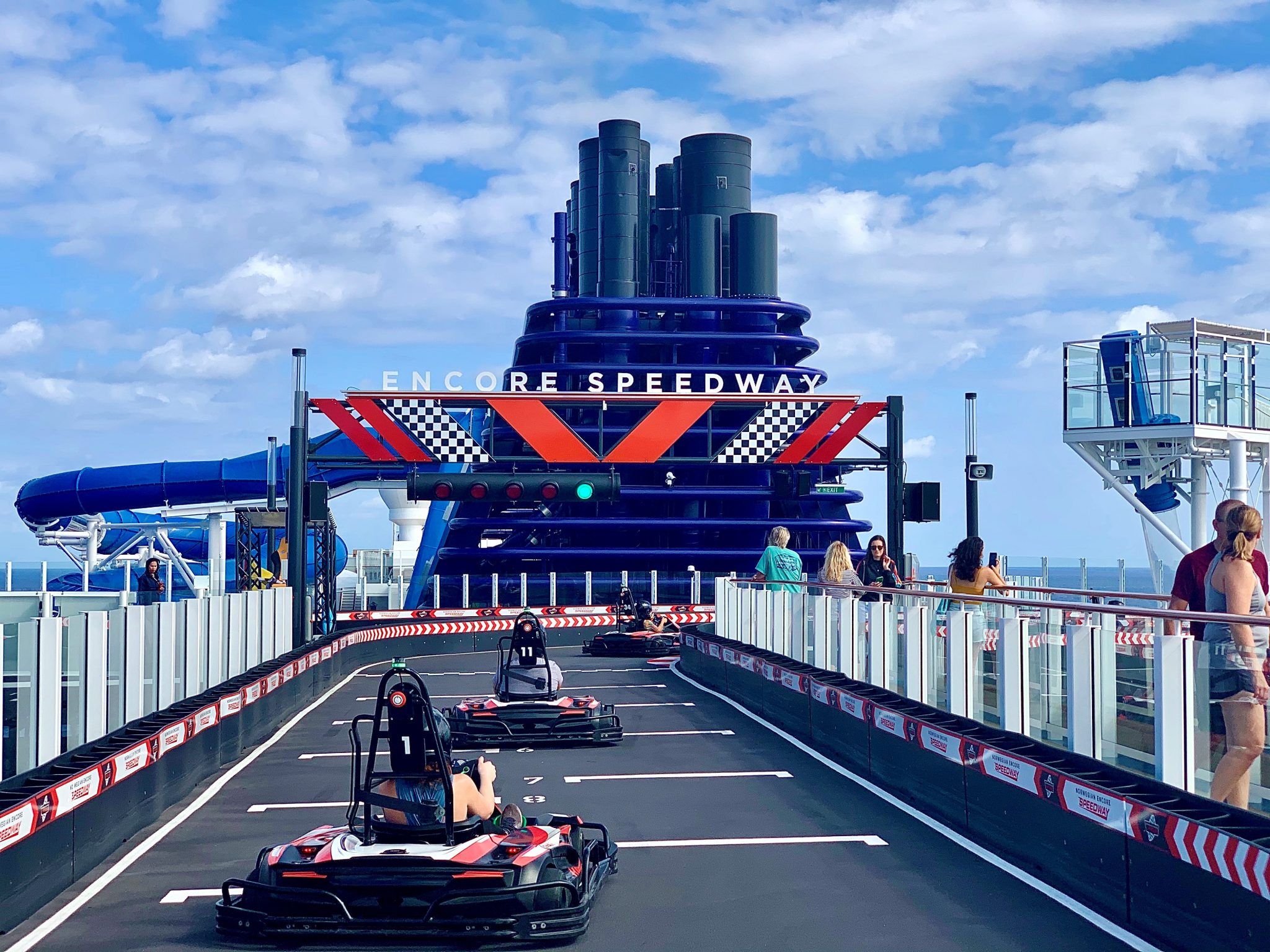 In Royal Caribbean's SeaPlex, the largest indoor sports complex at sea, you can also bounce around in some bumper cars.
Related Post: Norwegian Encore Cruise Review
Zipline
While Royal Caribbean debuted the first zipline at sea on Oasis of the Seas, MSC Cruises now features the longest zipline on a cruise ship. On the brand's Seaside and Seaview, cruisers can soar across the ship on a line that it over 4 times longer than its predecessor. These dual racing zip lines are 345 feet long and even extend over the side of the ship 20 decks above the ocean. Now, that's one of the most thrilling things to do on a cruise ship!
Go Surfing
You don't need to travel to Hawaii or the Pacific to surf on your cruise. When you sail on several of the ships in Royal Caribbean's fleet, you can bodyboard or surf right on the pool deck. The line's signature Flowrider is a surf simulator that allows you to "hang ten" without even leaving the cruise ship. This wet and wild activity is fun for all ages.
Jump Around in a Trampoline Park
The Sky Zone which debuted on Carnival Panorama is a first at sea indoor trampoline and challenge zone for thrillseekers of all ages. This arena is a two-story, 3,000+ square foot space that offers a variety of activities including a climbing wall and ladder, a balance and jousting beam, basketball experiences, dodge ball, and more.
While Carnival features a full challenge park, Royal Caribbean also offers the unique Sky Pad on select ships. This outdoor bungee trampoline experience gives you the opportunity to get some serious airtime. This high-flying activity gets a digital upgrade with headsets that include different games which immerse you in an out of this world adventure.
Walk the Plank
Are you daring enough to venture eight feet over the edge of the cruise ship? Did we mention you will be suspended hundreds of feet above sea level? It is honestly just as exciting and terrifying as it sounds. The Plank on select Norwegian Cruise Line ships is the only activity of its kind at sea. You will need to pass several rope challenges before testing your balance high above the sea on the plank.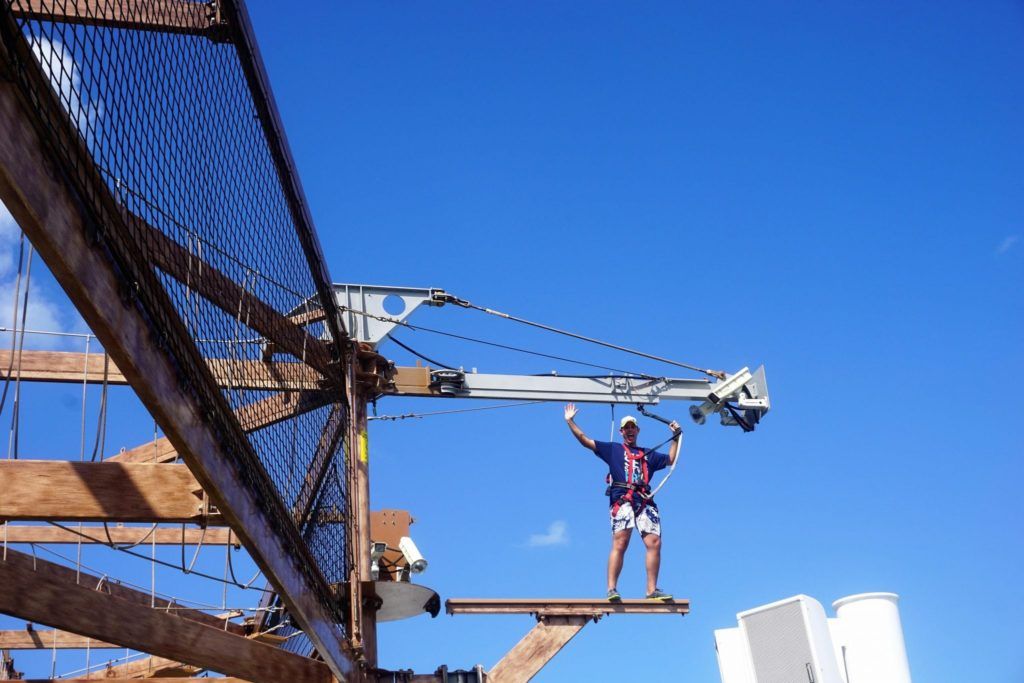 Yes, other cruise lines offer ropes courses too like Carnival and the Himalayan Bridge at the aft of select MSC Cruises' ships, but none of them are as thrilling as walking the plank on an NCL ship!
Related Post: Things to You Can Only Find on NCL
Go Ice Skating (or Roller Skating)
The Studio B ice skating rink can be found on several ships in the Royal Caribbean fleet. In addition to featuring production shows with world-class skaters, you too can lace up some skates as Studio B is open on select days for skating sessions. Where else can you ice skate in the Caribbean and Bahamas?
If that's not enough, you can also put your roller skating abilities to the test on Royal Caribbean's Quantum-class ships during select times in the SeaPlex.
Ride an Aerial Bike Over the Ocean
For a bird's eye view of the ocean and pool deck with a bit less of an adrenaline rush, cruisers on Carnival Vista, Horizon, and Panorama can enjoy the SkyRide. This unique attraction found only on Carnival Cruise Line ships is a two lane bicycle track suspended high above sea level.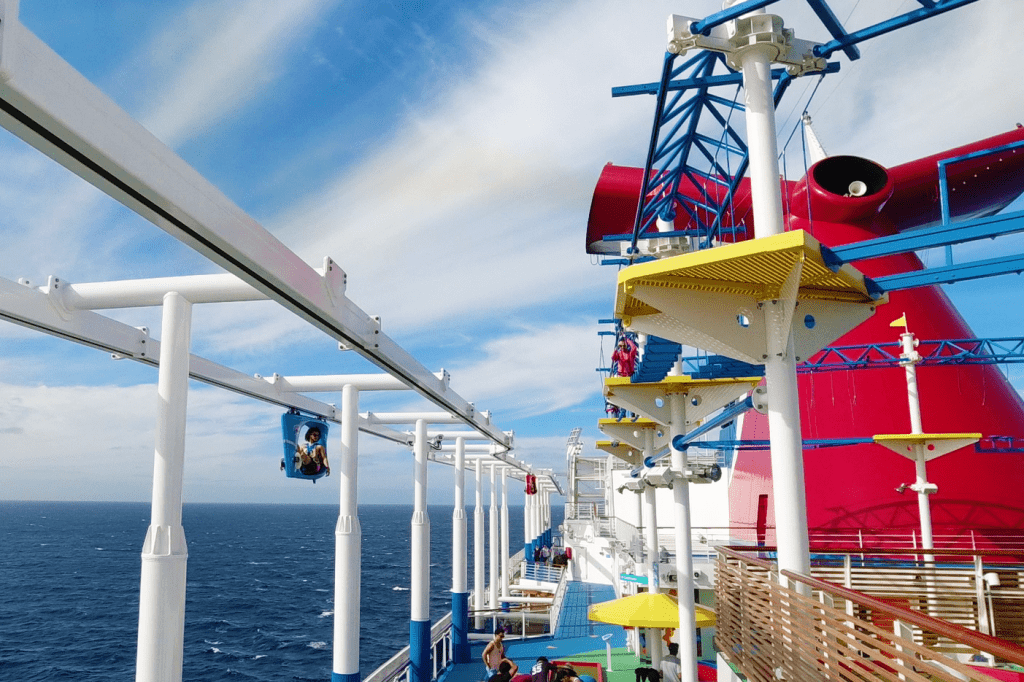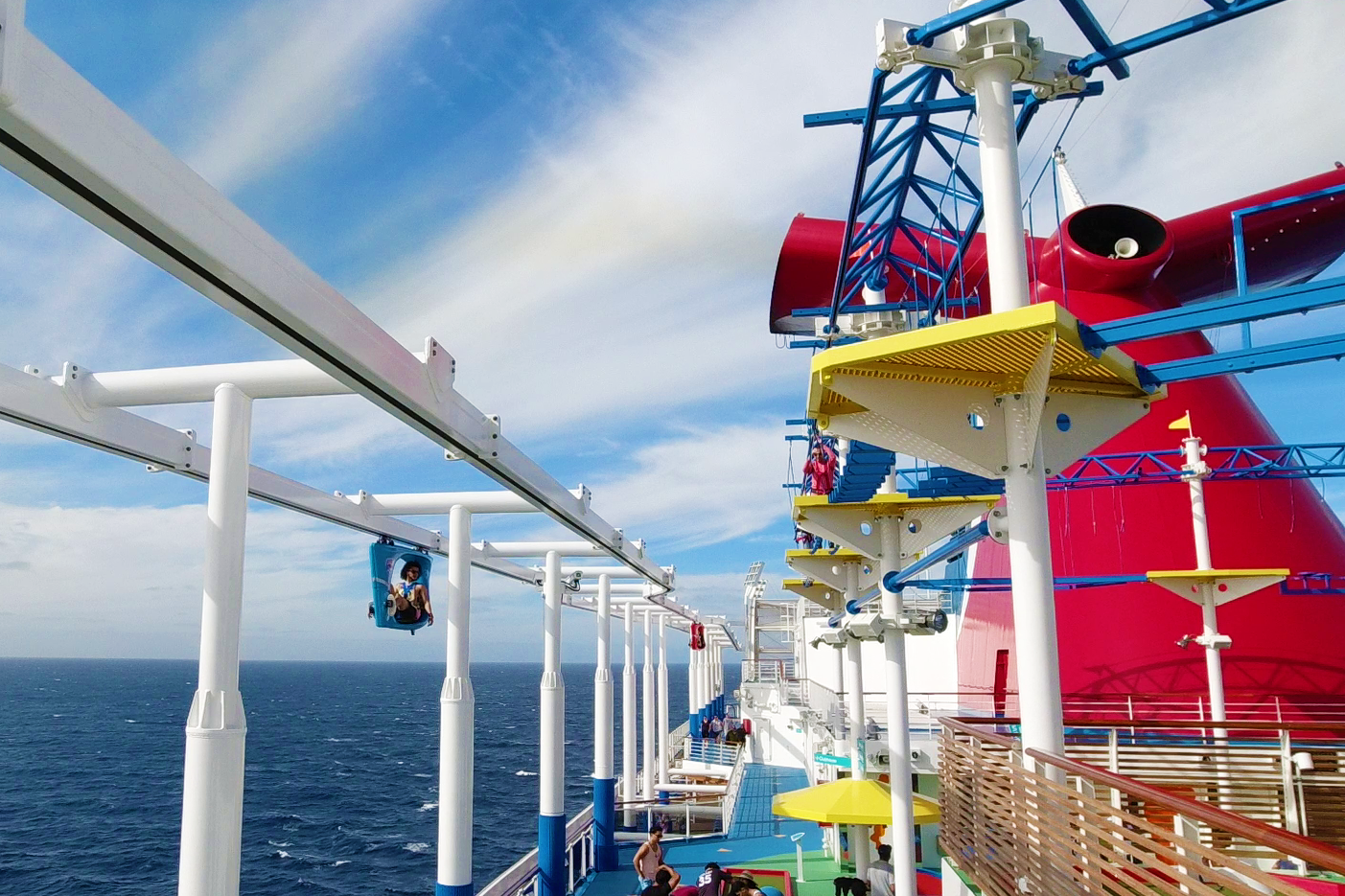 If you are up for a little workout, see who can pedal around the ship the fastest. If you'd prefer a more leisurely ride to take in the views, you can do that too.
Play Laser Tag
While Royal Caribbean now offers laser tag on some of its cruise ships, Norwegian Cruise Line is the only brand to offer a state of the art course with an elaborate backdrop setting the stage for the game. So, if you are sailing on one of the newest ships in the fleet, get ready for some laser tag fun. Join a team, get suited up with a blaster, and prepare for one of the most thrilling and tactical experiences at sea.
Ride a One of a Kind Slide
Yes, many cruise ships feature waterslides nowadays, but you may not realize just how thrilling some of these slides can be. For instance Royal Caribbean's Navigator of the Seas is home to the first head-first mat slide as sea. The brand also features the first boomerang slide at sea and the 10-story Ultimate Abyss dry slide.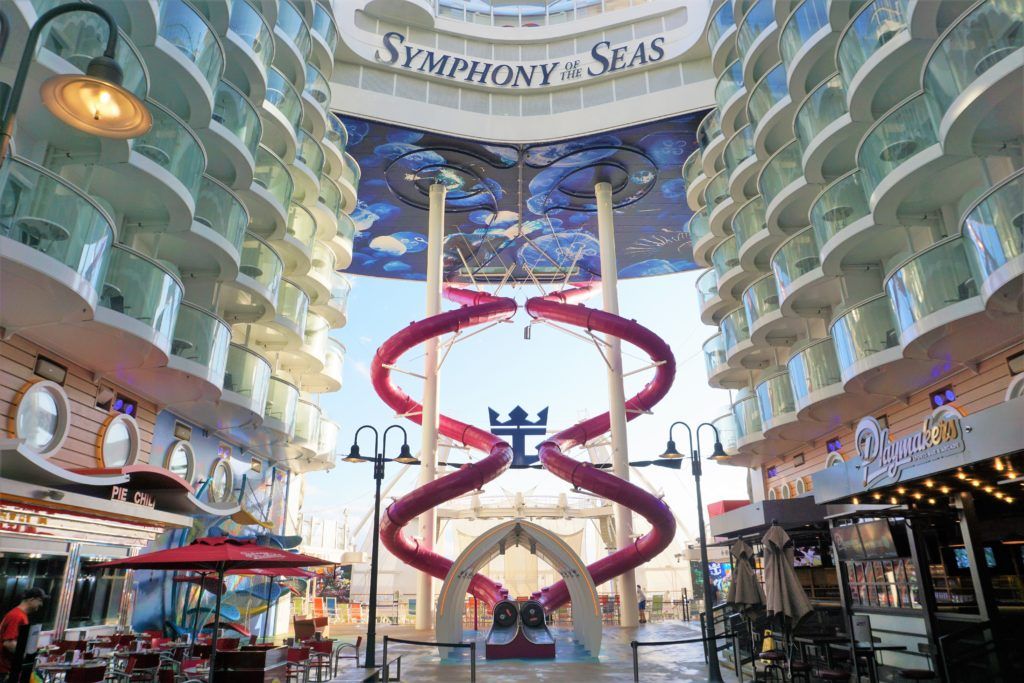 Norwegian Cruise Line has some of the fastest, gravity-defying slides at sea. These slides found on the newer ships are touted as being the "fastest drop slides at sea". Our unofficial speed test confirms that these slides are indeed quick and exhilarating. Some will even have you extending over the side of the ship during your ride.
Not to mention, Disney Cruise Line also features a thrilling water coaster. The AquaDuck track transports cruisers down four decks, through the forward funnel, and even off the side of the ship for a swimmingly good time.
Related Post: 7 Things to Love About Disney Cruise Line
Score Some Amazing Views
The SeaWalk on Princess Cruises is the first of its kind at sea. Cantilevered 128 feet above the waves and extending 28 feet beyond the edge of the ship, this glass walkway offers amazing views of the open ocean below.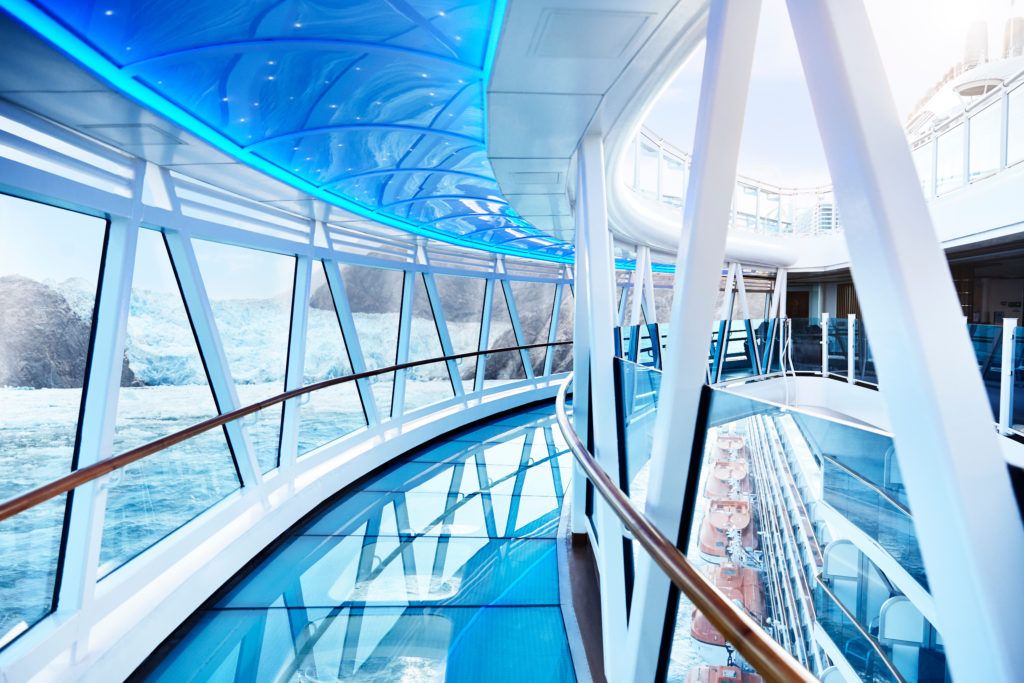 For a slightly different perspective, Royal Caribbean's North Star transports cruisers 300 feet above sea level for a bird's eye view. Riders can enjoy 360 degree views of the surrounding port of call or the endless ocean from this aerial gondola.
Comments
Have you tried any of these Most Thrilling Things to Do on a Cruise Ship? Do you enjoy all these new additions on modern day cruise ships? Drop us an anchor below to share your favorite things to do while on a cruise.